Chamonix, France, is one of the world's most popular ski resorts. It is in the French Alps, famous for its outstanding skiing and snowboarding. The town is renowned for its excellent nightlife, diverse restaurants, and welcoming people. Here we uncover the best Things to do in Chamonix, France, in 2023.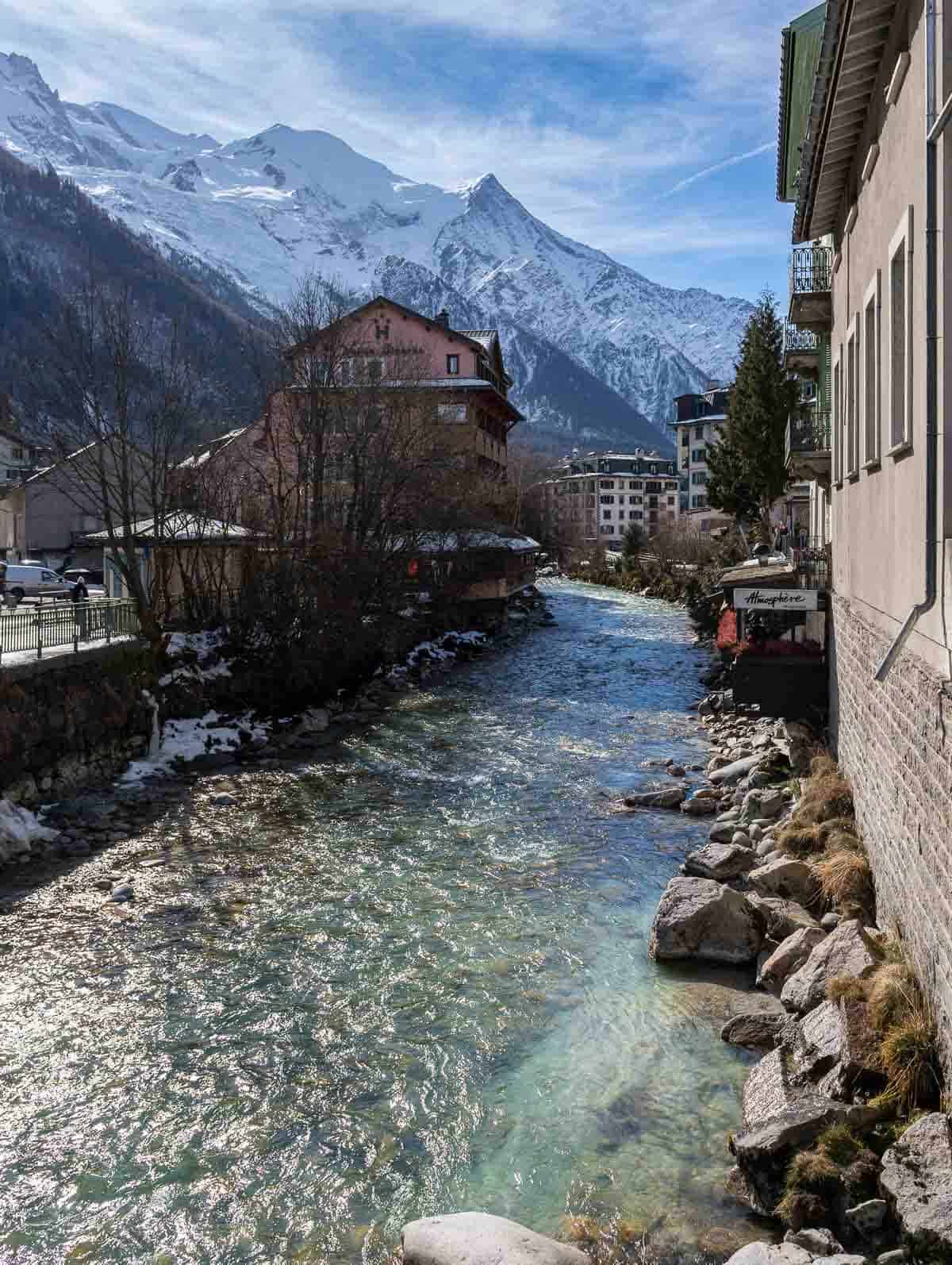 This is a year-round destination. Whether looking for a winter escape or a summer adventure, this resort town has something for everyone. Here are some of the best things to do in Chamonix and some helpful tips to make your stay unforgettable.
Skiing and Snowboarding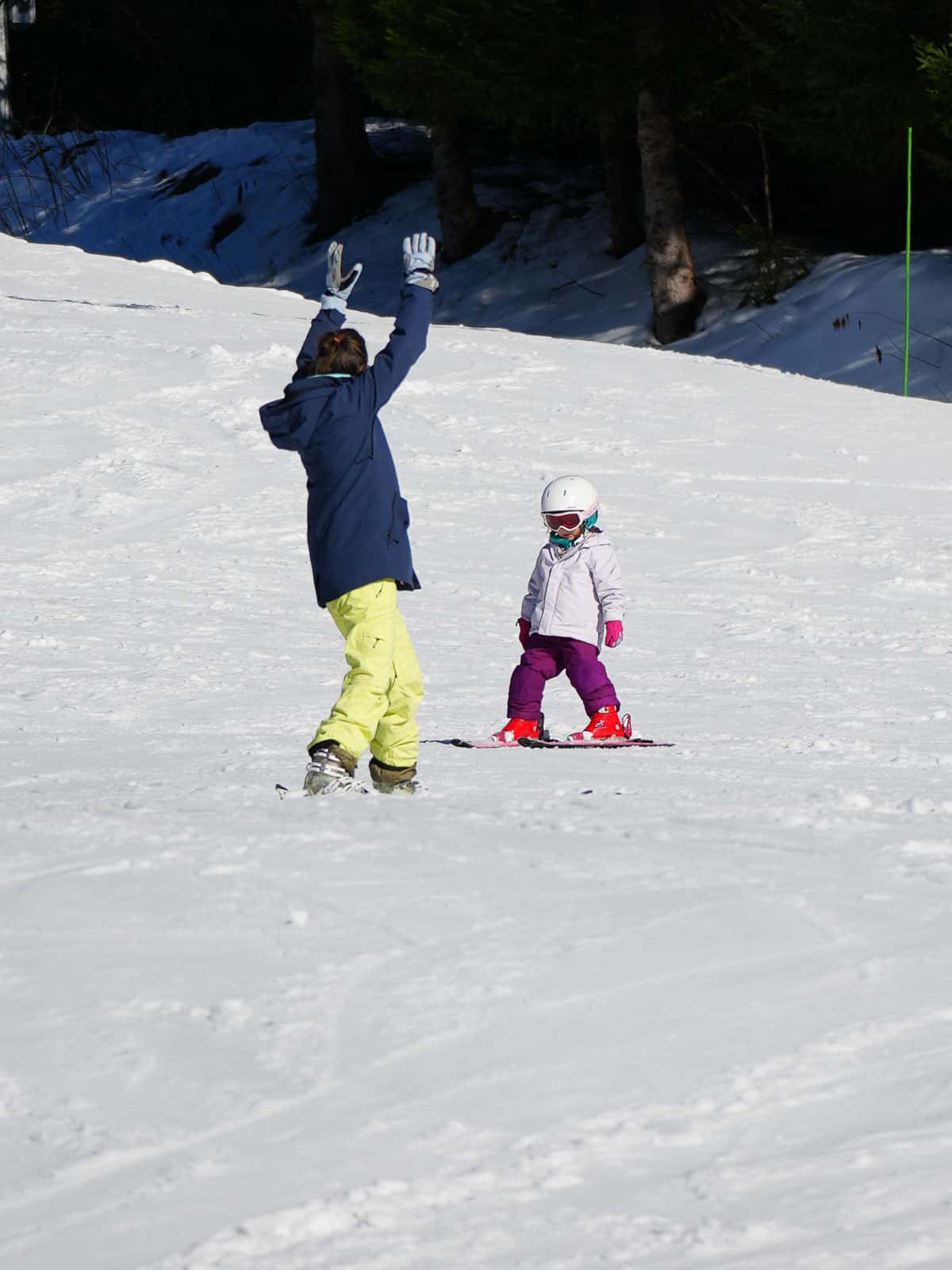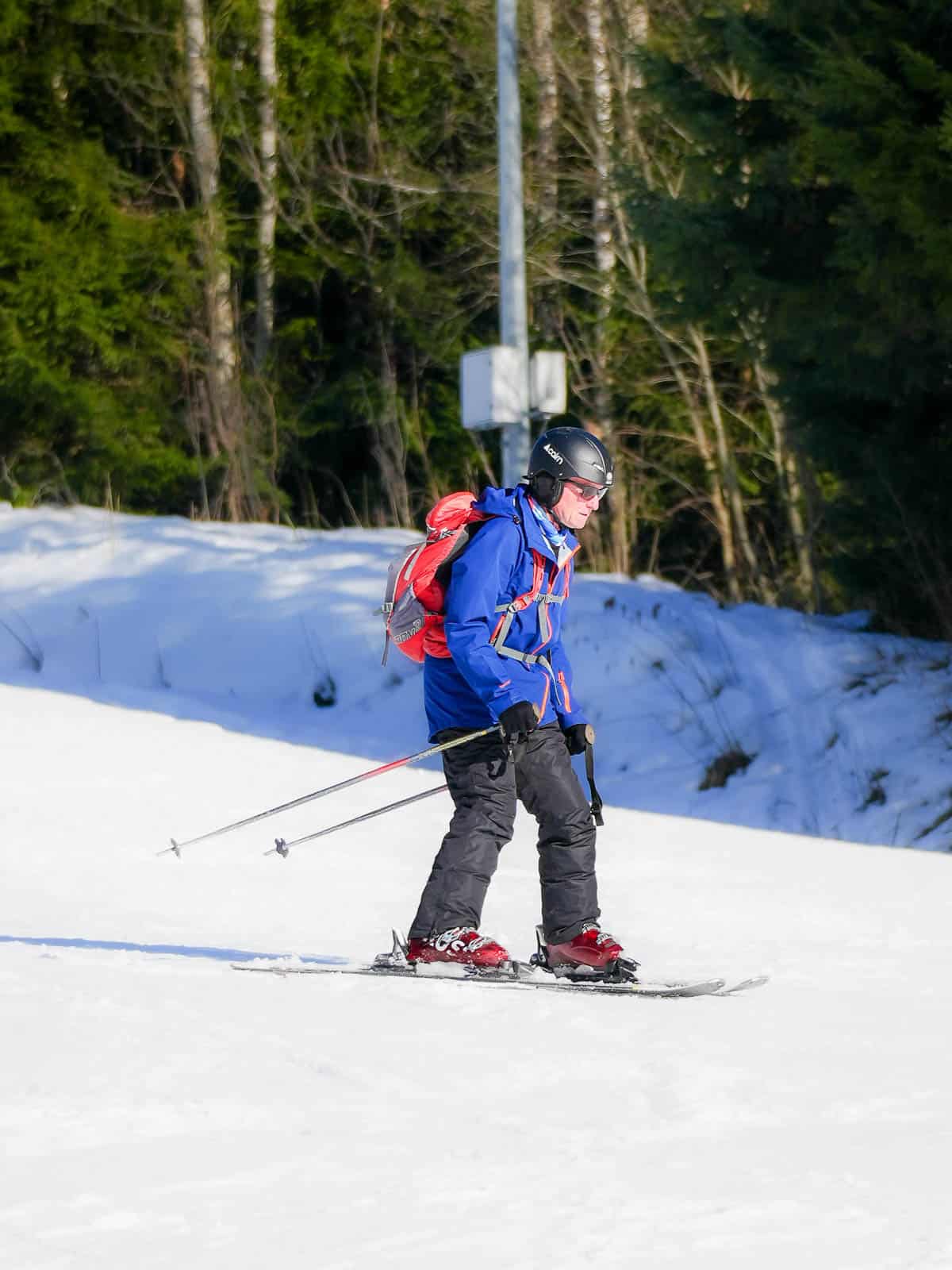 Skiing and snowboarding are the primary activities in Chamonix. With over 170km of ski slopes, including the famous off-piste run, Vallée Blanche, the resort is a paradise for skiers and snowboarders of all levels.
The Chamonix Mont-Blanc Ski Pass covers the entire Chamonix Valley, giving you access to multiple ski areas, including the Grands Montets, Les Houches, Brévent-Flégère, and Balme-Tour Vallorcine.
Paragliding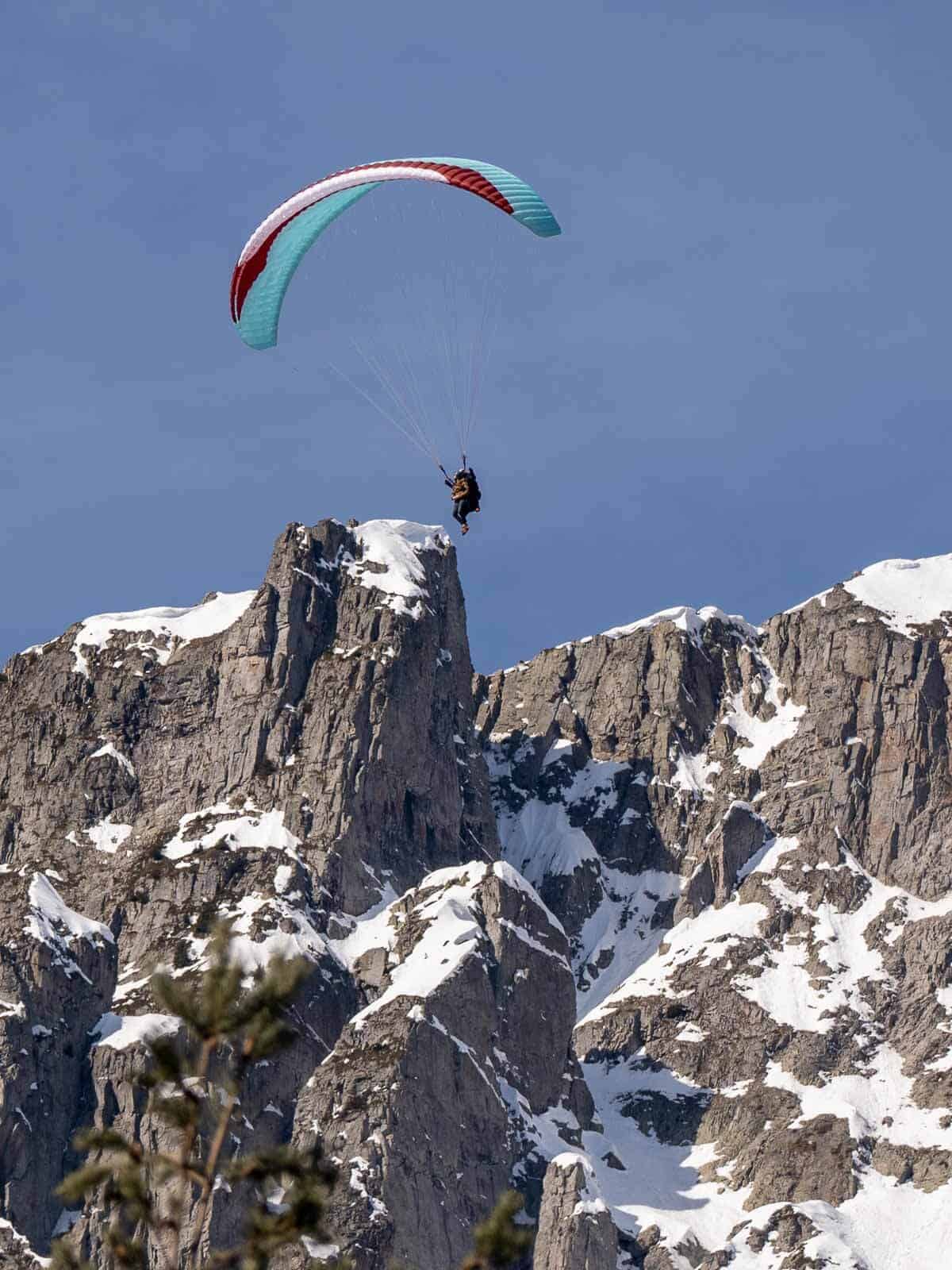 Paragliding in Chamonix is an experience you don't want to miss. Imagine soaring through the sky with the stunning Mont Blanc range as your backdrop.
There are several paragliding schools in Chamonix, including Air Sports Chamonix and Chamonix Parapente. Whether you're a beginner or an experienced pilot, they have something for everyone.
Cable Car to Aiguille du Midi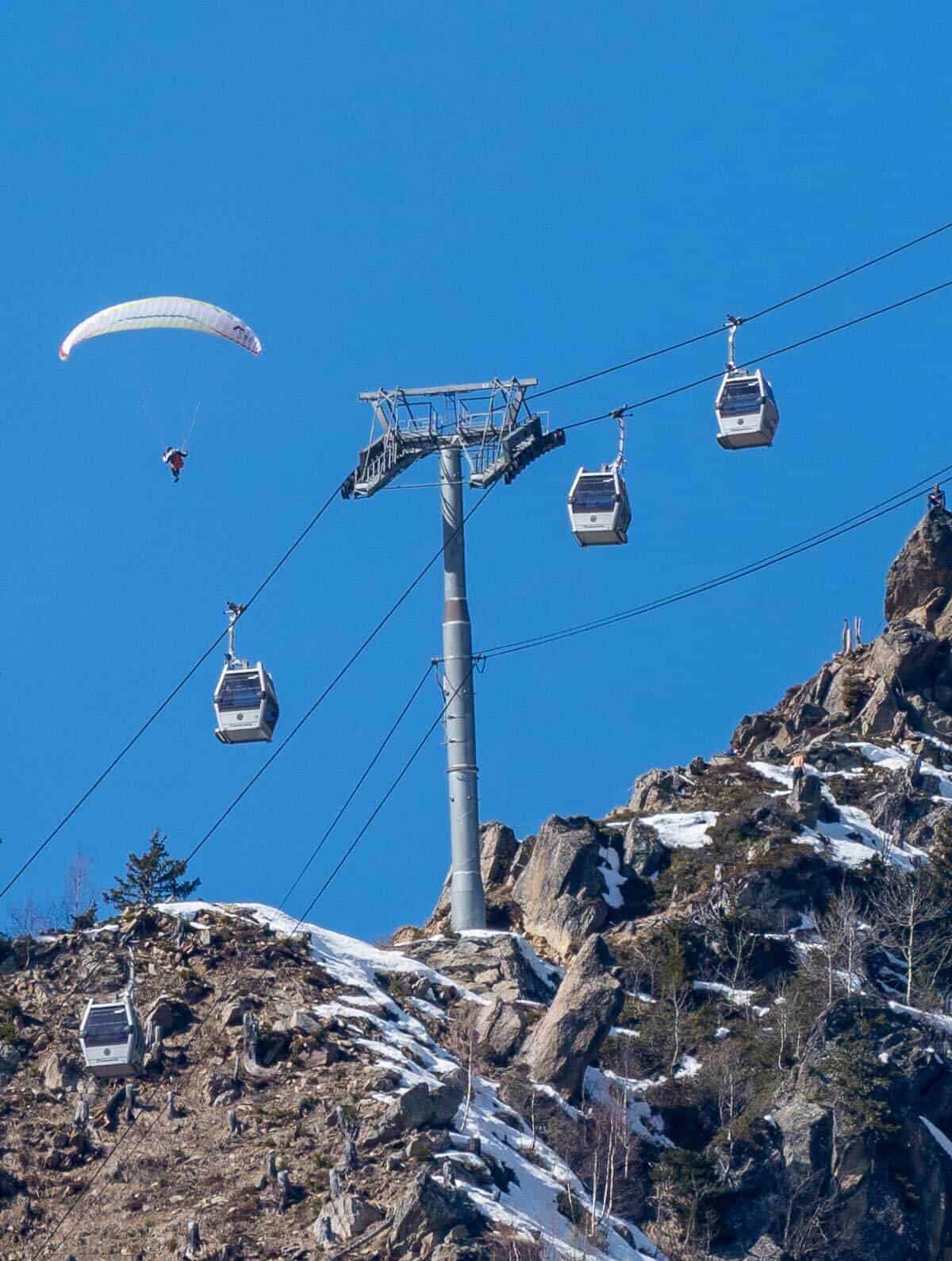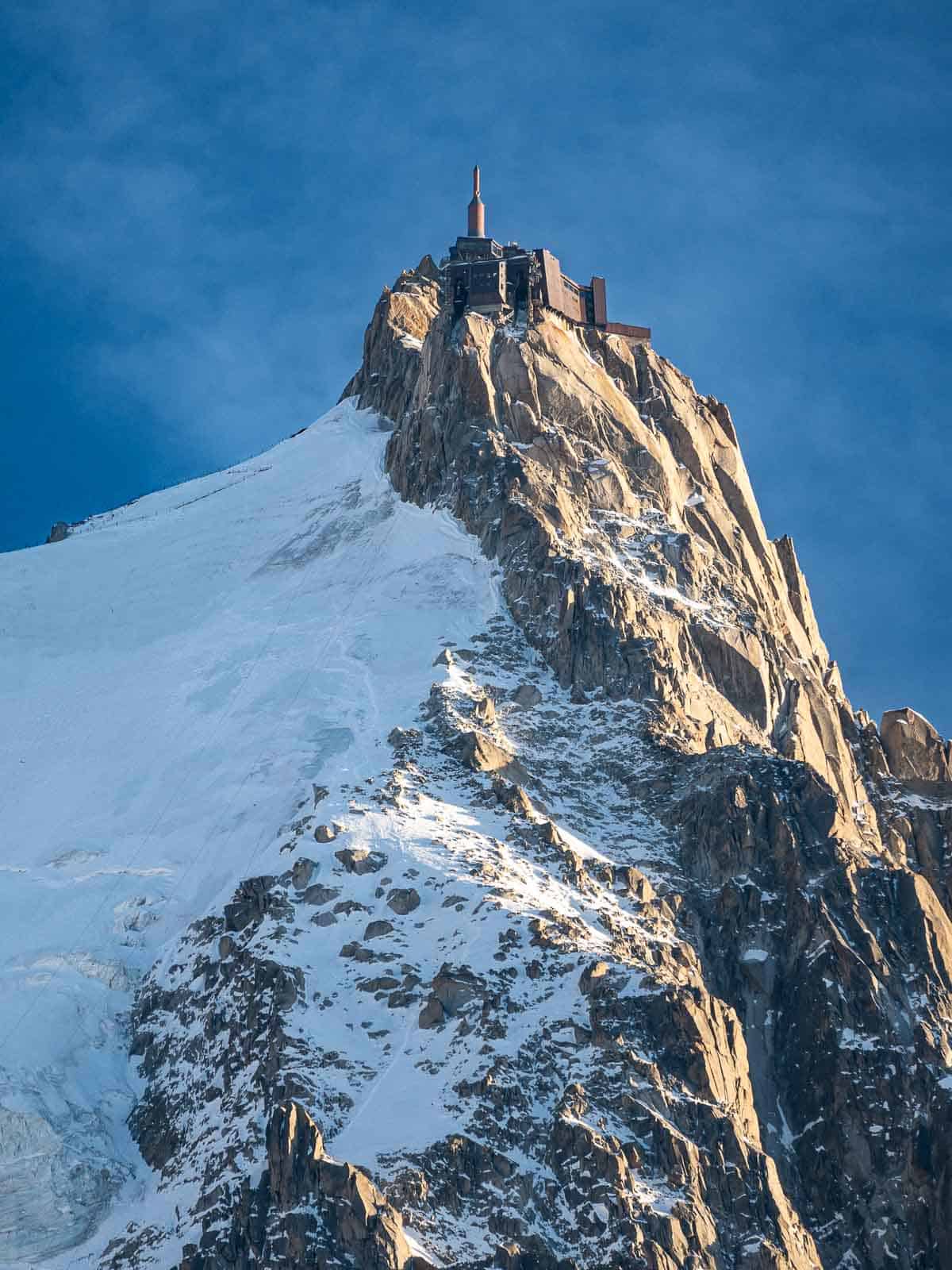 The Aiguille du Midi cable car is a popular attraction in Chamonix, France. It is a cable car system that takes visitors from Chamonix to the top of Aiguille du Midi, a peak in the French Alps that rises to an elevation of 3,842 meters (12,605 feet).
Watching the Alps from different angles, like in Bolzano, Italy, or Switzerland, they all have a special beauty.
The cable car is a two-stage system, with the first stage taking visitors from Chamonix to the midway station at Plan de l'Aiguille, located at an elevation of 2,317 meters (7,602 feet). From there, visitors can transfer to the second stage cable car, which takes them to the summit of Aiguille du Midi.
The cable car offers breathtaking views of the surrounding mountains and glaciers, including Mont Blanc, the highest peak in the Alps. Visitors can explore many attractions at the summit, including a viewing platform, a mountaineering museum, and a restaurant.
It's important to note that the cable car ride is not recommended for those who suffer from vertigo or fear heights, as it can be quite steep and high. Additionally, the weather can be unpredictable at high elevations, so visitors should dress appropriately and be prepared for cold temperatures and potentially high winds.
You can also enjoy traditional Savoyan food at the Le Panoramic Restaurant with a breathtaking Alps view.
Ice Climbing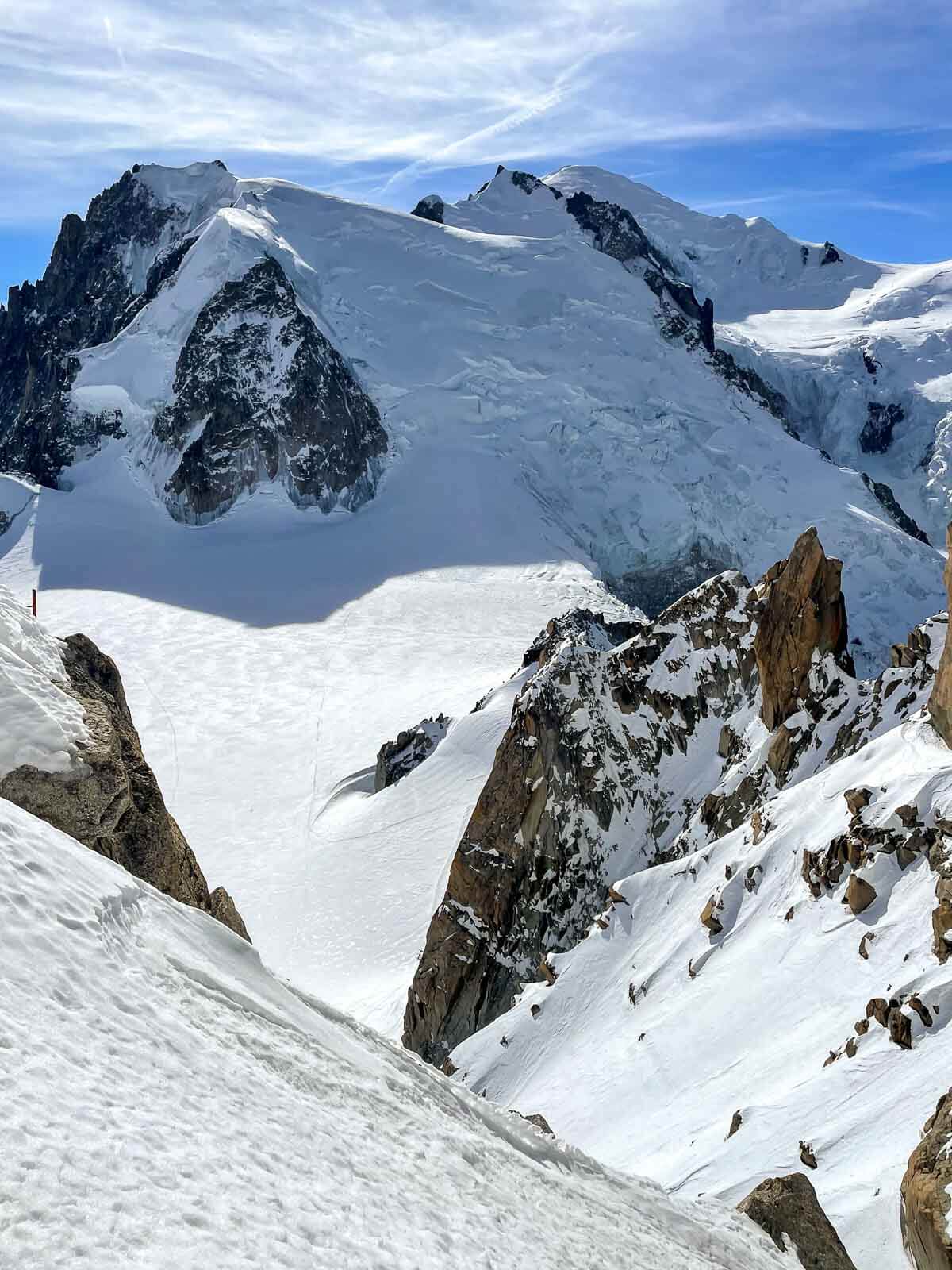 Ice and rock climbing is a unique and exciting way to explore the mountains of Chamonix. The resort town has many icefalls, including the famous Mer de Glace.
There are several ice-climbing schools in Chamonix, such as Chamonix Experience and UCPA Chamonix. They provide equipment, instruction, and guides for both beginners and experienced climbers.
Hiking Trails
Chamonix is a paradise for hikers and trail runners. The resort town has over 350km of marked trails catering to all fitness and experience levels.
Chamonix's most popular hiking and running trails include the Tour du Mont Blanc, the Grand Balcon Sud, and the Lac Blanc hike. These trails offer stunning views of the Mont Blanc range and the Chamonix Valley.
Luge Alpine Coaster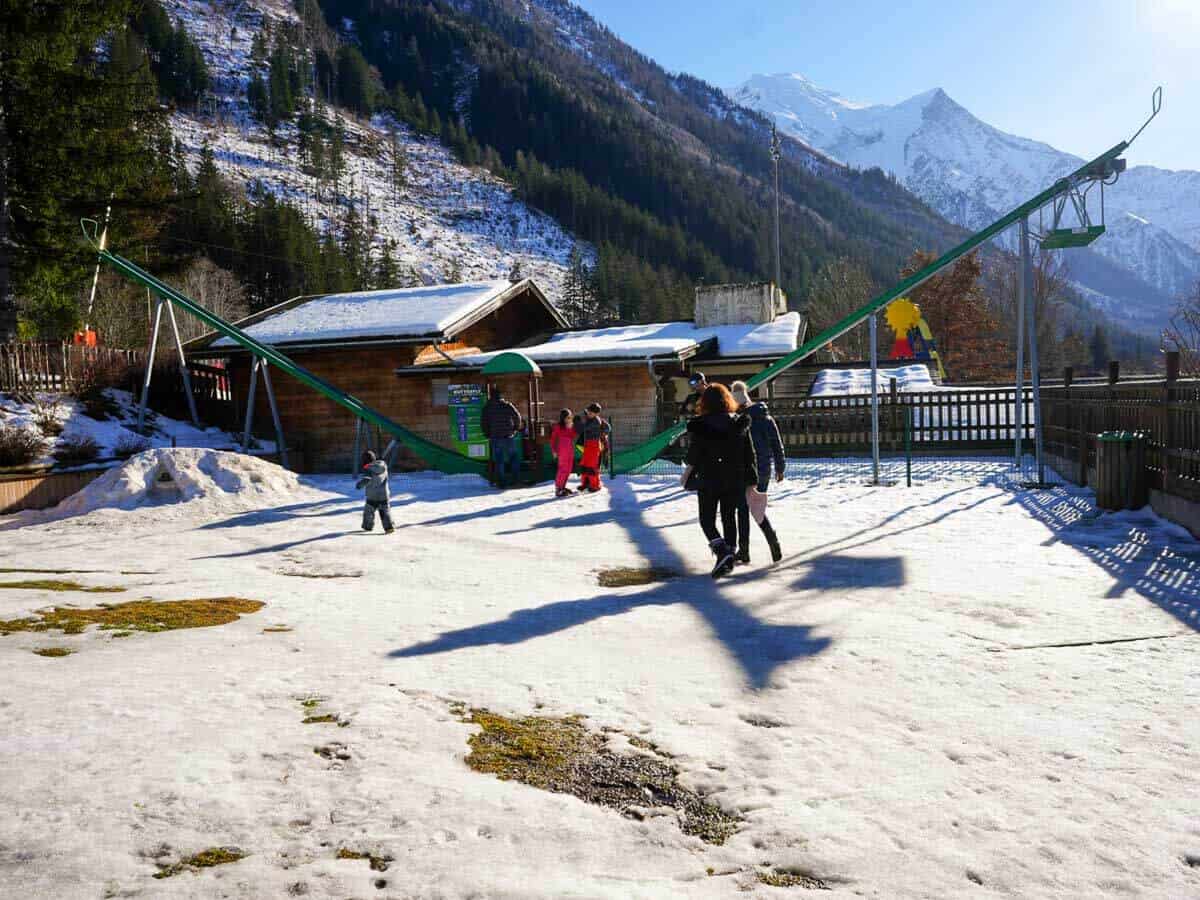 The Luge Alpine Coaster in Chamonix is an exciting outdoor adventure ride that takes visitors on a thrilling journey through the mountains. The coaster is a unique attraction that combines the excitement of a roller coaster with the beauty of an alpine landscape.
The ride begins with a scenic chairlift ride up, which offers incredible mountain views of the Chamonix valley and the surrounding peaks. Once at the top, visitors board the Luge Alpine Coaster, a sled and roller coaster combination.
The coaster winds down the mountain, passing through twists and turns, over bumps and hills, and under bridges and tunnels. Visitors control their speed using hand brakes, allowing a customized and exciting experience. The ride suits people of all ages and skill levels and can be enjoyed individually or in pairs.
One of the highlights of the Luge Alpine Coaster experience is the stunning natural beauty of the surrounding landscape. As you race down the mountain, you'll be surrounded by snow-capped peaks, alpine forests, and stunning vistas.
The Luge Alpine Coaster is located in Les Planards, just a few minutes from the center of Chamonix. In addition to the coaster, Les Planards also has a range of other outdoor activities, including skiing, snowboarding, snowshoeing in the winter, and hiking and climbing in the summer.
Hydrospeeding Adventure
Hydrospeeding is a thrilling and adventurous water activity that involves using a buoyant board to navigate through white water rapids. Chamonix is a popular destination for hydrospeeding enthusiasts.
To experience hydrospeeding in Chamonix, you can book a tour with a local adventure company specializing in this activity. These tours typically include all necessary equipment, such as a wetsuit, helmet, flippers, and a hydrospeeding board. You'll also receive a safety briefing and instructions on controlling the board before setting off.
The tour will take you down the fast-flowing river, through narrow gorges and rapids, and past stunning mountain scenery. You'll use your flippers and body weight to steer the board and ride the waves. The experience can be challenging, but it's also incredibly fun and exhilarating.
It's important to note that hydrospeeding can be dangerous, and choosing a reputable company that has experienced guides and follows strict safety protocols is essential. You should also be a confident swimmer and in good physical condition to participate.
Overall, hydrospeeding in Chamonix is a thrilling adventure that offers a unique way to explore the stunning mountain environment. It's an experience you're unlikely to forget and will surely get your adrenaline pumping!
Accro adventure park
Accro Adventure Park in Chamonix is an outdoor adventure park that offers a range of exciting activities for visitors of all ages.
The Accro Adventure Park has several courses that visitors can choose from, each designed to challenge and entertain participants. The courses range in difficulty from easy to very difficult and feature obstacles such as zip lines, rope bridges, and balance beams. The park also has a dedicated children's area, perfect for younger visitors who want fun and learn new skills in a safe and controlled environment.
One of the standout features of Accro Adventure Park is its beautiful setting. The park is surrounded by stunning alpine scenery, with views of the Mont Blanc massif and the surrounding mountains. Visitors can also take advantage of the park's location by exploring the many hiking and biking trails that surround the area.
Strolling Chamonix village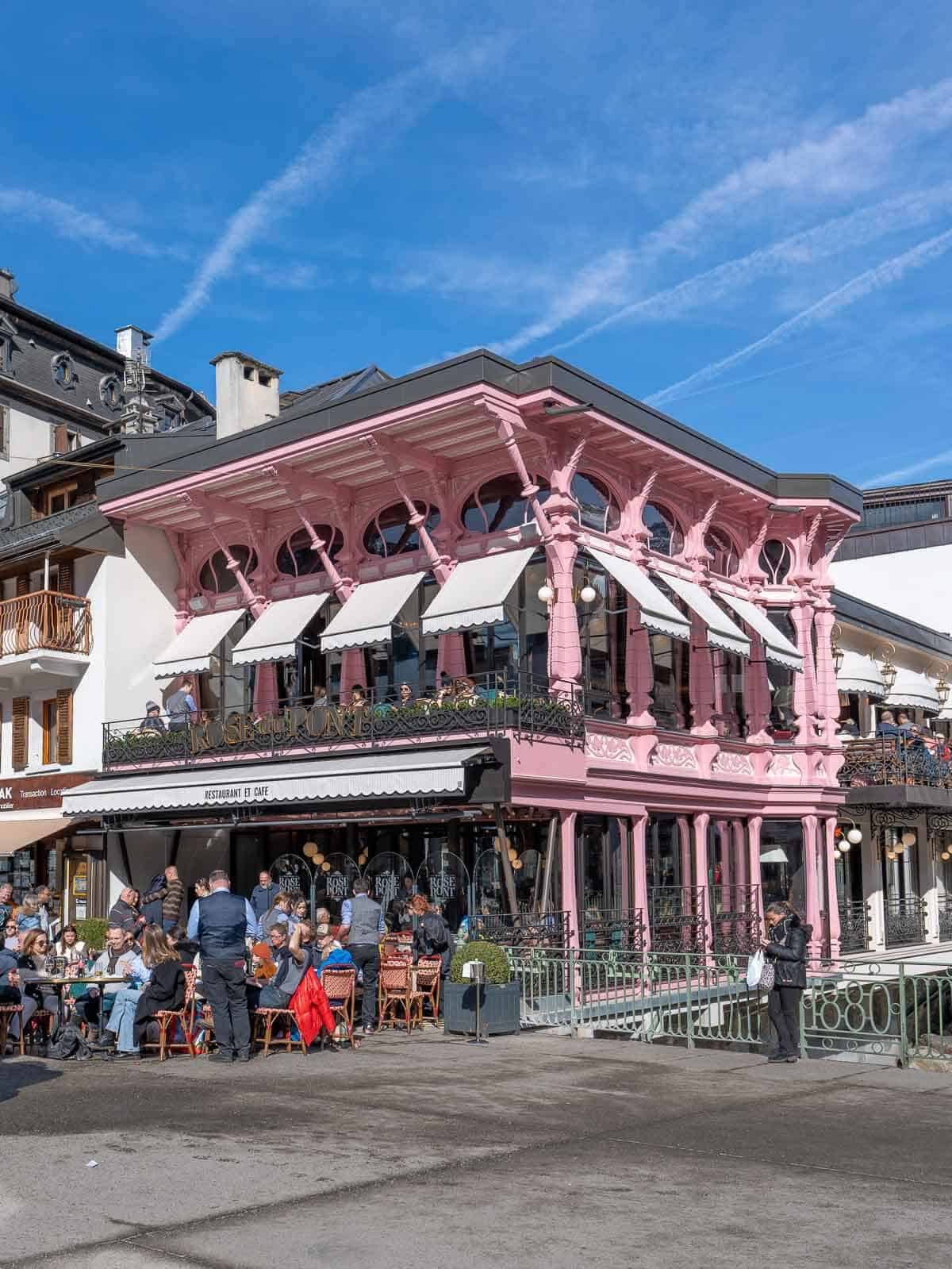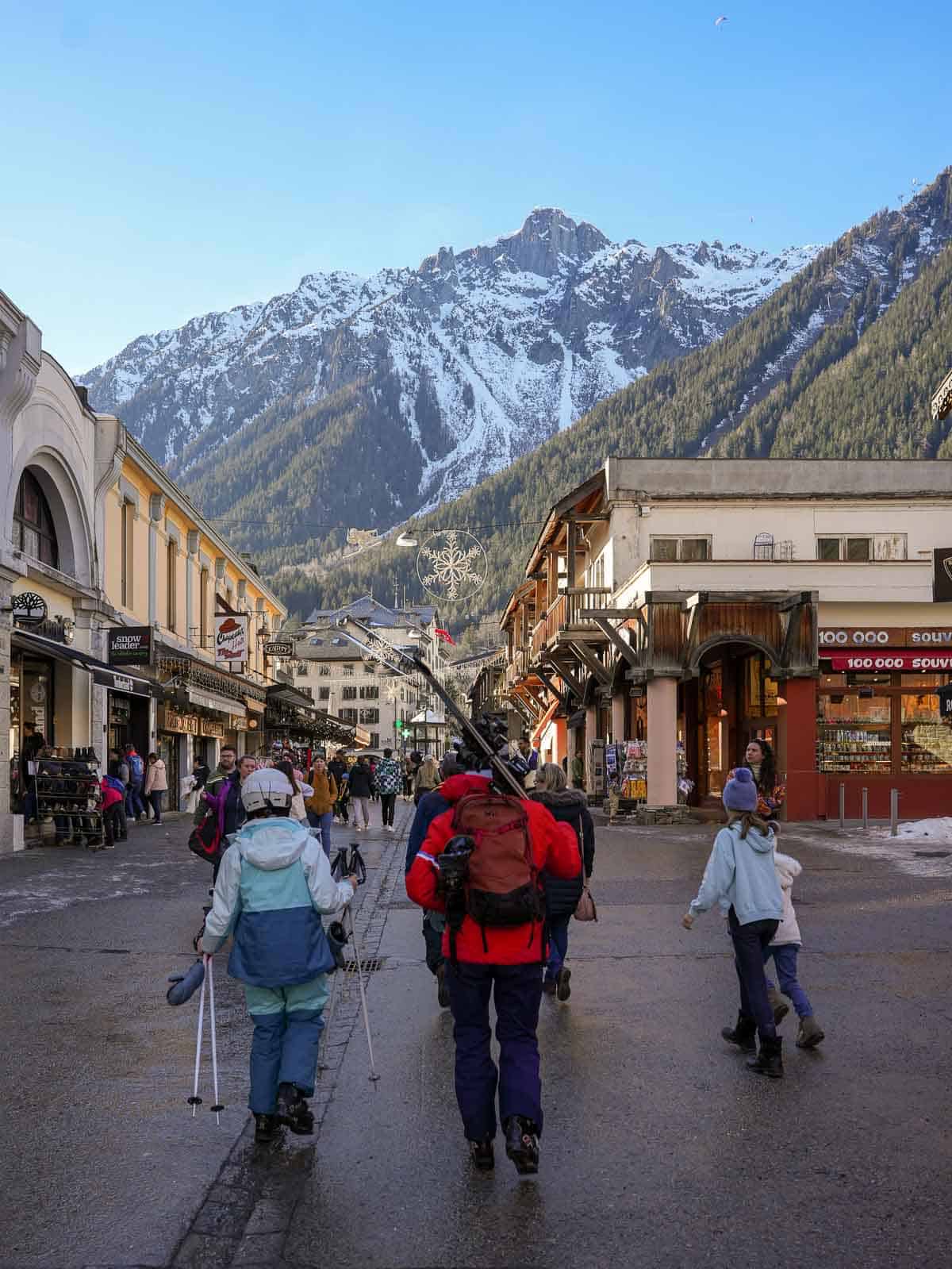 Strolling through Chamonix village is a beautiful way to experience the charming character of this picturesque mountain town.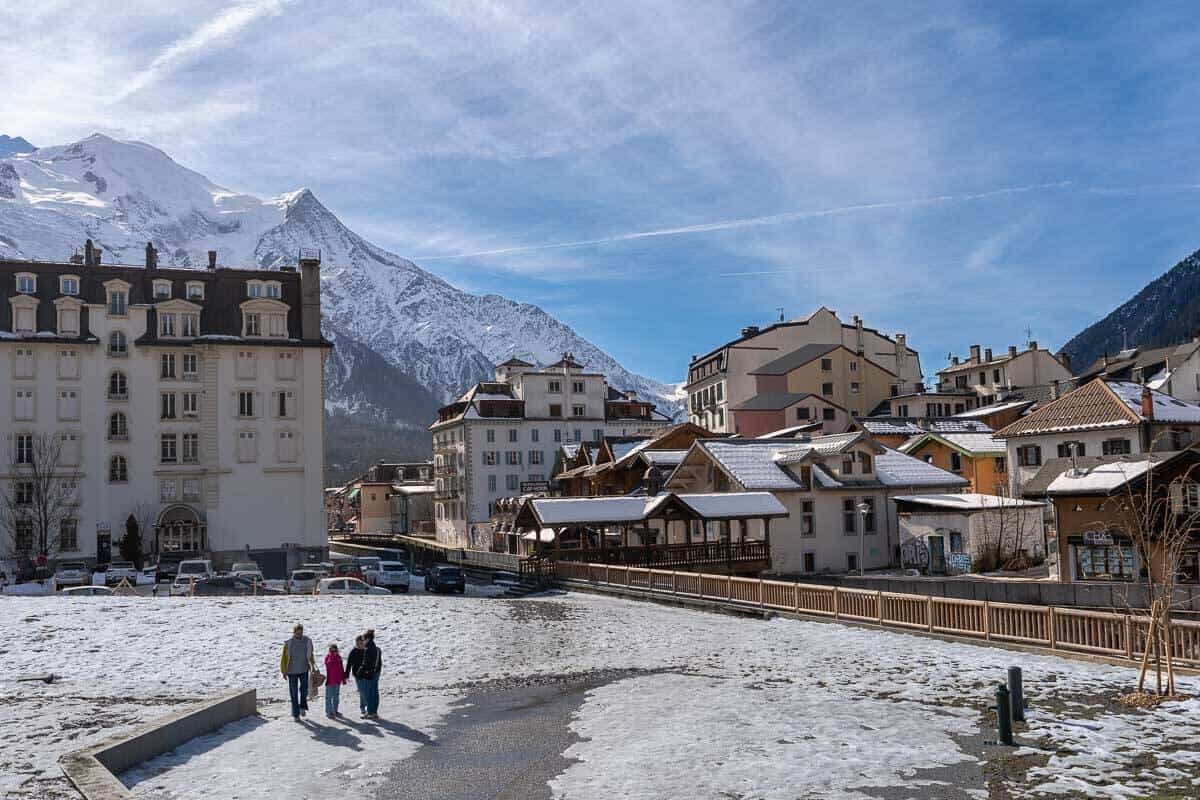 As you stroll through the village, you'll be surrounded by traditional alpine architecture and quaint pedestrian streets lined with charming cafes, restaurants, and boutiques. The town is also home to several historic landmarks, including the Église Saint-Michel, a beautiful church that dates back to the 18th century.
One of the highlights of strolling through Chamonix village is the opportunity to sample the delicious local cuisine at restaurants and in local markets. The town is known for its hearty mountain fare, which includes dishes like vin rouge (hot red wine), raclette, chocolate, tea, nougat, fondue, and tartiflette at Shouka. You'll find many restaurants and cafes offering these classic dishes and a variety of other international cuisines.
Shouka: we love this fantastic place where you can see how they roast their coffee, have fantastic tea combinations, and have a cake selection to die for. We enjoyed their hot chocolate, citrus cake, chai latte, and dark chocolate brownie- they were all fantastic.
Address: 206 Rue du Dr Paccard, 74400 Chamonix-Mont-Blanc, Francia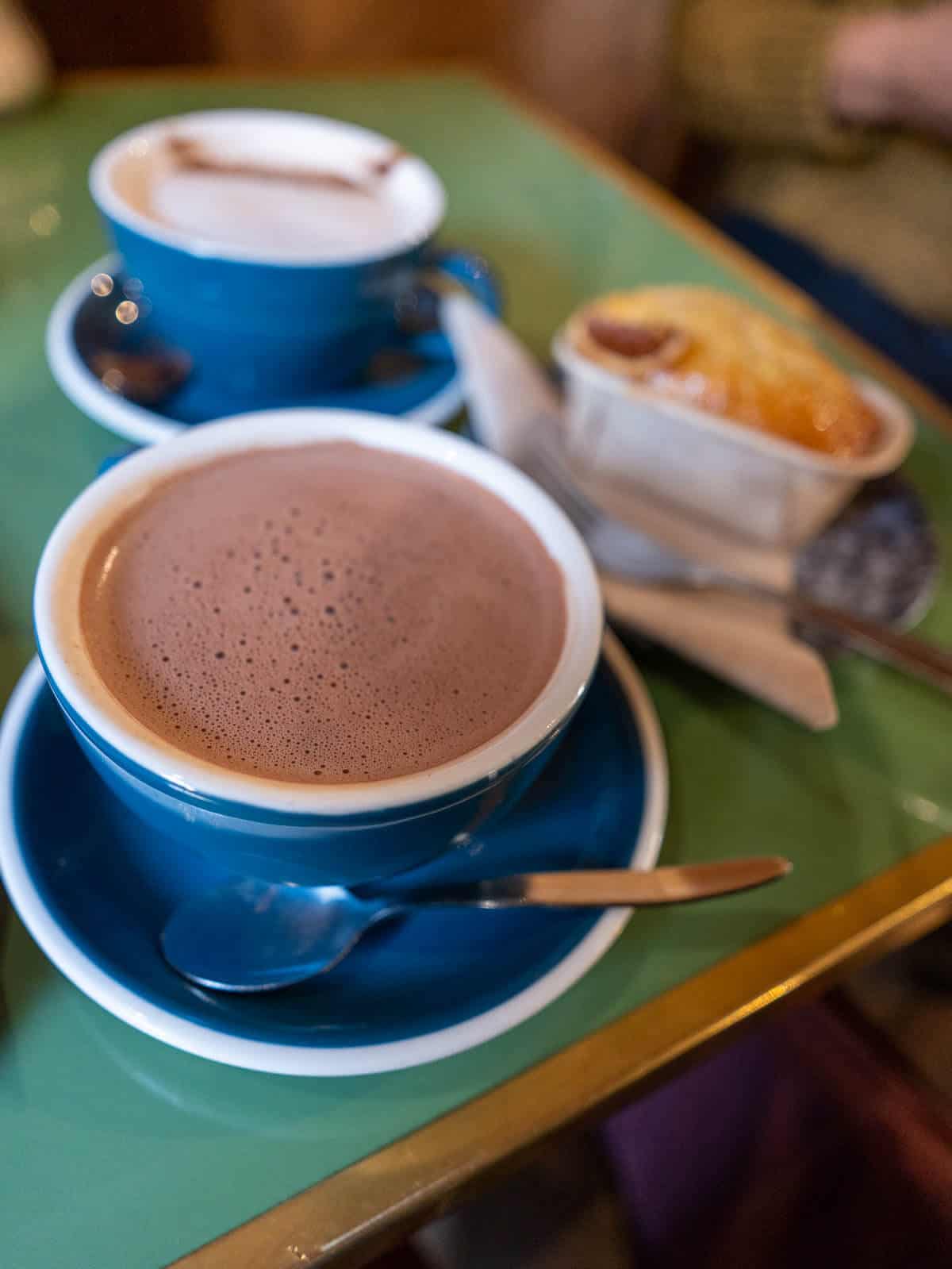 We also loved having a late lunch with great wine and a magnificent view at Joséphine Restaurant in the center. Their staff is super friendly, and they have a good selection of plant-based options.
Address: 76 Av. Michel Croz, 74400 Chamonix-Mont-Blanc, France
Chamonix market
Make a pilgrimage to the Holy Grail of markets at Place Mont Blanc in the heart of Chamonix. On one side, revel in the freshest fruits, veggies, and artisanal goodies. Conversely, indulge in retail therapy with chic clothes and rare collectibles.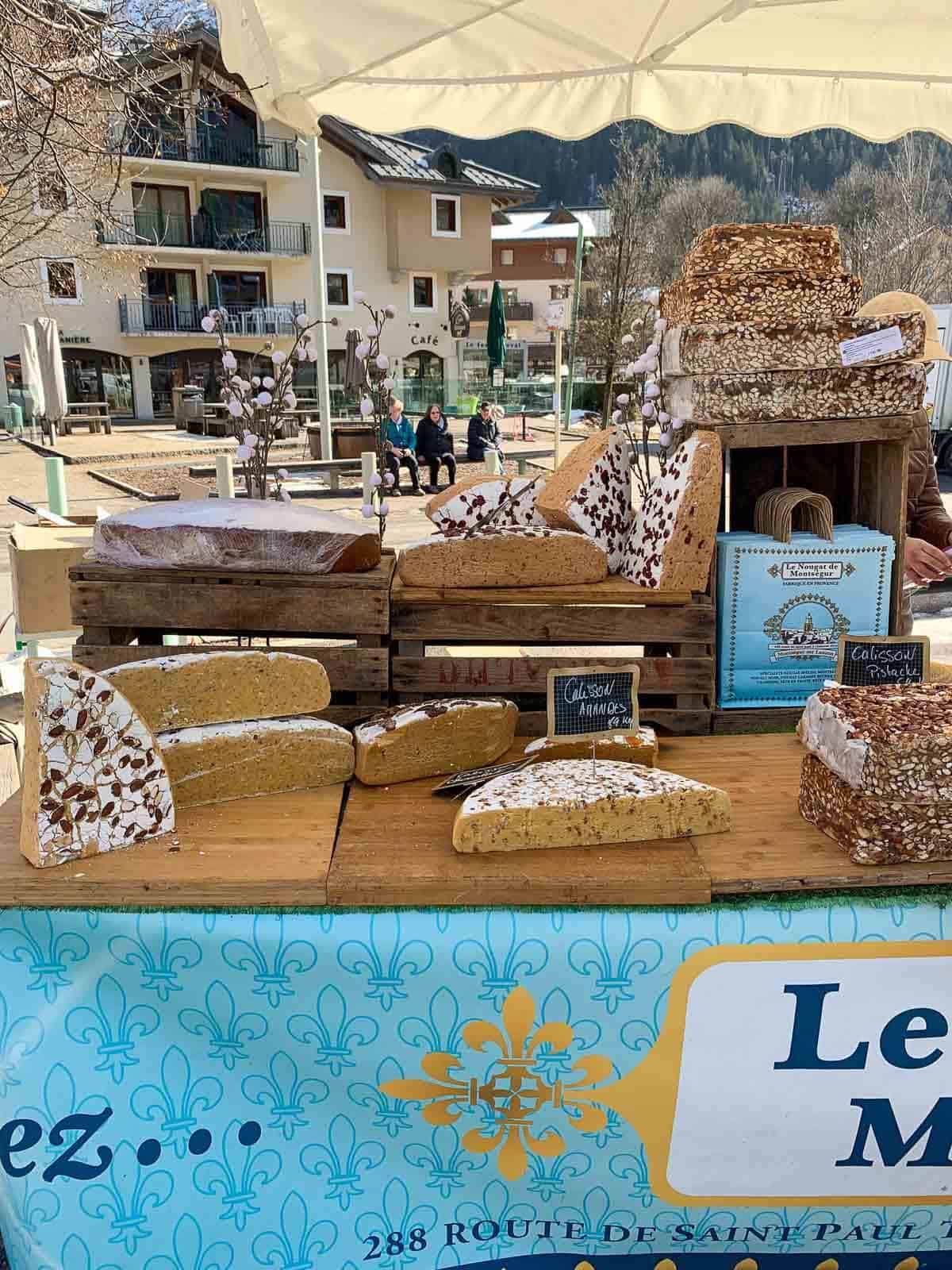 Freshly made nougat.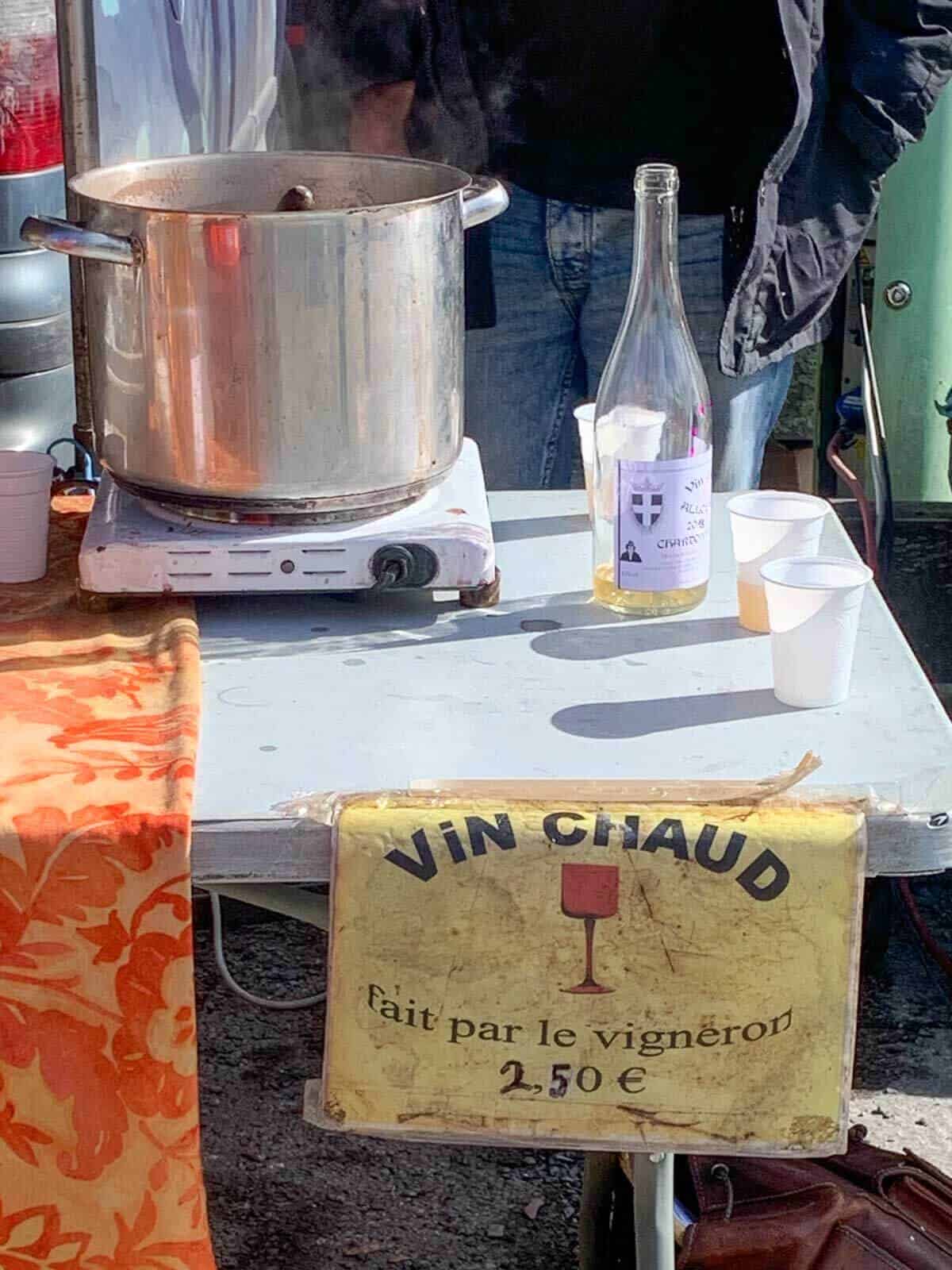 Vin Chaud made it to Saturday's market.
Satisfy your cravings with scrumptious local foods, by-the-weight rare and exciting nougat flavor combinations, and a piping hot vin chau!
It's a Saturday morning ritual worth waking up for, from 7 am to 1 pm, rain or shine.
Chamonix is also home to several museums and cultural attractions, including the Musée Alpin, which tells the story of the region's mountaineering history, and the Maison de la Mémoire et du Patrimoine, which showcases the town's rich cultural heritage.
We also enjoyed buying a baguette and a bottle of wine at the Chamonix supermarket on the main street.
Whether you're looking to relax and take in the stunning mountain views or explore the town's many attractions, strolling through Chamonix village is an experience that should not be missed. With its charming character and vibrant atmosphere, this town will capture your heart and leave you with unforgettable memories.
Montenvers Railway To Mer De Glace glacier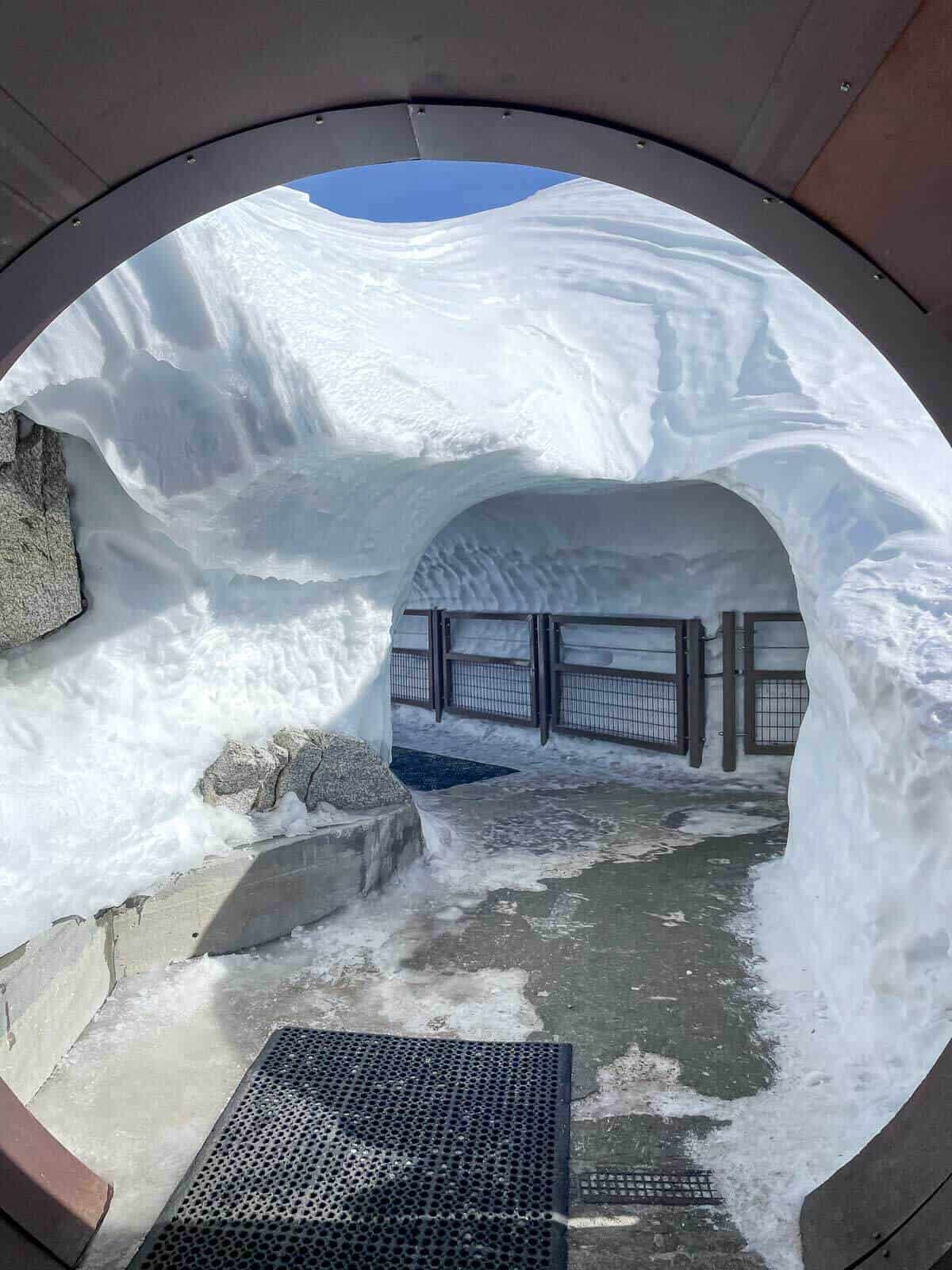 The Montenvers Railway is a historic cog railway that takes visitors from Chamonix to the top of the Montenvers peak, enjoying stunning views of the Mer de Glace glacier. The railway was first built in 1909 and has been a popular tourist attraction ever since.
The train journey to the top of Montenvers is a scenic and unforgettable experience. The train winds its way up the mountain, passing through several tunnels and over bridges and offering incredible views of the surrounding alpine scenery. Once you reach the top, you can enjoy panoramic views of the Chamonix valley and the surrounding peaks.
One of the highlights of the Montenvers Railway experience is the opportunity to visit the Mer de Glace glacier. From the top of Montenvers, you can take a short walk to the glacier, one of Europe's largest. The glacier is a stunning sight, with its ice-blue color and jagged peaks, and visitors can explore the glacier on a guided tour or on their own.
The Montenvers Railway also has several other attractions for visitors to enjoy. At the top of the peak is a mountain hotel and restaurant where visitors can relax and enjoy a meal with incredible views. The railway station also has a museum, showcasing the railway's history and the surrounding region.
Overall, the Montenvers Railway is a must-see attraction for anyone visiting Chamonix. Whether you're a history buff, a nature lover, or simply looking for an unforgettable experience, this railway and the Mer de Glace glacier are sure to impress.
Glacier des Bossons
It is one of the largest glaciers in the Mont Blanc massif and one of the most visited attractions in Chamonix. Here are some key things to know about the Glacier des Bossons:
Location: The Bossons Glacier is on the northwest side of the Mont Blanc massif, near Chamonix in the French Alps. It is easily accessible by car or public transportation, and several hiking trails lead to the glacier.
Size: The Glacier des Bossons is approximately 7 km long and covers an area of about 10 square kilometers. It has a maximum depth of around 350 meters and is constantly moving and changing due to the effects of climate change.
Activities: The Glacier des Bossons is a popular destination for hiking, mountaineering, and sightseeing. Several hiking trails lead to the glacier, including a popular route that starts at the Mont Blanc tramway station. Visitors can also take a guided tour of the glacier or go ice climbing with a professional guide. From the tramway's drop-off points, outdoor enthusiasts can embark on trails for taking nature walks, hikes, or mountain bike rides.
Safety: It is important to note that the Glacier des Bossons is a dynamic and potentially dangerous environment. Visitors should know the risks of glacier travel, including crevasses, falling ice, and changing weather conditions. A guided tour or hiring a professional guide for any activities on the glacier is recommended.
Climate change: Like many glaciers worldwide, the Glacier des Bossons is shrinking due to the effects of climate change. It has lost over 80 meters of ice thickness in the past 20 years, and scientists predict it will continue to retreat in the coming years. The Glacier des Bossons is a powerful reminder of the urgent need to address the causes of climate change and protect our planet's fragile ecosystems.
Mont blanc express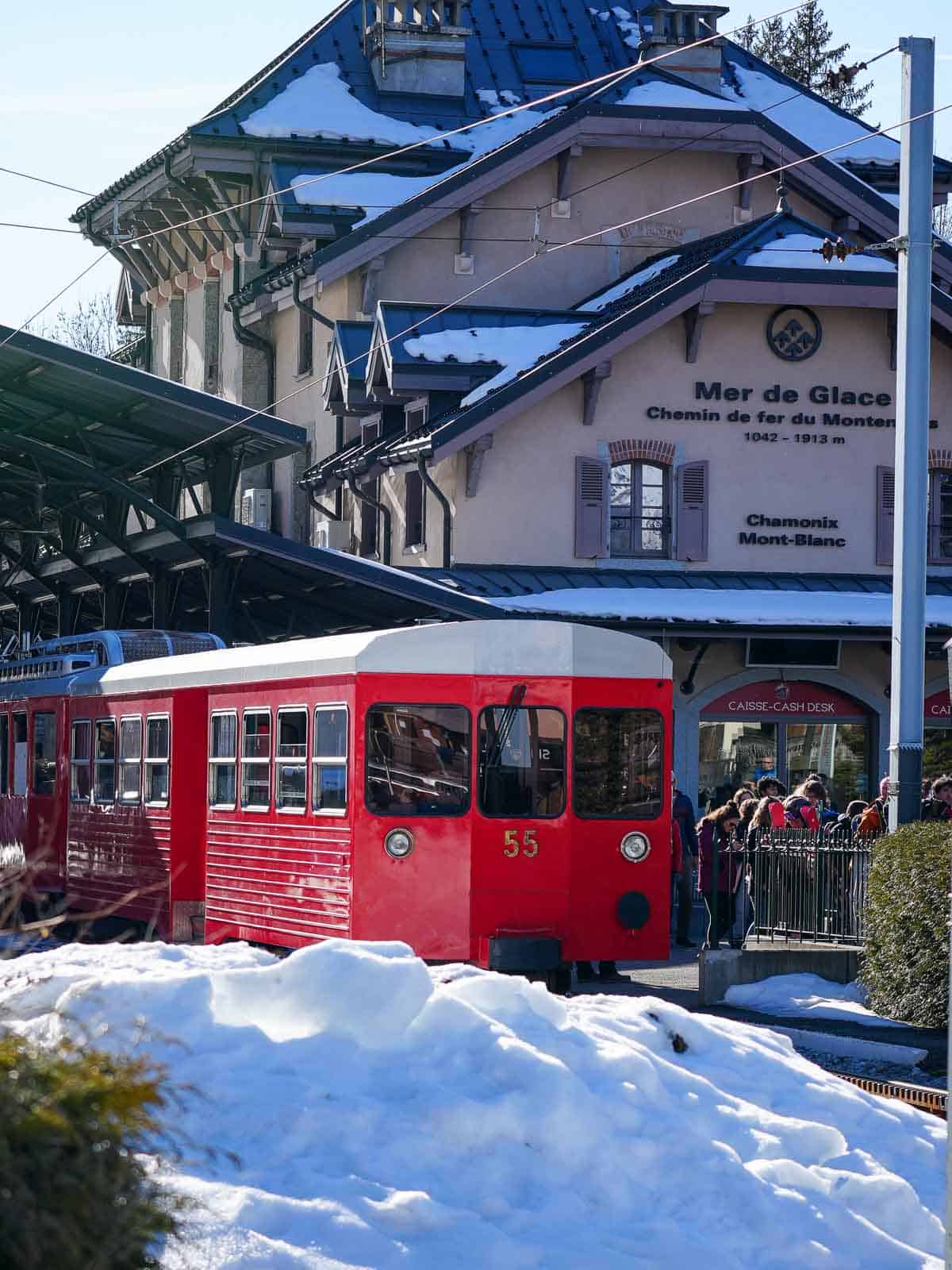 The Mont Blanc Express is a train that runs through the Chamonix Valley in the French Alps. It is a popular way to explore the region's beautiful scenery and charming towns. Here are some key things to know about the Mont Blanc Express:
Route: The Mont Blanc Express runs from the French town of St Gervais Les Bains to the Swiss town of Martigny. It passes through several picturesque towns in the Chamonix Valley, including Chamonix, Les Houches, Servoz, and Vallorcine.
Scenery: The Mont Blanc Express offers stunning views of the surrounding mountains, including the famous Mont Blanc, the highest peak in the Alps. The train also passes through beautiful valleys, forests, and meadows, making it a great way to see the region's natural beauty.
Schedule: it runs year-round, with more frequent trains during the high season (June to September). The schedule varies depending on the time of year, so checking the timetable in advance is a good idea.
Tickets: Tickets can be purchased at train stations, ticket machines, or online. Several ticket options are available, including one-way and round-trip tickets and passes for multiple journeys or for a specific period of time.
Connections: it connects with other regional train and bus routes, making it easy to travel to other destinations in the French and Swiss Alps. Several hiking trails and ski resorts can be accessed from the train stops along the route.
Getting around Chamonix
Depending on your preferences and needs, several options exist for getting around Chamonix.
Walking: Chamonix is a small town, and many of its attractions and facilities are within walking distance of each other. Walking is a great way to take in beautiful scenery and get some exercise at the same time.
Public transportation: Chamonix has a reliable and affordable public transportation system, including buses and trains. The buses are a good option for getting around the town, while the trains are ideal for traveling to nearby villages and ski resorts.
Taxis: they are readily available in Chamonix, but they can be quite expensive. They are a good option if you must travel with a lot of luggage.
Rental cars: Rental cars are available in Chamonix but are not necessary for getting around the town. However, a rental car may be an excellent option for exploring the surrounding areas. Also, there are several car parks available in the town.
Bicycles: Chamonix has several bike rental shops, and biking is a great way to explore the town and its surrounding areas. There are also several bike paths and trails for more adventurous cyclists.
Overall, the best way to get around Chamonix will depend on your preferences and needs. Walking or using public transportation may be the best option if you want to explore the town. Renting a car or bike may be more suitable if you want to venture further afield.
Geneve Airport to Chamonix
The nearest airport to Chamonix is Geneva International Airport, approximately 88km away. It takes only 30 minutes to go from Geneva City Centre to the Airport.
The easiest and most convenient way to get to Chamonix from Geneva Airport is by taking a shared or looking into private transfer companies. Many companies provide airport transfer services like Mountain Drop-offs, Chamexpress, and AlpyBus.
The journey takes around 1 hour and 15 minutes, depending on traffic and weather conditions.
Bus Geneva to Chamonix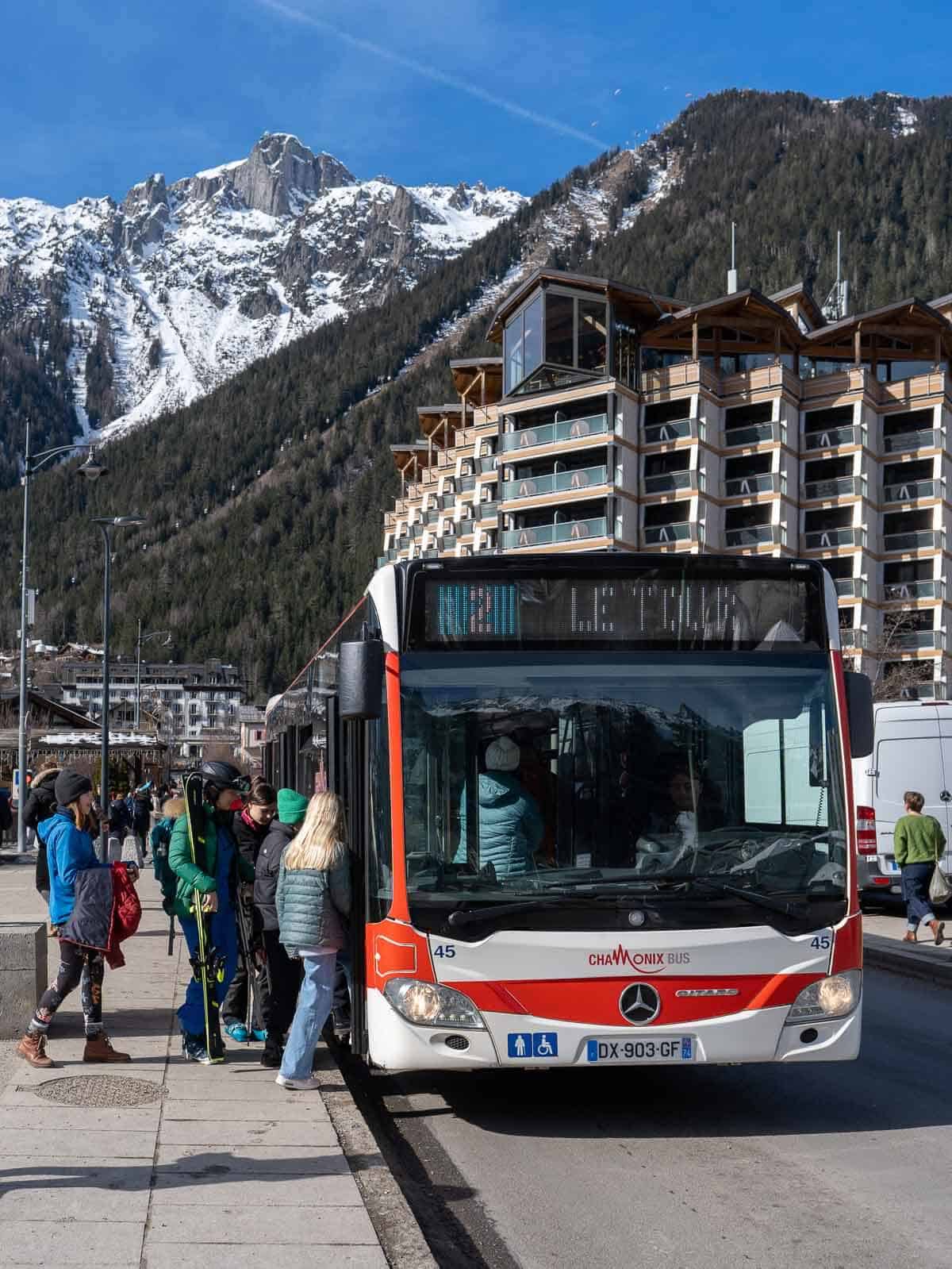 Alternatively, you can take a bus from Geneva Airport to Chamonix. Several bus companies offer daily services, including SAT Mont-Blanc, Ouibus, and Flixbus.
The journey takes around 1 hour and 30 minutes, depending on traffic and weather conditions.
If you have any questions on how best to get to Chamonix from the airport in Geneva, don't hesitate to contact the Chamonix tourist office.