If you are in Rome around the summer season, you should try Gaeta, the best beach near Rome. Getting there is super easy and convenient, and its pristine beaches and medieval history make this short trip worthwhile.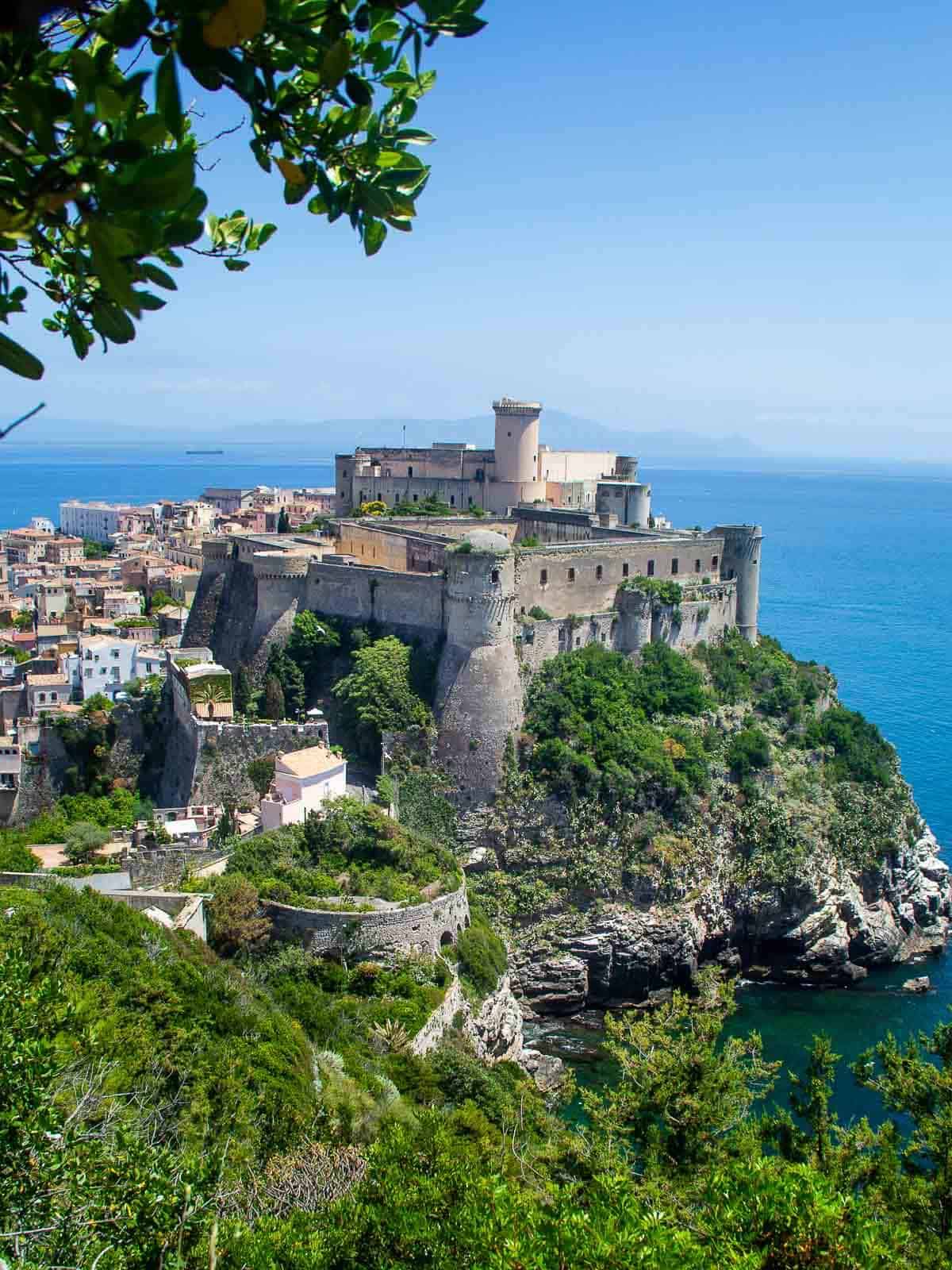 We got to know Gaeta the last time we went to Rome, a month ago. It was the mid-spring season, but the weather was hot, and we craved some water.
We knew Rome was close to the coast side because there is an important port, named Civitavecchia, where we arrived the last time we were in Sardinia, back in 2014. That was the first time we came together to Italy; we never thought we would live here 7 years later.
What we didn't know was that there was a beautiful Blue Flag beach a little more than one hour away from Rome named Gaeta. Be sure to check our Winter Travel Guide for more awesome destinations, like Bolzano, in Northern Italy and Ostuni, in Southern Italy.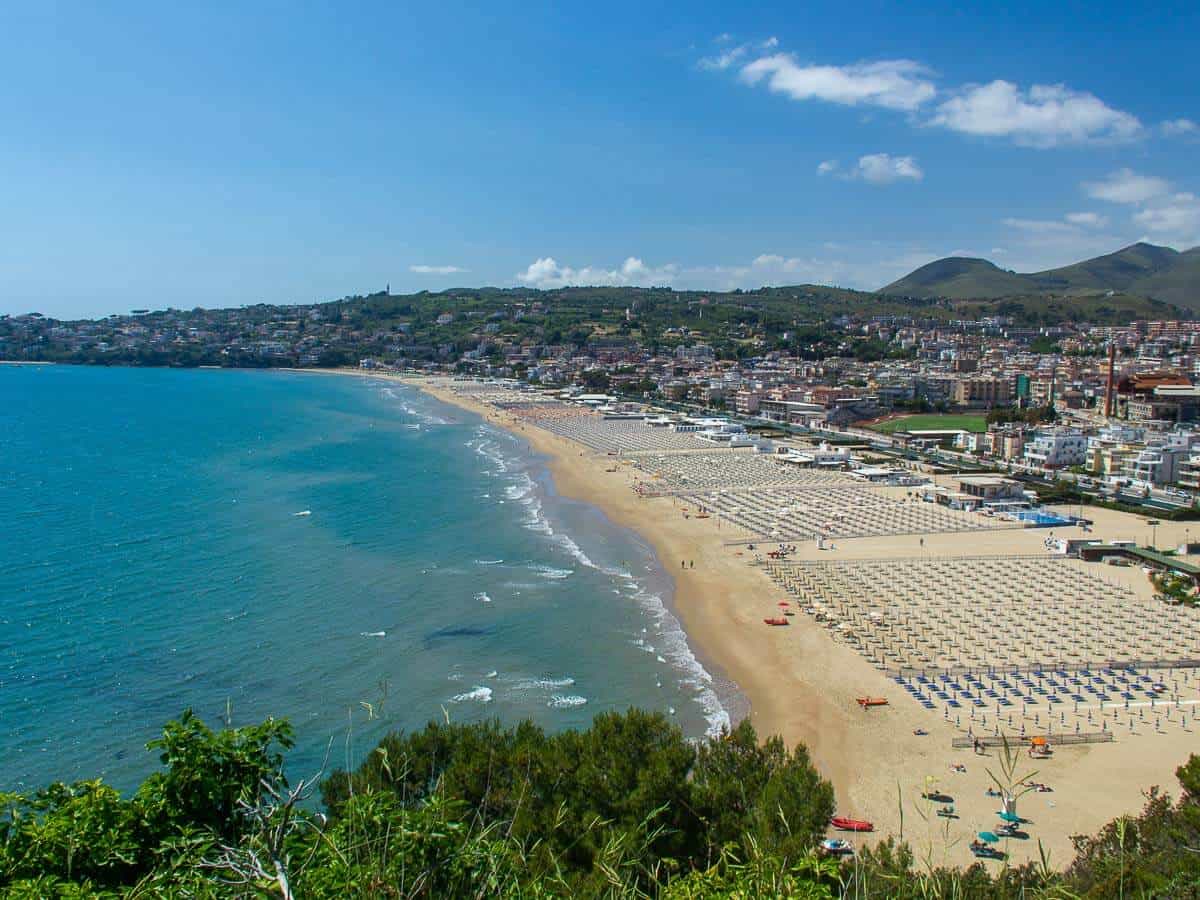 History
Gaeta has been the beach of choice for Romans for ages since it is close enough to go back and forth, even to spend the day.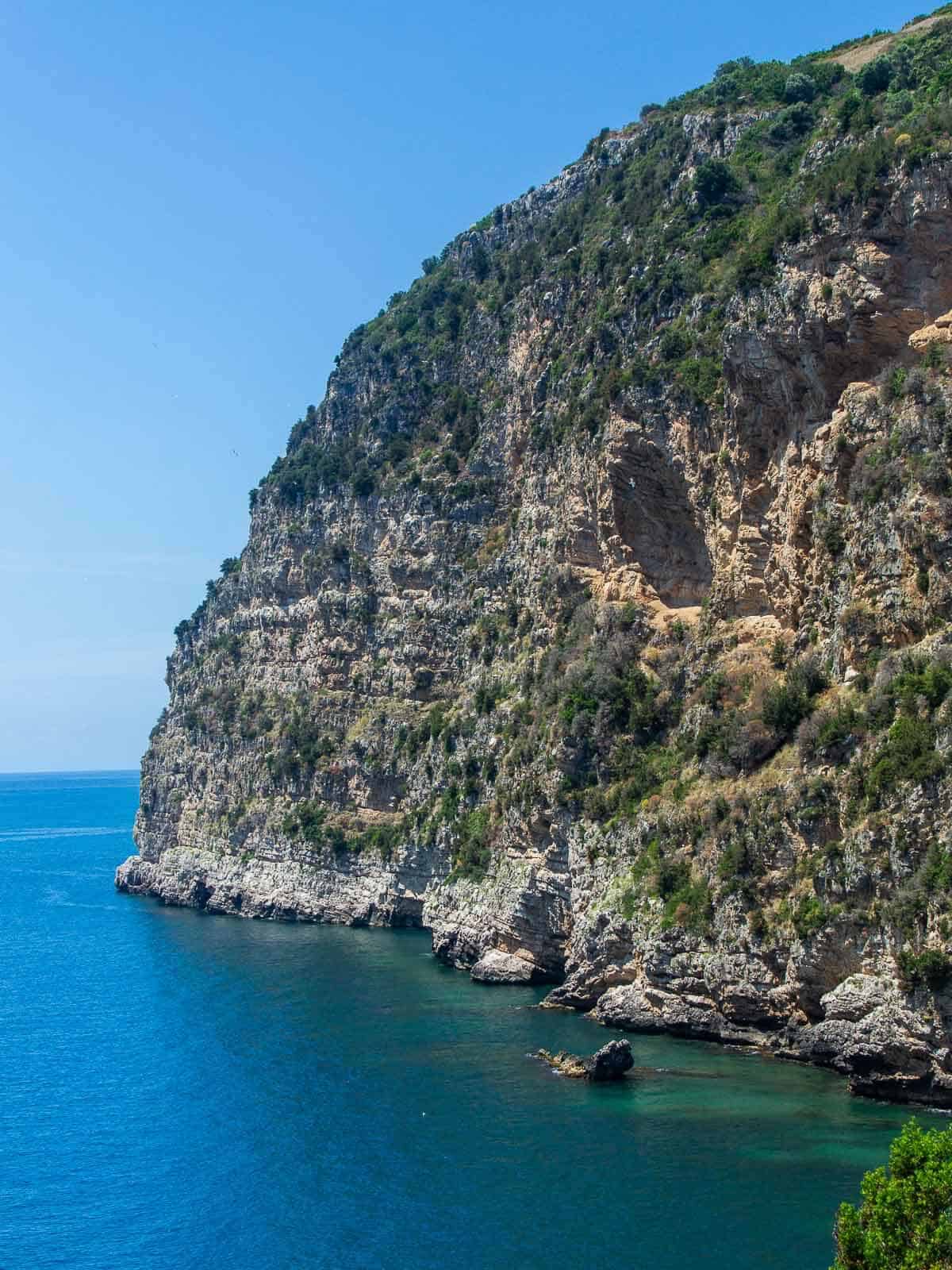 Today, Gaeta is a tourist city. It has a vast artistic heritage; and lively gastronomy represented by the well-known Olives of Gaeta (which are used to make the famous Pasta alla Puttanesca), the "Tiella," and the daily fish market.
Gaeta has a special natural setting of cliffs that attracts thousands of trekkers and free climbers.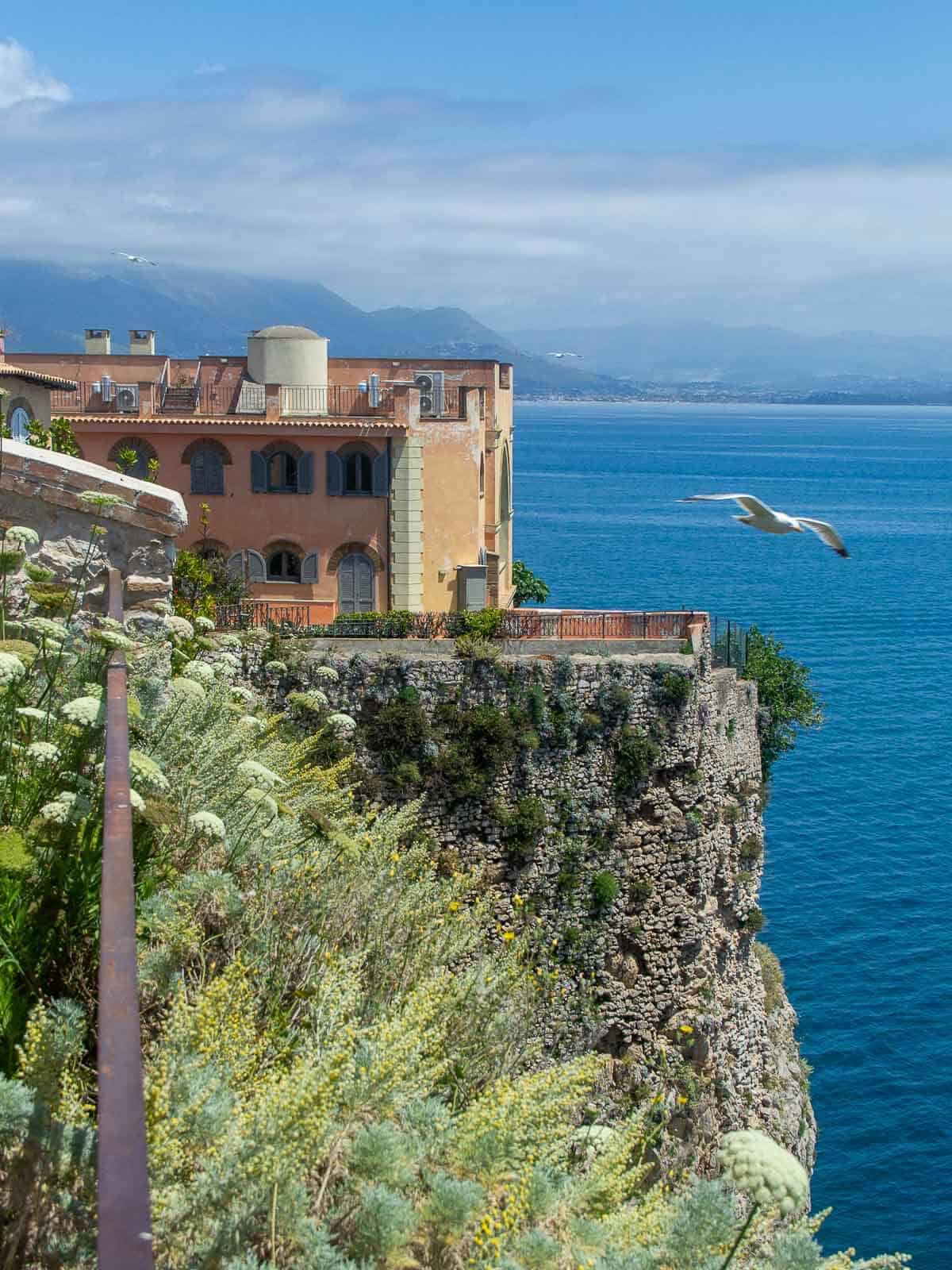 The Regional Park Riviera di Ulisse offers a breathtaking seashore housing seven beaches and a sea awarded with the Blue Flag anthem yearly.
In the Roman Age, Gaeta became a vacation place for aristocratic and wealthy families. It even had its own coin for three centuries. Gaeta was part of the Norman Kingdom, the Neapolitan Kingdom, the Kingdom of the Two Sicilies, the Roman Empire, and the Unity of Italy. It was once even part of the Spanish domination.
It is a city full of history since it has been part of different Kingdoms, such as Naples and Sicily. Just like the neighboring Formia, Gaeta was a tourist resort for rich Roman characters.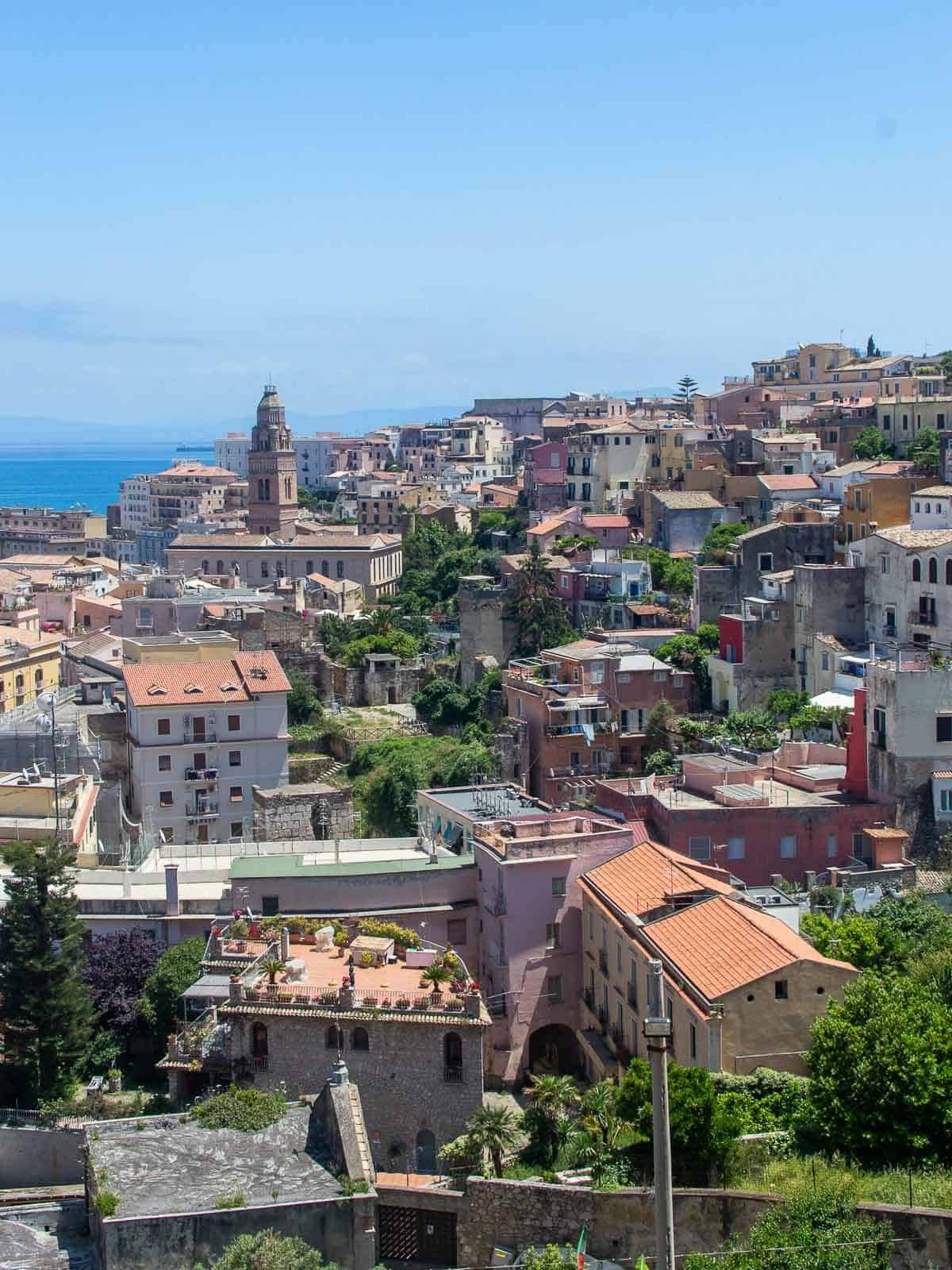 How to Get to Gaeta
Rent a car in Rome or Naples and reach there within one hour.
By train from Rome or Naples, stop at the Formia-Gaeta railway station, then you can either:
Take a bus to Gaeta from Formia, for 1 euro. We had to take a bus that takes you from the train station to the city station, and from there, take another bus to our Airbnb. It sounds long, but it all takes another 30-45 mins.
Take a taxi from the railway station. The price is 20-25 euros.
Note on Train Tickets: I always use the App Trenìt! I always find better deals there than in the actual Trenord App. Sometimes, even half the price!
I try to provide my Credit Card information only when there is no other option. The App Trenìt accepts PayPal, which is fantastic. When you find your ticket, click on Prezzi (Price), to be directed to the ticket purchase page.
I have never had a problem, and we usually buy the tickets just a couple of hours before my departure to have some flexibility. You receive your PDF and QR code immediately and paperless! A big thanks on behalf of the environment!
Trains to Gaeta
The trains from Rome to Formia-Gaeta depart from Termini Station (which is the main Rome station) and take 1:25 hrs and cost as low as 8.40 euros and depart almost every hour.
The trains from Naples to Formia-Gaeta depart from Napoli Centrale (the main Naples station) and take 1:20 hrs and cost as low as 5.60 euros and depart almost every hour.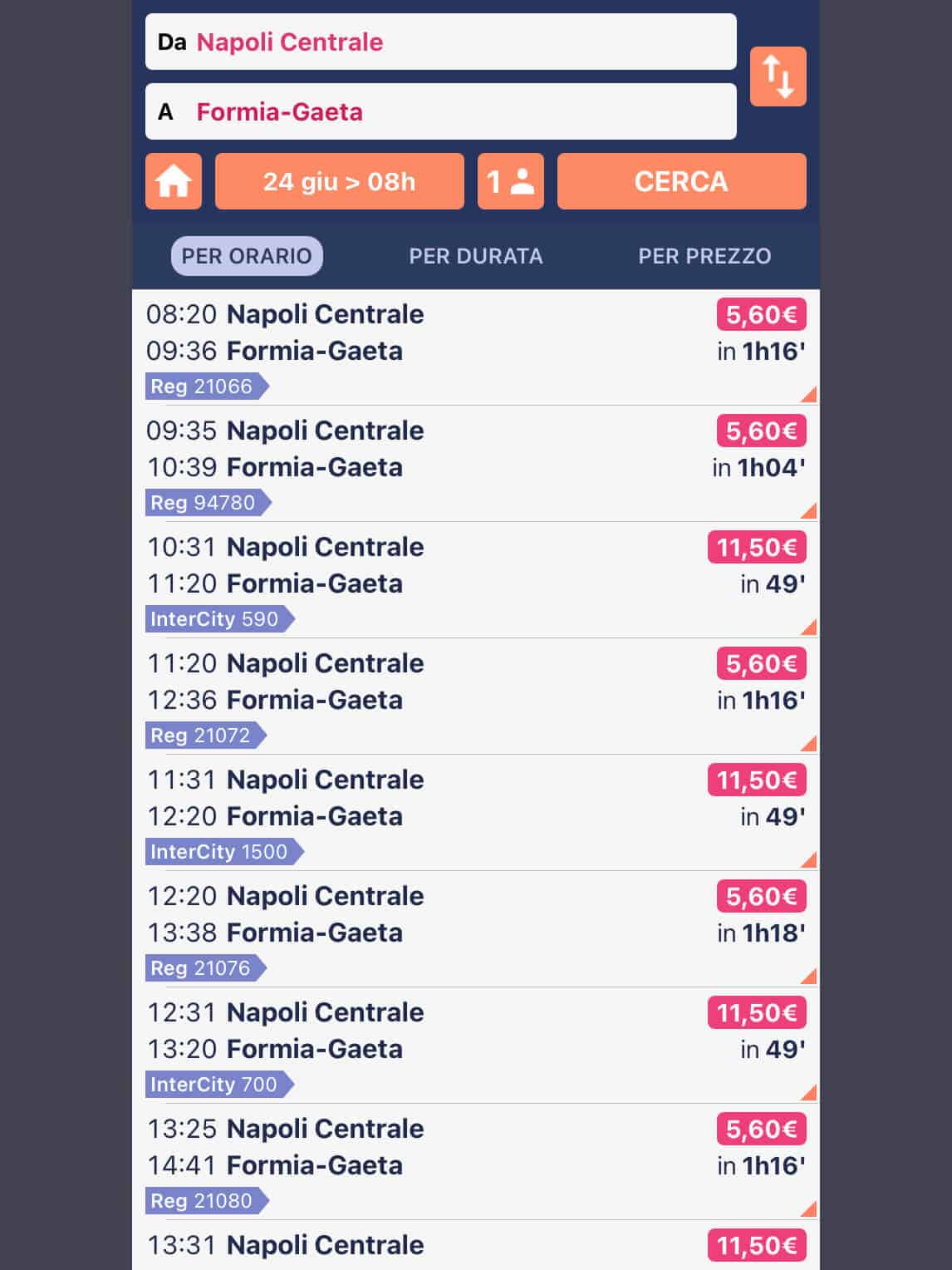 When to Go
Below you can find the yearly temperature in Gaeta. From May to October you can indeed have a beautiful dive in the beach. If you need warm water to swim, make it June to August, but prices and tourist hordes will be at their peak!

Where to Stay
Looking back at our stay, I think the best alternative is to stay in the historic district.
It is very close to the main beach and Lungo Mare (the coastal pedestrian way), and it is also near Gaeta's main attractions (affiliate link).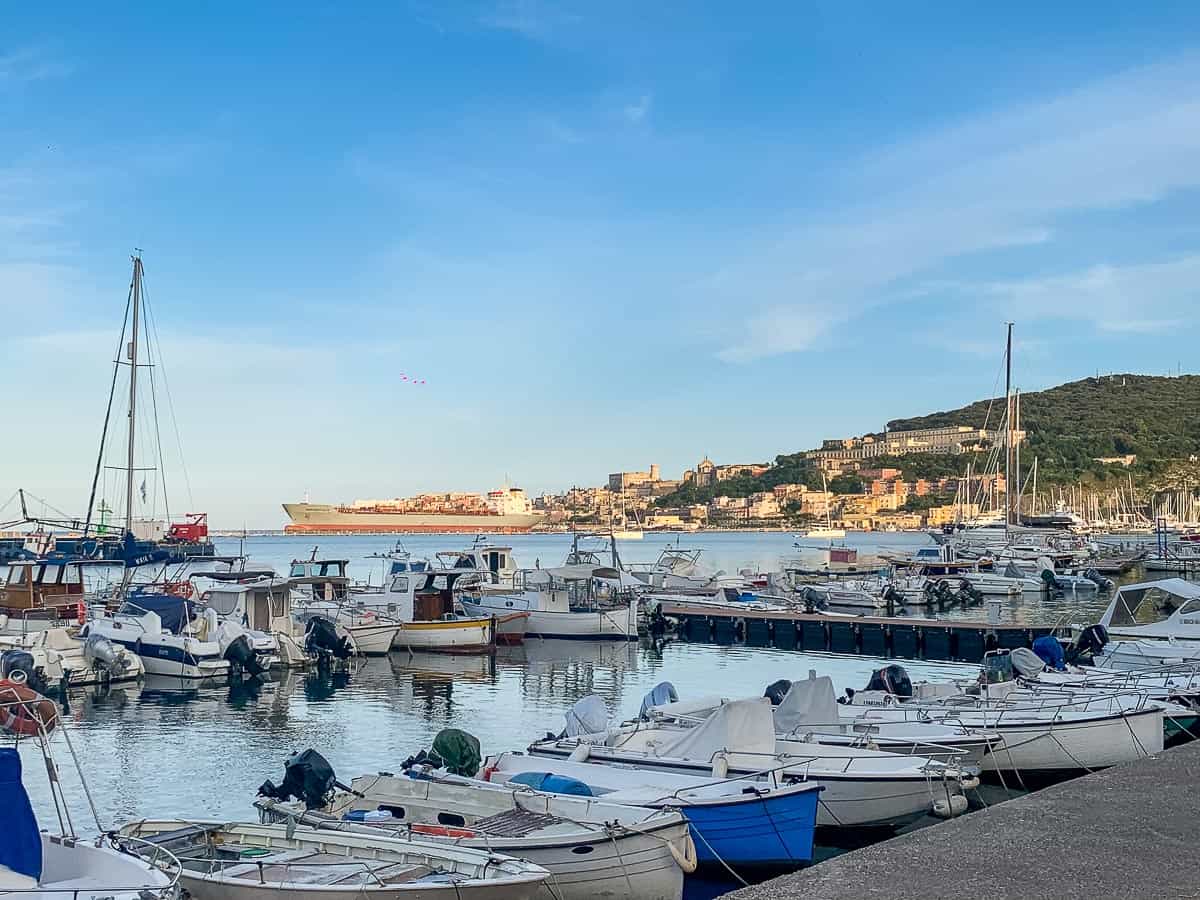 But the truth is that everything is close there. We never took public transportation to stroll the city. Everything is reachable within a 20-30 mins walk.
If you have a car, it will be easier to reach the beaches around Gaeta. Otherwise, we suggest sticking to the main and longest beach: Serapo.
We didn't stay in the historic district. Alternatively, we stayed in front of Serapo beach, but still, we could reach the historic center in 10-15 min (walking).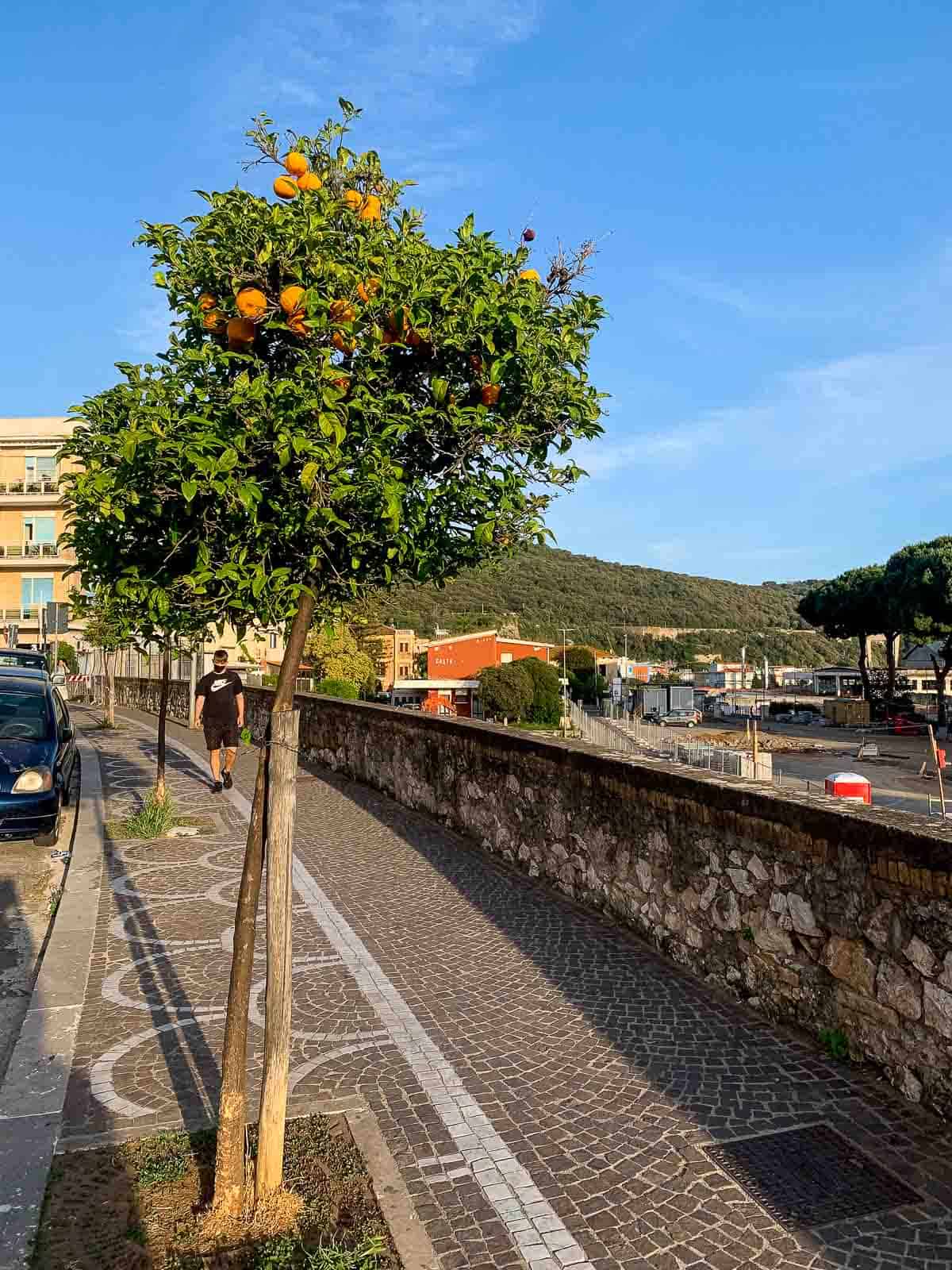 Both Bookings and Airbnb, our preferred bookings platforms, are widely available in this touristic town. But expect moderately high prices.
We went in May, right before the summer season, and our Airbnb was 70 euros a night. It was a private, comfortable bed and breakfast, and we were not in the main tourist area, but we were 5-minute walk distance from Serapo Beach.
What to do in Gaeta
We recommend downloading Gaeta's App, which provides a very comprehensive guide to navigating the city.
Walking at the Medieval Historical Center is a must!
Walk in the center stretch streets all the way to the Piazza della Libertà and buy a Tiella, Gaeta's most famous dish, at a bakery. See below where to get the best!
Spend the day at the Beach: If you are staying for a couple of days, pick a different one each day and explore. You will have beaches minutes away from your accommodation and hidden gems a little bit off the tourist trail; keep in mind that you will need a car or rent a boat to access those—Bellow details on Gaeta's best beaches.
Trekking at Parco Riviera di Ulisse: Monte Orlando (Orlando Mountain) is part of the park of the Riviera di Ulisse. With an extension of 89 hectares (of which 30 to the sea), it is a Mediterranean lung in the city center, bordered by a cliff overlooking the sea.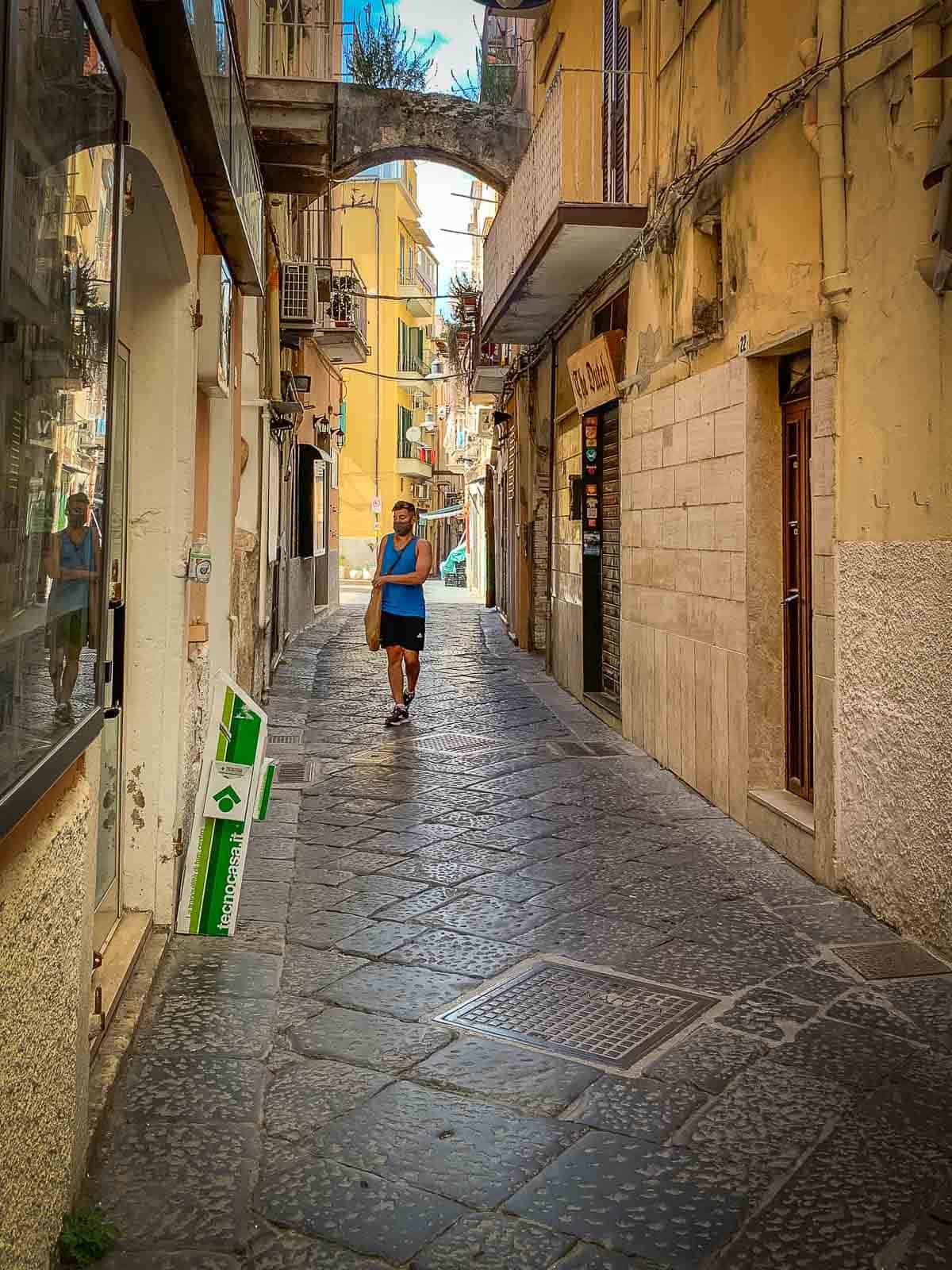 This area is a nesting place for birds, including the peregrine falcon. Within this park, you will find the unique Trinità alla Montagna Spaccata church, a Sanctuary with three spectacular cracks in the rock.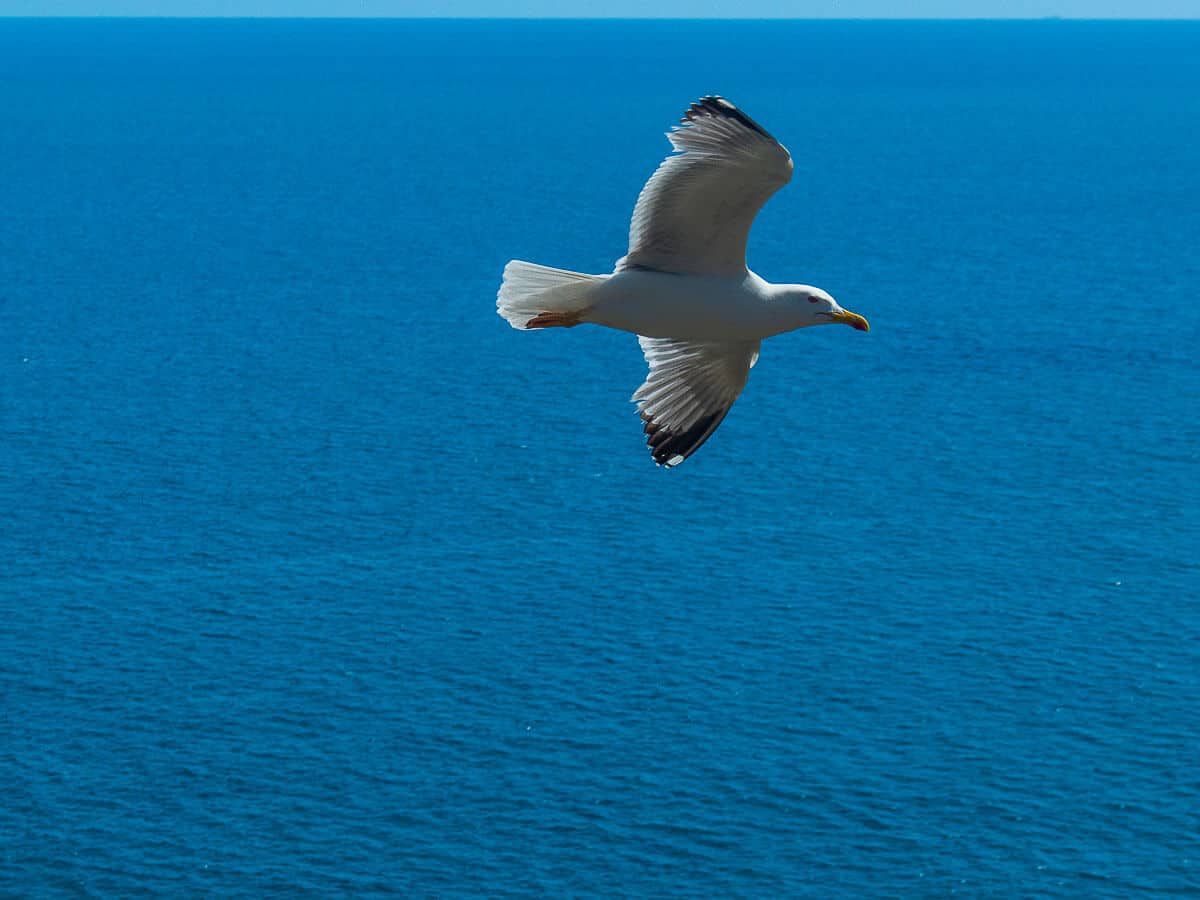 Turks use to frequent the homonymous cave. As a result, one legend says that God split the cliff in three because Turks didn't believe in God.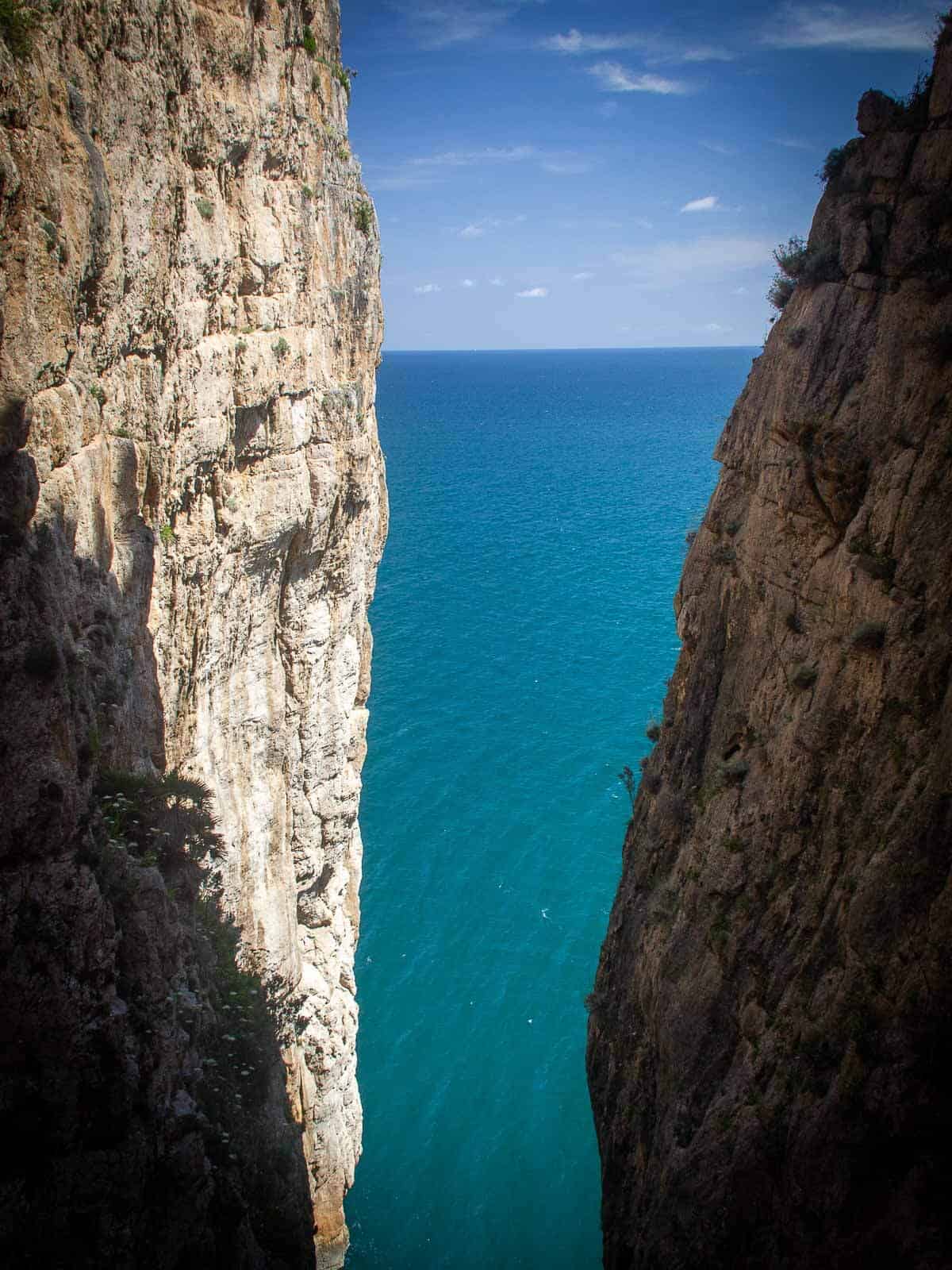 Monte Orlando is an archaeological site that permeates a journey through history from prehistoric times to the Roman age, with the remains of the villa and the Mausoleum of Lucio Munazio Planco (22 BC) extraordinarily preserved.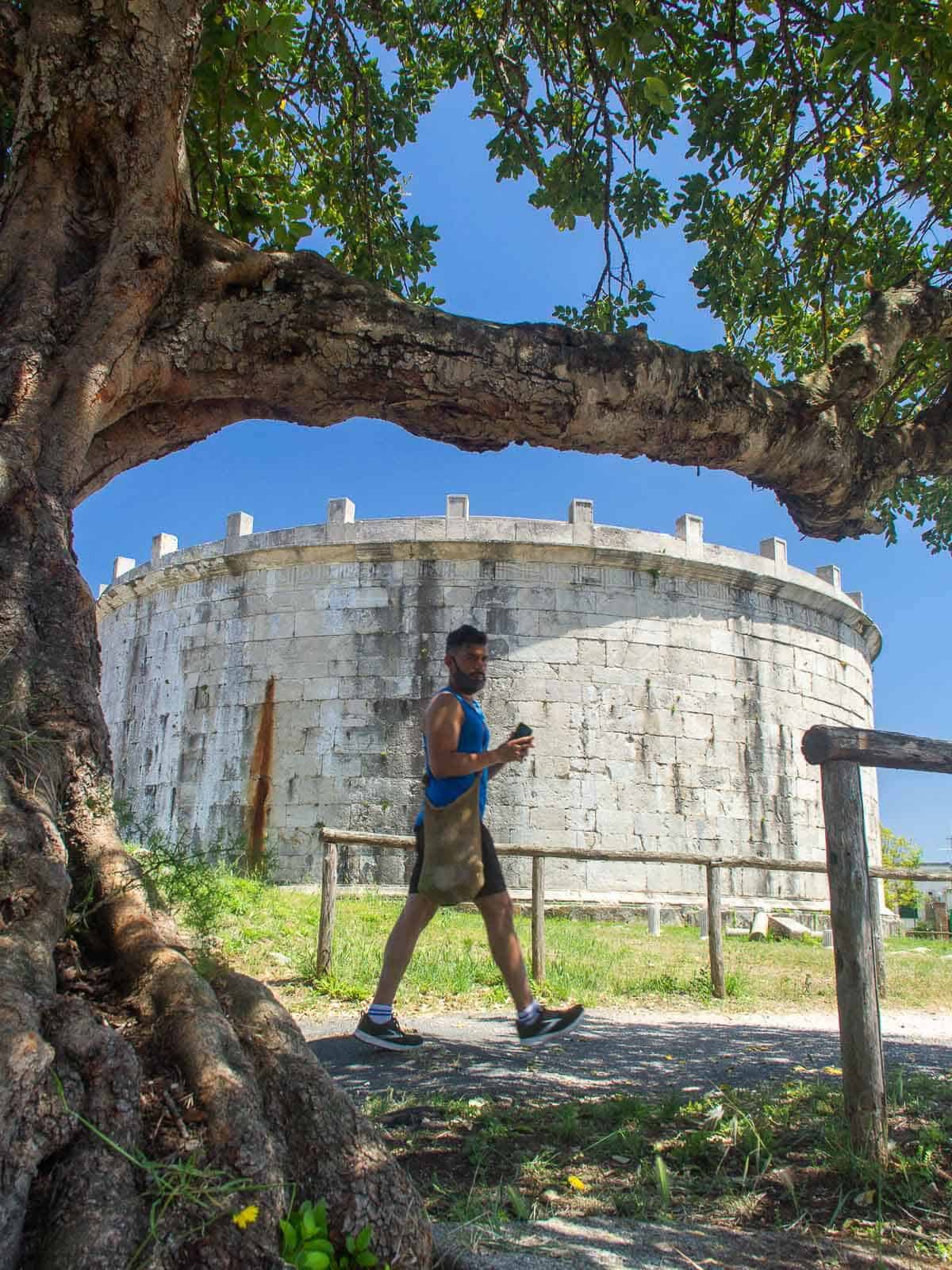 Monte Orlando is a space to be lived every day through walks in the silence of nature, enjoying the fantastic panoramic views. But, it is a steep path. So, wear your most comfortable shoes, have a good breakfast, and pack some fruit and water.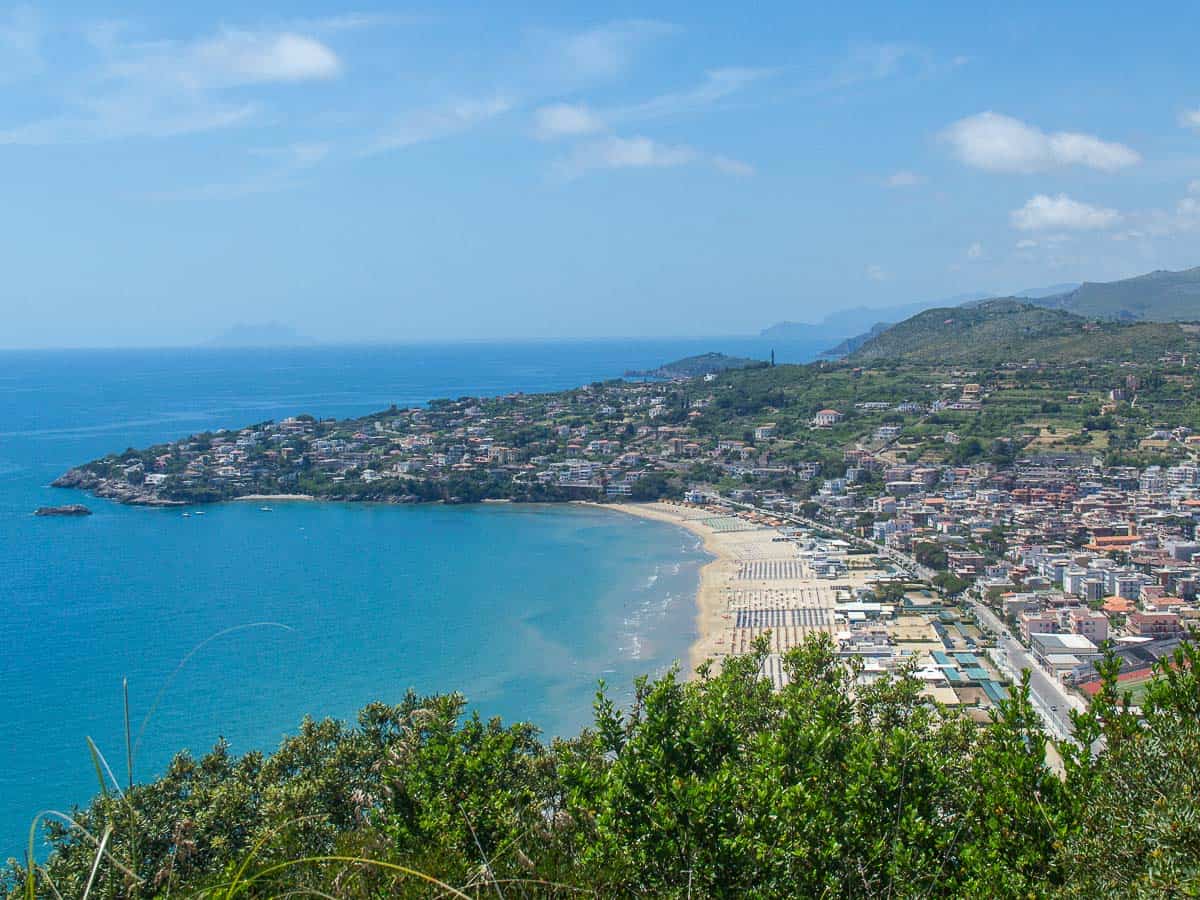 I would say your need to be roughly in shape to spend 2 to 3 hours trekking. Do not miss this trekking path; if you do, you will have missed a big part of the unique experience Gaeta has to offer and a great opportunity to work out a little bit during your holidays while enjoying amazing views.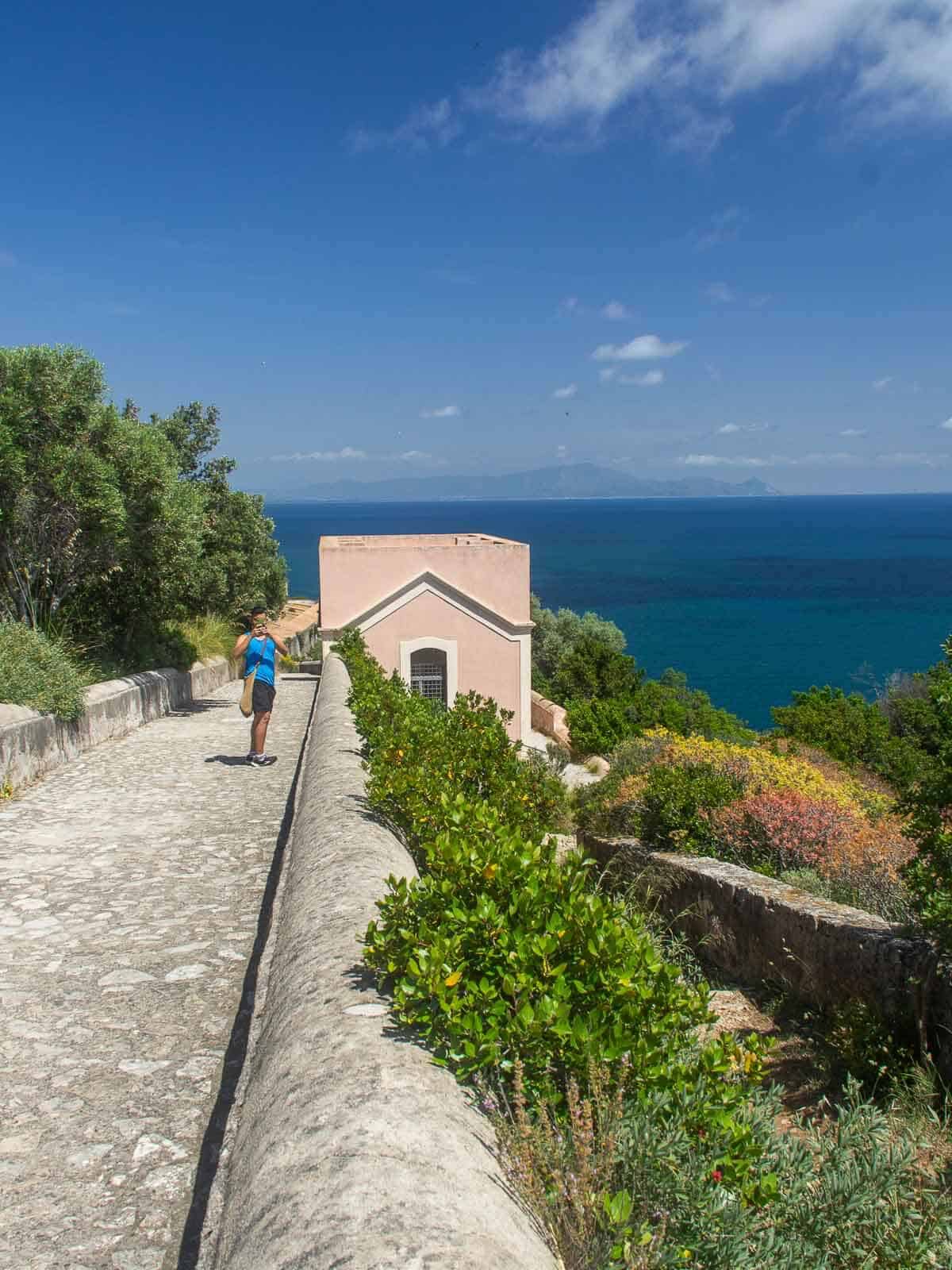 Castello: This big castle seen from anywhere in Gaeta was built during different ages under its various rulings. After being part of multiple Kingdoms, in 1861, Gaeta fell and consequently became part of the Unity of Italy.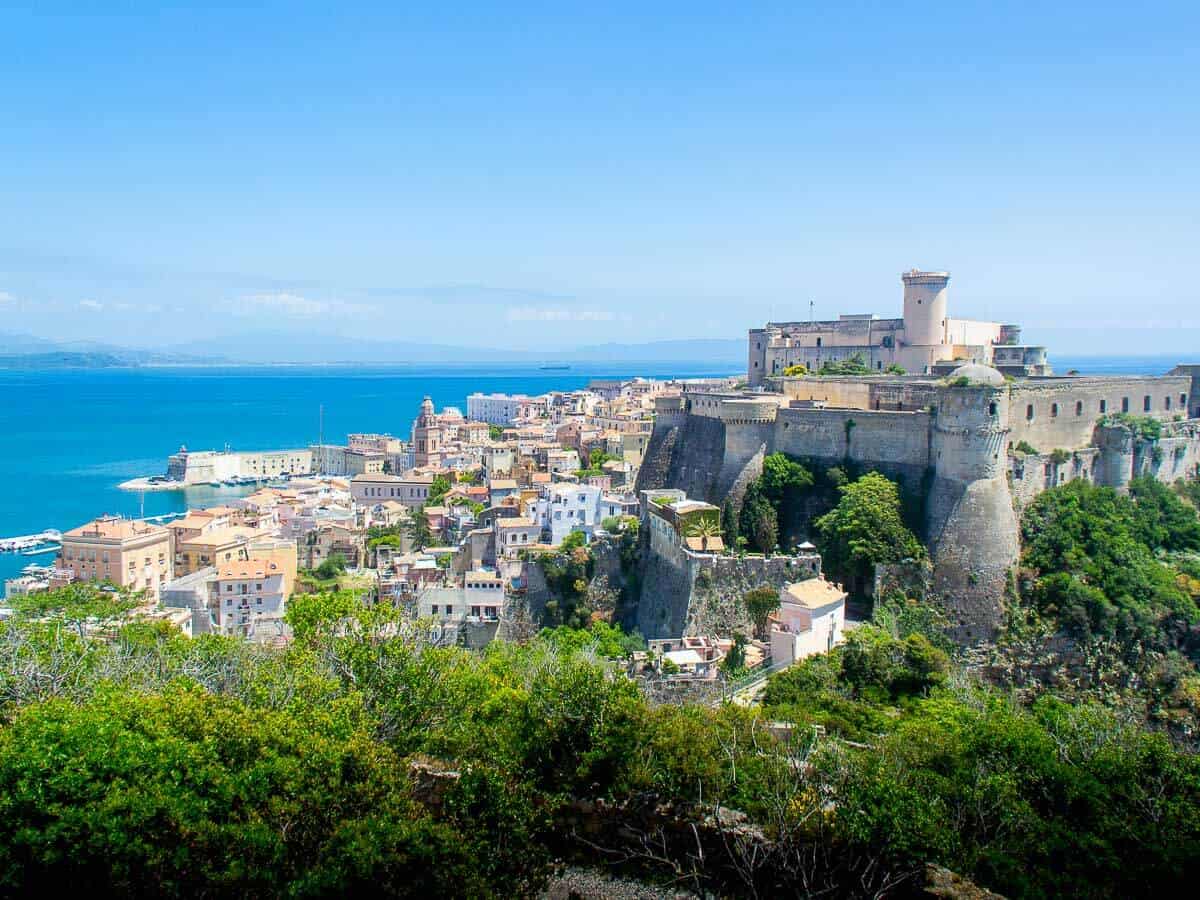 Best Beaches in Gaeta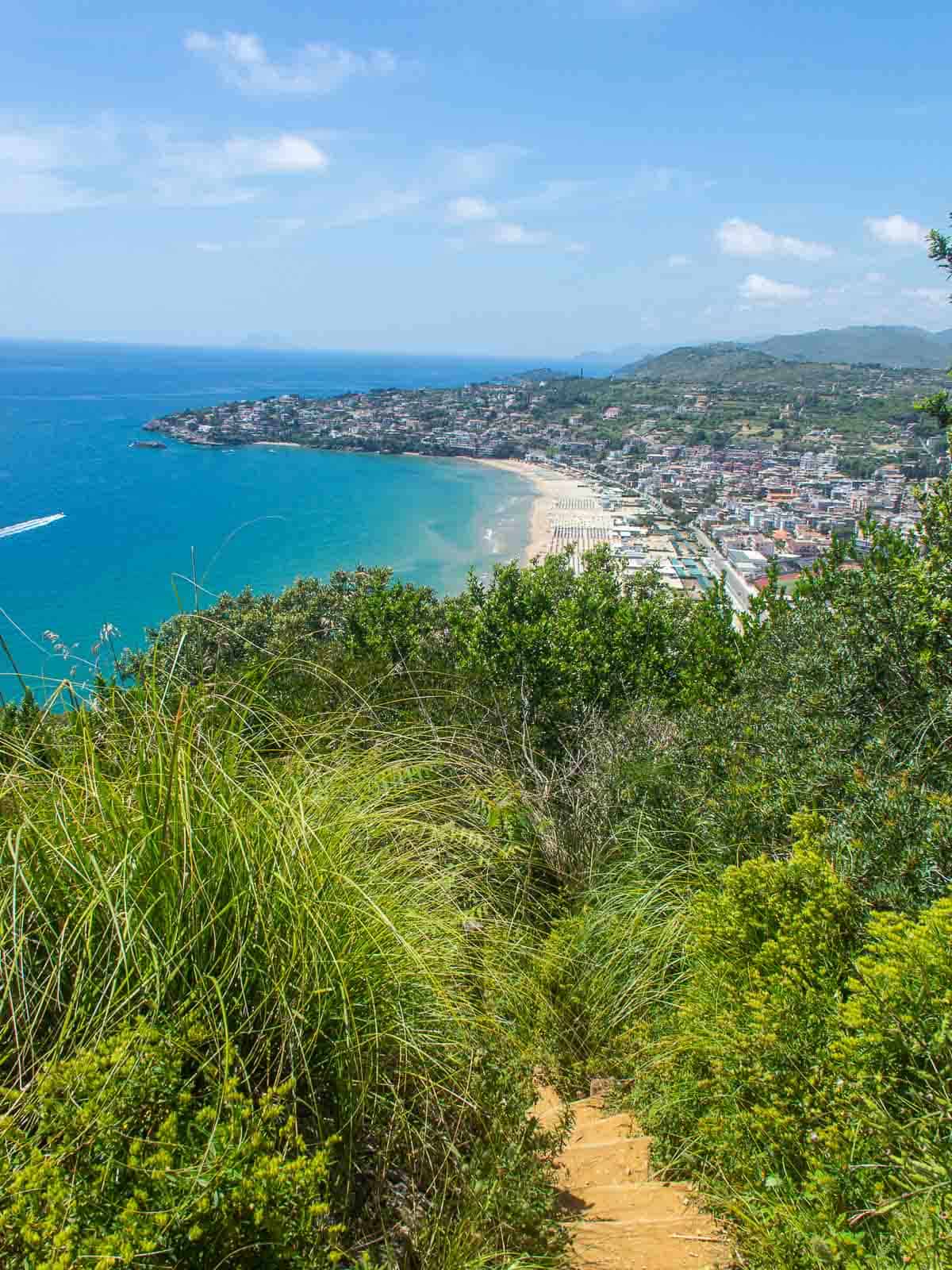 Serapo Beach: has white and fine sand. It is the longest beach and holds many beach bars.
Fontania Beach: was Roman's choice in ancient times to install their sumptuous Villas.
Spiaggia 300 Gradini: is one of the most beautiful beaches of Gaeta. It is about 10 minutes away by car or motorbike (probably the best option to avoid looking for parking). There, you can rent beach equipment. Trees surround this beach, and the prices are low. Consider that you will have to take the stairs down to the beach, but it is worth it!
Quaranta Remi: people said you needed to row about 40 times before getting there from Serapo, hence its name. This lonely beach is only accessible by boat.
Spiaggia dell'Ariana: this beach is in the middle of nature. It is a wide and beautiful beach that holds many beach bars.
L'Arenauta: is the wildest beach, where the cliff merges with the sandy dune.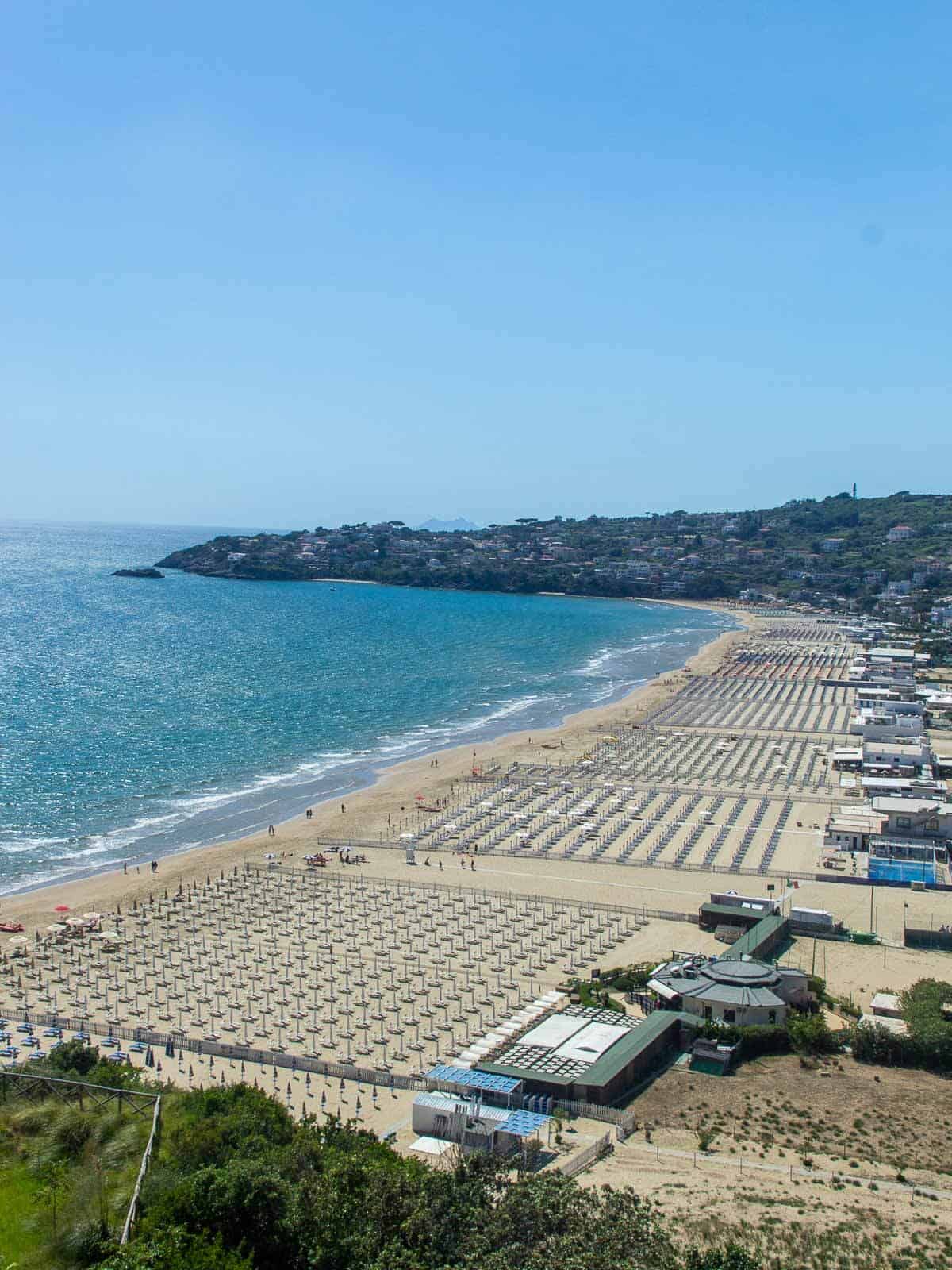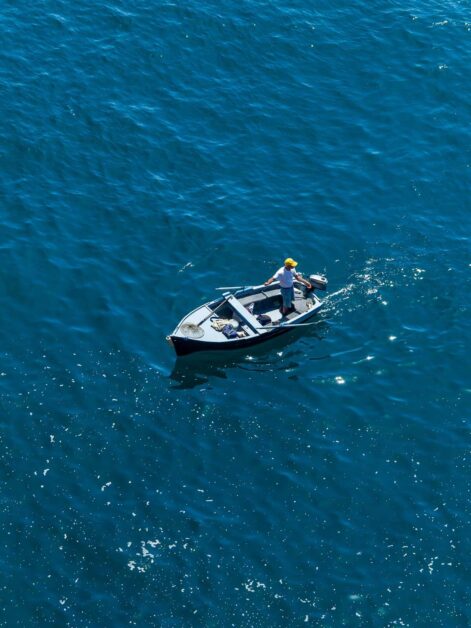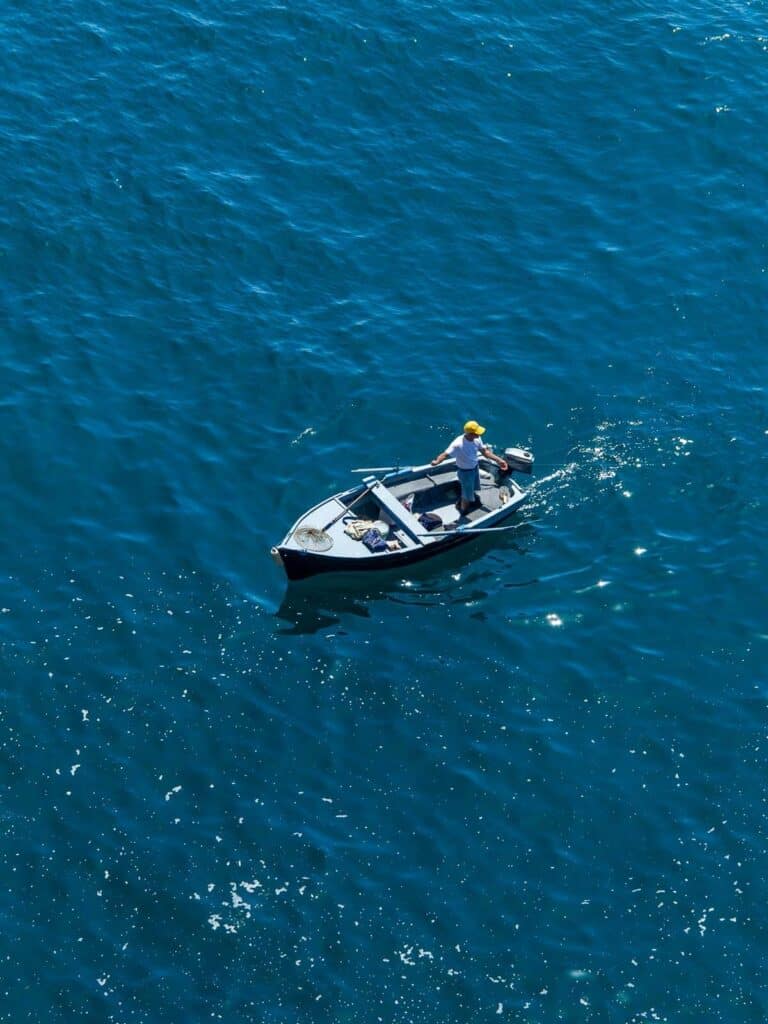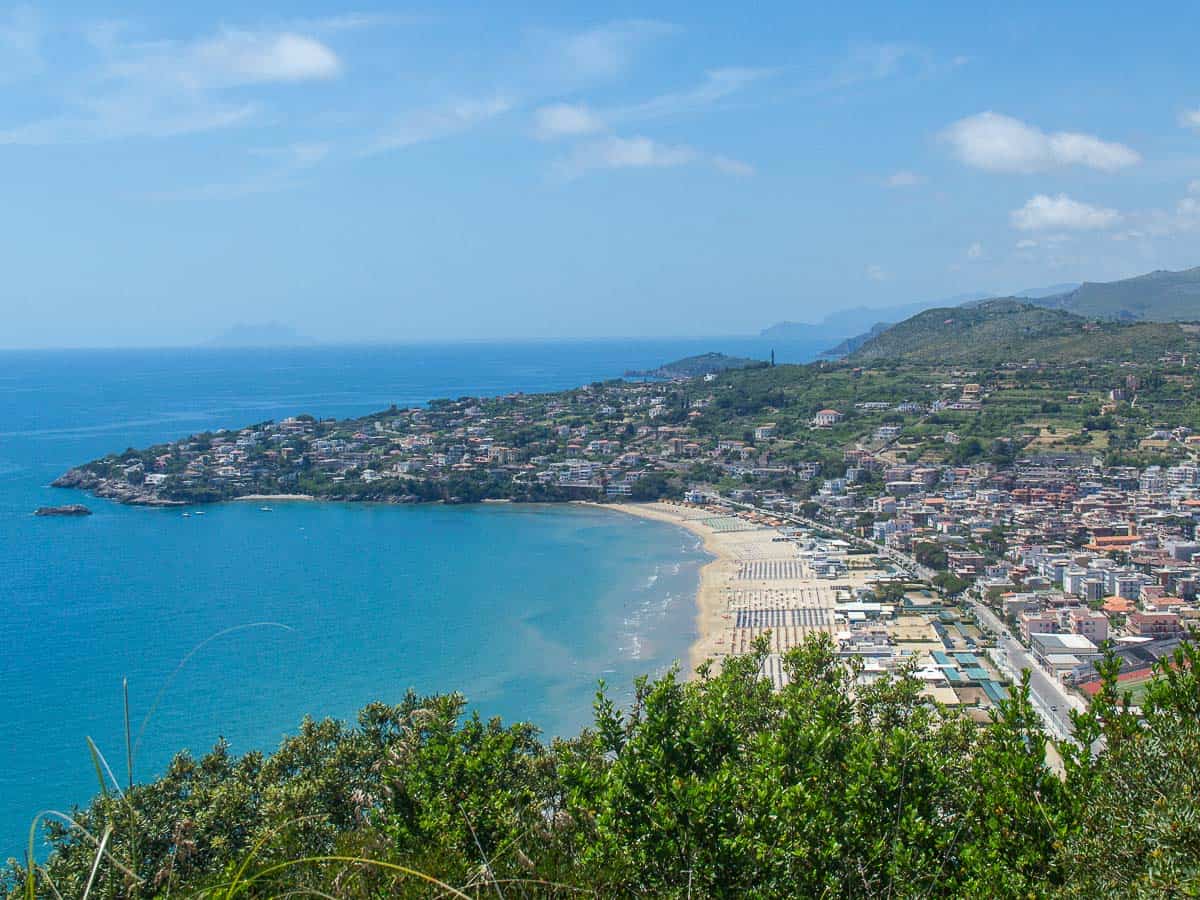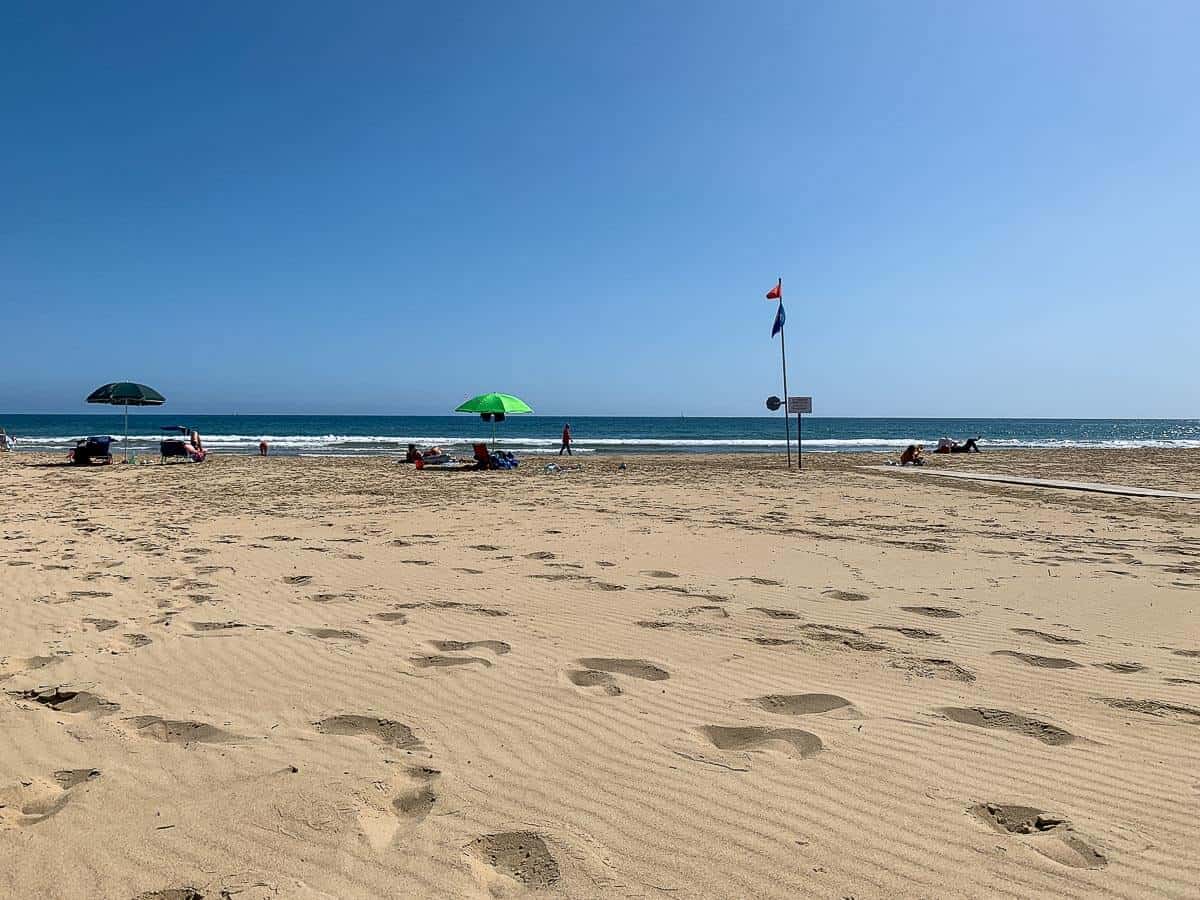 Gastronomy
The marine vocation of Gaeta makes its gastronomy revolve around seafood.
Gaeta has always been present in the maritime trade routes and being a crossroads of historical passages. The flavors and recipes of tradition are based on fusions that speak of continental Europe, Northern and Southern Italy, and the Western and Eastern Mediterranean, without neglecting the Arab influence.
Where to Eat
Eating a plant-based meal in Gaeta can be challenging. We went to various restaurants but were not fully thrilled by the vegetarian options they had to offer, so I will not call out them.
Eating in Italy is a great experience and although it is easy, you need to know what NOT to miss while visiting.
If you are interested in knowing about the other restaurants' recommendations that we got from locals, here they are.
We chose not to visit them as we scrolled down the menus and couldn't find any vegan or vegetarian options. A casa Mia, Mediterraneo, O'nacchenell and Masaniello.
One of the nights we went out for dinner, we found PerBacco. It is a Restaurant and Winery whose food wasn't impressive (we found it too oily), but the wine selection and friendly service were truly outstanding. We recommend going for a drink and an appetizer. If you are interested in Wine, don't forget to visit our Wine Corner.
Gaeta's Vegan Friendly Staple products and dishes
Among the typical products, make sure you try Gaetan black olived; the olive oil and Tiellas are the most worthy of mentioning.
Tiellas
The one Staple Dish from Gaeta is the Tiella. Tiellas are savory tarts which fillings can vary from house to house and bakery to bakery.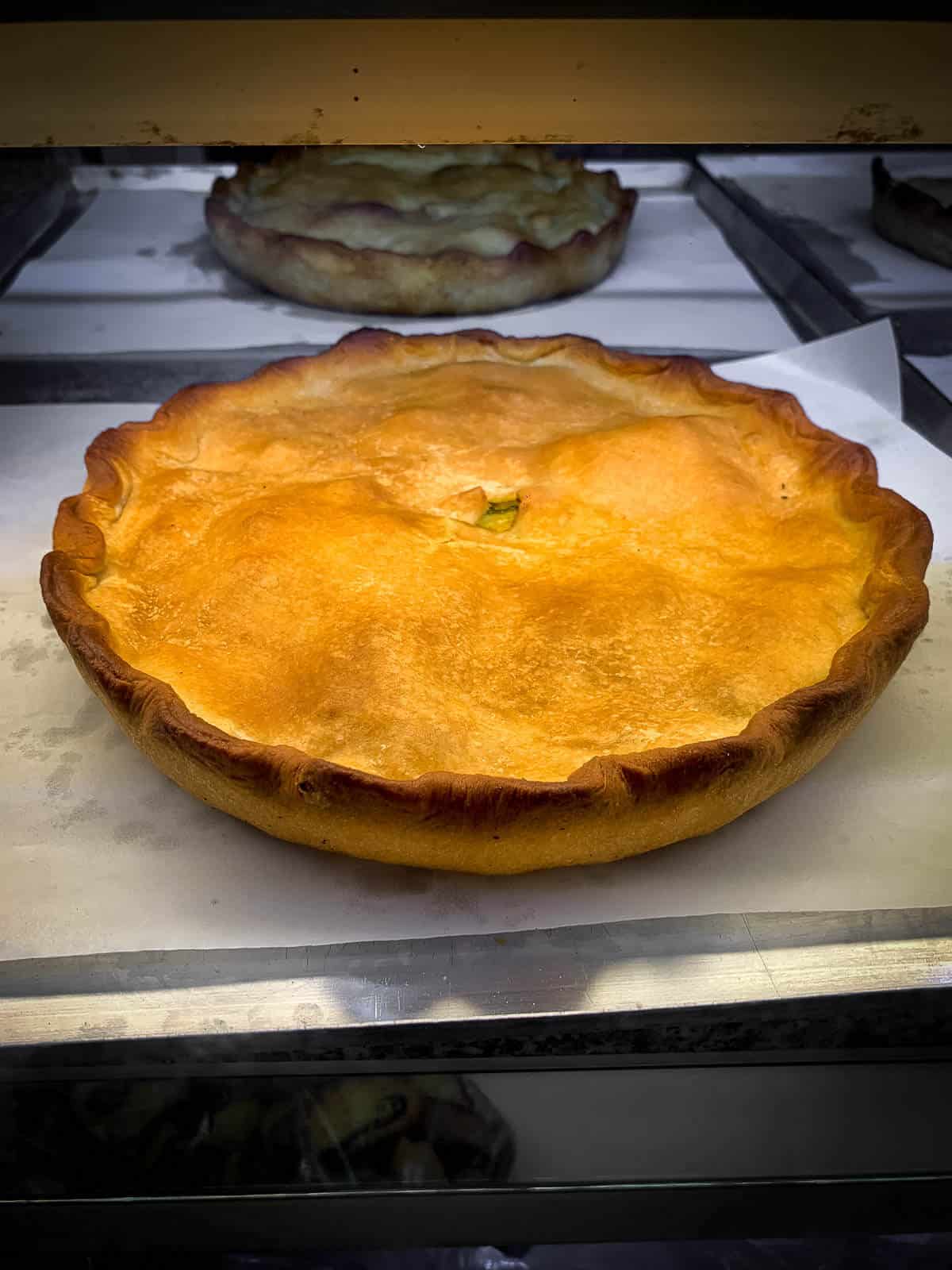 The most commonly found Tiellas are filled with:
Escarole (Scarola) and Gaetan Black Olives (Black Olives from Gaeta).
Verdure (like zucchini)
Eggplant
Octopus
Alici (Anchovies)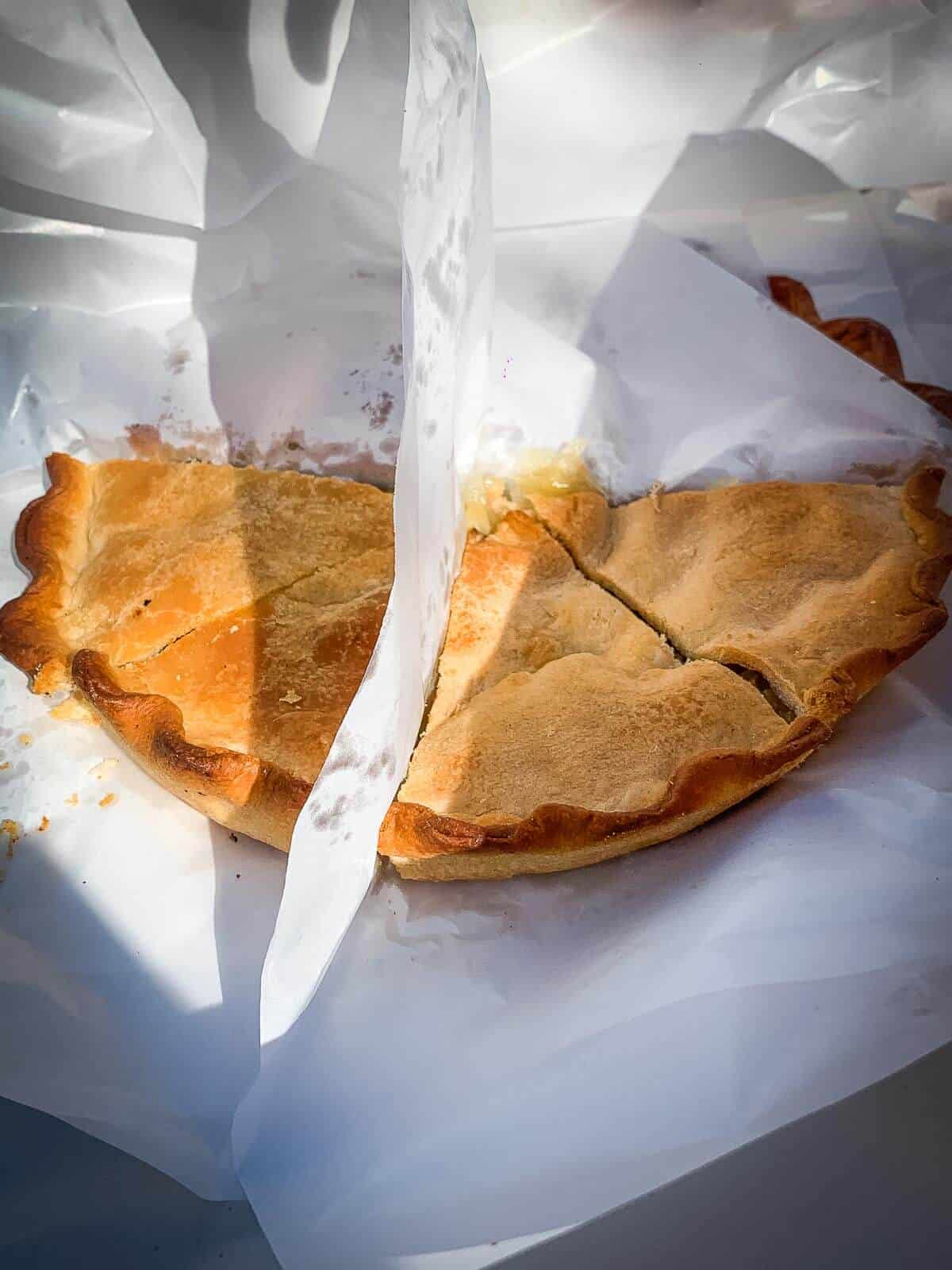 The typical Tiellas dough is made with flour and olive oil, so they are naturally vegan.
People eat tiellas as a convenient lunch for a beach day. They are like a pizza with a topping dough, so they are pretty easy to handle. We were happy to go to the beach with four pieces from the most famous Tiella Bakery Antico Forno Giordanno da 1890. Address.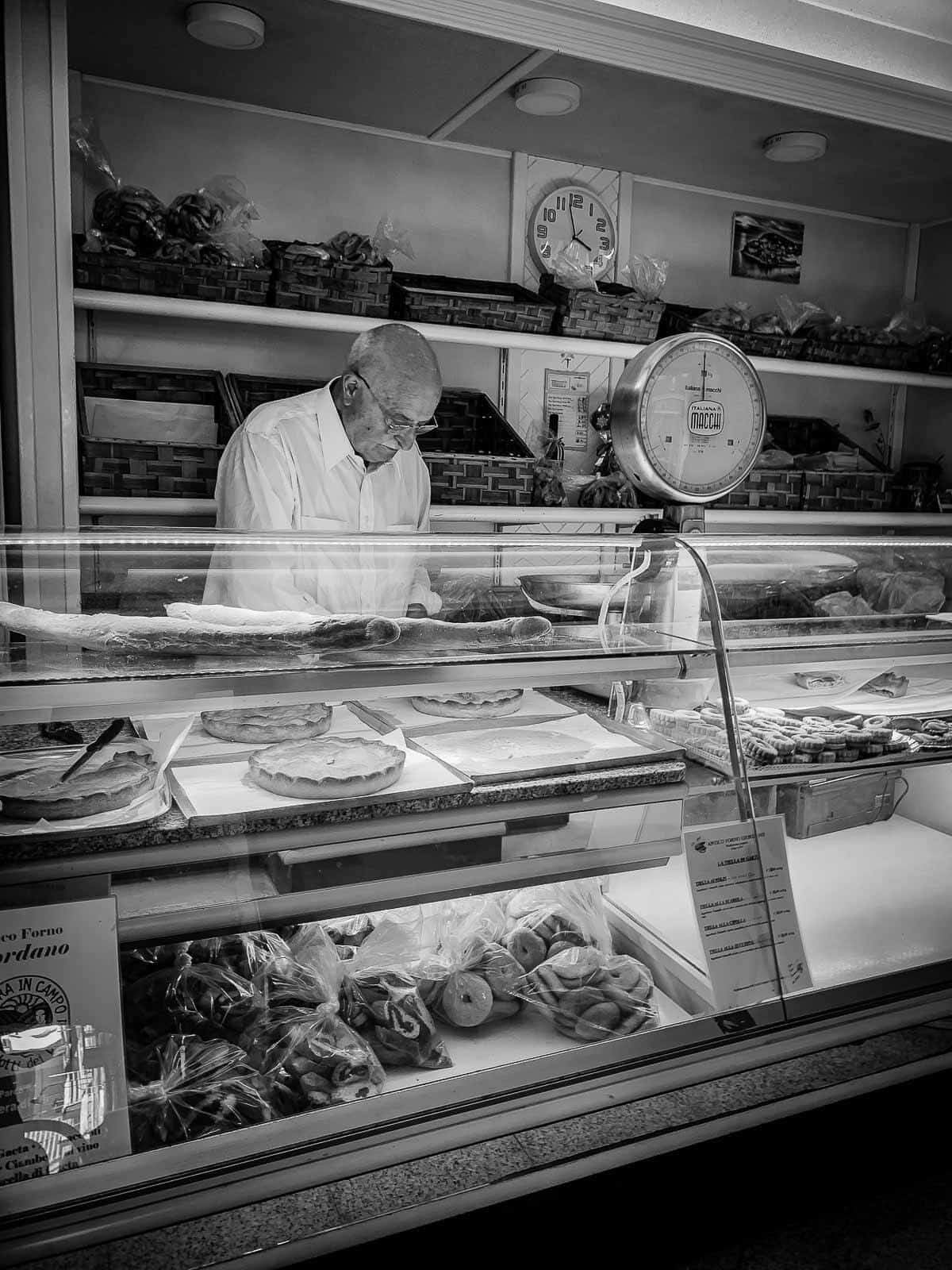 They also have some sweet pastries that are worth trying. This bakery is always open. After our trekking in the Parco Riviera di Ulisse and were ready to make our way to the beach, we couldn't find any other open place to grab something to eat other than this iconic place. A place with a lot of history, and the owner took care of us and laughed, saying: yes! we are the only ones who open throughout the day, nonstop!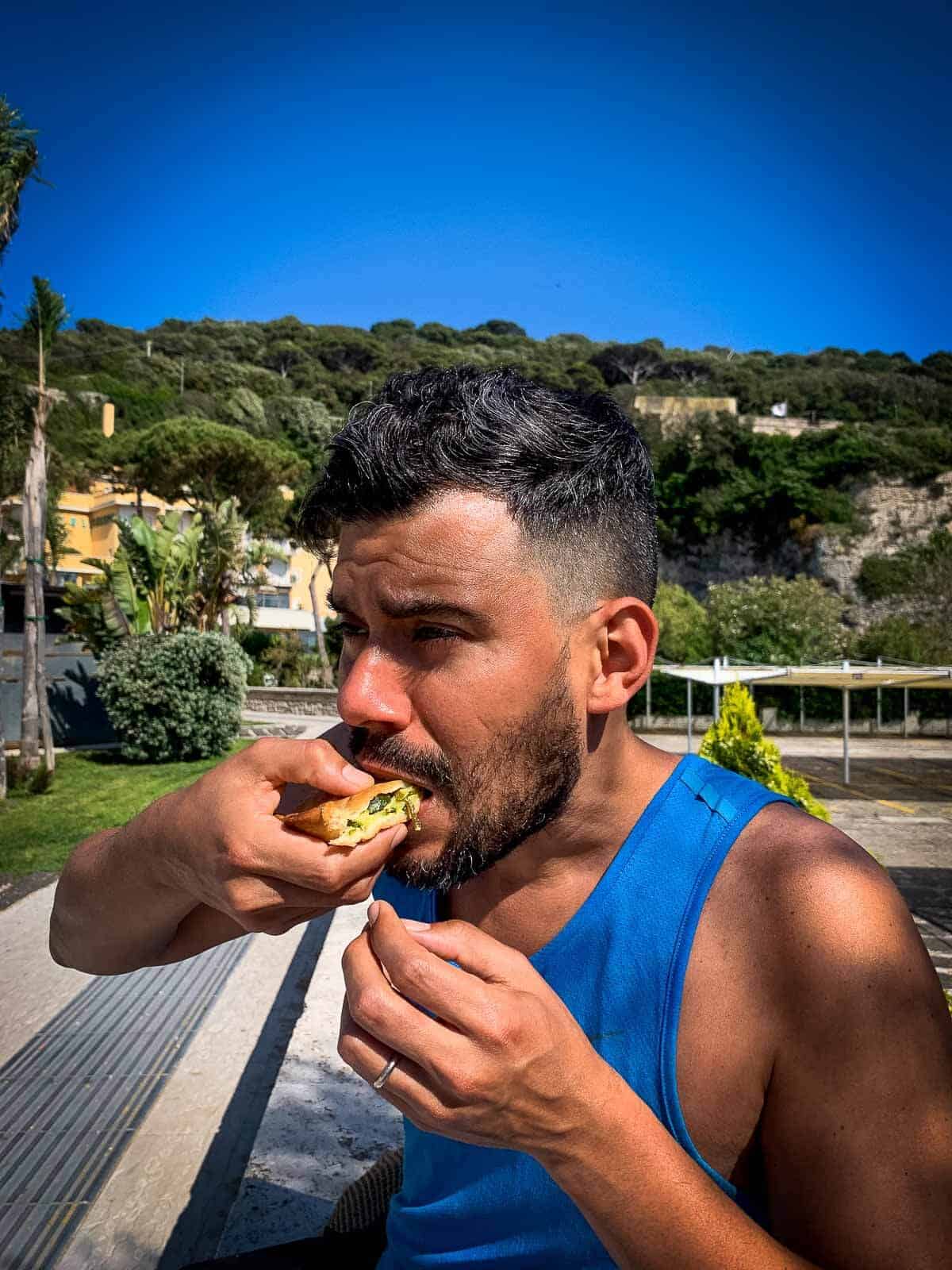 Besides Tiellas, the other traditional Gaetan foods that are Vegan Friendly are:
Gaetan Black Olives
The Oliva di Gaeta PDO has a slightly tapered shape and a color that varies from deep pink to purplish. The pulp must have a clear and complete detachment from the core, a soft consistency, and a typical, slightly bitter, acetic, and/or lactic flavor.
The Oliva di Gaeta PDO is used to produce excellent oil. Still, above all, there are various preparation methods, including olives in brine, commonly called water olives, soft olives, and broken olives.
The characteristic that identifies the Oliva di Gaeta PDO is a particular fermentation process. They add brine periodically so that the olives are never exposed to the air, causing a softening of the olive pulp to allow it to detach from the stone.Try the famous Gaetan Black Olives (Olive nere di Gaeta).
Puntarelle
The Puntarelle di Gaeta is a side dish is made with capers, garlic, and olive oil. Puntarelle is a very popular vegetable; even the Romans, well-known gourmets, loved this slightly bitter and asparagus-like ingredient.
Sautéd Artichoke and Potatoes
Carciofi e Patate in Tegame (sautéd Artichokes and Potatoes). It is considered a side dish, and it is healthy and delicious. It is a popular tradition as many Roman Artichokes dishes such as Carcioffi alla Romana. Give it a try!
Pomodoro Spagnoletta
This type of tomato is much sought after and appreciated for its flavor. As a result, it is used in the red ripening stage to prepare sauces, particularly fish-based, in salads if harvested halfway through maturity and to obtain dried tomatoes. However, due to its watery consistency, it is not suitable for preserves.
It has a characteristic wedge shape, small size, sour taste, and a more watery texture than other tomatoes. In addition, the flavor that distinguishes it is due to the production area where the irrigation water is brackish.
Hopefully, you find this post helpful and inspire you to take a trip out of Rome the next time you are around. It is totally worth it, and I am sure you won't regret it!
Enjoy Italy off the tourist trail!
Explore the breathtaking Venice, or one of the most stunning views you will ever see in Lake Como and the nearby city of Cernobbio, and the fantastic landscapes and food of Piedmont and Puglia.