If you're like me, the only thing that's better than a good glass of wine is a good glass of wine paired with some delicious food. And if you're looking to take your wine and food pairing skills to the next level, I highly recommend heading to Piedmont, but don´t forget to first read this Guide to Eating in Italy's Piedmont Region!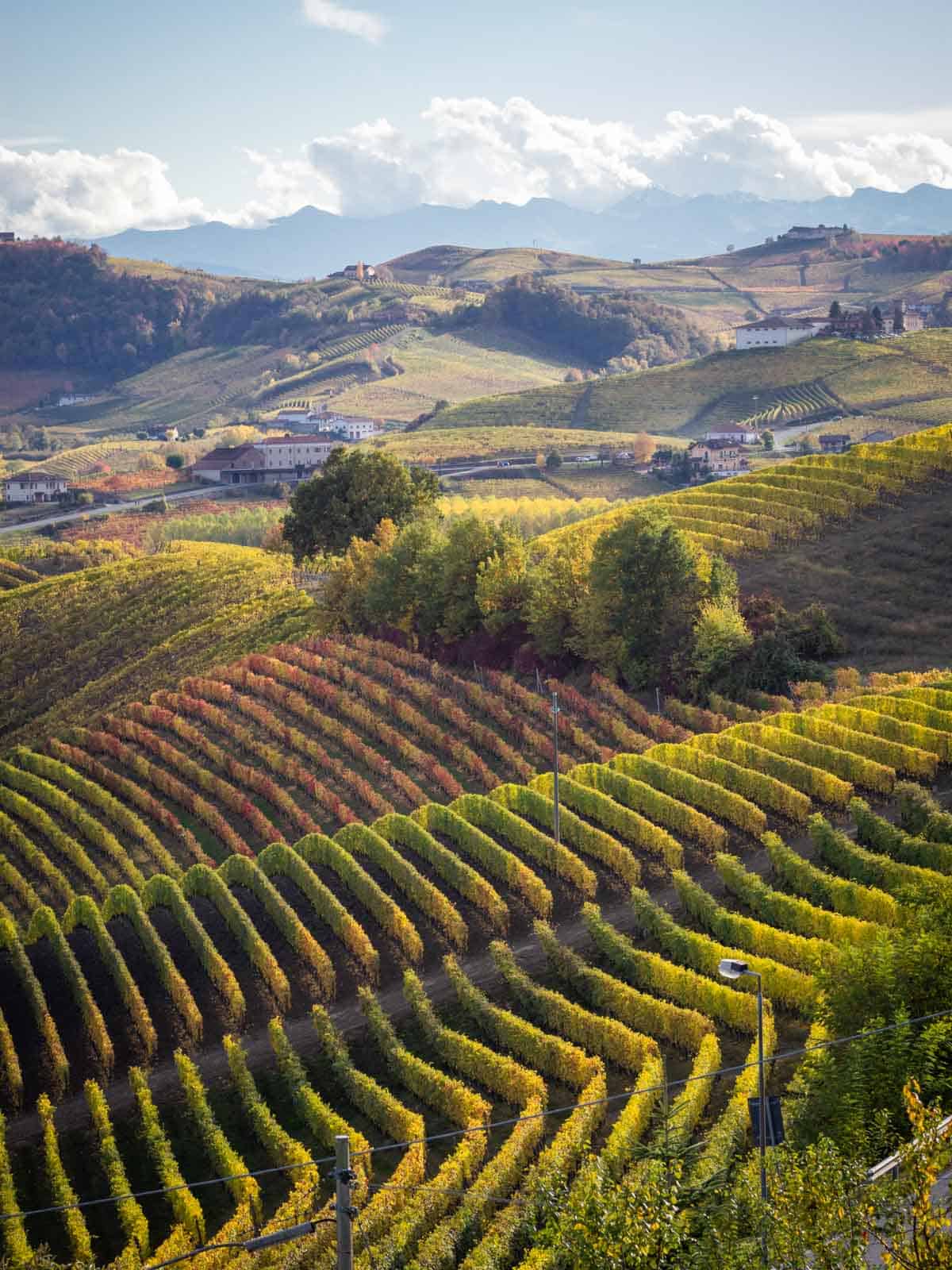 Here, you'll find some of the best wine and food options in all of Italy. So whether you're looking for a romantic getaway or an excuse to eat your way through Italy, Piedmont is definitely worth considering!
This guide will help you navigate your way around some of the best eating experiences that Piedmont has to offer. So whether you're looking for a romantic dinner for two or a night out with friends, read on for some tips on where to go in Piedmont.
Piedmont is one of the most celebrated Northern Italy regions for food and wine in all of Europe, perhaps second only to Tuscany, although the Trentino Region is a strong contender.
In fact, many would say that the region's culinary traditions are even more closely intertwined with its winemaking tradition than is true in Tuscany, where the local cuisine has been overshadowed by a reputation for world-class wines.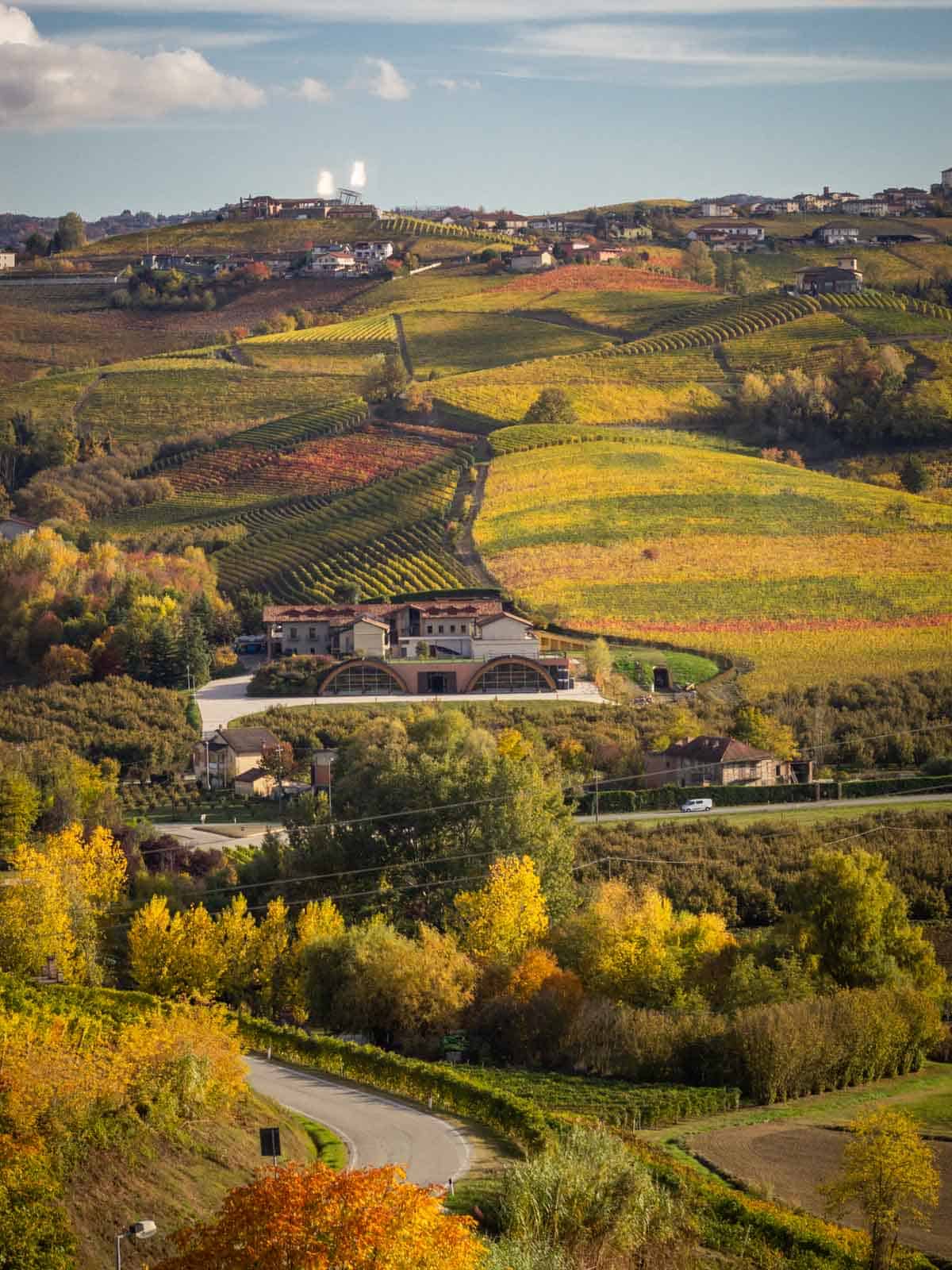 As a foodie traveler, you couldn't ask for a better destination. The quality is unmatched – from the tiny artisan producers who make their own ancient grains to the nouvelle cuisine superstars who have brought a new level of innovation and quality to their native region.
The Piedmont region borders France and is just above the Liguria region of Italy.
As a wine traveler, Piedmont is not just one of the best places in Italy for a wine vacation, but one of the most important destinations in the world.
Piedmont offers a wide array of possibilities as it is the largest region in the Northern part, and it is also close to Lombardia, where you find attractions like Lake Maggiore, Lake Como, Lecco, and Lake Garda.
The Italian Piedmont region of Italy is located in the Alps' foothills, and the name Piedmont derives its name from the words "foot" and "hill." Piedmont is a region at the foot of a mountain or range.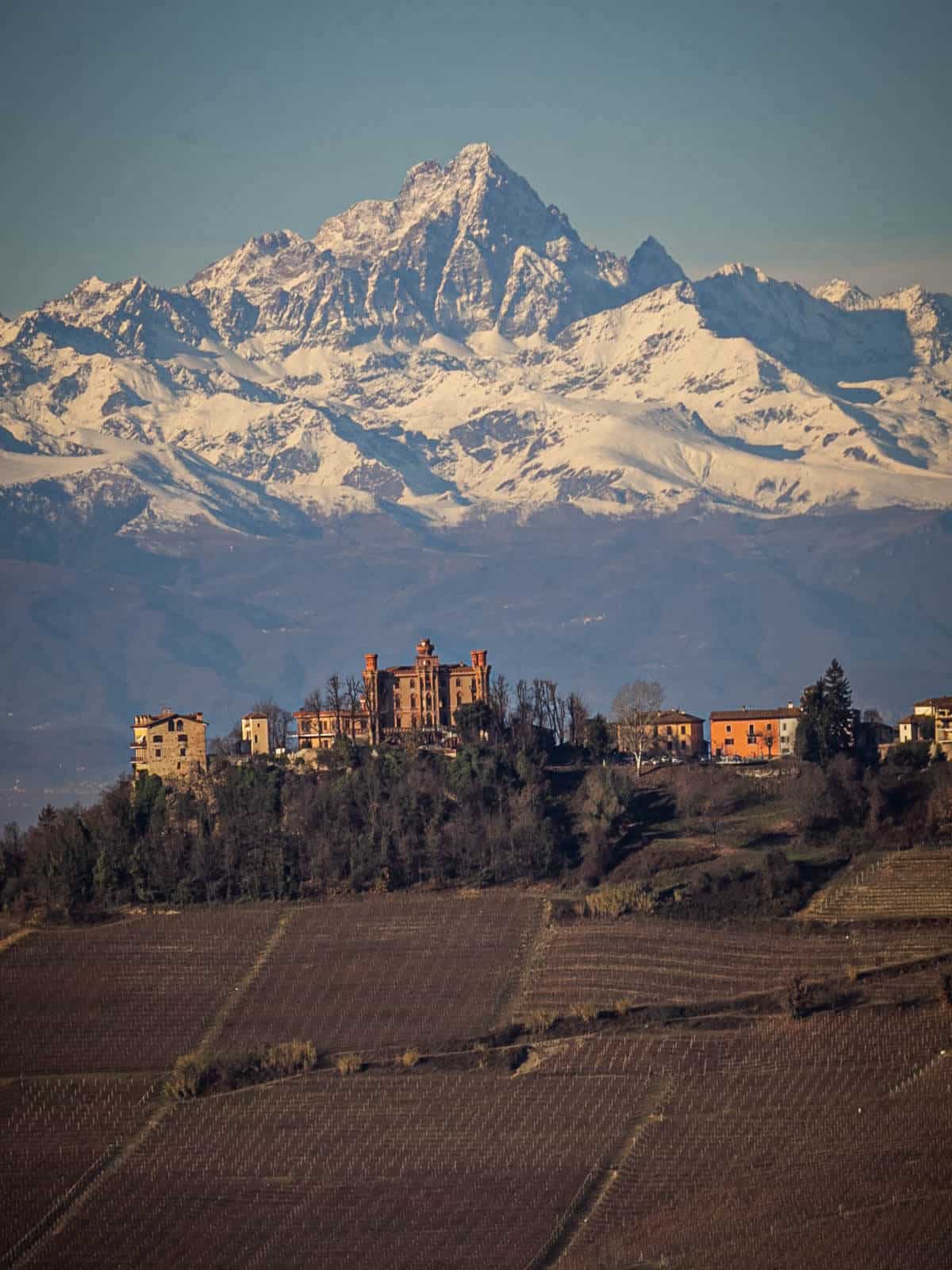 Jump to:
Getting There & Settling In
Once you've arrived in Piedmont, the next step is to get settled in. This guide will help you with everything from finding a place to stay to getting around the Italian Piemonte region.
Where to stay in Piedmont, Italy
There are many options for places to stay in Piedmont, from luxurious hotels to cozy beds and breakfasts. No matter your budget, you can find a place that fits your needs.
If you'd like a more "authentic" experience – rather than staying at one of the luxurious accommodations in Barolo or Barbaresco, why not stay at an agriturismo (a B&B on a farm) in one of the nearby villages?
We wanted something in between as we were traveling with another couple and wanted something very comfortable, a little upscale, and with a living room where we didn't need to rely on a hotel's lobby.
So we went for an apartment. We really loved our time at Altezza (affiliate link) in La Morra, near Alba. We stayed in the "superior" room with its own private terrace overlooking the mountains.
The staff is amazingly friendly and you just need to interact by WhatsApp as much as is needed. Free Wi-Fi included.
Seems like a house-hotel made by practical, great-taste Scandinavians.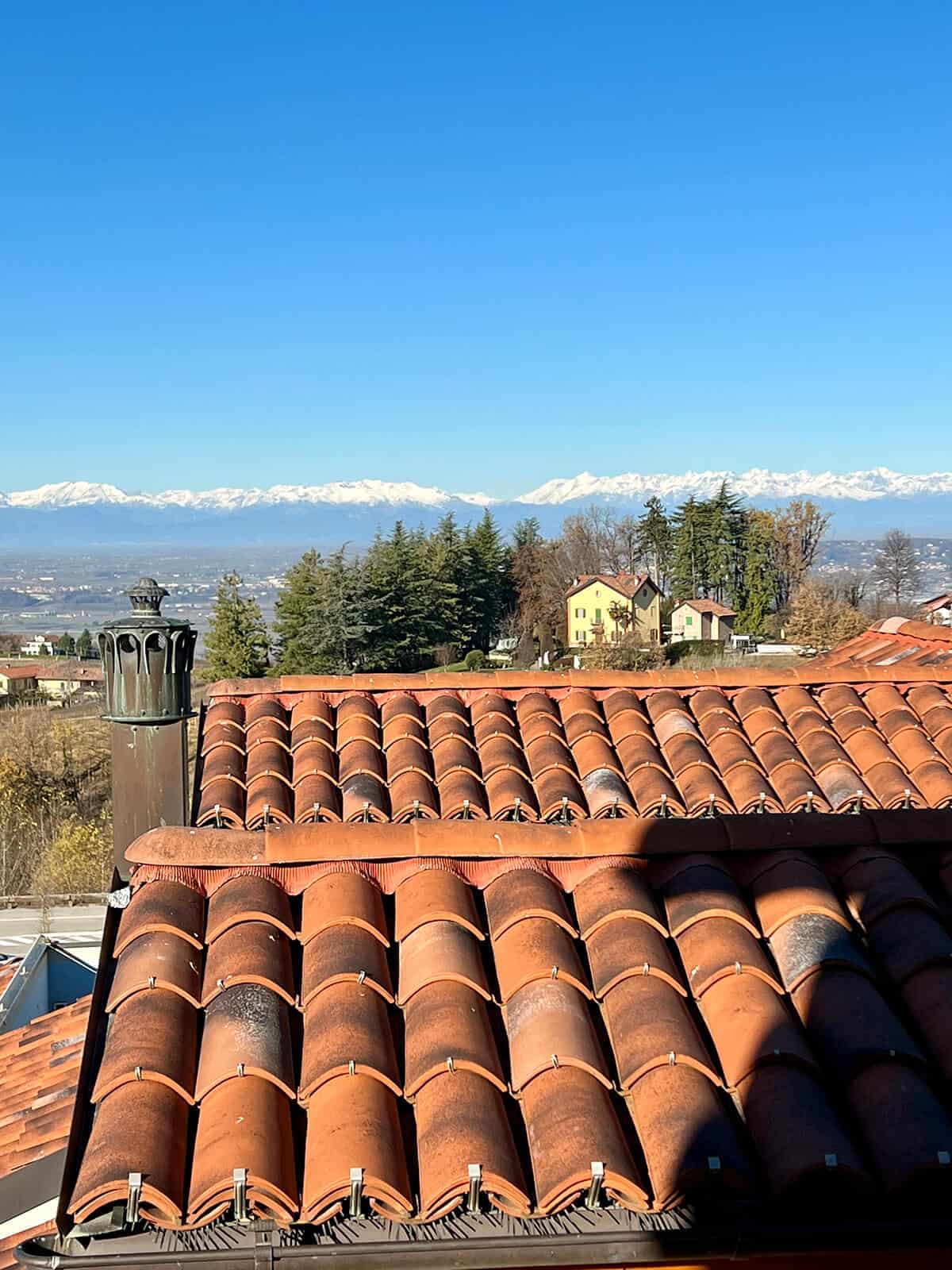 The room was comfortable, spacious, airy, clean, and had everything we needed (including free wifi) for a relaxing stay after long days of touring dedicated solely to wine tasting!
In fact, they have fully equipped apartments that are amongst the most comfortable stays we have had lately.
The best of all... the price is the same as staying at regular accommodations in other places in Italy such as Florence, Venice, or Rome and its surrounding beach towns like Gaeta.
What we love about Piedmont, which is also very different from Tuscany, is that all the famous wineries and must-see wineries are just about a 15-25 minutes' ride bar car from each other.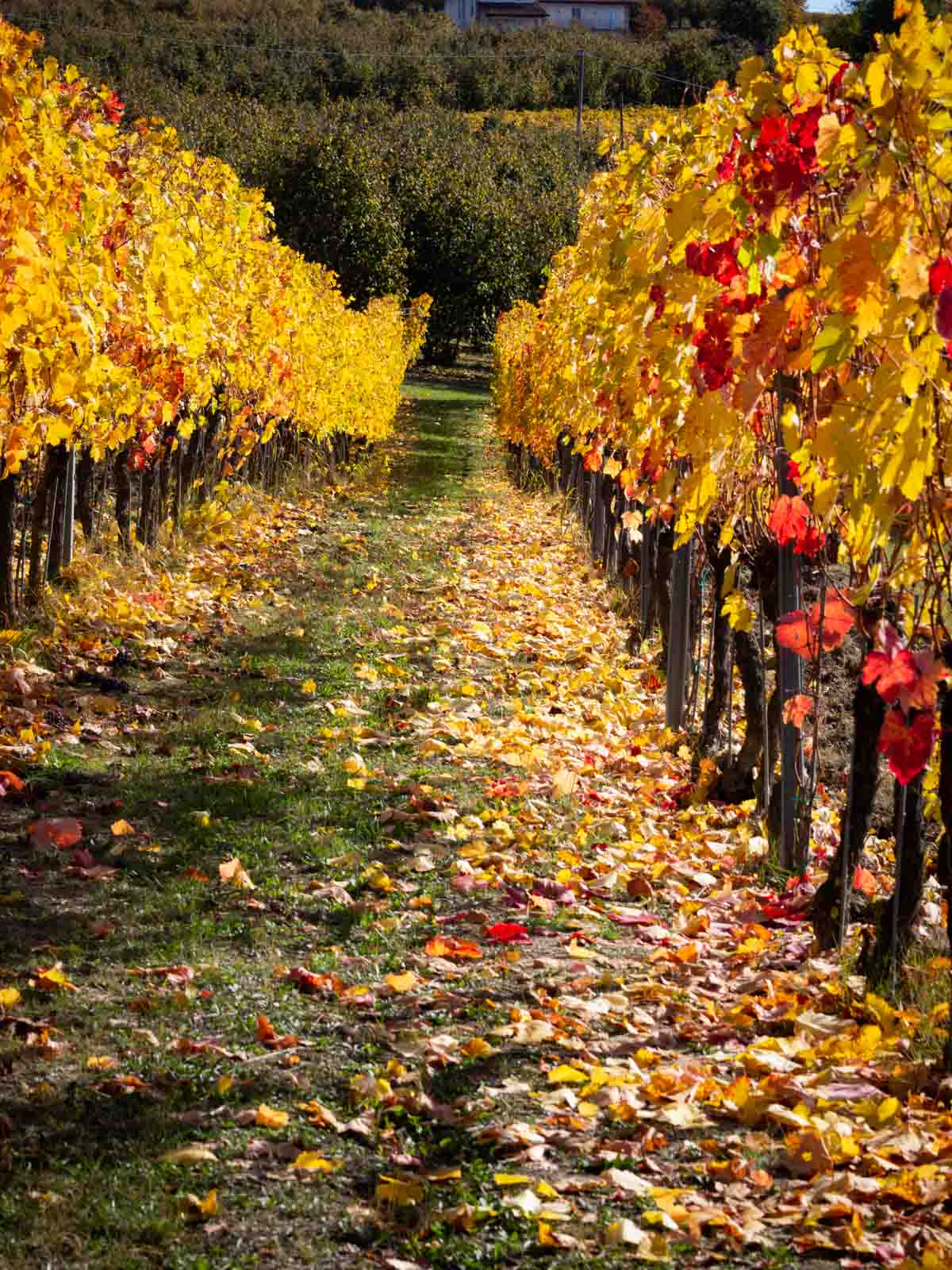 Getting Around
Piedmont is easy to get to, let's get into your options.
Fly
You can fly (affiliate link) to Torino, a beautiful city full of history. It is also nice to combine the city with a day trip in Piedmont by taking local transportation between destinations in Piedmont, which is very convenient.
Car
You can easily drive from France or Switzerland or take the train. If you are already in Italy, like us, I would say, it is definitely the best option. Torino is only a two-hour drive from Milano. So renting a car is a very good option. In fact, the last two times we were there, we rented a car (affiliate link), and drove from Milano.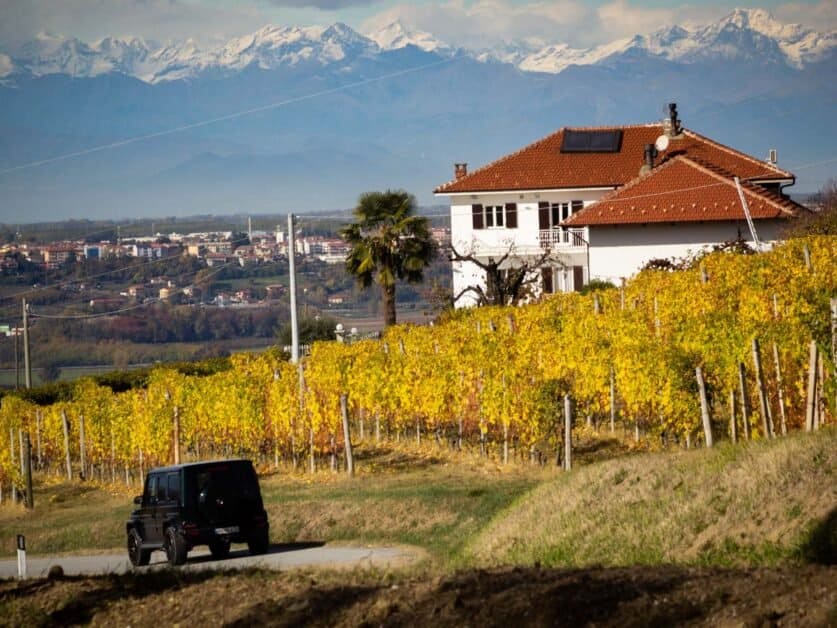 Train
The TGV high-speed train makes getting from Paris to Torino easy in about six hours. The train from Milan to Torino is only 55 minutes and 12 euros away. Not bad!
Drinking wine and eating Well
There's a saying that goes: "If you want to taste Piedmont, start in the Langhe and finish in Monferrato."
Piedmont is no longer an undiscovered wine region – so much so that we've devoted an entire section to Wine Tasting Tours.
Italy's Piedmont region is a food lover's paradise. From the world-famous Barolo and Barbaresco wines to the rich and creamy mushroom risottos, there is plenty on offer for those who love to eat, drink, and wine pairing.
But don't overlook some great grapes. For instance, we are big fans of the Dolcetto wine and Barbaresco, also produced in this wine region.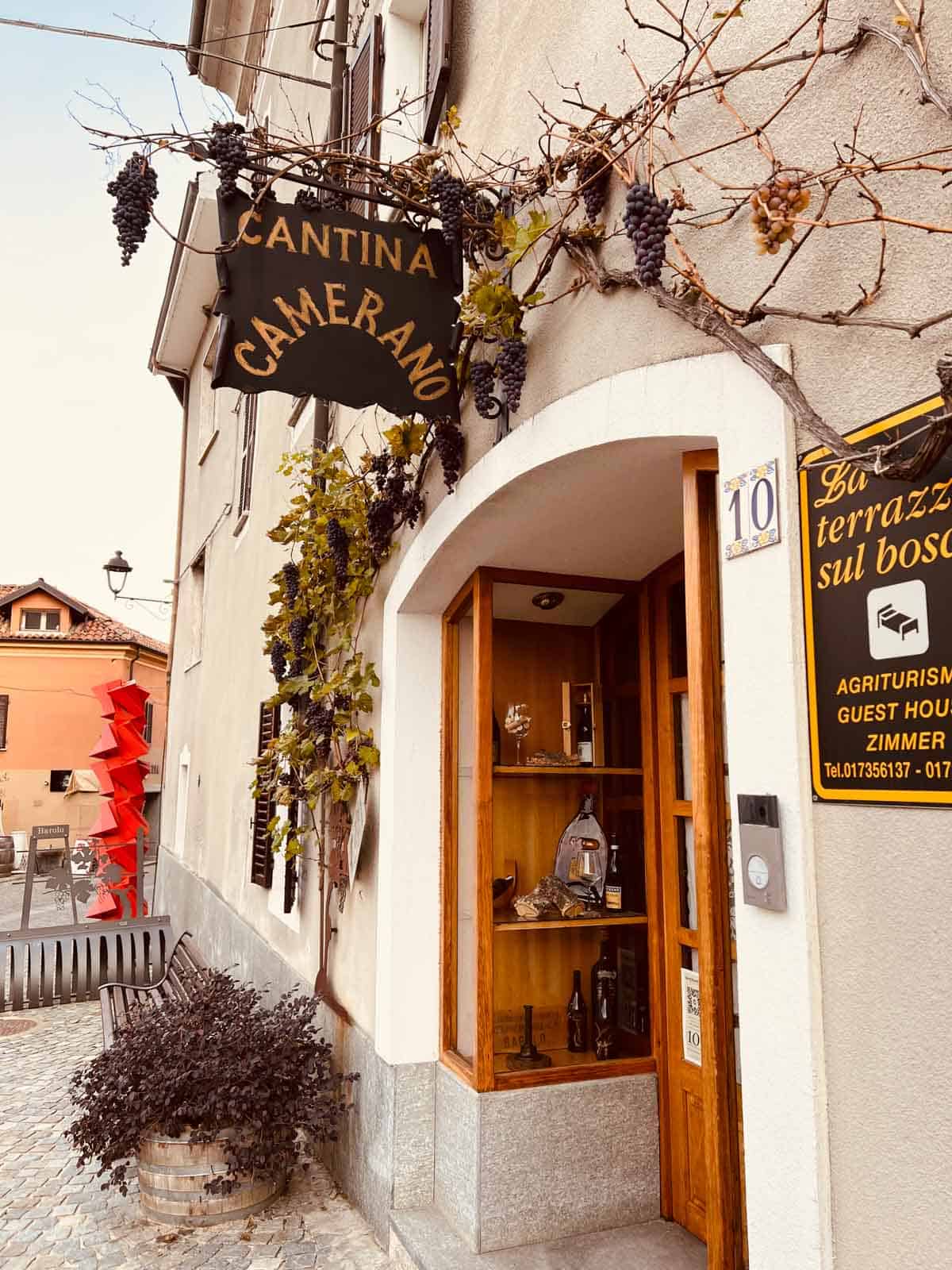 The combination of rich and complex history and innovative and ambitious winemakers have made Piedmont one of the hottest spots for wine tourism.
Food for vegetarians
As you are traveling in Piedmont, you will be able to eat very well. Here are some of the most typical dishes that you cannot miss while you are here.
Truffles and Porcini mushroom
Linguini Piedmontese with porcini mushrooms at Campamac Osteria Gourmet, a Michelin recommended.
Porcini mushrooms are widely used in risotto and pasta dishes, and we love making mushroom gravy, mushroom empanadas, mushroom risotto, and stuffed onions with dried porcini.
One of the most common vegan dishes you'll find in this area is made with tagliatelle or risotto served and topped with caramelized porcini mushrooms.
Finally, during your travels around Italian regions, you will notice several shops displaying a green label with a truffle on it – indicating that they specialize in local foods. These shops are often family-owned businesses that make their own artisanal food products (olive oil, cheese, chocolate, pasta, etc.).
They are often located in the center of smaller towns. Just to give you an idea of how famous truffles are in this region, here's a fun fact: Did you know that one of the world's most expensive pizzas was topped with white Alba truffles? It was sold for 520€ at Pizzeria Le Jardin des Sens in Paris.
The pizza was made by three-Michelin-star chef Mauro Colagreco - who is originally from Argentina!
Truffles are expensive, extremely rare, and come in various sizes. The smallest ones are the size of a pea; the biggest ones can weigh up to 100 grams!
If you're interested in cooking with this delicacy, why not take a short course or book an evening cooking class? You will learn how to cook truffle dishes - starting with basic appetizers to more complex meals.
We love using truffle oils to bring mashed potatoes to the next level, check our recipe for truffle mashed potatoes.
Trenette pasta
A typical vegan Piedmontese dish is Trenette (a long dry pasta similar to linguini) with porcini mushroom or with pesto di Piselli (beans) e ricotta salata (salty ricotta cheese), a delicious pasta dish made with trenette (arrow-shaped pasta), peas, and Ricotta Salata. Check out our vegan ricotta.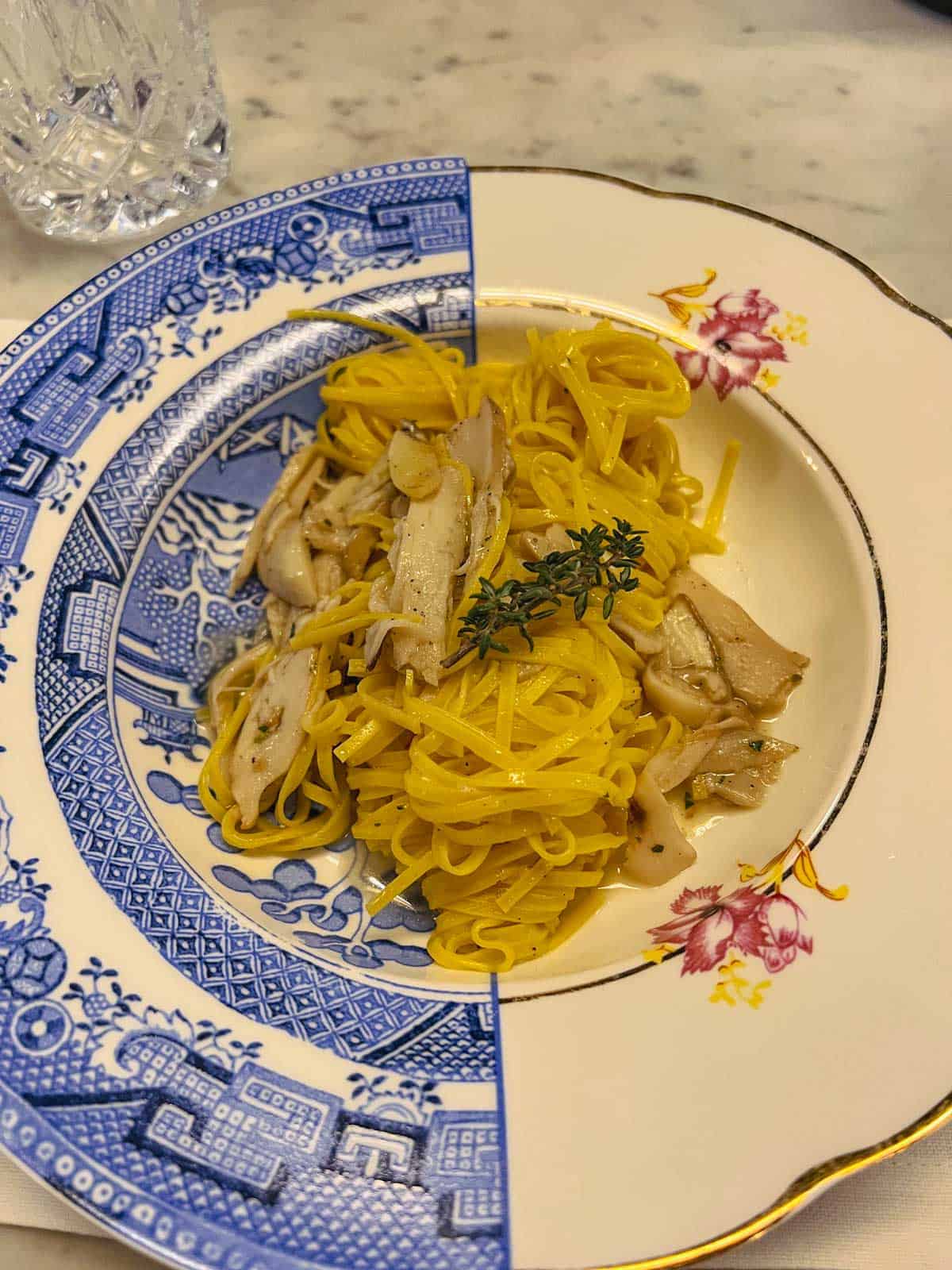 We had the trenette al porcini since it was fall season and the porcini mushrooms were at their peak season. You can also visit the Piedmont region in Wintertime and still find fresh mushrooms.
Plins
You need to try the Piedmontese plins. Plin pasta is typically made with eggs, but you can ask for a vegan version, as we did. We got fantastic pumpkin stuffed plins.
A plin is like a mini ravioli filled with meat, but there are also versions filled with pumpkin, or spinach, and ricotta.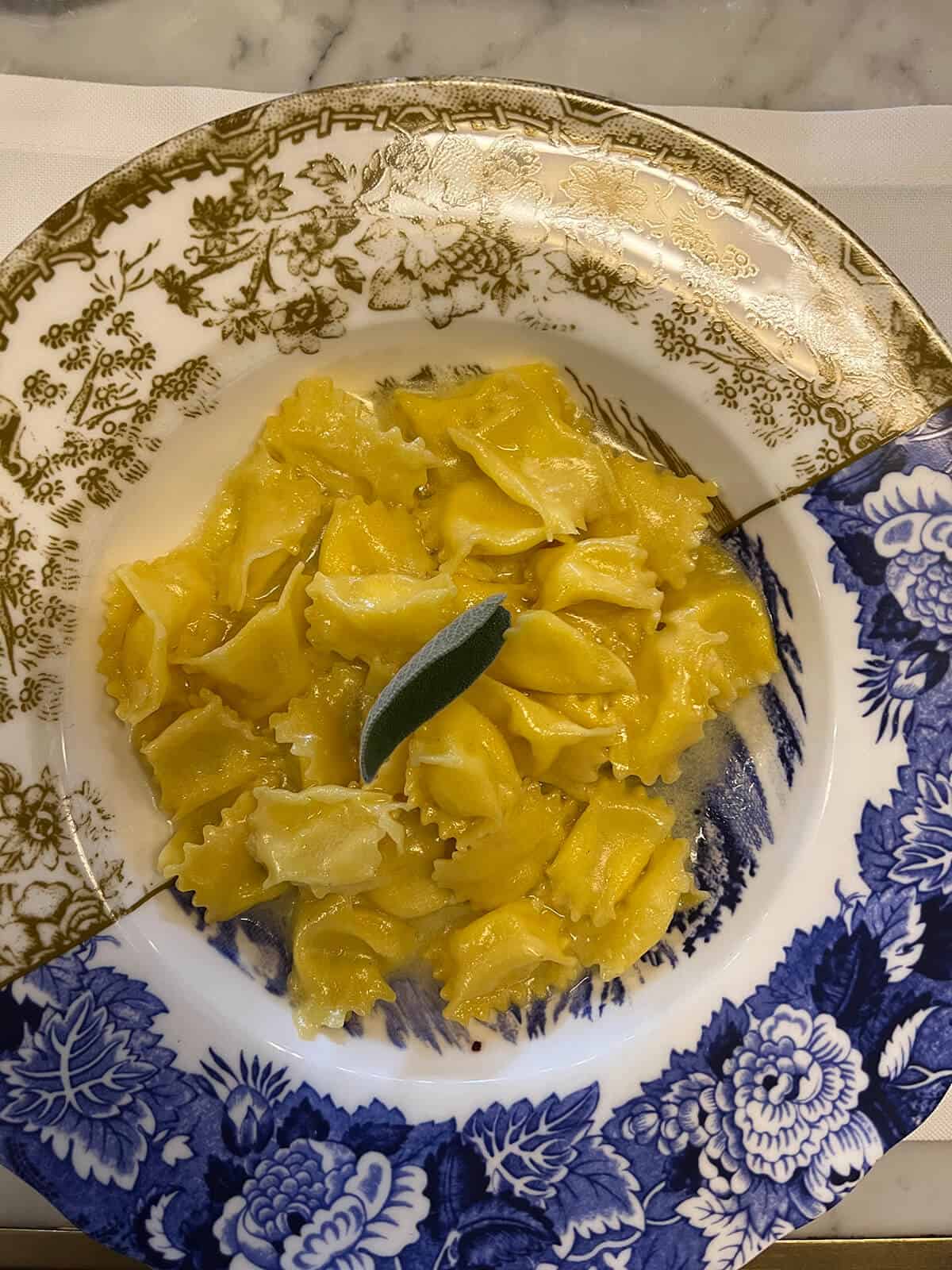 Trifle
Piedmontese trifle combines layers of sponge cake, chocolate sauce, and white chocolate pudding, all topped with a thick layer of whipped cream.
If you're looking for something sweet to finish your meal, you can't go wrong with a Piedmontese dessert such as baci di dama (a hazelnut and chocolate cookie).
In the Alba, just like in the rest of Italy, the most common way to start your day is to ask for a plate of cornetti or croissants with marmalade fatta in casa - homemade jams!
Since we have stayed in an apartment, rather than a hotel, we have stocked up on fruits, focaccia, coffee, and local panettone to start our day before heading into our wine-tasting appointments with a full stomach.
Polenta
Piedmont is also known for its very tasty polenta dishes. The polenta was traditionally eaten on Tuesdays as a way to use up leftover grains from Sunday's big meal – usually a meat-based affair.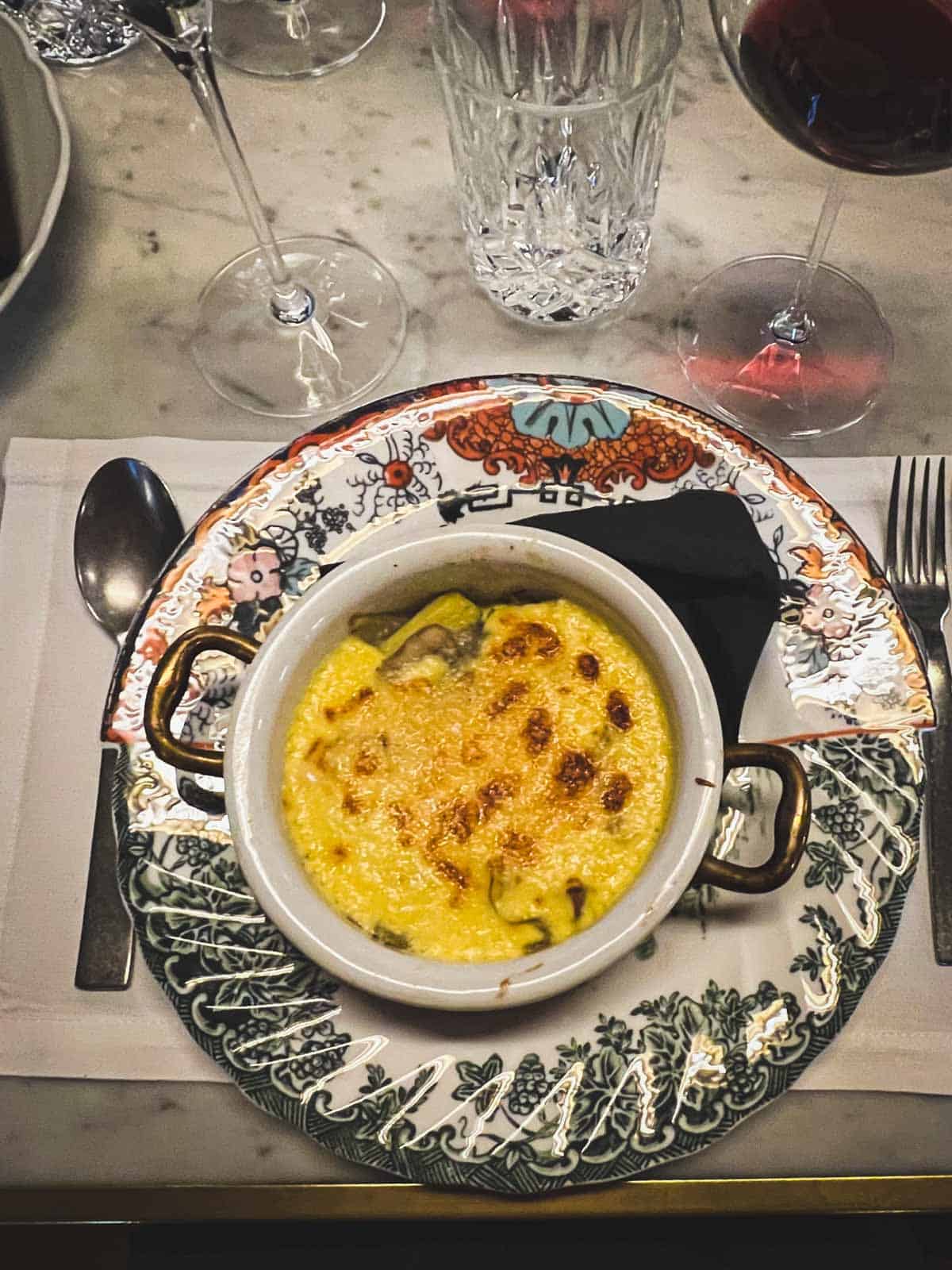 Pumpkin
Since we went in the fall season, we were able to try amazing pumpkin stuffed plins and pumpkin risottos, which were really outstanding.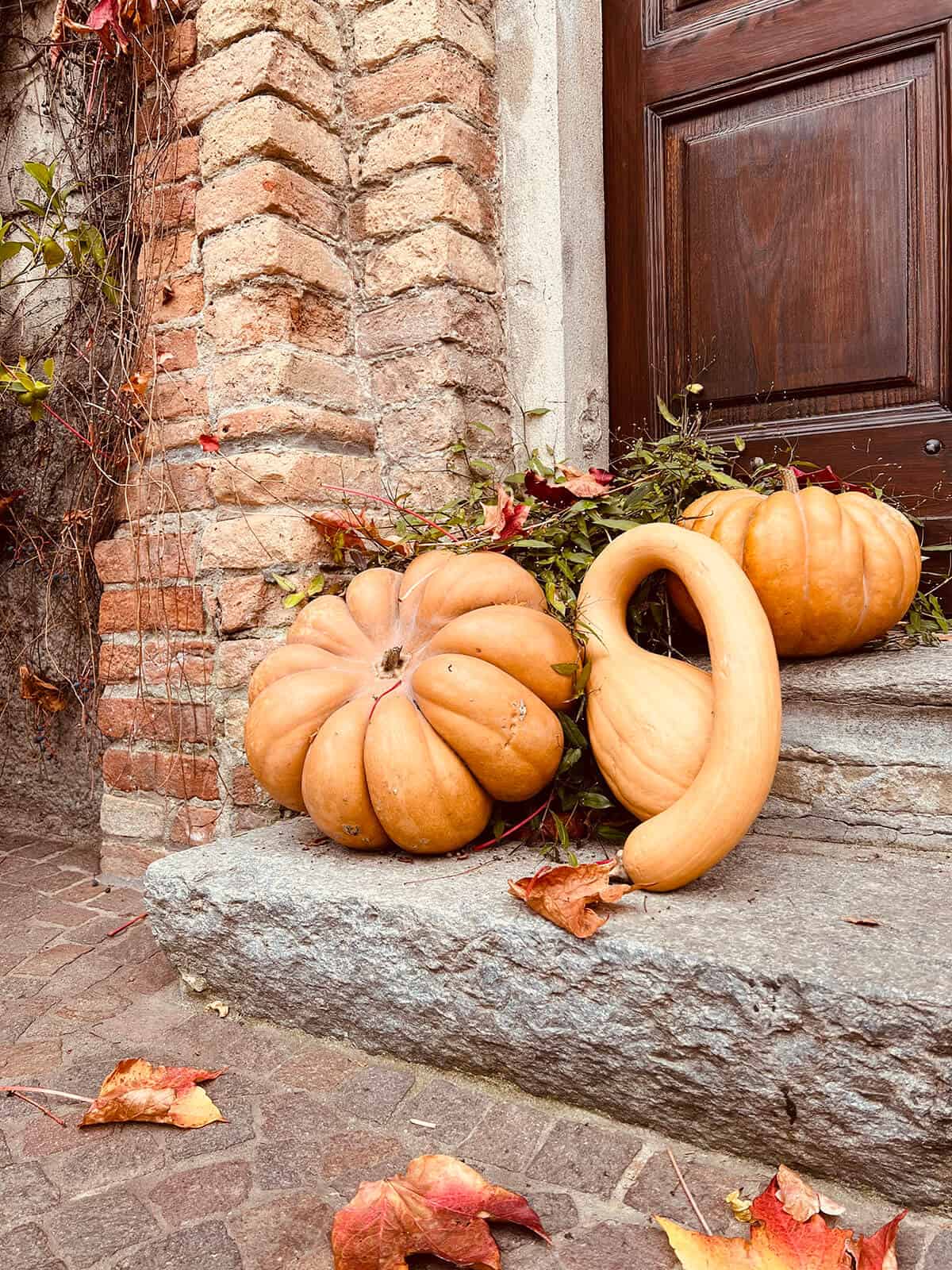 Restaurants
Osteria More e Macine
This fantastic restaurant in La Morra offers a relaxed atmosphere, an immense wine selection, and fantastic food. This is where the locals eat, as our hotel host pointed out. We ate three times there...
The prices are amazing, and the services are fast and friendly. We loved eating the plins and an amazing risotto. If you are a vegetarian, you may want to try their cheeses.
They have a great selection, we did not try it, but the people at neighboring tables were going crazy about it.
Address: Via XX Settembre, 18, 12064, La Morra.
Web site: Facebook site
Osteria Pizzeria Per Bacco
If you just want a great Neapolitan Pizza, but a nice ambiance I recommend this Osteria. They also offer pasta and varied dishes. The service is friendly and they have a great Wine Menu.
Address: Via Roma, 30, 12064 La Morra
Campamac
The 2 kitchens of Campamac are the protagonists. The project, created with the French company Moltenì, gives space to choose what you want to eat right from the entrance.
Web: https://www.campamac.com/
Address: Str. Giro della Valle, 1, 12050 Barbaresco
The Campamac menu is seasonal and more possible at 0 km, it follows what the season offers and what our land offers: from the alba truffle to the tajarin, the typical Langa pasta with 40 egg yolks, to veal with tuna sauce.
The sommelier is quite a character and will recommend the best wine for your budget. We got fantastic 20 euros wines vs. more expensive but iconic options like a Conterno, Barbera d'Alba 2019.
We were able to find a couple of delicious vegetarian-friendly dishes, like the Vegetables Bagna Cauda and pasta dishes.
Word of caution for Vegans: This restaurant specializes in meat, cheese, and pasta. We ignored the meat alternatives and were delighted twice with the service and vegetarian options. If you are too sensitive to meat images, we don't recommend going as they have an open kitchen and a meat aging rack, which I wasn't a fan of.
Other restaurants we recommend trying out, but make sure you reserve with time:
Bovio Restaurant, La Morra
Web: https://www.ristorantebovio.it/
Address: Via Alba, 17/Bis, 12064 La Morra CN
Ristorante Nesto
Address: Via Fontane, 22, 12064 La Morra CN
Osteria Arborina
Web: https://arborinarelais.it/osteria/
Address: Frazione Annunziata, 27, 12064 La Morra CN
The Langhe Region
The Langhe Roero and Monferrato are Piedmont's most famous wine regions. The area is bounded to the North by the Tanaro River and South by the Po River and is home to luxury wineries like Barolo, Barbaresco, and Gaja.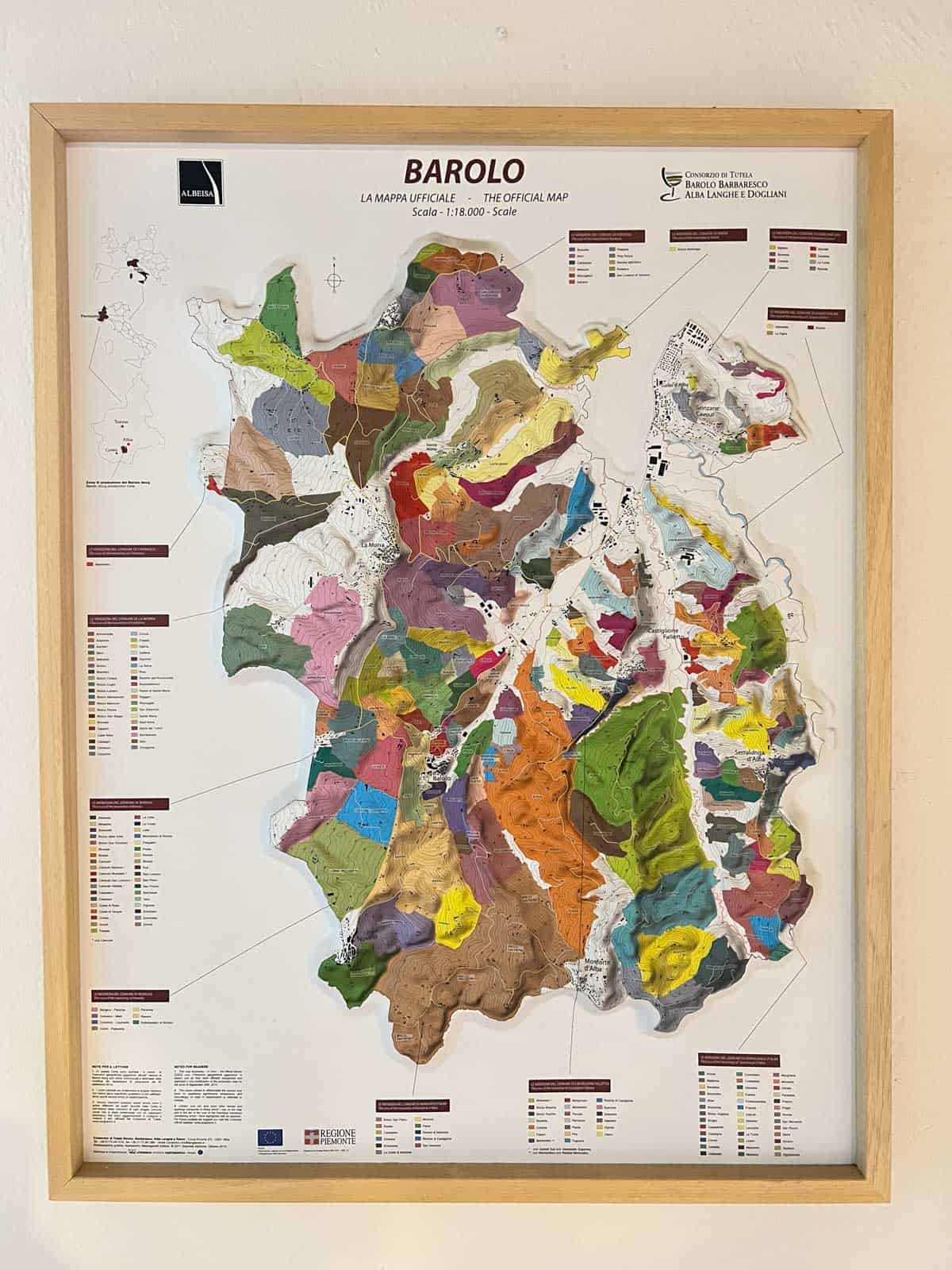 Unesco World Heritage Site
The Piedmont region is also considered a Unesco World Heritage site. It is one of the Italian regions we love the most.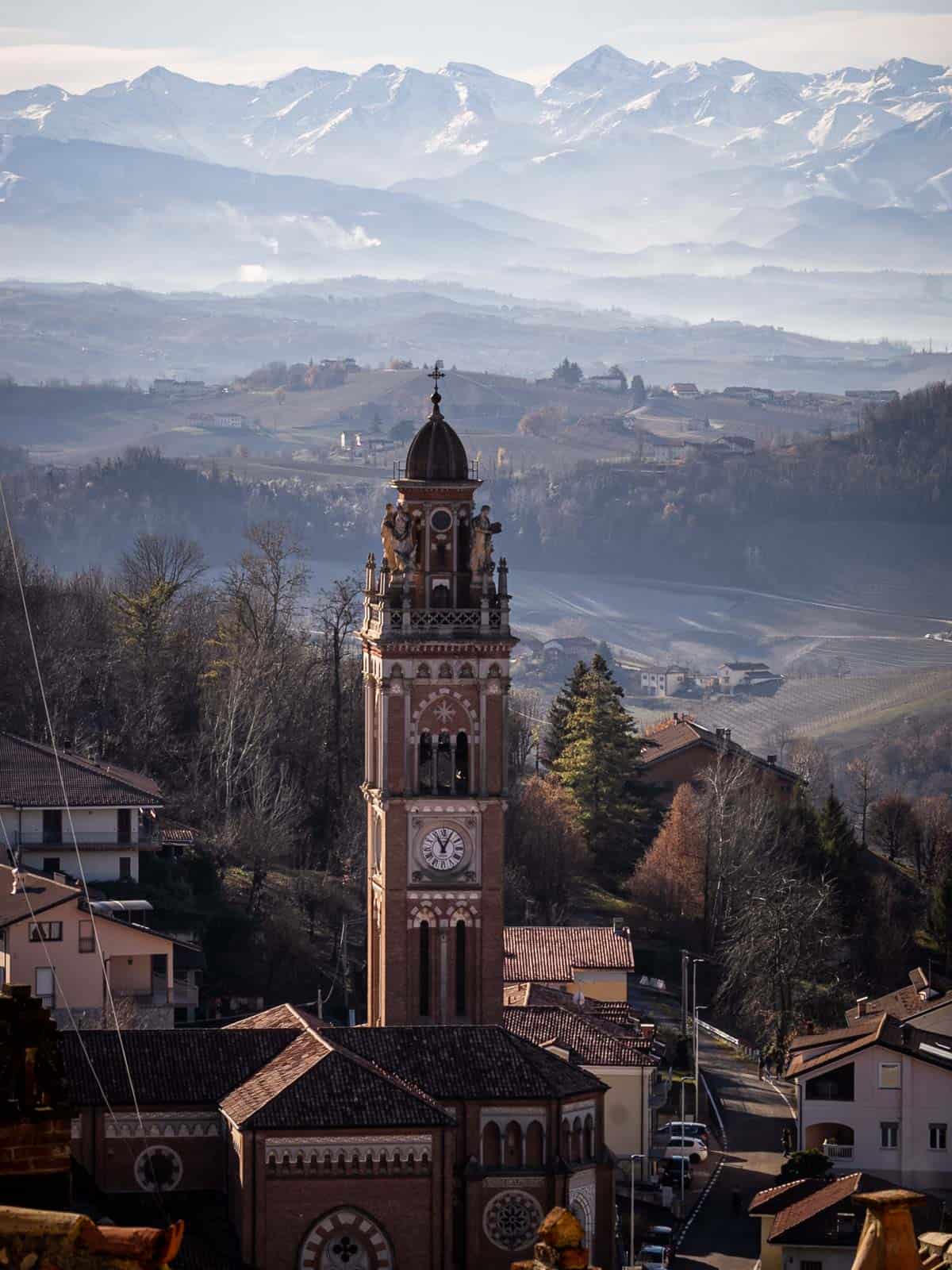 In fact, we got to know it a couple of months ago, and since we fell in love with it, we went back three weeks after with our friend from Spain, who is a winemaker, and wanted to repeat the tour with us.
Curiosity: Did you know the name of Barolo wine's emblematic grape Nebbiolo, derives its name from the Italian nebbia or (in Piedmontese dialect: nebia), which means "fog".
During harvest season, taking place generally the last days of October, intense fog sets into the Langhe region home to most of the Nebbiolo vineyards.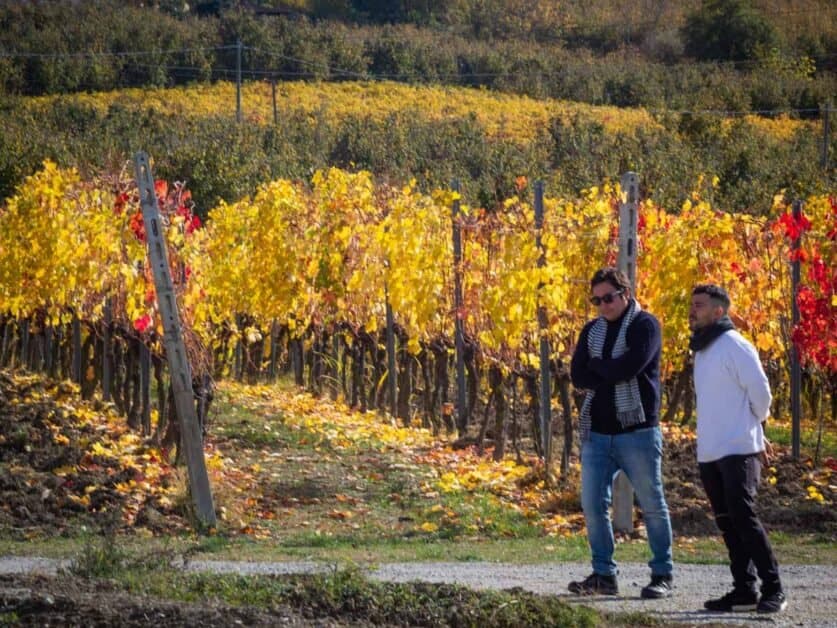 Not only can you eat and drink in the Piedmont region, but you can also find exquisite contemporary art. If you are interested, we suggest you head to the Contemporary Art Museum in Rivoli—a Turin town with 50K inhabitants, 3 hours north of Langhe.
The Langhe - This area is focused on red wines, the most famous being the Barolo wine. The hills of the countryside are covered with vineyards and dotted with charming villages such as Barolo.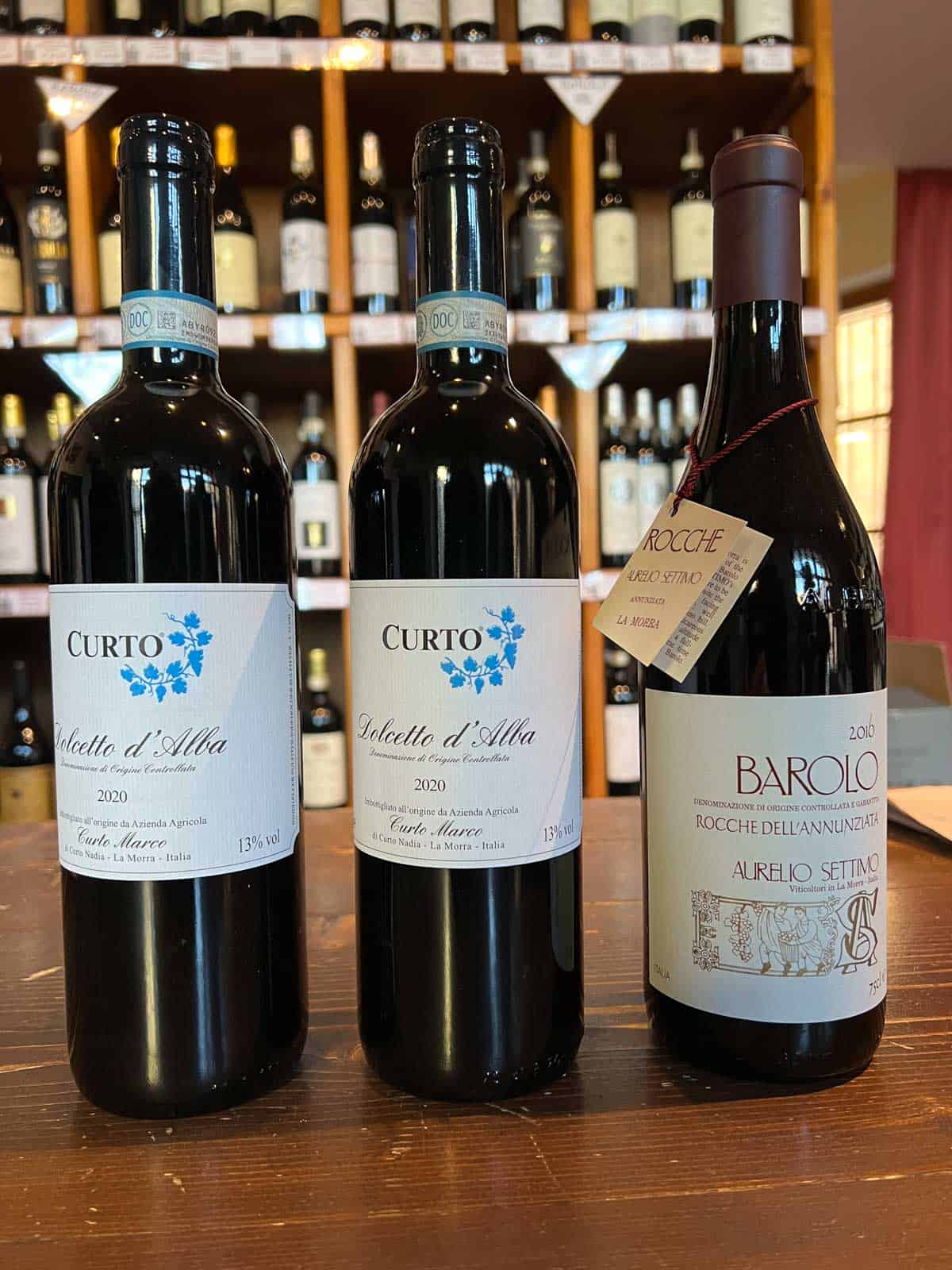 Not to miss: the beautiful towns of Barolo, Monforte, La Morra, Barbaresco, and Annunziata.
Piedmont Region wines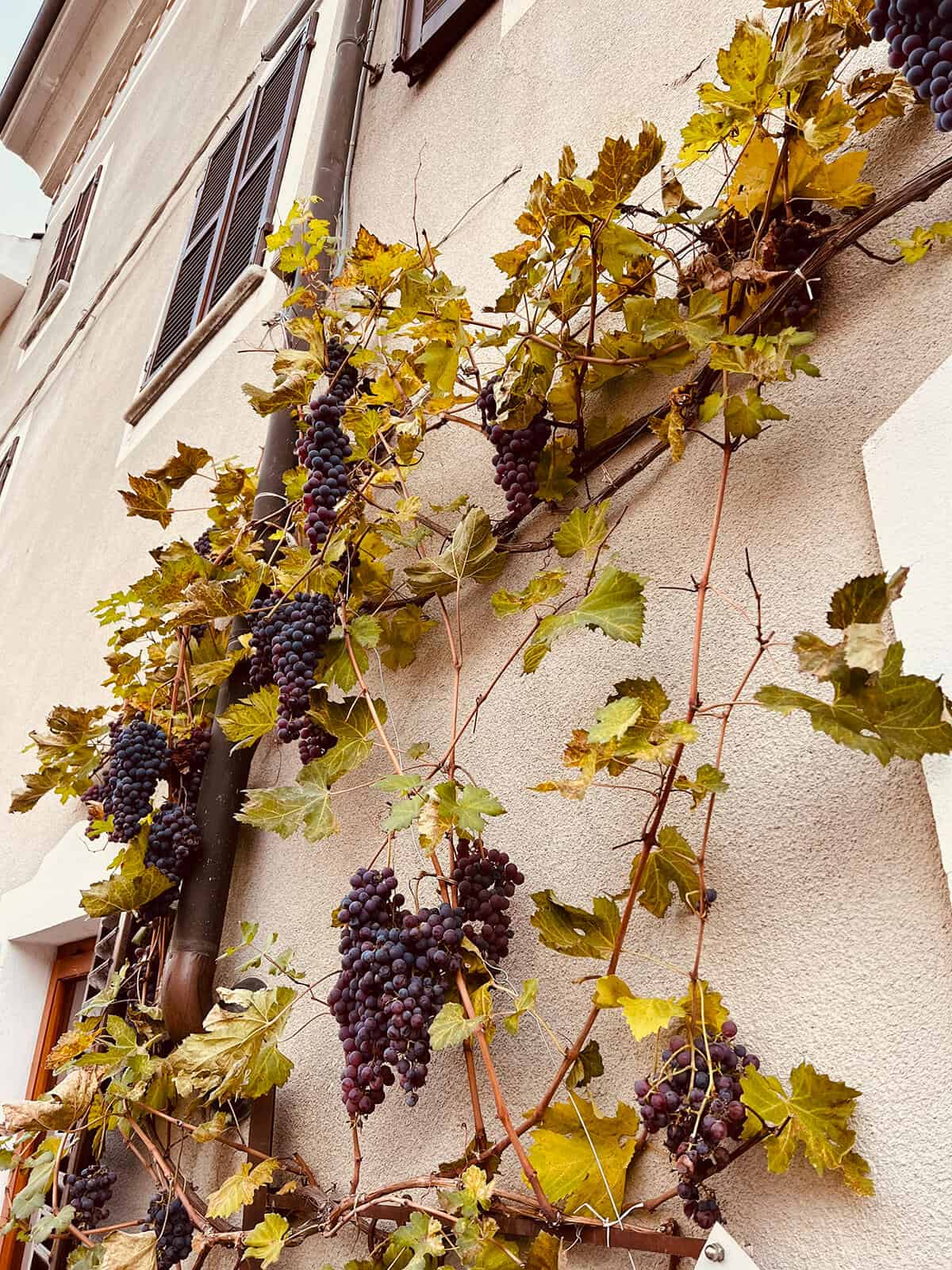 Red wines
Amongst our favorite red local wines, we need to name the
Barolo 2016, from Marchesi di Barolo, made with Nebbiolo grapes
Barolo 2010, Rocche Dell'Annunziata, Aurelio Settimo
No Name 2018, from Borgogna, made with Nebbiolo grapes
Barbaresco Vanotu 2016, Pelissero made with Nebbiolo grapes
Barbaresco Micca 2005, from Dante Rivetti
Barbera D'Alba 2020, from Borgogno winemakers, made with Barbera grapes
Barbera D'Alba 2019, Petregal, from Marchesi di Barolo winemakers, made with Barbera grapes
Barbera D'Alba 2019, Roccheri, from Marchesi di Barolo winemakers, made with Barbera grapes
Dolcetto d'Alba Curto Marco, 2020
White wines
Although there are very nice white wines options to try out, we particularly loved the:
Marchesi di Barolo Langhe Bianco Bric Amel 2019, made with Arneis, Chardonnay, and Sauvignon blanc grapes.
Langhe 2020, Vajra, made with Riesling grapes
Langhe 2019 from Gina Piero Marrone, made with Favorita grapes.
Rosé wines
Deltetto 2020, Suasì, Langhe Rosatto made with Nebbiolo grapes
Vegan wine
Although vegan wine is still rare to find, when we went to the Canina Comunale from La Morra, in the city centre, they showed us a lot of very interesting options from the heirs of old Winemakers who are looking into doing things differently, making organic wines, wines without sulfites, and vegan wine.
Wine Tastings
In most of the wineries, you will find Barolos, as this is the Barolo wine region, but they also have other wines that are not only more accessible but also delicious, You know, when it comes to wine, there is no one-size-fits!
Top tips
1. Booking
Book a visit to the wineries in advance. We were able to get an appointment at those wineries where we booked at least one week in advance.
2. Plan when to go.
Depending on the activities and experience you want to have. We went twice in the fall season. Once just after the Vintage, as the prices decrease, landscape colors are incredible and it is not that crowded.
If you want to go during the vintage time, the prices will be higher, and you need to book well in advance to have a grape-picking experience.
3. Language
In Piedmont, they are very used to international tourism, but Italian tourism to the region is also huge; this means they have guided visits in different languages, always English included, but make sure you mention it while booking.
4. Best time of the day
We recommend you book your winery visits late morning, so you can absorb all the knowledge before lunchtime when you will surely sit and drink more wine. This way you will remember everything you learned before, getting into choosing the right bottle to pair your food.
Also, this will influence what kind of visit you can have, the lighting of the vineyards, etc.
We also enjoyed some wine tastings during the apperitivo time, about 5 P.M. before dinner.
5. Type of cellar
Some of the wineries offer food service, so make sure you choose wisely in case you want to do both a cellar visit and then lunch or dinner with the respective wine pairings.
Vineyards in Barolo
One of our favorite things about traveling around Piedmont is that you can focus on both the food and the wine.
Tip: you will find that often the Wine Tasting experiences offer prices that include or exclude Barolos, and of course, that will change the price as Barolos tend to be considerably more expensive.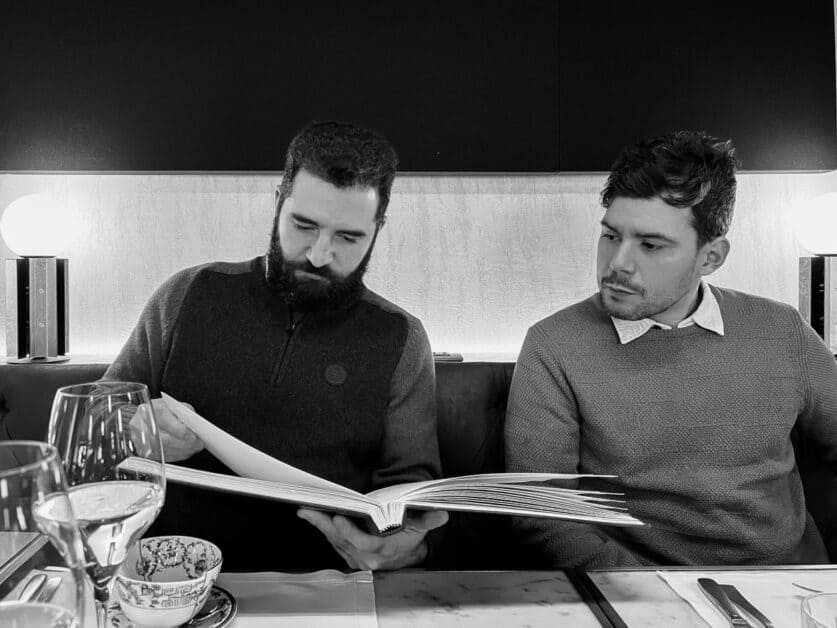 Just as there are many organic bakeries, cheesemongers, chocolate shops, and restaurants featuring local ingredients, there are also small family-run wineries offering tours where you can see their equipment and taste their wines.
Eat well, drink well!
Vajra
Marrone
Marchesi di Barolo
Borgogno
Additionally, we suggest stopping by:
Produttori di Barbaresco - Get a Barbaresco 2018, or 2017. we liked the 2018 better.
Cantina Comunale di la Morra
Vajra Winery
Great view, fantastic service, and a tasting experience. We did a wine tasting of three glasses, not including Barolo, for 25 euros.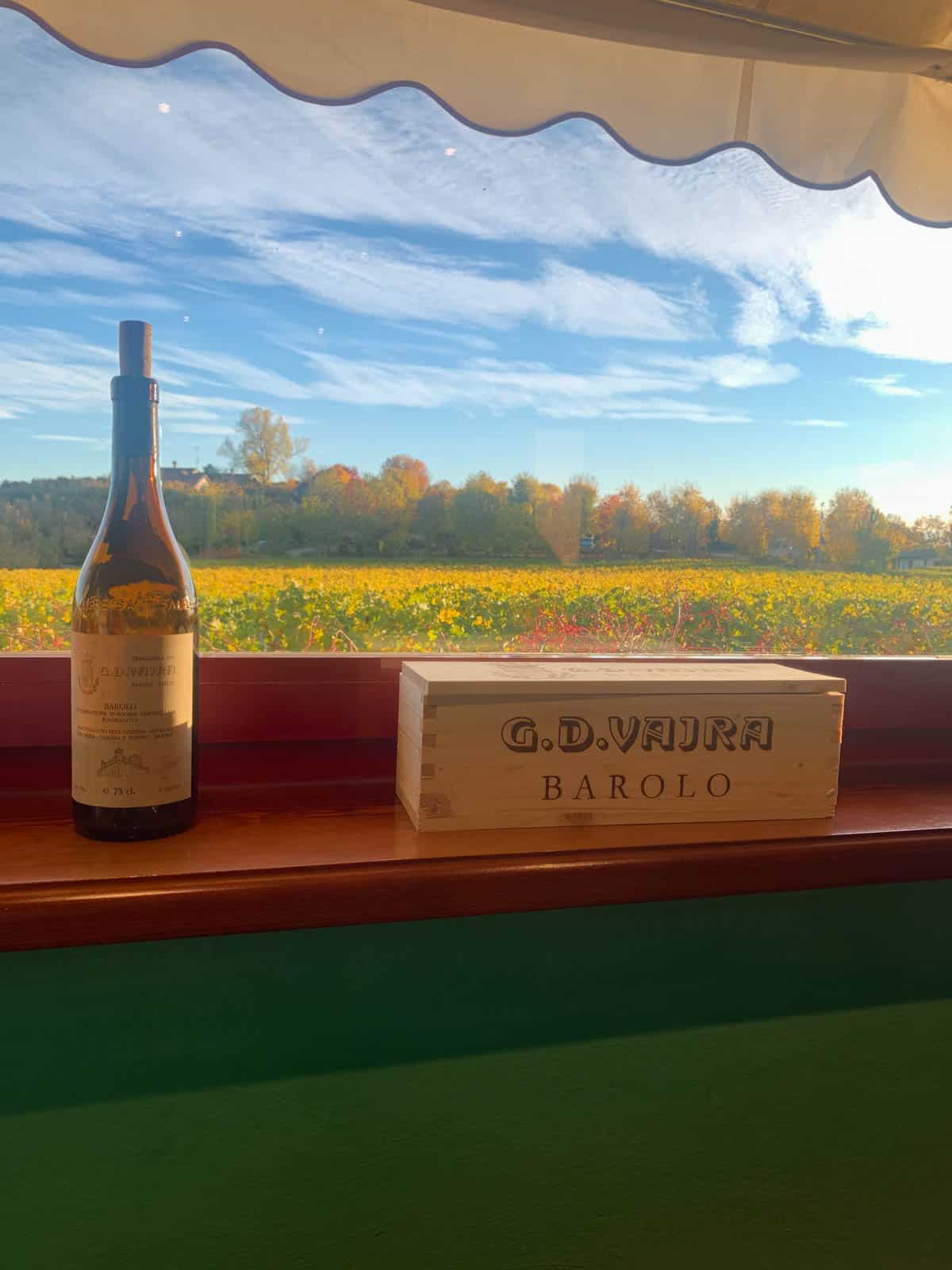 Marchessi di Barolo Winery
The attention to detail from this family-owned winery was amazing. The Winery is located at Barolo, via Roma 1, in the center of Barolo town. They are open every day from 10:30 a.m. to 5:30 p.m.
Web: https://marchesibarolo.com/en/
Address: Via Roma, 1, 12060 Barolo CN
Following the guided tour, lasting about 45 minutes, they have a tasting of their most representative wines.

Their proposal:
· Selection of 2 glasses (including 1 Barolo) = € 25.00 per person
· Selection of 3 glasses of Barolo = € 35.00 per person
· Selection of 4 glasses (including 1 Barbaresco and 1 Barolo) = € 45.00 per person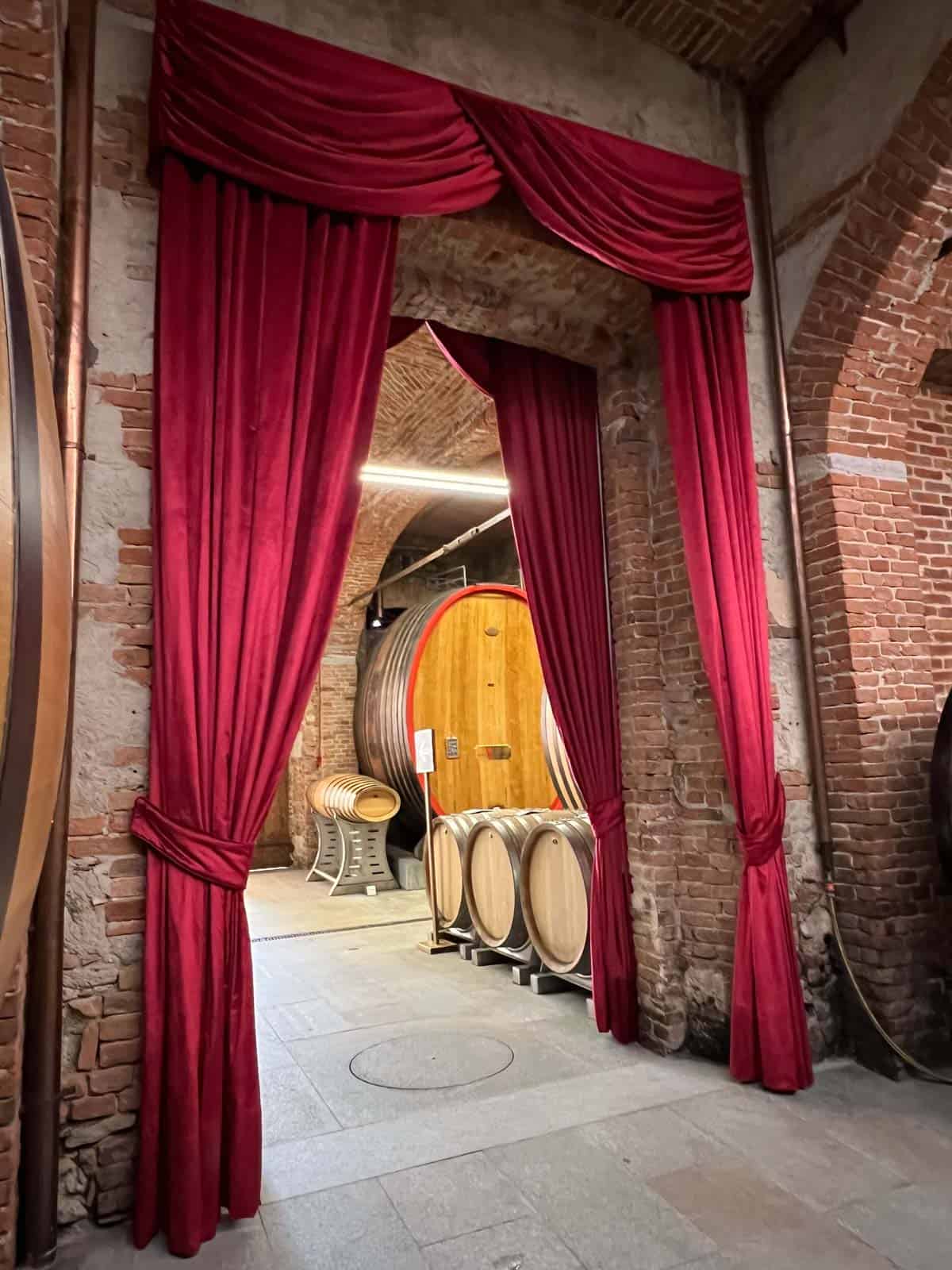 We also decided to stay for lunch as this is one of the most emblematic Wineries. We recommend both the food, cellar visit and the wine tasting.
If you only do the wine tasting, they will make it next to the shop. We had lunch, so the wine tasting was actually a wine pairing.
They offer:
Tasting menu with 3 wines for €59. This is available only for lunch, Monday to Friday.
Classic Menu with 4 courses and 4 wine pairings. €65
Traditional menu with 5 courses and Classic Menu with 4 courses and 4 wine pairings. €75
They also have a separate Tartufo meal option, and they charge by weight and season. I asked and it was very expensive due to the low rain, hence the low truffle production during fall 2021. It was about an extra €100 ticket... I passed.
Note: Although they did not have vegetarian options, they offered substitutes. I wasn't a fan of the Vegan Burger option, not to pair my wine, so I went for the classic Piedmontese Plin pasta, they made a vegetarian plin for us.
Marrone Winery
Web: https://www.agricolamarrone.com/en/
Address: SP58, 15, 12064 Annunziata CN
These guys at Marrone have great wine and an amazing outdoor terrace that will take your wine-tasting experience to the next level.
We did not eat in their restaurant but the menu looked fantastic.
It is probably the least enticing experience, but the view is breathtaking. If you wish to go and have a relaxing wine-tasting experience at a table with friends without too many explanations, go for it! Sometimes, you are in the mood for just that!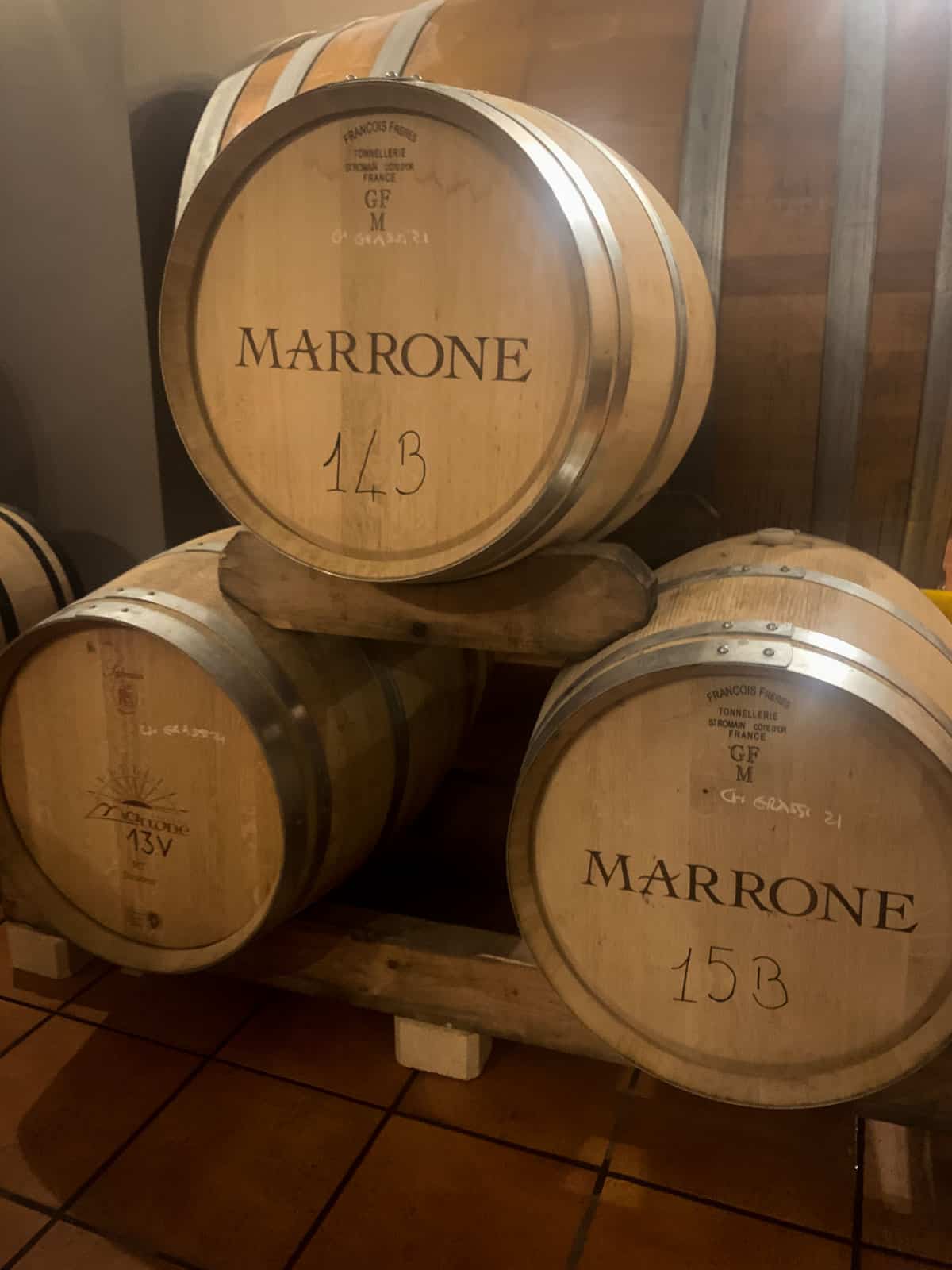 Borgogno Wine Tasting
The visit lasts about 45 minutes and the tasting is according to the type you choose.
They have wine tastings that go from 20 euro to 1600 euro, always including a visit to our cellars.
Web: https://www.borgogno.com/en/
Address: Via Gioberti n°1 – 12060 Barolo CN
Visits and tastings are always by reservation and subject to availability.
Grand Cru wine list.
Barolo 2016, Fossati
Barolo 2016, Cannubi
Barolo 2016, Liste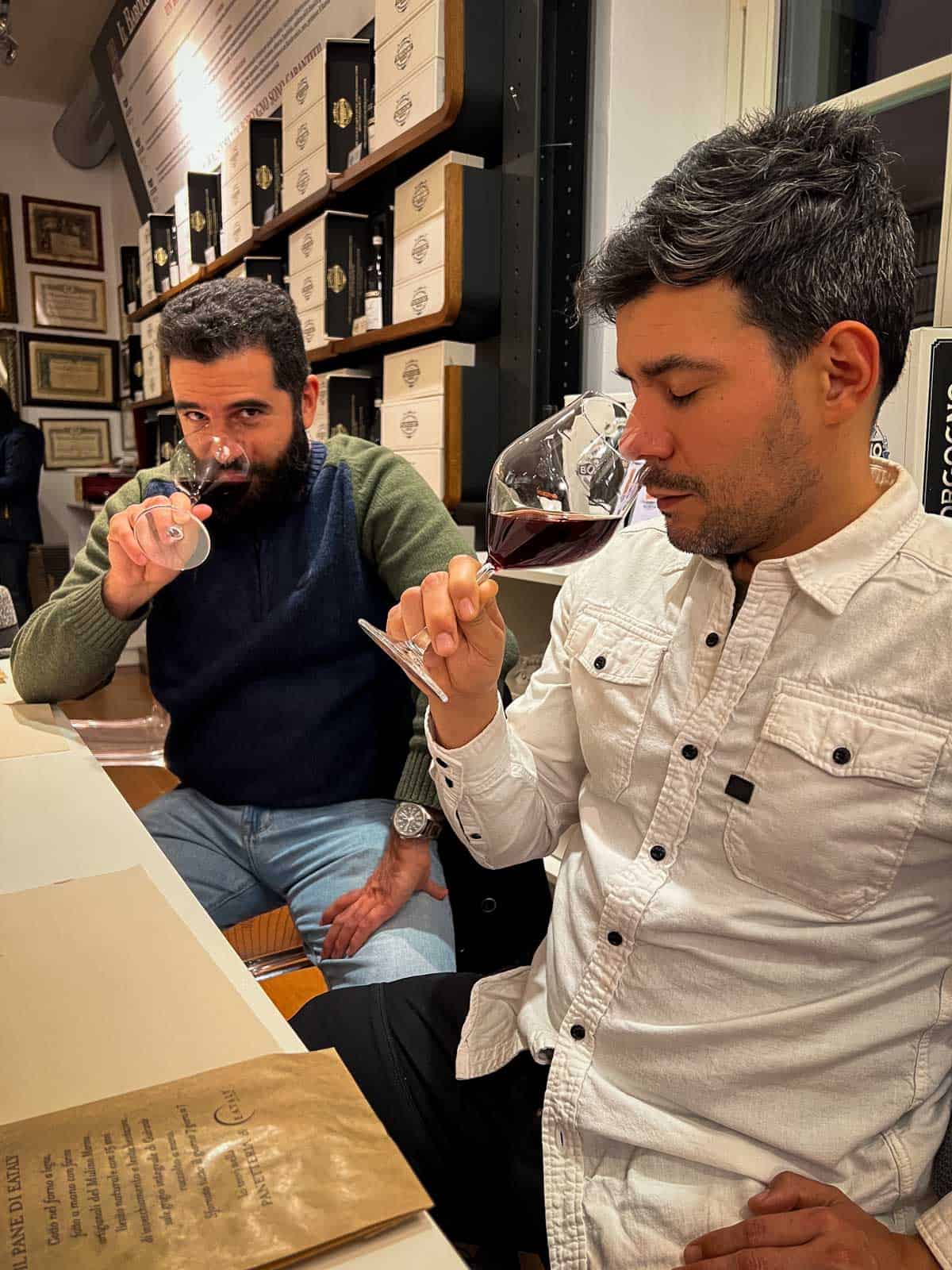 Barolo 2010, Rocche dell'annnunziata from Aurelio Settimo Dolcetto d'Alba 2020 from Curto (Organic Wines)
Barolo 2017, Arborina from Curto (Organic Wines) Barolo 2017, La Foia from Curto (Organic Wines)
Barolo 2016, from ConternoAdditionally, these bottles
What makes a Barolo wine?
Barolo wine is a DOCG (Denominazione di origine controllata e garantita) wine from the Langhe area of Piedmont, Italy. It must be made with 100% Nebbiolo grapes.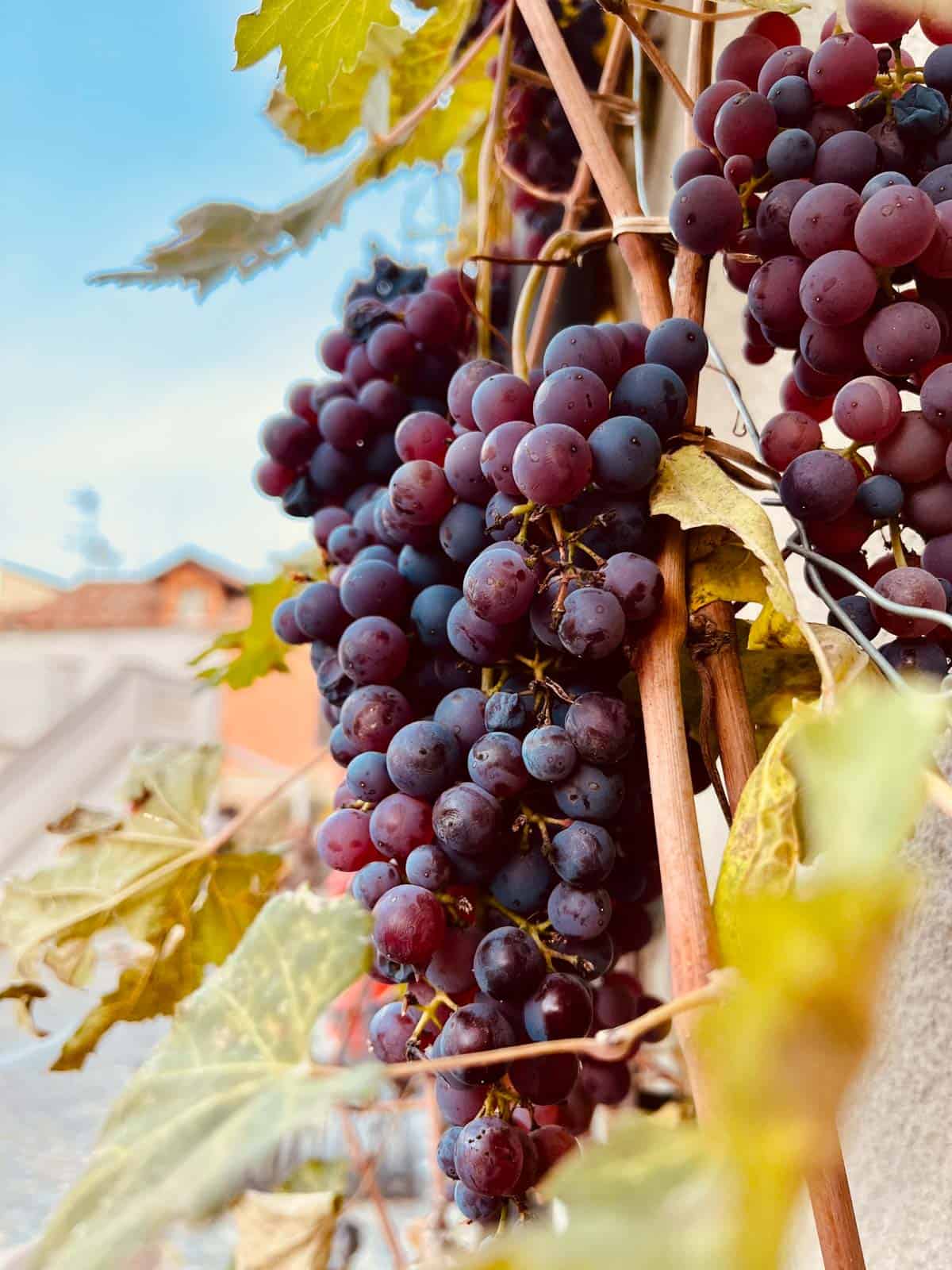 The wine is aged for at least 38 months, of which 18 must be in oak barrels.2016 was a particularly good year for the Barolo region, so be sure to get a bottle.
The Barolos age very well so you can keep the bottles for even 30-70 years.
How long you can keep a Barolo wine?
Barolo wines can be kept for a very long time, as they are designed to age. Some bottles can be kept for 30-70 years and still maintain their quality.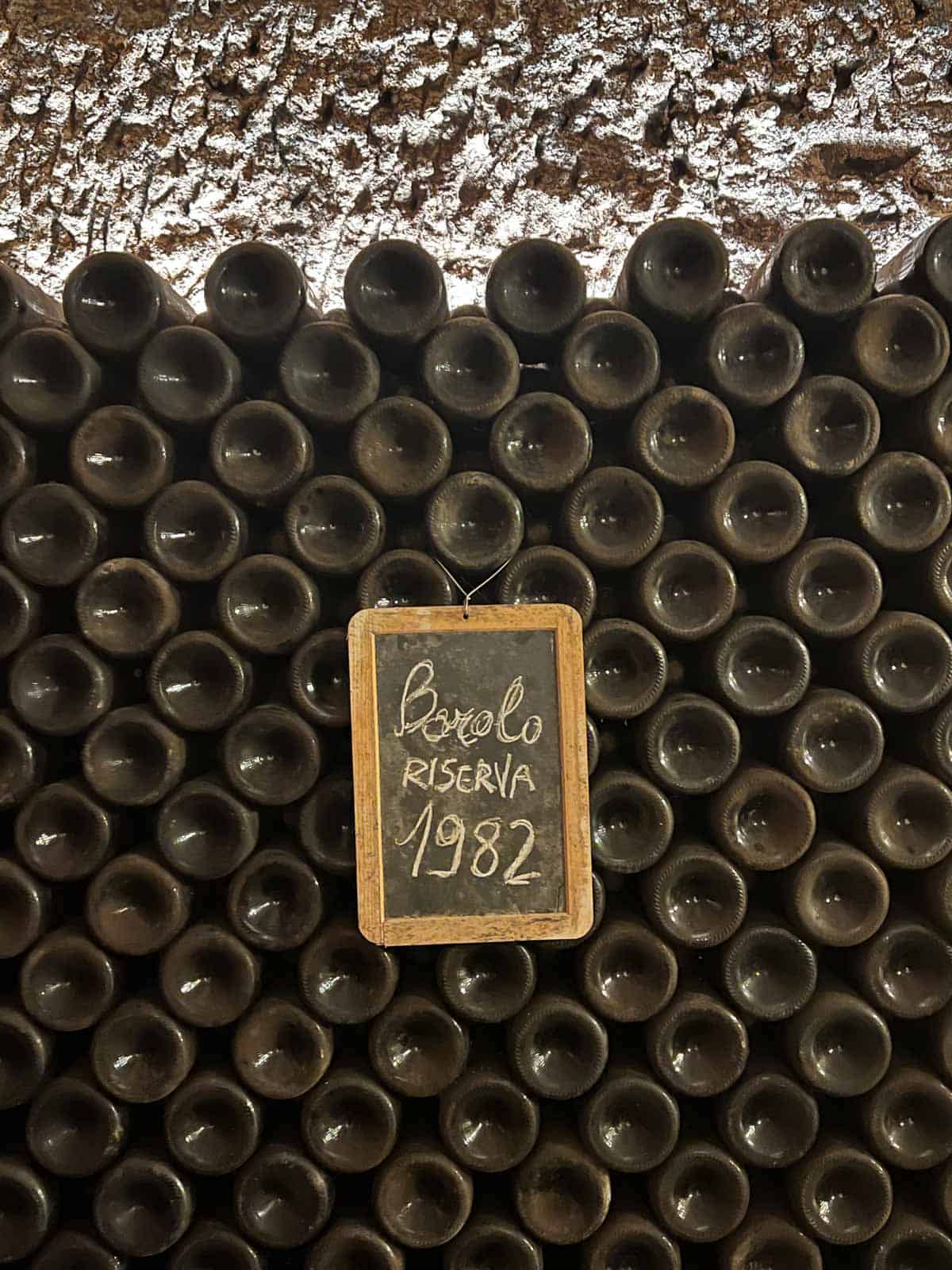 What to eat with a Barolo wine?
Piedmont is known for its rich food culture, and there are many dishes that pair well with Bar hopping mood. Especially local options like pasta and mushroom-based dishes.
A nice ragout with polenta pairs fantastically with the Langhe region's wines!
Look into pairing Barolo's intense tannins and acidity with dishes with strong flavors, such as an Italian stew, maybe an eggplant pie, a vegetable casserole, or cottage pie.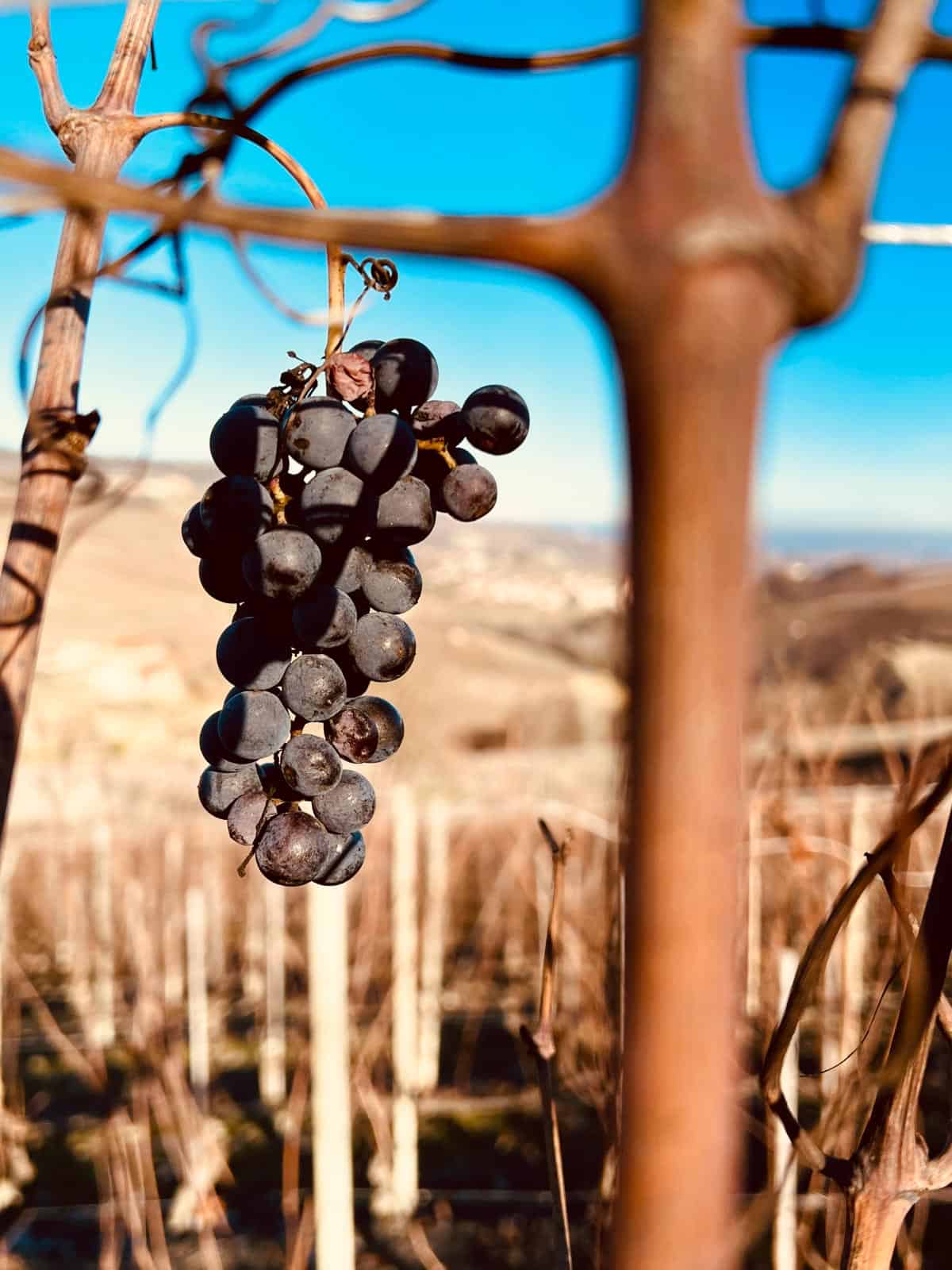 Vineyards in Manzoni
You're in the foothills of the Alps and you're ready for a taste journey around Piedmont, Italy. Manzoni has great wineries worth exploring and is located only 7 minutes from Barolo.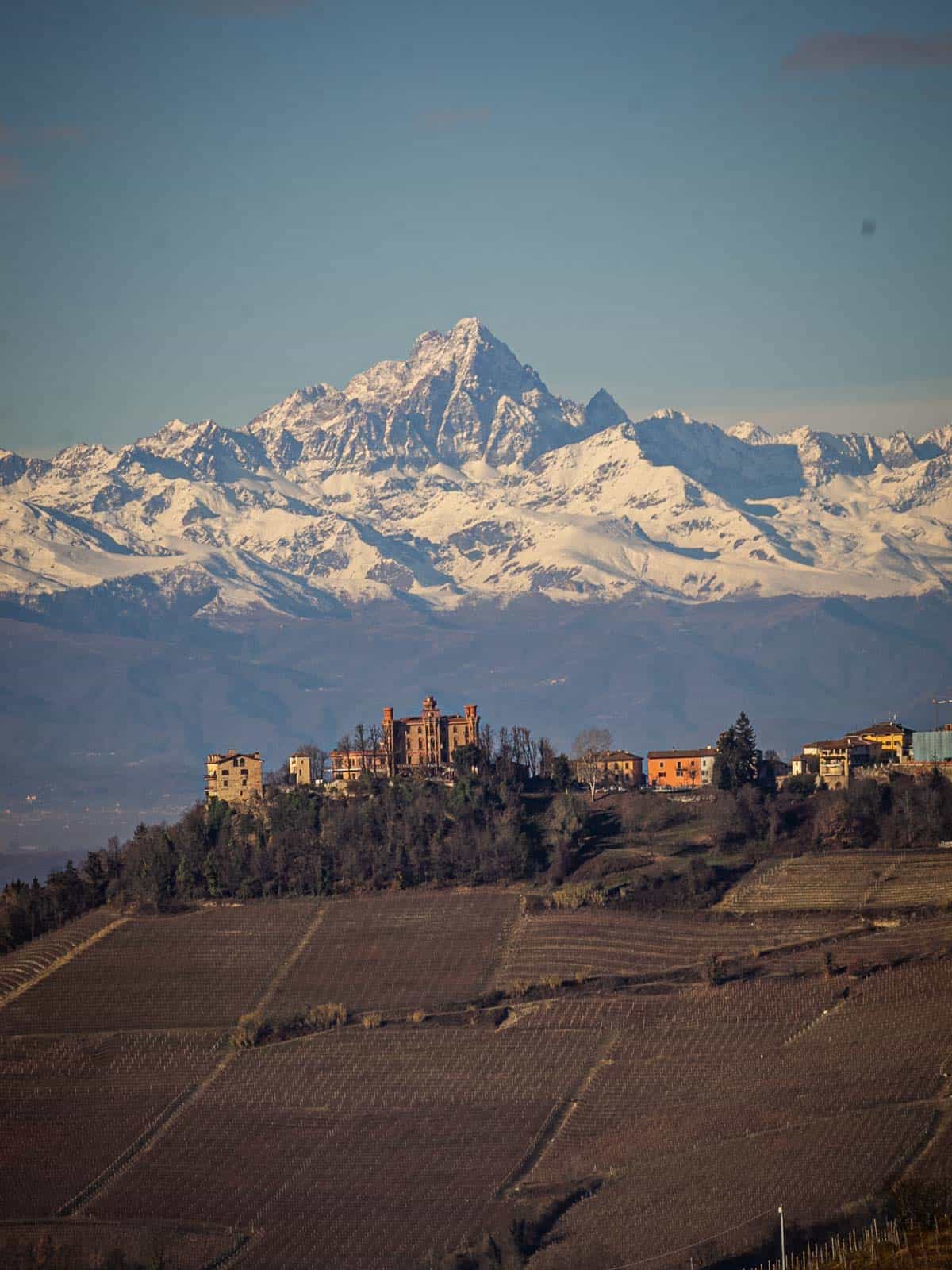 Resources for Wine Tasting Tours in Piedmont
If you're interested in tasting wines made from local grapes, it helps to know where to start. Here are some resources for you: There are many options. For our trip, we chose 3 vineries for a 3-day trip.
These people produce authentic artisanal wines that represent the spirit and soul of this region. Here is where you can find out more about these three wineries:
On the first day, we went to The Agricola Gian Piero Marrone, which has been producing high-quality wines for four generations in the magnificent scenery of the Langhe of Barolo in La Morra.
The second we visited was GD Vajra, a family winery, a real Italian slow-food experience! This is a must. The winery is located 3 kilometers from the center of Barolo.
On the third day, we tasted wines at the Dario Raccaro winery in Monforte d'Alba. There you can see how they process and bottle their regional wine with passion and taste some delicious appetizers made with organic products also produced by them, such as olive oil, white truffles, and wine jelly.

We suggest you set your GPS to the following address: "Barolo - Piazza della Vite e del Vino,1".To date, reservations and COVID-19 Green Certificate (DL 105/2021) are required to access the cellars.
Shopping for Olive Oil, Balsamic Vinegar, Chocolate and Pasta
The artisanal food markets and shops of Piedmont are known for having some of Italy's best artisanal foods. Here, you can find high-quality olive oil, truffles, cheese & meats, chocolate, pasta, coffee - even balsamic vinegar made from local grapes!
Visit a local marketplace or shop to get your hands on these fine goods. You will notice that the products are different from those found in big-name supermarkets because they are produced with care by smaller producers who take pride in their craftsmanship.
If you ask nicely, most artisans would be happy to tell you how they make their products.
If you're lucky enough to visit Piedmont on December 28th - that's when you will see il Presepe Vivente (The Living Nativity). Hundreds of locals perform this historical reenactment of the birth of Jesus Christ, and it's a sight to behold!
In Barolo there is a popular food market called L'Orto dell'Amore (The Garden of Love) where you can buy almost everything - Let your stomach be your guide.
At Venerdi Terra Madre, an annual meeting place for farmers and producers, you can purchase fresh products made by local farmers.
The event occurs every year at the end of October, and if you're lucky enough to be visiting Piedmont then, don't miss this! In most towns in the region, every day, there is a farmer's market where farmers from villages nearby will come to sell their products directly.
Last recommendation: do a hot air balloon flight. The landscape is really amazing. It cost around 250 euro. Here is a hot balloon flight option.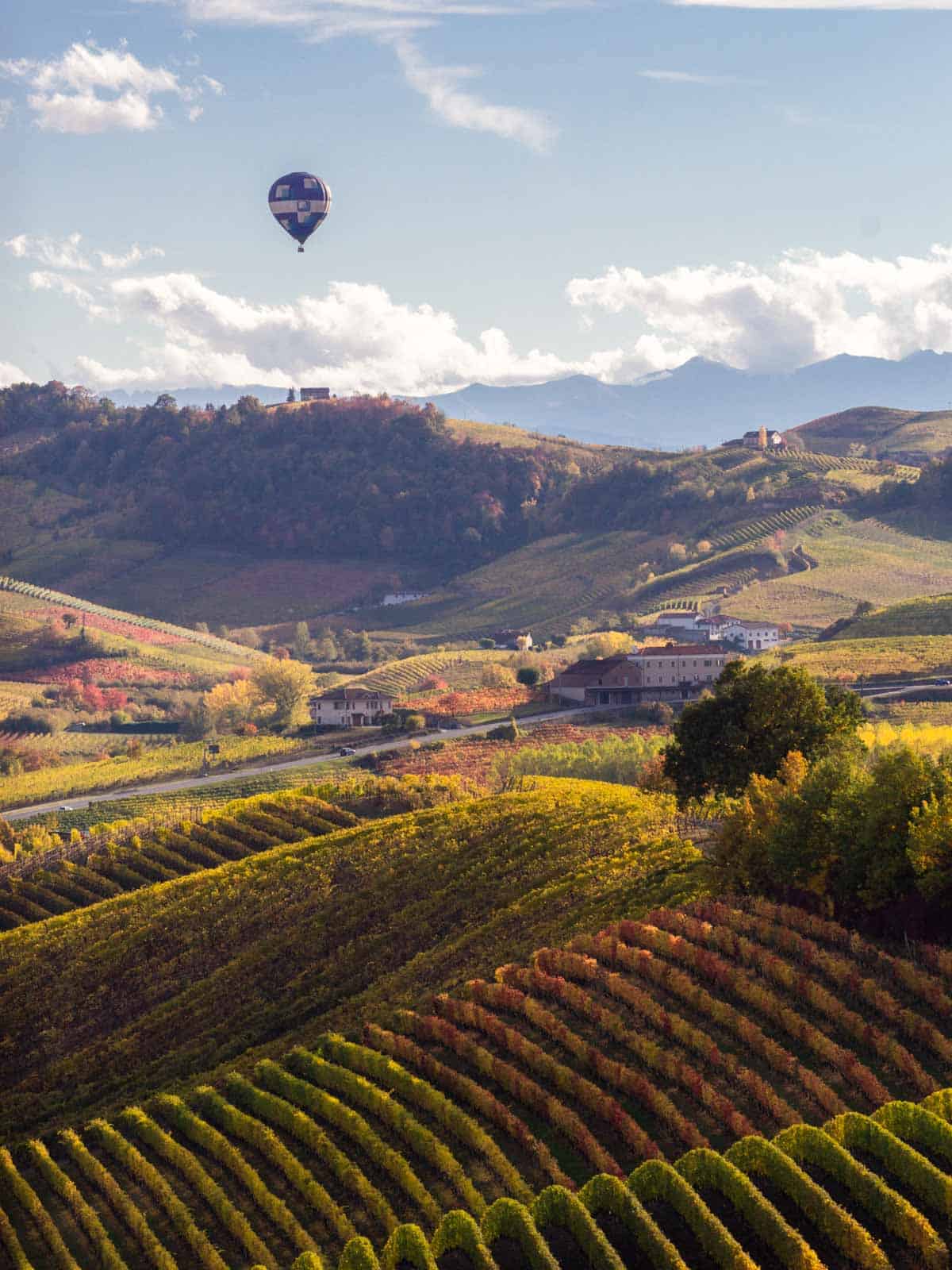 With all of these tips in mind, you'll be ready to plan your trip to Piedmont, Italy. There are so many things that the region has to offer for wine lovers and foodies alike. Be sure not to miss out on any of the regional delicacies! We hope this guide will help make your next visit a true Italian experience.
Explore the breathtaking Venice, or one of the most stunning views you will ever see in Lake Como, Cernobbio, and the fantastic landscapes and food of Piedmont and Puglia.