Discover the Top Things to do in Bellagio, Lake Como, from exploring historic villas and gardens to indulging in authentic Italian cuisine. Let our comprehensive guide lead you through the must-see attractions and hidden gems of this enchanting town.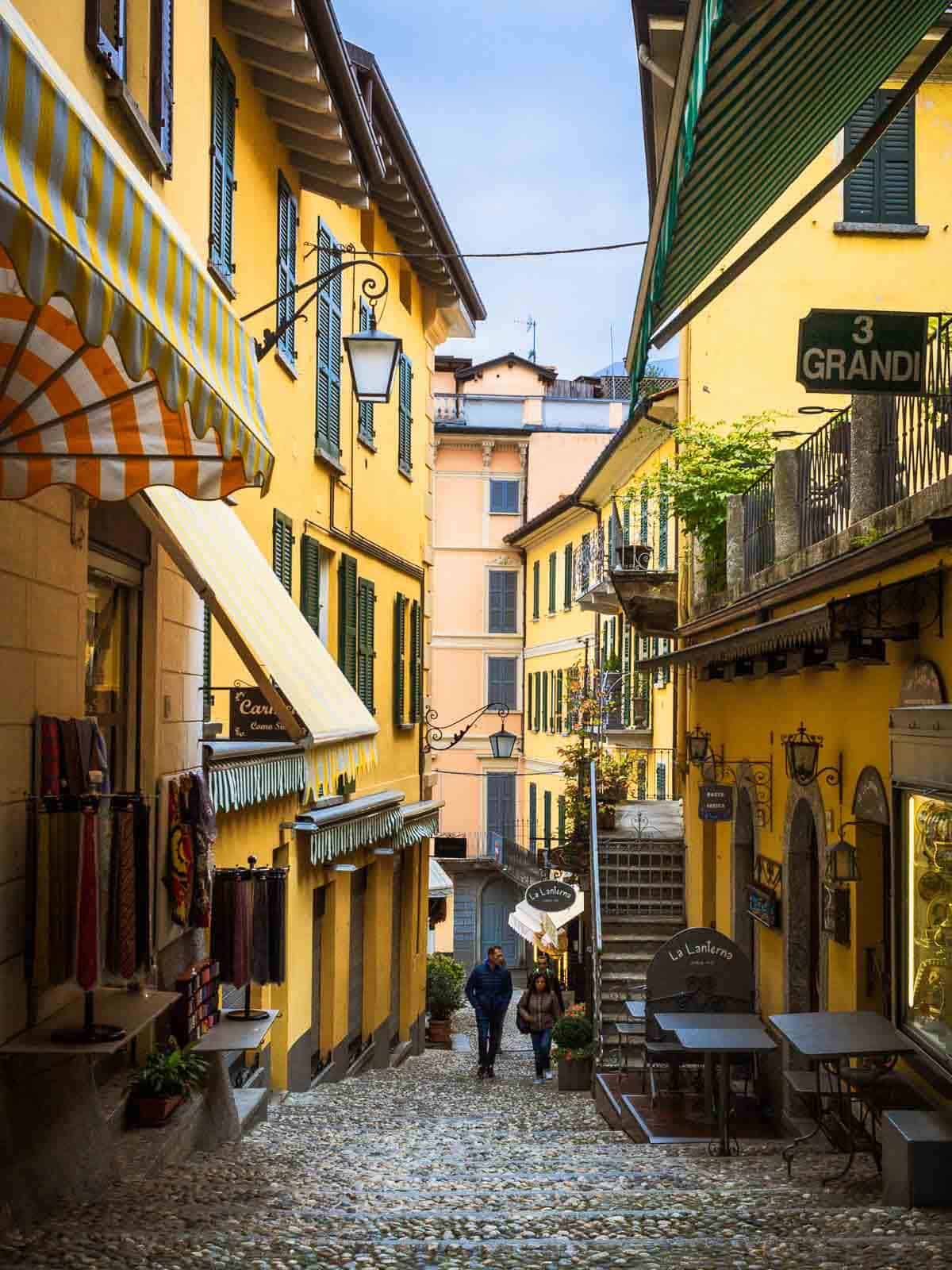 Nestled along the picturesque shores of Lake Como, Bellagio is a stunning Northern Italy town that exudes charm and elegance. Often referred to as the "Pearl of Lake Como," Bellagio's cobbled streets, historic villas, and breathtaking views make it a must-visit destination for travelers seeking a perfect mix of relaxation and adventure. This guide will provide you with all the information you need to make the most of your time in Bellagio, from arriving at this idyllic town to discovering its hidden gems.
Visiting Lake Como is a dream come true for many travelers, as this stunning Italian paradise combines breathtaking natural beauty with rich history and culture. The picturesque towns dotted along the shores of the lake, including the charming Bellagio, offer a wealth of experiences for visitors to enjoy. From the glamour of Lido di Bellagio to the grandeur of famous villas, Lake Como presents a captivating blend of luxury and tradition. Whether you're exploring the local cuisine or embarking on a scenic boat tour, the Italian lakes provide an unforgettable backdrop for your adventures.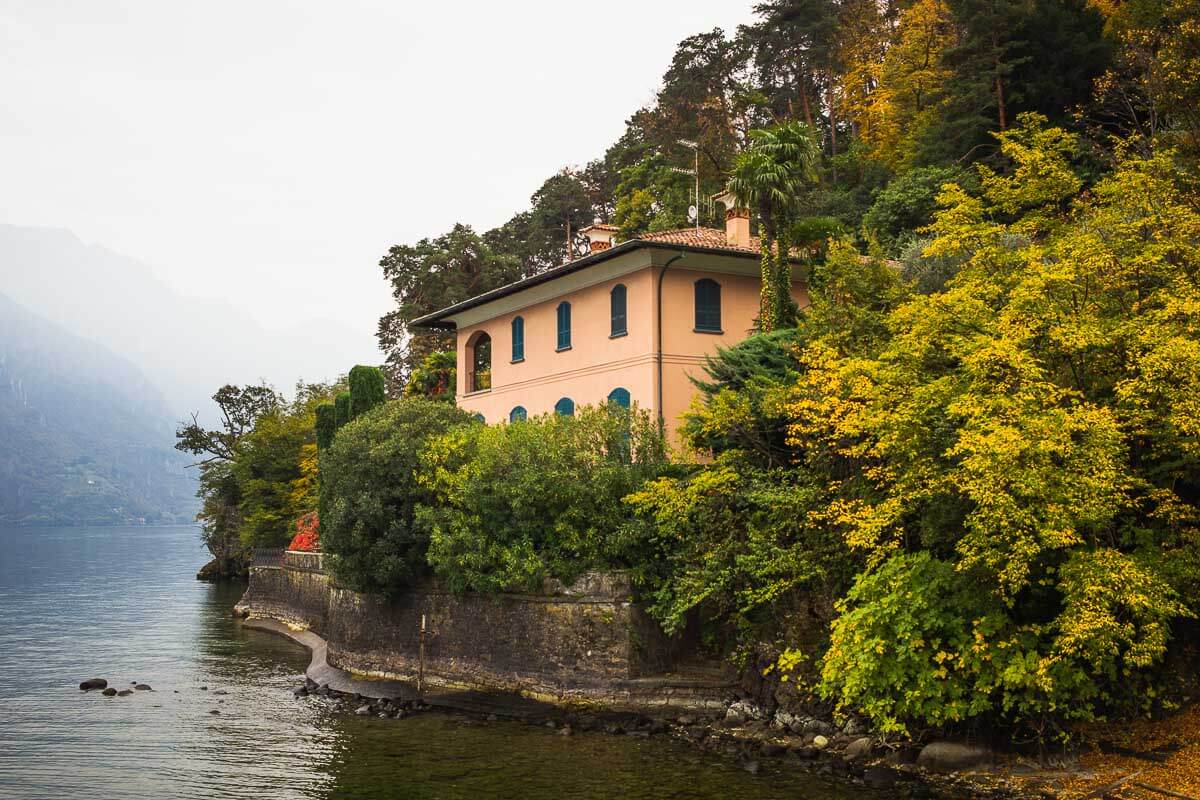 When you explore Bellagio, you'll immerse yourself in a world of elegance and charm. The town's cobbled streets, historic villas, and beautiful gardens testify to the region's enduring allure. A visit to Villa Melzi or Villa Carlotta offers a glimpse into the opulent lifestyles of the past, while a leisurely boat tour along the lake allows you to admire the stunning landscapes that have inspired poets, artists, and travelers for centuries. As you wander through the narrow streets, indulge in authentic Italian cuisine, or simply relax by the water's edge, you'll understand why Bellagio and Lake Como are considered a true Italian paradise.
Visiting Bellagio is a must if you visit Lake Como or Chernobbio.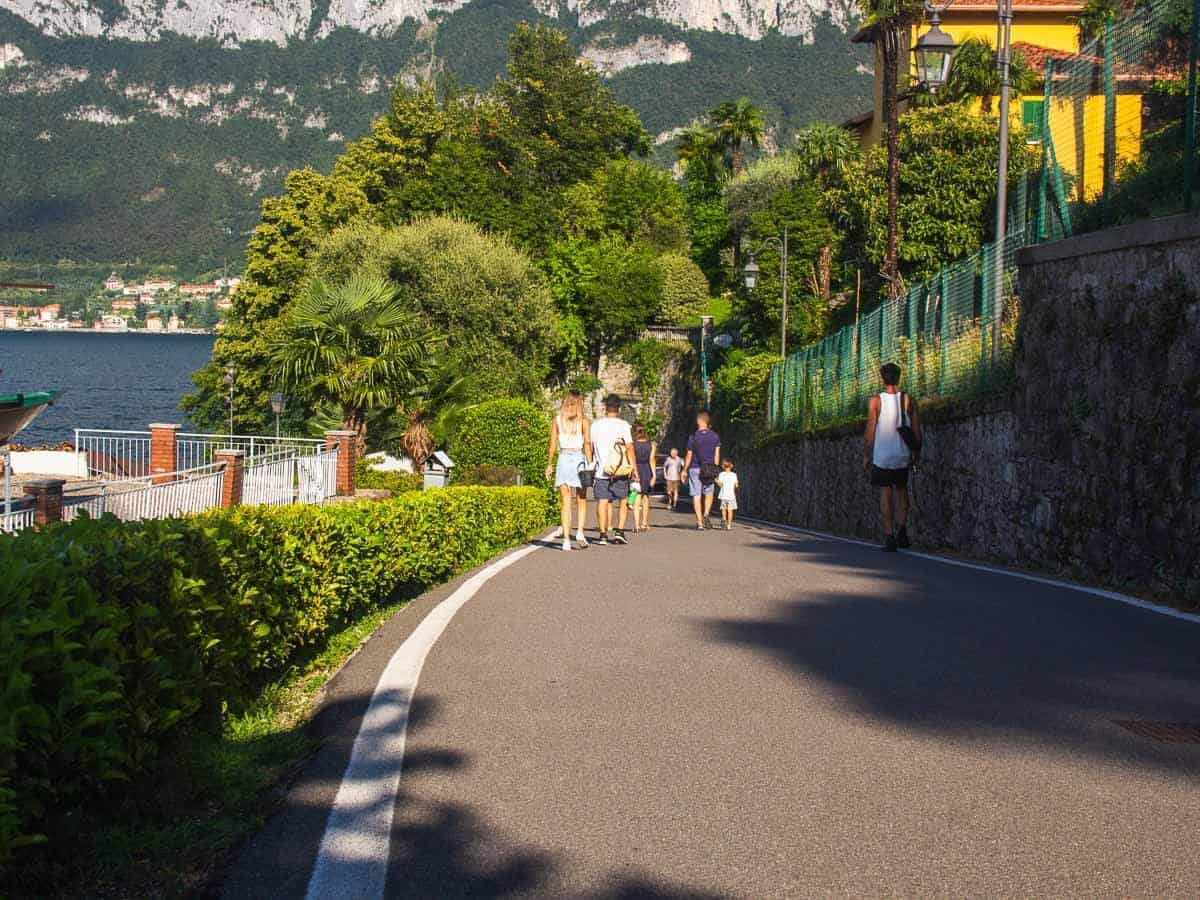 Jump to:
Getting to Bellagio
Air travel options
The most convenient way to get to Bellagio is by flying into one of the nearby airports. The closest airport is Milan Malpensa (MXP), located about 58 miles (93 km) away, while the smaller Milan Linate (LIN) and Bergamo Orio al Serio (BGY) airports are also within reasonable driving distance. Once you've arrived at the airport, you can rent a car (affiliate link), take a shuttle, or use a taxi service (affiliate link) to reach Bellagio.
Train travel options
Traveling to Bellagio by train is another popular option, especially for those coming from other parts of Italy or Europe. The closest train station is in Varenna, a picturesque town on the eastern shore of Lake Como. You can take a direct train from Milan to Varenna-Esino, which takes about an hour. Once you arrive in Varenna, you can take a quick ferry ride across the lake to Bellagio.
You can also take the train to Como Town, and then make your way to Belaggio.
Ferry services on Lake Como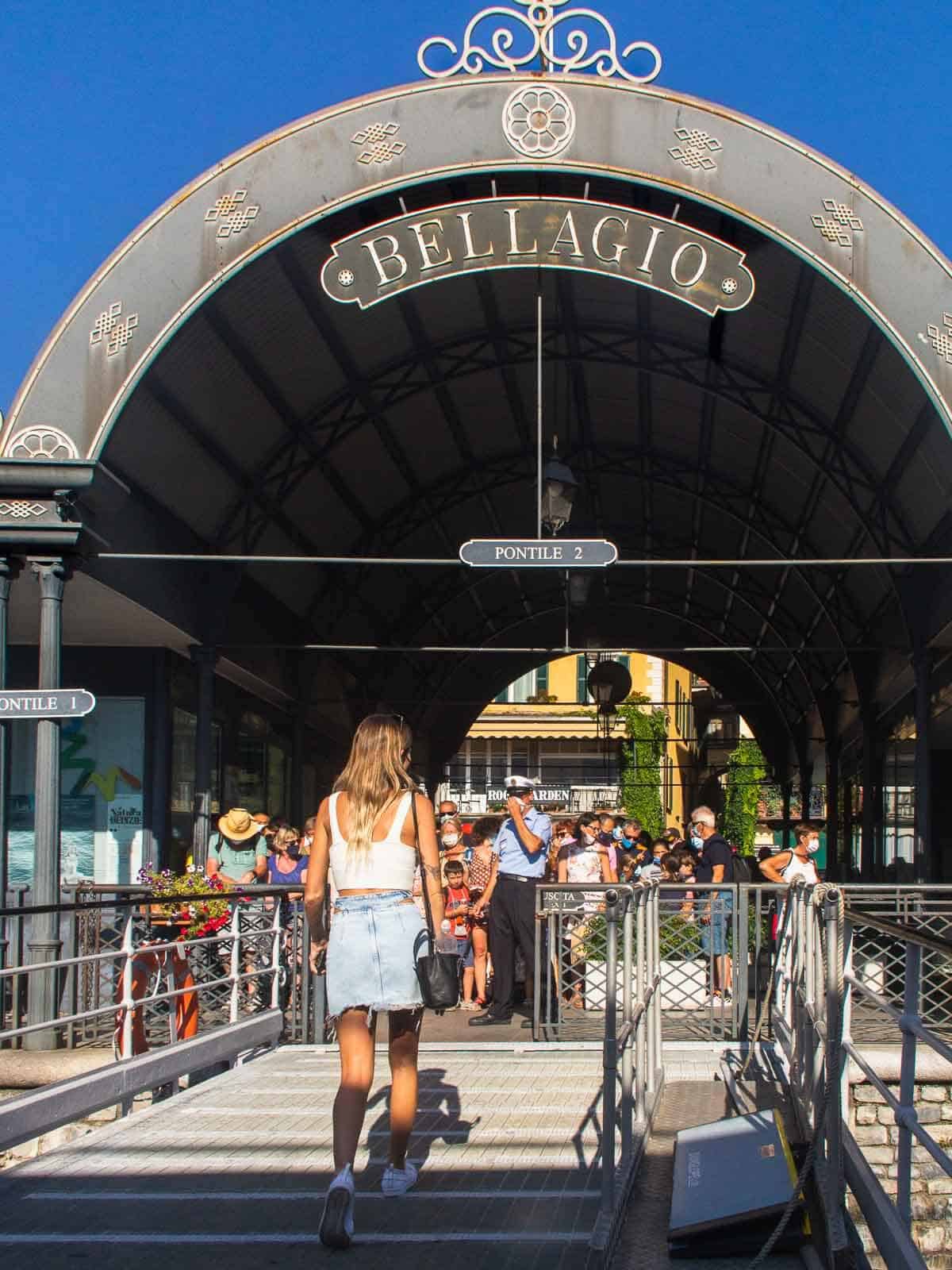 One of the most enjoyable ways to explore Lake Como and reach Bellagio is by ferry. Regular ferry services operate between the various towns around the lake, providing a convenient and scenic mode of transportation. Bellagio is well-connected to other popular destinations such as Varenna, Menaggio, and Cadenabbia, each with a ferry station. The ferry ride also offers a unique opportunity to take in the stunning views of the surrounding mountains and lakeside towns.
Bellagio offers a range of private boat tours for tourists who want to experience the beauty of the lake up close.
Private boat tours are a great way to explore the lake's scenic beauty at your own pace, away from the crowds of tourists; don't forget to make a stop in beautiful Cernobbio!
Depending on your preferences and budget, you can choose from a range of boats, from traditional wooden boats to modern speedboats. These boats come with a knowledgeable guide who can provide information about the area's history, culture, and sights.
Some popular private boat tours in Bellagio include a tour of the lake's branches, a sunset cruise, a tour of the historic villas and gardens on the lake's shores, and a trip to the charming fishing village Varenna.
Where to stay in Bellagio
Luxury accommodations
For those who desire a luxurious stay in Bellagio, several high-end hotels offer opulent rooms, top-notch service, and breathtaking views of Lake Como. Villa Serbelloni (affiliate link) is a renowned option providing a truly indulgent experience.
Mid-range hotels
If you're looking for comfort and style without breaking the bank, Bellagio offers various mid-range hotels catering to different budgets and preferences. Hotel Belvedere (affiliate link) and Hotel Du Lac (affiliate link) are popular choices, both boasting excellent service and convenient locations.
Budget-friendly options
Travelers on a tight budget can still enjoy the beauty of Bellagio by staying in one of its many affordable B&Bs, guesthouses, or hostels. These establishments often provide a cozy, home-like atmosphere and personalized service, ensuring a comfortable and memorable stay.
Morning Activities: Exploring Bellagio's Historic Center
Pescallo Bay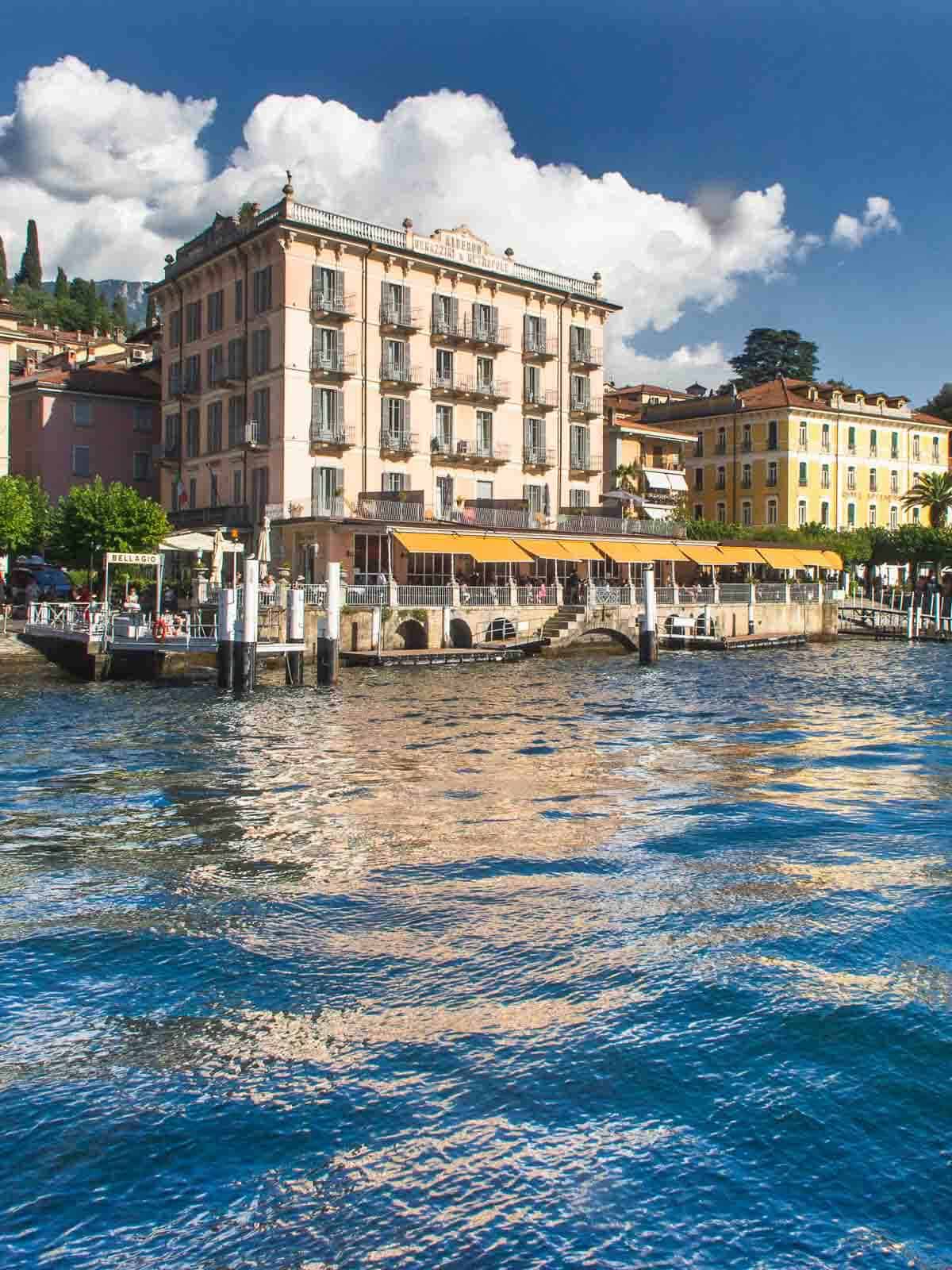 Begin your day with a leisurely stroll along the picturesque Pescallo Bay. This charming, lesser-known corner of Bellagio offers stunning views of the lake and a peaceful atmosphere, making it the perfect place to soak in the beauty of Lake Como as the day begins.
Salita Serbelloni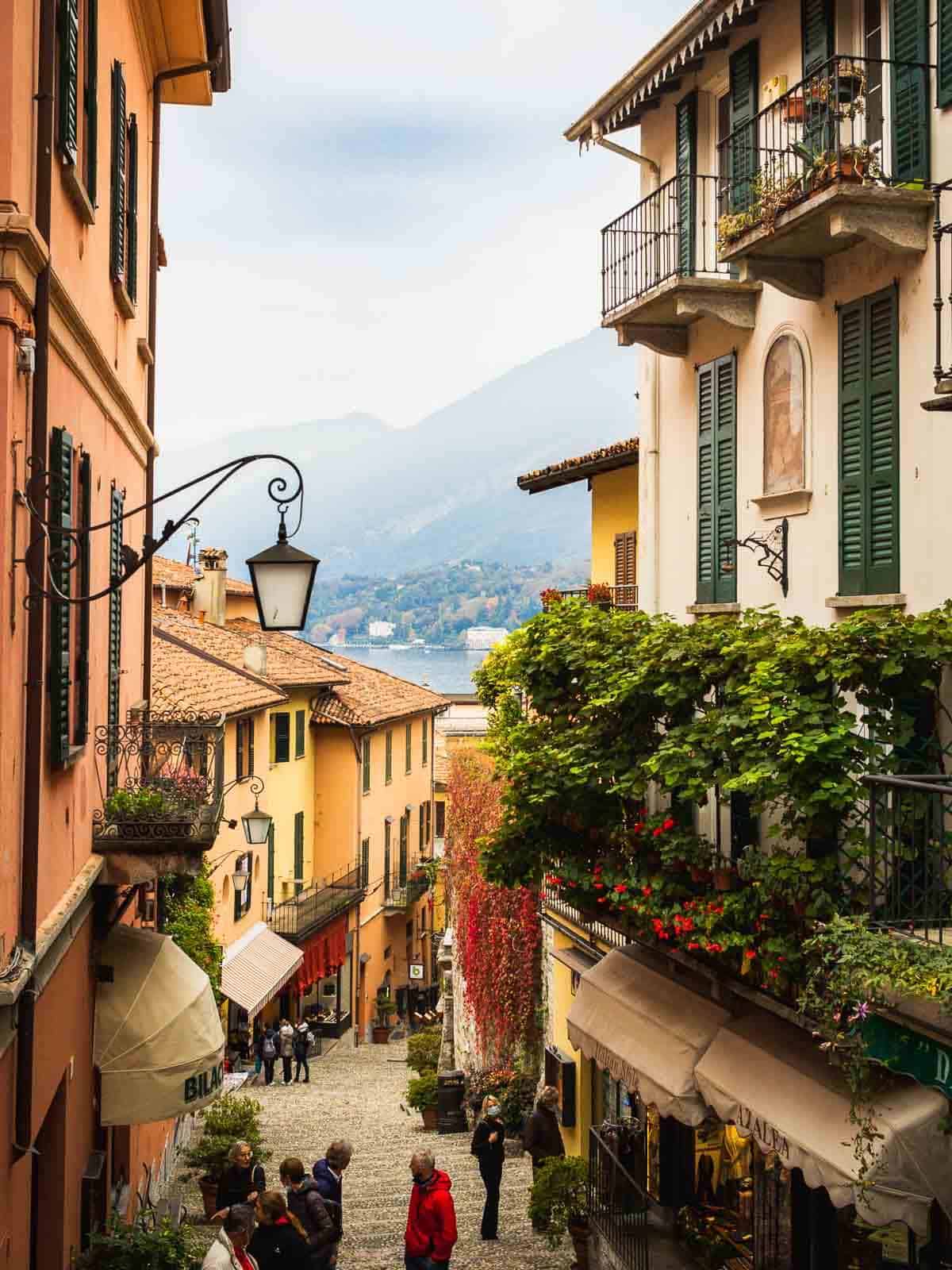 Next, head to Bellagio town center and then to Salita Serbelloni, a steep, narrow street lined with colorful buildings, boutique shops, and charming cafés. This is the ideal spot to grab a cappuccino and pastry for breakfast while enjoying the lively ambiance of this quintessential Italian street. As you explore, pop into some local shops to find unique souvenirs, handmade crafts, and stylish Italian clothing.
Basilica of San Giacomo
After breakfast, go to the Basilica of San Giacomo, a beautiful Romanesque church dating back to the 12th century. The basilica's architecture and rich history make it a must-visit destination for art and history enthusiasts. Inside, you'll find a stunning collection of frescoes, statues, and other religious artifacts that showcase the skill and craftsmanship of Italian artisans throughout the centuries.
Go on a kayaking tour
Kayaking on Lake Como is an excellent way to explore the stunning scenery of Bellagio. As you glide along the crystal-clear waters, you'll be mesmerized by the lush greenery, rocky cliffs, and colorful architecture lining the shores. The morning is the perfect time to set out on this adventure, as the air is fresh and the water is calm. You can paddle at your own pace and enjoy the beautiful sights, from the grand villas and gardens to the picturesque fishing villages. Whether you're a seasoned kayaker or a first-timer, this experience will surely be unforgettable.
Afternoon Activities: Venturing to the Surrounding Gardens and Villas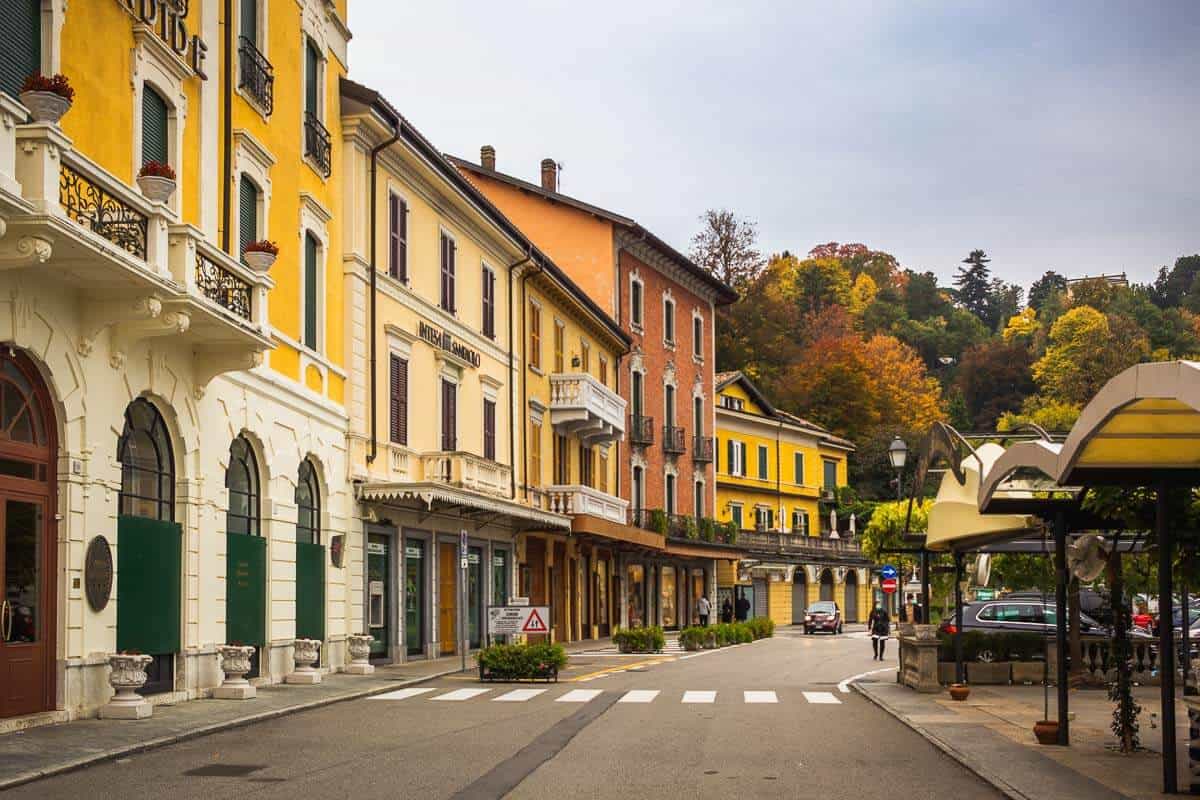 Villa Melzi Gardens
Once you've explored Bellagio's historic center, it's time to venture to the surrounding gardens and villas that make this area so renowned. Start with Villa Melzi, an elegant neoclassical villa that features meticulously maintained gardens stretching along the lakeshore. The gardens are a delight to explore, with a diverse collection of plants, sculptures, and architectural elements that create a serene and enchanting atmosphere. Be sure to take some time to admire the views of the lake and surrounding mountains from various vantage points within the gardens.
Villa Carlotta
Next, hop on a ferry to Tremezzo, a nearby town on the western shore of Lake Como, where you'll find Villa Carlotta. This magnificent villa is home to an impressive art collection and a beautiful botanical garden. Wander through the villa's ornate rooms, admiring works by famous artists such as Canova and Hayez, and then explore the sprawling gardens, which boast a wide variety of plants, including azaleas, rhododendrons, and ancient cedar trees.
Evening Activities: Experiencing Bellagio's Culinary Delights
Local dishes and lakefront dining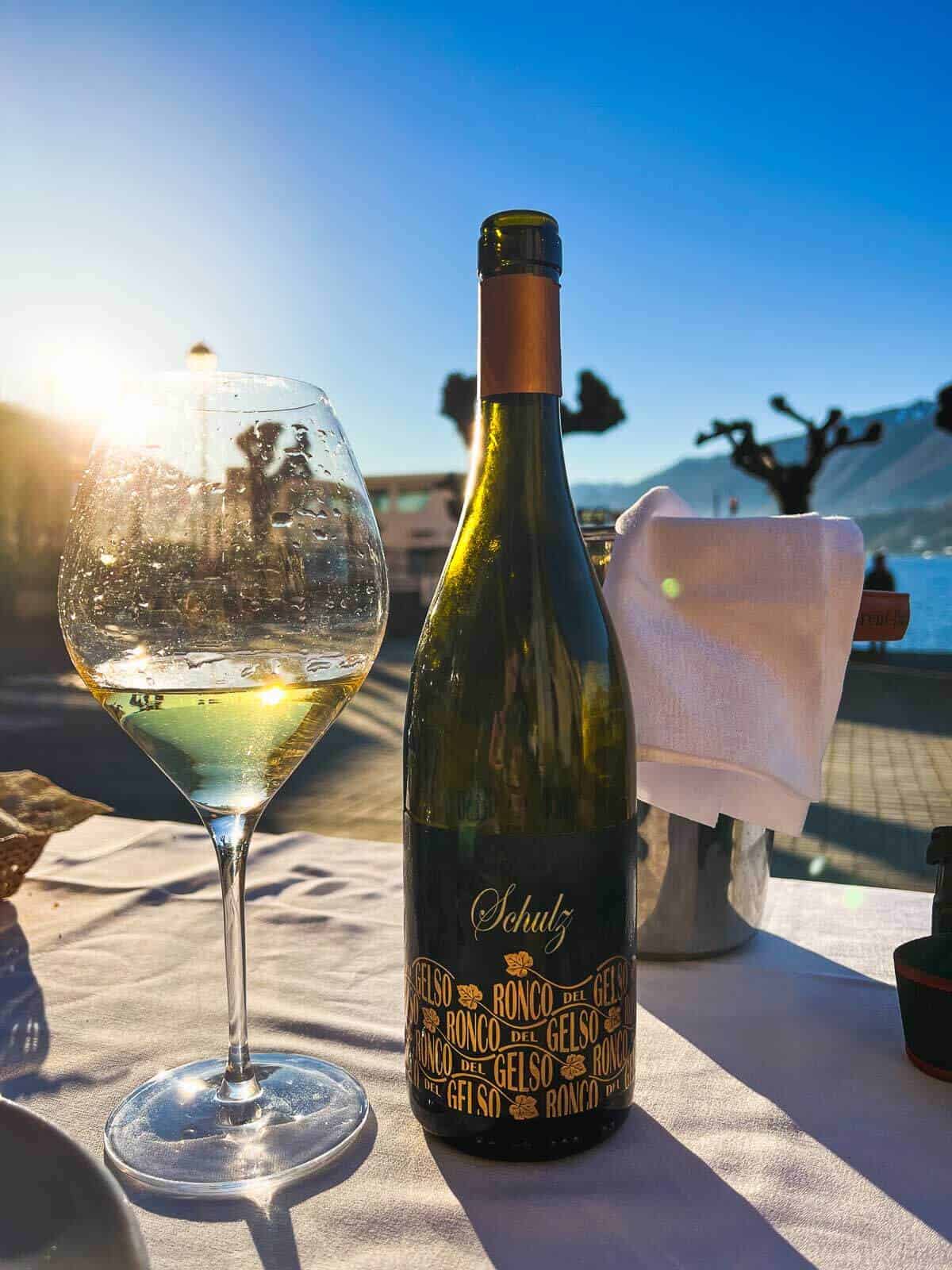 As the sun begins to set, it's time to savor the region's flavors at one of Bellagio's many excellent restaurants. Opt for a lakeside eatery, where you can indulge in delicious local dishes while enjoying panoramic views of the water and surrounding mountains. Popular regional specialties include risotto al pesce persico (risotto with perch), lavarello al forno (oven-baked whitefish), and pizzoccheri (buckwheat pasta with potatoes, cheese, and greens).
Gourmet cuisine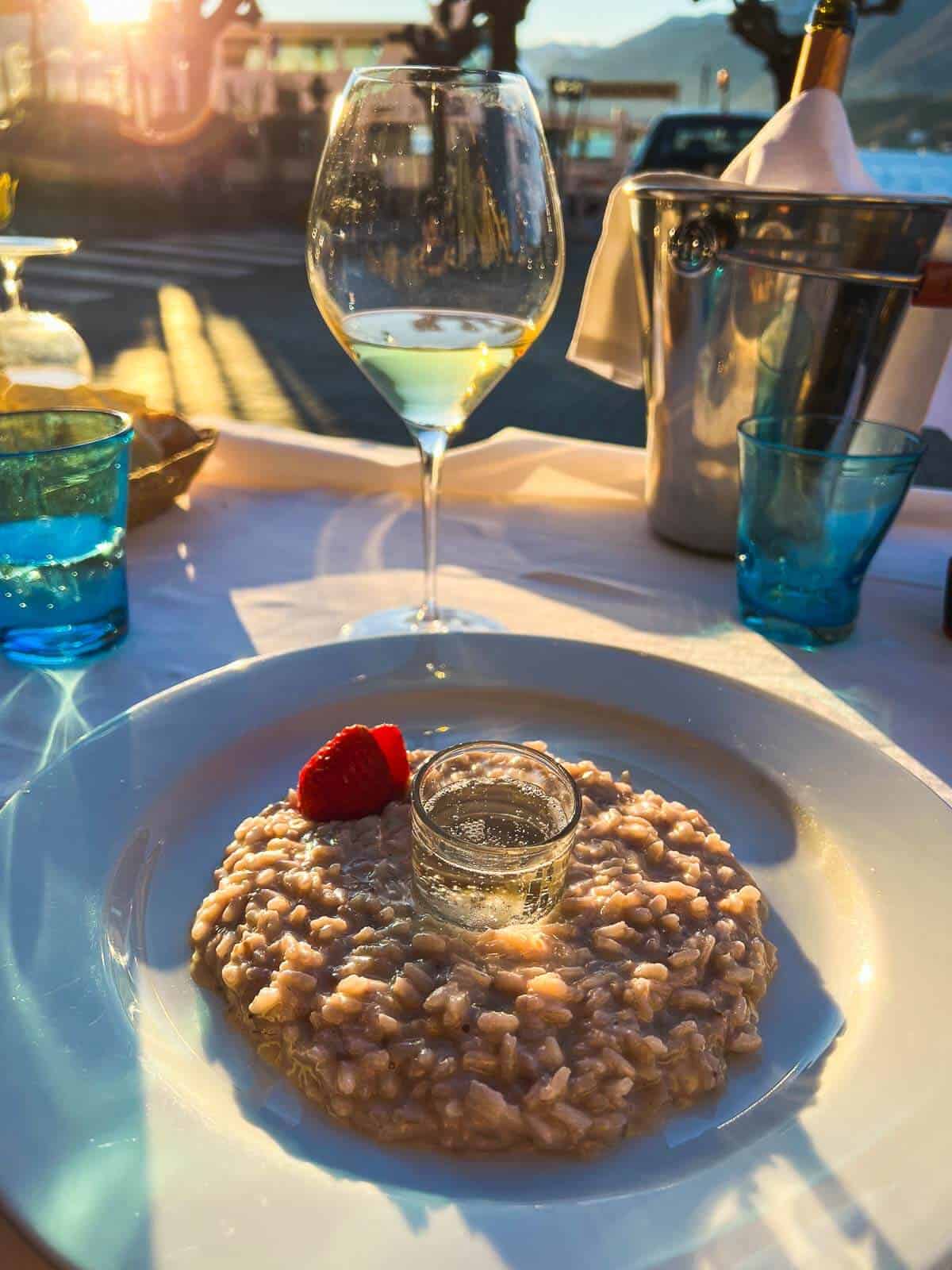 For those seeking a more upscale dining experience, Bellagio is home to several gourmet restaurants offering refined Italian and international cuisine. Many of these establishments feature innovative menus, elegant atmospheres, and extensive wine lists, providing a memorable and indulgent evening.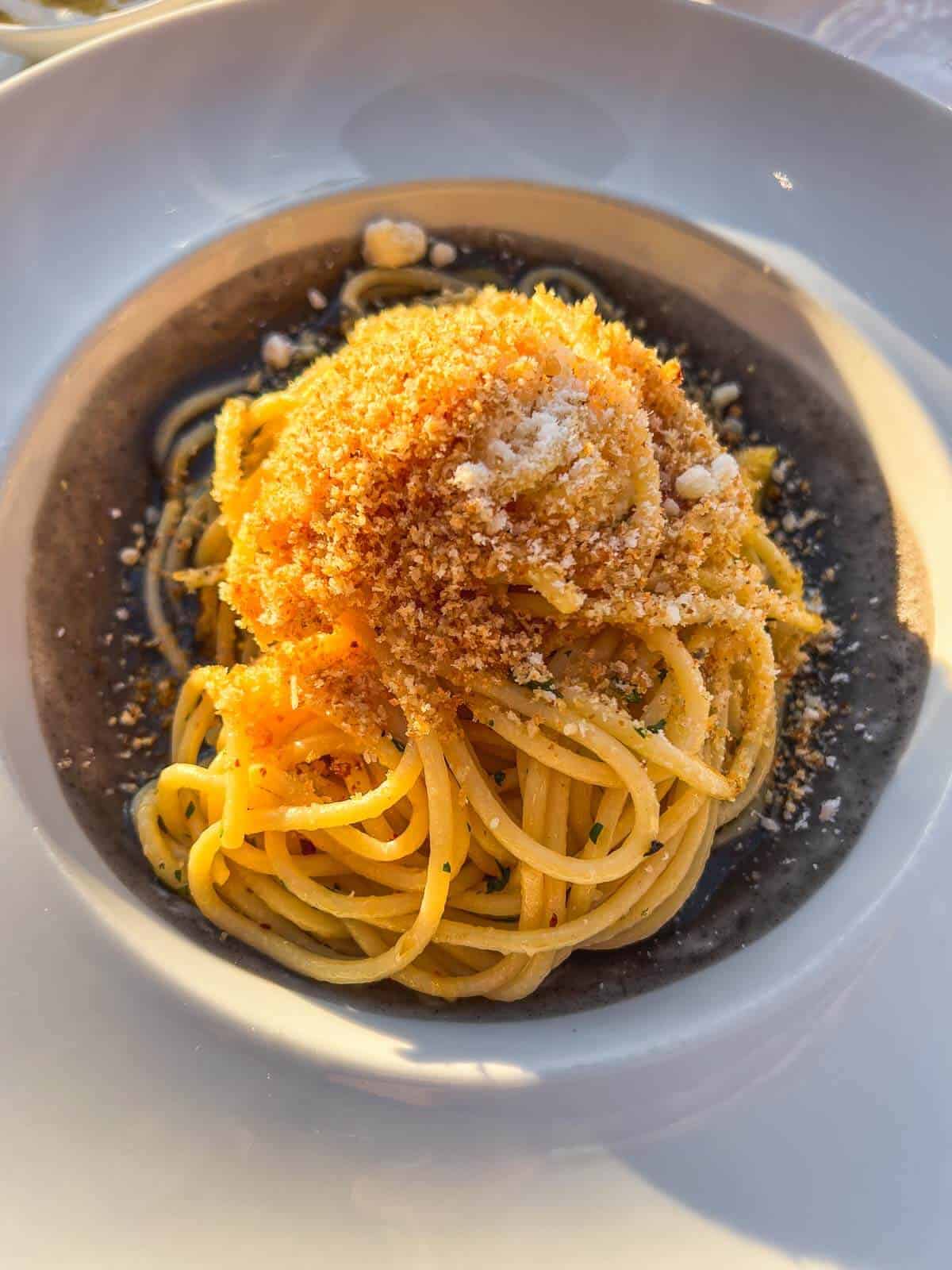 Authentic Italian gelato
No trip to Italy would be complete without indulging in some authentic Italian gelato. After dinner, treat yourself to a scoop (or two) of this creamy, flavorful dessert at one of Bellagio's many gelaterias. There's something to satisfy every palate with a wide variety of flavors available, ranging from classic stracciatella to fruity sorbets.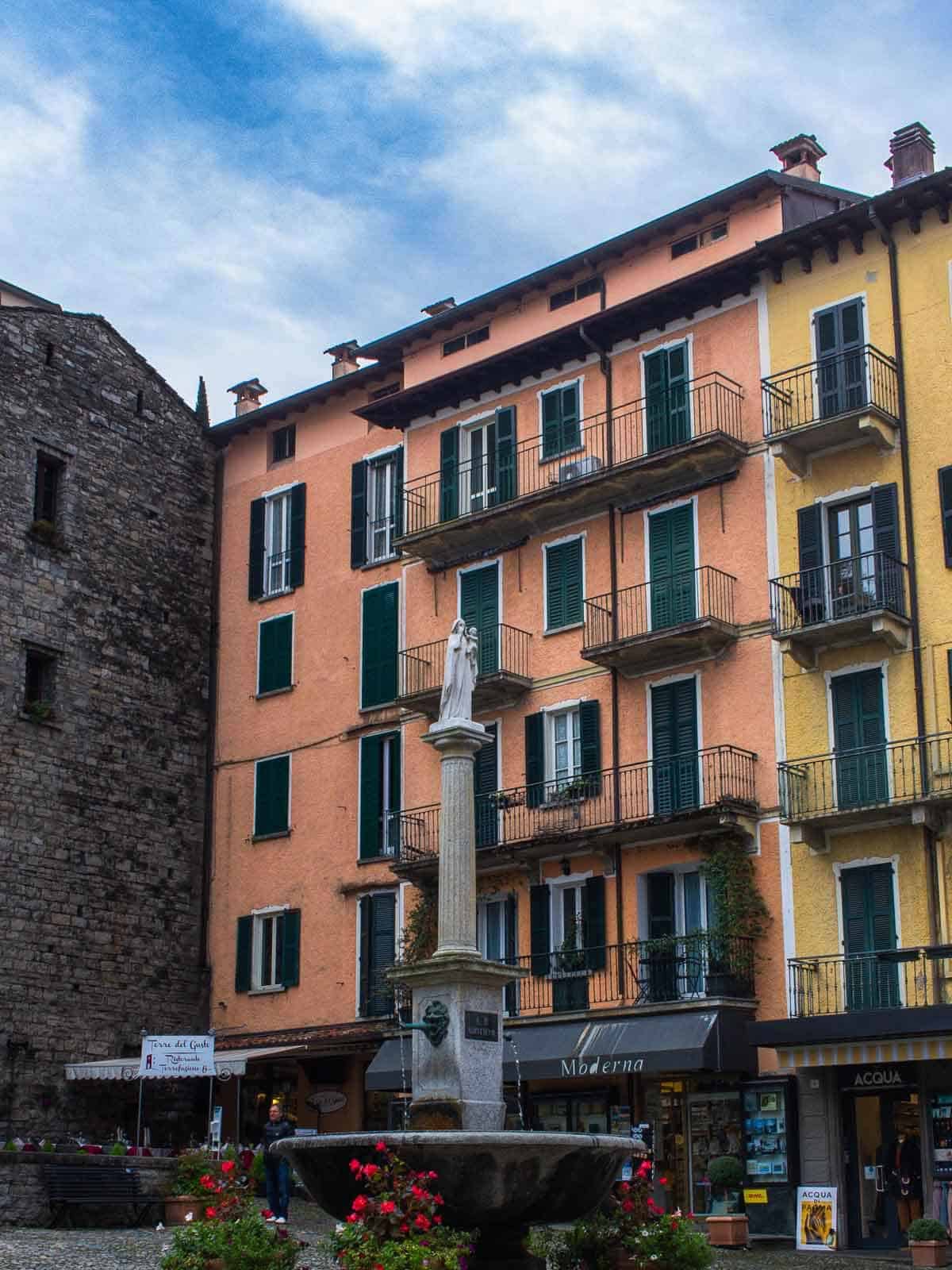 Nightlife in Bellagio
Beach club atmosphere
For those looking to experience Bellagio's nightlife,
there are several options to suit different tastes and preferences. If you're in the mood for a lively beach club atmosphere, head to one of Bellagio's lakefront establishments, where you can dance the night away to DJ sets and enjoy refreshing cocktails with a backdrop of the shimmering lake.
Local hangouts and live music
If you prefer a more laid-back experience, Bellagio offers a variety of local bars and pubs where you can mingle with fellow travelers and locals alike. Many of these venues host live music events featuring talented artists performing a mix of genres, from traditional Italian songs to contemporary hits. Relax with a glass of wine or a cocktail and enjoy the warm, convivial atmosphere that Bellagio's nightlife offers.
Wine bars and tastings
Wine enthusiasts will be delighted by the abundance of wine bars and enotecas in Bellagio, offering a chance to sample a wide range of Italian and international wines. Many of these establishments also offer wine tastings, allowing you to learn more about the different grape varieties and wine-making techniques that make Italian wines so renowned. Pair your wine with a selection of local cheeses, cured meats, and other small bites for a truly indulgent experience.
Best time to visit Bellagio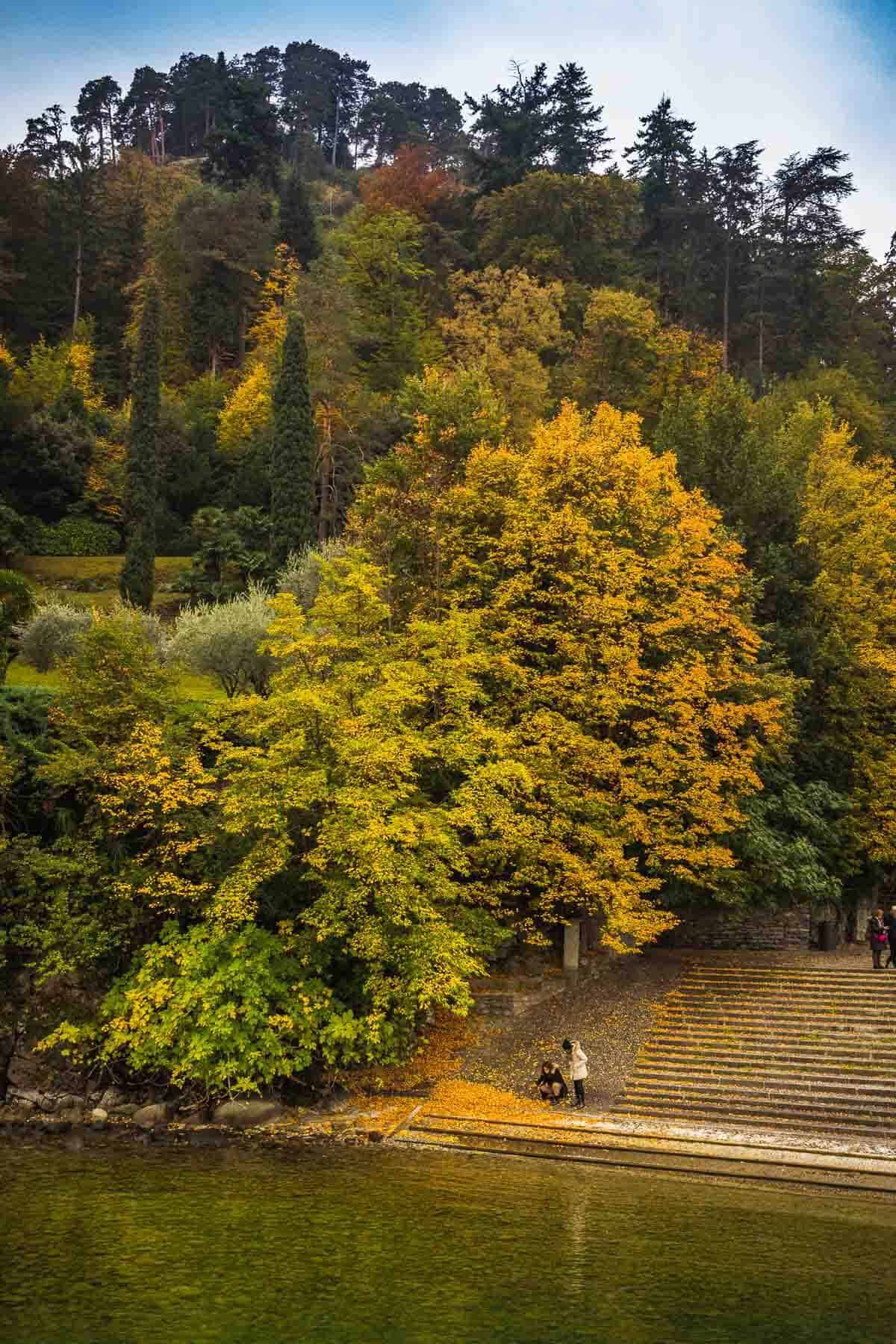 Living just 40 minutes away, we visited Bellagio during different seasons, and each one had its charm.
Bellagio should be at the top of your list if you're planning to visit Lake Como. While it's a great destination to explore any time of the year, the months between April and October offer the best weather conditions and the chance to see the gardens in full bloom. With so many outdoor activities to enjoy, from boat rides to hiking, there's never a dull moment in Bellagio. Don't miss the chance to experience the town's unique charm and beauty, as it's sure to leave a lasting impression on your trip to Lake Como.
More places to visit in Northern Italy
Don't miss a visit to Venice, the "City of Masks," "City of Bridges," "The Floating City," and "City of Canals."
If you want to visit the Italian Alps, pay a visit to Bolzano, an amazing Italian-German Speaking city with breathtaking landscapes.