Lake Como, located in the picturesque Italian region of Lombardy, is a stunningly beautiful destination that you won't want to miss. With its crystal-clear waters, breathtaking mountain backdrop, and charming towns, Lake Como offers a truly relaxing and unforgettable vacation experience. If you're wondering what activities are available in this area, look no further! Here are some of the best things to do in Como and the surrounding towns.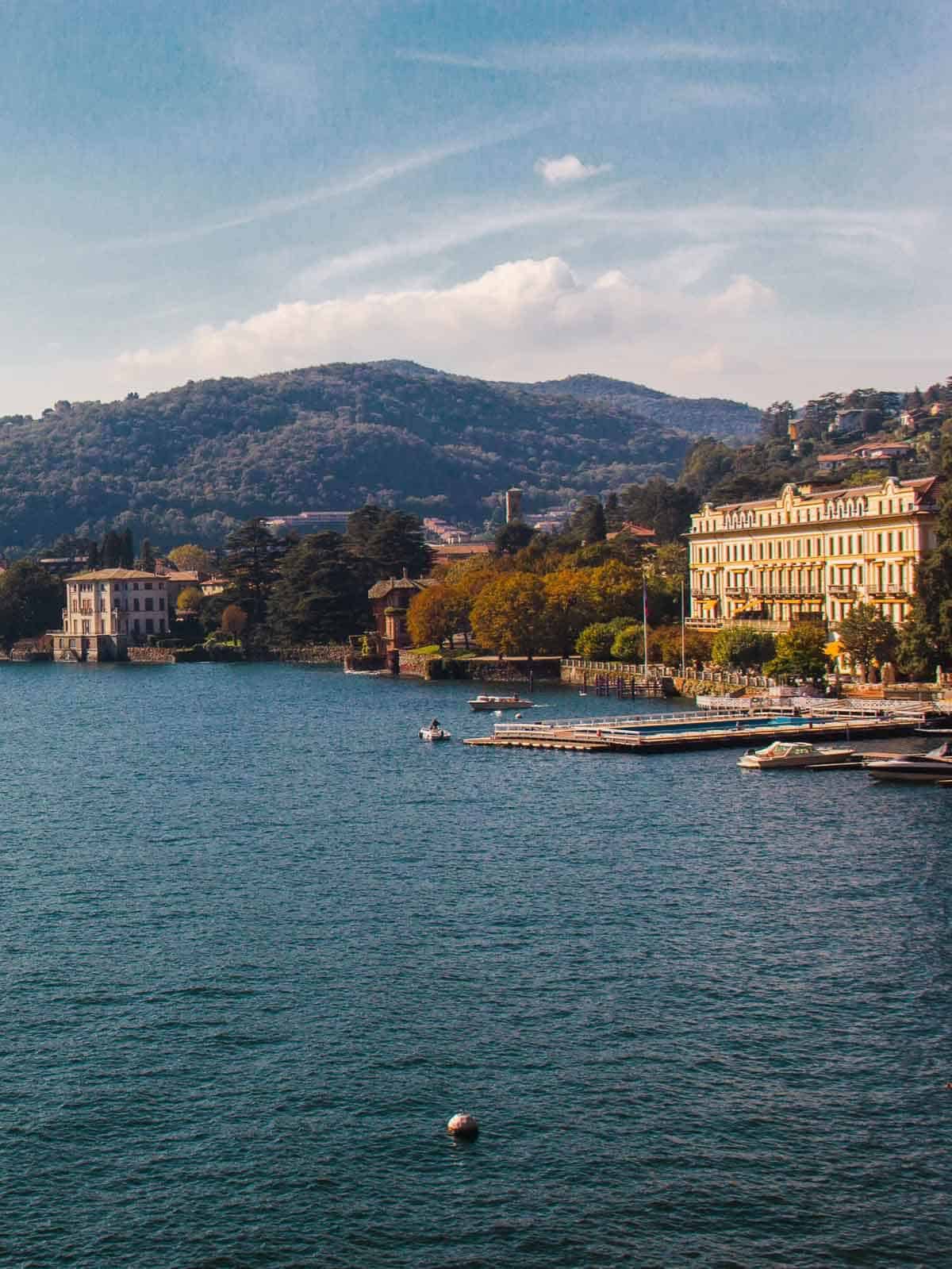 Visiting lake como is a must if you plan a Northern Italy trip. Located only one hour from Milano, it is worth visiting, even if only for a day trip.
In the northern region of Italy, there are five major lakes, and Lake Como is one of them. Living nearby, my family and I would take a trip to this beautiful destination once a month. Getting there was a breeze, as we could either hop on a train from Milan, which took less than an hour, or drive there in under an hour.
Are you planning a trip to Lake Como and wondering what to do and see? Let us take you on a journey through our favorite spots in this magical destination. Having lived there ourselves, we know all the best activities, from exploring charming villages with stunning botanical gardens to taking a leisurely ferry ride to visit the hidden gems of the lake.
Don't miss out on the best Lake Como offers - we've got all the insider tips in one place.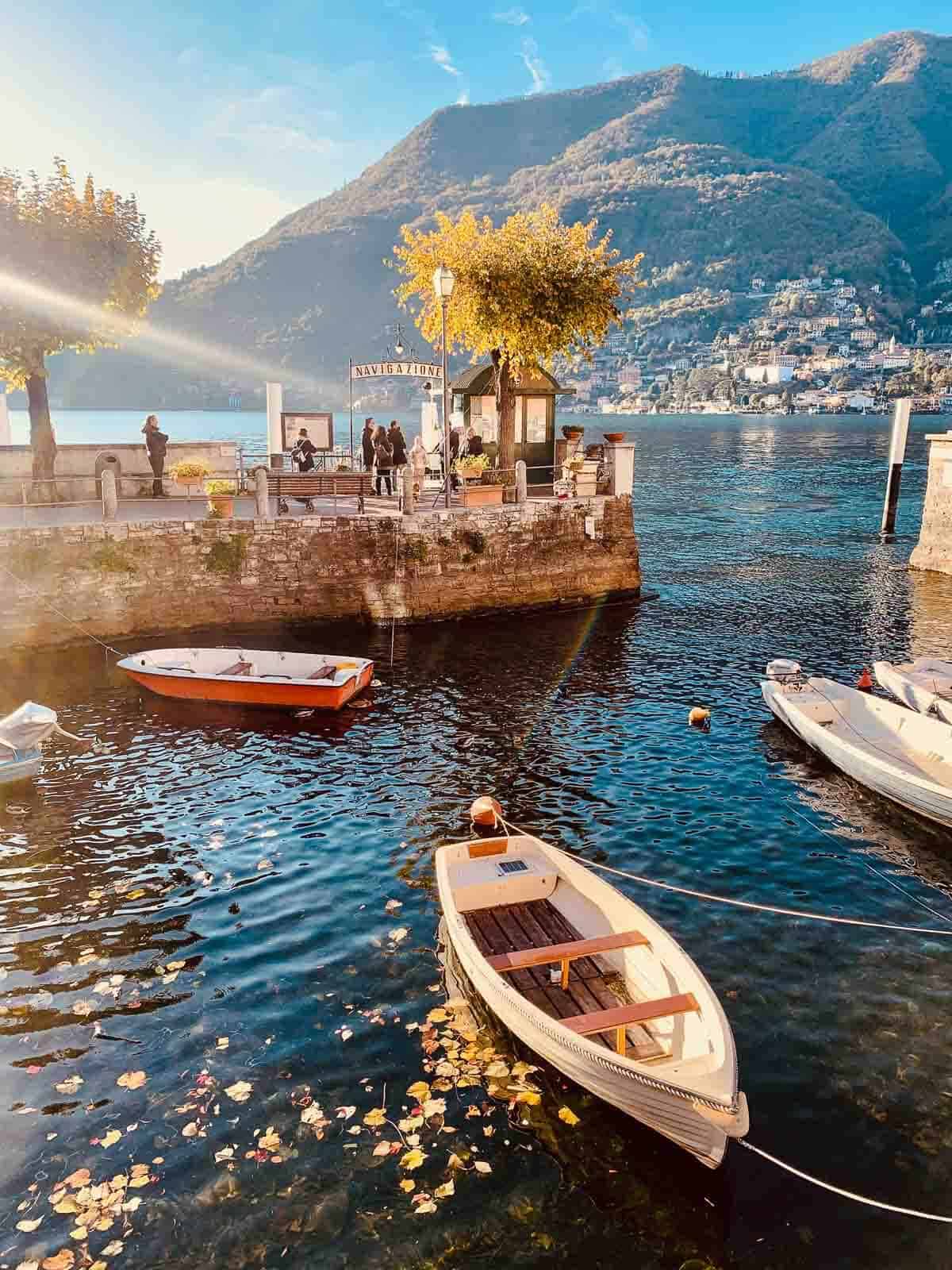 Jump to:
Things to do in Como City Center
As you wander around the Lake Como area, you'll be enchanted by this destination's beauty and charm. The scenery is breathtaking, from pristine waters to lush lakeside gardens. No wonder Lake Como has been a filming location for countless movies and TV shows.
But Lake Como is not just a picturesque backdrop for the entertainment industry. It is also home to some of the most luxurious villas in the world, each with their own unique history and character.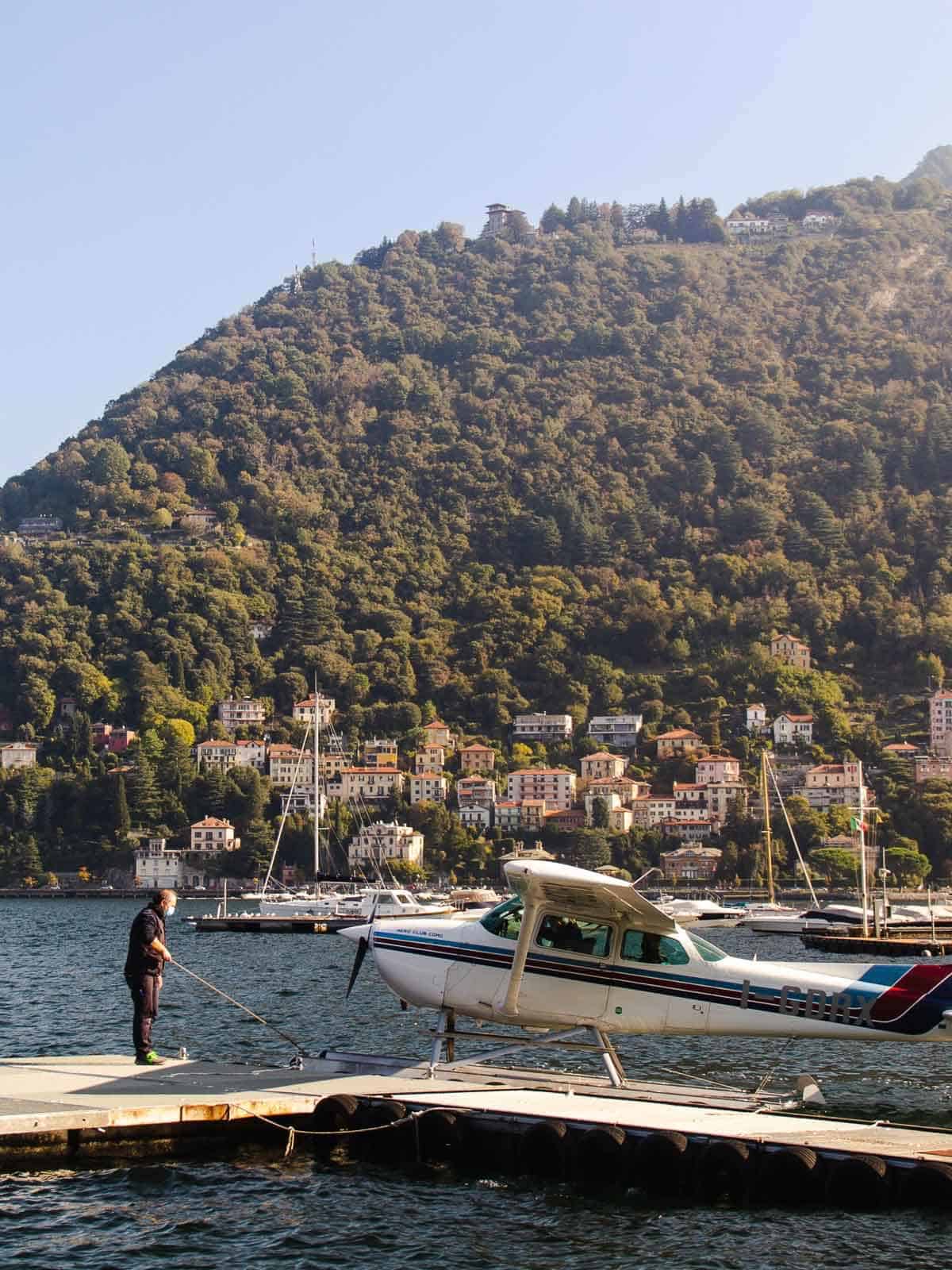 Take a stroll through the gardens of Villa di Olmo and Villa Carlotta or visit the opulent Villa del Balbianello, and you'll feel like royalty. With so much to explore and discover, Lake Como truly offers a one-of-a-kind experience that you won't forget.
Visit the Como Cathedral: This stunning cathedral dates back to the 14th century and is a must-visit attraction in Como. The cathedral's highlight is its beautiful dome, which offers panoramic views of the beautiful town and lake.
Take a funicular to Brunate: For the best stunning views of Lake Como, take the funicular to Brunate, a small village high above Como. It is accessible from the city center.
Explore the town's historic center: Como's historic center is home to narrow streets, beautiful architecture, and many restaurants and cafes.
Watch the hydrofoils. Watching the hydrofoils zoom across the sparkling waters of Lake Como is a thrilling sight to behold.
Take a guided tour. A guided tour is a great way to explore the beauty and history of Lake Como, Italy. Several options are available, from boat tours that take you around the lake to walking tours of charming towns and villages like Bellagio and Varenna. You can also take a guided tour of historic villas like Villa del Balbianello and Villa Carlotta or take a food and wine tour to taste the delicious local cuisine. Many tour companies offer experienced guides who can provide insight and knowledge about the region, its culture, and its rich history. Whether you're a first-time visitor or a returning traveler, a guided tour is an excellent way to discover all Lake Como offers.
Walk around the lake towards Cernobbio, admire the Lakeside Villas gardens, and enter the Villa Bernasconi Museum.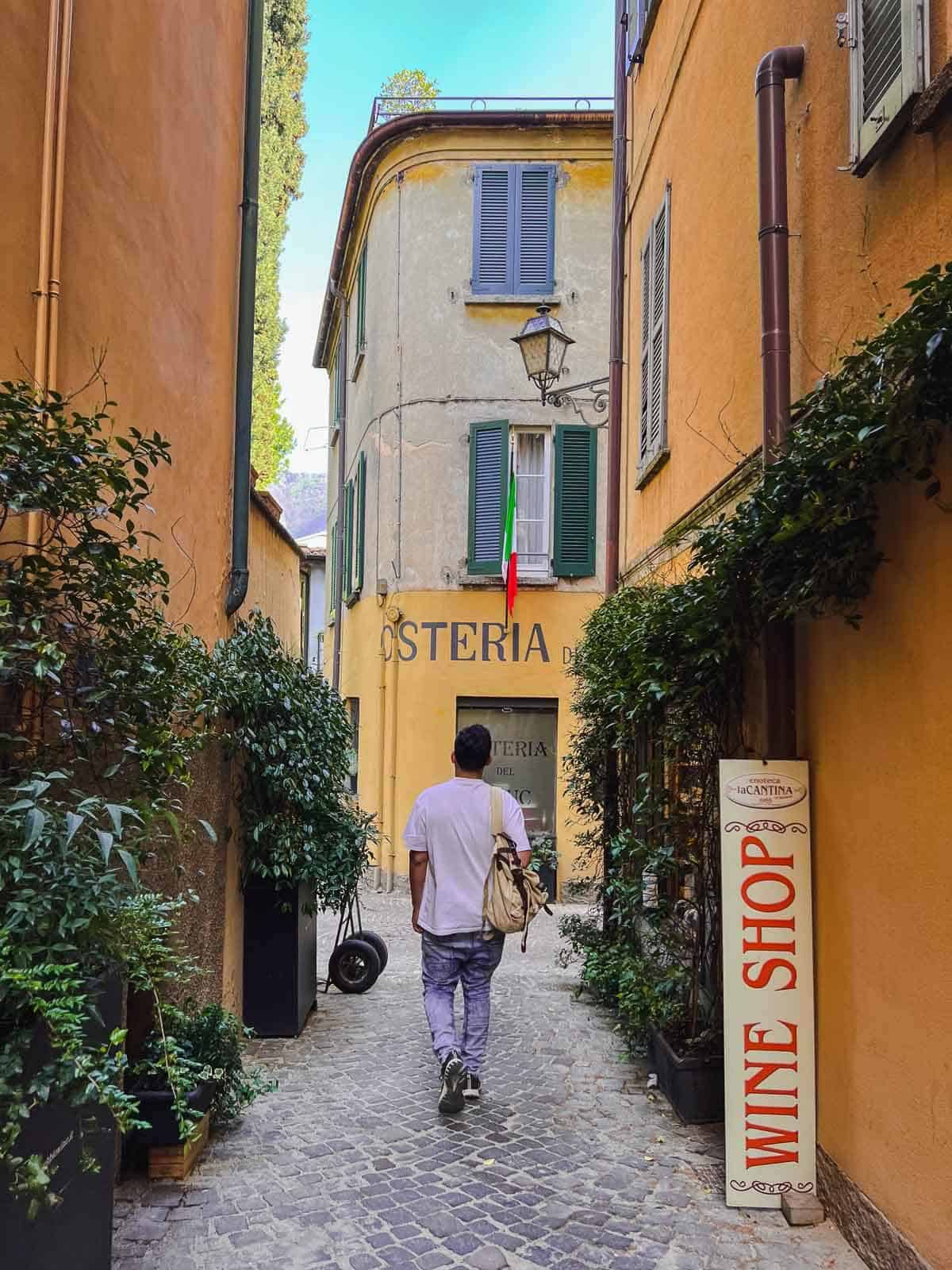 Lake Como and Cernobbio, for us, come together. There hasn't been an occasion were we have gone to Lake Como without visiting Cernobbio, so we thought we would give it a special place on this note.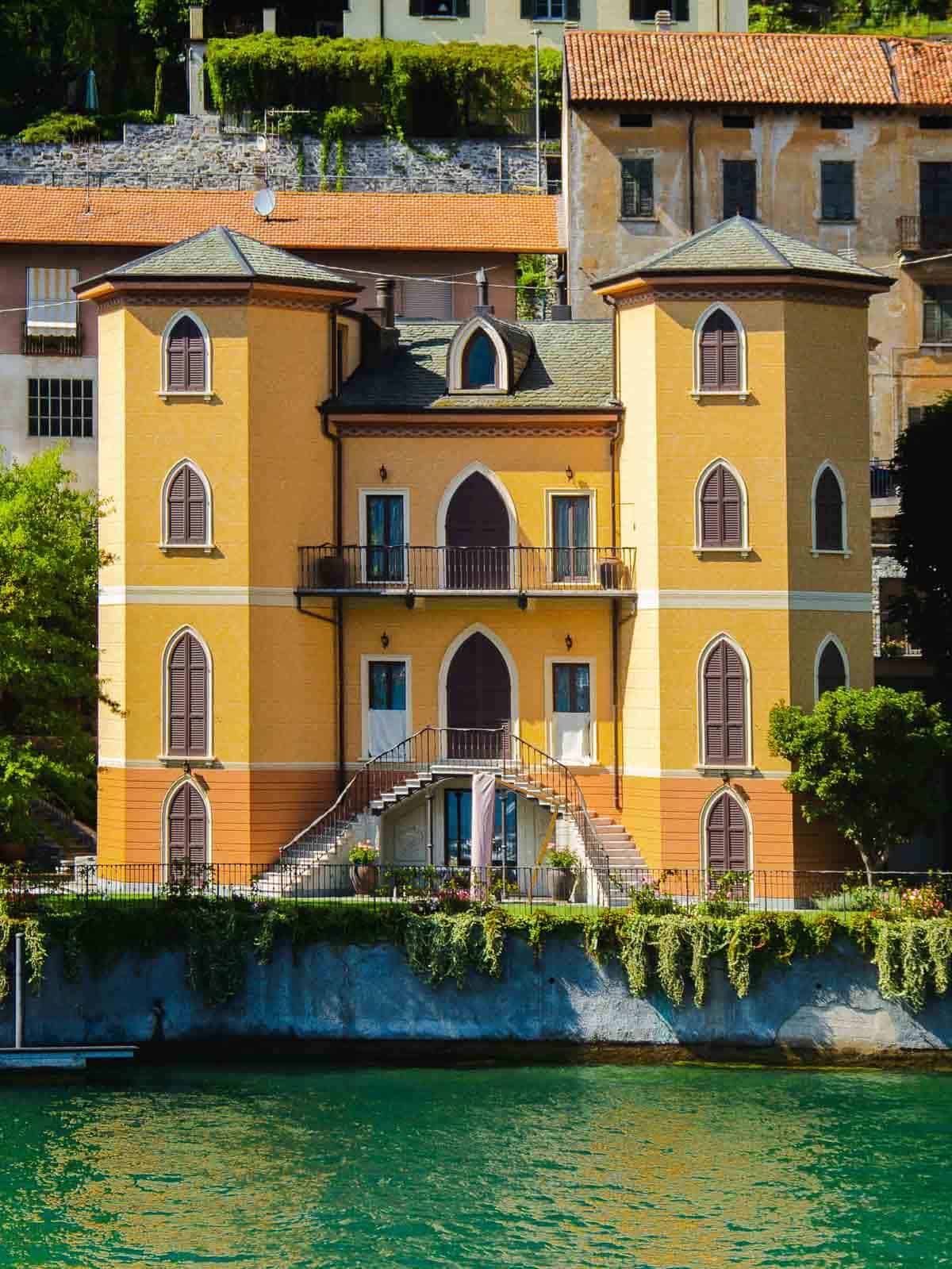 How many days in Lake Como?
Lake Como has many towns to explore, so spending at least three to four days in the area is recommended to explore the area in depth. This will allow you to explore the lake's various towns, soak in the stunning views, and participate in some of the lake's many activities.
But, as mentioned before, you can make a day trip from Milano. Lake Como is the perfect destination if you're visiting Milan and looking for a quick, easy day trip. Just a short train ride away from Milan, Lake Como offers a scenic escape from the hustle and bustle of the city.
Milan Day Trip to Lake Como
If you are already in Northern Italy, visiting Lake Como and having at least a boat tour is a must!
To make the best of visiting Lake Como in one day, you can take a morning train and be strolling along the lakeside promenade in Bellagio or admire the stunning gardens of Villa Melzi in no time. With plenty of ferry options and local transportation available, getting around the lake is a breeze.
To make the perfect day trip in lake como, we suggest waking up very early in the morning and as soon as you arrive at Como City center, catch a ferry to Belaggio, enjoy the lake ride, and have an early lunch there (see where to eat below), and then head back and stop in Torno, then Cernobbio, and walk your way back to Como town.
And when it's time to head back to Milan, you can relax on the train ride back while reminiscing about Lake Como's beautiful scenery and charming villages.
Lake Como Activities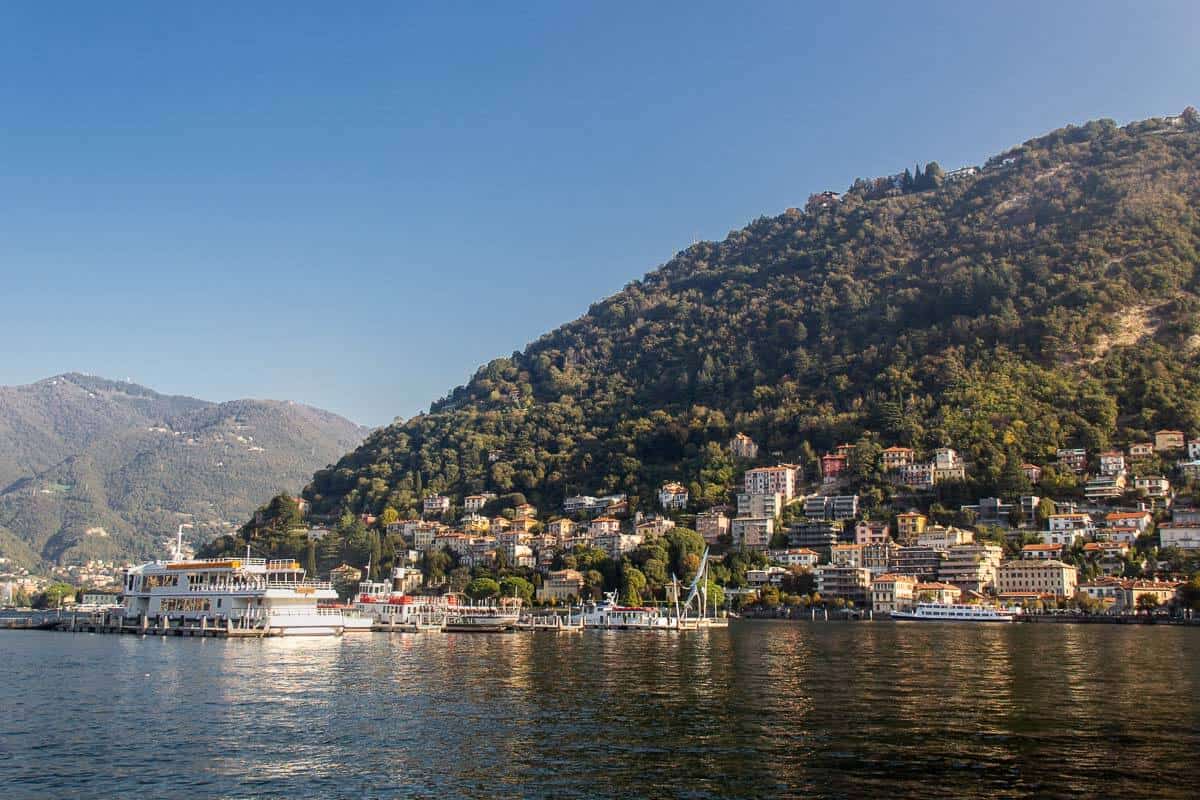 There are many activities to do in Lake Como; here are some of them:
Boat trips: boat tours are one of the best ways to explore Lake Como and enjoy the lake's breathtaking scenery, including the mountains surrounding Lake Como. Many boat ride options are available, including private tours and group tours, which definitely, the best way to experience Lake Como.
Hiking: The area around Lake Como is perfect for hiking, with many trails offering stunning views of the lake and mountains.
Water sports: Lake Como is perfect for water sports, including swimming, kayaking, and windsurfing.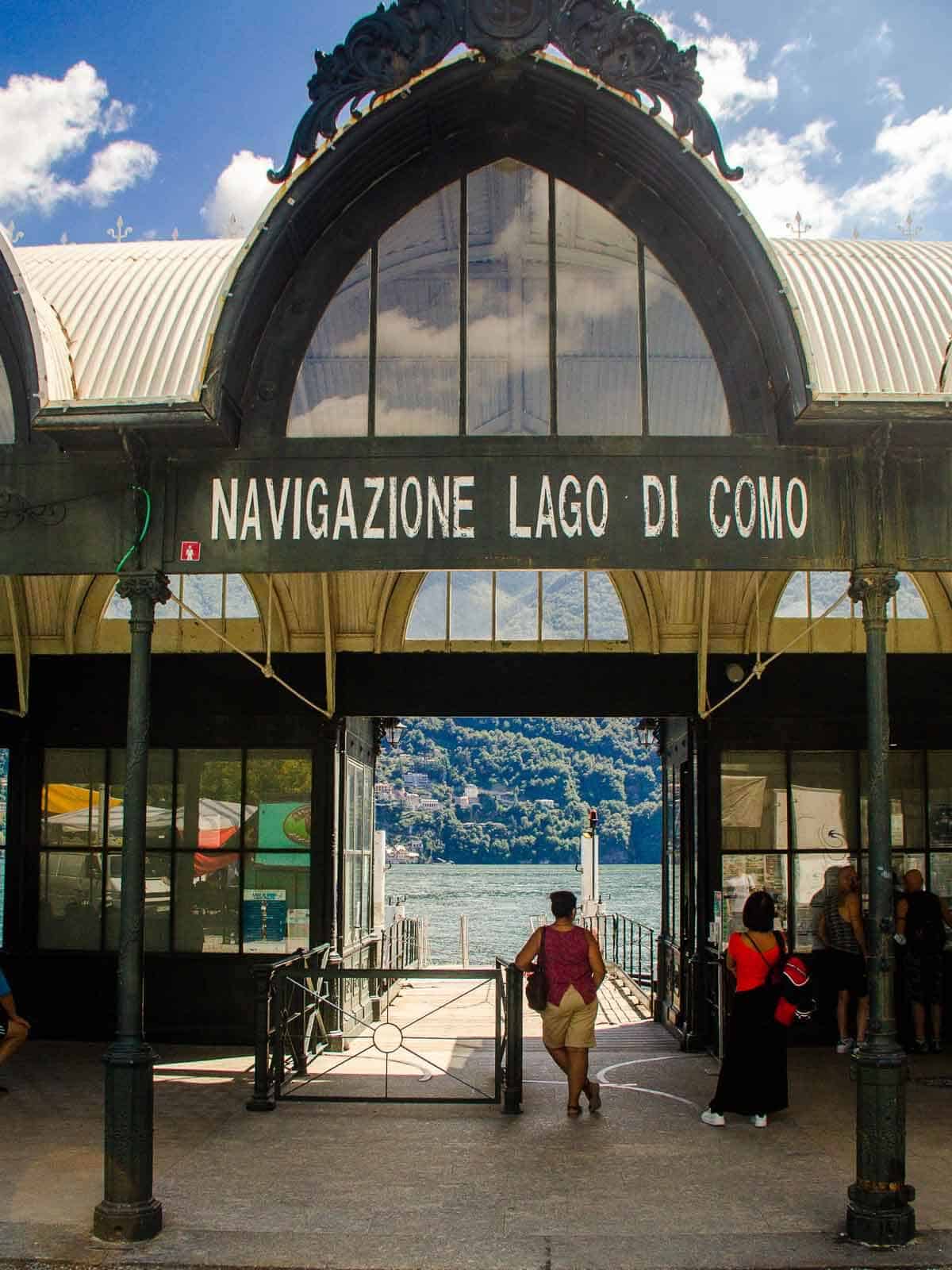 Best Lake Como attractions and towns to visit
Lake Como is full of tourist attractions; here are some of them, including Lake Como's towns and its charming villages.
Villa Olmo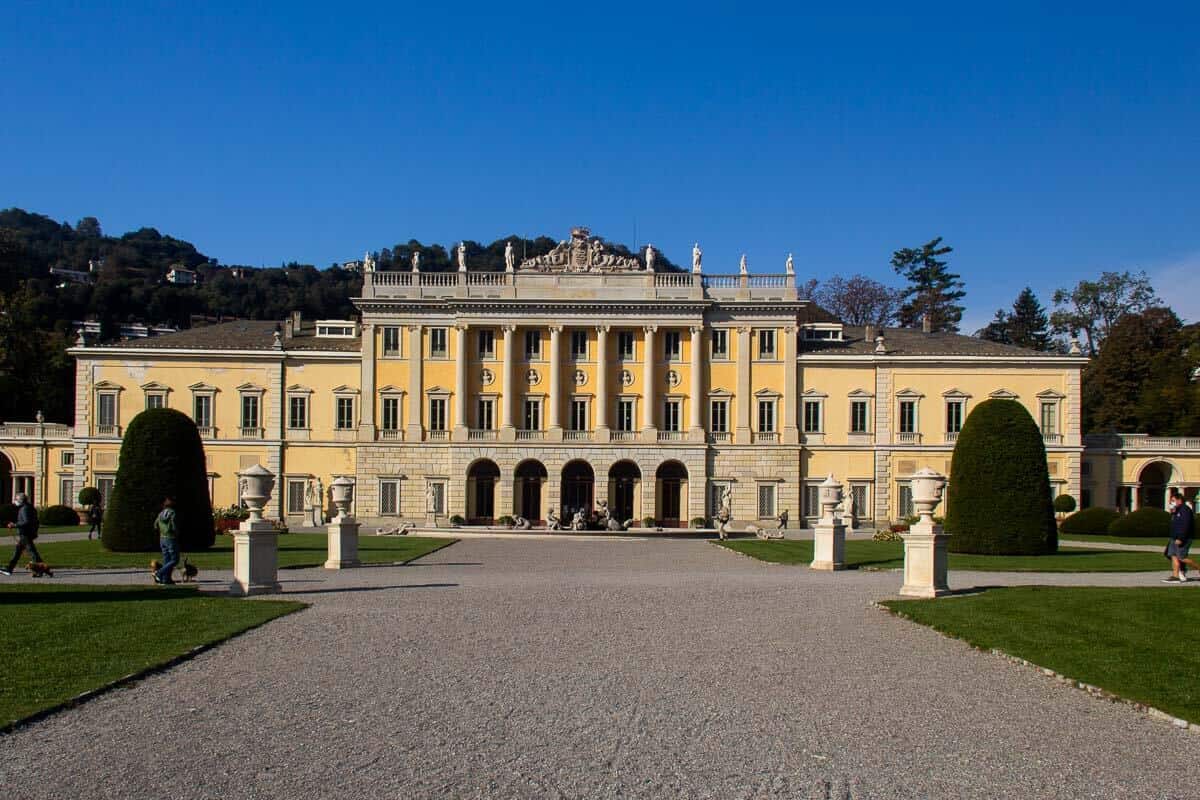 Villa Olmo is one of the most impressive landmarks of Lake Como, located in the city of Como. This majestic neoclassical mansion was built in the late 18th century by the Odescalchi family, one of the most influential noble families in Italy. Today, Villa Olmo is a popular tourist destination that attracts visitors from all over the world.
One of the most remarkable features of Villa Olmo is its magnificent gardens that cover over 250,000 square meters. The garden is home to various species of plants and trees, including centuries-old oak and magnolia trees. Visitors can take a leisurely stroll through the manicured lawns and enjoy the breathtaking views of the lake and the surrounding mountains and its statues. In the summertime, the gardens host concerts and cultural events, adding to the overall charm of the place.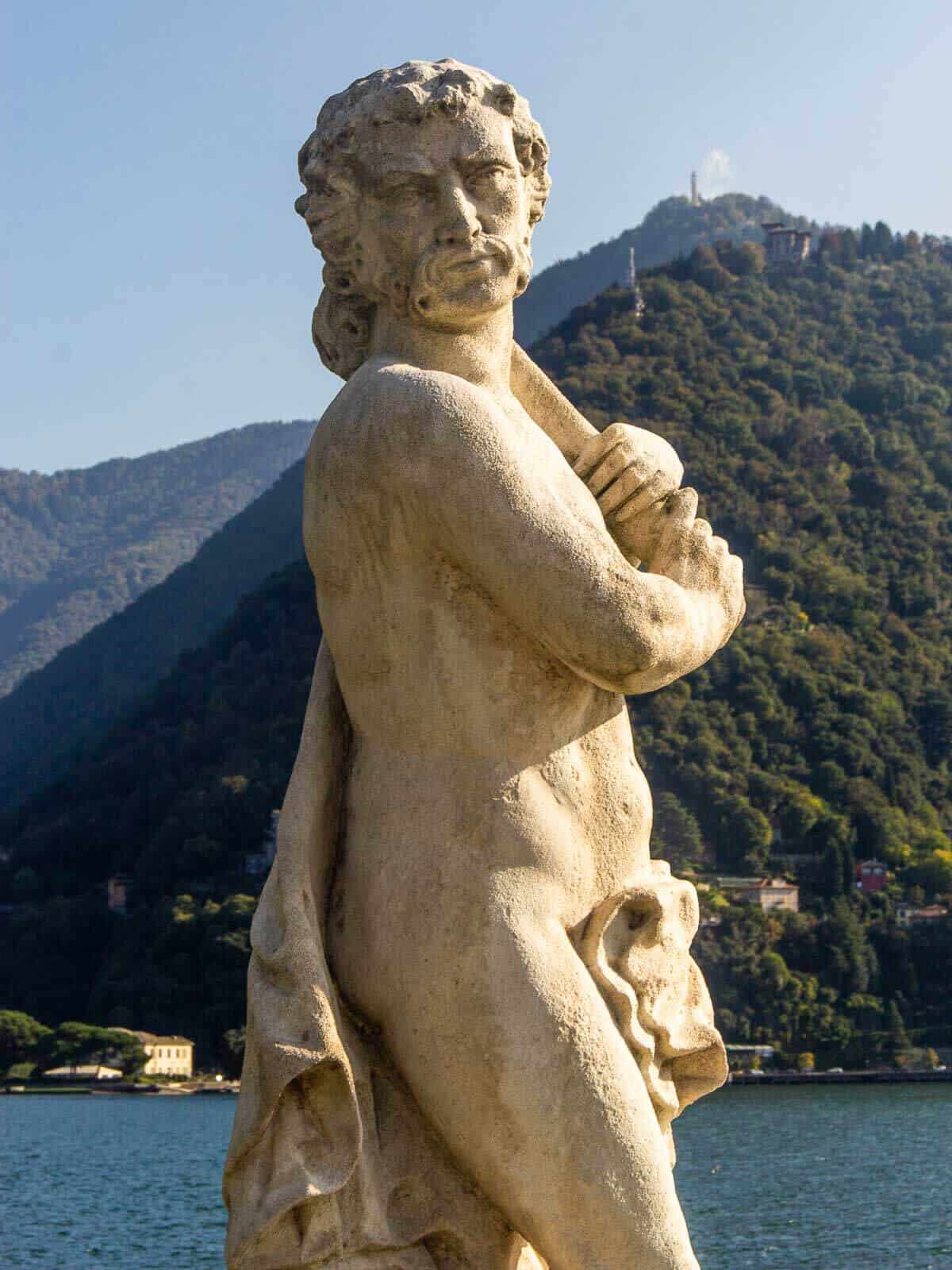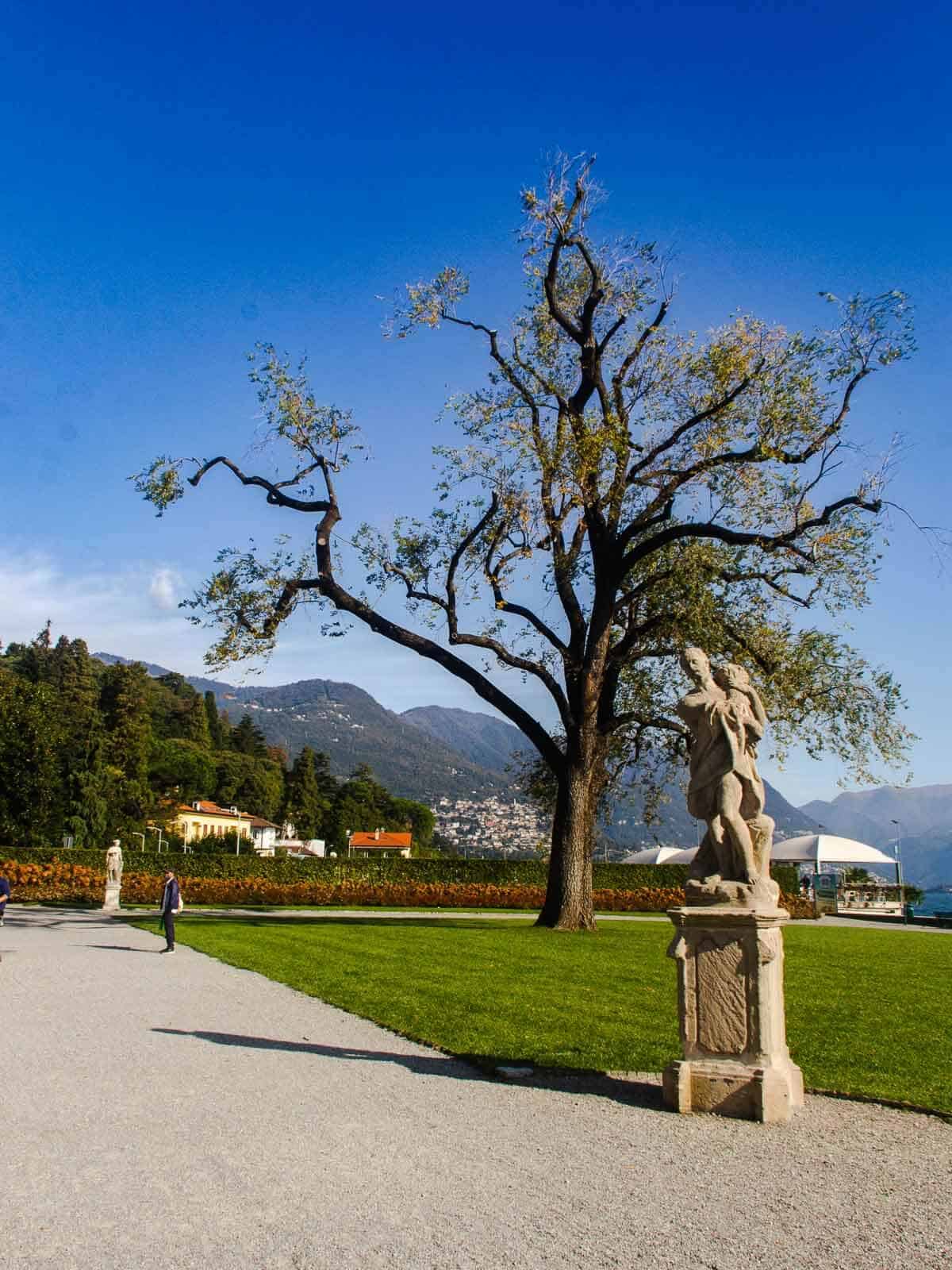 The interior of Villa Olmo is equally impressive, with its grandiose halls and ornate decorations. The villa houses a collection of neoclassical art and furniture, including works by renowned artists such as Canova and Thorvaldsen. Guided tours are available, offering visitors a glimpse into the rich history and culture of this iconic Italian landmark. Whether you are a history buff or an art lover, Villa Olmo is definitely worth a visit when exploring Lake Como.
Villa Carlotta
This stunning historic villa in Tremezzo. Villa Carlotta's botanical gardens and art collection feature impressive sculptures, artworks, and over 500 species of plants.
Villa Balbianello
This beautiful villa on a peninsula near Lenno is known for its beautiful gardens and stunning views. With gorgeous terraced gardens and breathtaking lake views, Villa Balbianello has also been featured in movies like Star Wars and James Bond.
Menaggio
This charming town is known for its beautiful architecture, narrow streets, and stunning lake views. A popular tourist town on Lake Como's western shore, known for its charming streets, waterfront promenade, and panoramic views of the lake and mountains.
Check out the stunning views of the Grand Hotel Tremezzo from the ferry.
Bellagio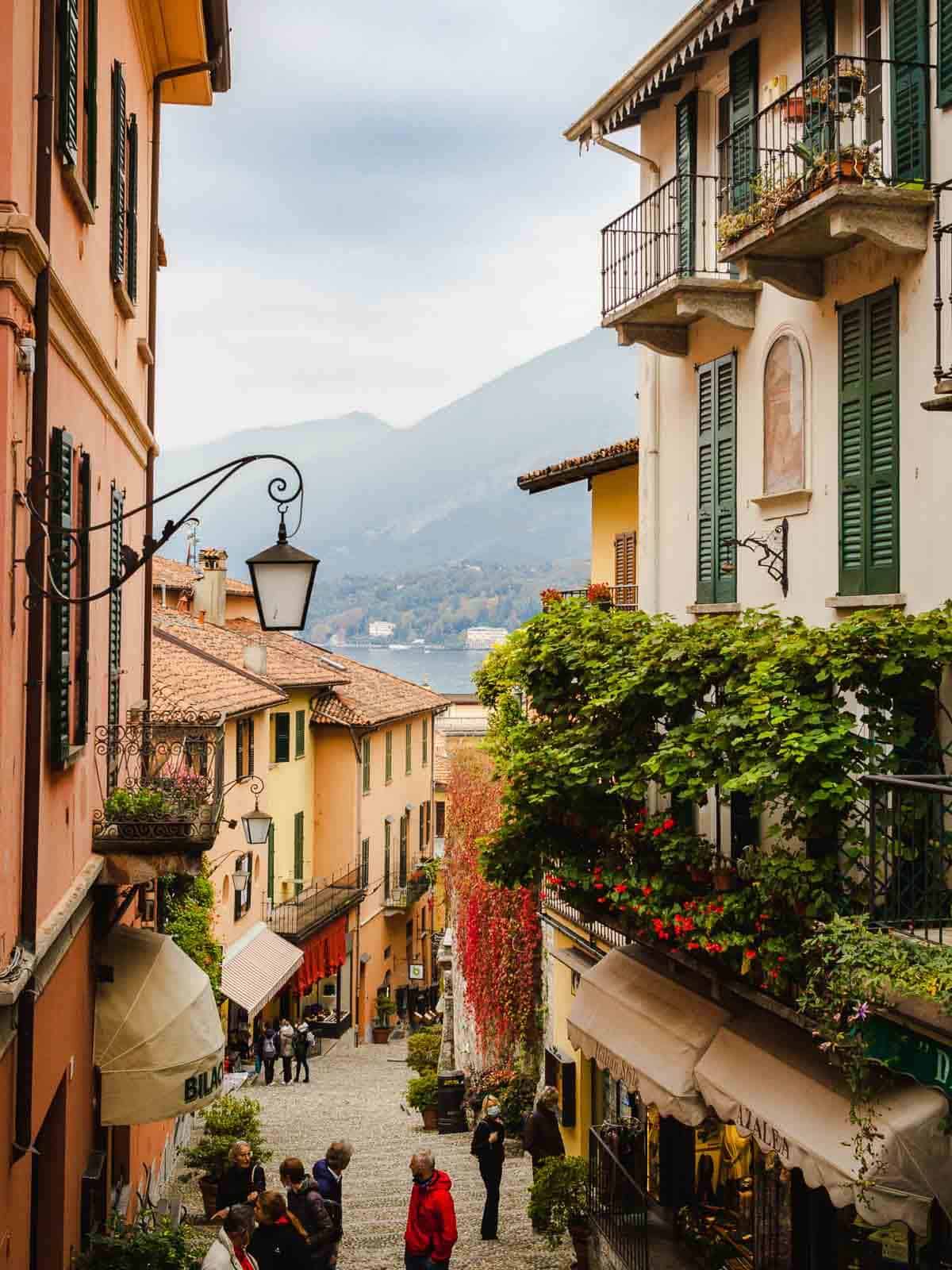 A charming town located at the intersection of the three branches of Lake Como, known for its stunning views, historic villas, and narrow streets lined with shops and restaurants. It is also known for its luxury hotels and charming cobblestone streets lined with boutiques, restaurants, and cafes. Additionally, Bellagio is a popular destination for outdoor activities such as hiking, boating, and swimming, as well as for its historic landmarks and cultural attractions.
Villa Monastero
You can easily take a ferry from Bellagio to Villa Monastero, just across the lake in the town of Varenna. Villa Monastero is a historic villa and botanical garden featuring stunning architecture and a diverse collection of plants and flowers from around the world. Visitors can explore the villa's ornate rooms and admire the beautiful frescoes and artwork before strolling through the gardens and enjoying the breathtaking views of the lake.
The ferry ride from Bellagio to Varenna is short and scenic, making it a popular day trip for visitors to Lago di Como.
Varenna
A picturesque village with colorful houses, cobbled streets, and charming cafes on Lake Como's eastern shore.
Isola Comacina
A small island in the middle of the lake, known for its historic ruins, scenic hiking trails, and stunning views of the lake and surrounding mountains.
Villa Melzi
Villa Melzi is a historic villa and a famous botanical garden located in Bellagio, Lake Como. Built in the early 19th century, Villa Melzi d'Eril was established as a summer home for Francesco Melzi d'Eril, who served as the vice president of the Italian Republic that Napoleon established.
The villa boasts stunning neoclassical architecture, lush gardens, and stunning views of the lake.
Torno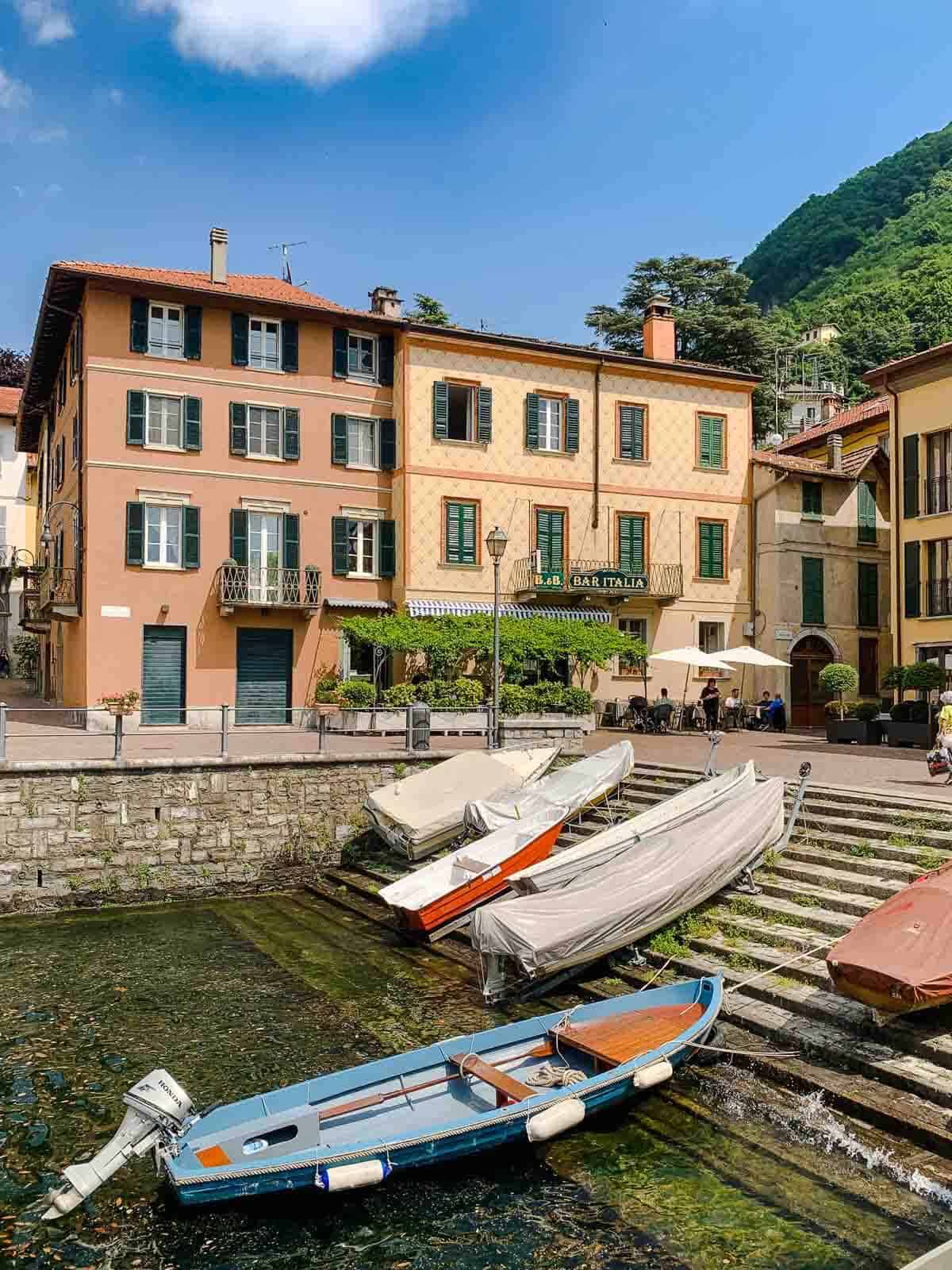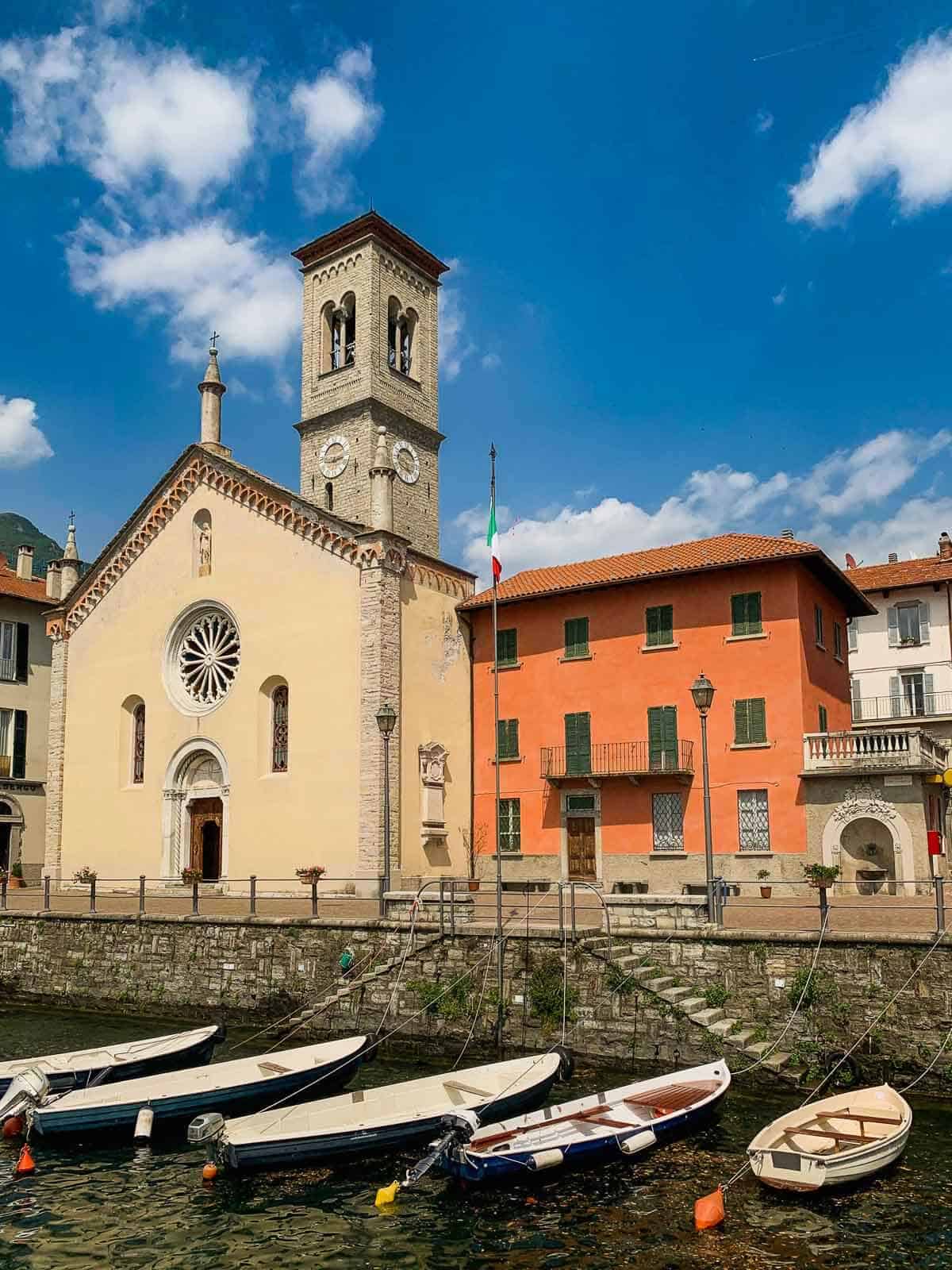 If you take a ferry ride, make a stop in Torno. Torno is a charming village located on the eastern shore of Lake Como in Italy. It is known for its picturesque waterfront, narrow streets, and historic buildings, including the Church of Santa Tecla, which dates back to the 12th century. Torno is also popular for boating and water sports, with plenty of swimming, fishing, and kayaking opportunities.
Lake Como Summer activities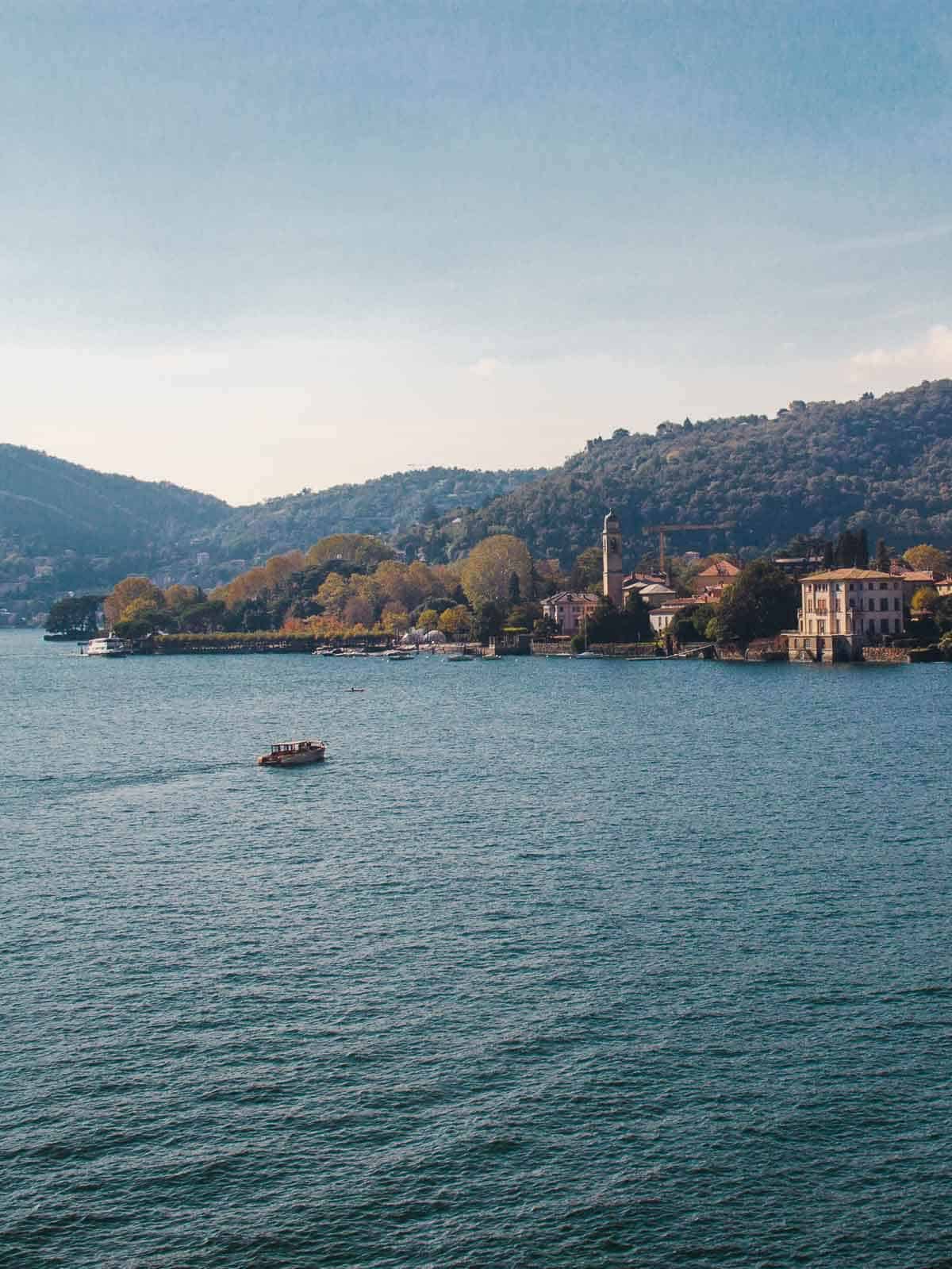 Summer months are the best to visit Lake Como, with temperatures ranging from 20 to 30 degrees Celsius. The lake's clear waters are perfect for swimming, and the warm weather makes exploring the many towns and attractions easy.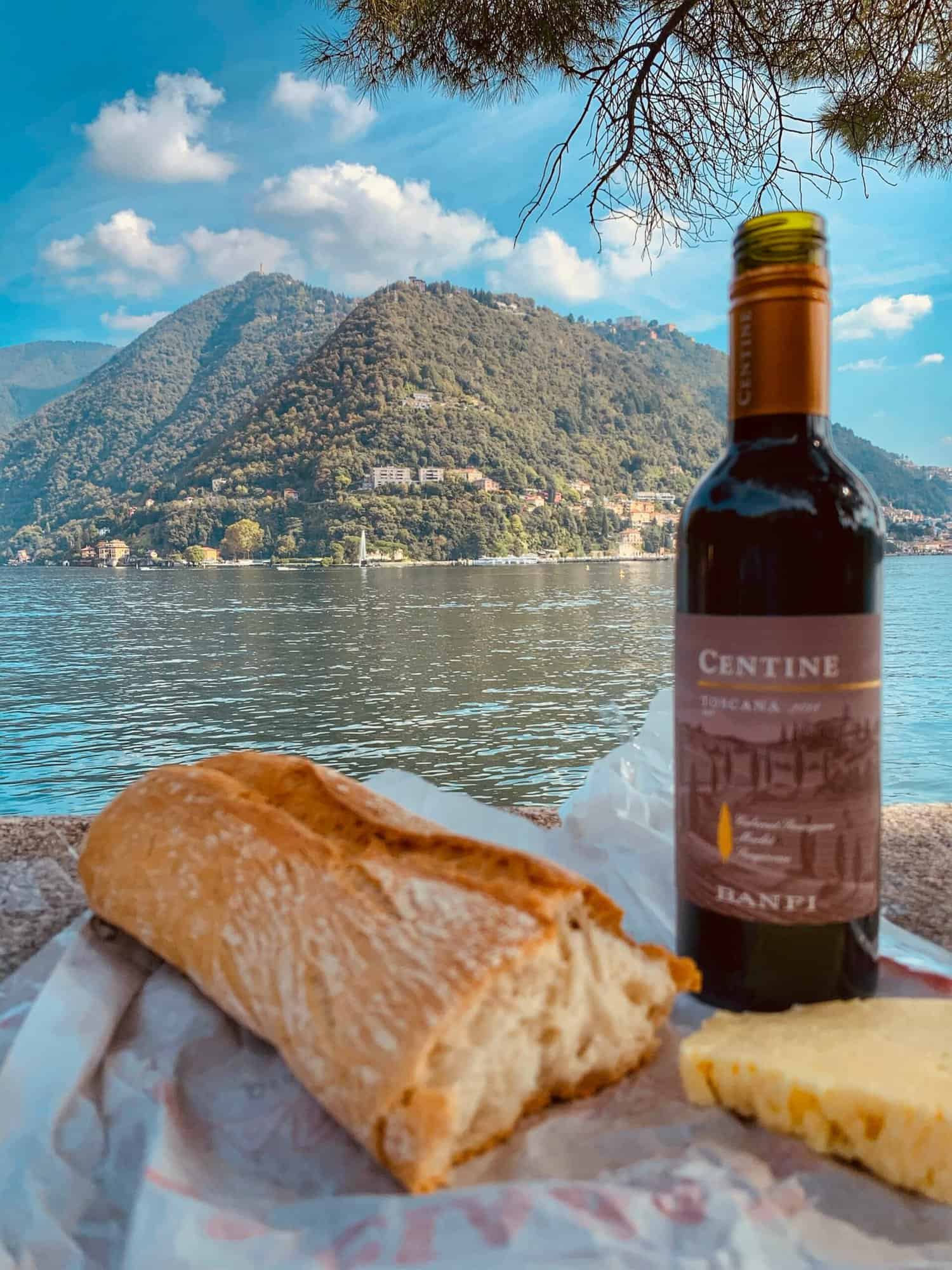 Here's a list of exciting summer activities to do in Lake Como, Italy:
Go swimming or sunbathing at one of the many public beaches around the lake.
Take a boat tour and admire the stunning scenery. A boat trip on a sunny day in Como is one of the most amazing experiences you can have.
Go hiking or biking in the surrounding mountains. Como is a popular destination for bikers.
For wine lovers: get a bottle opener, a bottle of wine, and your favorite picnic treats in a supermarket, and get a bench in front of the lake for a romantic afternoon. This is one of our must-dos every time we go!
Explore the charming towns and villages along the lake. You can even take a bus ride to Belaggio and enjoy the view from Lake Como's towns from your window.
Enjoy water sports such as kayaking, paddle boarding, and windsurfing.
Visit historic villas and lush gardens.
Attend cultural events and festivals.
Indulge in local cuisine at one of the many restaurants and cafes.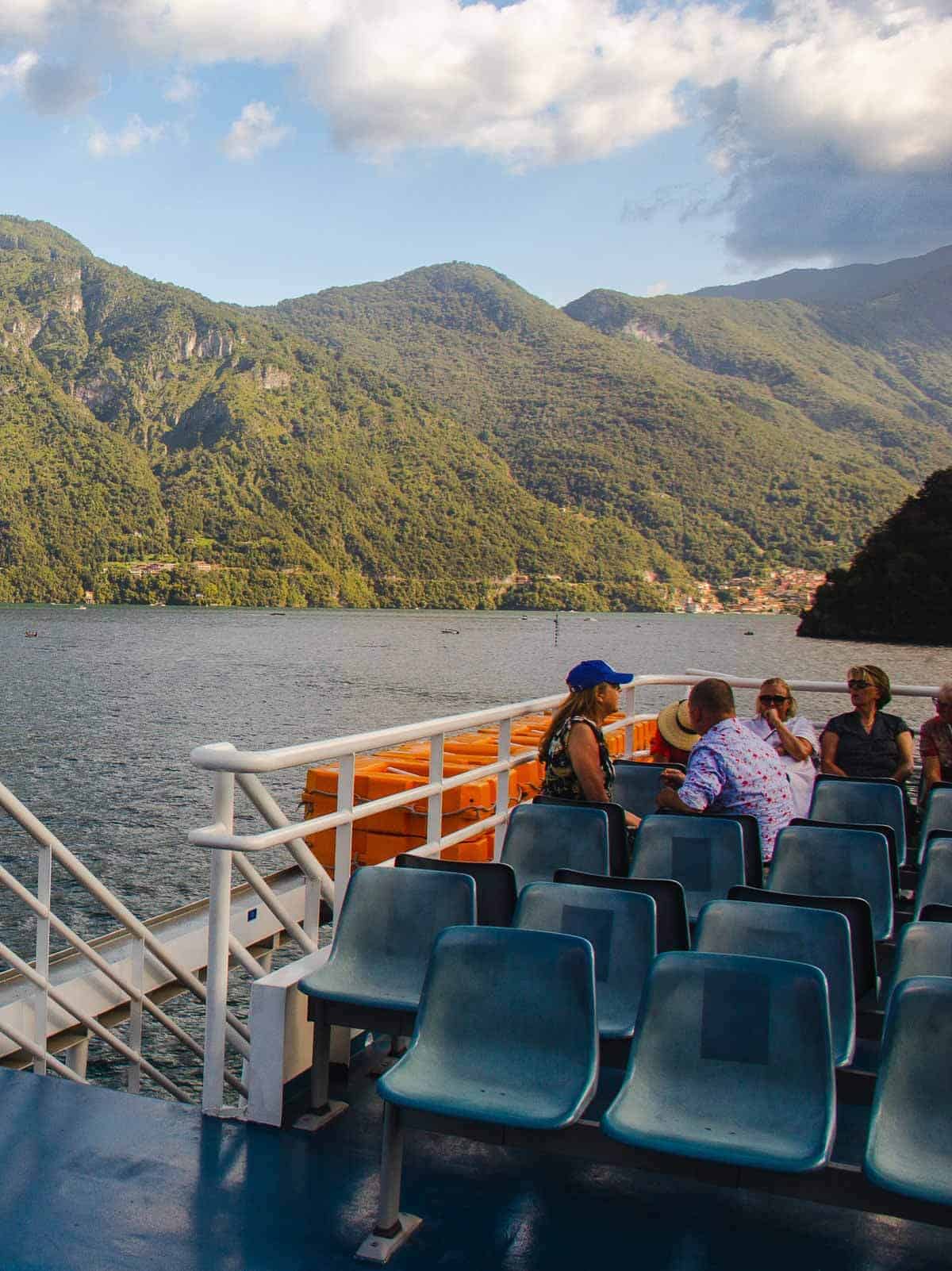 So you have plenty of activities to enjoy during the Summer months in Como.
Best place to stay in Lake Como Italy
There are many towns to stay in Lake Como, and the best place to stay depends on your preferences. Here are some suggestions:
Como: If you want to be close to the lake's main attractions and have easy access to transportation, Como is a great choice.
Cernobbio: is located 10 minutes away by car, 15 minutes by public transportation, and 55 minutes walk; Cernobbio is a great place to stay. It also has a ferry stop if you want to depart from there to visit other locations on the shore.
Bellagio: Often referred to as the "pearl of the lake," Bellagio is known for its stunning views, beautiful gardens, and charming town center.
Varenna: This picturesque town is known for its colorful houses and beautiful waterfront promenade.
Where to eat in Lake Como
The Lago di Como has amazing restaurants to please all tastes and budgets. Here are some recommendations:
La Punta in Bellagio - A Michelin-starred restaurant located in a picturesque setting, offering creative Italian cuisine using local ingredients by the lakeside.
Hotel & Ristorante Silvio in Bellagio - A family-run restaurant with a stunning lakefront terrace offering seafood dishes and traditional Italian cuisine. (website).
Ristorante La Darsena in Tremezzo - A romantic lakeside restaurant offering a seasonal menu of fresh fish and local specialties.
Il Gatto Nero in Cernobbio - A historic restaurant with a beautiful garden, serving traditional Italian dishes with a modern twist.
Osteria il Pozzo in Como - A cozy restaurant in the heart of Como, serving delicious homemade pasta and other Italian classics.
Trattoria del Vapore is a charming restaurant located in Cernobbio, Italy, offering delicious Italian cuisine with a focus on fresh, local ingredients. The restaurant is known for its warm and inviting atmosphere, with a cozy interior and a beautiful outdoor terrace overlooking Lake Como. (website)
Osteria del Beuc is a popular restaurant in Cernobbio, Italy, offering traditional Italian cuisine with a modern twist. The restaurant is known for its cozy ambiance and friendly service. It uses fresh, locally-sourced ingredients to create delicious dishes such as homemade pasta, green risotto, and polenta Taragna (The popular polenta dish from the Como region made with grano saraceno is called "Polenta Taragna." With a wide selection of wines and cocktails, Osteria del Beuc is the perfect place to enjoy a memorable meal in the heart of Lake Como.(website)
La Grotta Restaurant is a popular dining destination in the charming town of Bellagio, Italy. The restaurant is known for its delicious Italian cuisine, fantastic pizza cooked in a wooden oven, homemade pasta, and locally-sourced products. The restaurant's unique location, nestled inside a historic cave, adds charm and ambiance. With a wide selection of wines and a friendly staff, La Grotta Restaurant is the perfect budget-friendly restaurant in the luxurious Belaggio. (website)
Hotel Ristorante Suisse is a beautiful hotel and restaurant located in the heart of Bellagio, Italy, overlooking the stunning Lake Como. The hotel features comfortable and stylish rooms with modern amenities, while the restaurant offers delicious Italian cuisine focusing on fresh seafood and homemade pasta. We tried the strawberries and champagne risotto and their homemade spaghetti. The inside of the building is stunning, and their staff is super friendly. The outdoor terrace of Hotel Ristorante Suisse offers breathtaking views of the lake and the surrounding mountains, making it a perfect spot for a romantic dinner or a relaxing drink. (website).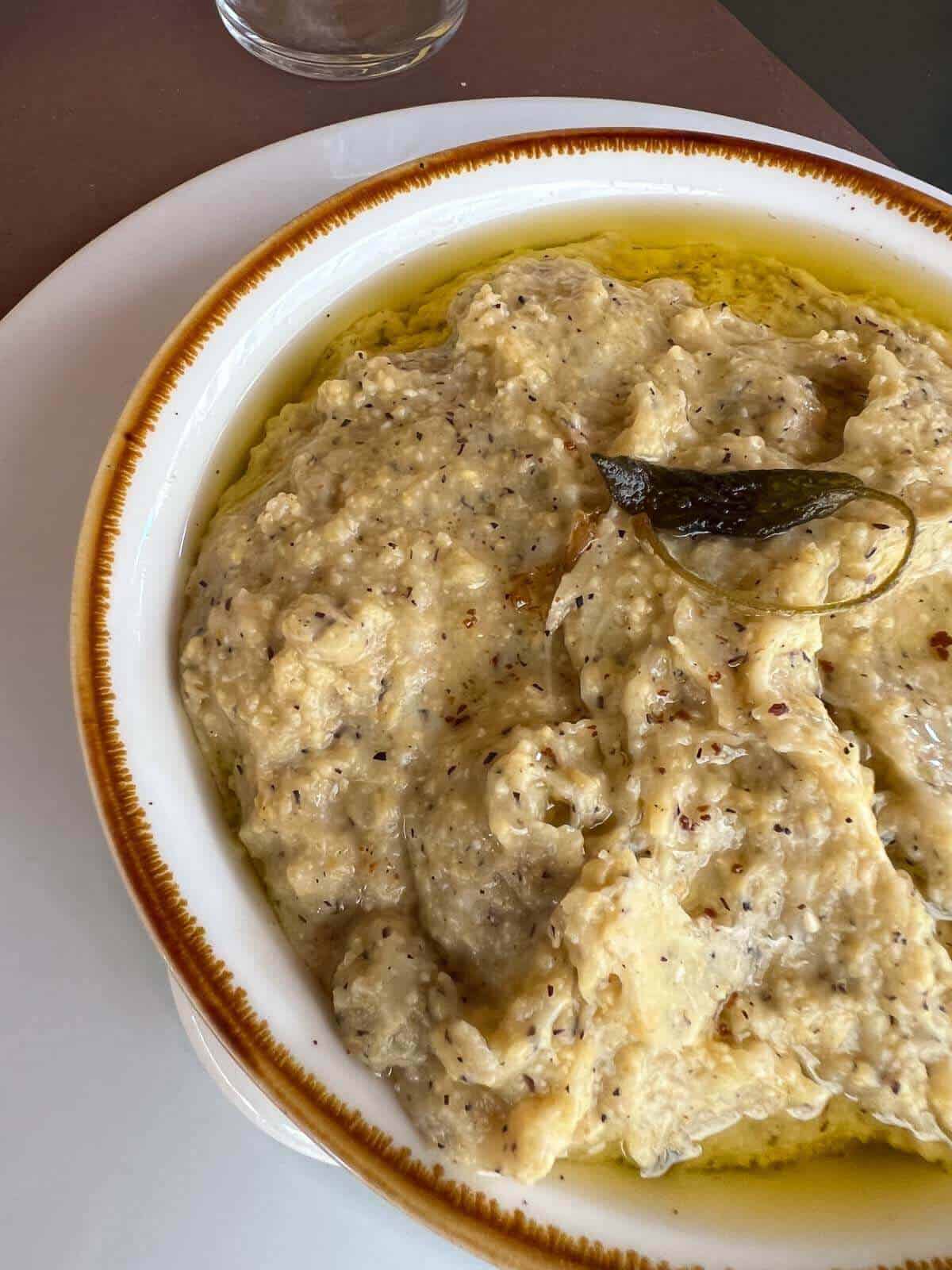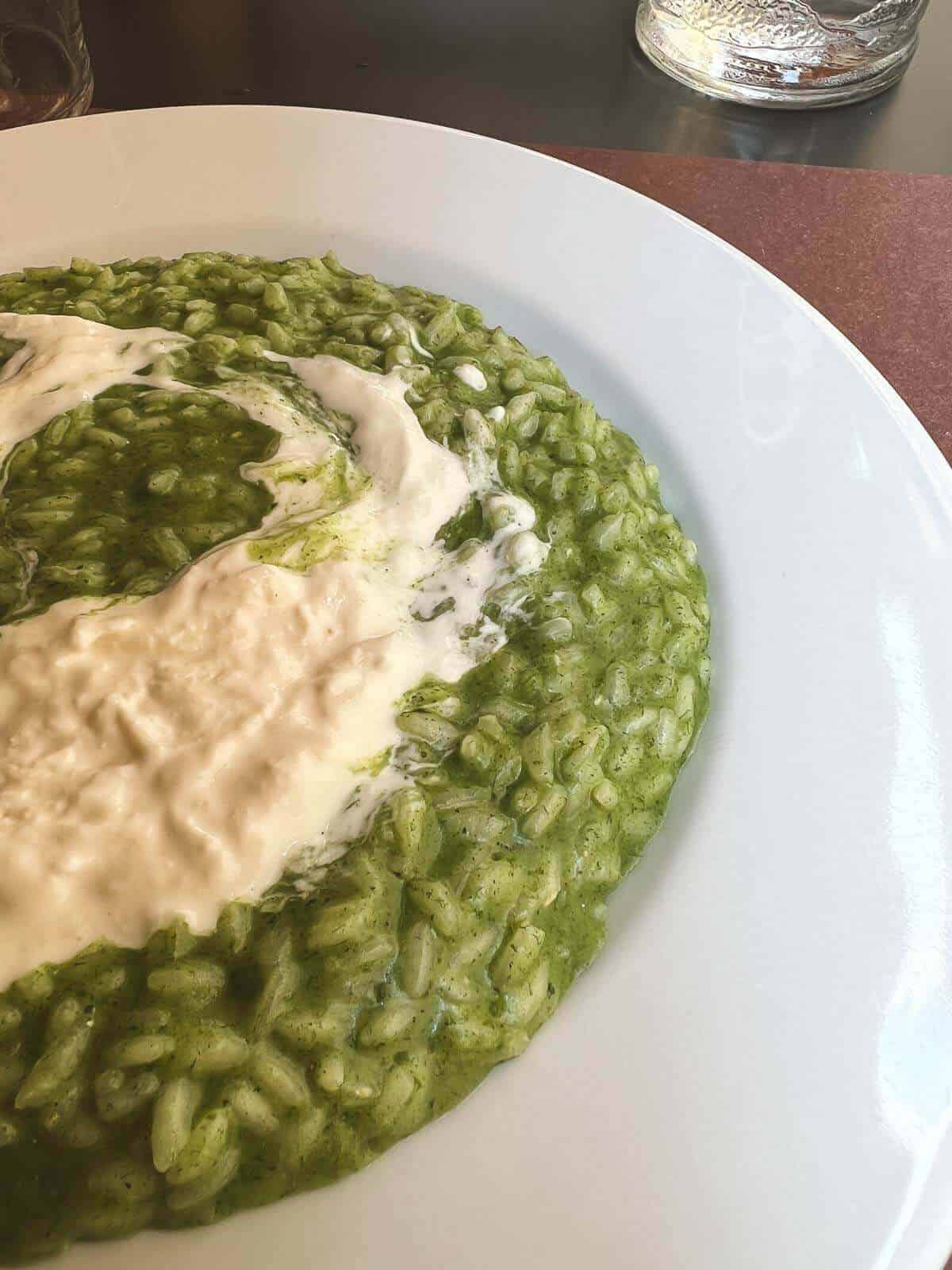 Did you know?
It is a traditional dish made with buckwheat flour and cornmeal, typically served with cheese and butter.)
Closest airport to Lake Como Italy
The closest airport to Lake Como is Milan Malpensa Airport, located about 50 kilometers away. Other nearby airports include Milan Linate Airport and Bergamo Orio al Serio Airport.
In conclusion, Lake Como is a beautiful destination with many towns to explore, stunning views, and plenty of activities to keep you busy. Whether you are looking for a relaxing or adventurous vacation, Lake Como has something to offer everyone.
Other amazing places to Visit in Italy
Don't miss our guides for the best things to do in Venice, getting to know the Italian Alps in the Italian and German-speaking Bolzano, and savoring the best of Piemonte, a spot with what some would say, hosts the best Food in Italy.
If you're searching for the ultimate beach getaway, look no further than the enchanting destination of Gaeta in Italy. With its stunning beaches, charming villages, and picturesque white houses, Gaeta offers an experience of a lifetime that you simply can't miss. And the best part? It's just a short distance from Rome, making it the perfect destination for a quick and unforgettable escape from the hustle and bustle of the city.
And if you're looking for an even more unique and unforgettable experience, head to the south to Ostuni in Puglia. Known for its amazing beaches, entrenched villages, and mouthwatering cuisine, Ostuni is a must-visit destination for anyone seeking the ultimate beach adventure. So why wait? Pack your bags and head to Ostuni for an experience that you'll remember for years to come.