This is the third time we come to Venice since we arrived to live in Italy, and it is never enough. This is why we keep feeding this post so you know what to do in Venice and see and experience the best!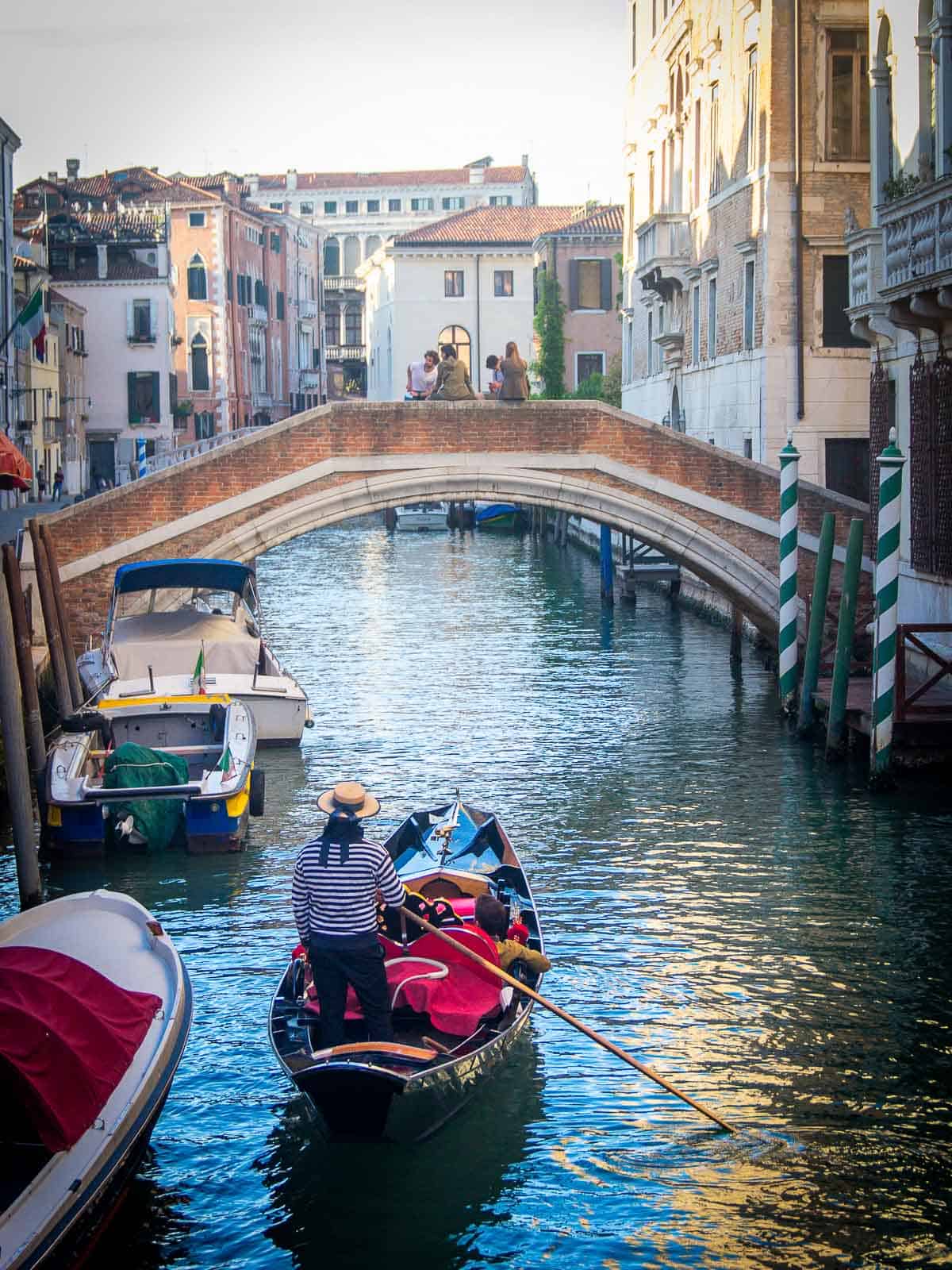 Perhaps one of the most visited worldwide, this floating city is a place that people either love or hate. We love it!
I think people who hate it have probably gone during a tourist-packed season, making it more expensive, harder to navigate, and more difficult to take beautiful pictures. Just like Paris!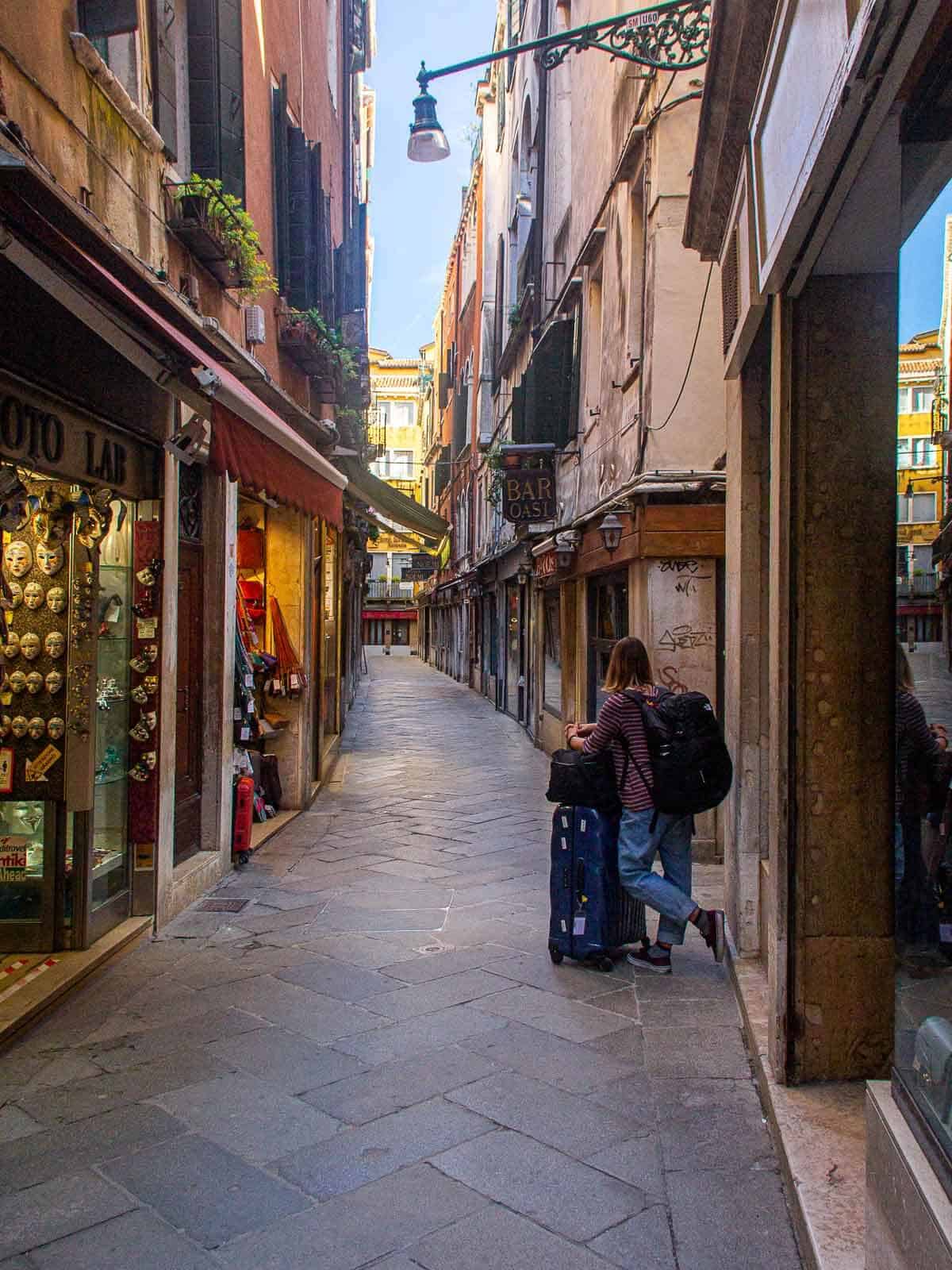 Tip: wake up very early in the morning, so you can get a better sight of city, before everyone does! You will get your perfect pictures for sure!
Undoubtedly, we are big fans of Venice. Maybe because we got to travel through an empty city, spotless, with emerald-green waters?
Or maybe because we got to experience it with beautiful spring weather and sunshine while enjoying the cool breeze?
All of that allowed us to explore this beautiful setting without being hot or cold.
Of course, besides doing the groceries, we had not left home for two months. Our capacity of amusement was at its peak! I think it was a mix of all of those factors!
The truth of the matter is that Venice is a one-of-a-kind city where you can expect to get a break from cars and motorbikes, enjoy endless strolling while watching centuries of best-in-class architecture, and eat fantastic food.
Allow us to share a snapshot of the essentials of traveling Venice like a pro! Be sure to check our Winter Travel Guide for more awesome destinations, like Bolzano, a popular ski destination in the Trentino Region.
How locals live
When we got to our rental apartment, our local host told us that all tourists do two things in this city: walking a lot and getting lost. He was entirely right.
So, if you visit the city, remember to bring comfortable clothes and shoes. Download the offline map version from google maps if you don't have an international phone plan and prepare to get lost and enjoy the experience.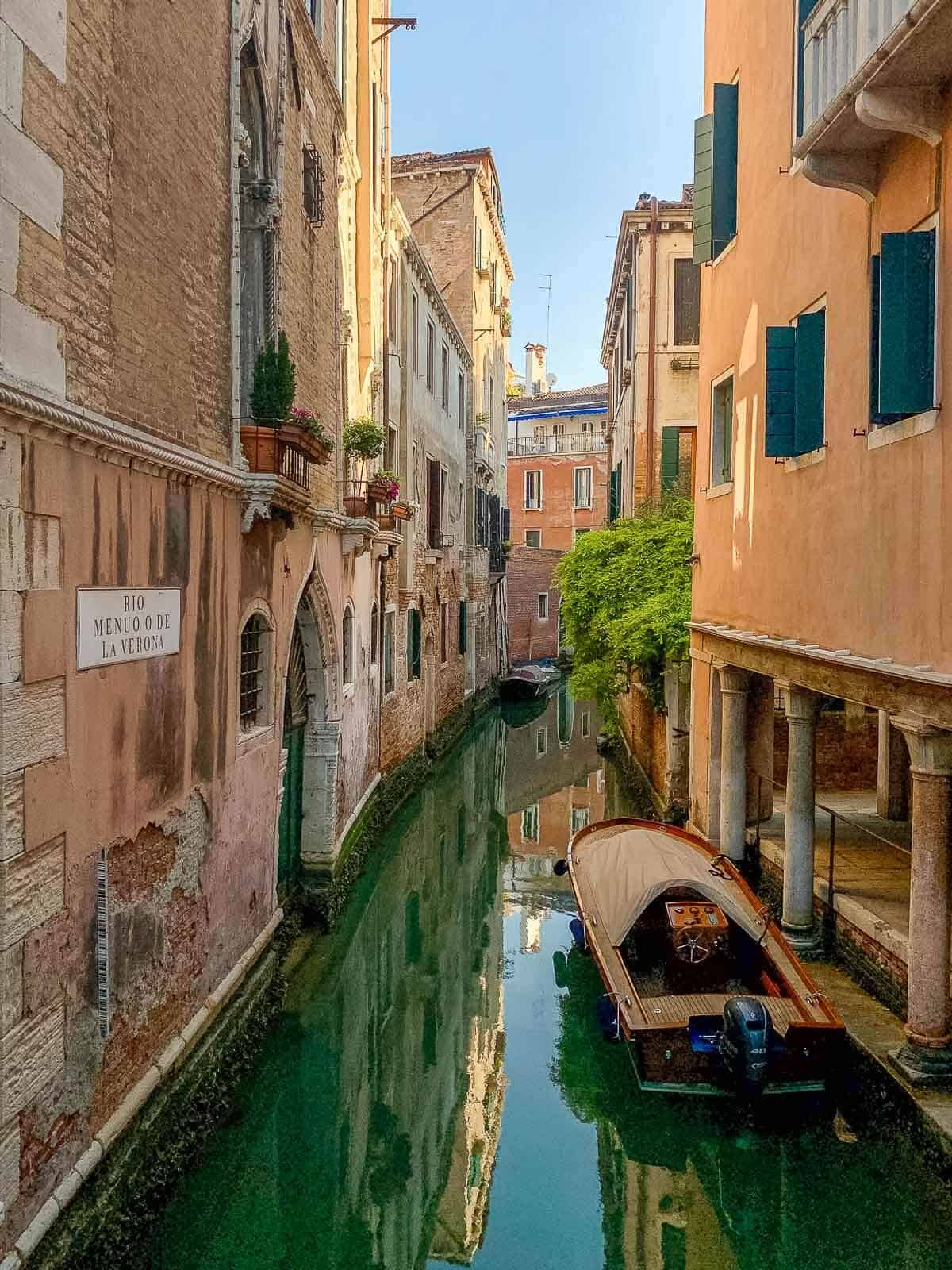 You can be pleasantly lost for hours, as you appreciate each architectural masterpiece.
How to get to Venice
By Bus (Flixbus). It is a very cheap option that connects many European cities.
By train. Faster. The train is often costly in Italy, but sometimes it is cheaper and faster than the bus. We recommend you compare before buying. The train should arrive at Santa Lucia station.
By plane, you can fly

(affiliate link)

to Marco Polo International Airport. It is outside the Main Island of Venice and 30-40 minutes from the Santa Lucia Train station, which is the most important.
Transportation in Venice
Venice is a city where all its streets are either water canals or narrow streets in which countless shops are displayed.
In this city you don't see cars, all distances are covered on foot, by Vaporetto (the means of public transport, which consists of a boat that connects the entire city and the surrounding islands, a water bus), or by Gondola, the favorite option for those who come to visit and dream of the Venice that we know through cinema and art.
Of course, you will also see local people moving around in their boats or motorboats.
In this picturesque city, we recommend you walk as much as possible. However, to move through long distances or get to know the surrounding islands and beaches, you must use the Vaporetto.
Gondola cost: The ride lasts 35 minutes, and the day rate for up to 6 people is 80 euros and 100 during the night, but you may find some offers if you speak to them. I have been offered 60 euros in the low season.
Where to stay in Venice
Being such a visited place, the lodging offering is vast. The first time Gustavo went years ago, he stayed in a hotel near the Santa Lucia station, and this second time, we decided to opt for an Airbnb.
There are all kinds of settings, but it is prevalent to find options that do not have a minimalistic decoration since Venice's classic decoration is very ornate.
For this reason, we had to do an exhaustive search to find something not very expensive and a little less busy. We really liked this loft-style apartment (affiliate link); very central.
In addition, we found it very cheap, compared to everything else we saw. We paid about 50 euros per night, and it had a very well-equipped small kitchen. Also, there were many nearby restaurants. It is located very close to the famous Faculty of Architecture, making it a vibrant neighborhood, just a 10-minute walk from the Santa Lucia train station.
Expect a tourist tax. It is charged to all tourists, regardless of the type of stay, be it a hotel, apartment, or Airbnb.
This rate is charged by the hotel or department administrator in cash and is charged per day and per person. Depending on the year's season, the rate varies between 3 euros in the low season and 10 euros in the high season. This rate does not apply to people traveling for work, academic, or family reasons.
What to do in Venice
Several aspects make Venice unique. Some of them are:
Its architecture and museums, canals, famous bridges, gastronomy, their famous Murano glass, the colorful Island of Burano, the Island of Lido with its beaches with the Blue Flag emblem, Carnivals and Film Festival.
Walk, walk, walk! Wander and Wonder!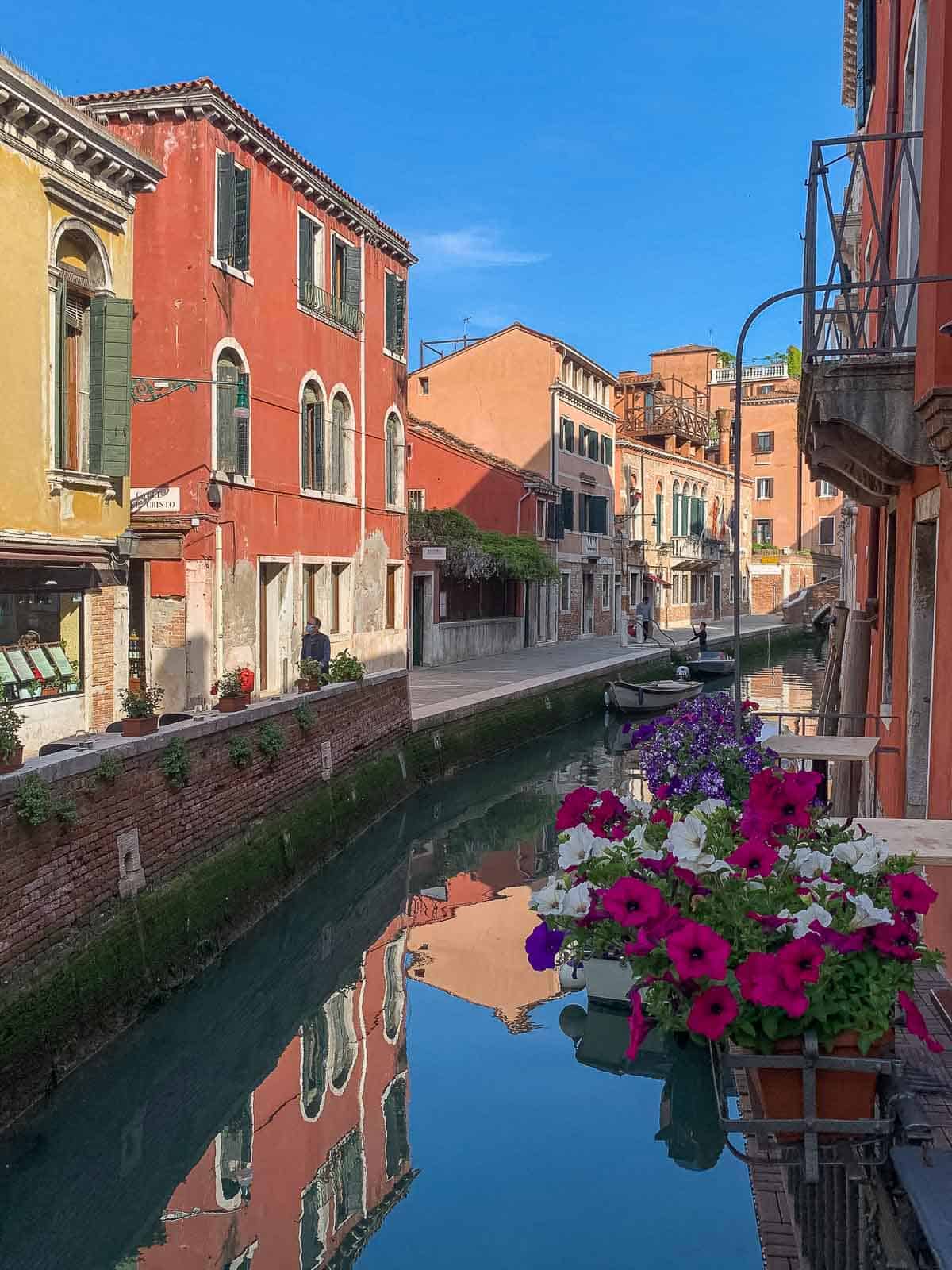 Venice in Three Days
Try to go to Venice for at least three nights. It is a city that has an endless offer of activities for all tastes.
We went for two nights and three days. Gus had already been before, so we had a plan: to get a good glimpse of the city, eat well, explore its surrounding Islands and explore a couple of its architectural masterpieces.
On the first day, we walked non-stop throughout the city until sunset. A local told us to ensure we watched this free spectacle of nature sitting in "Canale della Giudecca."
The city is full of restaurants. I recommend before or after the sunset; you book some time to enjoy an aperitif, as is the style throughout Italy.
We brought a cold bottle of Prosseco Veneziano, and it was memorable. Did you know that the Prosseco is originally from Venice?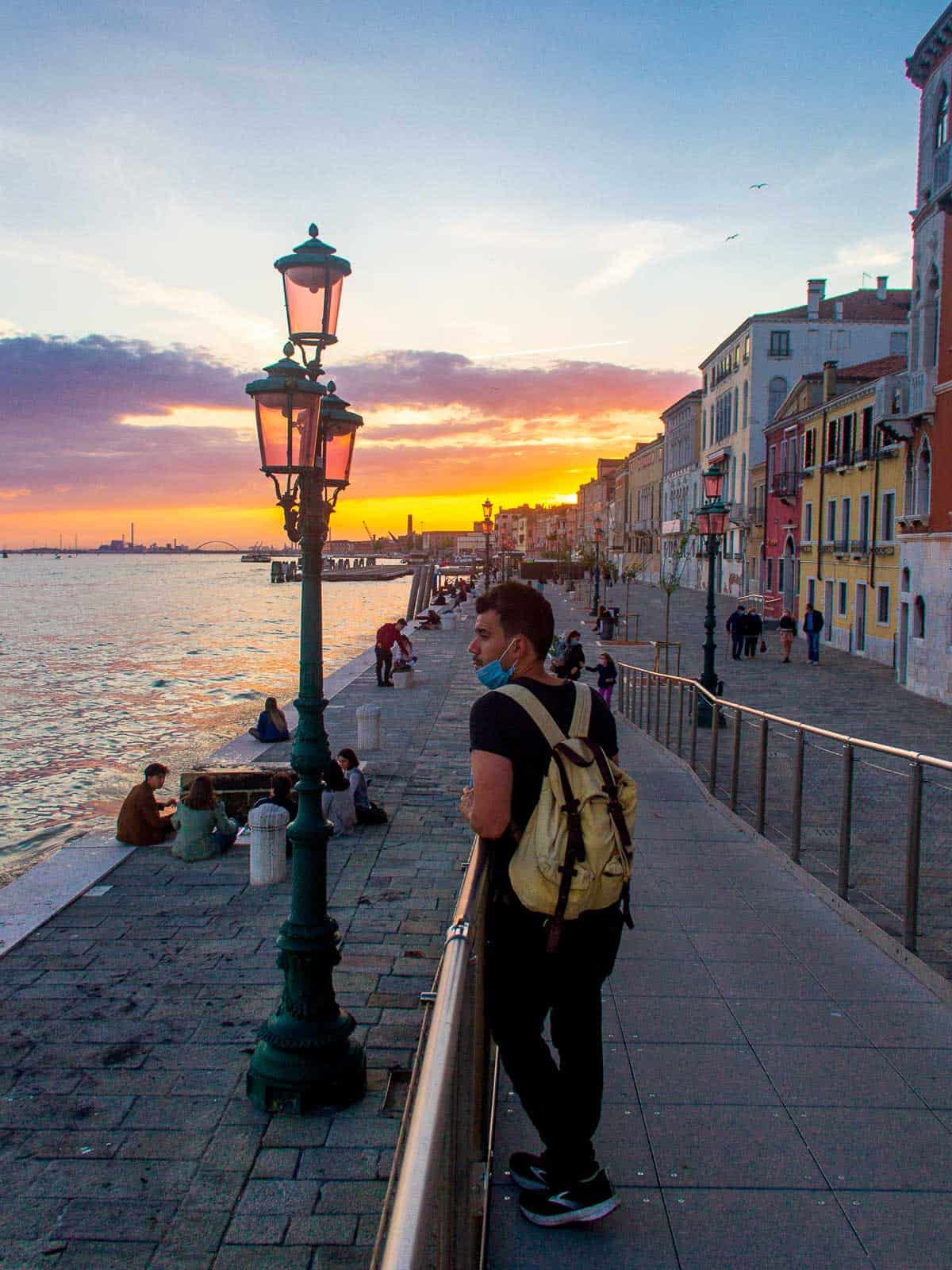 The Second day, we decided to visit the nearby islands Murano, Burano and Lido.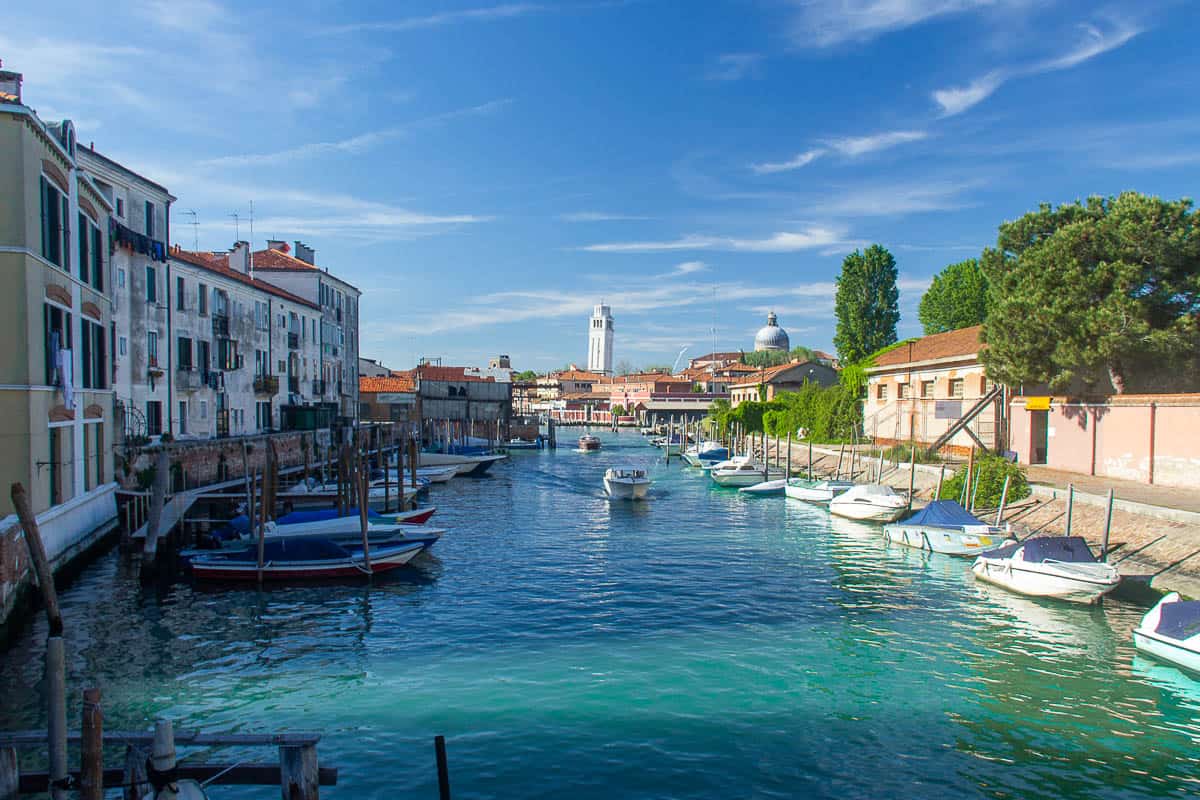 On the third day, we woke up very early in the morning to revisit the most beautiful places of the main city to take nice, people-free pictures and have a nice breakfast with the famous Venetian coffee before checking out.
Tip: you can take full advantage of a third day after check-out, leaving your bags either with your host or hotel or storing your luggage 3 minutes away from Santa Lucia trains station before catching your train or bus.
Explore its Architecture
The Venetian Gothic style is iconic and gives the city a unique appearance. It originated in the 14th century, and it combines Byzantine and Moorish influences incorporating the Gothic lancet bow.
These are some of the buildings in Venice that you cannot miss
Bilioteca Nazionale Marciana.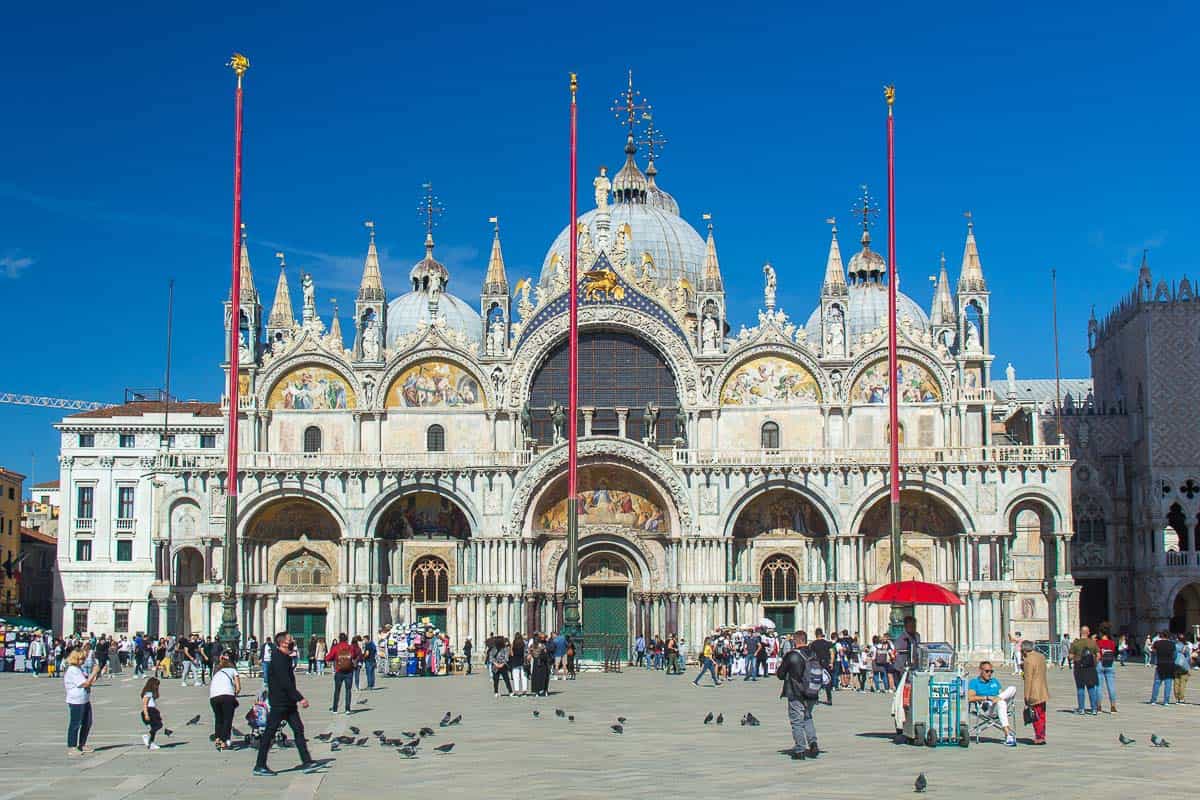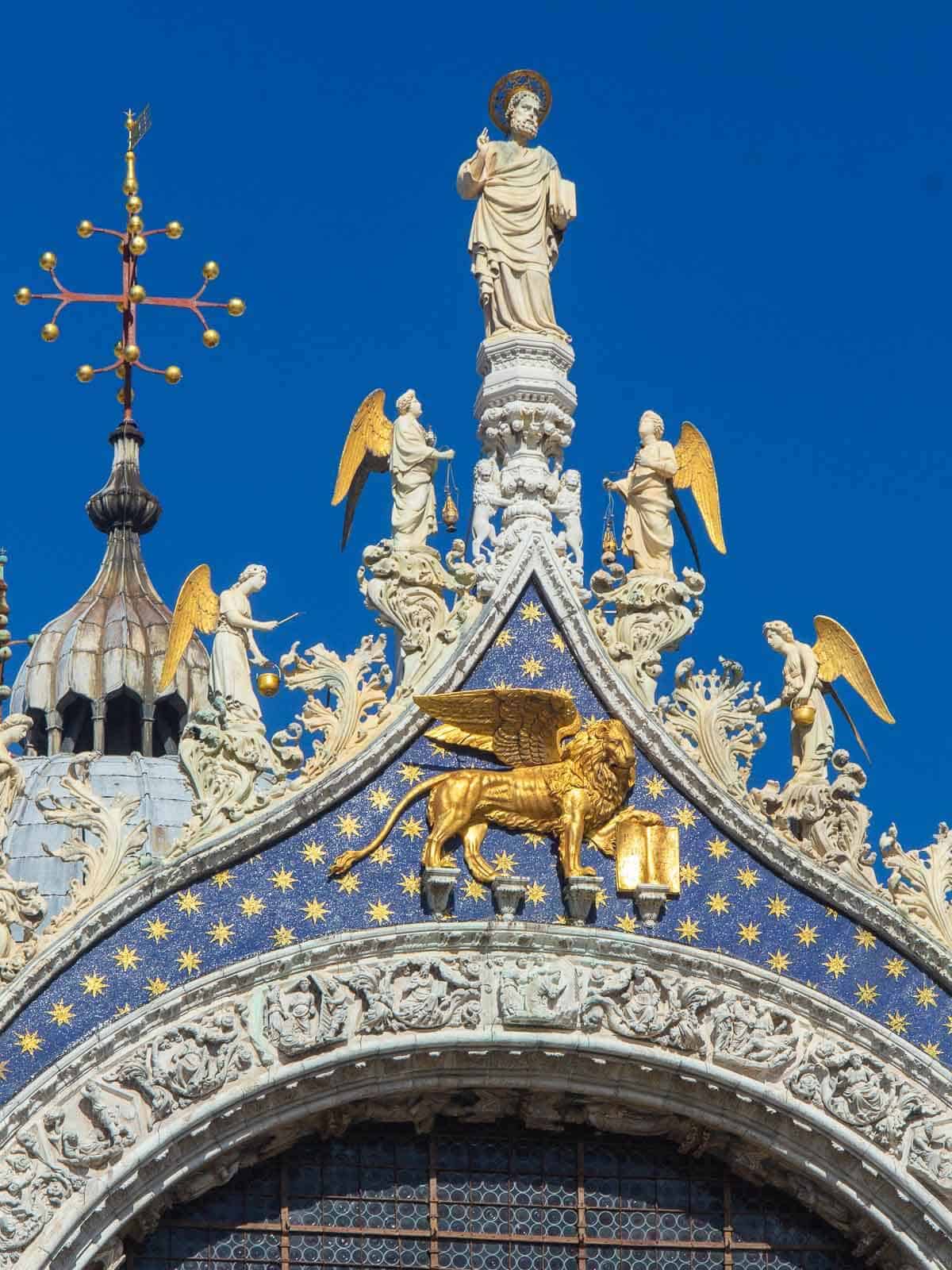 Piazza San Marco
Central Venice's Piazza is surrounded by museums, shops, orchestras playing in the square, the majestic Doge's Palace, the soaring bell tower, and a tower with an astrological clock and beautiful cafes and restaurants.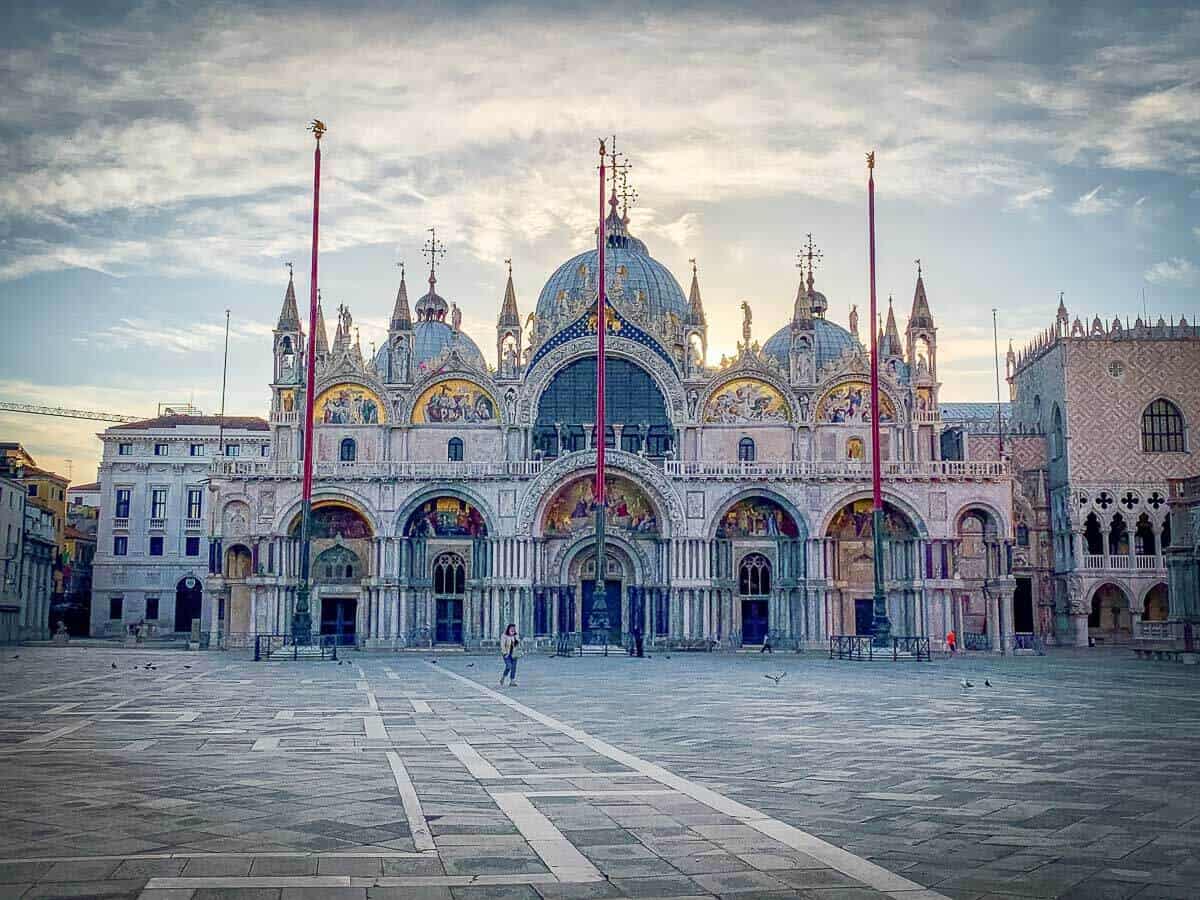 St. Mark's Square is located in the city center and is loved by Venetians themselves, who, to avoid the crowds, always make sure to reserve a table and is the center of everything in Venice.
This sizeable open-air hall located next to the Venetian Grand Canal, also attracts Venetians for a stroll, especially in the late afternoon when the hordes of tourists aim to their hotels to freshen up before dinner. It is simply a fantastic meeting point.
Did you know that, in Venice, St. Mark's Square (called Piazza San Marco) is the only place to which the name of Piazza (Square) is attributed? All other squares are called Garden or Field.
When you visit Venice, this should be your starting point. See St. Mark's Basilica, the Campanile di San Marco, and the amazing buildings in the surroundings. Have a coffee in one of the four famous coffee shops and sit to see people passing for about 20 euros, or go inside and ask for a coffee for 1.50 euros.
Tip: in Venice, you are always charged for the VIEW and not for what you are consuming.
We got to experience it unusually empty since we went in times of a pandemic.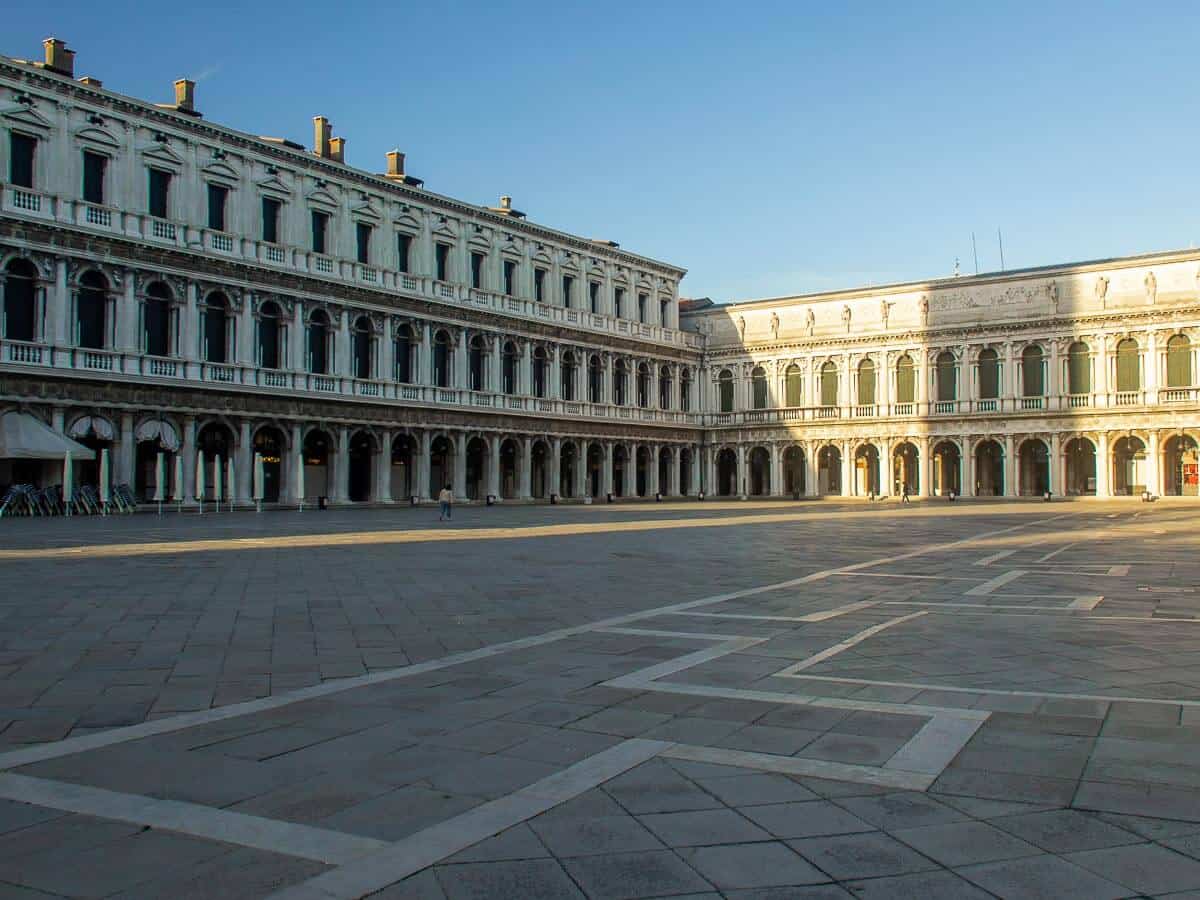 Visit its most emblematic bridges
The City of Canals or the City of Bridges. Those are some of Venice's nicknames since it is a floating city, where its 439 bridges have a fundamental role in connecting rivers, streets, streams, and stories.
Here we present its four main bridges since they are the ones that cross the Grand Canal, plus the famous Bridge of Sighs. Do not forget to visit them, since they are not only visually breath-taking, but they will also offer a better perspective of this aquatic city.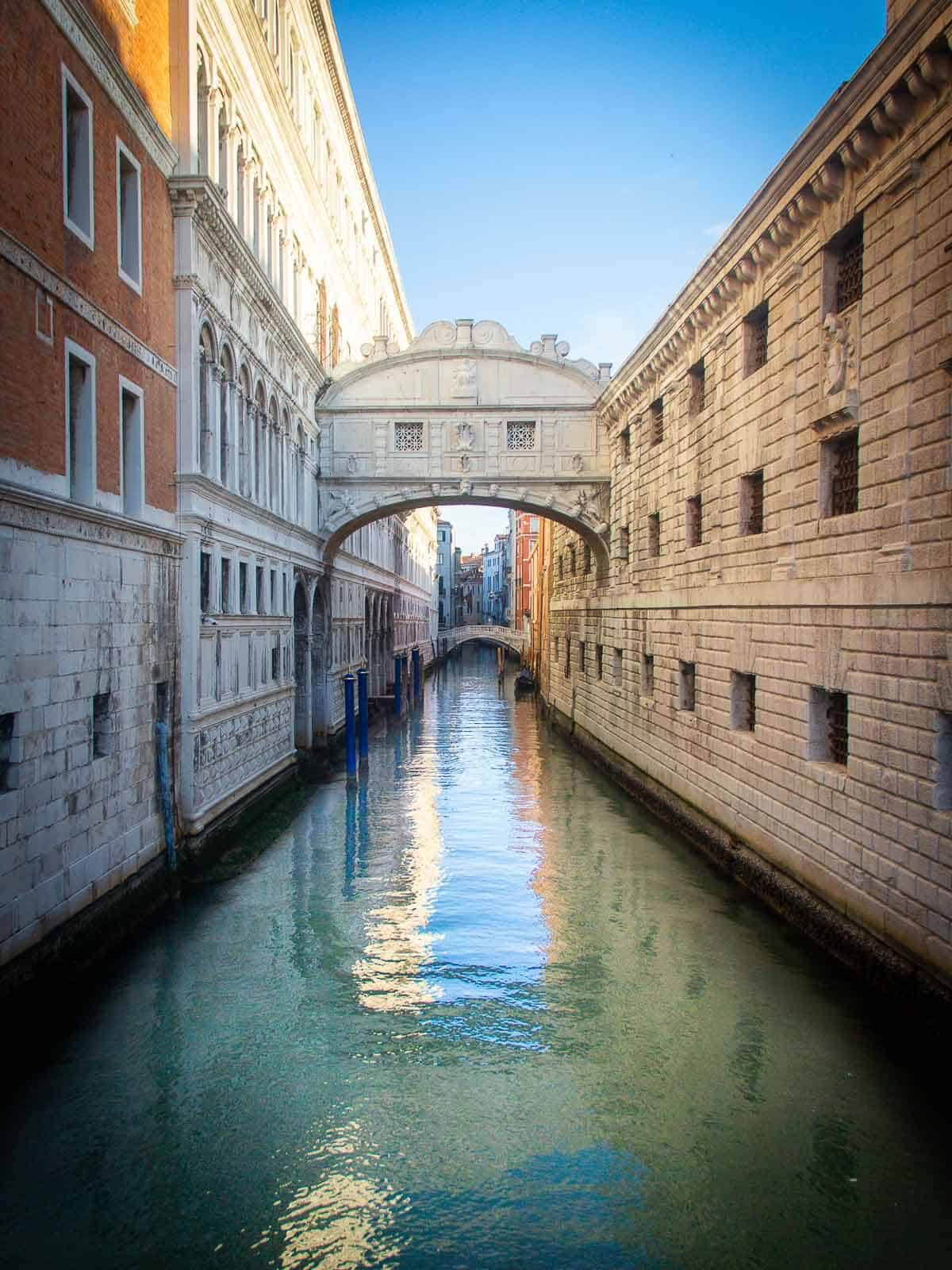 Bridge of Sighs (Ponte dei Sospiri)
Although most people consider this bridge one of the most romantic places in Venice, the origin of this masterpiece of Gothic architecture is far from evoking a couple's love. This bridge connects the Doge's Palace with a former prison.
It is said that the Bridge of Sighs has this name because the condemned passed through it. They could see the light of day and the beautiful panorama of the basin and the lagoon for the last time, before the terrible detention that awaited them in the harsh cells of the Serenissima Jail or their execution.
Rialto Bridge (Ponte di Rialto)
This unmissable and photogenic bridge is the main pedestrian bridge that crosses the Grand Canal. It is very wide, and you can see shops and offers beautiful views of the city.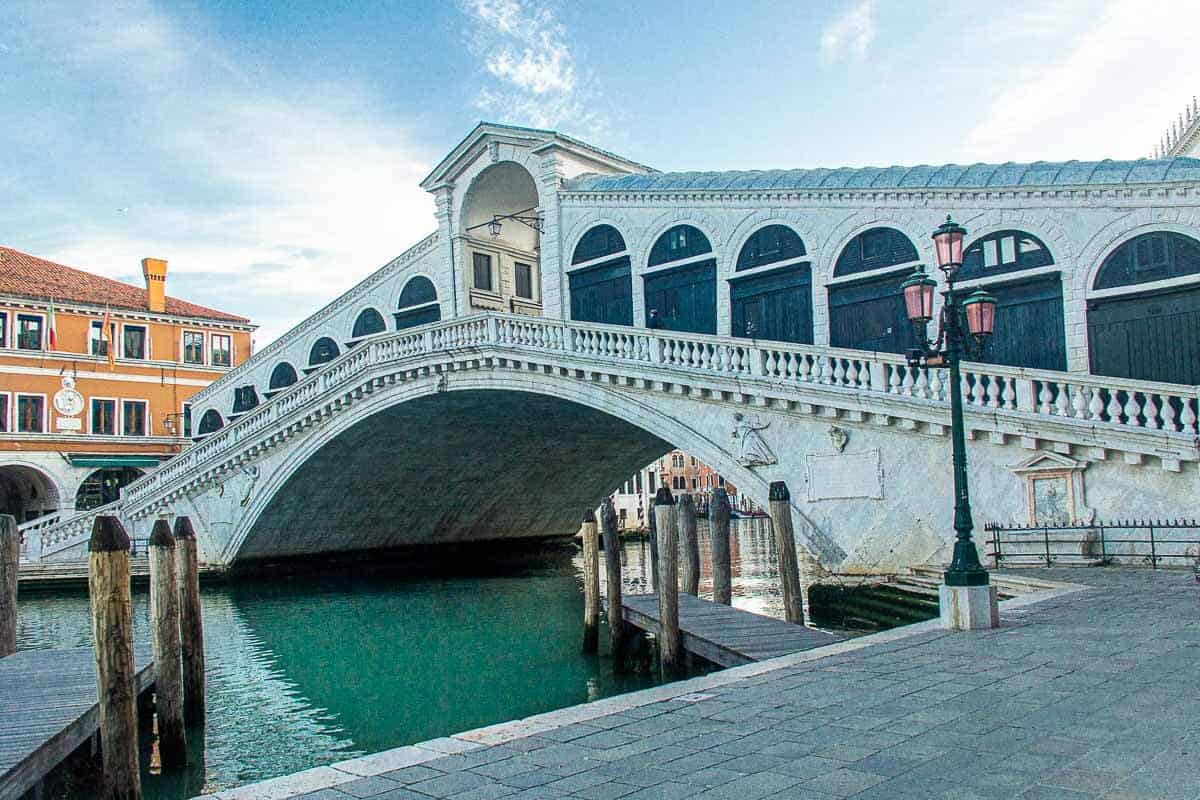 Accademia Bridge (Ponte dell' Accademia)
The Accademia Gallery is one of the most important museums in Venice. This long bridge that passes over the Grand Canal leads to this museum, hence its name.
Bridge of the Barefoot [Monks] (Ponte degli Scalzi)
This bridge crosses the Grand Canal and connects the neighborhoods of Santa Croce and Cannaregio. You will surely come across this bridge if you arrive in Venice from the Santa Lucia train station. It takes its name from the barefoot church to one of its sides, adjacent to the train station.
If you have free time before catching your train from Venice, the Chiesa degli Scalzi is an excellent place to visit and admire Baroque architecture.
Constitution Bridge
This bridge rises over the grand canal and was the last to be recently built to connect the Santa Lucia station, the bus station, and a large parking lot. Initially, it was called Quarto Ponte sul Canal Grande (Fourth Bridge over the Grand Canal). Later, its name was changed to the current one as part of the 60th-anniversary celebration of the Italian constitution.
Rent a Gondola
The gondolas are one of the main attractions of this city. Hundreds of them navigate the canals of Venice guided by the typical Venetian gondoliers in their sailor suits.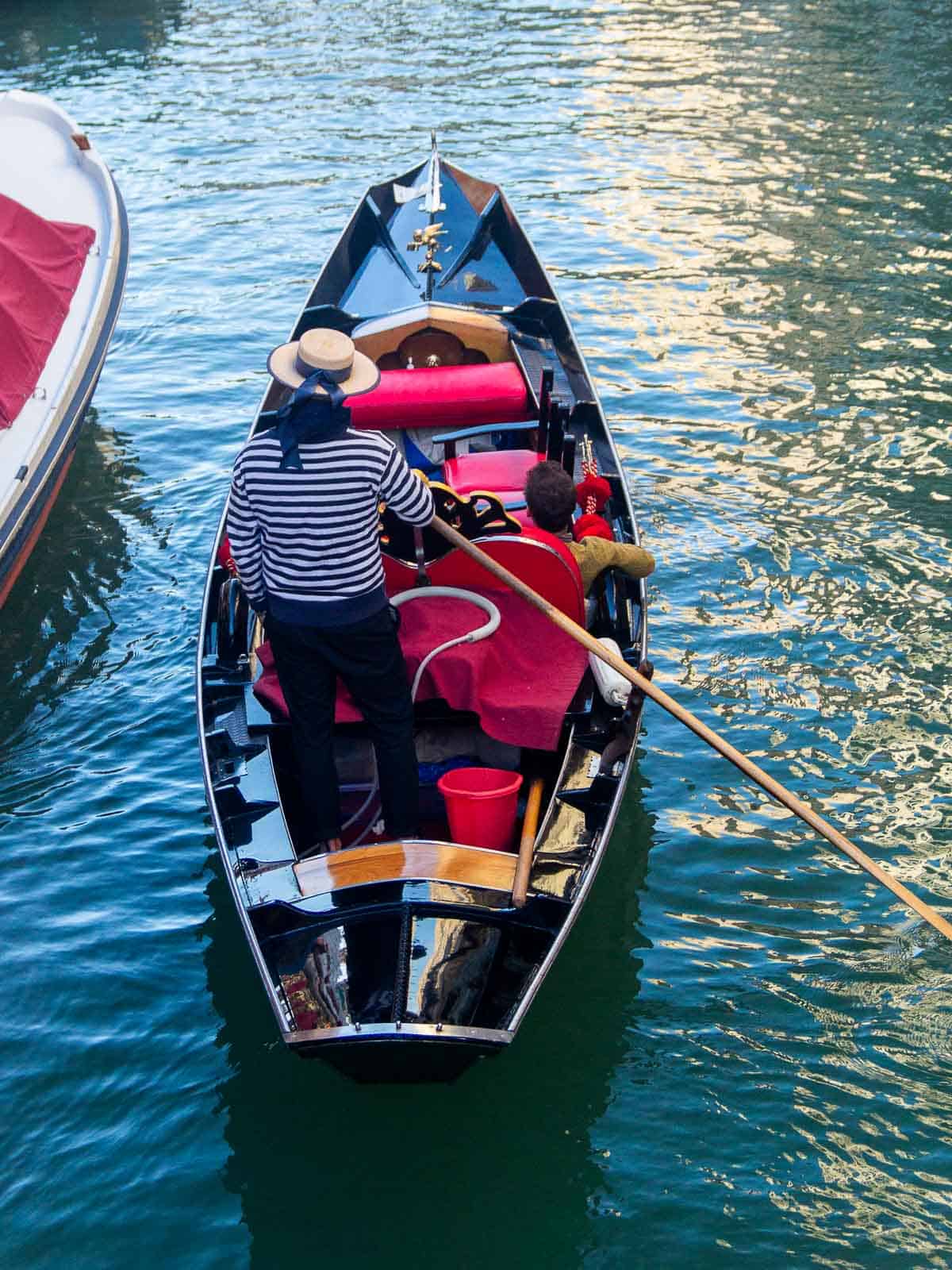 The official rate for a 30-minute gondola ride is € 80 ($ 98), € 100 ($ 122) from 7:00 p.m. However, in post-pandemic time, our Airbnb host told us that we could rent one for € 50. You can take your Prosseco with you if planning for a romantic sunset.
Travel its channels in Vaporetto
The Vaporetto is not cheap; it costs 7.5 euros one way. So the best option is to plan your trip, choosing one or two days to use the vaporettos and get the daily ticket, which is valid for 24 hours and covers all routes, and allows you to get on and off at all public transport stations. It also includes the buses on Lido Island.
You activate the card automatically with the first trip. If you plan it well, you can use a single ticket for two days of island tourism.
You can buy this ticket online at the official public transport website or at the main stations.
It is imperative to take the Vaporetto so you can have a very different view of the city and its monumental palaces and churches. Some of them can only be appreciated at their best from the water, like the Basilica di San Giorgio Maggiore and Basilica di Santa Maria della Salute.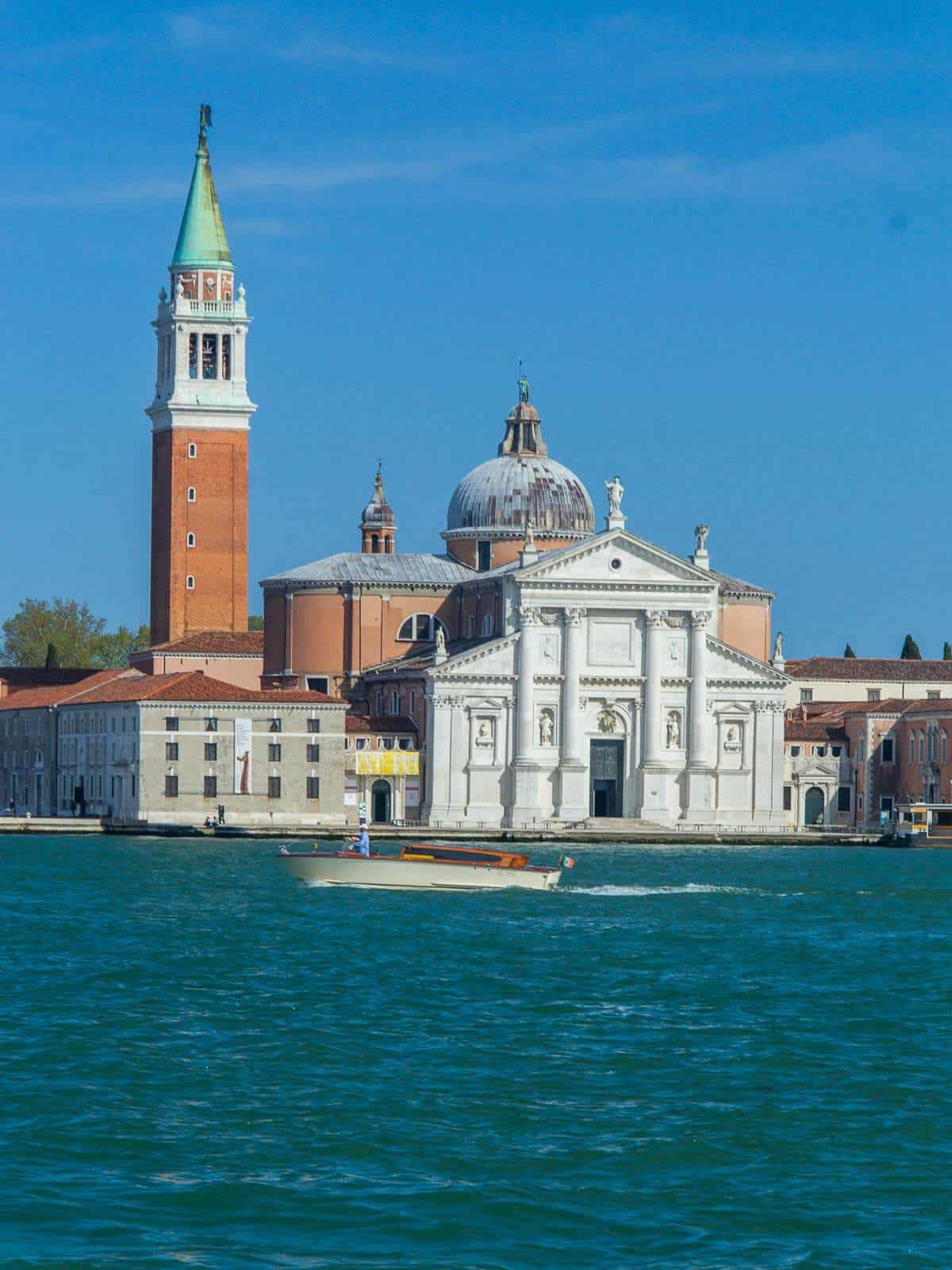 This is what we did to get to know the islands of Murano, Burano and Lido.
Murano
Perhaps you have ever heard about the famous Murano glass. It is here, on this small island, where hundreds of these famous pieces of art design are handcrafted.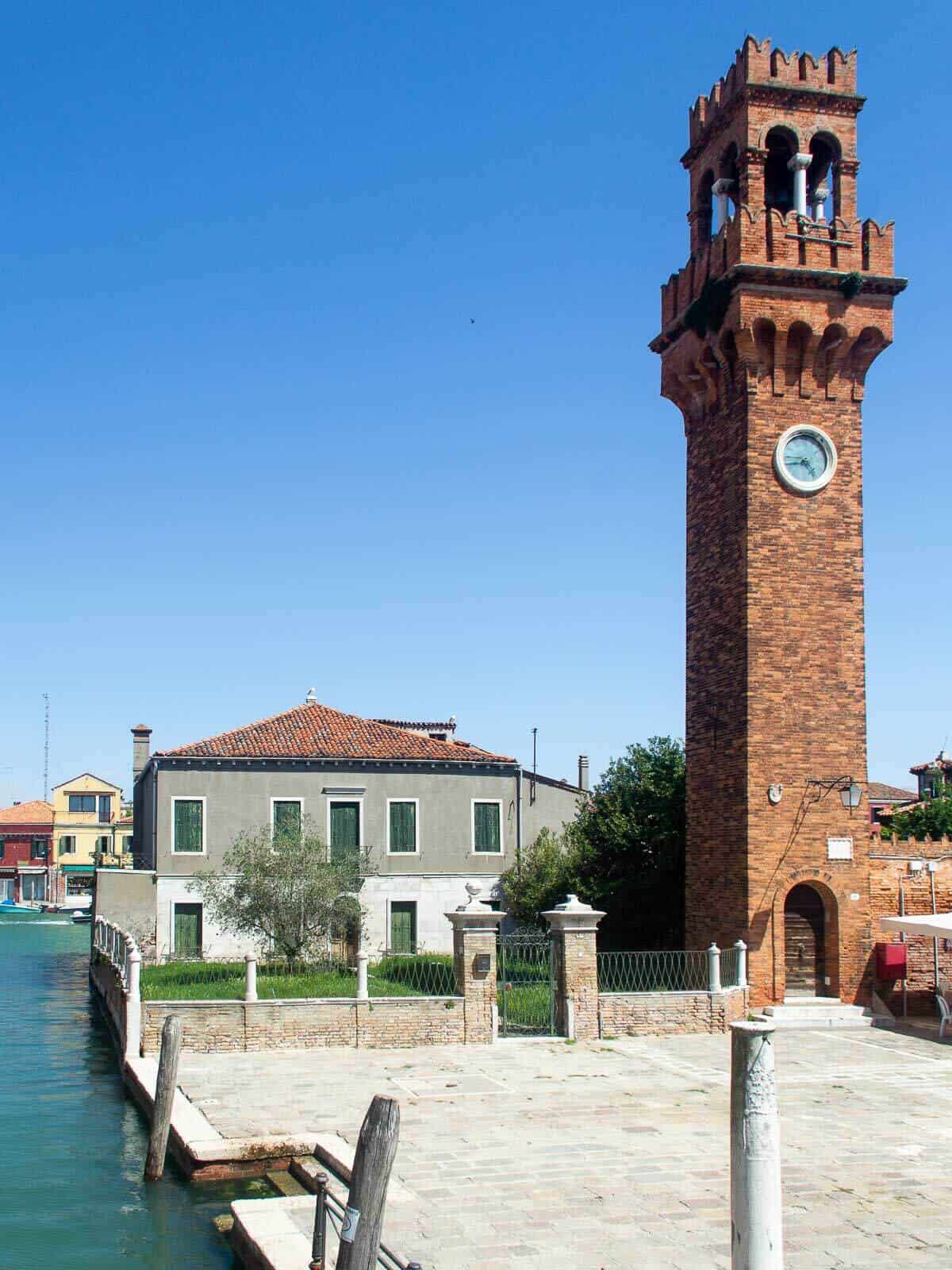 The place is full of small boutique shops, each with their style despite all working with the same material. If you want to take home a work of these, come prepared to buy pieces that correspond to the luxury market. They will gladly ship to your house on the other side of the globe!
But worry not! There are also souvenir-sized glass beauties.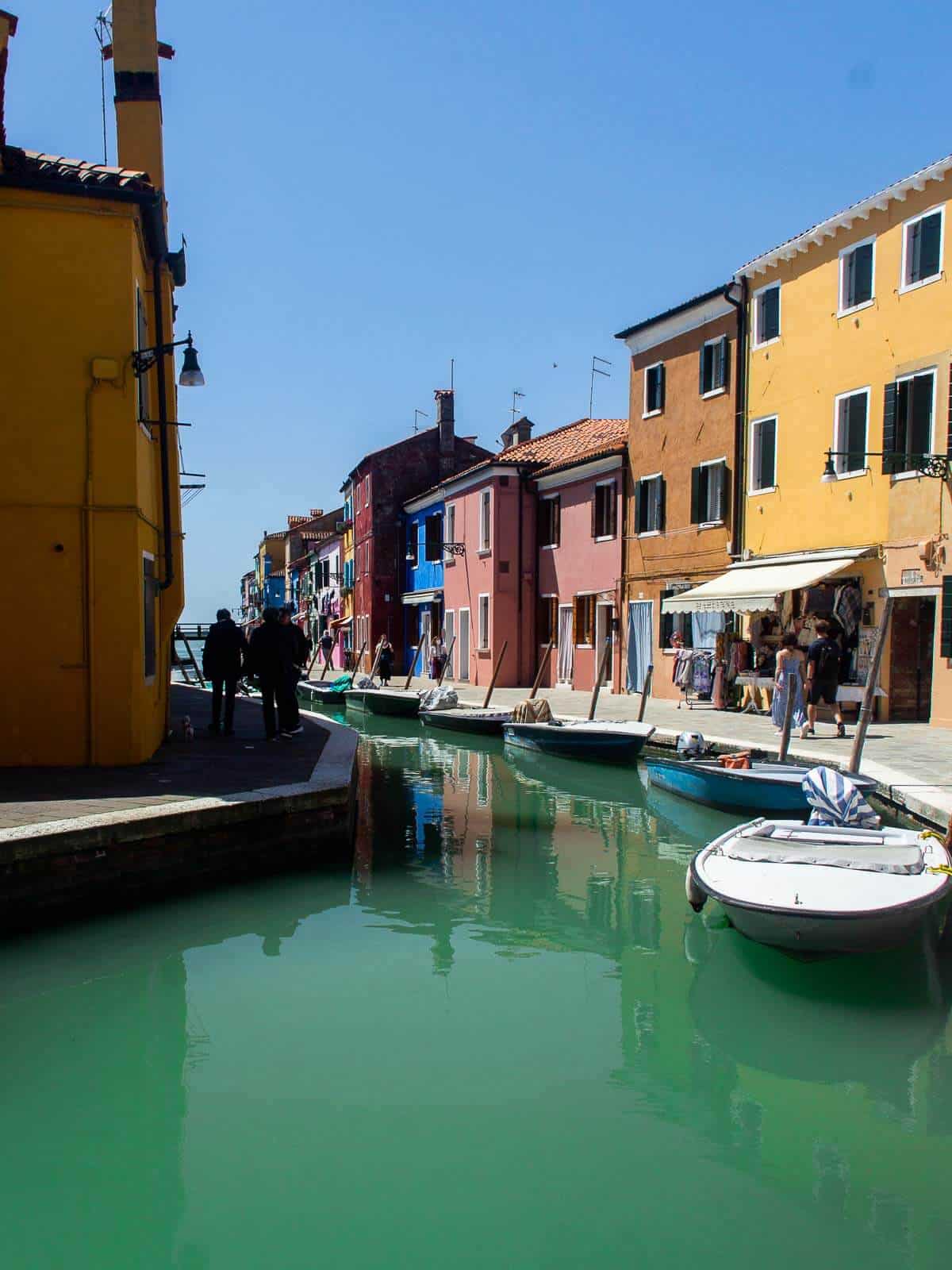 Burano
This other island, which name did not achieve such international fame, found its way to differentiate itself in a very peculiar way. Color!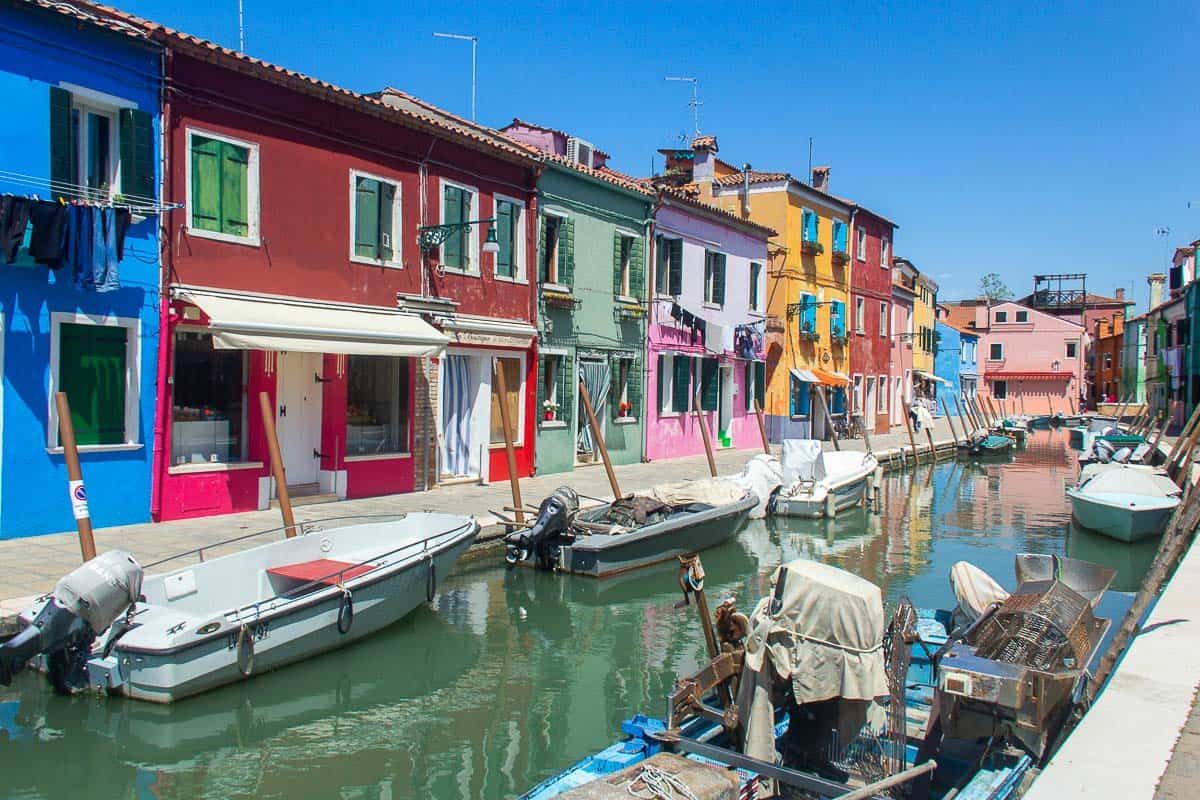 Each house on the island is painted differently from its neighbors' next door, thus composing a colorful city (some say the most colorful in the world), which transforms the visual into a postcard and canals and little bridges.
Lido Island and its Beaches
If you are in the mood for a beach holiday, you can also cross over to Lido Island, where you will find the famous Blue Flag beaches (the world's most recognized voluntary awards for beaches, marinas, and sustainable boating tourism operators), just like the ones in Gaeta, close to Rome and Ostuni's surroundings in Southern Italy.
Lido is mostly known because it houses the Venice Film Festival.
If you plan to go to Venice during summertime, I recommend you to stay in Lido, as it takes minutes to cross to the city and you will probably have a better time, during the hot days, while still able to choose to have a stroll in the city. Renting a bike is the best way to stroll Lido.
The island is long and well-connected. Unlike Venice's main island, there are cars and buses inside the island. You can rent a RideMovi and wander around the island's beaches. You can find a lot of restaurants and vibrant scene in the Gran Viale Santa Maria Elisabetta.
Lido is very well connected to Venice, as it is located in front of the main island, and they even have an airport. So if you feel like having a beach holiday with just a taste of Venice or maybe visiting for a second time, Lido is a great option.
Enjoy its gastronomy
Besides its great gastronomy, some aspects are worth considering when it comes to food in Venice if you don't eat animal products.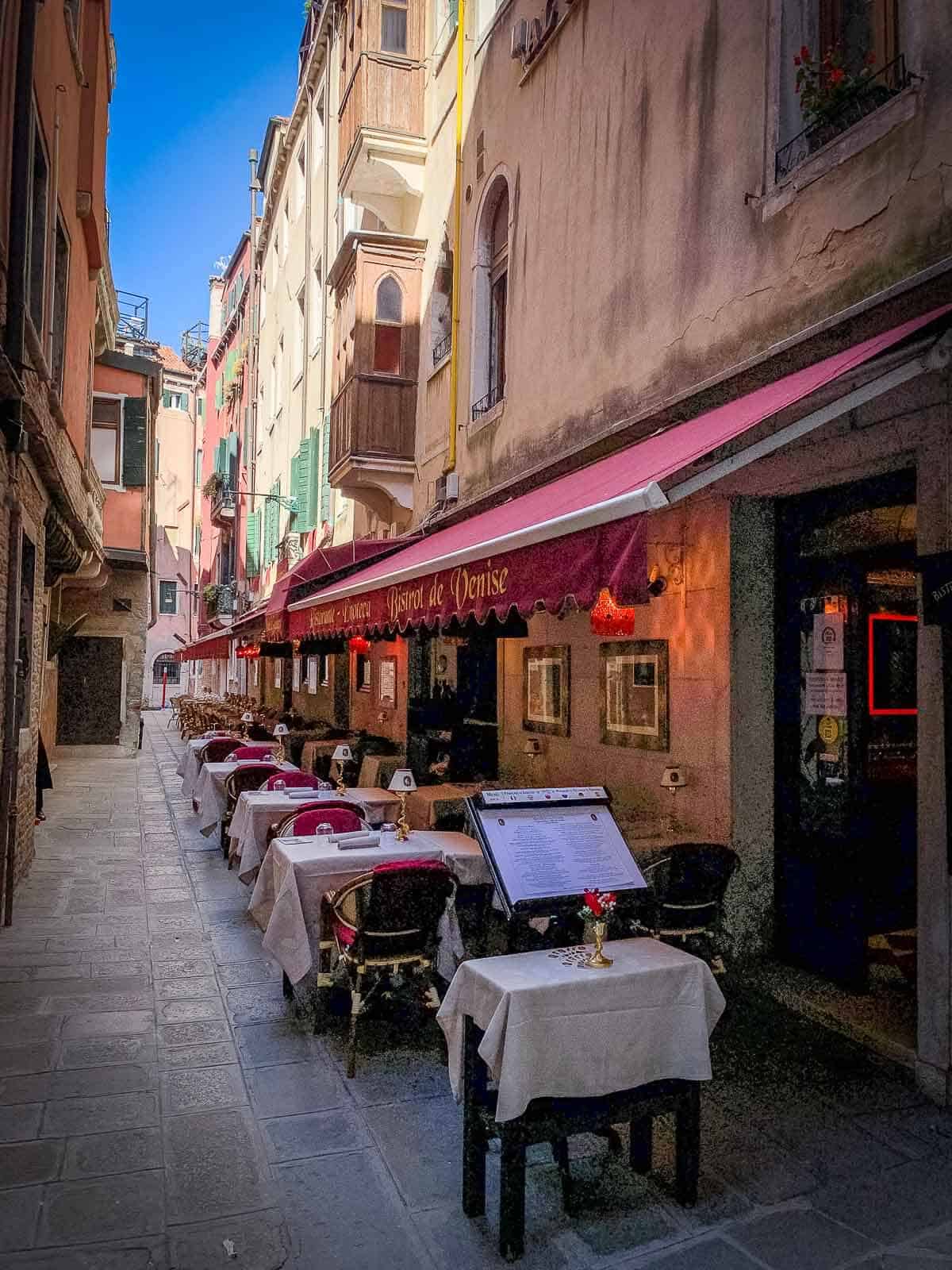 Being Vegan in Italy
Eating in Italy can be a unique experience. However, this country can be very restrictive for those of us looking for vegan options. If you are interested in knowing about Vegan Italian food options in general, take a look at our Italian Food for Vegan post.
Generally, you will find more vegan options in Italy's larger cities, such as Milan and Rome. For the rest of Italy, many doors will still be available for you if you are a vegetarian. Almost all menus have vegetarian options. However, often the possibilities are limited. Of course, get ready to eat a lot of cheese and excellent quality!
In our travels, we choose to eat healthy to have the energy to travel, enjoy, and not fall into bed due to food imbalances. We always stock up on a lot of fruit.
When tasting fruit in Italy, you will not miss restaurant food at all. Its quality is vastly superior to most places on Earth!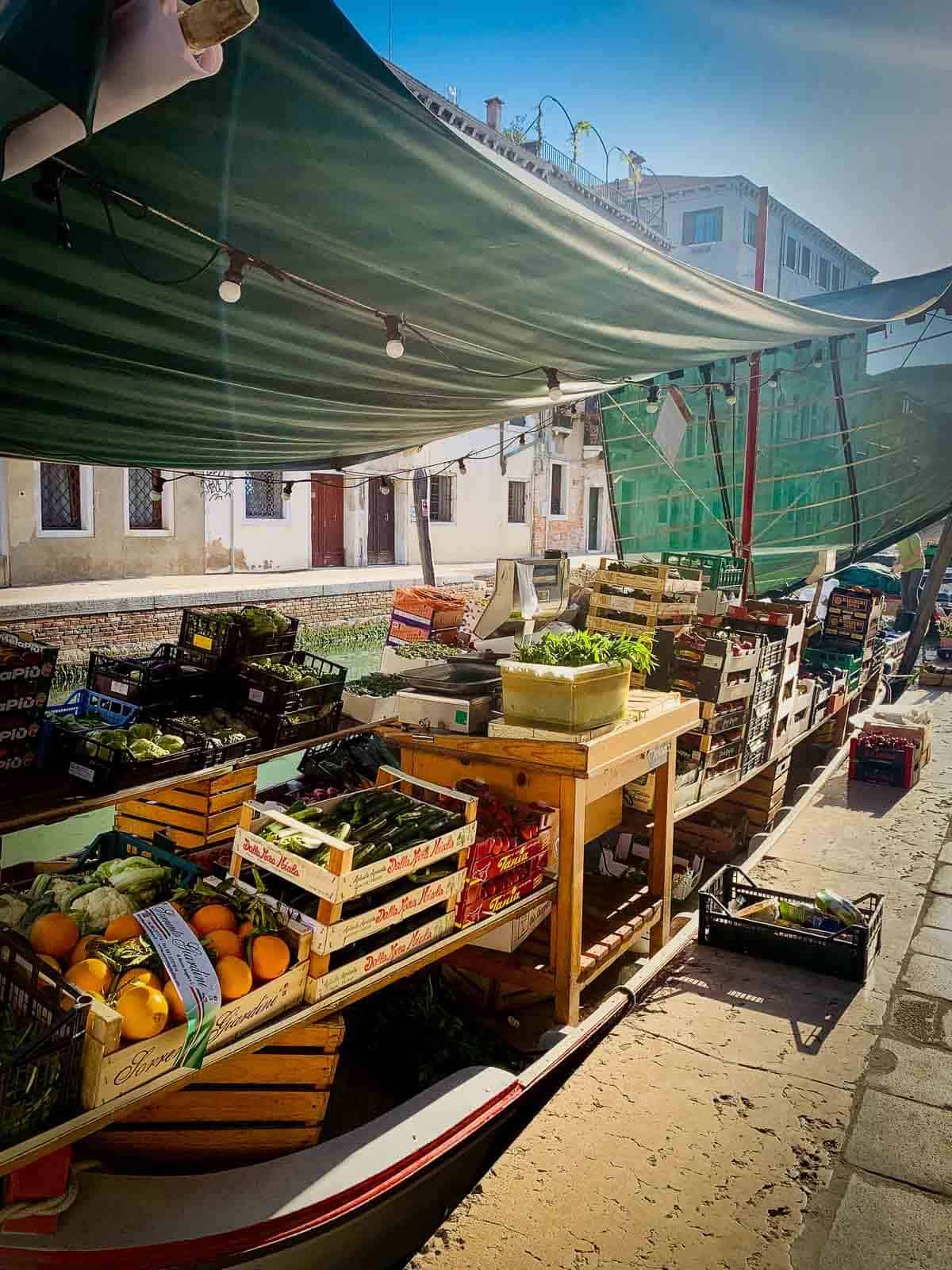 Traditional food in Venice
As you might imagine, since Venice was once the capital of a great maritime trade empire, its gastronomy is also vast; however, most of the typical Venetian dishes are based on seafood.
This makes it very difficult to get Vegan or Vegetarian options. However, in Italy, you always have the Focaccia and the pizza to give you a hand.
Unlike the rest of Italy, although widely eaten, pasta is not the central carbohydrate staple food in Venice. Instead, risotto and polenta fulfill that role.
There are some exceptions, which fall on the vegetarian spectrum, such as:
Cicchetti (Venezian tapas), Tremezzinos (small sandwiches), and Tiramisu (which is not strictly from Venice but was invented in Treviso, also part of the Veneto region), amongst others.
Sunset Aperitif
Italians love appetizers and aperitives, and so do we. The Veneto Region is characterized by its famous Cicchetti, which is nothing more than Venetian tapas, small dishes to eat at any given time of day, especially with an aperitif. Here are some of them that are vegetarian friendly:
Il fritto misto: breaded and deep-fried produce, generally seafood, but you can also find veggie versions. (Vegan option)
Polenta e Gorgonzola: polenta (cooked maize flour) with gorgonzola cheese. (Vegetarian option)
Il tramezzino: it is a triangular-shaped sandwich filled with everything you can think of. The origin is disputed between the region of Piemonte and Veneto, and it is usually served stuffed until bursting and dripping with mayonnaise. It is the typical cicchetto of every Venetian. (Vegetarian option)
So if you are looking for popular food in Venice, reach for Ciccheti (tapas) and Tremezzinos.
The aperitif hour is sacred in Venice, and it is customary to take the famous Venetian Spritz. Surely you already know the Aperol Spritz, but in Venice, there are several more.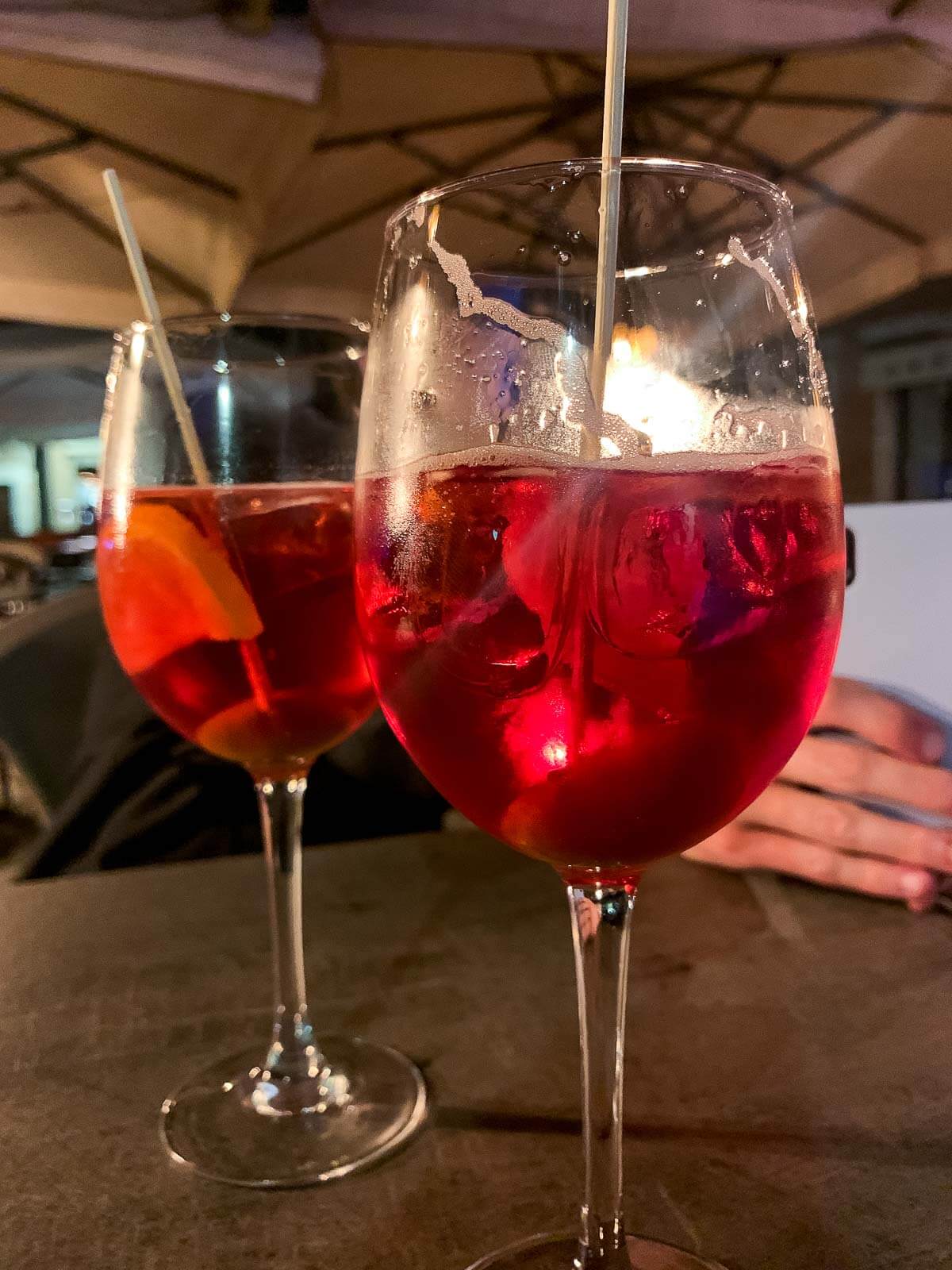 You also have the famous Campari Spritz, Cynar Spritz (based on artichokes), and the less well-known but very Venetian: Select Spritz. The latter became our favorite on this last trip, a discovery!
Vegan Restaurants in Venice
Here are the top restaurants with Vegan and Vegetarian options that we could find:
Frary's: Mediterranean, Greek, Middle Eastern, and African food. Various Vegetarian, Vegan, and Gluten-Free options.
Ristorante da Mario alla Fava: Trattoria format. It is not a vegan restaurant, but they do offer a vegan menu.
Mask Festival
The Venice Carnival is one of the best-known festivals in the world. But not everyone knows its fascinating origins.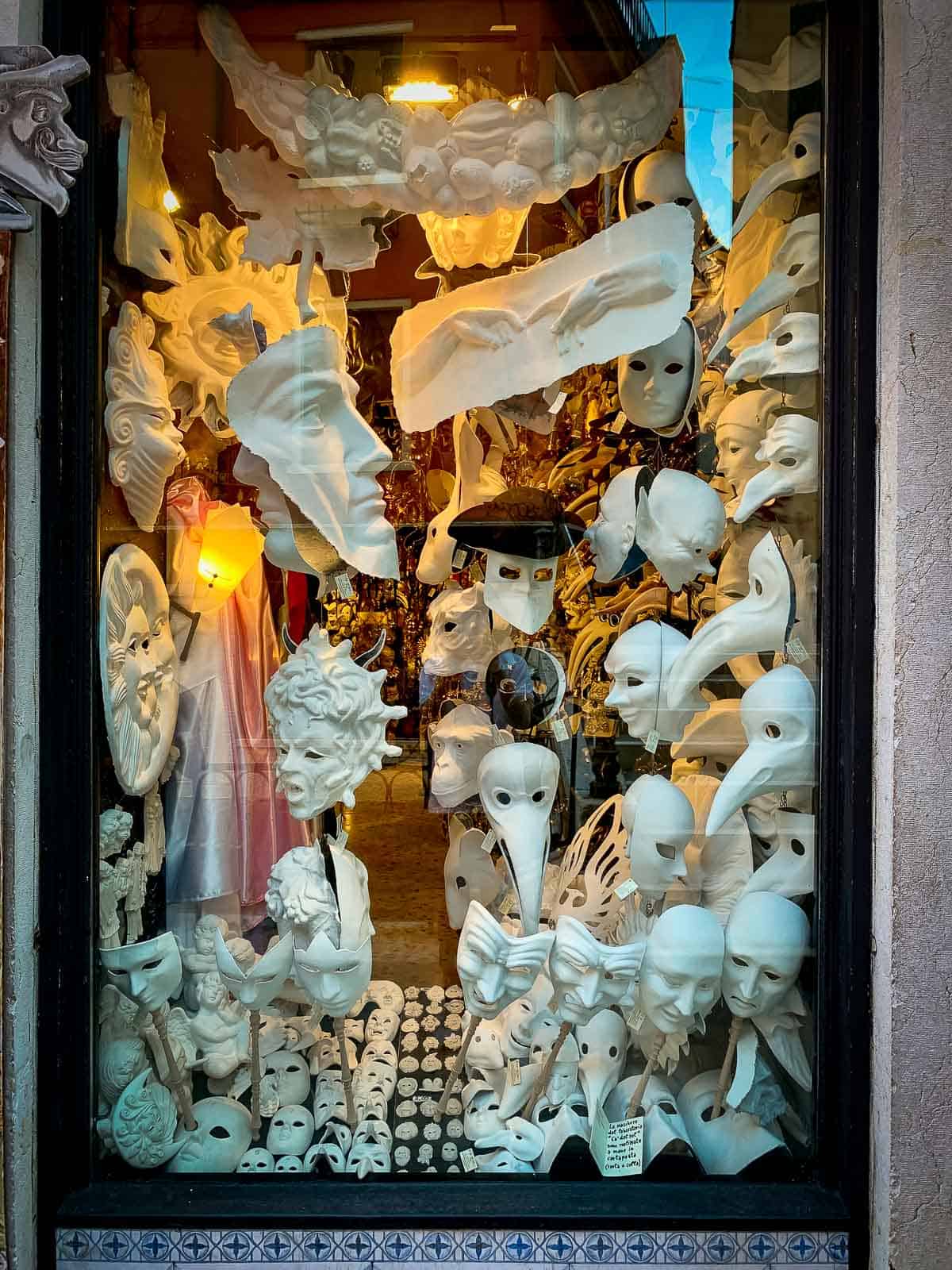 The use of masks and symbolic representations is a thousand-year-old tradition of a religious festival in ancient Rome that became an opportunity to subvert the social order. Slaves and citizens filled the cities to participate in the wild party between dances and music.
The Carnival of Venice initially had its purpose: to give the population, especially the most impoverished class, the opportunity to celebrate, and the use of masks guarantees that anonymity that allowed the annulment of social differentiations.
This tremendous event was organized with jugglers, musicians, and dancers who performed in public spaces, making people forget about work.
The frittella is a traditional dessert of the Venice Carnival.
Everyone is looking forward to this time of year because it is only in this period that the city's many patisseries and bakeries produce the frittella. Loved by all, adults and children, and always considered the national dessert of the Republic of the Serene. Where to taste the best pancake in Venice?
We recommend the Pasticceria Tonolo. You can choose to fill it with cream, chocolate, or apples. Or the most traditional, the empty one, accompanied by an excellent espresso ? to not offend the locals.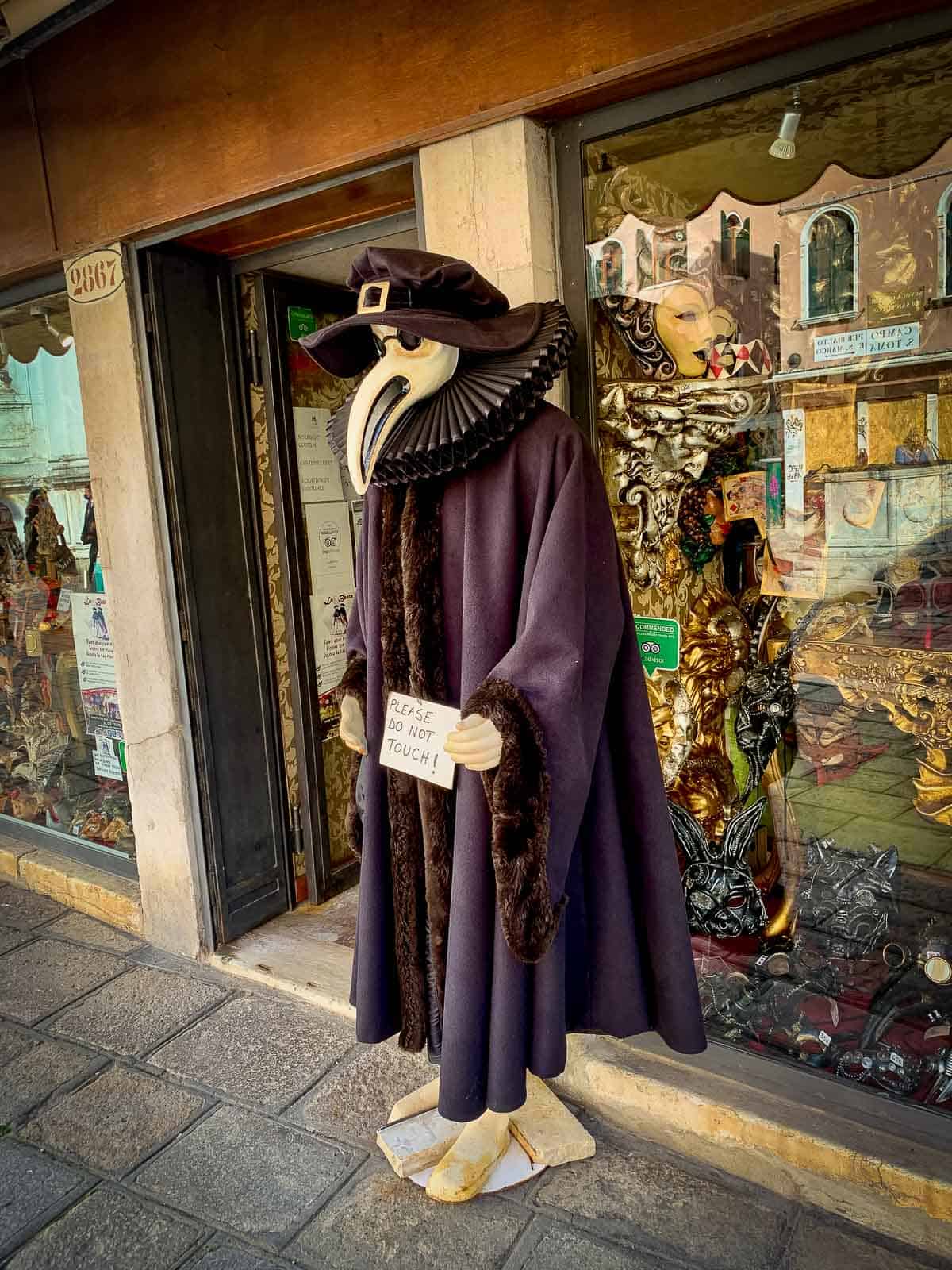 Film Festival
The event is repeated every year in Lido, Venice, in the historic Palazzo del Cinema and neighboring buildings between August and the beginning of September. For ten days, Lido becomes the center of the world, with many international stars on the catwalk.
After the Oscar, it is also the oldest festival dedicated to the seventh art world: the first edition was held in August 1932.
Explore the breathtaking Gaeta's medieval seafront city and beaches, or one of the most stunning views you will ever see in Lake Como, the majestic nearby city of Cernobbio, and the fantastic landscapes and food of Piedmont and Puglia.
In conclusion, Venice is a city that is truly unlike any other, with its unique charm, history, and beauty. From the stunning architecture of St. Mark's Basilica to the winding canals and colorful buildings of the city's backstreets, there is so much to see and do in Venice. Whether you're interested in exploring the city's rich cultural heritage, trying the delicious local cuisine, or simply taking a leisurely gondola ride through the canals, there is something for everyone in this enchanting city. So if you're planning a trip to Italy, make sure to add Venice to your itinerary and discover all that this magical city has to offer.