This Lemony Spaghetti with Toasted Almonds is my favorite recipe when I need to feed many people and don't have much time. You can't go wrong with this one!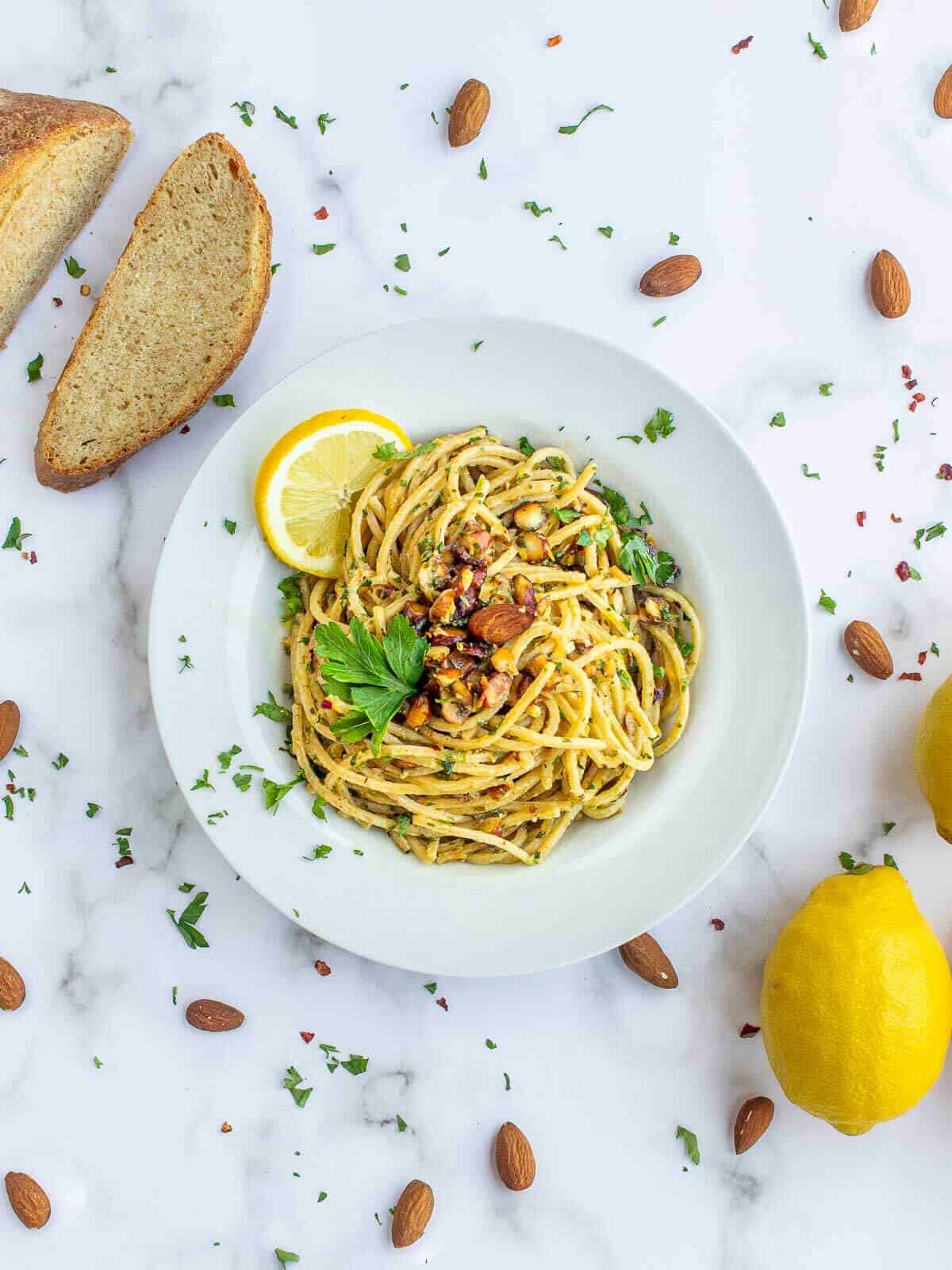 There is no need to sacrifice flavor for time, and you can make sure your friends try something memorable and convenient that they can try on their own because, yes, they always want to know how to make it.
Who doesn't love lemons? I am certainly not the exception; the question is lemons with pasta? It doesn't stop to amuse me how I never got to eat this earlier in my life and how new the concept is for most people. So why not using them for a quick vegan pasta.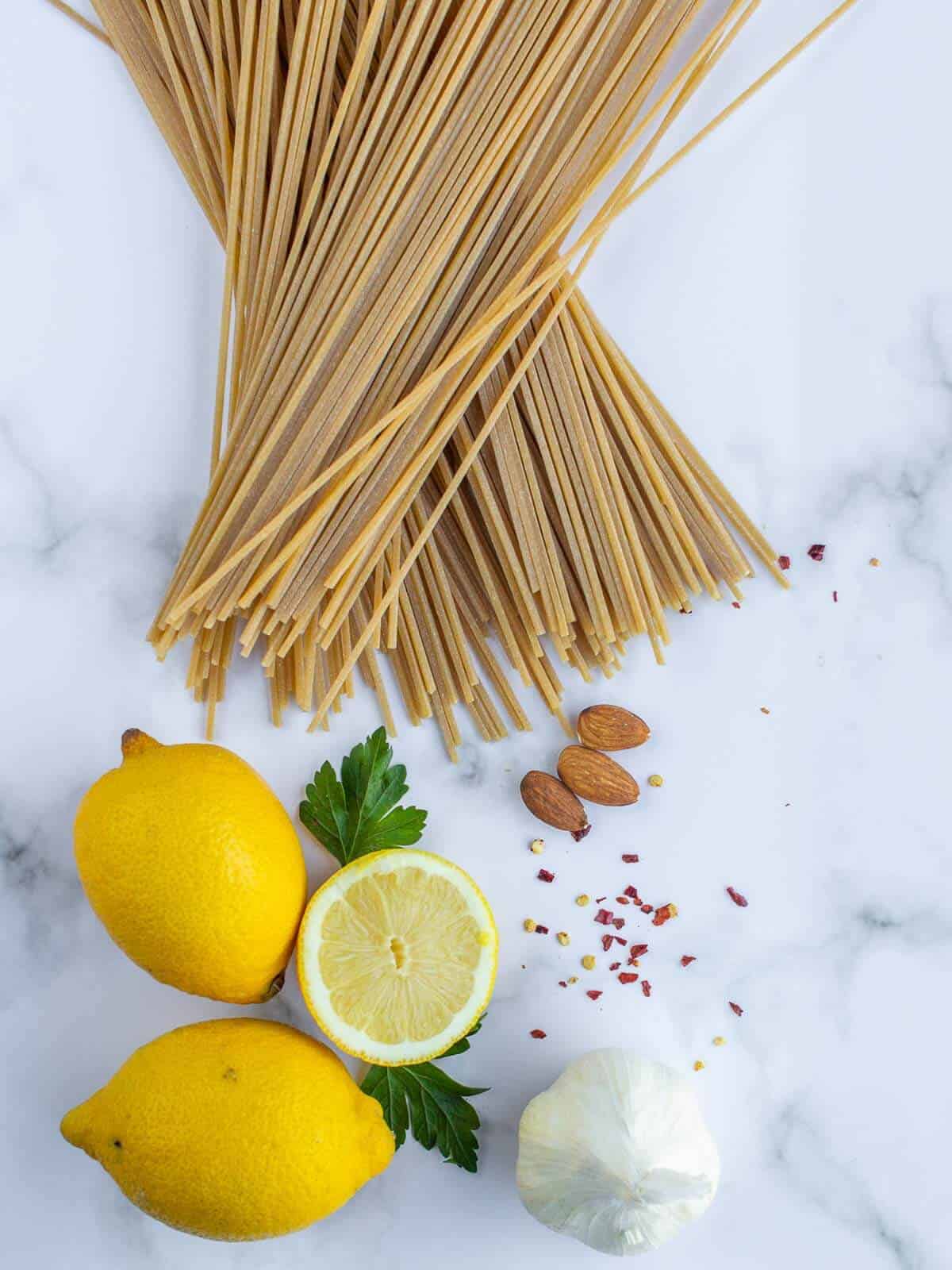 Usually, it goes like this: "Joaco, I asked X and X if they wanted to come for dinner, but then the list started growing and now, we are 8, I was planning on making something fancy, but I don't have the make it big, they are probably going to start popping up here in an hour, so no not much time to do groceries, what do you suggest?"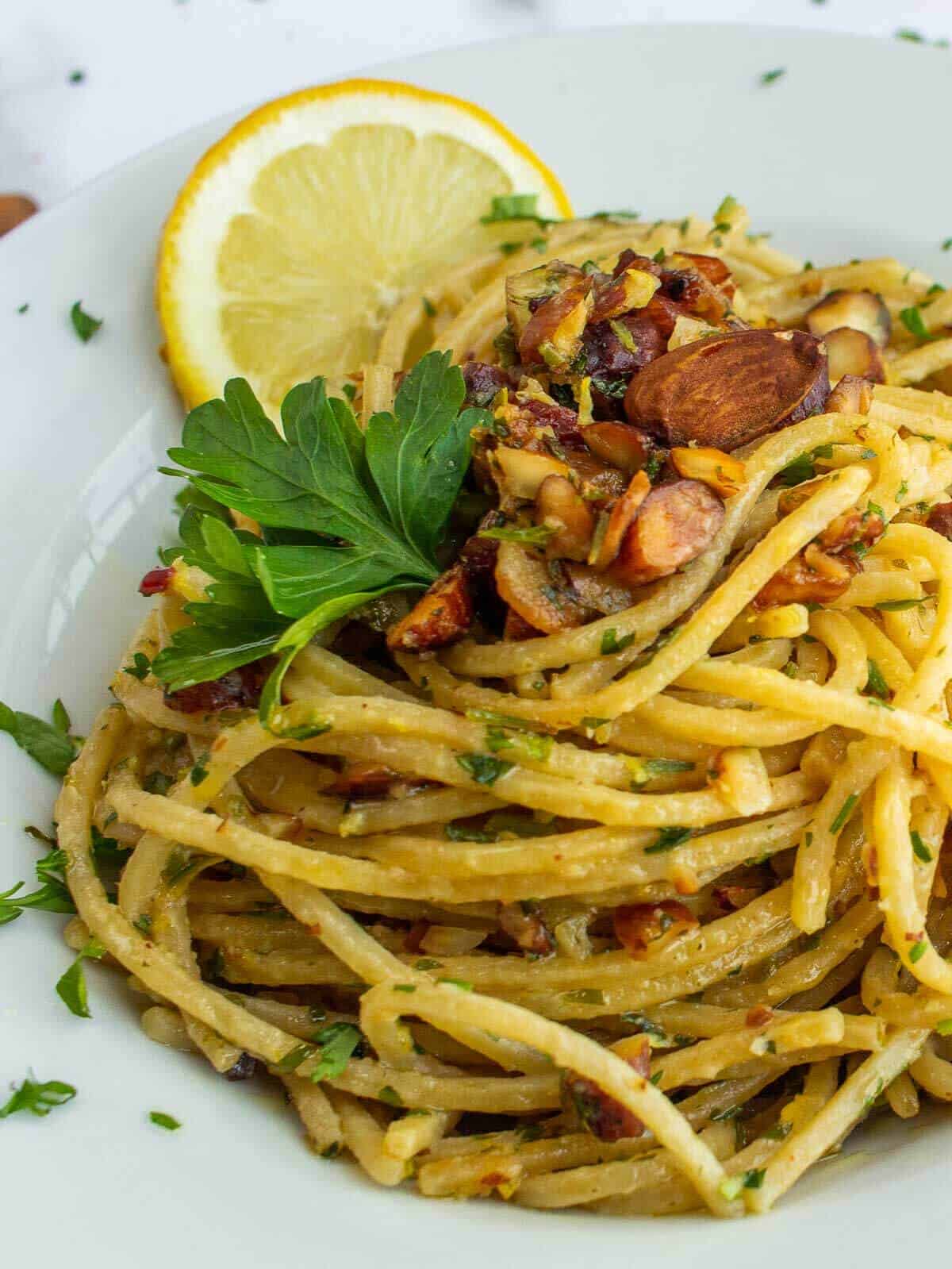 The odds are that we end up making this recipe, not only because it's easy and quick to make but because the ingredients are most likely in your kitchen.
Ingredients
Lemons
Parsley
Almonds
Spaghetti
Garlic
Olive oil
Optionally you can add some spice with pepperoncino. We also like topping it with this 5-minutes Homemade Vegan Parmesan Cheese.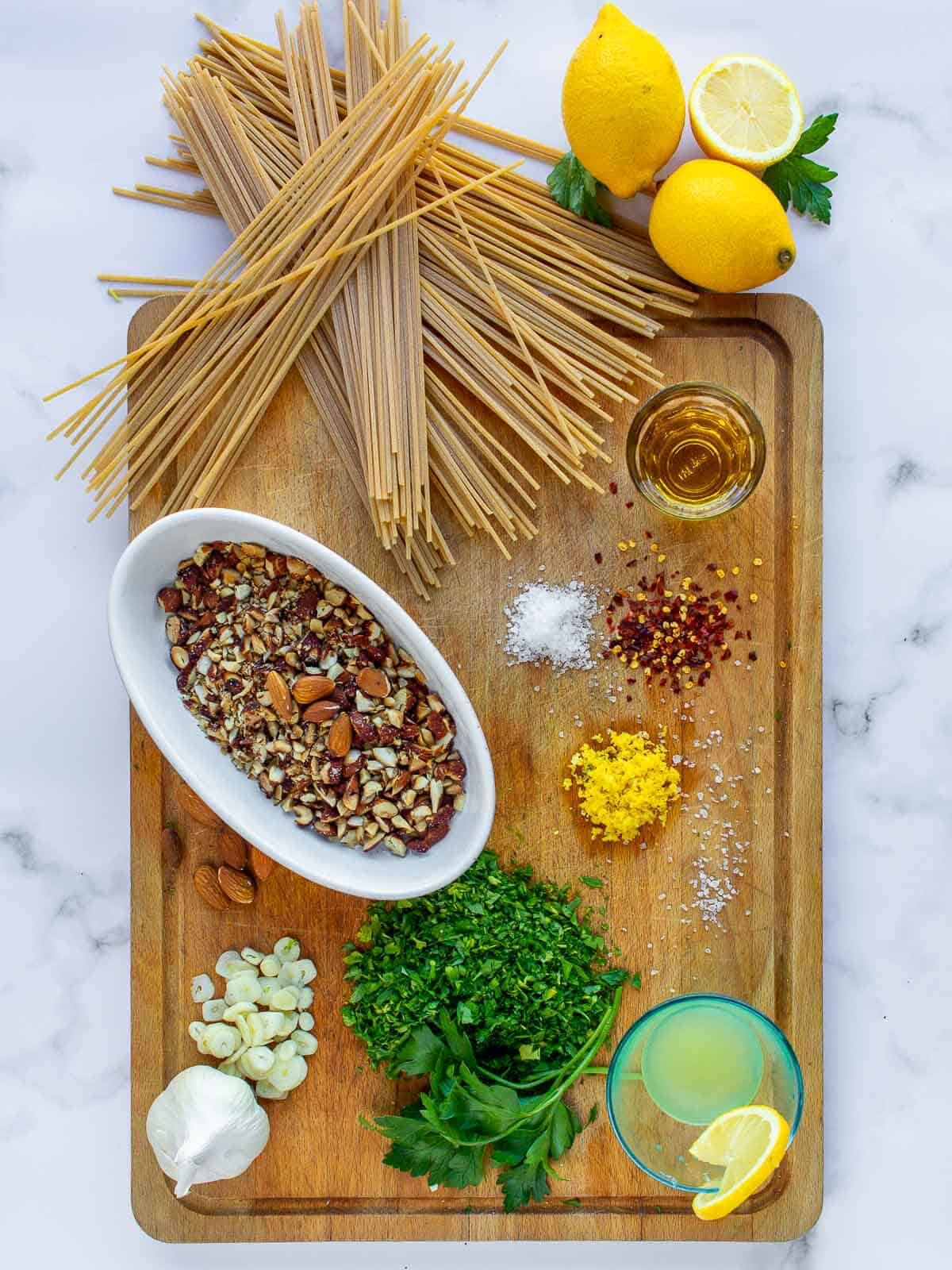 Benefits of lemons
It is excellent to add as much lemon as you can to your diet. Lemons contain a high amount of vitamin C, soluble fiber, and plant compounds that give them many health benefits.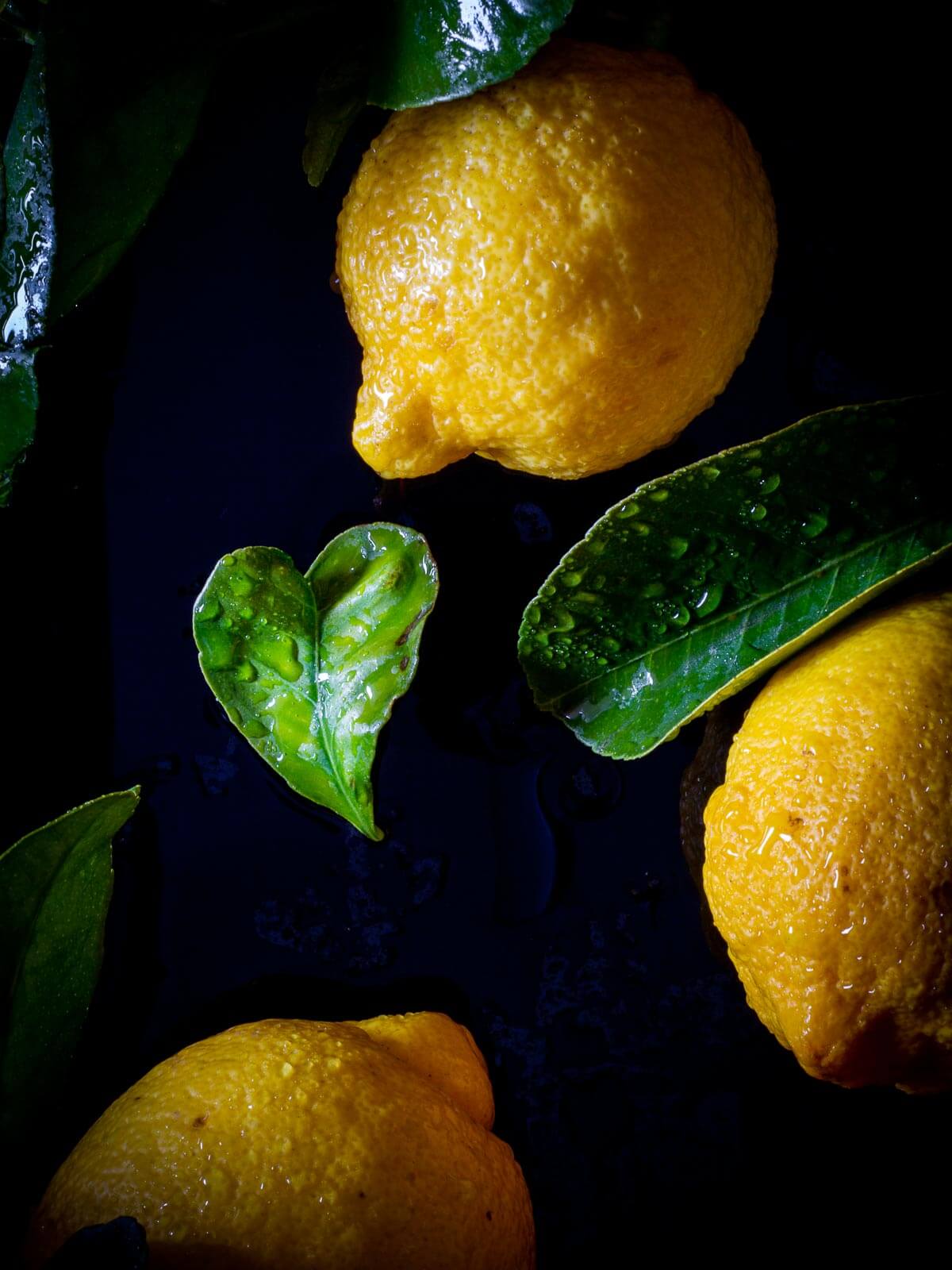 6 Evidence-Based Health Benefits of Lemons
Also, lemons may aid weight loss and reduce your risk of heart disease, anemia, kidney stones, digestive issues, and cancer.
Jump to Recipe
Lemony Spaghetti Wine Pairing
It is in the Wine Culture where you will genuinely find quality wines and support sustainability. For this reason, in this blog, when we recommend wines, we do not want you to go to a supermarket shelf to buy wines for the usual varietals resulting from monoculture. Instead, we recommend wines taking you to the places where they come from. Thus, we advocate for living wines, with Culture, with Terroir.
Lemon: here comes the fun! This fruit does magic in the kitchen; be it for its juice or its zest, it brings fragrance, freshness. Cooked lemons leave an aftertaste of jam that we associate with many of the sweet whims we grew up with; I lick my lips just thinking about it, and the wine I want to drink with our Lemony Spaghetti comes to mind… but I'm not getting ahead of myself!
Wine Pairing's Flavor Anchors
This light and fresh dish contain lingering flavors and aromas: fragrant lemon, incisive parsley, the sting of garlic and pepperoncino, with the balance of oily almonds. It's like a deconstructed pesto that blends in instantly as you wrap the spaghetti on your fork.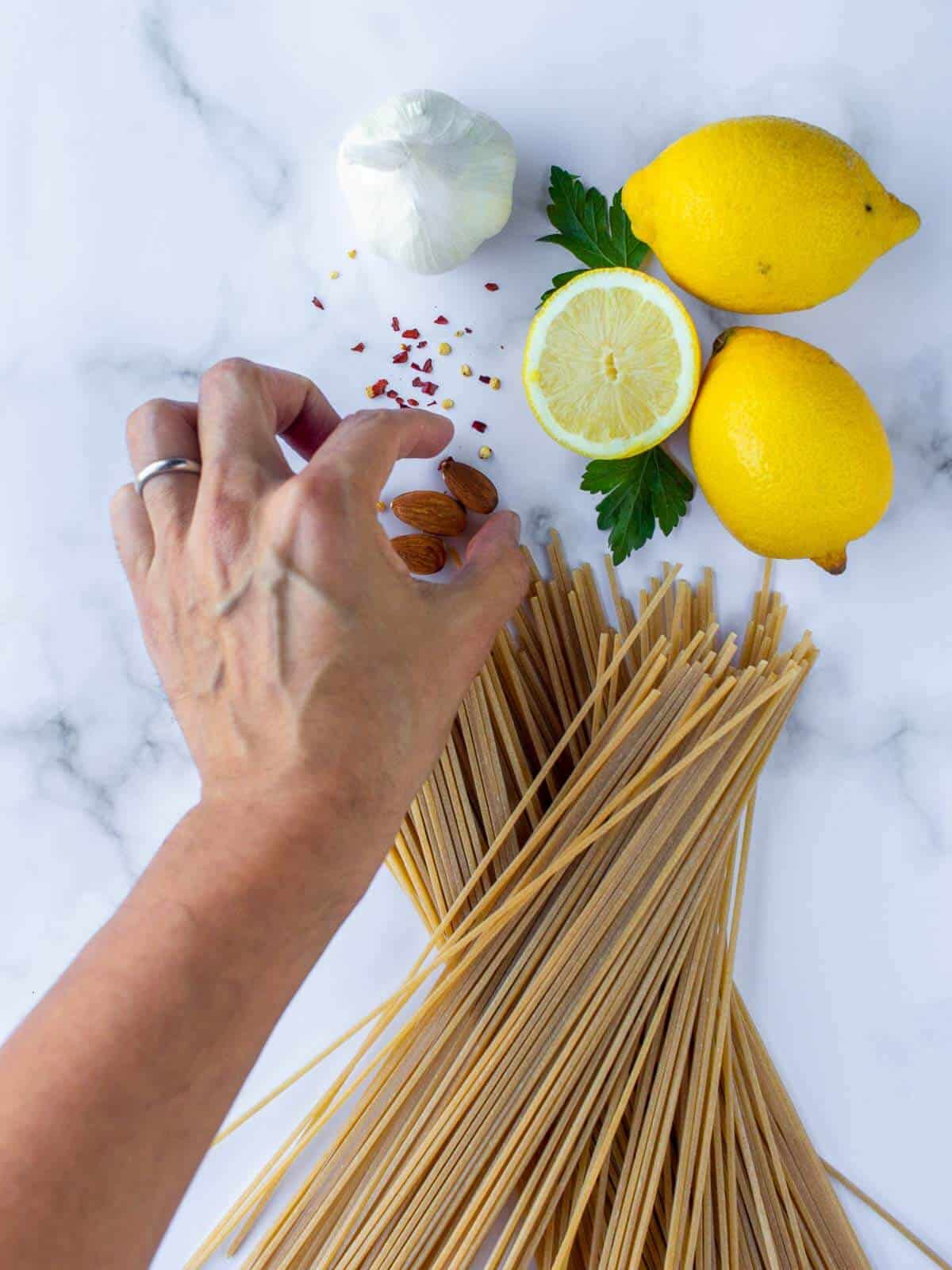 The wines that I associate with this dish are fresh and fragrant, with herbaceous notes reminiscent of the orchard, and of course, if they convey citrus notes, much better. But there are details of the dish that we cannot ignore, the caramelization of the almonds, then deglazed with the tequila; the reduction of the lemon juice to enhance its natural sweetness, flavors that make the bottom of the dish and that we can highlight with the choice of our wine.
The Wines
When choosing wines, if you live in a producing area, always choose local, find out about your producers, the history of your location, and the winemaking practices, and explore all the styles available in your area.
If you do not live in a producing area (or close to one of them), support the specialized stores near you, just as you would support your local farmers' market. Talk to the specialists, ask them about their wine's selection, the wine's origins, their production practices, and the reasons that led to their inclusion in their selection.
With wine, as with any food on our table, it is always good to think about the path it went through before reaching us. It is also essential considering the kilometers and the means of transportation used. Be aware of the carbon footprint of the food and wine you consume, and you will make your small contribution to sustainability.
This reflection leads us to consider Off-dry or semi-dry wines. The dish already brings enough freshness. It is not up for the wine to contribute everything with its natural acidity, so some sweetness is good to enhance that aftertaste of jam that we highlight before our dish.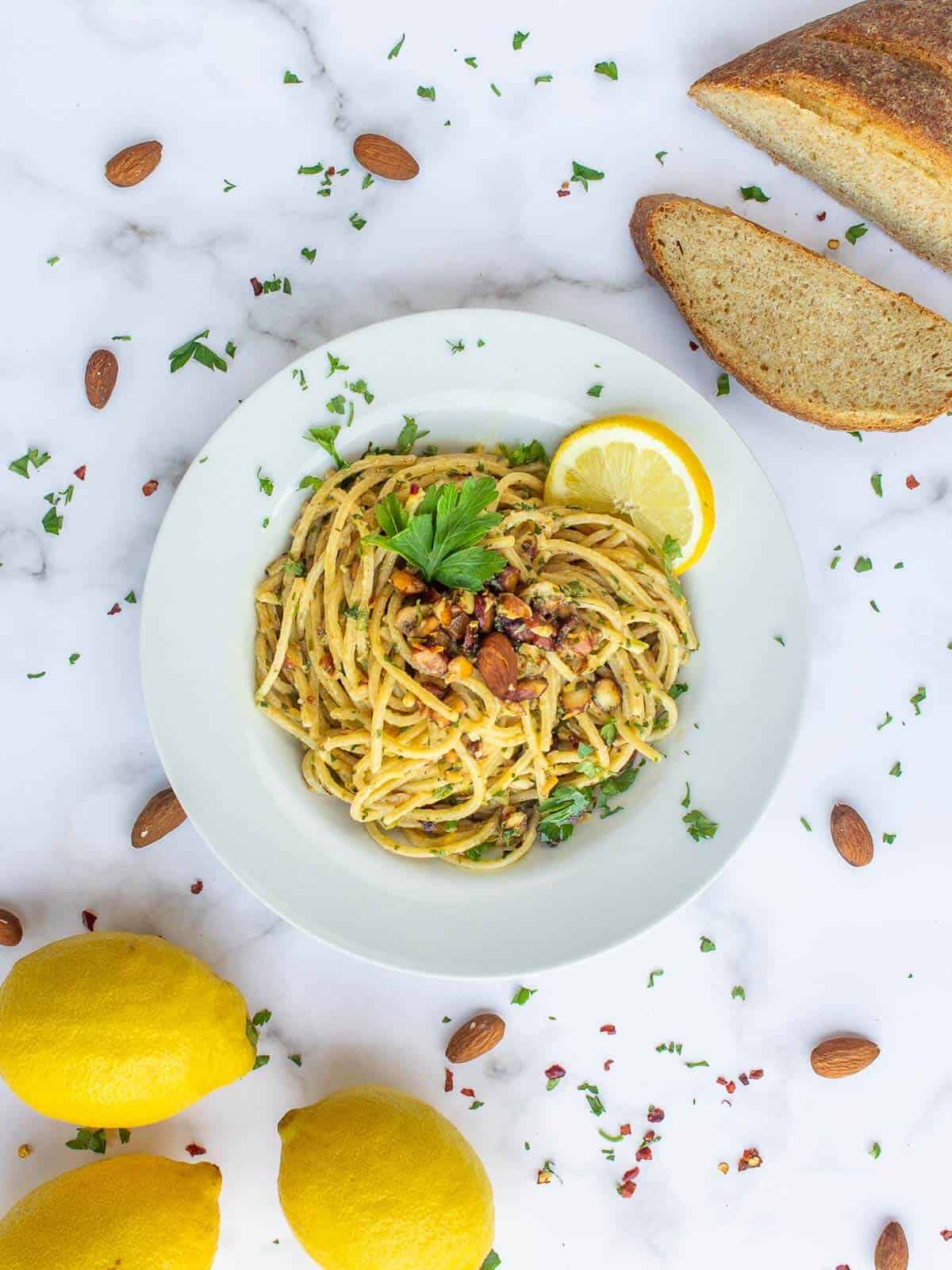 My first recommendation is a Prosecco, the famous sparkling wine from the northeast of Italy, associated with toast and joy.
This wine is fresh and easy, and Off-dry, even in its extra dry versions, providing that citrus harmony and the slight jam sweetness produced by the caramelization of almonds and lemon juice.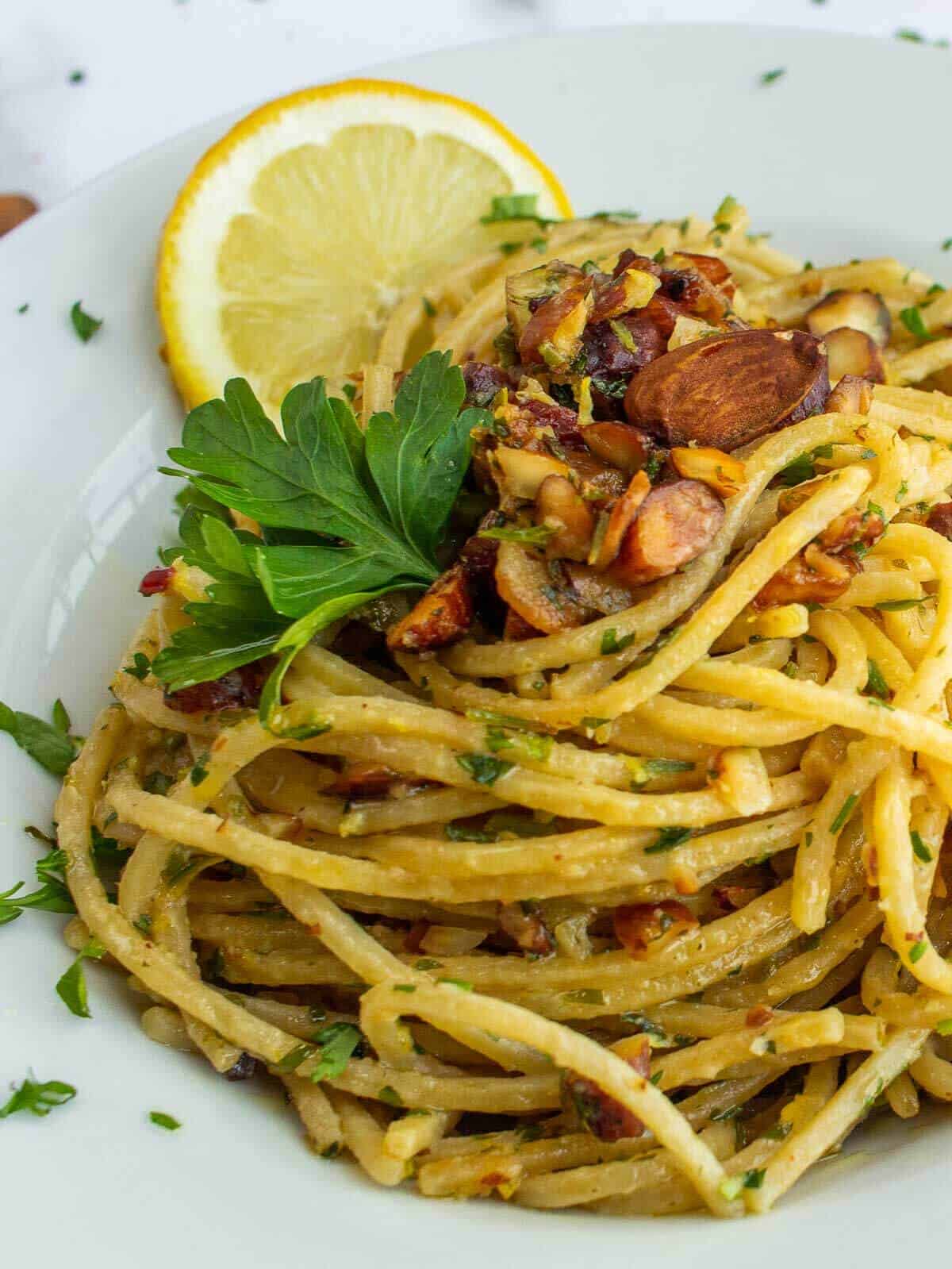 You can have an even more intense harmony with the almond element if you choose a Prosecco "col fondo" (with sediment) or on lees. Lees are the residual yeasts from fermentation, which in many whites are left with the wine to enhance those fermentative flavors of nuts and bakery. Besides, Veneto's most popular and lively wine can always transport you and the guests at your table to enchanting Venice.
My second recommendation seeks to enhance the other vital element of the dish, the herbal nuances provided by the parsley and that are enhanced by the lemon's citrus background. But, again, this factor makes us think of a very international white variety, the Sauvignon Blanc.
For our dish, I would choose a young and dry Sauvignon Blanc, slightly spicy, zesty, and fragrant, just like those from New Zealand; this is a perfect excuse to try a Marlborough Sauvignon Blanc.
As you can see, the wine you choose can give very different strings of flavors and sensations with this Lemony Spaghetti, so I invite you to try tasting this dish with both wines, which will provide a lot of joy and a lot to talk about at your table.
Wine Pairing Recommendations, in a Nutshell
Italy - Sparkling - Prosecco
New Zealand - Dry - Sauvignon Blanc (Marlborough)
If you are like us and can't have enough Lemon in your life, you may find these dishes interesting!
If you are into Easy Simple Pasta Recipes, you should definitely try our:
If you try this recipe, let us know! Leave a comment, rate it, and don't forget to tag a photo #ourplantbasedworld on Instagram. Cheers!
Get ready for a vegan fresh and spicy pasta treat with crunchy roasted almonds!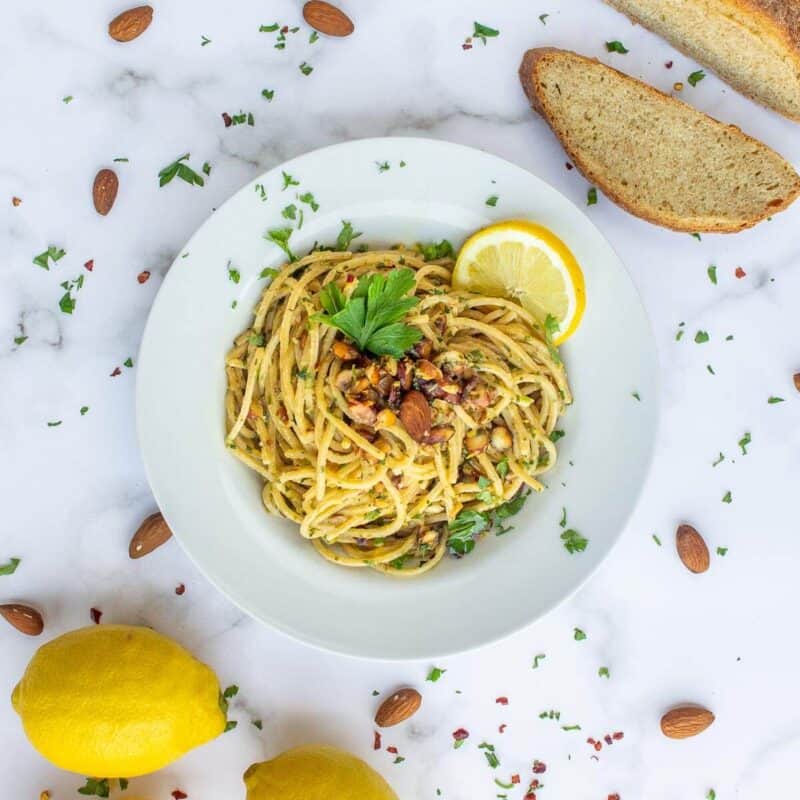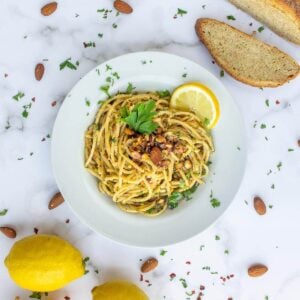 Recipe: Lemony Spaghetti
You can't go wrong with this! There is no need to sacrifice flavor for time!
Instructions
Set the almonds in a flat pan, with the salt and some oil on medium-low, until they get golden, splash some tequila, move the pan for a couple of seconds, turn off the fire and let it cool.

Slice the garlic cloves into tiny flakes.

Set the olive oil on a wok-like pan with the garlic flakes on low. When they start to golden, turn the fire off.

Chop the parsley, grind the lemon zest, and juice the lemons. When cool enough, coarsely chop the almonds and sea salt

Set the water to boil with a bay leaf and salt. Take the spaghetti off the water 2 minutes before the suggested package time since you will finish the cooking on the pan, and you don't want your pasta to turn out mushy. Drain it.

With the kitchen tongs, start assembling all the ingredients, with the garlic and oil. At this point add also the chili. I love where the chilli takes all the flavor, if you can take some heat, make sure you use the chilly!

Serve hot with nutritional yeast.
Nutrition
Calories:
725
kcal
Carbohydrates:
55
g
Protein:
23
g
Fat:
51
g
Saturated Fat:
5
g
Trans Fat:
1
g
Sodium:
2798
mg
Potassium:
722
mg
Fiber:
10
g
Sugar:
4
g
Vitamin A:
147
IU
Vitamin C:
38
mg
Calcium:
189
mg
Iron:
5
mg
Nutrition Facts
Recipe: Lemony Spaghetti
Amount per Serving
% Daily Value*
* Percent Daily Values are based on a 2000 calorie diet.
Food safety
We sometimes take for granted that we have years (or decades) of cooking experience that the average visitor may not. Add to, or remove from, the list below with health and safety tips.
Cook to a minimum temperature of 165 °F (74 °C)
Do not use the same utensils on cooked food, that previously touched raw meat
Wash hands after touching raw meat
Don't leave food sitting out at room temperature for extended periods
Never leave cooking food unattended
Use oils with high smoking point to avoid harmful compounds
Always have good ventilation when using a gas stove
See more guidelines at USDA.gov.
The information shown is an estimate provided by an online nutrition calculator. It should not be considered a substitute for a professional nutritionist's advice. See our full Nutritional Disclosure here.
Please note that some of the links here are affiliate links and I will earn a commission if you purchase through those links. I use all of the products listed and recommend them because they are companies that I have found helpful and trustworthy.