Another of our Italian Staple weaknesses of ours is the Rosemary Focaccia Bread. Today I share with you my version of the famous focaccia bread recipe; after lots of trial and error, I am super pleased with it.
When all your Italian friends ask: Where did you get this focaccia? You can feel like you finally mastered your focaccia recipe!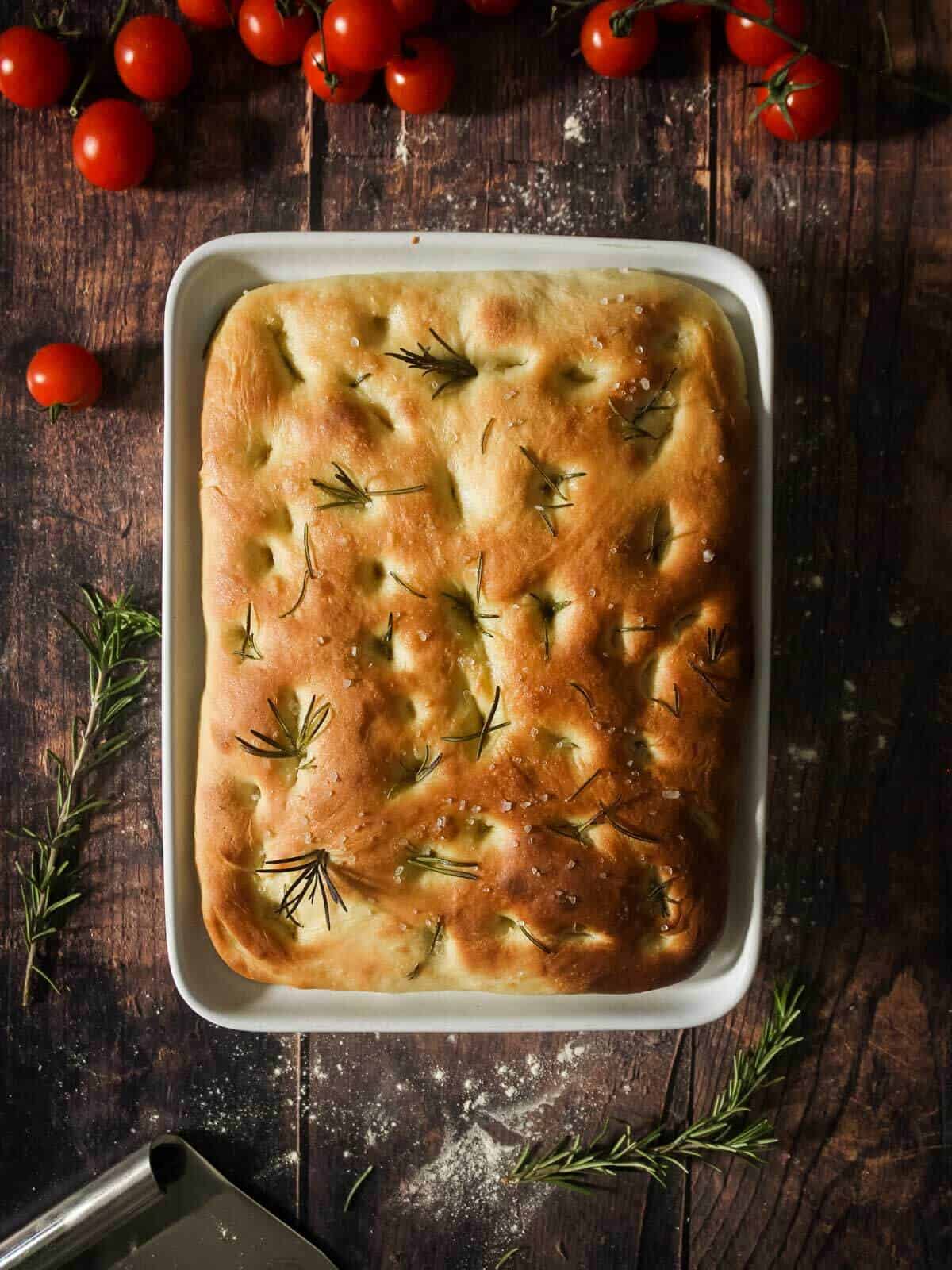 Jump to:
🤔 What is Focaccia?
Focaccia is a flat oven-baked Italian bread similar in style and texture to pizza dough. It is naturally vegan, and you can use it as a side to many meals or as sandwich bread.
In Italy, it is even a snack. It is widespread to go into a bakery and ask for a piece of this delicious bread.
Italians consider Focaccia a Ligurian bread, but there are many different variations in Italy's regions, which come with various ingredients commonly put on top.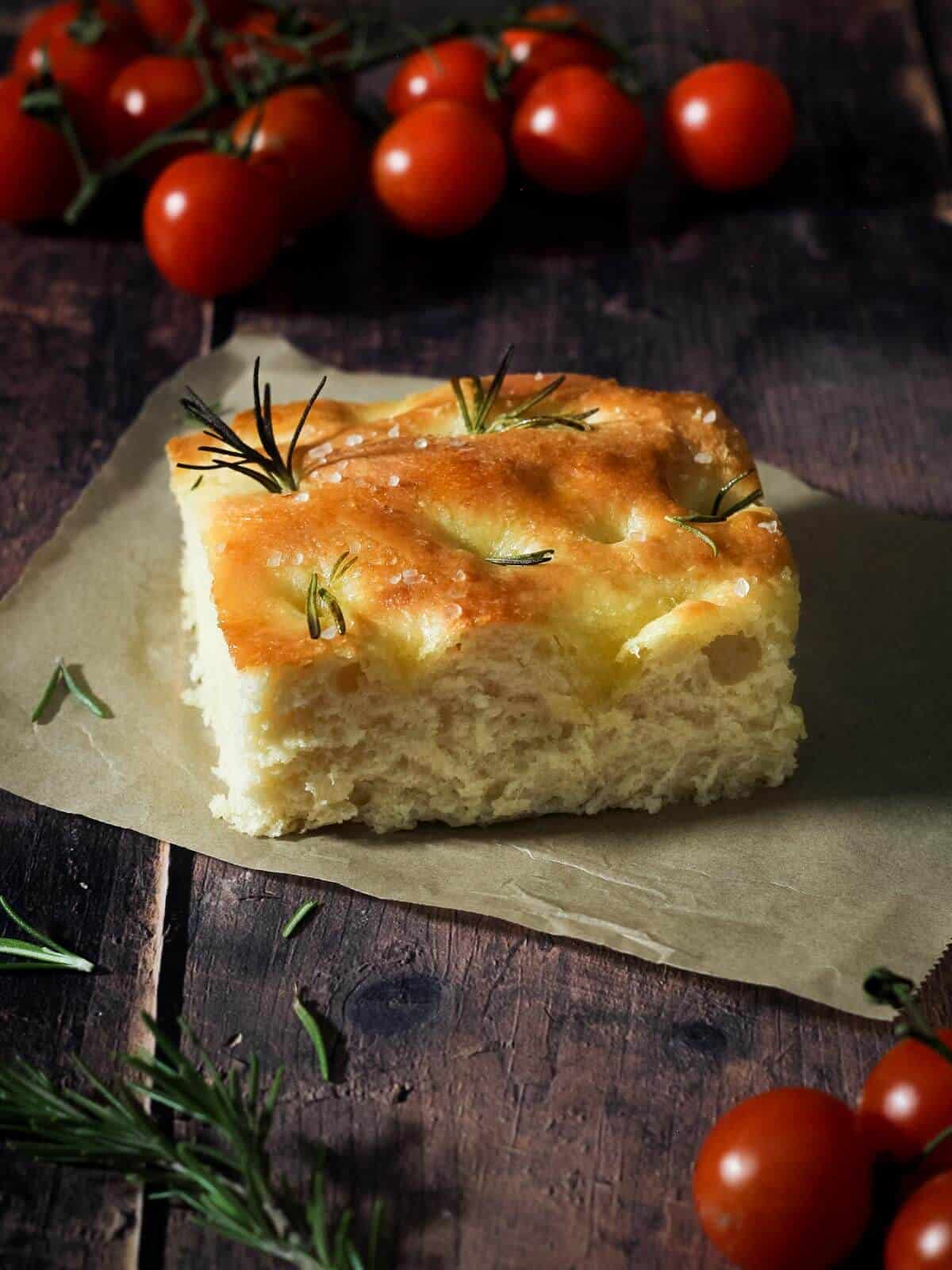 There's the Focaccia Alla Genovese, Focaccia al Rosmarino (Rosemary Focaccia Bread), Focaccia with Onions, Focaccia with Cheese, the list goes on and on.
The ones commonly found even in mainstream supermarkets are tomatoes, onions, or olive ones, which I recommend if you want to make an interesting variation.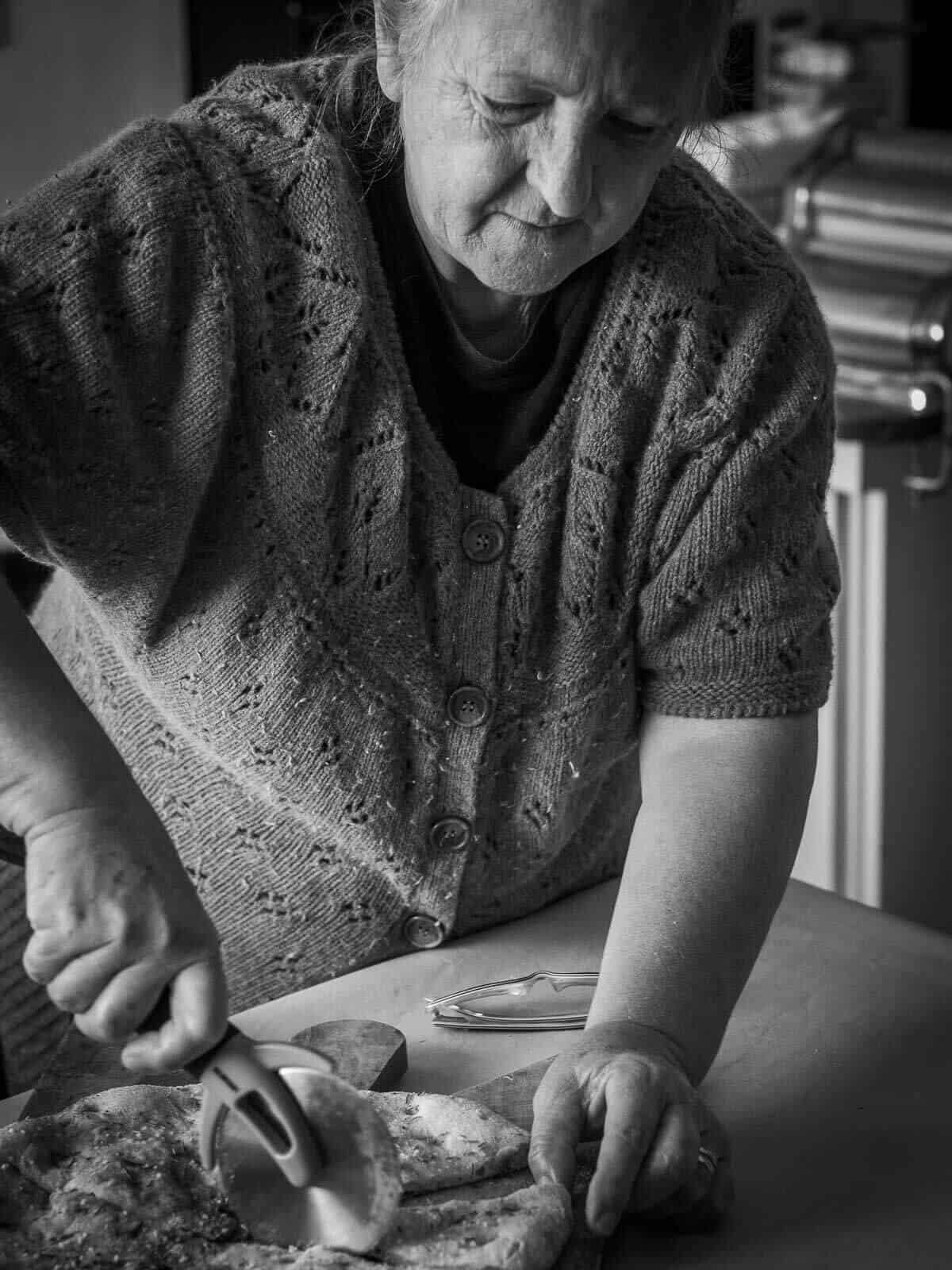 As you may know, it is imperative to call things by their name in Italy, so many Italians would say that this is not a Focaccia, judging by their idea of a Focaccia. I am usually cautious with this, but today I am making an exception:
Simply because, just as with pizza, the versions are countless, so I am taking the liberty to call this: my Focaccia version.
🧾 Ingredients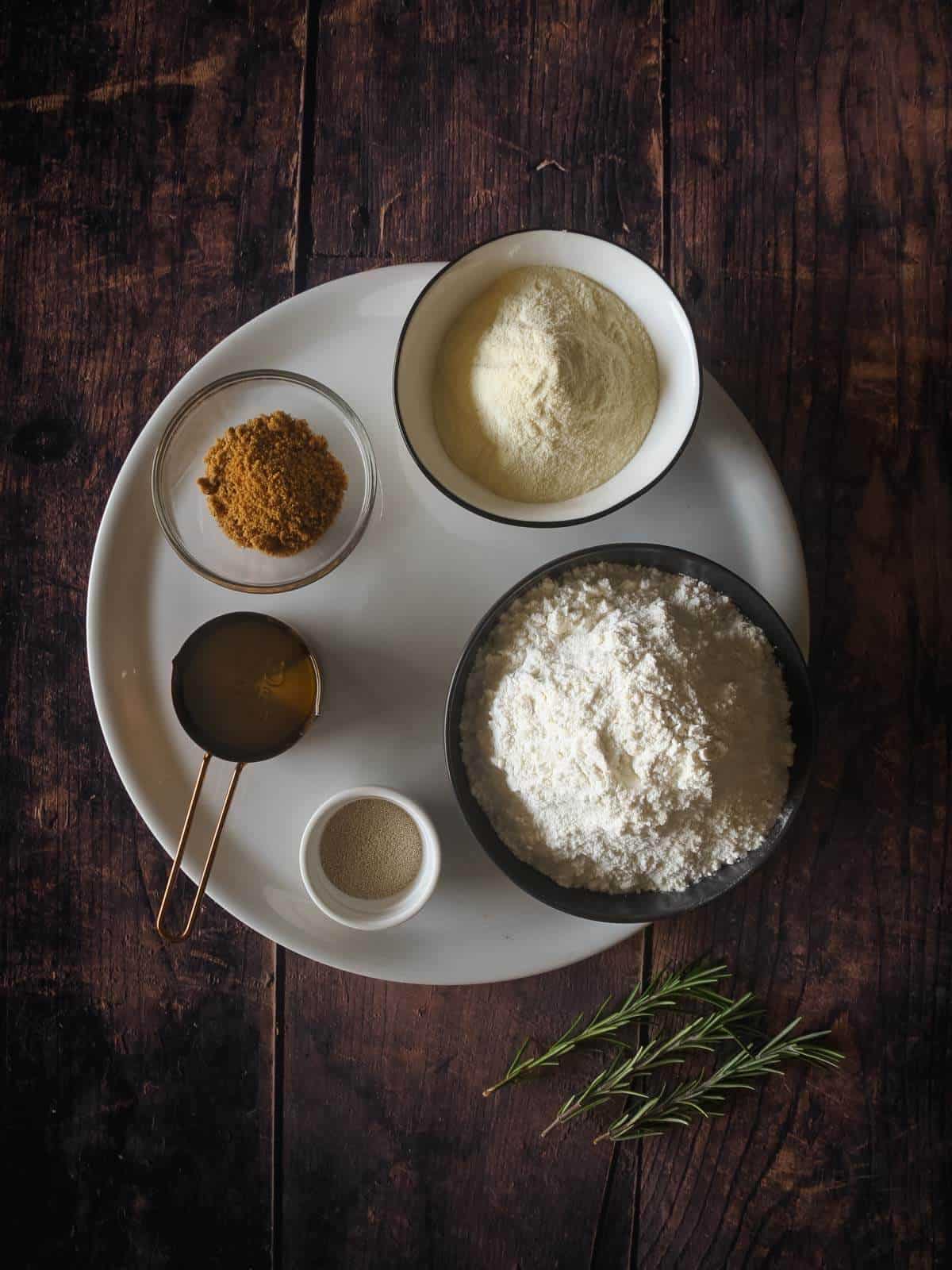 Bread wheat flour (0 Type, manitoba)
Instant yeast (quick rise)
Sea salt
Brown sugar
Extra virgin olive oil
Fresh rosemary (optional).
Semolina (optional)
See quantities and complete instructions in the recipe card.
🔪 Instructions
How to Make the Perfect Focaccia? Making homemade focaccia bread is easy. There are just a couple of simple tricks that are important to keep in mind to be sure to succeed 100% of the time!
Make the yeast mixture.
Use a small bowl, add the yeast and brown sugar to the warm water, and let it rest for ten minutes.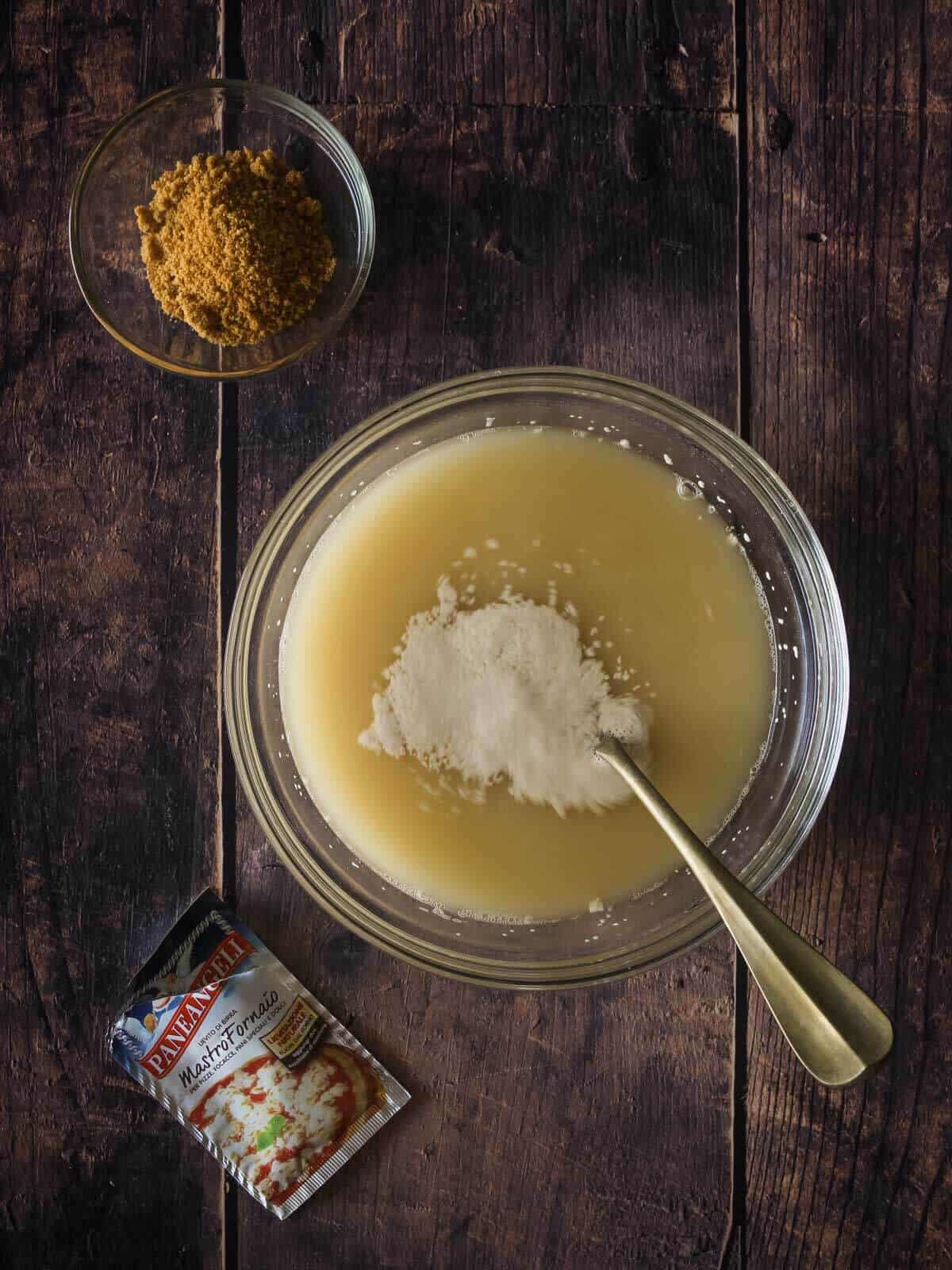 Mix the dough ingredients
Use a large mixing bowl and add the yeast mixture to the bread flour, semolina, and olive oil. Once integrated, add the fine sea salt.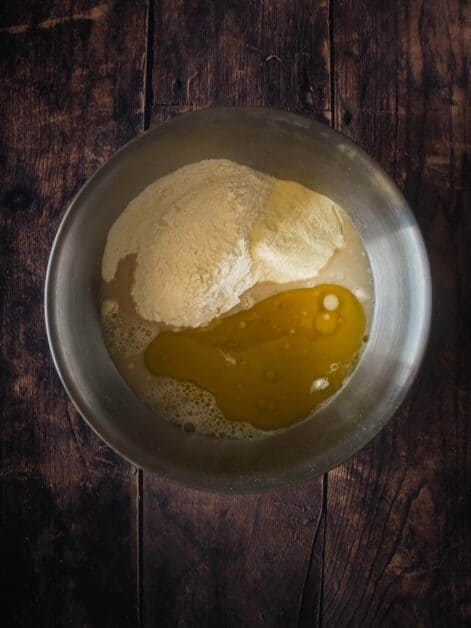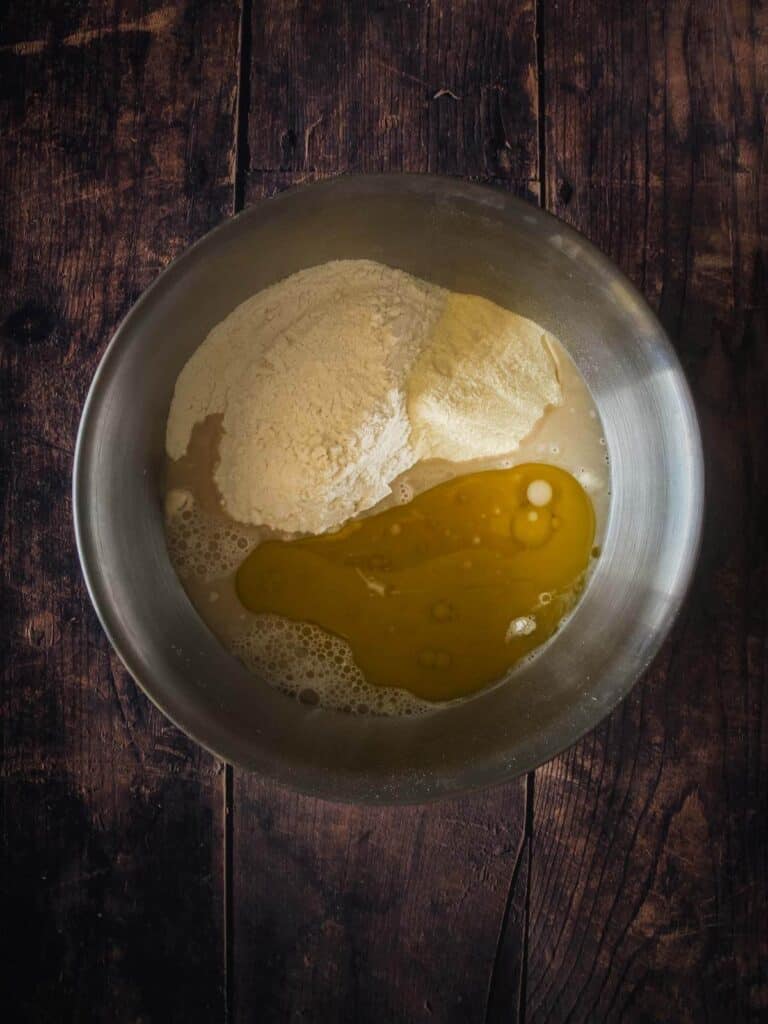 Mix and knead
Mix until you have a homogeneous dough and transfer to a lightly floured surface to knead and stretch the dough.
Continue kneading for fifteen minutes in total; until you have a soft, firm dough that doesn't stick to your fingers.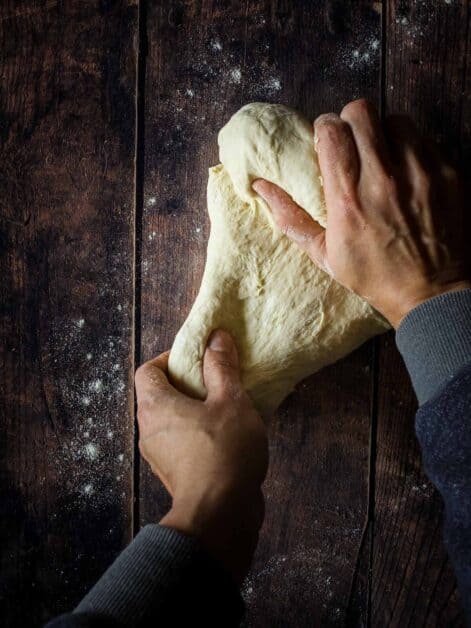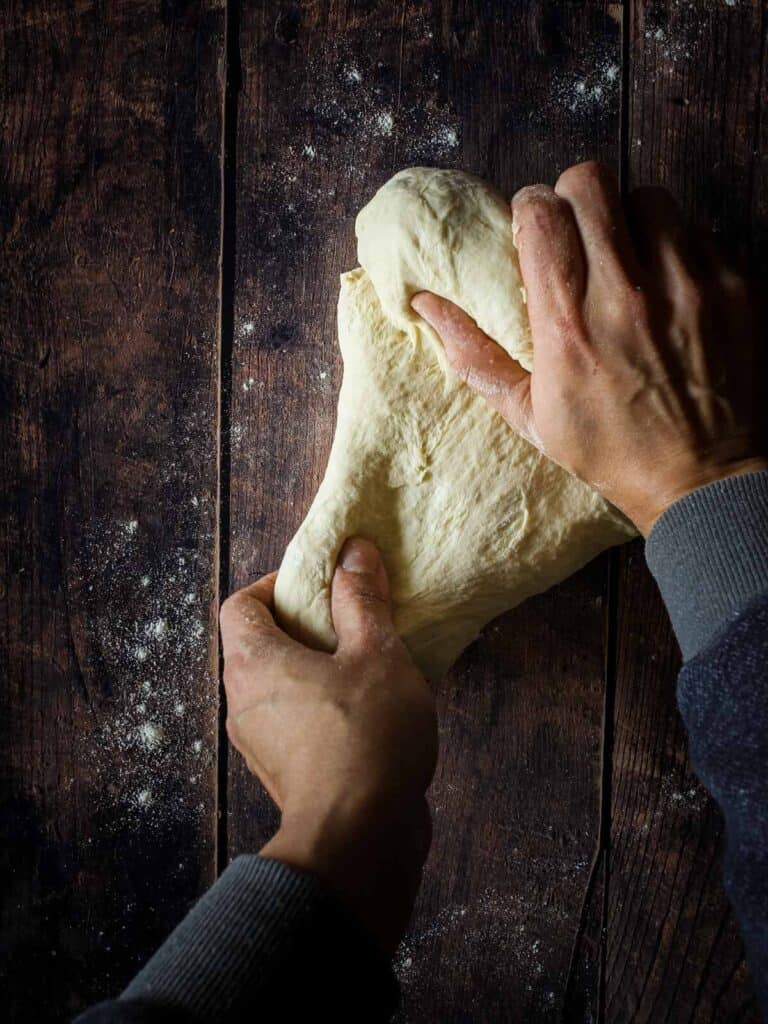 Separate in two balls and manage separately. Stretch each one as shown below.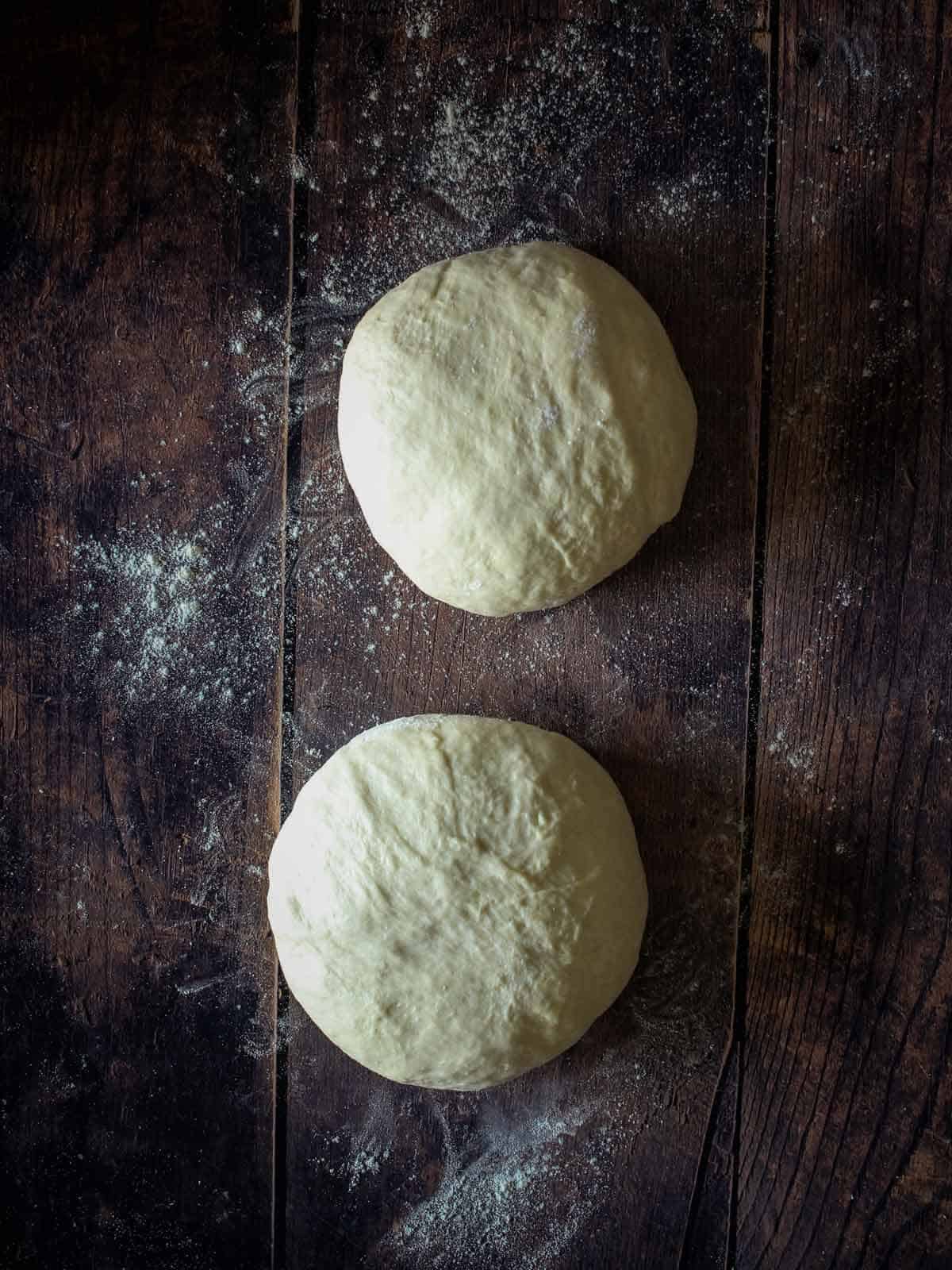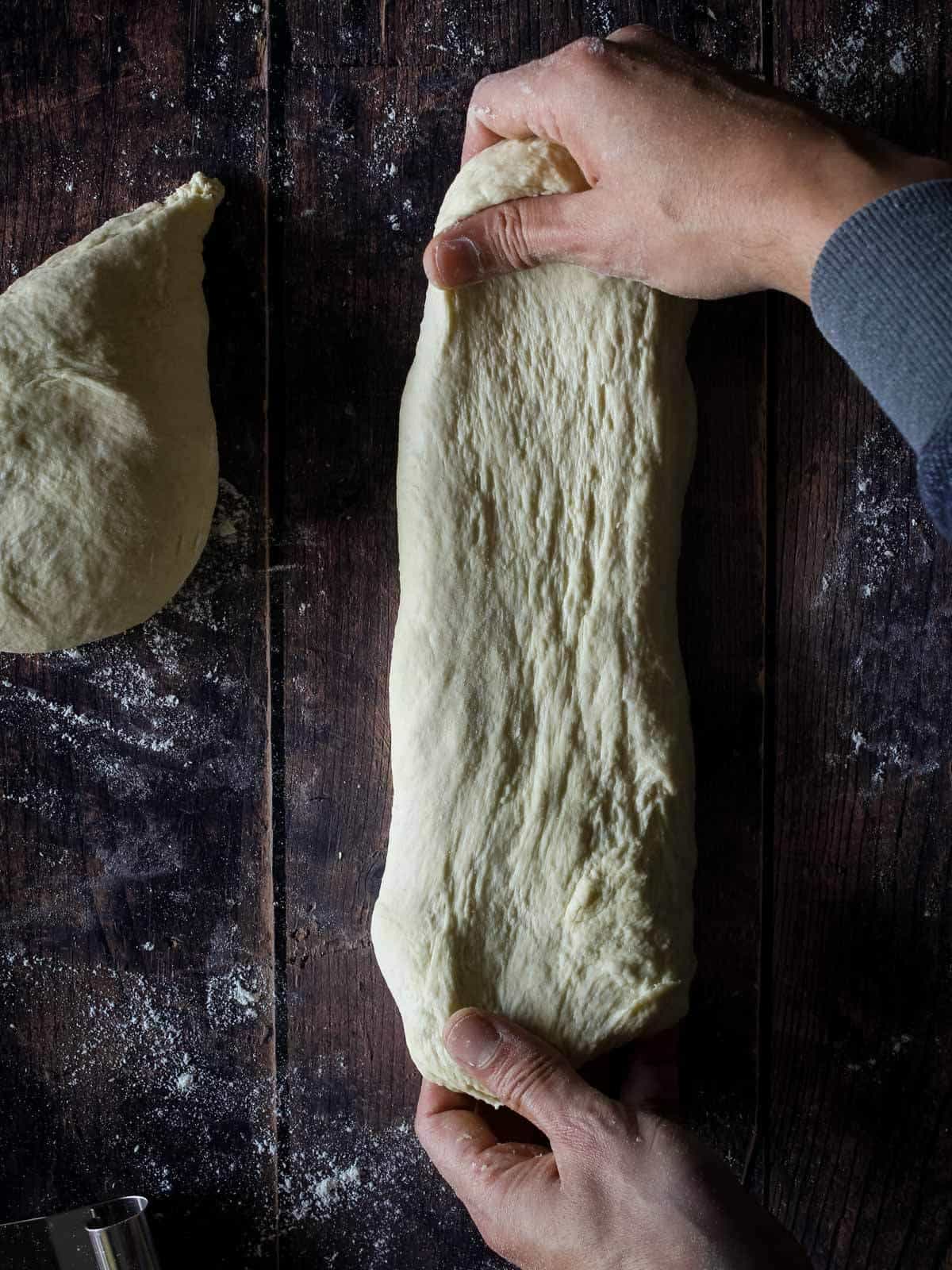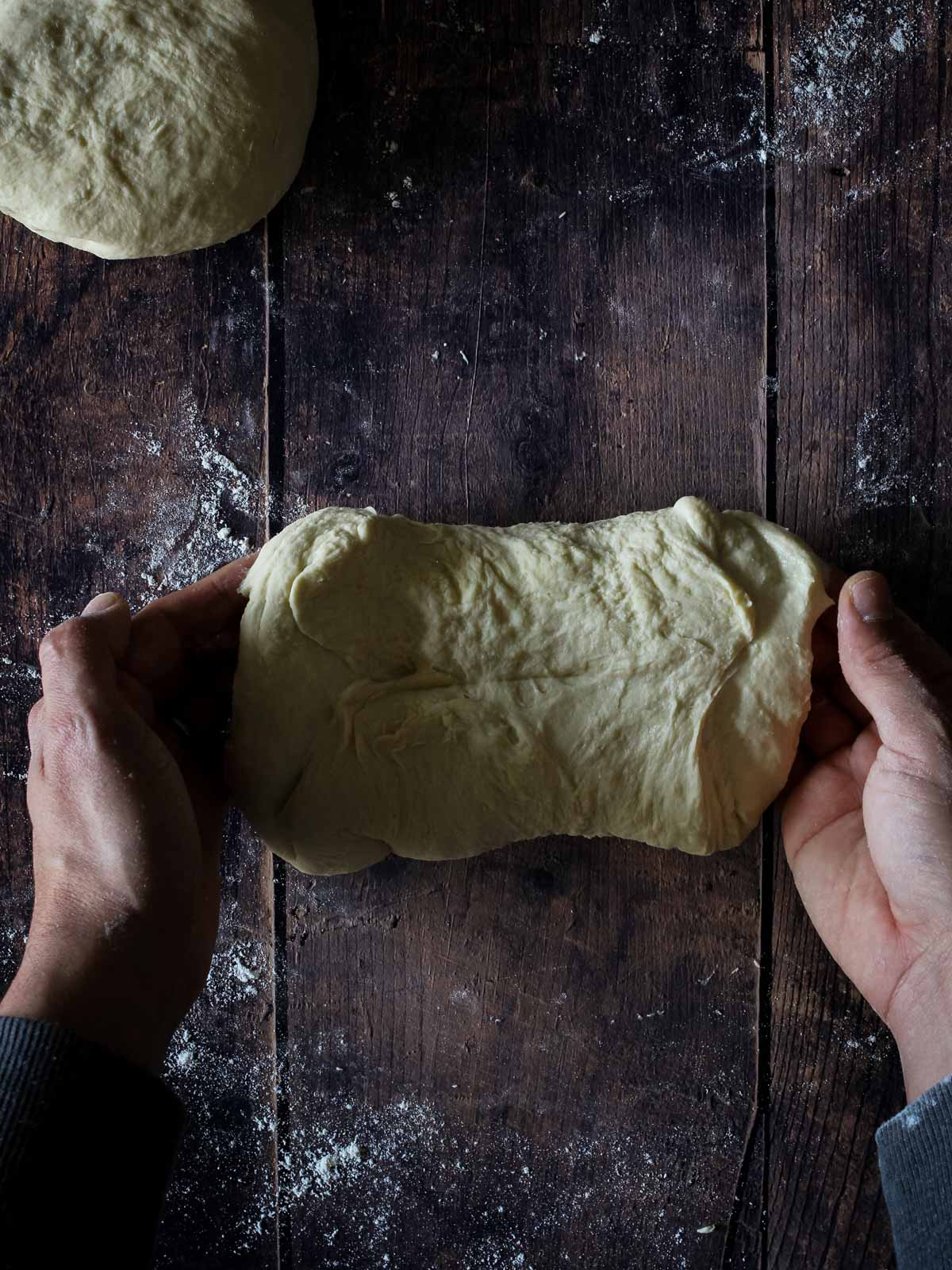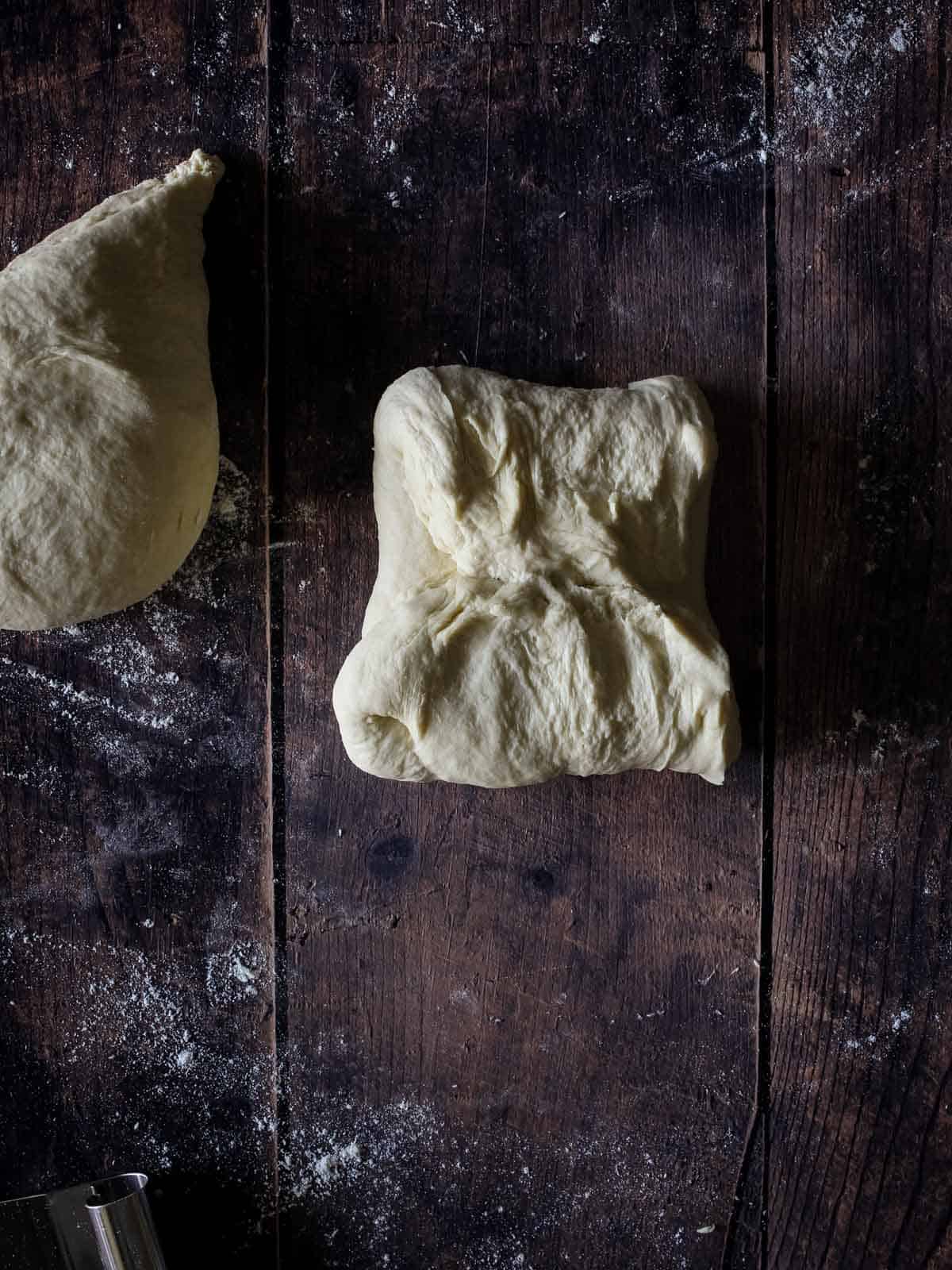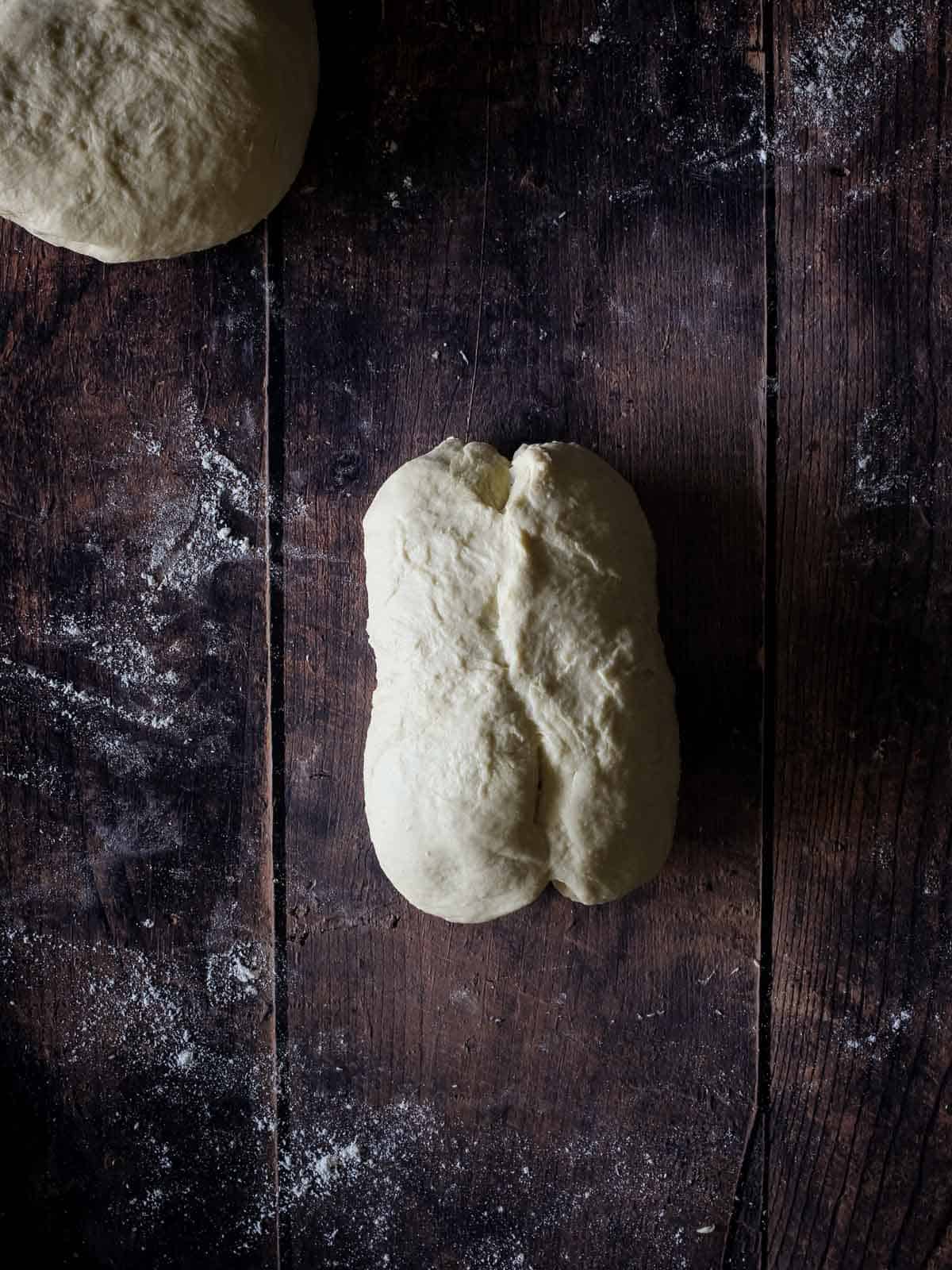 First dough rise - 30 minutes
Divide into two dough balls and let the dough rise for 30 minutes while covered in a prepared pan with some olive oil and plastic in contact. The olive oil on top of the dough ball will prevent the plastic wrap from sticking to the dough. (Take a look at the recipe card for detailed instructions at the bottom of the page).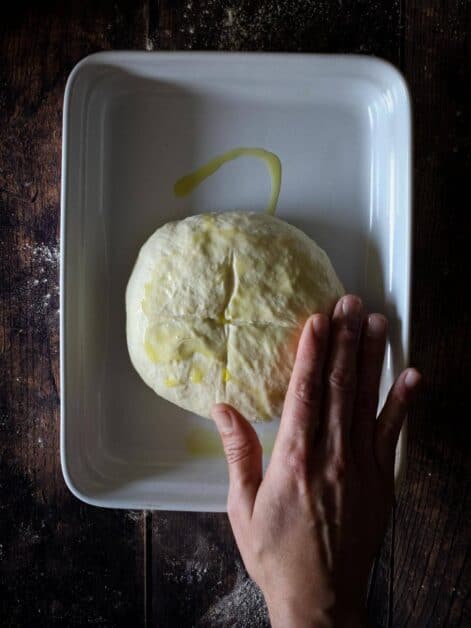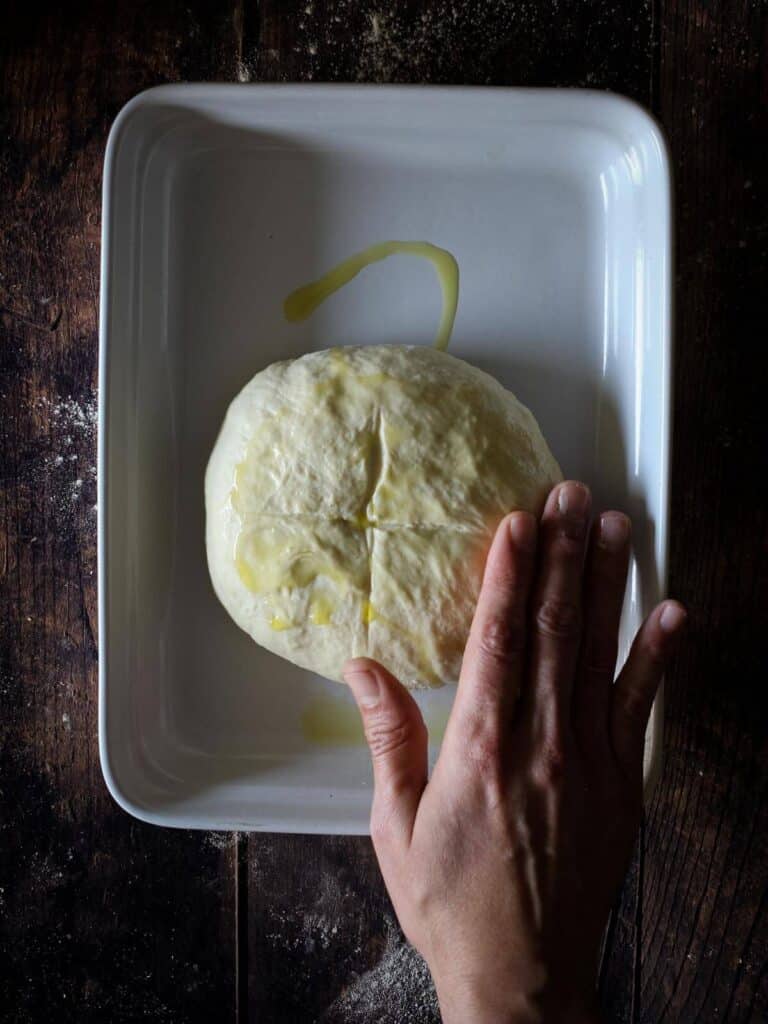 Second rise
Put the dough on a rectangle baking sheet, gently stretch it into a rectangle shape, press with your fingers, and cover it with some olive oil and fresh rosemary.
Cover the baking sheet with plastic wrap and let the dough rise in a warm room for one hour. Top with halved cherry tomatoes or even roasted garlic if you want. Get creative.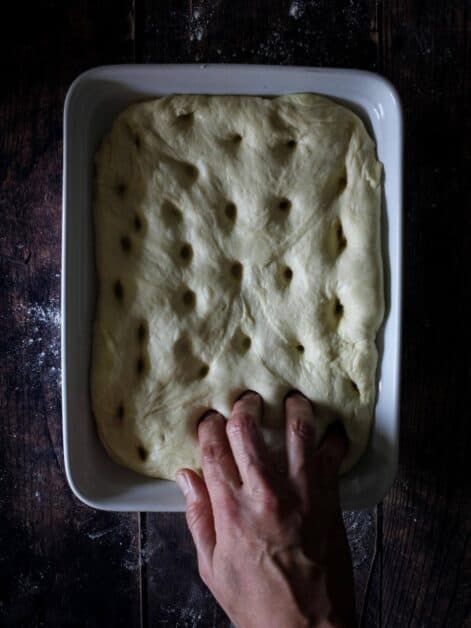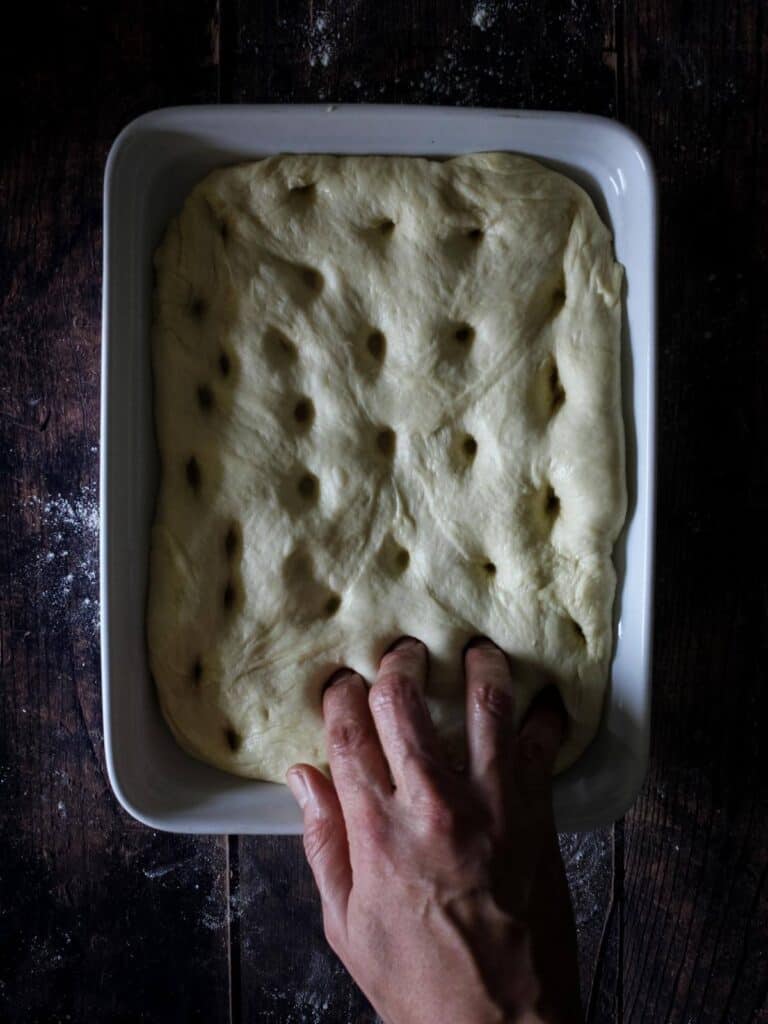 Bread baking
Pre-heated the oven at 480 ºF (250ºC). I like using my oven in fan mode to ensure the heat is even.
Sprinkle some extra virgin olive oil and flaky sea salt (coarse salt) and bake the focaccia for ten to fifteen minutes, until golden brown.
Remove the baking sheet from the oven and wait about five minutes before removing it from the baking sheet.
Watch out! The focaccia dough will get golden brown quickly; don't leave the oven unattended!
Tip: place a container with water in the bottom of the oven, this will make sure the humidity and heat are evenly distributed in the oven.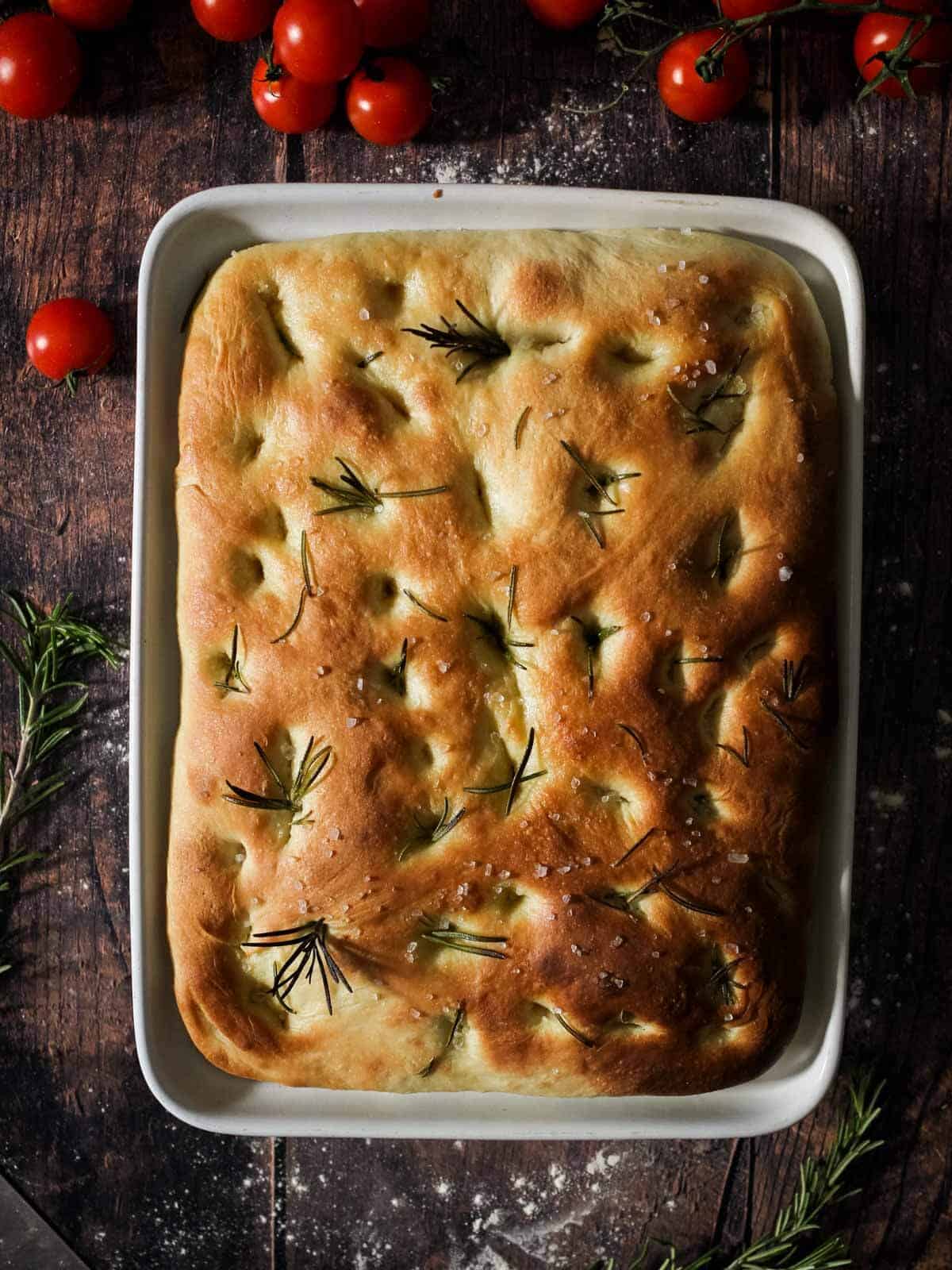 🥢 How to serve
Serve warm or at room temperature.
Here in Italy, you can find that in most cases, they cut the focaccia in medium to small rectangles, depending on the use.
For the apperitivo hour (happy hours), they will usually cut it into small pieces and bring it with olives and assorted appetizers.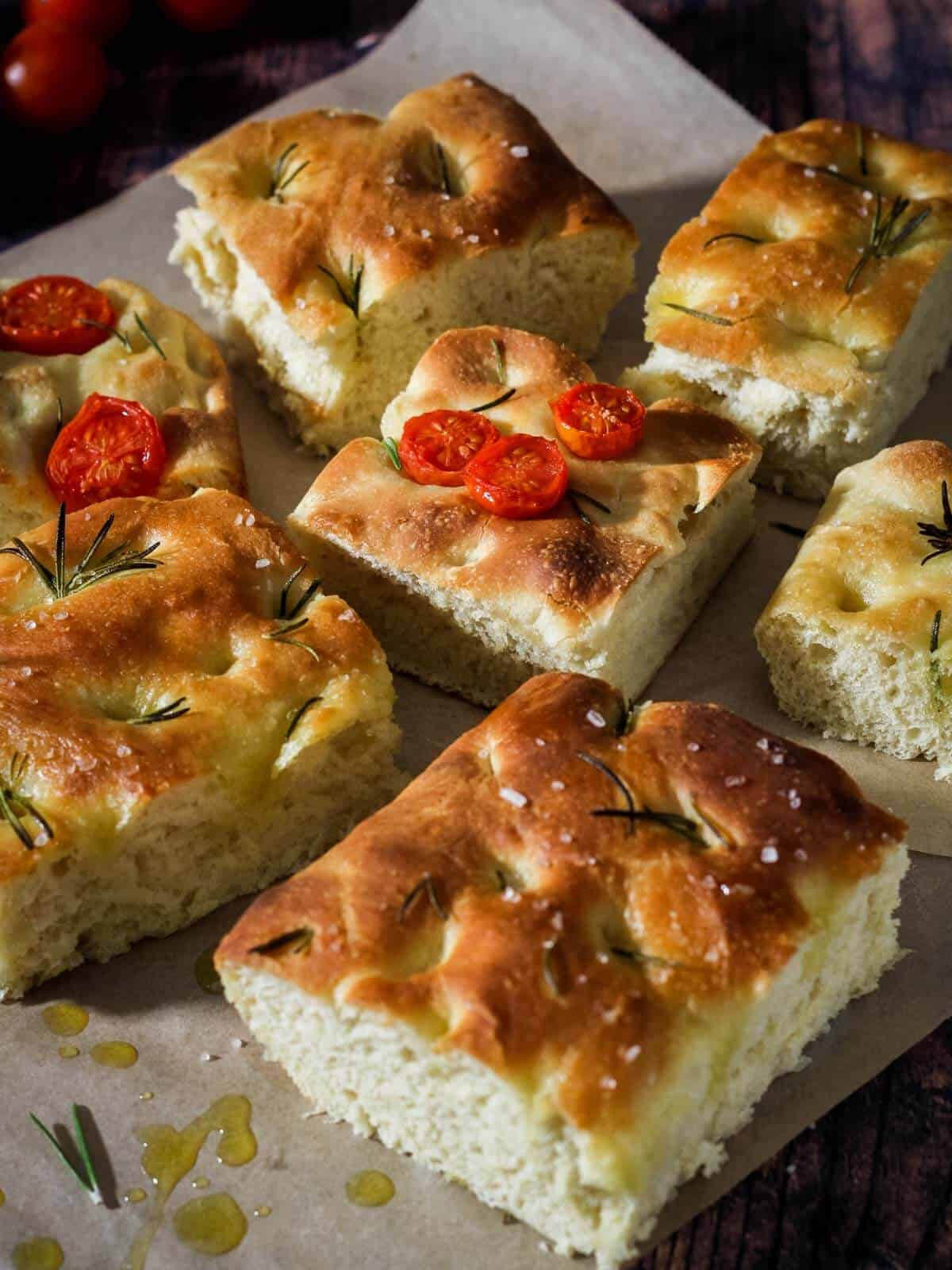 You can also pour some olive oil into a small ball and add balsamic vinegar from Modena for a delicious and simple dipping option for baked focaccia.
You can also make a focaccia sandwich. This focaccia works great for that because it is thick. Just cut it right in the middle, lengthwise, and make a sandwich as you would make any other sandwich.
I promise you; it will be the best sandwich ever; you'll never turn back! My favorite focaccia sandwich is made with roasted vegetables (a mix of eggplants, onions, and red peppers).
You can also have your focaccia as part of a vegan charcuterie board with spiced onions and spreads like hummus, roasted bell pepper Muhammara, Roasted red pepper hummus, and a Goddess Green Sauce.
We also love serving baked focaccia with this simple but flavor-packed Italian eggplant stew or Vegan Eggplant Baba Ganoush.
💡 Focaccia toppings
My favorite focaccia toppings include:
Fresh herbs like fresh rosemary or thyme (pick tough herbs, not soft like fresh basil or arugula, they will wilt immediately).
Roasted garlic cloves
Whole or halved cherry tomatoes
Sliced plum tomatoes
Sun-dried tomatoes
Eggplant slices
Zucchini slices
Black or green olives
Thinly slices onions
Roasted red peppers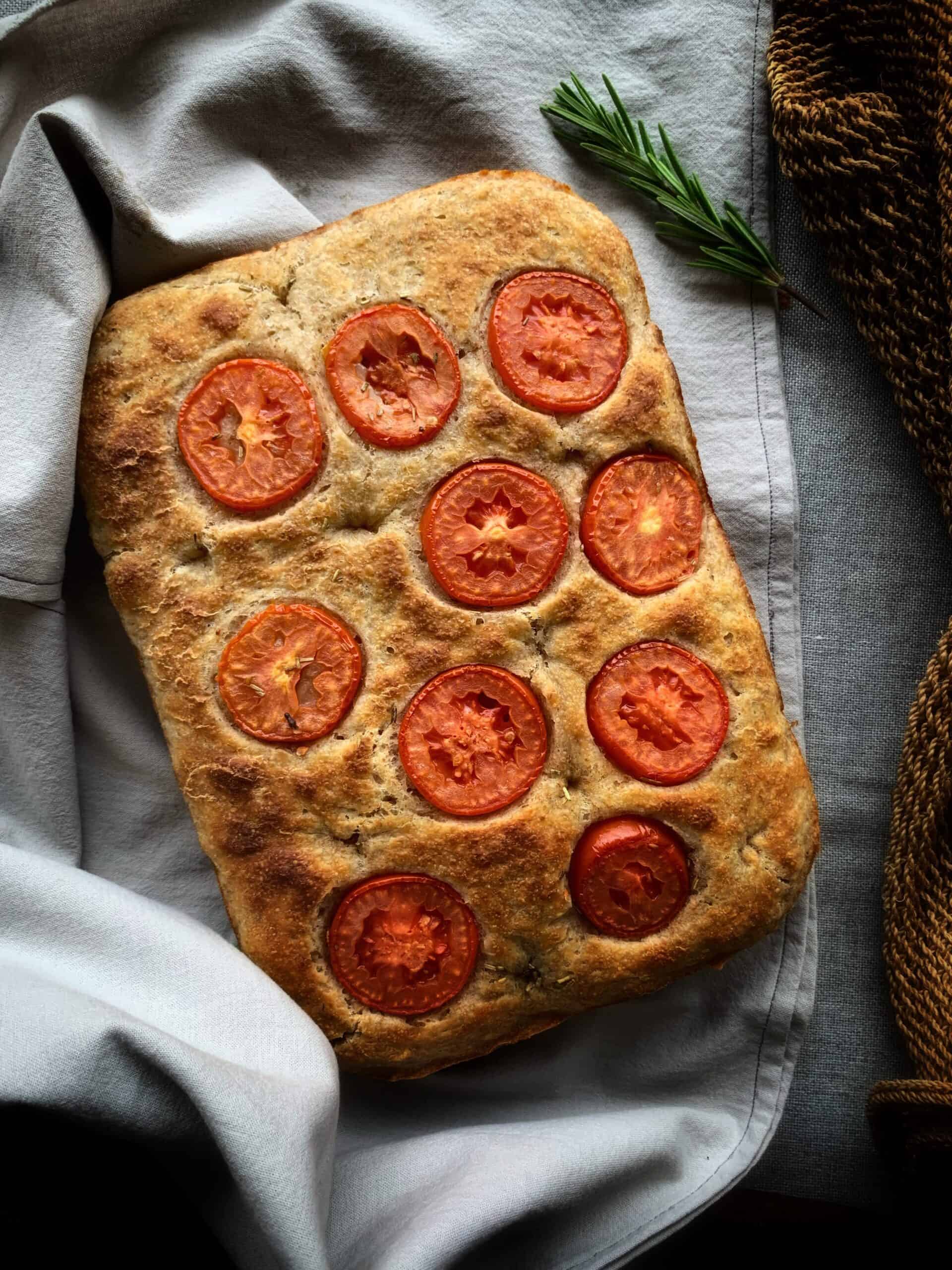 Simply pick your favorite and place it on top before baking your focaccia.
Tip: the focaccia baking time is brief, so if you want to use a topping that is raw and requires further cooking, briefly cook it before placing it on top of the focaccia.
📖 Variations
This classic Italian bread has many variations even here in Italy. You can find tens of thousands of variations, so how can another variation harm the world?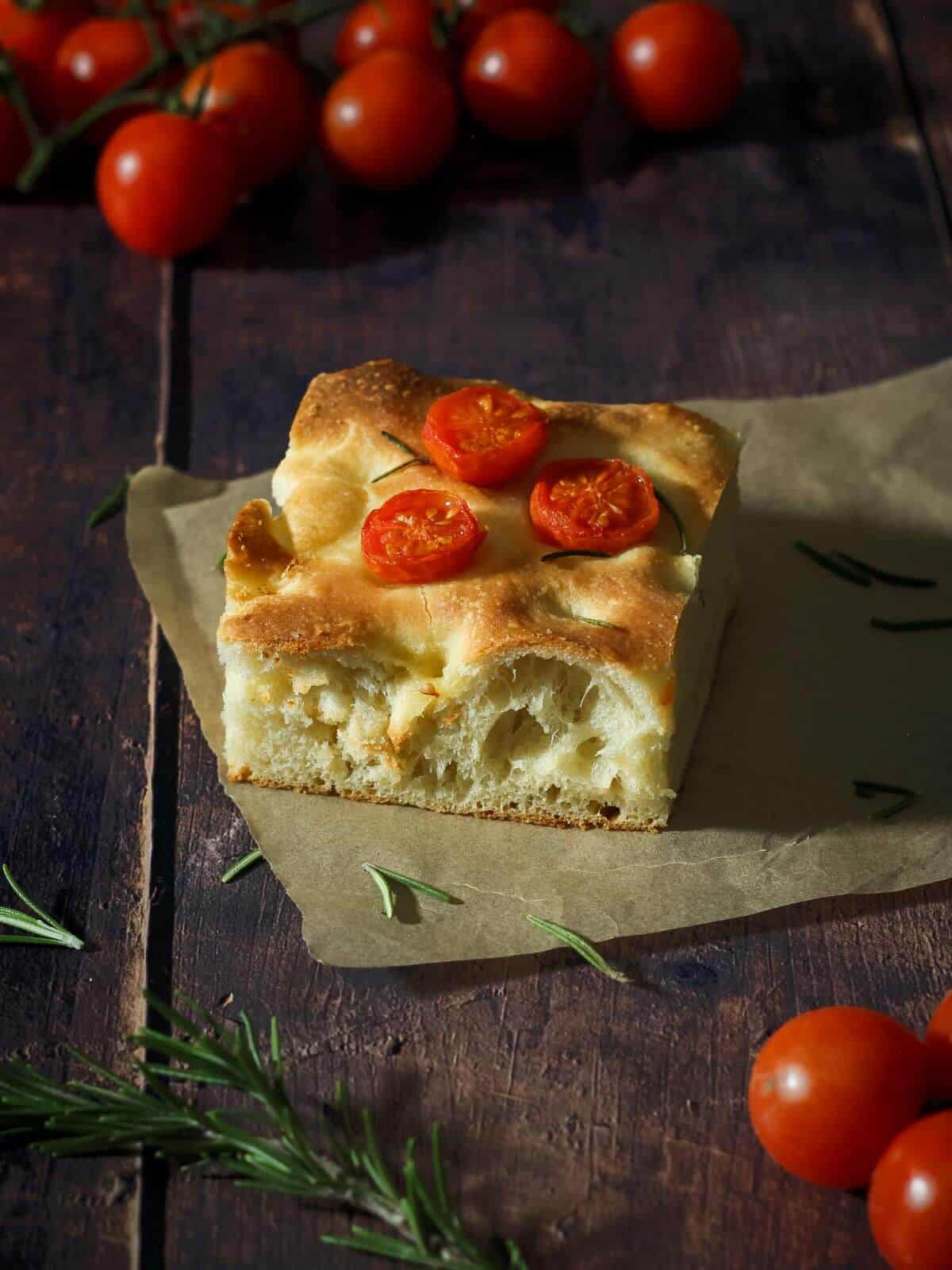 I love Semolina and the sandy, dusty effect it has on bread and pizza. I think Semolina makes bread, and pizzas have more of a Sourdough texture, which I am all in for. We use this type of dough for our traditional marinara pizza as well.
This is thick focaccia; if you prefer thinner focaccia, you can split the dough in four instead of two.
Ligurian focaccia is usually thinner and made with brine.
It is also widespread to make a brine for the focaccia with 1 ½ teaspoons of salt plus ⅓ cup of lukewarm water, then pour it into the raw dough during the second rise. I prefer my focaccia with flaky sea salt and without a brine, but it is a matter of taste.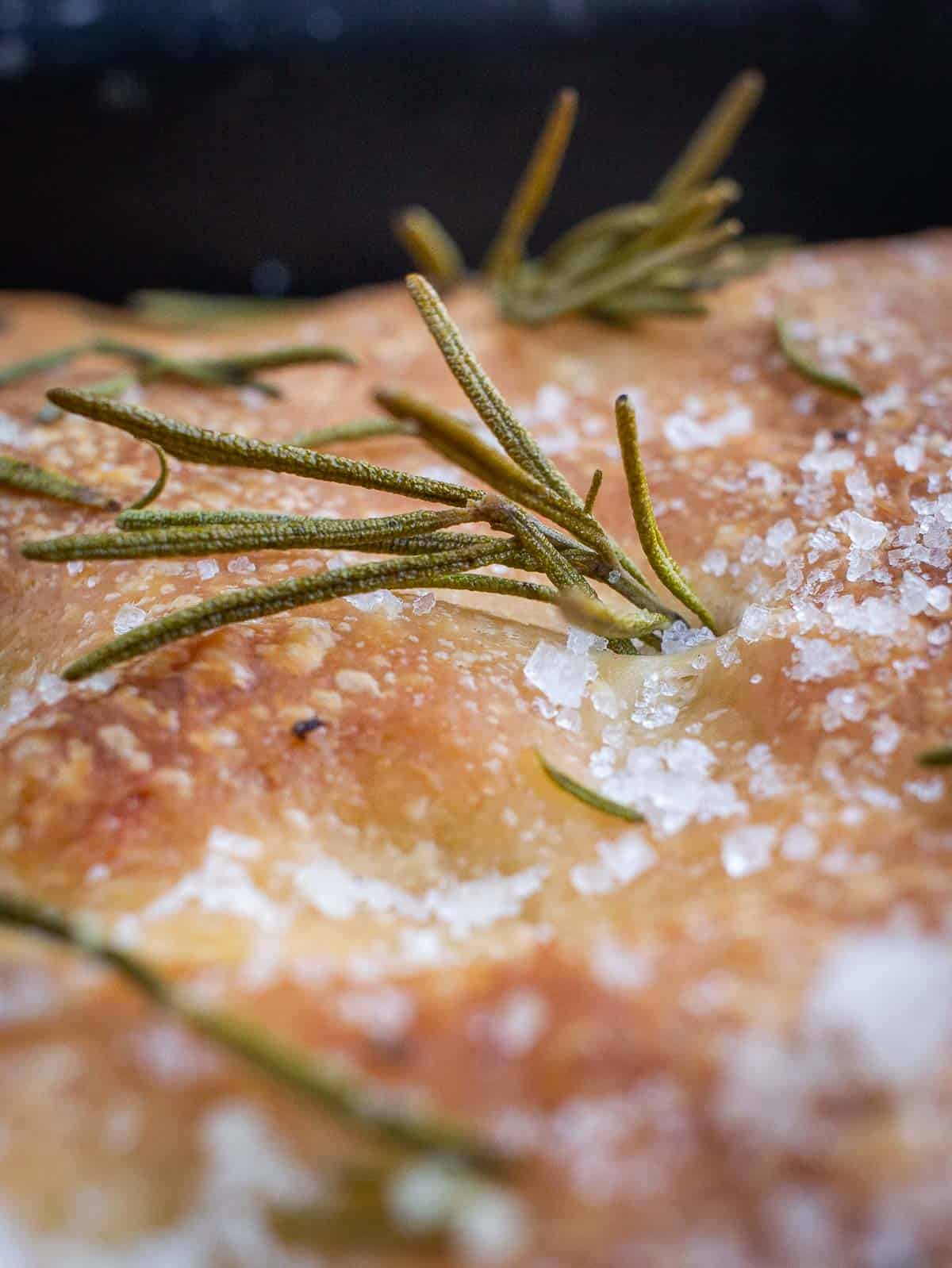 🥖 Tips if new to bread baking
Flour
The bread flour type is a big deal when baking the best focaccia recipe. I learned it the hard way. You can't use any flour for any bread or baked goods. The zeros define the amount of gluten (protein) a given flour type has, thus what the flour is good for.
The best focaccia bread is made with strong flour, but all-purpose flour also works. I have tried it with good results, but I like it better, as it makes the baked focaccia fluffier.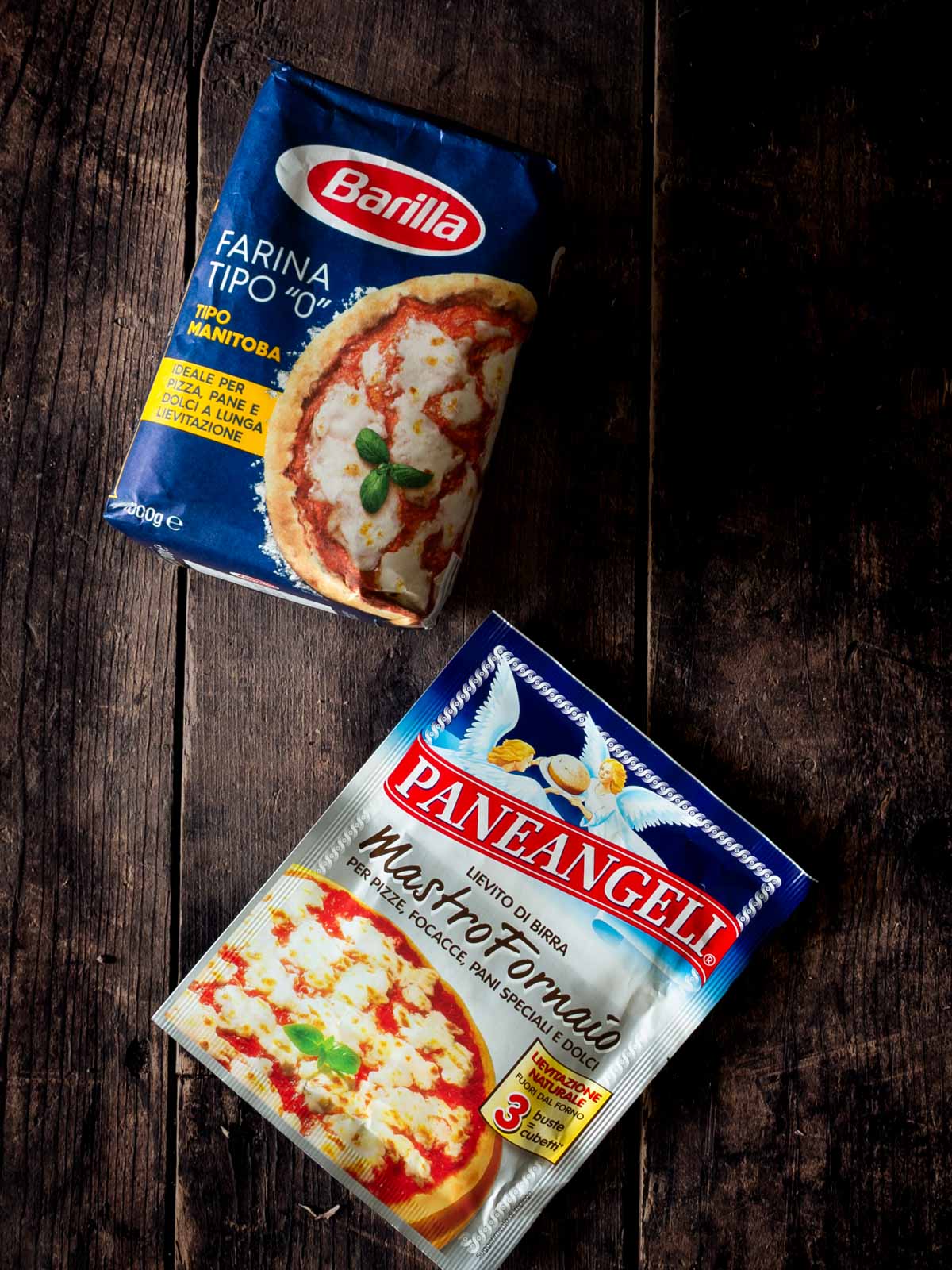 The fewer zeros, the more gluten, and gluten is the protein that makes dough rise. Therefore, if you use a multipurpose flour (most likely a 000), it will not grow as a 0 or 00 one.
Flours used for baking cakes are most likely the 0000 type because you don't want your cake to lose its shape.
There is no better or worse flour; you just need to know what you want it for.
Yeast
Yeasts are microorganisms from the fungus kingdom. They are alive; they hate salt and love sugar. So when you use salt, ensure it doesn't come in direct contact with yeast; it will kill it, as hot water does. Yeasts like warm water and sweets, don't we all?
Instead, it would help spread the salt within the flour evenly so the yeast doesn't meet a salt cluster.
Inversely, diluting active dry yeast in warm water with sugar is a good idea.
Hot water also kills yeast.
Extra virgin olive oil
Focaccia heavily relies on good-quality extra virgin olive oil. Like most Italian cuisine recipes, this recipe uses very few ingredients; quality is critical.
As you can see, there are no fancy ingredients here, so put some extra effort into using a decent extra virgin olive oil. It doesn't have to be top-tier since you will still cook it.
🥡 Storage
So, Can you Freeze focaccia?
Yes, you can! Just freeze leftover focaccia covered in a sealed container for up to 3 months. Then, to defrost it, preheat the oven to 300 ºF (150 ºC) for 10 minutes and place the frozen focaccia for 7-10 minutes. Ready!
Without any other tips, here is the Focaccia! Let me know how it goes!
❓ FAQ
is yeast gluten-free?
Most yeast is GF, but some kinds of yeast can contain gluten, so it is best to check the package. The most common kinds of yeast used for baking goods, such as baker's and active dry yeast, are gluten-free.
🇮🇹 More Italian Inspiration
🍞 More easy bread recipes
⭐ If you try this recipe, let us know! 💬 Leave a comment, rate it, and don't forget to tag us @ourplantbasedworld on Instagram. Cheers!
📋 Recipe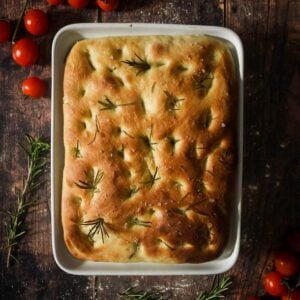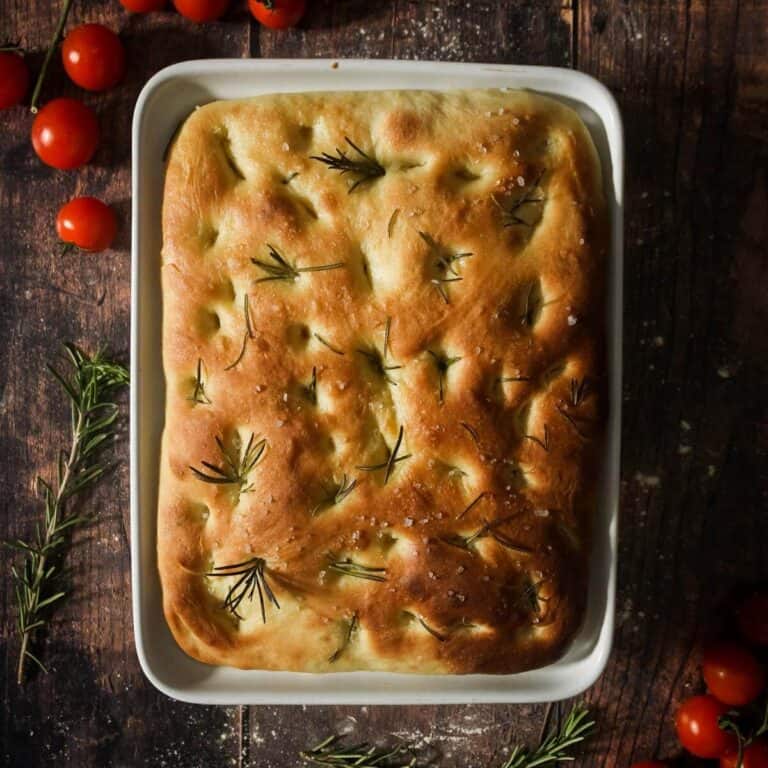 Rosemary Focaccia Bread Recipe
Flat oven-baked Italian bread is similar in style and texture to pizza dough. You can use it as a side to many meals or as sandwich bread.
Equipment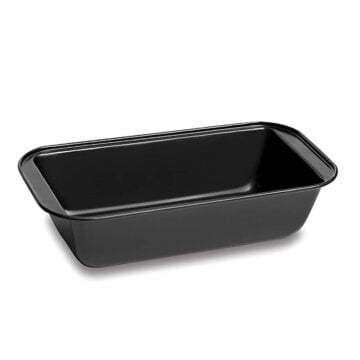 (affiliate link)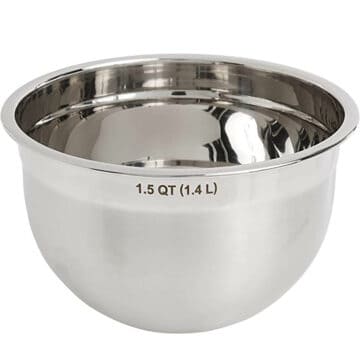 (affiliate link)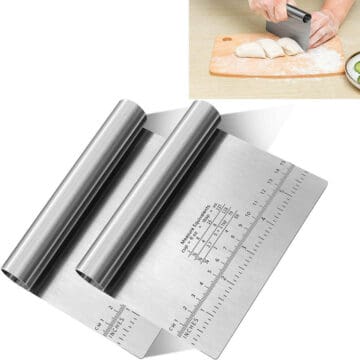 (affiliate link)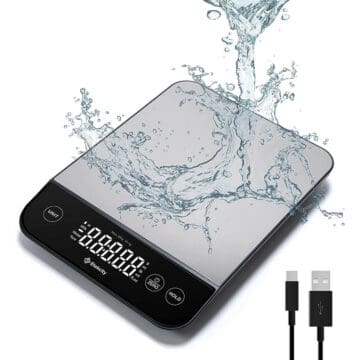 (affiliate link)
Ingredients
1.1

pounds

0 Flour

Full Strength Manitoba flour, plus some to adjust and lay on the surface

3.5

ounces

semolina

hard durum wheat

2

teaspoons

brewer's yeast

dry, fast leavening

2

tablespoons

brown sugar

1 ⅓

cups

water

warm

⅓

cup

olive oil

extra-virgin, plus extra to oil pan and drizzle

2

tablespoons

sea salt

fine

3

sprigs

rosemary

fresh, it is OK if you only have dried rosemary
Optional
1

teaspoon

coarse salt

one for each focaccia

6

cherry tomatoes

for a tomato and rosemary focaccia
Directions
Dilute the sugar and yeast in warm water. Let it rest for 10 minutes. You should see some bubbles on top of the mix.

Meanwhile, mix the bread flour, semolina, and olive oil in a bowl. Then add the yeast water. Finally, add the sea salt and continue folding.

Take out of the bowl and knead for 15 minutes, using more flour if the dough is too sticky. You may need to add about 50 grams of flour (no more than 2 ounces).

Divide the dough into two pieces when you have a uniform ball. Divide in two evenly with a dough scraper. Use a kitchen scale to make sure they have the same volume.

Stretch each one into a rectangle, and fold it in three parts, like folding a letter. See pictures in post.

Place each piece on an oiled pan. Put some olive oil on top of each dough ball until fully covered, and then cover them with plastic wrap. Air is the worst enemy of your dough. It will create a hard crust on it if you leave it uncovered.

First rise. Let the dough rise for 30 minutes close to a warm place in your kitchen or close to a heater.

If you don't have a warm place, turn the oven for 2 minutes at the minimum temperature. Turn the oven off and introduce the dough.

Take the raised dough balls. Generously oil the two pans where you will bake the two focaccia bread. Give the two balls a rectangle shape (one at a time). Delicately stretch them on each pan, press with your fingers, drizzle with olive oil and place the rosemary leaves (and halved cherry tomatoes face-up). Cover with plastic wrap.

2nd rise. Let the dough rising on the rectangles sheets rise in a warm place for 60 minutes. At minute 50, preheat your oven at 480ºF (250ºC) on fan mode for 10 minutes.

Remove the plastic wrap, press your finger again, and optionally drizzle with extra olive oil. Optionally sprinkle ½ teaspoon of coarse sea salt on top of each focaccia.

Put any oven-resistant container on the bottom of the oven with 1 cup of water (this helps to ensure the temperature is even in all types of ovens, in case you don't have an oven with a fan).

Use fan mode preferably; if not available, use upper and lower heat mode.

Bake the Focaccia for 12-15 mins or until golden on top, without opening the oven. Watch the oven after minute 10, don't let the top burn.
Notes
If you are not making two focaccia bread pieces, you can either:
Use the second piece for a pizza. The same dough works perfectly.
Reduce to half all the ingredients.
Use a larger baking sheet and make a big one.
Note: I usually use about one extra ounce (30 grams) of flour to manage the dough on the surface.
Nutrition Facts
Calories:
165
kcal
Carbohydrates:
26
g
Protein:
5
g
Fat:
5
g
Saturated Fat:
1
g
Polyunsaturated Fat:
1
g
Monounsaturated Fat:
3
g
Sodium:
778
mg
Potassium:
53
mg
Fiber:
1
g
Sugar:
1
g
Vitamin A:
1
IU
Vitamin C:
1
mg
Calcium:
8
mg
Iron:
1
mg
Nutrition Facts
Rosemary Focaccia Bread Recipe
Amount per Serving
% Daily Value*
* Percent Daily Values are based on a 2000 calorie diet.
I couldn't find the exact brands of flour and Semolina I use here in Italy, but these two should make it. It is important to have a Manitoba One Zero Flour and a Hard Durum Wheat Semola.
🌡️ Food safety
Cook to a minimum temperature of 165 °F (74 °C)
Do not use the same utensils on cooked food that previously touched raw meat
Wash hands after touching raw meat
Don't leave food sitting out at room temperature for extended periods
Never leave cooking food unattended
Use oils with high smoking points to avoid harmful compounds
Always have good ventilation when using a gas stove
See more guidelines at USDA.gov.
The information shown is an estimate provided by an online nutrition calculator. It should not be considered a substitute for a professional nutritionist's advice. See our full Nutritional Disclosure here.
Please note that some of the links here are affiliate links, and I will earn a commission if you purchase through those links. I recommend all of the products listed because they are companies I have found helpful and trustworthy.