These Crispy Baked Green Plantains are the healthy version of the Latin America widely known Patacones or Tostones, usually fried. In Panama, just as in any part of Northern South America, the Caribbean, and Central America, plantains are a significant component of the day-to-day cuisine.
This Latin American finger food or side dish made traditionally with fried plantains has been present in my life since the day I started to chew. These thick plantain chips are more common in Central American and Caribbean countries than french fries.
It doesn't get easier than picking a green plantain, slicing it into 1-inch chunks, to bring about 10 of these goodies. You can put whatever you can think of on top of them, eat them with a dipping sauce like your favorite hummus, or simply have a bite or two while you munch on a saucy stew.
As children, we would eat them with ketchup on top, yes, just like french fries! We all love plantains.
Our mother used to make us a quick tuna salad (see our veganized tuna mayo version), which we would scoop on top of the fried plantains, and that was a quick dinner that we all loved.
But... can you bake green plantains to avoid deep frying them and eat them healthily? Yes, you can and this tostones recipe explains how.
Ingredients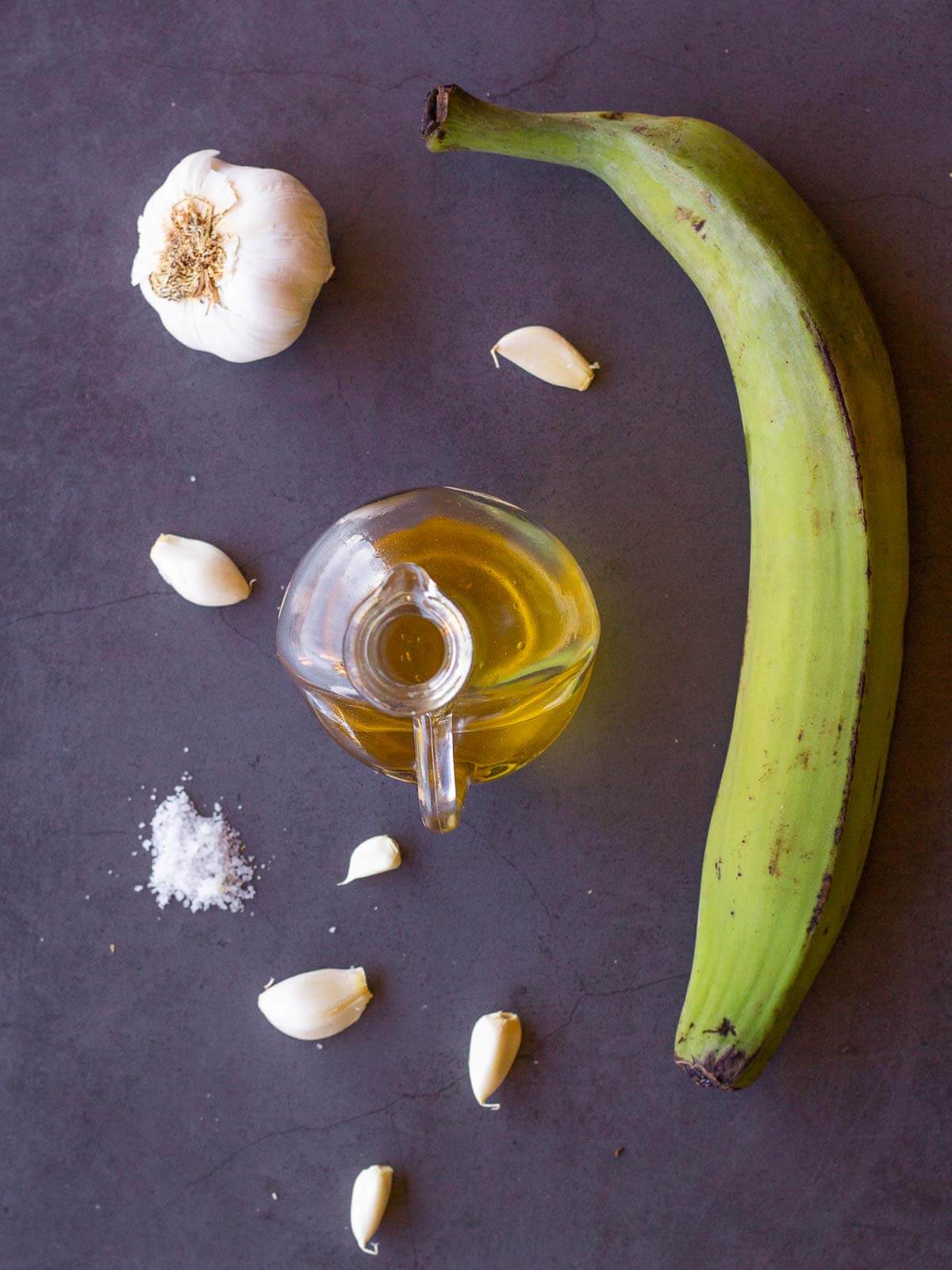 Green plantains
Avocado oil (coconut oil and olive oil also work)
Salt
Optional: garlic or garlic powder.
See quantities and complete instructions in the recipe card.
Making these baked green plantains is super easy.
Instructions
Preheat the oven to 440 ºF (220ºC).
Prepare a green plantain
Peel and cut the plantains.
How to peel plantains?
You can find plantains in Latin stores, or farmers' markets. Here in Italy, we find them in an Arab grocery store.
Wherever you get them, make sure you pick the greener ones for this tostones recipe; this will facilitate the pealing process and ensure they don't have any trace of sweetness.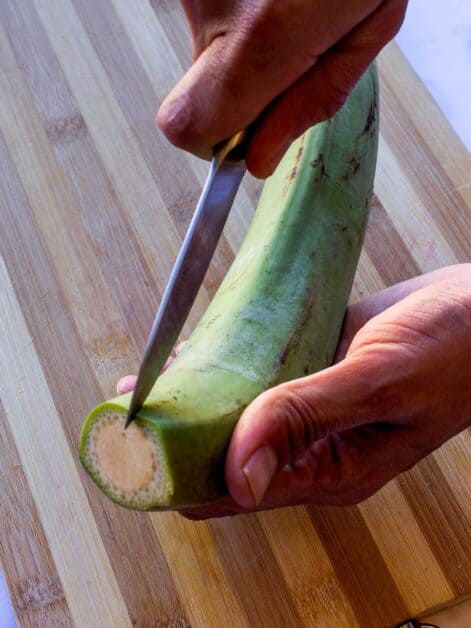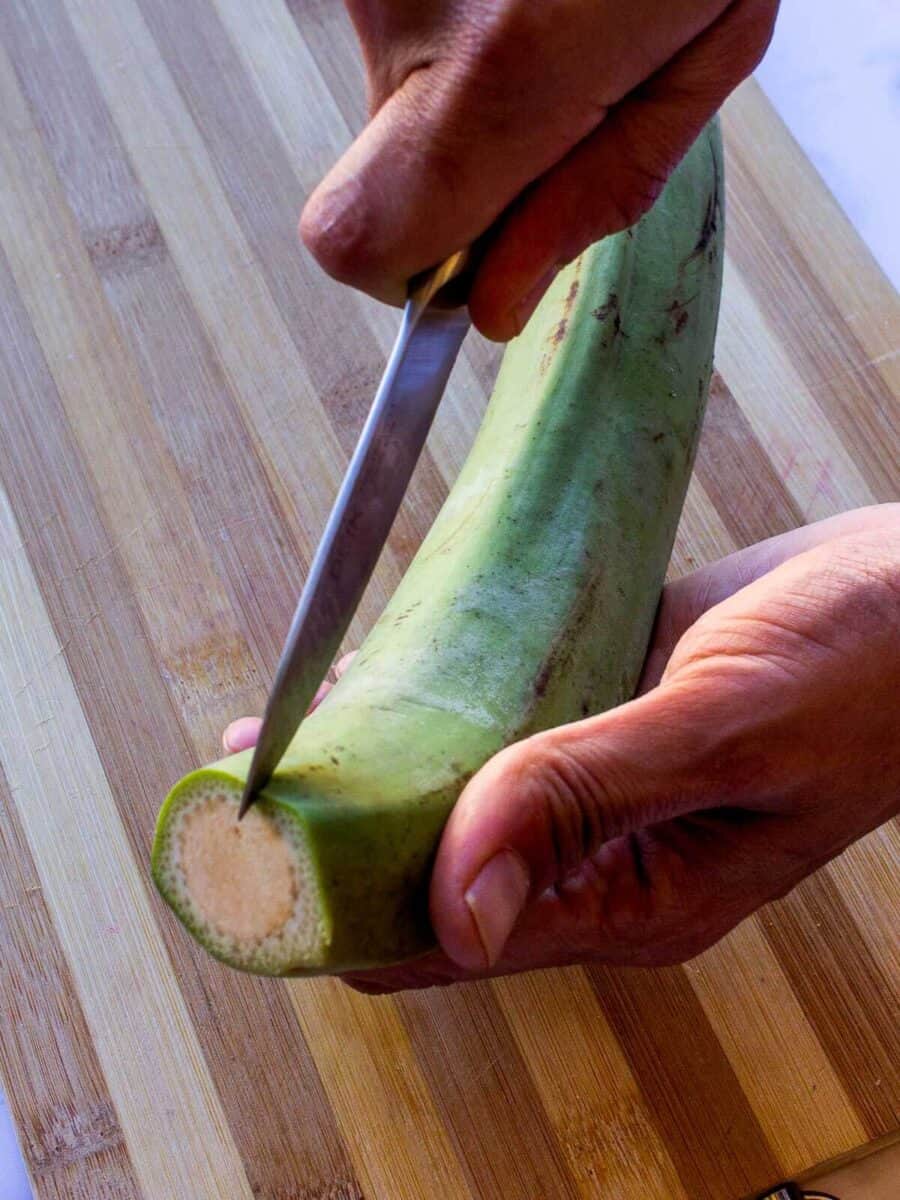 Season
Then place them in a mixing bowl, season with oil, sprinkle generously some salt, and a teaspoon of garlic powder (or minced garlic clove).
Bake
We replicate the same process followed by the traditional, twice-fried recipe with this plantain recipe.
You need to bake the plantains twice. The first time, to make the soft and be able to smash them and then place them back in the oven as a second bake to achieve the final desired consistency.
First bake
Place them in a prepared baking sheet with parchment paper. Bake the sliced plantains to make them softer until you see the plantains have turned from a pale pink-salmon color to yellow. You will also notice the brown veins look more prominent.
Second bake
Press them with the bottom of a glass to make small discs, and brush them with oil.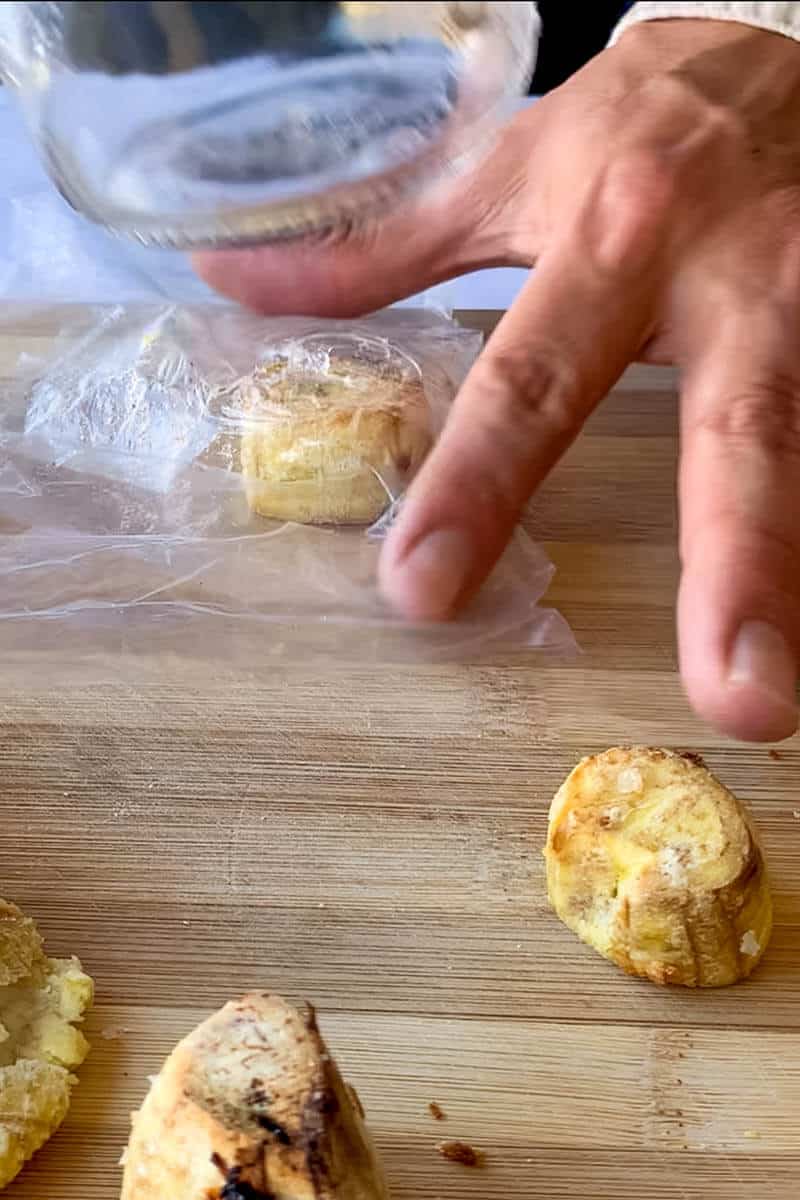 These tostones or baked plantains recipe calls for avocado oil, but you can use extra virgin olive oil or a cooking spray instead.
Top tip: use a plastic bag to prevent the smashed-baked plantain slices from sticking to the glass.
Bake them again on the same large baking sheet with parchment paper until golden brown.
Enjoy the crispy baked tostones with your favorite dipping sauce, like Green Goddess dip, pico de gallo, mayo-ketchup, thick marinara sauce, or hummus. They taste great in every form.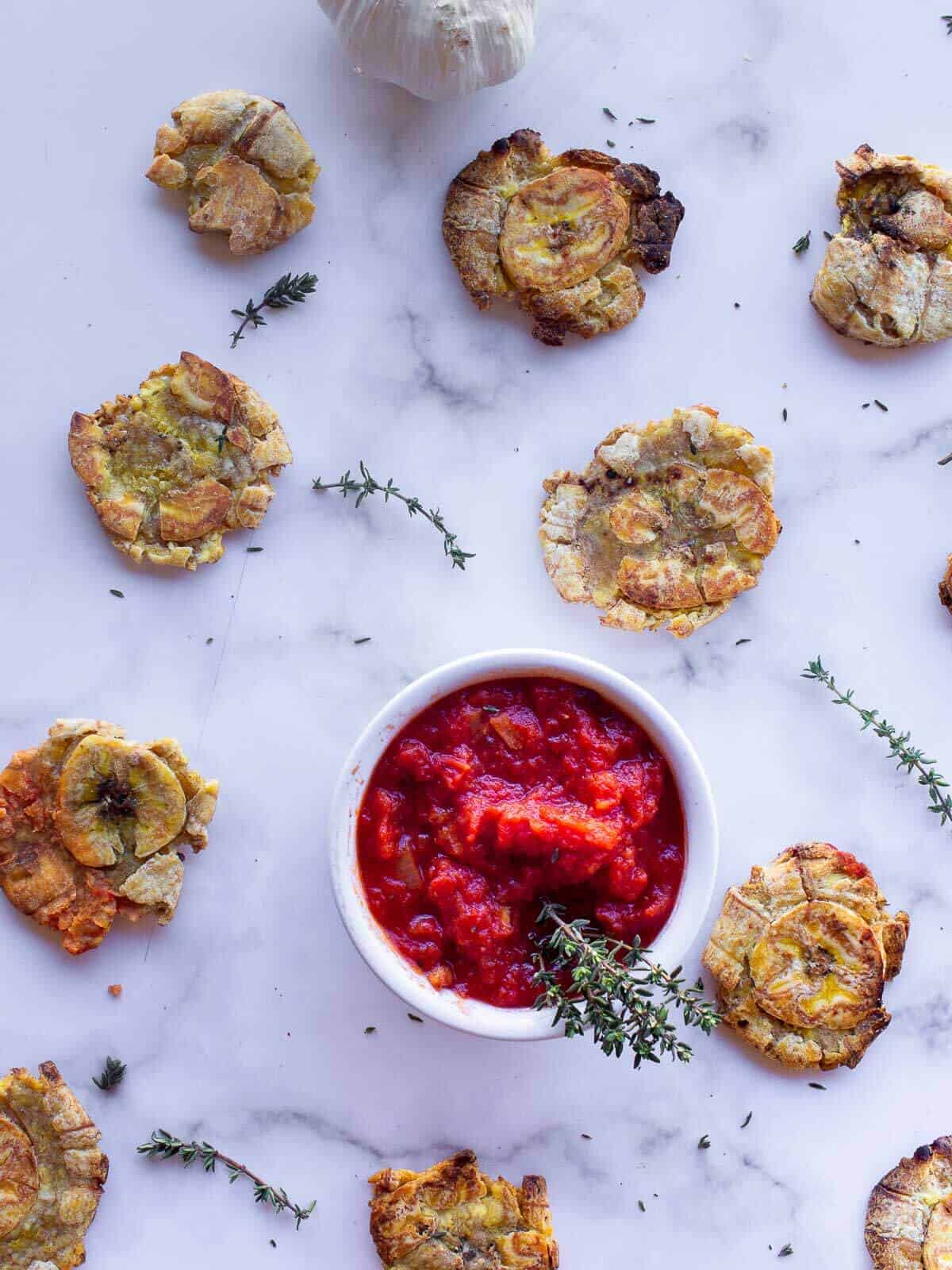 Baked plantains make the perfect side dish for any recipe, where you would use potato wedges.
For the detailed steps please scroll to the recipe card or watch the video.
Notes: To make the traditional fried version, you need to follow the exact procedure, but instead of baking the plantains twice, a deep frying method is used instead, using a frying pan, neutral oil... also cooked twice.
Both fried and baked versions of these green plantain fritters get mushy if not eaten immediately.
Plantains stain, do not touch your clothes after opening.
Variations
You can add garlic powder or minced garlic to the plantains, before baking them. Use only one garlic or 1 teaspoon.
If you want to make plantain chips, the process is way simpler! You just need to bake the thinly sliced plantains once, using olive oil (or cooking spray), salt, and lay all the plantain chips on a prepared baking sheet with parchment paper.
Use a carrot slicer to thinly slice the green plantains.
Traditional plantain chips (or banana chips) are also made deep-fried (only once), instead of baking plantains.
More about Plantains
In one aboriginal dialect, still in use, the word for plantain is T'ach. This word also means "food." You get the picture; the word for plantain is the same word used to call food in general.
Green Plantains Fritters
In Panama, we call them patacones; in Colombia, they are Tostones. They are our French fries.
Thus, in any given restaurant, you will have the option to pair your main dish with either rice, cassava root (yuca), patacones (fried green plantains), or potatoes (baked or French fries).
I always go for Patacones or Yucas (cassava).
Remember: to make Tostones or Patacones, you need very green plantains.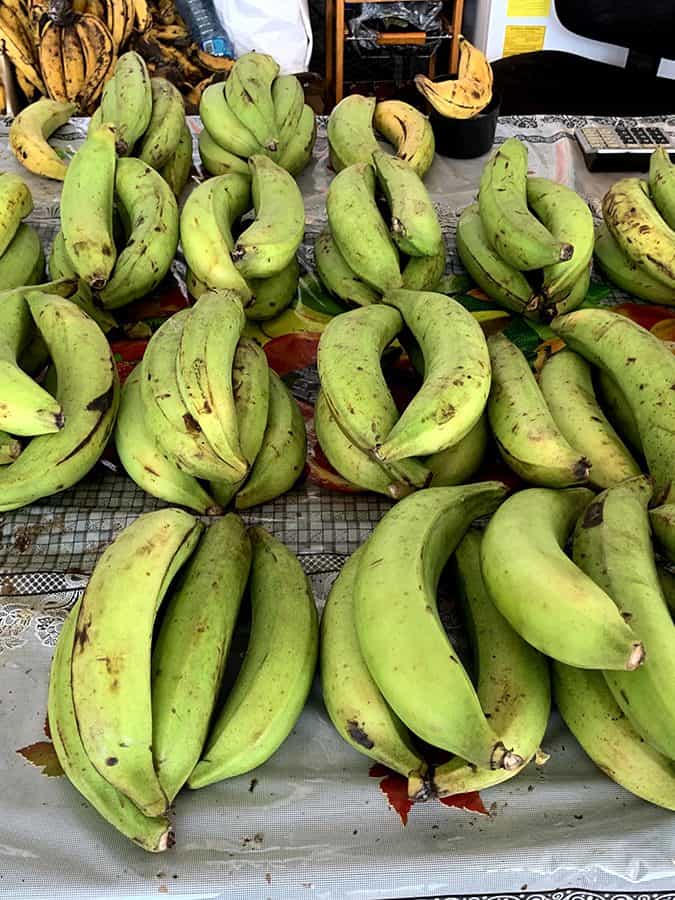 Plantains are starchy, tough, and not very sweet. Therefore, they require cooking, as they are not enjoyable to eat raw.
You can eat plantains in several ways, the most widely known being the traditional fried plantains, and they are considered snack cuisine and most of the time a side dish.
Yellow plantains are also great for cooking other dishes such as Plátanos en Tentación, Savory Tajadas, Sweet Tajadas, Platanitos (like the ones you may have seen as packed snacks), and Mofongo (a typical dish from Puerto Rico).
They have become sweet plantains after ripening, just like any other fruit. But they are not as sweet as a regular banana; that's why in most of the recipes using yellow plantains, some sweetener is used—the Tajadas (or sliced plantains is an exception).
All very easy to make dishes with a minimal amount of ingredients.
More Panamanian Dishes
There is a unique book, written and developed by a Panamanian well-known chef and friend Charlie Colins, inspired by this word, the name of the book is T'Ach: Authentic Panamanian Cuisine.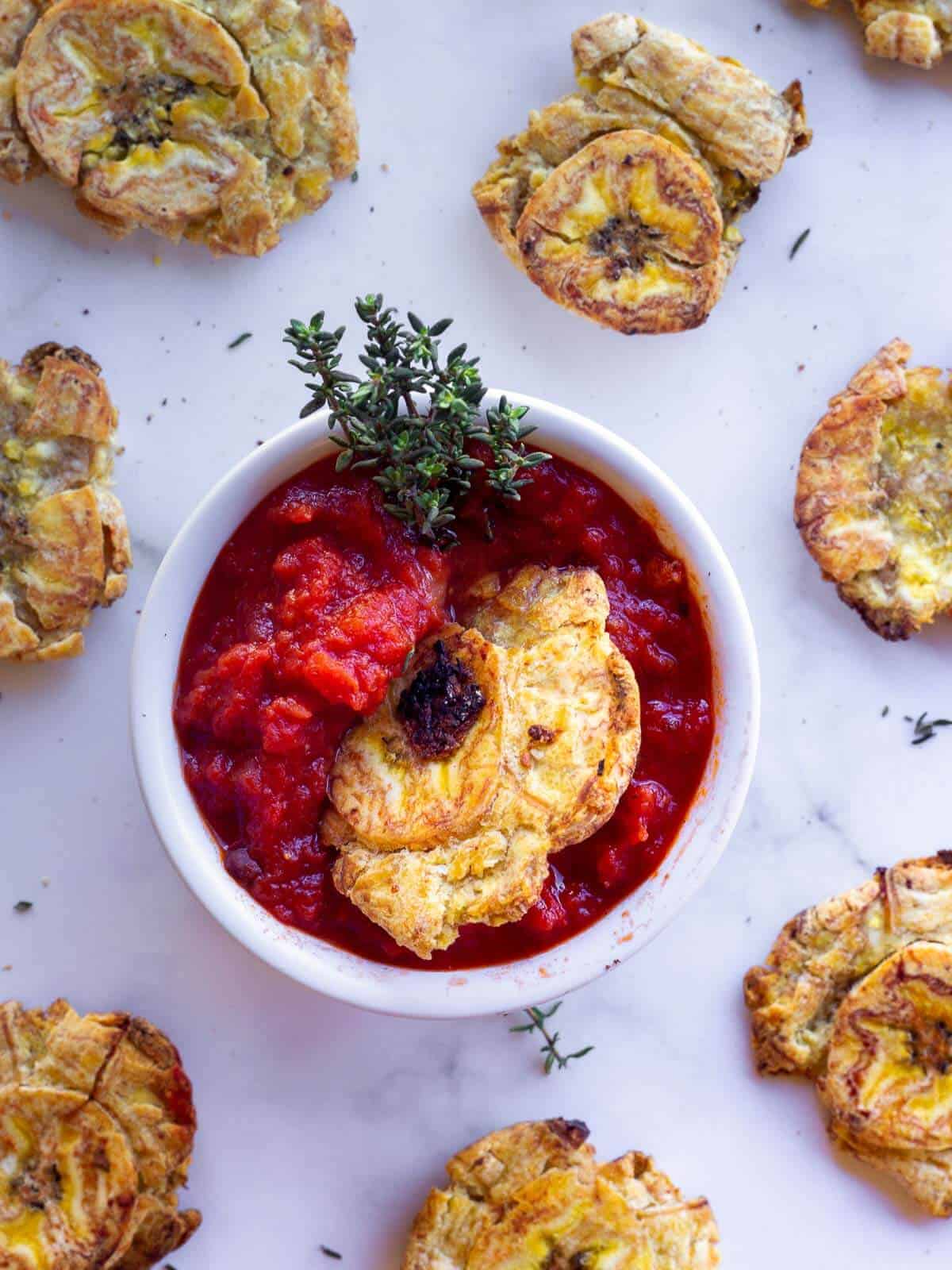 I love this book as it depicts Panamanian Cuisine at its best, with pictures and recipes developed on a journey through the different provinces and cuisines from Panama; a small country of barely 3.8 million people, which has seven native dialects that are still spoken which comes with different cultures and ways of cooking.
More plantain recipes
Try these Sweet Plátanos en Tentación (Plátano Pícaro)
⭐ If you try this recipe, let us know! 💬 Leave a comment, rate it, and don't forget to tag us @ourplantbasedworld on Instagram. Cheers!
Recipe
📋 Recipe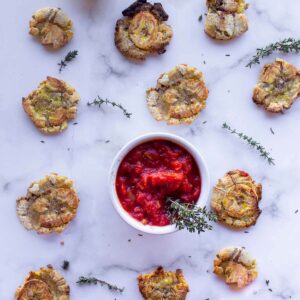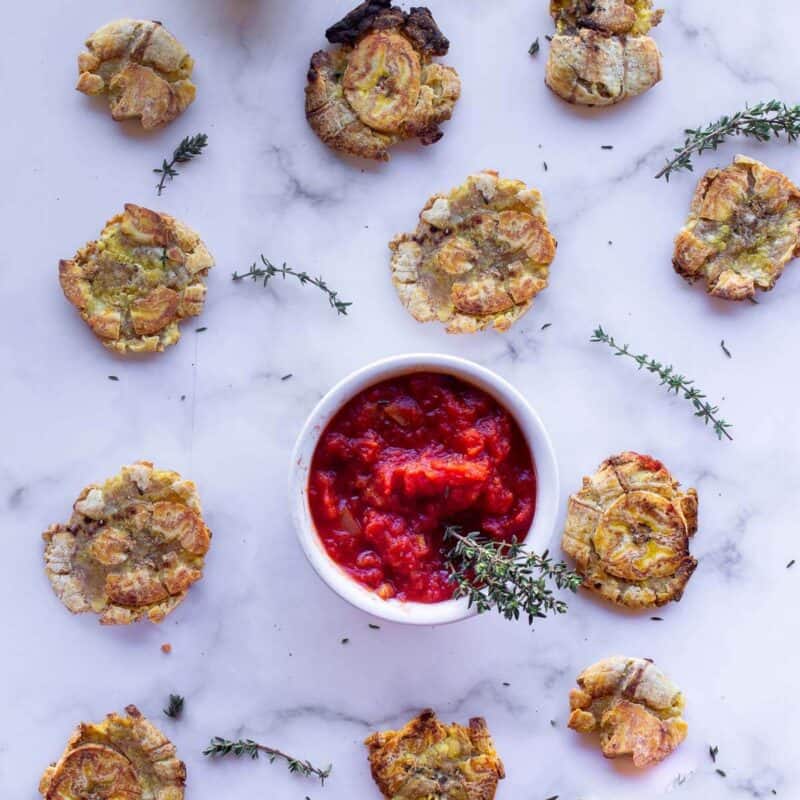 Baked Green Plantains (Patacones or Tostones)
These Crispy Baked Green Plantains are the healthy version of the Latin America widely known Patacones or Tostones, which are usually fried.
Equipment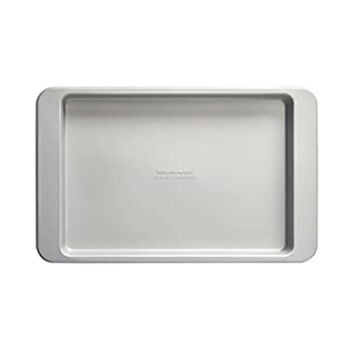 (affiliate link)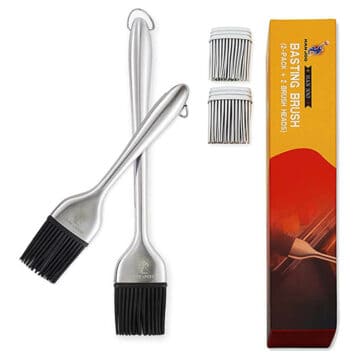 (affiliate link)
Directions
Pre-heat the oven at 440 ºF (220ºC). Cut the green plantain with a lengthwise cut.

Introduce a small knife at the edge of the plantain and keep opening the peal with your hand.

Cut the peeled plantain in ¾ inches (about 2 centimeters).

Add the plantain chunks to a bowl and mix them with the grated garlic, salt, and half of the oil.

1 plantain,

1 clove garlic,

1 teaspoon sea salt,

1 tablespoon avocado oil

Place a parchment paper with the oil and salt coated plantain chunks on a baking tray and make its way to the oven.

Bake for 15 minutes.

Take them out and pick a plastic bag. Place each chunk, one by one, inside the plastic bag and press it with a glass or plate, placing them back on top of the parchment paper.

Brush the mashed plantains with the remaining oil.

Place them back in the oven for another 15 minutes.

Take them out of the oven and enjoy hot.
Notes
To make the traditional version, you just need to follow the exact procedure, but instead of baking the plantains, you need to fry them.
Both fried and baked versions of these green plantain's fritters get mushy if not eaten immediately. Plantains stain, do not touch your clothes after opening.
Try the all-times favorite Sweet Plátanos en Tentación (Temptation Plantains).
Nutrition Facts
Calories:
233
kcal
Carbohydrates:
29
g
Protein:
1
g
Fat:
14
g
Saturated Fat:
2
g
Sodium:
1166
mg
Potassium:
447
mg
Fiber:
2
g
Sugar:
13
g
Vitamin A:
1009
IU
Vitamin C:
16
mg
Calcium:
3
mg
Iron:
1
mg
Nutrition Facts
Baked Green Plantains (Patacones or Tostones)
Amount per Serving
% Daily Value*
* Percent Daily Values are based on a 2000 calorie diet.
Pin for Later!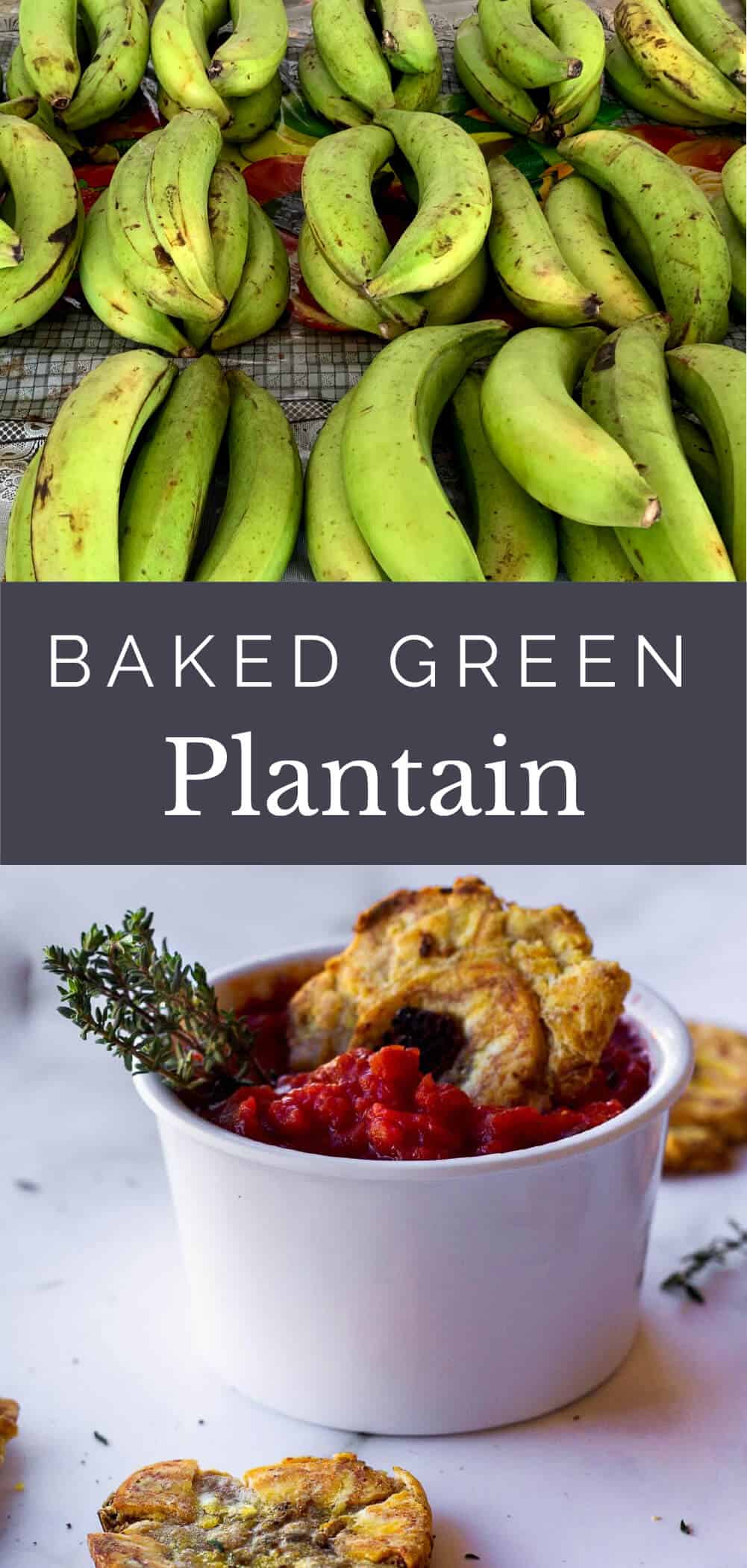 🌡️ Food safety
Cook to a minimum temperature of 165 °F (74 °C)
Do not use the same utensils on cooked food that previously touched raw meat
Wash hands after touching raw meat
Don't leave food sitting out at room temperature for extended periods
Never leave cooking food unattended
Use oils with high smoking points to avoid harmful compounds
Always have good ventilation when using a gas stove
See more guidelines at USDA.gov.
The information shown is an estimate provided by an online nutrition calculator. It should not be considered a substitute for a professional nutritionist's advice. See our full Nutritional Disclosure here.
Please note that some of the links here are affiliate links, and I will earn a commission if you purchase through those links. I recommend all of the products listed because they are companies I have found helpful and trustworthy.