Exploring the diverse culinary world, one often encounters the question: What to eat with hummus? This versatile and nutritious spread, with roots in the Middle East and Mediterranean, has become a global favorite for its delightful taste and countless health benefits. Whether you're a vegan food enthusiast or a culinary explorer, this post will delve into the myriad of foods that can be paired with hummus, enhancing its savory flavor and adding exciting textures to your meals.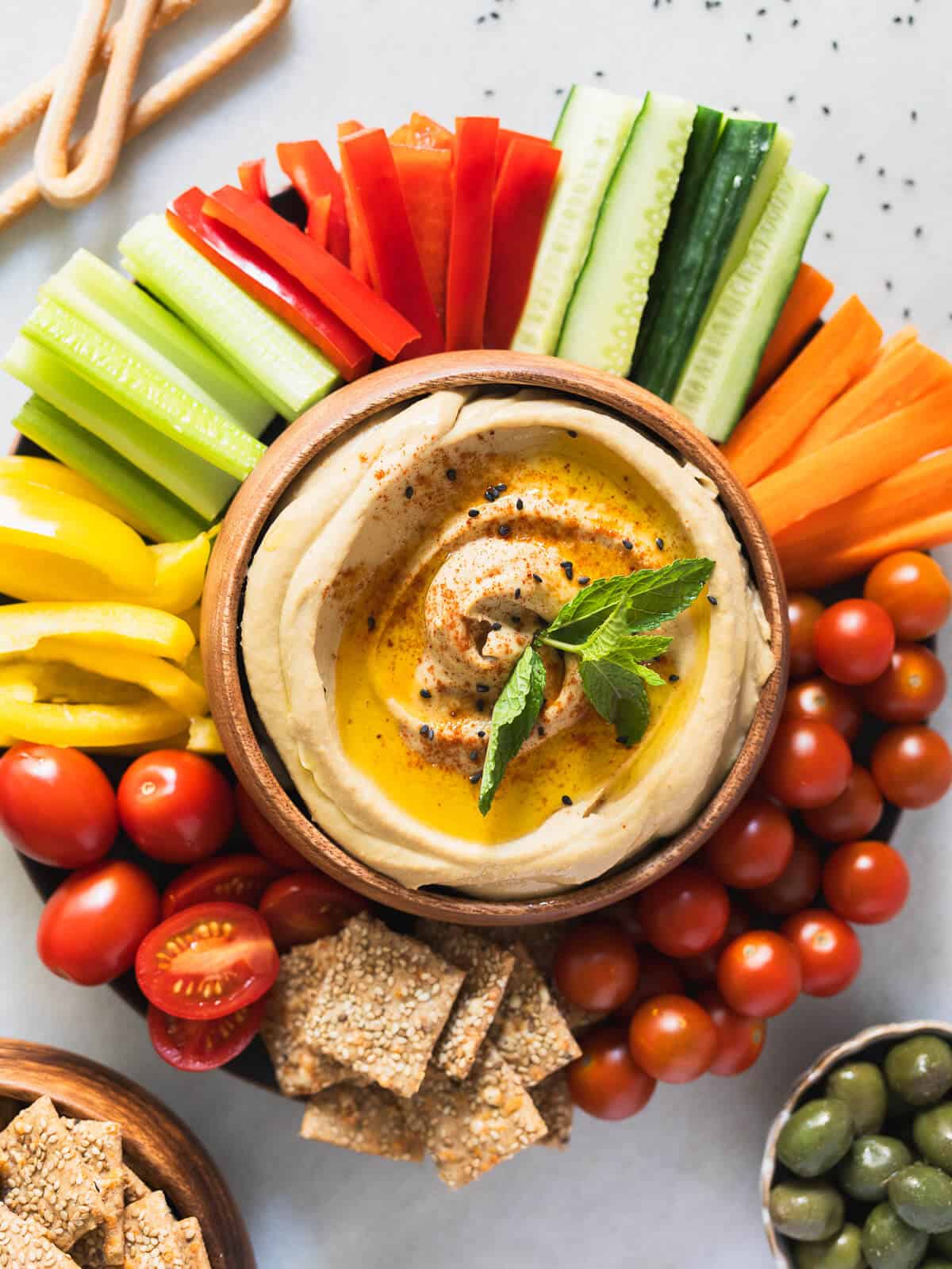 A staple in Mediterranean and Middle Eastern cuisines, hummus is a delectably versatile dish that has garnered worldwide popularity. At its core, hummus is a smooth and creamy dip or spread made primarily from cooked, mashed chickpeas, tahini (a paste made from sesame seeds), olive oil, lemon juice, and garlic.
The word "hummus" itself translates to "chickpeas paste" in Arabic, a testament to the central ingredient of this beloved dish. Its smooth texture and savory flavor make it a favorite choice for both appetizers and main meals.
Did you know?
While hummus is enjoyed globally as a versatile spread or dip at any time of the day, it takes center stage as a popular breakfast meal in Israel. Often served up alongside fresh vegetables, warm pita bread, and pickles, it's also commonly paired with a hard-boiled egg.
Choosing the right accompaniments for hummus is equally as essential as preparing it. The food you pair with hummus can enhance its flavor, add texture, and even increase the nutritional value of your meal.
Without a doubt, hummus makes a tasty treat, so let's dive into the most creative ideas to pair this delicious dip.
Vegetables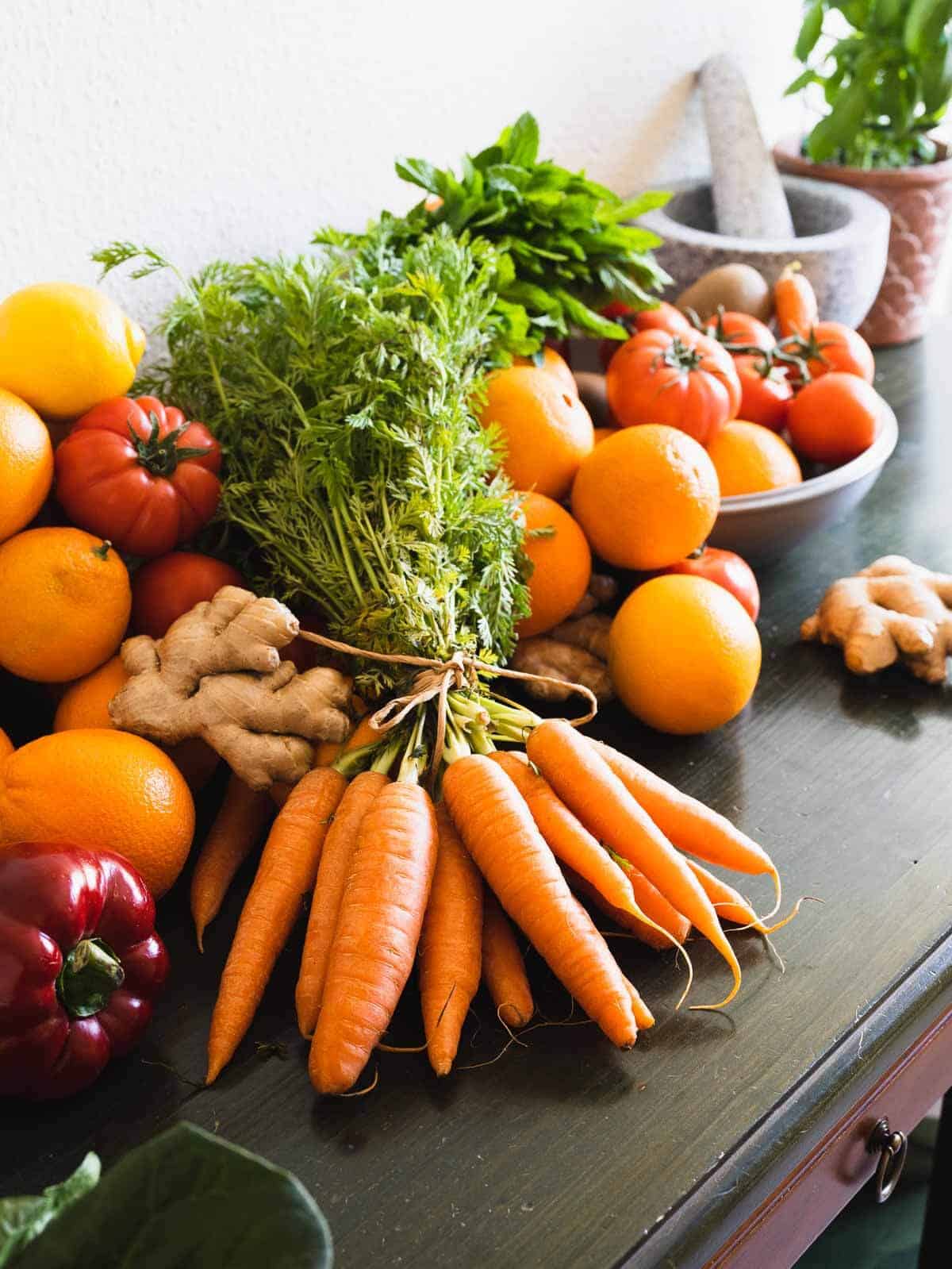 Vegetables are a fantastic choice to eat hummus, not only for their diverse flavors and textures but also for their numerous health benefits. Opting for a mix of raw veggies and roasted vegetables can bring a delightful contrast of textures, keeping your palate engaged.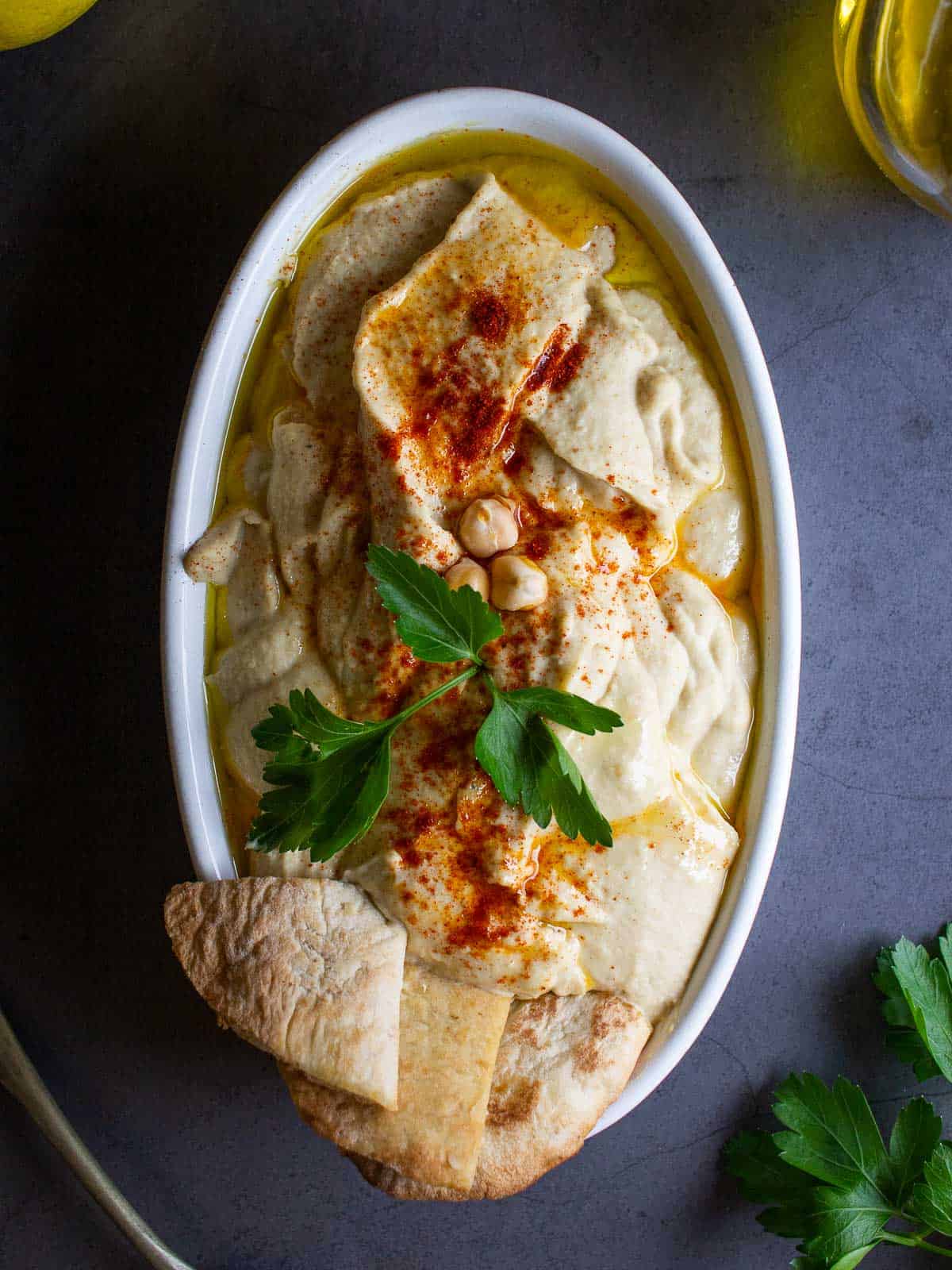 Raw fresh veggies
Enjoy hummus as a healthy and tasty snack with your favorite fresh vegetables.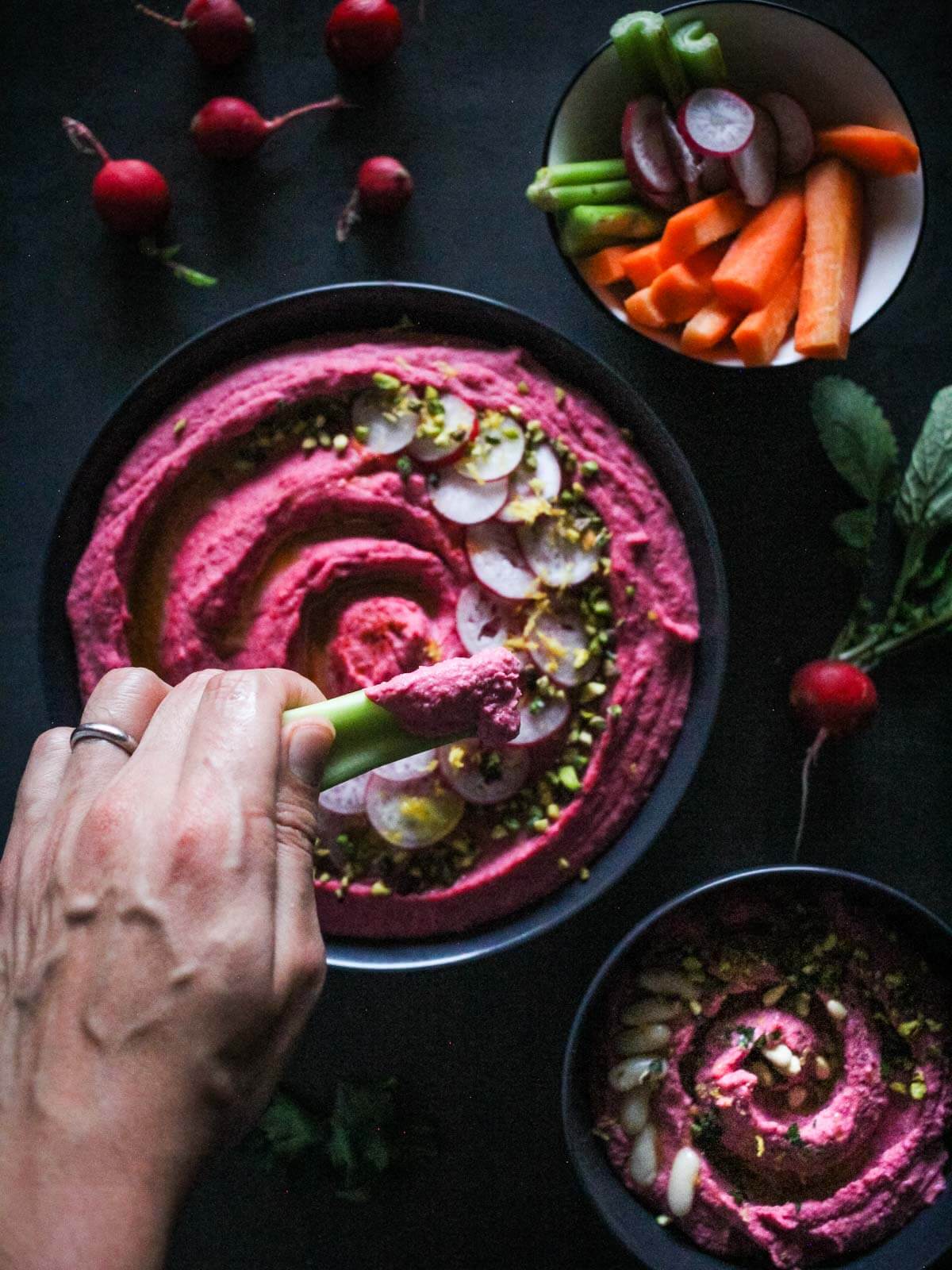 Carrots: Crunchy and mildly sweet, raw carrot sticks can be sliced into sticks and dipped into hummus for a refreshing snack.
Celery: With its light flavor and crunchy texture, celery sticks provide a pleasant contrast to the richness of hummus. Plus, the concave shape of celery makes it an excellent scoop for hummus.
Cucumbers: Offering a clean, crisp taste, cucumber slices serve as a cooling counterpoint to the savory flavor of hummus. To make them crispier, deseed them with a spoon before making the cucumber sticks.
Bell Peppers: peppers, mainly red, yellow, and orange, perfectly pair with hummus. They make a great bell pepper hummus and a wonderful Muhammara (Persian Dip made with a base of walnuts). They add a sweet crunch that perfectly complements the creamy hummus, and their vibrant colors make for an eye-catching presentation.
Lettuce: make lettuce wraps and fill them with hummus and sweet corn.
Radishes: slice radishes for a colorful, healthy option.
Broccoli: lightly steam or boil broccoli florets or romanesco broccoli and use to dip them on your hummus.
Alternatively, consider vegetables such as snap peas, cherry tomatoes, zucchini, broccoli, and cauliflower. If raw isn't to your liking, lightly steaming these veggies can offer a softer texture while still preserving a desirable crunch.
Roasted Vegetables
Roasting vegetables brings out their inherent sweetness, adding another layer of flavor to your hummus dish. Plus, their tender texture serves as a wonderful contrast to creamy hummus.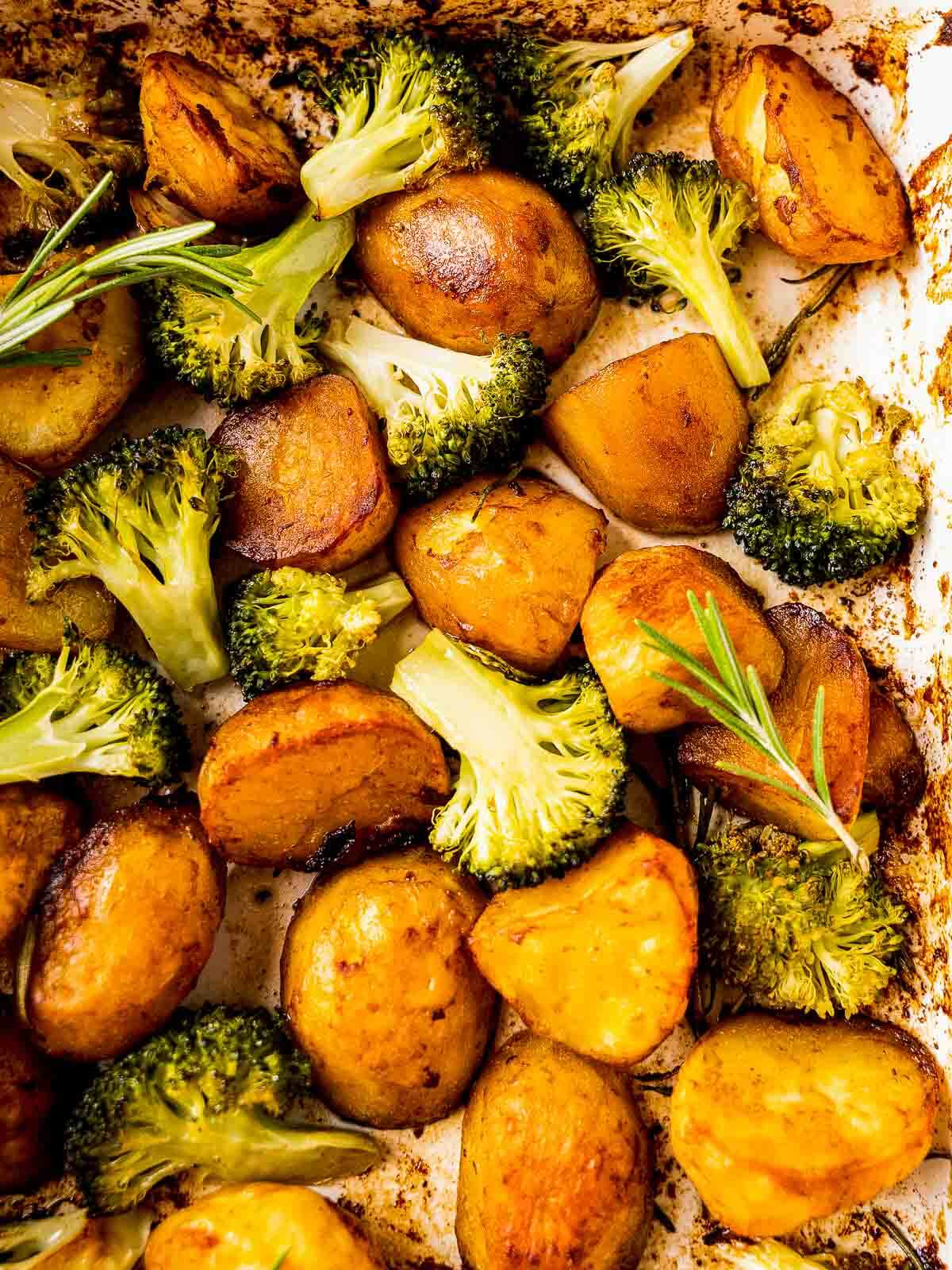 Zucchini: When roasted, zucchini becomes tender, and its flavor is subtly sweet and slightly smoky. Slice zucchini into rounds or spears, roast until they're slightly golden, and enjoy with hummus for a wholesome meal.
Eggplant: Roasted eggplant has a smooth, creamy texture and a rich, smoky flavor that pairs exceptionally well with hummus; think baba ganoush. You can roast it whole and scoop out the soft flesh to dip in hummus or slice it into rounds or sticks before roasting.
Red and Yellow Peppers: Roasted red and yellow peppers bring a slightly sweet and smoky flavor that melds wonderfully with the savory taste of hummus. Roast them until they're just charred, then slice them into strips to create a delicious and visually appealing hummus companion.
Sweet Potato: The natural sweetness of roasted sweet potato rounds pairs excellently with the savory taste of hummus. The soft texture of the sweet potato is also a delightful contrast to the creaminess of hummus.
Carrots: Roasted carrots intensify their sweetness, making them a unique pairing for hummus. Try roasting whole baby carrots or larger carrots cut into sticks.
Fennel: Roasted fennel turns soft and sweet with a subtle licorice-like flavor that adds a unique touch when paired with hummus.
Try pairing it with our Mediterranean Roasted Vegetables for a delicious treat on a special occasion like Mother's and Father's Day or Thanksgiving.
Breads, Crackers, and Arepas
One of the most traditional ways to enjoy hummus is with breads and crackers. The right choice can enhance the flavors of your hummus and add a satisfying crunch or soft bite to your meal.
Pita Bread and Chips
Pita bread is a type of soft, leavened flatbread that is a staple in Middle Eastern cuisine. Its pocket-like structure makes it ideal for scooping up hummus.
Enjoy fresh pita bread for a light and fluffy complement to hummus, or create crunchy pita chips by slicing the bread into triangles, drizzling them with extra olive oil and sumac, and lightly toast them.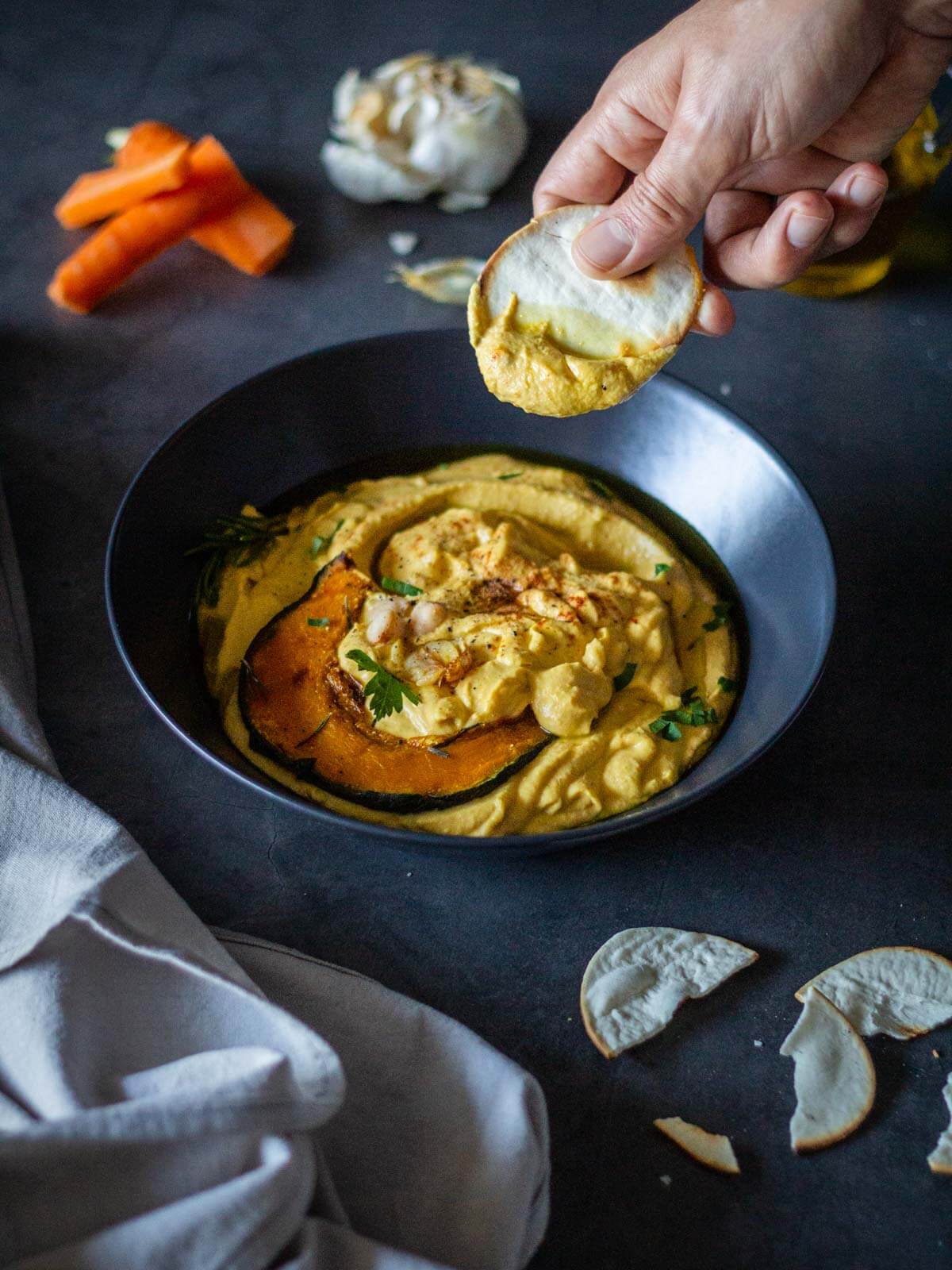 Try heating the pita bread on a grill or in a skillet with olive oil for a warm and slightly crispy option. Eating plain hummus with warm flatbreads is one of the most popular ways to enjoy this healthy food.
Similarly, you can enjoy a hummus dip with bagel chips or store-bought pita chips.
Baguette
While not traditional, sliced baguettes and slices of toasted artisan bread make for an excellent, sturdy vehicle for hummus. You can use it fresh, or for added flavor, try toasting slices with a bit of garlic and olive oil for a delicious twist.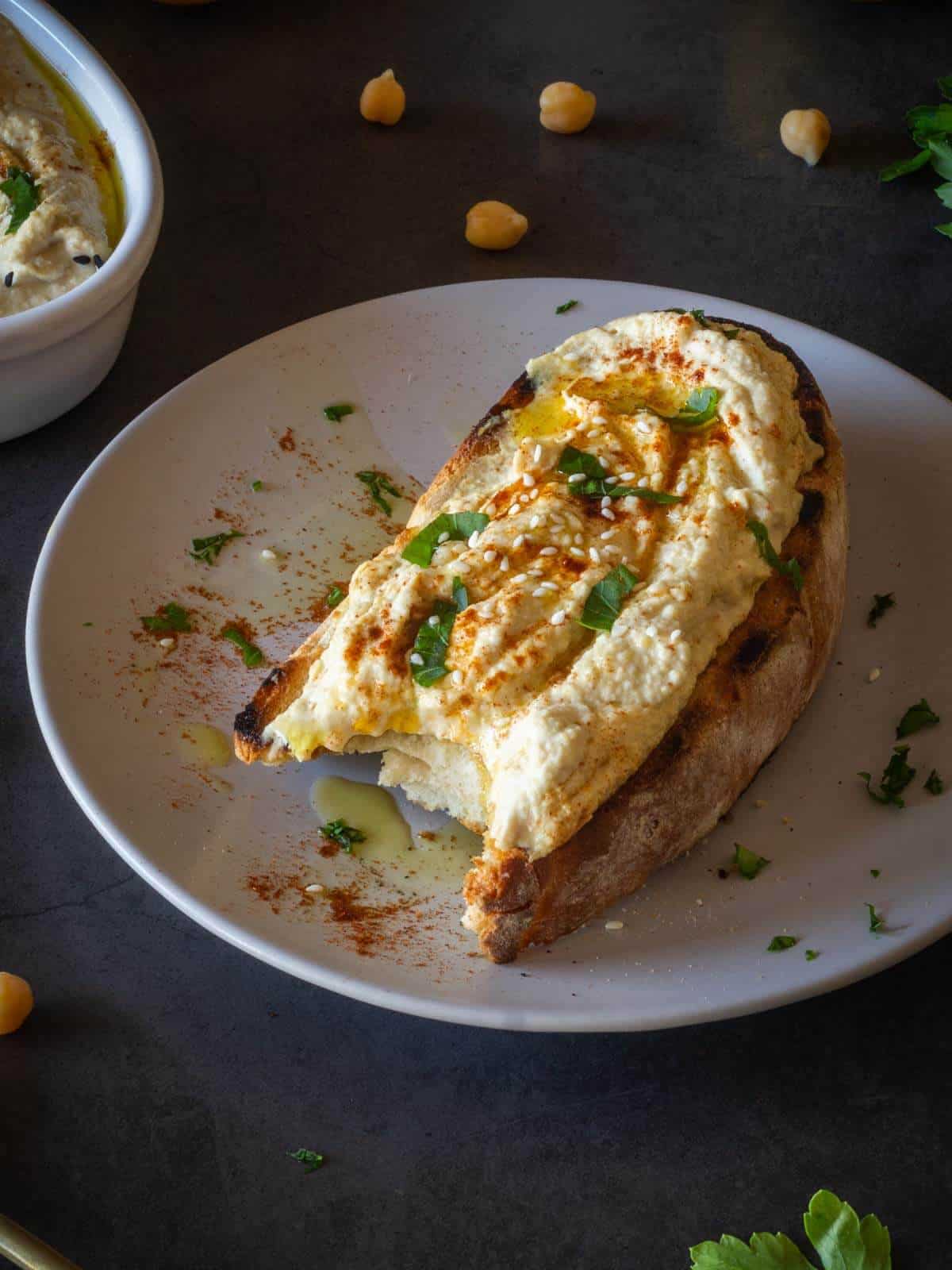 We love making sandwiches with roasted Catalonian veggies (Escalivada), caramelized onion, and Artisan Italian Bread.
Whole Grain Crackers
Whole-grain crackers are an excellent choice for a quick, easy, and crunchy companion to your hummus. They bring a nutty flavor that pairs well with hummus and are also a great fiber source.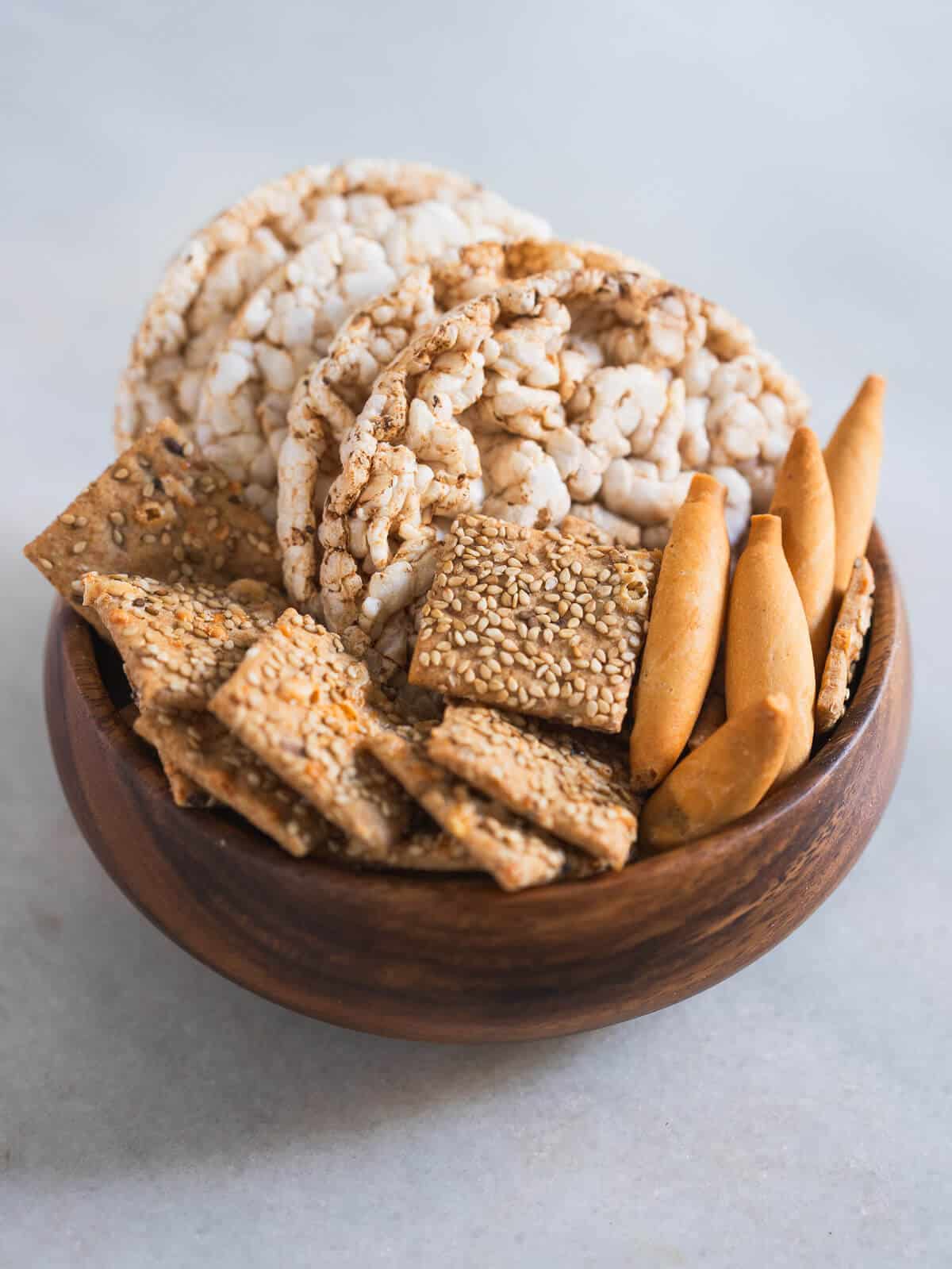 Look for minimally processed varieties to keep your hummus snack as healthy as possible, such as our Regañas (an Andalusian version of crackers that we make with broccoli juice pulp leftovers).
Rice crackers
This crisp, light, and flavorful option pairs excellently with hummus. These crackers are made primarily from rice flour and have a crunchy texture and a subtle, natural flavor, making them an ideal canvas for rich hummus.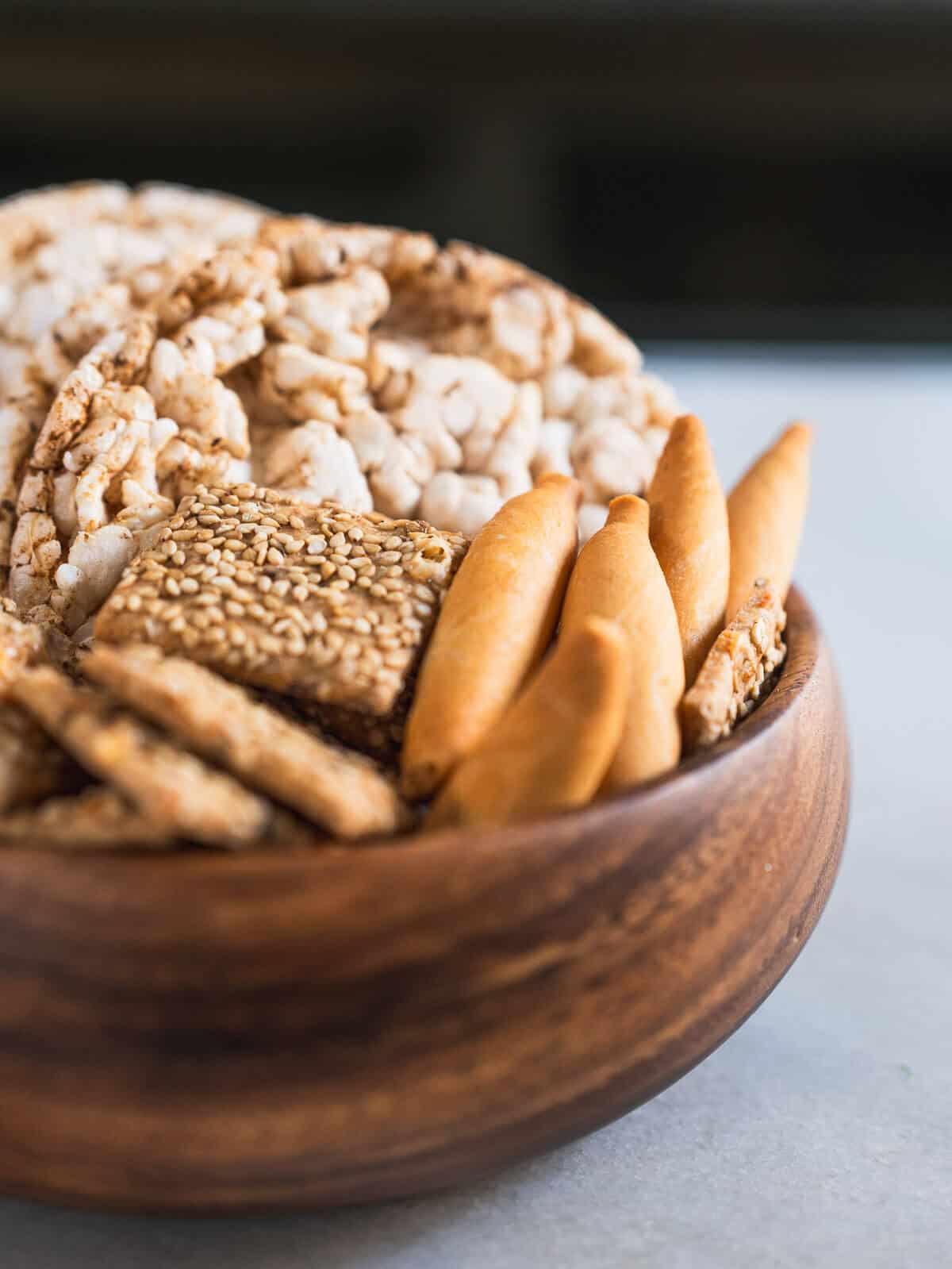 Flatbreads
Eating hummus with flatbreads, such as naan, lavash, or roti, are another delicious way to scoop up hummus. They have a chewy texture that works well with the creamy consistency of hummus.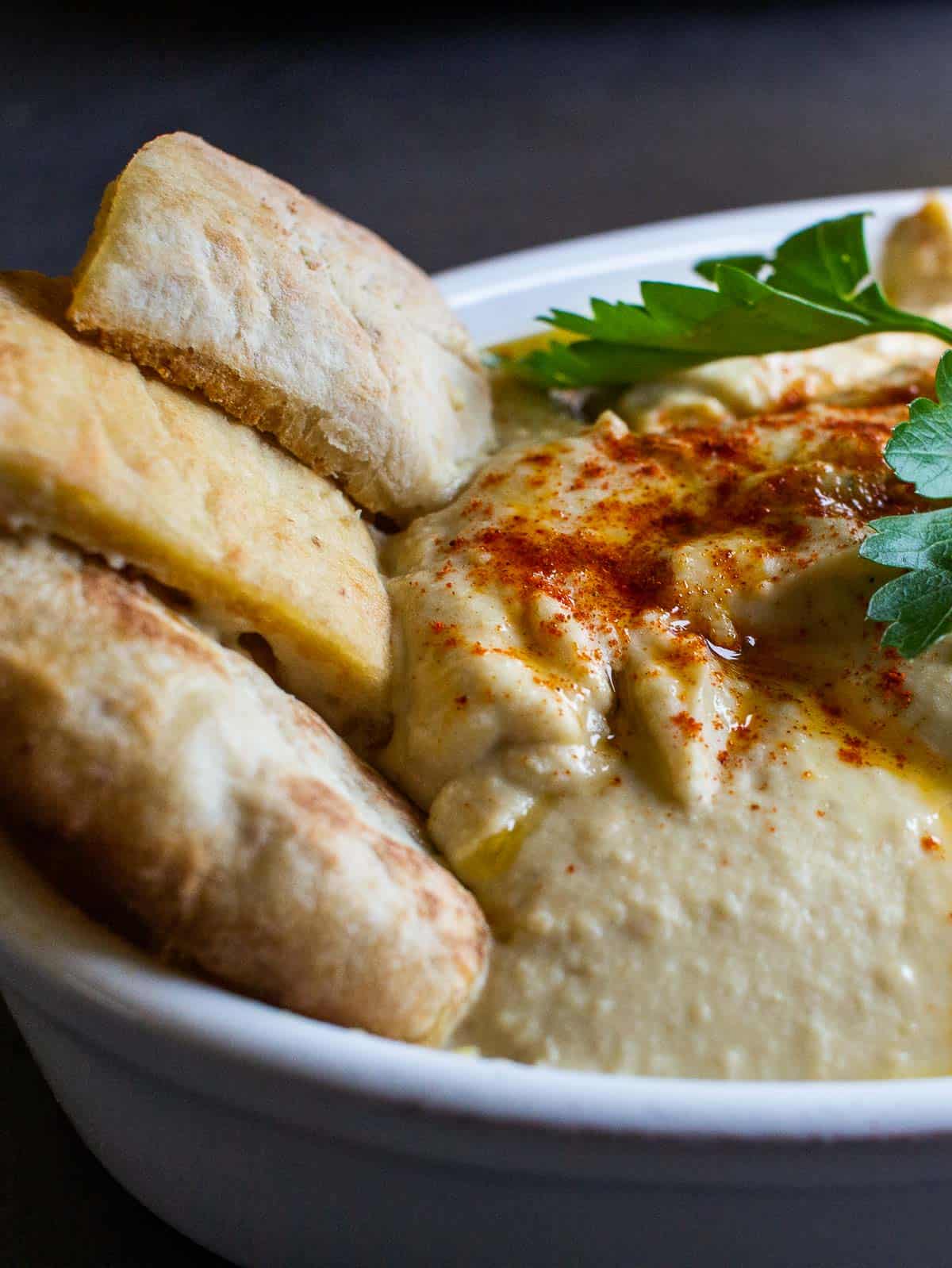 You can also make avocado toast by spreading hummus before laying some avocado slices and grape tomatoes on top.
Arepas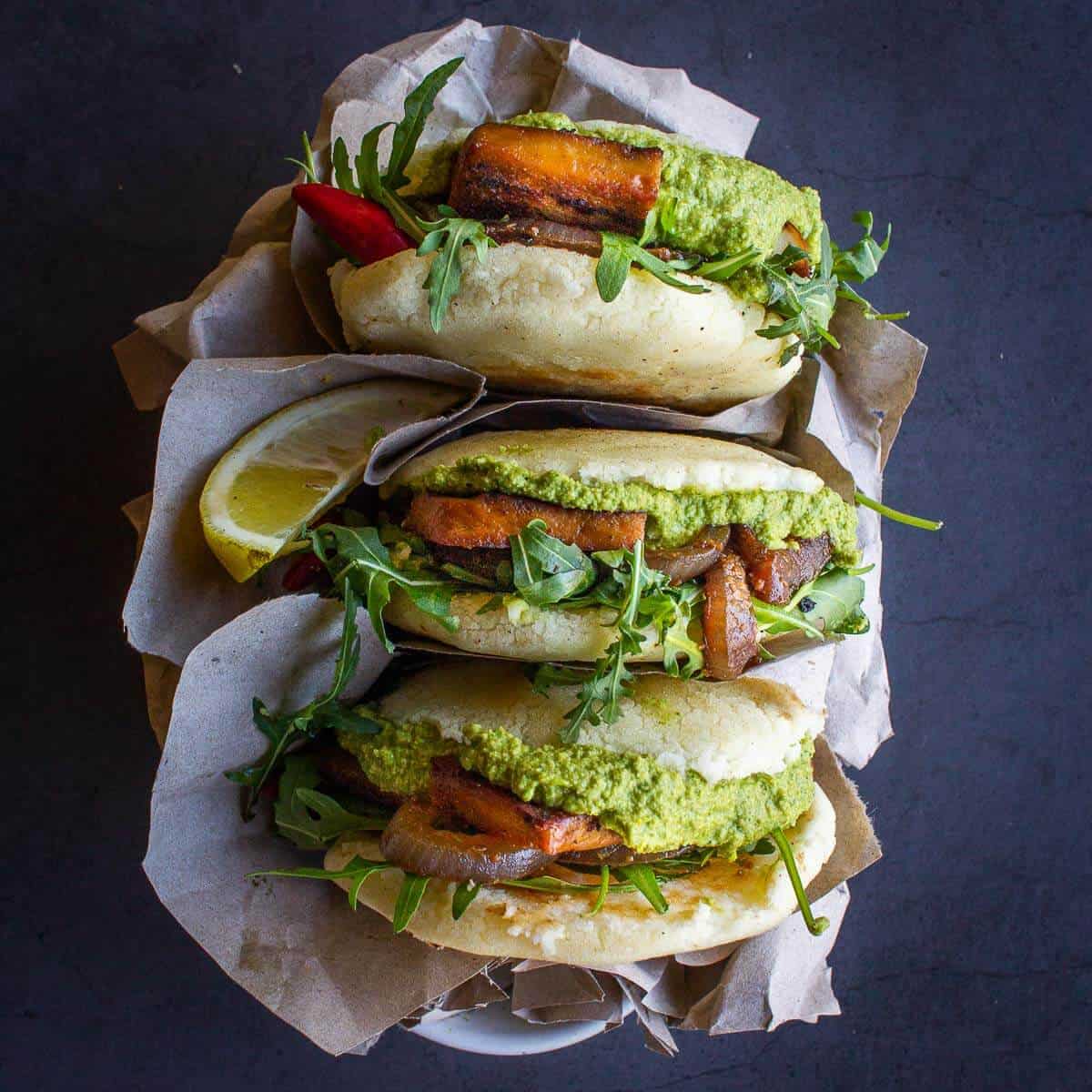 Arepas are traditional Colombian and Venezuelan food made from maize dough, noted for their versatile, mildly sweet flavor. These can be either tender or crispy based on how they are prepared.
Hummus can be enjoyed as a creamy spread to fill medium-large arepas and vegan crumbled feta cheese and pitted black olives (kalamata olives) or as a dip for smaller ones.
Tortilla chips
Tortilla chips make a perfect partner for hummus. These crunchy triangles of corn or flour tortillas, typically salted, provide an excellent contrast in texture to the smoothness of the hummus.
They're sturdy enough to scoop a generous portion of hummus without breaking, ensuring a satisfying crunch with every bite.
Proteins
Pairing hummus with plant-based proteins is nutritionally beneficial and adds a delightful depth of flavor and texture to your meals.
Falafel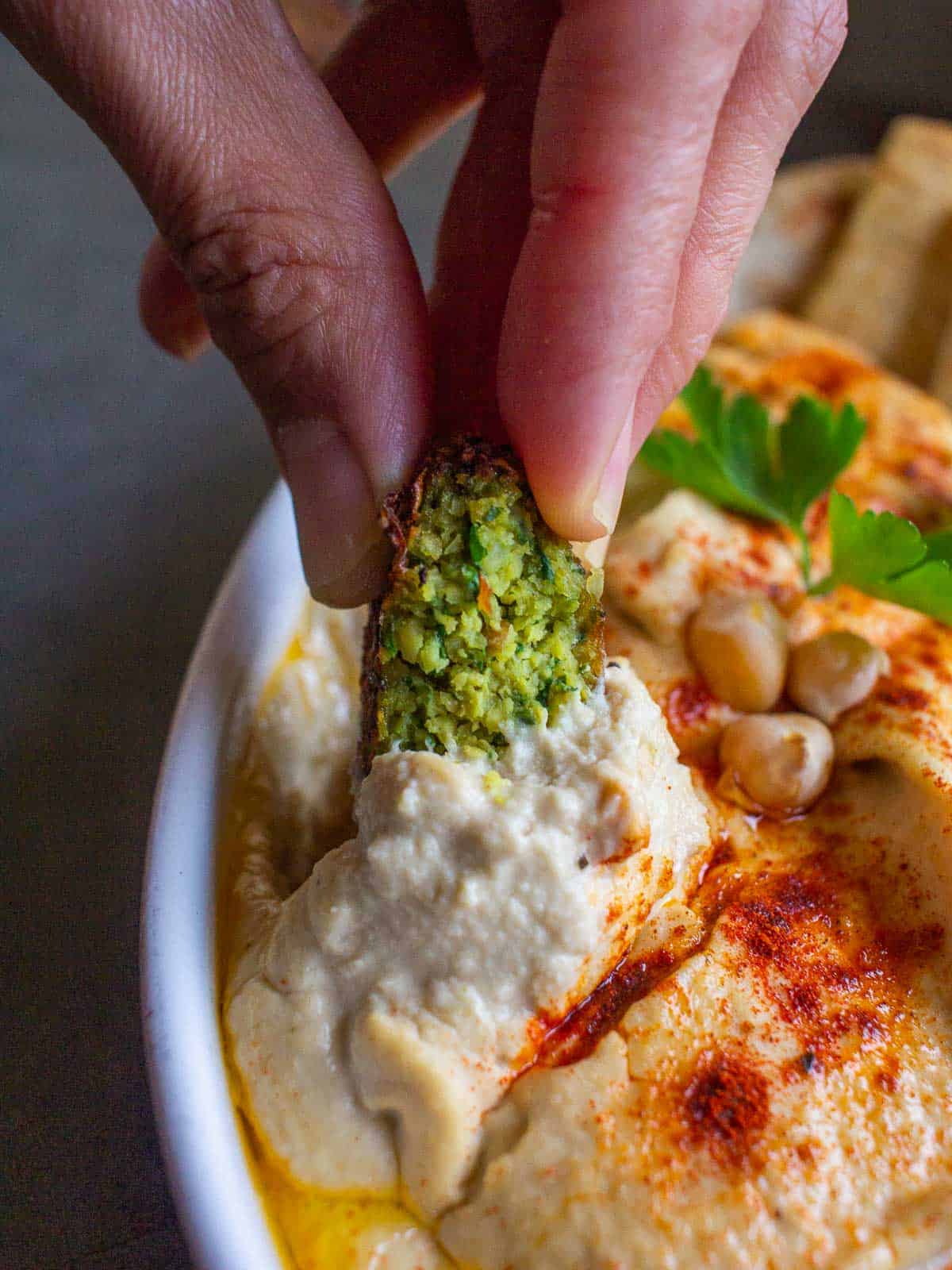 Falafel is flavorful, protein-rich balls made from ground chickpeas (AKA garbanzo beans) mixed with herbs, spices, and onions. They're traditionally deep-fried to achieve a crispy exterior and soft, moist interior, offering a fantastic textural contrast to smooth hummus.
Falafel and hummus make for a classic Middle Eastern combination, usually served with pita bread or fresh salads. Check out our falafel recipe for a detailed guide on preparing homemade falafel.
Crispy Tofu Bites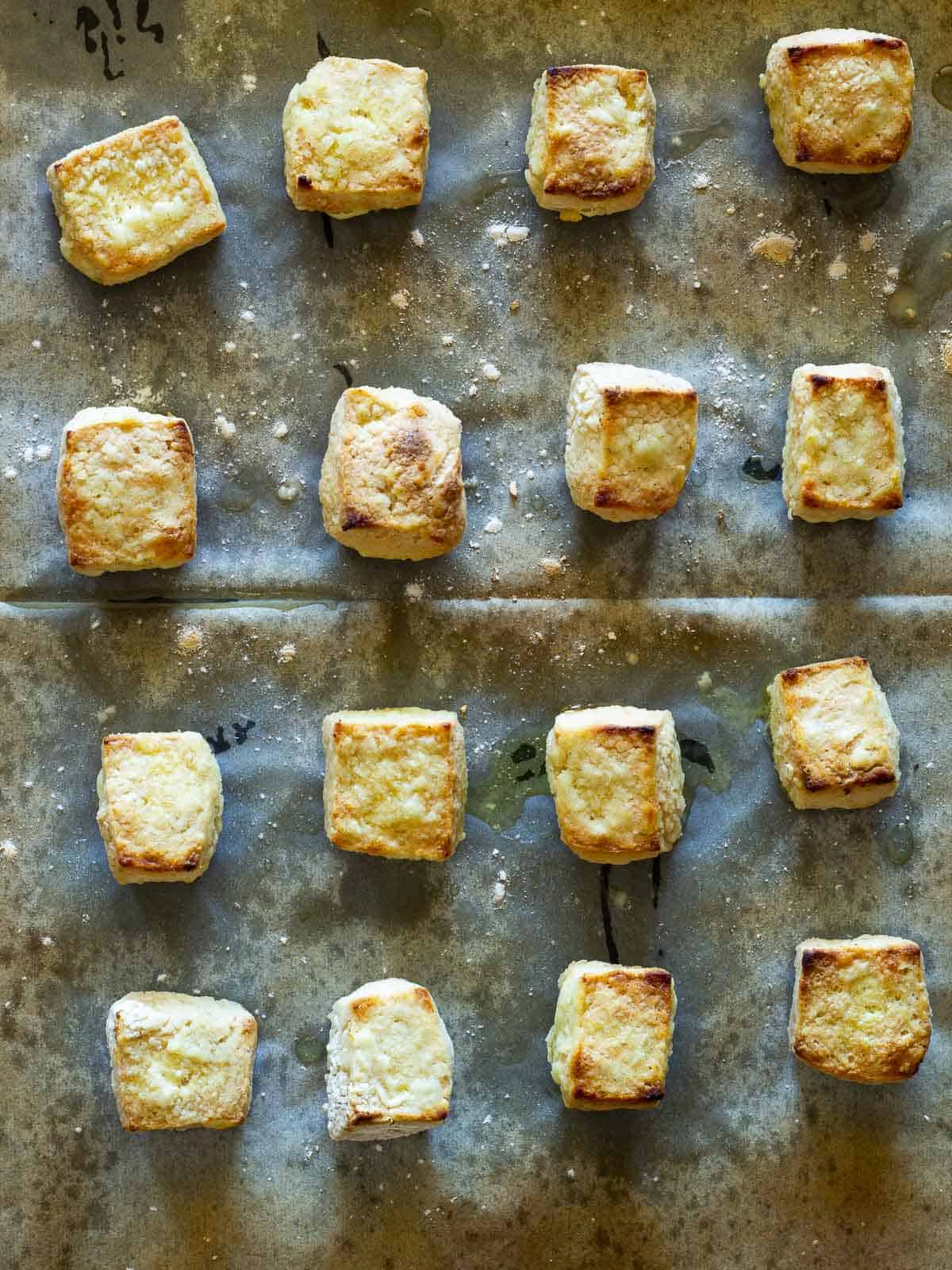 Crispy tofu bites are a delicious, vegan-friendly source of protein that pairs wonderfully with hummus. By baking or air-frying tofu until its exterior is golden and crispy, you can achieve a delightful contrast between the crunchiness of the tofu and the creaminess of the hummus.
Toss the tofu in your favorite spices or marinade for added flavor. They make for a satisfying snack or a hearty addition to any meal. For a comprehensive recipe on how to prepare your own Crispy Tofu Bites, check out our blog post: Crispy Tofu Bites Recipe or our Air-fried Mediterranean tofu nuggets.
Other Unique Pairings
The versatility of hummus extends beyond traditional uses. Its creamy texture and rich flavor make it an excellent addition to various dishes, adding a unique twist to some of your favorite meals.
With Pasta
Consider swapping your traditional pasta sauce for hummus. It's an innovative way to add a protein boost to your pasta while introducing a creamy, savory flavor. Toss your cooked pasta noodles with hummus and some extra starchy cooking water, add some sautéed vegetables and a sprinkle of vegan parmesan cheese, and garnish with fresh herbs for a delicious and quick meal.
As a Salad Dressing
Transform your hummus into a creamy salad dressing that adds a burst of flavor to any salad mix. To thin out the hummus, whisk it with a bit of water, lemon juice, or vinegar until it reaches your desired consistency. Add salt, pepper, or other seasonings to taste, and drizzle the hummus dressing over your salad.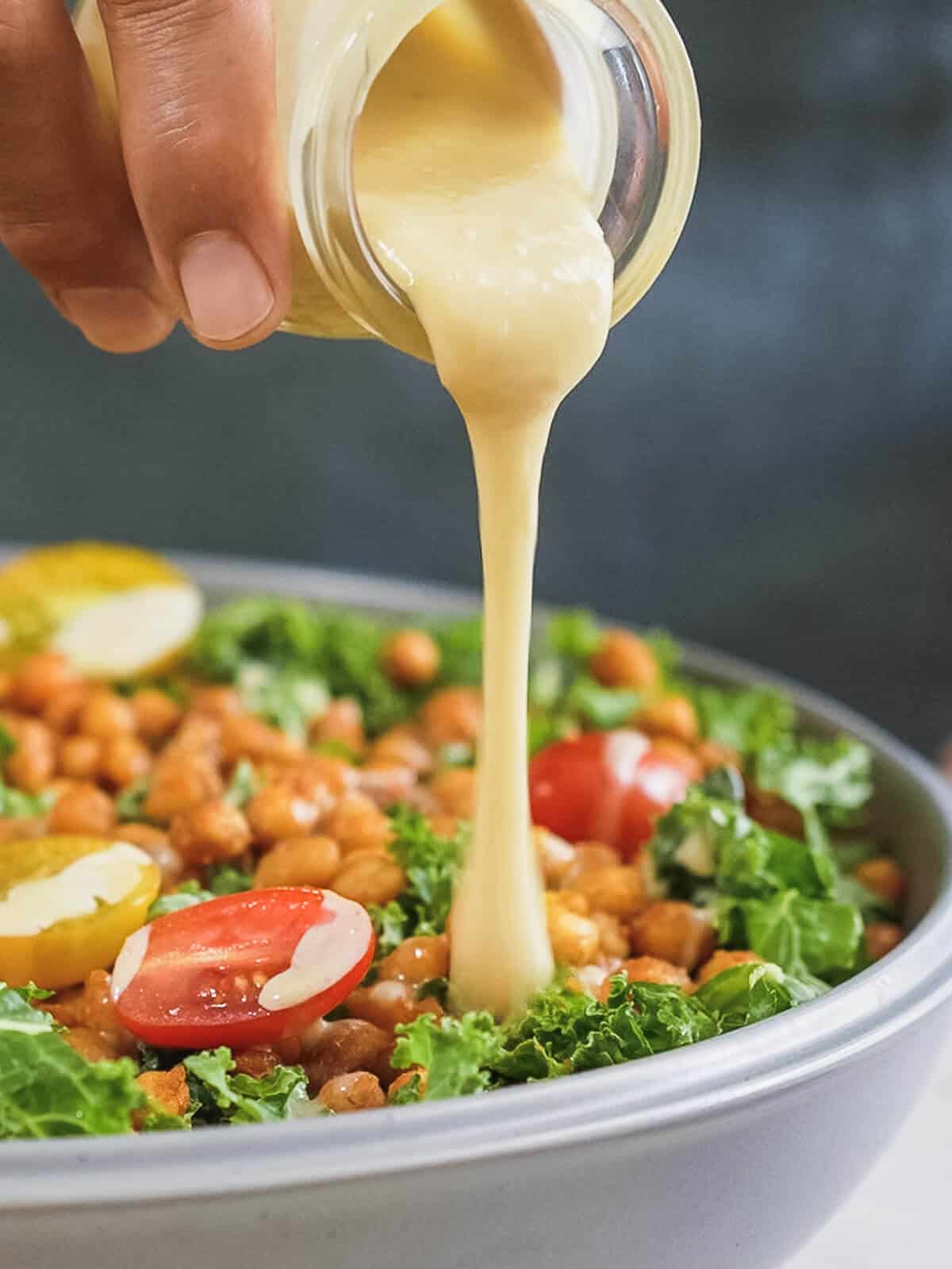 The end result is similar to a maple tahini salad dressing, which we usually have with our crispy chickpea and kale salad.
In a Wrap or hummus sandwich spread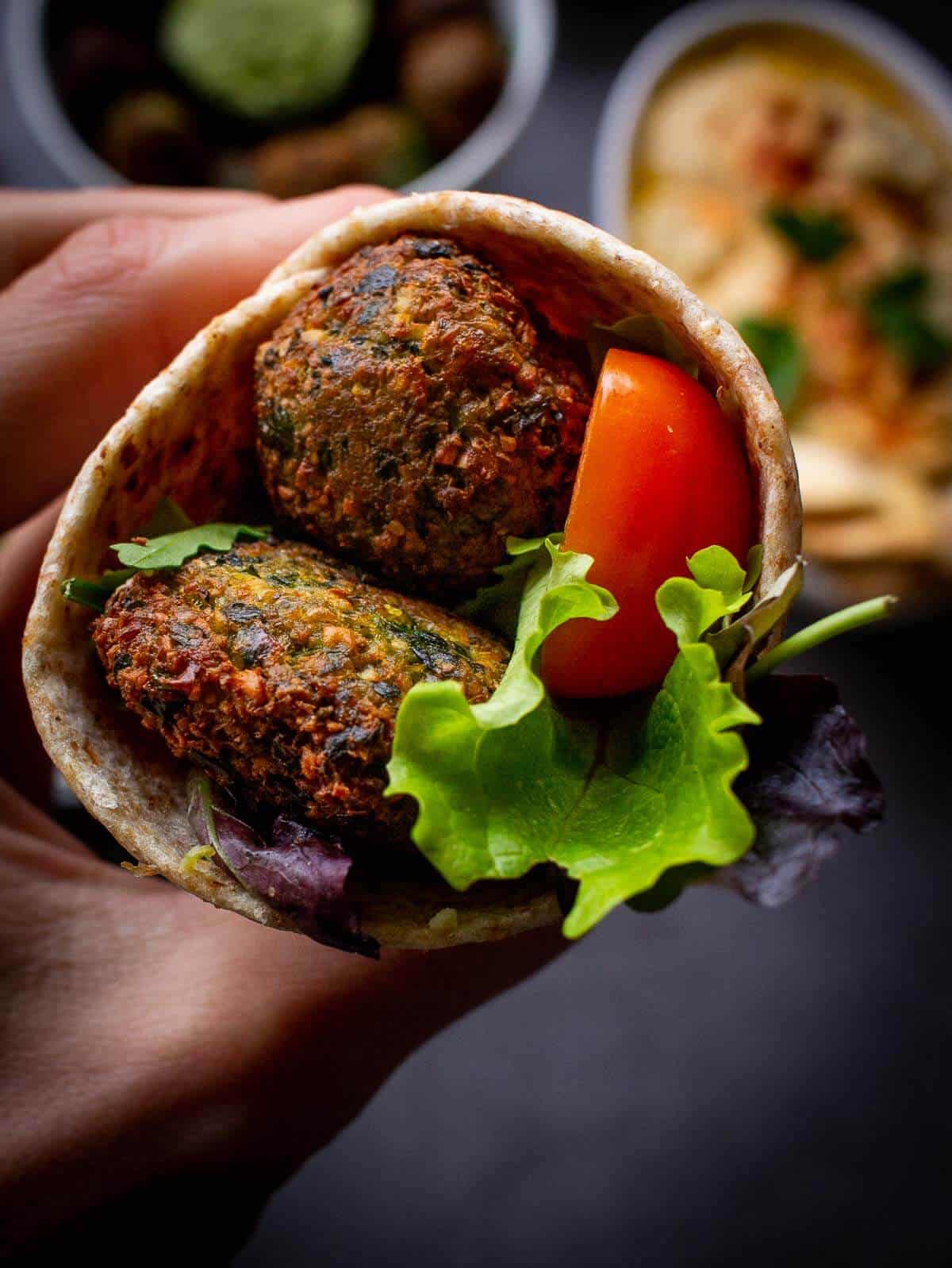 Hummus is an excellent spread for wraps and sandwiches. Its creamy texture adds moisture to the dish, while its rich, savory flavor complements a wide variety of ingredients.
You can spread hummus on your wrap or bread, then add grilled vegetables like asparagus, cauliflower, Brussels sprouts, crispy tofu, lentil sprouts, and other fillings for a satisfying, plant-based meal. You could also use it as a substitute for vegan mayonnaise or other condiments to add a Mediterranean twist to your favorite sandwiches and wraps.
Fruits
While many people consider hummus, a savory dish, the flexibility of this spread allows it to be incorporated into a number of sweet preparations as well, especially with dessert hummus like dark chocolate hummus.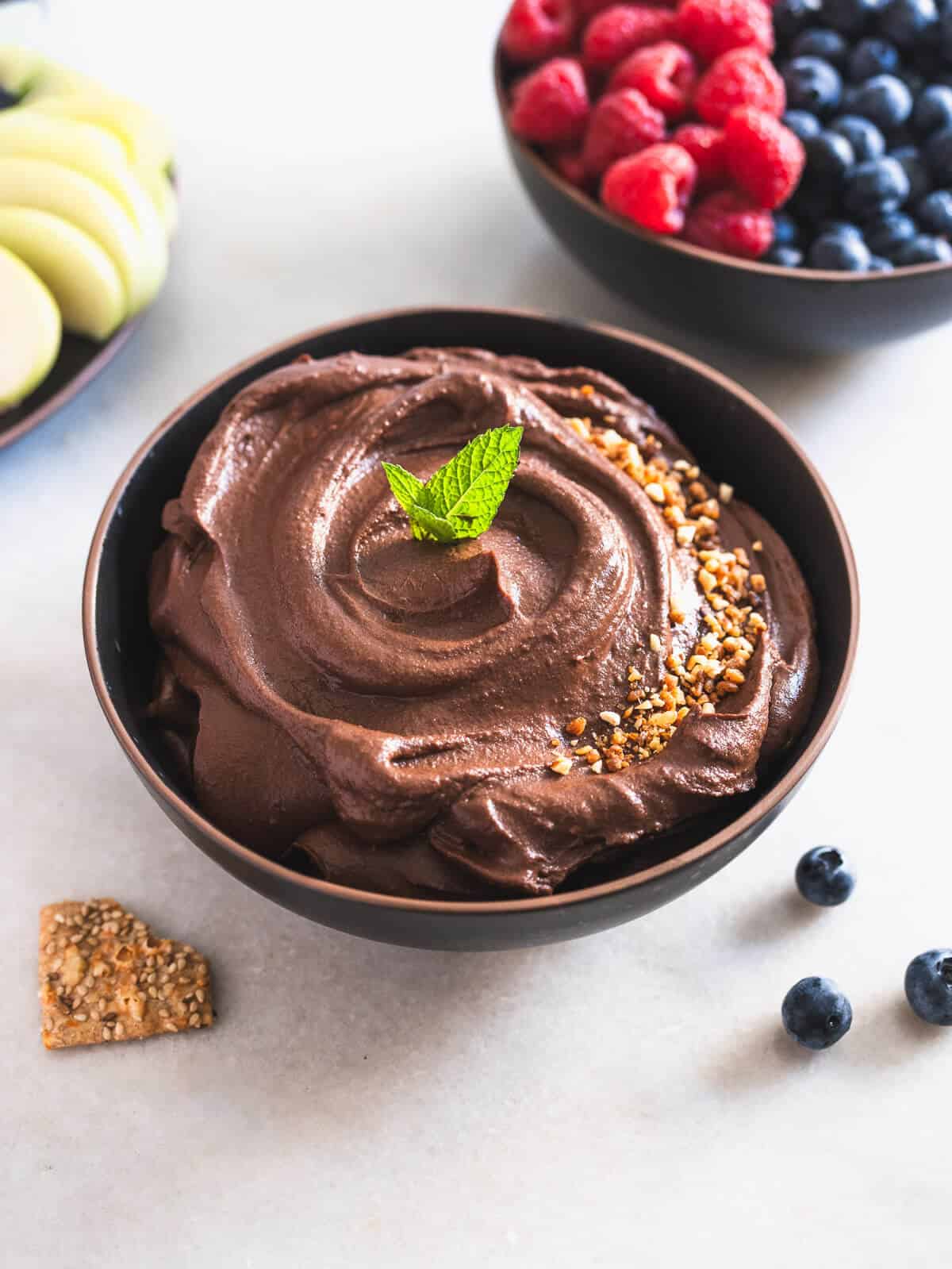 Apple Slices: The natural sweetness and crisp texture of sliced apples make them a delightful companion to chocolate hummus. Just as with the traditional savory version, apple slices can be used to scoop up the hummus, providing a refreshing, juicy contrast.
Crisp Pears: Just like apples, pears also work great with this healthy dip. Their subtle sweetness and slight crunch provide a balanced flavor and texture contrast to the smooth hummus.
Grapes: Both red and green grapes, with their sweet and slightly tart flavor, can create a pleasant taste contrast when eaten with hummus.
Nutritional Benefits
Hummus is not only delicious but also packed with numerous health benefits. Combining it with different food types can amplify these benefits and contribute to a balanced diet.
Balanced Diet
Incorporating hummus into your meals can contribute to a balanced diet. Hummus is a good source of plant-based protein and dietary fiber, both of which can help you feel fuller for longer. It also provides essential nutrients, including iron, folate, phosphorus, and B vitamins.
The chickpeas in hummus are considered a complex carbohydrate, which means they are digested more slowly. They offer a steady release of energy and help to regulate blood sugar levels.
Pairing hummus with other healthful foods like whole grains, fruits, vegetables, and plant-based proteins can contribute to a diverse and balanced diet.
DIY Hummus Recipes
Do you feel like making your own hummus, you are on the right path! Homemade hummus is soooo much better than store-bought hummus.
Traditional Hummus
Unearth the roots of classic hummus with our authentic Lebanese Hummus Recipe. Experience the rich, creamy, and unmistakably Middle Eastern flavors that have made hummus a global sensation.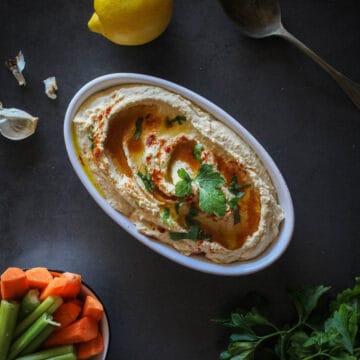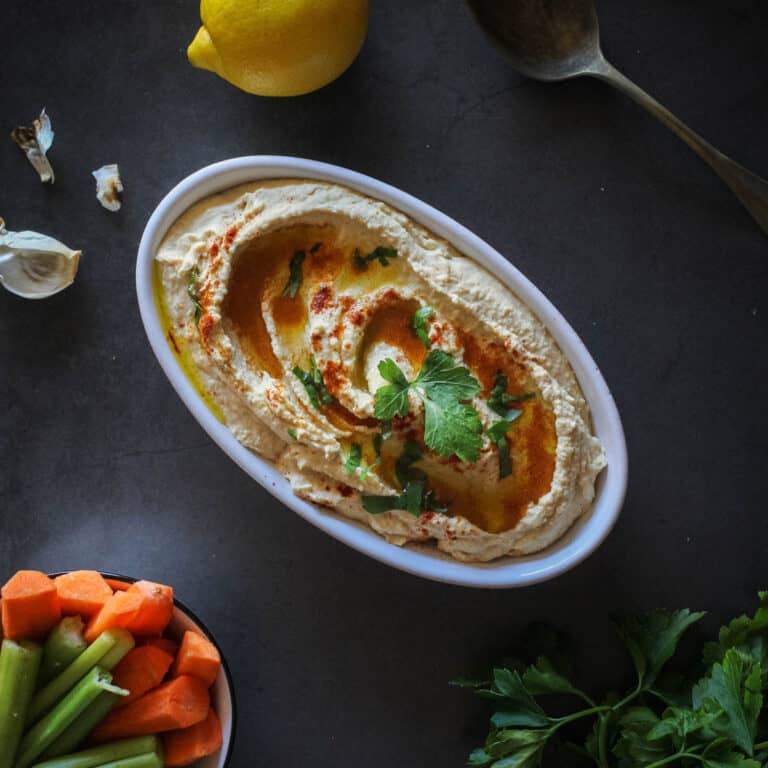 Lebanese Hummus Recipe
Do you love hummus as much as I do? It's such a versatile dip! You can enjoy it plain or jazz it up with fun flavors. In this post, I'm sharing an easy hummus recipe perfect for beginners. Plus, I've got a few variations to get you started.
Make this Recipe
Avocado Hummus Recipe
Merge the creamy goodness of avocados with the richness of hummus in our Avocado Hummus recipe. It's a green, velvety union that will have your taste buds swooning in delight.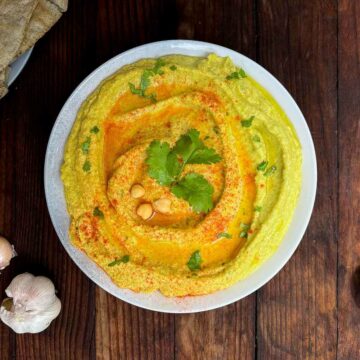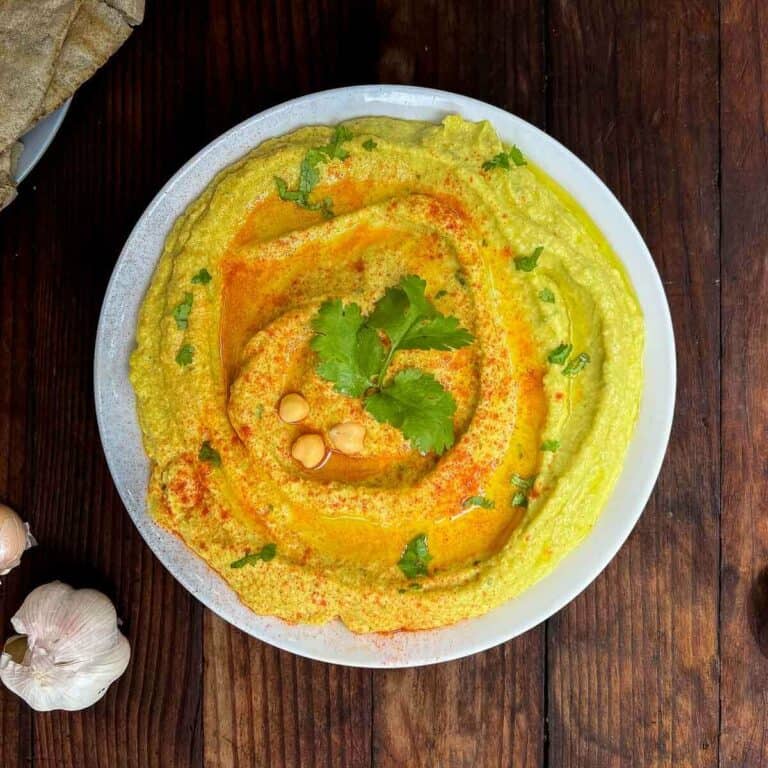 Hummus Avocado Dip Recipe
Experience the delightful fusion of avocado and hummus in our fantastic Guacamole-inspired dip. A twist on the beloved Traditional Hummus, this creamy creation adds a Mexican flair to your snacking. Delight in the smooth blend of chickpeas, ripe avocados, and zesty herbs, taking your taste buds to new heights.
Make this Recipe
Red Pepper Hummus Recipe
Add a splash of color and a burst of sweet, smoky flavor to your hummus with our Red Bell Pepper Hummus recipe. It's a vibrant twist you won't want to miss.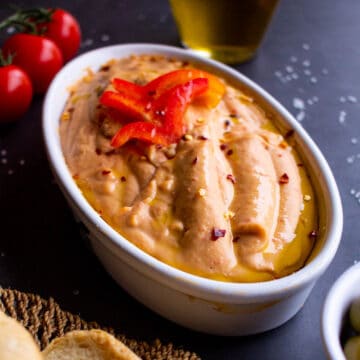 Roasted Red Pepper Hummus Recipe
This roasted red pepper hummus recipe is the perfect appetizer for any party. It's quick and simple to make. Serve as an appetizer with your favorite veggies.
Make this Recipe
Roasted Pumpkin Hummus Recipe
Discover a cozy, autumn-inspired twist on a classic with our Roasted Pumpkin Hummus recipe. Let the warm, earthy flavors of roasted pumpkin transform your hummus experience.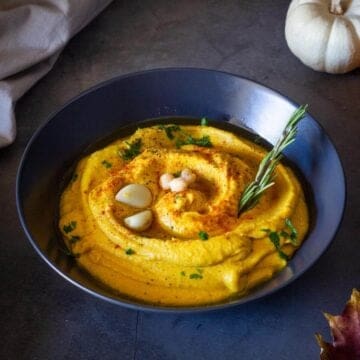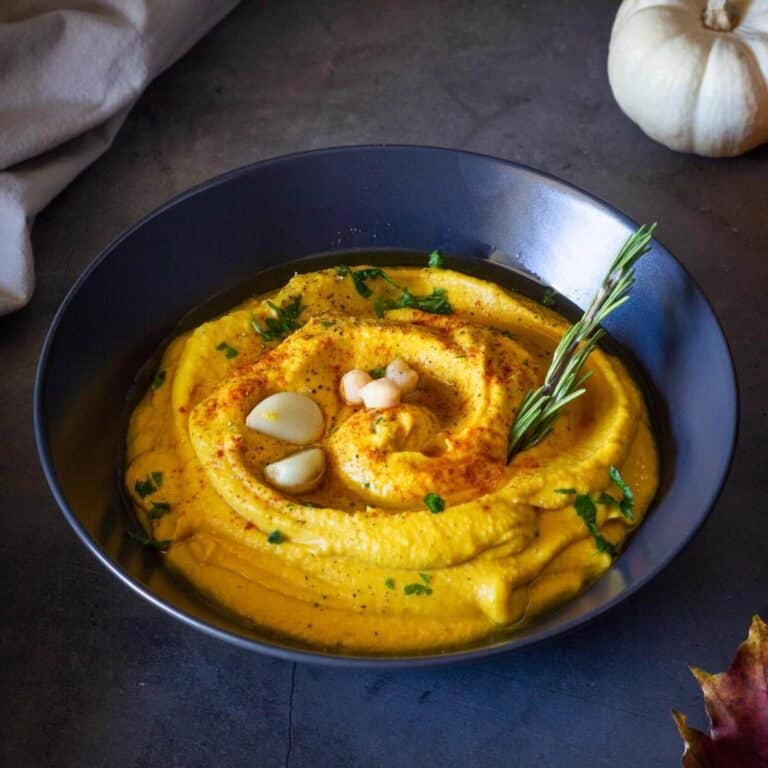 Easy Pumpkin Hummus Recipe
This easy savory pumpkin hummus recipe is vegan, gluten-free, and made with real pumpkin—no canola oil here! Make this for your next fall gathering or Thanksgiving menu.
Make this Recipe
Pink Beet Hummus Recipe made with White Beans
Dive into a visually stunning and tastefully innovative creation with our Pink Beet Hummus made with white beans. Let this sweet and earthy masterpiece redefine your hummus repertoire.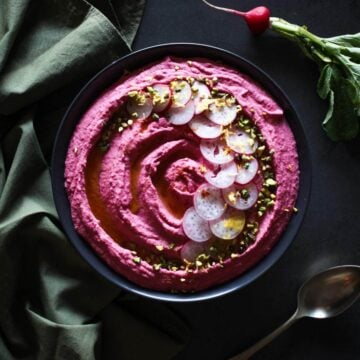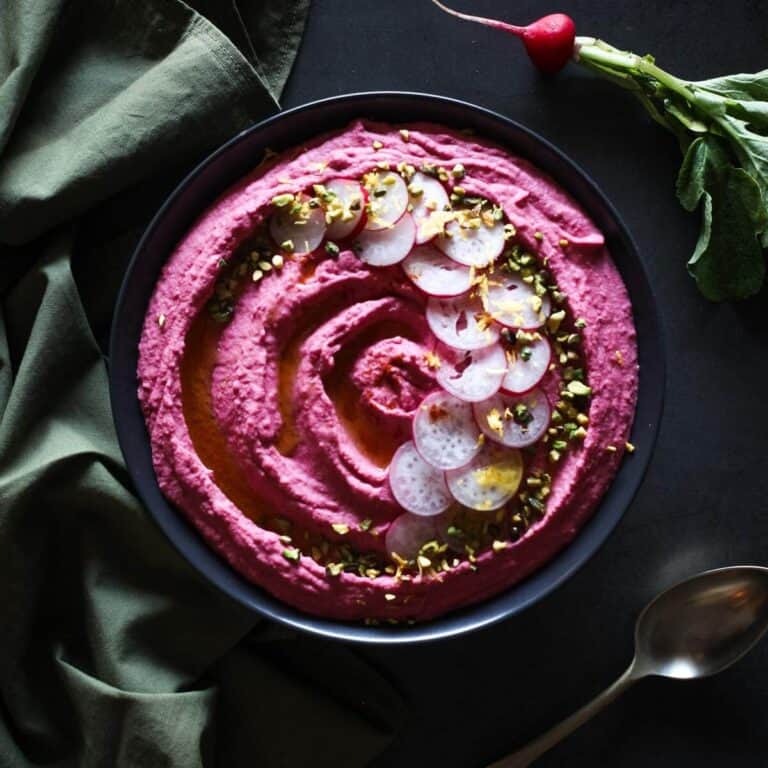 Lemon Beet Hummus Recipe
This Lemon Beet Hummus Recipe takes 10 minutes to make, and you can use canned beets for convenience. You'll love this unique blend of ingredients.
Make this Recipe
Black-Eyed Peas Hummus
Dive into a fusion of flavors with our Black-Eyed Peas Hummus, an inventive twist on the classic Middle Eastern spread. This recipe offers a rich and creamy texture with a touch of Southern charm, sure to tantalize your taste buds.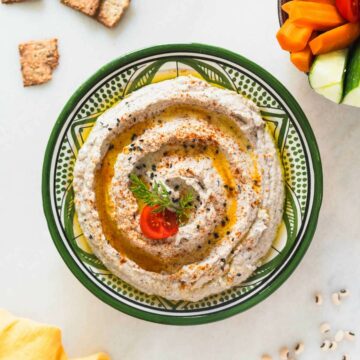 Black eyed Peas Hummus Recipe
Get ready to rock your snack world with our Quick & Easy Black-Eyed Peas Hummus! It's a protein-packed powerhouse that's as delicious as it is nutritious.
Make this Recipe
Green Edamame Hummus
Step out of the ordinary and embrace the fresh, vibrant flavors of our Green Edamame Hummus. It's a refreshing take on hummus that brings a splash of green to your table.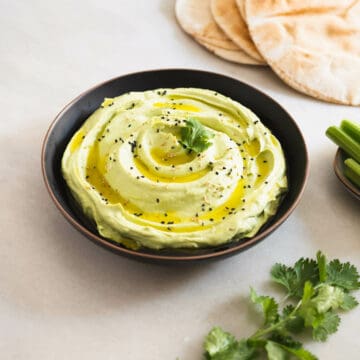 Best Green Edamame Hummus Dip (Creamy, Easy & Quick)
Get ready to delight in our edamame hummus, a flavorful fusion of Asian and Middle Eastern cuisine. This creamy, quick, and easy-to-make dip is not only tasty, but also packed with nutritional goodness. Let's dive into the green, clean world of plant-based cooking!
Make this Recipe
Dark Chocolate Hummus
Delight in the heavenly blend of creamy hummus and rich dark chocolate with our refined sugar-free Dark Chocolate Hummus. Indulge your sweet cravings guilt-free!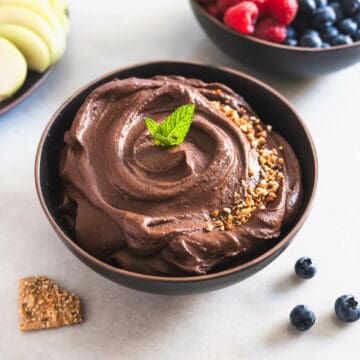 Dark Chocolate Hummus
Discover the irresistible world of Dark Chocolate Hummus, a unique blend of savory and sweet that will delight your taste buds. Learn how to make this delicious, health-boosting dessert that combines the creaminess of hummus with the rich depth of dark chocolate.
Make this Recipe
Let us know which one is your favorite hummus in the comments section!