Drinking Pineapple water is all the rage right now and for good reason – it's delicious! Not to mention, it's a great way to stay hydrated. In this blog post, I'm going to show you how to make fresh pineapple water at home. It's really easy, so don't worry! Keep reading for instructions.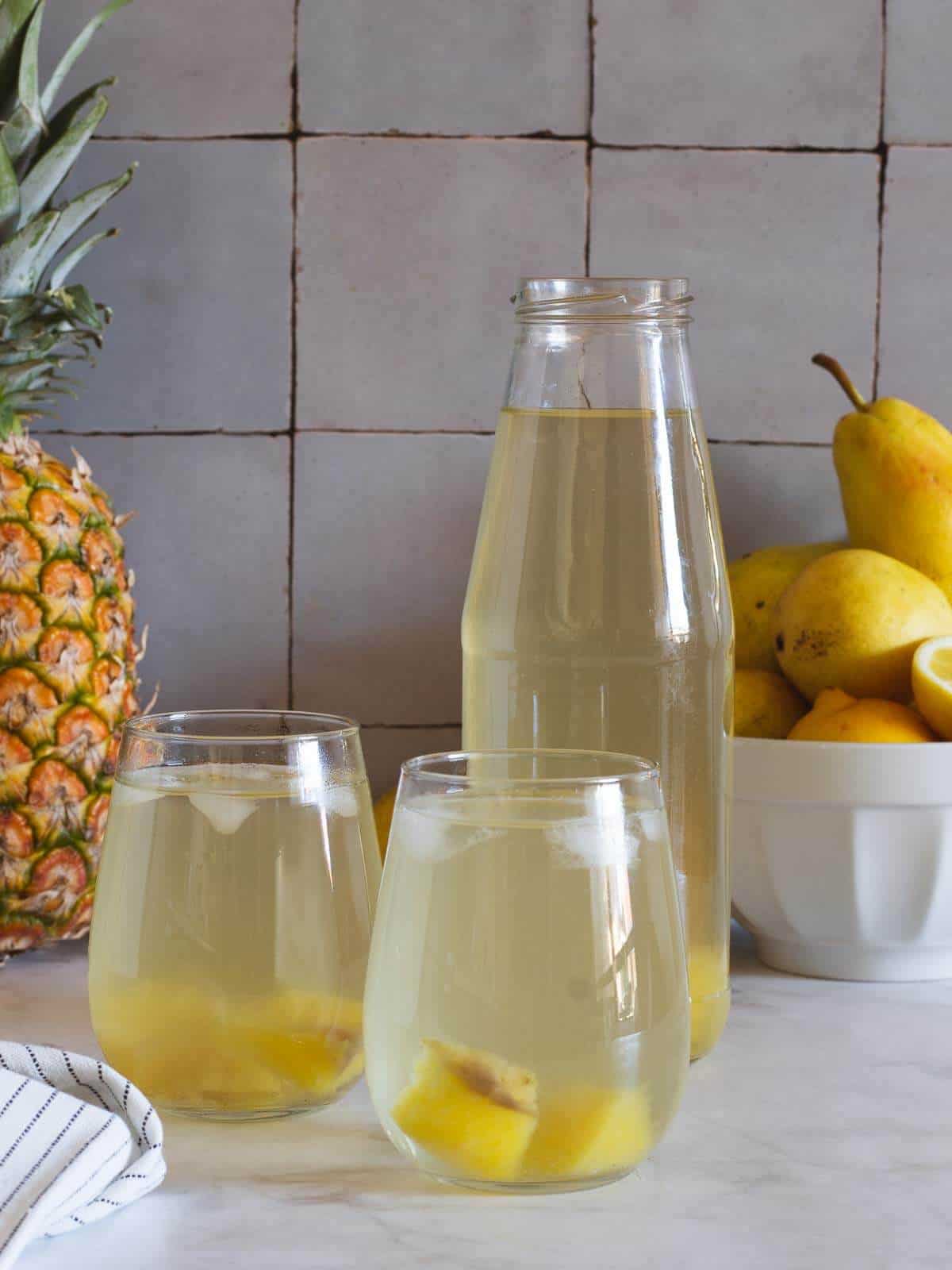 Drinking pineapple water is a delicious way to enjoy a virtually zero-calorie hydrating drink, as it is plain water and can be enjoyed with your meals instead of soda, and drink during detox days, as it promotes healthy digestion.
Just as drinking water this is a great way to stay hydrated during the day if you want an option of fruit juice, water, or lime juice.
I love using everything in my kitchen, and it is a great idea to avoid waste while extracting the best flavors from all the fresh produce, so we make pineapple water, pesto sauce with carrots tops, and even watermelon rind gazpacho, and they are delicious!
If you like the topic, check out our post on how to make the best of your meal leftovers.
Read on: recipes with almond pulp leftovers from making almond milk »
This Panamanian typical drink simply consists of fresh pineapple water. It doesn't get simpler than this recipe. We call it agua de piña (also called agua fresca in Mexico); it has great cleansing properties and Vitamin C.
Ingredients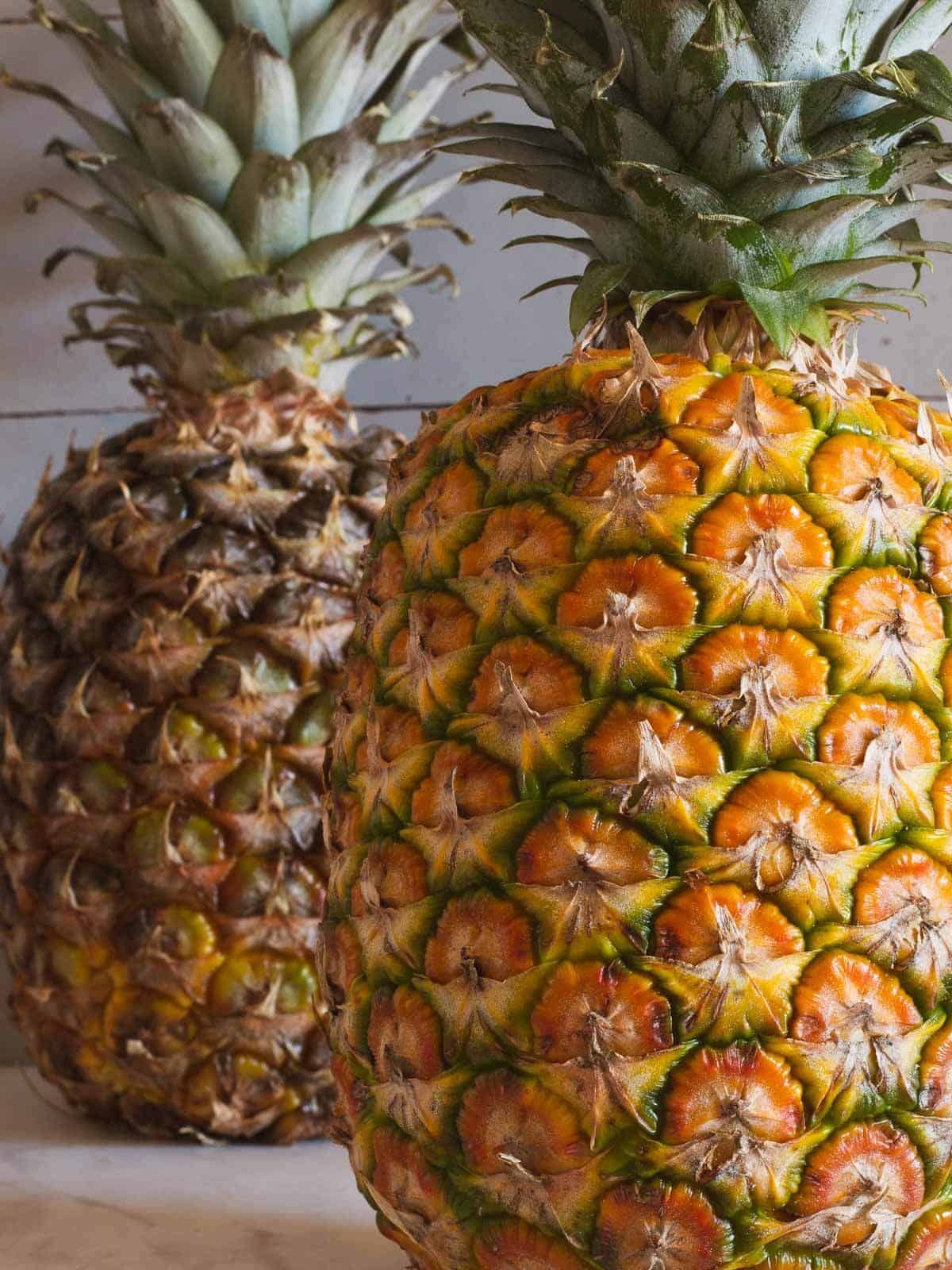 Ripe pineapple peel (from the whole fruit)
Fresh water
Optional extra flavorings (not necessary):
Fresh ginger, star anise, cinnamon stick, cloves, or lemon.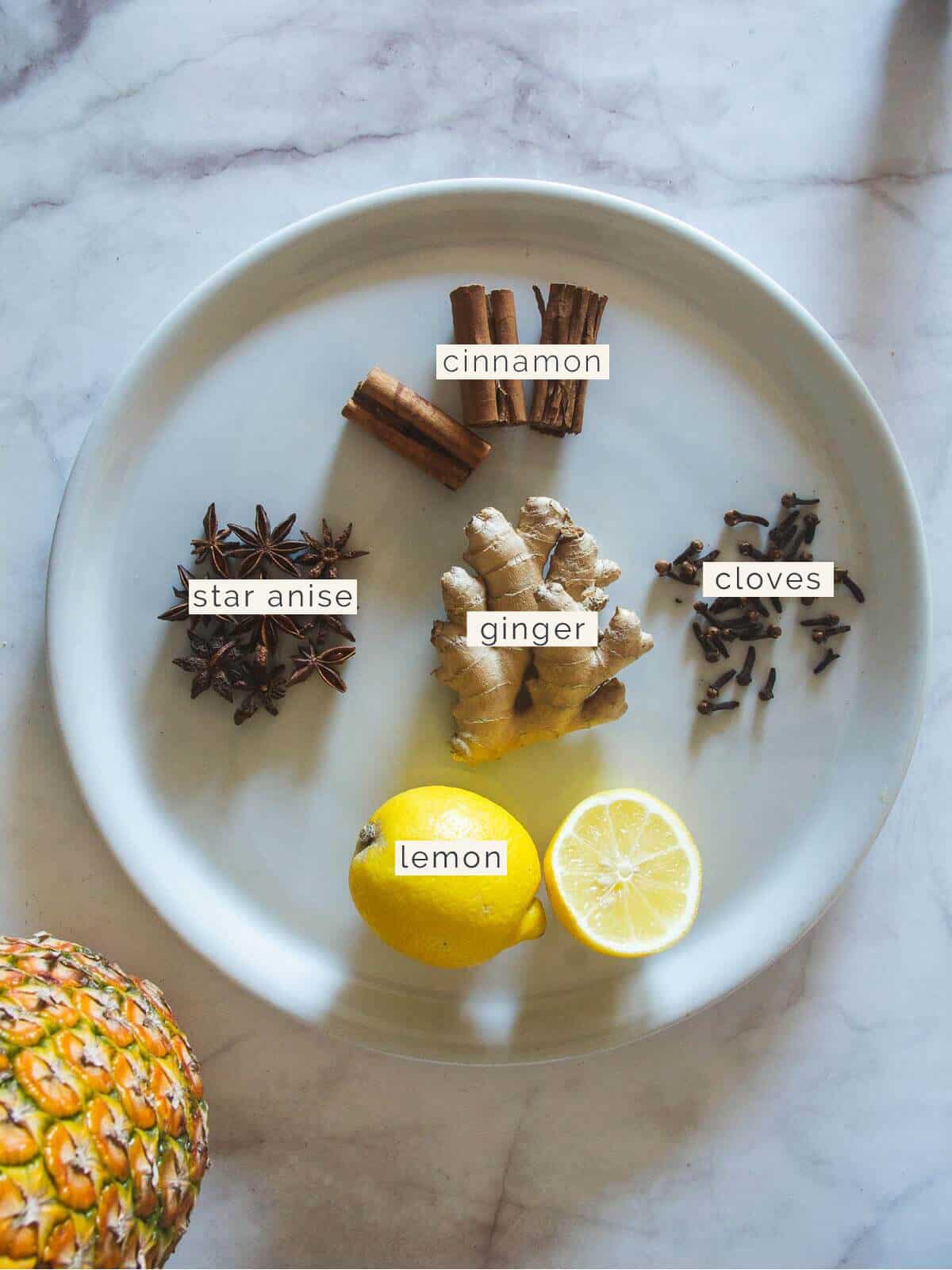 How to make pineapple water for weight loss
Peel pineapple
Peel the whole pineapple and reserve the flesh to eat on its own or freeze the pineapple chunks for a pineapple coconut smoothie, or a strawberry pineapple smoothie.
If you plan to drink your pineapple water on its own, without any other flavoring or sweetener, leave a little bit of flesh on the rinds so the pineapple taste is more concentrated.
Otherwise, you can simply pick one or two small frozen or fresh pineapple chunks to add to the pineapple-infused water.
Tip: you can reserve the rind frozen in a plastic bag or plastic wrap in the freezer and make your pineapple water later.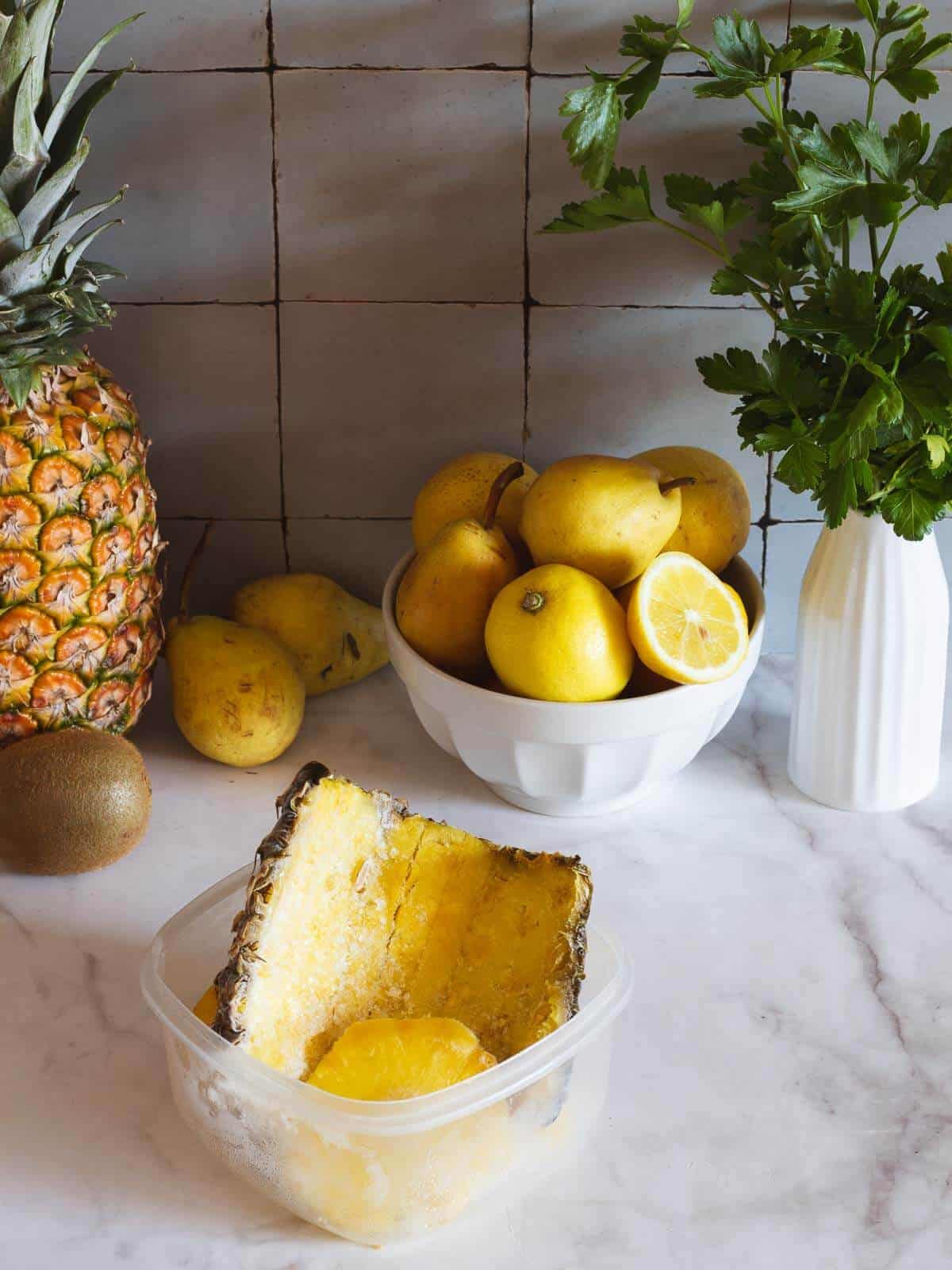 Check out how to make a perfect pineapple and cucumber smoothie for weight loss.
Boil
Put the pineapple rind in a large saucepan and fill it with enough water. I use about a half-gallon (2 liters) for a medium pineapple.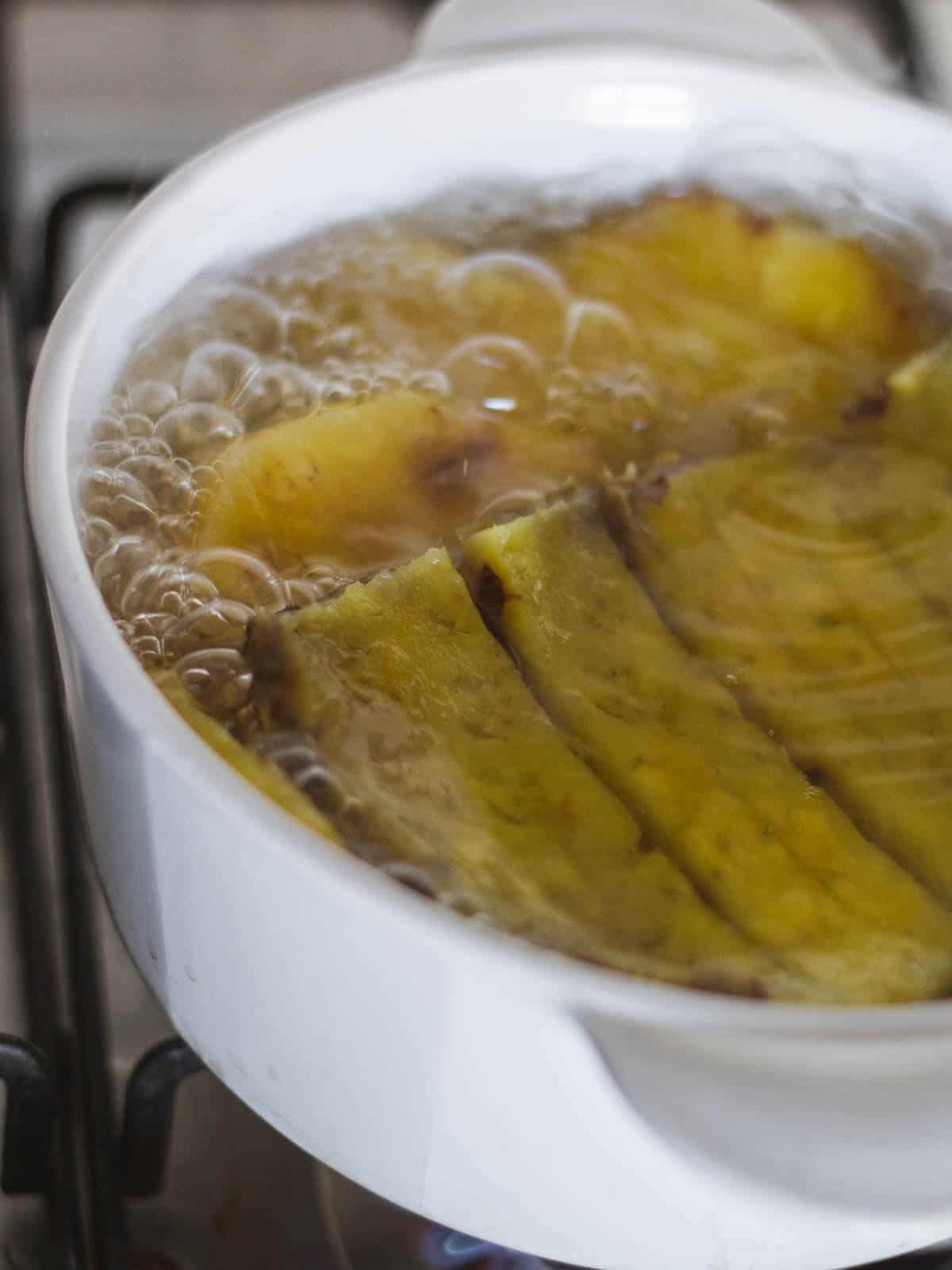 Add any other flavoring you might want to add. I suggest you try pineapple water on its own the first time, so you get acquainted with the flavor, before trying out any other flavorings.
Bring to boil for about 15 minutes. Psst! Your kitchen will turn into a dreamy Caribbean afternoon with the pineapple scent.
Cooldown
Remove from heat and let the pineapple-infused water cool down.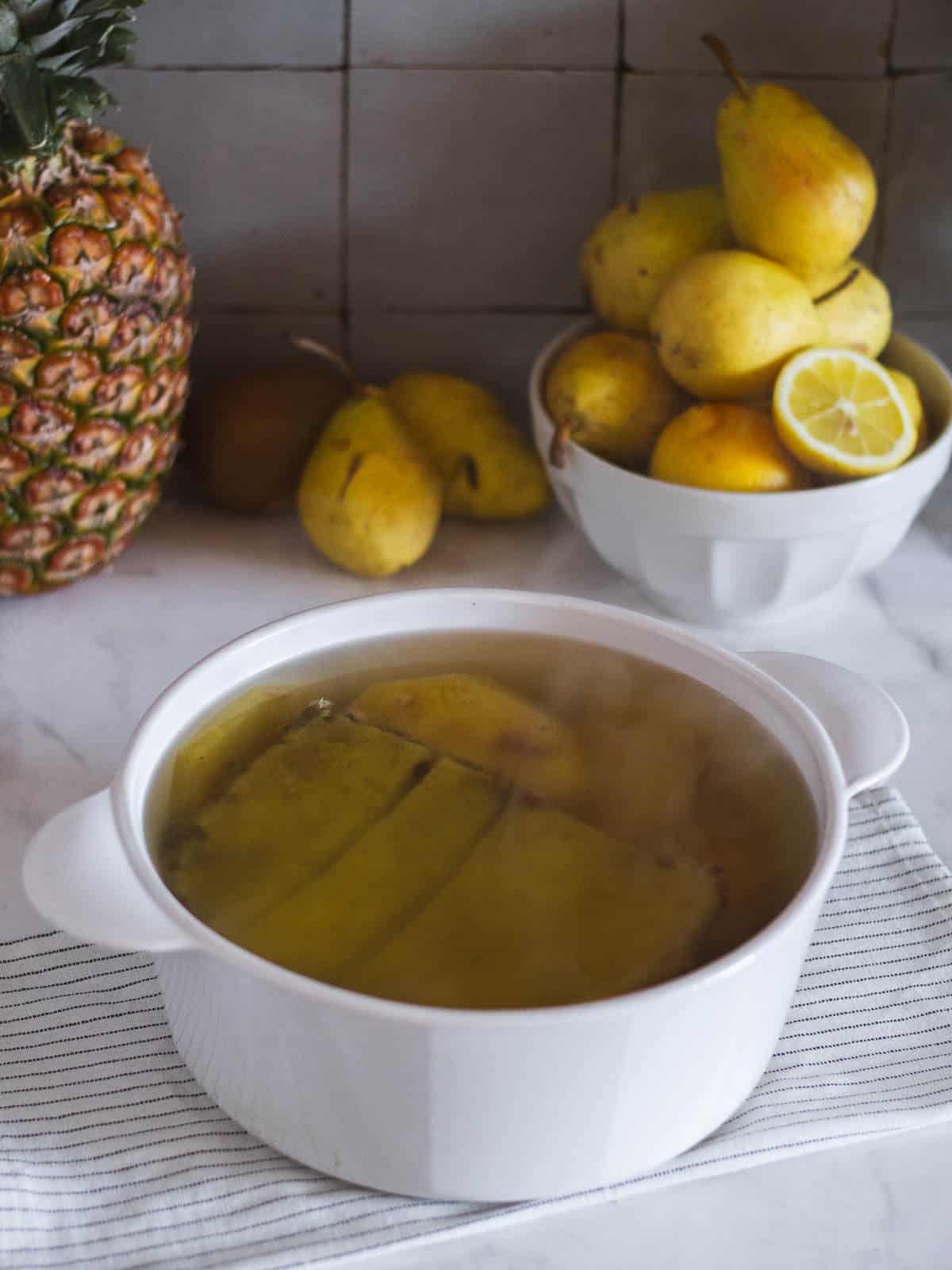 Note: you can enjoy the pineapple-infused water as tea as well. In this case, you can serve it immediately in teacups.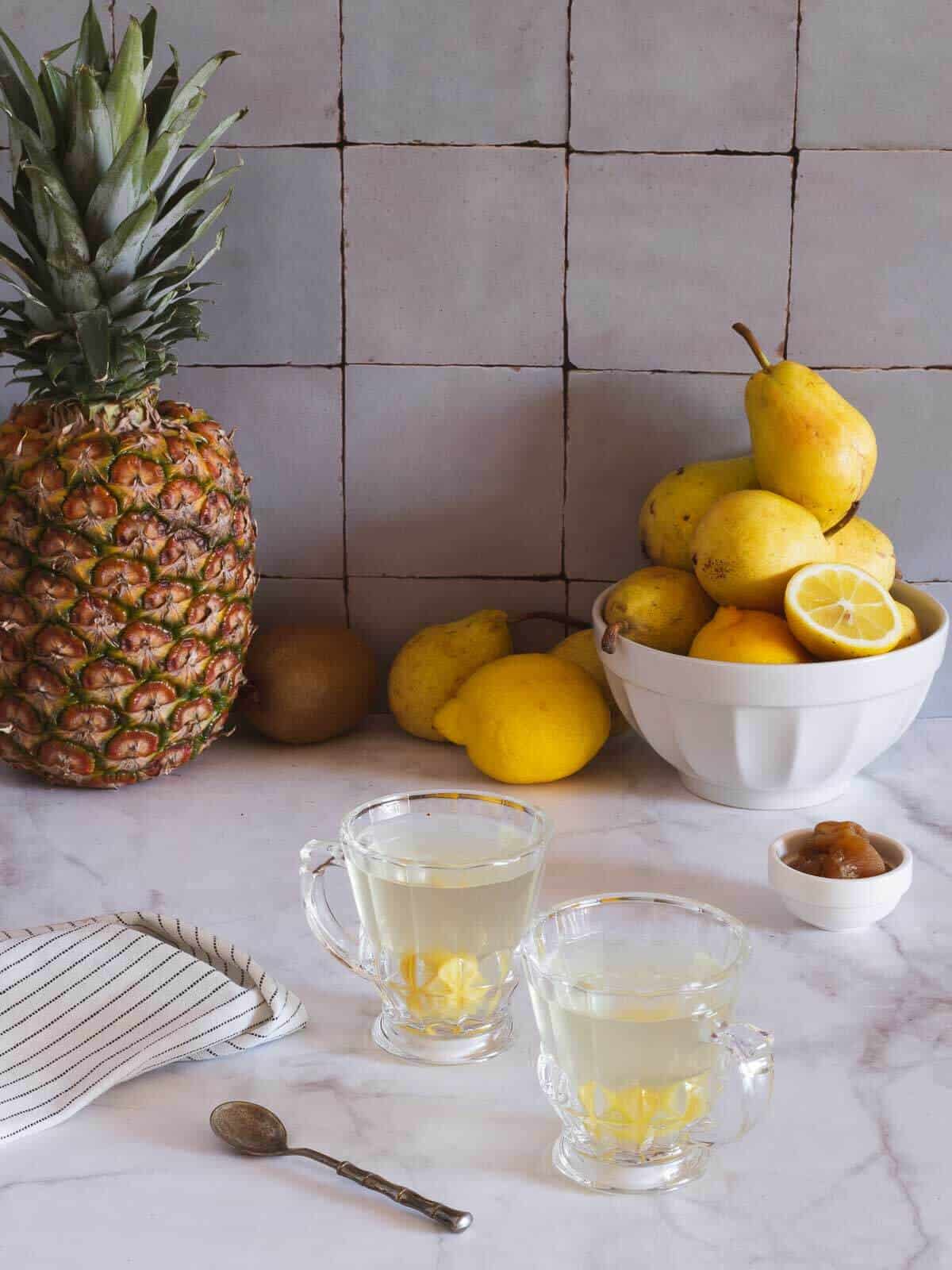 Strain
Straining the fruit-infused water isn't necessary as any particles usually decant to the bottom of the bottle, but if you want to make sure you have 100% clear pineapple water, pass it through a fine-mesh strainer.
Tip: I usually squeeze the soggy pineapple rinds with my hands to extract all the flavor, before straining the pineapple water.
Sweeten (optional)
Although I learned to drink pineapple water as a sweet drink as a child, I find it completely unnecessary, as pineapple rinds will infuse some sweetness into the drink and no added sugar is necessary.
But until just fifteen years ago I drank tea with sugar, not anymore.
If you want to add some extra sweetness, you can add a tablespoon of date paste, maple syrup, agave nectar, or coconut sugar into the drink. The drink will darken a bit depending on the sweetener you use.
Reserve
I like bottling the pineapple water in a large jar and enjoying it chilled on warm days. I also like serving this refreshing and hydrating drink in a glass with ice cubes, and the remainder of boiled pineapple chunks for extra fiber.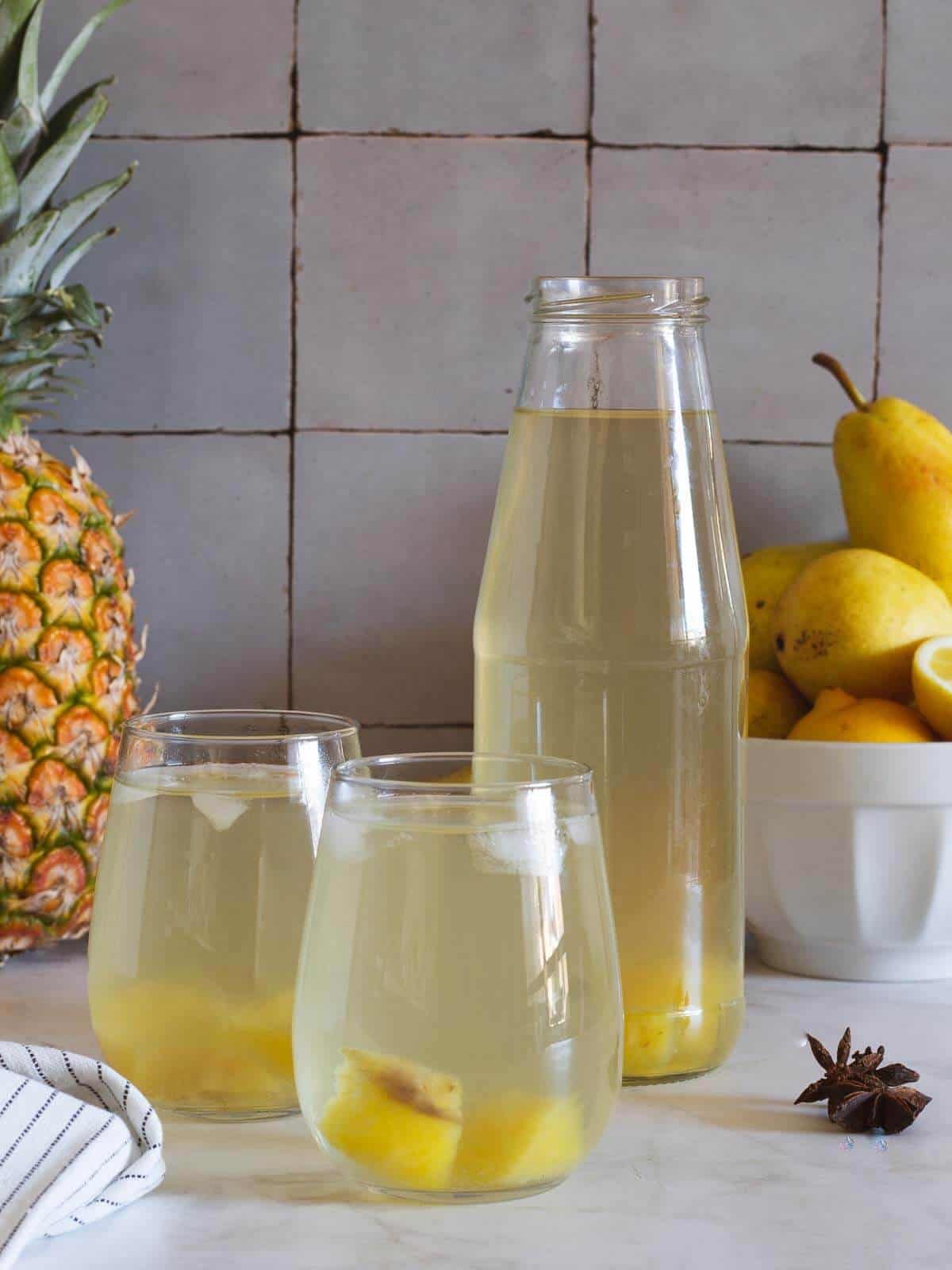 Variations
This great recipe is easy to modify and adjust to give it different flavor twists.
Flavor
Add star anise, fresh ginger, cloves, cinnamon sticks, lime, or lemon to the water while it boils. You can also add fresh mint leaves when the fruit-infused water is already chilled, as the leaves darken with heat.
Sweeter
Add your choice of sweeter like coconut sugar, date paste, maple syrup, agave nectar, stevia leaves, or regular sugar.
Another drink
We make a horchata (rice base drink) called Arroz con Piña, simply adding half a cup of rice to the boiling water. Then remove the rinds and blend in a high-speed blender with cinnamon, vanilla, oat milk, ice cubes, and sweetener.
Add antioxidants
If you feel like adding some extra nutrients, Vitamin C, antioxidant content, and anti-inflammatory benefits to your drink, add a tablespoon of chia seeds and let it infuse overnight.
Add painkilling effect
You can include in the boiling water a tablespoon of fennel seeds. Fennel has been found to help relieve pain. A study from Bangladesh found that fennel extract reduced pain symptoms to a level close to what aspirin does. (source)
If you want are looking for drinks that may help alleviate pain try this juice.
Benefits of drinking pineapple water
Weight loss
By changing the regular sugary drinks in your diet for this zero-calorie drink you can easily remove a good amount of calories from your daily intake. If you love pineapple and trying to lose weight this juice may be for you.
Anti-inflammatory
Inflammation is important in the development of cancer. It helps with the transformation of cells, the growth of tumors, and the spread of cancer to other parts of the body.
Scientists have found that if they can control chronic inflammation, it can help reduce cancer incidence and also slow down cancer progression.
Bromelain in pineapple has been shown to decrease inflammatory mediators and has demonstrated significant anti-inflammatory effects in many different conditions. (source).
Intestinal function
Studies found that pineapple peel could be a promising candidate for human intestinal function and health. (source)
So don't throw away your pineapple peels and give this delicious Pineapple Water a try. Not only is it refreshing, but you'll also get all the health benefits of drinking fresh pineapple juice. Cheers to staying hydrated!
If you like tonics and infusions, you need to try this anti-inflammatory powerhouse, turmeric, and ginger tea that is part of our morning rituals.
⭐ If you try this recipe, let us know! 💬 Leave a comment, rate it, and don't forget to tag us @ourplantbasedworld on Instagram. Cheers!
Recipe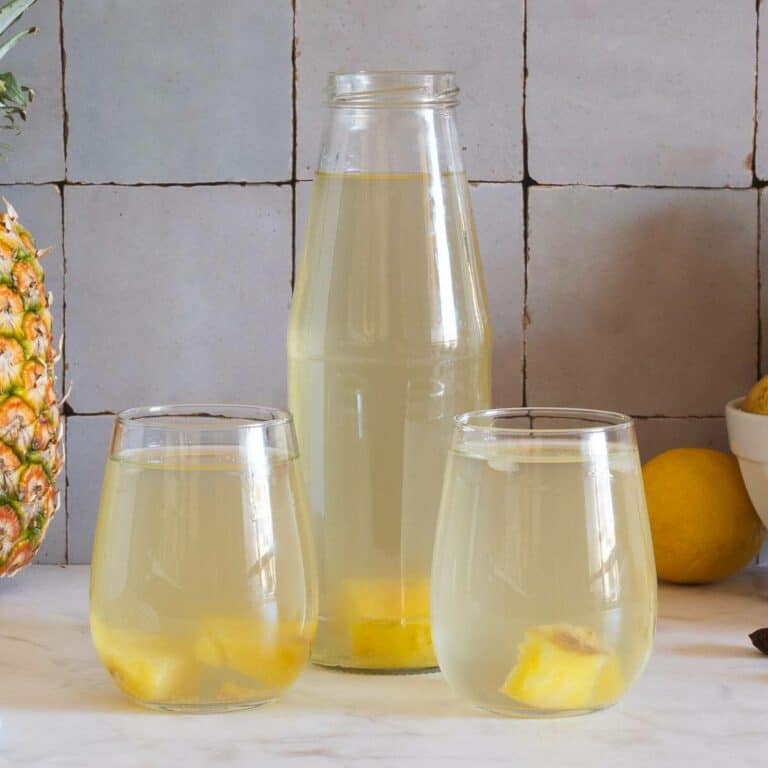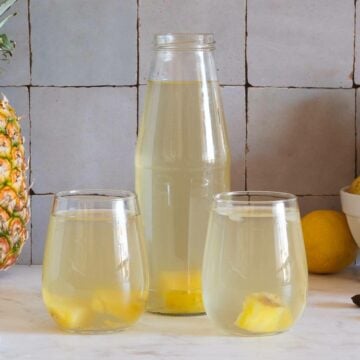 How to Make Pineapple Water
This pineapple water recipe is a quick, easy and tasty way to stay hydrated as we transition into warmer weather. It's also a great alternative for those who don't like plain old water or other flavored drinks such as tea, coffee or sodas.
Ingredients
1

whole pineapple peel

you can use frozen pineapple peels.

½

gallon

water
Optional extra flavoring
fresh ginger

star anise

lemon juice

fennel seeds

to make a hot infusion for pain relief
Directions
Peel pineapple. If you plan to drink your pineapple water on its own, without any other flavoring or sweetener, leave a little bit of flesh on the rinds so the flavor is more concentrated.

Boil. Put the pineapple peels in a large saucepan and fill it with water. Let it boil for 15 minutes.

Cool down. Let the infused pineapple water cool down if planning to drink it as a cold drink. Then transfer it to a bottle and then to the fridge; otherwise you can serve it hot as a cup of tea.
Notes
To have more pineapple flavor you can add one or two chunks of fresh pineapple chunks to the boiling water, or simply use less water to let the flavors concentrate more.
Nutrition Facts
Calories:
1
kcal
Sodium:
12
mg
Calcium:
7
mg
Nutrition Facts
How to Make Pineapple Water
Amount per Serving
% Daily Value*
* Percent Daily Values are based on a 2000 calorie diet.
🌡️ Food safety
Cook to a minimum temperature of 165 °F (74 °C)
Do not use the same utensils on cooked food that previously touched raw meat
Wash hands after touching raw meat
Don't leave food sitting out at room temperature for extended periods
Never leave cooking food unattended
Use oils with high smoking points to avoid harmful compounds
Always have good ventilation when using a gas stove
See more guidelines at USDA.gov.
The information shown is an estimate provided by an online nutrition calculator. It should not be considered a substitute for a professional nutritionist's advice. See our full Nutritional Disclosure here.
Please note that some of the links here are affiliate links, and I will earn a commission if you purchase through those links. I use all of the products listed and recommend them because they are companies that I have found helpful and trustworthy.