Muhammara is a Middle Eastern roasted red pepper dip that is slightly smoky, savory, and packed with flavors. It has the right amount of acidity from the lemons, sweetness from the peppers, and the richness of walnuts and olive oil. It's perfect!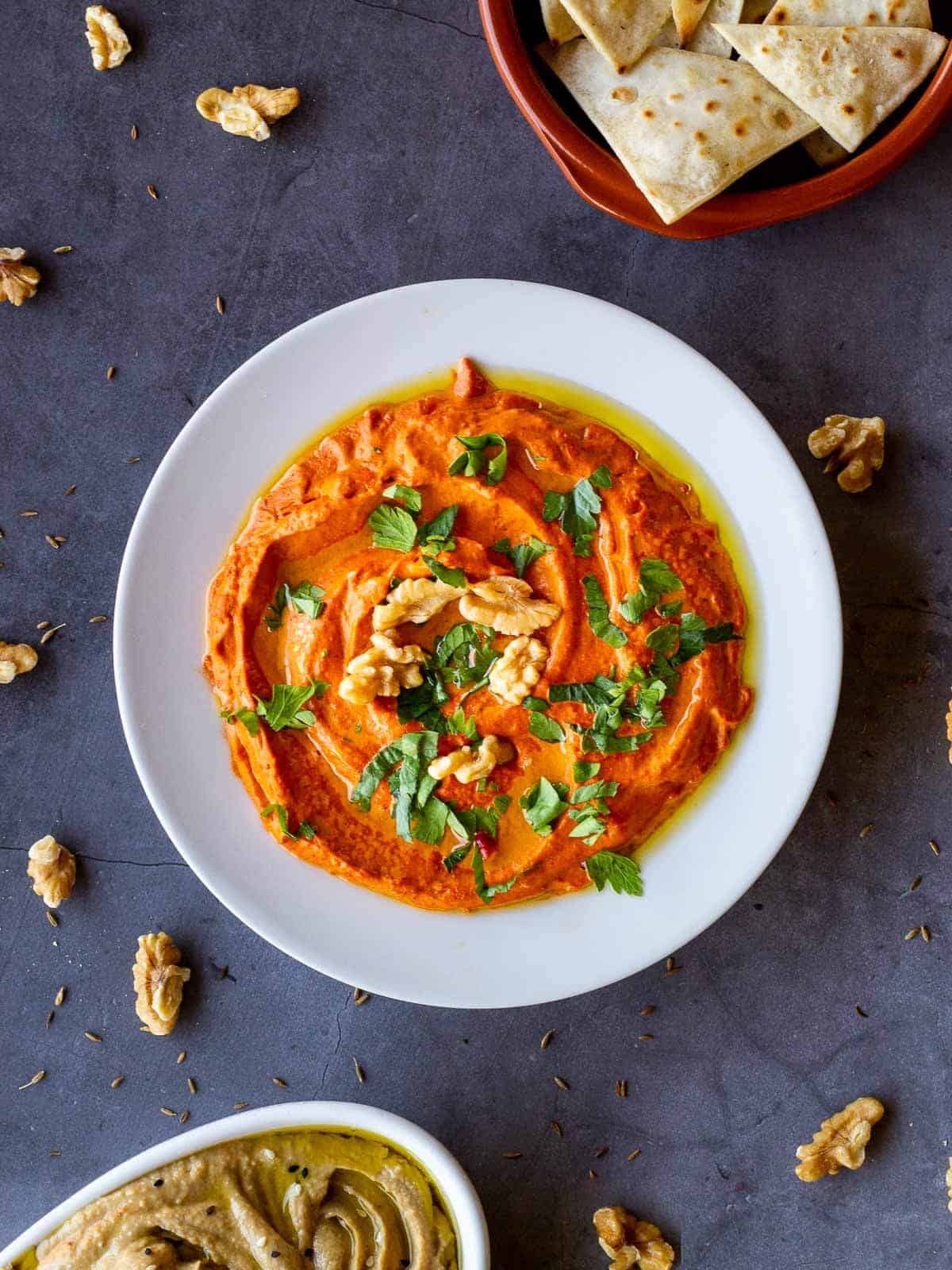 This Red Pepper and Walnut dip muhammara is easy to make, and we love serving it as part of a mezze. It pairs well with Classic Hummus, Pumpkin Hummus, pink beet hummus, Eggplant Babaganoush, Falafel balls, and fresh Tabbouleh Salad. All of these delicious Middle Eastern recipes are on our site.
Muhammara is a great tahini-free option to the most commonly known Roasted red pepper hummus, also on this site.
Don't forget to check out our simple Lebanese Seven Spices mix to make any stew taste like an authentic Lebanese dish!
It is a very versatile dip, so I even add some scoops to our Venezuelan Vegan Arepas, on top of a poke bowl or simply serve it as a snack along with pita bread, making it the perfect vegan party appetizer.
Jump to:
👨🏻‍🍳 Make it your own
Having moved so many times around the globe and taking all those beautiful flavors with us, we have learned that the lack of some ingredients shouldn't be a downer to keep us from enjoying those acquired tastes and comfort food dishes.
What would be the point then?
On the contrary, it should work as a door opener for invention, creativity, and exploration of the new flavors that the land that's opening its arms to you is now offering.
🧾 Ingredients
You may find some of the Muhammara recipe ingredients hard to find, but don't let that keep you from making the recipe.
I provide substitutions below for all of them. All true and tried before with excellent results.
You will also find how to adapt the recipe for Gluten-free, Oil-Free, and Whole Food plant-based diets.
Red peppers
Raw walnuts
Pomegranate molasses (or a mix of pomegranate juice and maple syrup)
Bread crumbs
Cumin seeds
Aleppo pepper flakes (or a mix of chili flakes and paprika)
Garlic
Extra virgin olive oil
Fresh lemon juice
Salt
Optional: parsley leaves.
See the recipe card for quantities.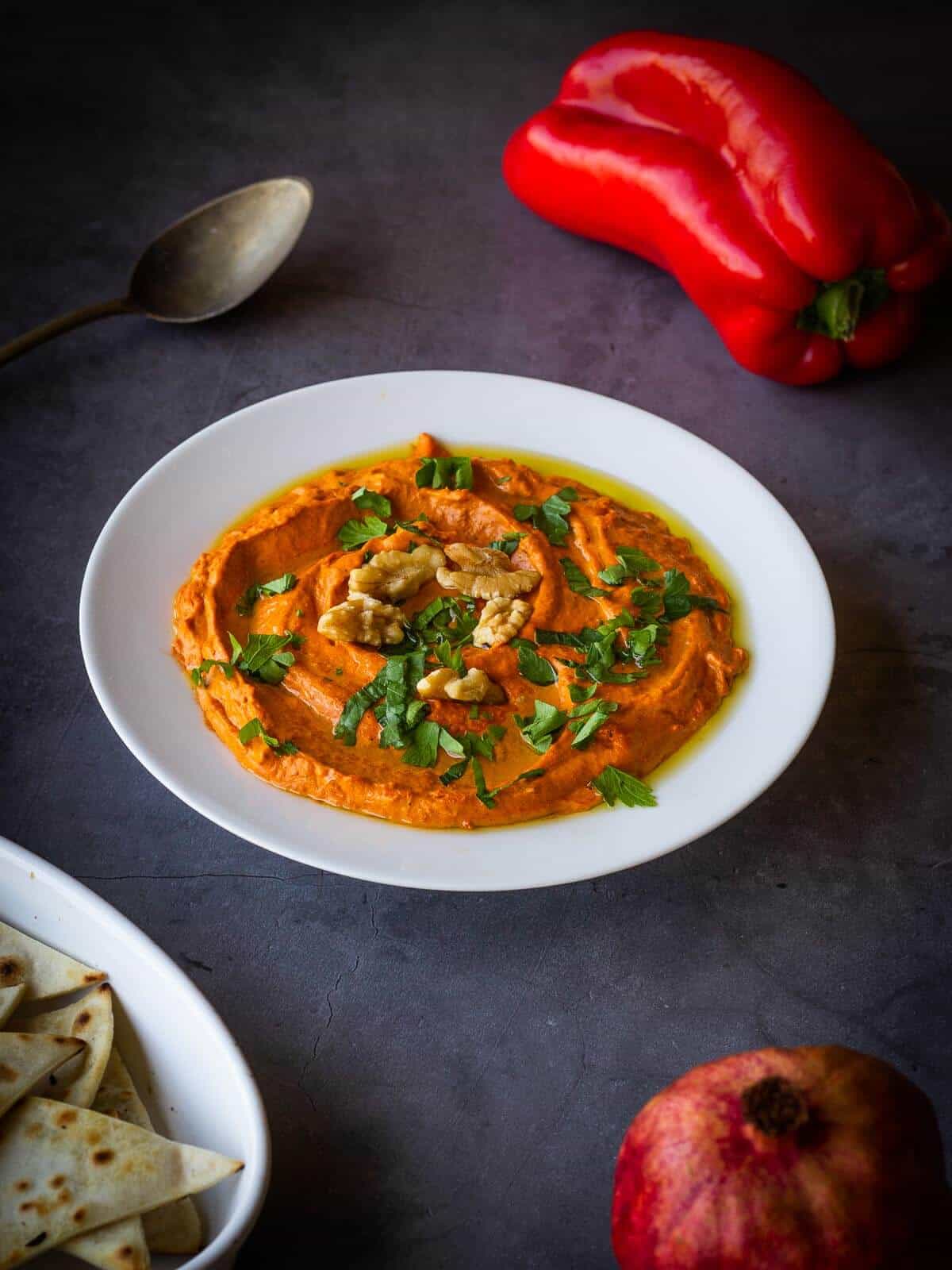 🔪 Instructions
The Muhammara dip recipe has three main steps: roasting, peeling, blending, and serving; that is easy! It requires minimal work and delivers tons of flavor.
Roast the peppers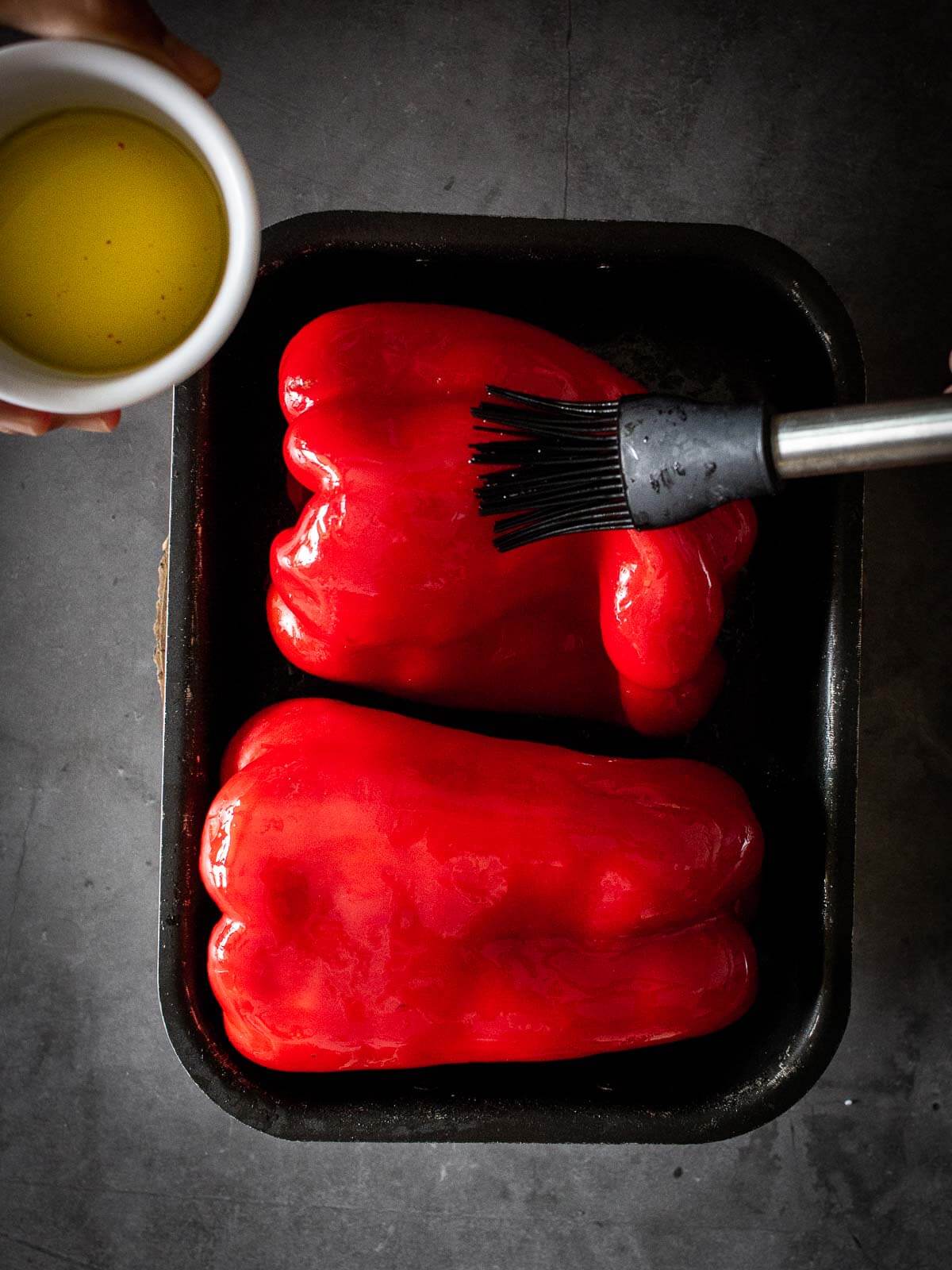 Brush the peppers with olive oil, and place them in a preheated oven, turning them once halfway until they are cooked and the skin is blackened.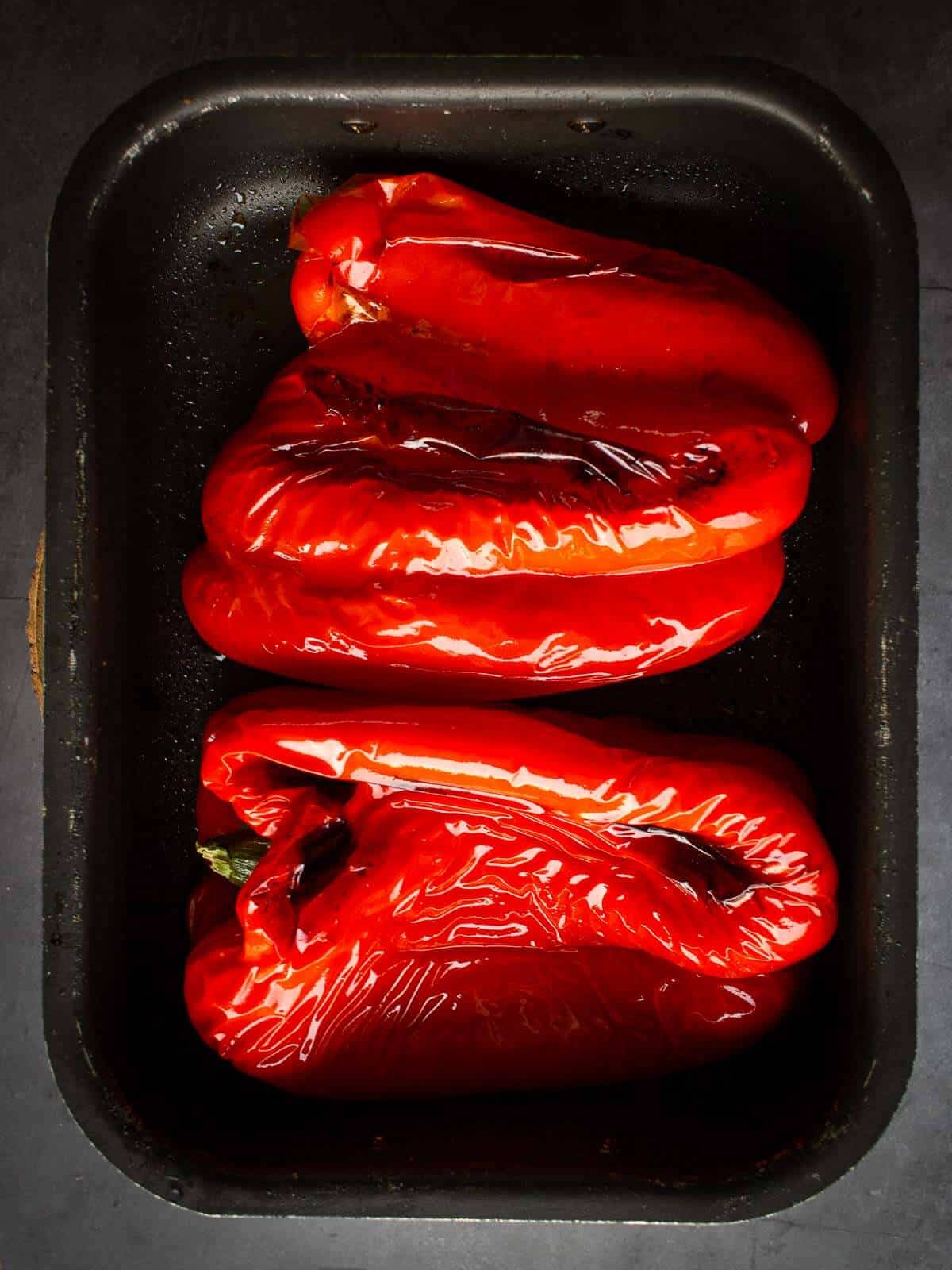 Remove the blackened roasted red peppers from the oven.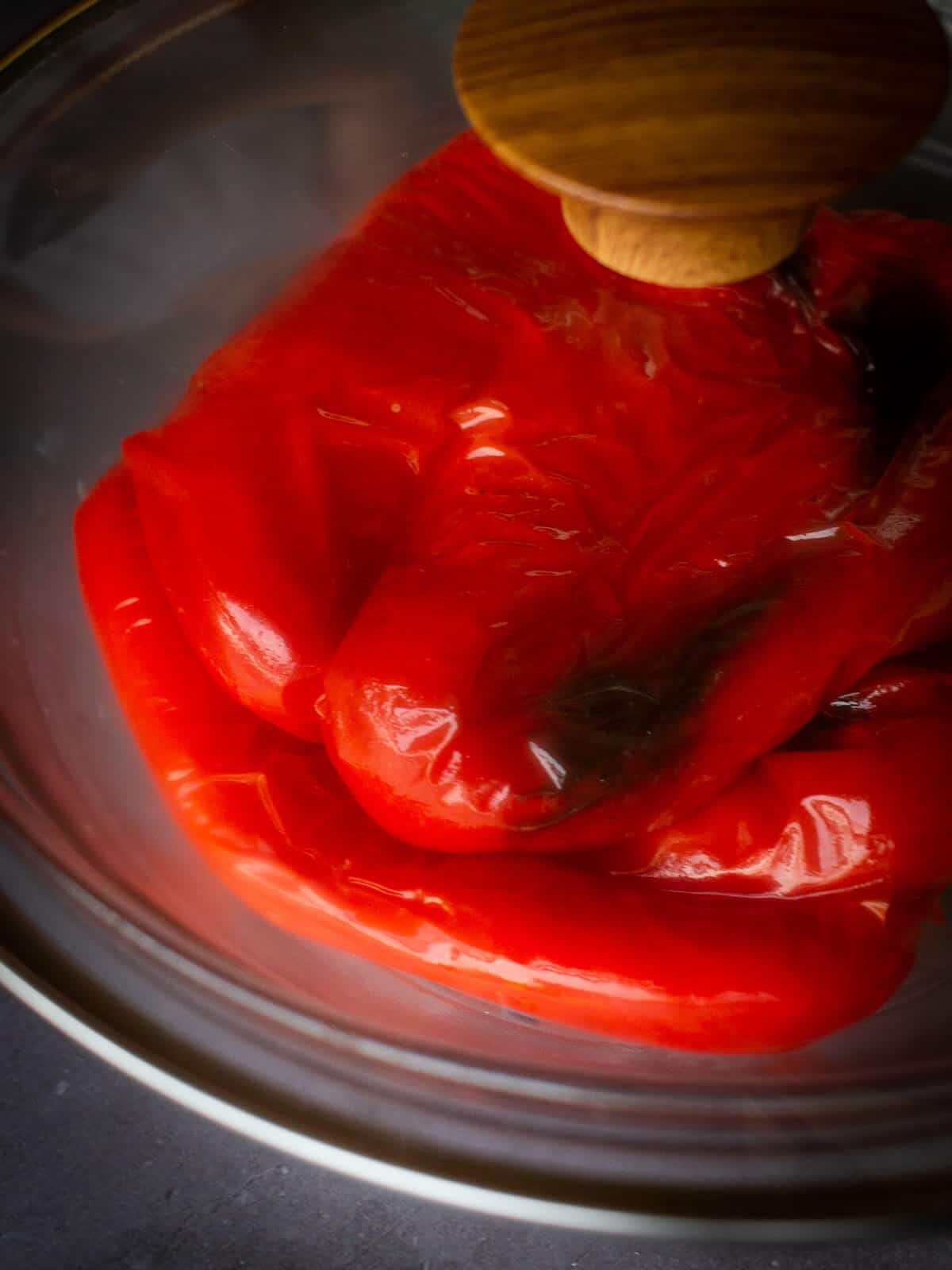 Place the roasted peppers in a bowl with a lid or plastic wrap so the steam helps the skin to separate from the peppers' flesh.
Roast the walnuts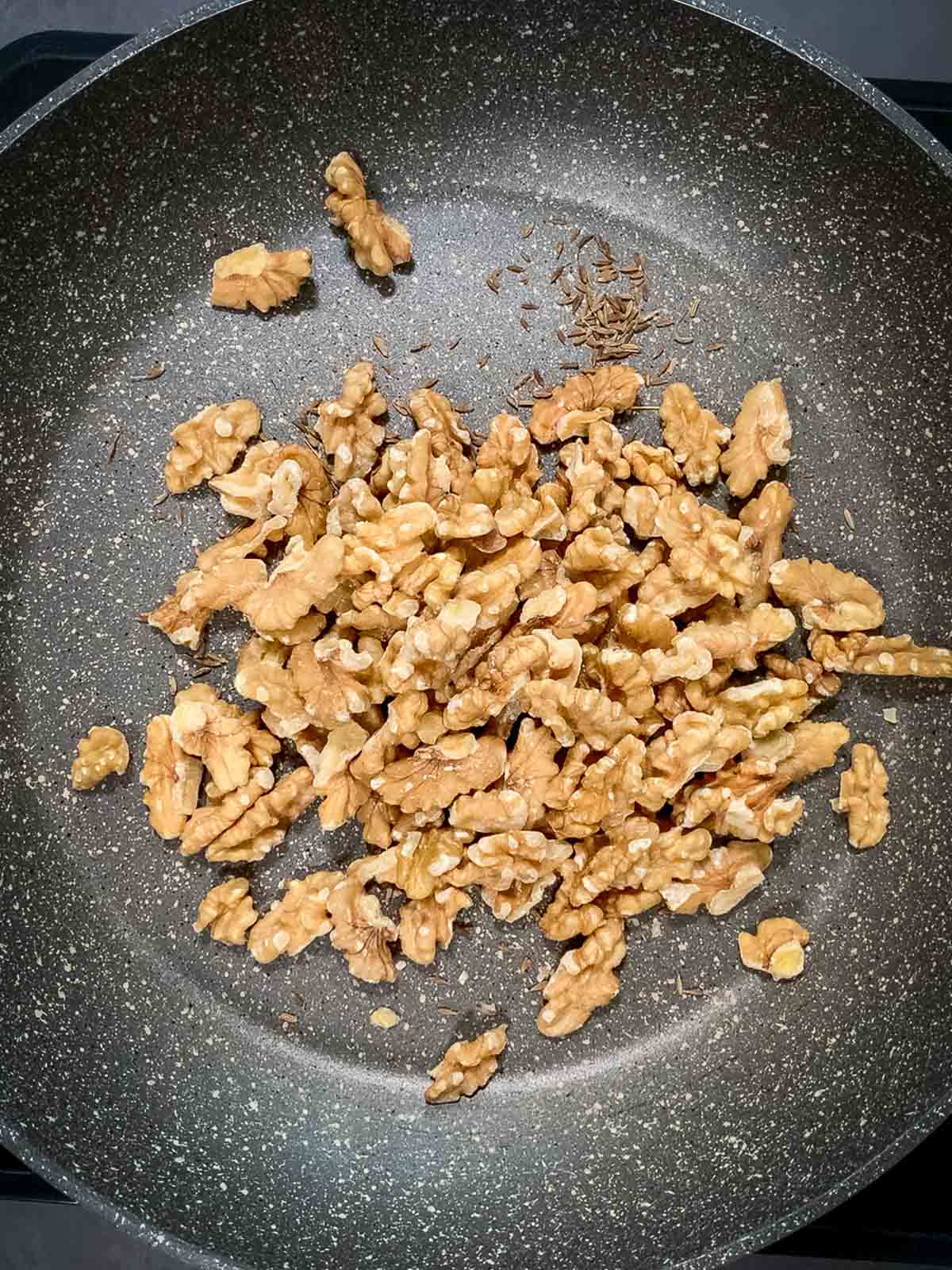 Place the walnuts and cumin seeds, on a medium flame for 2-4 minutes.
Optionally: if you prefer milder garlic flavors as we do. Roast the garlic cloves for 3-5 minutes on a pan on the stove; nothing else is required, see how below.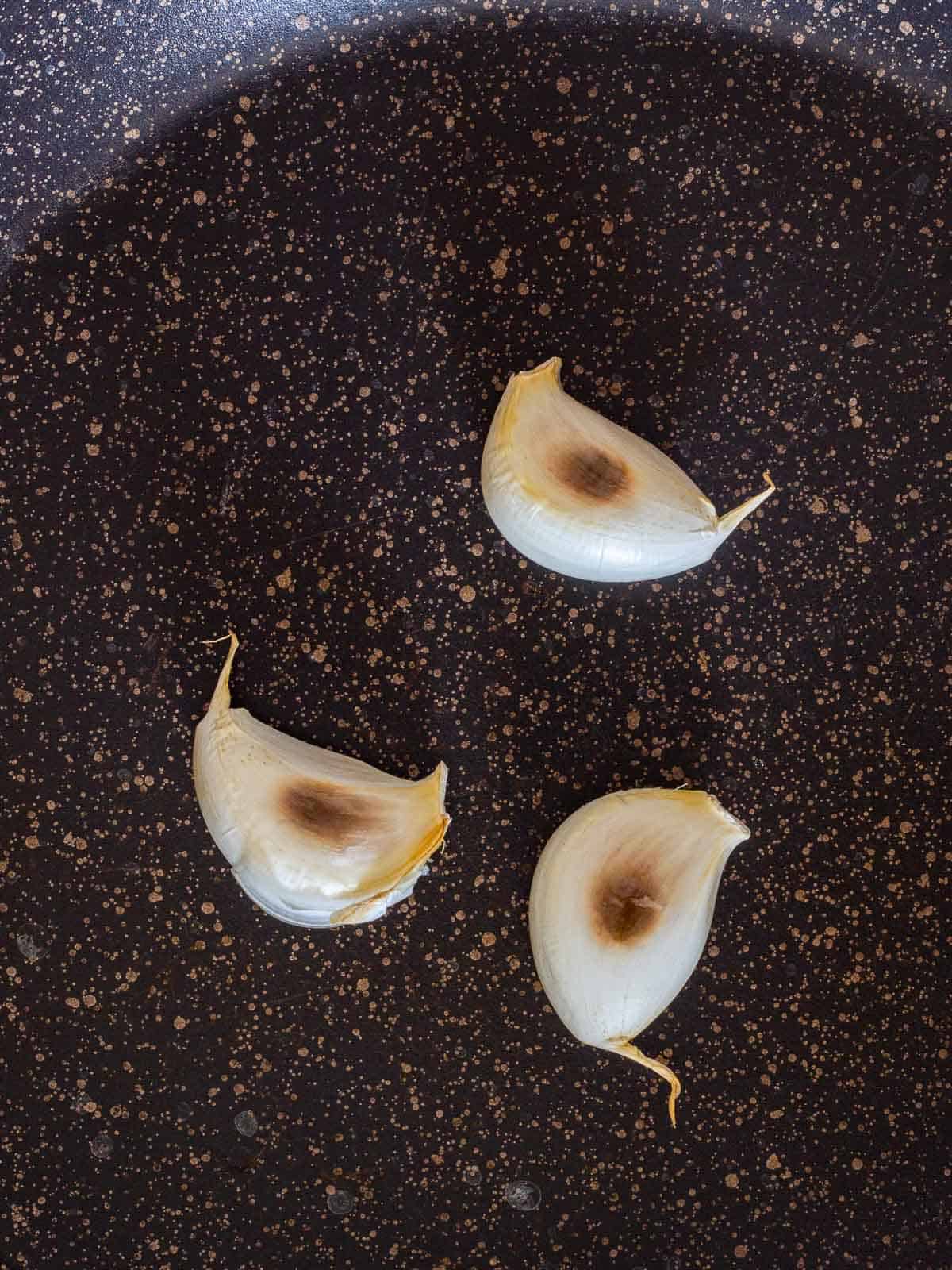 Blend
Place the roasted walnuts and cumin seeds in a food processor until powdered.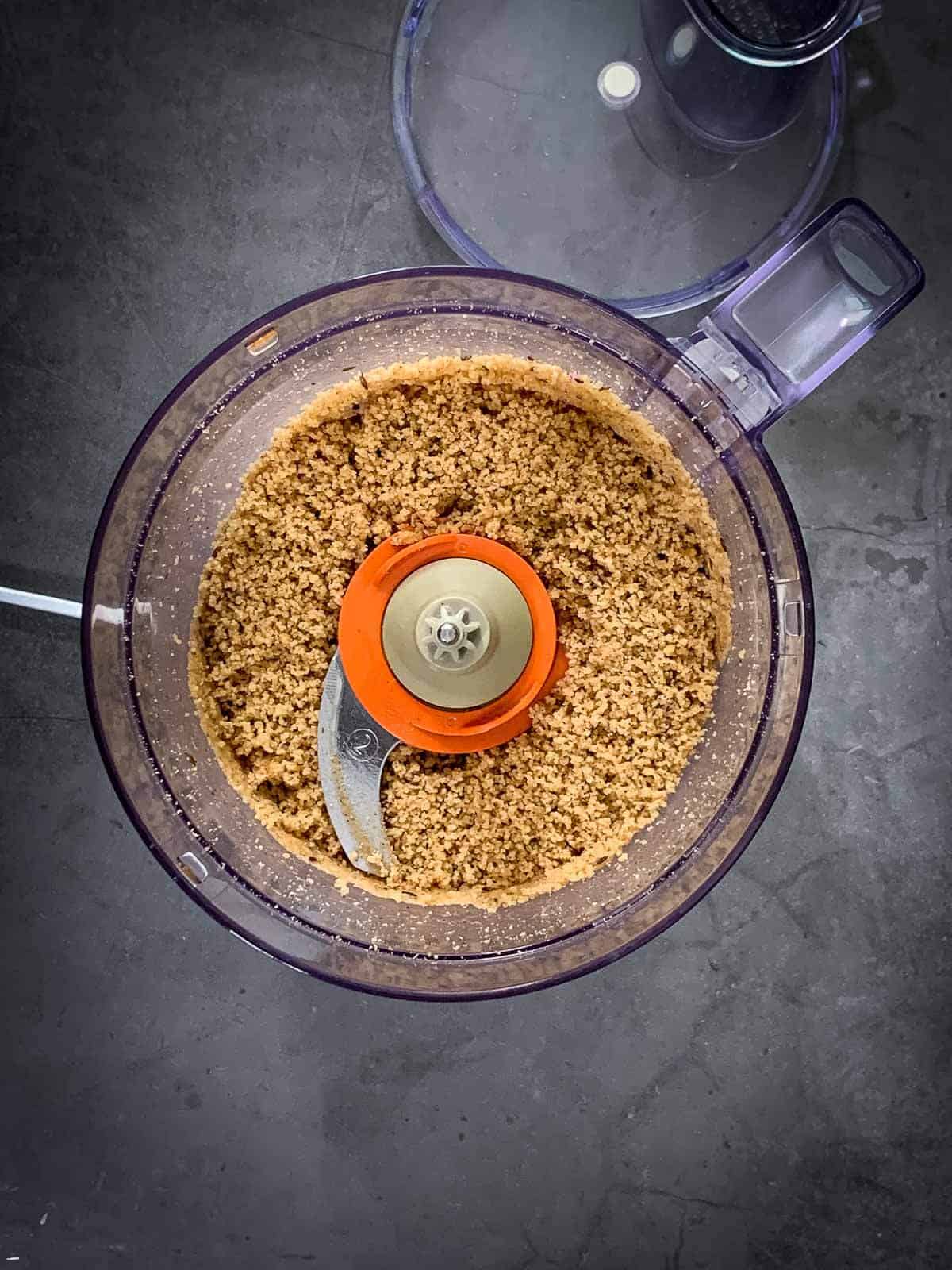 Peel the bell peppers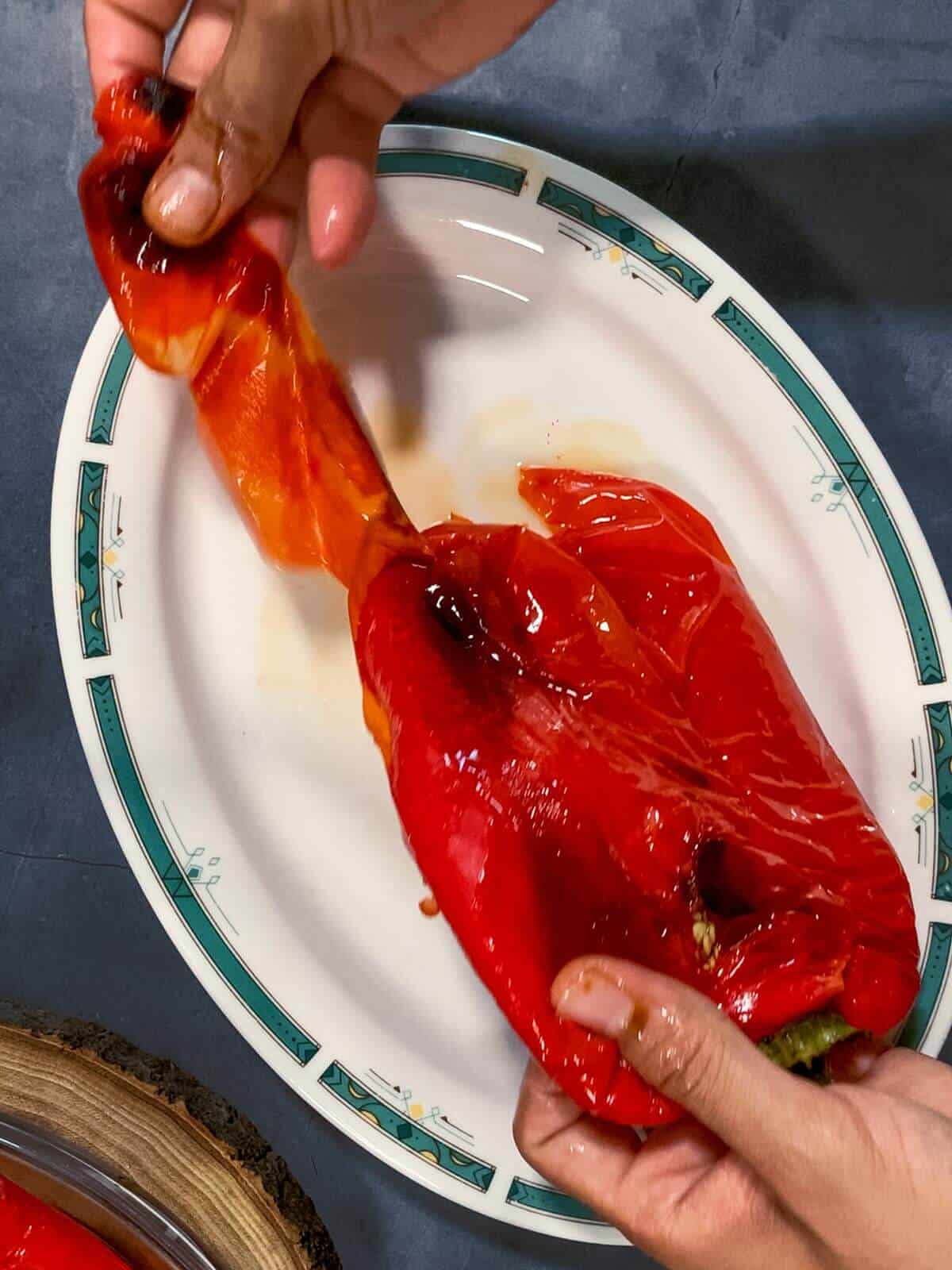 Once cool enough to handle, peel with your hands and discard the skin and seeds.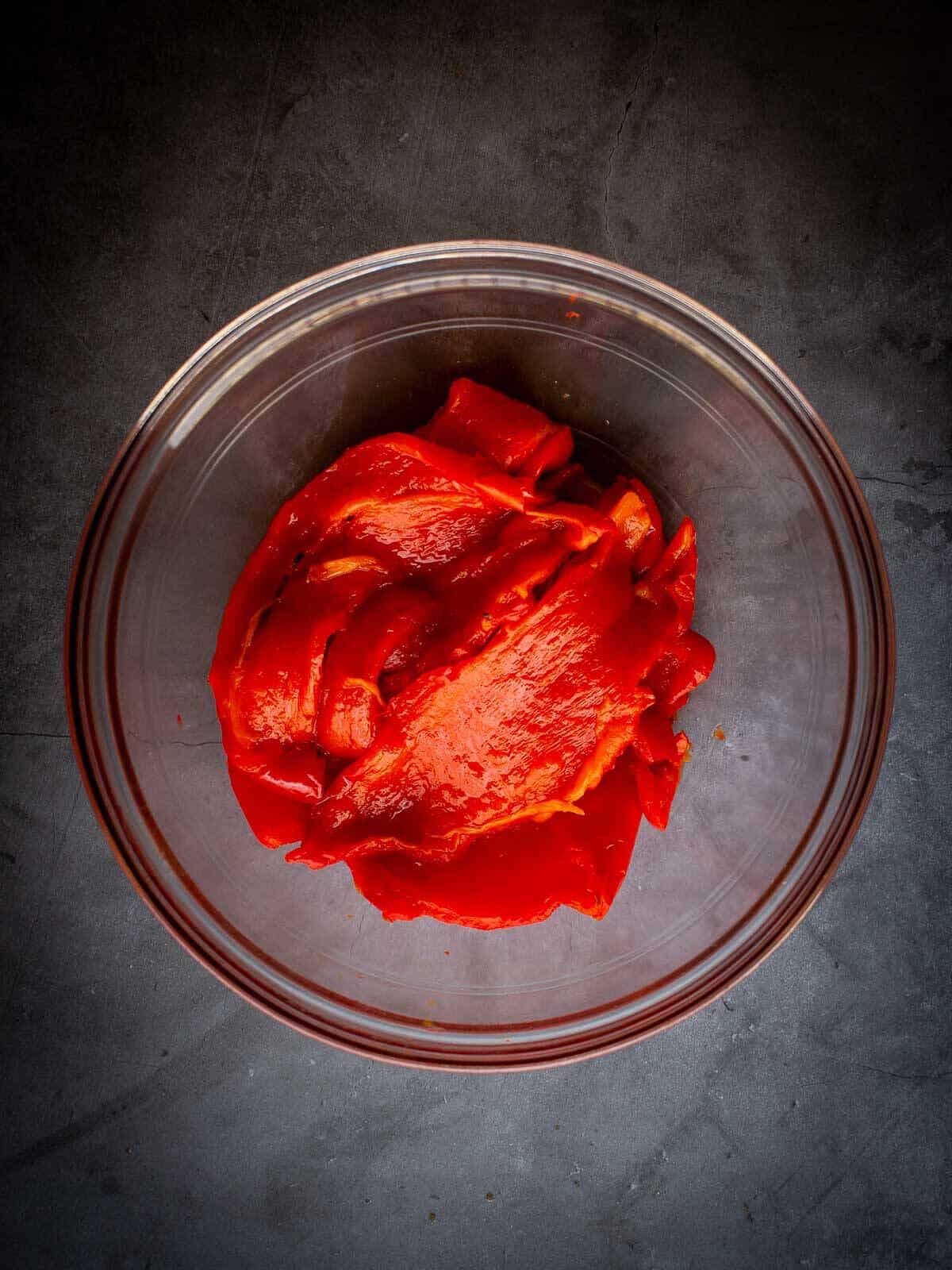 Reserve the peeled peppers.
Blend everything
Add the cleaned peppers to the food processor containing the walnuts and cumin seeds with the rest of the ingredients.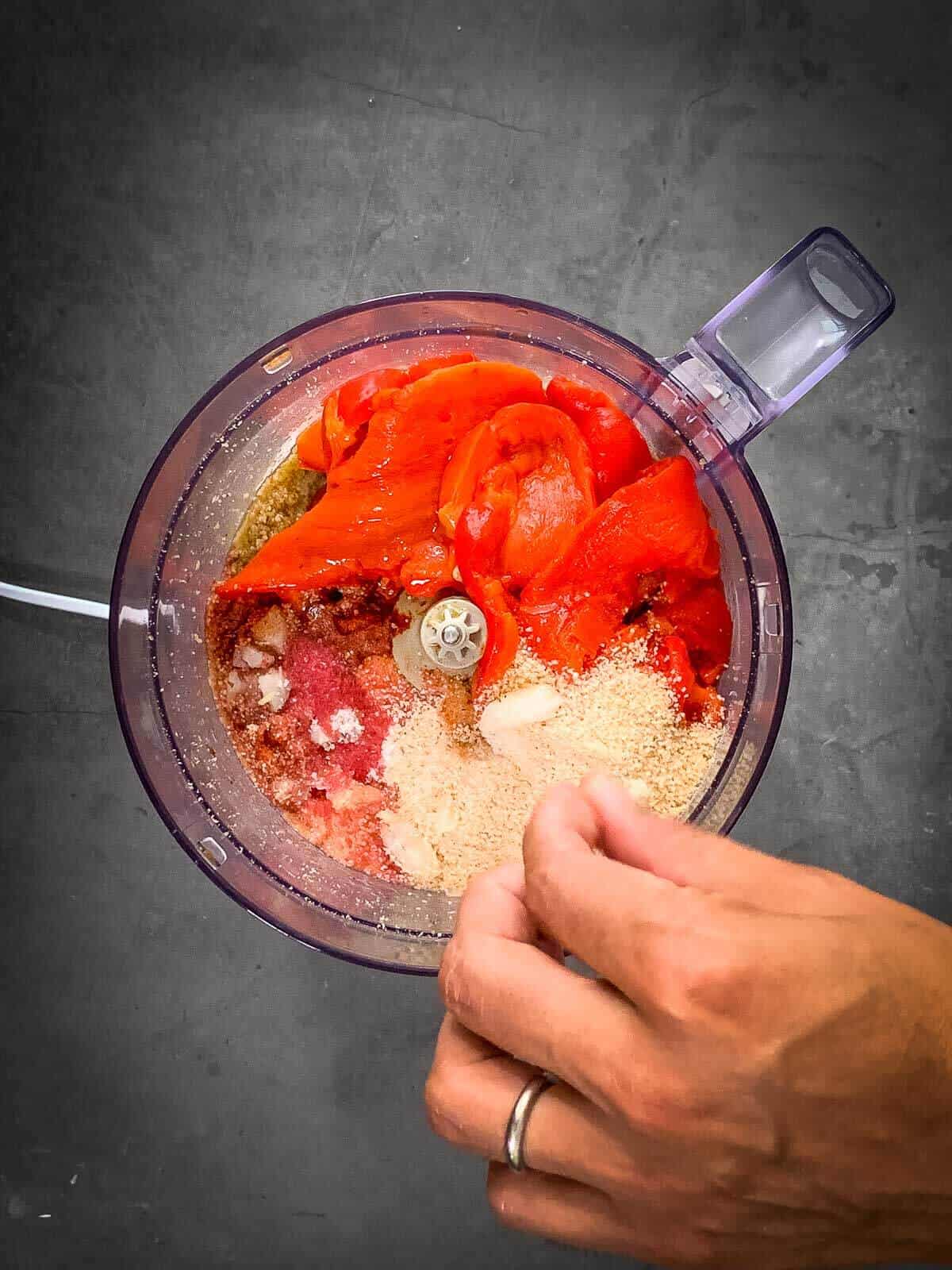 Serve
Transfer to a serving bowl. Using the back of a spoon, give it a wavy texture. Drizzle with a bit of olive oil and serve at room temperature. Serve with warm pita bread or chips.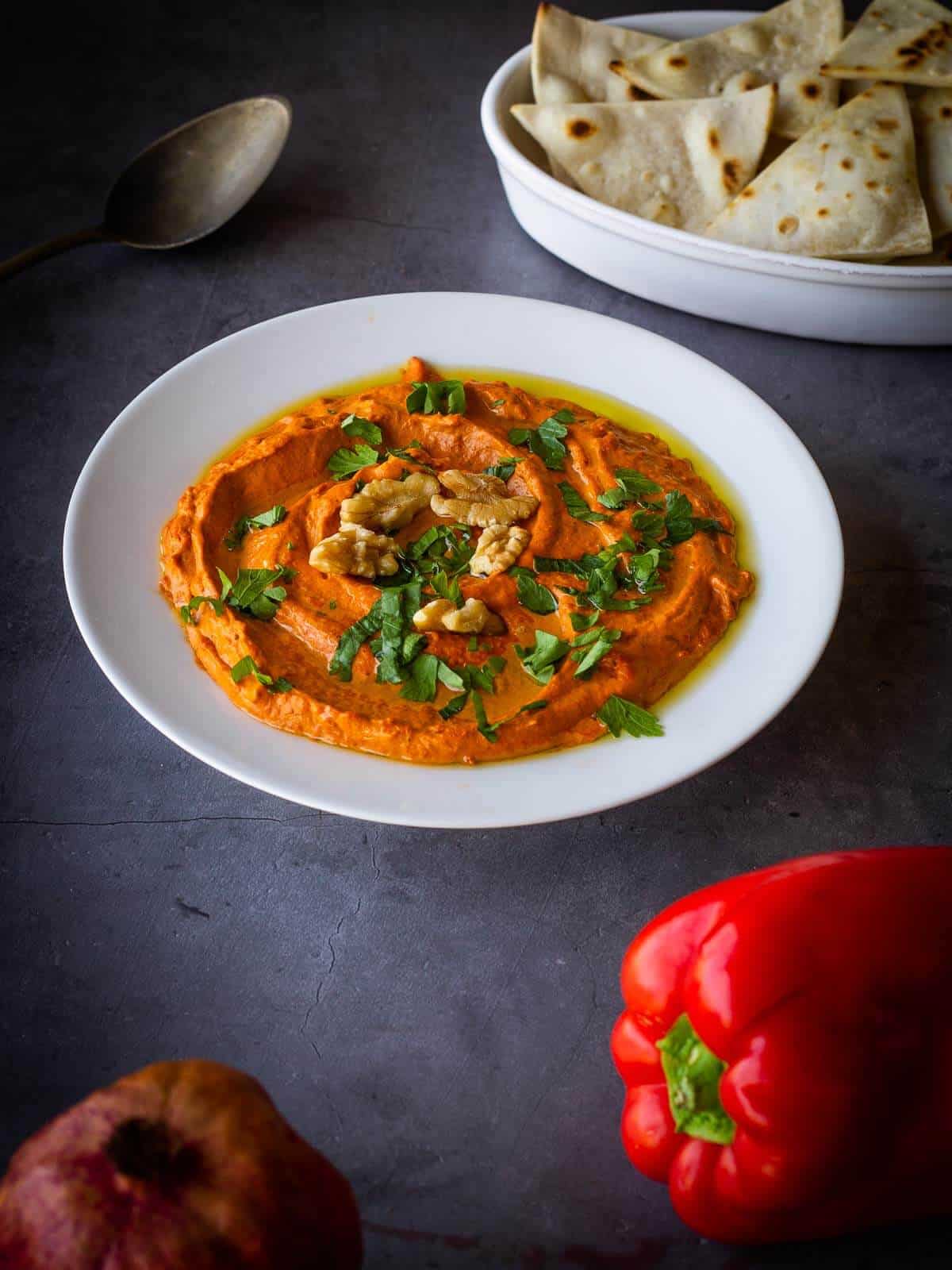 Garnish
Optionally garnish with fresh parsley or extra walnuts.
Hint: although most people have no digestive issues after eating red bell pepper, some may get stomachaches or diarrhea. This is because they may have trouble breaking down the outer skin.
Muhammara is excellent because, for these people, roasting red peppers and then removing their skins may help to digest them more easily.
This step is inherent to the preparation of the Muhammara dip.
🍶 Substitutions and Variations
To make this roasted red pepper dip faster, you could use jarred roasted peppers. Make sure you use smoky ones so you hit the spot on flavor, as it is a distinctive characteristic of this dip.
If you can't find pomegranate molasses, you either substitute it with:
A mix of 3 tablespoons of pomegranate juice and 1 teaspoon of agave or maple syrup.
A mix of 2 tablespoons of lemon juice and 1 teaspoon of agave or maple syrup.
Instead of cumin seeds, you could use:
Ground cumin. In that case, you only need to add it to the blender instead of toasting it with the walnuts.
Sumac. It is a Middle Eastern spice that works very well in replacement of cumin.
Gluten-free - You can exclude bread crumbs; the texture will only change a bit. You could also use gluten-free breadcrumbs.
Spicy - add more red pepper flakes to increase the heat. You could also use a pinch of cayenne pepper.
Sweetness and acidity - adjust with extra pomegranate molasses for sweetness and lemon juice for acidity.
Smokiness - you could add smoked paprika to adjust.
Whole Food Plant-based and Oil-Free - you can exclude the olive oil altogether, you will only find it less creamy, and you can also exclude the breadcrumbs.
Some muhammara recipes call for tomato paste. It is totally fine to add a teaspoon, but you don't want the tomato flavor to overpower that of the roasted red peppers.
🥢 Muhammara uses
We like serving this Red Pepper Dip with fresh Pita bread, Azim bread (made on the stovetop) as part of a Mezze brunch, along with Hummus, Falafel, Tabbouleh, and Babaganoush (roasted eggplant spread).
Sometimes we pair it with freshly made Pagnotta Bread (Italian bread loaf) or Focaccia. We just love all kinds of dips!
The reality is that it goes well with everything you can scoop it with... even chips!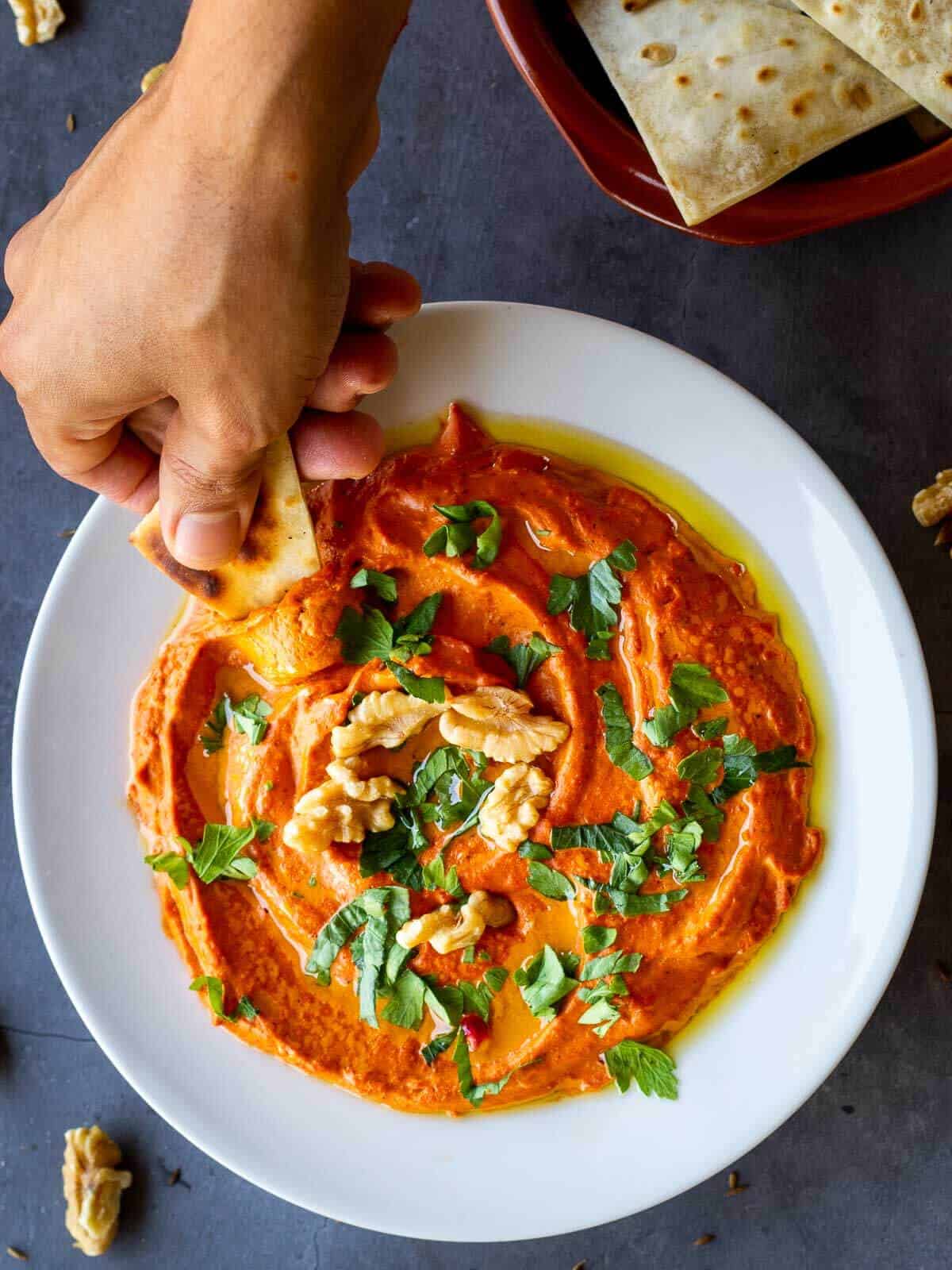 💡 Tips
Thickness
If you want to thicken the Muhammara dip, add extra bread crumbs. Just be sure to add bread crumbs little by little so you keep the texture where it needs to be.
Intensity
If you prefer a milder and less intense garlic flavor, along with the walnuts and cumin seeds, roast one or two garlic cloves. Peel them and add them to the blender.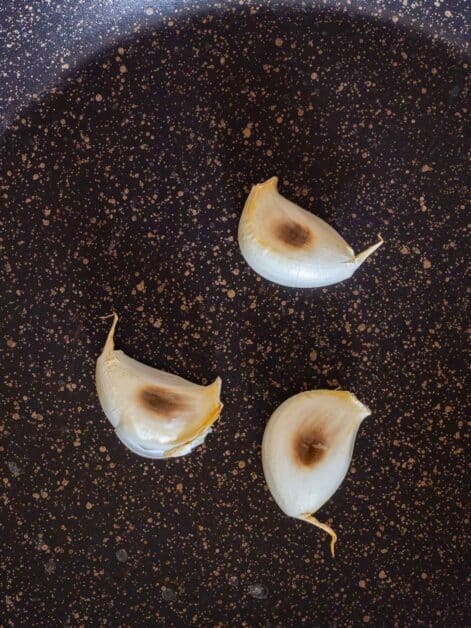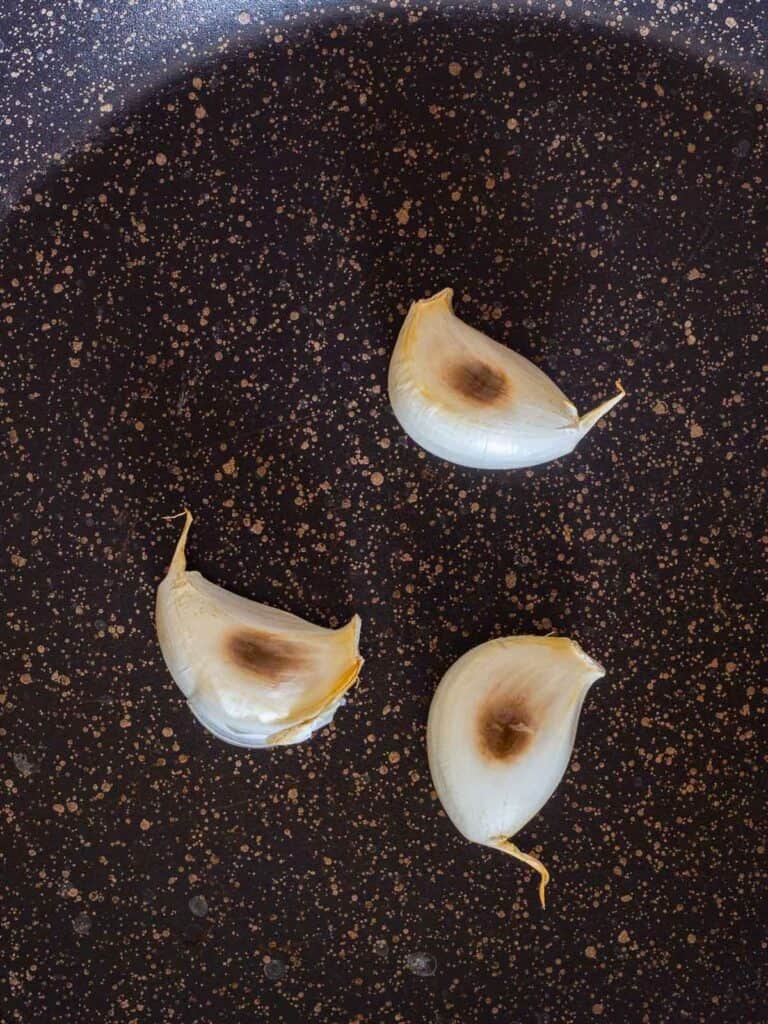 Another way to decrease raw garlic's flavor intensity is by removing its germ. Just cut the raw garlic in half and pry it with the tip of a knife.
Muhammara sauce - what? Well, a little secret, that certainly isn't middle-eastern, and Italian either. But you can use Muhammara dip, as a pasta sauce.
Simply stir some muhammara with some of your favorite pasta boiling water, to make it a little creamier and mix with the pasta. It will turn into a "pesto-like" pasta, with delicious Middle-Eastern flavors!.
🍽 Equipment
Mortar and Pestle. You can make this recipe using mortar and pestle, for a more textured version of this dip. Ottolenghi has a great textured Muhammara recipe.
Food Processor. We prefer the creamy version, and this is our food processor of choice for most of my preparations, as it works very well both for small and large quantities.
Hint: the equipment you use makes a big difference in the results. So, if you are all about creaminess, use a high-speed potent food processor. In case your blender is more potent go for it.
Not only will the texture be silkier, but the ingredients will blend better, directly affecting the flavor.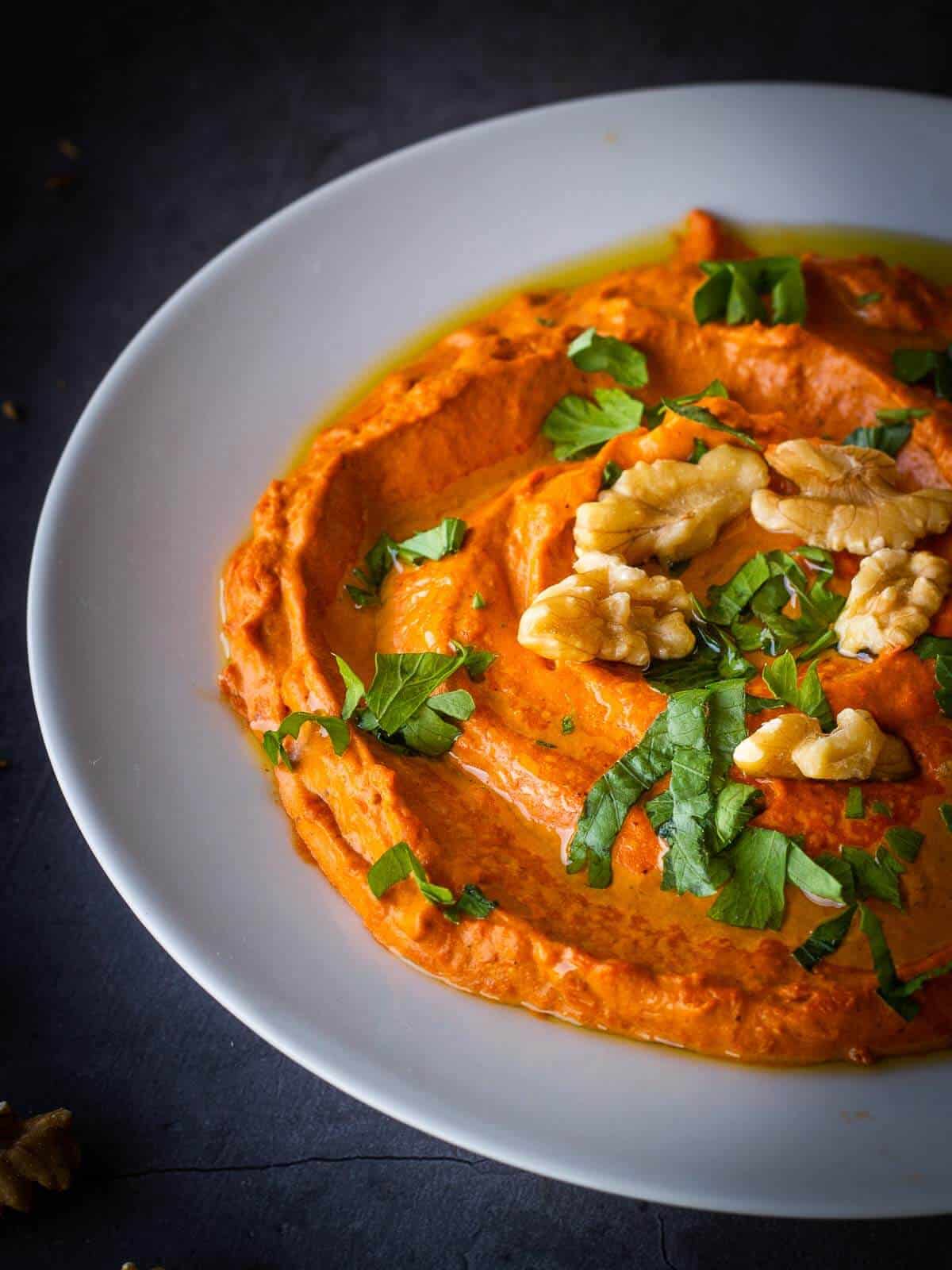 🥡 Storage
This roasted bell pepper dip keeps well and even can improve after a day. As with most middle eastern platters, you can prepare it the day before a get-together to keep off some of the natural stress that arises from putting together all the dishes. Just don't serve it fridge-cold.
✅ Health benefits of red bell peppers
The Health Benefits of bell peppers are great! These are some of them!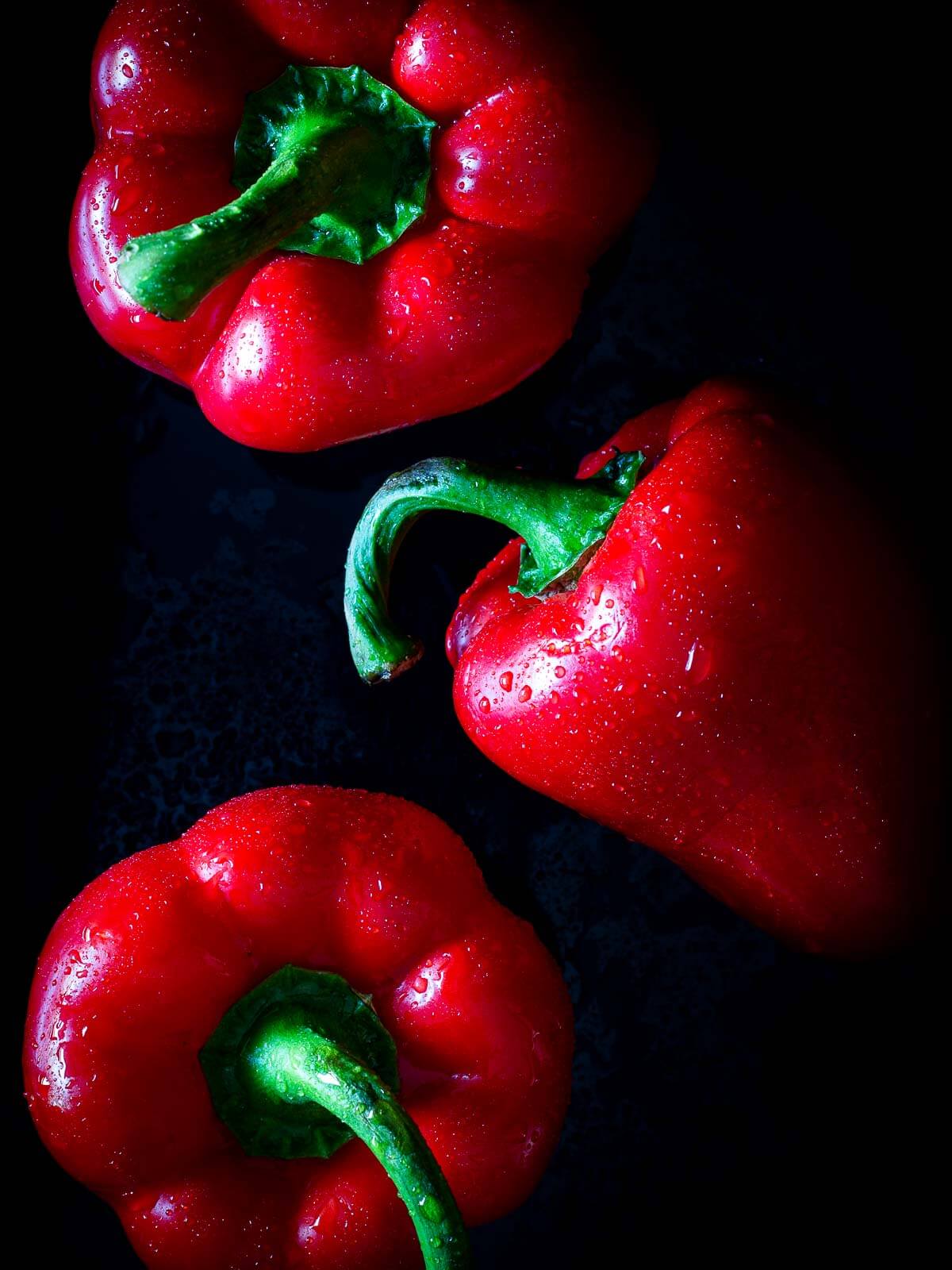 Immune System Support - as red bell peppers are high in Vitamin C, a powerful antioxidant that helps boosts immune system response to microbes and fight cell damage.
Improve Eye and Skin Health - they are rich in carotenoids that can help increase blood circulation to your skin and prevent wrinkles, helping it look more youthful. Also, their beta-carotene and beta-carotene content offers support for our overall vision and eye health
Anti-inflammatory - Bell peppers are anti-inflammatory, as they contain carotenoids. They are also high in vitamins C and A. These beautiful vegetables, although they are technically considered fruits, contain 6 grams of digestible carbs per serving.
Anemia prevention - red bell peppers are a good source of iron, and they are also rich in vitamin C, an excellent antioxidant, which increases the absorption of iron from our gut. For us vegans... these are extra reasons to consume bell peppers!
Nutritious and low carb - for those worrying about carb intake, one cup of chopped red bell peppers contains 9 grams of carbohydrates, 3 of which are fiber, which is great to keep things moving!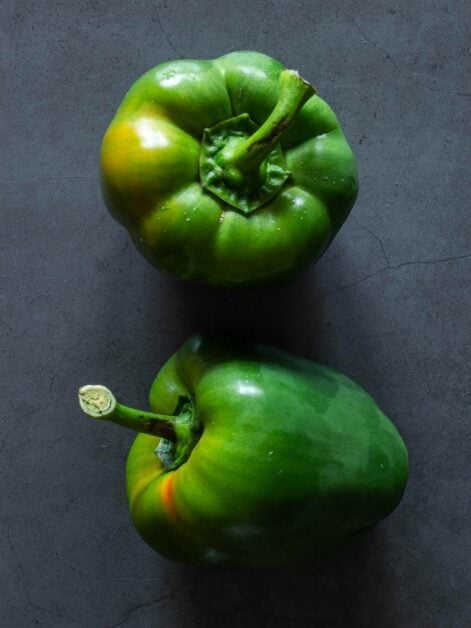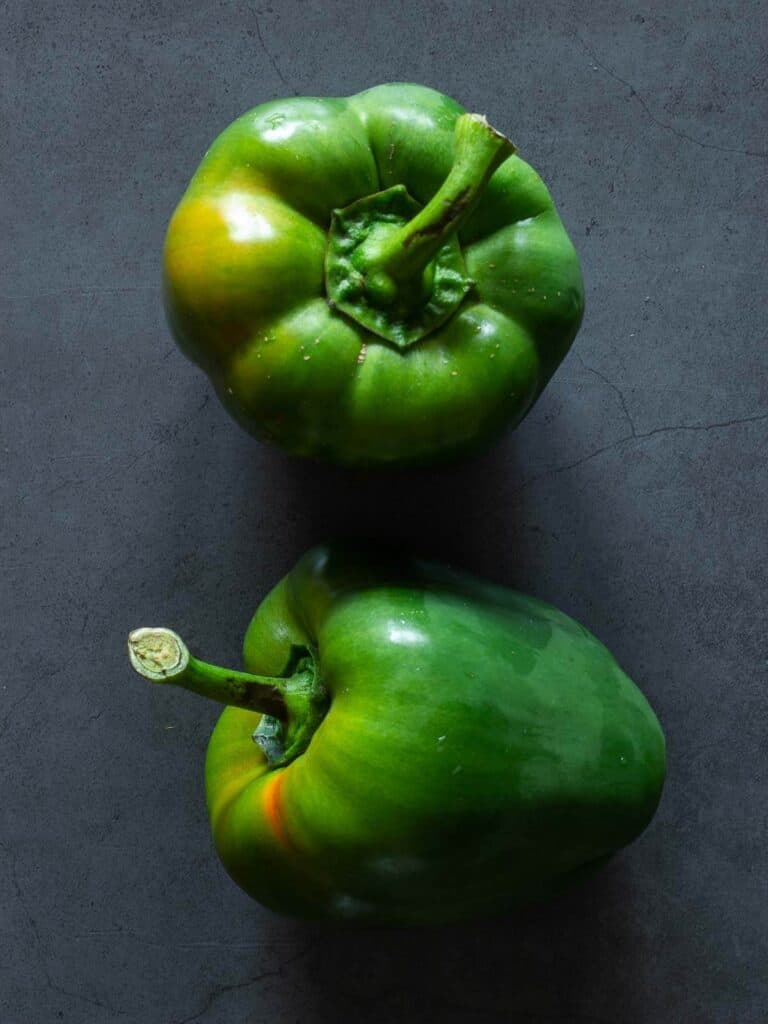 In short, capsicum benefits (as they are called in the Commonwealth countries) are great, and we should be eating our fair share. Remember, eat the rainbow!
Try to include as many colors as you can on your plate.
We love to have bell peppers even as a main dish like in these Vegan Stuffed Pepper recipe. If you love peppers, you should certainly have a look!
📚 More Middle-Eastern Favorites
Do you love vegan sauces?
Try these delicious vegans sauces and dips: Artichokes with Dipping Sauce, Basil Creamy Vegan Sauce, Green Goddess Dip, and our great compilation of the best Vegan Sauces to take your dishes to the next level.
⭐ If you try this recipe, let us know! 💬 Leave a comment, rate it, and don't forget to tag us @ourplantbasedworld on Instagram. Cheers!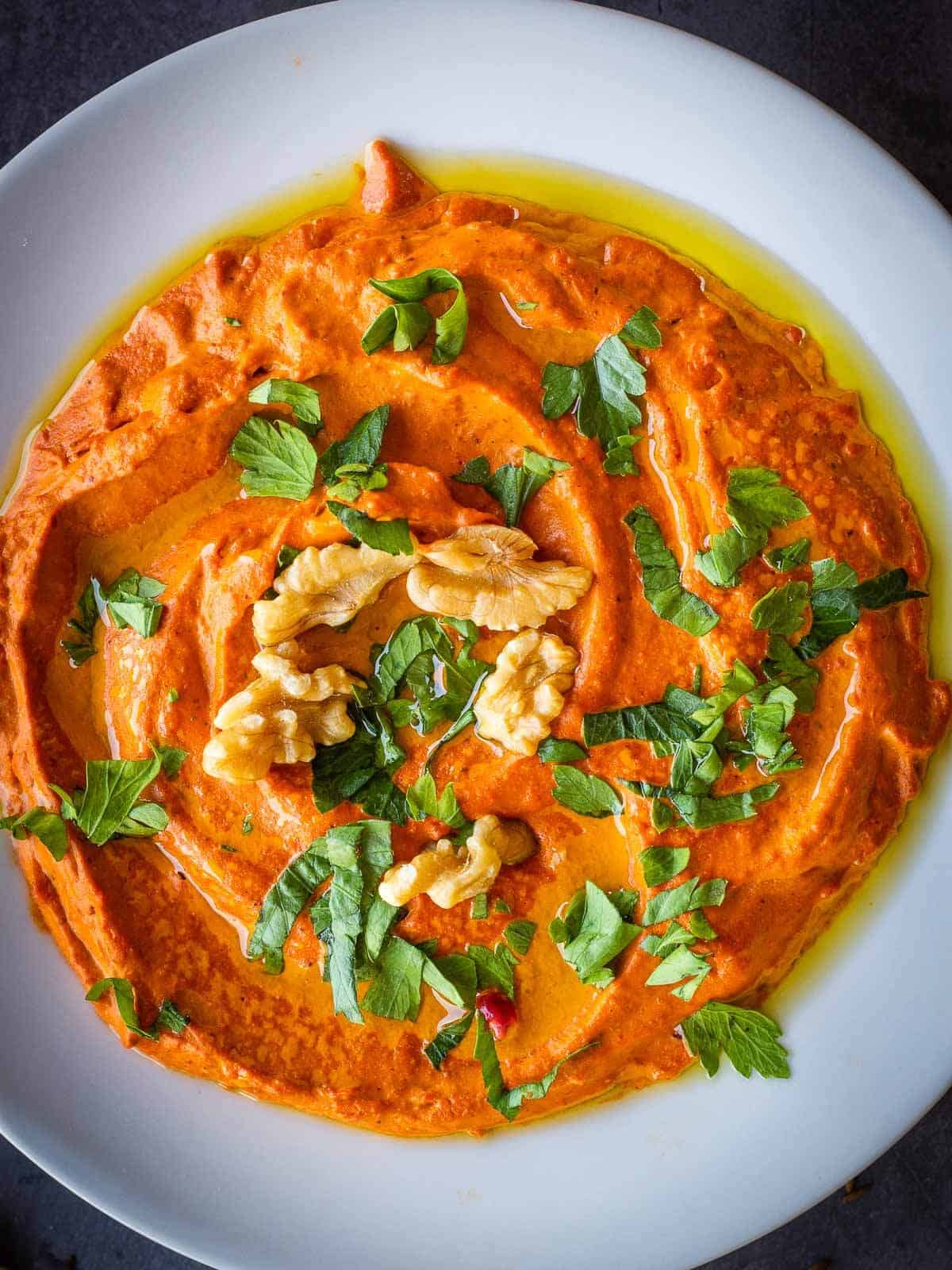 📋 Recipe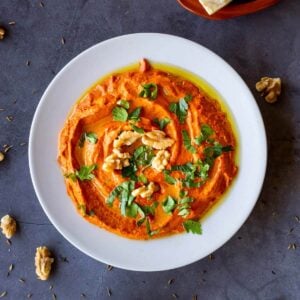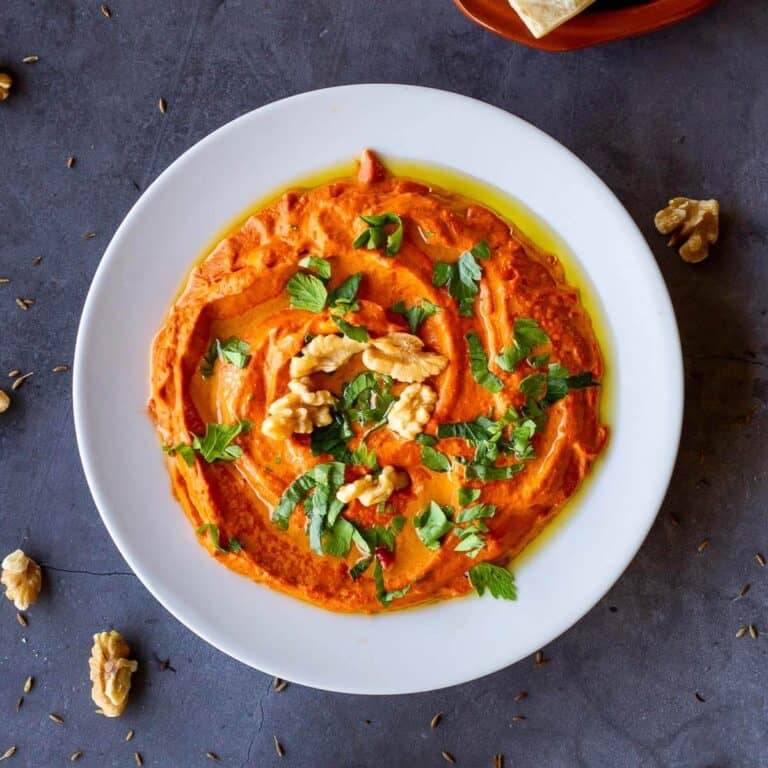 Muhammara Dip (Roasted Bell Pepper Dip)
Muhammara dip is a classic Syrian dish that is perfect for parties! This dip is made with roasted red peppers, walnuts, and spices, and it is so flavorful and delicious. I love serving this dip with pita chips or fresh vegetables. It is the perfect appetizer for any occasion!
Equipment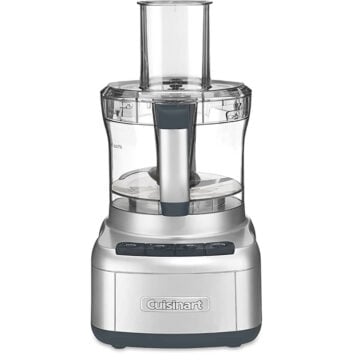 (affiliate link)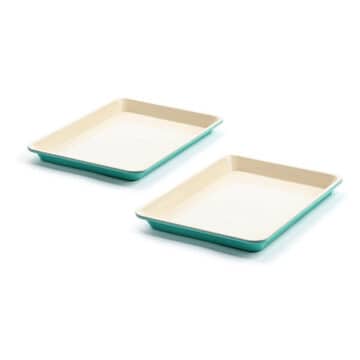 (affiliate link)
Ingredients
2

red peppers

large

2

ounces

breadcrumbs

Gluten-Free (use regular breadcrumbs if you don't mind for GF)

5

ounces

walnuts

1

tablespoon

pomegranate molasses

or 3 tablespoon pomegranate juice + 1 teaspoon maple syrup

1 ½

teaspoon

cumin seeds or ground (sumac also works)

1

teaspoon

Aleppo pepper

or ½ teaspoon red chili flakes + ¾ teaspoon paprika

1

clove

garlic

medium (or 2 smalls), peeled, and crushed

2

tablespoons

lemon juice

¾

teaspoon

sea salt

5

tablespoon

olive oil

extra-virgin, divided into 1 for roasting the peppers, 3 to blend, and 1 for a topping. Skip if WFPB

1

tablespoon

parsley

chopped (optional to garnish)
Directions
Preheat the oven to 370 ºF (187 ºC).

Brush the bell peppers with 1 tablespoon of olive oil, and place in a lightly oiled oven-safe pan or cast-iron skillet.

Roast the peppers, turning them once until they are cooked, and the skin is blackened- About 30 minutes.

In a flat pan, roast the walnuts with the cumin seeds on a medium flame for 2-3 minutes. Add them to the food processor and blend until powdered—Reserve in the food processor container.

Roat the garlic. This step is optional, but I prefer to do it as the raw garlic has an intense flavor, and I prefer to roast it to get a more delicate flavor.

Cover. Put the peppers in a saucepan and cover with a lid. Once cool, peel and discard the skin and seeds.

Blend. Now add the cleaned, roasted peppers to the food processor containing the walnuts and cumin seeds, and blend the rest of the ingredients. Blend into a smooth paste.

Adjust. Add using more pomegranate juice (or molasses), lemon juice, and salt to taste. We are aiming for an intense flavor.

Serve. Transfer to a serving bowl. Spoon the dip into a shallow bowl and spread it using the back of a spoon to give it a wavy texture. Drizzle with a bit of olive oil and serve at room temperature.

Garnish. Optionally garnish with fresh parsley. Serve with flatbread or pita chips.
Notes
Alternatively, you could work everything with a mortar and pestle in the food processor to have a less creamy and more textured version of Muhammara.
If you use ground cumin, add them directly to the food processor when adding the roasted peppers.
Gluten-free - You can exclude breadcrumbs; the texture will only change slightly. You could also use gluten-free breadcrumbs.
Whole Food Plant-based and Oil-Free - you can exclude the olive oil altogether, you will only find it less creamy, and you can also exclude the breadcrumbs.
Nutrition Facts
Calories:
319
kcal
Carbohydrates:
15
g
Protein:
5
g
Fat:
28
g
Saturated Fat:
3
g
Polyunsaturated Fat:
13
g
Monounsaturated Fat:
11
g
Sodium:
369
mg
Potassium:
235
mg
Fiber:
3
g
Sugar:
4
g
Vitamin A:
1409
IU
Vitamin C:
55
mg
Calcium:
52
mg
Iron:
2
mg
Muhammara dip calories
Nutrition Facts
Muhammara Dip (Roasted Bell Pepper Dip)
Amount per Serving
% Daily Value*
* Percent Daily Values are based on a 2000 calorie diet.
Nutritional Disclaimer
The information shown is an estimate provided by an online nutrition calculator. It should not be considered a substitute for a professional nutritionist's advice. See our full Nutritional Disclosure here.
Affiliate Disclaimer
Please note that some of the links here are affiliate links, and I will earn a commission if you purchase through those links. I recommend all of the products listed because they are companies I have found helpful and trustworthy.