When you crave a different snack, this quick 5-ingredient Healthy Fig Bars recipe is perfect because these bars are super tasty, gluten-free, and easy to make. We all need healthy, easy snacks around to ensure we don't succumb to easy-to-get trash food!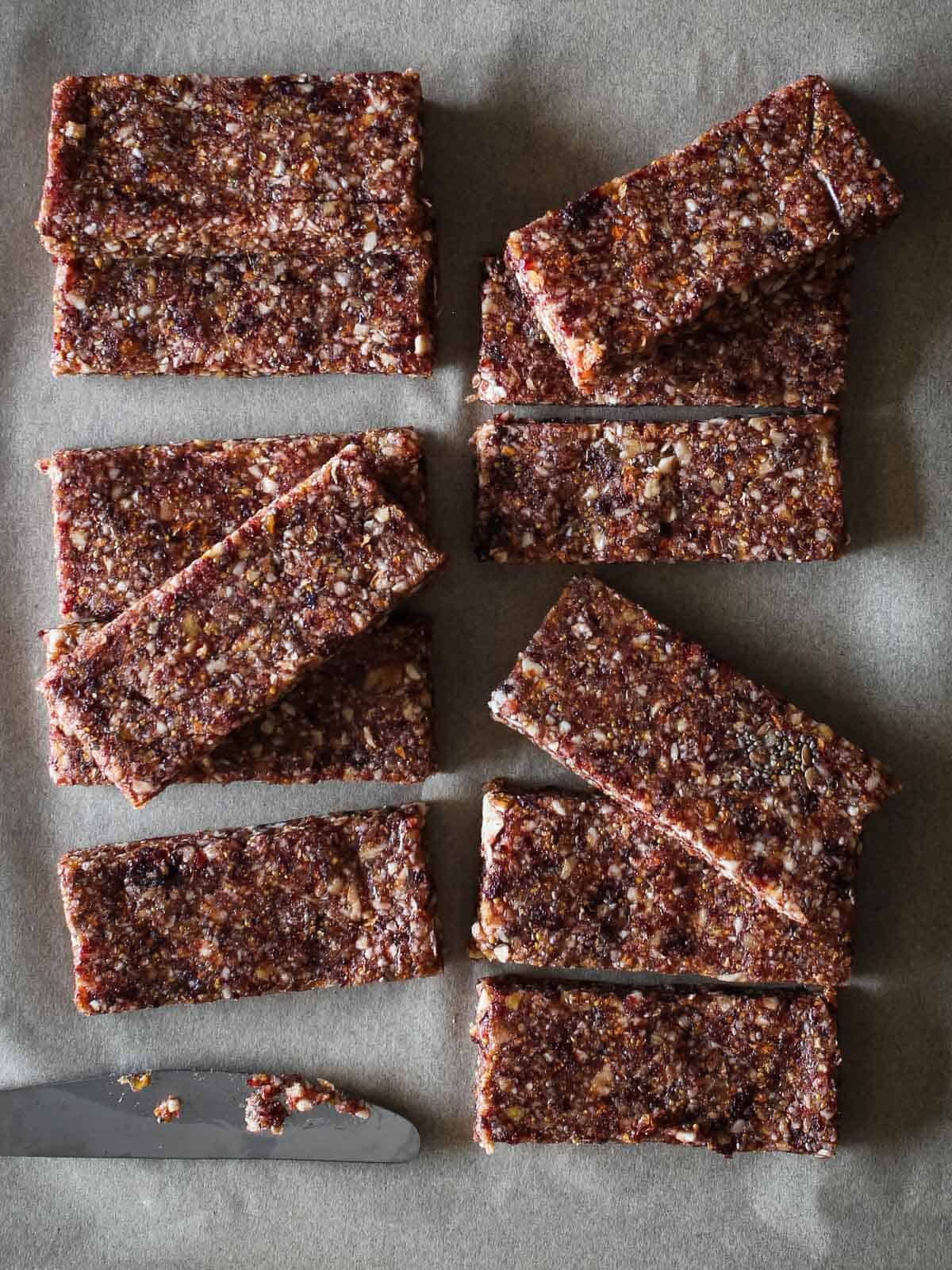 I love this fig bars recipe because it can be made any time of the year since it is made with dried ingredients that can be found in any supermarket.
These Vitamin C-packed homemade fig bars also make the perfect healthy snack and keep you full, as they are rich in fiber and taste much better than store-bought fig bars.
This fruit and nut bar great recipe was inspired by my homemade vegan granola bars recipe on this site, but this is a no-bake option like our vegan power balls and vegan protein cookies.
Jump to:
🧾 Ingredients
This fantastic gluten-free homemade fig bars sweet snack is made with: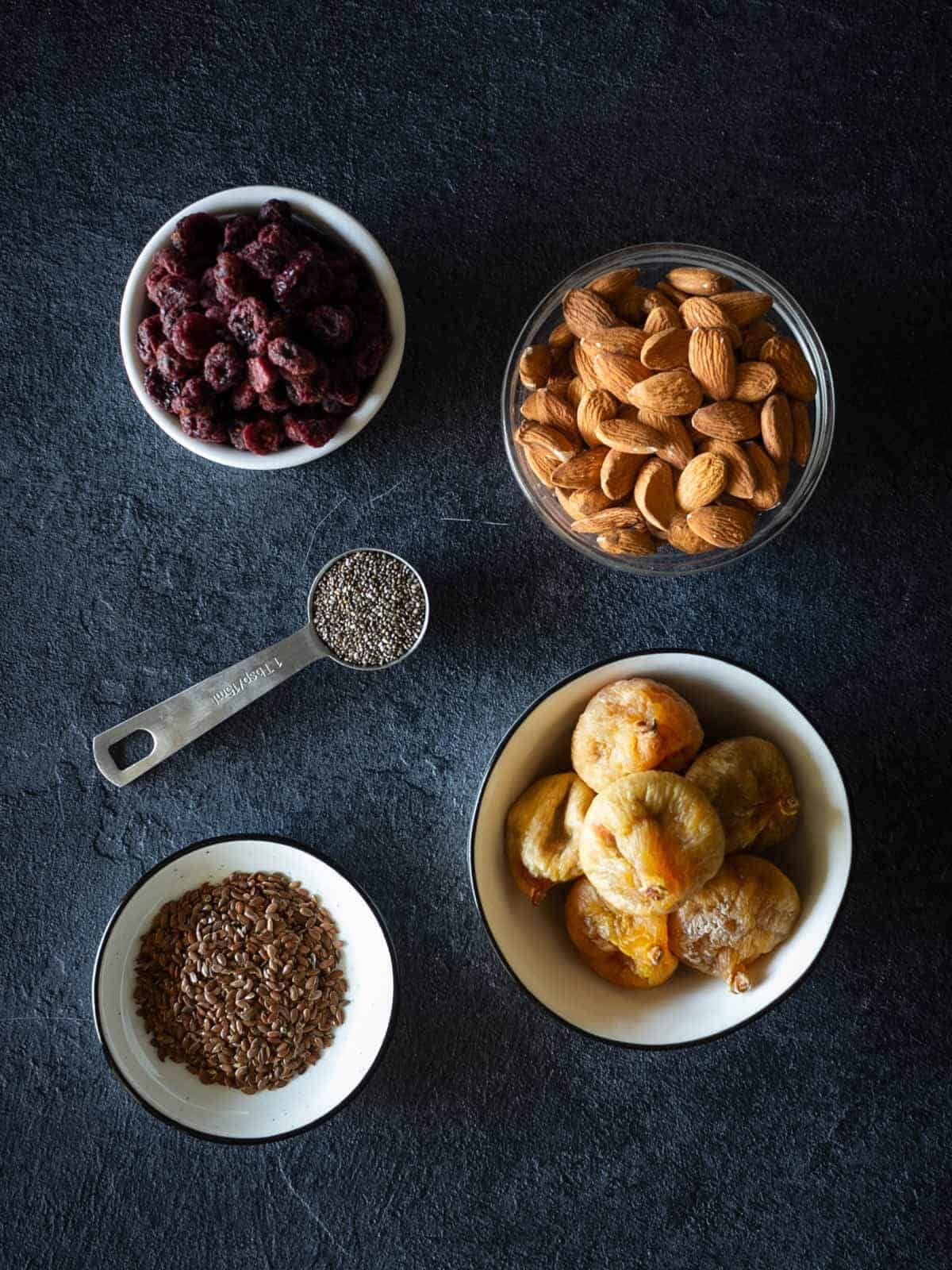 Dried Figs: Figs are this fig bar recipe's primary ingredient and flavor. Besides their distinctive taste, they are rich in dietary fiber and a great source of essential minerals like potassium, calcium, and iron, contributing to a well-rounded, nutritious snack.
Raw Almonds: These provide a rich, nutty flavor to the bars and an essential crunch factor. Almonds are a fantastic source of healthy fats, protein, fiber, and various essential nutrients, including vitamin E and magnesium.
Dried Fruit (Cranberries or Raisins): Dried fruits add a complementary fruity sweetness and chewiness to this fig bars recipe, enhancing their overall flavor profile. They also contribute to the overall nutritional content, particularly fiber and antioxidants.
Chia Seeds: they are an excellent binding agent due to their hydrophilic properties (they absorb water), which help hold the bars together without baking. They are also packed with fiber, omega-3 fatty acids, and quality protein, further boosting the nutritional profile of these bars.
Flax Seeds: they act as another natural binder in this no-bake recipe, helping to keep the bars' shape and adding a subtle nutty flavor. They are a rich source of lignans, omega-3 fatty acids, and dietary fiber, promoting heart health and aiding digestion.
See the recipe card for quantities.
🔪 Instructions
This is how to make homemade fig bars.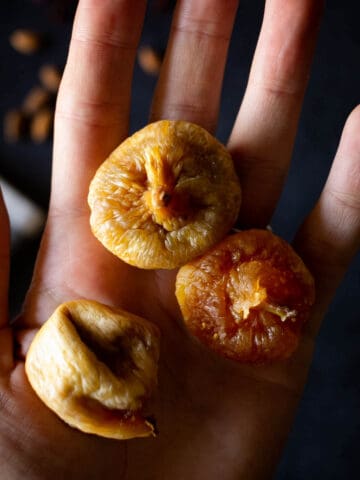 Step 1: Pick dried figs and remove stiff stems.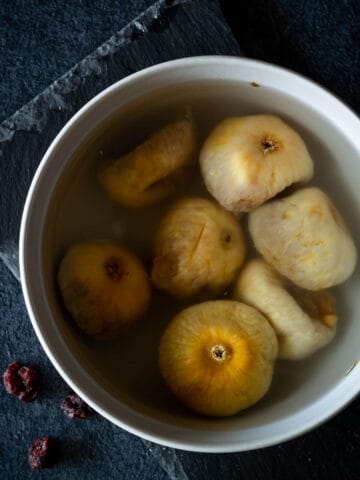 Step 2: Start by soaking the dried figs in a bowl with hot water to rehydrate them and soak them for 10 minutes.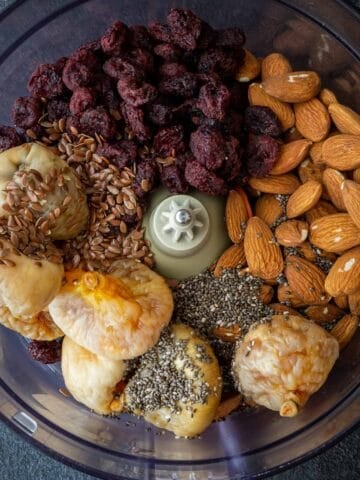 Step 3: Then drain the soaked dried figs and pour them with the other ingredients in the food processor.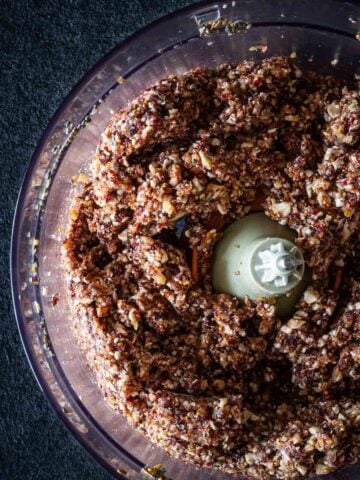 Step 4: Blend and chop the fig paste until a soft dough forms with a sandy but malleable consistency, compacting without crumbling when you press it with your fingers.
Hint: You may need to open the food processor and scrape the fig paste with the help of a spatula.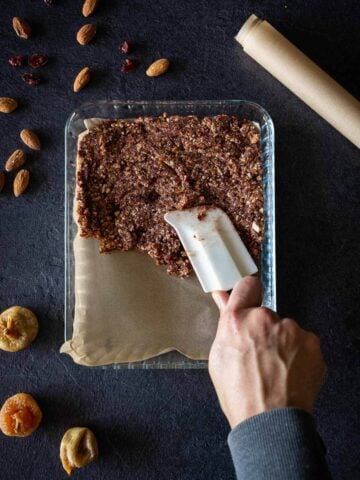 Step 5: Spread the fig paste into a prepared pan with parchment paper, a spatula, or a wooden spoon.
Step 6: Place a piece of parchment paper on top of the thick paste and gently press with your hands or glass, making a thin layer on the baking sheet.

Leave the baking sheet with the fig paste to compact in the freezer for at least 20 minutes.
Then cut the bars as you prefer, making squares or rectangles.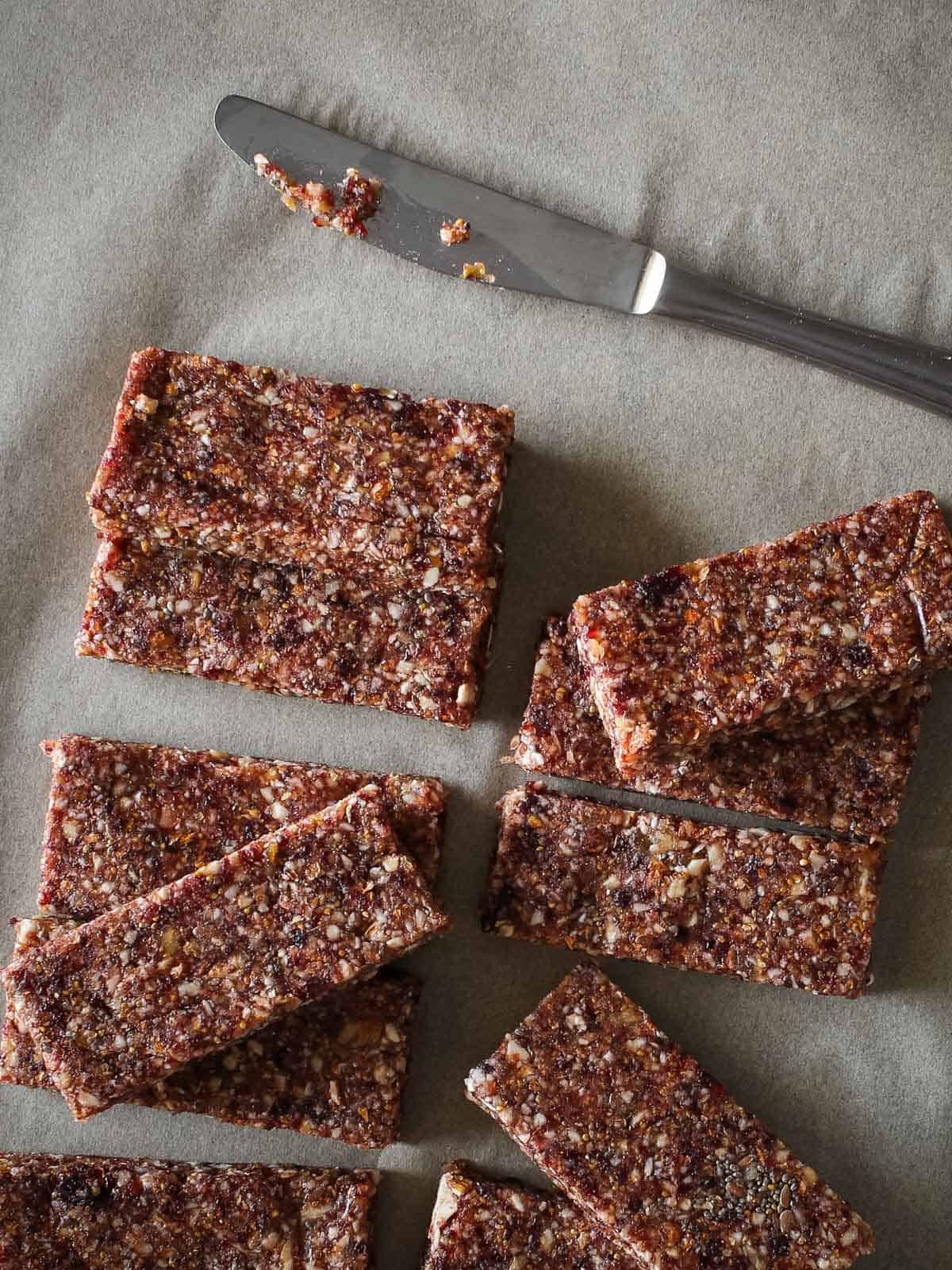 Hint: use a rectangular or square baking sheet. Then place another piece of parchment paper on top, and use a glass to compact the fig mixture.
🍶 Substitutions
Almonds
Use walnuts or pecans instead.
Dried cranberries
Use sultanas or raisins. They both work well.
Dried Figs
You can use dried strawberries or dried apricots, following the same hydrating procedure used for the dried figs.
If using fresh figs, you can sub 5 ounces of dried figs with 13 whole fresh figs; more helpful fig conversions.
📖 Variations
Here are some of the variations we have experimented with using this gluten-free fig bars recipe.
If you want the bars to be sweeter, add two tablespoons of brown sugar, pure maple syrup, or agave nectar.
Protein
If you want to add more protein to these bars and make oatmeal fig bars, we suggest adding a cup of rolled oats.
Note: this fig recipe is naturally oil and gluten-free as it doesn't use wheat flour or any other ingredient containing gluten, but if you choose to add rolled oats, make sure to pick them GF to keep them celiac-disease friendly.
Citrus flavor
You can add ½ orange zest or lemon zest to give the bars an additional zesty flavoring.
Ginger
Add one teaspoon of ground ginger to give the bars a spicy flavor twist. Ginger and figs pair beautifully in many recipes like jams and marmalade; this recipe is no exception.
🍽 Equipment
To make this quick recipe, you only need three things:
A food processor (affiliate link) or a blender, a baking sheet (affiliate link), and a wooden spoon or spatula (affiliate link).
You don't even need an oven, making it the perfect Summer treat for camping and picnics!
🥡 Storage
If you don't eat them right away, don't worry; fig preserves very well. Keep your homemade fig bars in an airtight container for a month.
However, they keep longer in the freezer: if you decide to freeze them, remember to leave them at room temperature for at least half an hour before consuming them.
After mastering the art of making these delicious Homemade Fig Bars, you might even consider scaling up your production. If you ever dream of selling your own brand of fig bars in stores, you'd likely need a co packer to help with large-scale production and packaging.
They can take your homemade recipe and produce it in large quantities, ensuring more people can enjoy your delicious creation.
❓ FAQ
How long do dried figs last?
Dried figs are an excellent source of fiber and nutrition, making them a great snack option. When properly stored, dried figs can last for up to 6 months. In order to ensure that your dried figs remain fresh, it is important to store them in a cool, dark place such as the pantry or refrigerator.
When you purchase dried figs from the grocery store, ensure they have been handled carefully and not exposed to sunlight or moisture. If you have stored your own homegrown dried figs, check the quality before storage - if any mold forms on the surface of a few pieces of fruit, discard them so as not to contaminate the entire batch.
To further extend their shelf life at home, try storing the dried fruits in an airtight container or sealed plastic bag. This will prevent exposure to oxygen which could cause molding and spoilage more quickly than when kept in their original packaging alone.
Once opened and exposed to air, however, your plans for long-term storage may need rethinking; vacuum bags are usually best for these situations instead! Dried Figs will still last around 1 - 2 months when packaged correctly and can be incorporated into cooking recipes.
Can I use fig preserves or jam instead of dried figs?
Yes. You can use store-bought fig preserves or fig jam if dried figs are not available. You may need to increase the amount of seeds, nuts, and dried fruit to make a thick, malleable paste.
Are fig bars healthy?
Yes, fig bars can indeed be a healthy snack option, especially if they're homemade and you're conscious of the ingredients you're using. They can offer a range of nutritional benefits depending on the ingredients, and they're often a source of fiber, healthy fats, and essential nutrients.
This recipe includes ingredients like dried figs, raw almonds, dried fruit, chia seeds, and flax seeds, all of which provide beneficial nutrients. Dried figs and other fruits offer fiber and antioxidants, raw almonds add healthy fats and protein, while chia and flax seeds provide a combination of fiber, protein, and omega-3 fatty acids.
However, like any food, fig bars should be enjoyed in moderation as part of a balanced diet. While they can be a healthier alternative to traditional baked goods or processed snacks, they can still be relatively high in sugar, albeit natural, and calories. Always be mindful of portion sizes and your own dietary needs and goals.
📚 More healthy snack recipes
We have some delicious recipes for sweet snacks and savory ones. You will surely love these healthy recipes; they are all gluten-free.
Indulge in a scrumptious, mini blueberry muffin, only 69 calories, and ready in under 25 minutes!
Also, try our new no-bake low-calorie protein balls made with only 3 ingredients.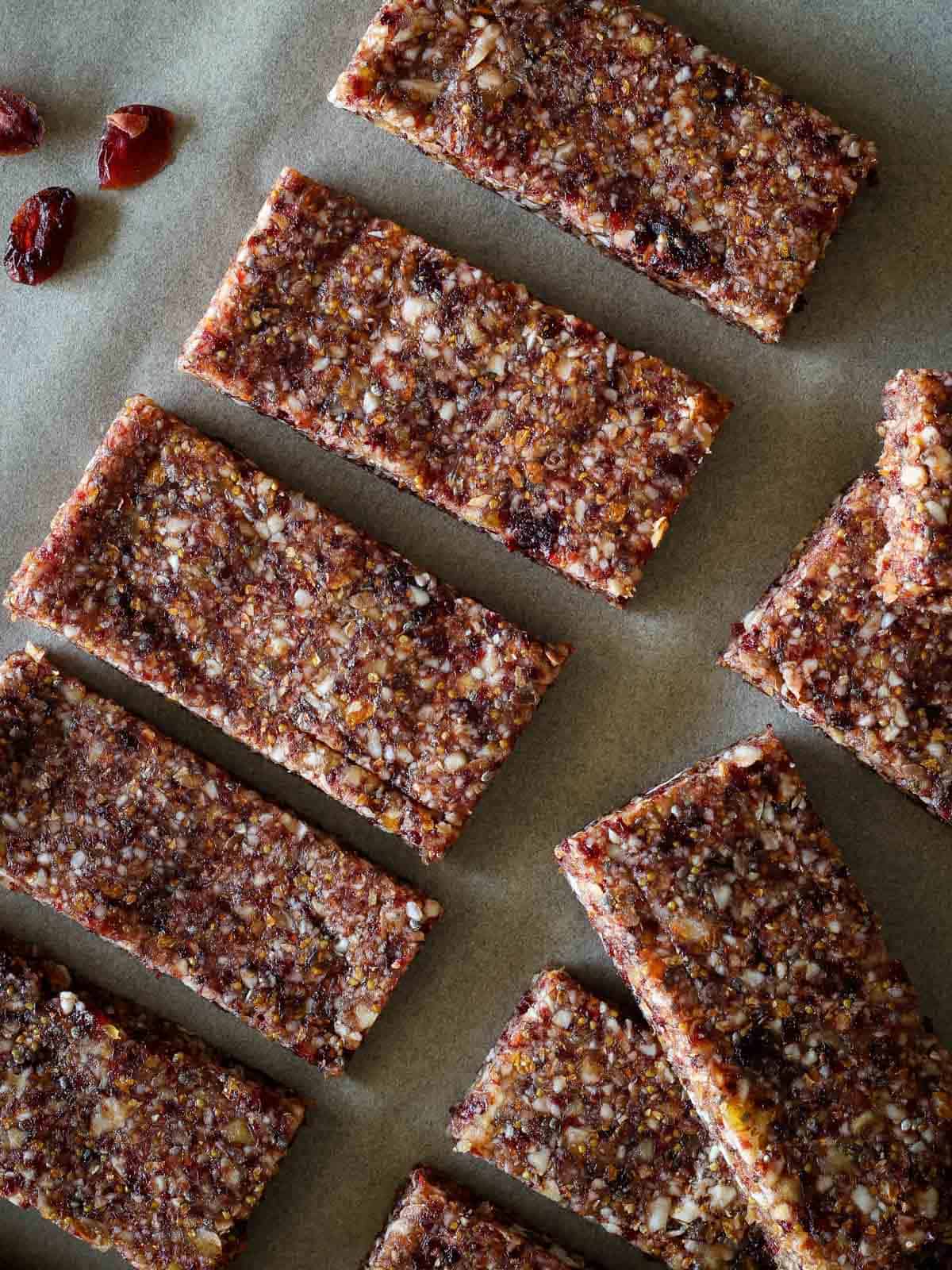 If you try this Gluten-Free Fig Bars Recipe, let us know! Leave a comment, rate it, and don't forget to tag a photo #ourplantbasedworld on Instagram. Cheers!
📋 Recipe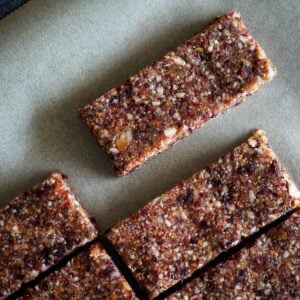 Healthy Fig Bars Recipe (Gluten-Free, 5-ingredient, No-Bake)
When you crave a different snack, these Quick, No-bake, 5-ingredient Homemade Fig Bars are perfect because they are super tasty and easy to make.
Equipment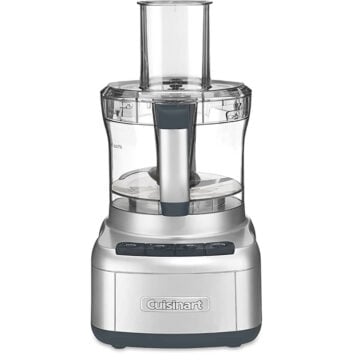 (affiliate link)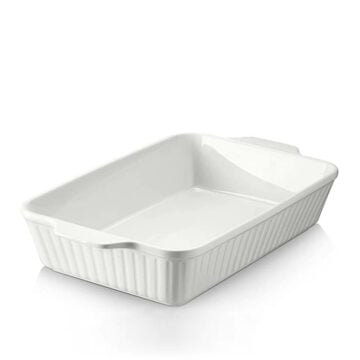 (affiliate link)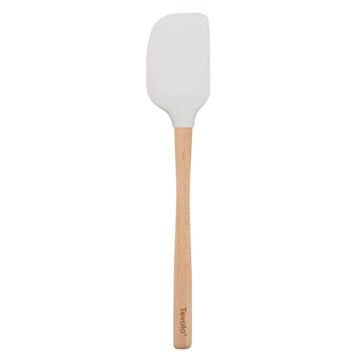 (affiliate link)
Directions
Start by immersing the dried figs in hot water to rehydrate them and soak them for at least 10 minutes.

Then drain and pour them together with the other ingredients in the mixer.

Blend until you reach a compound with a sandy but malleable consistency, compact without crumbling when you press it with your fingers.

Spread the mixture into a rectangular or square baking dish. There is no correct or wrong size: if you use a small pan, the bars will be thicker, while if you opt for a wider one, they will be thinner.

Leave to compact in the freezer for at least 20 minutes.

Then cut the bars as you prefer.
Notes
If you don't eat them right away, keep them in an airtight container for a month.
However
, in the freezer
, they keep longer
: if you decide to freeze them, remember to leave them at room temperature for at least half an hour before consuming them.
Nutrition Facts
Calories:
139
kcal
Carbohydrates:
20
g
Protein:
3
g
Fat:
7
g
Saturated Fat:
1
g
Polyunsaturated Fat:
2
g
Monounsaturated Fat:
4
g
Trans Fat:
1
g
Sodium:
2
mg
Potassium:
179
mg
Fiber:
4
g
Sugar:
13
g
Vitamin A:
2
IU
Vitamin C:
1
mg
Calcium:
60
mg
Iron:
1
mg
Nutrition Facts
Healthy Fig Bars Recipe (Gluten-Free, 5-ingredient, No-Bake)
Amount per Serving
% Daily Value*
* Percent Daily Values are based on a 2000 calorie diet.
Nutritional Disclaimer
The information shown is an estimate provided by an online nutrition calculator. It should not be considered a substitute for a professional nutritionist's advice. See our full Nutritional Disclosure here.
Affiliate Disclaimer
Please note that some of the links here are affiliate links, and I will earn a commission if you purchase through those links. I recommend all of the products listed because they are companies I have found helpful and trustworthy.