Plátanos en Tentación (Temptation Plantains), also known as Platano Picaro (rogue plantain". In Latin America, the platano en tentacion is a popular dish because this amazing recipe only requires a few ingredients and can be eaten as a side dish or dessert.
It is mainly made with ripe sweet plantains, butter, powdered cinnamon, and brown sugar.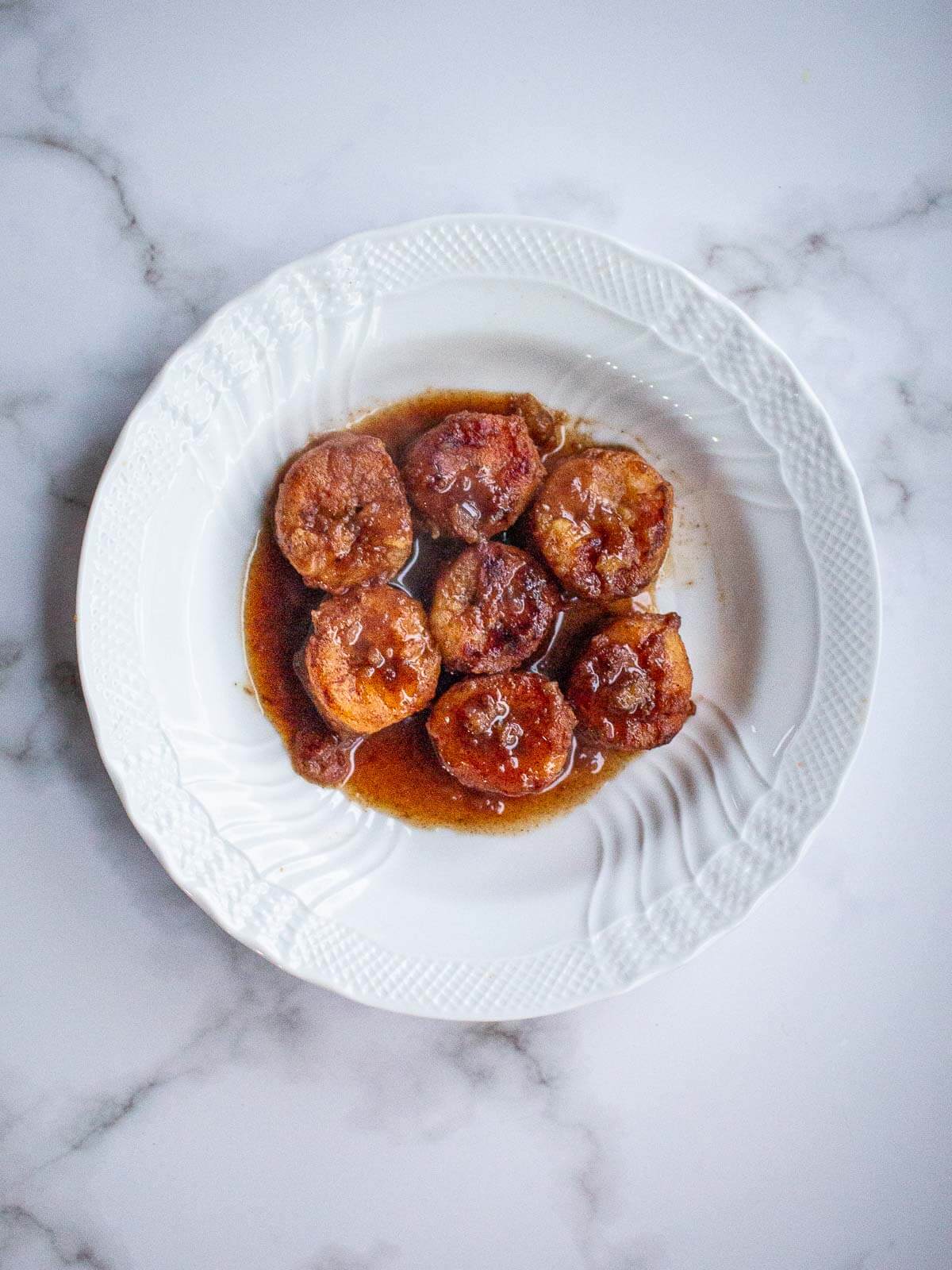 We make this Vegan version of the Platano en Tentacion recipe with ripe plantains, vegan butter, brown sugar, cinnamon powder, and vanilla extract.
This typical side dish originates in the Caribbean region, mainly in Panama, Costa Rica, Puerto Rico, and Colombia's Caribbean Coast.
It is a delicious, family-loved, and traditional dish that is effortless to make. Although its flavor is sweet, we usually serve it as a side dish, next to white rice and the protein of choice, just like a sweet potato apple crunch on a Thanksgiving table.
In Panama City, my hometown, the Platano en Tentacion recipe is made everywhere and on every occasion. These sweet plantains recipes can well be present at a peasant's meal, a wedding, or a Christmas dinner. Everyone loves it, and if you forget to make them part of the table, someone will surely call it out!
First of all, you need very ripe plantains. In Spanish called Plátano, or Platano Macho in Mexico.
Do not confuse plantains with bananas; they look very similar but different. Below you can explore all the differences and answers to common questions regarding these two beautiful fruits.
See below how to pick them.
Jump to:
🧾 Ingredients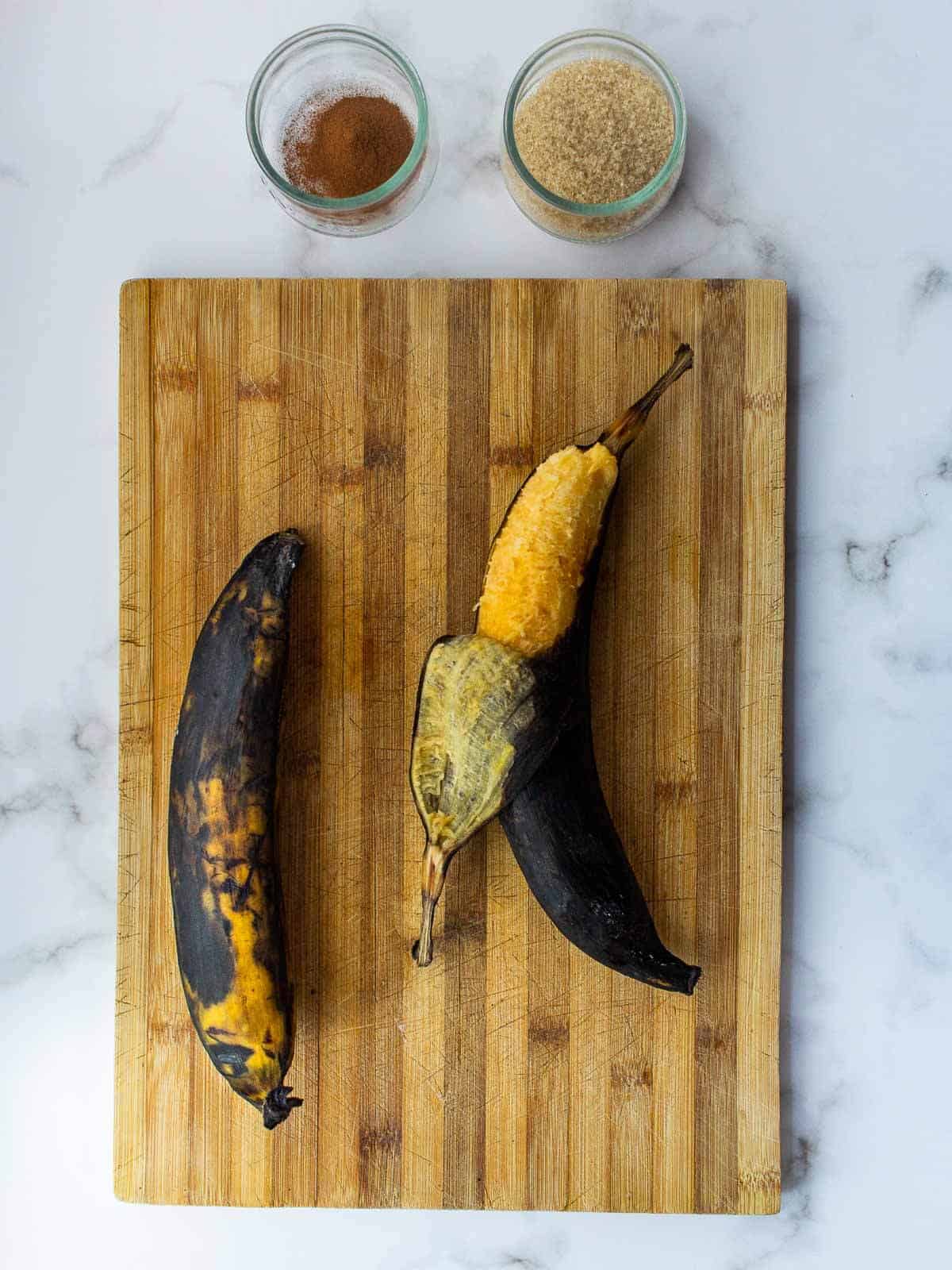 Ripe plantains
Cinnamon
Sugar (or panela unrefined whole cane sugar)
Optional: maple syrup, vanilla extract, vegan butter.
See quantities and complete instructions in the recipe card.
🔪 Instructions
How to Cook Platanos en Tentación?
This sweet plantains dish consists of VERY ripe plantains (cooked with vegan butter, cinnamon, brown sugar (or panela), to the point that they are brown, and molasses is obtained). We recommend using vegan butter, maple syrup, and vanilla extract, to get the best results.
Note that to make these caramelized plantains, the plantains must be ripe but not black.
They are typically served as an accompaniment to main dishes at lunches and meals.
This recipe makes 4 servings. I calculate one plantain for every two people.
You need to be patient and let them simmer on low heat.
Peel plantains (which should be slightly soft and dark brown).
Slice each plantain into 1-inch (2.5 cm) pieces (little pieces).
Place in a flat pan and add water to cover them halfway. Add the powdered cinnamon, brown sugar (and maple syrup), vanilla extract, and vegan butter (if using). Traditional platanos en tentacion use butter; if you are following a no-oil diet, you may choose to omit it. They will just be less silky and creamy.
Let them cook for another couple of minutes. The bananas should be dark golden brown from the cinnamon and syrup that forms; if it has dried out, add a water cup, and continue simmering.
Taste for softness. Serve warm, and sprinkle some additional ground cinnamon on top.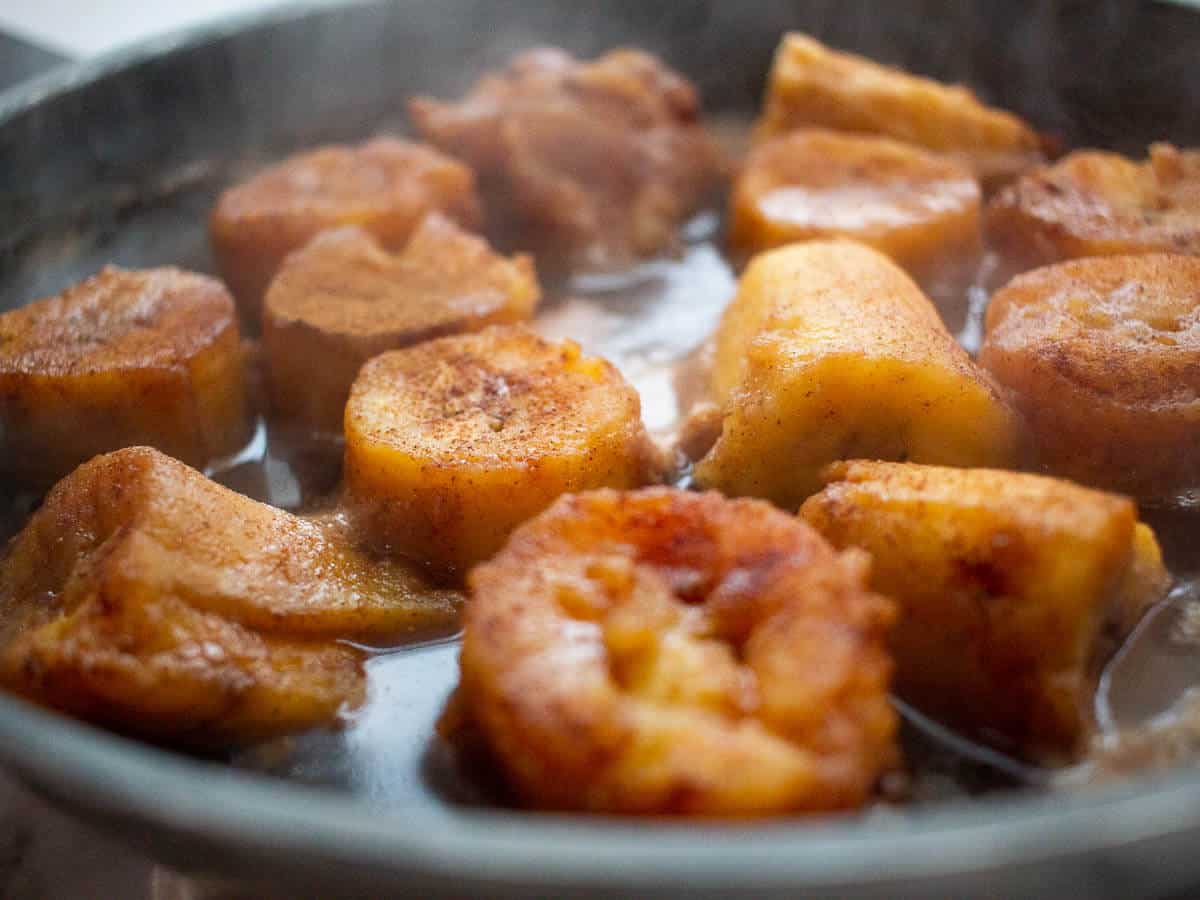 🥢 How to serve
Eat this easy-to-make side dish with white rice, beans, and salad. However, we don't consider this recipe a dessert.
Dessert - if you are having this recipe as dessert, pair it with a vegan banana ice cream, coconut whipped cream, or regular vanilla ice cream.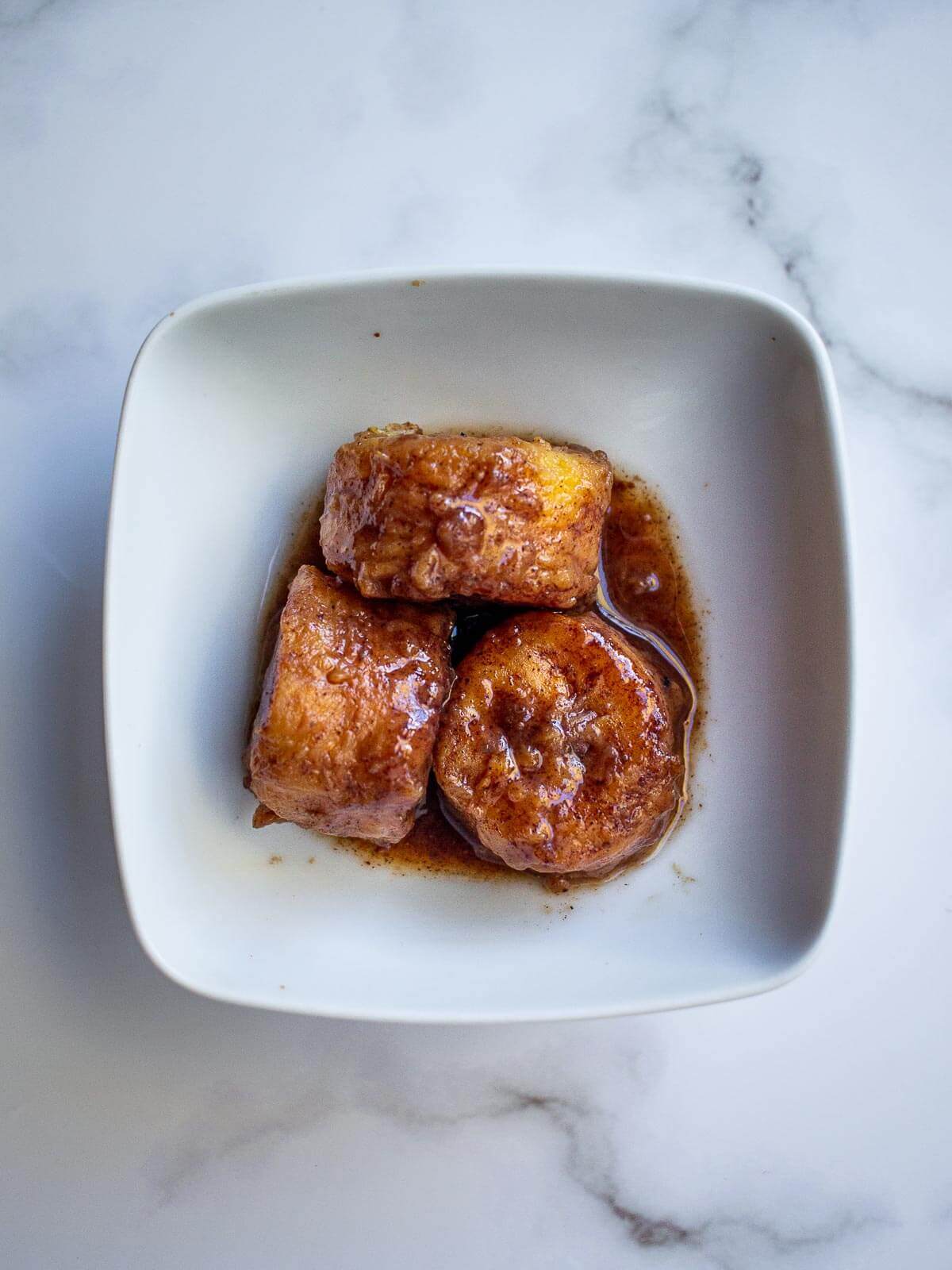 📖 Variations
Using a baking dish, you can also make this delicious and great recipe in the oven. Baking the plantain is about the same, but you need to add everything at once: ground cinnamon, butter, brown sugar (and maple syrup if using), and water; then turn them halfway.
The oven should be set at a medium temperature (about 350ºF or ºC), so they cook well; when they look half baked, take the baking dish from the oven, and turn them, cook them until they are perfectly cooked and golden brown. It should take about 30 minutes, depending on your oven.
Cinnamon - although you could use cinnamon sticks, I prefer powdered cinnamon to ensure the recipe's flavor is evenly distributed. If you use cinnamon sticks, use 2 large cinnamon sticks for each tablespoon of ground cinnamon. Add them into the water so they float, and their scent permeates the plantains.
🥡 Storage
The platanos in tentación stay well in the refrigerator until three days. I don't recommend freezing them because after thawing, the texture is not ideal; the flavor is almost the same, though, so if you don't have any other option, go ahead and freeze them.
You can reheat with some hot water at a low temperature and cover the saucepan for 5 minutes. Also, you can place them in the microwave and thaw them on medium-low heat, for 3-5 minutes, with some water, the lid on, and sprinkle some extra cinnamon.
You can make a Vegan and oil-free version by simply omitting the butter or margarine (or vegan butter) and replacing it with Maple Syrup for extra creaminess. I have eaten them all my life and did not notice any significant difference.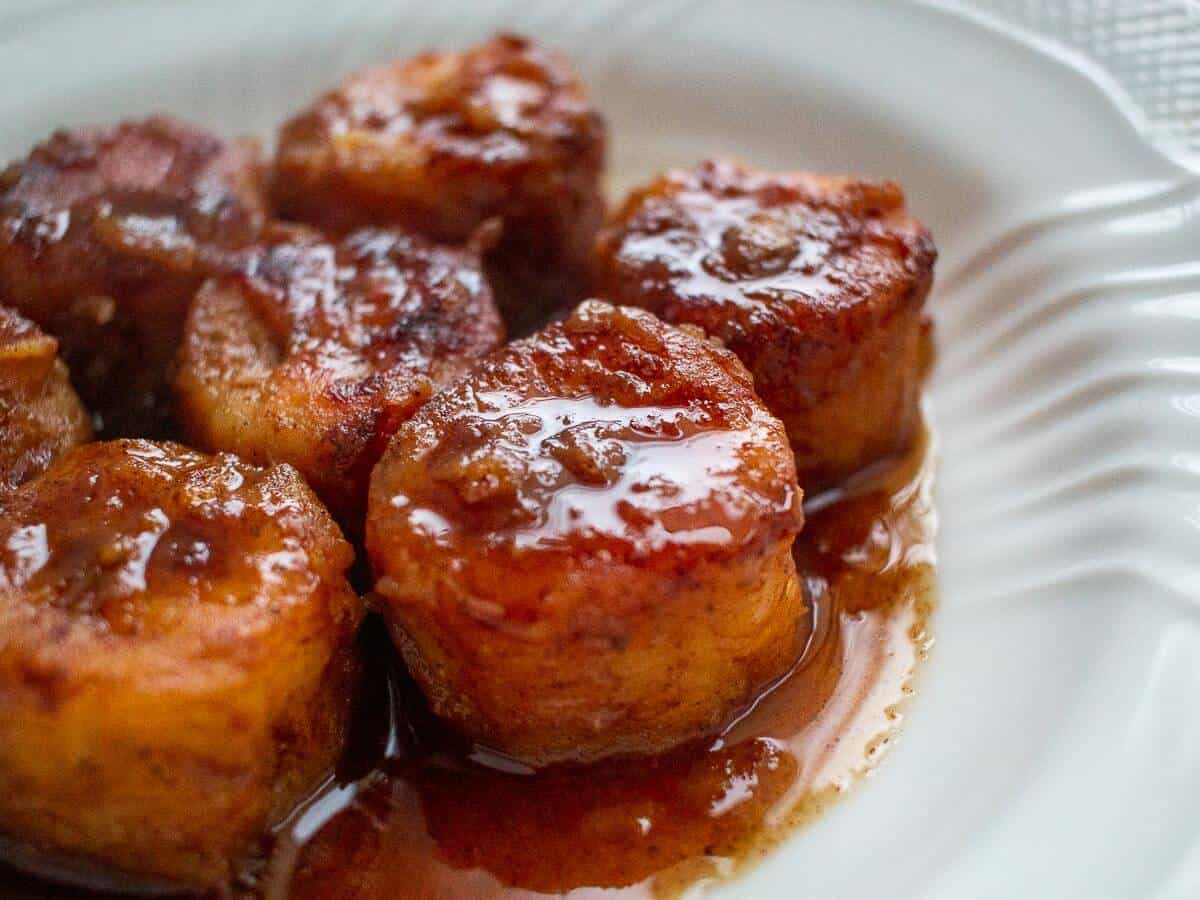 🍌 Plantains vs Bananas
Let's get into all those differences; although the plant's fruits and trees are very similar, there are plenty of differences in their flavor profile and recipe uses. Also, you can find many recipes with both, as plantains are an ancient staple food and have constituted the base food for many Latin American indigenous tribes for centuries.
The word for plantain in one ancient dialect is T'ach. This term also means "food.
Ripe plantains are used mostly for sweet dishes and green plantains for snacks, appetizers, and side dishes, just like potato wedges and french fries.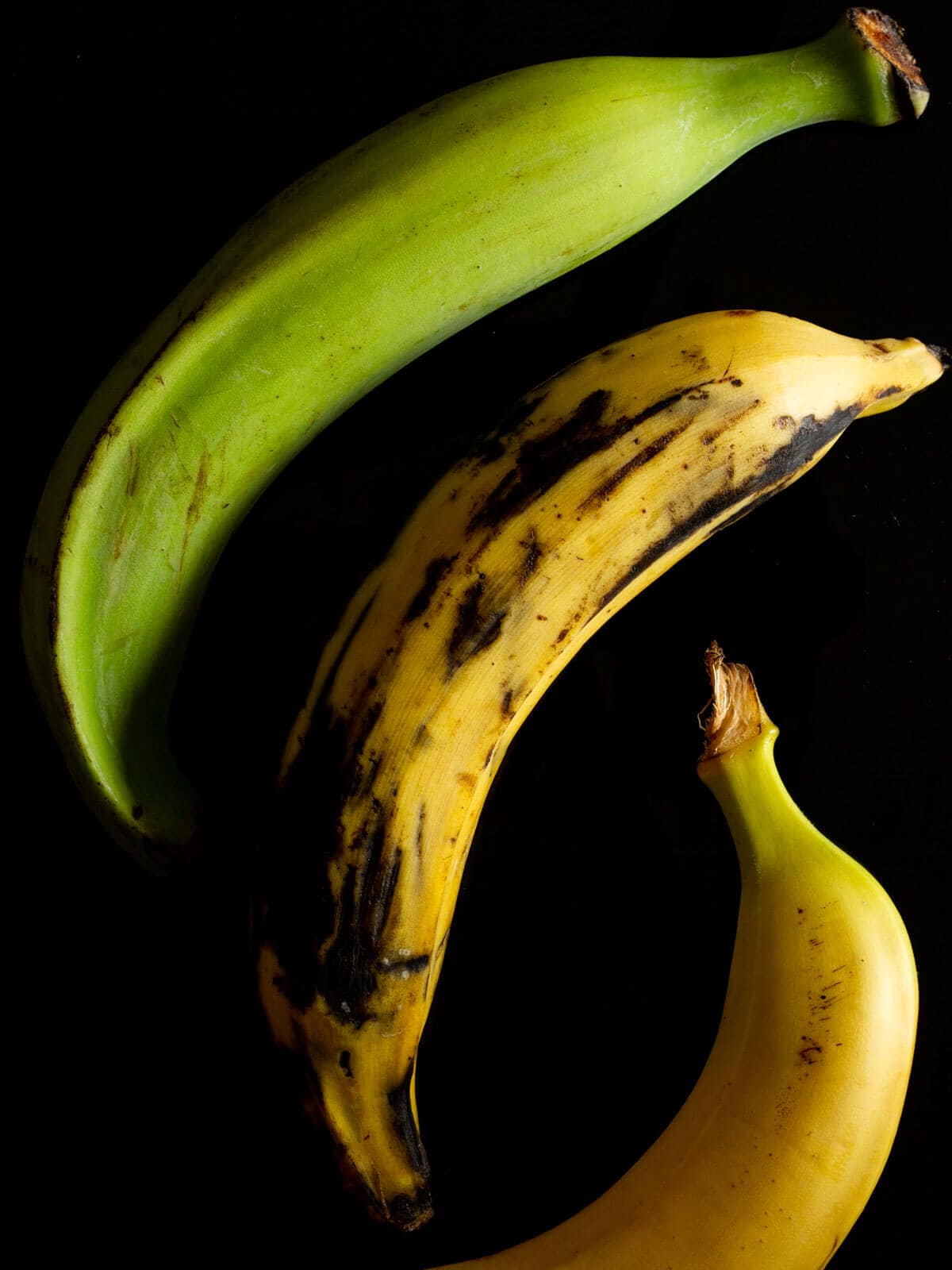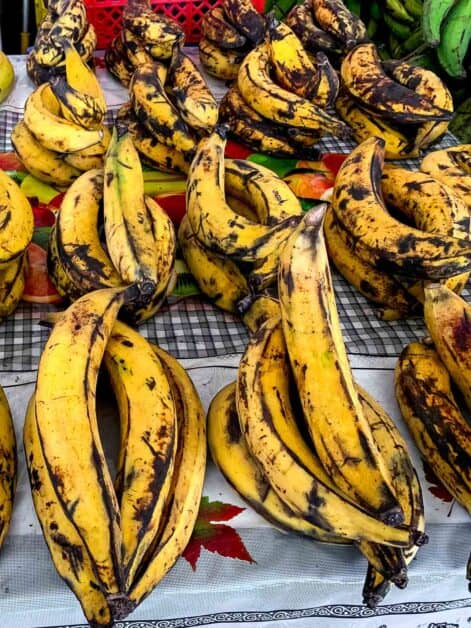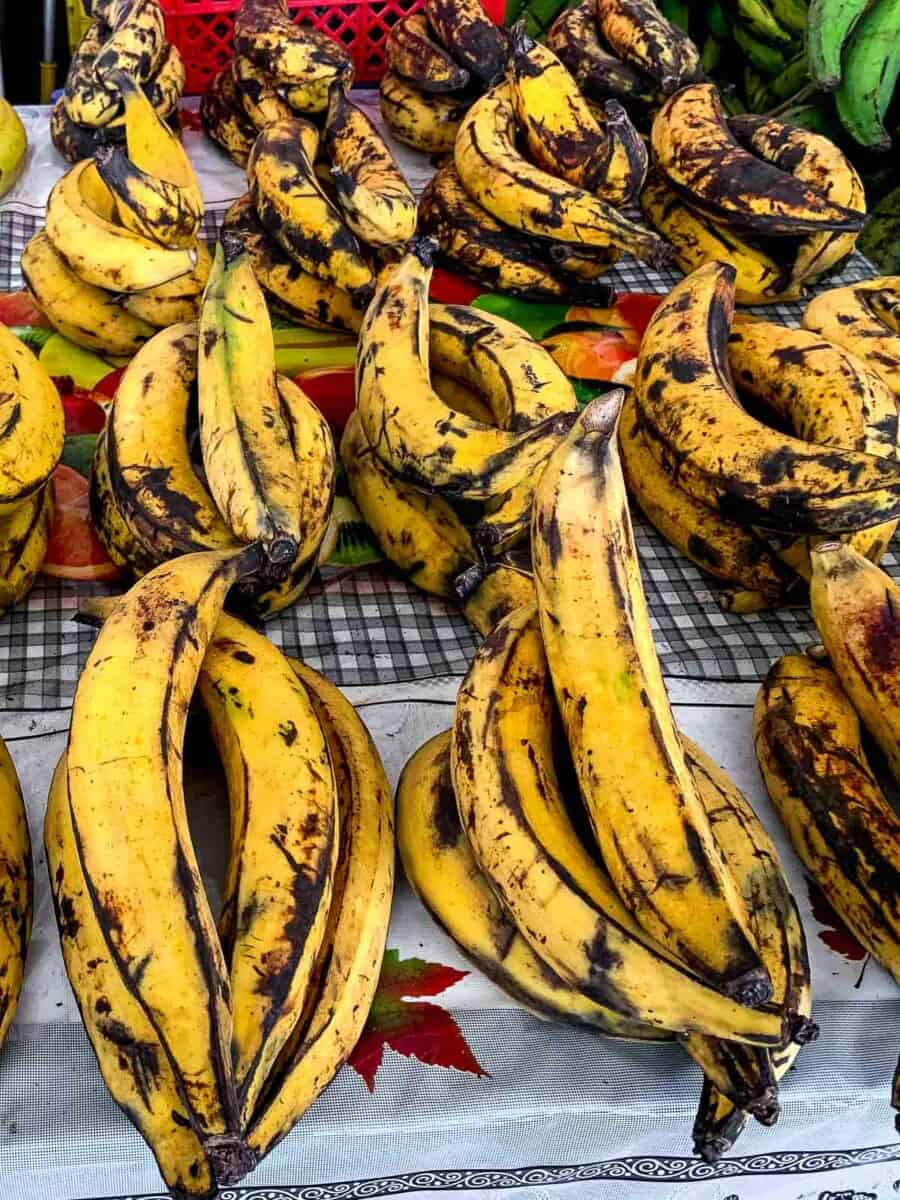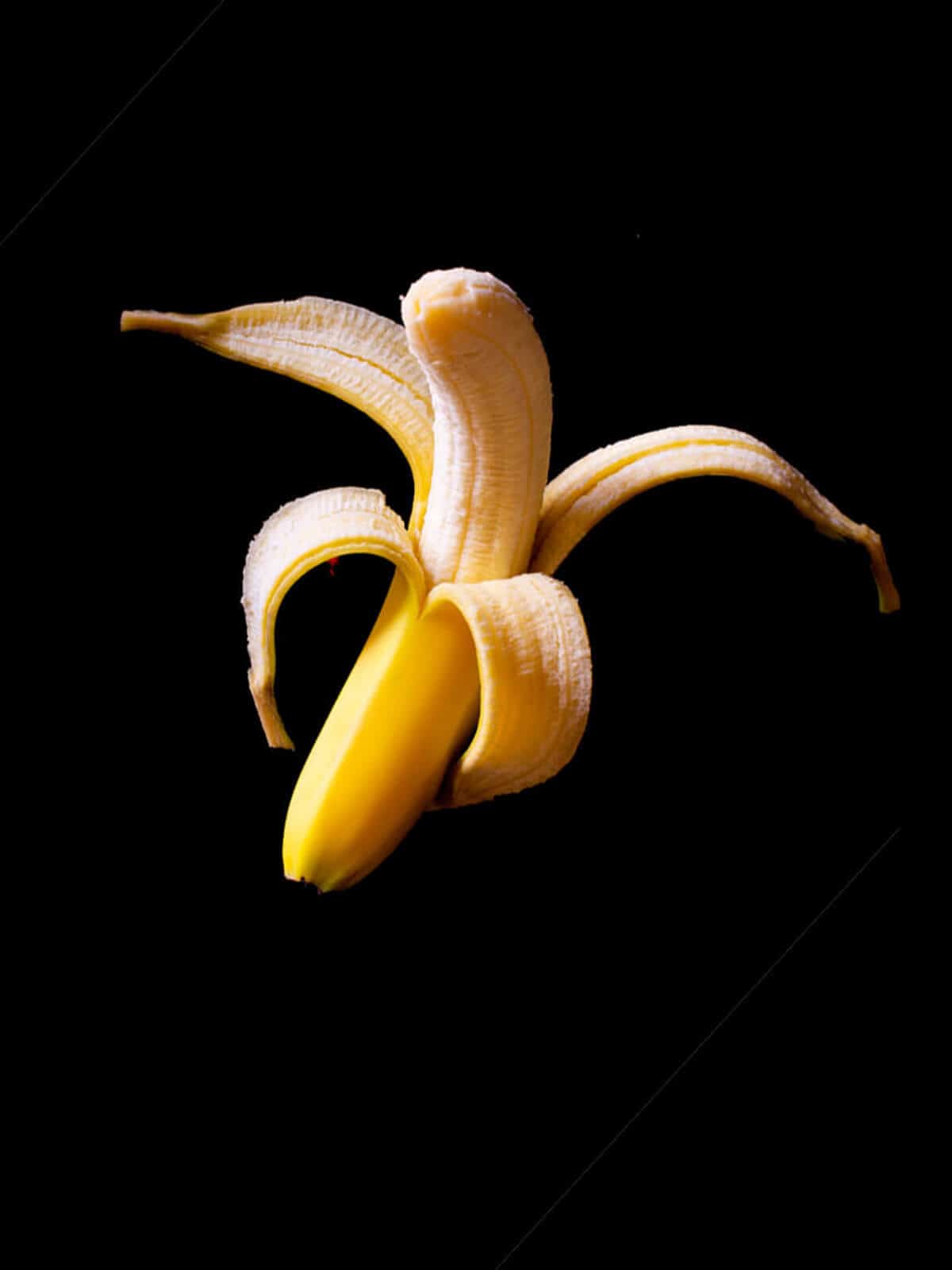 What are the tiny bananas called?
In Panama, we call bananas guineos, and the tiny bananas are called guineos patriotas.
It is good to understand that bananas, which we all know, have three different names across Latin America: bananas in Argentina, plátanos in México, and guineos in Pánama.
In Mexico, the different varieties are named after the Platano, so the Plantain is called Platano Macho, the tiny plantain is called Platano Dominico, and the regular banana yellow fruit is simply Plátano.
There are many other types of platano, like the Tabasco variety, the three-point variety (see below), and the Morado (the purple one), just to name some. Some of them are closer in flavor profile and texture to the Plantain, and some of them are closer to the Banana.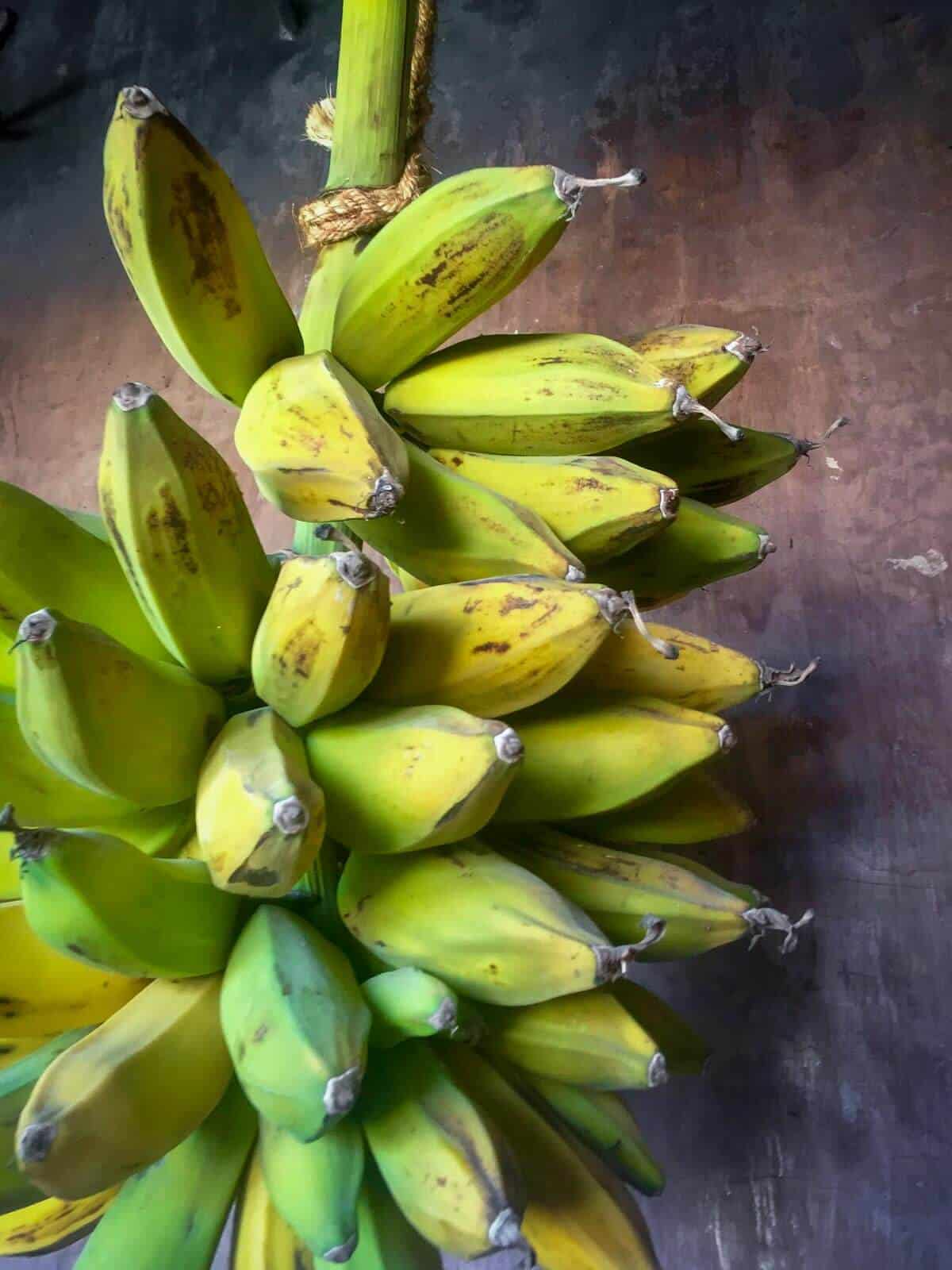 Can you substitute plantain with banana?
No, you can't; although they look very similar, their flavor profile is fundamentally different. Plantain recipes cannot be made with regular bananas.
How big is a plantain banana?
Plantains are usually about 10-12 inches (25-30 cm). When they stop growing (after 14-20 months) they can be harvested and they will continue their ripening process off-tree. The banana tree can be as tall as 16 feet (5 m) tall. See the video below.
Did you know?
You may chop down a banana tree after it flowers and the fruit has been taken from it to make room for new, productive trees to grow up from the subterranean stem. Each individual tree will only produce flowers and fruits once in its life.
Is it El Platano or La Platano?
It is El plátano, because plátano is a masculine word in Spanish. "La plátana", is used to refer to the plantain tree, which is very similar to the banana tree, almost indistinguishable. This is how they look and how you harvest them. This video was shot in 2020 at my father's farm in Panama, and yeah... that's me! You can see I grew up in the city! haha.
How long does it take to harvest plantains?
How Long Does it Take For a Plantain Tree to Make Fruit? Plantains are usually ready for harvest anywhere from 14 to 20 months, depending on the climate and other factors.
The average time to bloom is 10-15 months, with an extra 4-8 months required for fruit development and maturation.
Are plantains better for you than bananas?
Regarding the nutritional value of plantains, both bananas and plantains have a similar nutritional composition, thus providing some of the same health benefits.
Some research indicates that the bioactive compounds in plantains and bananas may have anti-inflammatory and antioxidant effects.
Both fruits contain high potassium levels, a mineral that many people don't get enough of. Adequate potassium intake may help lower blood pressure and reduce heart disease risk.
Bananas and Plantains may also play a role in promoting digestive health, given their high fiber content.
More Latin American Inspiration? Try these Flavorful Quick and Easy Vegan Arepas.
❓FAQ
What does Tentación mean in English?
For these caramel plantains, you need plantains that are ripe but not black. Tentación means temptation' in English. It'll be difficult to turn away from this recipe.
Plantains are also great for cooking other dishes such as Patacones (Tostones), Savory Tajadas, Sweet Tajadas, Platanitos (like the ones you may have seen as packed snacks), and Mofongo (a typical dish from Puerto Rico, made with minced garlic and pork skins, not for me!).
These are all very easy-to-make dishes with a minimal amount of ingredients.
What are tostones and maduros?
Tostones are green plantains fried twice and can be eaten as a savory appetizer or side dish, either by putting something on top or with a dipping sauce. Kids in Latin America love eating them with ketchup. You can find our recipe for a healthier recipe version, where we don't fry them but bake them, getting an equally crunchy result.
We call Maduros those ripe plantains, cooked either baked or fried. They are sweet and also served as a side dish.
Plantains are ripe when they become sweet and the skin yellowing. The darker the skin, the better. Plantains may be cooked, baked, fried, or baked. It is considerably easier to cook delicious plantains than green plants, but both give comparable and high-quality taste.
Ripe plantains can be cooked in different ways including Maduros, Tajadas, Puerto Rican Mofongo, and Platanos en Tentación.
What is Mofongo?
Mofongo is a very popular side dish in Latin America, especially Puerto Rico. It's made of fried green plantains mashed together with garlic and oil to make the consistency of soft bread dough - sort of like vegan chicharrones (fried puffed balls). It's served with garlic mojo and usually topped with your choice of meat, seafood, or sauteed vegetables.
Mofongo is usually made with green plantains that are fried first before being mashed together.
What are Tajadas?
Tajadas are ripe plantains that have been cut into thin slices. They can be fried, boiled, or baked and used in all sorts of recipes.
Tajadas can be savory when made with green plantains and eaten like potato fries, or they can be made with sweet plantains.
Are platanos bananas or plantains?
The term "platano" refers to a plantain. It is a fruit from the same banana family. Still, it has a very different flavor profile and culinary application than the sweet, yellow banana, the one that most people are familiar with.
What is the difference between Platanos and bananas?
Plantains are starchy, tough, have thicker skin, and have very little sweetness. Therefore, they require cooking, as they are not enjoyable to eat raw.
You can consume green or yellow plantains (ripe), but the recipes vary immensely, so if you make tostones, patacones, or savory tajadas, you need green plantains; if you are making maduros, platanos en tentacion, or sweet tajadas, you need yellow plantains.
🍭 More sweet and simple recipes
⭐ If you try this recipe, let us know! 💬 Leave a comment, rate it, and don't forget to tag us @ourplantbasedworld on Instagram. Cheers!
📋 Recipe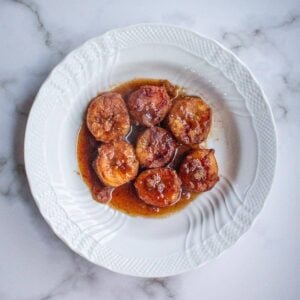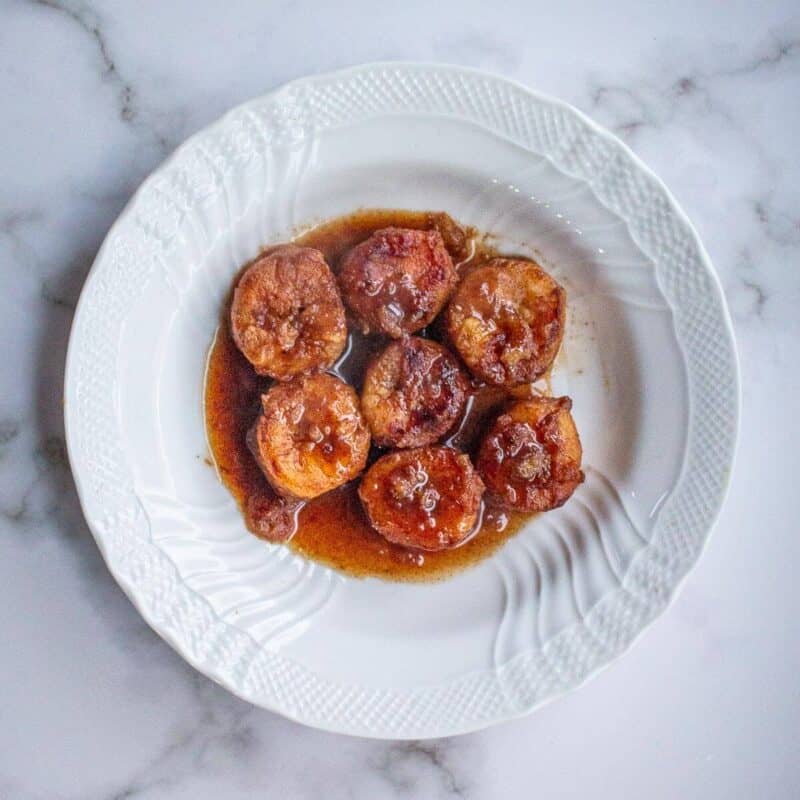 Plátanos en Tentación
Plátanos en Tentación (Temptation Plantains), also known as Plátano Pícaro (rogue plantain". This typical dish has its origins in the Caribbean region, mainly in Panama, Costa Rica, and Colombia's Caribbean Coast.
Equipment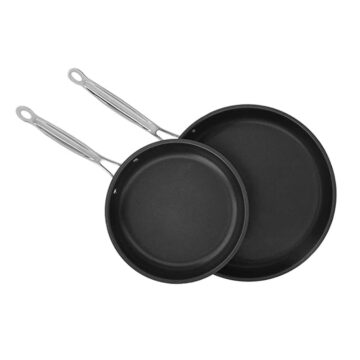 (affiliate link)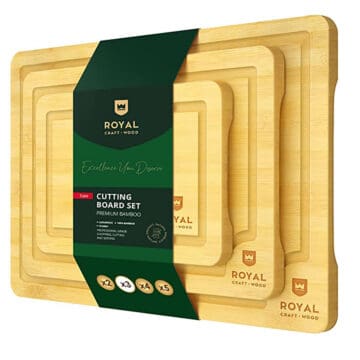 (affiliate link)
Ingredients
Optional:
2

tablespoons

maple syrup

or agave, replacing 2 tablespoons of sugar
Directions
Cut and peel plantains into 1-inch pieces. If using vegan butter melt it in a flat pan on low heat and put the sliced plantains in, turning them frequently. Let them brown on all sides. If not using vegan butter or margarine, just place them face down in a flat pan, before continuing to the next step.

Add water to cover them halfway. Sprinkle the cinnamon, vanilla extract, and sugar, (and maple syrup), bring to a gentle simmer and leave for 10 minutes.

Wait until the mixture is thick, like a caramel, and turn them. The bananas should be dark from the formed syrup; if it has dried out, add a water cup, and continue simmering.

Taste for softness, when they look just like the picture, they are ready!
Notes
Let them sit for about 15 minutes before serving. Serve warm. If eating as a dessert, go for Creamy Vanilla Ice Cream.
The Plátanos en tentación keep well in the fridge for up to three days. Try not to  freeze them, the texture would not be the best.
You can reheat with a little water on low heat, for 5 minutes with a lid.
Nutrition Facts
Calories:
166
kcal
Carbohydrates:
44
g
Protein:
1
g
Fat:
1
g
Saturated Fat:
1
g
Sodium:
4
mg
Potassium:
464
mg
Fiber:
4
g
Sugar:
25
g
Vitamin A:
1020
IU
Vitamin C:
17
mg
Calcium:
43
mg
Iron:
1
mg
Nutrition Facts
Plátanos en Tentación
Amount per Serving
% Daily Value*
* Percent Daily Values are based on a 2000 calorie diet.
🎥 Video
🌡️ Food safety
Cook to a minimum temperature of 165 °F (74 °C)
Do not use the same utensils on cooked food that previously touched raw meat
Wash hands after touching raw meat
Don't leave food sitting out at room temperature for extended periods
Never leave cooking food unattended
Use oils with high smoking points to avoid harmful compounds
Always have good ventilation when using a gas stove
See more guidelines at USDA.gov.
The information shown is an estimate provided by an online nutrition calculator. It should not be considered a substitute for a professional nutritionist's advice. See our full Nutritional Disclosure here.
Please note that some of the links here are affiliate links, and I will earn a commission if you purchase through those links. I recommend all of the products listed because they are companies I have found helpful and trustworthy.