Plátanos en Tentación (Temptation Plantains), also known as Plátano Pícaro (rogue plantain". This typical dish has its origins in the Caribbean region, mainly in Panama, Costa Rica, and Colombia's Caribbean Coast.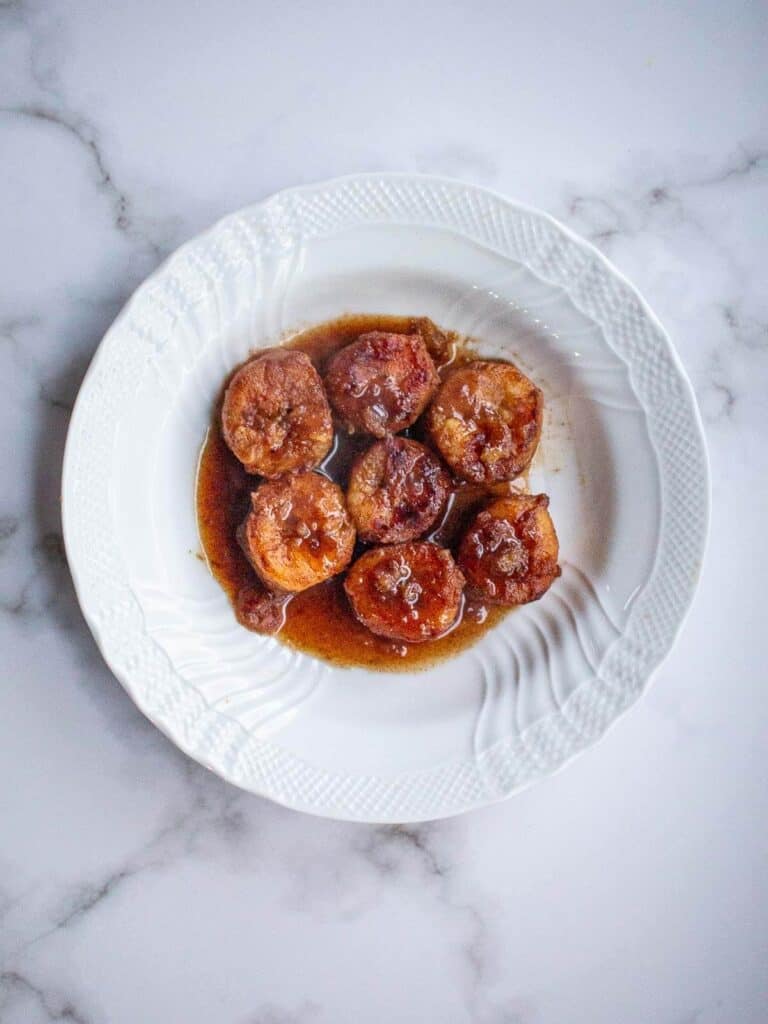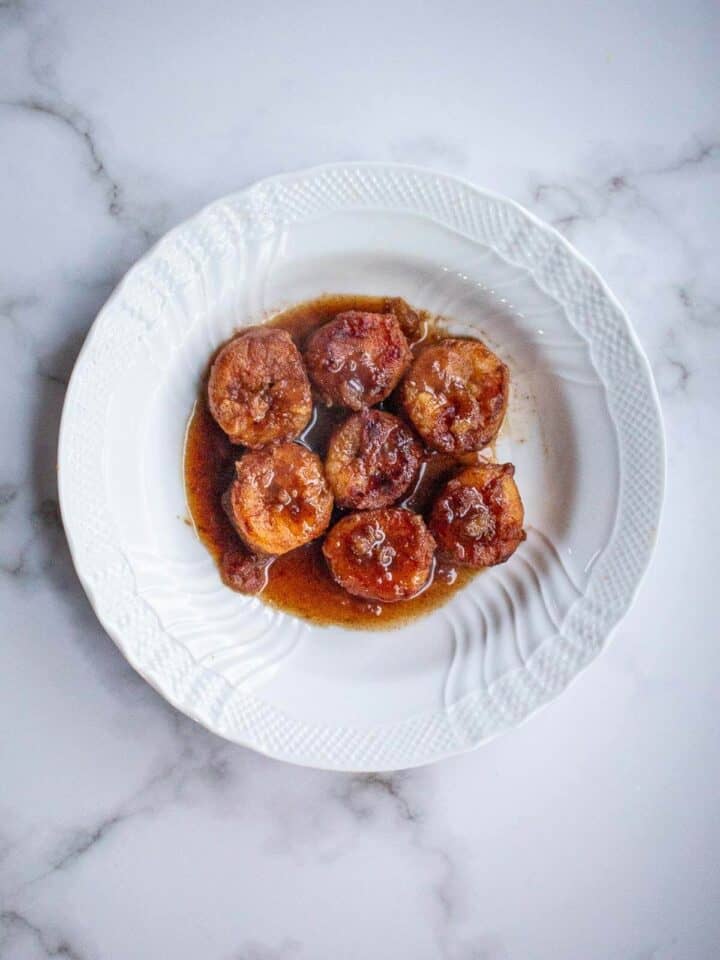 This delicious and traditional dish is effortless to make, and although its flavor is sweet, we usually serve it as a side dish.
In Panama, my hometown, you can find Plátanos en Tentación everywhere. It can well be present on a peasant's meal or a wedding or Christmas dinner. Everyone loves it.
First of all, you need very ripe plantains. In Spanish called Plátano or Plátano Macho in Mexico. They are not to be confused with bananas.
See below how to pick them.
Ingredients to Cook your Ripe Plantains
You will need ripe plantains, cinnamon and sugar at it simplest.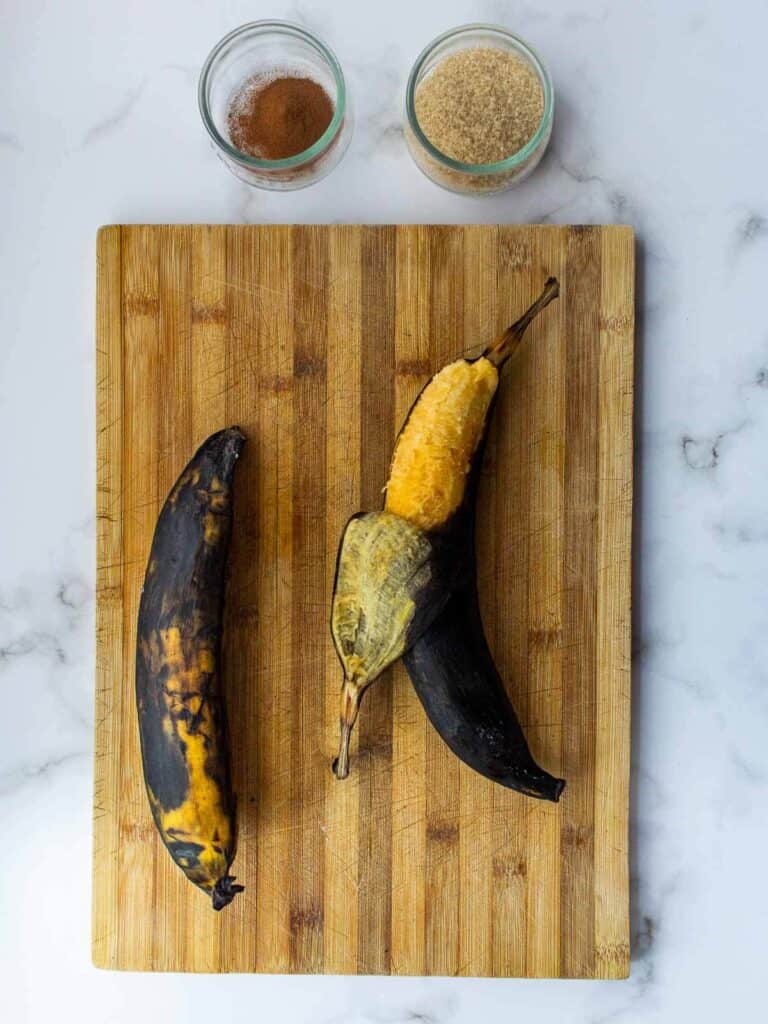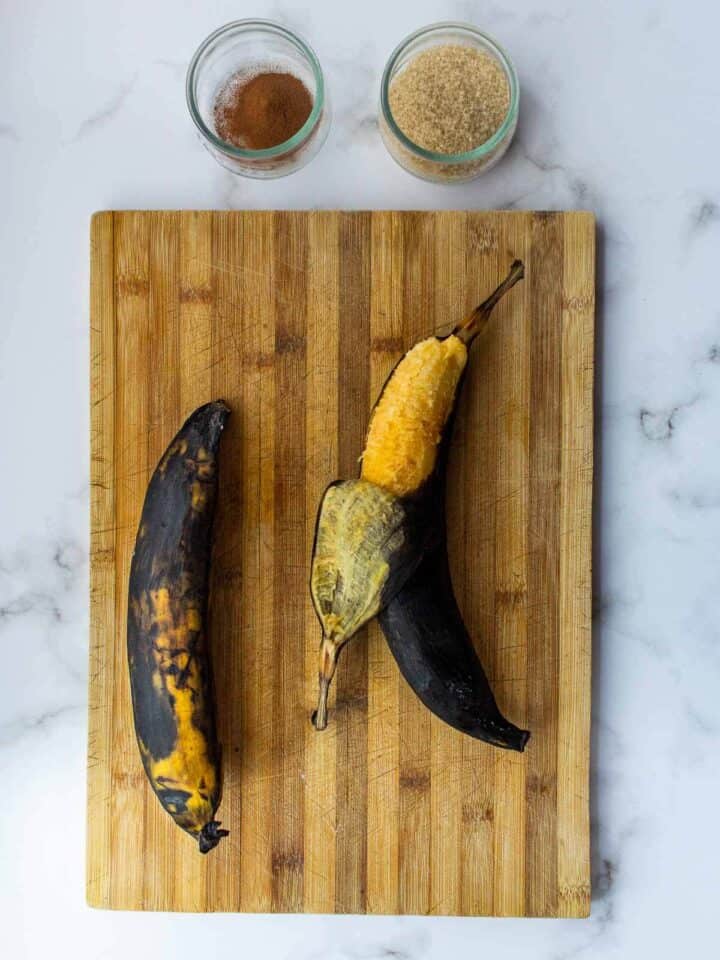 How to Cook Plátanos en Tentación
The Plátanos en Tentación consists of VERY ripe plantains (cooked with butter, cinnamon, sugar, and panela, to the point that they are brown, and molasses is obtained). They are typically served as an accompaniment to main dishes at lunches and meals.
You need to be patient and let them simmer on low heat.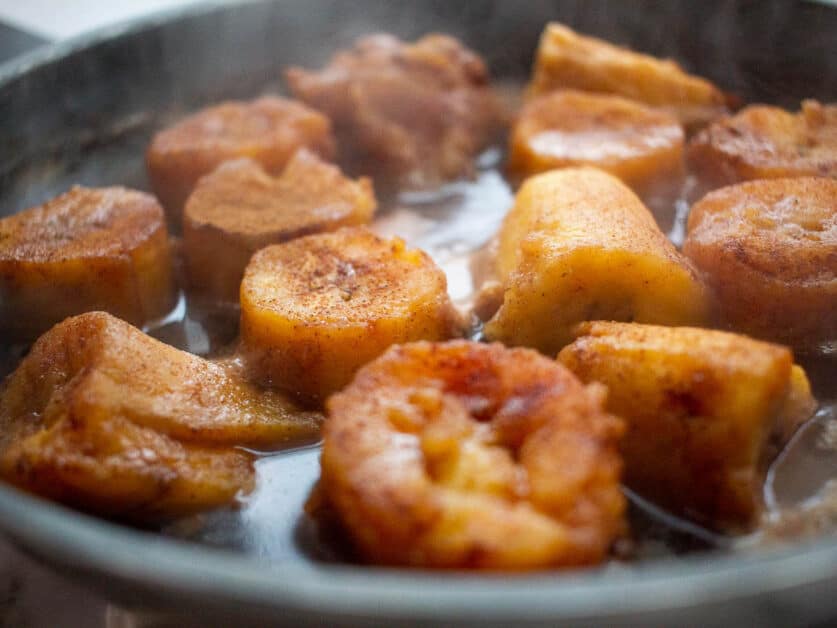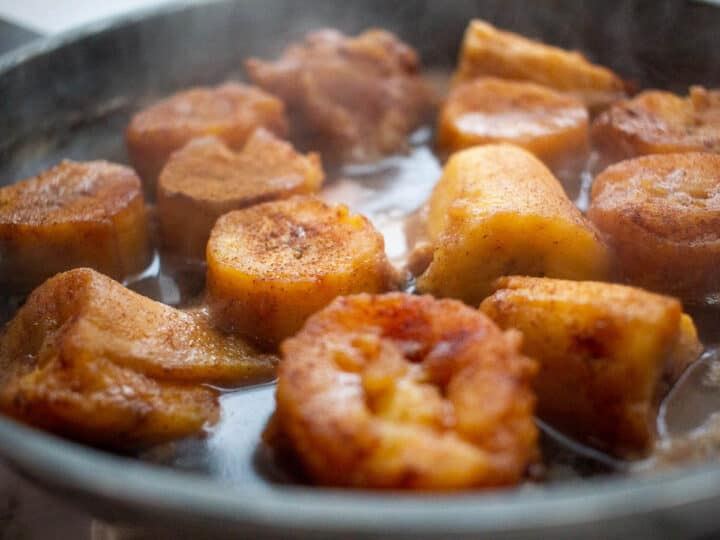 Plantains
The term "plantain" refers to a type of banana with a very different flavor profile and culinary application than the sweet, yellow banana, the one most people are familiar with.
Plantains are usually bigger and more rigid than bananas and also have thicker skin. They may be green, yellow, or very dark brown.
Plantains are starchy, tough, and not very sweet. Therefore, they require cooking, as they are not enjoyable to eat raw.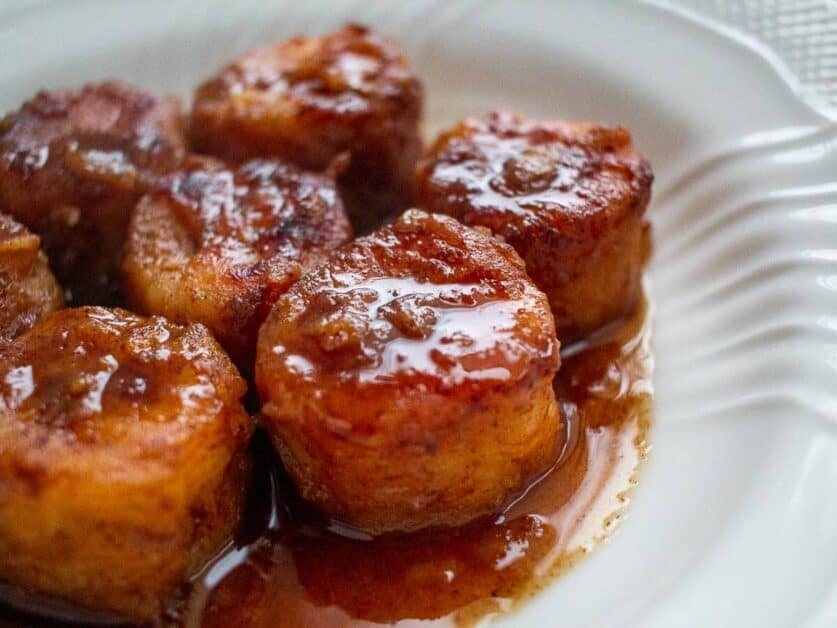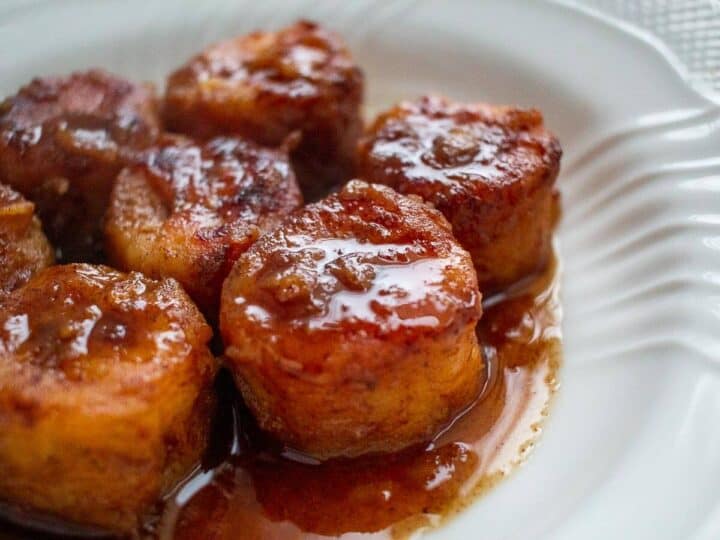 Plantains are also great for cooking other dishes such as Patacones (Tostones), Savory Tajadas, Sweet Tajadas, Platanitos (like the ones you may have seen as packed snacks), and Mofongo (a typical dish from Puerto Rico).
All very easy to make dishes with minimal amount of ingredients.
Nutritional Value of Plantains
Bananas and plantains have a similar nutritional composition, thus providing some of the same health benefits.
Some research indicates that the bioactive compounds in plantains and bananas may have anti-inflammatory and antioxidant effects.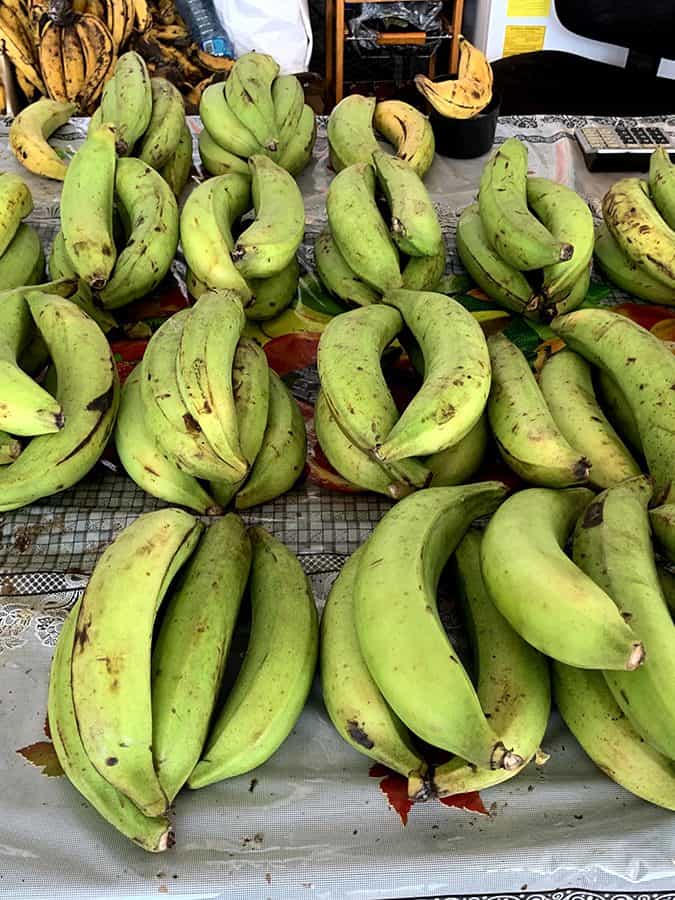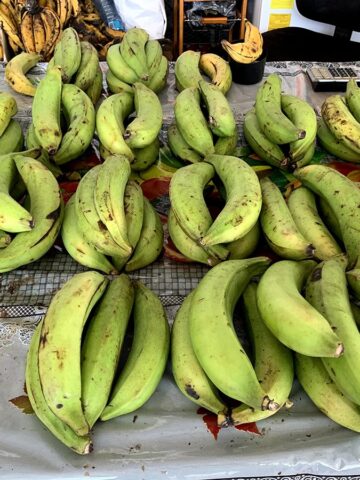 Both fruits contain high levels of potassium, and a mineral many people don't get enough of. Adequate potassium intake may help lower blood pressure and reduce heart disease risk.
Bananas and Plantains may also play a role in promoting digestive health given their high fiber content.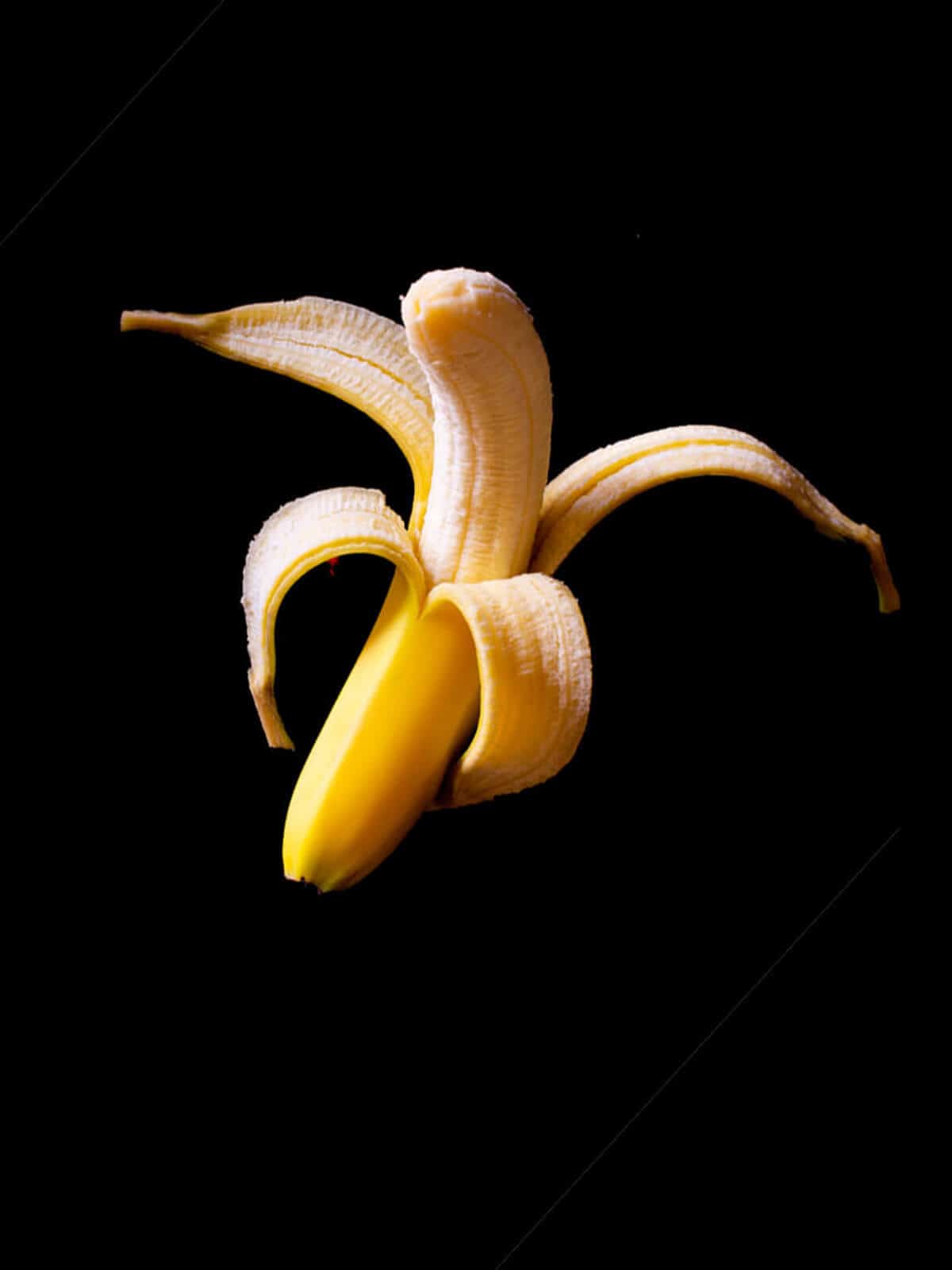 How to Eat your Plátanos en Tentación
Combine the Plátanos en Tentación with any rice, beans, and salad dish. Although this dish isn't traditionally considered a dessert, you can use it as a sweet option.
We are making a Vegan and fat-less version by not using butter or margarine (or vegan butter) and replacing Honey with Maple Syrup. I have been eating them all my life, and I did not taste any difference.
More Latin American Inspiration? Try these Flavorful Quick and Easy Vegan Arepas.
More Sweet and Simple Recipes?
If you try this recipe, let us know! Leave a comment, rate it, and don't forget to tag a photo #ourplantbasedworld on Instagram. Cheers!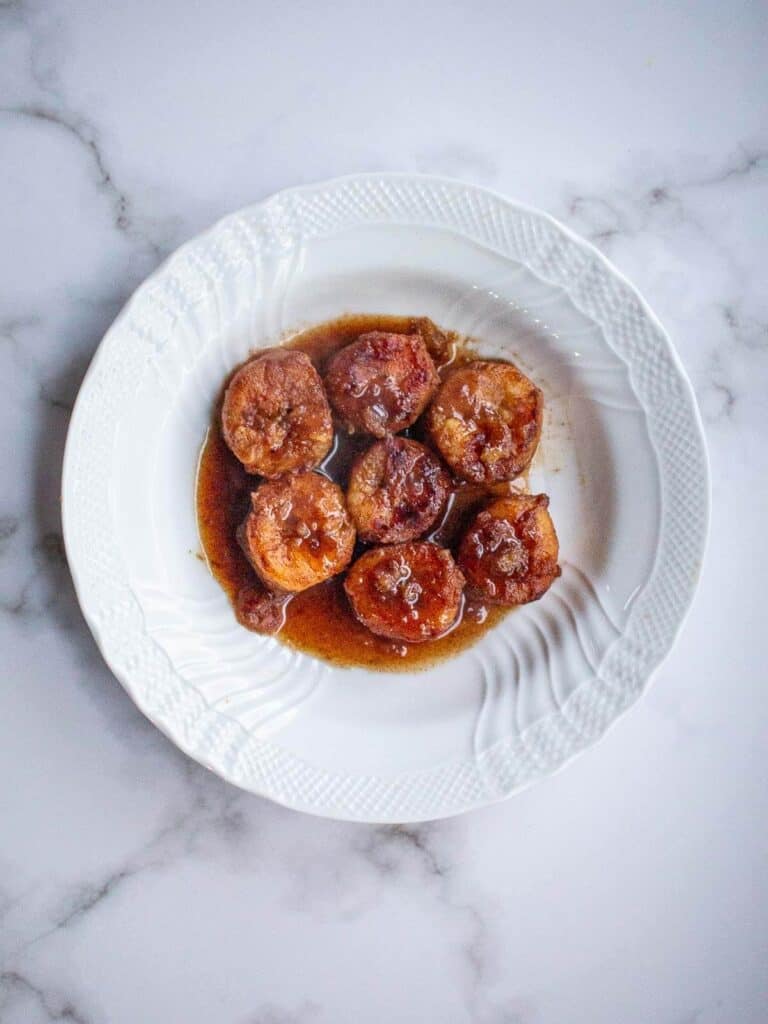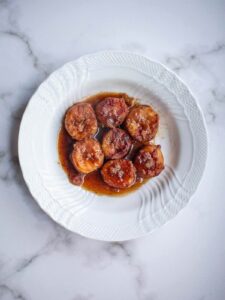 Plátanos en Tentación
Plátanos en Tentación (Temptation Plantains), also known as Plátano Pícaro (rogue plantain". This typical dish has its origins in the Caribbean region, mainly in Panama, Costa Rica, and Colombia's Caribbean Coast.
Ingredients
2

plantains

ripe

2

tablespoons

cinnamon

ground

4

tablespoons

cane-sugar

organic, medium-sweet panela, solid unrefined whole cane sugar
Optional:
2

tablespoons

margarine

avoid if in a low-fat diet

2

tablespoons

maple or agave syrup

replacing 2 tablespoons of sugar
Instructions
Cut each plantain into 1-inch pieces. If using margarine sauté, them in it, turning them frequently. Let them brown on all sides. If not using margarine, just place them face down in a flat pan.

Add water to cover them halfway. Add the cinnamon, sugar, and syrup, bring to a gentle boil and leave for 10 minutes.

Wait until the mixture is thick, like a caramel, and turn them. The bananas should be dark from the honey; if it has dried out, add a water cup. Plátano en tentación

Taste for softness, when they look just like the picture, they are ready!
Notes
Let them rest for about 15 minutes before serving. Serve warm. If eating as a dessert, go for Creamy Vanilla Ice Cream.
Nutrition
Calories:
166
kcal
Carbohydrates:
44
g
Protein:
1
g
Fat:
1
g
Saturated Fat:
1
g
Sodium:
4
mg
Potassium:
464
mg
Fiber:
4
g
Sugar:
25
g
Vitamin A:
1020
IU
Vitamin C:
17
mg
Calcium:
43
mg
Iron:
1
mg
Nutrition Facts
Plátanos en Tentación
Amount per Serving
% Daily Value*
* Percent Daily Values are based on a 2000 calorie diet.
The information shown is an estimate provided by an online nutrition calculator. It should not be considered a substitute for a professional nutritionist's advice.
Please note that some of the links here are affiliate links and I will earn a commission if you purchase through those links. I use all of the products listed and recommend them because they are companies that I have found helpful and trustworthy.