Our favorite version of the famous Spanish Omelette Recipe (another traditional favorite that always works). A Staple of Spanish Cuisine with a base of eggs and potatoes.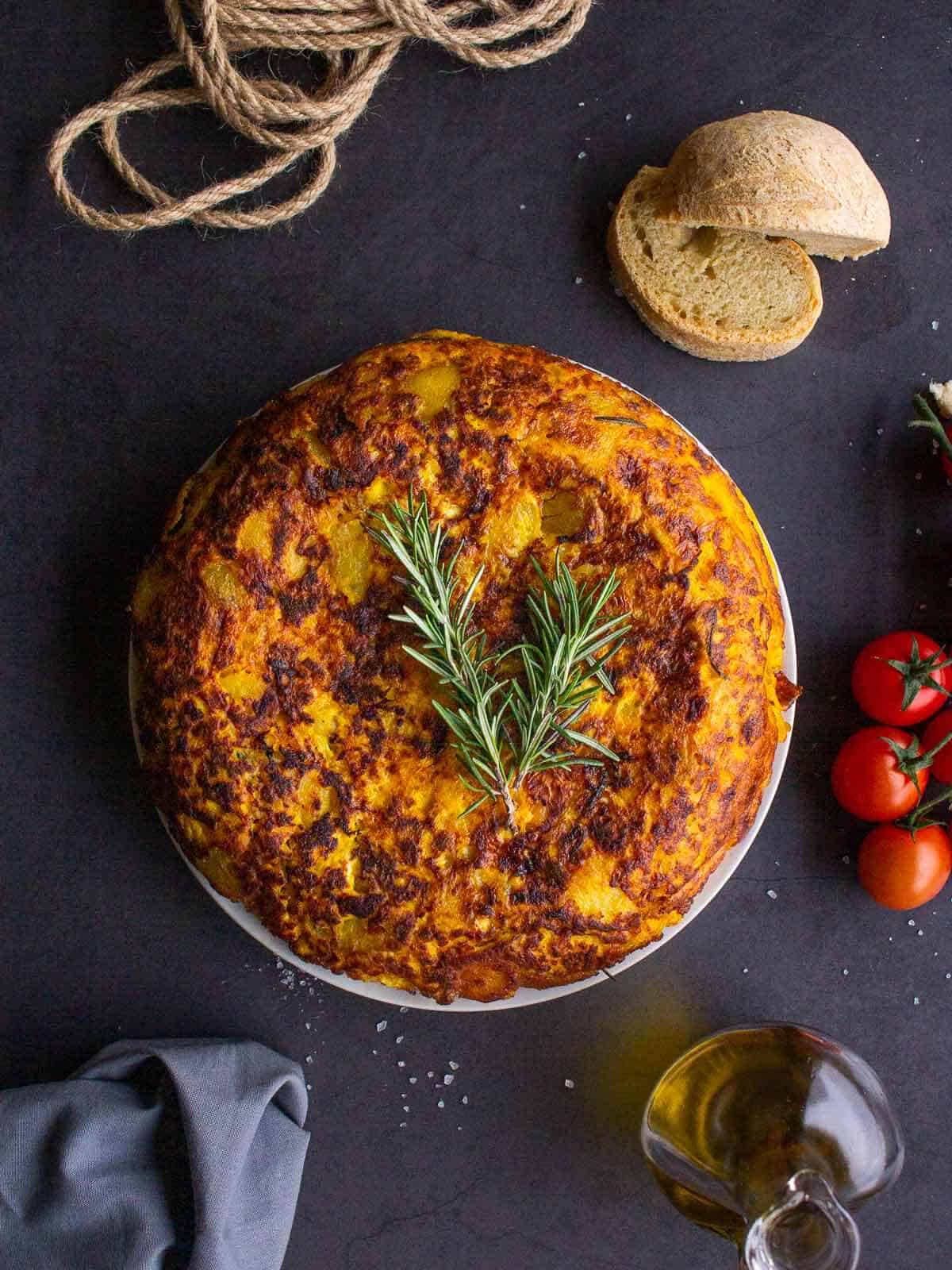 The Tortilla Española, some call it Spanish Frittata (Spanish Omelette in Spanish), is a very well-known one. Everybody likes it or used to like it, in case they are entirely vegan.
We all have tried super dry or flavorless Spanish Omelettes that do not compare to the moist and flavorful ones.
Ingredients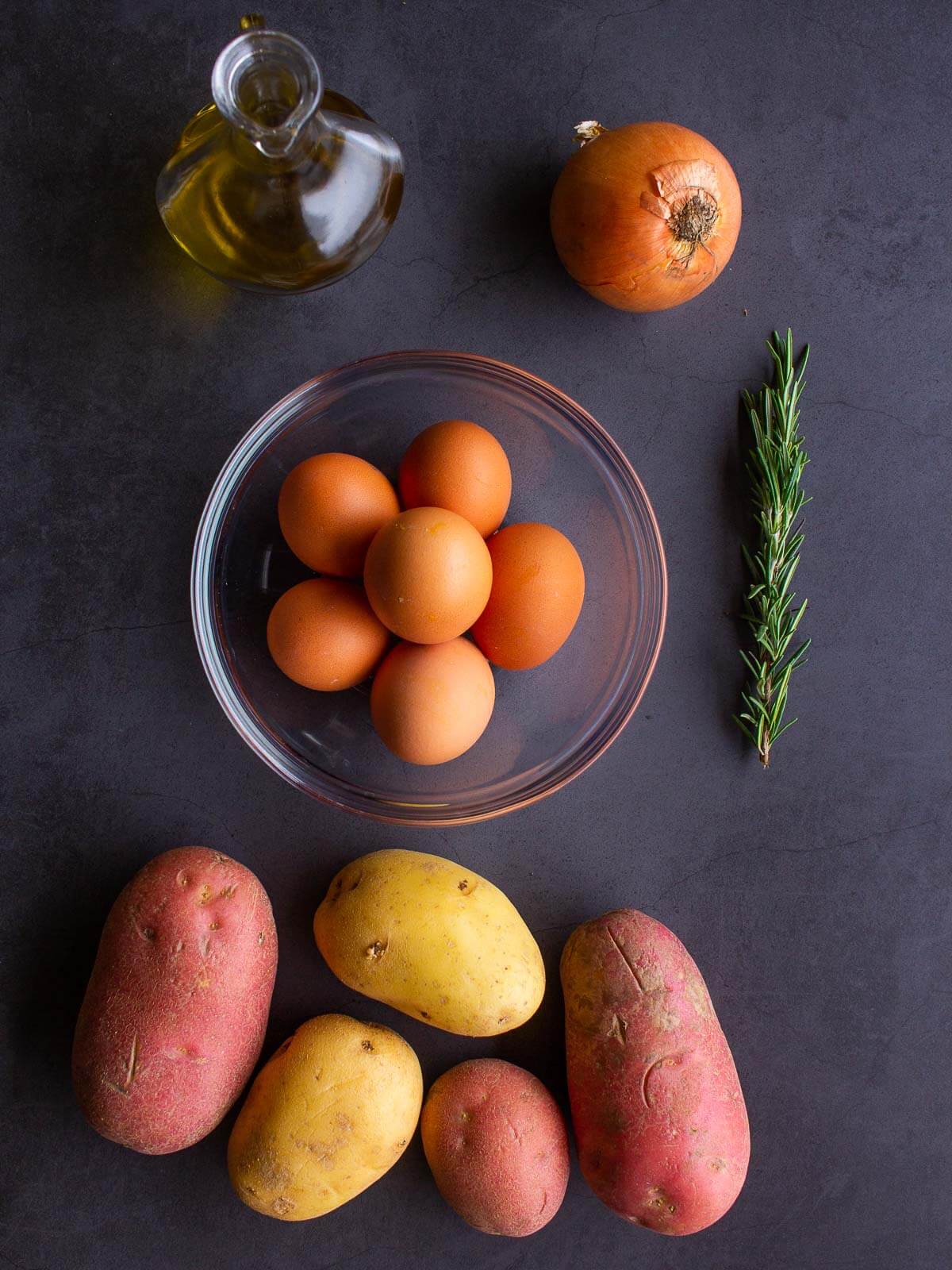 See quantities and full instructions in the recipe card.
Instructions
Characteristics a Spanish Tortilla is supposed to meet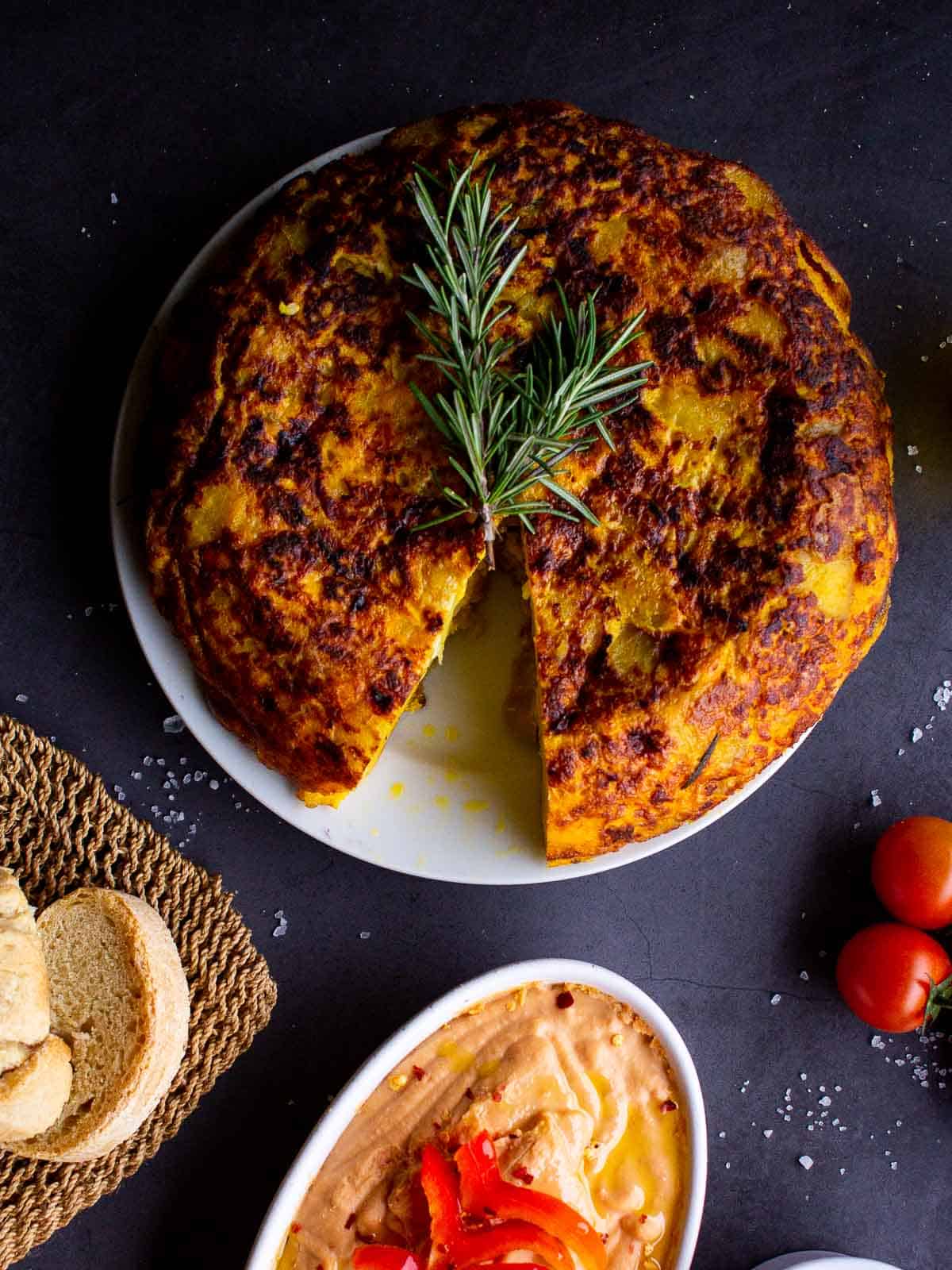 A Spanish Omelette has to be gooey at its core.
It is not supposed to include onions in its more basic version.
This Spanish dish has to be made with extra virgin olive oil.
I took the liberty to make these three minimal variations to the traditional recipe, which have made my guests crazy over the years. In my opinion, this version is truly a winner!
Tips for a Fantastic Tortilla
The 3 things that I changed I have learned from Spanish friends who all agree that they also did things differently in every house in Spain, so I don't feel that I am cheating on the traditional recipe.
The Gooey Center
We prefer a firmer Omelette. I cook it just a little more, about ¾. I learned to appreciate the different textures and flavor profiles from a yolk, and I have enjoyed it also in poached eggs, Benedict eggs, and even at home; when I was a little boy, we would always be offered the option for a soft or well-cooked egg. As we became plant-based with a few exceptions like Tortilla Española now and then, our tastebuds started to avoid yolky flavors and textures that reminded us of eggs. So we've tried this ¾ cooked version for a few years, and it always delivers as much flavor as the original one, and it also pleases many more palates that also dislike gooey yolks.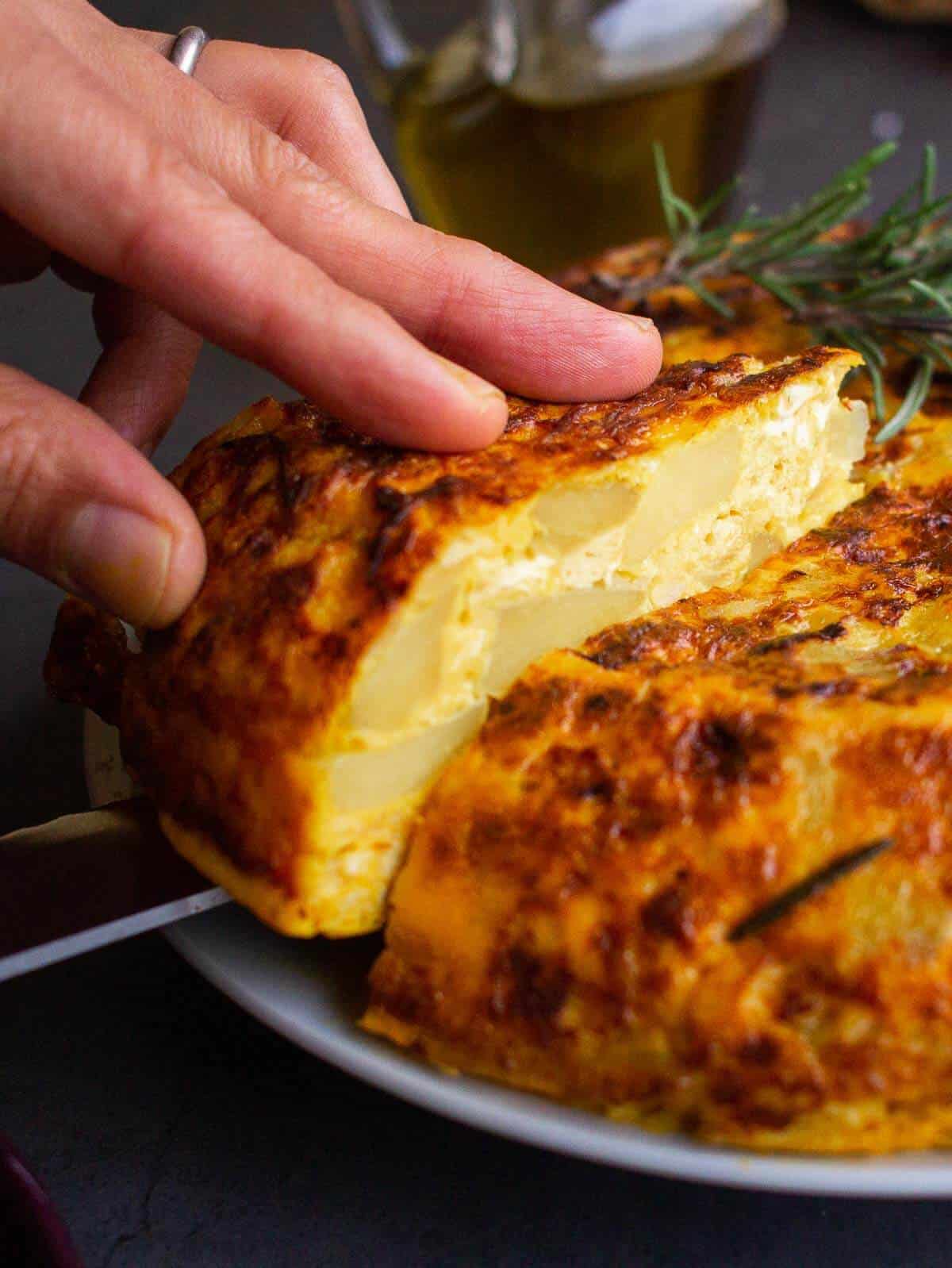 Using Onions
A simple reason here. I feel onions provide an extra punch to the flavor that we all may agree with. The key here is not to overdo the quantity. You want an oniony taste, not an onion omelette.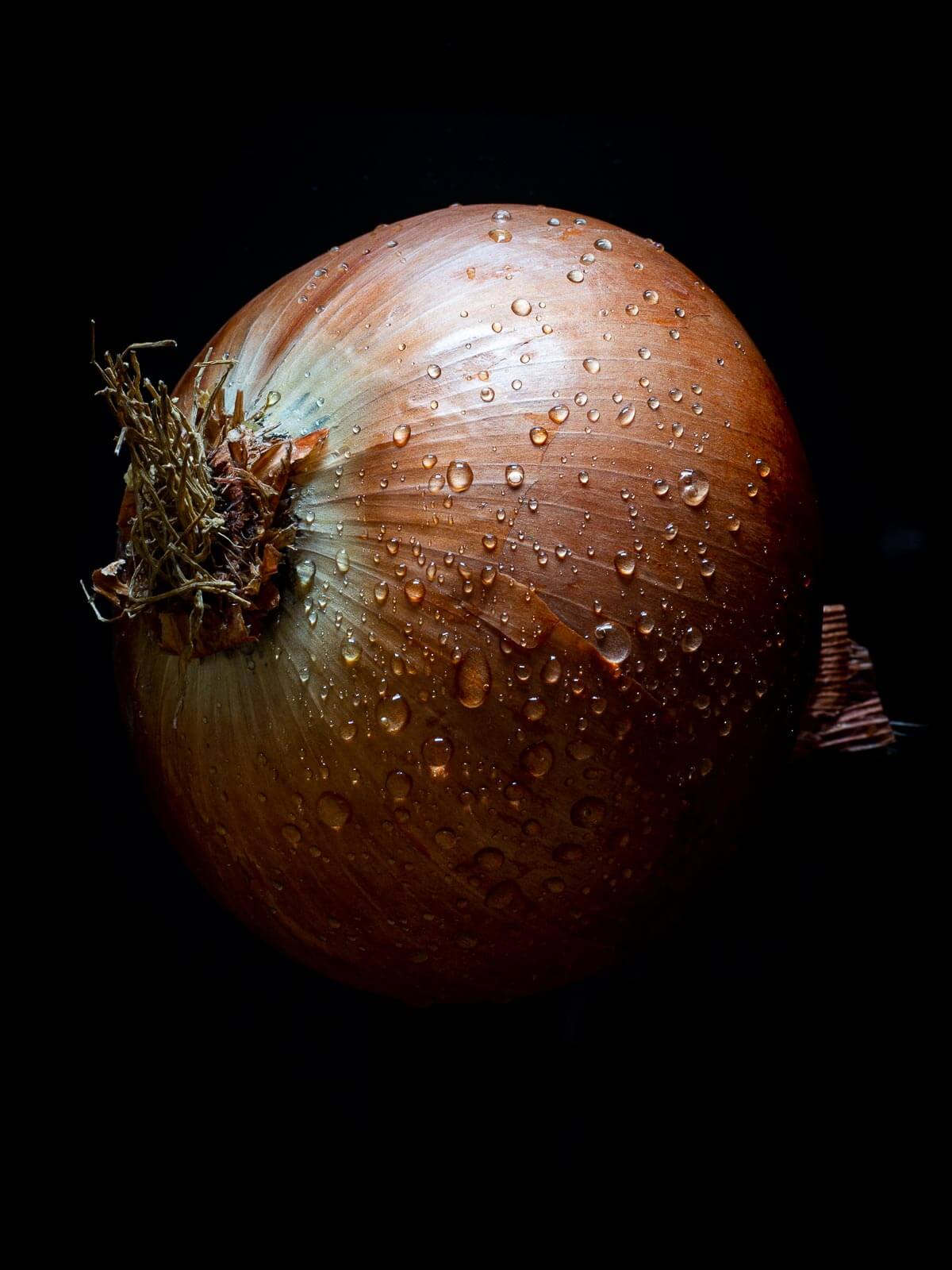 Rosemary
Add rosemary to the frying oil. I think this extra herbal note makes it outstanding and memorable. It is the secret to make your Tortilla Española Your signature. The delicate flavor it adds to the dish makes this version so good that it is the only dish that makes us still have eggs once in a while.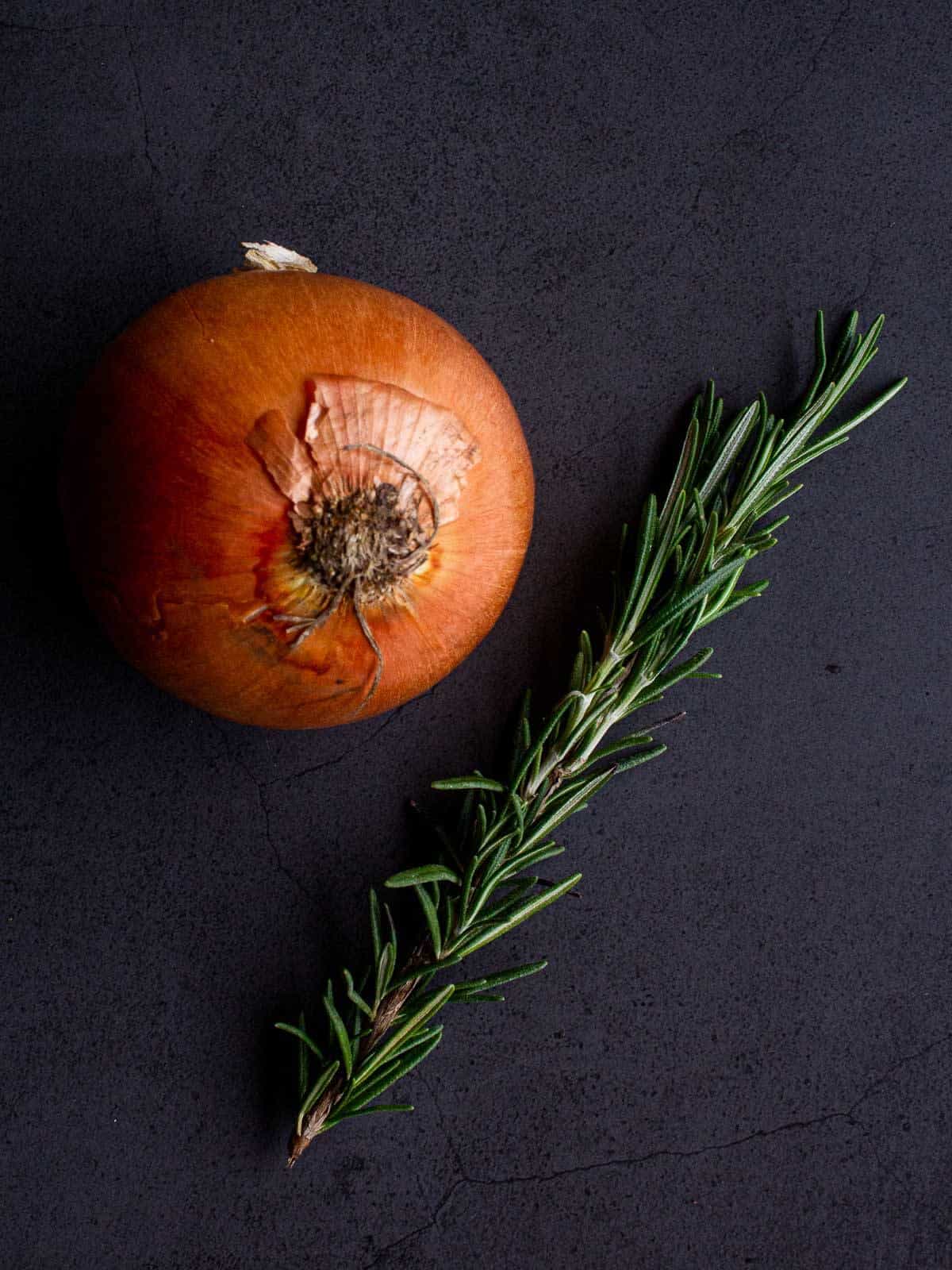 Jump to Recipe
Wine Pairing
It is in the Wine Culture where you will genuinely find quality wines and support sustainability. For this reason, in this blog, when we recommend wines, we do not want you to go to a supermarket shelf to buy wines for the usual varietals resulting from monoculture. Instead, we recommend wines taking you to the places where they come from. Thus, we advocate for living wines, with Culture, with Terroir.
We are challenged to find harmonies for an egg-based dish. It is not a very complex challenge. However, the egg directly rules out a wide range of wines to choose from, basically any young wine, white, rosé, or red.
The reason is straightforward; the egg is an umami food, that is to say, a food that is intensely perceived with the fifth flavor, umami, or as I like to call it, tasty.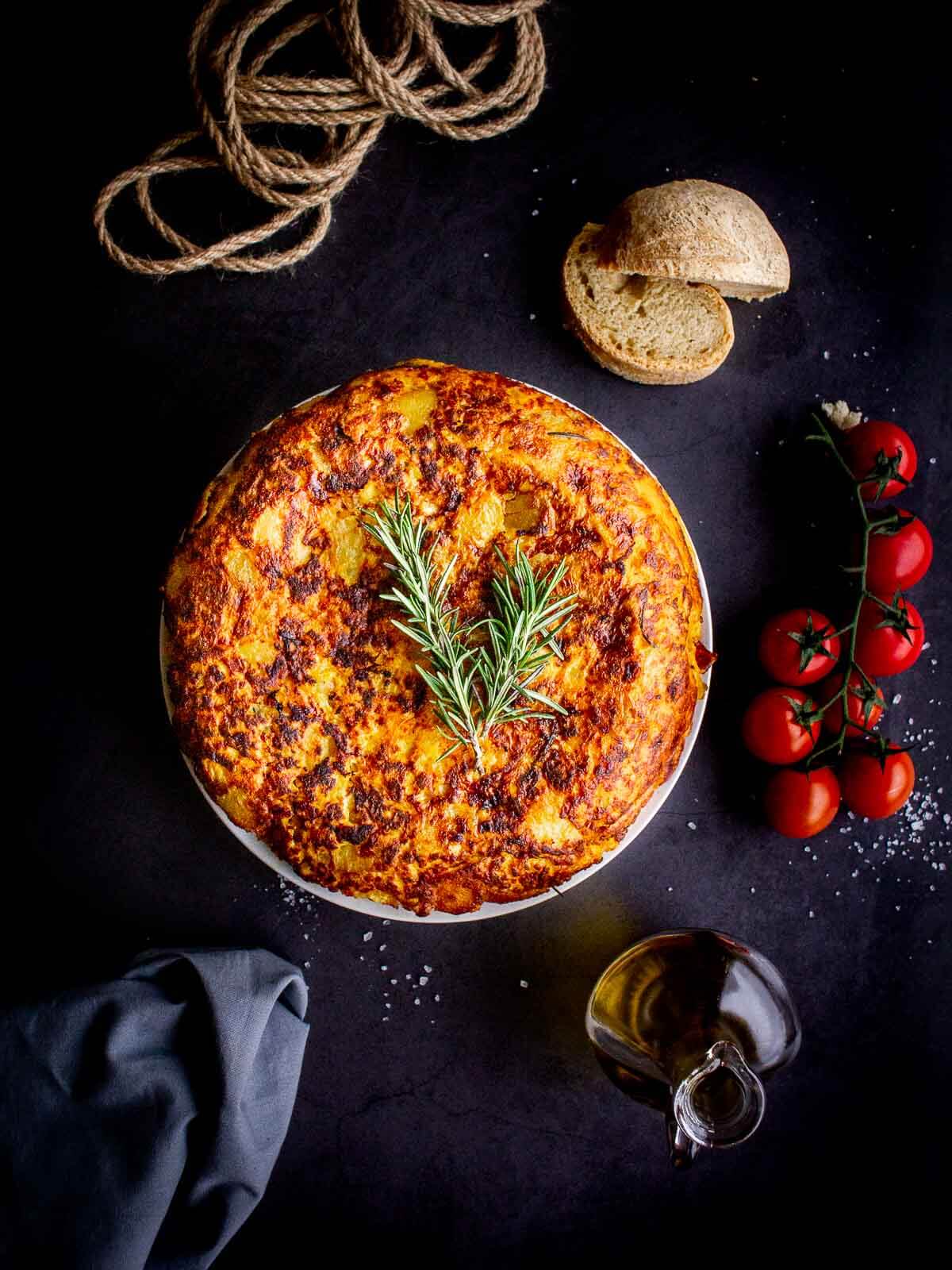 How to do Wine Pairing with Umami Foods
Umami foods fill the mouth with a long lingering flavor. Unfortunately, this makes many wines overshadowed by umami foods. The solution is to choose wines that also develop the umami flavor.
Its aging gives the development of the umami quality in a bottle of wine, which we call oenological slang as oxidative aging.
The caramelization that occurs during this aging - in chemistry, called the Maillard effect - will be much more intense the more alcohol the wine has.
Now, this does not mean that our Spanish omelette needs an alcoholic wine. It means that it requires a robust wine with body and persistence in the mouth.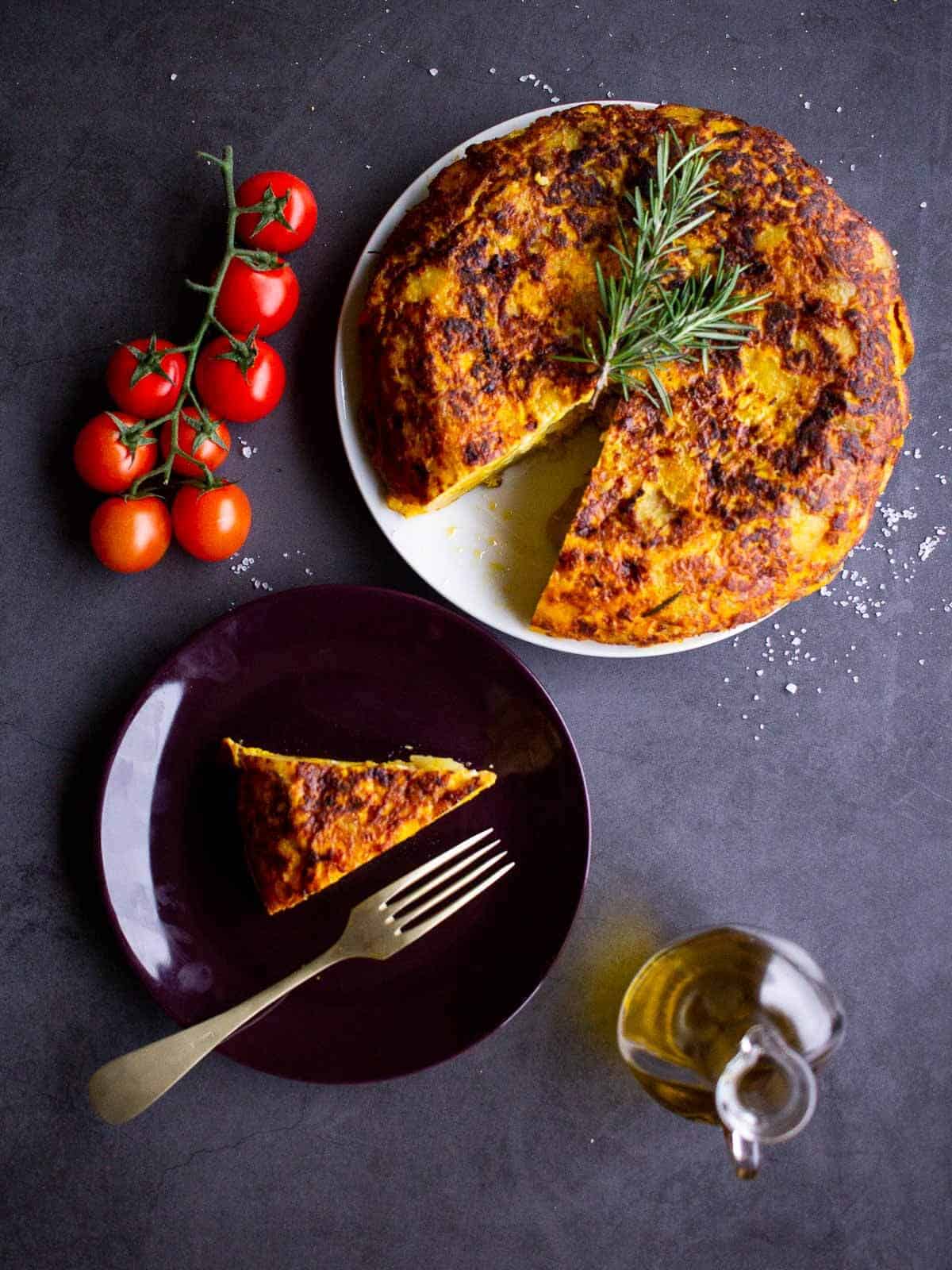 Typically, when you order a Spanish omelette at your favorite tapas restaurant, you continue to drink the light-bodied wine that goes well with everything else on your table. And I suspect that that sip of wine that follows your bite is almost always a disappointment.
So how do we solve the puzzle?
I will make two pairing suggestions that will surely help you enjoy the harmonies between the egg and the wine much more, one for red wine and another for white wine.
Two Recommended Wine Pairings
When choosing wines, if you live in a producing area, always choose local, find out about your producers, the history of your location, and the winemaking practices, and explore all the styles available in your area.
If you do not live in a producing area (or close to one of them), support the specialized stores near you, just as you would support your local farmers' market. Talk to the specialists, ask them about their wine's selection, the wine's origins, their production practices, and the reasons that led to their inclusion in their selection.
With wine, as with any food on our table, it is always good to think about the path it went through before reaching us. It is also essential considering the kilometers and the means of transportation used. Be aware of the carbon footprint of the food and wine you consume, and you will make your small contribution to sustainability.
As our recipe uses extra-virgin olive oil infused with rosemary.
My first recommendation is a red made with Grenache, a Gigondas from the South of the Rhône. These wines are very similar to the more famous Chateauneuf du Pape. They are also made with many autochthonous varieties, always led by the Grenache, but the Gigondas are more accessible to drink young without losing strength and flavor. If you can choose a bottle with three or four years of age in relation to the most recent vintage, you will have a better harmony.
My second recommendation is the wine that goes perfectly with the Spanish omelette. If you go to a good Spanish tapas restaurant, you can likely order it to accompany all your tapas: a sherry Palo Cortado style wine.
The Sherry Wines
Sherry wines are wines fortified with wine alcohol and which are aged for long periods in wooden barrels.
We are talking about a complex elaboration that involves microclimates in the cellar, mixing different grape years, yeast veils, and many other fascinating details that provide all the nuances in the diversity of sherry wines.
The Palo Cortado is a sherry wine to which enough alcohol is added to prevent the formation of a yeast veil that protects it from oxygen, making this wine suffer forceful oxidative aging, which amounts to premature aging.
As it is a wine with a high alcohol content - around 18% vol. - the caramelization it develops is extraordinary, which makes it perfect to pair with umami flavors.
And it also makes it perfect for our very tasty Spanish omelette recipe!
Don't forget to try another exquisite Spanish dish: the famous Escalivada along with its Wine Pairing!
Wine Pairing Recap
France - Red - Grenache Blend - Gigondas (South of Rhone)
Spain - Dry Sherry - Palo Cortado
If you try this recipe, let us know! Leave a comment, rate it, and don't forget to tag a photo #ourplantbasedworld on Instagram. Cheers!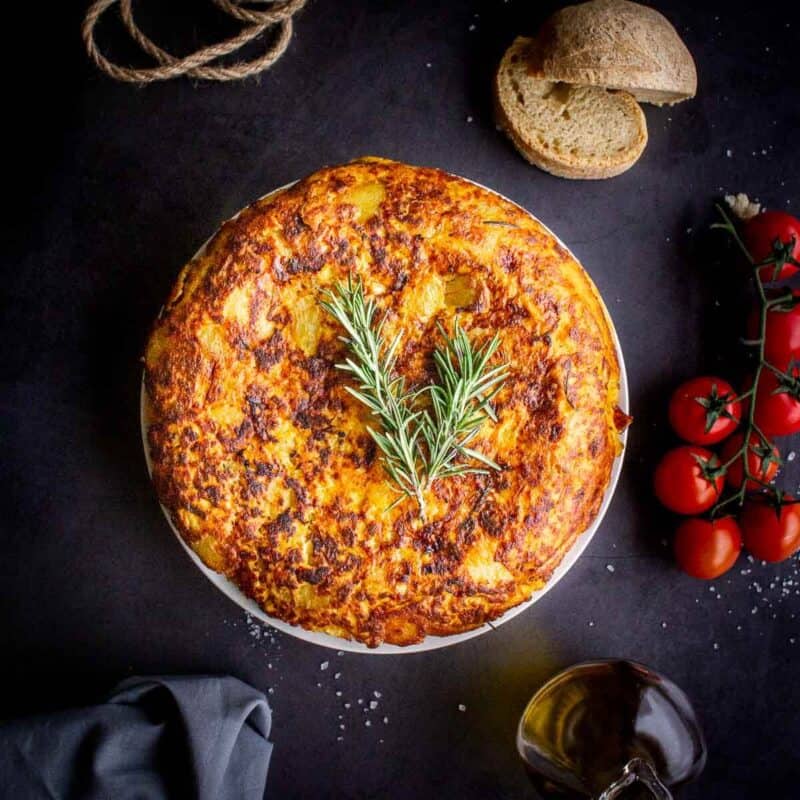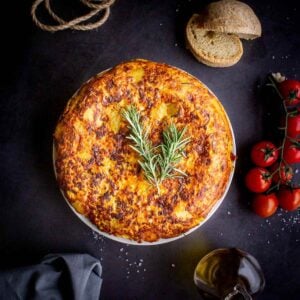 Recipe: Best Spanish Omelette
Our favorite version of the famous Spanish Omelette (another traditional favorite that always works). A Staple of Spanish Cuisine with a base of eggs and potatoes.
Ingredients
Instructions
Wash, clean, peel, and crack the potatoes roughly so they have irregular borders. It will take you about five minutes.

Dice the onion and add it to the potatoes (you can choose not to add the onion). Put all the cracked potatoes and onion in a bowl and add the salt, mix it with your hands and let it rest for ten minutes. It is essential to add the salt at this point, so the potatoes are well seasoned and lose the excess water.

1 onion

,

1 tablespoon salt

Drain the liquid with a colander or putting your hands on top and slightly flipping the bowl. The added salt helped the potatoes and onion "sweat" their excess water; now, this will prevent it from splashing out as you add it to the hot oil.

Put the olive oil on the heat and ensure it is hot but not extremely hot; otherwise, your onion dices will get burned. Test it with a small potato piece.

Add all the potato and onion mix into the oil and continuously stir to avoid it sticking to the bottom and spread the heat evenly.

Turn up the heat. When you can see that the potato is soft and cooked, turn the fire up, and keep stirring, so the potato borders get a crunchy edge. This will take about ten minutes.

Add the rosemary spring to the oil.

Crack eggs. Meanwhile, crack four eggs in a big heat-resistant bowl (don't stir them).

Remove. When the potatoes are a little crunchy or golden, pick them out of the oil, draining them a bit with a strainer, and adding them on top of the eggs.

Stir the mix; you will note that the eggs start to cook a bit. You need a creamy dripping texture so add another one or two eggs if you don't have a slightly thick and fluid mix.

Prepare a skillet. Take a skillet and add 4-5 tablespoons of the oil you have already used. Turn the heat up. It must be very hot.

Carefully add the egg and potato mix (leaving the rosemary sprig behind), and let it form a crust on the bottom. With a spatula, separate the edges.

When it looks half-way cooked, put a plate on top of it and carefully turn it upside down (be careful, excess hot oil may drip).

Immediately slide the omelette again into the skillet, and let it cook for another 2-3 minutes on low heat.

Slide the omelette out of the skillet into the final plate and serve.
Notes
Wine Pairing by our Sommelier Ramón Barreiro @pejobarreiro
France - Red - Grenache Blend - Gigondas (South of Rhone)
Spain - Dry Sherry - Palo Cortado
Extra Virgin Olive-Oil to fry (60 ounces/20 are considered absorved in the omelette) :
Nutrition
Calories:
469
kcal
Carbohydrates:
25
g
Protein:
7
g
Fat:
39
g
Saturated Fat:
6
g
Trans Fat:
1
g
Cholesterol:
123
mg
Sodium:
928
mg
Potassium:
627
mg
Fiber:
3
g
Sugar:
2
g
Vitamin A:
182
IU
Vitamin C:
27
mg
Calcium:
39
mg
Iron:
2
mg
Nutrition Facts
Recipe: Best Spanish Omelette
Amount per Serving
% Daily Value*
* Percent Daily Values are based on a 2000 calorie diet.
Food safety
We sometimes take for granted that we have years (or decades) of cooking experience that the average visitor may not. Add to, or remove from, the list below with health and safety tips.
Cook to a minimum temperature of 165 °F (74 °C)
Do not use the same utensils on cooked food, that previously touched raw meat
Wash hands after touching raw meat
Don't leave food sitting out at room temperature for extended periods
Never leave cooking food unattended
Use oils with high smoking point to avoid harmful compounds
Always have good ventilation when using a gas stove
See more guidelines at USDA.gov.
The information shown is an estimate provided by an online nutrition calculator. It should not be considered a substitute for a professional nutritionist's advice. See our full Nutritional Disclosure here.
Please note that some of the links here are affiliate links and I will earn a commission if you purchase through those links. I use all of the products listed and recommend them because they are companies that I have found helpful and trustworthy.