This Easy Escalivada Recipe is a simple yet incredibly delicious classic Spanish Tapa that serves as a side and can be coupled with virtually any dish or served as a Sunday brunch snack. It consists of perfectly roasted simple vegetables, bringing the most out of their natural flavors.
A beautiful example of a vegetable dish that doesn't need much more than oven roasting, basic seasonings such as olive oil, sherry vinegar, salt, and pepper to become the best Catalan roasted vegetables.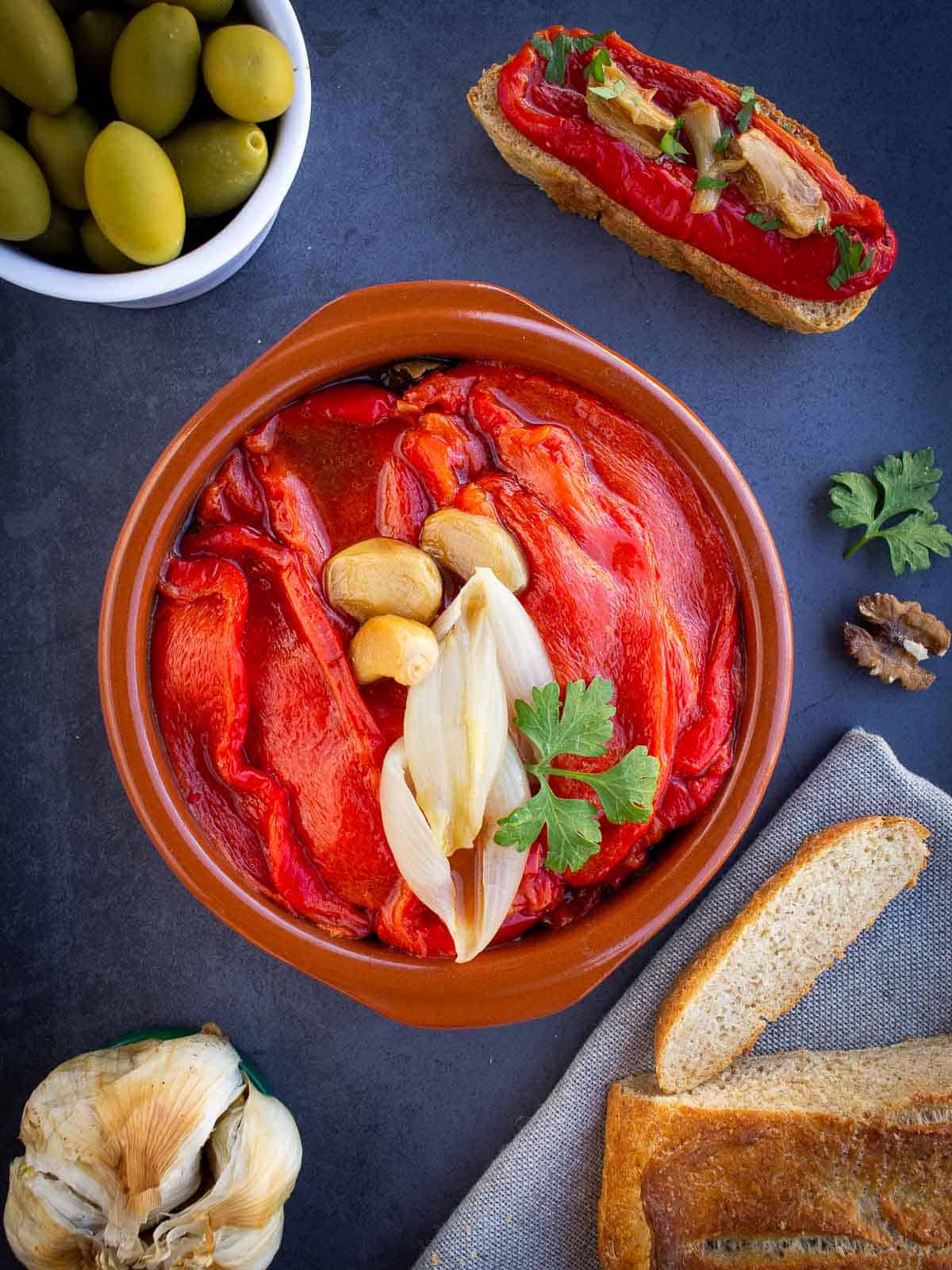 Since I started making this dish, I have made it at least every fifteen days. It is the definition of simplicity, deliciousness, and health... all together!
It is amongst our preferred sides/snacks head-to-head to our Mom's Pickled Eggplants, and Spanish Sautéed Chickpeas with Spinach, head to head with what we call the "Italian" Escalivada recipe version, Potacchio di Melanzane, made on the stovetop, also on this site.
We typically make some Pagnotta bread (Easy Homemade Bread Loaf) and mix and match it with the different veggies and snacks. It's delicious!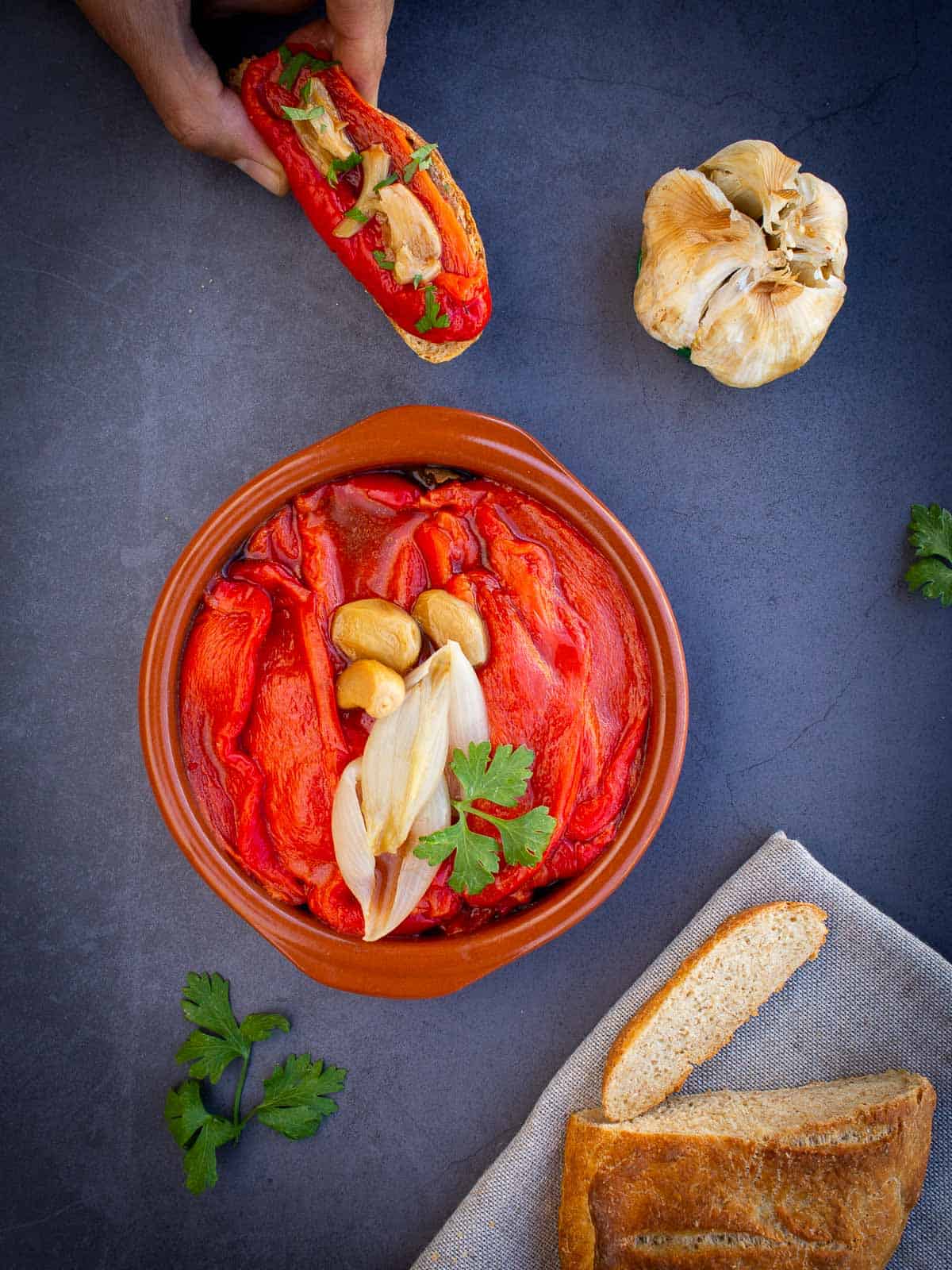 Before leaving our house in Mexico City, we started to have some farewell dinners with our closest friends about a year ago.
We decided to invite our close Catalonian friend Gerard and our Argentinean friend Tommy who also lived in Barcelona, to have a Spanish Cuisine night.
We fell in love with his Catalan Escalivada Recipe. It is such a simple dish; it takes some time but rewards every second with flavor! Since then, we have been making it and always call him when we make it. This time was no exception.
We love our easy and hassle-free roasted veggies, such as roasted Brussels sprouts and roasted butternut squash!
Jump to:
🧾 Ingredients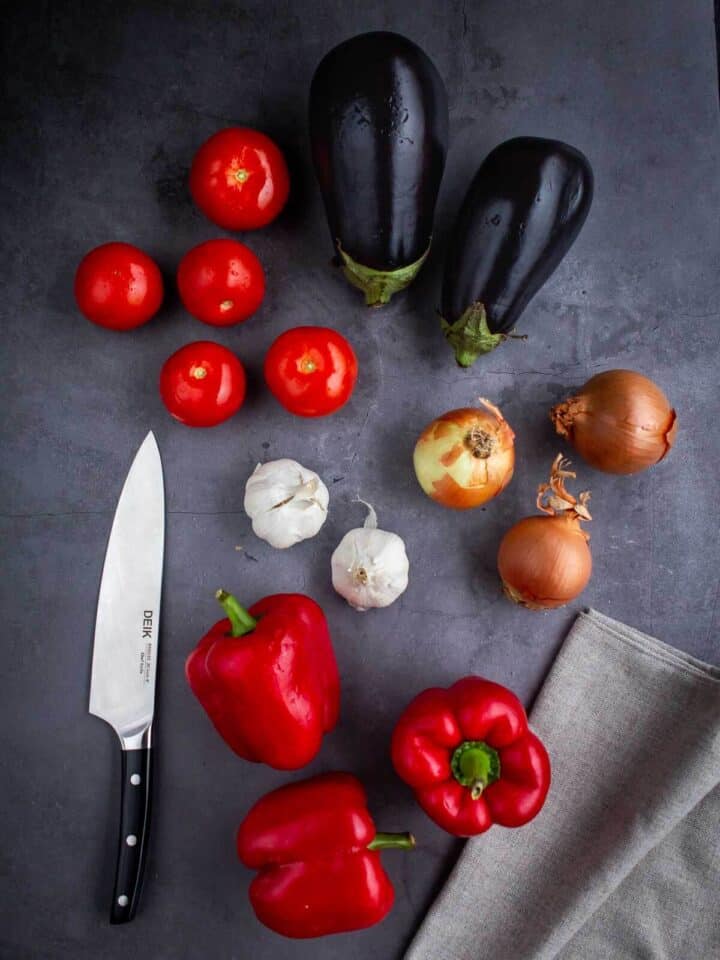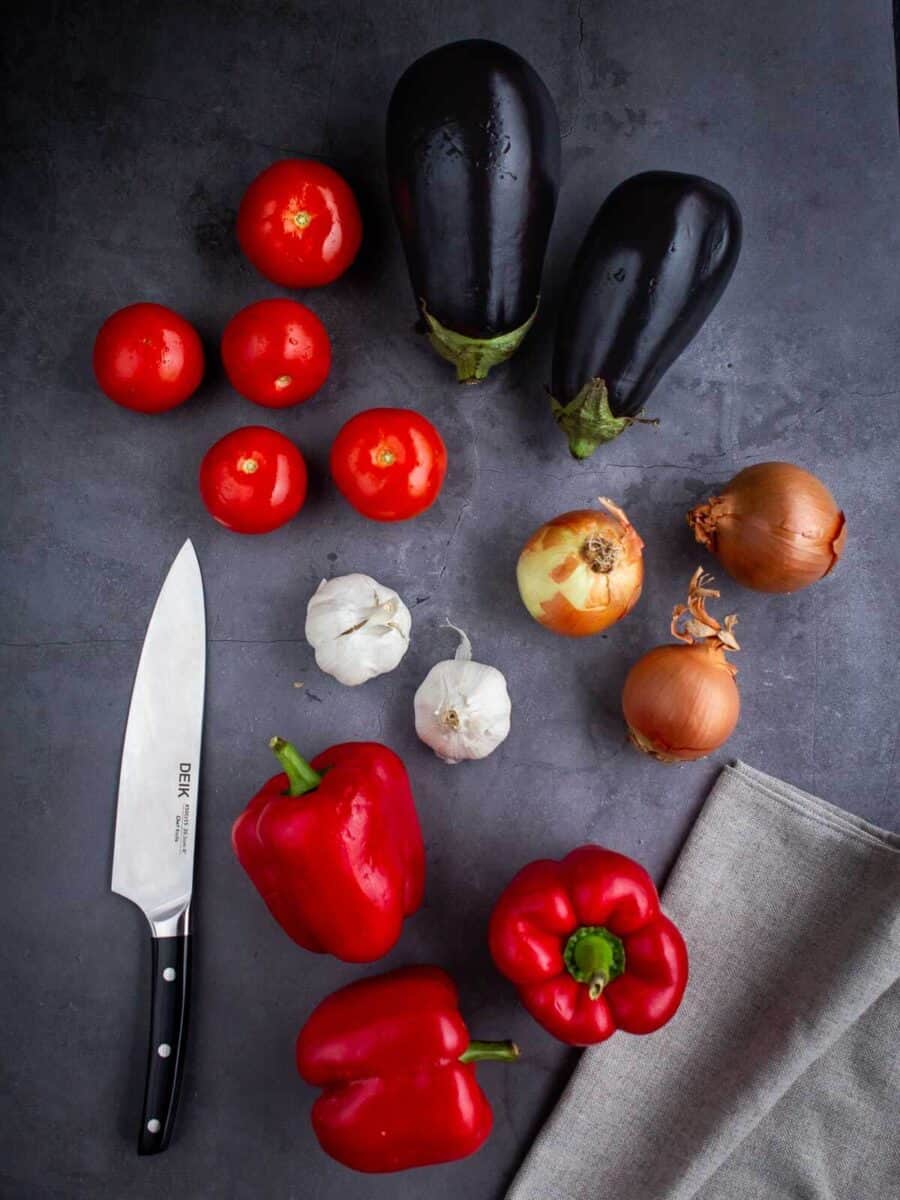 This recipe is, without a doubt, the best-roasted vegetable recipe. First, you have to put the veggies in the oven. The best veggies to roast are:
Eggplants
Red bell peppers
Tomatoes
Onions (optional)
Garlic head
Season with extra virgin olive oil, red wine vinegar (sherry vinegar), and kosher salt.
Feel free to include green peppers as our Sommelier playfully suggest down with the suggested wine pairings.
See quantities and complete instructions in the recipe card.
🔪 Instructions
It is a very simple dish. It consists of three main steps. Preheat the oven.
Clean vegetables
Start by cleaning your ingredients except for the tomatoes, sprinkle salt and pepper, plus a drizzle of extra virgin olive. Place the vegetables directly in the oven on a baking sheet or a glass baking dish.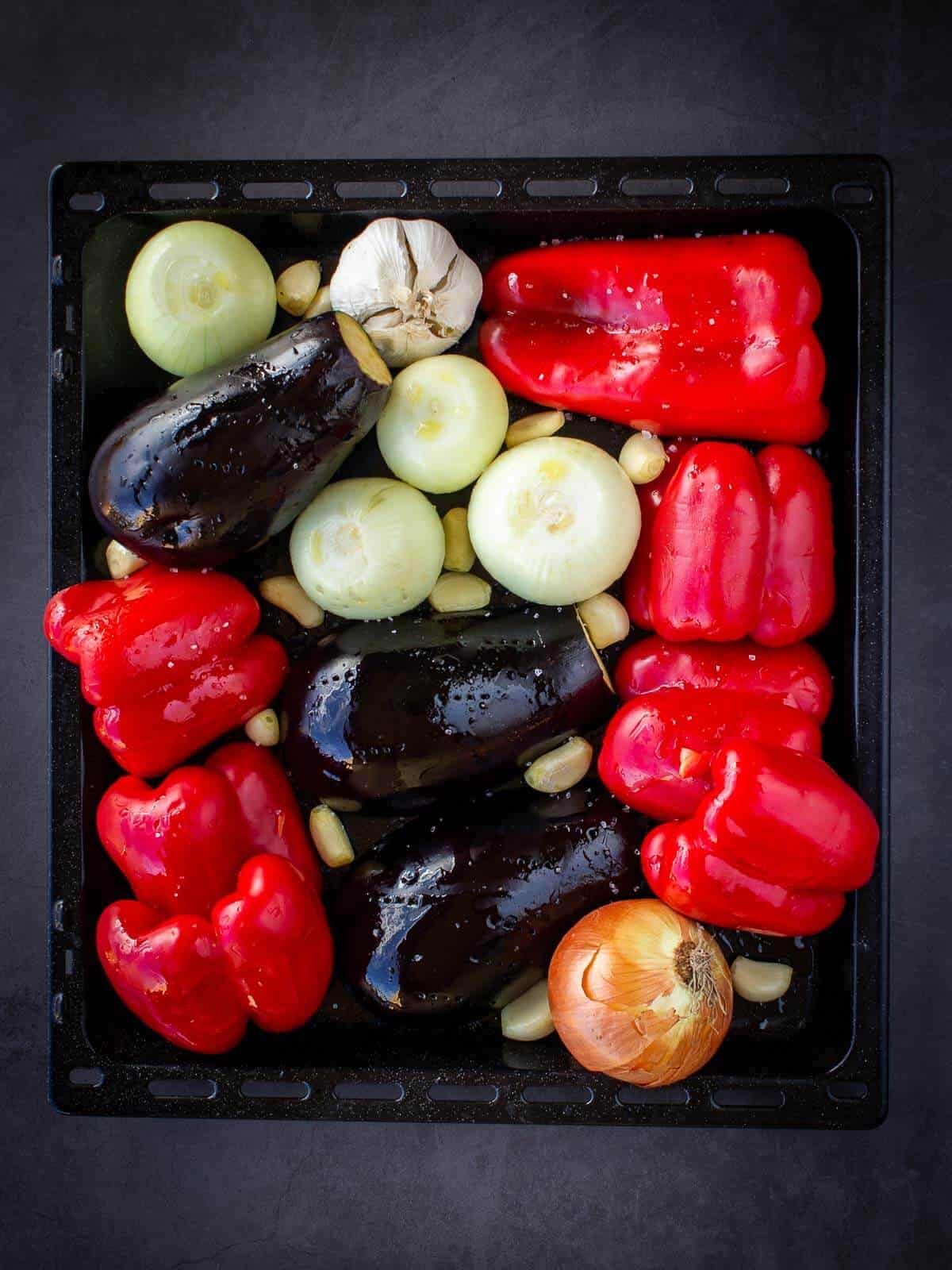 Bake whole veggies
Let the vegetables cook for one hour, stir everything a little bit, add the tomatoes, and put the baking sheet back in the oven.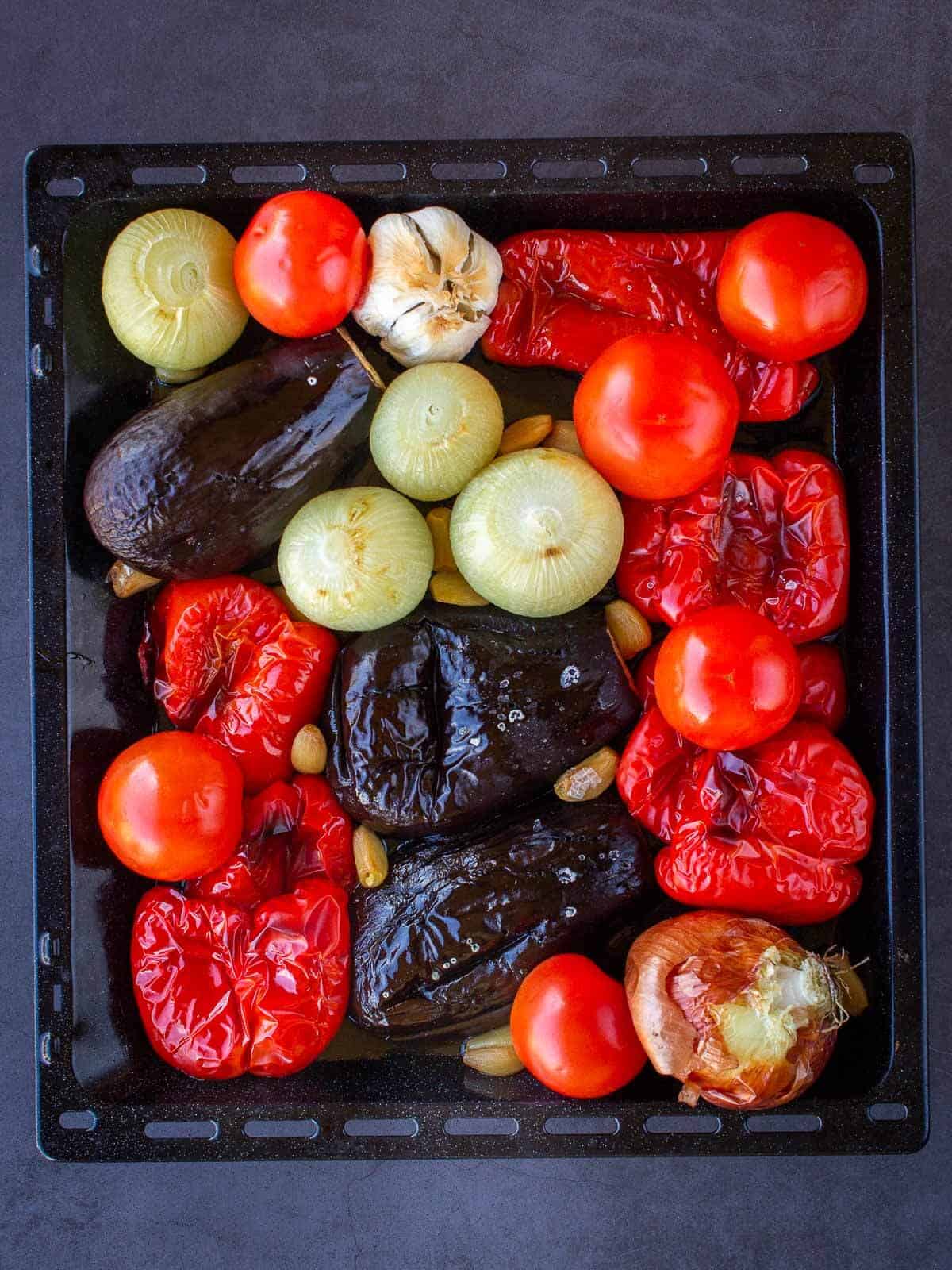 Cooldown
Take the roasted vegetables out of the oven. Cooldown— carefully peel, remove the stems, and deseed the red peppers and eggplants; then cut the roasted onions in half and remove the skins (outer layer).
Season and serve
You can optionally add some red wine vinegar.
Transfer the roasted vegetables to a serving dish and serve warm or at room temperature; serve this side dish with crusty bread and extra olive oil if you like!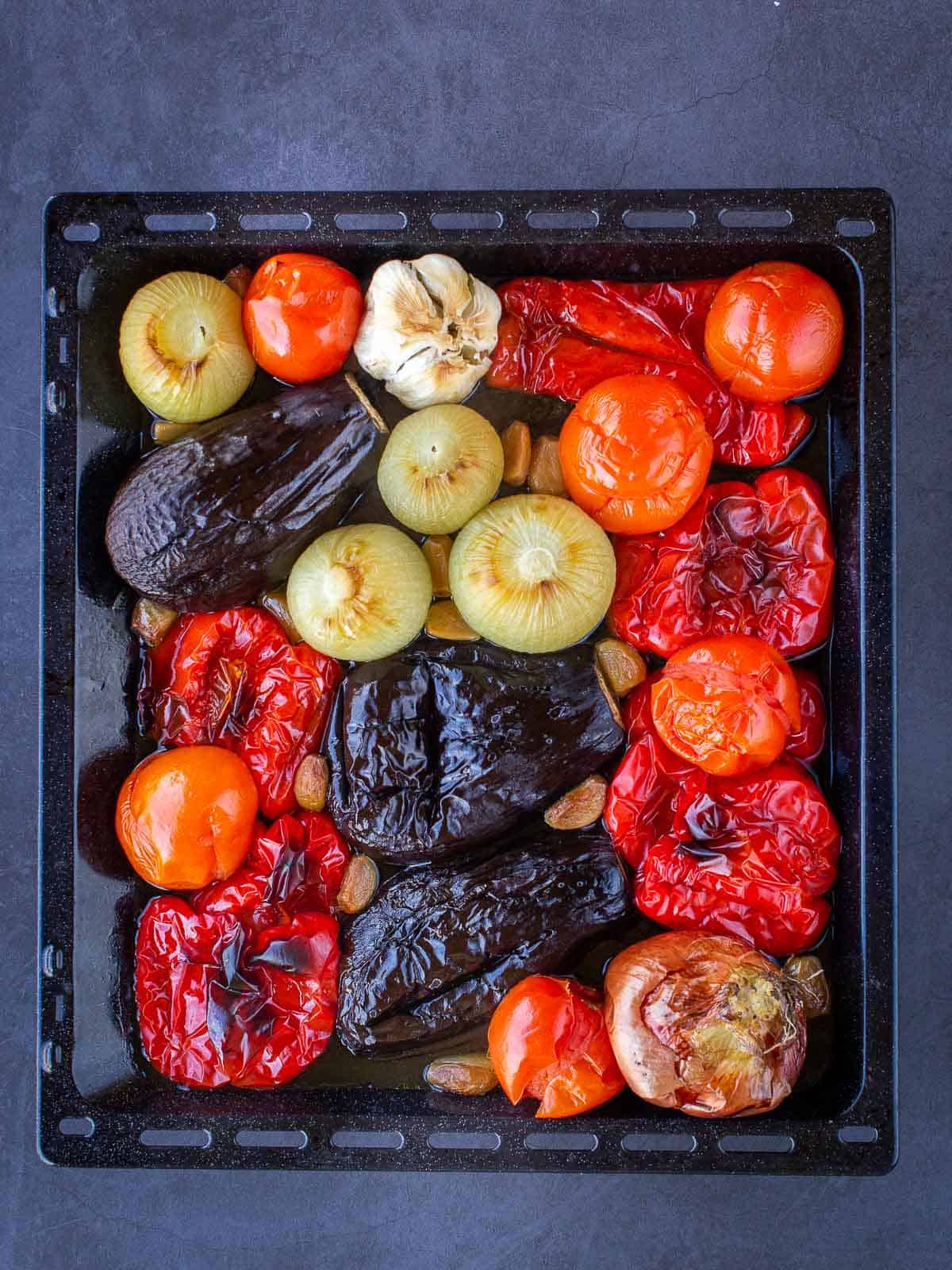 💡 Pro-Tips for Making the Best Escalivada Catalana
The best temperature to roast veggies is 350º F (170 ºC). This method is our preferred way to roast vegetables (low heat, so they don't burn, their properties are maintained, and the flavor gets concentrated).
Add a little Good Quality Red Wine Vinegar on top; strongly recommended. However, be careful not to overdo it.
Optionally you can add some fresh parsley for serving, enhancing the Catalan Roasted vegetables' flavor.
These vegetables are typically served cold. Or serve at warm or room temperature. Just like our carrot greens pesto pasta salad. We also like eating it at medium-hot temperature, but the flavors of Catalan Roasted Vegetables sink, thicken, and set while it sits for a while, and subsequently add sherry vinegar optionally.
Keep the after-roast juices left. We also recommend keeping these flavor-packed juices. Use them as concentrated broth for risottos or any other preparation that needs a kick of flavor.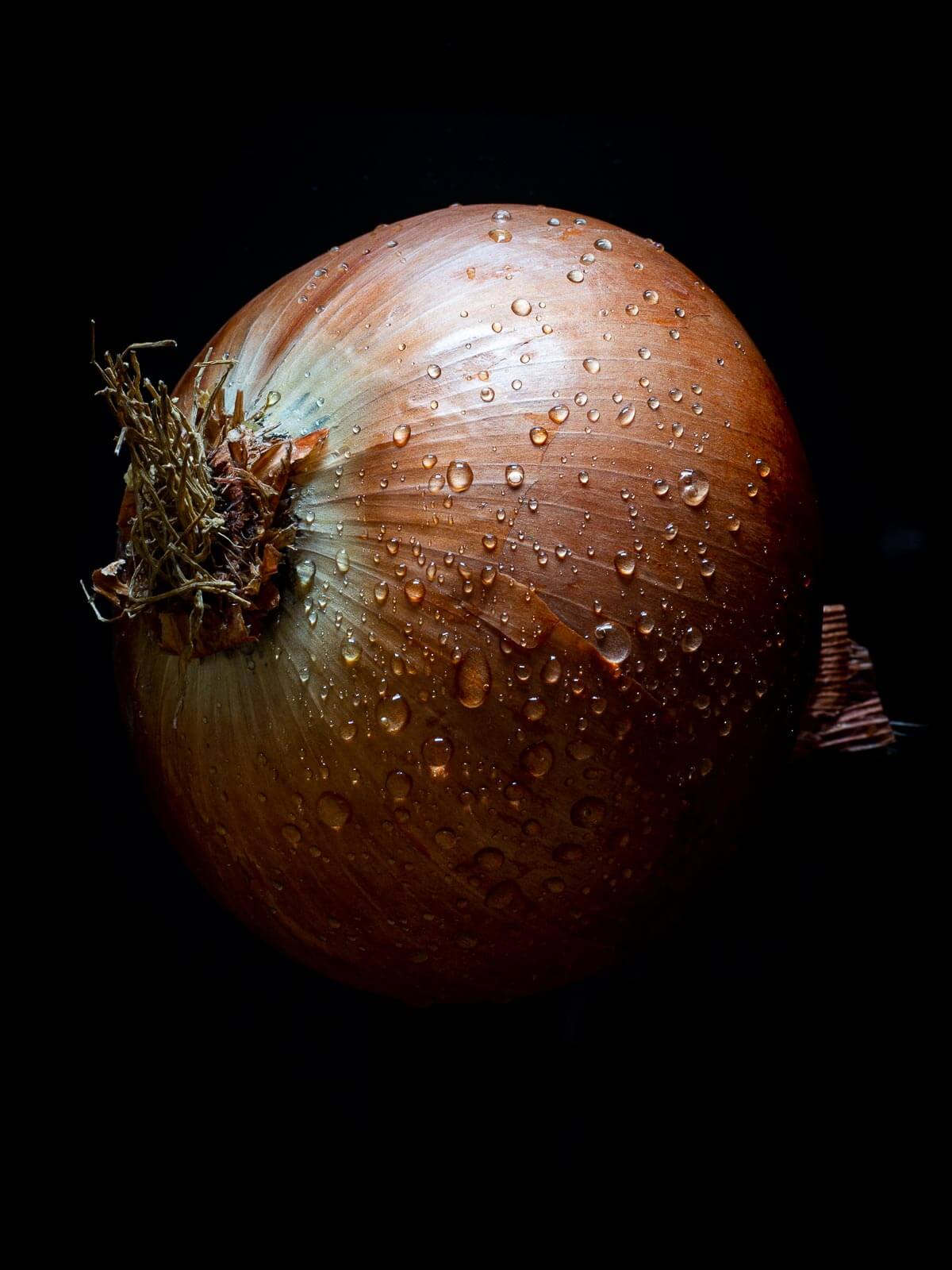 🥡 Storing
Store leftovers in an airtight container in the fridge for up to three days. I recommend you add a drizzle of olive oil before serving if it has dried out.
Jump to Recipe
🍷 Wine pairing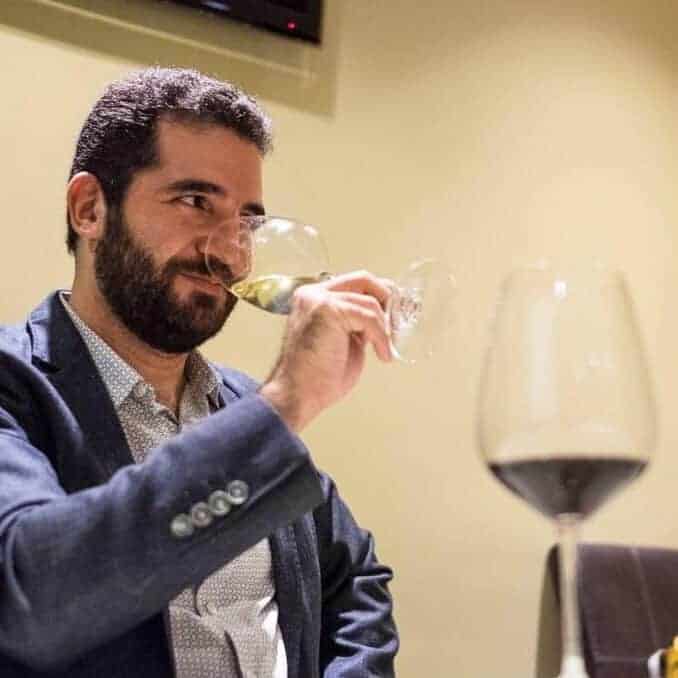 Ramón Barreiro
Wine Pairing by our Sommelier Ramón Barreiro @pejo_barreiro
It is in the Wine Culture where you will genuinely find quality wines and support sustainability. For this reason, in this blog, when we recommend wines, we do not want you to go to a supermarket shelf to buy wines for the usual varietals resulting from monoculture. Instead, we recommend wines take you to the places where they come from. Thus, we advocate for living wines, with Culture, with Terroir.
The Easy Escalivada Recipe (sometimes misspelled escalavida) is one of the quintessential dishes of Spanish Mediterranean food and faithfully represents gastronomic culture centered on the garden and its crop rotation through the seasons.
For this reason, we find dishes from the garden on the Mediterranean table throughout the year, be it a roast, some calçots (a regional type of green onion), some fried or sautéed artichokes, or a vegetable stew.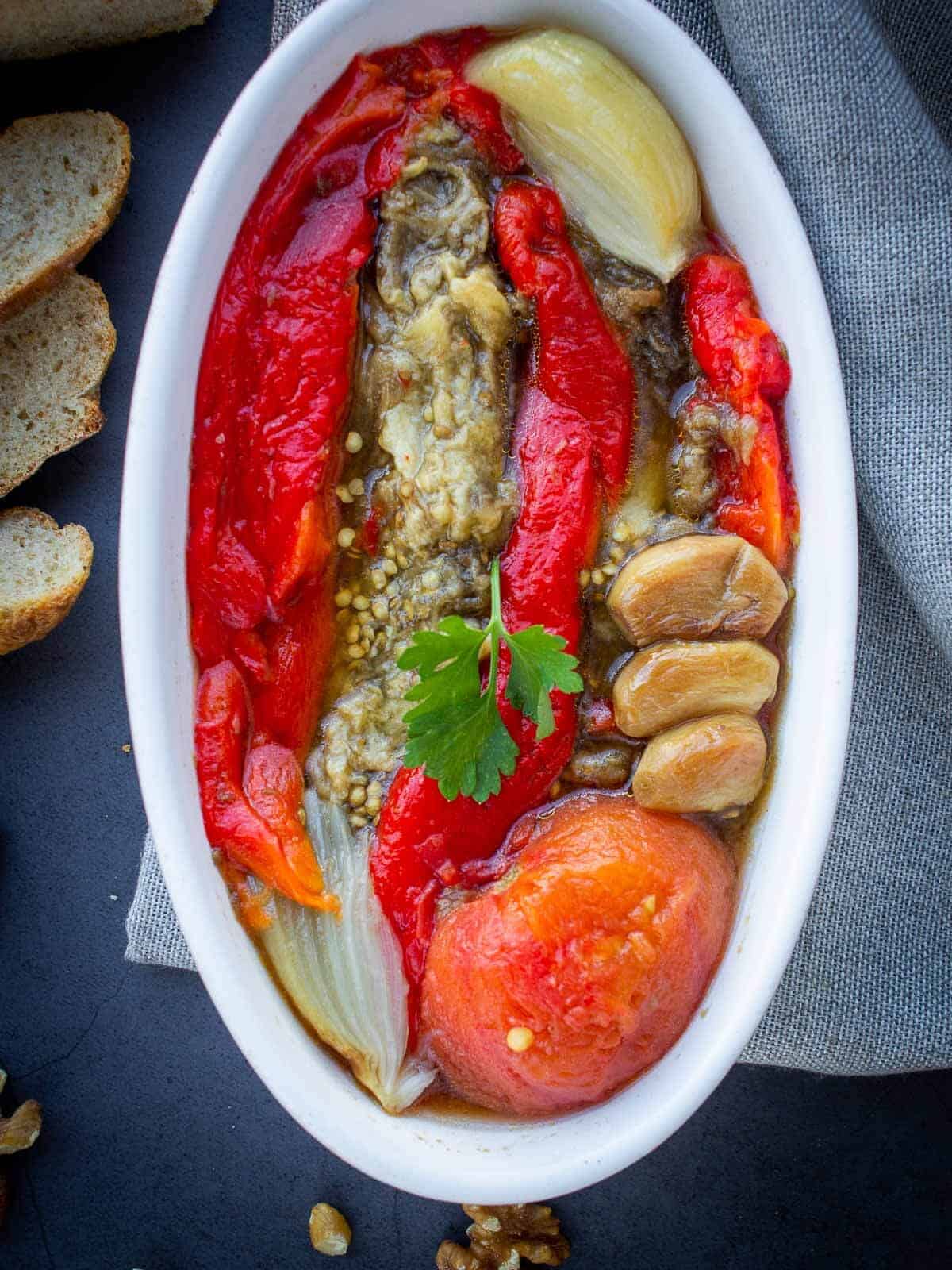 In pursue of a cold sensation
All these dishes taste green, fresh, and even cold, depending on the spices and herbs with which they are seasoned. So, if you want to understand a cold flavor better, eat an apple, a green pepper, or celery, chew a mint or basil leaf or some anise seeds, and rediscover the sensation of cold in your mouth.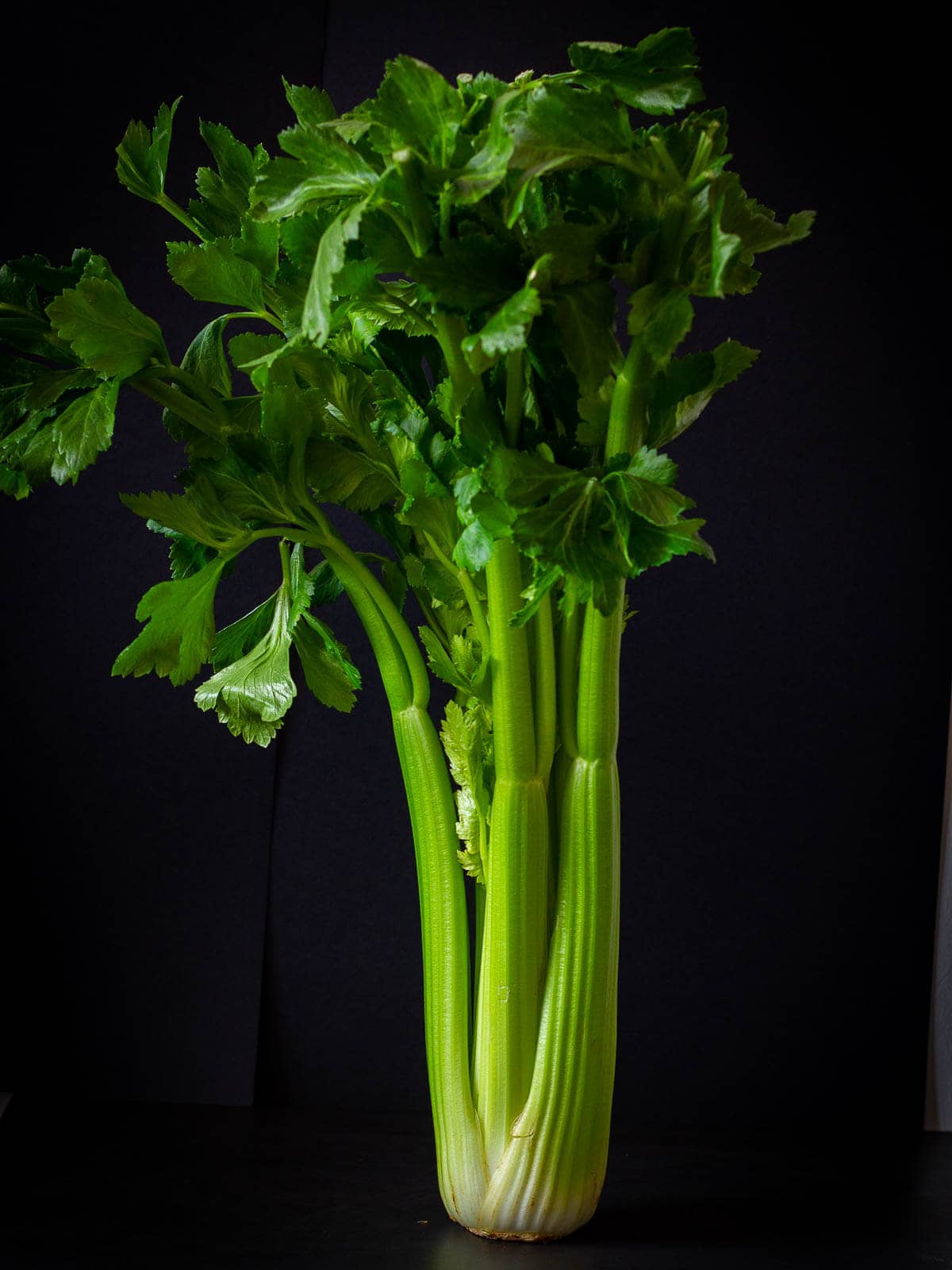 The sensation of cold is also found in many young wines, especially whites and some rosés and reds. And I do not mean to drink chilled wines, but to that sensation of cold, the taste of the wine itself transmits.
This cold sensation is what we will pursue in pairing our vegetables.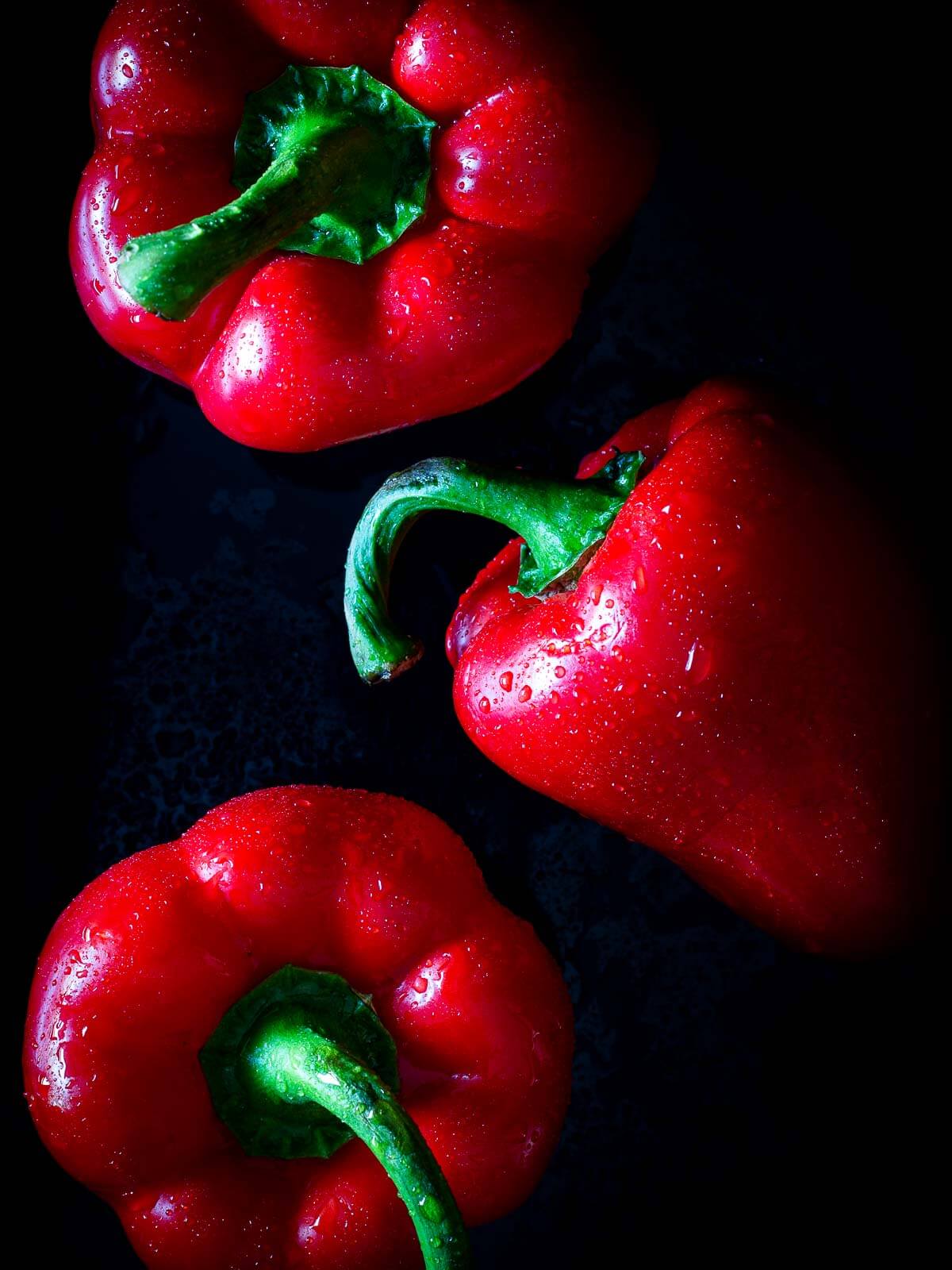 There is another element that we must take into consideration. These vegetables optionally include vinegar in their preparation. My recommendation is to be careful not to overdo the amount of vinegar added to the dish.
The sherry vinegar seeks to enhance the freshness and enhance flavors, and for this, lightly sprinkling the vegetables is enough. A good Escalivada should taste like the slow-roasted vegetables it contains, not vinegar.
Abusing vinegar also makes it impossible to enjoy a good wine in the company of this dish because invariably, any wine tastes like vinegar when consumed in the company of it.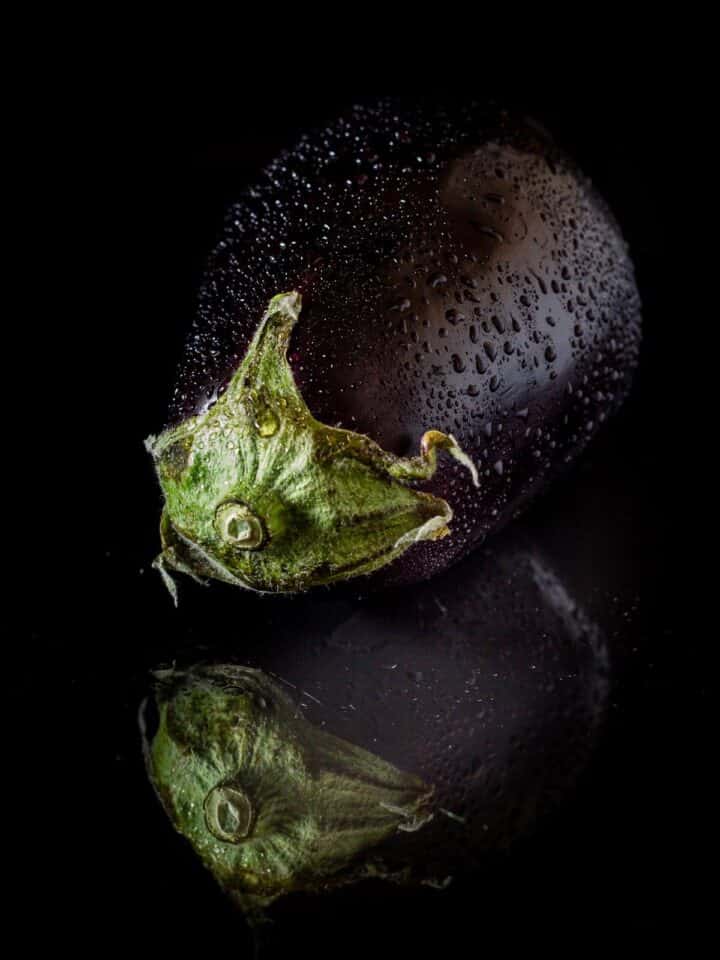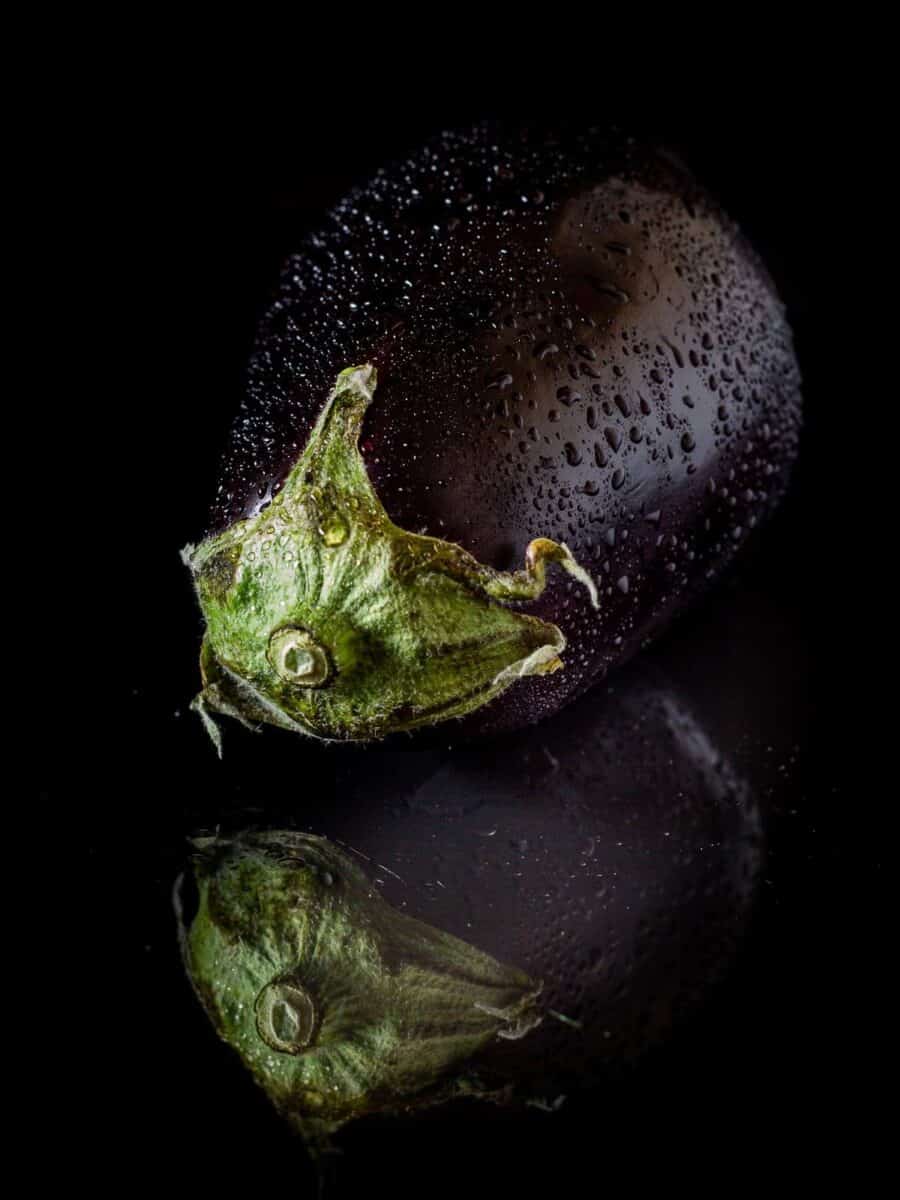 Try out our Baked Stuffed Eggplants Recipe; you will love it!
Let's move on to wine pairings!
When choosing wines, if you live in a producing area, always choose local, find out about your producers, the history of your location, and the winemaking practices, and explore all the styles available in your area.
If you do not live in a producing area (or close to one of them), support the specialized stores near you, just as you would support your local farmers' market. Talk to the specialists, and ask them about their wine's selection, origins, production practices, and reasons for their inclusion in their selection.
With wine, as with any food on our table, it is always good to think about the path it went through before reaching us. It is also essential to consider the kilometers and the means of transportation used. Be aware of the carbon footprint of the food and wine you consume, and you will make a small contribution to sustainability.
1. Cava
My first recommendation is the regional choice, a Catalan Cava. Cava is the sparkling wine of Spain, and its cradle is the Catalan town of Sant Sadurní d Anoia. It is traditionally made with a mixture of three varieties: Macabeo, Xarel lo, and Parellada, using the traditional method -second fermentation in the bottle to produce the appreciated bubbles.
For this harmony, I recommend choosing a Semi-Dry Cava, which with the cold flavors of our dish -which, if you add fresh parsley, will enhance - will not seem so sweet and will perfectly balance the garden's green flavors.
2. Sauvignon Blanc
My second recommendation to pair this Catalan escalivada recipe is the daring one, "go big or go home": a Sauvignon Blanc from Chile; if it is from Valle de Leyda or Casablanca, much better. In the Sauvignon Blanc of this southern country, I find the most pronounced note of green pepper that characterizes this white grape.
Our Catalan Roasted Vegetables Recipe uses red pepper, but don't be shy about trying it with green pepper.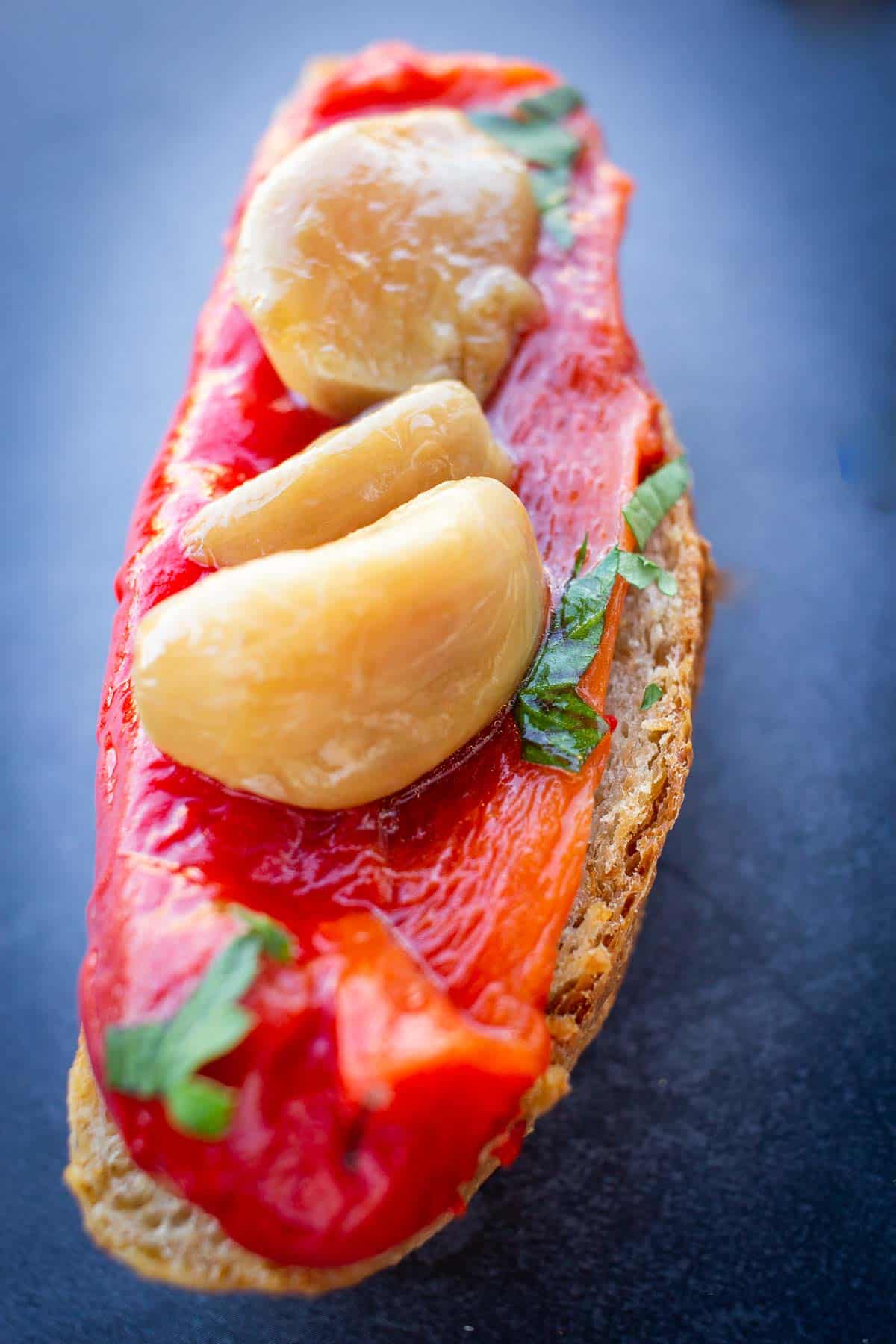 3. Godello del Bierzo
My third recommendation is also to bring you closer to northwestern Spain's excellent wines: a Godello del Bierzo. This versatile white variety stands out in young and fresh wines and fermented or barrel-aged wines with body and elegance. So, for this dish, choose a young Godello, and don't be surprised if you start to savor the anise that you didn't add to your roasted vegetables.
Want to know more about vegan wine and why most of the wine is not vegan?
Wine Pairings recap
Spain - Sparkling Off-Dry (Semi-Dry) - Cava
Chile - Dry - Sauvignon Blanc (Leyda Valley or Casablanca)
Spain - Dry - Godello (Bierzo)
🫑 Health benefits of red bell peppers
Bell peppers are rich in many vitamins and antioxidants, especially vitamin C and various carotenoids.
For this reason, they may have several health benefits, such as improved eye health and reduced risk of several chronic diseases.
Red peppers are the most important ingredients in this traditional Catalan Escalivada recipe, don't leave them behind.
If you fancy another Spanish Dish to pair with your Escalivada, try our Spanish Omelette Recipe, which comes with great Wine Pairing recommendations from our Spanish Sommelier @pejo_barreiro
These Pickled Eggplants are also to have in your fridge for any given occasion.
📚 More sides and snacks ideas
🌶️ More red peppers recipes
Muhammara dip (tahini and chickpea free)
🍆 More eggplant recipes
If you love eggplants, don't forget to check out our Italian 3-Ingredient Pasta Sauce, our veggie yellow Thai curry, Indian Eggplant Curry, and our traditional 4-Ingredient Italian Eggplant Stew.
⭐ If you try this recipe, let us know! 💬 Leave a comment, rate it, and don't forget to tag us @ourplantbasedworld on Instagram. Cheers!
📋 Recipe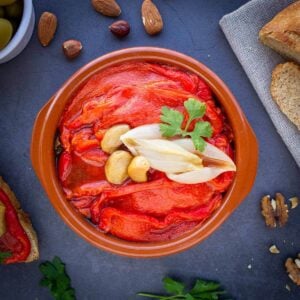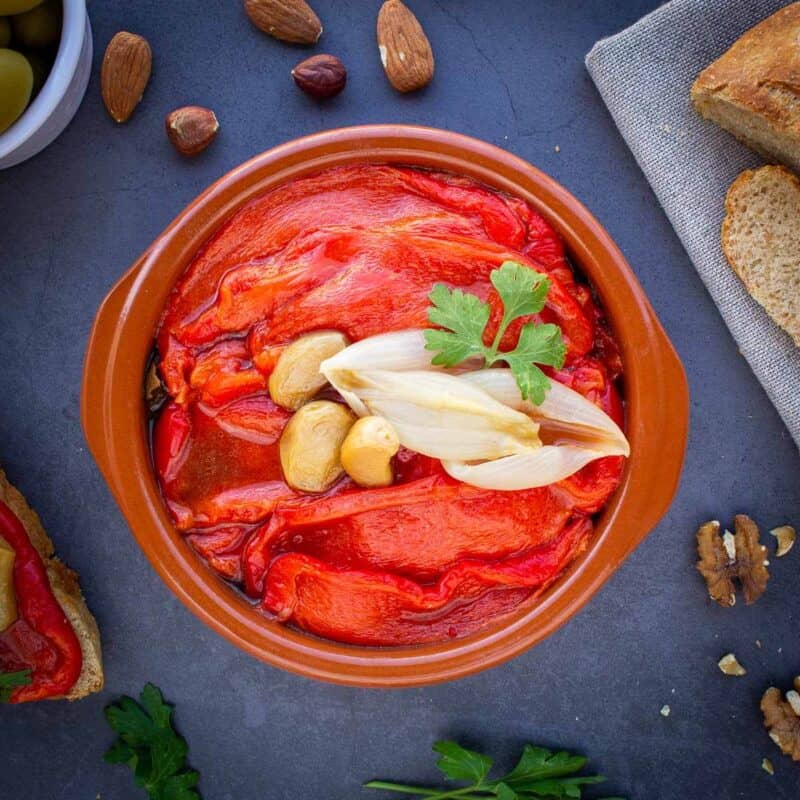 Easy Escalivada Recipe | Catalan Roasted Vegetables Side Dish
A simple yet incredibly delicious classic Spanish Tapa that serves as a side and can be coupled with virtually any dish or served as a Sunday brunch snack.
Equipment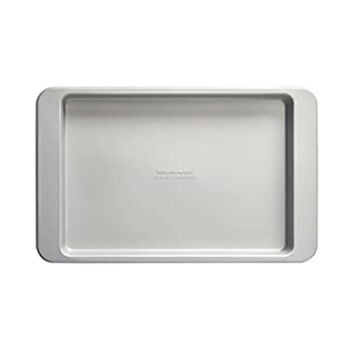 (affiliate link)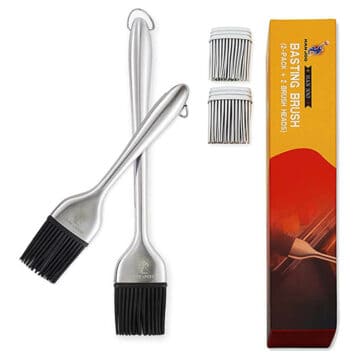 (affiliate link)
Ingredients
Optional to Serve (and recommended):
1

tablespoon

red wine vinegar

goog quality (sherry vinegar)

1

tablespoon

parsley

chopped
Directions
Pre-heat the oven at 350ºF (170 ºC).

Wash and dry the eggplants, bell peppers, and tomatoes.

Pinch the eggplants with a fork (so it doesn't explode in the oven).

Peel onions. Take off the outer layer of the onions.

Bake. Put all the vegetables except the tomatoes on a tray. Drizzle with olive, add the sea salt, and place it in the oven for 1 hour.

Remove and Toss. Take out the tray, stir the vegetables, and add the tomatoes. Place everything in the oven for another 30 minutes.

Check all the vegetables for softness as time may vary depending on your oven and the vegetables' size.

Cool down. Let everything cool, remove the stems, and carefully peel and deseed the vegetables.

Plate. Put all the un-skinned veggies on a serving tray and top them with the juices left on the baking tray.

Season. Add a splash of red wine vinegar if desired. Have it as a side dish as each vegetable is full of flavor to enjoy on its own, or have it with bread. My favorite is sourdough bread. In Latin America, we have also eaten them even with some Venezuelan arepas and tortillas. These flavor-packed veggies just work well with any good starchy pairing.
Notes
Wine Pairing Suggestions by Our Sommelier Ramón Barreiro @pejo_barreiro
Spain - Sparkling Off-Dry (Semi-Dry) - Cava
Chile - Dry - Sauvignon Blanc (Leyda Valley or Casablanca)
Spain - Dry - Godello (Bierzo)
Nutrition Facts
Calories:
123
kcal
Carbohydrates:
21
g
Protein:
3
g
Fat:
4
g
Saturated Fat:
1
g
Sodium:
158
mg
Potassium:
710
mg
Fiber:
7
g
Sugar:
12
g
Vitamin A:
2659
IU
Vitamin C:
96
mg
Calcium:
41
mg
Iron:
1
mg
Nutrition Facts
Easy Escalivada Recipe | Catalan Roasted Vegetables Side Dish
Amount per Serving
% Daily Value*
* Percent Daily Values are based on a 2000 calorie diet.
🌡️ Food safety
Cook to a minimum temperature of 165 °F (74 °C)
Do not use the same utensils on cooked food, that previously touched raw meat
Wash hands after touching raw meat
Don't leave food sitting out at room temperature for extended periods
Never leave cooking food unattended
Use oils with a high smoking point to avoid harmful compounds
Always have good ventilation when using a gas stove
See more guidelines at USDA.gov.
Nutritional Disclaimer
The information shown is an estimate provided by an online nutrition calculator. It should not be considered a substitute for a professional nutritionist's advice. See our full Nutritional Disclosure here.
Affiliate Disclaimer
Please note that some of the links here are affiliate links, and I will earn a commission if you purchase through those links. I recommend all of the products listed because they are companies I have found helpful and trustworthy.