This one is an Easy Bread Loaf Recipe (Pagnotta) that you will love. The deep brown crust is perfect, the ingredients are minimal, and the result is superb. It also works for pizza! In our opinion, this Italian round country bread and focaccia are simply the best Italian bread recipes in the world!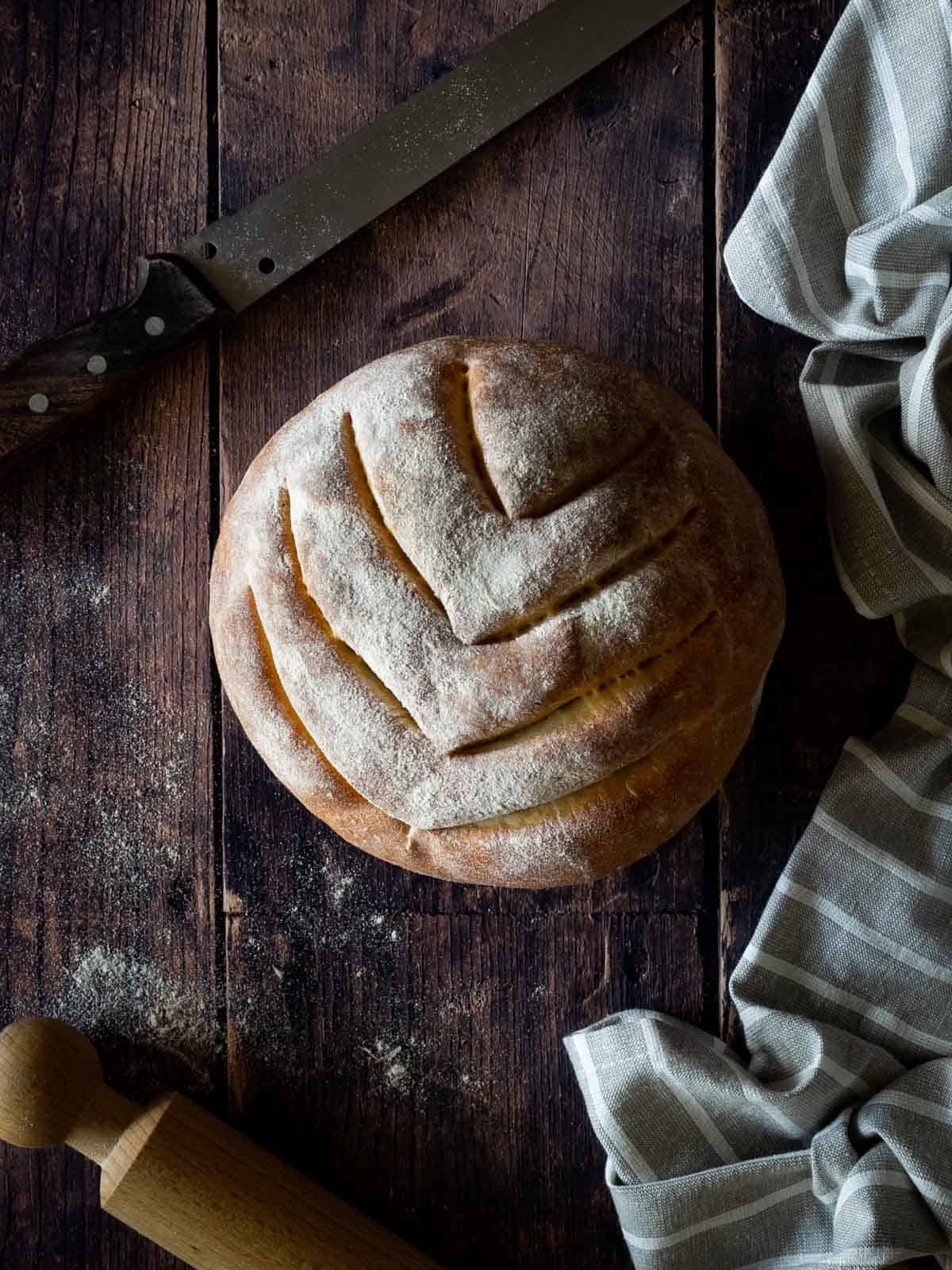 About a year ago, we stopped buying bread because this rustic peasant loaf is easy to make, cheap, and healthier. The easy yeast bread loaf makes the house smell like heaven.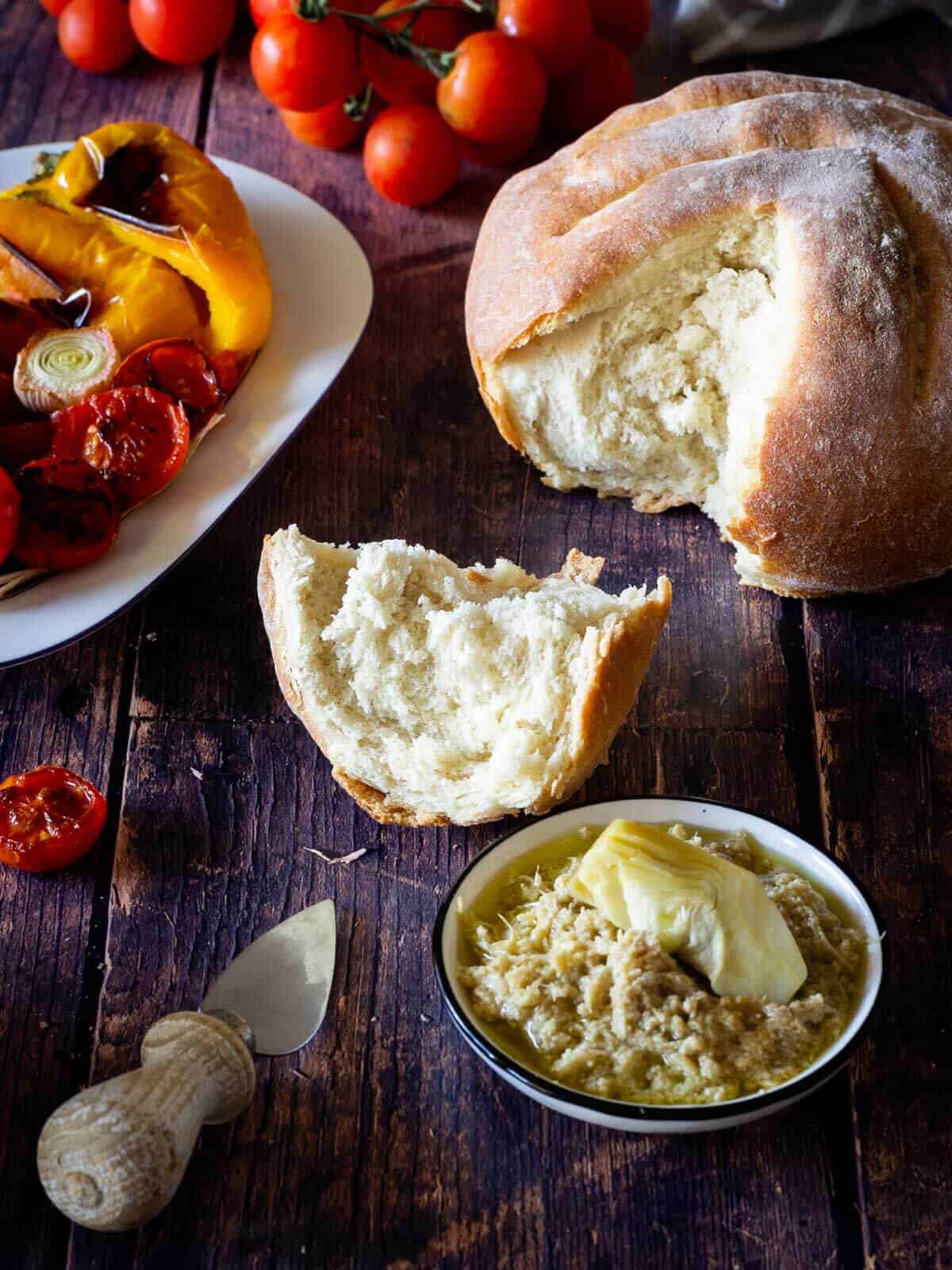 Also, we are conscious about consuming as few simple carbs as we can; we agreed on two rules: if we have bread, it has to be memorable and homemade; this way, we control what goes in it.
Second, as this simple bread recipe takes a couple of hours to make, we have to plan; it is not merely a result of a simple carbs craving.
Jump to: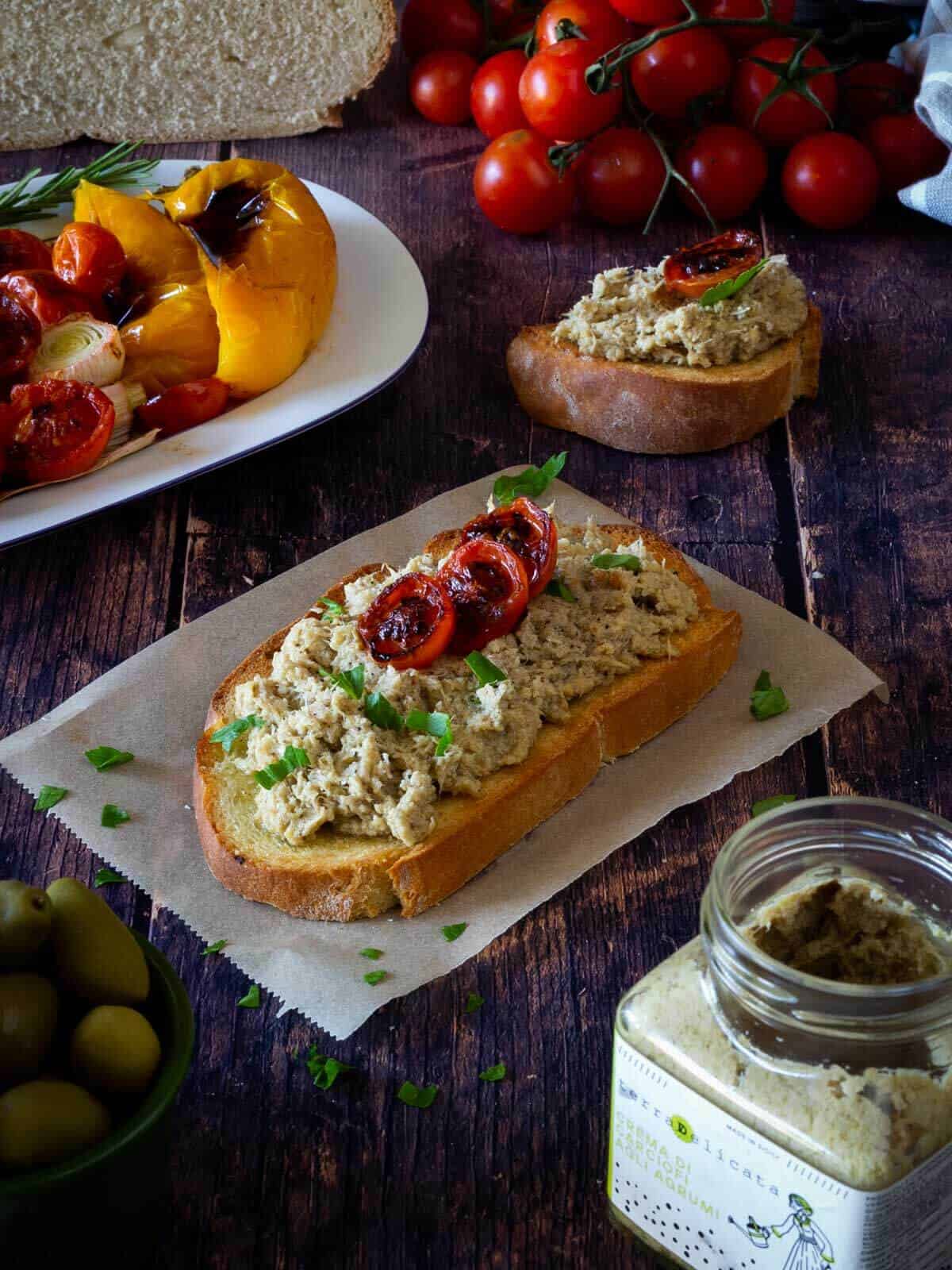 This Italian round country bread is what we make once a week when we crave some bread. It is either this Italian rustic loaf or focaccia. It also makes a great accompaniment for wonderful soup bowls.
🤔 What is Pagnotta bread
This Italian round country bread is sort of a mild sourdough loaf with a light brown crust. It is not too dense and great for making bruschettas and sandwiches.
We also love using this homemade bread recipe as a stew or soup bowl container (pan cook) and then scraping the insides with a fork, which comes soaked with whatever the stew goodness is made of.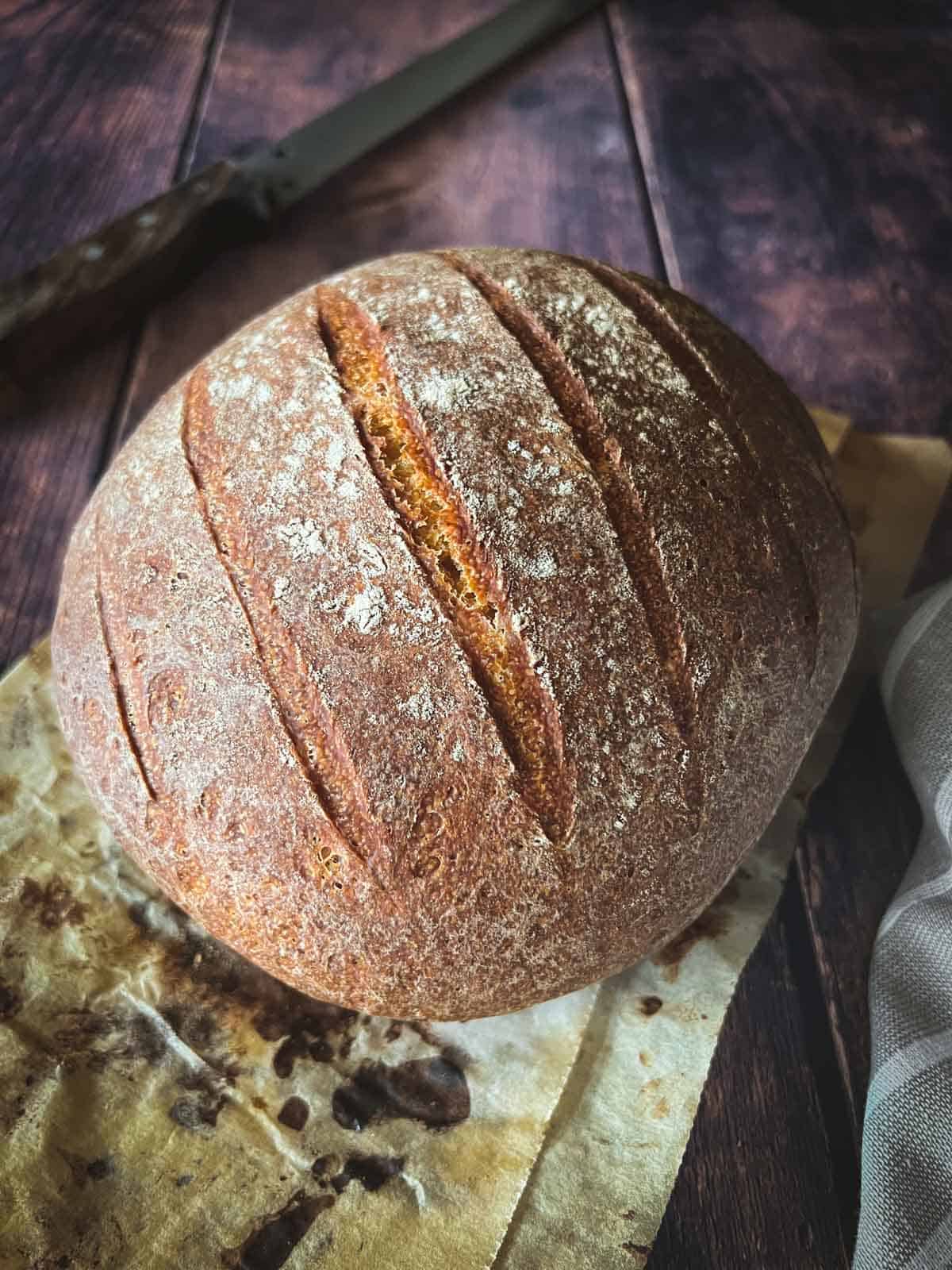 It is a traditional Pugliese bread loaf typical of Puglia but loved and appreciated throughout Italy. It can be made with fancy durum flour, plain flour, or wheat semolina bread.
This artisan bread has a deep golden brown color, a lightly floured surface, a crunchy crust, and a thick and soft inside.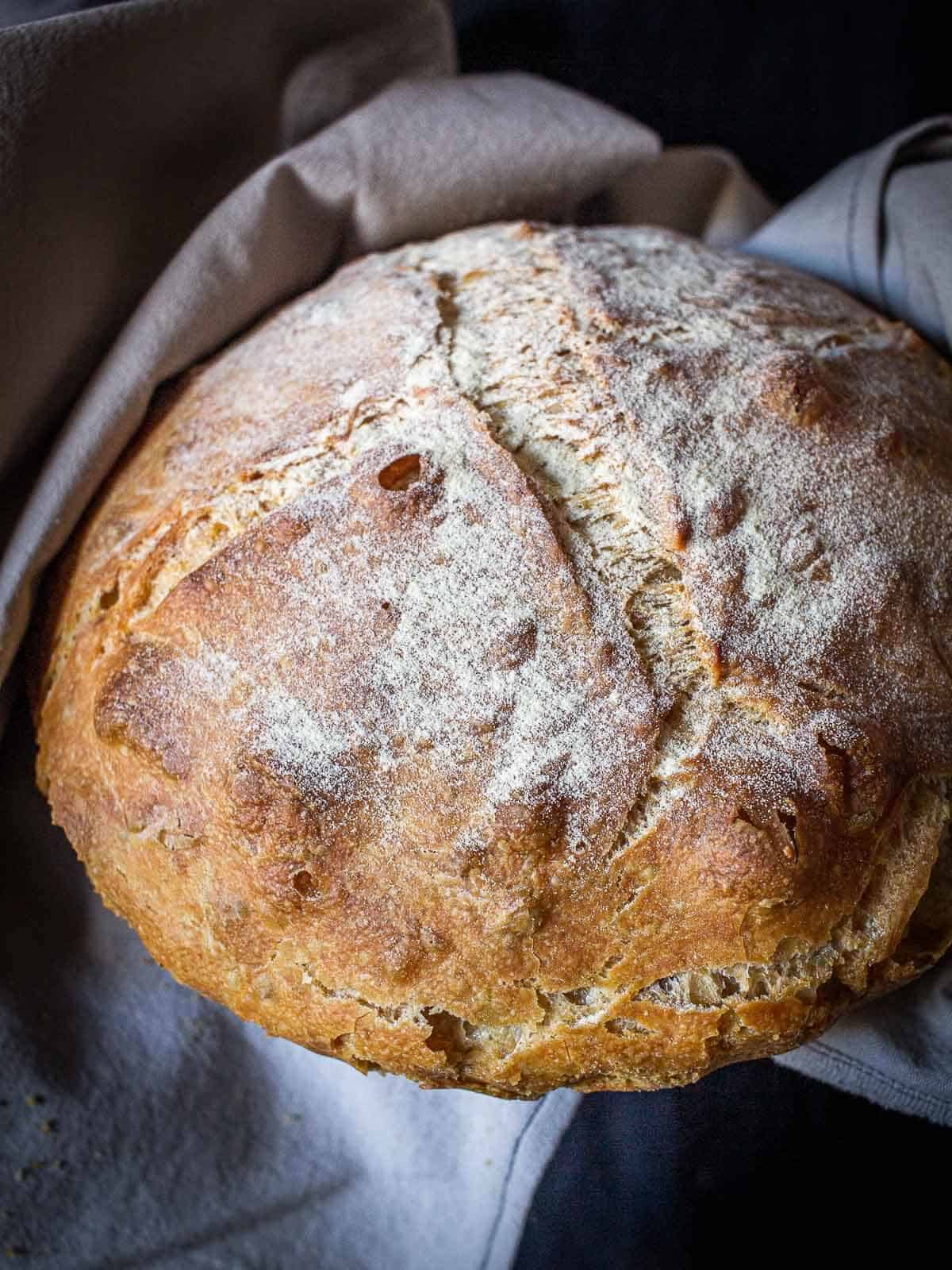 Traditionally it is also made of substantial sizes, up to 2-3 kg, but here we are making a relatively medium pagnotta, but you can use the same flour to make small round rolls, which will take less time to cook.
This classic Italian bread can be used for dishes such as the famous Ribollita, a Tuscan bread soup that makes a complete and balanced meal made with leafy greens and white beans.
🧾 Ingredients
The original recipe calls for a few Italian ingredients as follows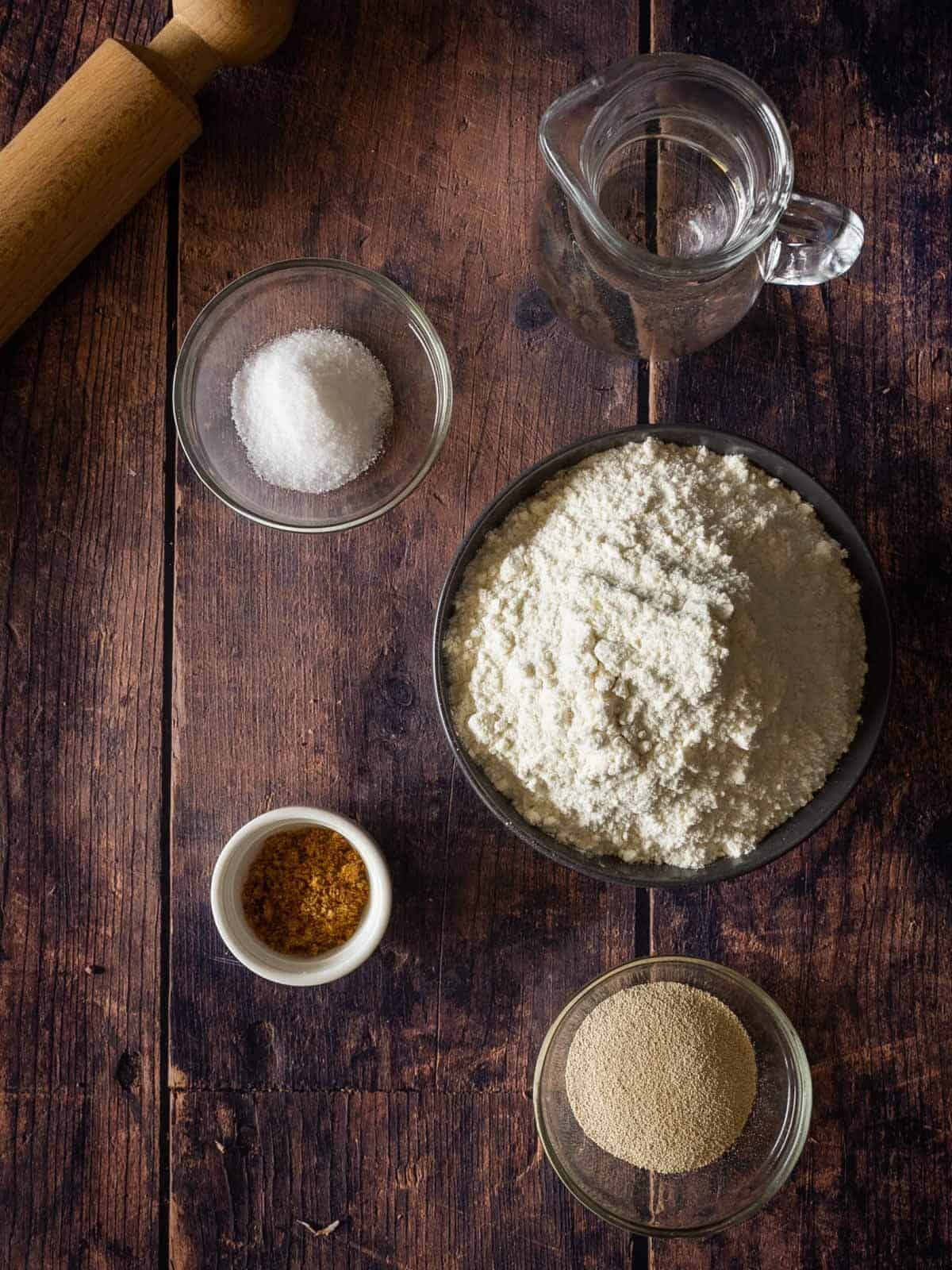 Type 0 Bread Flour or All-purpose flour plus some to adjust
Olive oil
Additionally, water, brown sugar, and salt.
See quantities and complete instructions in the recipe card.
🔪 Instructions
Prepare the yeast water
Dissolve the dry instant yeast in warm water with sugar, and let it rest for 5 minutes.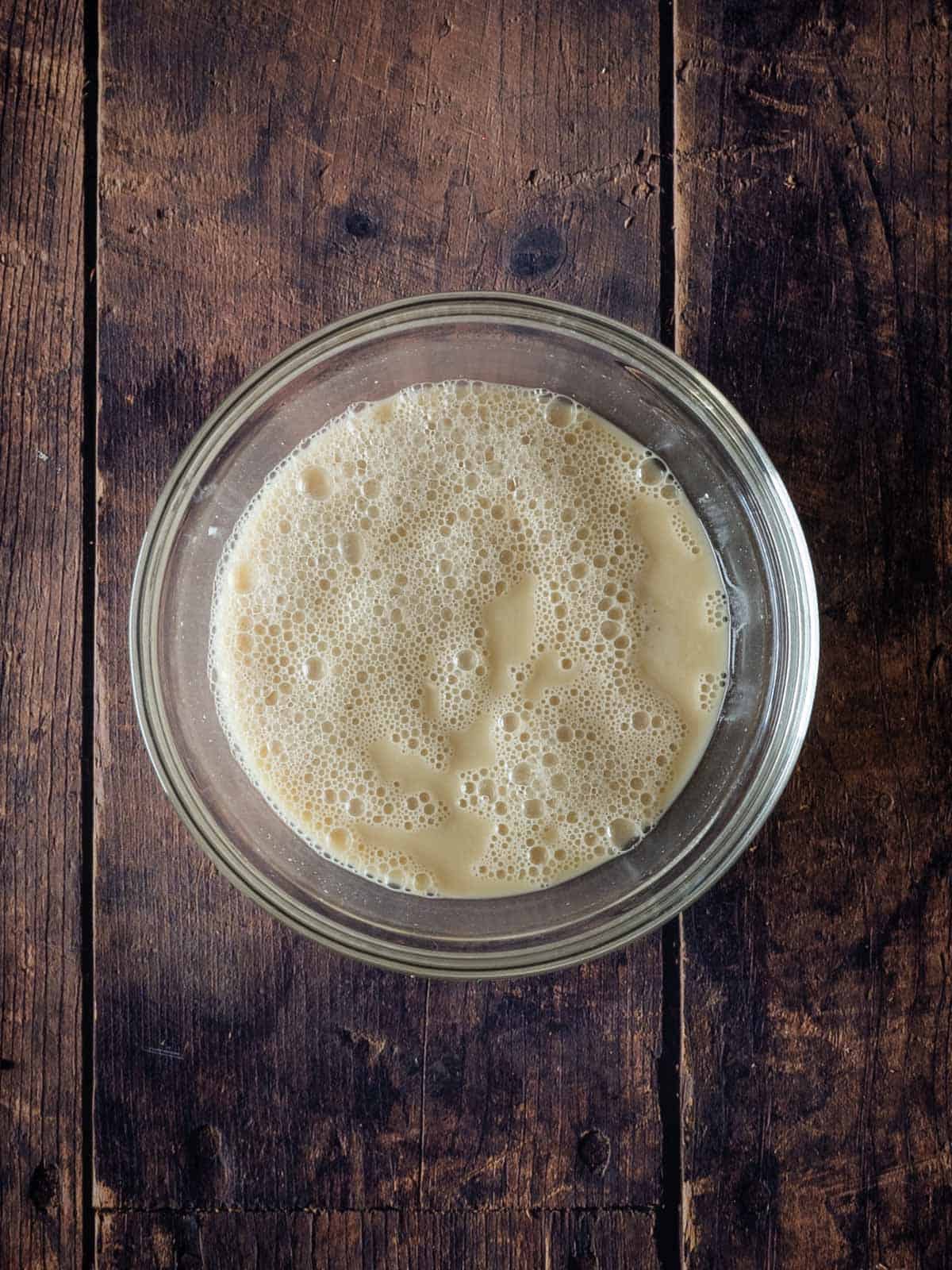 Knead
In a large bowl, mix flour ()or directly into the table, add the yeast water and bread flour, and knead roughly until fully integrated.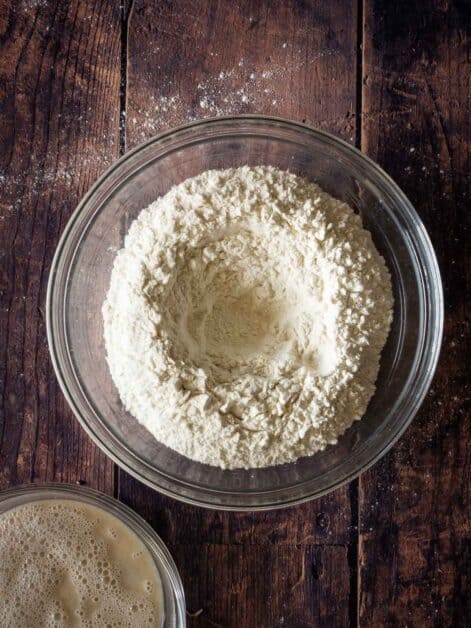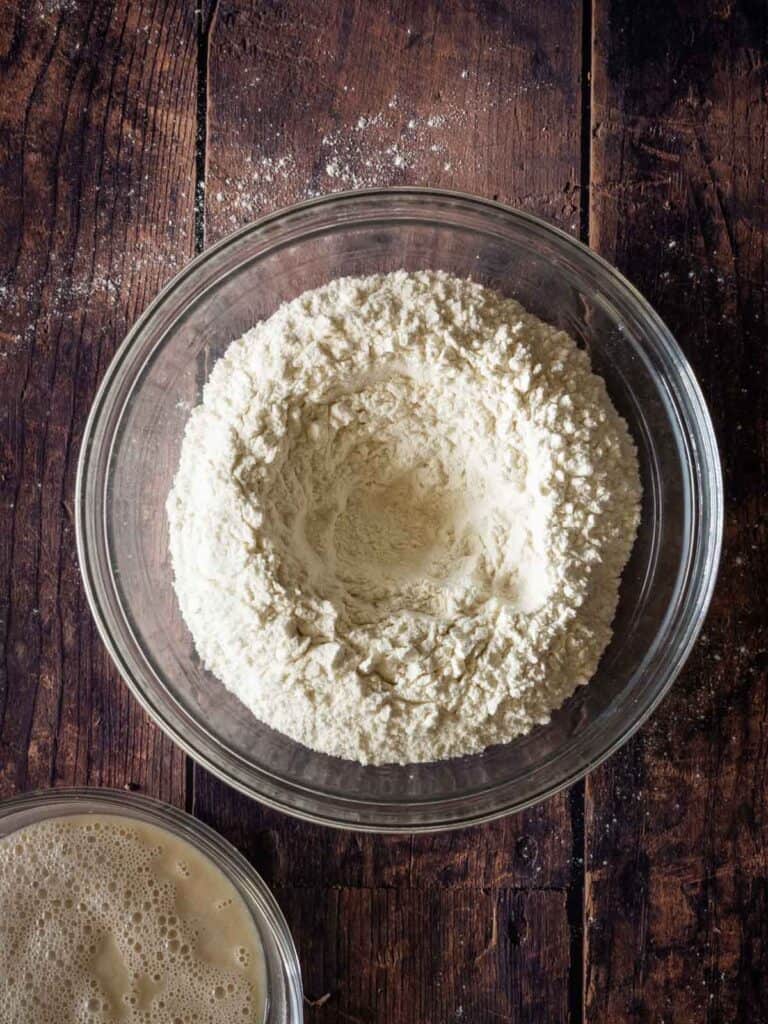 Add salt and knead until the dough is smooth. Use extra flour if the dough sticks too much on your hands.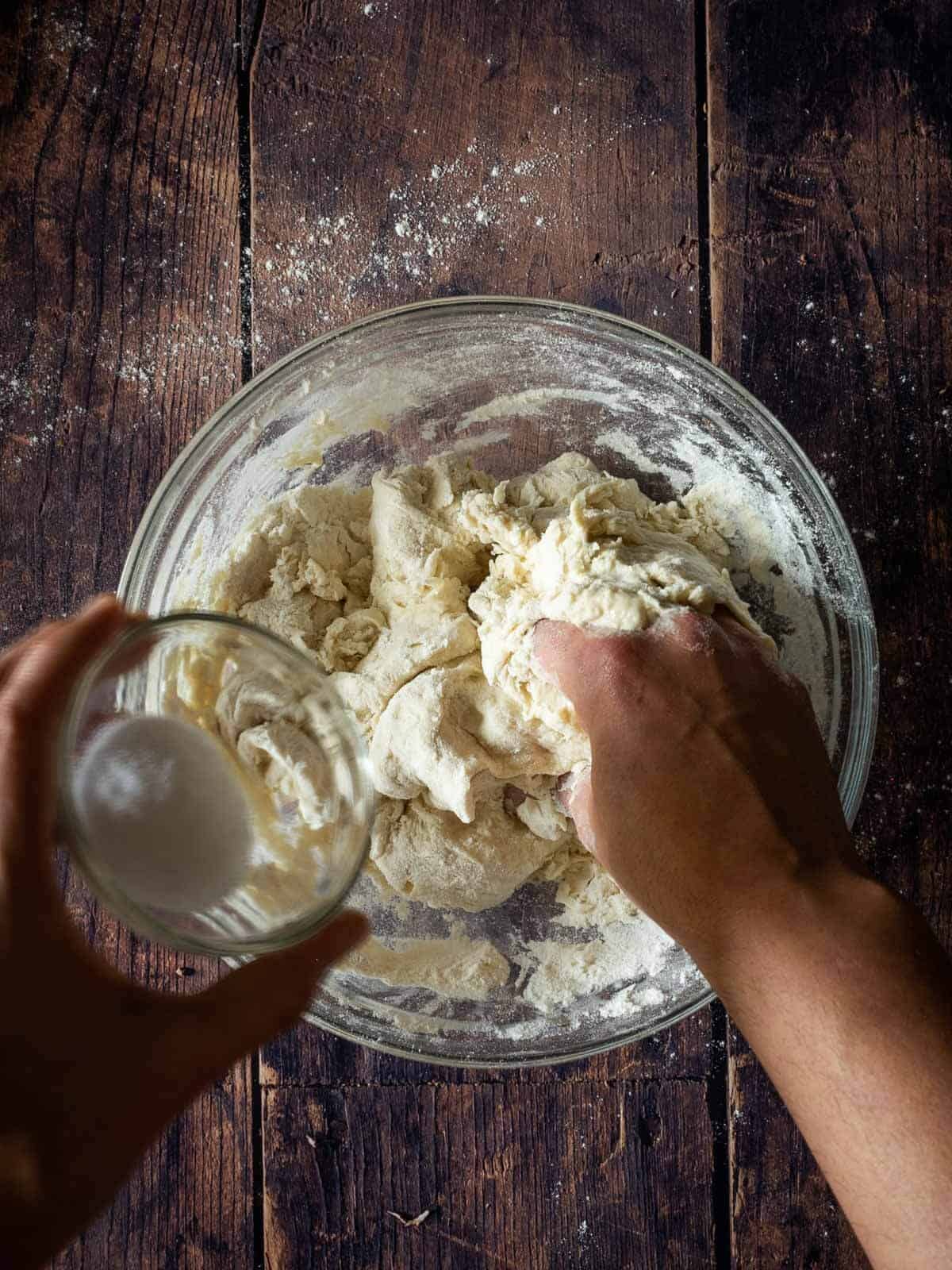 Baker's tip: the salt is an enemy of the yeast; that's why you should avoid direct contact and the reason why we don't add it together with the rest of the ingredients.
The total kneading time should be 10 minutes, beating the dough several times on the work surface to activate the gluten-creating folds, pulling the edges of the dough towards the center of the loaf.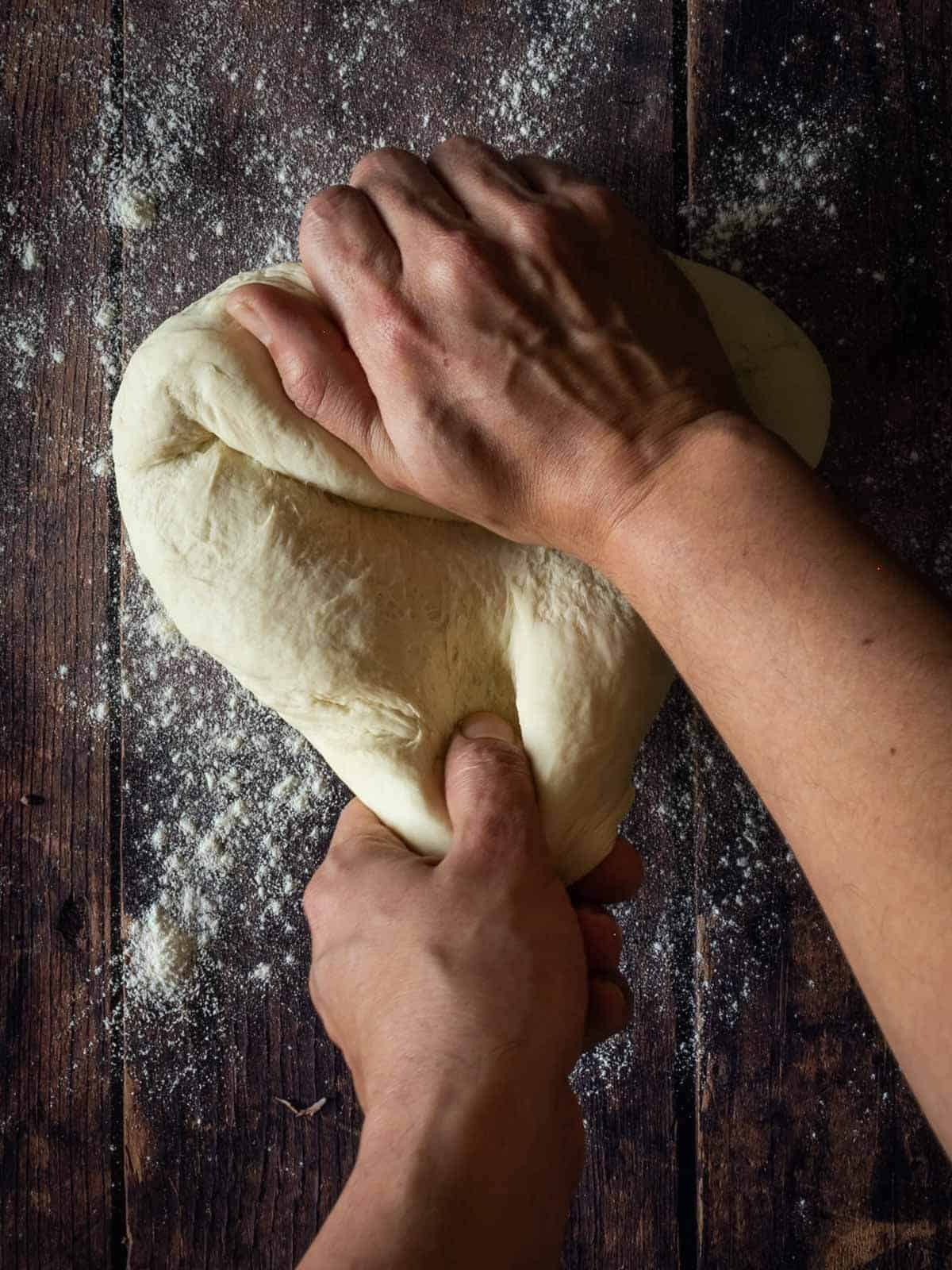 Note: You can use a stand mixer, but I prefer to knead it myself to avoid having too many dirty utensils since the kneading time is minimal.
First proofing
Form a ball, arrange it in a tray, oil the surface with olive oil, and cut it with a cross-cut.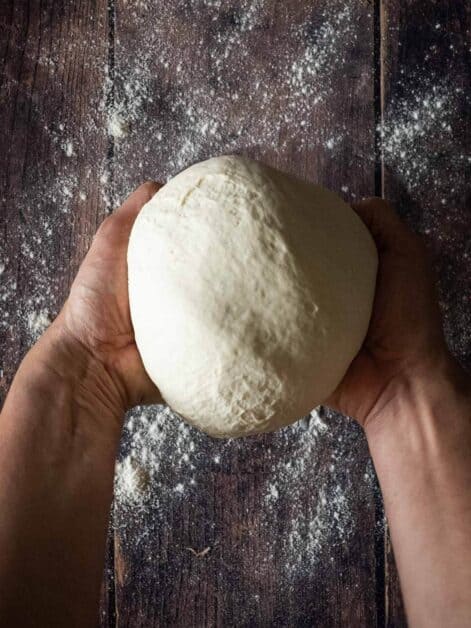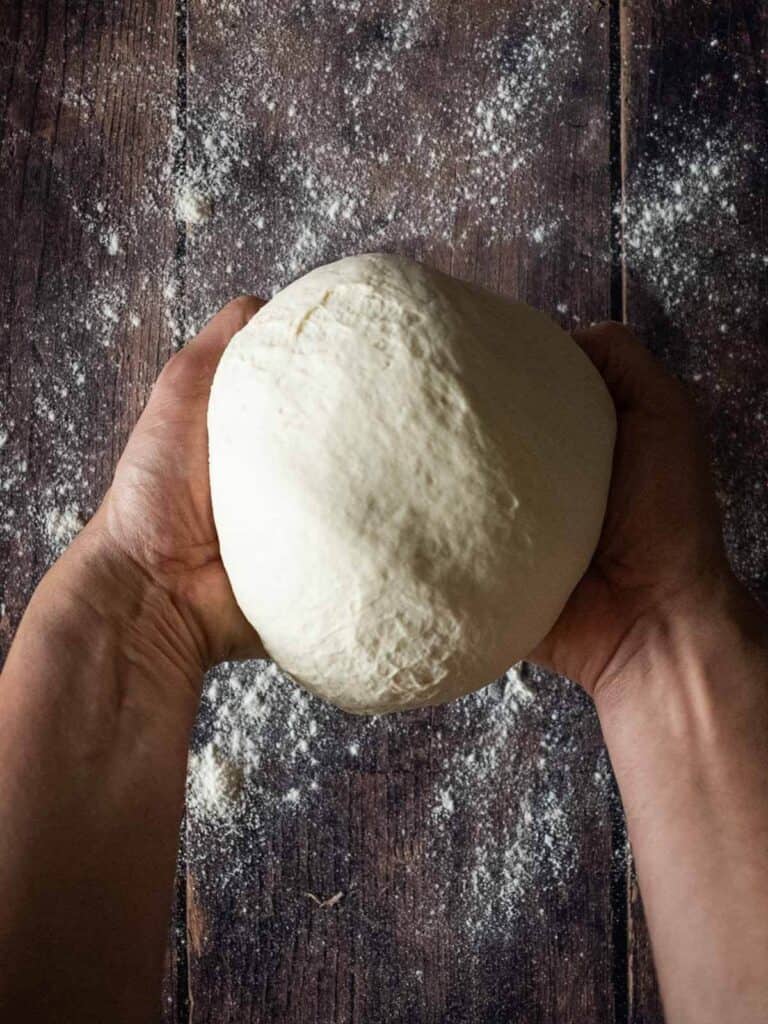 Place dough in an oiled basin, cover it with a sheet of plastic wrap, or in a bowl sealed with a moistened clean kitchen towel, and let rise in a warm place for an hour and a half.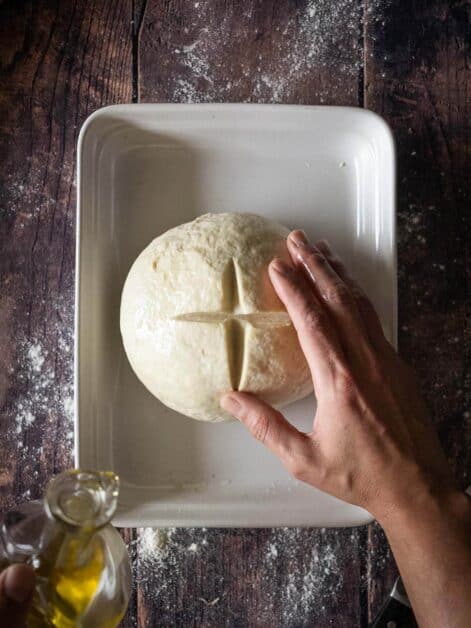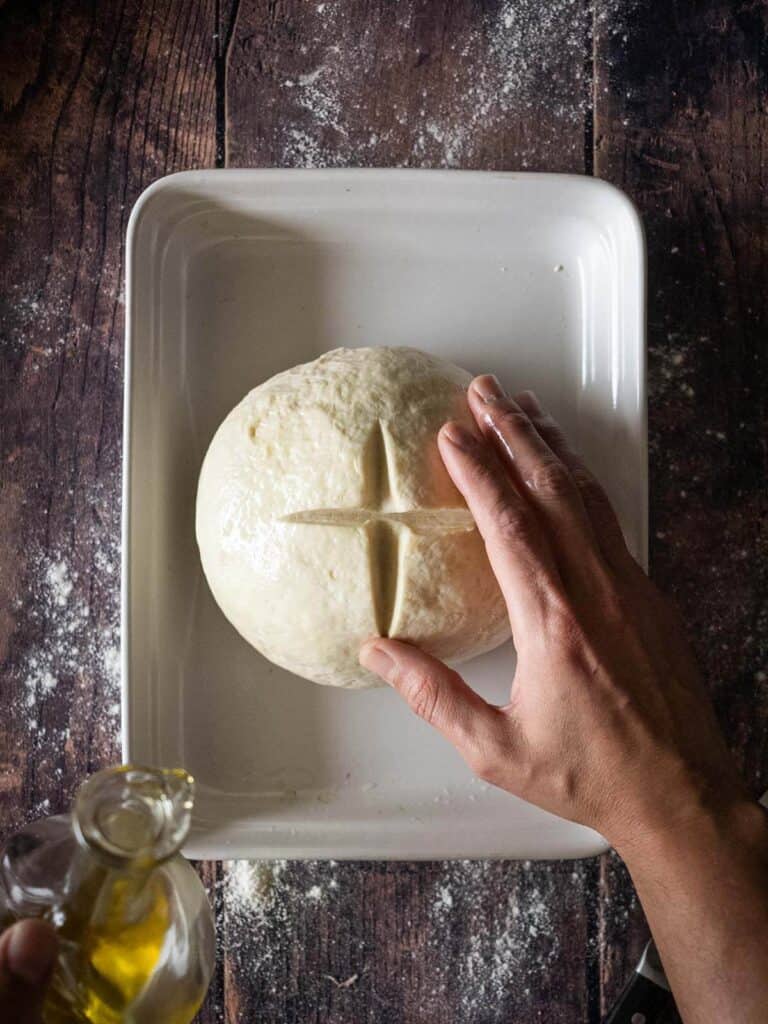 This is how the dough ball should look after the first proofing.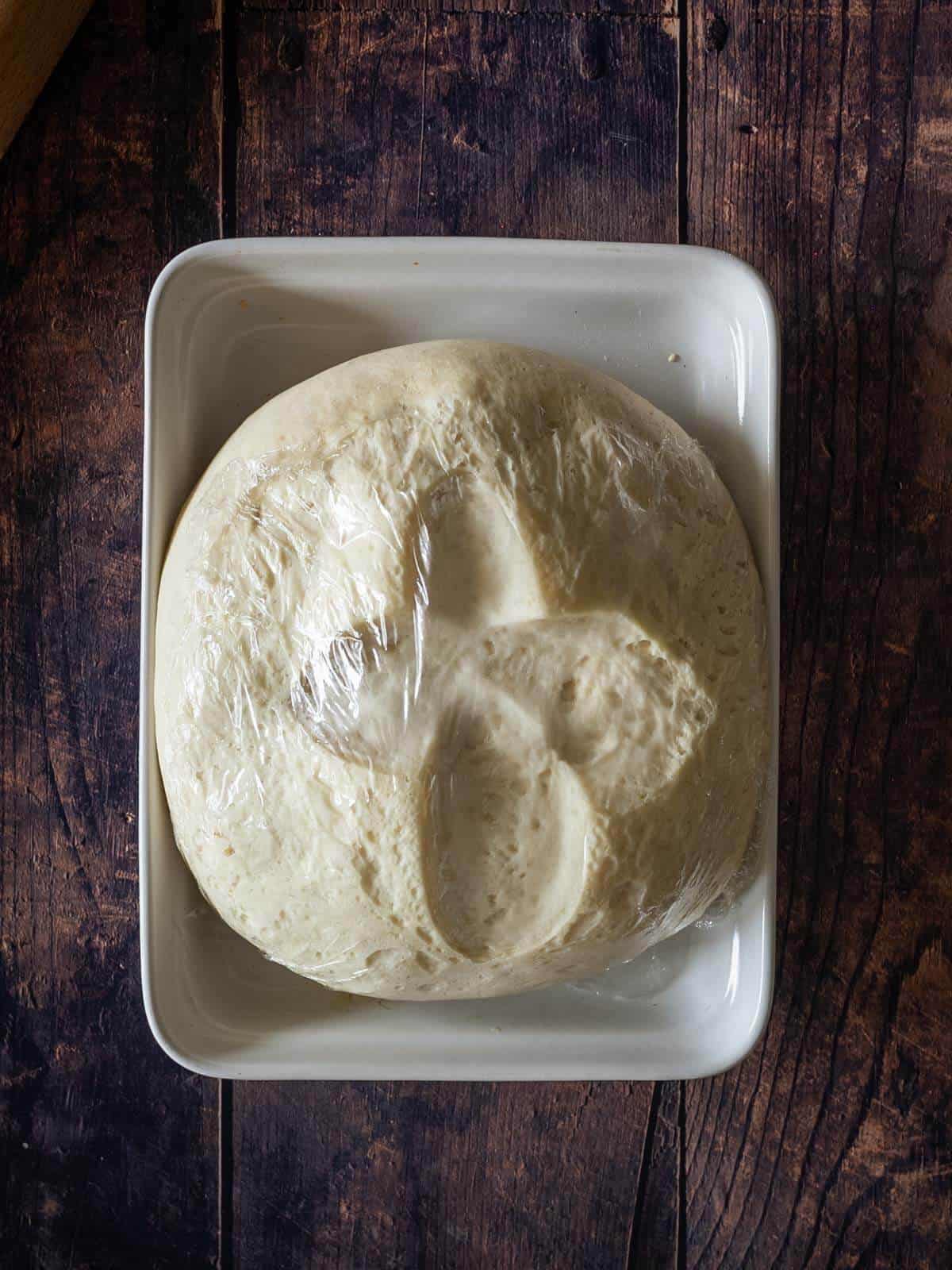 Second proofing
Transfer the leavened dough onto the floured surface and deflate it slightly by pressing it with your fingers. If the dough has reached the right leavening, perfect imprints must remain in the dough.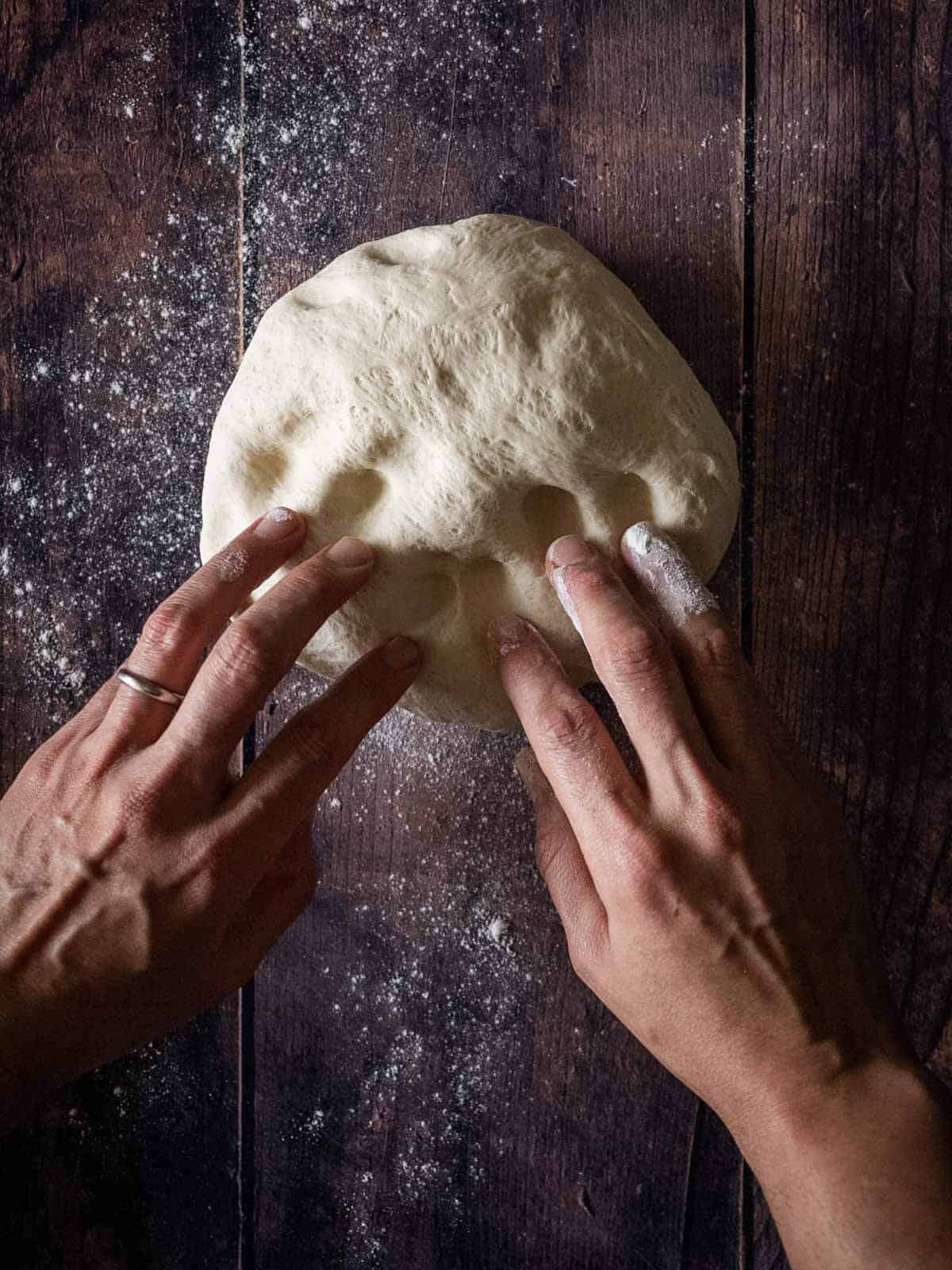 Make a round loaf
Form a loaf and pull the edges of the dough first outwards and then towards the center of the bread loaf (pagnotta) to form folds.
Once the dough hooks, turn the dough upside down, smooth side up; give it a round shape to create a perfectly round ball, shaping it with your hands using a circular motion.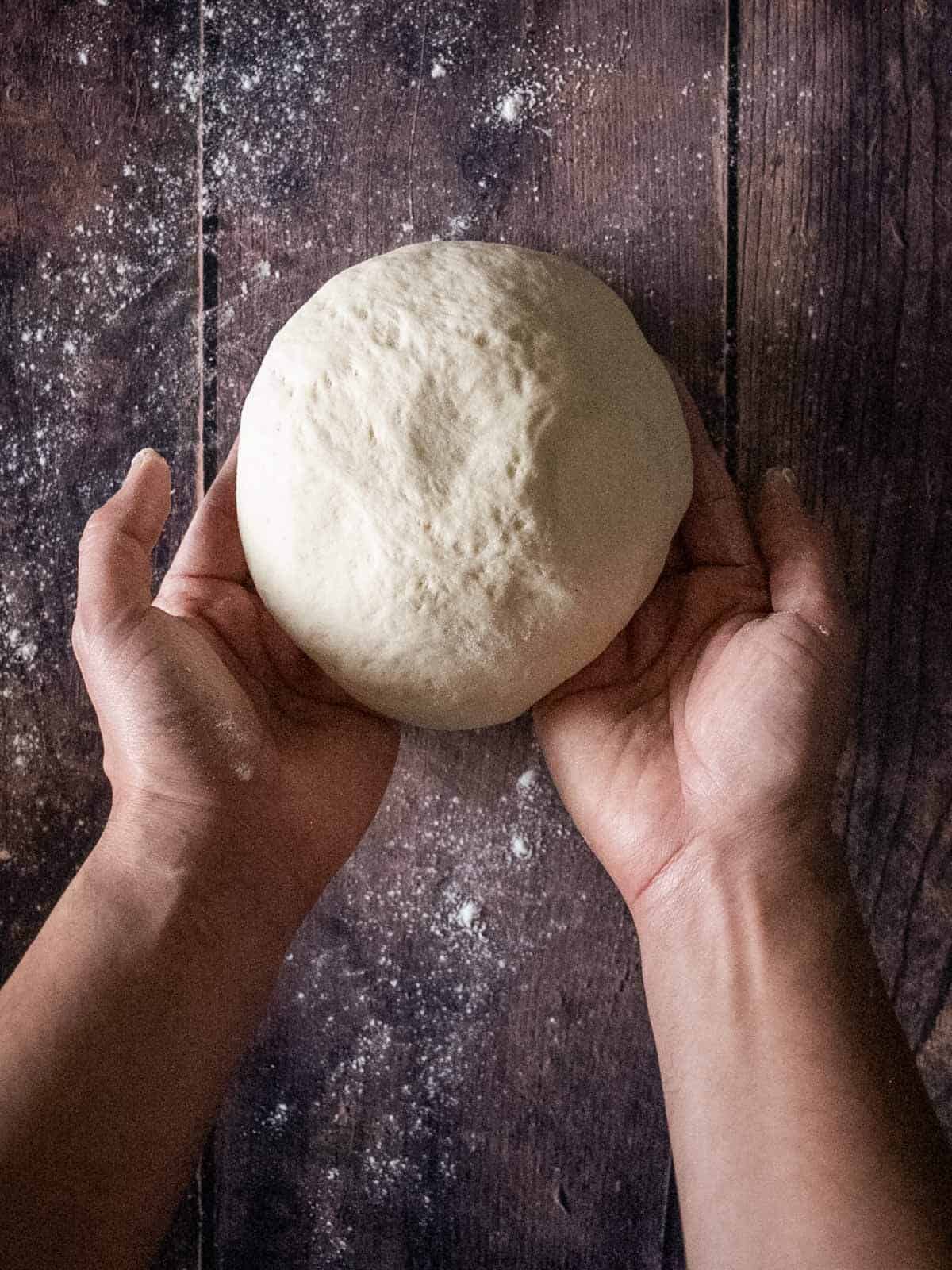 Transfer the loaf to a baking sheet lined with parchment paper (or a baking stone, cover it with the same plastic wrap and let it rise for 45 minutes.
Tip for optimal cooking: put a saucepan of hot water on the bottom of the oven while you preheat it and during cooking, to create steam and obtain optimal baking of the bread.
Bake until you get a deep brown crust
Cut it on the surface with a cutlet, lightly flour it, and bake it in a preheated oven at 450 ºF (230 ºC) for about 30-35 minutes until you see a deep brown crust has formed.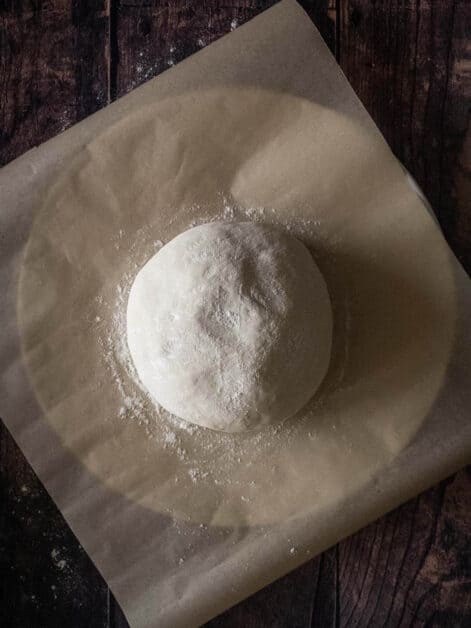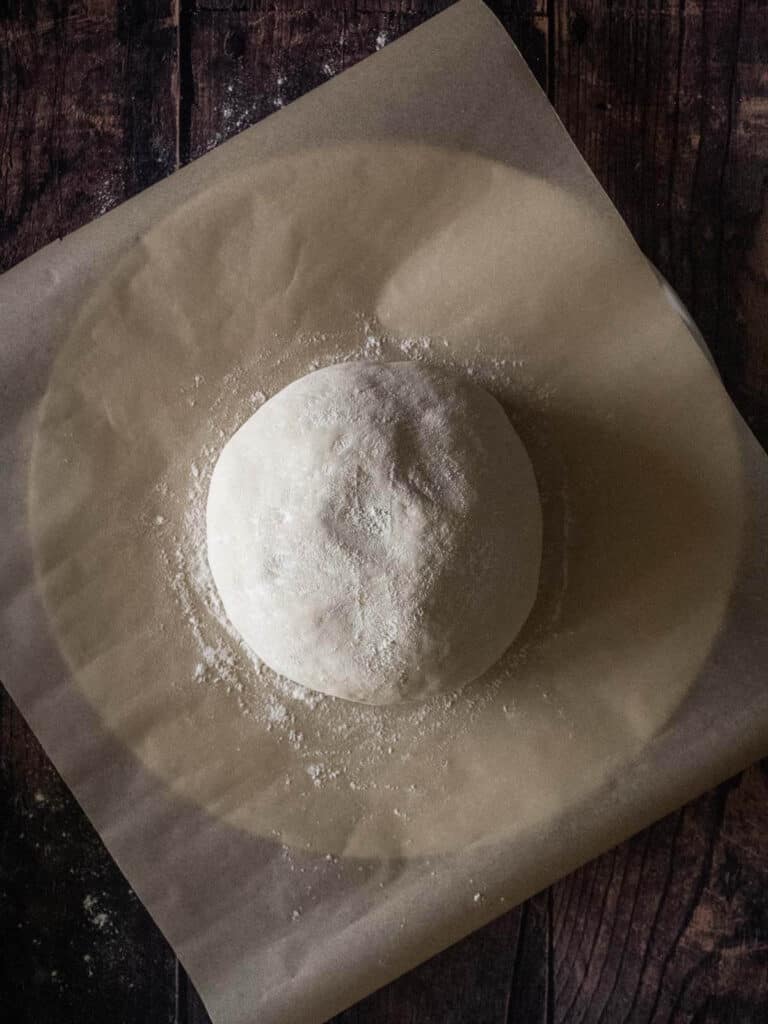 Note: don't open the oven during the baking process. It is essential to keep the temperature constant. If you note that the time elapsed is less than 30 minutes, it already looks dark brown; reduce heat (10-20 degrees).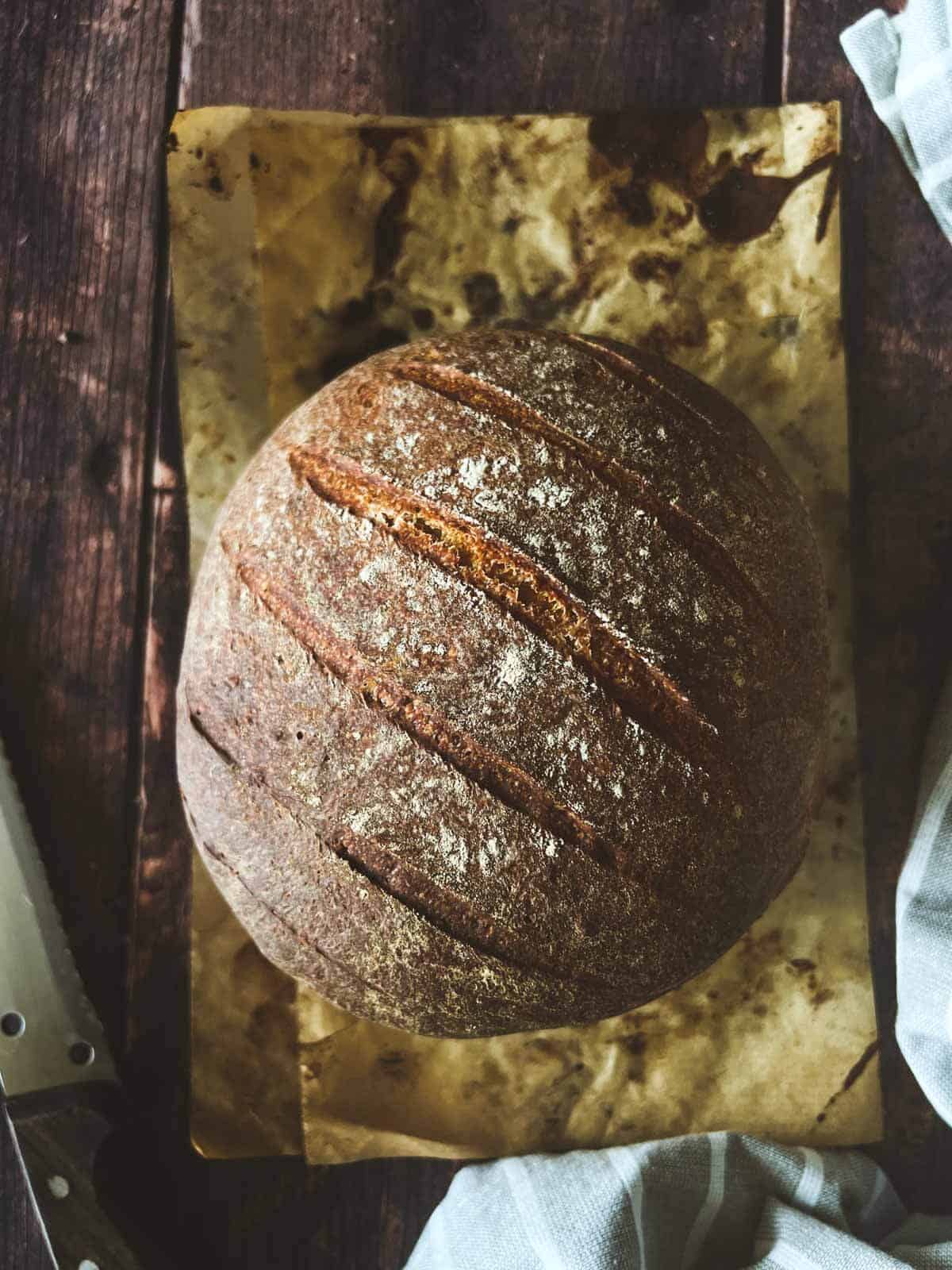 Have fun scoring your artisan bread with your favorite cuts!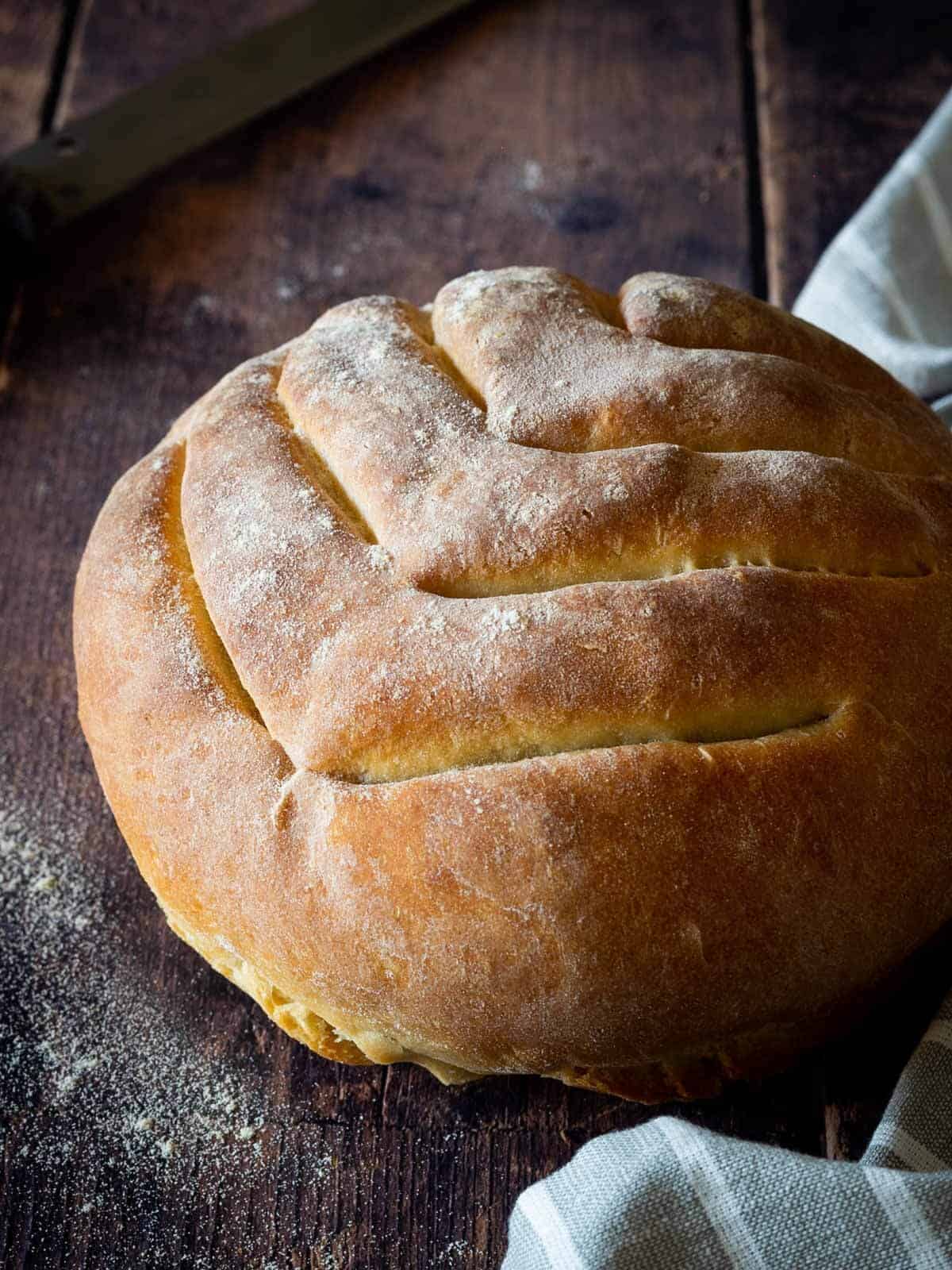 🥢 How to serve
Some ideas on how to serve Italian round country bread.
In theory, you should let this artisan bread cool completely at room temperature in a cooling rack and cut with a very sharp knife or serrated knife to discover the soft center.
I never wait; the smell of this freshly made peasant bread is so good that we dive into it, but I needed to let you know, as that is what a professional baker will tell you!
We love serving this Pagnotta bread at breakfast with blueberry jam or this fantastic vegan butter, and banana bread.
You can also have this bread as part of a vegan charcuterie board with spiced onions and spreads like hummus, roasted bell pepper Muhammara, Roasted red pepper hummus, and a Goddess Green Sauce.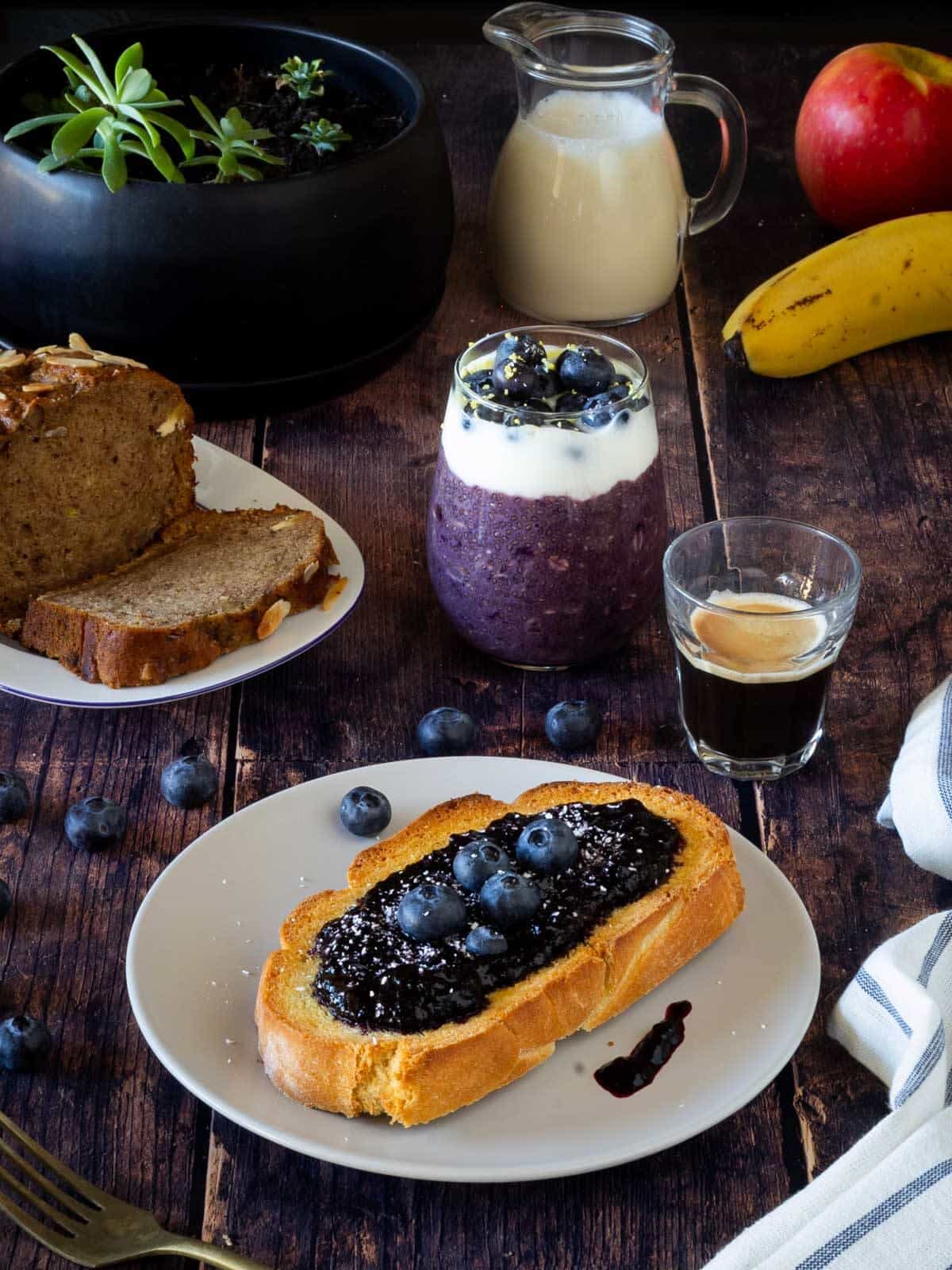 With this flavor-packed but straightforward Italian eggplant stew, you can use this artisan bread cut in slices as a vegan appetizer as bruschetta, with Hummus, eggplant babaganoush spread, or the delicious roasted bell peppers dip.
The famous naturally vegan Catalonian Escalivada dish and pickled eggplants are great pairing options for your homemade bread loaf.
We also love using this Pagnotta bread to make bruschettas with artichokes spreads, charred cherry tomatoes, or pair them with Roman-style artichokes.
You can also enjoy a toast of this Central Italy traditional bread with a drizzle of good-quality extra-virgin olive oil. An excellent and simple treat!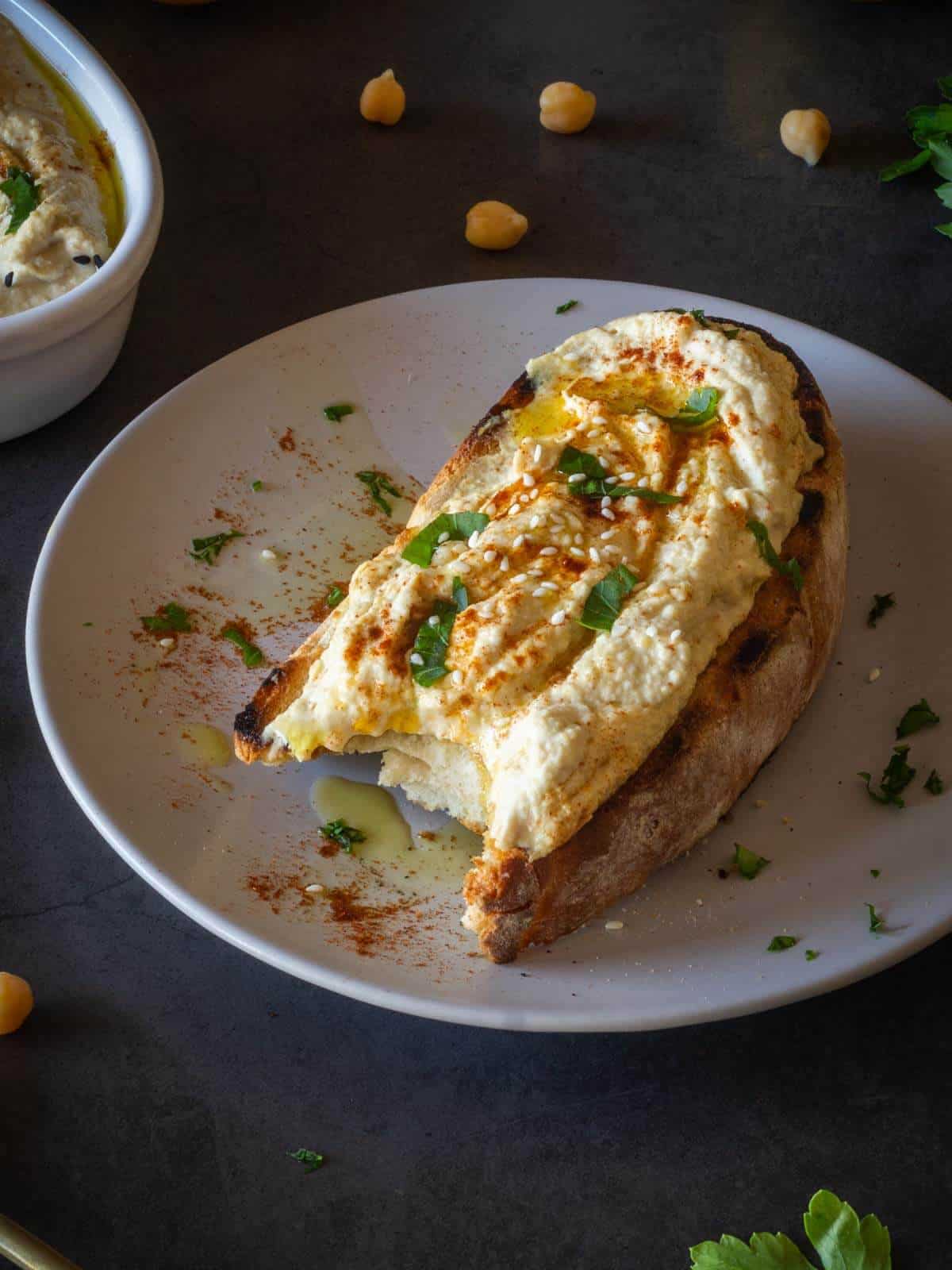 🥡 Storage
You can store this bread loaf for two days at room temperature or freeze it, either sliced or whole, in a bag or an airtight container.
To thaw, leave it in a refrigerator overnight or at room temperature overnight or place it in the microwave.
We like slicing this loaf and briefly toasting it in a skillet, oven, or electric toaster, before consuming, as the texture and consistency will be at their best.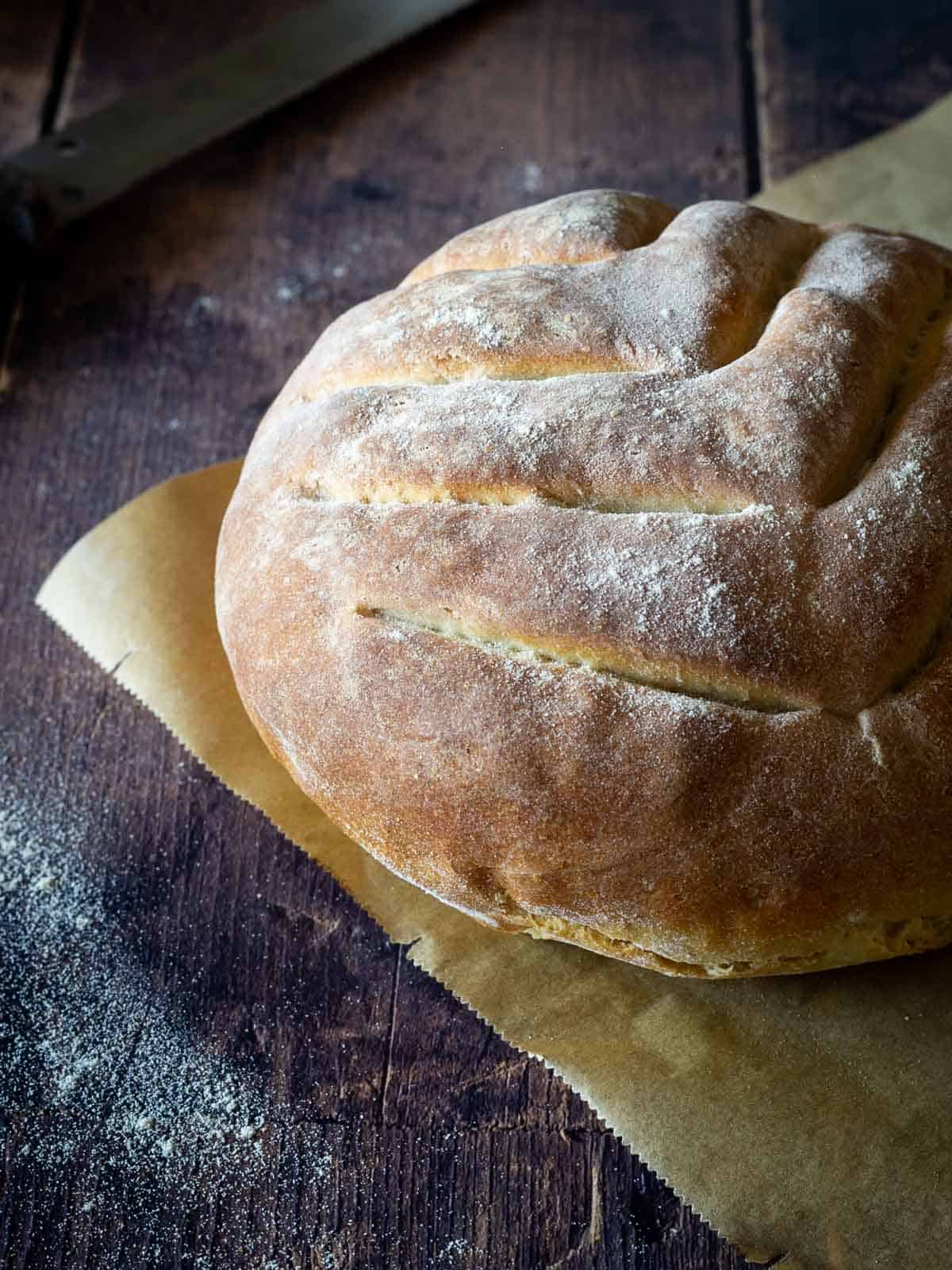 💡 Notes on ingredients
Yeast
Brewer's yeast is often demonized. However, few people know that these microorganisms have many beneficial effects on our body: hair to, nails, skin, and metabolism.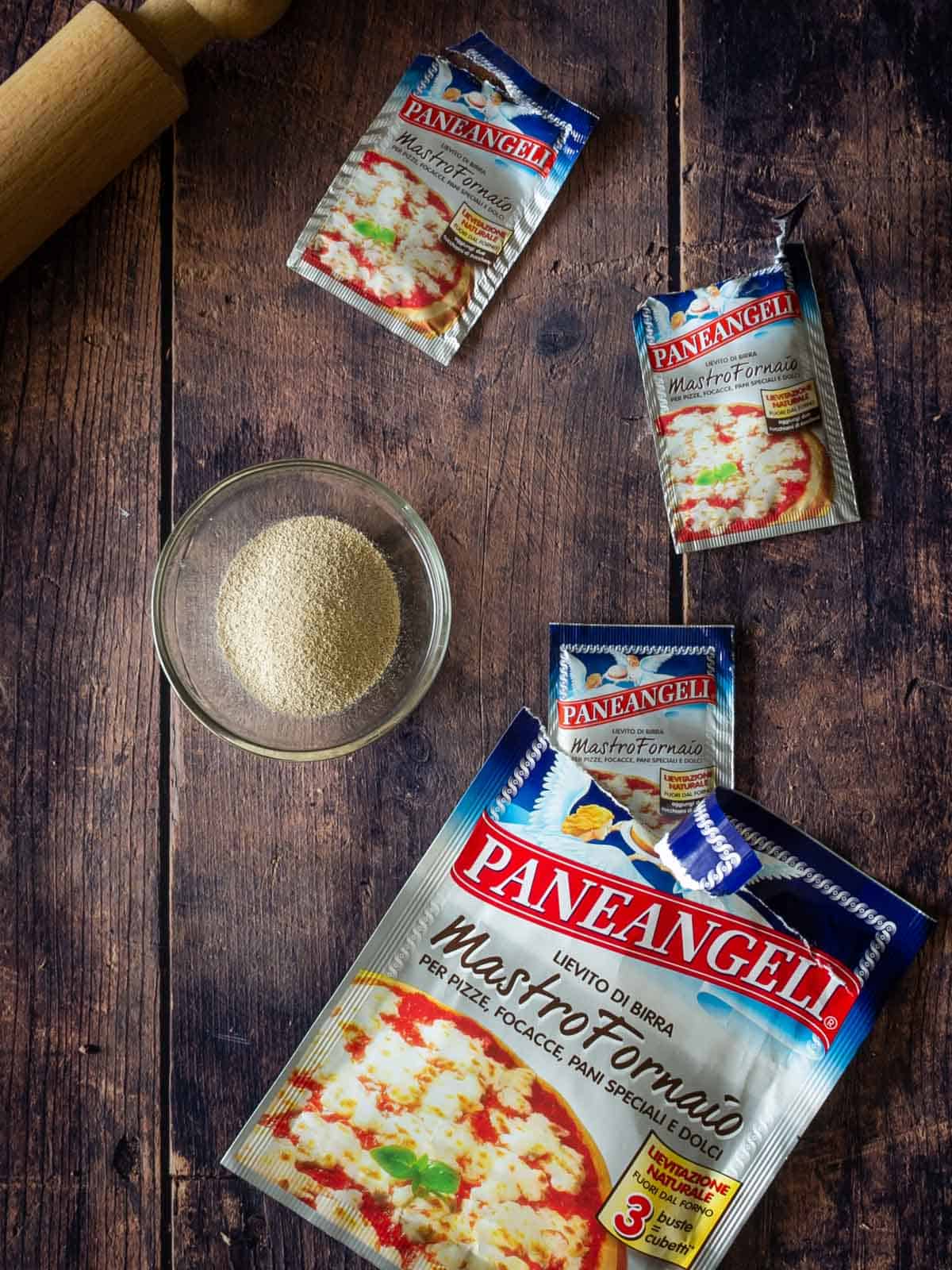 Therefore, when we have little time and want fresh bread for lunch, I put this beautiful loaf to work in the morning. The same goes for if we want a nice piece of bread for a Weekend's breakfast, we prepare it before going to bed.
Experiment as much as you can with different flours and add seeds. It is the only way to learn baking and understand your oven; just follow the tricks I am giving you here, and it will be flawless!
We also love using loaves to make Bread Bowls (also known as Panne Cook, or Pan Bowl), taking some of the inside dough and filling it with any kind of stew.
Flour
What flour is used for bread in Italy?
The importance of flour.

The secret of good homemade bread is in the choice of flour. Which must be of excellent quality. Soft wheat is generally the most used, but alternatives are not lacking. And each has its own particular flavor and different nutritional characteristics.
White in color and chalky consistency, soft wheat flour is classified into type "00" (the most common), "0", "1", "2", and wholemeal.
Greater refining reduces the leavening times but also the nutritional contributions.
So, a Type "0" flour calls for a long fermentation period.
Then there are durum wheat flours, used above all for the preparation of pasta, but also for particular bread.
We use a Type "0" flour here because it is the traditional way to make this rustic peasant loaf but has a higher nutritional content.
Is Pagnotta a sourdough?
No, it is not, as Pagnotta bread can be made with instant yeast, but you can make a pagnotta with sourdoughs starter or even a mix of rapid yeast and sourdough starter.
I love playing with yeasts, and I love the result I have gotten, replacing one-third of the suggested rapid yeast with a tablespoon of my sourdough starter diluted in the same rapid yeast mix.
🍞 More dough and Italian bread recipes
Curious to learn more about kneading and doughs? Check our:
Italian Rosemary Focaccia Bread, with a version with cherry tomatoes
Argentinean Vegan Empanadas Dough
Vegan bread buns
This recipe also works for pizza crusts (check our Basic Pizza recipe and the Marinara Pizza recipe for more Italian dough goodness ); after all, it is Italian! 🙂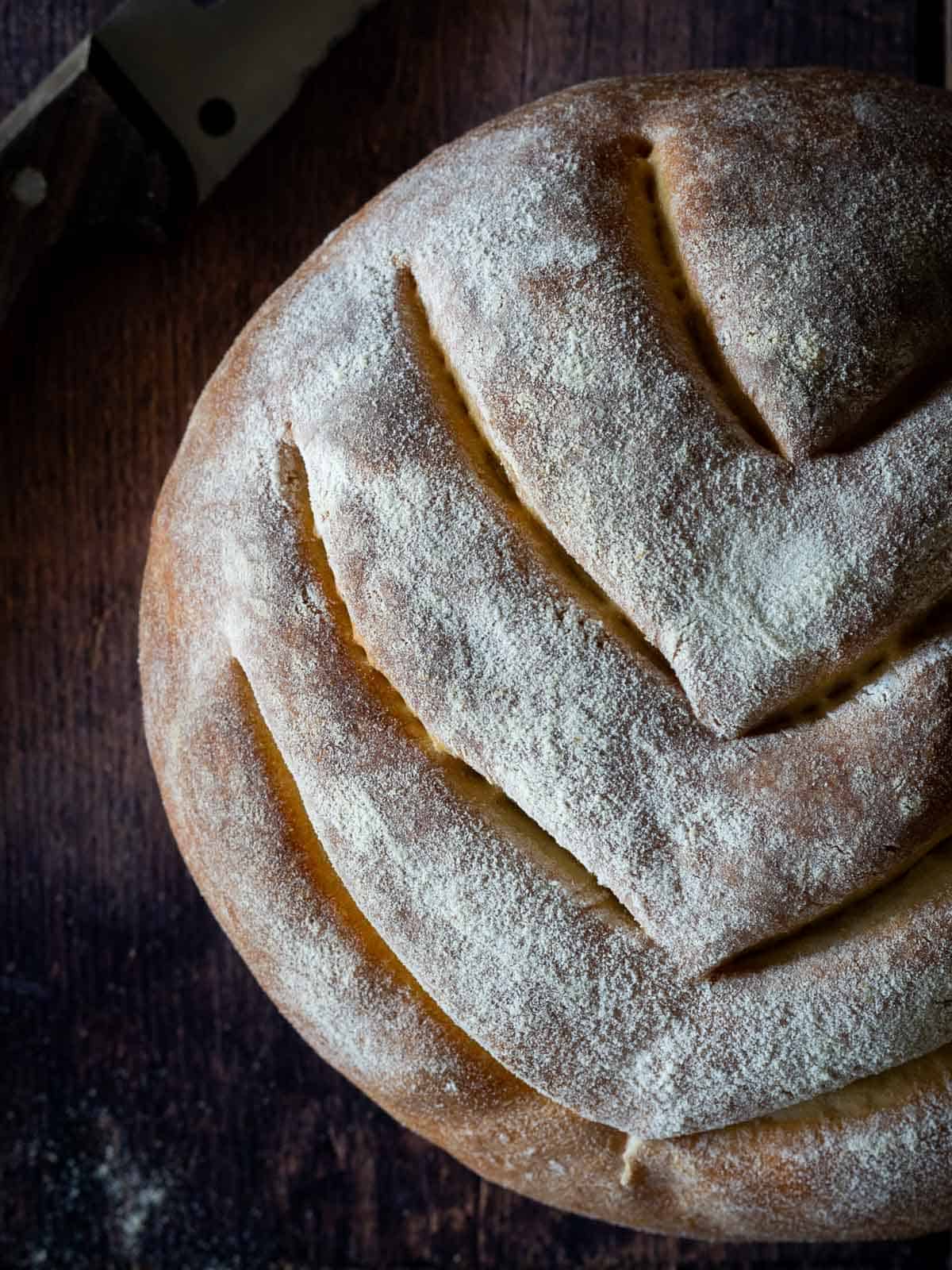 ⭐ If you try this recipe, let us know! 💬 Leave a comment, rate it, and don't forget to tag us @ourplantbasedworld on Instagram. Cheers!
📋 Recipe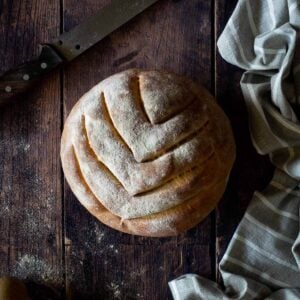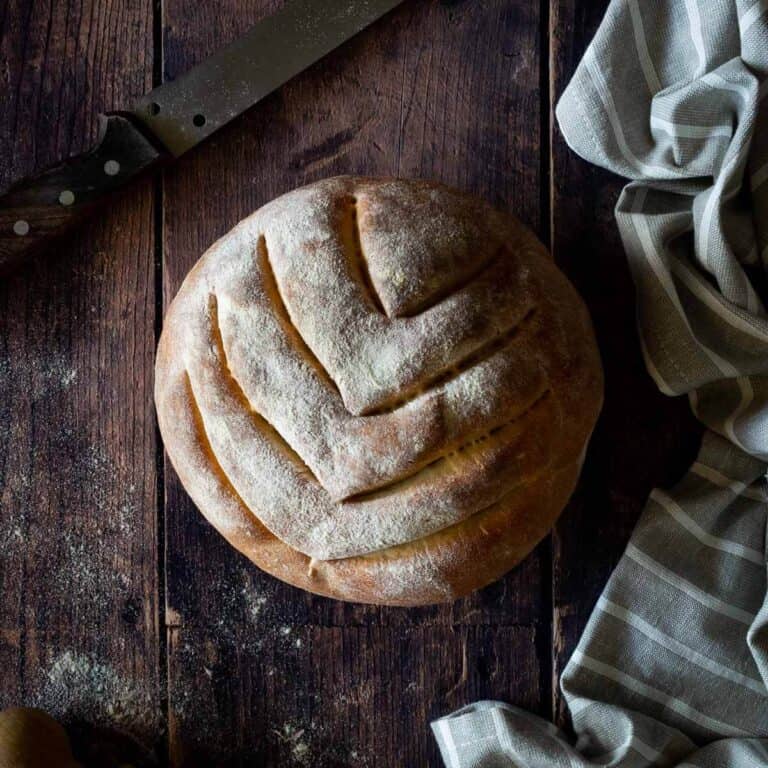 Easy Bread Loaf (Pagnotta Bread)
This one is an Easy Bread Loaf Recipe that you will love. The crust is perfect, the ingredients are minimal, and the result is superb.
Equipment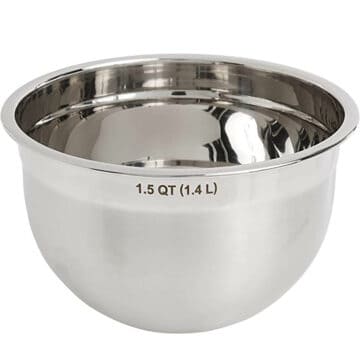 (affiliate link)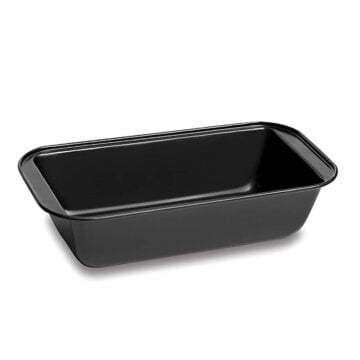 (affiliate link)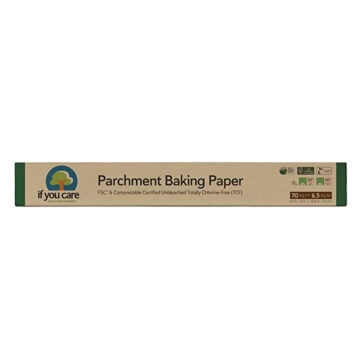 (affiliate link)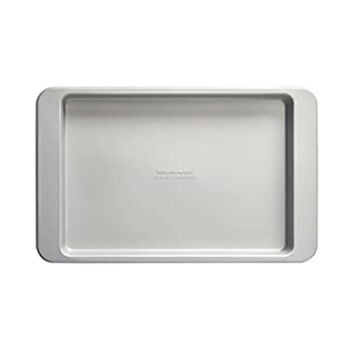 (affiliate link)
Ingredients
17 ½

ounces

flour

0 or All-purpose flour plus some to adjust and dust the working table

9 ½

fluid ounces

water

lukewarm

4 ½

teaspoons

brewer's yeast

(dry yeast)

2 ¼

teaspoons

brown sugar

or powdered barley malt, or molasses

2 ½

teaspoons

salt
Directions
Dissolve the yeast in warm water and the sugar (you have to be very careful not to overheat it, or it may kill the microorganisms). Let it rest for 5 minutes.

In a big bowl or kitchen table, mix the flour with the yeast mixture and knead roughly with your hands, stretching holding one tip of the dough. Slam the dough ball on the table every couple of minutes to activate the gluten. Incorporate the salt, and knead well for 10 minutes.

First proofing. Oil the surface of the dough ball, make a cross with a knife and cover with plastic wrap. Reserve in a warm place in your kitchen or close to a heater. Let the dough be proof for 1 hour.

Second proof and shaping. After the time has elapsed, stretch the edges of the dough first outwards and fold inwards to the center. Put the dough upside down and give the ball a round shape pushing the downer parts of the ball with your fingertips. Cover with the same oiled plastic wrap and let the dough proof for another 30 minutes. After 15 minutes, Pre-heat the oven to 480 ºF or 250 ºC.

Prepare the dough for baking. Place the dough on a round or edgeless baking tray with parchment paper.

Sprinkle some flour on top with your fingers and score the dough with the tip of a sharp knife. You only need to cut the surface. Do not go too deep.

Adjust the temperature. Decrease the oven temperature to 445º F (230 °C). Place an oven-resistant container with 1 cup of water on the oven floor.

Bake. Put the baking pan in the oven and bake for 25-30 minutes (until the bread looks golden brown).

Allow the bread loaf to rest about 10 minutes before cutting it.
Notes
The final time depends a lot on your oven. You can insert the blade of a knife inside; if it is not wet, the bread will be cooked or measure the core temperature, which must be 205 Fahrenheits (96 °C).
Try not to do this more than once; Opening the oven and changing its temperature affects the cooking of your bread and could lead to an uncooked inside and overcooked surface.
Nutrition Facts
Calories:
168
kcal
Carbohydrates:
34
g
Protein:
6
g
Fat:
1
g
Saturated Fat:
1
g
Polyunsaturated Fat:
1
g
Monounsaturated Fat:
1
g
Sodium:
489
mg
Potassium:
88
mg
Fiber:
2
g
Sugar:
1
g
Vitamin C:
1
mg
Calcium:
9
mg
Iron:
2
mg
Nutrition Facts
Easy Bread Loaf (Pagnotta Bread)
Amount per Serving
% Daily Value*
* Percent Daily Values are based on a 2000 calorie diet.
🌡️ Food safety
Cook to a minimum temperature of 165 °F (74 °C)
Do not use the same utensils on cooked food that previously touched raw meat
Wash hands after touching raw meat
Don't leave food sitting out at room temperature for extended periods
Never leave cooking food unattended
Use oils with high smoking points to avoid harmful compounds
Always have good ventilation when using a gas stove
See more guidelines at USDA.gov.
The information shown is an estimate provided by an online nutrition calculator. It should not be considered a substitute for a professional nutritionist's advice. See our full Nutritional Disclosure here.
Please note that some of the links here are affiliate links, and I will earn a commission if you purchase through those links. I recommend all of the products listed because they are companies I have found helpful and trustworthy.