If you're looking for a fantastic, incredibly easy, and delicious Andalusian dish, this Spanish recipe for sauteed chickpeas with spinach, also known as "garbanzos con espinacas," is the one. This popular spinach and chickpea loose stew is a traditional dish here in Málaga and Seville, Spain, and can be found in most local tapas bars.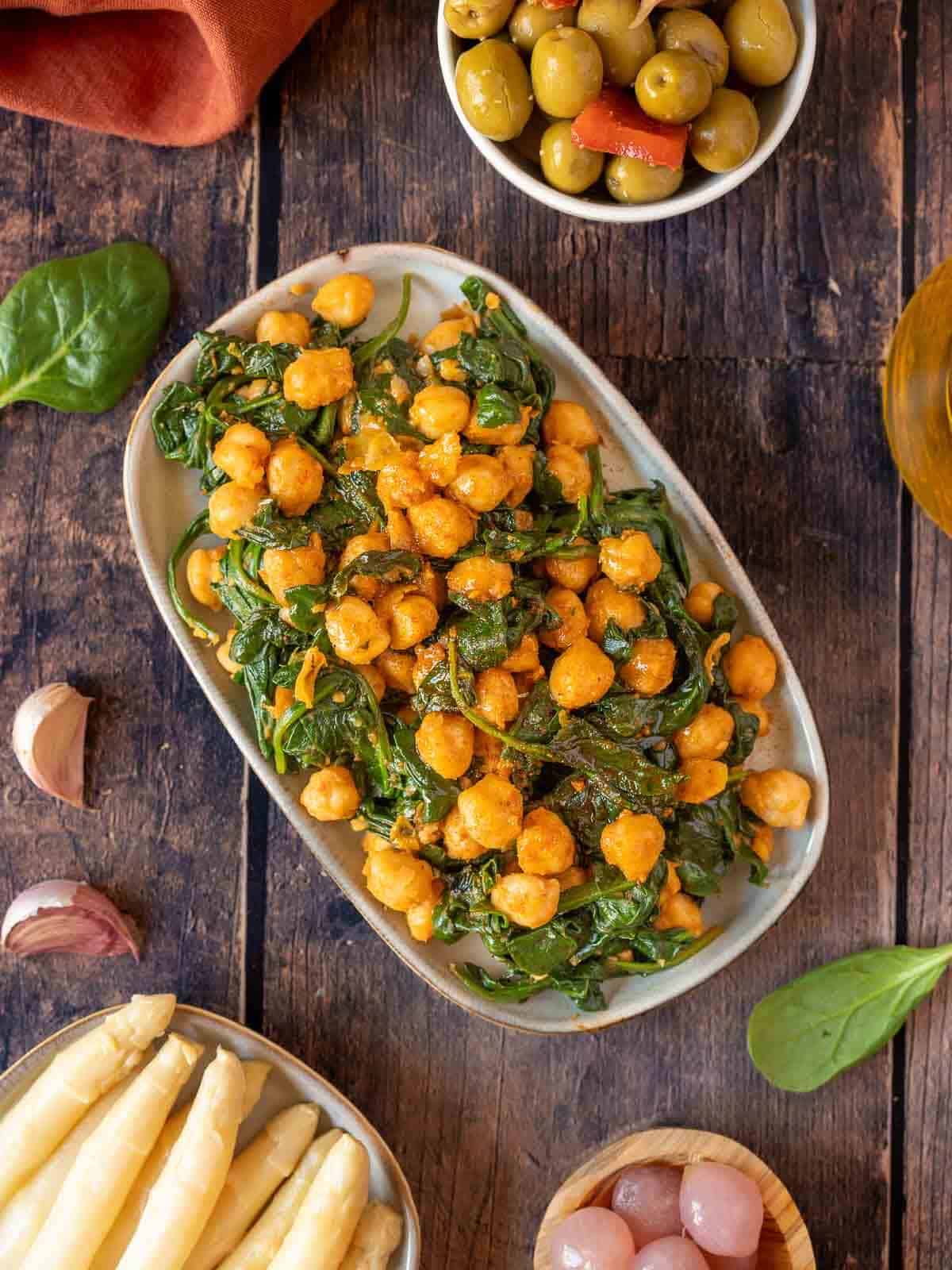 This must-try dish is packed with protein, fiber, and nutrients, making it a great option for a vegetarian or vegan meal.
Moreover, it's effortless and quick to make at home, taking only 30 minutes to prepare and serve.
This Spanish spinach and chickpeas recipe is highly customizable, so feel free to experiment with different Mediterranean spices and herbs to suit your taste.
Although here in Spain, this traditional dish is served as a tapa (the Spanish word for an appetizer or small dishes like tortilla española, served while you a caña (beer) or drinks) tapa that can be served as a side dish or as a full meal or main course to your weekly rotation of healthy meals.
The dish is a well-balanced treat, as it features high-protein chickpeas with super nutritional spinach, minimal oil, and flavored with non-caloric spices boosting a flavorful yet simple meal.
Jump to:
🧾 Key ingredients
This chickpeas with spinach recipe is made with just a few delicious ingredients.
Chickpeas - (garbanzo beans) add tons of protein and a creamy texture.
Spinach - adds a delicious, earthy flavor to any dish.
Garlic - adds a flavor kick to bring up all the flavors of the chickpeas.
Ground cumin - adds a delicious flavor and aroma to the dish.
Extra virgin olive oil - adds a delicious flavor to this chickpea stew. Try using a good quality, aromatic one.
Tomato - adds acidity and flavor while helping to blend nicely with the rest of the spices.
Smoked paprika - adds a distinctive Spanish cuisine flavor.
Hot paprika - brings a spicy note to this awesome recipe.
Optional ingredients
Sherry vinegar - adds a mild acidity to the dish.
See the recipe card for quantities.
🔪 Instructions
This extremely easy dish involves 3 simple steps and is made in one pot.
Stir frying the garlic with the spices.
Adding the chickpea and spinach to the saucepan.
Adjusting the seasoning.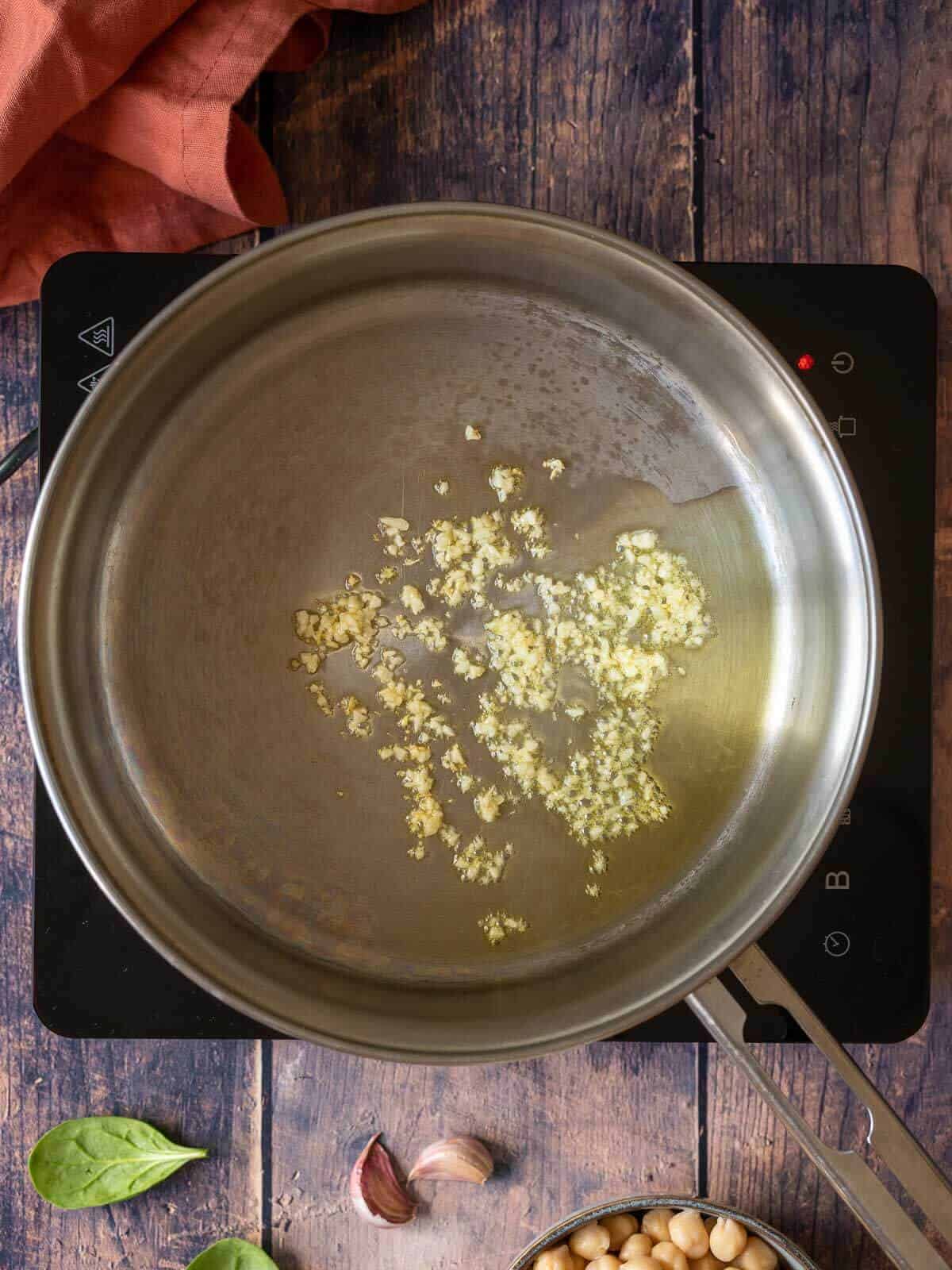 Stir fry the garlic in olive oil on medium heat.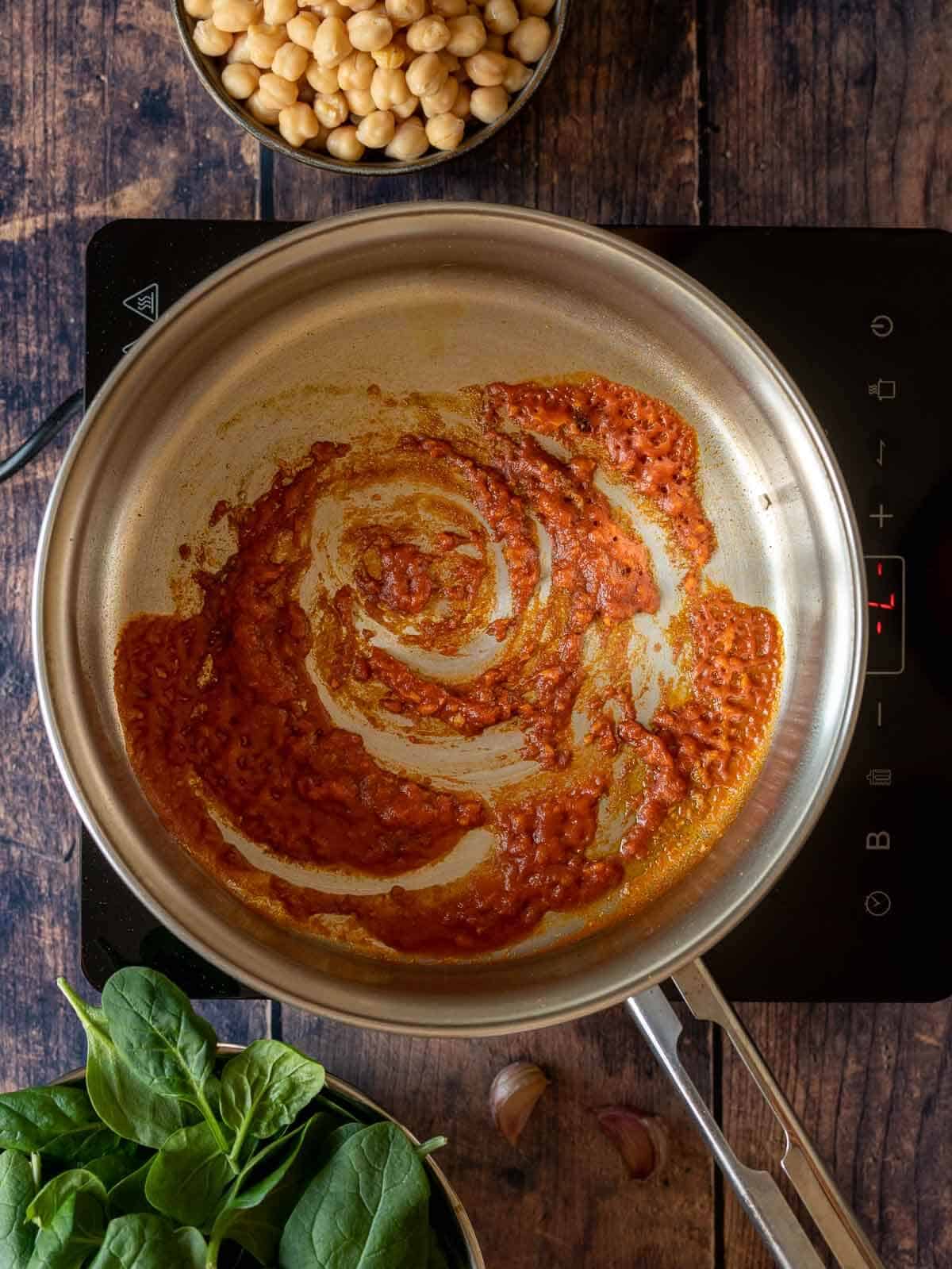 Add the ground cumin and paprika, and stir in the tomato paste or puree.
Hint: to make this recipe oil-free, skip the olive oil and stir-fry the garlic with a tablespoon of cold water. Don't let it burn.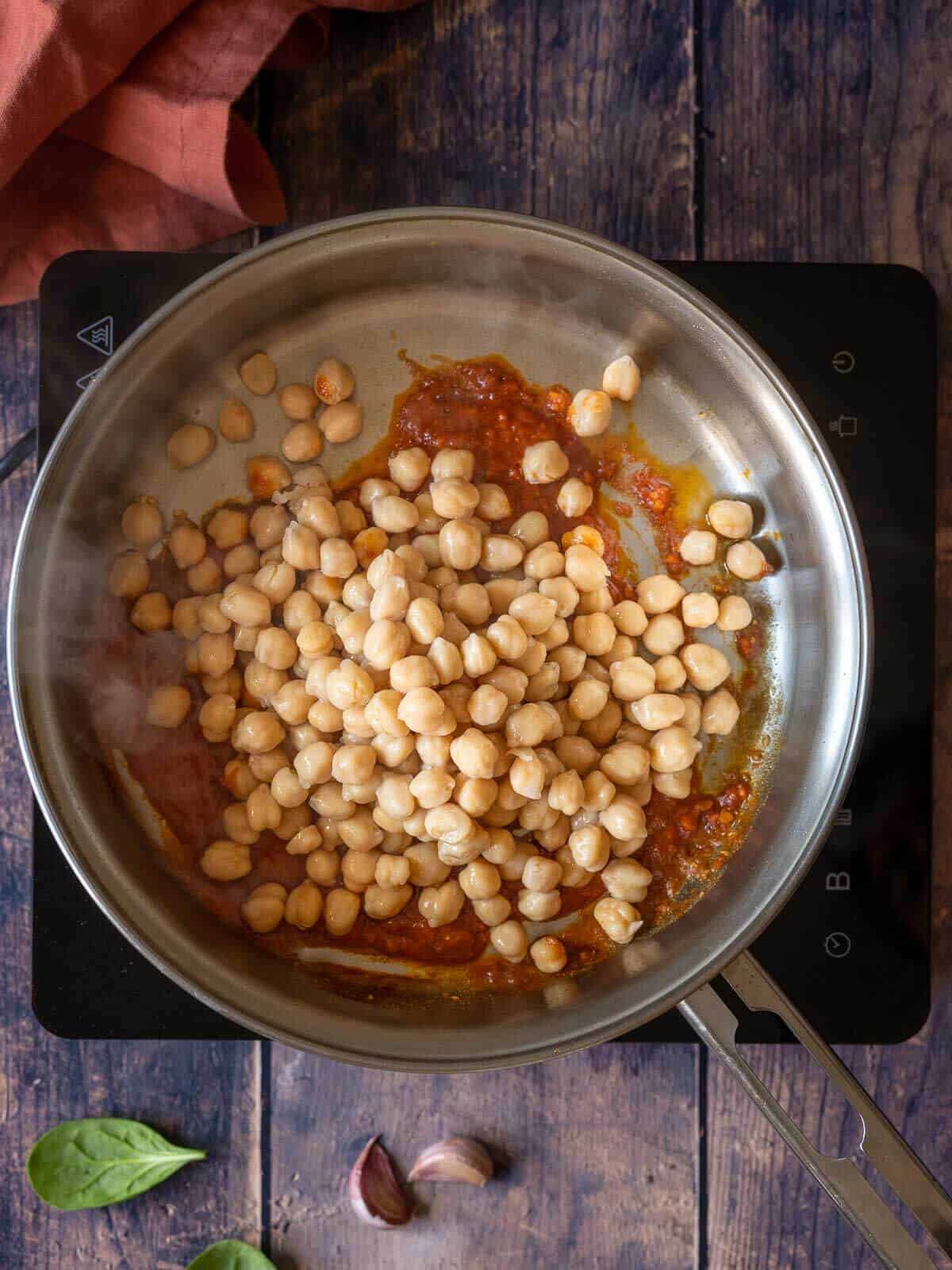 Add the drained canned chickpeas.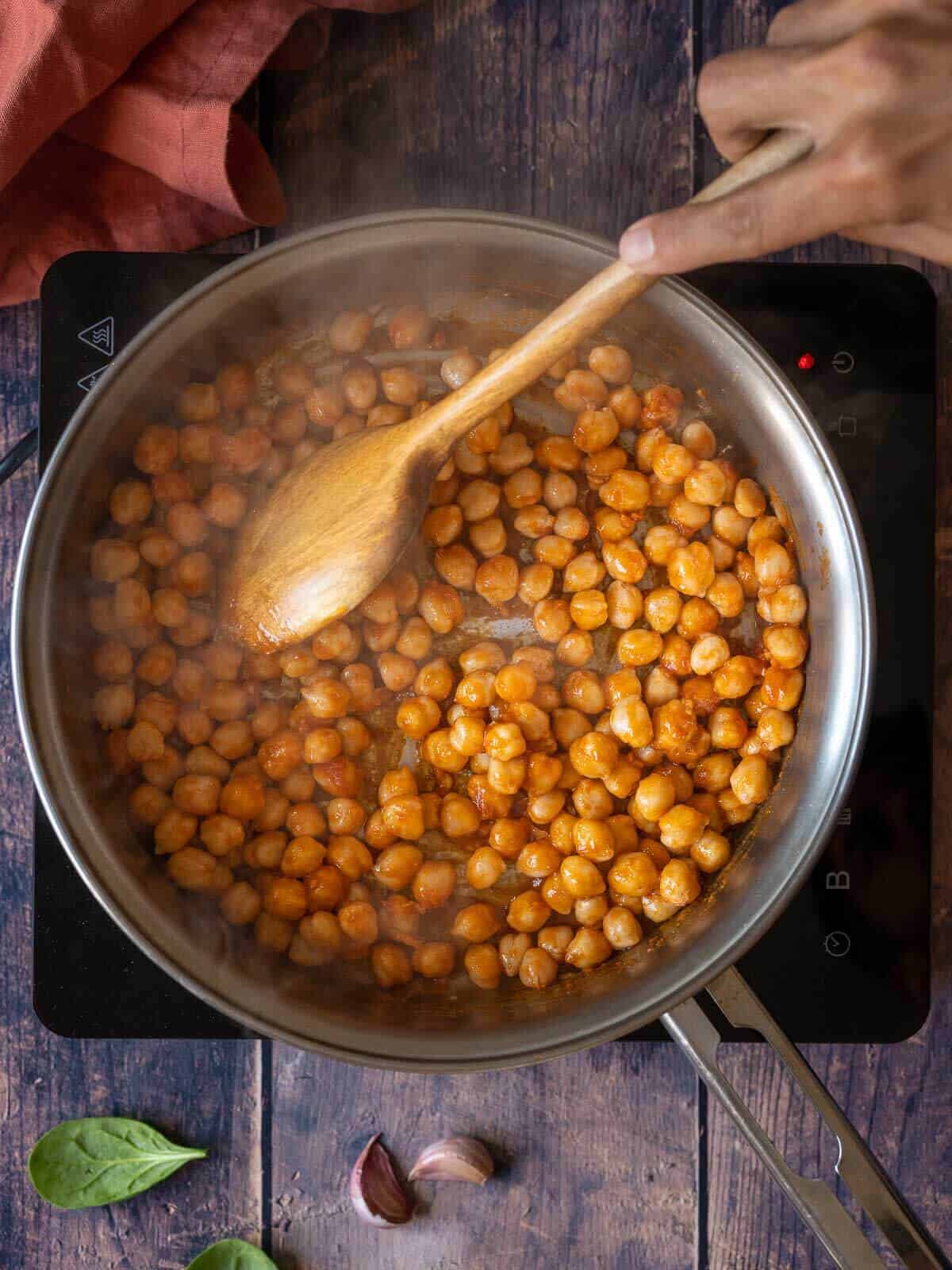 Stir until the chickpeas are evenly coated with the tomato and spices mix.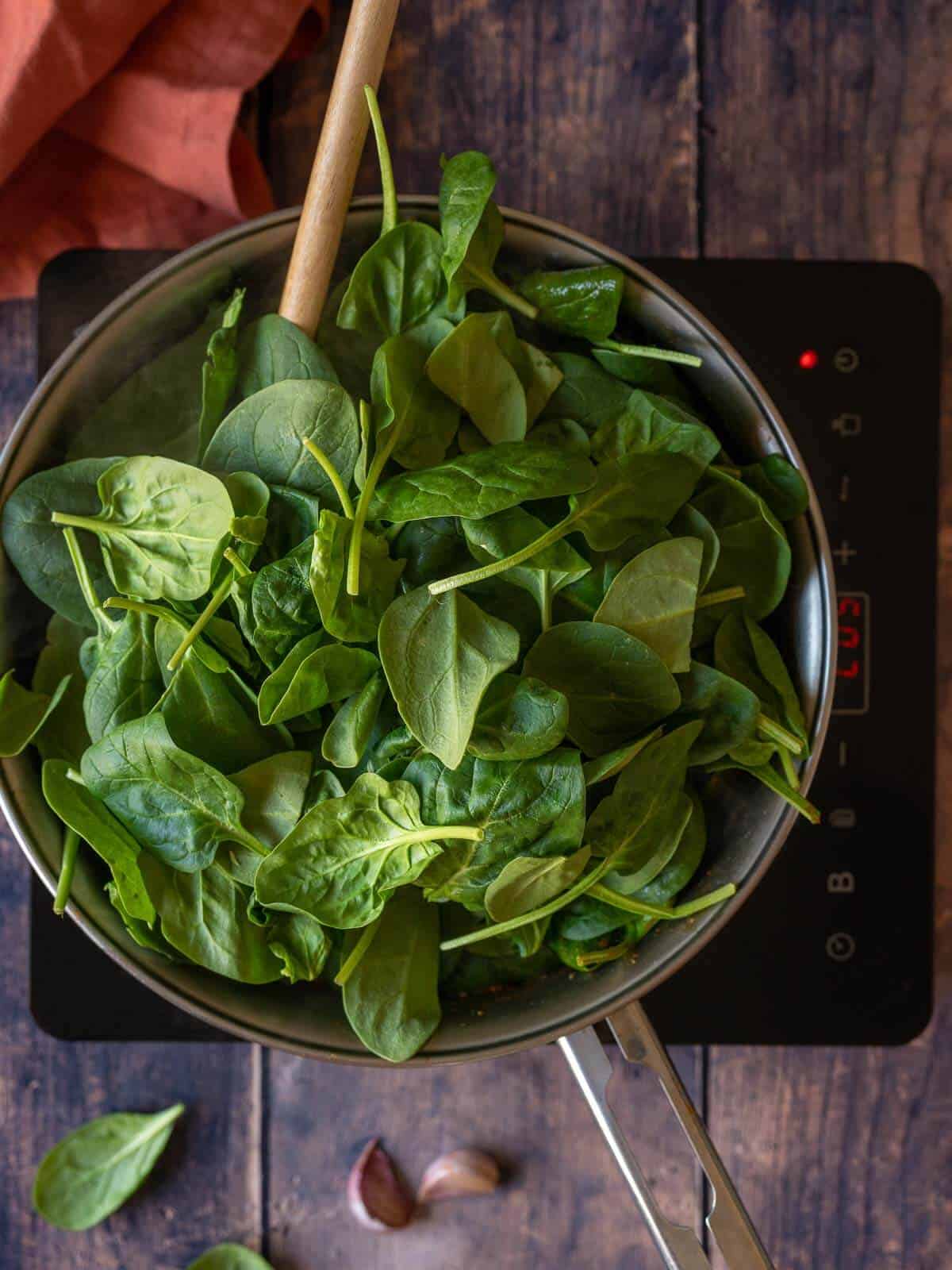 Add spinach and stir carefully.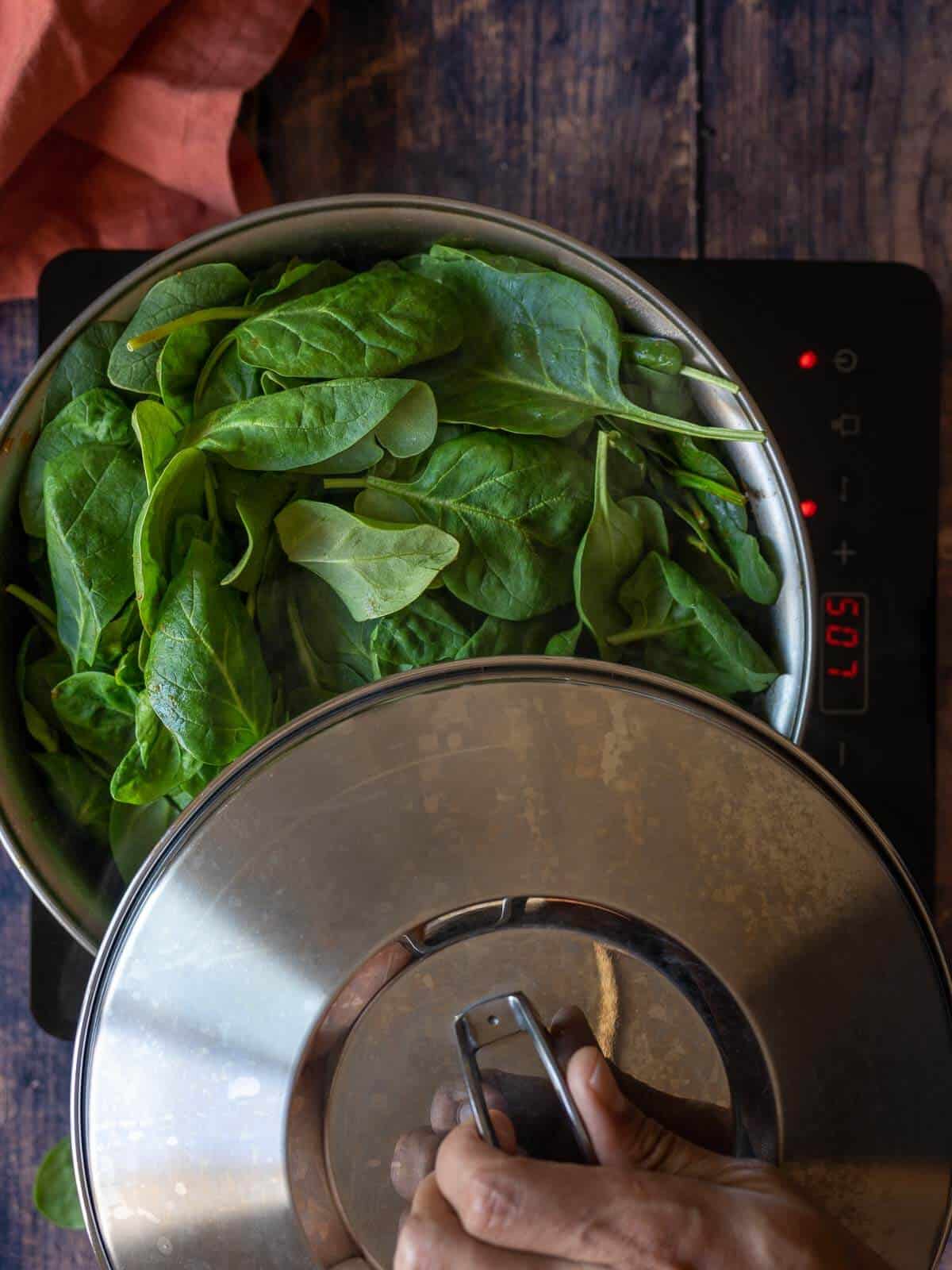 Put a lid on so the spinach wilts.
Hint: you may need to stir in the spinach separated in 2 or 3 batches, depending on how large is the saucepan you are using. Simply put a lid on, wait 1-2 minutes until slightly wilted, and continue adding the spinach.
💡 If you feel like the water from the spinach isn't enough to prevent them from sticking, add 1-2 tablespoons of water at a time.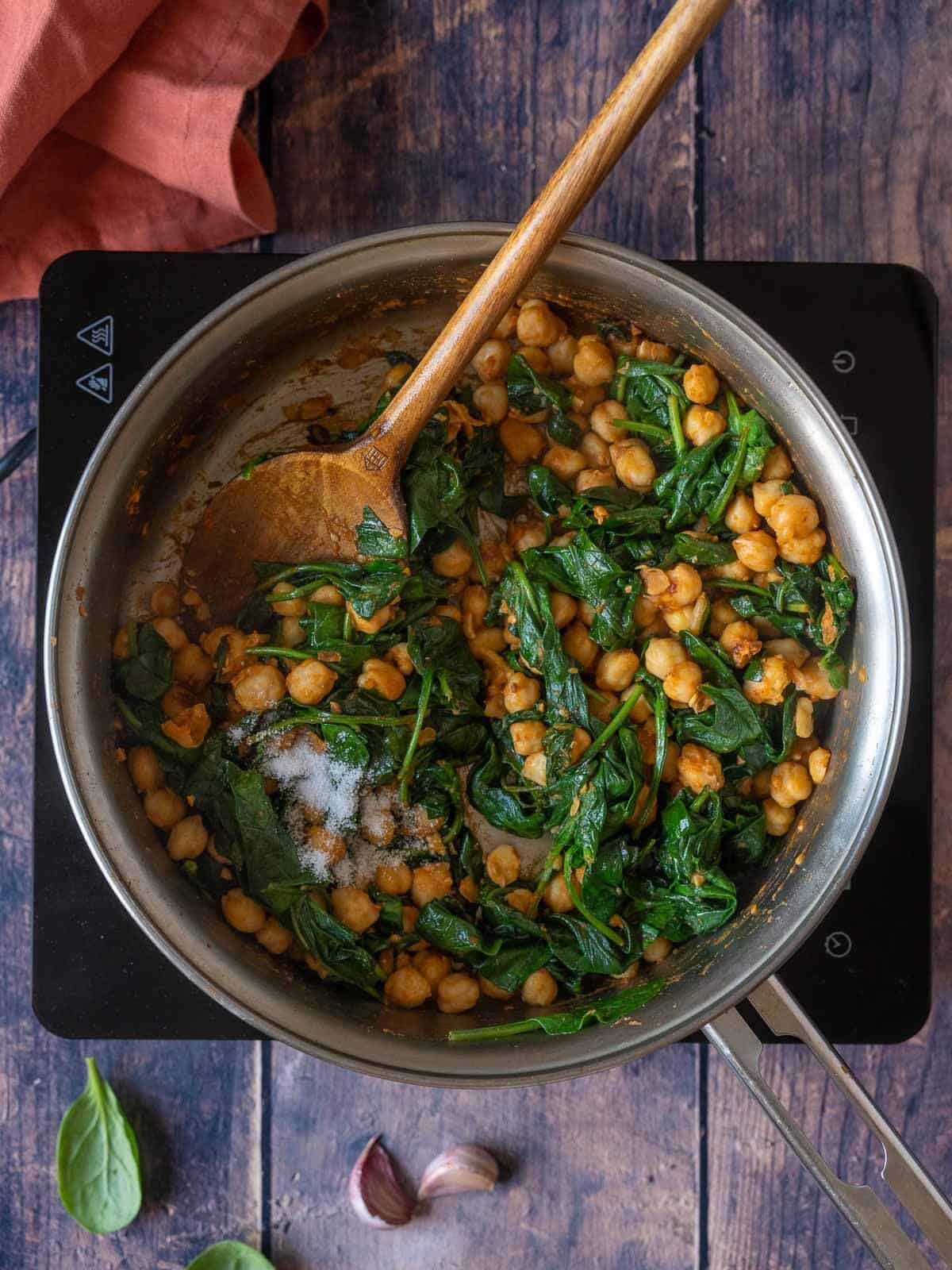 Scrape the bottom of the pan with a wooden spoon. Add one or two tablespoons of water—salt, and pepper.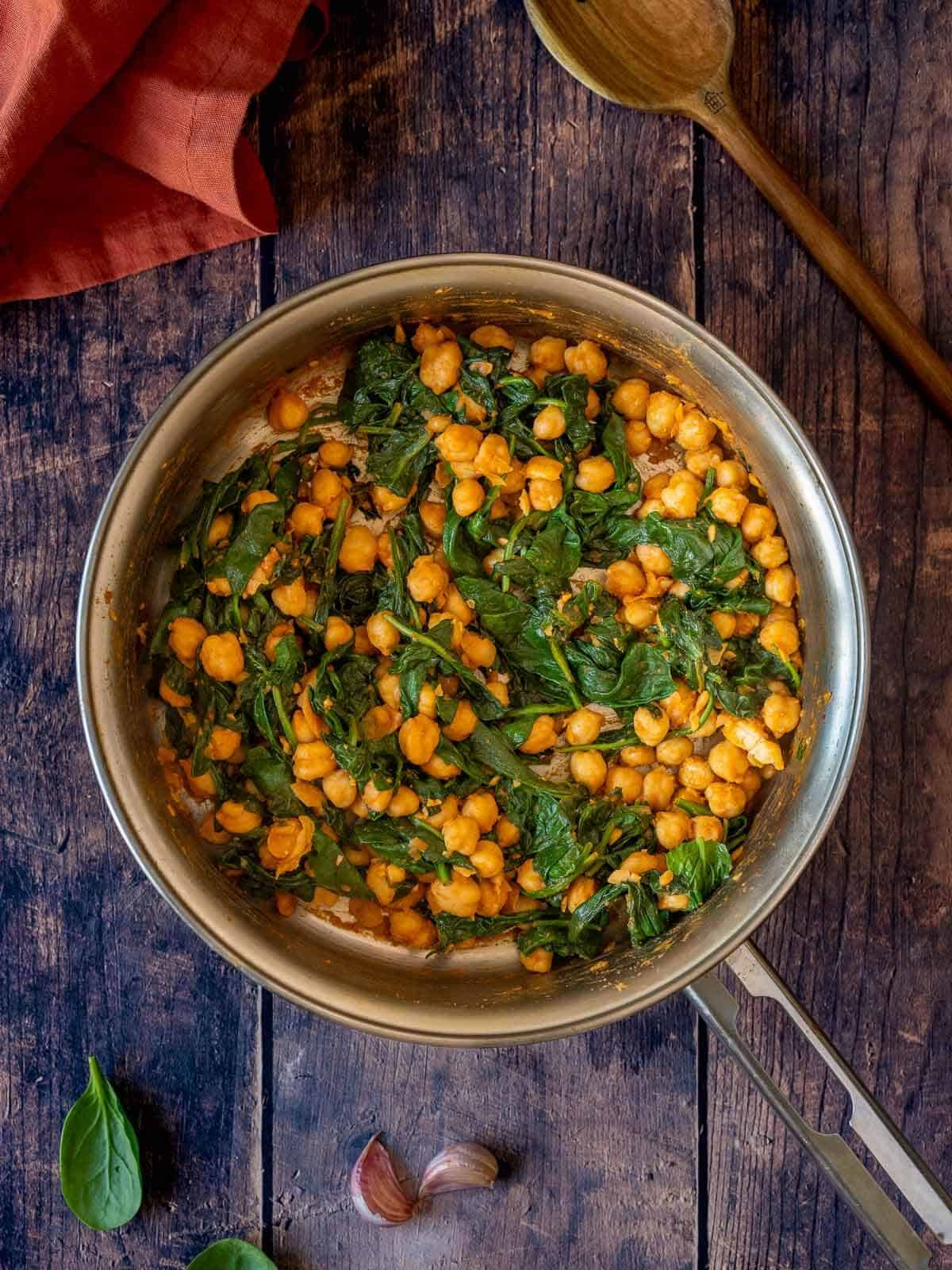 Taste, adjust, and remove from heat.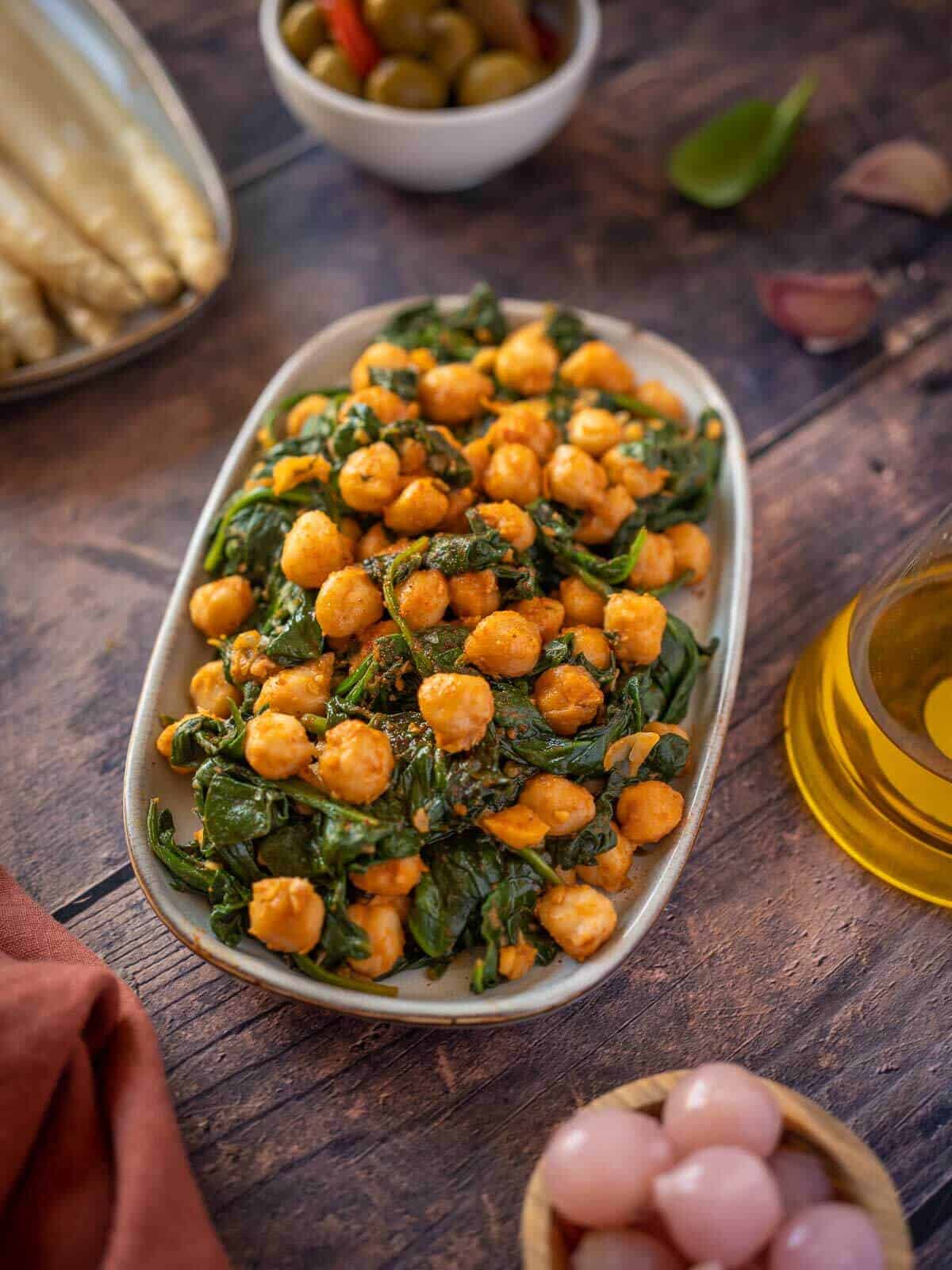 🥢 How to serve
Serve with optional extra olive oil when ready to plate, and sprinkle sweet or spicy smoked paprika on top.
Optionally, serve with a wedge of lemon juice to be added on top.
Serve next with other Spanish tapas like Andalusian Gazpacho, Watermelon Rind Soup, and the Catalonian Escalivada, made with eggplants and red bell peppers.
We like serving this naturally vegan chickpea recipe with crusty bread (like artisan bread) and next to other tapas and small dishes like broken olives (aceitunas partidas), spiced onions, and white asparagus.
💡 Top tip
Don't over-mix the chickpeas; they could become soggy and become a paste. You want the garbanzo beans to keep their texture.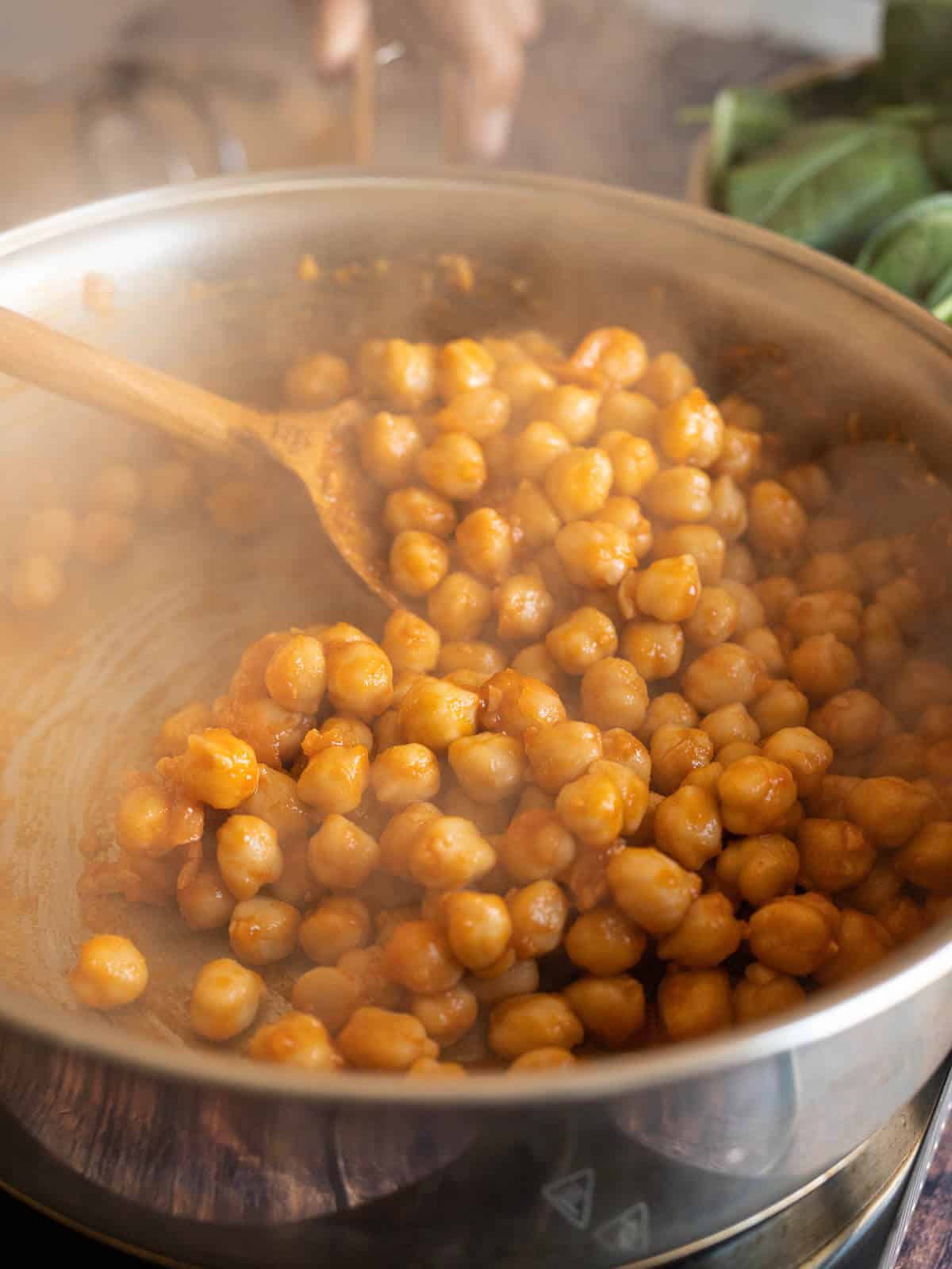 🍶 Substitutions
Fresh spinach - you may use frozen spinach if you can't find fresh baby spinach, but aim for fresh, as the dish's flavor will change slightly. This dish relies on two main ingredients and is better if you use the best quality and fresh.
Cooked chickpeas - we love chickpeas and use them a lot. So we always prefer cooking our own dried beans and keeping batches to use in hummus or chickpea curries, but you can also use garbanzo beans jars. Aim for chickpeas that don't have any preservatives; the can's ingredients should read chickpeas and water, nothing else.
Tomato sauce - you can use tomato paste for a more intense flavor or even canned diced tomatoes.
Hot paprika - you may use cayenne pepper instead.
Sherry vinegar - use red wine vinegar instead.
No oil - to make this dressing compliant with a WFPB diet, you can substitute oil with aquafaba, or chickpeas water or simply leave the oil out.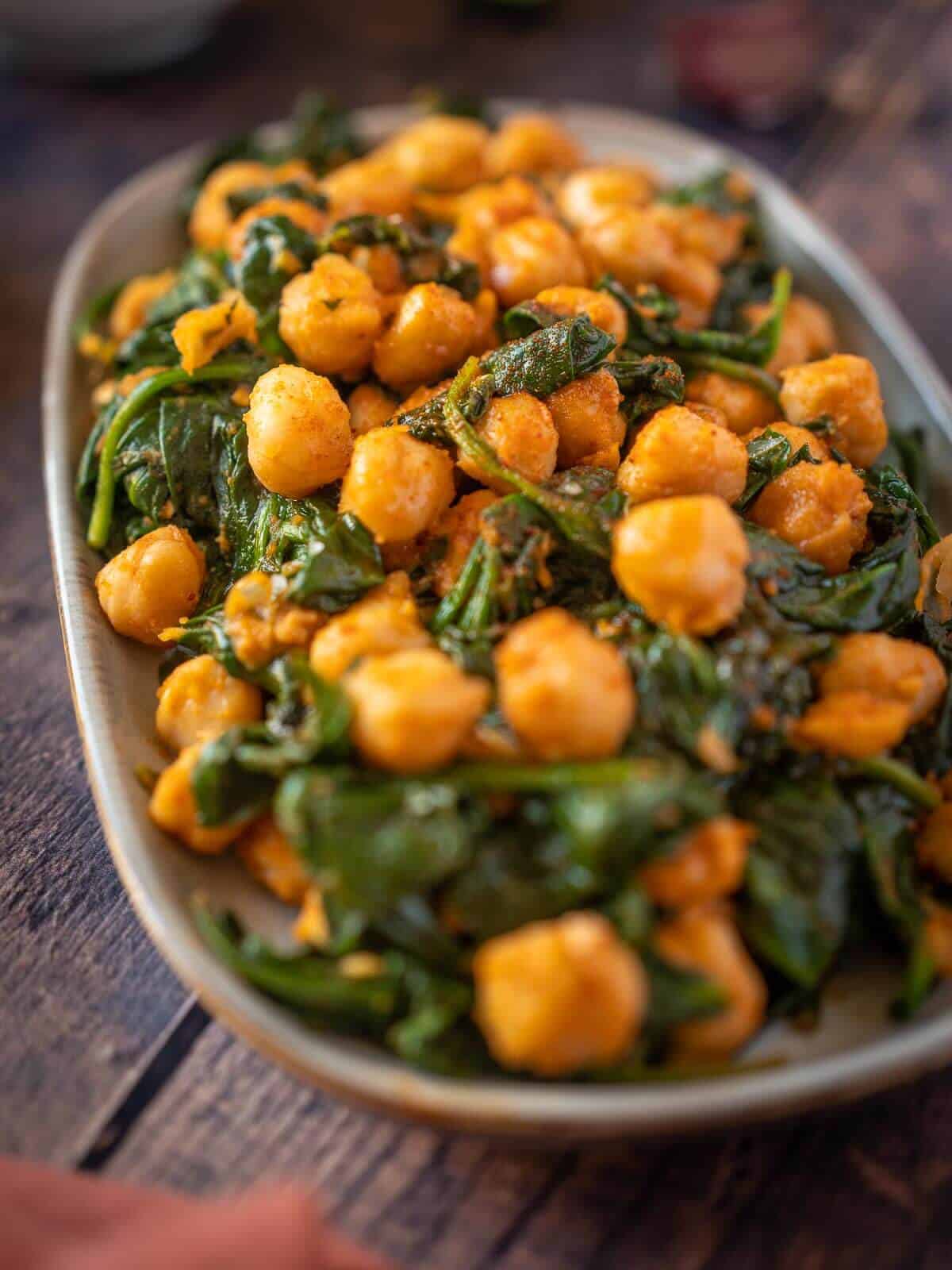 📖 Variations
Needless to say that the following variations are not traditional, simply a few modifications to try this simple chickpea stew in different ways.
Add croutons or bread crumbs during the last step to make the recipe a little crunch.
You can add some tartness to the dish by serving it with dried cranberries and toasted almonds on top.
For a complete spin-off of this recipe, you can make an Indian-inspired version, substituting the same amount of added spices for ground garam masala. It also tastes amazing!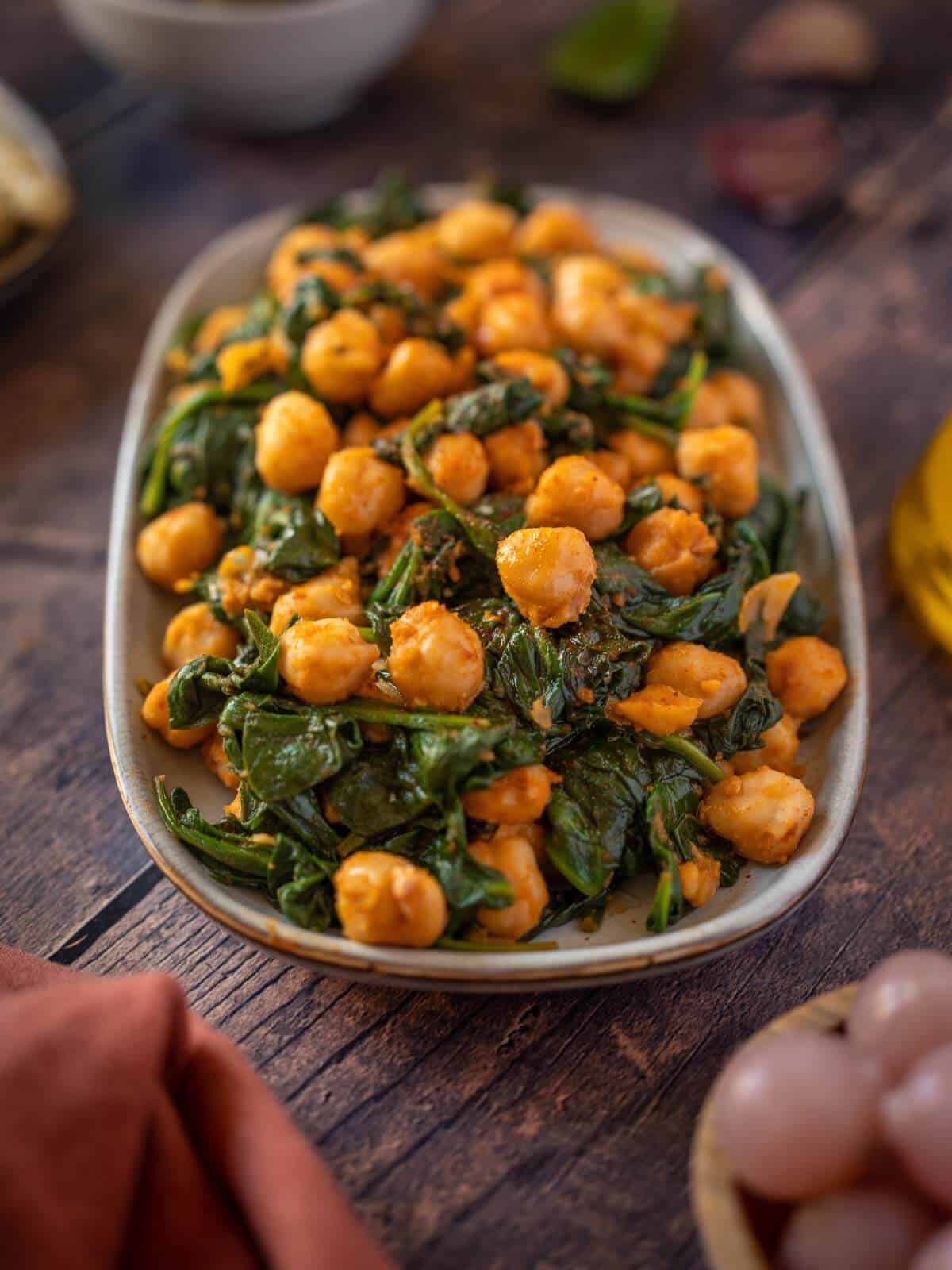 🍽 Equipment
Large saucepan - you only need a large saucepan to stir in all the ingredients with a wooden spoon.
🥡 Storage
Store this spinach and chickpeas recipe in a BPA-free (affiliate link), tightly sealed container in the fridge for up to 3 days.
I don't recommend freezing this stew, as the spinach texture will change, but if you don't have an option, you can totally do it. Store for up to three months, and then let it thaw in the fridge overnight.
📚 More chickpeas recipes
Another Spanish-inspired and highly proteic dish is our saffron garbanzo beans stew; it is super easy to make and can make an easy lunch.
For something fresher, go for a chickpea salad with avocado, an ideal vegan Summertime dish, or make a fantastic crispy oven-roasted chickpea snack in less than 30 minutes.
Make a fantastic healthy vegan burger with chickpeas and celery.
We all know chickpeas because it makes great falafels and Lebanese hummus, but you can also play around and make roasted peppers hummus, pumpkin hummus, or avocado hummus.
❓ FAQ
What are the origins of Espinacas with garbanzos?
Espinacas con garbanzos, a traditional tapa in Seville, is particularly favored during the chilly winter months and lent. However, the origins of this dish go beyond Andalusia.
Spinach, originally from Ancient Persia (modern Iran), was introduced to the Mediterranean by Arab traders. By the end of the 12th century, spinach had become a well-liked vegetable in Spain and was a key ingredient in Moorish and Sephardic Jewish cuisine.
Similarly, chickpeas, also known as garbanzos, originated from the Middle East and were brought to the Spanish kitchen by the Phoenicians. Chickpeas are essential to Spanish cuisine and play a primary role in many popular Spanish dishes, including the delectable Cocido Madrileño.
⭐ If you try this Spinach and Chickpeas Spanish recipe, let us know! 💬 Leave a comment, rate it, and don't forget to tag us @ourplantbasedworld on Instagram. Cheers!
📋 Recipe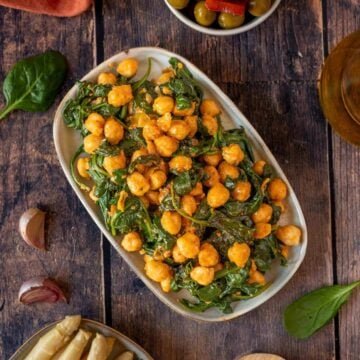 Sautéed Chickpeas with Spinach - Spanish Recipe
Try this delicious Spanish Tapa recipe for Sautéed Chickpeas with Spinach! Enjoy the perfect blend of flavors as chickpeas are sautéed with fresh spinach and a variety of aromatic herbs and spices. This quick and easy dish is perfect as a healthy appetizer or a light meal.
Equipment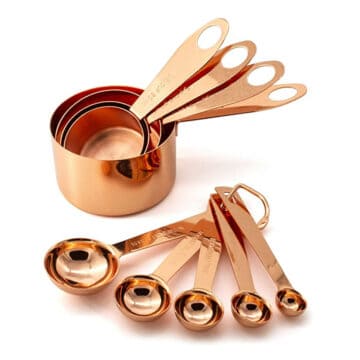 (affiliate link)
Ingredients
Optional
pinch

hot paprika

more to serve

¼

cup

tomato sauce

or tomato paste

¼

teaspoon

sherry vinegar

1

tablespoons

parsley

chopped
Directions
Sautée the chopped garlic and optional parsley with olive oil in a large saucepan on medium heat.

Stir in the spices. Cumin, tomato puree, smoked and sweet paprika, and stir fry for 2 minutes.

Add the drained chickpeas, mix, and coat them well.

Stir in the fresh spinach, mix and place a lid on top and leave it on for 2-3 minutes until the spinach is slightly wilted and you can stir it well.

You may need to stir in the spinach separated into 2 or 3 batches, depending on how large is the saucepan you are using. Simply put a lid on, wait 1-2 minutes until it is slightly wilted, and continue adding the spinach.

Adjust the seasoning with salt and pepper and add the optional sherry vinegar and remaining olive oil.

Serve. Once plated, drizzle a swirl of extra virgin olive oil on top of each dish, then sprinkle a small amount of smoked Spanish paprika.
Notes
You could also soak and cook chickpeas for a more wholesome meal, but good quality canned beans are almost as good as it's true for hummus and other garbanzo beans-based dishes.
The recipe serves 3-4 tapas, as usually served here in Spain, or 2 main and complete meals.
Nutrition Facts
Calories:
301
kcal
Carbohydrates:
44
g
Protein:
15
g
Fat:
9
g
Saturated Fat:
1
g
Polyunsaturated Fat:
2
g
Monounsaturated Fat:
4
g
Sodium:
555
mg
Potassium:
917
mg
Fiber:
13
g
Sugar:
8
g
Vitamin A:
7384
IU
Vitamin C:
25
mg
Calcium:
155
mg
Iron:
7
mg
Nutrition Facts
Sautéed Chickpeas with Spinach - Spanish Recipe
Amount per Serving
% Daily Value*
* Percent Daily Values are based on a 2000 calorie diet.
🌡️ Food safety
Cook to a minimum temperature of 165 °F (74 °C)
Do not use the same utensils on cooked food, that previously touched raw meat
Wash hands after touching raw meat
Don't leave food sitting out at room temperature for extended periods
Never leave cooking food unattended
Use oils with a high smoking point to avoid harmful compounds
Always have good ventilation when using a gas stove
See more guidelines at USDA.gov.
Nutritional Disclaimer
The information shown is an estimate provided by an online nutrition calculator. It should not be considered a substitute for a professional nutritionist's advice. See our full Nutritional Disclosure here.
Affiliate Disclaimer
Please note that some of the links here are affiliate links, and I will earn a commission if you purchase through those links. I recommend all of the products listed because they are companies I have found helpful and trustworthy.