This chocolate and nut cake is a healthified version of Roman Christmas cake, typically with a golden crust. It is made with dried and candied fruit in just one bowl.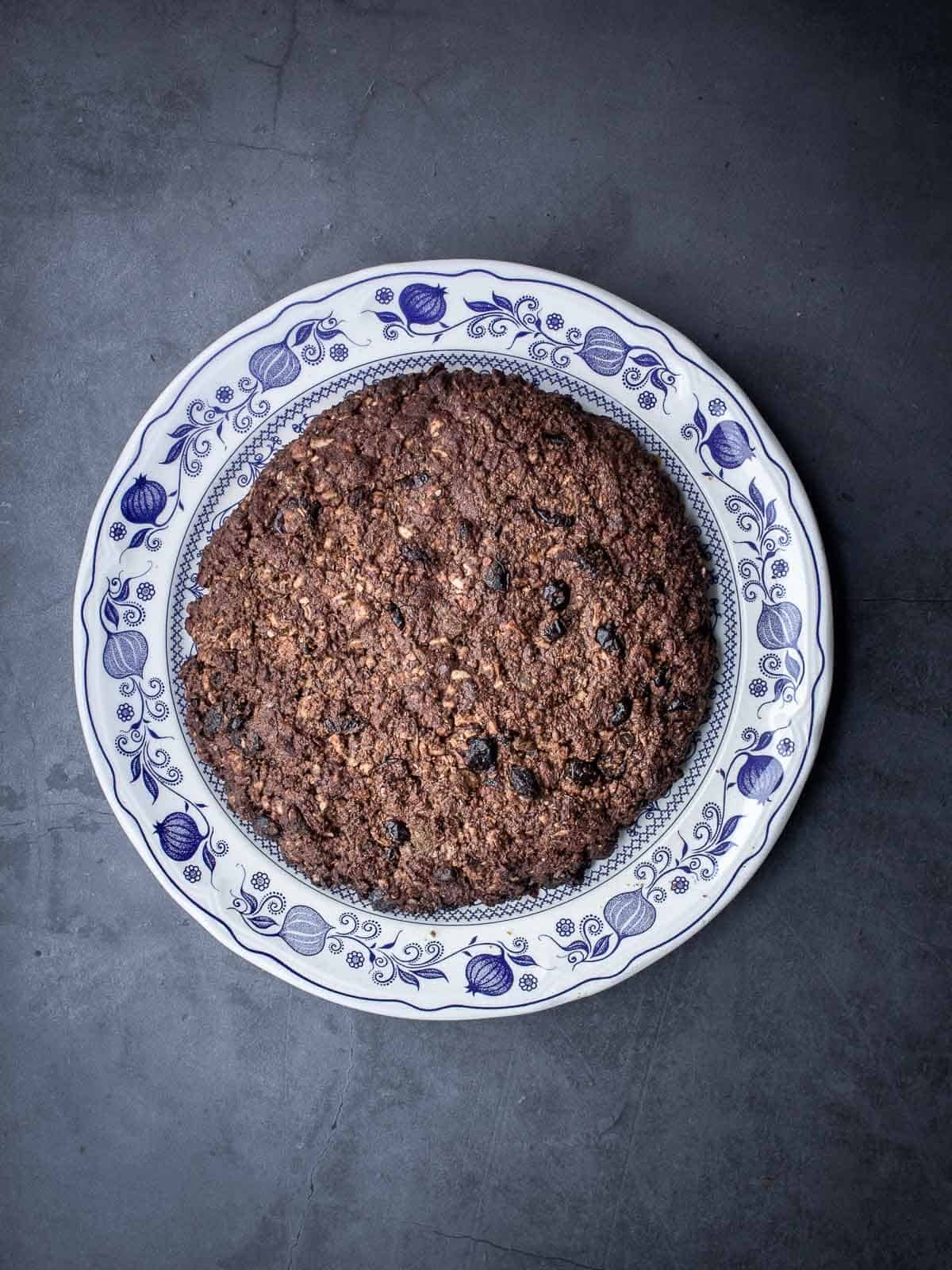 This seasonal recipe reminds me of the Christmas cake we have in Panama, my hometown since it shares some commonalities, such as candied and dry fruits and nuts. However, what makes it very different is the presence of chocolate, honey, and saffron.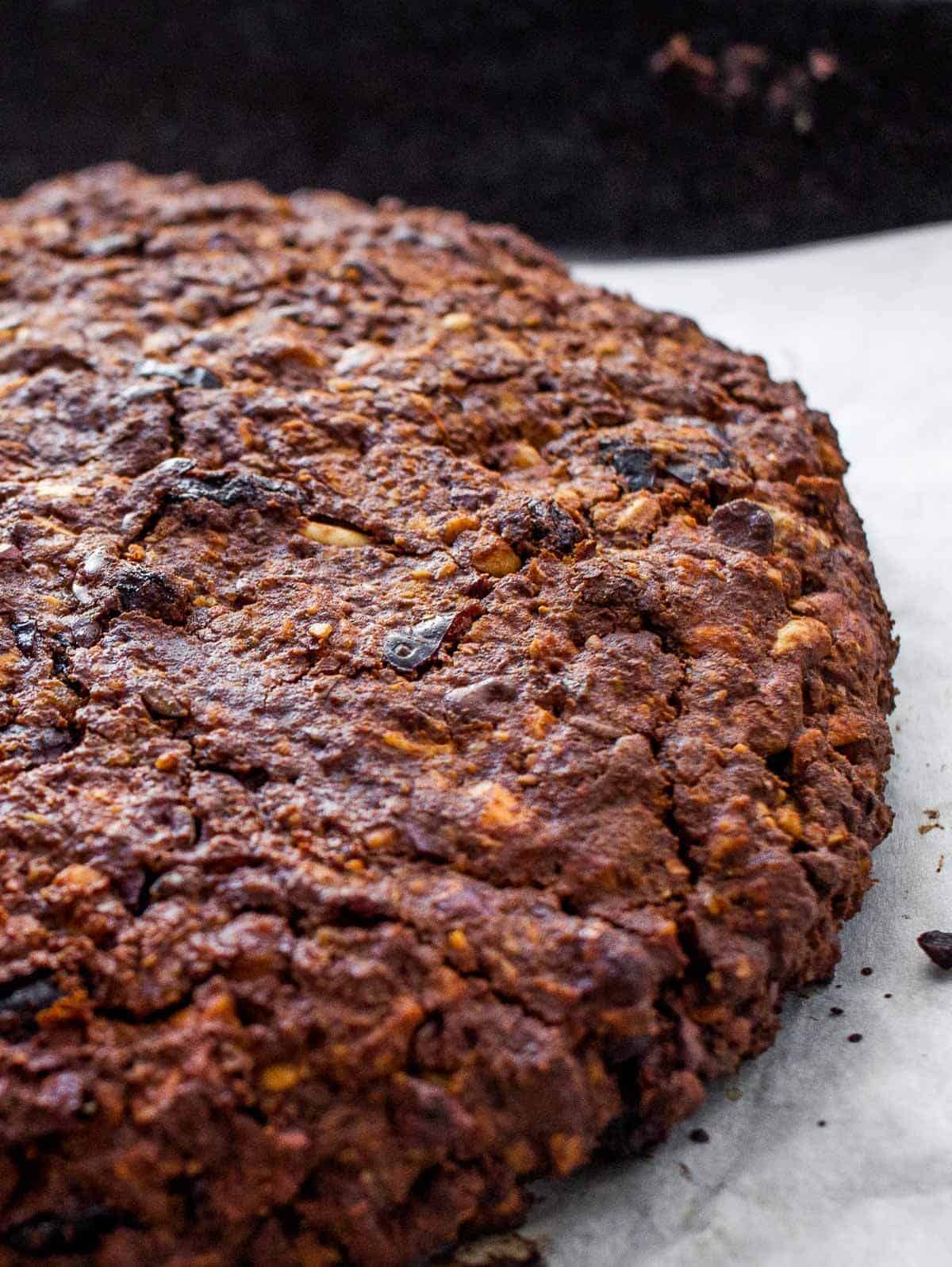 I made two versions: a traditional one, where I only changed the only non-vegan ingredient to make it vegan: Maple Syrup in place of honey.
Jump to:
🧾 Ingredients
We replaced some of the ingredients from the traditional version. For example, we changed some of the raisins for Goji Berries and organic candied ginger. Also, we changed a portion of the chocolate for Organic Cocoa Nibs. Also, I changed the standard all-purpose flour for almond flour. So it resulted in fewer calories and a barely noticeable change in the flavor.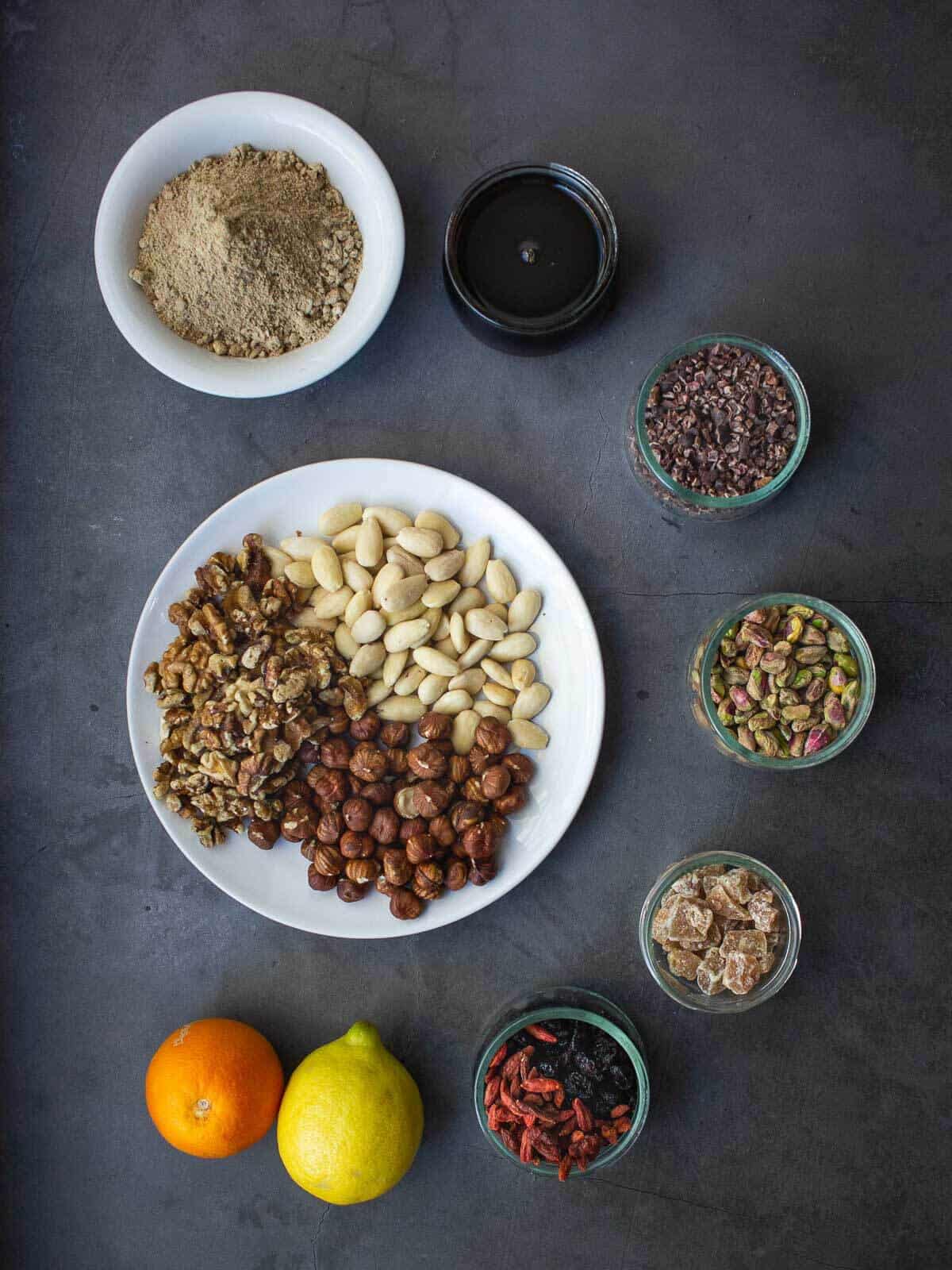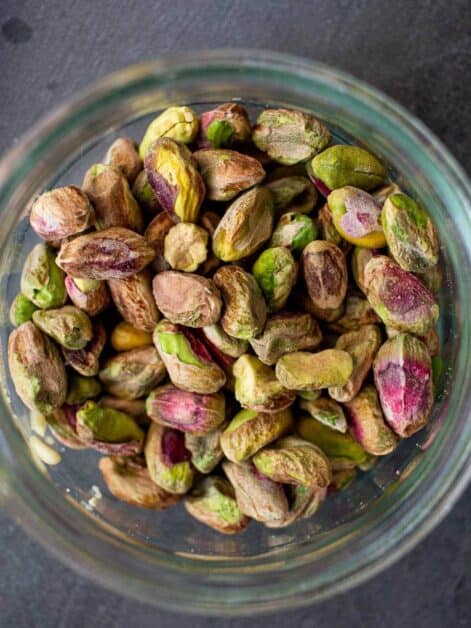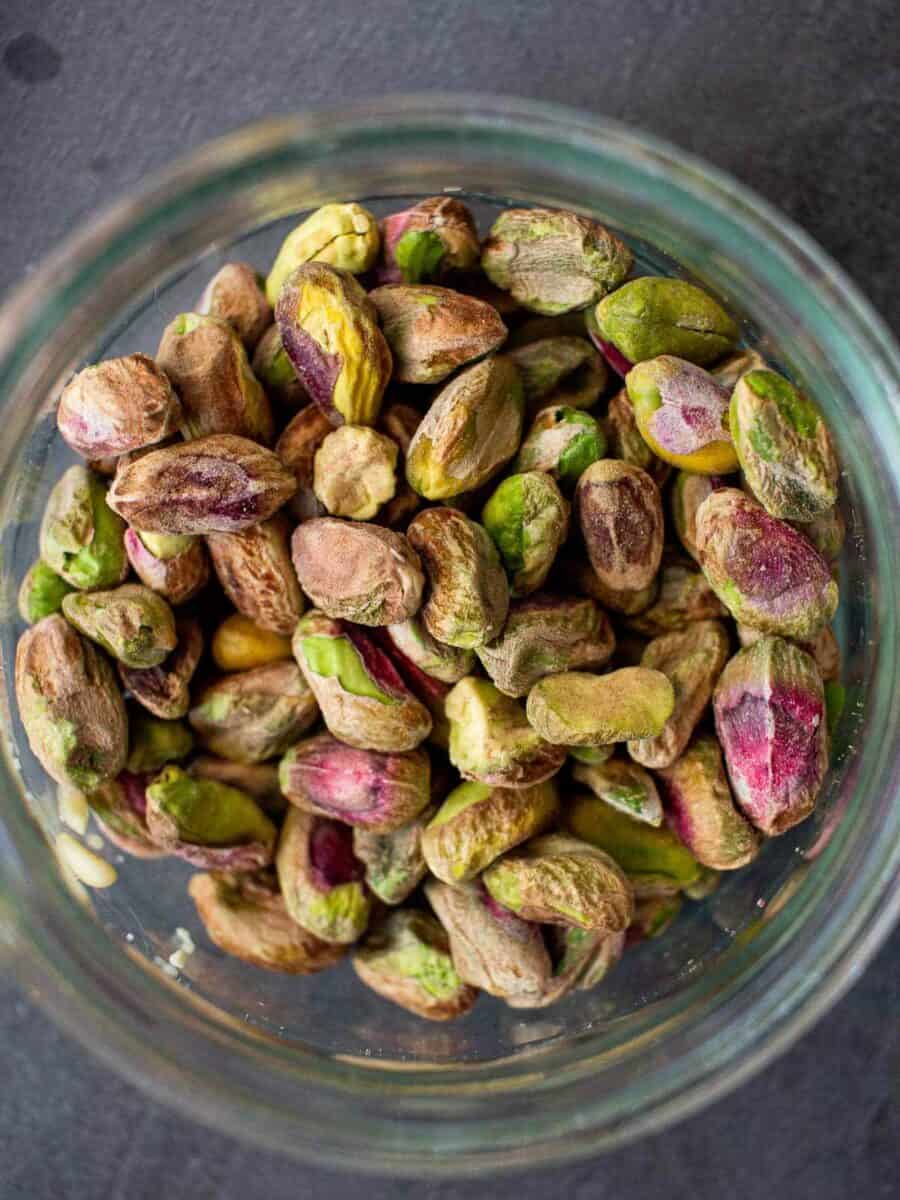 Dark chocolate
Cacao nibs
Dry cherries and/or goji berries
Hazelnuts
Pistachios
Candied ginger
Orange peel
Lemon peel
See quantities and complete instructions in the recipe card.
🔪 Instructions
Mix all the ingredients in a Food Processor.
With your hands, make a thick plate shape on top of parchment paper.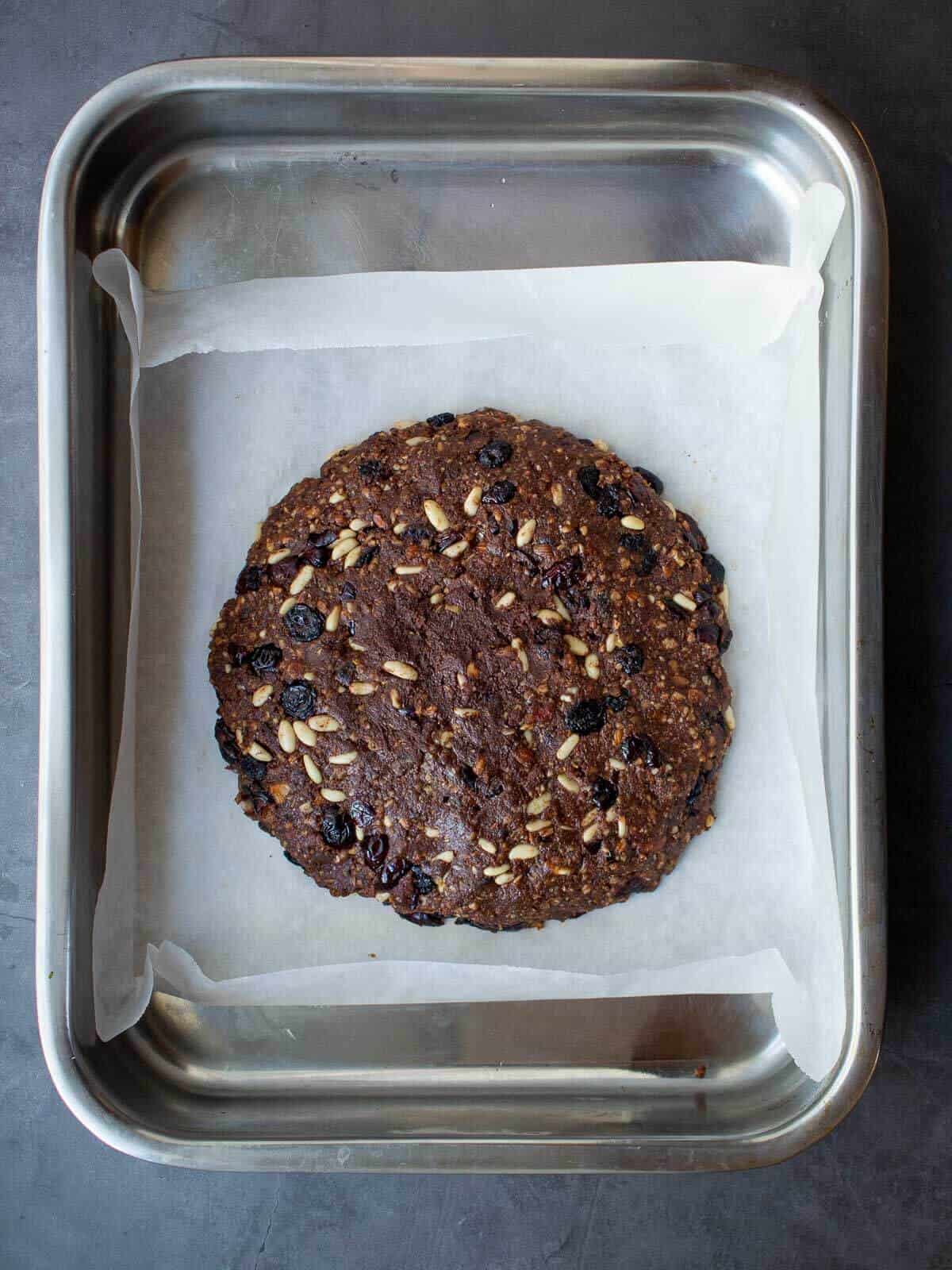 Take it out of the oven after approximately 40 minutes. Done!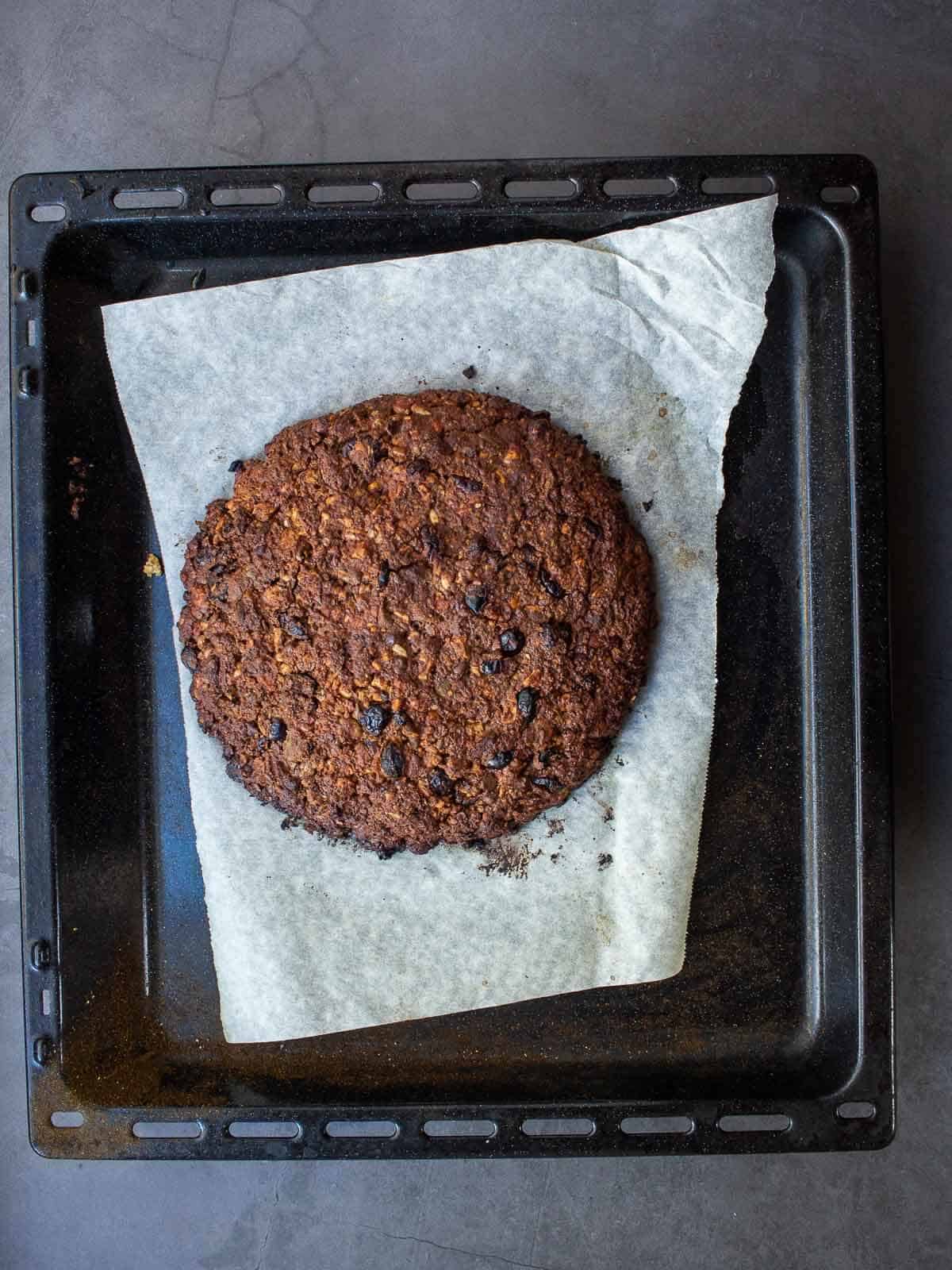 This second version follows the same proportions. I made it a little healthier by changing a couple of ingredients.
🍒 Adding Goji Berries to your diet
According to Medical News Today, There are significant benefits related to adding goji berries to your diet, including: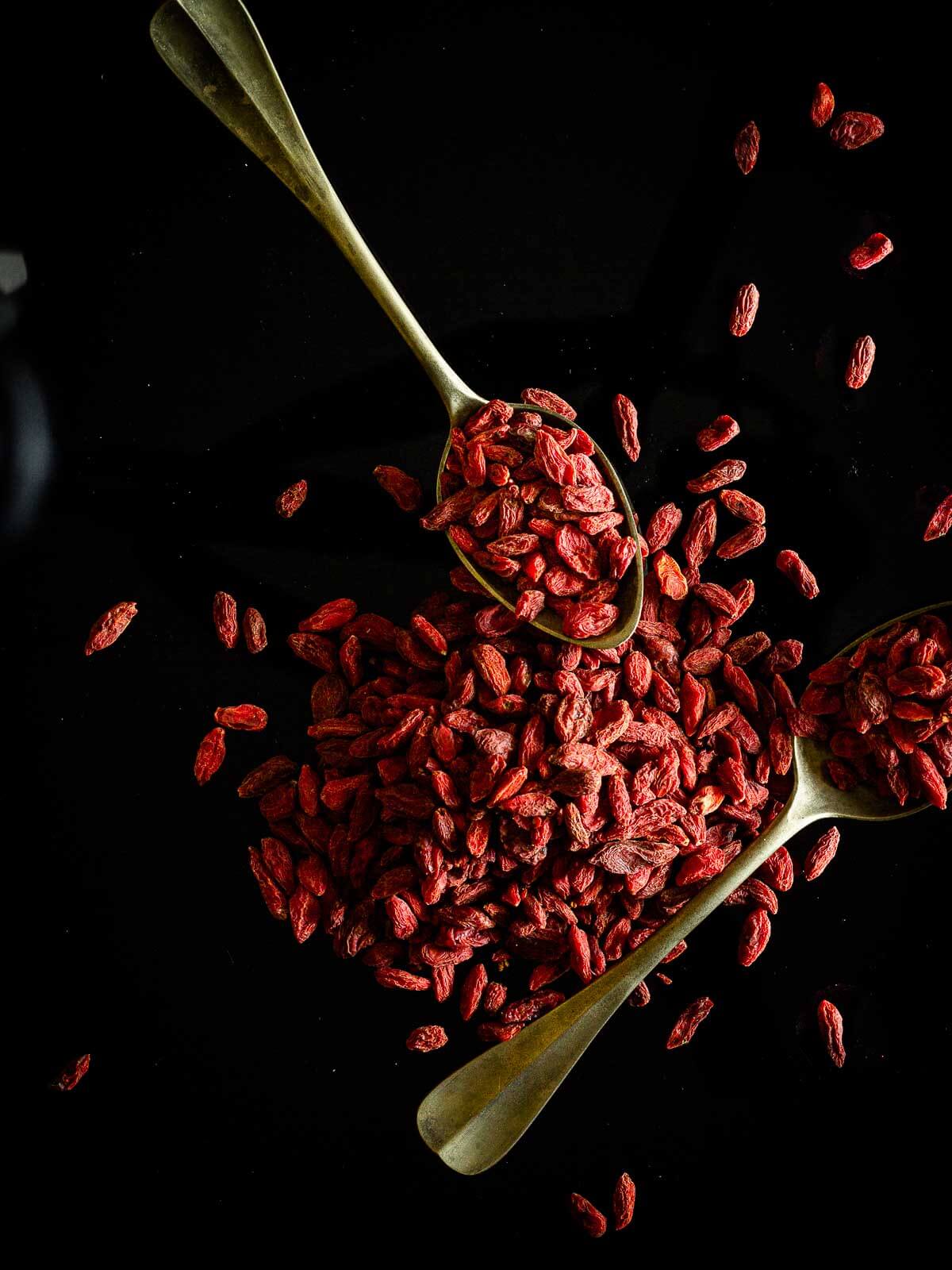 Preventing liver damage
Protecting the eyes
Providing immune system support
Protecting against cancer
Promoting healthy skin
Stabilization of blood sugar
Improvement on depression, anxiety, and sleep.
What about cherries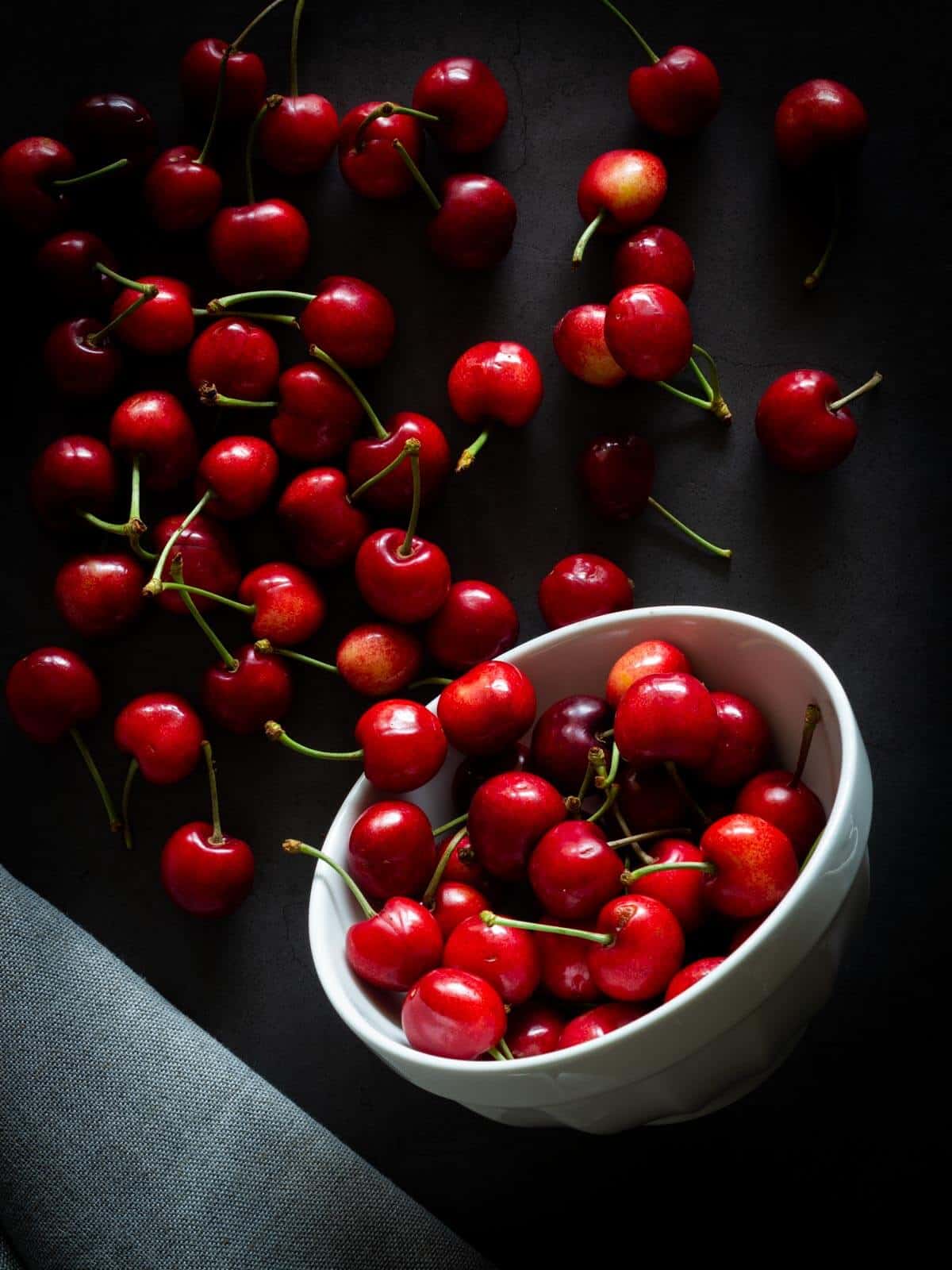 Pangiallo is a rich, spiced cake made with dried fruit, usually containing at least two types of chopped dried cherries.
The cake can be made weeks ahead of time and stored in an airtight container until the holiday season, where it is usually served with a holiday meal or as part of dessert. Recipes vary from family to family, but cherries are a common fruit included in many variations.
Nutritional Benefits of Cherries
Cherries are a great source of vitamin A, B, and C. they contain high amounts of antioxidants that benefit the body by helping to prevent cancer and heart disease. Cherries have been shown to reduce inflammation in the body.
The cherries are also good for dent and swelling in arthritis patients. Other benefits of cherries include healthy bones and teeth while also containing anti-aging properties.
They are good for skin health because they contain antioxidants to help protect the skin from damage caused by free radicals.
Cherries are high in fiber which will lower cholesterol levels and reduce the risk of heart disease. Most importantly cherries can help control blood sugar levels.
Cherries have been found to be good for the urinary tract, bladder and kidneys.
Eating a handful of cherries a day can help prevent kidney stones from forming. They are also helpful in preventing UTIs by flushing out bacteria in the body through urination.
Including more Ginger in your daily routine
As we did in this recipe, we include ginger in our morning juicing because ginger has excellent immune system support and anti-inflammatory properties.
Curious to see the Traditional Pangiallo Romano Recipe?
More Sweet Healthy Options?
Try this super easy, one-pot creamy cardamom rice pudding. For a fresher summery option, check out the vegan berry ice cream or the peanut butter banana ice cream.
🎄 More Holiday season recipes
⭐ If you try this recipe, let us know! 💬 Leave a comment, rate it, and don't forget to tag us @ourplantbasedworld on Instagram. Cheers!
📋 Recipe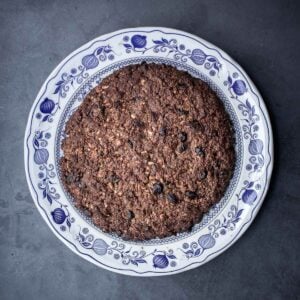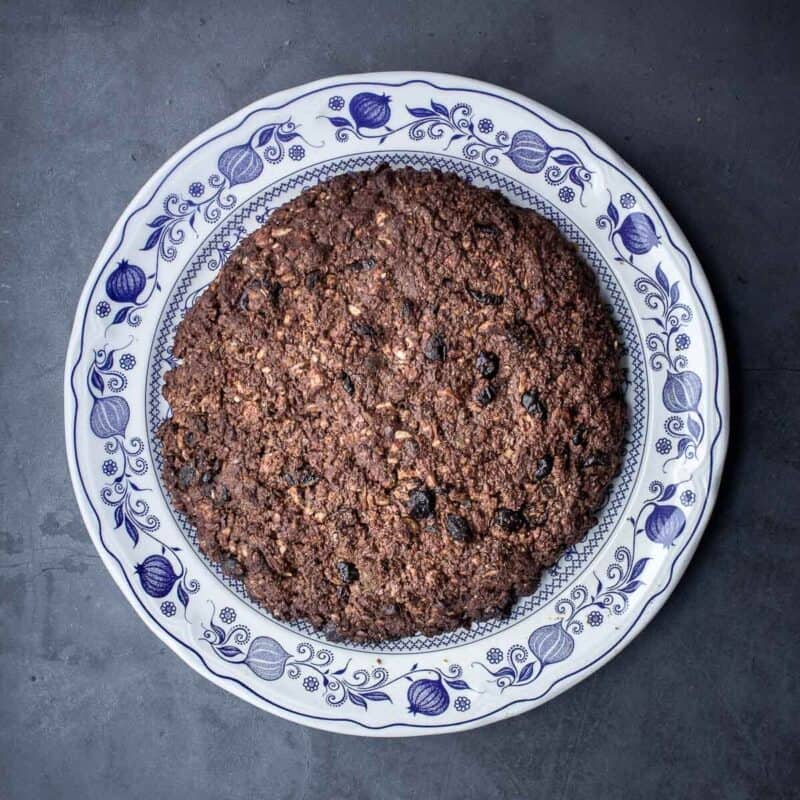 Chocolate and Nut Cake
This is a healthier version of the Traditional Pangiallo, so no yellow crust, less calories.
Equipment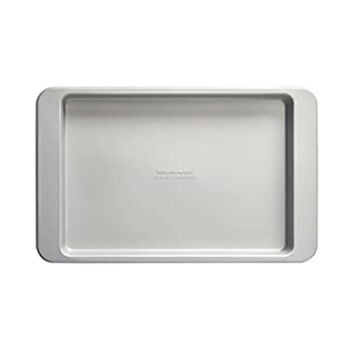 (affiliate link)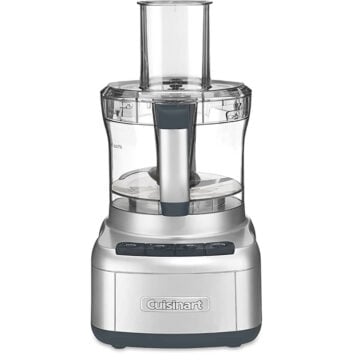 (affiliate link)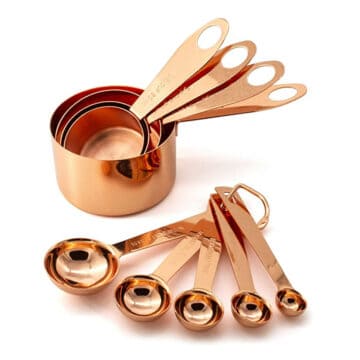 (affiliate link)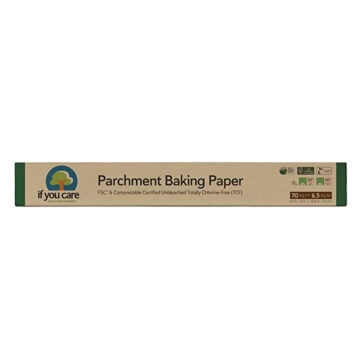 (affiliate link)
Ingredients
2

ounces

dark chocolate

1.5

ounces

cacao nibs

3.5

ounces

maple syrup

3.5

ounces

cherries

dried, and/or goji berries

2.5

ounces

walnuts

2.5

ounces

hazelnuts

2.5

ounces

almonds

2.5

ounces

gluten-free flour

1.5

ounces

pistachios

1.5

ounces

ginger

candied

1

orange peel

1

lemon peel
Directions
Preheat the oven to 350 ºF (175 ºC).

Prepare a tray with parchment paper.

Grind the orange and lemon zest avoiding the bitter white part.

Coarsely chop the almonds, hazelnuts, pistachios and walnuts. I use a blender on minimum speed for 10 seconds.

Mix all the ingredients except the chocolate in a bowl with a spoon.

Melt the chocolate in a water bath or the microwave for 3 minutes.

Add it to the mix using the spoon, and then use your hands as soon the mixture has cooled down (approx 10 seconds).

Mix everything until you obtain a homogeneous mixture.

With floured hands, form a ball and place it on a pan with parchment paper. Flatten it a little bit with the palm of your hands.

Bake in a preheated oven for about 40 minutes.
Notes
Watch out the oven from minutes 30 to 40 to ensure it doesn't burn.
Take it out of the oven and let it cool completely before serving.
Let it cool completely before serving.
Feel free to make it without the grazing is just as good.
Nutrition Facts
Calories:
231
kcal
Carbohydrates:
19
g
Protein:
5
g
Fat:
16
g
Saturated Fat:
3
g
Trans Fat:
1
g
Cholesterol:
1
mg
Sodium:
3
mg
Potassium:
239
mg
Fiber:
4
g
Sugar:
8
g
Vitamin A:
29
IU
Vitamin C:
3
mg
Calcium:
49
mg
Iron:
2
mg
Nutrition Facts
Chocolate and Nut Cake
Amount per Serving
% Daily Value*
* Percent Daily Values are based on a 2000 calorie diet.
🌡️ Food safety
Cook to a minimum temperature of 165 °F (74 °C)
Do not use the same utensils on cooked food that previously touched raw meat
Wash hands after touching raw meat
Don't leave food sitting out at room temperature for extended periods
Never leave cooking food unattended
Use oils with high smoking points to avoid harmful compounds
Always have good ventilation when using a gas stove
See more guidelines at USDA.gov.
The information shown is an estimate provided by an online nutrition calculator. It should not be considered a substitute for a professional nutritionist's advice. See our full Nutritional Disclosure here.
Please note that some of the links here are affiliate links, and I will earn a commission if you purchase through those links. I recommend all of the products listed because they are companies I have found helpful and trustworthy.