Although rice pudding is often considered a children's dish, this recipe for creamy cardamom rice pudding proves that it can be just as enjoyable for adults. The sweet and fragrant flavor of cardamom pairs perfectly with the creamy rice, making for a delicious dessert that is perfect for colder weather.
Best of all, rice puddings are easy to make and require only a few simple ingredients. So if you're looking for something tasty and comforting to enjoy after dinner, give this recipe a try!
This Aromatic and Creamy Rice Pudding takes me back to my childhood. In Latin America, we call it Arroz con Leche (Rice Milk), but being a fan of Indian Food, I decided to make a delicious spin-off!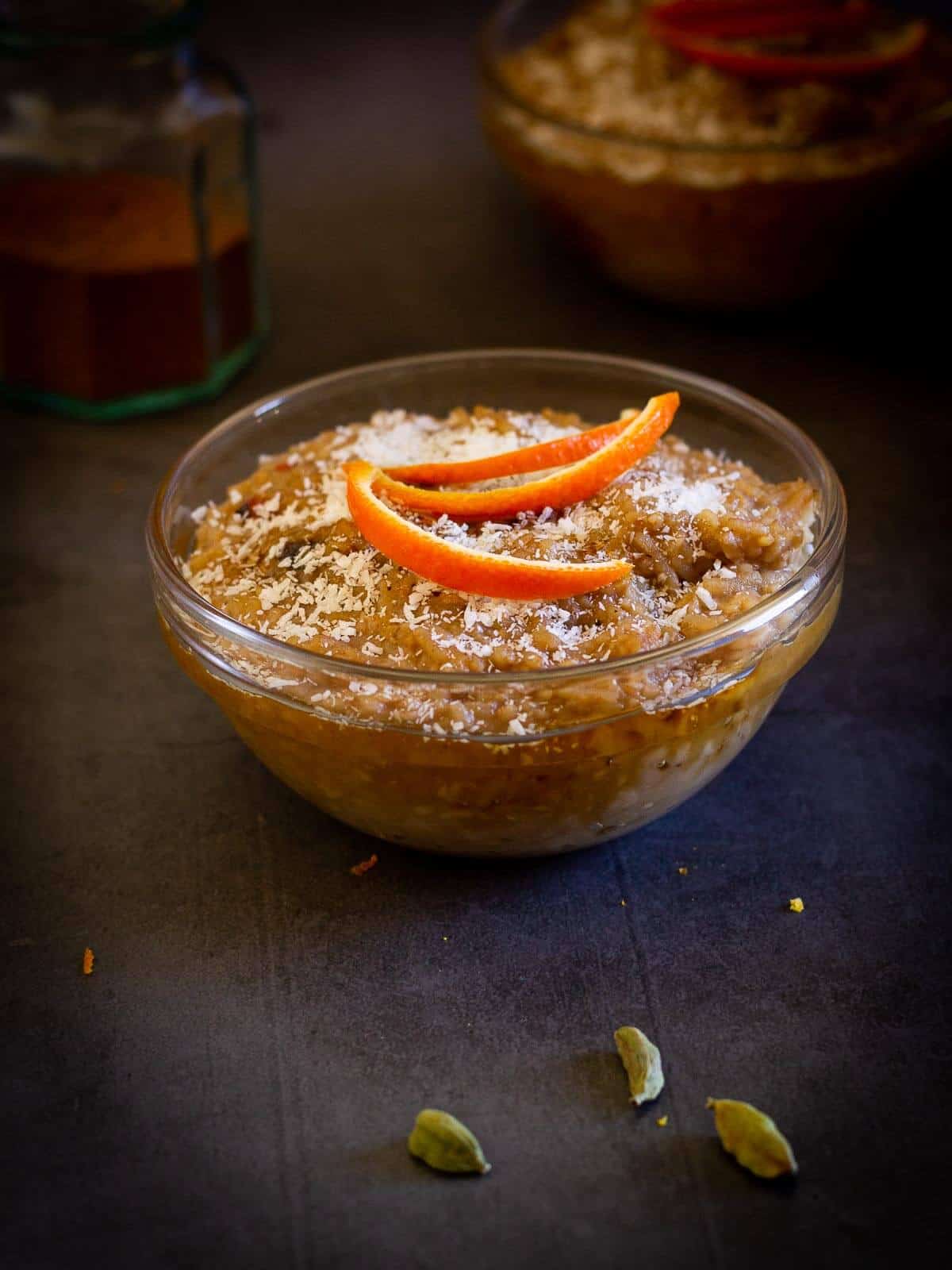 How to make rice pudding
You can make the original and most basic version of a homemade rice pudding with three ingredients: milk, rice, and sugar.
I made a couple of changes and made something more similar to the classic Indian Kheer, which has the same ingredients. Citrusy desserts are at the top of my list, so I added clementine to this version; I also made it vegan to make it more flavorful and nutritious.
Ingredients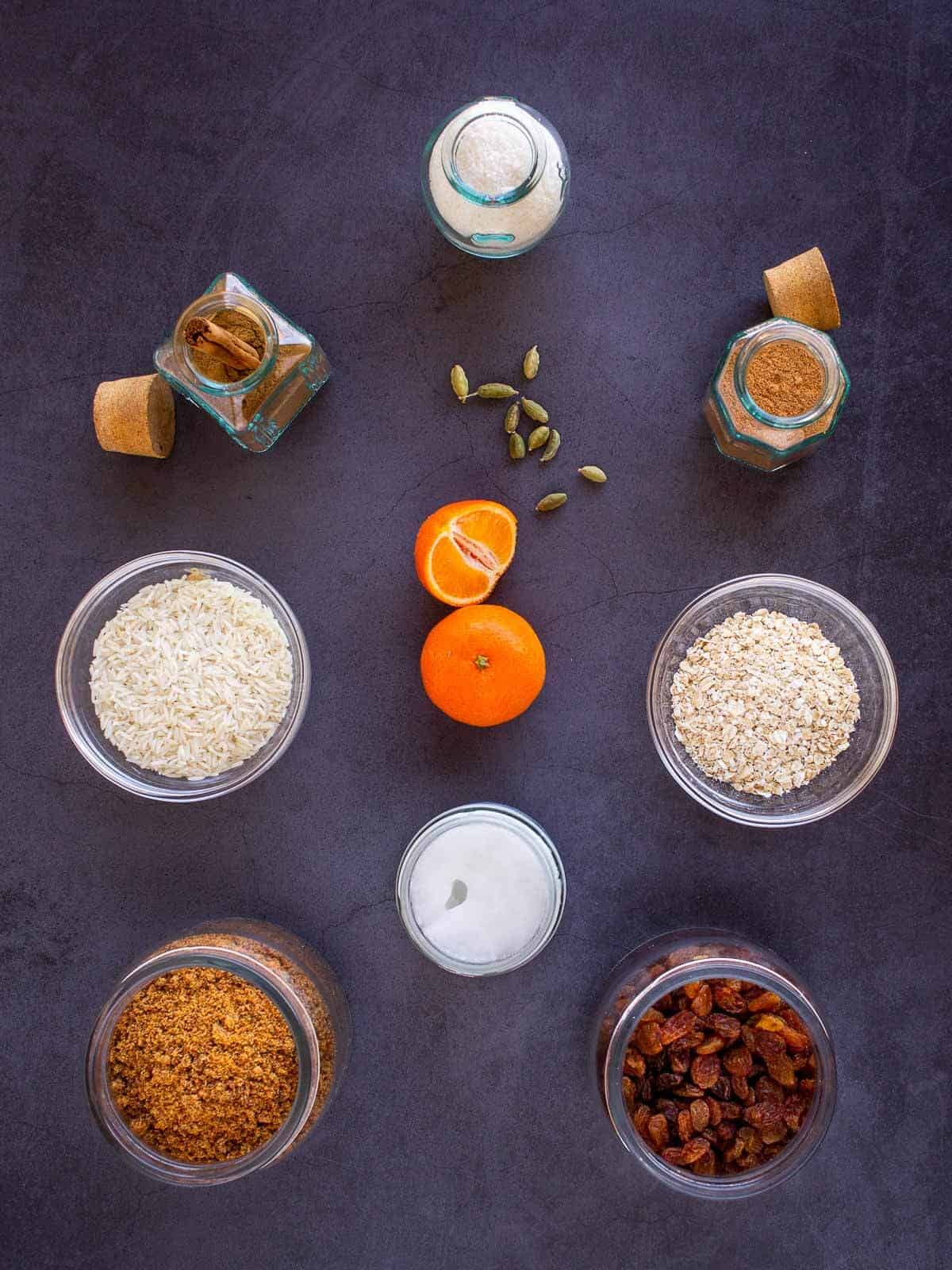 In this easy rice pudding recipe, we use
Basmati rice
Oats
Coconut oil
Organic palm sugar or unrefined brown sugar
Add some lovely sweet spices to make your pudding memorable
Cardamom pods or ground cardamom
Cinnamon
Nutmeg
Cloves
Oat milk or water
Optional: a touch of vanilla extract and a pinch of salt.
It also added a touch of acidity and flavor using Clementines.
See quantities and full instructions in the recipe card.
Instructions
Cook. Add milk, basmati rice, brown sugar, oats, coconut oil, or water in a medium-sized pot on medium heat. Add the vanilla extract at this point if you decide to use it.
Let it boil for about 25 minutes, cook stirring occasionally.
Peel the clementine carefully, saving peeling to decorate (if you wish to). Next, add the raisins and the clementine juice and keep stirring frequently.
Reduce heat and bring to a gentle simmer for additional 10 minutes and remove it from heat. Also remove the cardamom pods.
Serve warm in small cups and let them cool.
Garnish. Add the coconut flakes and decorate with the clementine peelings.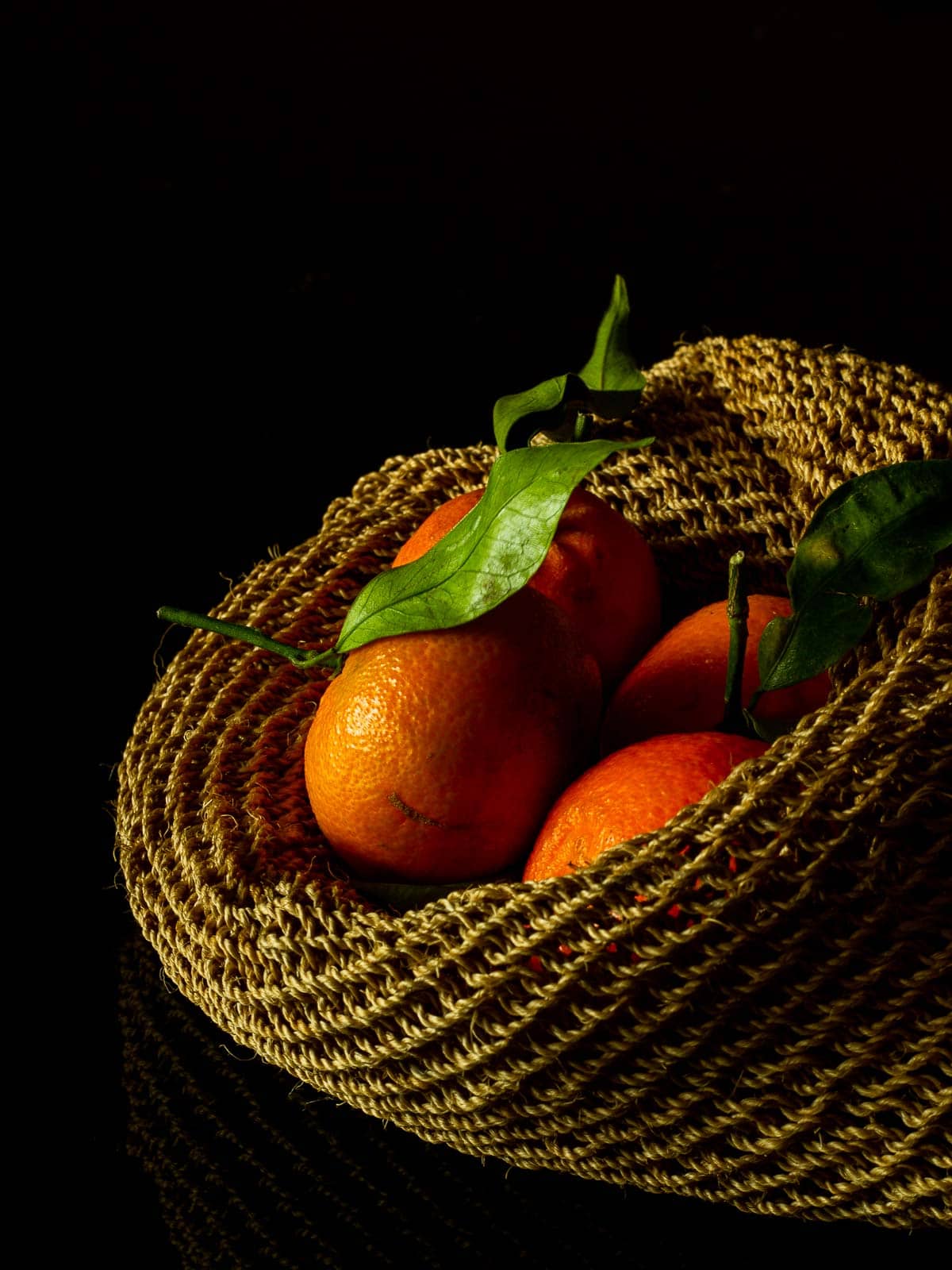 So for those of you who like easy clementine recipes, this one is for you!
Tip: you can serve warm but also out of the fridge.
Pro Tips
The key here is to add lovely aromas, so we want to use Sweet Spices, such as Cinnamon, Nutmeg, Cardamom, and Cloves.
I am a fan of Indian food, so I went for a couple of them. My recommendation is to pick up your favorite spice and make it the principal and let the other do the accompanying.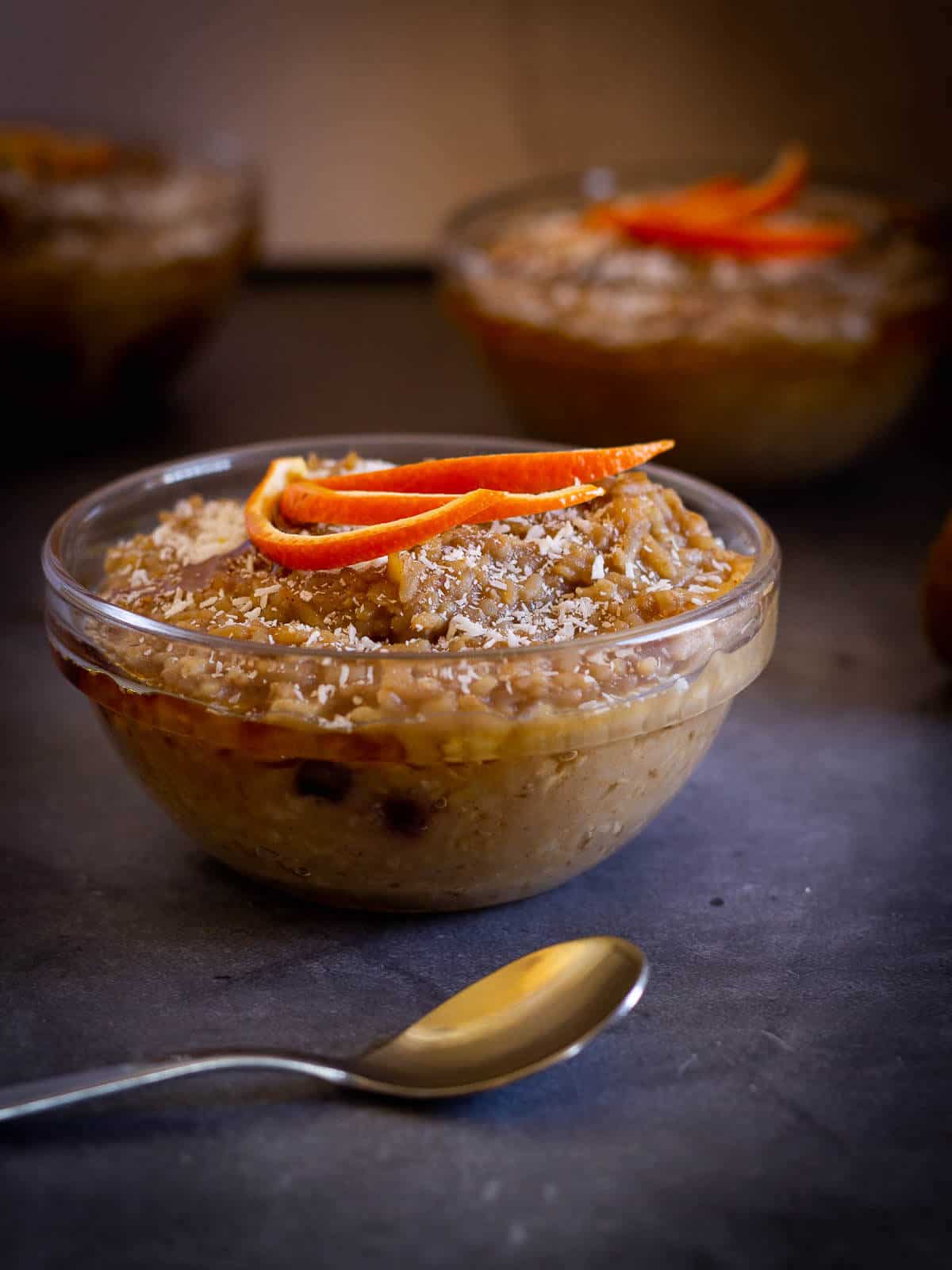 Play with ingredients such as nuts, rose water, or orange blossom water. They all go very well with this dish, as it is hard to mess it up.
The Spices
I use a minimum of three for this Easy Creamy Cardamom Rice Pudding.
Play with what you have available in your kitchen; add as many "sweet" spices as you have. Remember that spices are non-caloric and contribute amazingly to a healthy body and keep a great immune system.
Cardamom is an ancient remedy that may have many medicinal properties.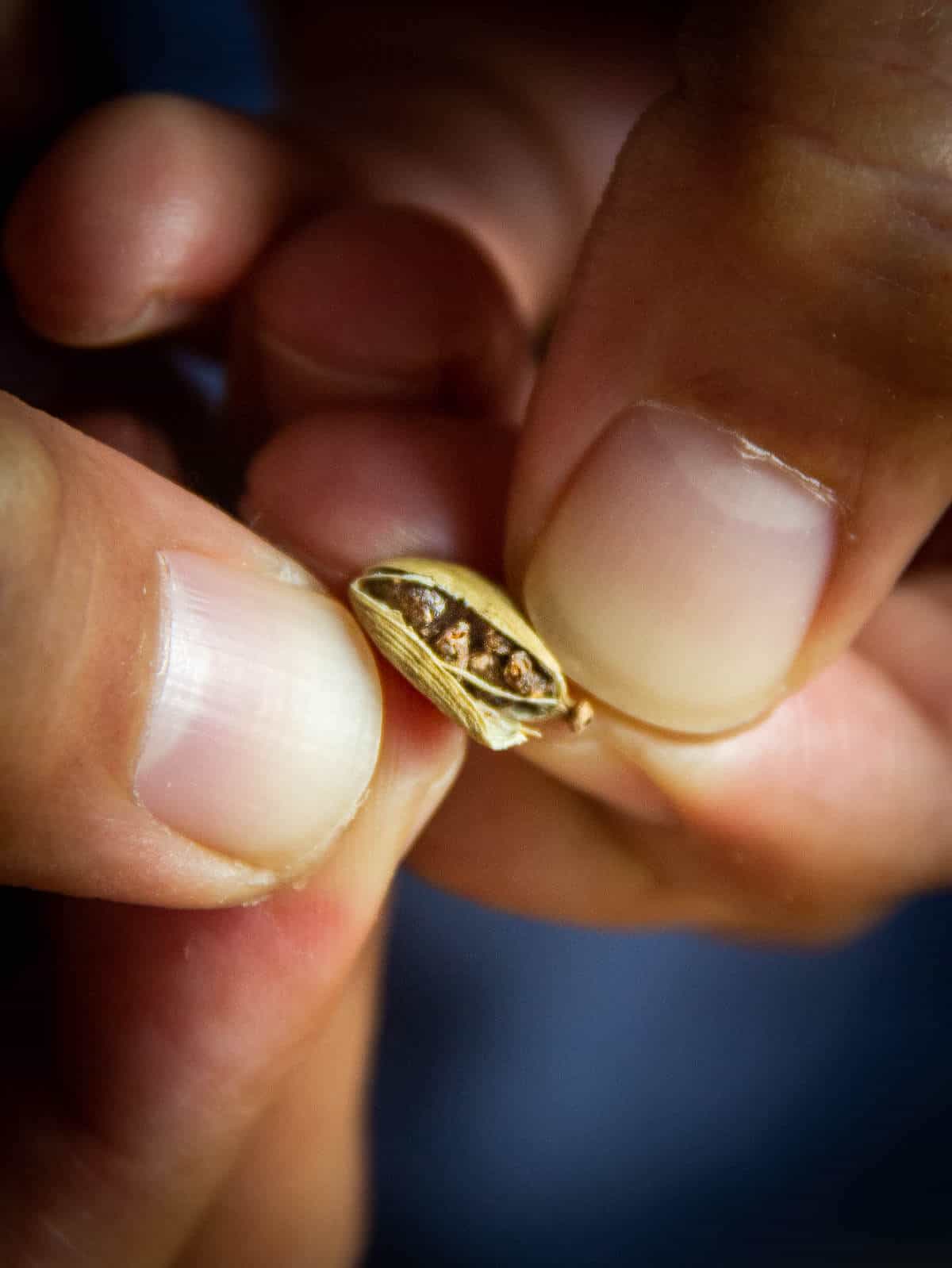 It may lower blood pressure, improve breathing, and aid weight loss.
Cinnamon to Lower Blood Sugar.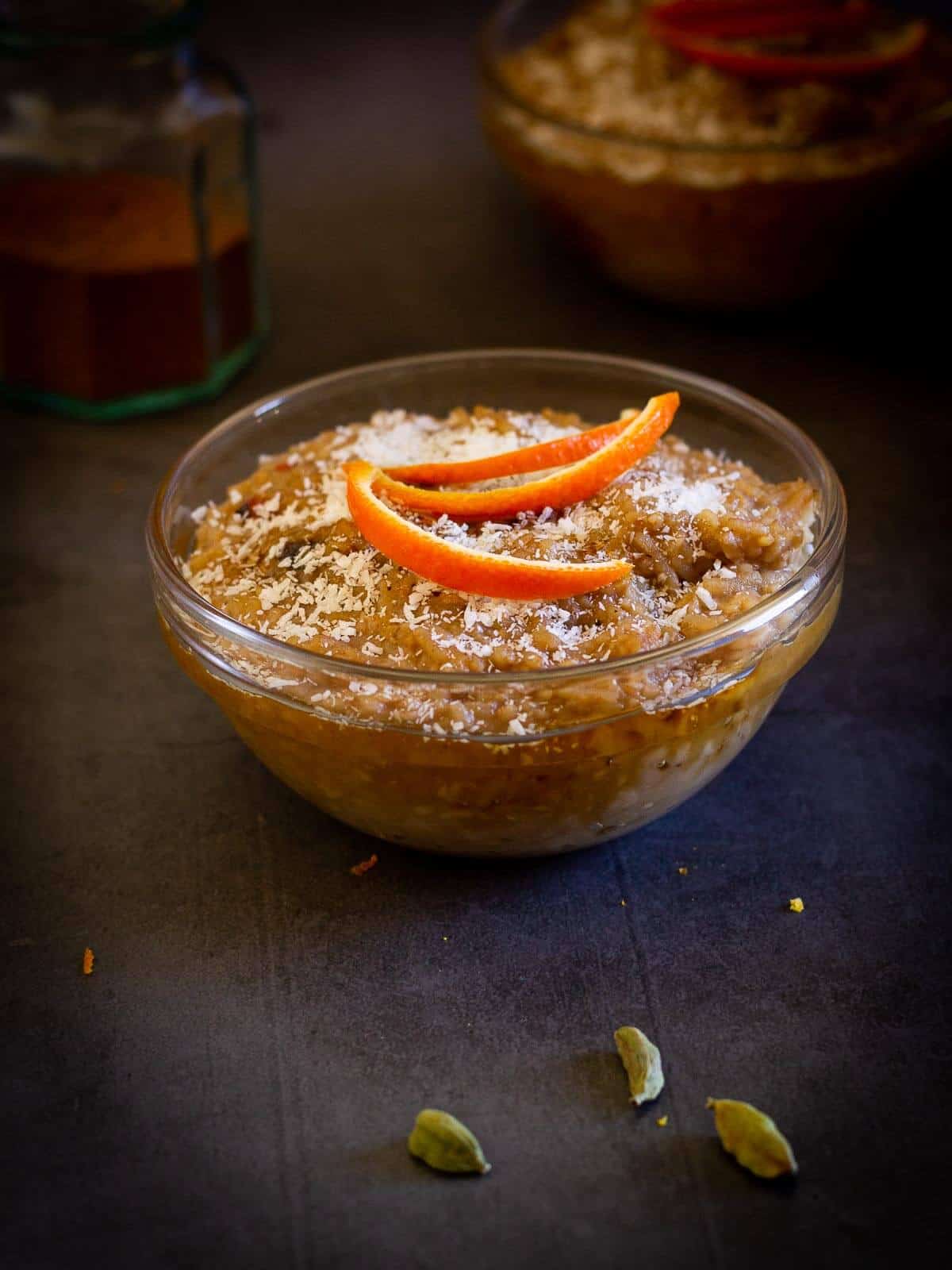 Aside from its many culinary uses, Nutmeg contains potent anti-inflammatory plant compounds that act as antioxidants. These may improve mood, blood sugar control, and heart health.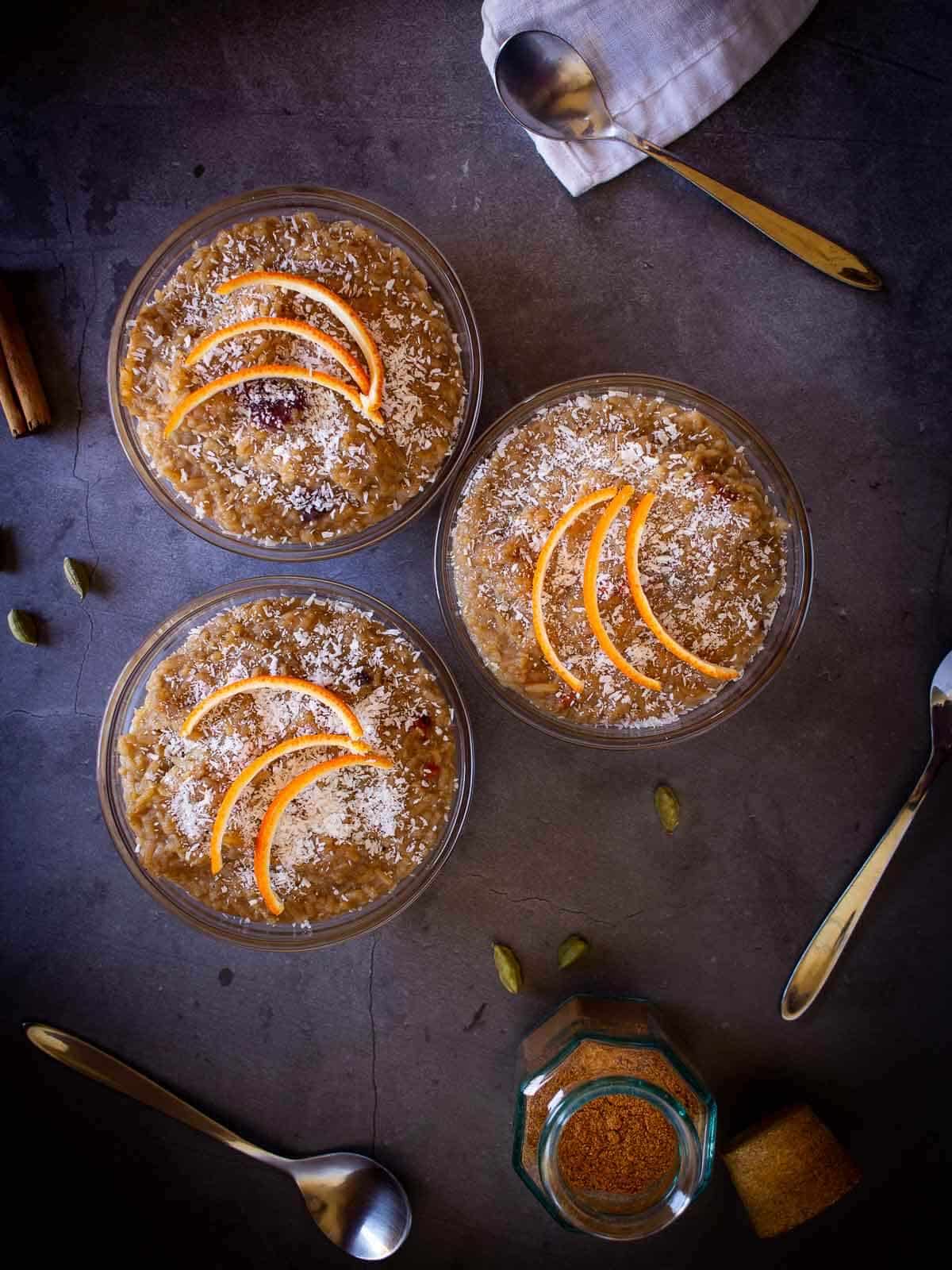 Optionally: I like to give it a nice touch with the juice of a clementine (similar in taste to a small mandarine but sweeter) or a mandarine.
Variations
Make it an Oat milk rice pudding, simply replacing the water with freshly made oat milk. It only takes a couple of minutes to make.
You can also use almond milk. These variations will make your creamy cardamom pudding even richer and creamier.
Arroz con Leche Origin
So, where did Arroz con Leche originate? Let's talk about the origin of this dessert.
Arroz con leche is a popular dish in Latin American cuisine. It comes from the Spanish word for rice, "arroz," and the Spanish word for milk, "leche." Historical records of arroz con leche appear as early as 1875 in Mexico.
The Aztecs made a version of this pudding, which was called huexotl in the Nahuatl language. Many versions are available, including oat milk puddings and quinoa-based versions. There's also Arroz con Dulce from Puerto Rico, which omits the oats and uses brown sugar rather than honey.
In terms of oatmeal arroz con leche, it may have originated from oat milk rice pudding that became a very common dish in India.
In India, many babies still enjoy oatmeal rice porridge, and one may find a number of recipes for oatmeal arroz con leche on the Internet written by moms seeking for oatmeal-based baby food recipes.
The oatmeal arroz con leche that is more familiar to westerners may have originated in Mexico or Central America, where oat milk is not very popular. Some of the earliest oatmeal arroz con leche recipes come from Guatemala and El Salvador, which do use oat milk.
Jump to Recipe
Wine Pairing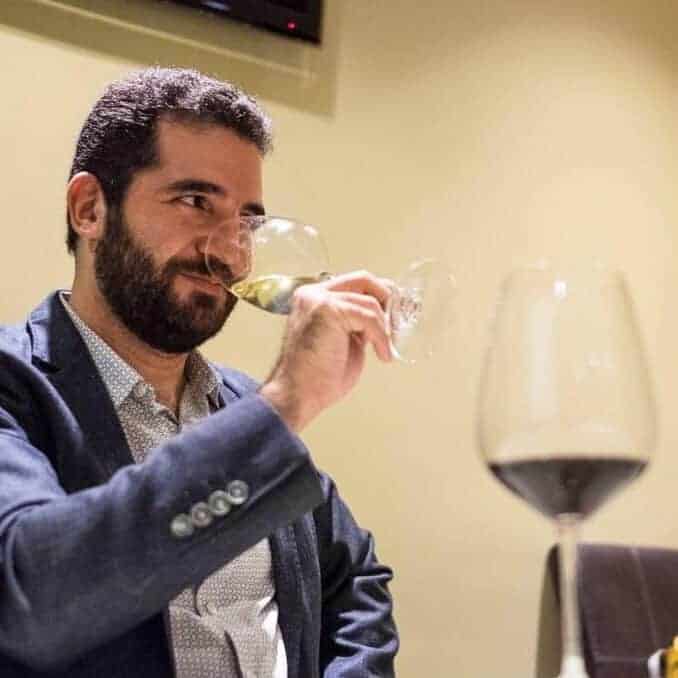 Ramón Barreiro
Wine Pairing by our Sommelier Ramón Barreiro @pejo_barreiro
It is in the Wine Culture where you will genuinely find quality wines and support sustainability. For this reason, in this blog, when we recommend wines, we do not want you to go to a supermarket shelf to buy wines for the usual varietals resulting from monoculture. Instead, we recommend wines taking you to the places where they come from. Thus, we advocate for living wines, with Culture, with Terroir.
Time to talk about sweet wines. And what better occasion than a delicious and sweet dessert. This recipe for creamy rice pudding with cardamom is the perfect excuse for you to start exploring the universe of sweetness in your wines.
Sweetness is a flavor enhancer; that is why it is easier to distinguish the flavors of a sweet wine than in a dry one, although, be careful, acidity is also a flavor enhancer.
The best sweet wines are sweet and acidic - although we better refer to this characteristic as freshness.
How is this magic possible? That lovely wine is also fresh. I know you know that not all sweet wines share these characteristics. There are super sweet ones, which you only know for their honeyed and sugary character, almost caramelized - I see you Pedro Ximénez super sweet, and my vanilla ice cream awaits you!
We don't want a sweet bomb; we want a balanced wine, in which sweetness and freshness offer us a diverse palette of spices, using rice as a vehicle for cardamom, cinnamon, nutmeg, and The nail.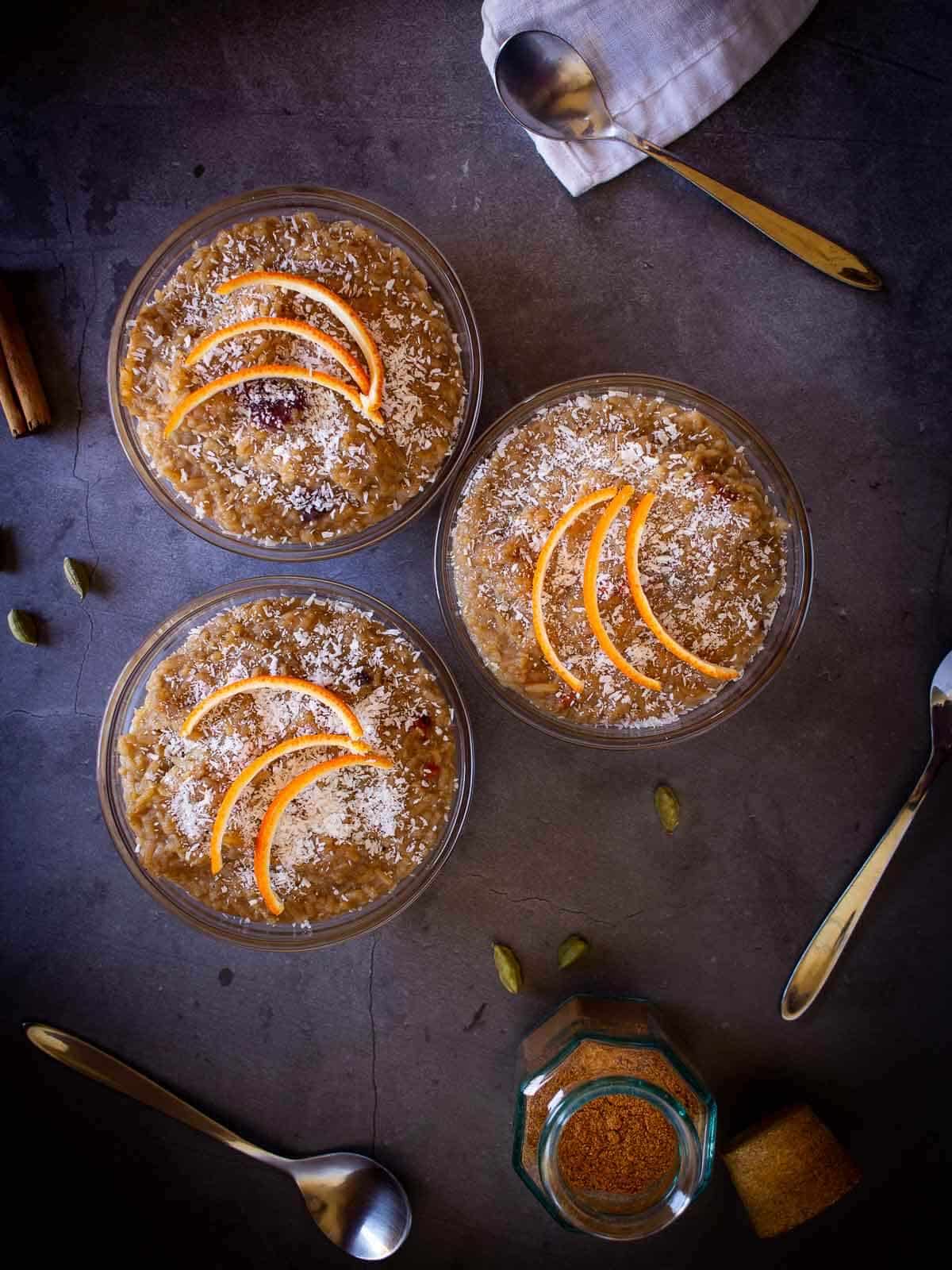 Noble Rot in Wines
There is a style of sweet wine that always develops this spicy profile and is also characterized by its freshness: noble rot wine.
I said rottenness! There is no need to be afraid of all decompositions; after all, what is fermentation but a type of decomposition. That something decomposes also means that it is transformed. In the case of grapes, when they are very ripe and are attacked by the Botrytis Cinerea fungus, there is a benevolent rot, which for specific characteristics of the grape is a considerable improvement: water is lost, sugar is concentrated, and its acidity increases - specifically that powerful acid, citric acid.
With this sugary and sour grape, we have the perfect starting point for a sweet and fresh wine, with two flavor enhancers - sweetness and acidity - that enhance all those spicy notes produced in alcoholic fermentation in an explosive background of mature fruit.
Now to the wines ...
When choosing wines, if you live in a producing area, always choose local, find out about your producers, the history of your location, and the winemaking practices, and explore all the styles available in your area.
If you do not live in a producing area (or close to one of them), support the specialized stores near you, just as you would support your local farmers' market. Talk to the specialists, and ask them about their wine's selection, the wine's origins, their production practices, and the reasons that led to their inclusion in their selection.
With wine, as with any food on our table, it is always good to think about the path it went through before reaching us. It is also essential to consider the kilometers and the means of transportation used. Be aware of the carbon footprint of the food and wine you consume, and you will make your small contribution to sustainability.
First
The first recommendation is the most famous botrytized wine in the world, the Sauternes.
This Bordeaux wine - yes, the same Bordeaux known for its voluptuous red wines - is made with white Semillon and Sauvignon Blanc grapes.
Once ripe in the vineyard, it is expected that the fogs in the area will progressively cause the appearance of our friend, the Botrytis Cinerea fungus; then, successive harvest passes are carried out, in which only the "infected" bunches are harvested.
For labels other than Chateau D'Yquem, the Sauternes currently represents an excellent value for money; But you can find even better deals if you go to the neighboring Cadillac area.
Second
The second recommendation also comes from France, from the Alsace region, a Sélection de Grains Nobles.
Selecting noble fruits means precisely using grape clusters infected by our friend's noble rot, the fungus. In Alsace, wines of the style are made with both Riesling and Gewurztraminer.
Both varieties will work well with our dish but choose one made with Gewurztraminer if you want a genuinely explosive harmony. In this world of the Sélection de Grains Nobles, prices are starting to attract attention.
Third
The third recommendation takes us to the other side of the Alsace border, Germany, with its Riesling Auslese and Trokenbeerenauslese - from now on, TBA.
Germans like to classify their Rieslings in relation to the grapes' sugar concentration used to make them, so these names also denote the level of sweetness of these wines.
The sweetest level is TBA, made entirely with botrytized grapes, but I'm not going to recommend a TBA because finding and paying for them is a significant challenge. Instead, I will recommend an Auslese, made mainly with overripened grapes and some botrytized ones. This wine is my favorite Riesling style because the balance between sweetness and freshness is that you can even drink it independently without getting cloying.
If you burn a little sugar on your pudding, you can enhance those hydrocarbon aromas typical of a good Auslese. Yes, the smell of oil, which goes very well with the sweetness.
Fourth and Last
My last recommendation is a wine declared a World Heritage Site. And for this alone, you have to know it! The Tokaji Aszú commonly called Tokay.
Now the authentic Tokay is the one that comes from the Hungarian Tokaj region, and they are sweet white wines of noble rot. But the production of Tokaji Aszú is unique because it is produced based on a potentially dry wine.
A quantity of botrytized grape must, or Aszú is added to a normal grape must. This quantity is calculated by a number of grape baskets, which they call Puttonyos. Therefore, when you see a Tokaji Aszú, it will also be described with a number followed by the Puttonyos expression; thus, the more puttonyos, the sweeter the wine.
The Tokaji Aszú begins with 3 Puttonyos, a level that will delightfully highlight that orange or clementine peel that you used on the plate, and from there, they go to 5 and 6 Puttonyos. So for this dessert, I recommend the 3 Puttonyos if you want to enhance the pudding's citrus sensation or the 5 Puttonyos if you prefer to enhance the impact of the spices.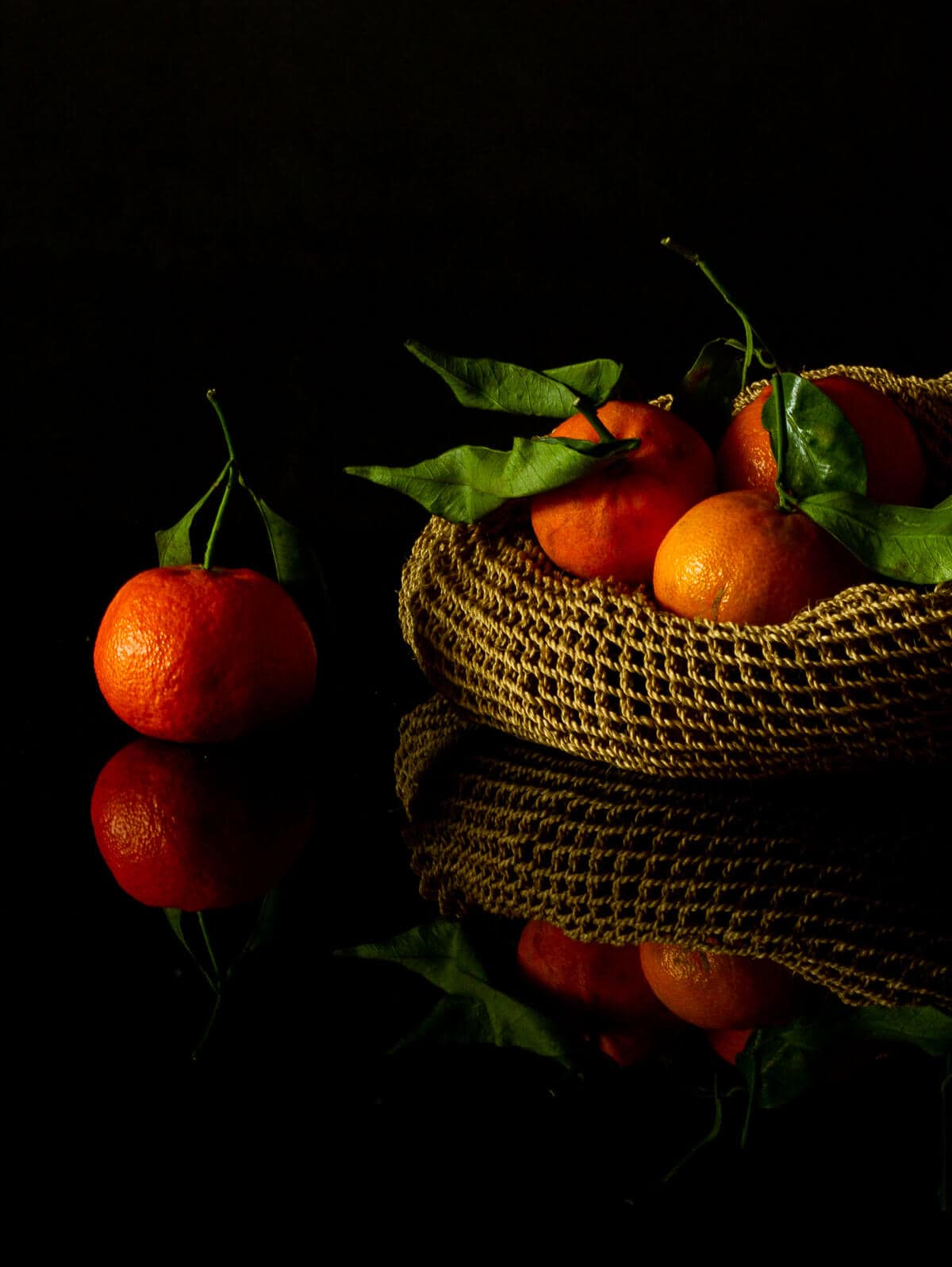 A glass of these wines will be more than enough to accompany our creamy cardamom pudding, but they can also be a delicious dessert on their own.
Wine Pairing Recap
France - Sweet - Sauternes or Cadillac (Semillon and Sauvignon Blanc)
France - Sweet - Alsace, Selection of Grains Nobles (Riesling or Gewurztraminer)
Germany - Sweet - Auslese (Riesling)
Hungary - Sweet - Tokaji Aszú 3 or 5 Puttonyos (Furmint, Hárslevelü and others)
Let's get cooking!
Take a look at this additional pudding recipe:
For a fresher summery dessert option, check out the vegan berry ice cream or the peanut butter banana ice cream.
Other recipes to satisfy your sweet tooth
More about the benefits of spices
If curious about all the Benefits of Oats.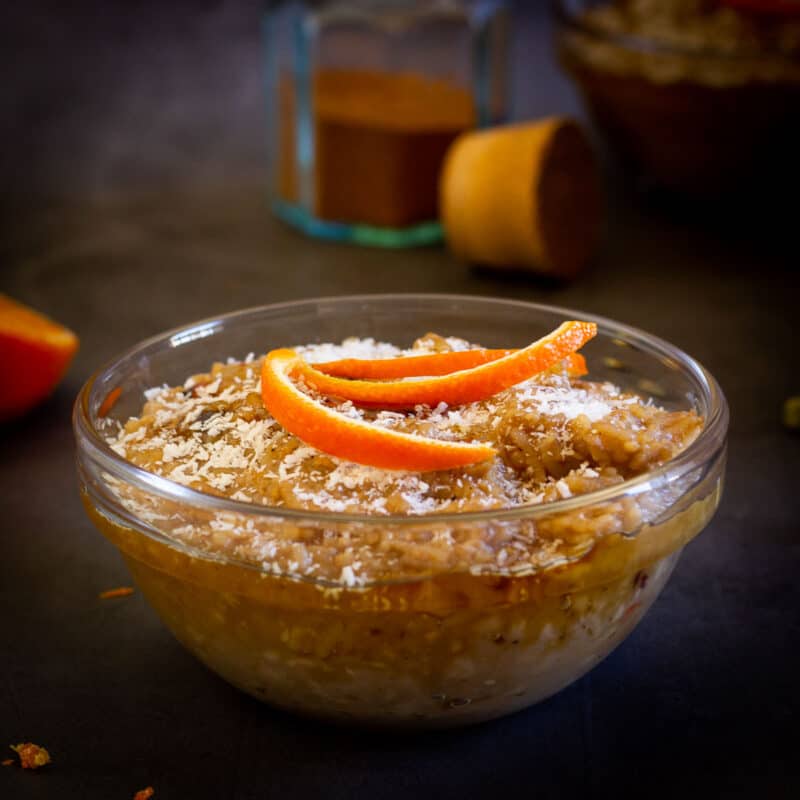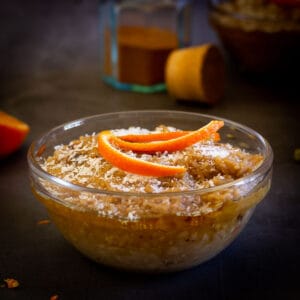 Recipe: Creamy Cardamom Rice Pudding
This Creamy and aromatic Rice pudding takes me back to my childhood. This is a Vegan version closer to the famous India Kheer.
Equipment
Directions
Cook. Place all the ingredients except for the raisins, coconut flakes and clementine, in a medium-sized pot on medium-low heat.

1 cup brown aromatic Basmati Rice,

10 cardamom pods,

⅔ cups old fashioned rolled oats,

2 ½ cups water,

1 cinnamon stick,

1 teaspoon nutmeg,

2 tablespoon organic palm sugar,

1 teaspoon coconut oil

Let it simmer for about 25-30 minutes.

Peel the clementine carefully, saving peeling to decorate (if you wish to). Add the raisins and the clementine juice.

½ cup raisins,

1 clementine

Let it cook for additional 10 minutes and remove it from heat.

Serve warm in small cups and let them cool.

Add the coconut flakes and decorate with the clementine peelings.

1 tablespoon coconut flakes,

Slices of clementine
Notes
If using coconut oil, add it together with all the ingredients, while simmering. It adds an extra coconut flavor. Omit if following a WFPB.
You can also have this dessert warm but watch out; the raisins might be extra hot.
It is also delicious having it cold, just the cups in the fridge for about 2 hours before consuming it.
Wine Pairing by our Sommelier Ramón Barreiro 

@pejo_barreiro
France - Sweet - Sauternes or Cadillac (Semillon and Sauvignon Blanc)
France - Sweet - Alsace, Selection of Grains Nobles (Riesling or Gewurztraminer)
Germany - Sweet - Auslese (Riesling)
Hungary - Sweet - Tokaji Aszú 3 or 5 Puttonyos (Furmint, Hárslevelü and others)
Nutrition Facts
Calories:
226
kcal
Carbohydrates:
49
g
Protein:
4
g
Fat:
2
g
Saturated Fat:
1
g
Polyunsaturated Fat:
1
g
Monounsaturated Fat:
1
g
Sodium:
12
mg
Potassium:
246
mg
Fiber:
4
g
Sugar:
5
g
Vitamin A:
2
IU
Vitamin C:
7
mg
Calcium:
50
mg
Iron:
1
mg
If you try this recipe, let us know! Leave a comment, rate it, and don't forget to tag a photo #ourplantbasedworld on Instagram. Cheers!
Nutrition Facts
Recipe: Creamy Cardamom Rice Pudding
Amount per Serving
% Daily Value*
* Percent Daily Values are based on a 2000 calorie diet.
Food safety
We sometimes take for granted that we have years (or decades) of cooking experience that the average visitor may not. Add to, or remove from, the list below with health and safety tips.
Cook to a minimum temperature of 165 °F (74 °C)
Do not use the same utensils on cooked food that previously touched raw meat
Wash hands after touching raw meat
Don't leave food sitting out at room temperature for extended periods
Never leave cooking food unattended
Use oils with high smoking points to avoid harmful compounds
Always have good ventilation when using a gas stove
See more guidelines at USDA.gov.
The information shown is an estimate provided by an online nutrition calculator. It should not be considered a substitute for a professional nutritionist's advice. See our full Nutritional Disclosure here.
Please note that some of the links here are affiliate links, and I will earn a commission if you purchase through those links. I use all of the products listed and recommend them because they are companies that I have found helpful and trustworthy.