Ice cream is a must in our lives, but vegan options are not always easy to find. This 10 mins Homemade Peanut Banana Ice cream is delicious and satisfies the ice cream craving healthfully!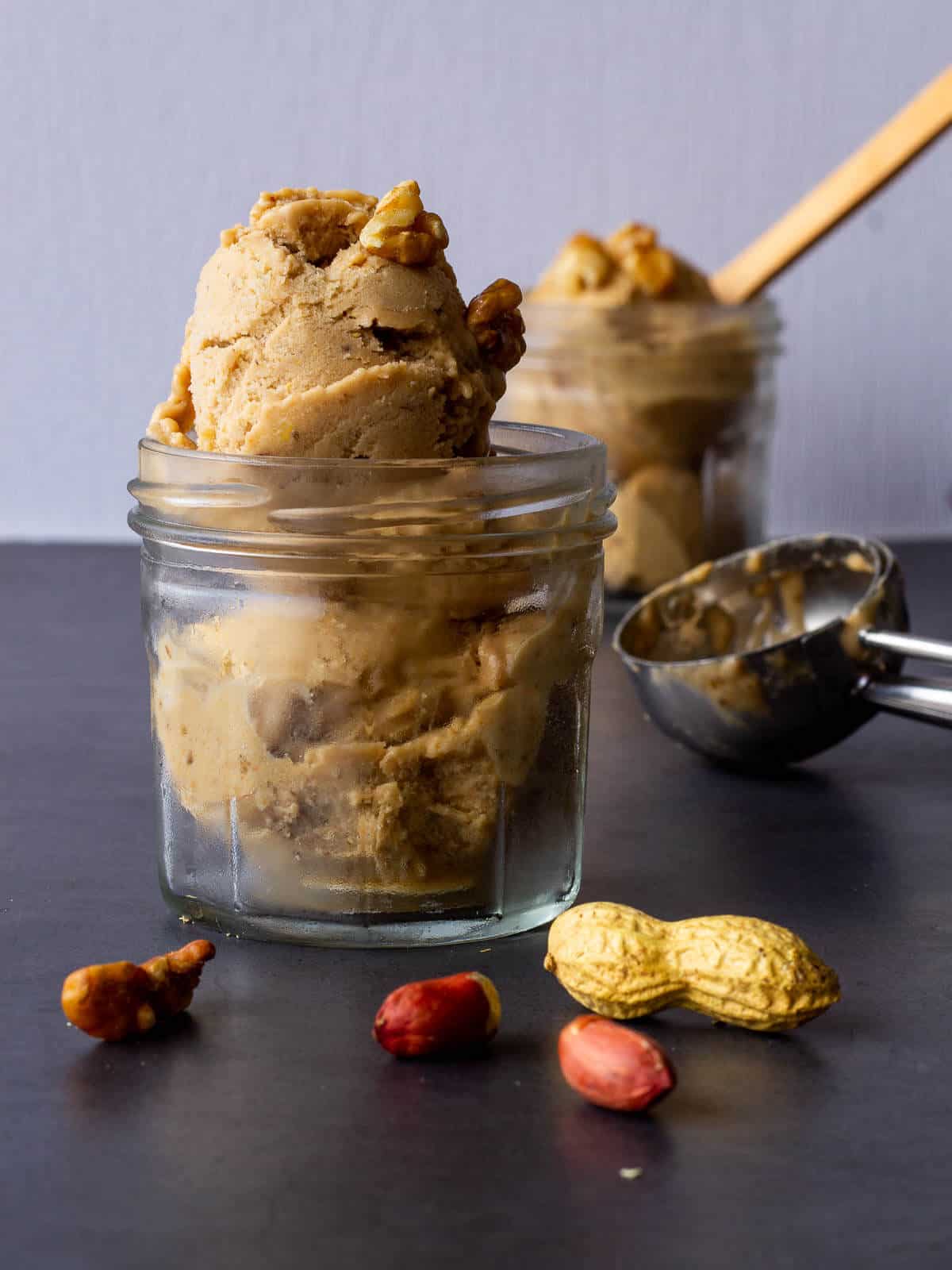 Summer comes, the heat is on and so are icecreams! This peanut banana ice cream, also known as nicecream is delicious, quick to make, and super customizable.
This was inspired by our nicecream recipe on this site and is great for summer creamy cravings. Even in summertime, we like to have some creamy nutty ice cream flavors next to the fruity ones!
On top of that, there is no guilt on this dessert as both bananas and peanut butter are packed with health benefits, making it a perfectly healthy sweet indulgence.
They make great breakfast smoothies as well!
🧾 Ingredients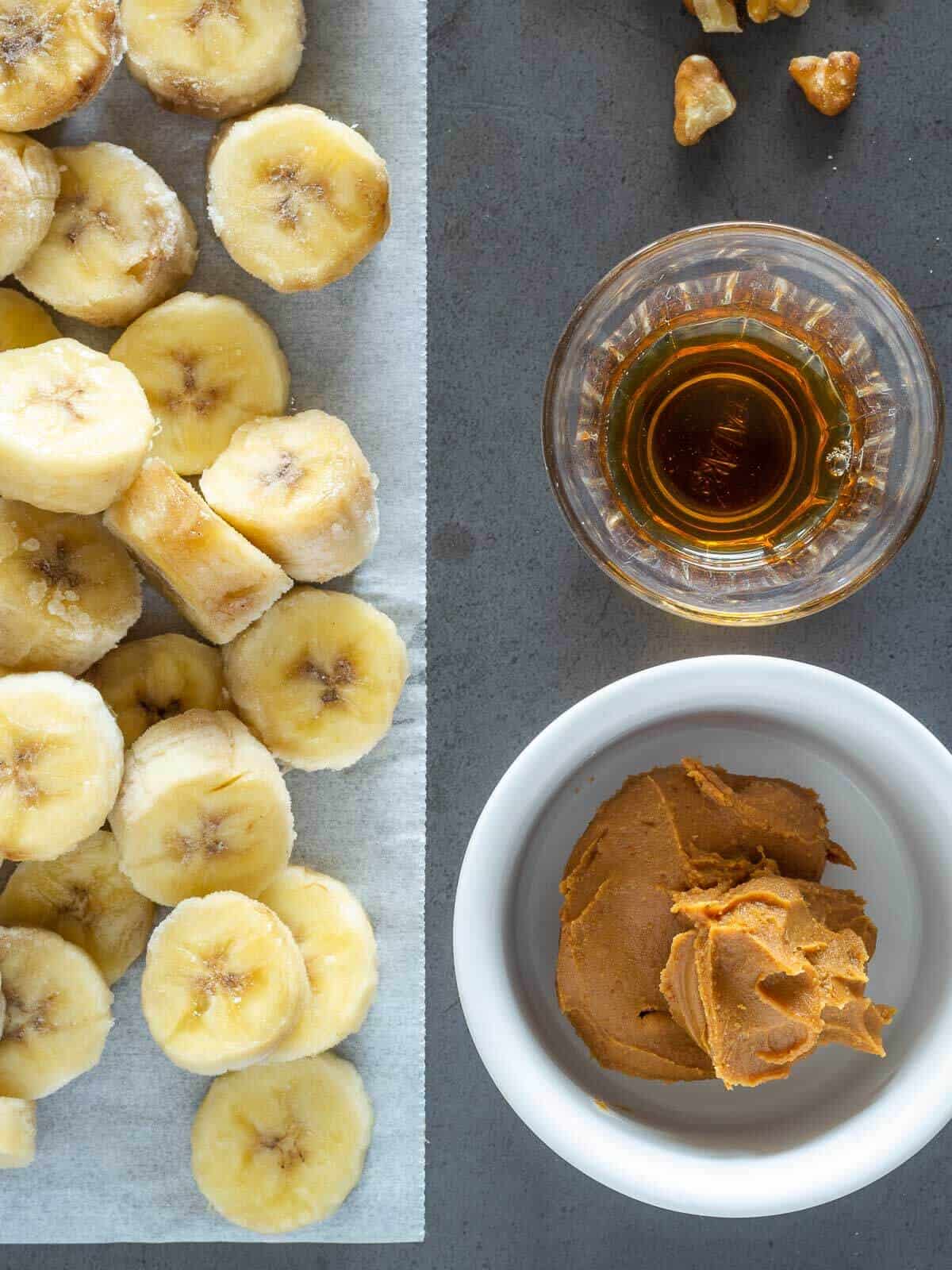 Frozen bananas.
Peanut butter
Optional: plant milk such as creamy cashew milk, agave syrup, and walnuts.
See the recipe card for quantities.
🔪 Instructions
Start by freezing the bananas overnight. Cut in parchment paper to facilitate handling.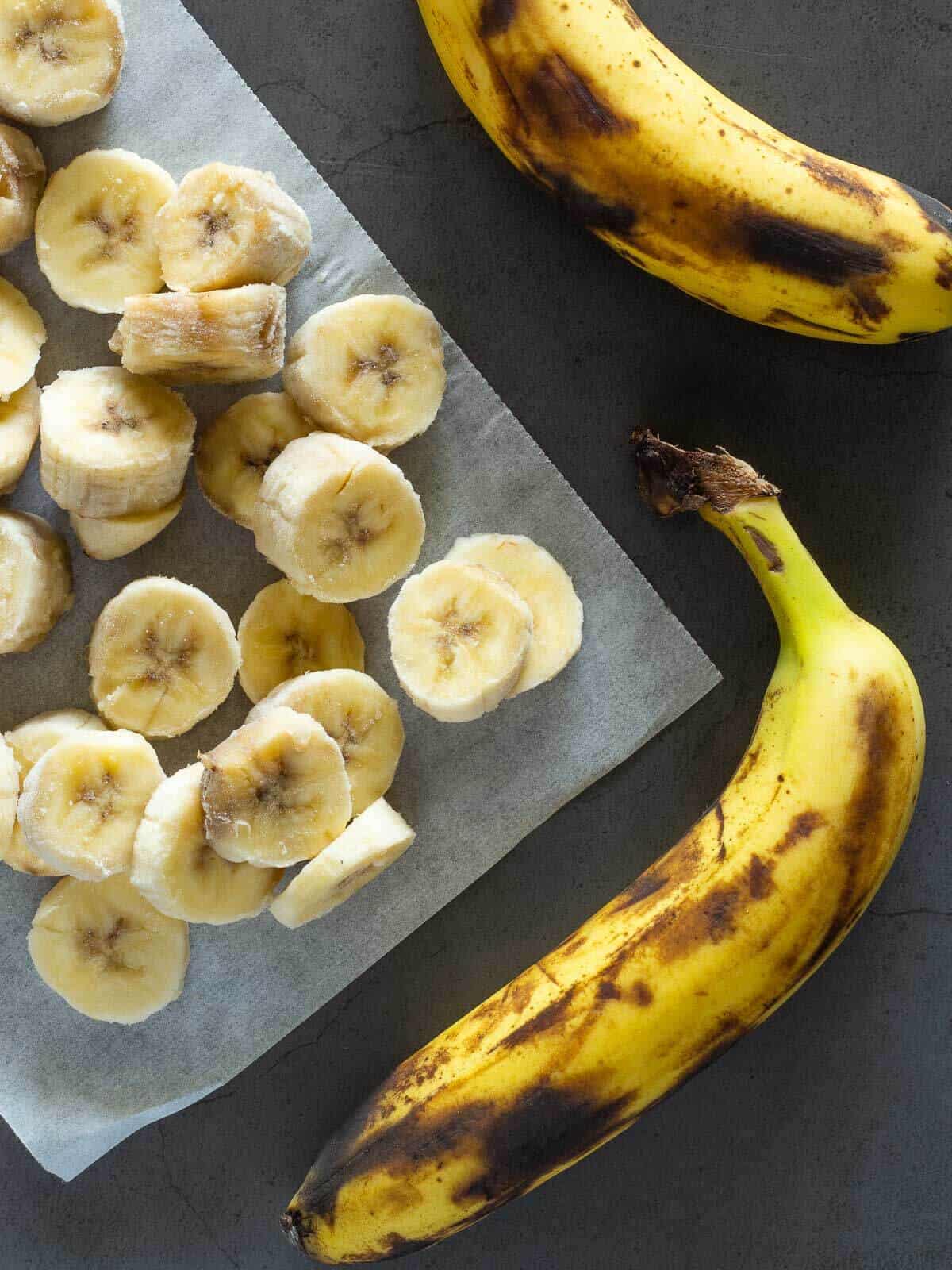 Blend the ingredients on a high-speed blender.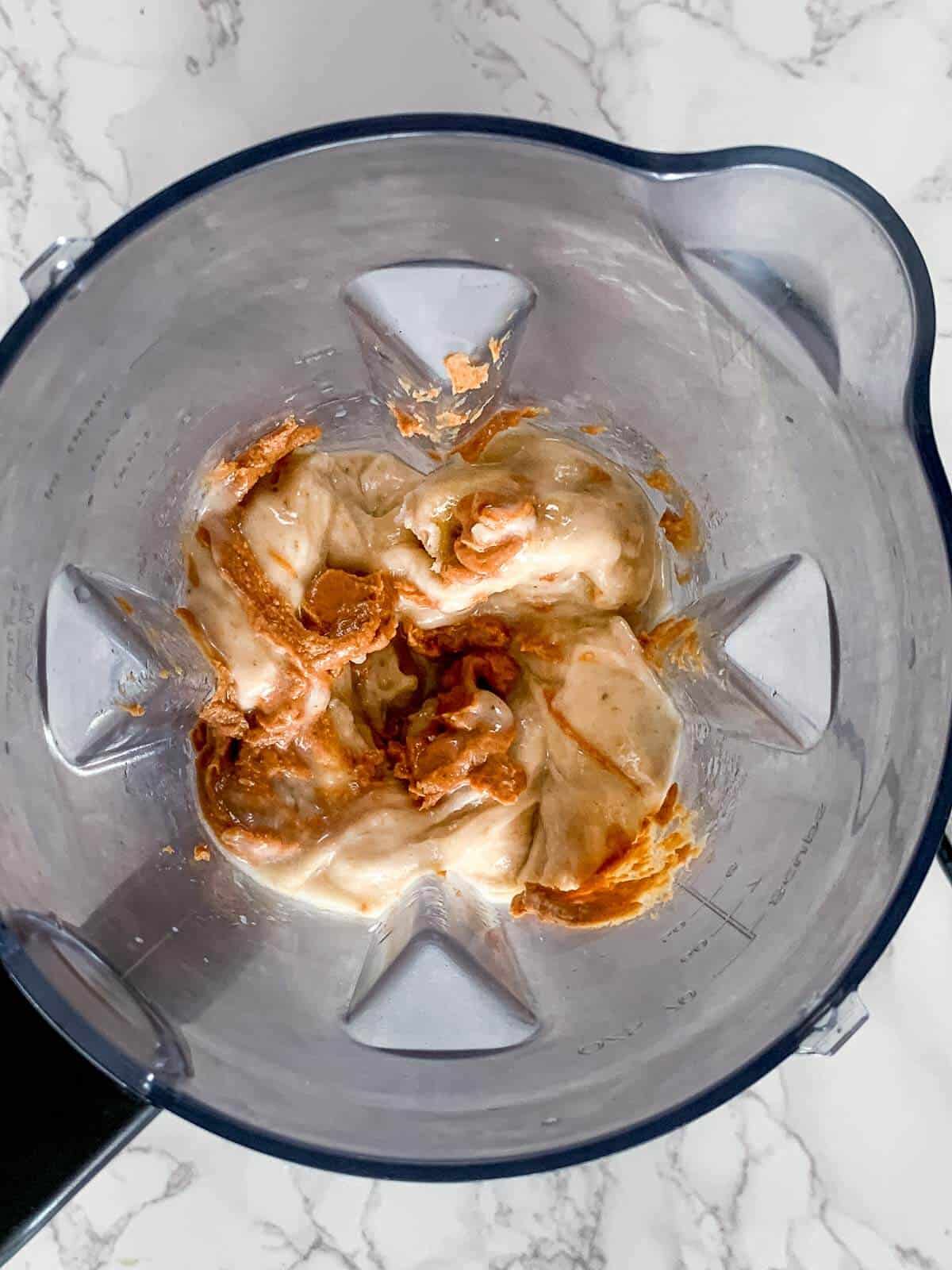 Once it's started blending, use the tamper to press down and stir peanut butter, plant milk, and bananas.
Once blended, add the optional walnuts and blend just for a couple of seconds.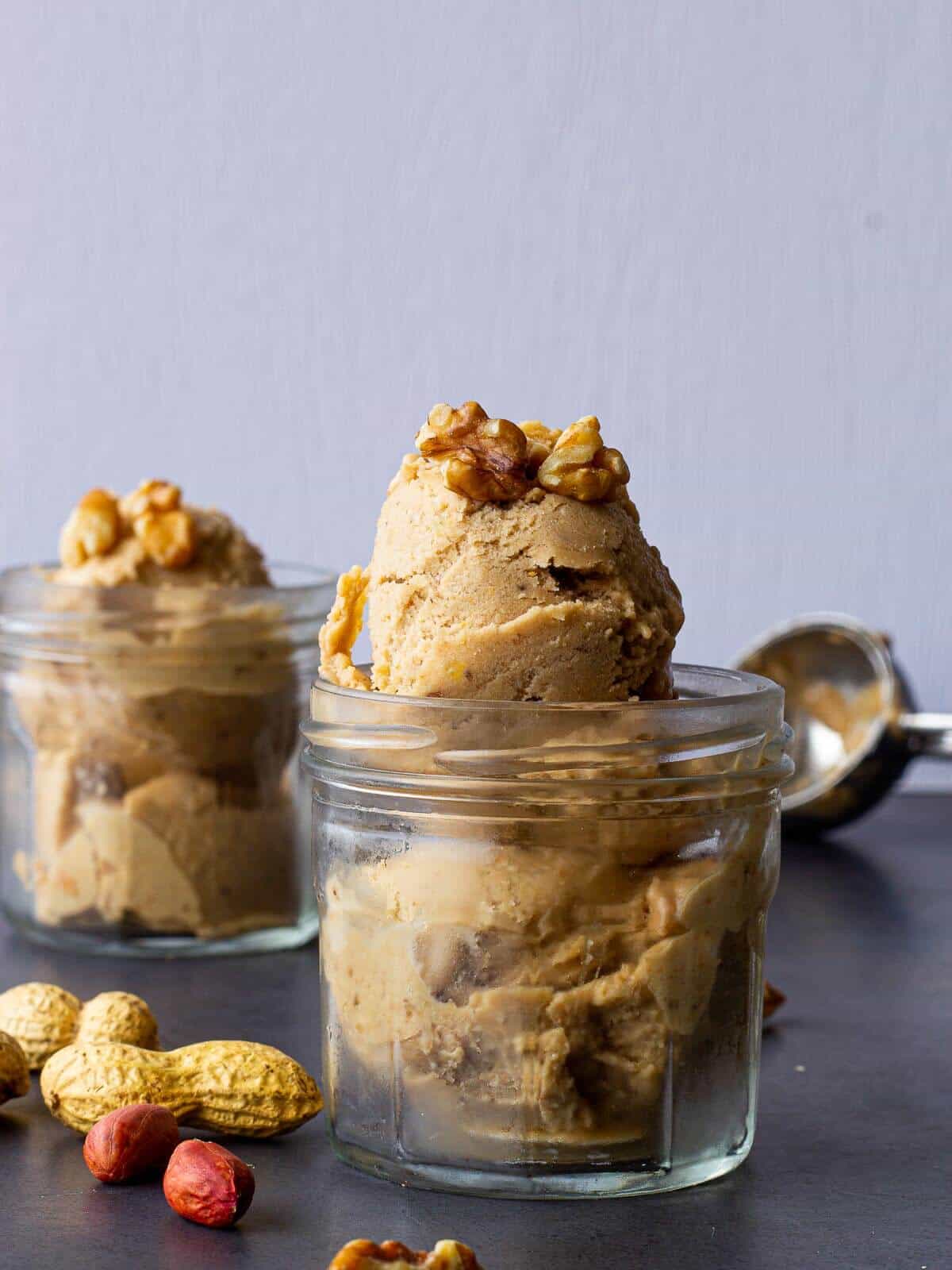 Hint: if you want to add any solid textures to your peanut butter banana ice cream, such as walnuts, or chocolate chips, add them only once you have blended the bananas, peanut butter, and the optional agave syrup; otherwise, they will be grounded and will be unnoticeable.
🍶 Substitutions and variations
Nut butter - use any nut cream, such as almond or hazelnut butter. Chestnut butter also works well.
Sweetness - use maple syrup instead of agave.
Nuts - for additional texture, you can use any nuts and even toast them quickly in a flat saucepan before adding them to the blender for a richer flavor.
Salt - if you are into salty chocolate, you might like adding a pinch of salt for a flavor kick. If your peanut butter is salted, there is no need.
If you are into berries, check out our berries ice cream recipe option.
💡 Tip - Budget
Bananas are usually not expensive, but here in Italy, they are. But... usually in grocery stores, when we buy super ripe bananas, they cost 4 times less, as most people don't like overly ripe bananas.
Guess what? These are the best bananas to make vegan ice cream and smoothies. Buy them, and freeze them immediately. You will always have vegan ice cream, 10 minutes away. We use frozen bananas sooo much!
We love running and practicing yoga in the morning, so we always use these frozen ripe bananas for our Post-Workout smoothie.
🍽 Equipment
The blender is important here. You need a good-quality high-speed blender. Alternatively, you could use a food processor, also a high-speed, high potency one!
We have used the nutribullet as well, and it works nicely.
Note: a food processor doesn't deliver the quality that a high-speed blender delivers, but it is still an option.
🫙 Freezing and Storage
This vegan ice cream is best when served the same day.
After following the instructions above, you will have a soft texture banana ice cream. If you would like it to be more of a scoopable Frozen Banana Ice cream, spread into a parchment-lined bread loaf pan (affiliate link) and then freeze it for about 2 to 3 hours.
Use an ice cream scoop! If you find it too firm, let it thaw for 10-20 minutes.
Frozen nicecream keeps for a couple of weeks, but we'd recommend consuming it after the first five days for better texture. Just make sure it is well covered.
👨🏻‍🍳 Toppings
When making any Banana Ice Cream Recipe, you just use the same toppings you would use if you were in an ice cream shop. Our favorite toppings are:
Cocoa powder
Shredded coconut
Cacao nib
Chocolate chips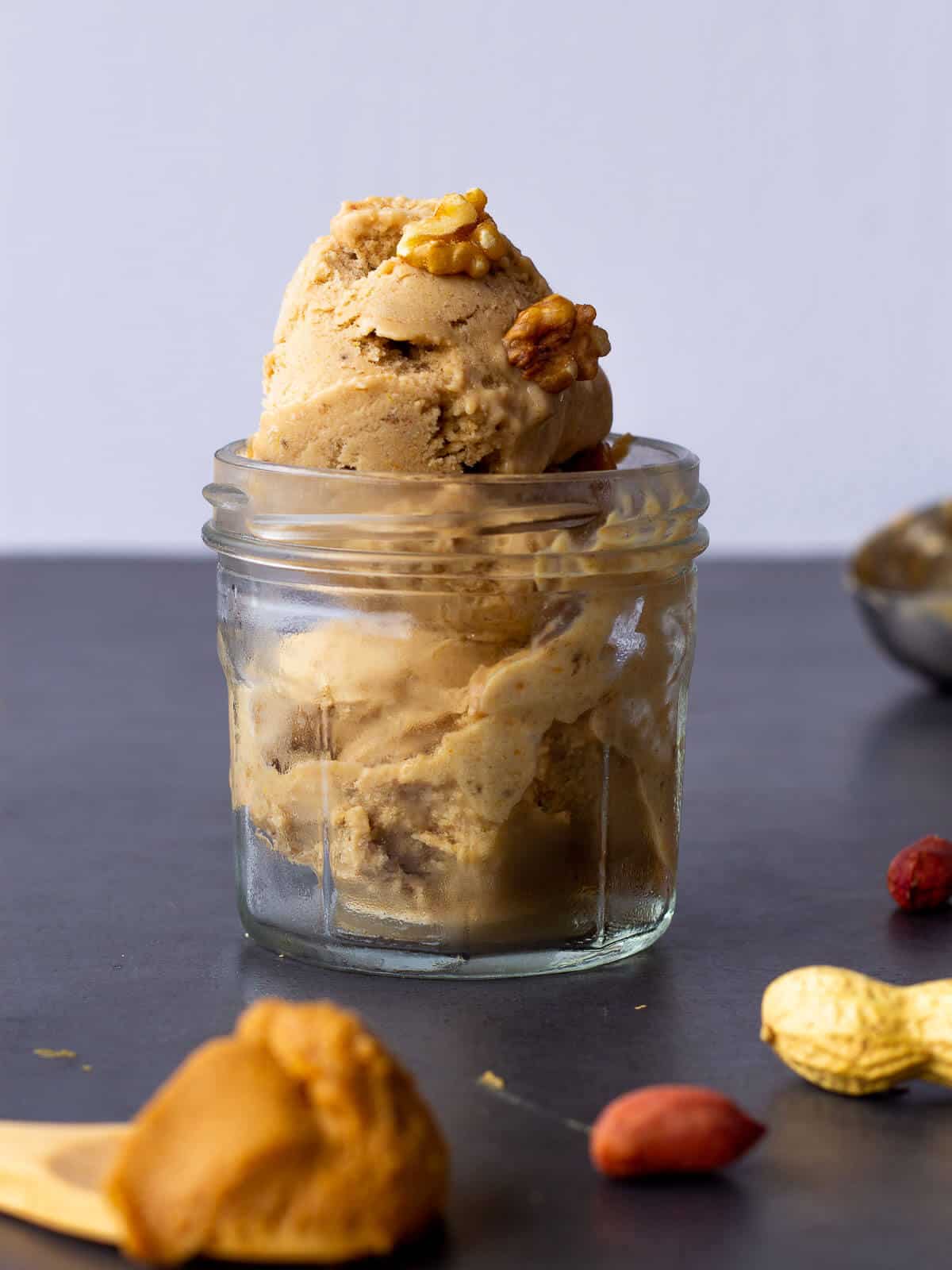 Enjoy a scoop of vegan nicecream with a slice of vegan banana bread.
❓ FAQ
How to store bananas to prevent fruit flies?
Bananas are an excellent, healthy addition to any diet, but unfortunately, they can also attract pesky fruit flies. Fortunately, you can take a few simple steps to keep your bananas as fresh and fly-free as possible.
First, it's important to select the right type of banana for storage.
Unripe green bananas are best for extended periods of storage since ripe ones will continue to ripen over time and become more susceptible to fruit flies. If you buy unripened green bananas, store them in a cool (but not cold), dark place with good air circulation until ready for use.
Once ripe or partially ripe bananas appear—or if you have already bought pre-ripe ones—they should be stored in the refrigerator, where temperatures will slow down their further ripening process and inhibit any fly infestation problems.
In order to further deter fruit flies from invading your bananas, try wrapping each individual piece of fruit in plastic wrap or an airtight container before refrigerating them. This helps keep out moisture that can attract those pesky critters!
Make sure the seal is tight, so nothing gets through; this way, the heat won't accumulate inside the container or wrapper either, which eliminates another potential food source for fruit flies looking for somewhere new to call home! Additionally, storing your fruits away from produce items like tomatoes or cucumbers (which also tend to draw flying insects) may help reduce unwanted inhabitants in your kitchen pantry too!
Lastly—and most importantly—make sure all parts of your kitchen remain clean and tidy at all times; throw away spoiled fruits immediately after spotting them (these are prime targets for hungry little bugs!) instead of letting them sit around on countertops where they may linger longer than necessary! Vacuum regularly and don't forget about getting into crevices & corners since these areas can sometimes harbor lingering pests that want nothing more than an easy snack on sugary treats like bananas 😉 Good luck & happy snacking!
⭐ If you try this recipe, let us know! 💬 Leave a comment, rate it, and don't forget to tag us @ourplantbasedworld on Instagram. Cheers!
📋 Recipe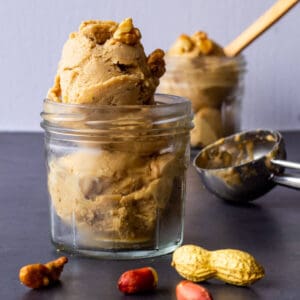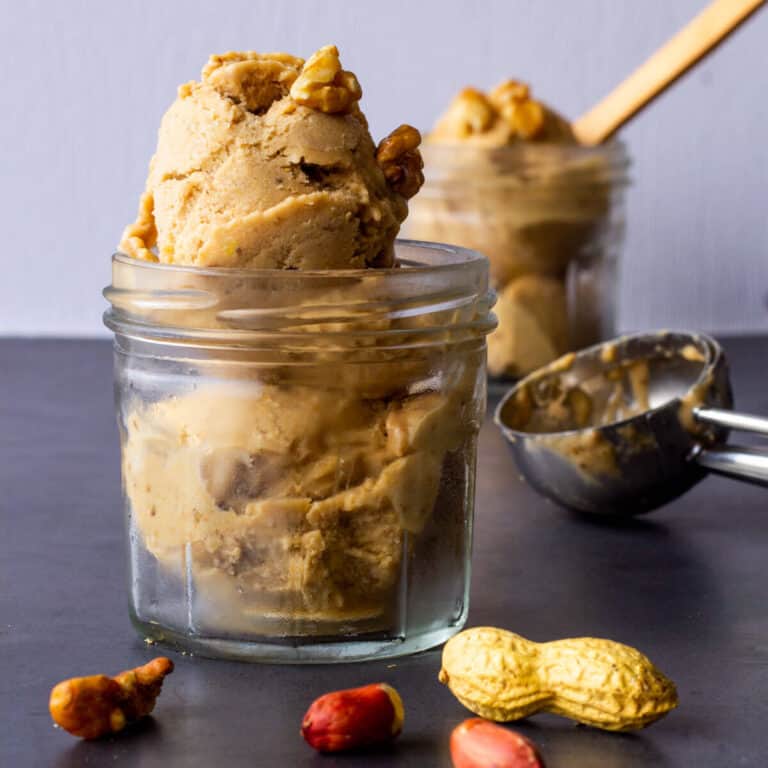 Peanut Banana Ice Cream
Ice cream is by far our favorite sweet option. Finding vegan options is not always easy, but this 10 mins homemade nicecream is the deal for us!
Equipment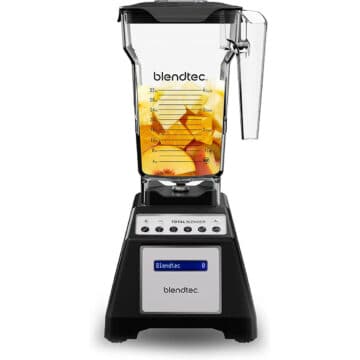 (affiliate link)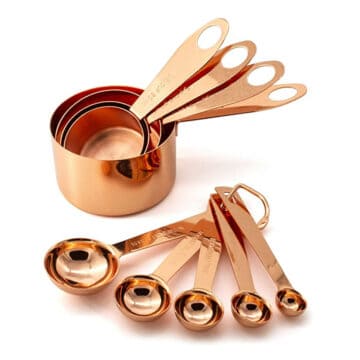 (affiliate link)
Ingredients
3

medium bananas

frozen

2

tablespoons

peanut butter

use 3 tablespoons for a richer flavor
Optional:
2

tablespoons

maple syrup

or agave syrup

1

tablespoon

plant milk

only if needed

2

tablespoons

walnuts
Directions
Freeze the bananas overnight. We always have at least 3 peeled, frozen bananas in the freezer to fix a quick nicecream in minutes.

Blend all the ingredients but the walnuts on a high-speed blender dial to its lowest setting and then switch to high. You might need to stop the motor momentarily a couple of times and/or add a tablespoon of plant milk at a time to facilitate blending.

3 medium bananas,

2 tablespoons peanut butter,

1 tablespoon plant milk,

2 tablespoons maple syrup

Press down. Once it's started blending, use the tamper to press down and stir. It should turn into soft-serve texture banana ice cream. Add the walnuts if using and just blend for a couple of seconds more.

Garnish with walnuts or your favorite toppings.
Notes
We like eating our nicecreams freshly blended. Although, for "ice cream-like" texture vs. soft, spread into a loaf pan and freeze for two to three hours. Then scoop with an ice cream scoop! If too firm, let thaw for 15-25 minutes to soften.
Nutrition Facts
Calories:
126
kcal
Carbohydrates:
22
g
Protein:
3
g
Fat:
4
g
Saturated Fat:
1
g
Polyunsaturated Fat:
1
g
Monounsaturated Fat:
2
g
Sodium:
38
mg
Potassium:
369
mg
Fiber:
3
g
Sugar:
12
g
Vitamin A:
57
IU
Vitamin C:
8
mg
Calcium:
8
mg
Iron:
1
mg
Nutrition Facts
Peanut Banana Ice Cream
Amount per Serving
% Daily Value*
* Percent Daily Values are based on a 2000 calorie diet.
🌡️ Food safety
Cook to a minimum temperature of 165 °F (74 °C)
Do not use the same utensils on cooked food, that previously touched raw meat
Wash hands after touching raw meat
Don't leave food sitting out at room temperature for extended periods
Never leave cooking food unattended
Use oils with a high smoking point to avoid harmful compounds
Always have good ventilation when using a gas stove
See more guidelines at USDA.gov.
Nutritional Disclaimer
The information shown is an estimate provided by an online nutrition calculator. It should not be considered a substitute for a professional nutritionist's advice. See our full Nutritional Disclosure here.
Affiliate Disclaimer
Please note that some of the links here are affiliate links, and I will earn a commission if you purchase through those links. I recommend all of the products listed because they are companies I have found helpful and trustworthy.