Christmas dinner is around the corner, and we plant-based eaters and vegans are looking forward to planning the Best Vegan Christmas Recipes to make a proper Vegan Holiday Feast with good food and our beloved ones around.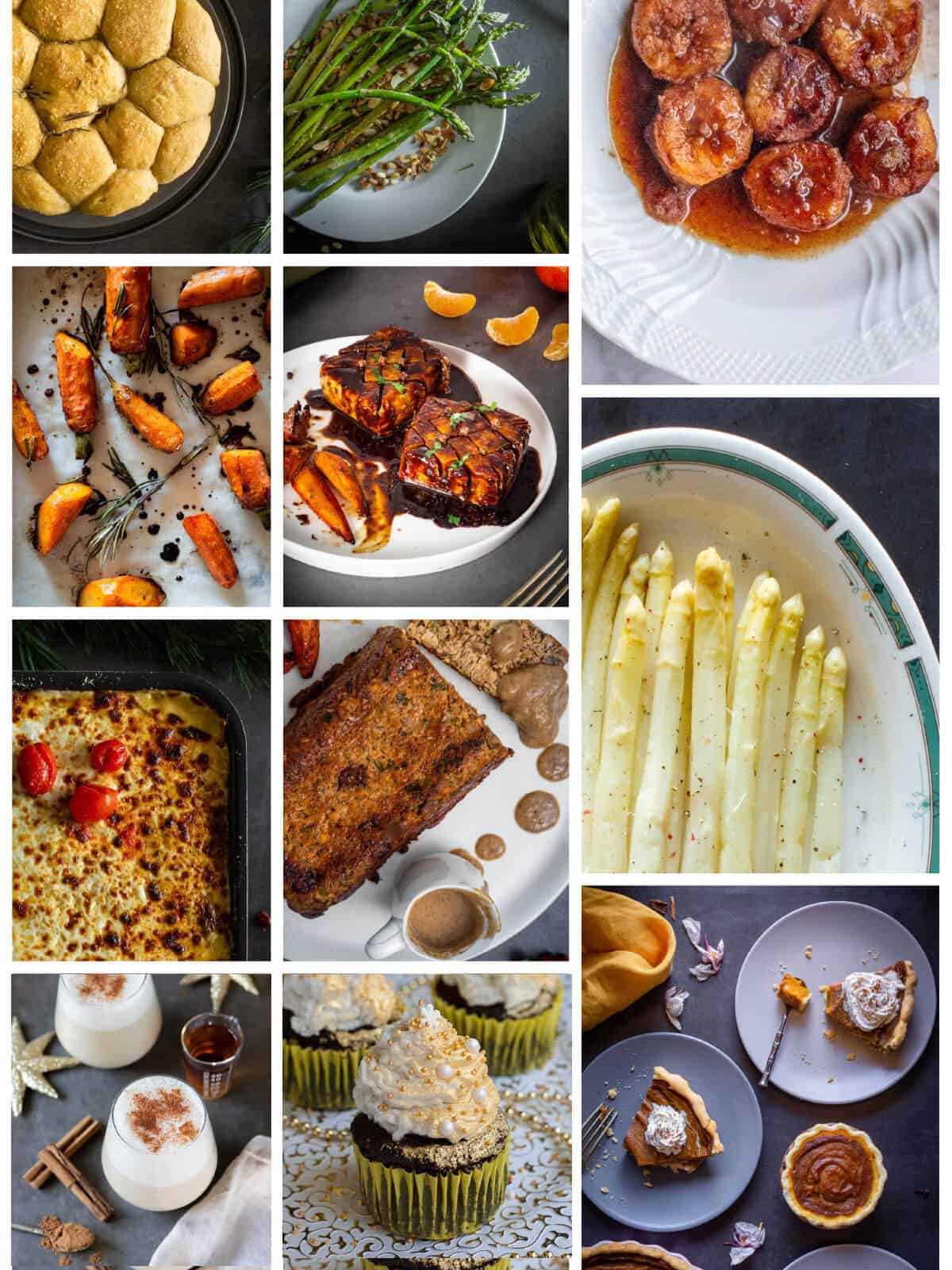 Following a plant-based diet, spending holidays with our relatives, and coming up with a vegan Christmas dinner menu have always made us a little anxious. We have large families spread out between Panama, the USA, and Argentina, with different holiday traditions and staple holiday dishes.
We will spend the holiday season here in Milano, Italy, with our new friends this year. Of course, they expect some wonderful Christmas ideas coming from the kitchen of their fresh food bloggers' friends' couple, so here we go again!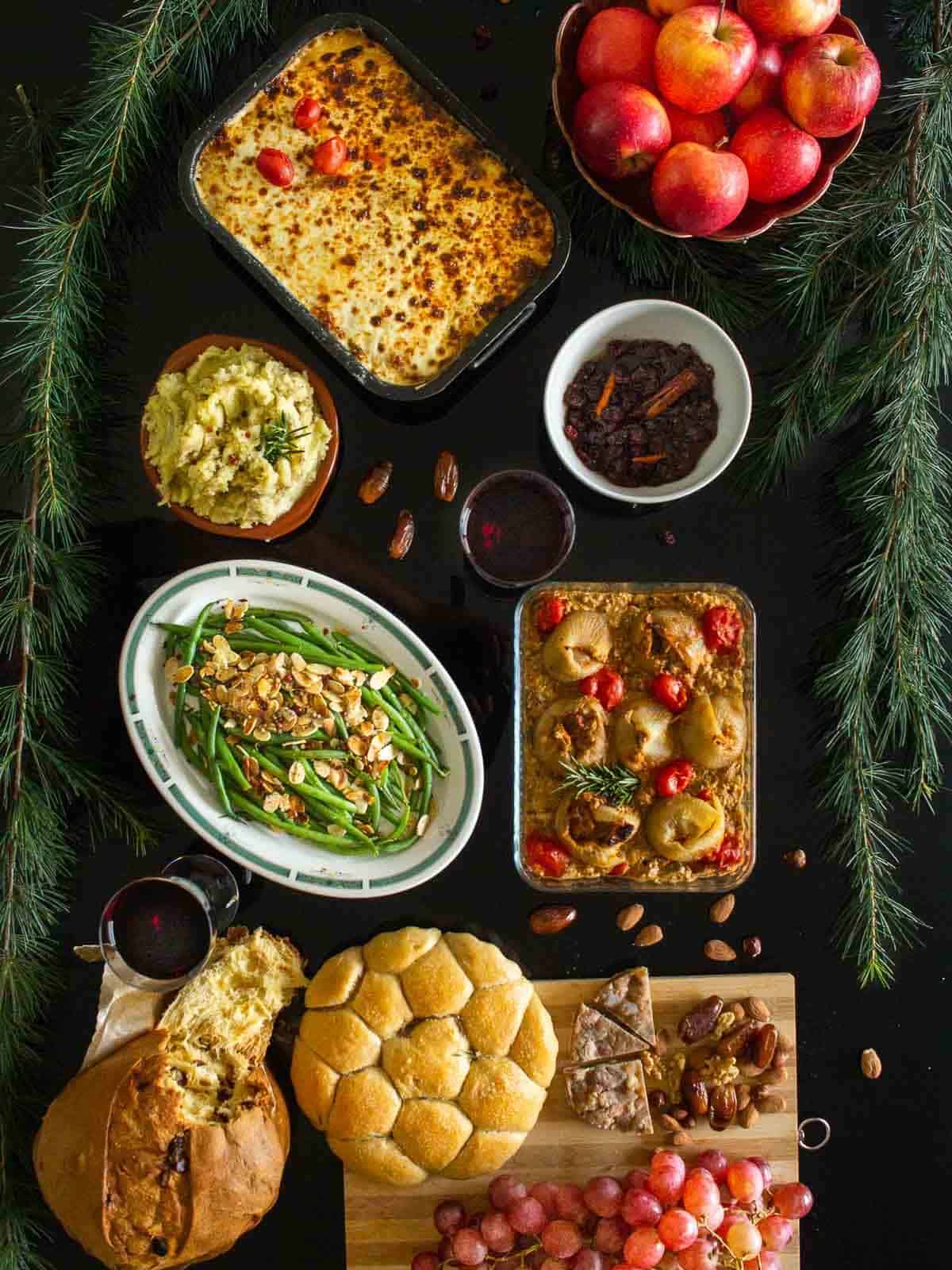 The question is always there: what do vegans eat for Christmas?
A festive feast needs to come to play, and we are pulling up all the Best Vegan Christmas dinner recipes we have! Just our favorite recipes, all wrapped up in this holiday special!
Since we love to cook, we always sneak a couple of dishes here and there, as we never trade for only one vegan option; we also want to feast! Don't we all?
Vegan Christmas dinner ideas
Over the years, we have tried different recipes, depending on the location, as it might be a cold, mild, or hot Christmas.
We always cook, considering everyone will eat, so we like to make enough, so our families can taste and understand that we are not missing out on flavor; we just have different choices.
As a result, we have always been cheered, either out loud or silently, with empty pans and casseroles, wiped out by non-vegans and meat-eaters, next to halfway eaten turkeys and hams trays.
I am not blowing my own trumpet here, but this collection of dishes has made us very proud throughout the years.
It would make for a fantastic Vegan Christmas dinner for a small family, a party of four, or if, as we always do, have Christmas brunch with the dinners' leftovers.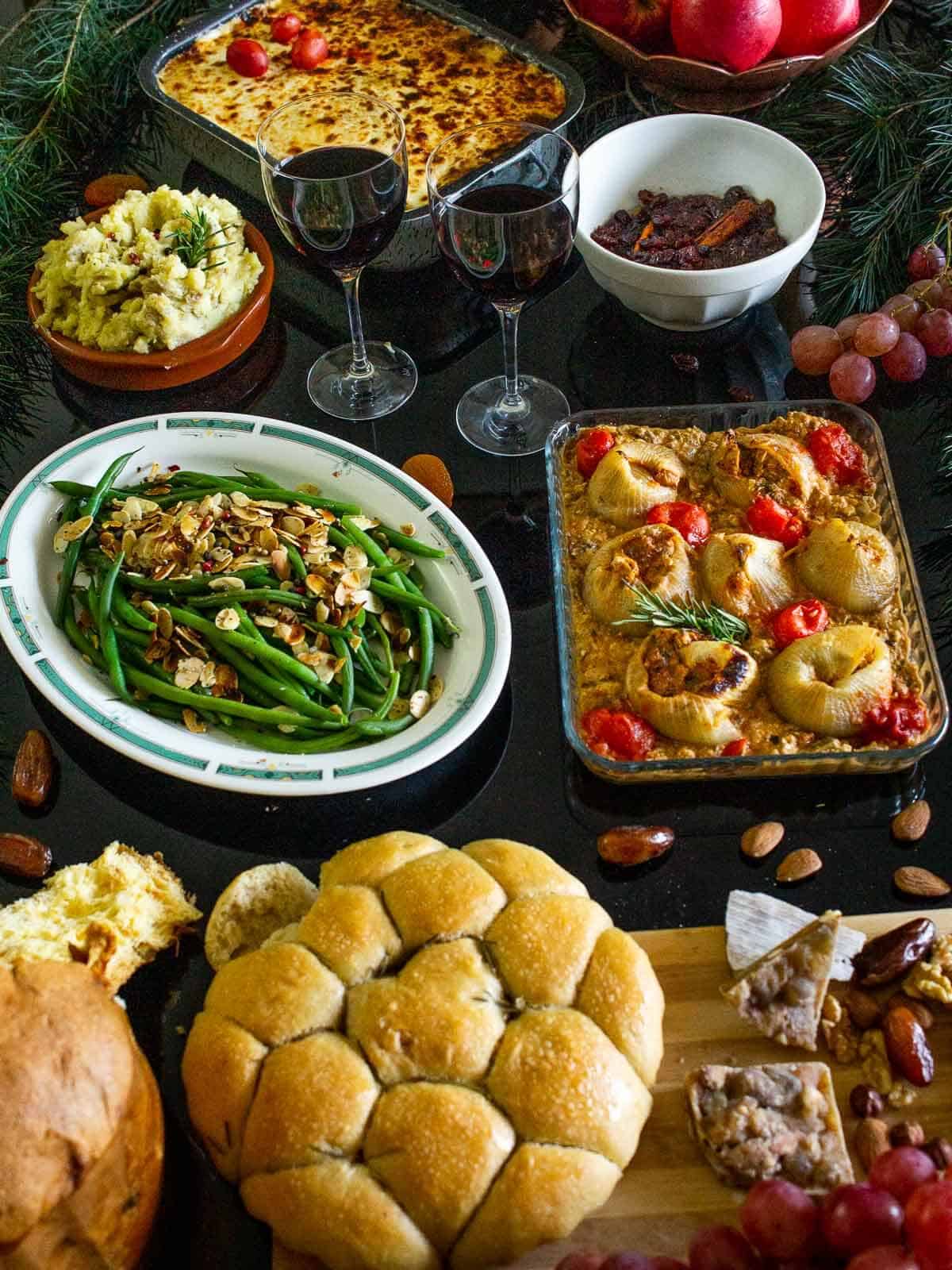 We have everything you will need right here to have the perfect Vegan Christmas!
From Christmas starters and drinks to Christmas brunch ideas.
Many of the recipes you can make ahead of time so you can keep the lead up to that special meal to sip an excellent wine and spend quality time with your guests or your beloved one.
Get ready! You are about to discover the Best Vegan Christmas dinner ideas!
Vegan Christmas starters
For those of you who are looking for some delicious vegan Christmas starters, we've put together a selection of recipes that will get your festive feast off to a great start!
Green Beans with flaked toasted almonds
Green beans starters are a great way to enjoy a healthy and flavorful meal. They are incredibly easy to make, have a delicious crunchy texture, and there are many different ways to prepare them.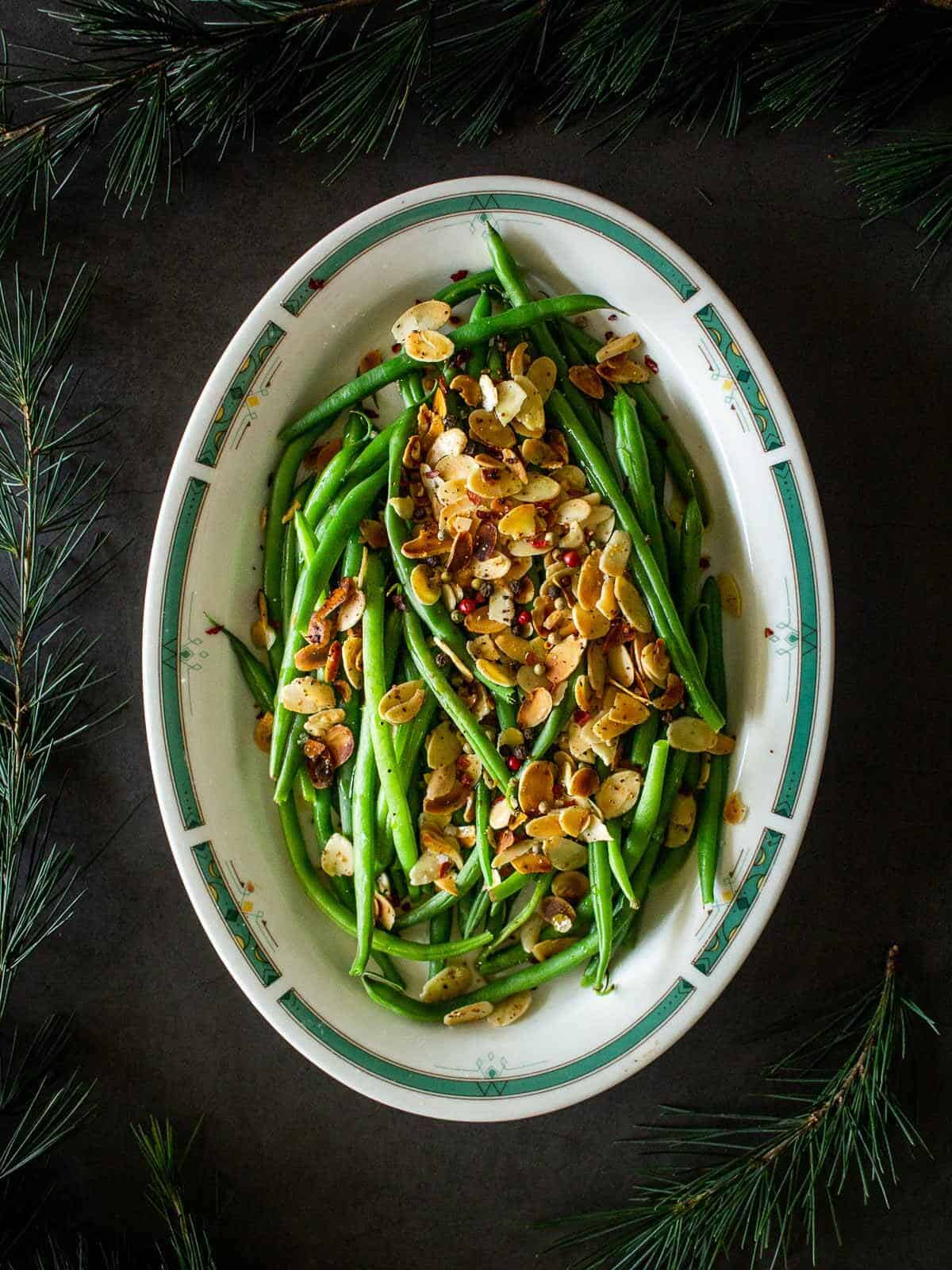 Elegant and easy White Asparagus
If you can find White Asparagus around, do yourself a favor and get a couple of bunches. These delicacies are so yummy and need barely any cooking. Make them in advance and quickly reheat them. This elegant starter will make you start your dinner with the right foot.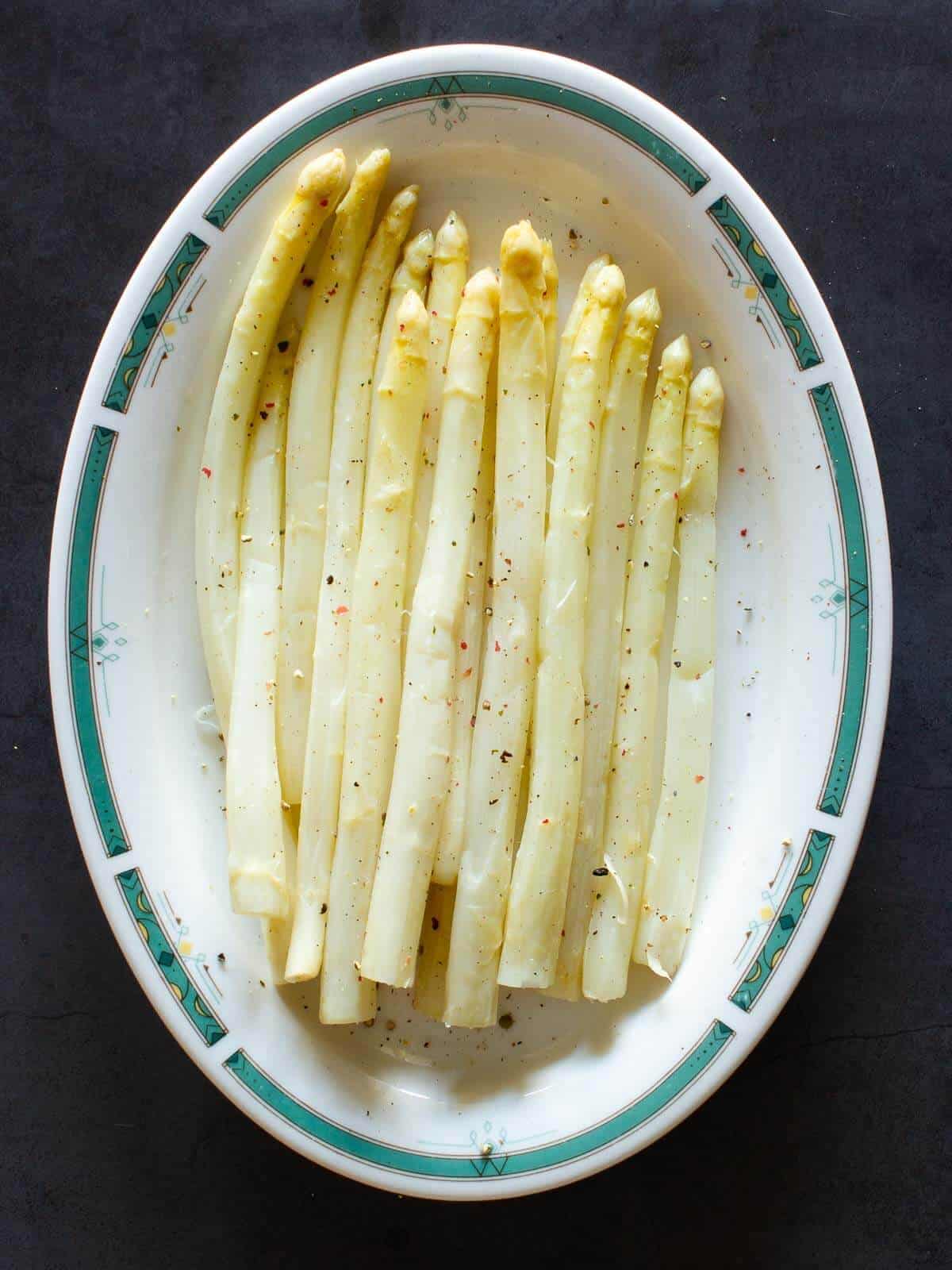 Roman-style artichokes
For artichokes lovers rejoice, several major retailers have begun stocking fresh artichokes. Despite coming ripe near the end of autumn, artichoke season under the Californian sun has been good so far, and it is expected to last well into spring.
I am a big fan of these naturally vegan Italian-style artichokes; they are completely addictive.
Make sure you have some dinner rolls, Italian Pagnotta (an easy bread loaf), or focaccia bread around to sweep the plate. That's exactly what everyone those after finishing the last bite! Good stuff!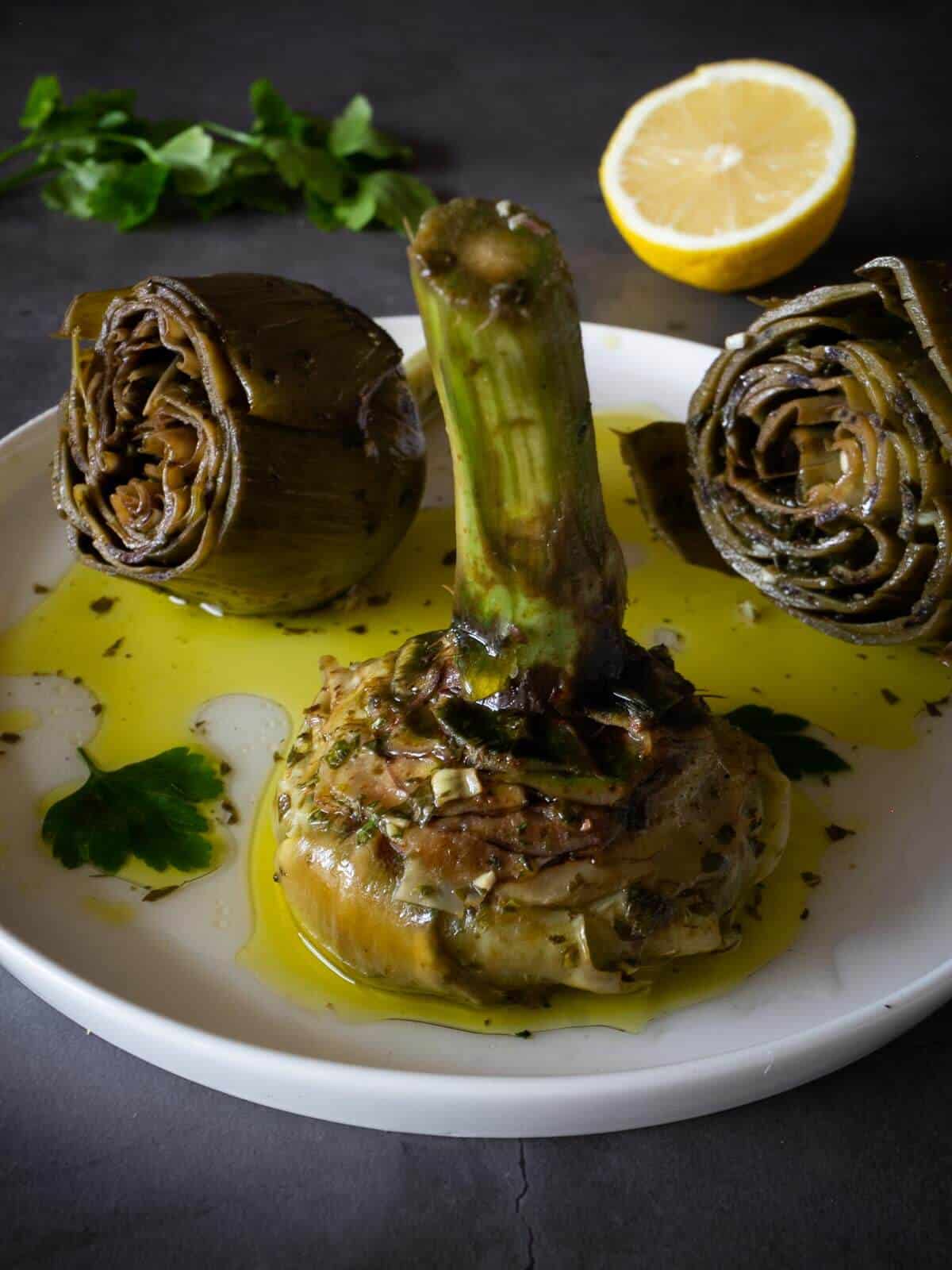 Serve a portion of Gnocchi or Fettuccine with Rosé Sauce. A delicacy.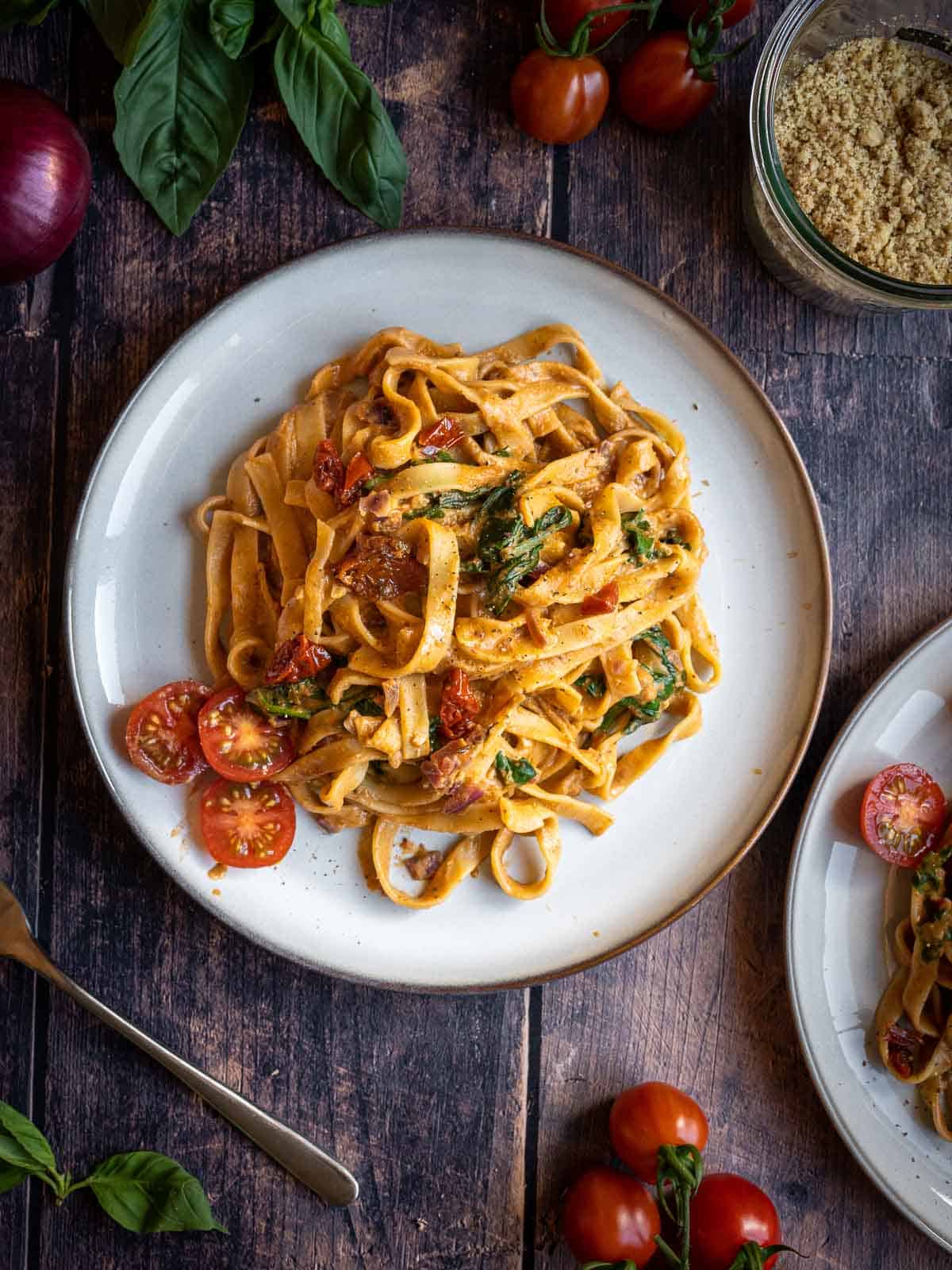 Roasted artichokes with dairy-free dipping sauce
Another artichokes recipe that makes our guests crazy!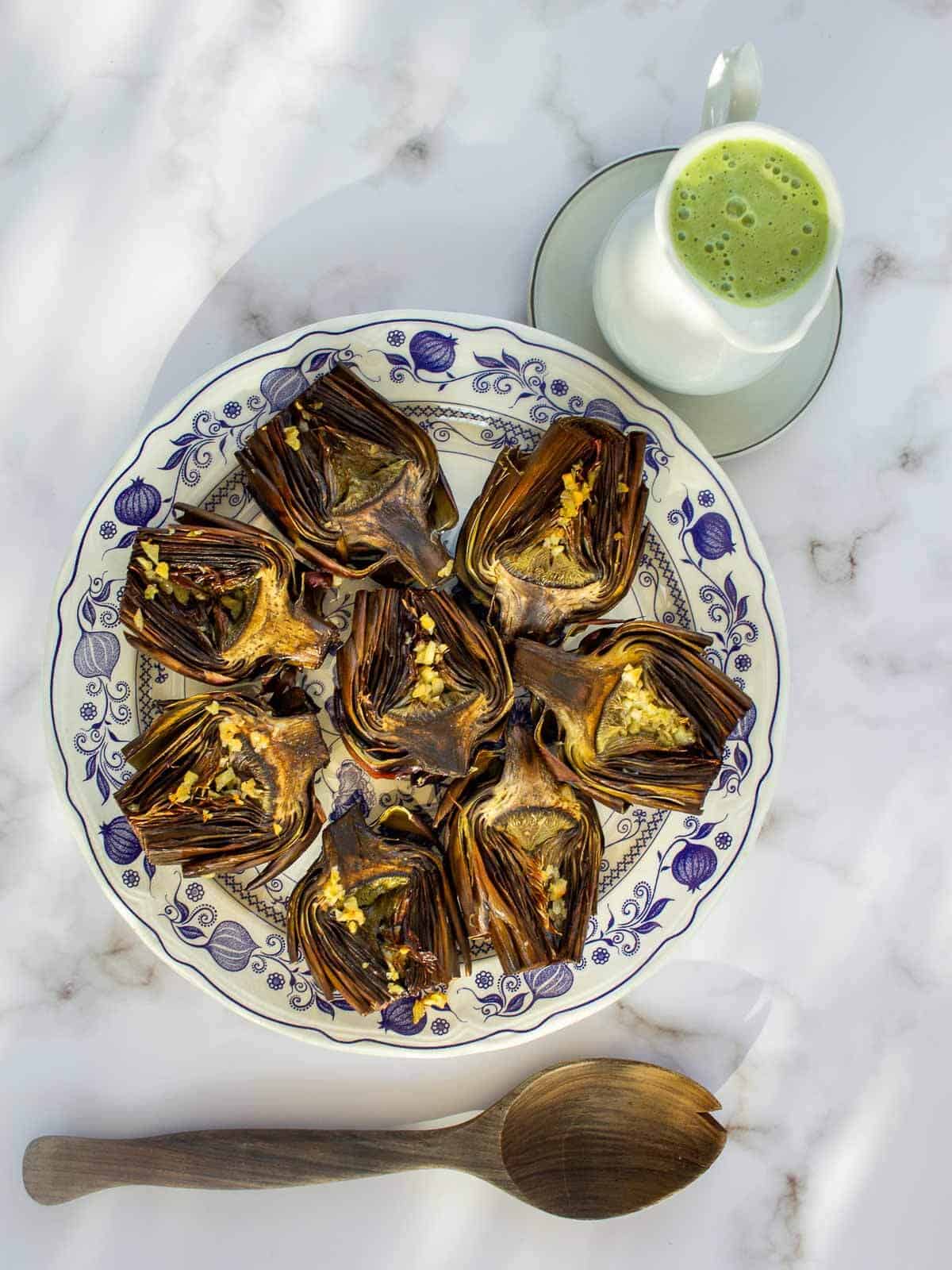 Hand pies stuffed with flavorful lentils stuffing
If you feel like having some oven-baked Latin touch, you can try some of our vegan empanadas, either filled with delicious lentil stuffing or mushrooms empanadas that are holiday gathering favorite.
We love empanadas because you can make them in advance and bake them just before the Christmas party starts.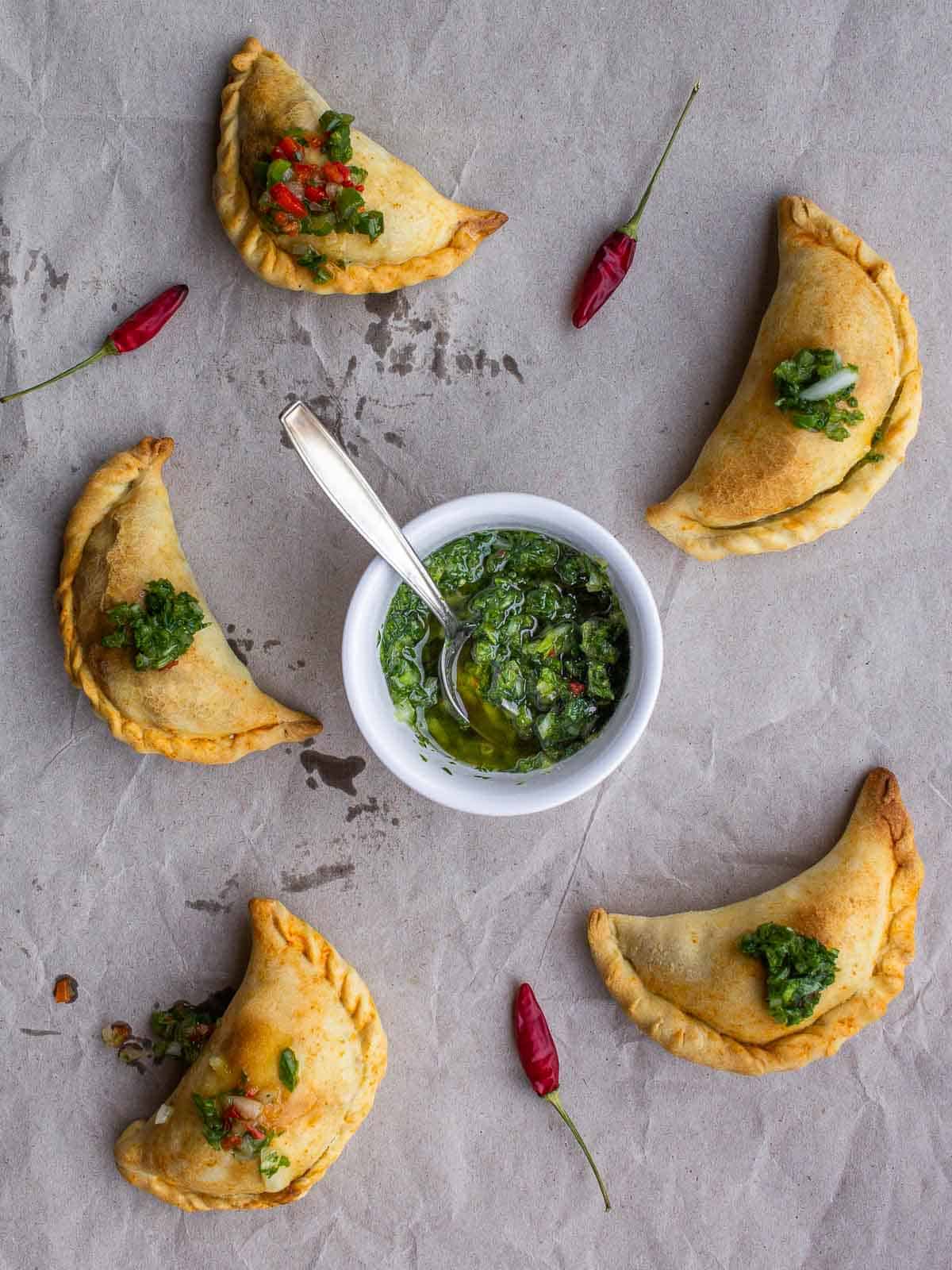 You can easily use the same dough and make the even easier mushrooms empanadas!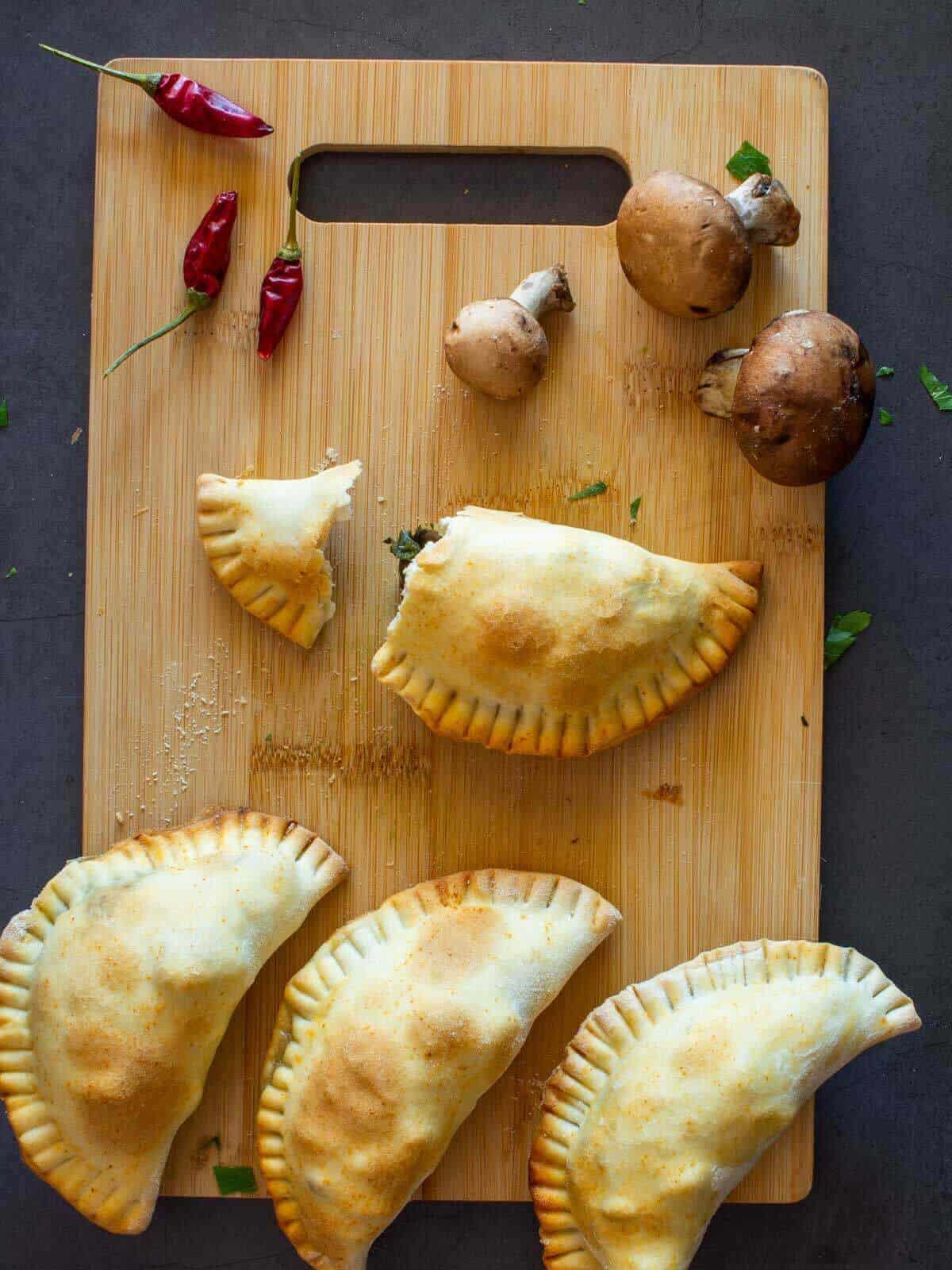 And yes, hand pies can also be sweet! These from rhubarbarians.com are fantastic!
Easy pumpkin hummus
This easy no-cook recipe is perfect for fall entertaining or anytime you're craving something savory and spreadable. Serve this Christmas spread with crackers, bread, or raw vegetables. With the help of a food processor, you can make spreads in a blink of an eye!
Here we bring a festive hummus version, but traditional hummus is devoured on any table, including Christmas dinner!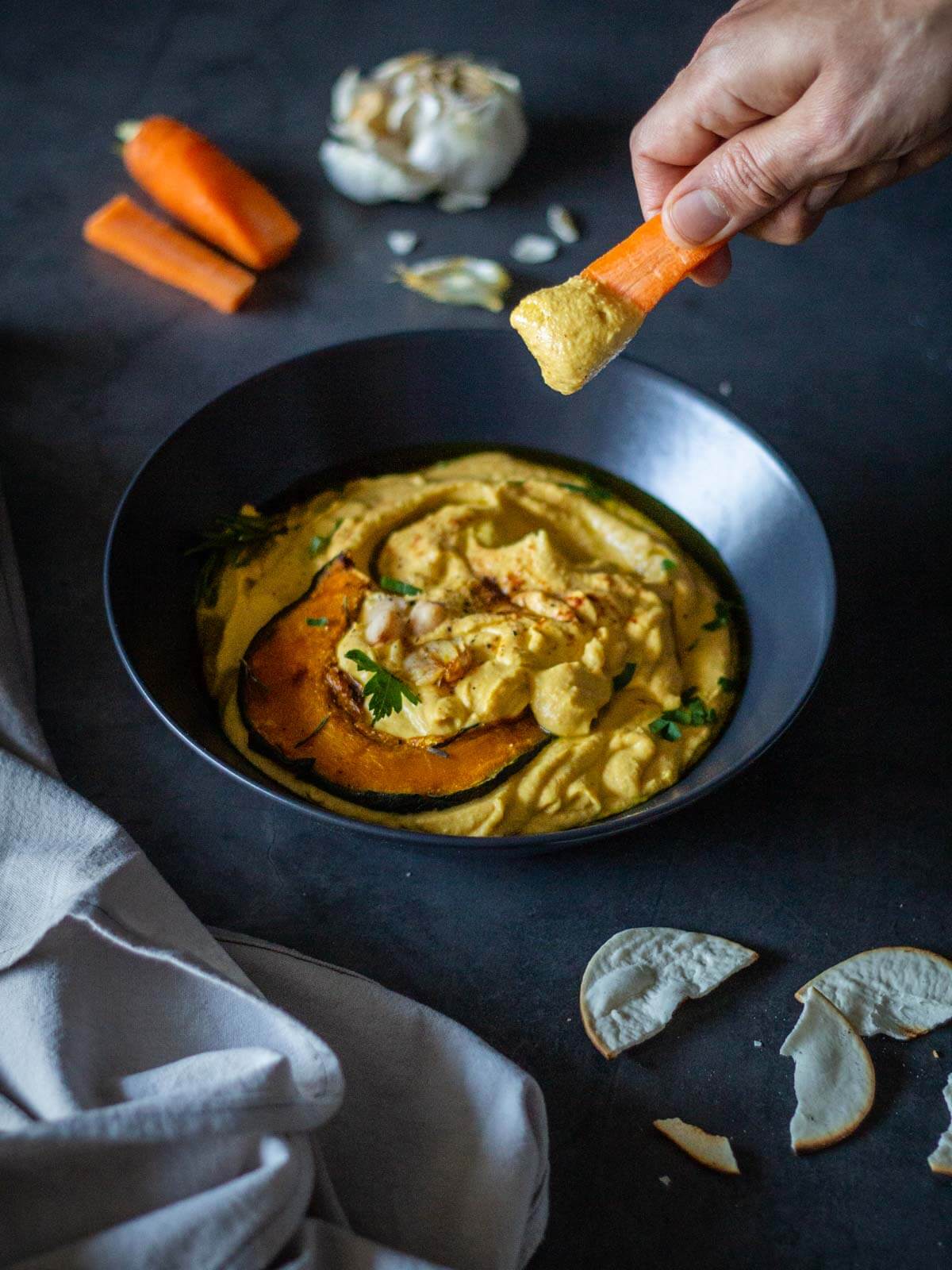 Tahini-free roasted peppers dip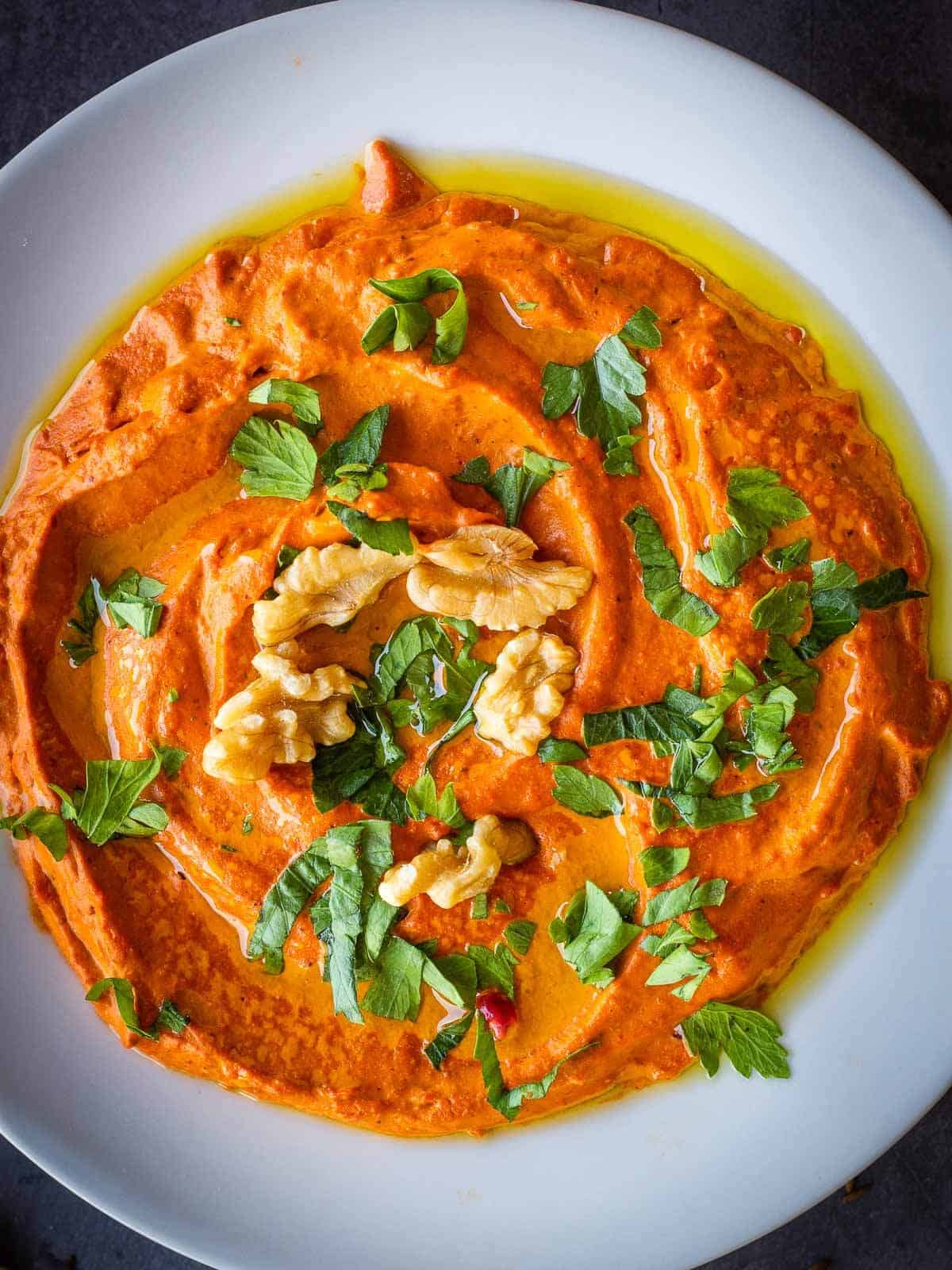 Vegan Christmas drinks
If you're looking for some vegan-friendly Christmas drinks options, here are a few of our favorites.
Easy vegan Eggnog
This one from Veggie Desserts is incredibly easy and made in only 5 minutes!
Latin-American vegan eggnog version
If you feel a little more adventurous, a little more, and have an vegan latin egg-nog, I totally recommend trying out this recipe from Rhubarbarians!
Cranberry gin fizz
Not a fan of creamy drinks? Or want something lighter, maybe with some cranberry juice? This one from Short Girl Tall Order is for you.
Christmas dinner main course ideas
We have the perfect Vegan Christmas dinner recipes, including a vegan version of a holiday roast, that everyone will surely love.
Vegan Moussaka
Let's begin with the sweet potato casserole that we cannot miss. Otherwise, our Christmas dinner wouldn't be complete.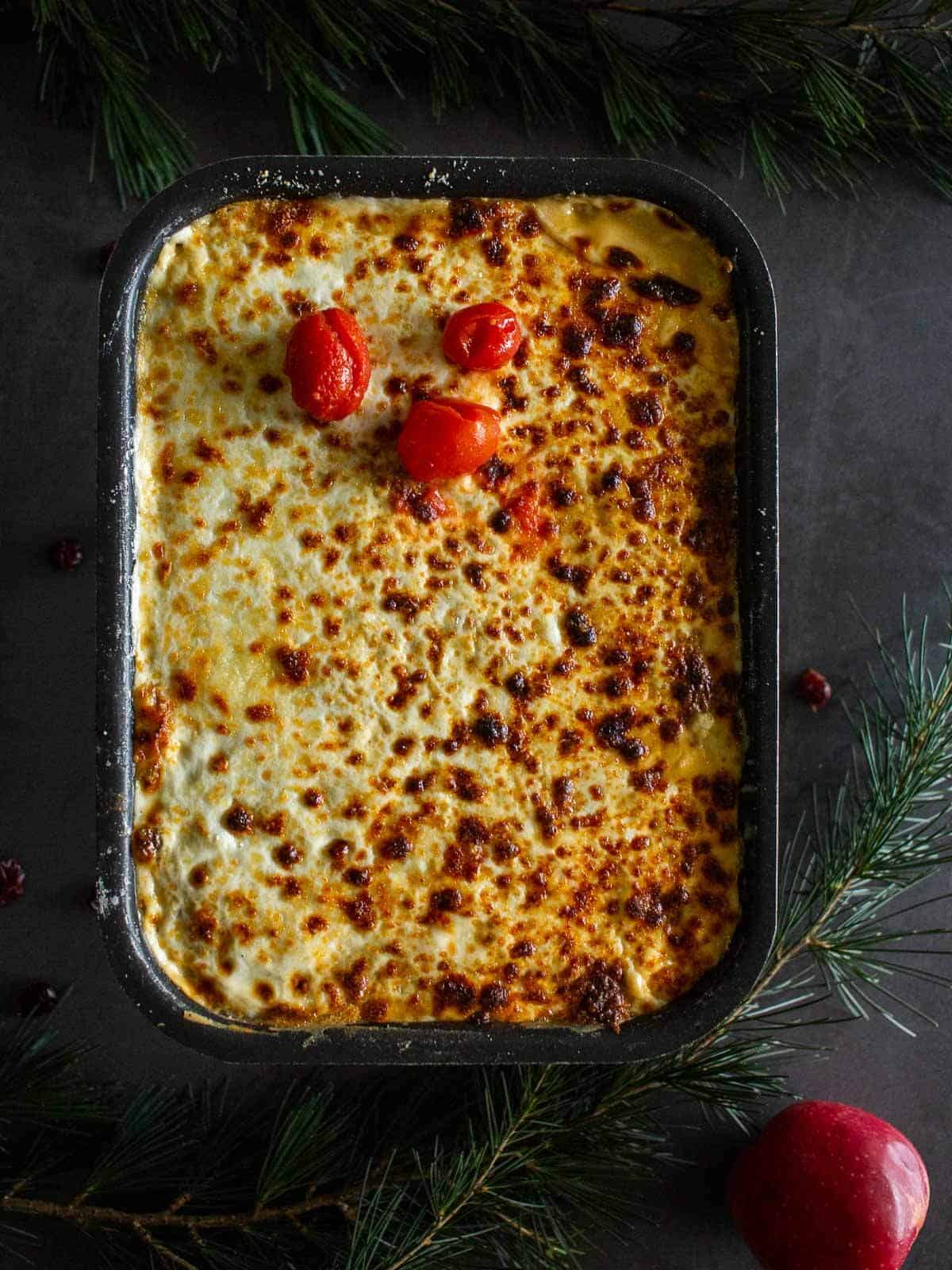 Vegan ham
If you feel like you would be missing a ham... worry not! This vegan ham, made with tofu, is made in less than an hour, with minimal hands-on time!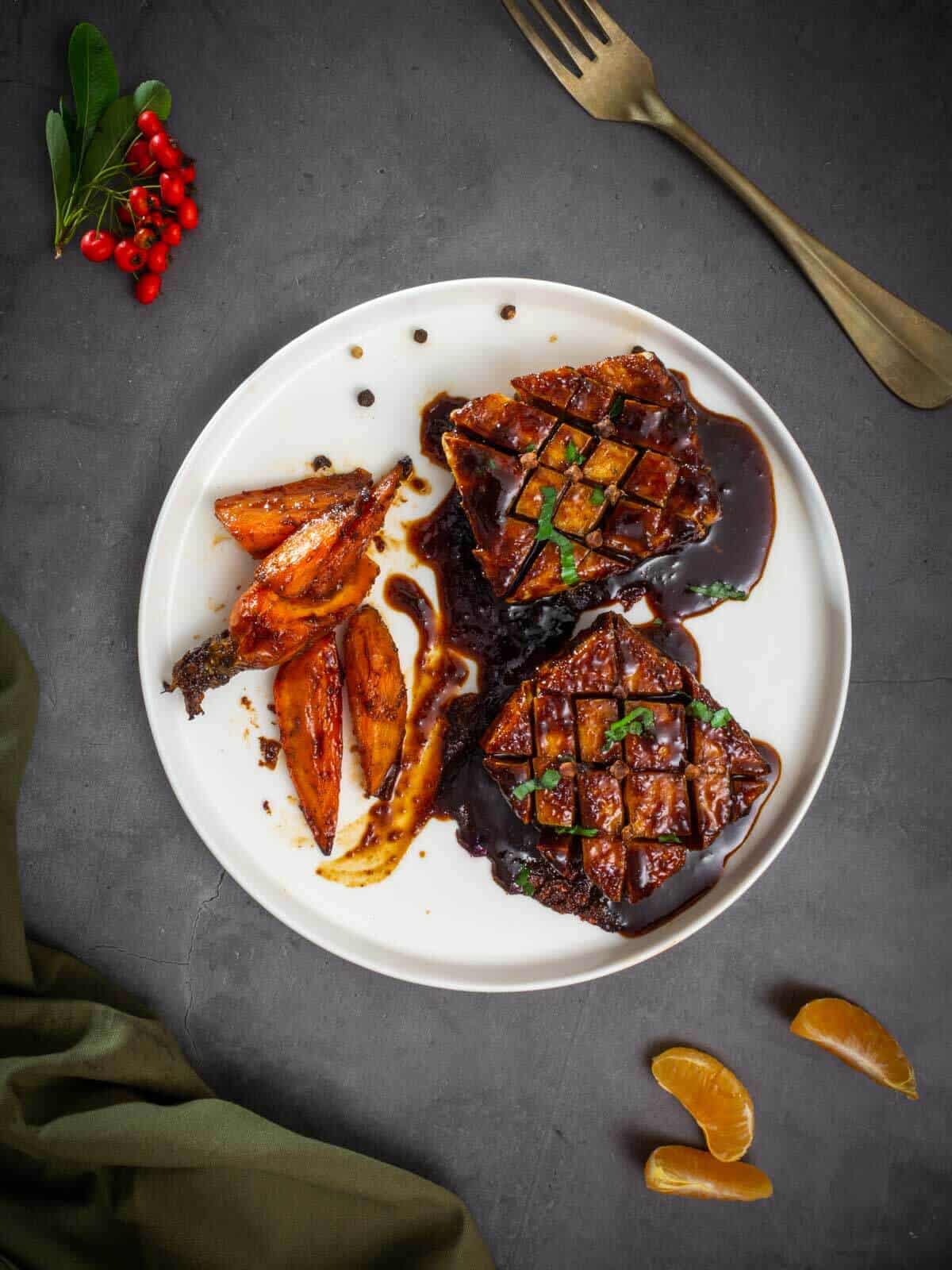 Baked polenta with vegan ragout
Nothing like a perfectly cooked portion of Polenta with chunky vegan ragout; take our word!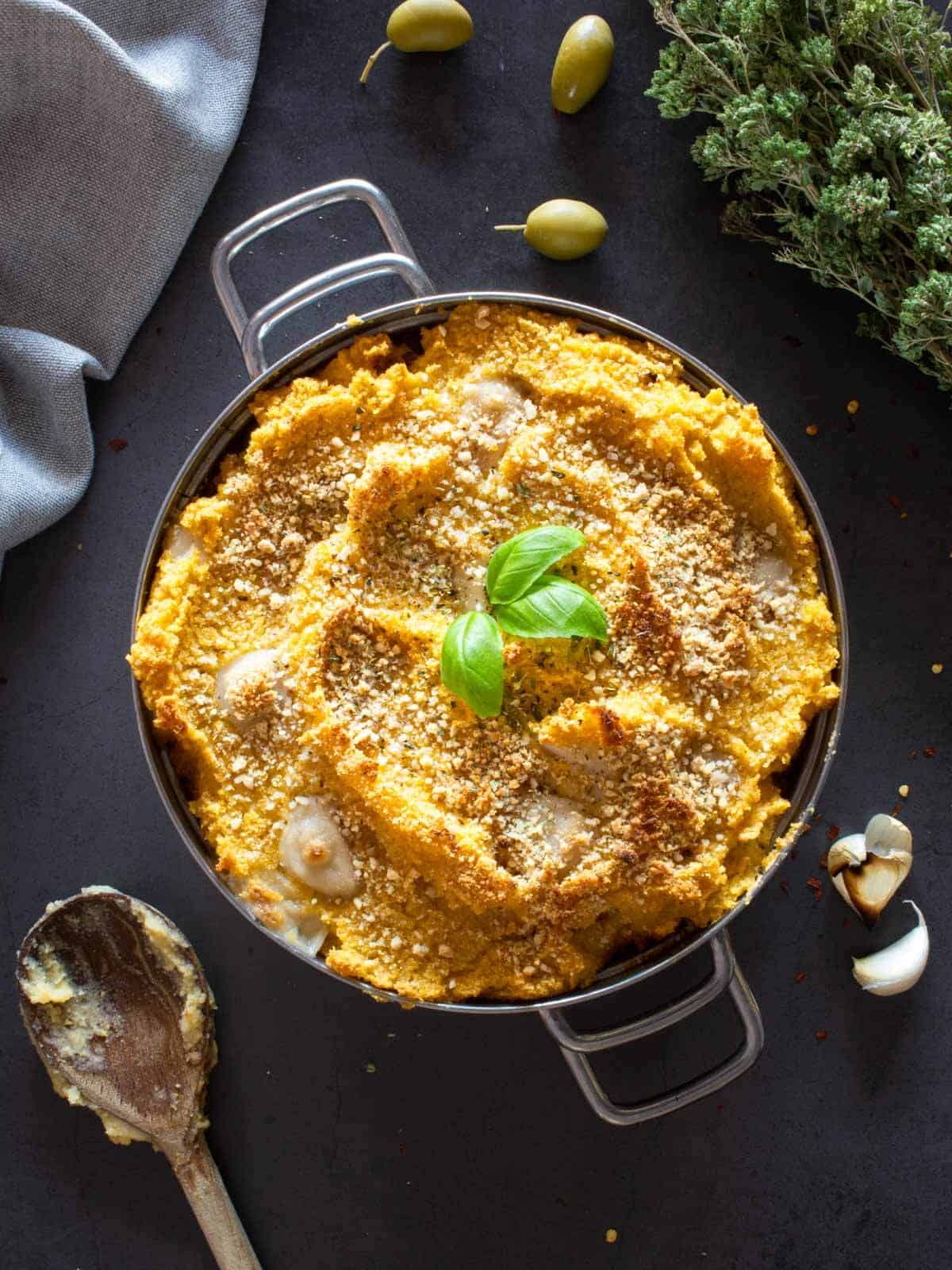 Vegan Christmas pudding
This Christmas pudding (nut roasts) is also a must-have on any vegan Christmas! The best? It is straightforward, and you can even make it in advance and thaw it when you need it!
A Christmas pudding is made with dried fruit, mushrooms, and your choice of raisins or cranberries. Pair it with a fabulous vegan gravy, and you will rock it! I am sure even Christmas pudding haters will love it!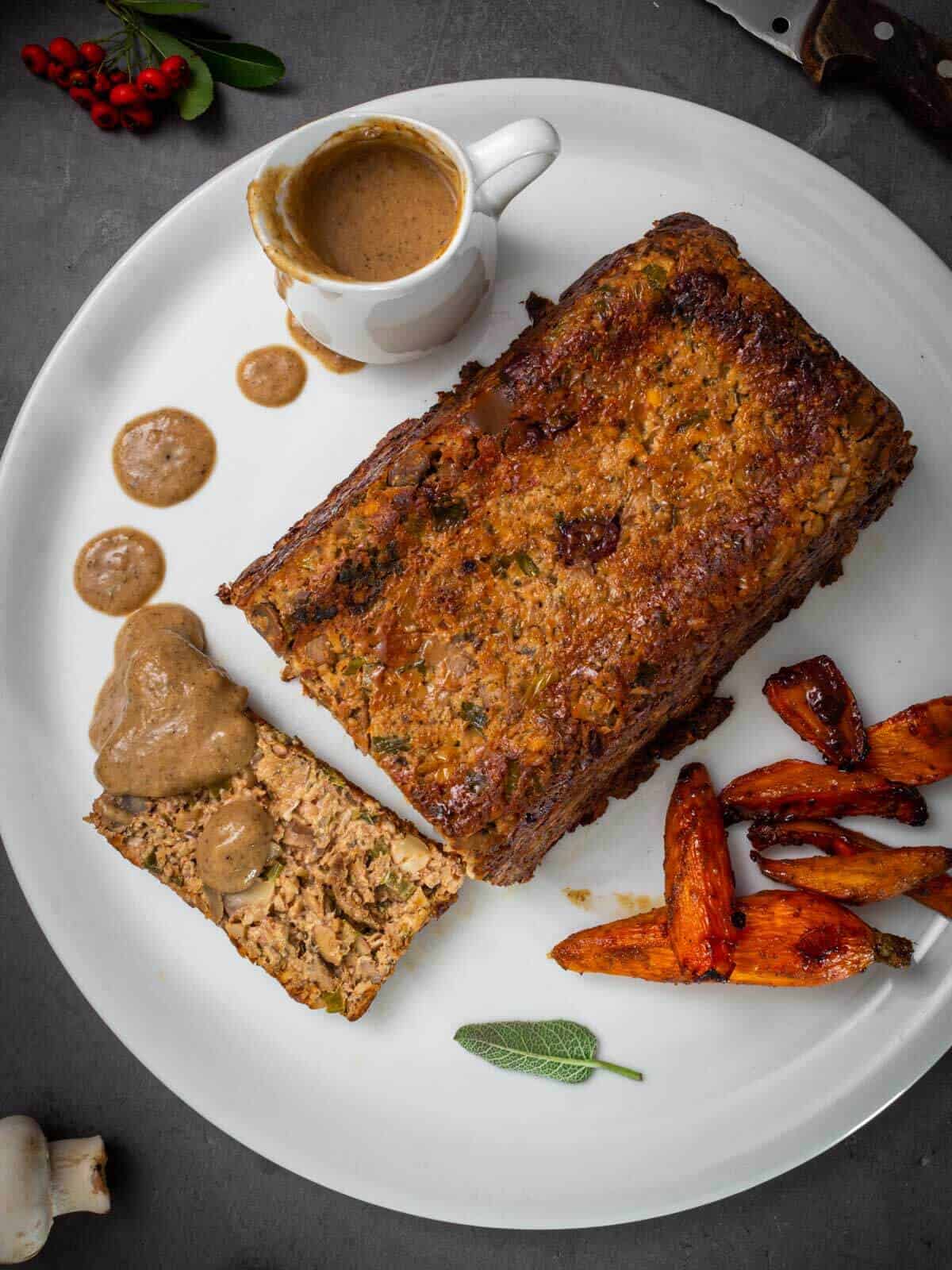 Stuffed onions
These stuffed onions have appeared several times on our Christmas dinners, as people love them, and have become one of our favorite vegan Christmas recipes; we developed them out of an Ottolenghi recipe (the chef that I admire the most!).
These onions are so hearty and packed with flavor and are one of those delicious recipes that can make a great main meal if you have two or a filling side dish.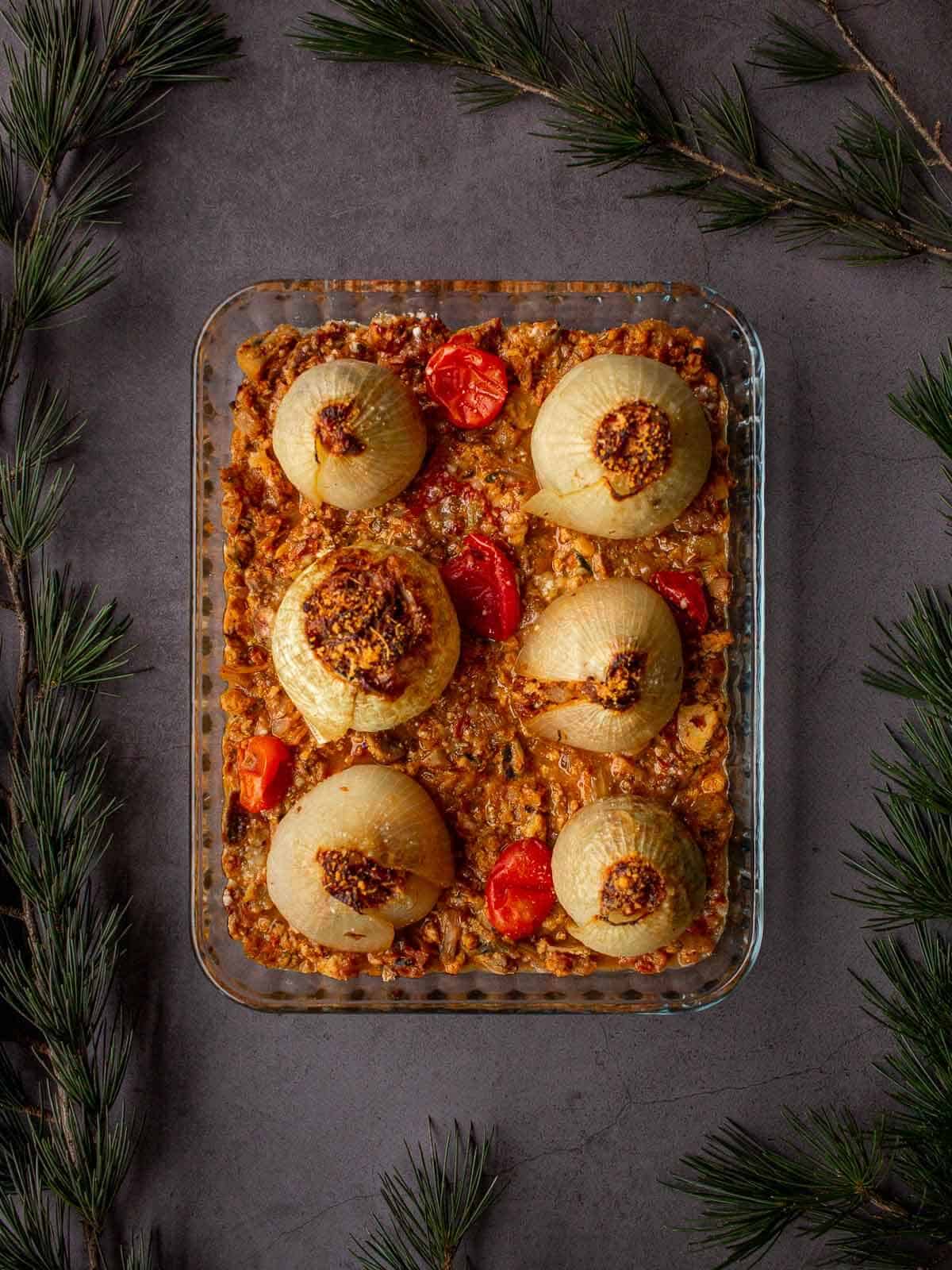 Vegan Chili
If you want something straightforward to make and still delicious that pairs perfectly with your cornbread, I recommend going with this fabulous Vegan Chili.
Christmas side dishes
I love making plenty of Vegan Christmas dinner recipes because I love a big Vegan Christmas dinner and trying and sharing different vegan recipes. It is a great occasion to show how diverse and delicious a vegan lifestyle can be!
They never stop wondering that vegans eat a much more varied range of products than people who eat meat eat at the end of the day.
That's probably why I am biased toward having many side dish recipes. We love munching on many different treats. Also, they are usually easier to make, and you can try several things. I am in!
We always have cornbread for Christmas and Thanksgiving because it pairs well with chili and is easy to match with any sauce on your plate, including cranberry sauce. As much as we love experimenting with new things, some traditional food is always welcomed!
Buttermilk Cornbread
Just like pumpkin pie, I love having cornbread around during the holiday season for every single dinner! Is it just so easy to make that...well, why not?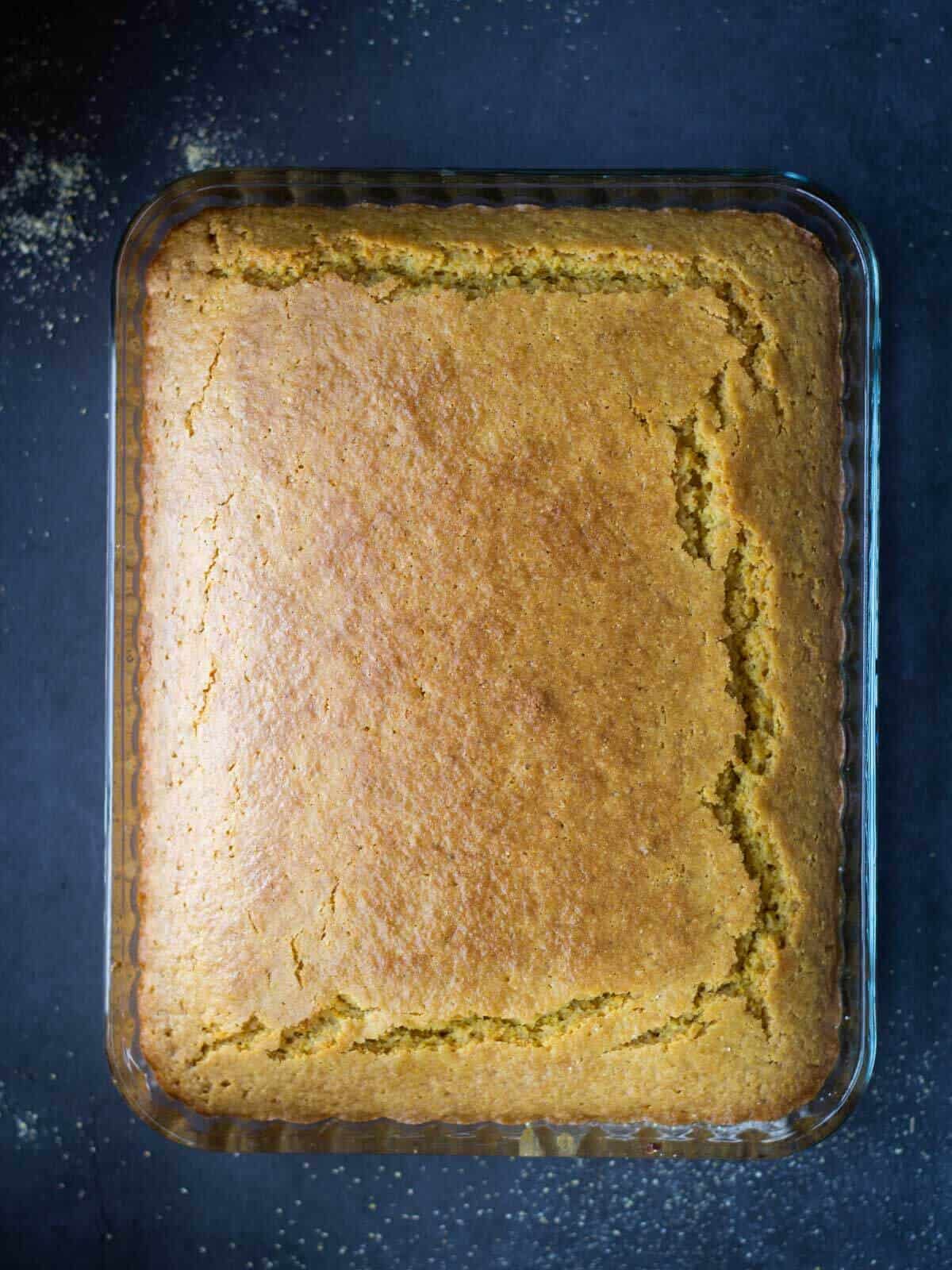 Sweet Potato Crunch
A fantastic option to include a sweet side dish as an option during the holidays. This recipe screams Coziness!
Cornbread stuffing
Looking for a delicious and gluten-free cornbread stuffing recipe? This cornbread stuffing with cranberries and pecan nuts is the perfect dish for your holiday table. Made with cornbread, cranberries, pecans, and a variety of spices, this stuffing is packed with flavor. And best of all, it's easy to make. Simply bake the cornbread, mix everything, and bake again.
Vegan gravy
No Christmas table is complete without gravy; luckily, the vegan gravy version is not only tastier but easier to make! They work for both your vegan nuts roast and your mashed potatoes!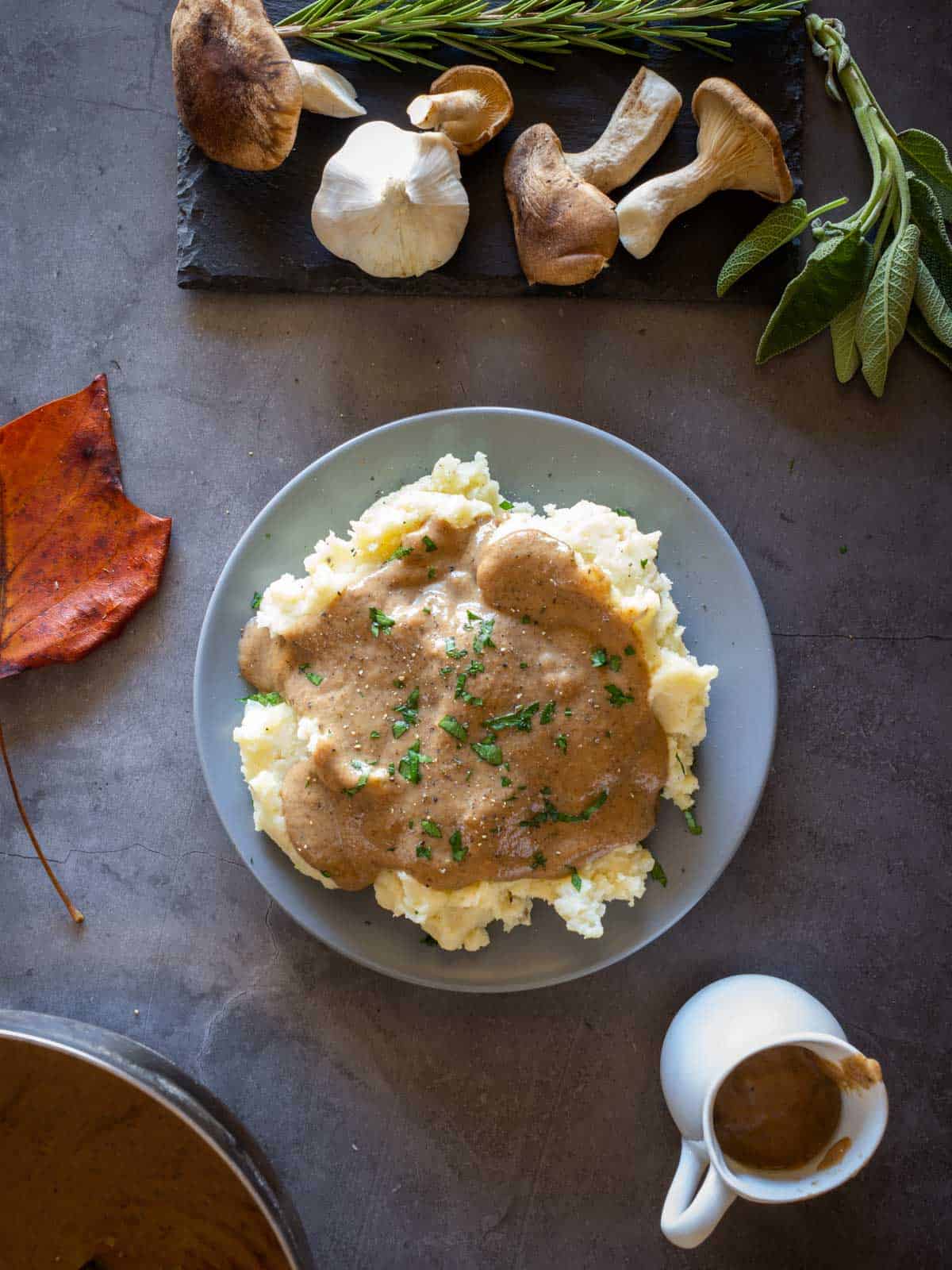 Citrus-spiced cranberry sauce
Yes, we all need cranberry sauce on our table, and this one has a twist that makes it truly outstanding, and you can also use it for your Cranberry hand-pies!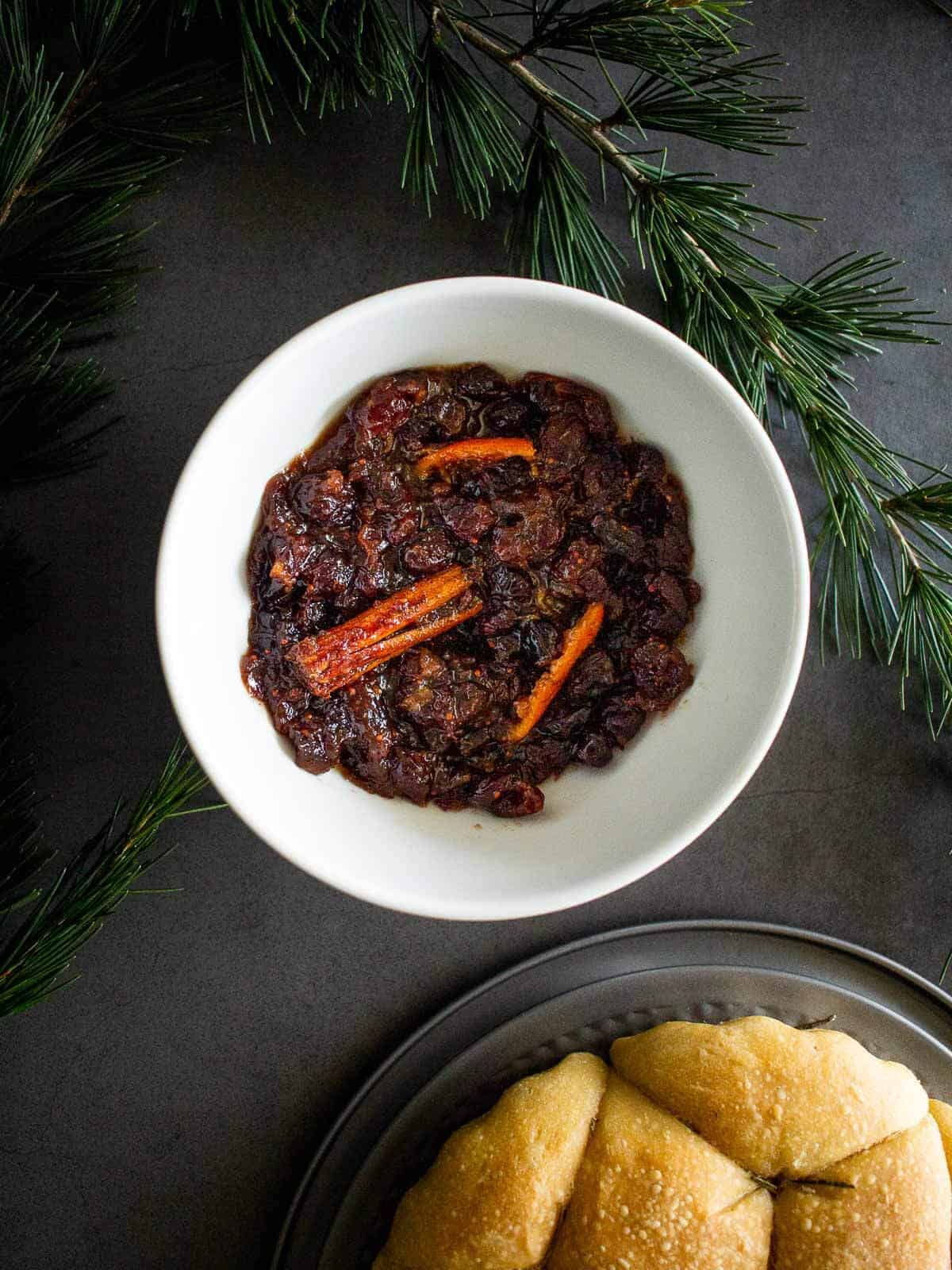 Maple syrup loves making its appearance in many dishes during this time of the year. This miso and glazed maple roasted carrots are not the exceptions, and they pair very well with Christmas puddings!
Maple-glazed roasted carrots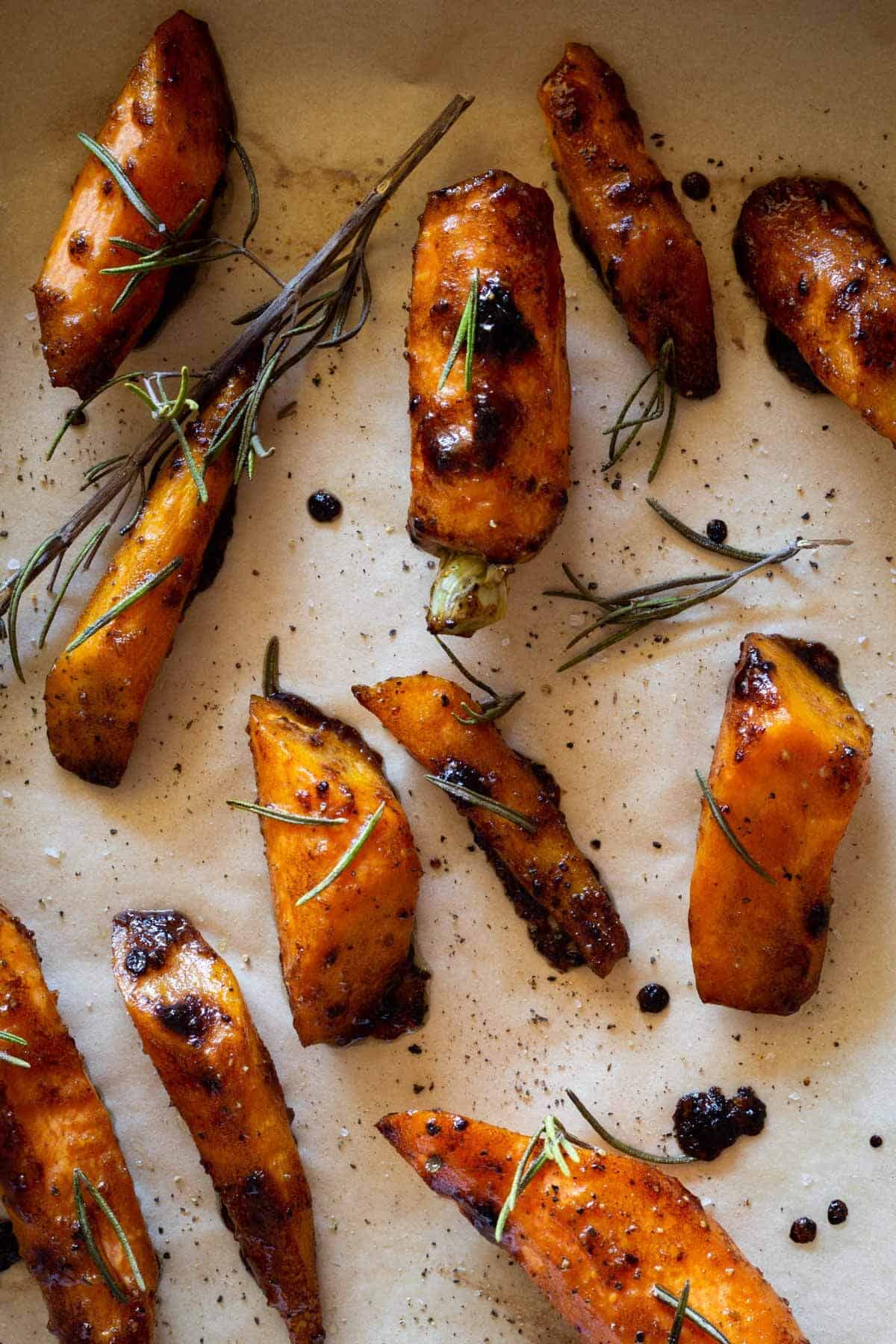 Braised cabbage
This simple recipe that combines sweet and savory to make a fantastic side dish you can enjoy any time of the year! We love this amazing recipe from Vegan Desserts.
Roasted pumpkin
Roasted veggies always make great side dishes. They are light, healthy, and crowd pleasers.
Vegan Roasted potatoes
We need some potatoes included in a Vegan Christmas dinner! They go well with everything. We like having them both pureed and roasted! These roasted beauties from Vegan Punks will rock your Holiday table!
Roasted Brussels sprouts
Find out how to incorporate roasted brussels sprouts into your holiday meal this year. These festive veggies are a great side dish for Christmas.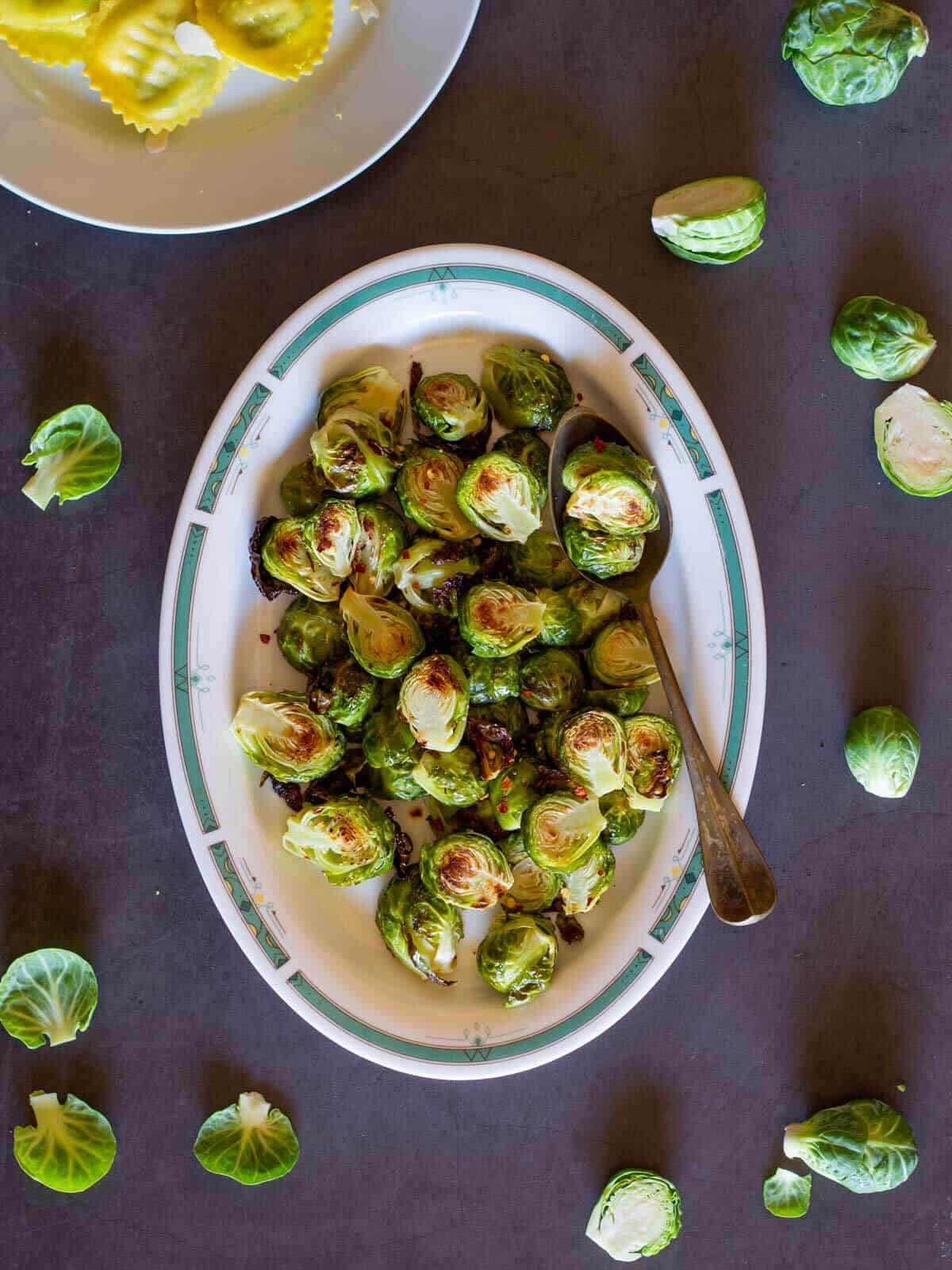 Roasted butternut squash with herbs
This recipe for Roasted butternut squash is a must for every holiday celebration! It's easy, seasonal, and delicious! The whole family loves it. Make sure you add some fresh herbs like thyme or rosemary on top!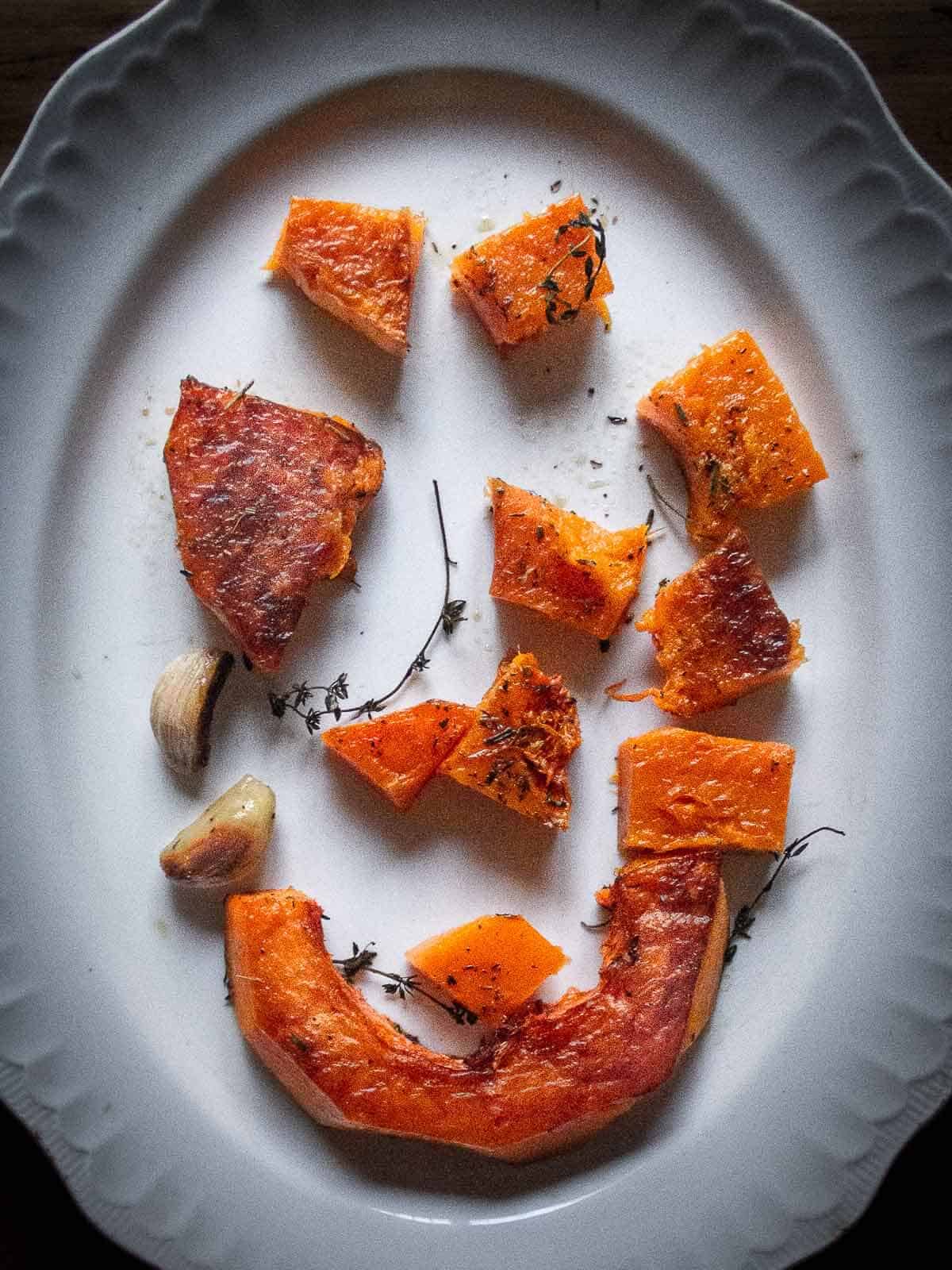 Roasted Cauliflower
If you are not a fan of butternut squash, why not try this elegant roasted cauli. It has the most beautiful tahini-based sauce, perfect for a Christmas dinner. Really... it's to die for!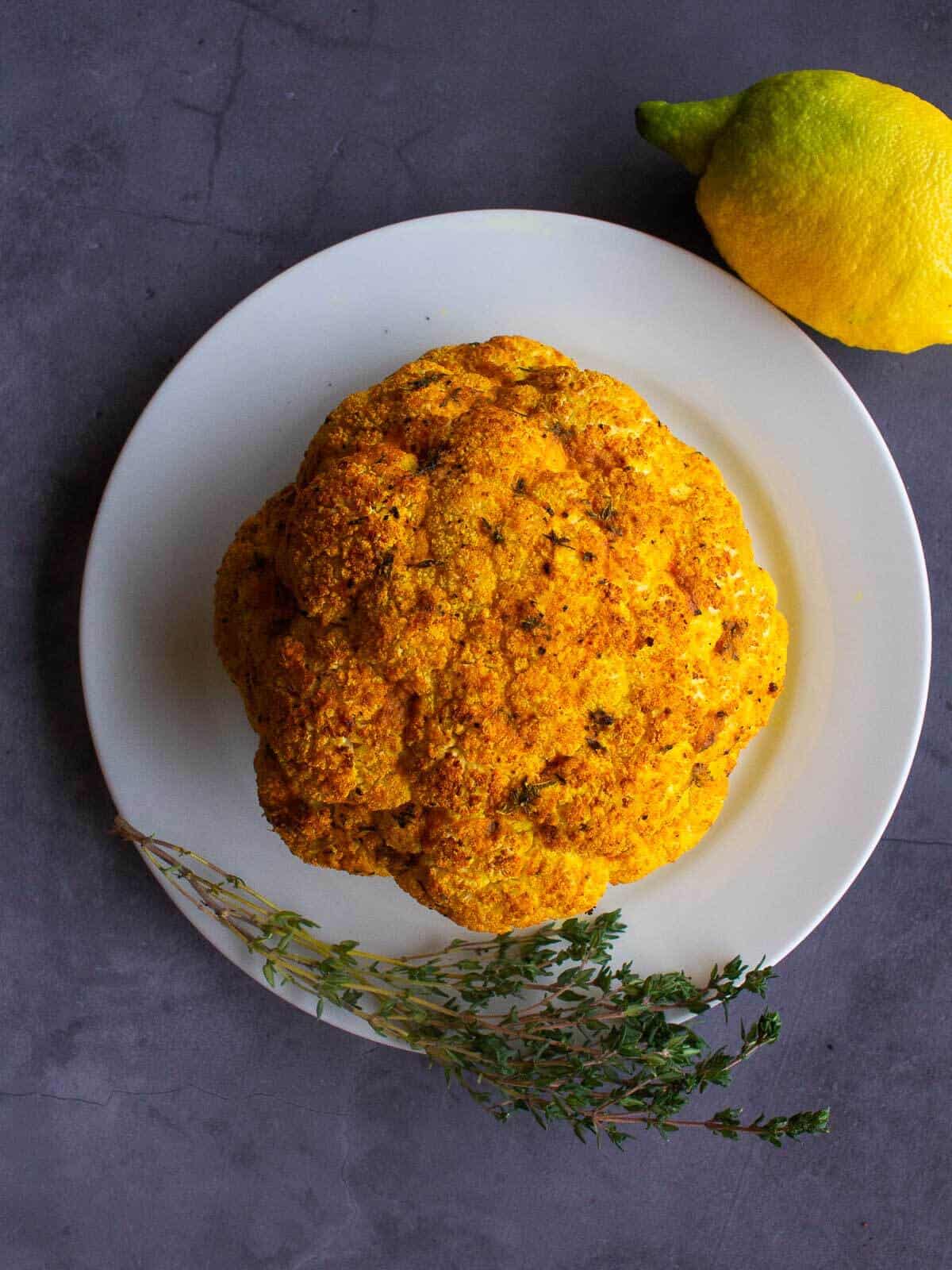 Grilled green asparagus
Prepare this delicious Christmas side or appetizer that will delight your family members.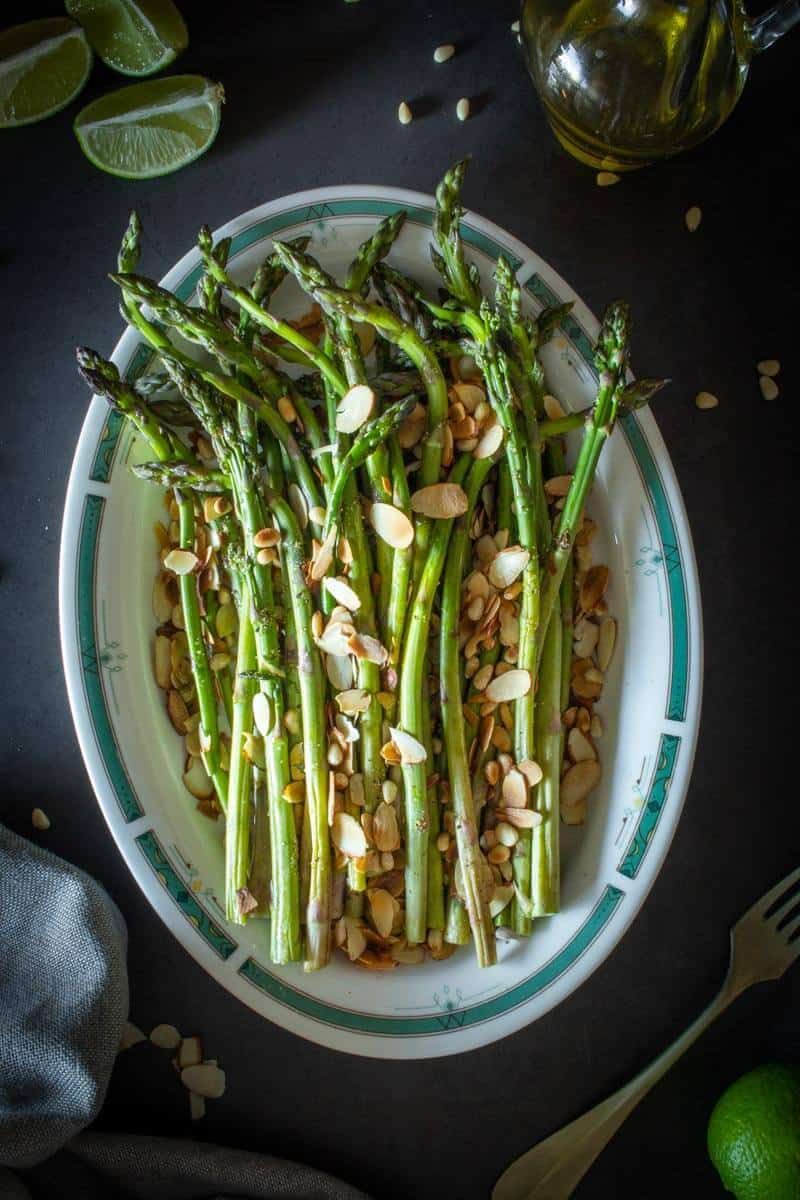 Applesauce
Healthily celebrate the holidays by eating less sugar during this time and year! Make it smooth or chunky; it is delicious either way!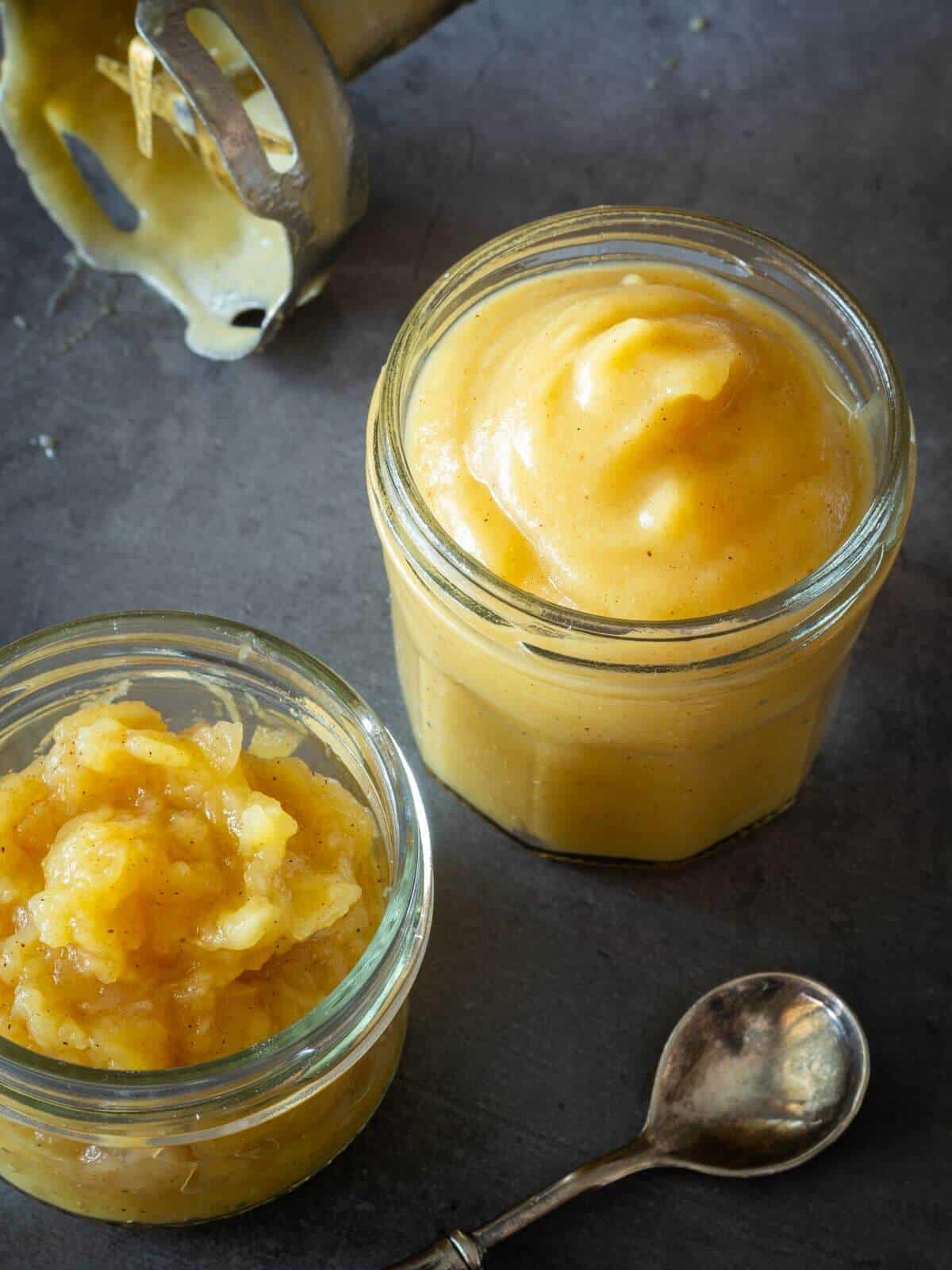 Christmas vegan dinner rolls
Dinner rolls are a must for the same reason we love having cornbread... is bread! These vegan buns come with delicious rosemary flavor for a festive vegan twist!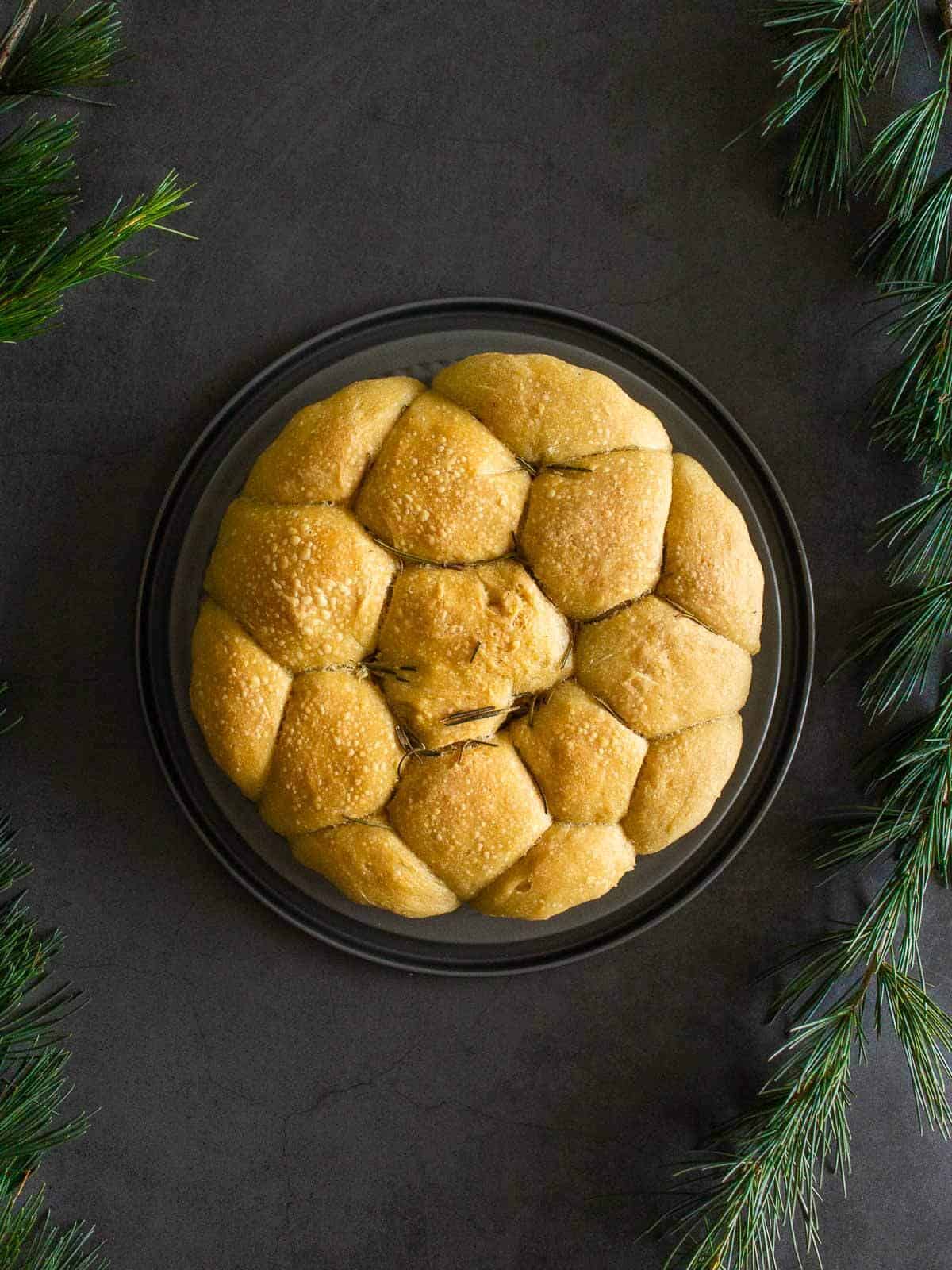 Creamy vegan mashed potatoes
We all love our mashed potatoes, don't we? We leave you here two vegan versions. A classic and delicious potatoes recipe, and my favorite: the truffles' infused one. Good luck making a choice!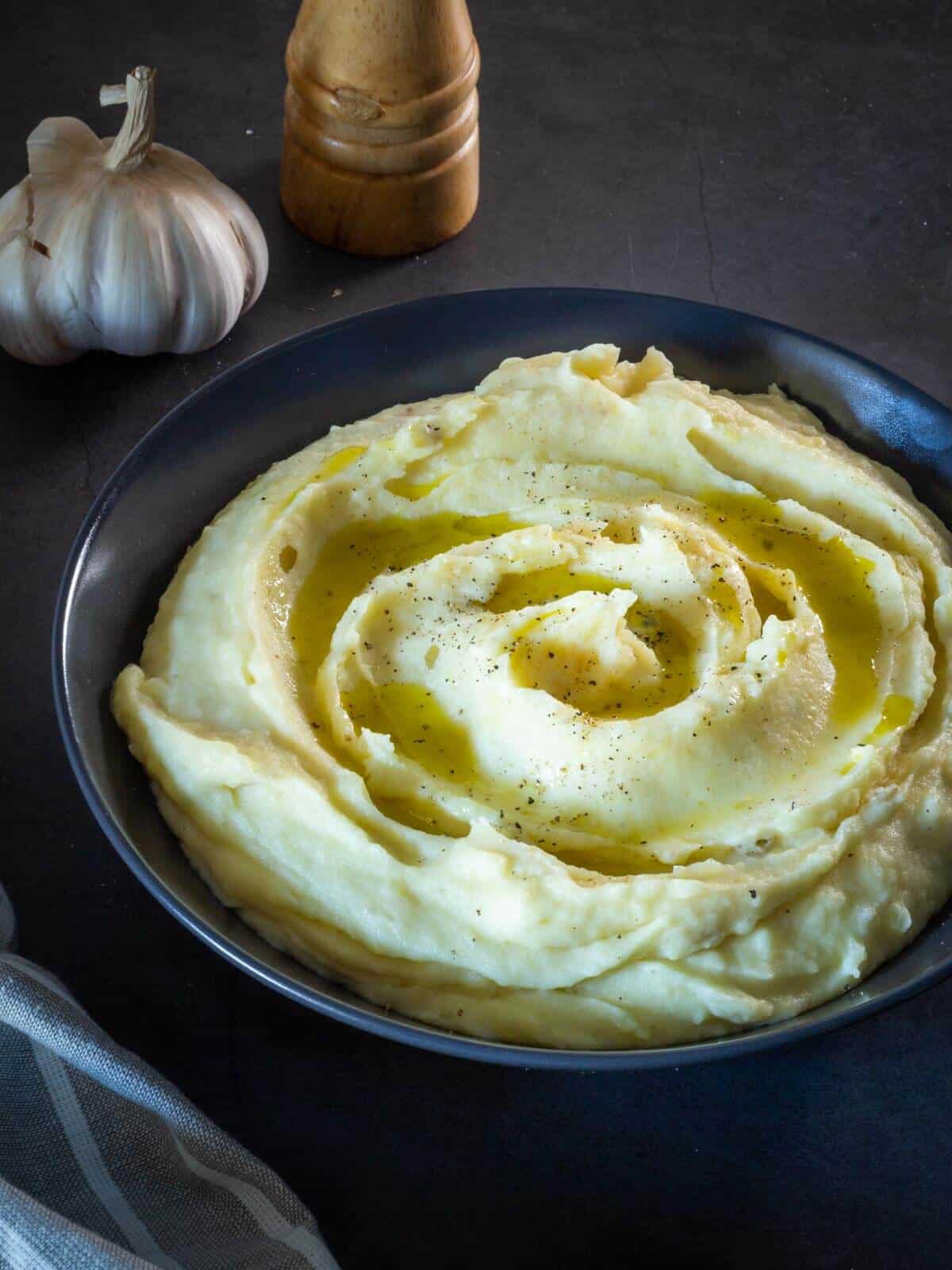 Truffled mashed potatoes
We are very biased towards this recipe because we love truffles. You should definitely give this effortless a go if you are like us!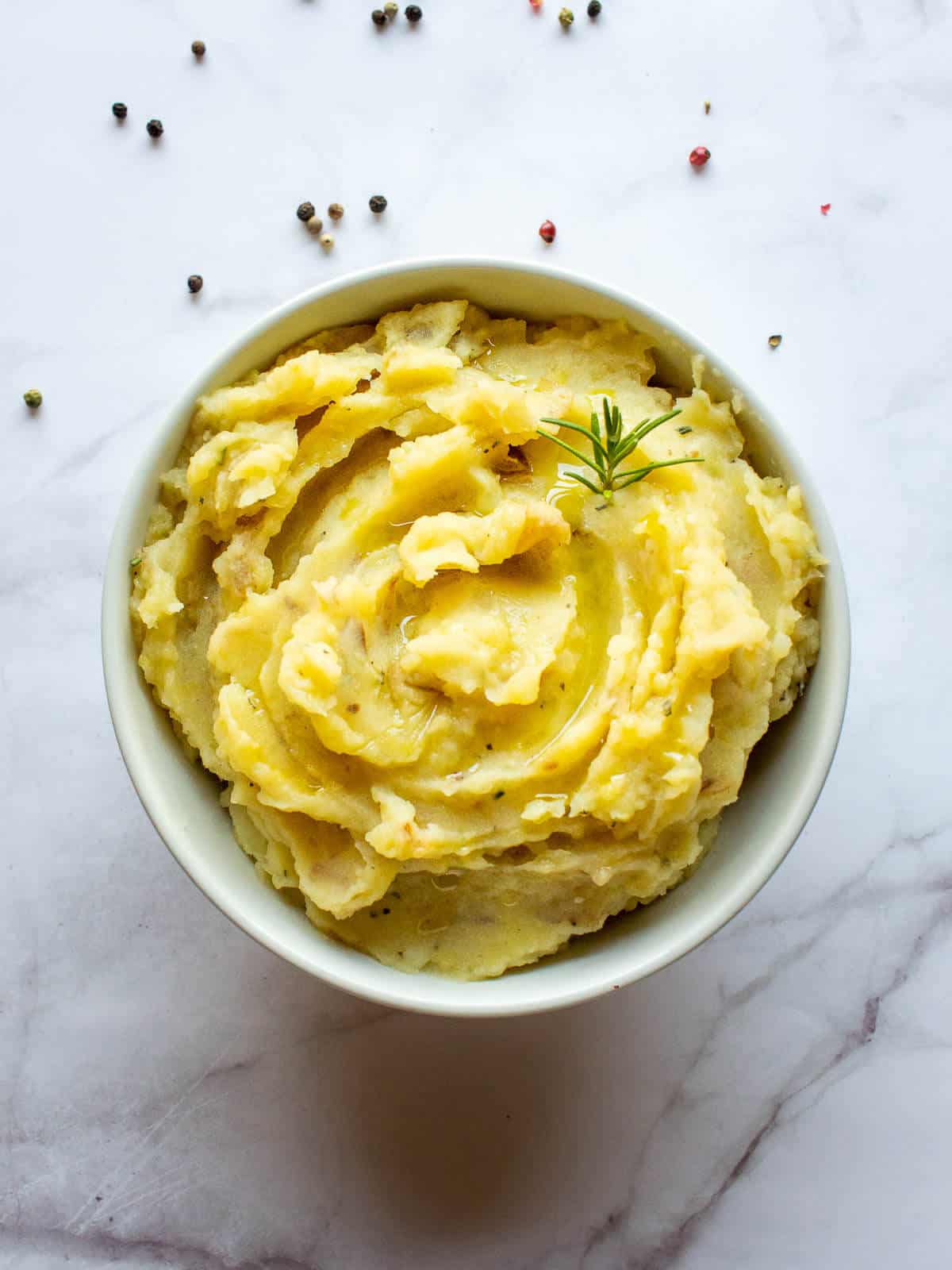 Easy 4-ingredients mashed sweet potatoes
The magnificent sweet potato. Who doesn't love some creamy mashed sweet potatoes on the table? This vegan recipe has a twist, including either coconut cream or oil, your sweet potato recipes will never be the same!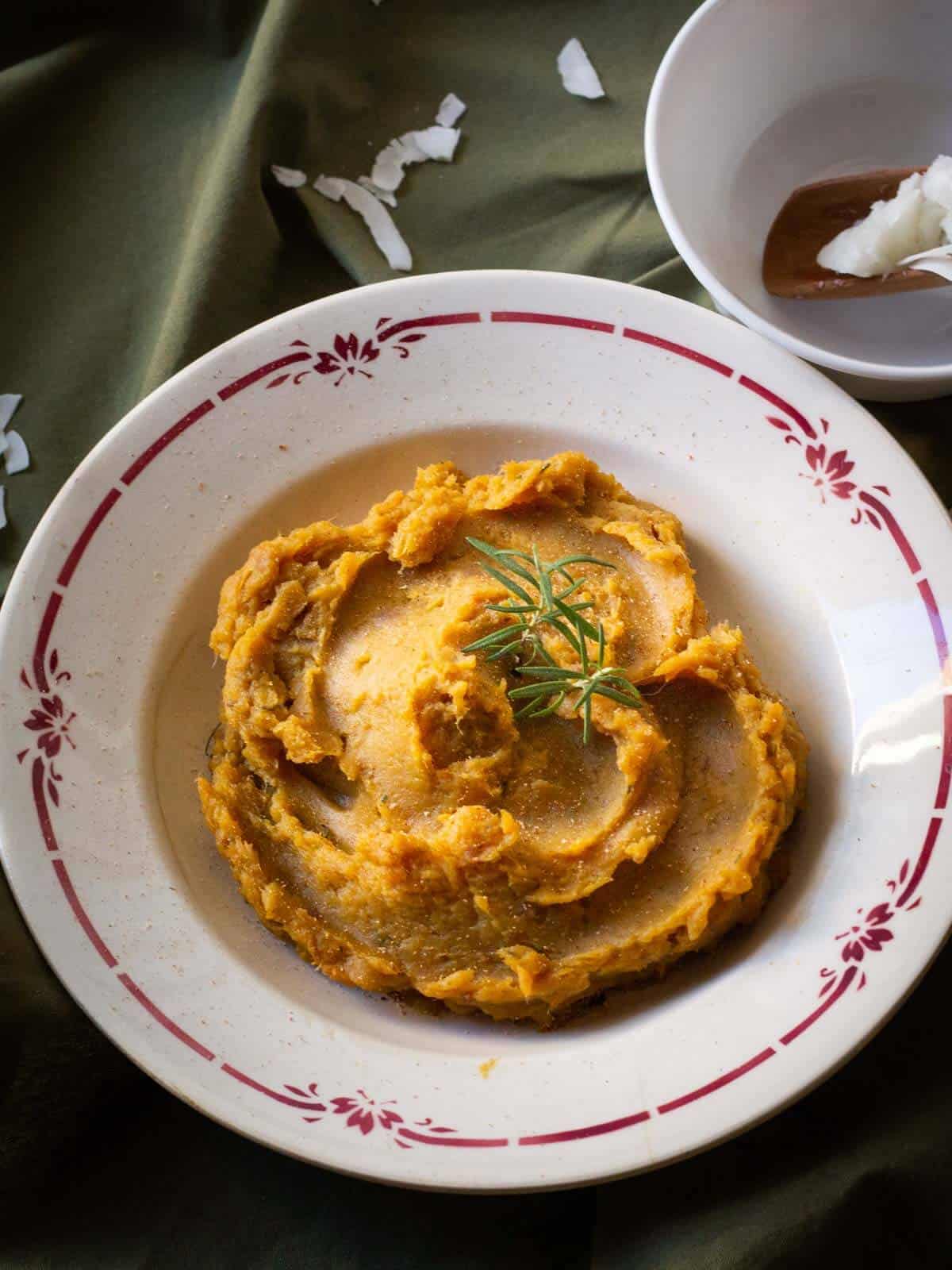 Vegan Christmas desserts recipes
These vegan dessert recipes will blow your mind, and they're so tasty! I have collected 11 of the best to share with you!
Traditional Italian Christmas dessert
The Pangiallo Romano is a traditional Italian dessert that arrived in our lives last year, and to be honest, we kept making it throughout the year.
It has all the things we love, nuts, dried fruit, and tiny amounts of sugar and flour. You can even make it with gluten-free flour.
It makes a great dessert, but it makes a perfect treat and a coffee or hot chocolate companion on the Christmas brunch table.
Vegan pumpkin pie
Well, well, yes, Pumpkin pie usually makes its first appearance on the Thanksgiving Holiday table, but in our house, it keeps showing up and makes its way to our Christmas dinner, and so it did to this vegan Christmas recipes compilation.
If you have an extra five minutes, make it with your own Homemade Pumpkin Spice Mix.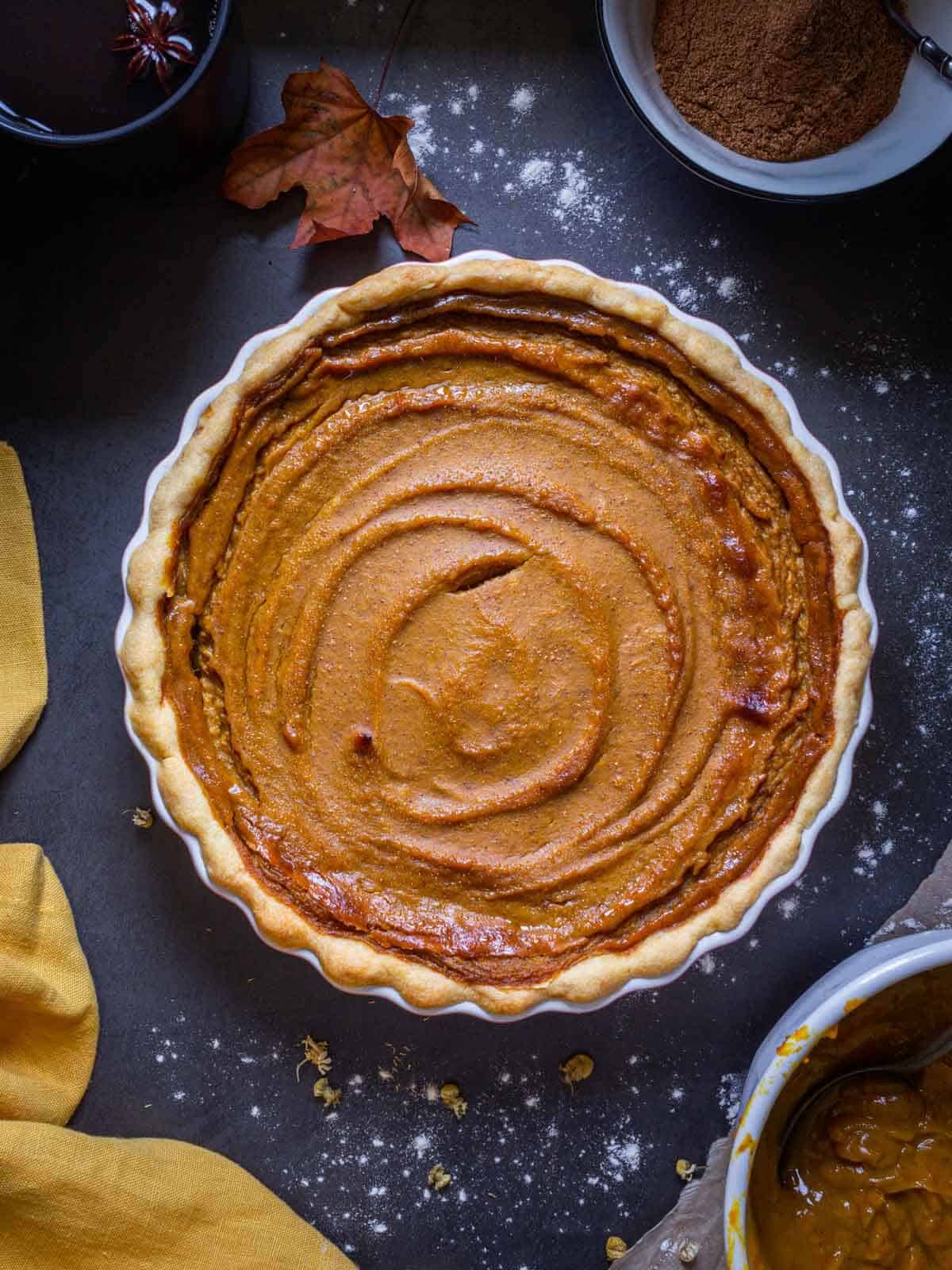 Temptation plantains
This dish will never miss at any Christmas table in my hometown. Given that it is such an easy recipe to make, I encourage you to try it as aside dish, as we usually eat it, or as dessert with some vanilla vegan ice cream!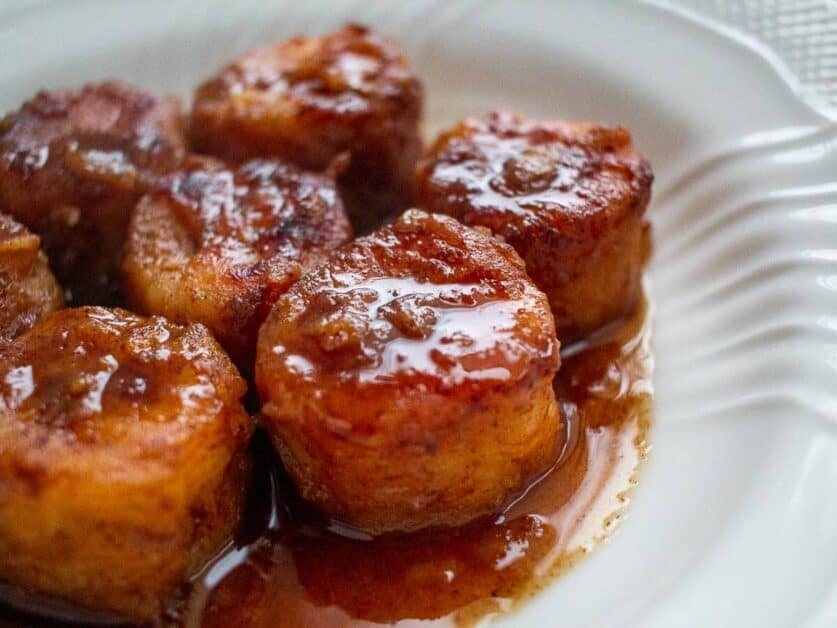 Easy vegan chocolate tart
Let's be honest; we all need chocolate in our lives, and Christmas is no exception! We love this recipe from Vegan on Board, made with just a few ingredients!
We all love having some cookies around, and these cookies from Short Girl Tall Order are a great bet!
No Christmas table is complete without some Gingerbread! Take our advice. This recipe from A Sweet Alternative is a great choice!
Vegan and easy apple cake
This vegan apple cake recipe is easy, quick to make, and will be a real hit at Christmas. Made without eggs or butter, it's ideal for vegans, coeliacs, those on dairy-free diets, or anyone who wants an alternative festive dessert that even meat-eaters.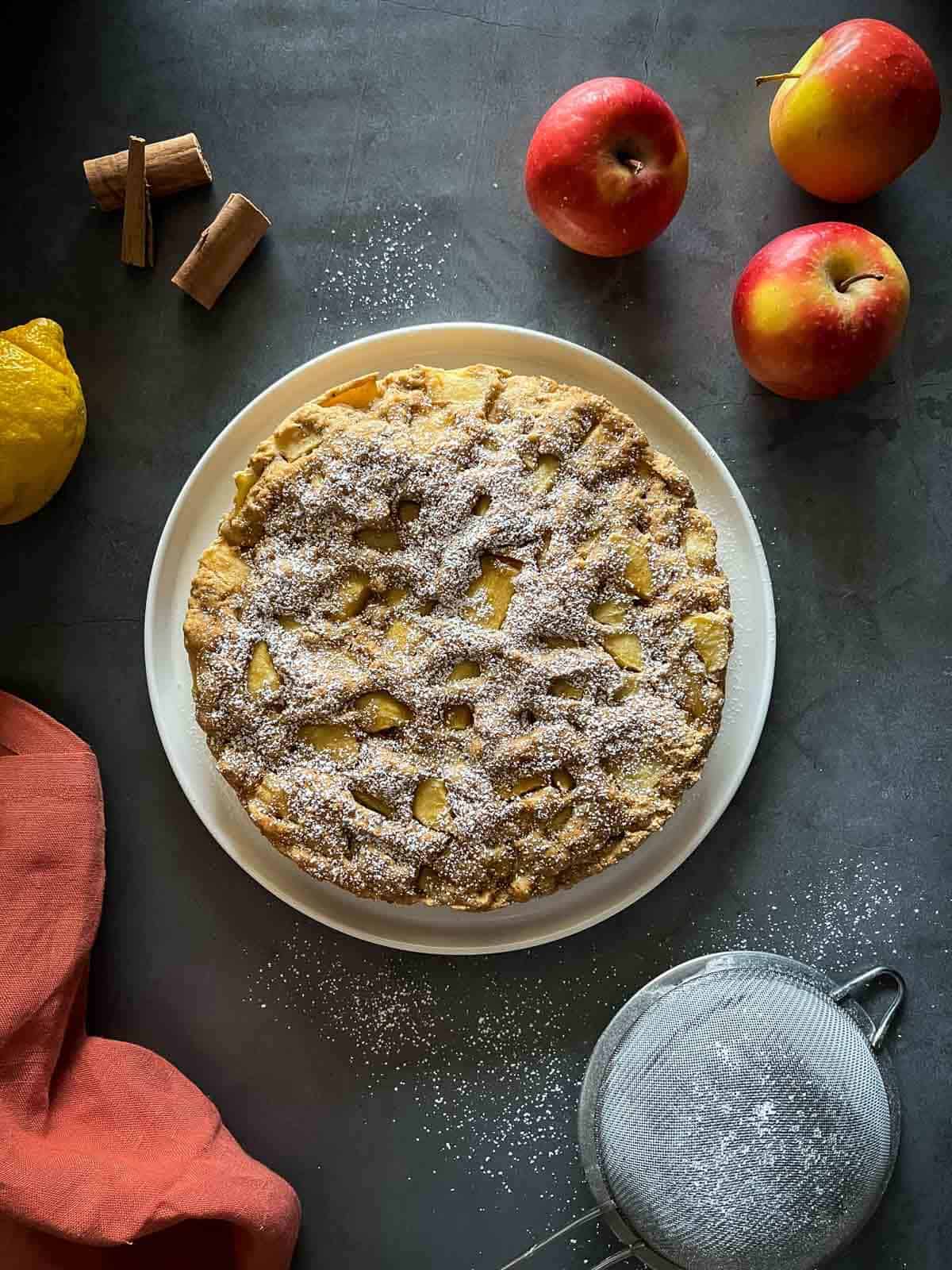 Vegan Gluten-free brownies cupcakes
We have never been fans of cupcakes, but when they come with a fudgy brownie underneath, we can't say no! This recipe from My Pure Plants is a keeper!
Chocolate Truffles
I am a fan of these yummy bites! We love chocolate, and having tiny truffles packed with flavor, really helps keep munchies under control. These versions from Vegan on Board are great not only for ending your Christmas dinner but a keeper for the rest of the year!
Healthy Italian Christmas cake
This healthy Italian Christmas cake is vegan and gluten-free so that you can enjoy it without any guilt! It's a great dessert to bring to parties.
An extra sweet recommendation from Italy
We finish our sweets recommendations with these two Italian Classics: Lombardian Panettone and Panforte di Siena (similar to the Spanish Turrón). We love these two, and having just moved to Northern Italy, we just went traditional here, as the quality of these treats is just heaven.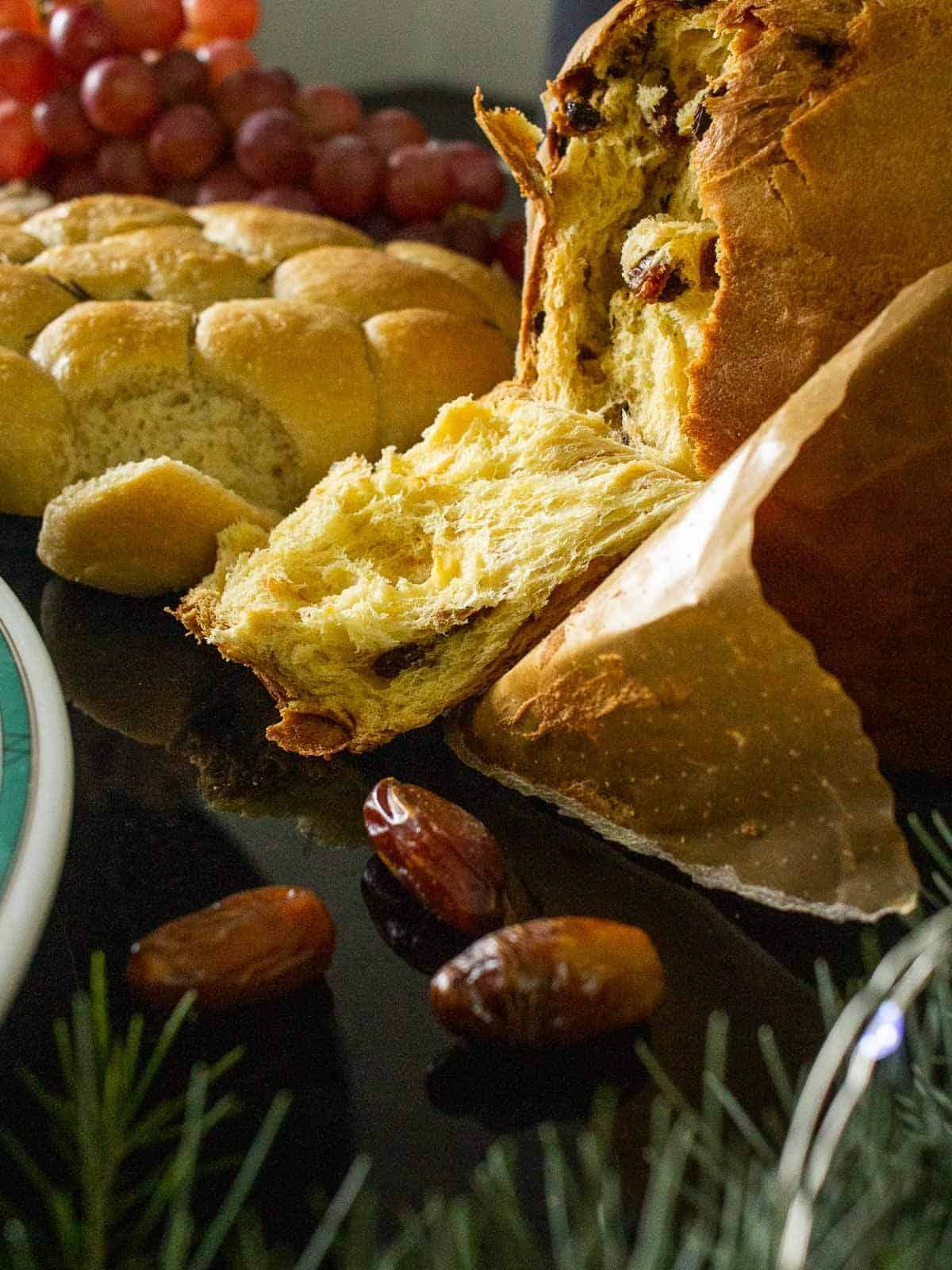 Vegan Christmas Brunch ideas
Christmas eve also comes with delicious food, and here we share our Vegan Christmas brunch menu items that usually come along with Christmas dinner's leftovers!
Make your latte or hot chocolate, dig in, and celebrate Christmas day.
Vegan Pumpkin spice latte
A great alternative to plain coffee is this latte full of festive flavours! No need for dairy milk! Just use our homemade almond milk, soy milk, or even oat milk!
Oats and Pumpkin parfait
I love how convenient these cups are. They have become one of our go-to breakfast options during the fall season.
Pumpkin pancakes
Pancakes need no introduction, but these are special. They are seasonal, yummy, and can also be made in advance!
Seasonal homemade granola
We keep a homemade granola jar in the pantry! It is a no-brainer breakfast. This recipe comes with unique seasonal flavors!
And that is it! You have all our Vegan Christmas Recipes repertoire in one place! We hope you enjoy these recipes as much as we do.
Merry Christmas!