Do you love egg salad sandwiches but don't want to eat eggs? This vegan egg salad sandwich recipe is perfect for you! With a few simple ingredients, you can make a vegan egg salad that tastes just like the real thing. Plus, it's a great way to use up any leftover veggies in your fridge. Try this recipe today and see how easy it is to enjoy a delicious vegan lunch!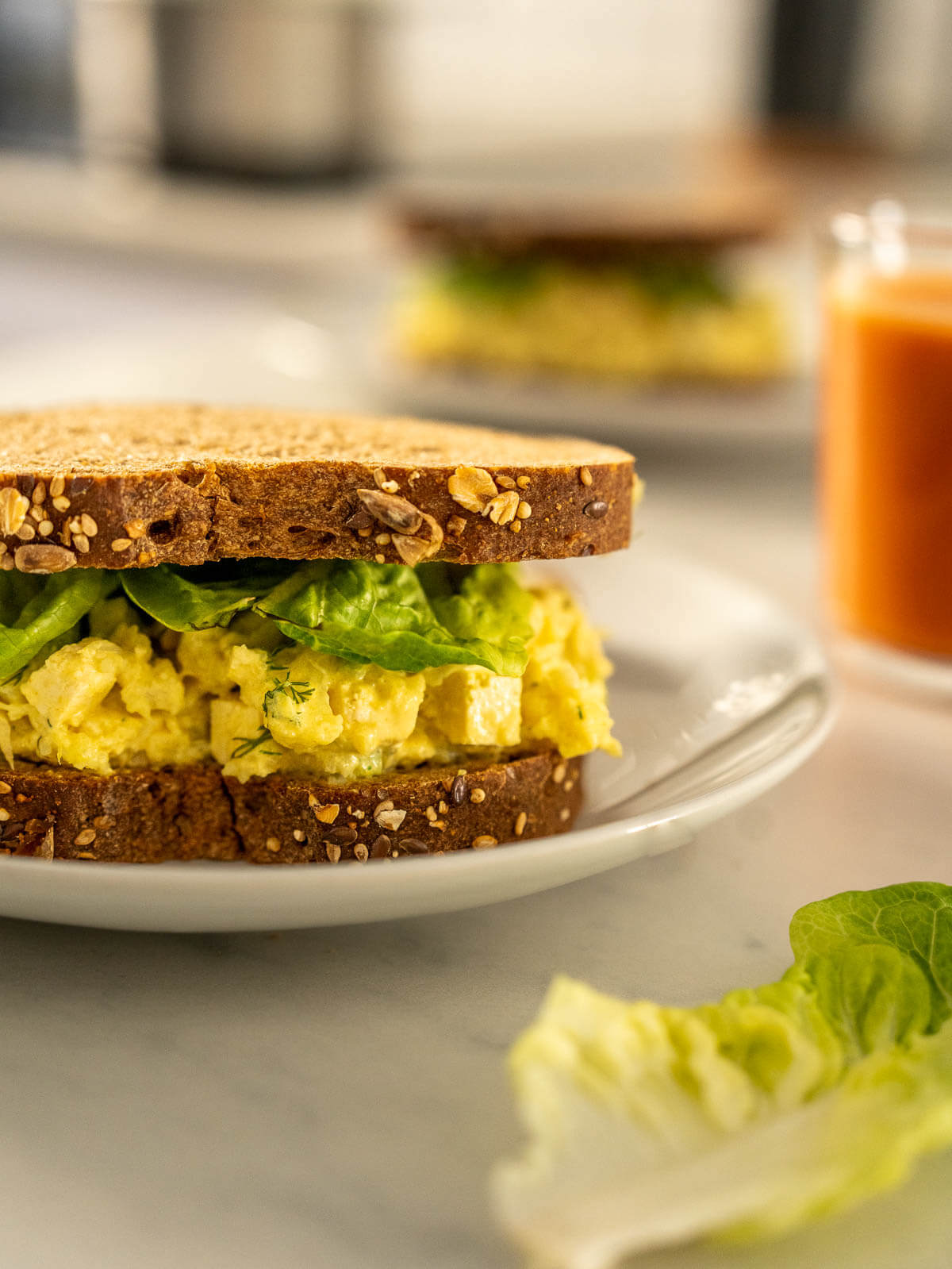 Creating a vegan egg mayo salad recipe that even the most devoted egg salad lover will appreciate is a culinary challenge, but with the right ingredients, it's more than possible.
At the heart of the dish is tofu, used as the egg substitute, which absorbs all the flavors we're going to add, making it an ideal main ingredient for this tofu egg salad. And don't be fooled; tofu is not merely a substitute but an ingredient that brings its own unique textures and benefits to the table. It's high in protein, versatile, and can be used in countless dishes, not to mention it's cruelty-free, which makes it a staple in any vegan's kitchen.
The next critical component of our tofu egg salad is vegan mayo. Now, you might wonder, does vegan mayo truly replicate the creaminess and tanginess of regular mayonnaise?
The answer is yes! Made from plant-based oils and vinegar; vegan mayo has all the creamy, tangy goodness that makes egg salad so delicious. It binds the tofu and veggies together, creating a creamy texture that's indistinguishable from real egg salad.
And let's not forget about the health benefits - vegan mayo is typically lower in saturated fats and free of cholesterol.
This is the main meal sandwich we make for easy lunches and picnics. You can also serve it as a side dish, without any bread.
This was inspired by my tuna salad recipe on this site and paired well with this artisan Italian bread.
Jump to:
🧾 Ingredients
Make this vegan egg recipe with just a handful of staple ingredients.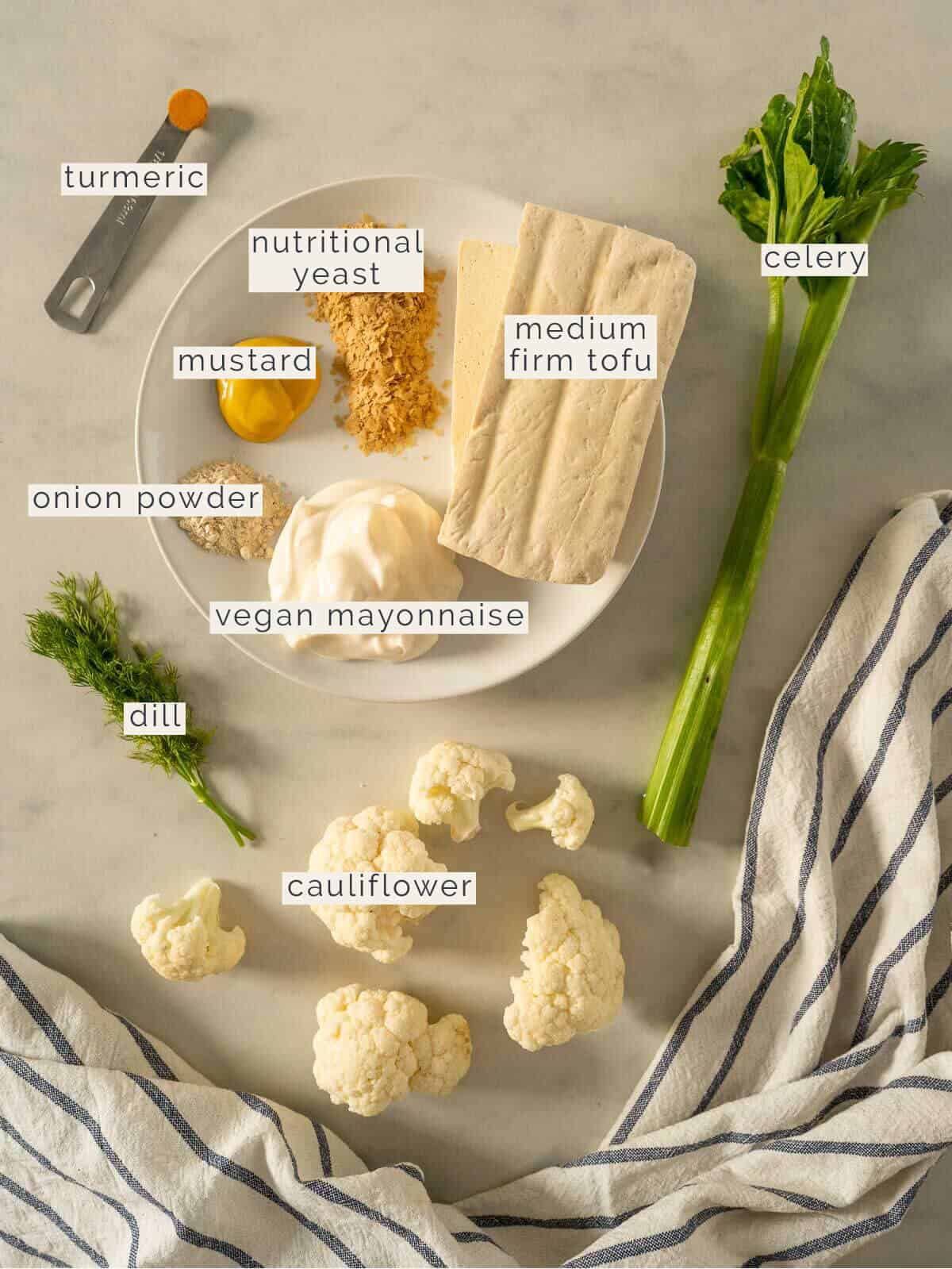 Cauliflower - Cauliflower is key to achieving an authentic texture in our vegan egg salad. It not only contributes a satisfying soft crunch but also mimics the sulfuric taste found in eggs on a regular egg salad, enhancing the overall flavor profile.
Vegan mayonnaise - Essential for creating the classic creaminess of egg salad, vegan mayo holds our salad together while keeping it dairy and egg-free. Its quality can greatly affect the taste, so opting for a high-quality version is recommended.
Medium firm tofu - The star ingredient, medium firm tofu, brings in the much-needed protein, mimicking the texture of hard-boiled egg whites. Its neutral taste absorbs the flavors of other ingredients effectively, making it indispensable.
Yellow mustard - No egg salad is complete without a bit of zing, and yellow mustard is what delivers it. It replicates the tanginess traditionally found in non-vegan egg salad recipes.
Nutritional yeast - adds umami, a deep savory flavor, akin to that of a hard-boiled egg yolk. Additionally, its yeast flavors complement the other ingredients perfectly.
Celery - provides a refreshing, crunchy texture to our salad, balancing out the creaminess of the mayo and tofu. It also adds a hydrating element to the salad, keeping it light and appetizing.
Fresh dill - imparts a complex herby note, enhancing the overall taste and freshness of the salad. It's a subtle yet impactful ingredient that takes our vegan egg salad to the next level.
Onion powder - is used to infuse a layer of complexity and depth into the salad. This addition helps create a flavor profile that's reminiscent of traditional egg salad.
Turmeric - serves dual roles in our recipe, adding a subtle earthy flavor while also giving the salad a yellow hue that resembles real egg salad, making the dish both visually appealing and tastefully rich. Curry powder is a good sub for this eggless salad.
See the recipe card for quantities.
🔪 Instructions
This vegan egg salad recipe involves two simple steps.
Boiling or steaming the cauliflower and then crumbling it.
Dicing the tofu cubes and chopping the celery.
Mixing all the ingredients in a bowl.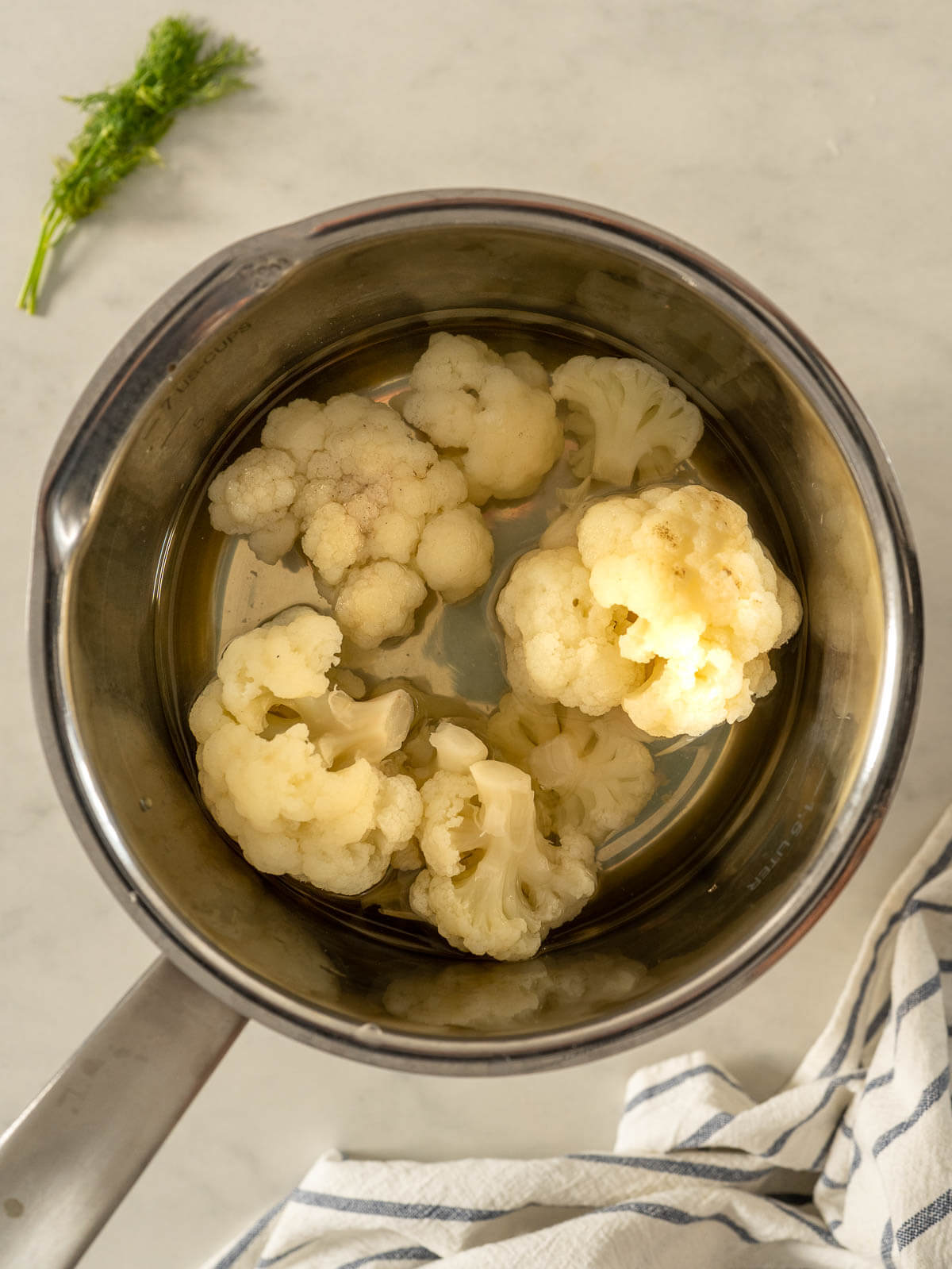 Boil or steam cauliflower for 10 minutes, drain, and remove any excess moisture.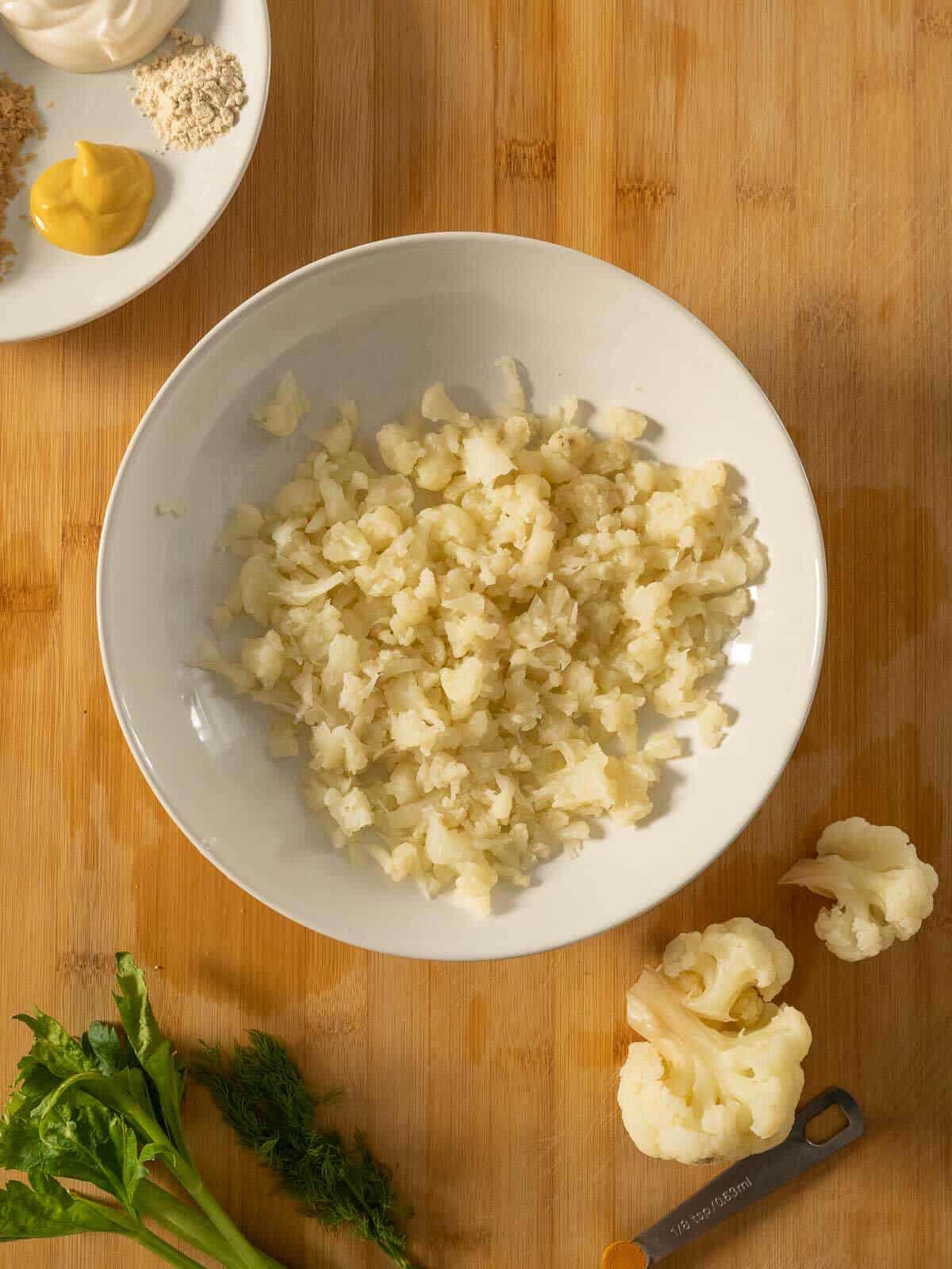 Break cauliflower florets into tiny pieces.
Hint: to make the best out of your ingredients' nutritional benefits, it is better to steam cauliflower than to boil it; otherwise, some of the nutrients will end up in the water.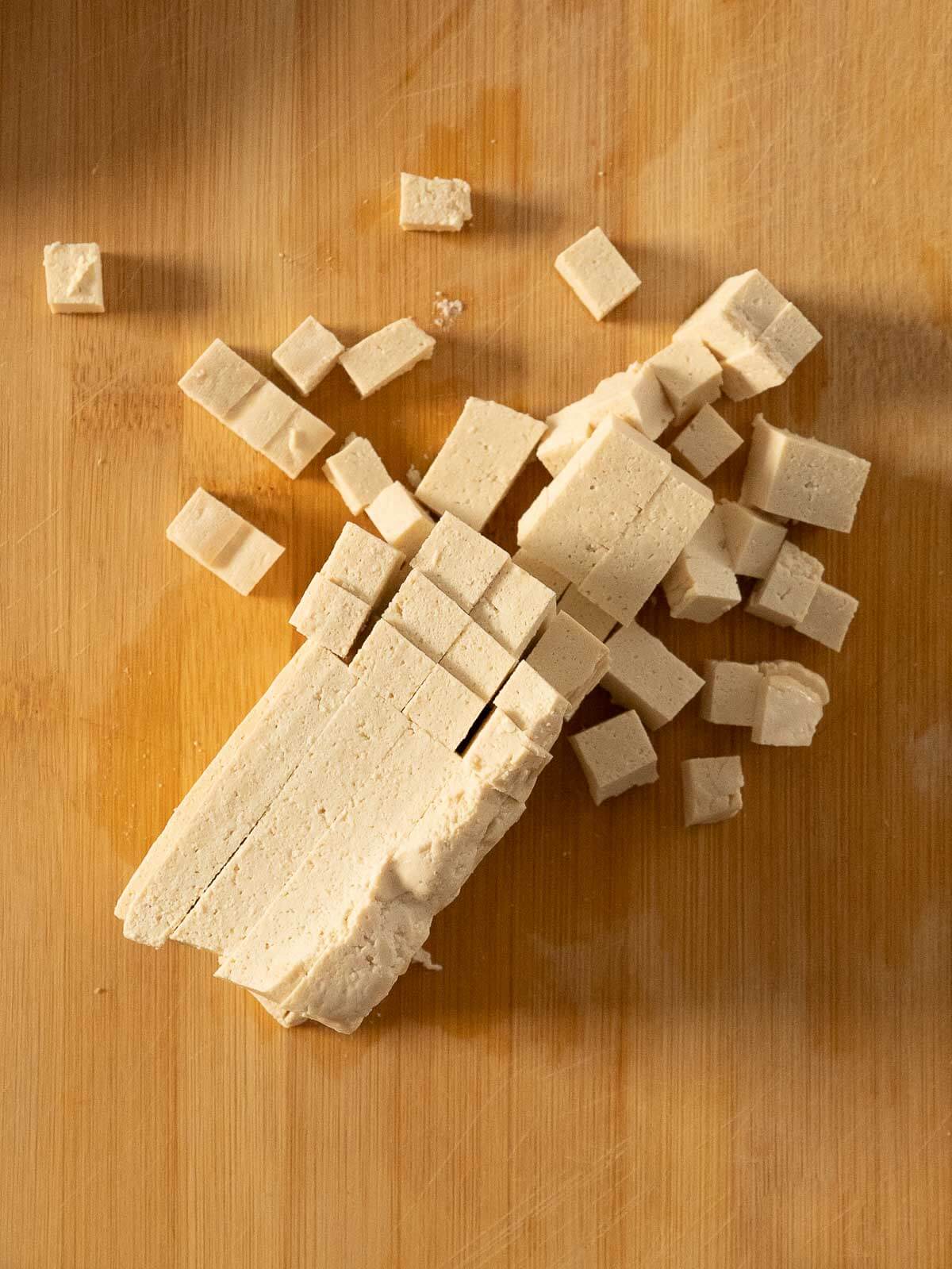 Cube tofu into small dice.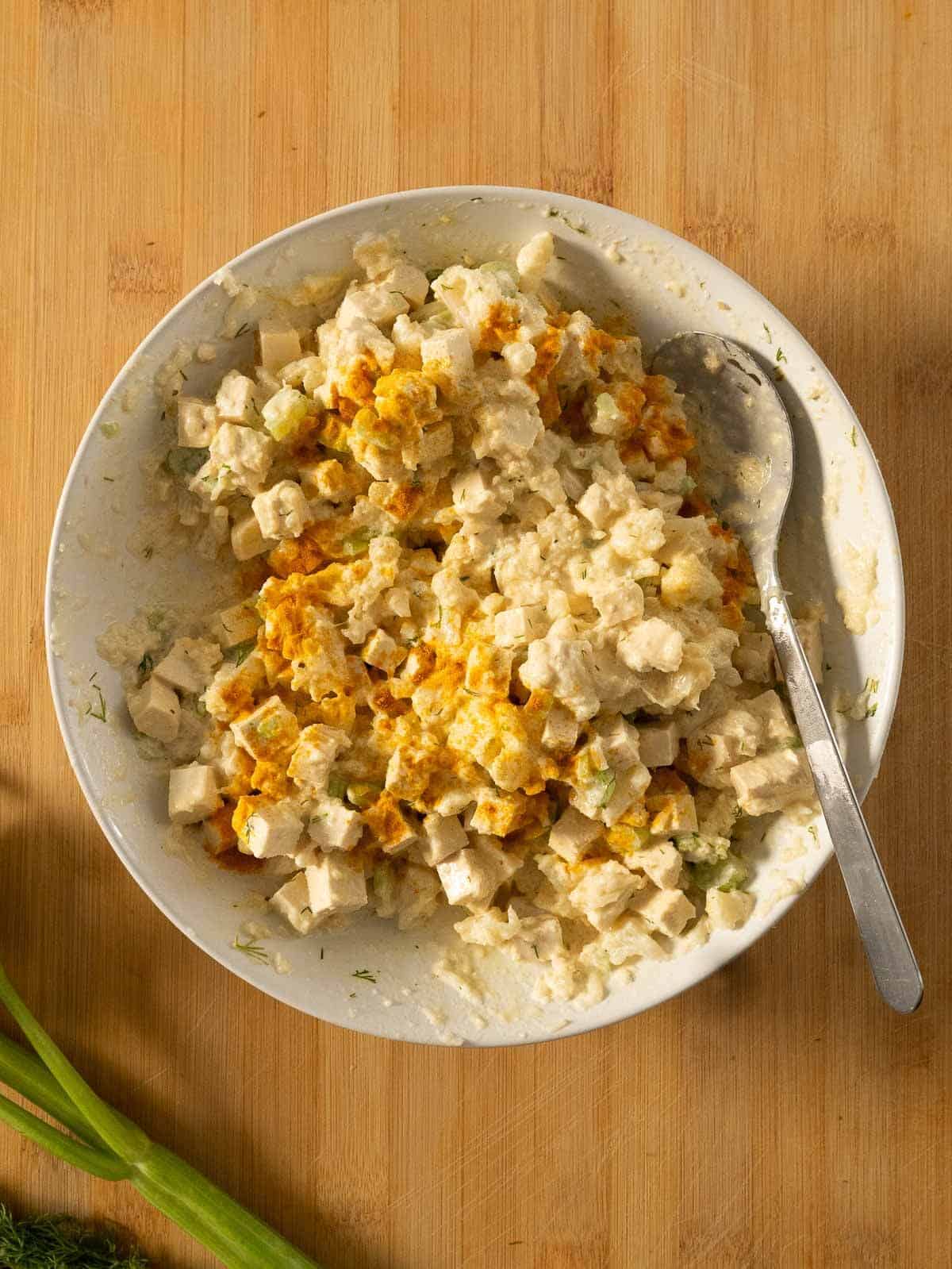 Mix the vegan mayo, tofu, cauliflower, and the rest of the ingredients in a medium mixing bowl.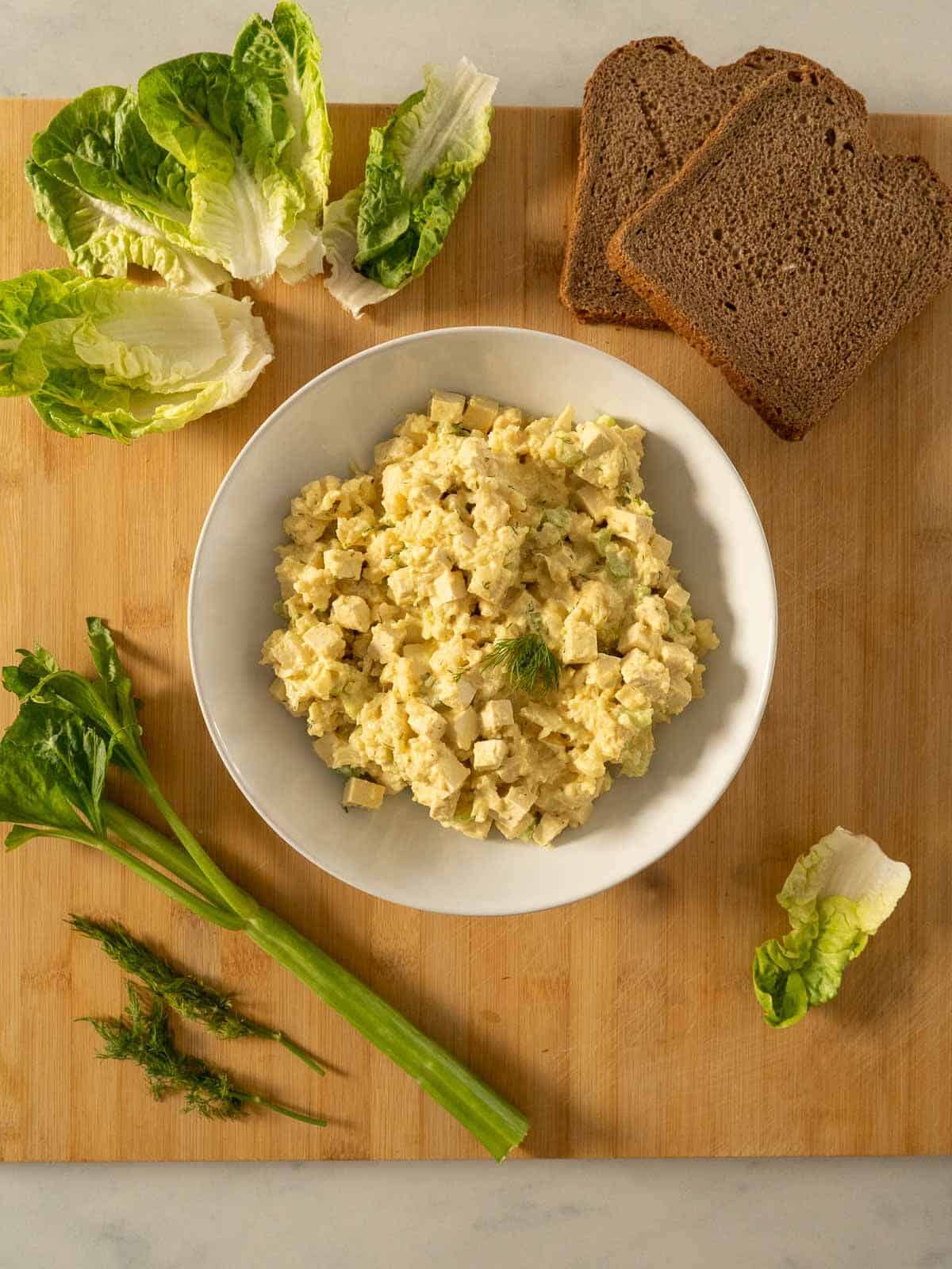 Mix all the ingredients in a mixing bowl.
Hint: use gluten-free bread to keep the recipe gluten-free.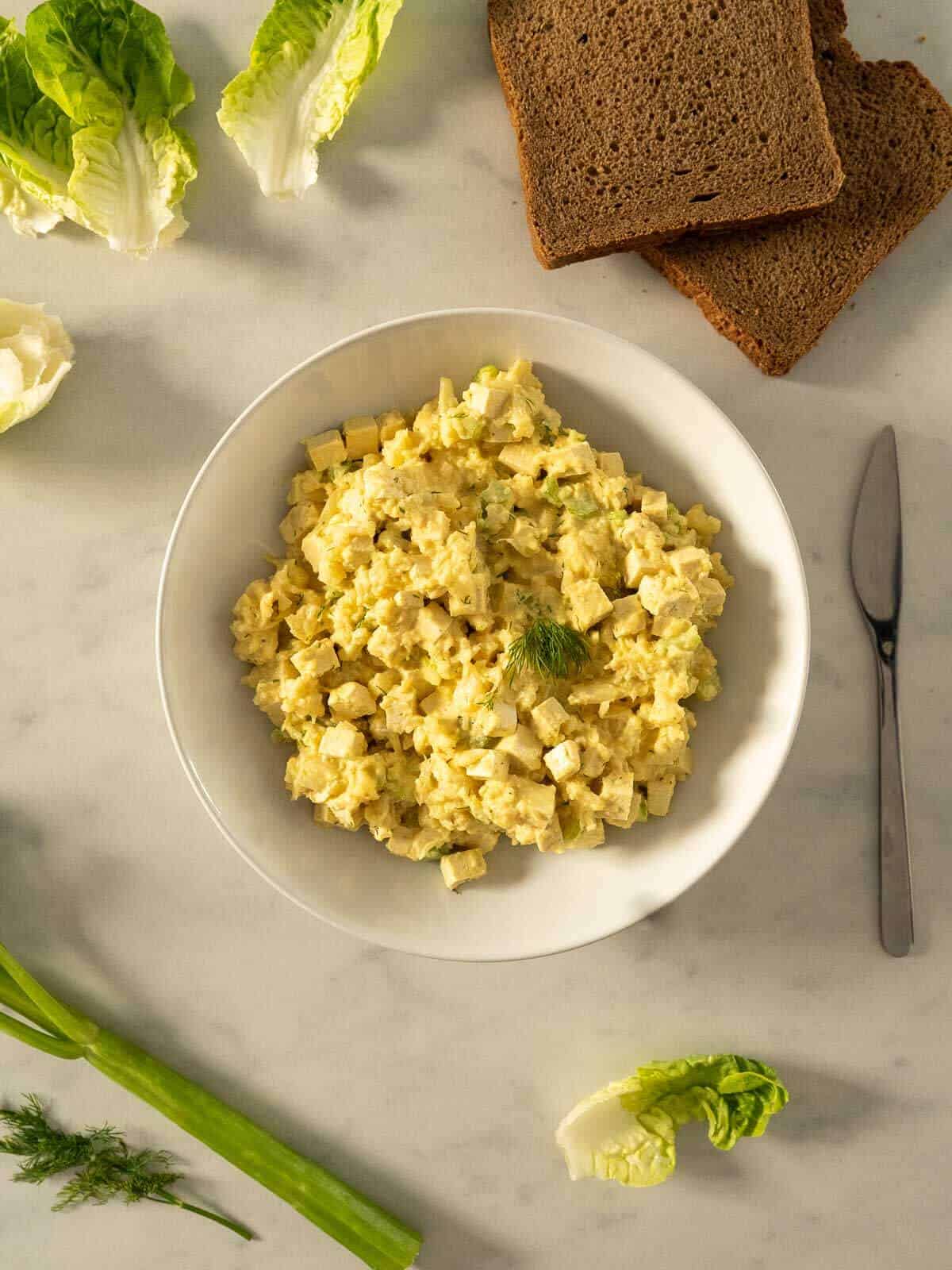 🍶 Substitutions
Tofu - you can use silken tofu to make it creamier, or exclude tofu altogether and use boiled and diced cauliflower stems so they resemble the hard-boiled eggs' whites. As a bonus, you save an extra ingredient; the downside is losing the protein from tofu. If you only have extra-firm tofu available, ensure you make smaller dice so it looks closer to a classic egg salad.
Nutritional yeast - use some marmite years extract, same quantity.
Yellow Mustard - use dijon mustard or the same amount of vegan mayo, plus a teaspoon of apple cider vinegar.
Onion powder - use finely chopped green onions, red onion, or finely chopped chives instead.
Turmeric powder - sub for smoked paprika or curry powder.
Fresh dill - use other fresh herbs like parsley, tarragon, or thyme instead. Dried herbs also work.
Hint: use black salt instead of white salt. It has a sulfur-like eggy flavor that can contribute to making this recipe taste closer to a regular egg salad.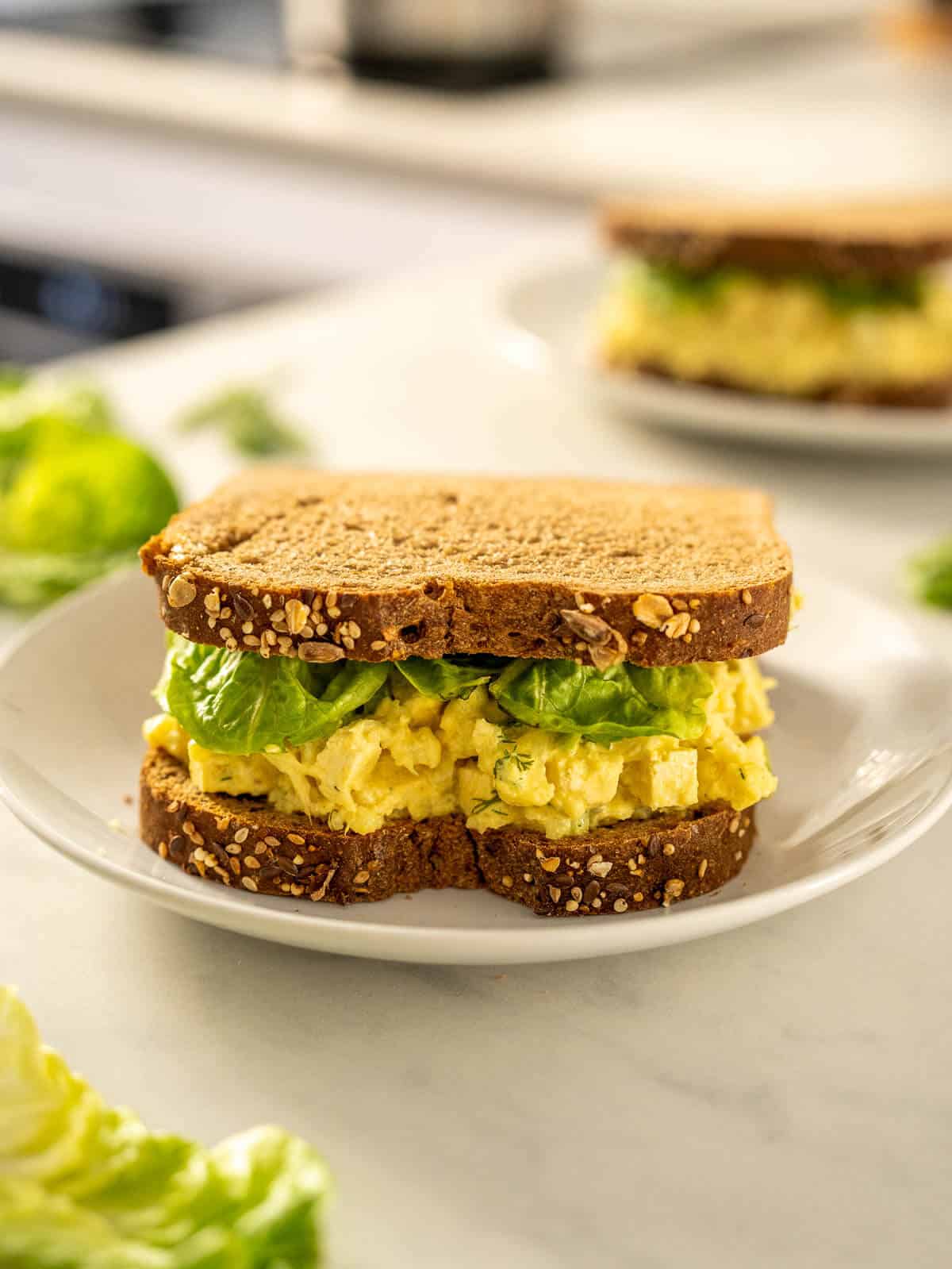 🥡 Variations
Try out some tofu salad variations with the following:
Capers - we love using it for the vegan tuna salad but find that it also matches very well with this egg salad if you want to add some complex acidity. Apple cider vinegar is also great for adding a touch of acidity.
Tahini - add a dollop of tahini sauce to earthiness.
Garlic - make the flavor more intense by adding garlic powder.
Celery - use sliced cucumber instead of chopped celery.
🍽 Equipment
Bowl - you can use a small bowl, the one you use for your granola, but use a large bowl if making a batch of vegan eggsalad.
Fork or potato masher - if you are making a small batch, the most practical thing is to use a fork; otherwise, a potato masher can save you some minutes. If you plan to make a huge batch, an immersion blender (affiliate link) or food processor (affiliate link) can help; just ensure to use the pulse mode; you don't want to over-blend the chickpeas. They would lose their texture and become a paste.
🥡 Storage
Store this salad in a BPA-free airtight container in the fridge for up to 3 days.
You can freeze your egg salad in an airtight container, but it doesn't stand up well to freezing for more than 3 months.
💡 Top tip
The cubed tofu dice give this salad the boiled egg whites texture; if you prefer it to be more like a paste, you can mash it with a fork. The same thing goes for the cauliflower florets, which can be crumbled into small pieces or mashed.
🥢 How to serve
Appetizer - make lettuce wraps and fill them with the tofu salad and sprinkle some fresh chives on top.
Lunch - make a sandwich with rye bread, gluten-free bread, or your favorite crusty bread like an Italian Artisan bread loaf.
Salad in a bowl - make a tasty salad by combining this tofu egg recipe in a large mixing bowl with cooked elbow pasta and romaine lettuce. You can drizzle some extra virgin olive oil on top.
❓ FAQ
What is vegan egg salad made of?
Vegan egg salad can be made with ingredients that emulate the sulfur taste of eggs and are a good source of plant-based protein. This recipe uses cauliflower, and nutritional yeast, and tofu paired with vegan mayonnaise, mustard, and veggies. Other recipes use chickpeas, tahini, olive oil, lemon juice, garlic, and salt.
What is a vegan substitute for egg whites?
There are a few vegan substitutes for egg whites. One popular option is to use a commercial egg replacer, such as Bob's Red Mill Egg Replacer. Another option is to use food like silken tofu, which has a high protein content and can be whipped into a foam that resembles beaten egg whites. Finally, some people advocate using aquafaba (the liquid from cooked chickpeas) as an egg white substitute, as it also forms a foamy texture when whipped.
📚 More vegan sandwich recipes
⭐ If you try this tofu egg salad recipe, let us know! 💬 Leave a comment, rate it, and don't forget to tag us @ourplantbasedworld on Instagram. Cheers!
📋 Recipe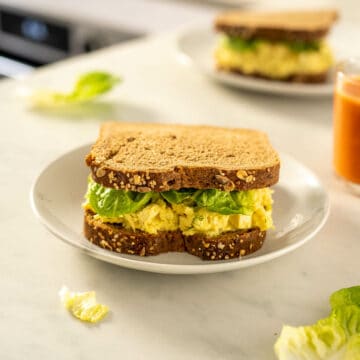 Vegan Egg Salad + Sandwich
An easy recipe for a vegan egg salad sandwich. The only one you will need. Made with cauliflower and tofu, it is a particularly nutritious recipe!
Equipment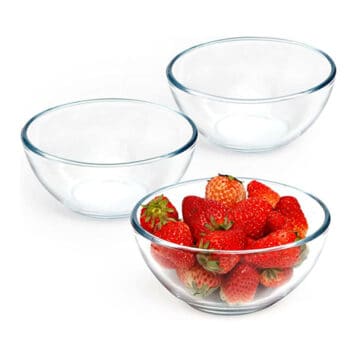 (affiliate link)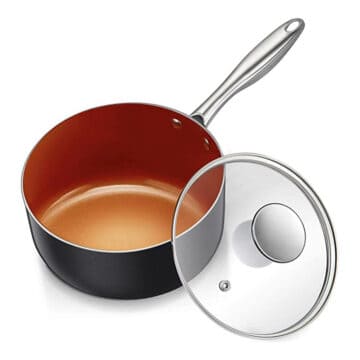 (affiliate link)
Ingredients
9

oz

medium tofu

cubed, grams

8

oz

cauliflower

boiled and drained, or steamed

1

stalk

celery

finely chopped or shredded

5

tablespoons

vegan mayonnaise

3

teaspooons

yellow mustard

3

tablespoons

nutritional yeast

3

teaspoons

onion powder

or shredded onion

1

tablespoon

dill

fresh, chopped

¼

teaspoon

turmeric

ground

½

teaspoon

salt

and pepper to taste
Directions
Boil or steam cauliflower for 10 minutes and drain.

Crumble cauliflower with your fingers or a fork.

Cube tofu into small dice.

Mix all the ingredients in a mixing bowl.

Adjust with salt and pepper.

Make sandwiches by adding the vegan egg salad to your favorite bread with lettuce.
Notes
This tofu egg salad can be made ahead of time and stored in an airtight container in the fridge for 2 - 3 days. If it looks watery, stir it to reincorporate.
Yields: 21-22 oz ~ 600 grams (4 servings)
Nutrition Facts
Calories:
207
kcal
Carbohydrates:
9
g
Protein:
10
g
Fat:
15
g
Saturated Fat:
2
g
Polyunsaturated Fat:
2
g
Monounsaturated Fat:
1
g
Sodium:
427
mg
Potassium:
323
mg
Fiber:
3
g
Sugar:
1
g
Vitamin A:
53
IU
Vitamin C:
28
mg
Calcium:
101
mg
Iron:
1
mg
Nutrition Facts
Vegan Egg Salad + Sandwich
Amount per Serving
% Daily Value*
* Percent Daily Values are based on a 2000 calorie diet.
🌡️ Food safety
Cook to a minimum temperature of 165 °F (74 °C)
Do not use the same utensils on cooked food, that previously touched raw meat
Wash hands after touching raw meat
Don't leave food sitting out at room temperature for extended periods
Never leave cooking food unattended
Use oils with a high smoking point to avoid harmful compounds
Always have good ventilation when using a gas stove
See more guidelines at USDA.gov.
Nutritional Disclaimer
The information shown is an estimate provided by an online nutrition calculator. It should not be considered a substitute for a professional nutritionist's advice. See our full Nutritional Disclosure here.
Affiliate Disclaimer
Please note that some of the links here are affiliate links, and I will earn a commission if you purchase through those links. I recommend all of the products listed because they are companies I have found helpful and trustworthy.