These Vegan Arepas recipe will gain a place in your heart and kitchen immediately. Easy to make and filled with Marinated Grilled Tofu, Caramelized Onions, and Creamy Vegan Sauce.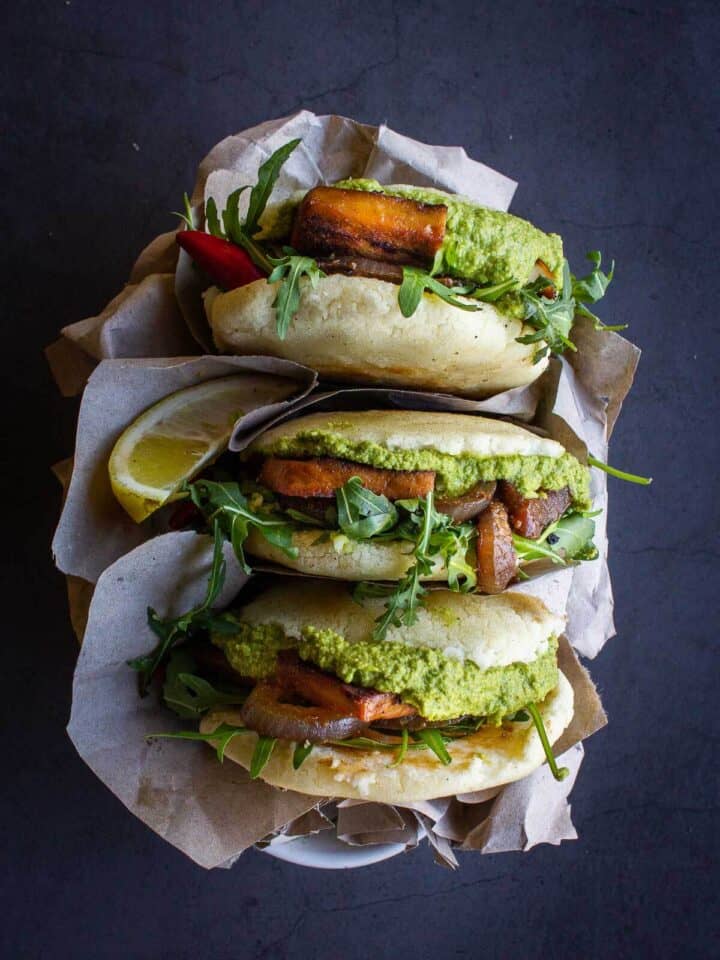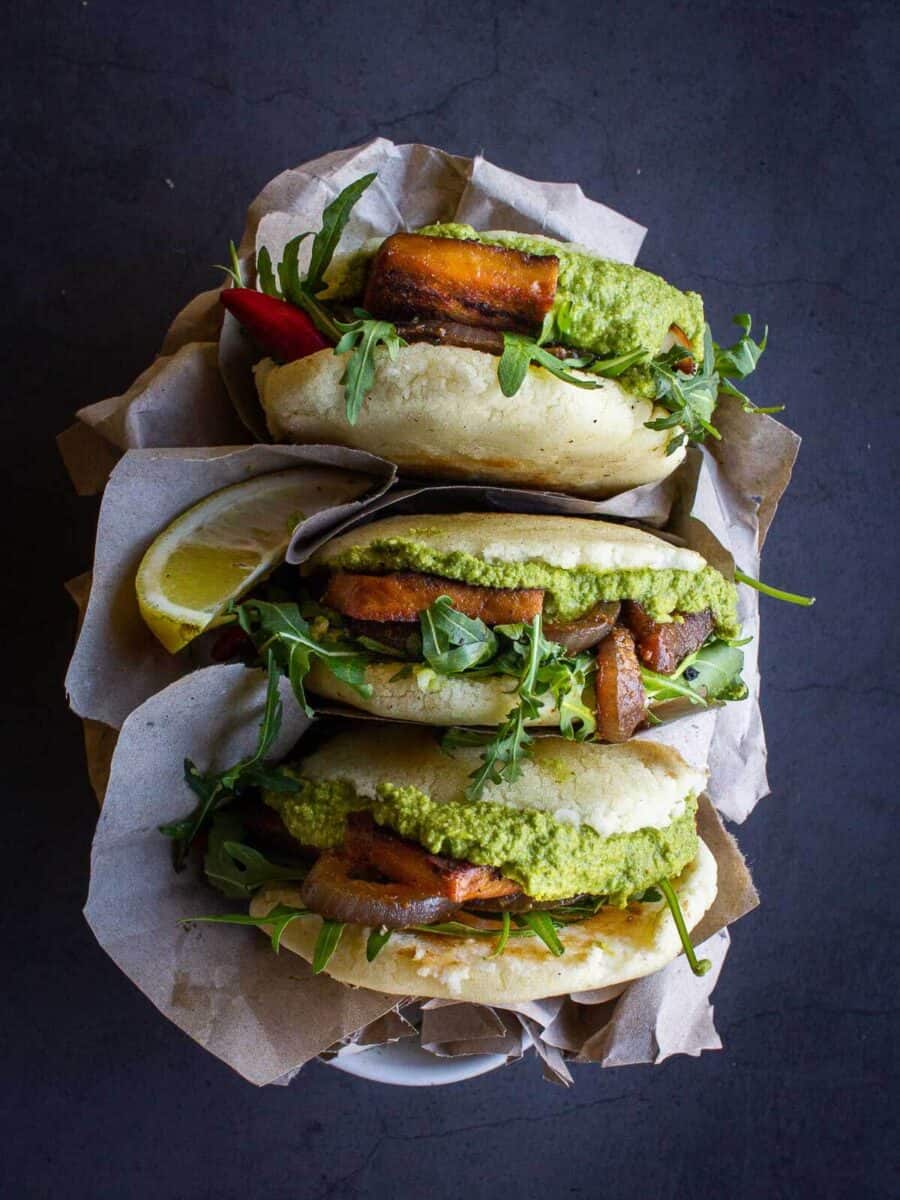 Arepas in Latin America
Maize tortillas constitute a staple of our Latin American cuisine. You can find tortillas in different shapes, colors, and flavors, as there are more than twelve thousand types of corn.
These Vegetarian Arepas are soft on the inside, crispy on the inside, and filled with the rewarding filling of Marinated Grilled Tofu and a Creamy Pesto-Like sauce that you cannot miss. We even offer professional wine pairing recommendations at the end!
In the South (Colombia and Venezuela), people call these corn shapes Arepas. From Panama and up to Mexico, we call them tortillas. Venezuelan Arepas are the sandwiches of South America, as you can eat them with whatever filling you think makes a great combination.
We both share a love for Arepas. Joaquin tried them for the first time, thanks to his Colombian roommates back in Buenos Aires.
I am from Panama, where we have our version made out of yellow corn (called Tortillas de Maiz). Panama, Colombia, and Venezuela are neighboring countries.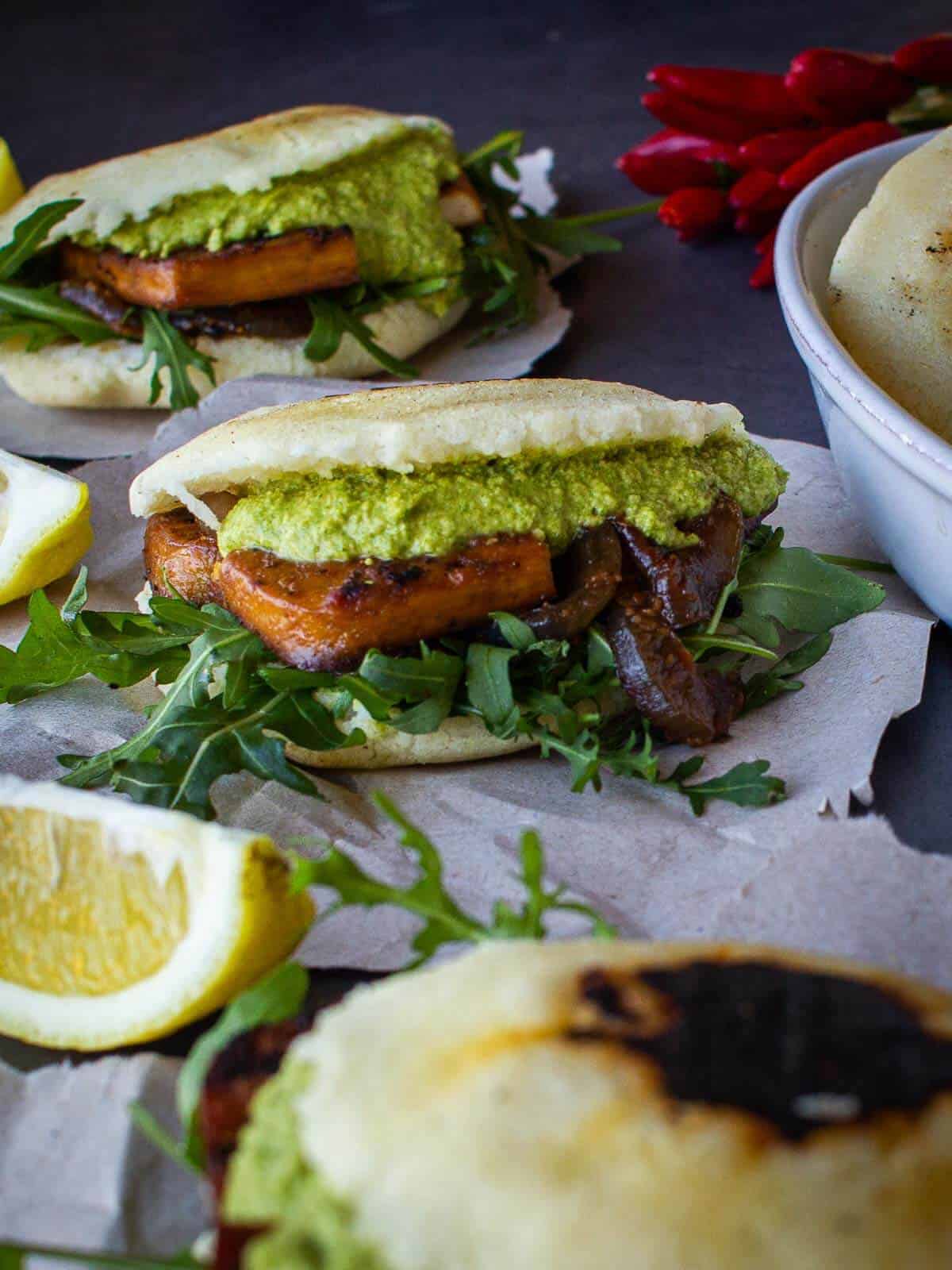 Subsequently, we eat Venezuelan and Colombian arepas quite regularly.
This recipe is the Venezuelan version which works better for filling them with whatever you can think of.
The Colombian and Panamanian versions are thinner and work better to have a bite as you munch them with something else, like french fries.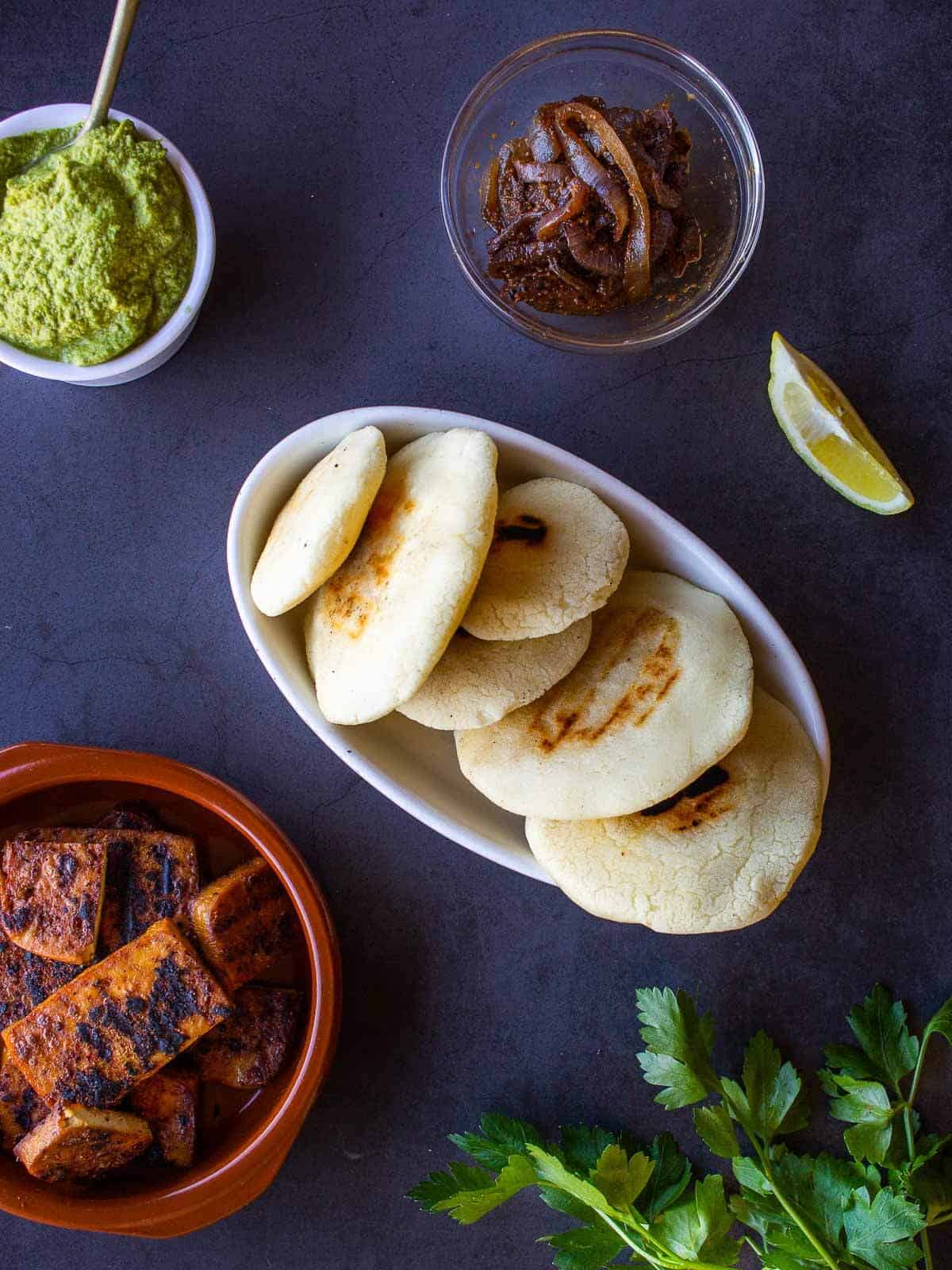 Ingredients
White maize flour
Water
Salt
See quantities and full instructions in the recipe card.
Arepa filling ideas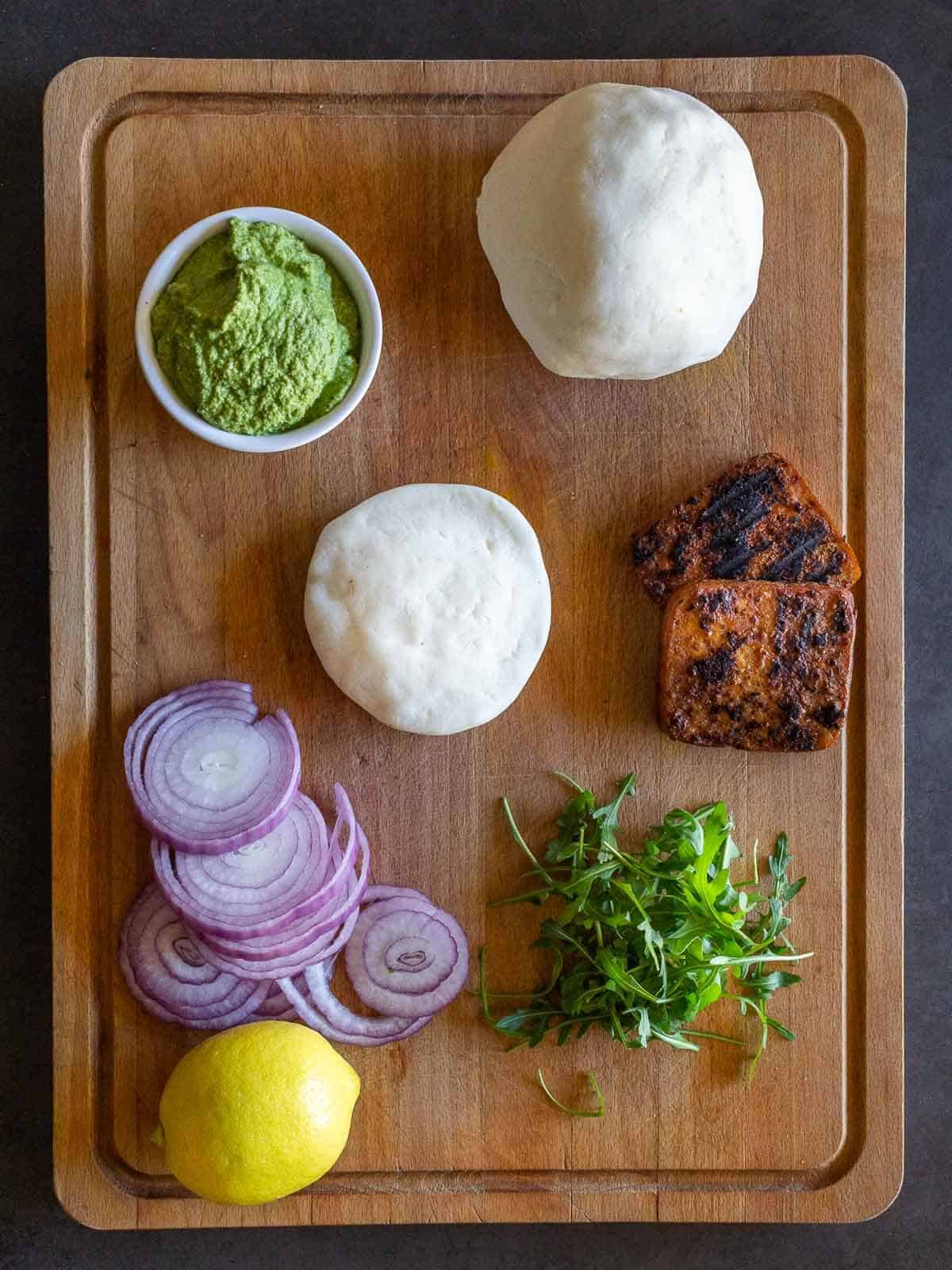 Caramelized Onions
Arugula
Lemon
Instructions
Arepas are very versatile, naturally vegan, and welcome every stuffing you can imagine. We have tried a myriad of combinations.
In this vegan arepas recipe, we suggest you have arepas with this Marinated Grilled Tofu and this 5-minute Creamy Vegan Sauce, similar to a pesto. Optionally you may add some arugula and caramelized onions for an extra flavor kick.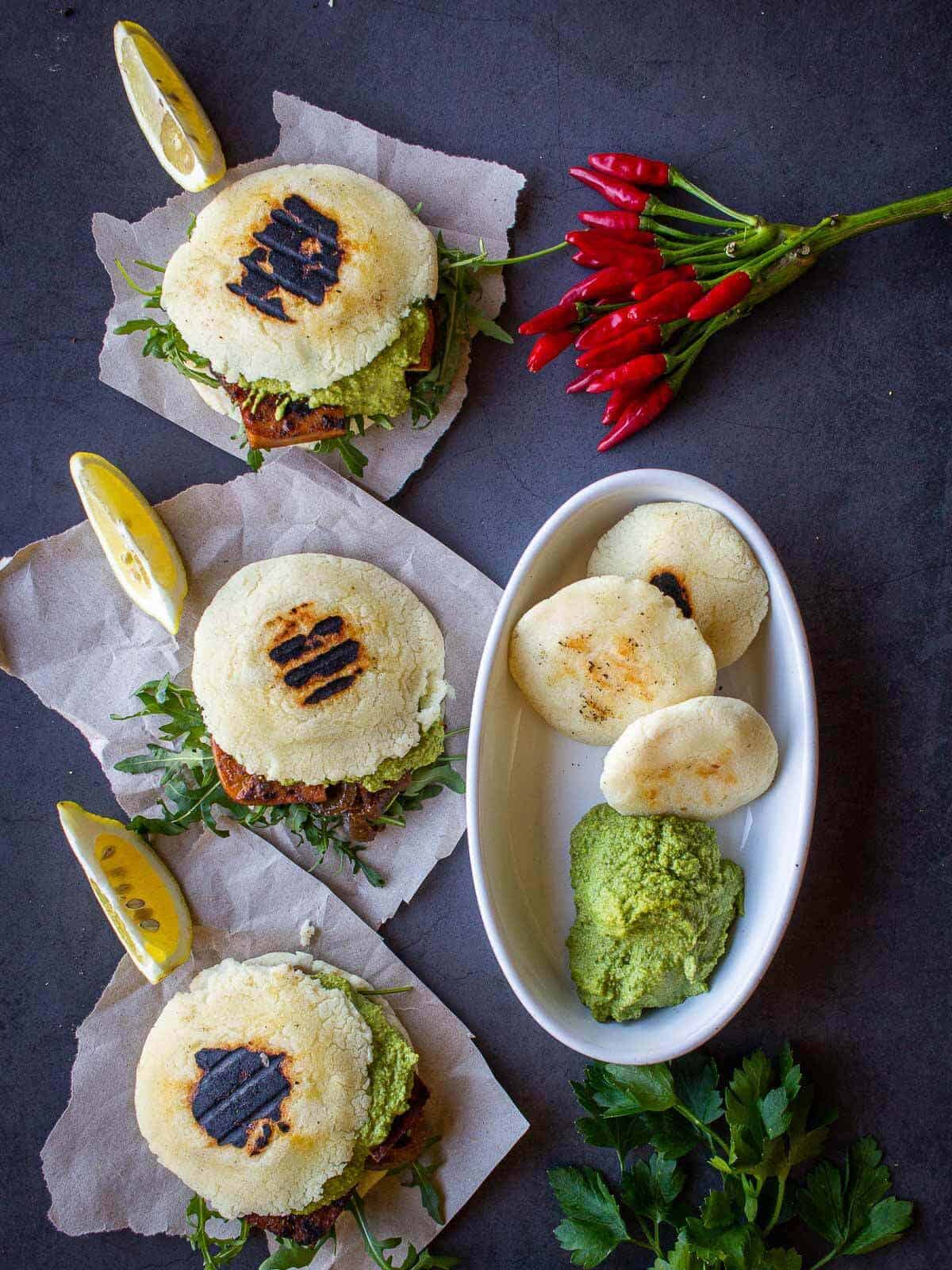 Your Must-Have + Optional Ingredients for the Vegan Arepas
You can make everything in minutes, and you can feed your whole family with quickly adjustable measures.
Make the 5-minute Creamy Vegan Sauce.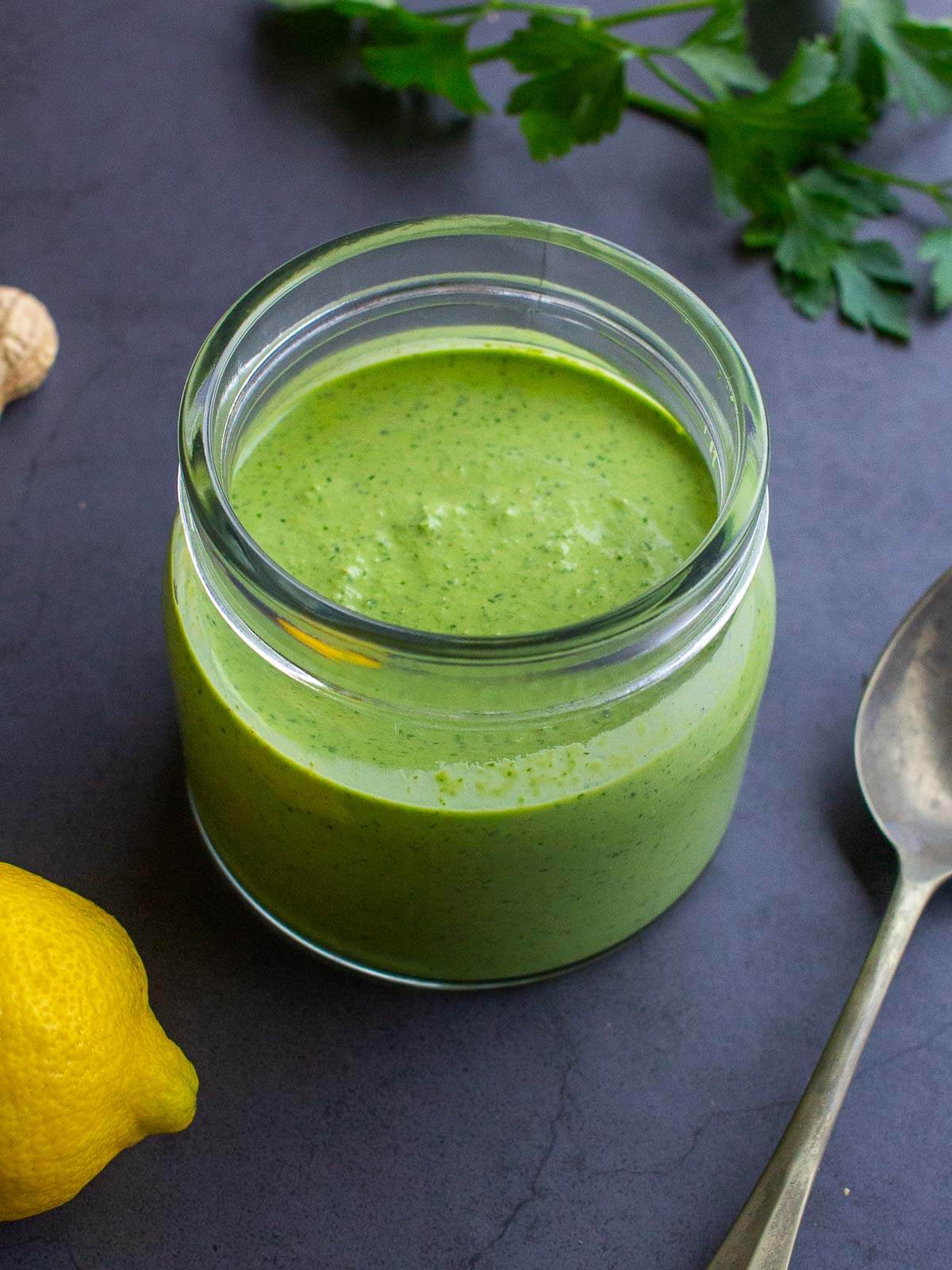 Grill the Marinated Grilled Tofu.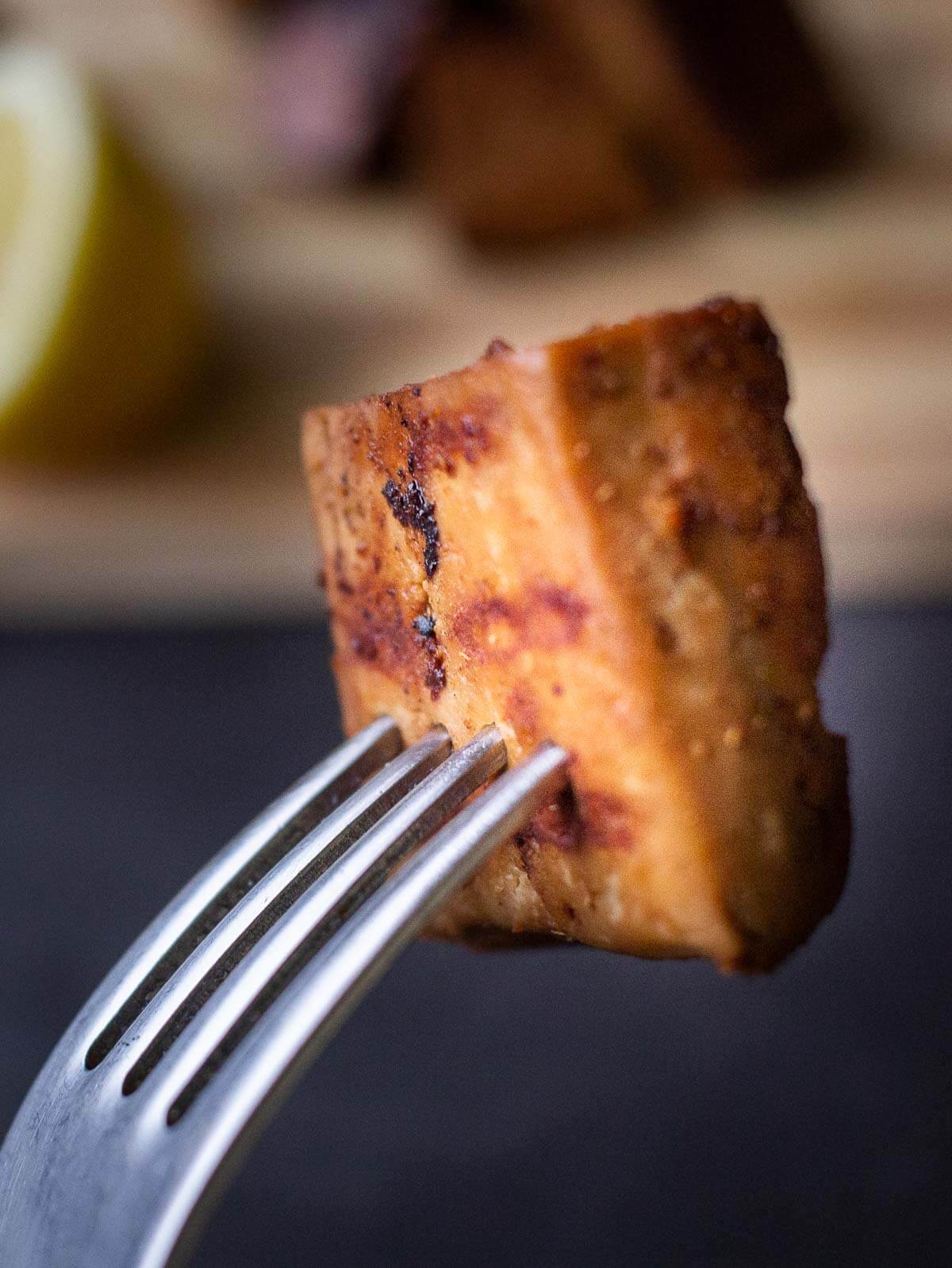 Mix the pre-cooked cornmeal, water, and salt, in a bowl. Knead for 2 minutes and let it rest for another 5 minutes.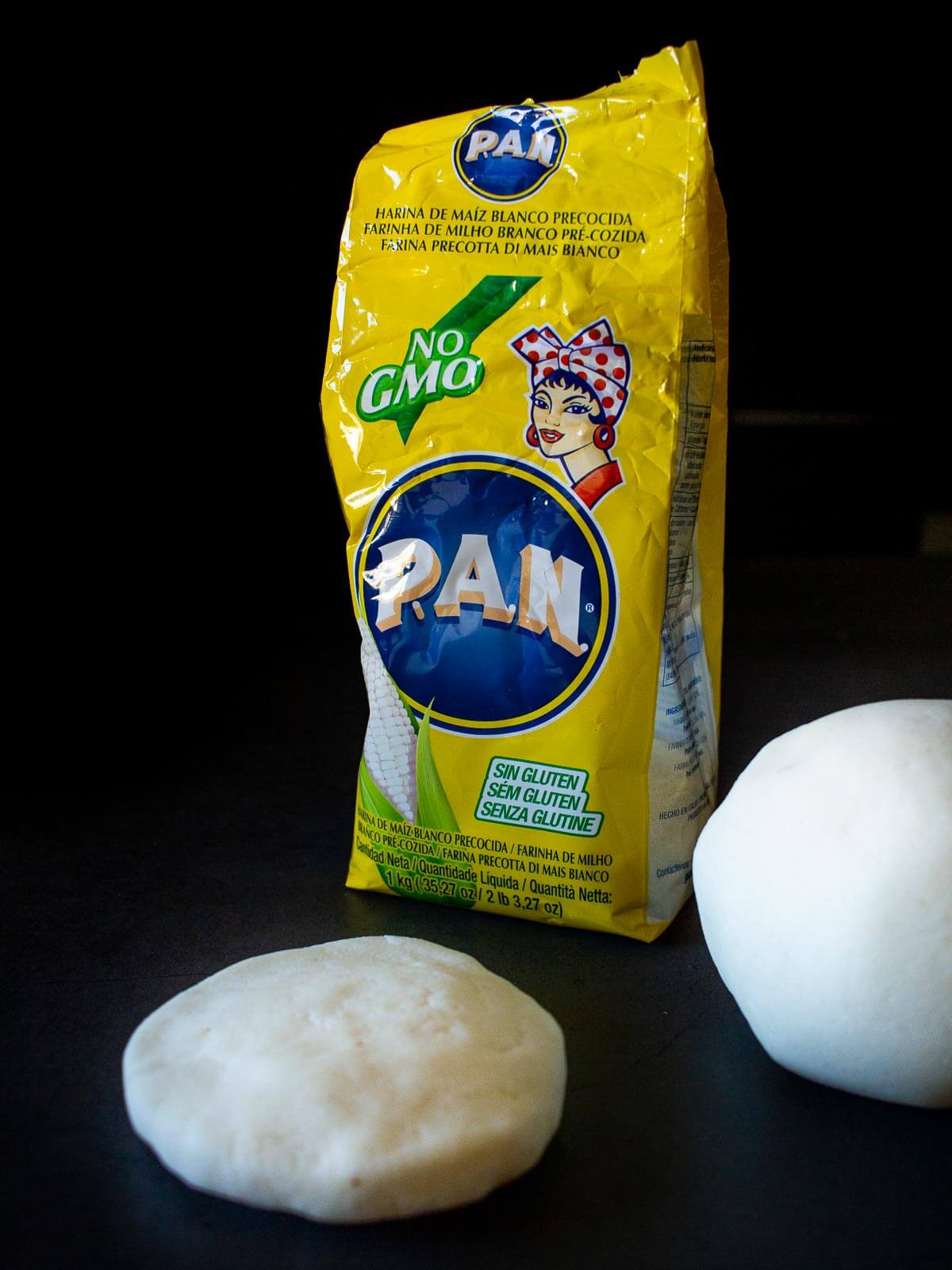 Divide the dough into four balls and flatten them with your hands until you get discs of about three inches. Shape the discs so they resemble a flying saucer, pressing more on the edges and less on your palm's souls.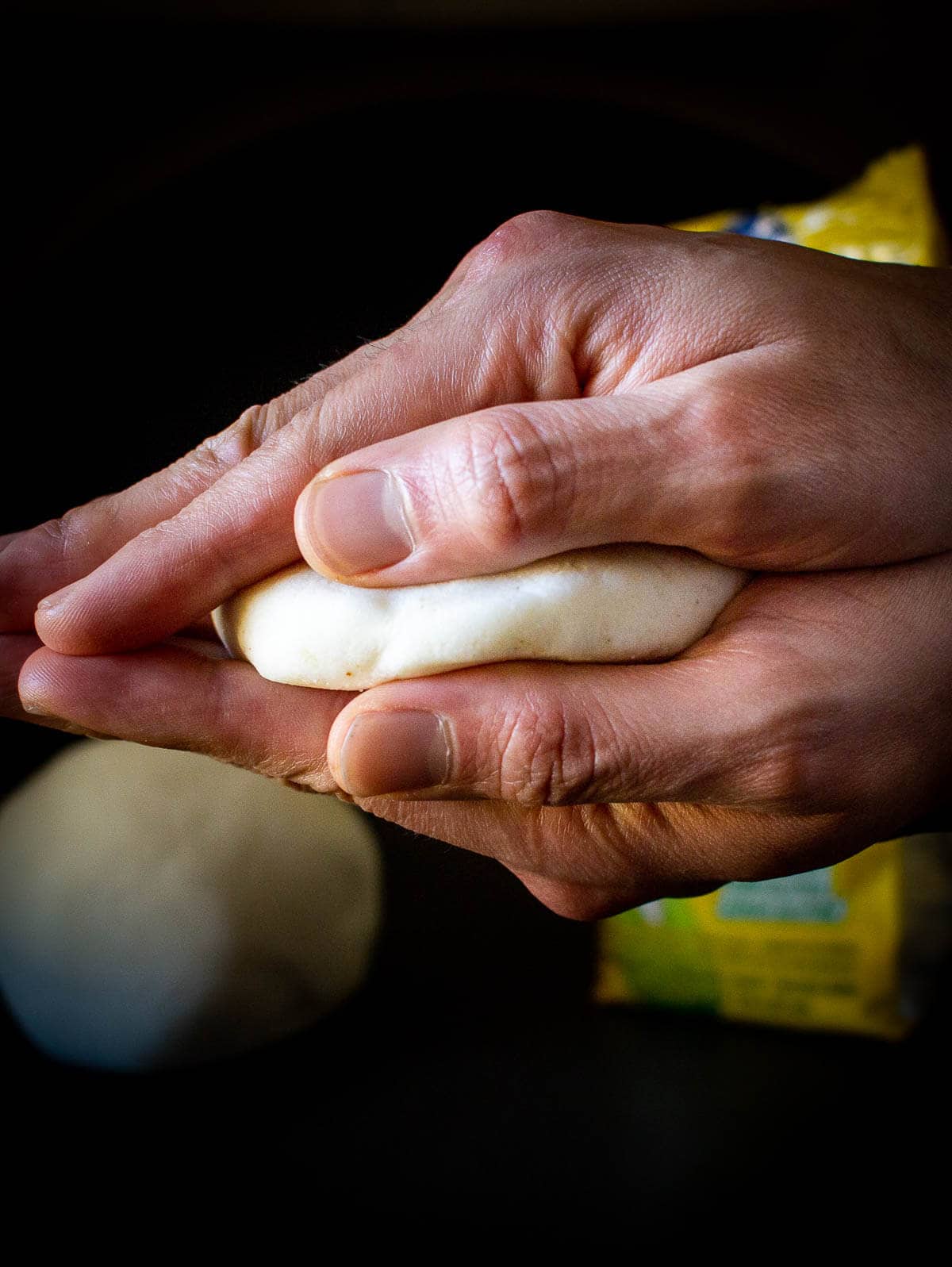 Cook them on a grill on medium heat for five minutes on each side.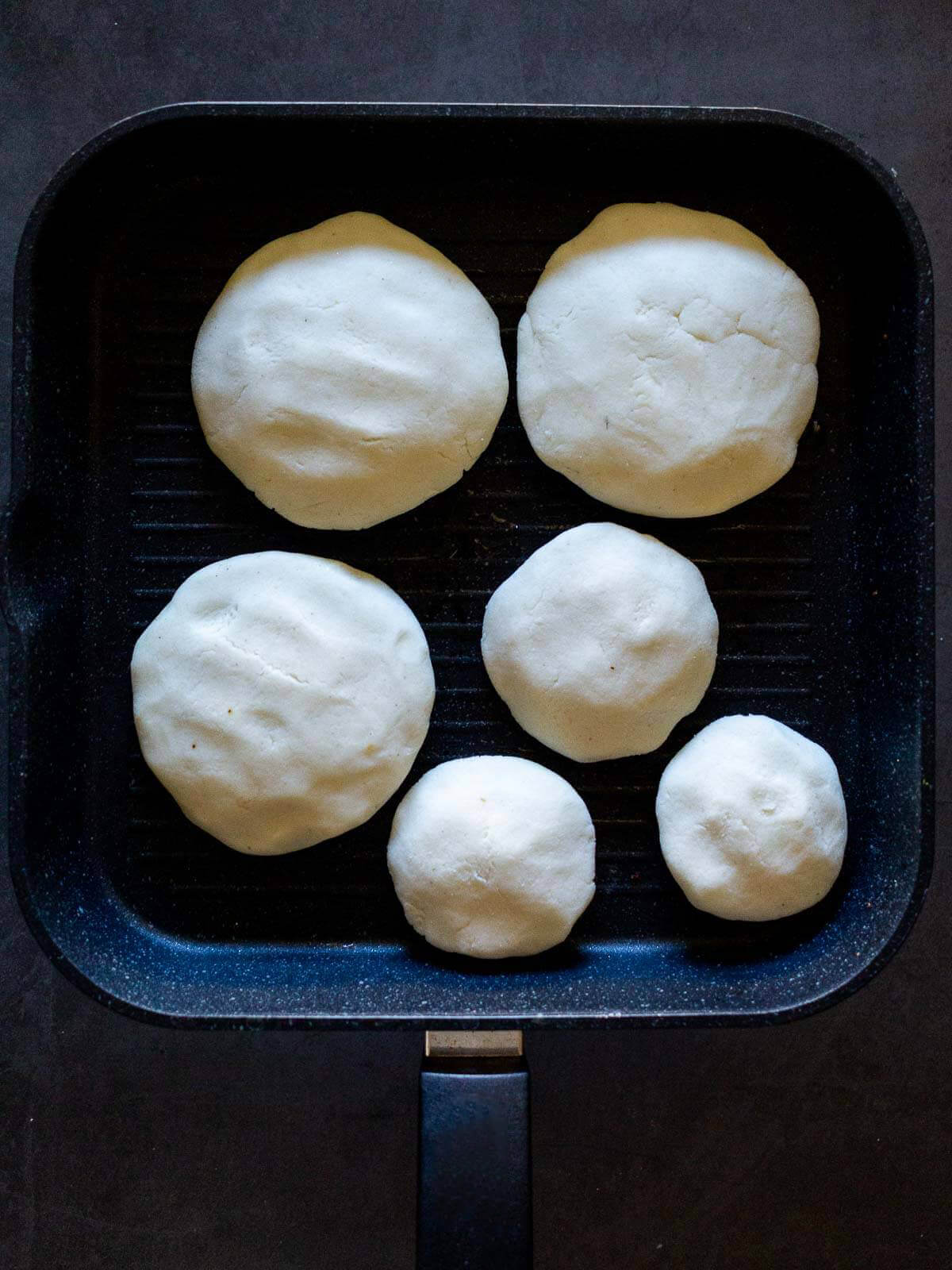 Optionally Caramelise some onions with the Same Tofu Marinade.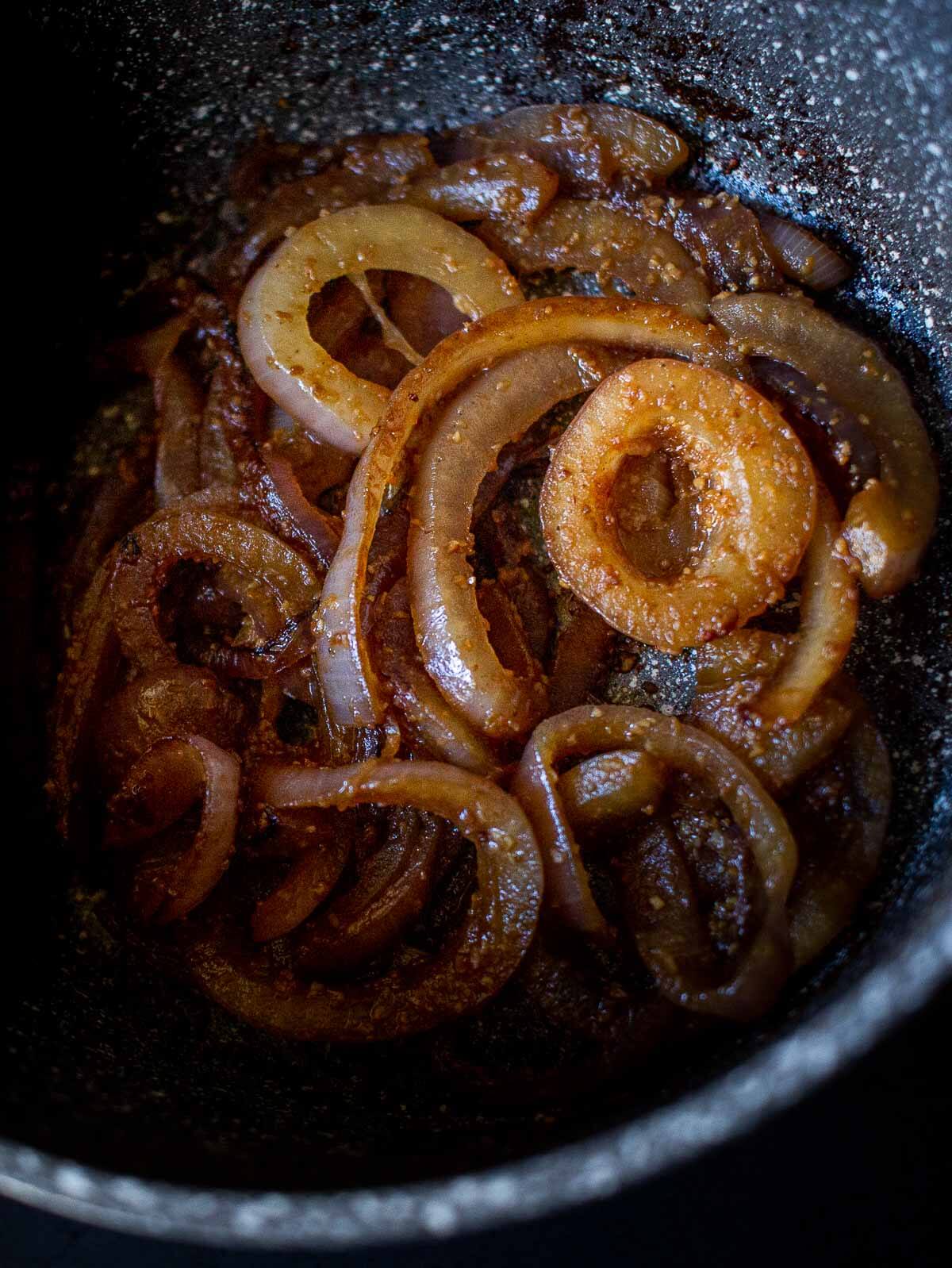 Once you've got the Vegan Arepas Grilled and Ready, you just cut them halfway and start filling them with some arugula, the grilled tofu, and the creamy vegan sauce.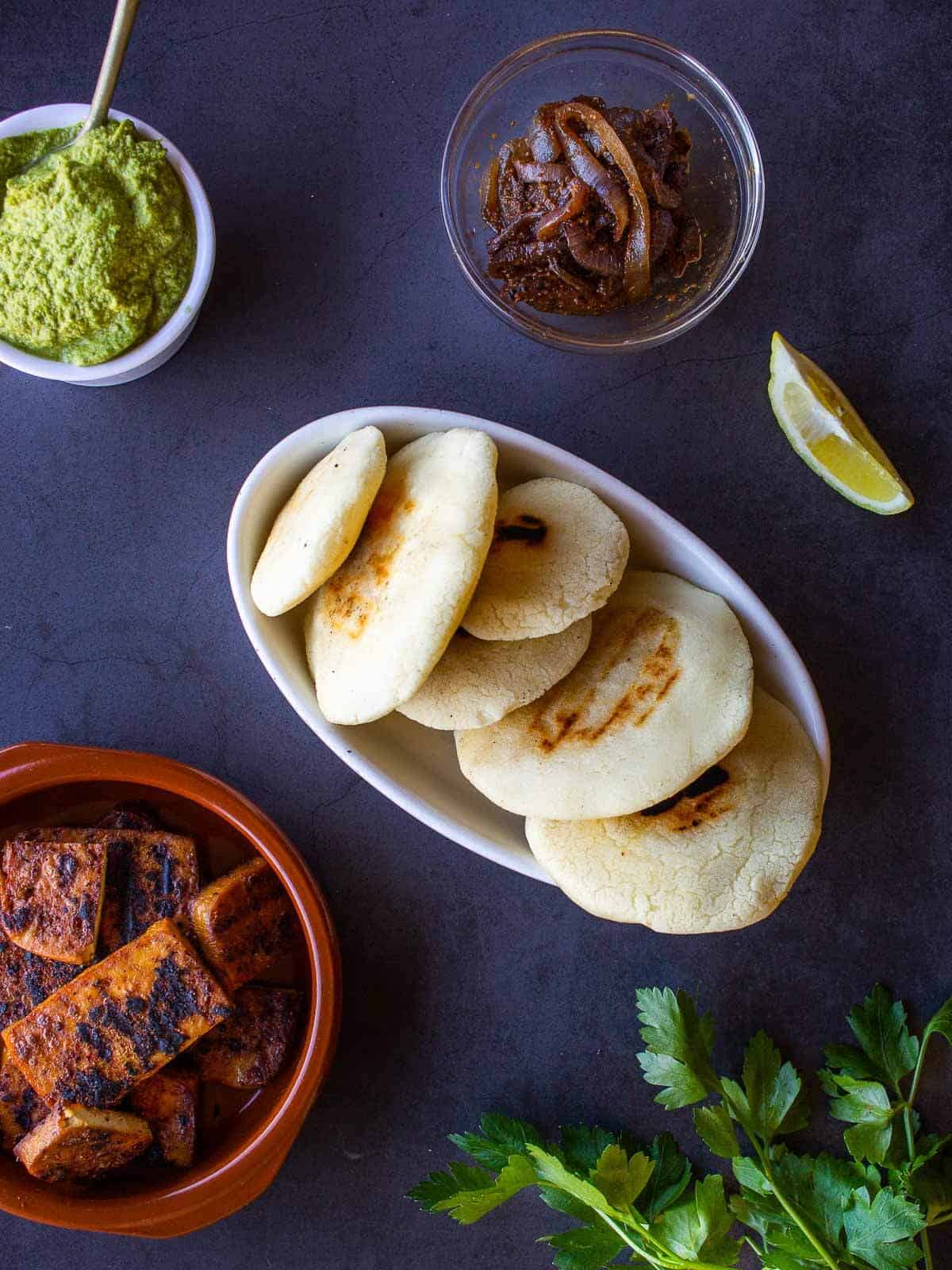 This combination is magnificent!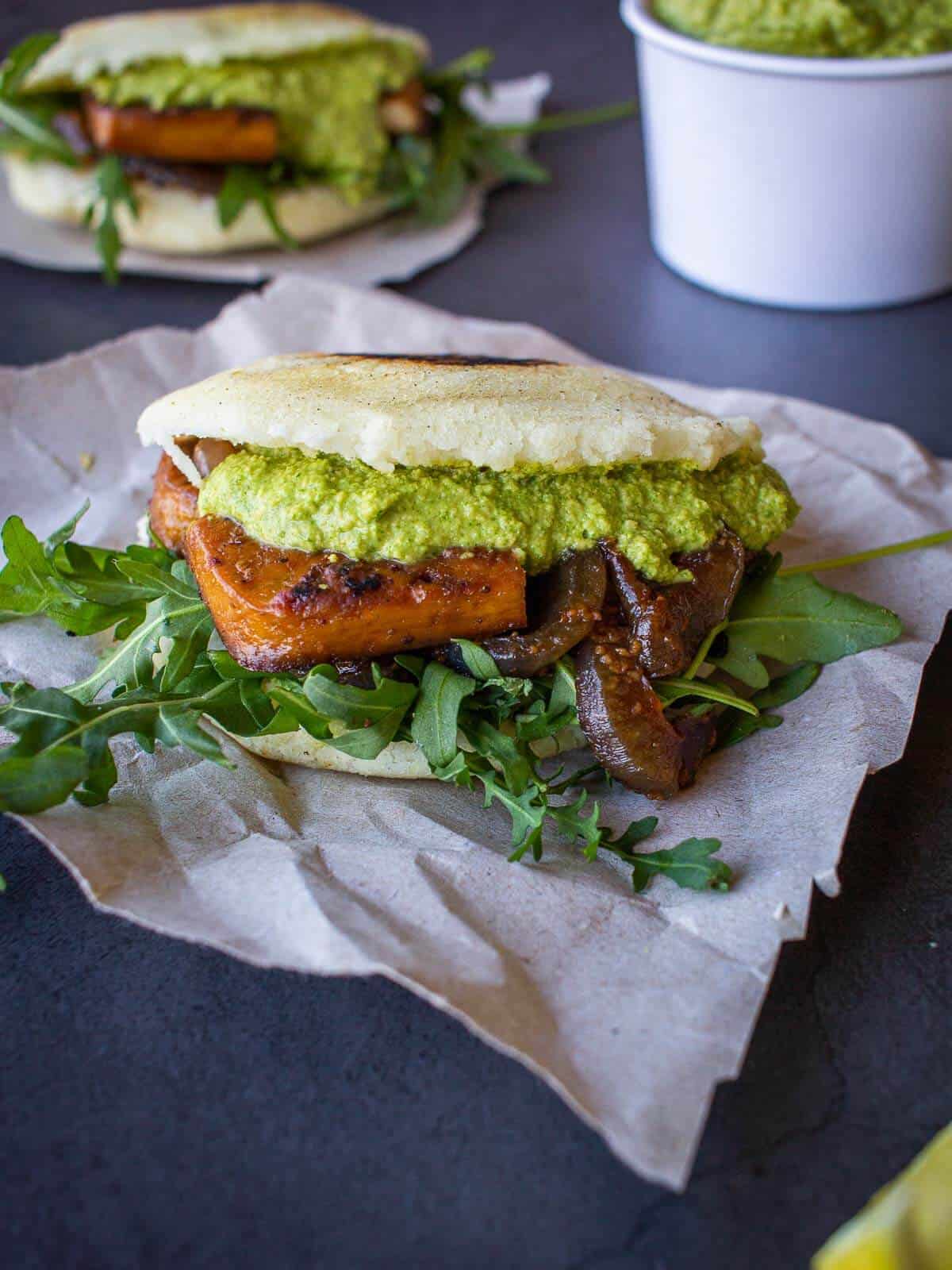 White Corn or Maize as a Nutrient
Corn is a good source of many vitamins, minerals and it is an excellent carbohydrate option for people with gluten intolerance.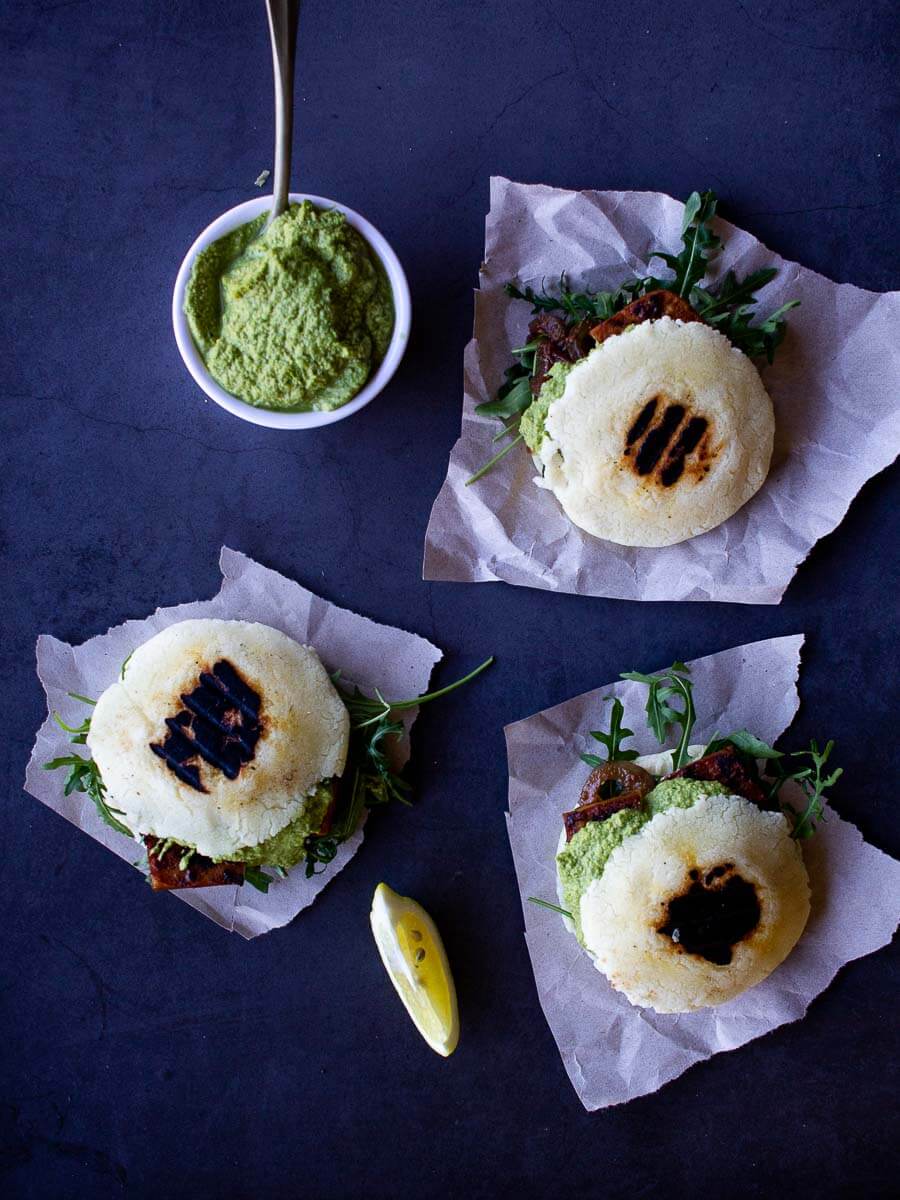 Jump to Recipe
Vegan Arepas Wine Pairing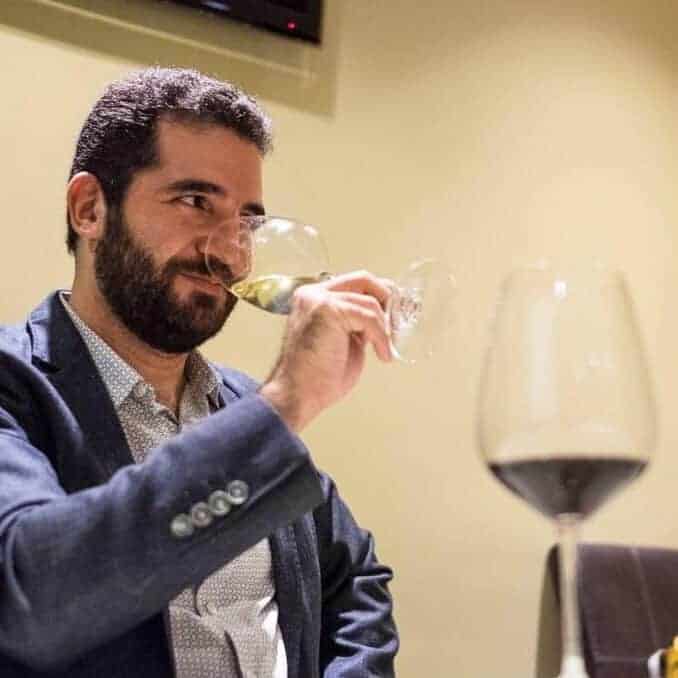 Ramón Barreiro
Wine Pairing by our Sommelier Ramón Barreiro @pejo_barreiro
Eating a stuffed corn tortilla isn't just tasty; it's fun! Fillings are all you can think of, and I bet you'll always be right because few flavors don't stand out with the natural sweetness of corn - another chance to remind you that sweetness is a flavor enhancer.
The flavors of harmony
In this pairing, harmony seeks to complement or contrast with the flavors of the filling. A good pairing is not always a harmony of flavors; sometimes, it is more impressive to appreciate the wine and the food, the contrast.
The filling of this arepa is marked by contrast. Marinated tofu has a balsamic flavor profile given by grilling and marinating in soy sauce, while the vegan sauce has a cold flavor profile provided by basil. The fun thing about this dish is that the flavors do not complement each other but rather contrast with each other, making each bite have a delicious cold sensation instead of a long, tasty balsamic aftertaste.
This game can also include wine!
Let's go to the pairing
Our pairings will be both complementary and contrasting. They will complement the ingredient with the same aromatic and flavor profile and contrast with the opposite profile ingredient.
Do you know the albariño?
This white grape is native to the northwest of the Iberian Peninsula, a treasure shared by the Spanish region of Galicia and the Portuguese region of Minho. Both regions claim to be the cradle of this variety. Still, it is most likely that both claims are legitimate because initially, both territories were part of the medieval Kingdom of Galicia.
Albariño wine –or alvarinho, as it is called in Portugal-, presents different aromatic nuances depending on its origin, its terroir. The most famous albariño is the Galician, from the Rías Baixas, where they are usually fresh, with herbal aroma and white fruit flavors. On the other hand, in the Portuguese Minho, especially in the Monçao and Melgaço area, it is equally fresh but with more floral aromas and more citrus and even tropical flavors.
My first recommendation is an albariño from Rías Baixas, which will complement the vegan sauce's cold flavor. The basil will be intensely enhanced with the wine, enhancing a pleasant contrast with the marinated tofu. Take the opportunity and do a tasting of albariños, look for an alvarinho from Monçao and Melgaço, and delight in the differences that the same grape variety gives in places so close and at the same time so different.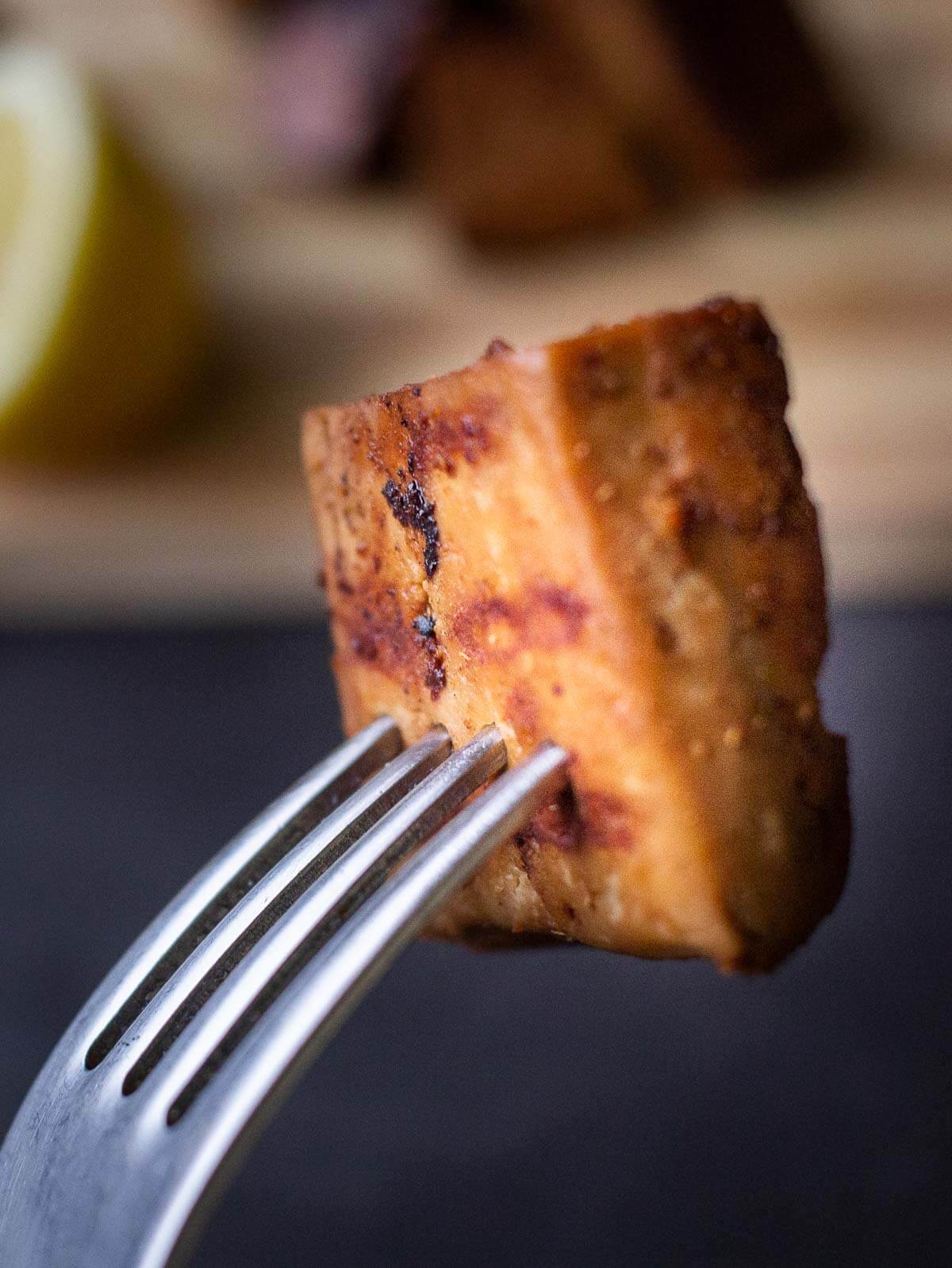 There is an island in the middle of the Atlantic called Madeira.
There are historical wines that are not drunk as much as before. Unfortunately, one of these victims of the passage of time is Madeira wine. However, there is hope that it is not lost. This wine has gradually recovered drinkers in recent years. And with how delicious Madeira is, I invite you to join this brigade of happy drinkers.
What is a Madeira wine?
Wine is not just a Madeira because it comes from the Portuguese island of Madeira. This wine also implies a very distinctive, unique style. Madeira is a fortified wine; this means that wine alcohol is added to increase its natural alcoholic volume; it is also a warmed wine. And here comes the unique feature of Madeira.
The traveling wine
This wine has initially been part of the maritime trade between Portugal and its Asian and American colonies, which meant that it spent months in a ship's hold, warming itself under the tropical sun. This heated wine was found to be vastly improved compared to the original wine. This fact led Madeira producers to develop techniques to heat their wines at their source.
From this creativity comes the Canteiro method, which consists of storing wine barrels in warehouses exposed to the sun's heat, even with windows that increase exposure to the tropical sun - Madeira is a tropical island. These wines remained for many years in these Canteiros, even for decades, before being commercialized.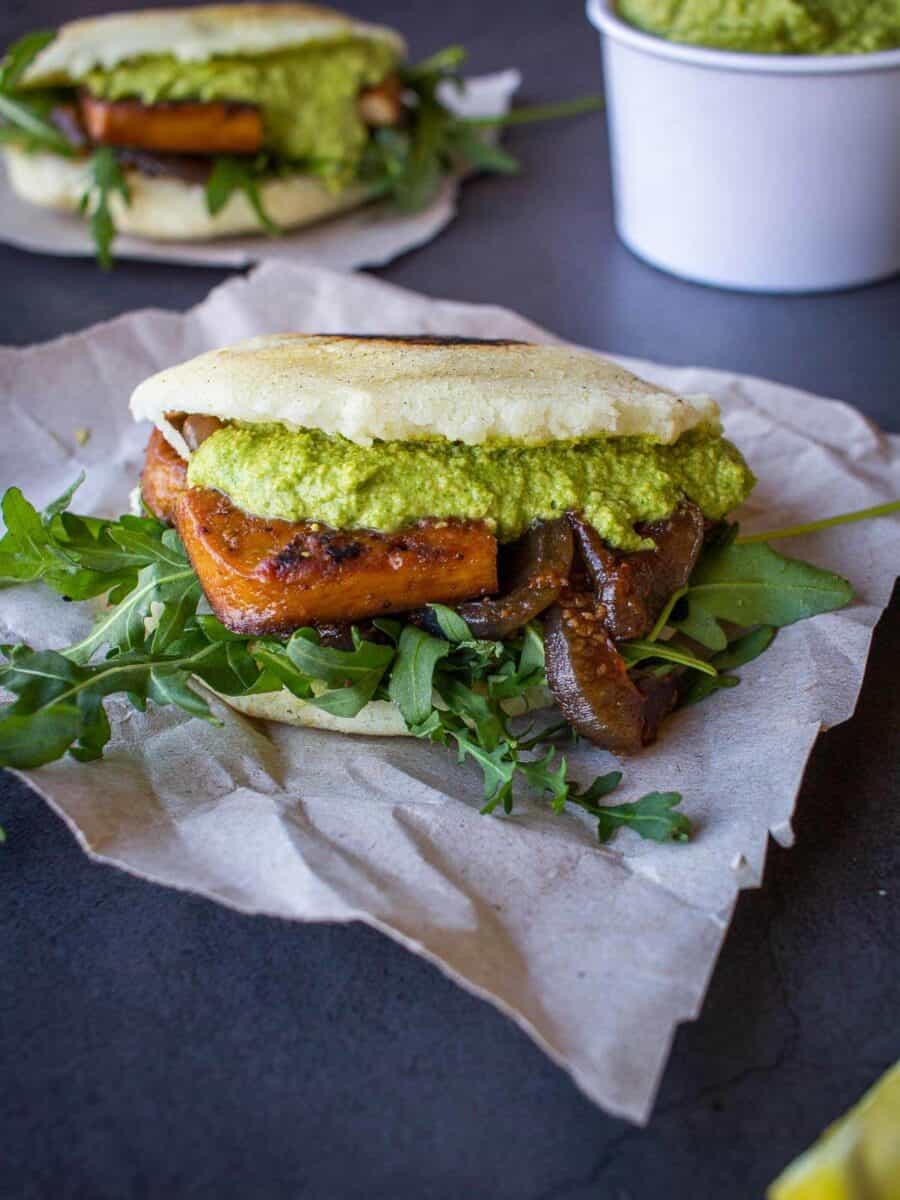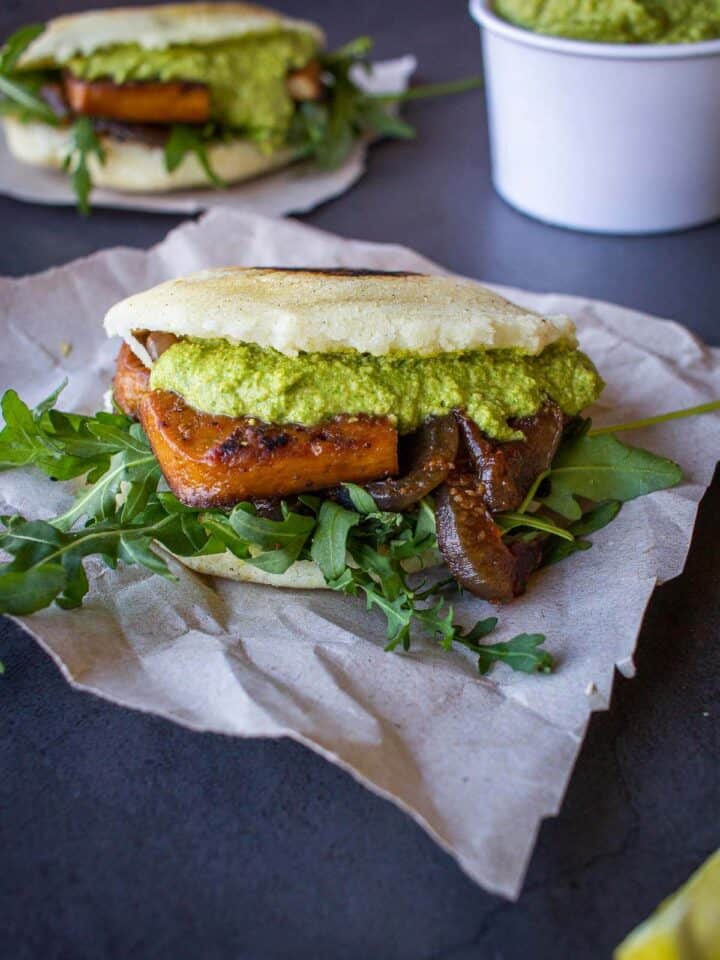 But since there is a demand for Madeira wine, another faster heating method was invented, the Estufagem, whereby the wine is constantly heated in a heated vat. In this way, we have a quicker Madeira-style wine. But, of course, fast is not necessarily better, so the Madeira of the Canteiro method is much more appreciated.
Now I am going to propose to you the surprising pairing. Indeed, it is a Madeira wine, a style called "Rainwater," using the Canteiro method for five or more years. It is typically made with a red grape called Tinta Negra Mole, but when you have it in your glass, don't be surprised by the amber color; the wine loses its characteristic color due to aging and heating.
For your stuffed arepas, choose a Rainwater Dry or Medium Dry, which will complement the marinated tofu's balsamic notes and harmonize with its freshness with the cold flavor of the vegan sauce. This fresh, spicy wine is sure to become one of your favorites.
Wine Pairing Recap
Spain - Dry White - Albariño (Rías Baixas)
Portugal - Fortified Dry or Semi-Dry - "Rainwater" Madeira
More Latin American Recipes?
If you try this recipe, let us know! Leave a comment, rate it, and don't forget to tag a photo #ourplantbasedworld on Instagram. Cheers!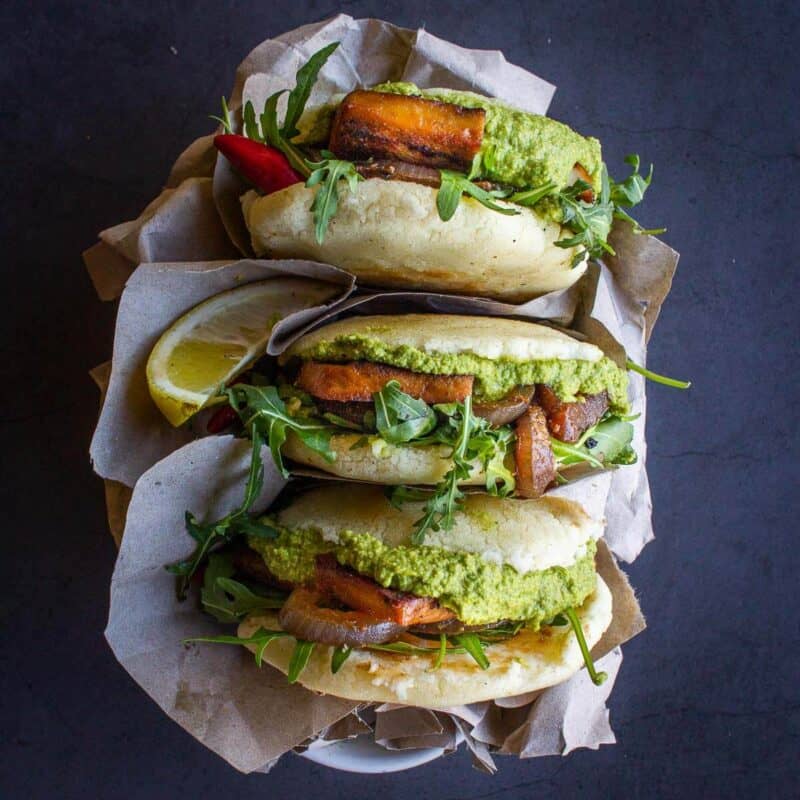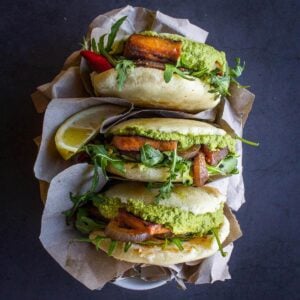 Recipe: Vegan Arepas
These vegan arepas are just amazing. The marinated grilled tofu is so flavorful and pairs perfectly with the creamy vegan sauce. This dish will become a favorite in your home!
Equipment
Ingredients
Optional:
1

bunch arugula

½

red onion

sautéed

1

pinch

red chilly if you like it spicy
Directions
Make the 5-Minutes Creamy Sauce for Everything in the Notes.

2 cups pre-cooked white maize flour,

1 teaspoon fine salt,

2 ½ cups water

Divide the dough into four balls and flatten them with your hands until you get discs of about three inches. Shape the discs, so they resemble a flying saucer, pressing more on the edges and less on your palm's souls.

Cook them on a grill on medium heat for five minutes on each side.

Meanwhile cut the red onions and sauté with one teaspoon of cooking oil and optionally adding the remaining juice of the grilled tofu marinade (should have some ginger, garlic, and soy sauce).

When the arepas are ready, cut them carefully on one side, without cutting them all the way through, and stuff the arepas with the sauce, the sautéed onions, arugula, and tofu chunks.

1 bunch arugula,

1 pinch red chilly if you like it spicy
Nutrition Facts
Calories:
219
kcal
Carbohydrates:
46
g
Protein:
6
g
Fat:
2
g
Saturated Fat:
1
g
Sodium:
594
mg
Potassium:
192
mg
Fiber:
4
g
Sugar:
2
g
Vitamin A:
129
IU
Vitamin C:
2
mg
Calcium:
95
mg
Iron:
1
mg
Nutrition Facts
Recipe: Vegan Arepas
Amount per Serving
% Daily Value*
* Percent Daily Values are based on a 2000 calorie diet.
Pin for Later!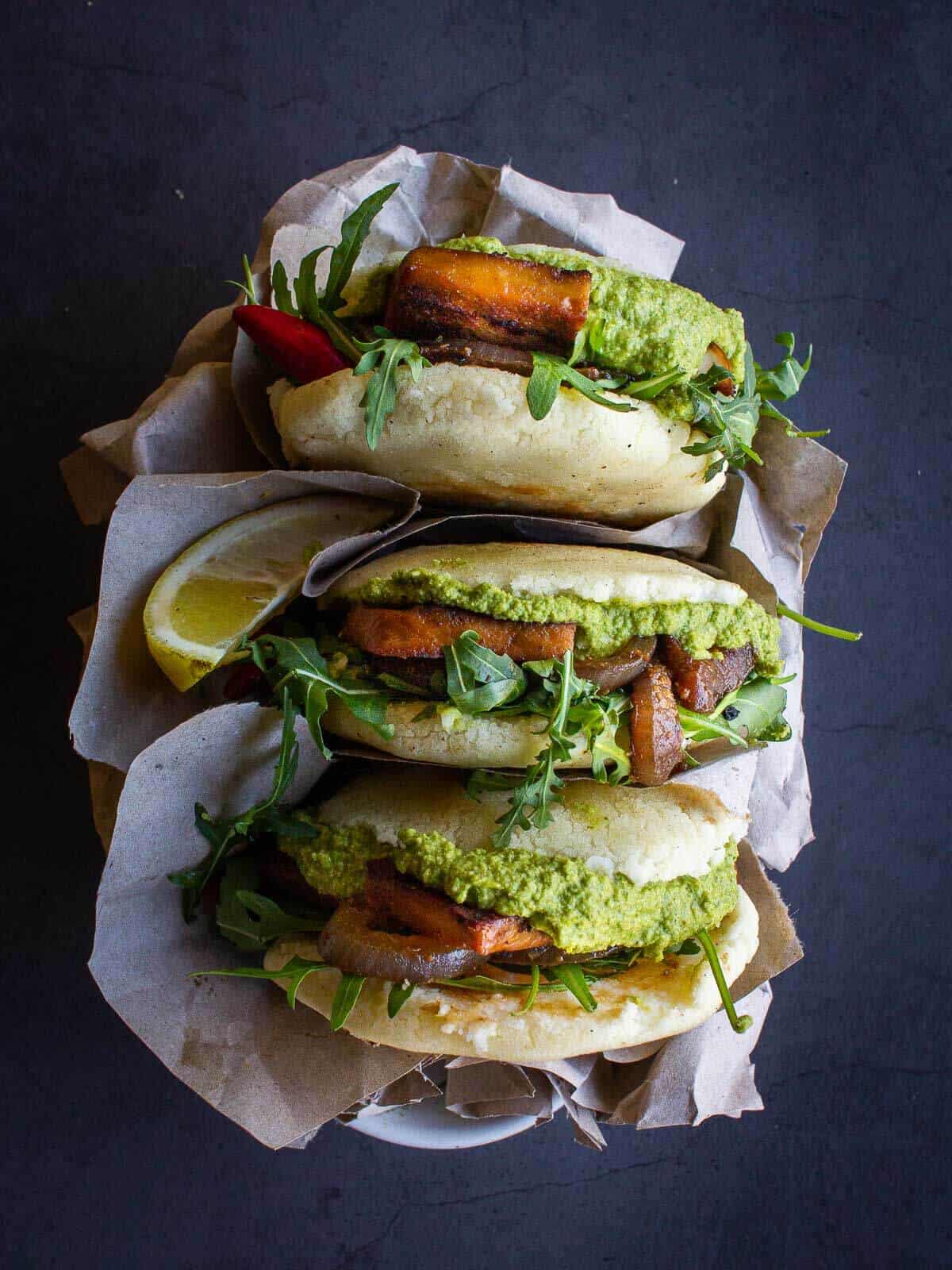 Food safety
We sometimes take for granted that we have years (or decades) of cooking experience that the average visitor may not. Add to or remove the list below with health and safety tips.
Cook to a minimum temperature of 165 °F (74 °C)
Do not use the same utensils on cooked food that previously touched raw meat
Wash hands after touching raw meat
Don't leave food sitting out at room temperature for extended periods
Never leave cooking food unattended
Use oils with high smoking points to avoid harmful compounds
Always have good ventilation when using a gas stove
See more guidelines at USDA.gov.
The information shown is an estimate provided by an online nutrition calculator. It should not be considered a substitute for a professional nutritionist's advice. See our full Nutritional Disclosure here.
Please note that some of the links here are affiliate links, and I will earn a commission if you purchase through those links. I use all of the products listed and recommend them because they are companies that I have found helpful and trustworthy.