The ingredients present in this Carrot Cucumber Celery Juice are a health powerhouse and offer various benefits ranging from skin and weight management to immune system boosting.
Juicing is a great way to start your day, no matter what time of the year. You signal your body with great-nurturing messages and your body answers beautifully.
This juice was inspired by our carrot, apple celery juice recipe, but here we put more emphasis on reducing the sugar content and augmenting the hydration components, making it a stronger weight loss partner.
When we have put on some weight we use our juice for weight loss which has lots of flavor and features de-bloating ingredients.
Please have a look at our Hangover Juice recipe for another excellent detox juice and our juice for digestive issues, which are great resources to have handy!
Ingredients
This Morning juice recipe has only 3 ingredients core ingredients plus an optional one.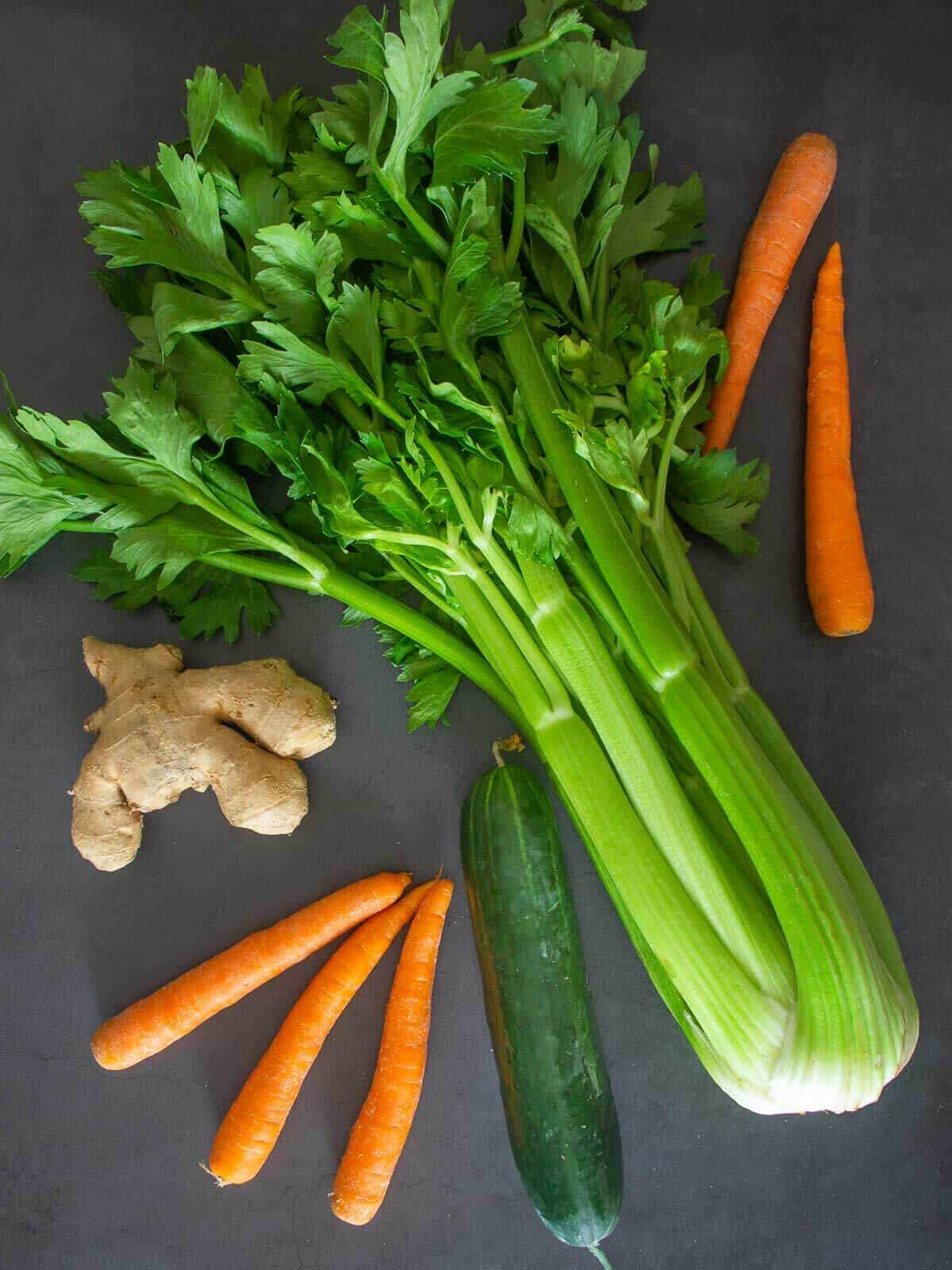 Organic Carrots
Organic Cucumber
Organic Celery
Ginger (optional)
See the recipe card for quantities.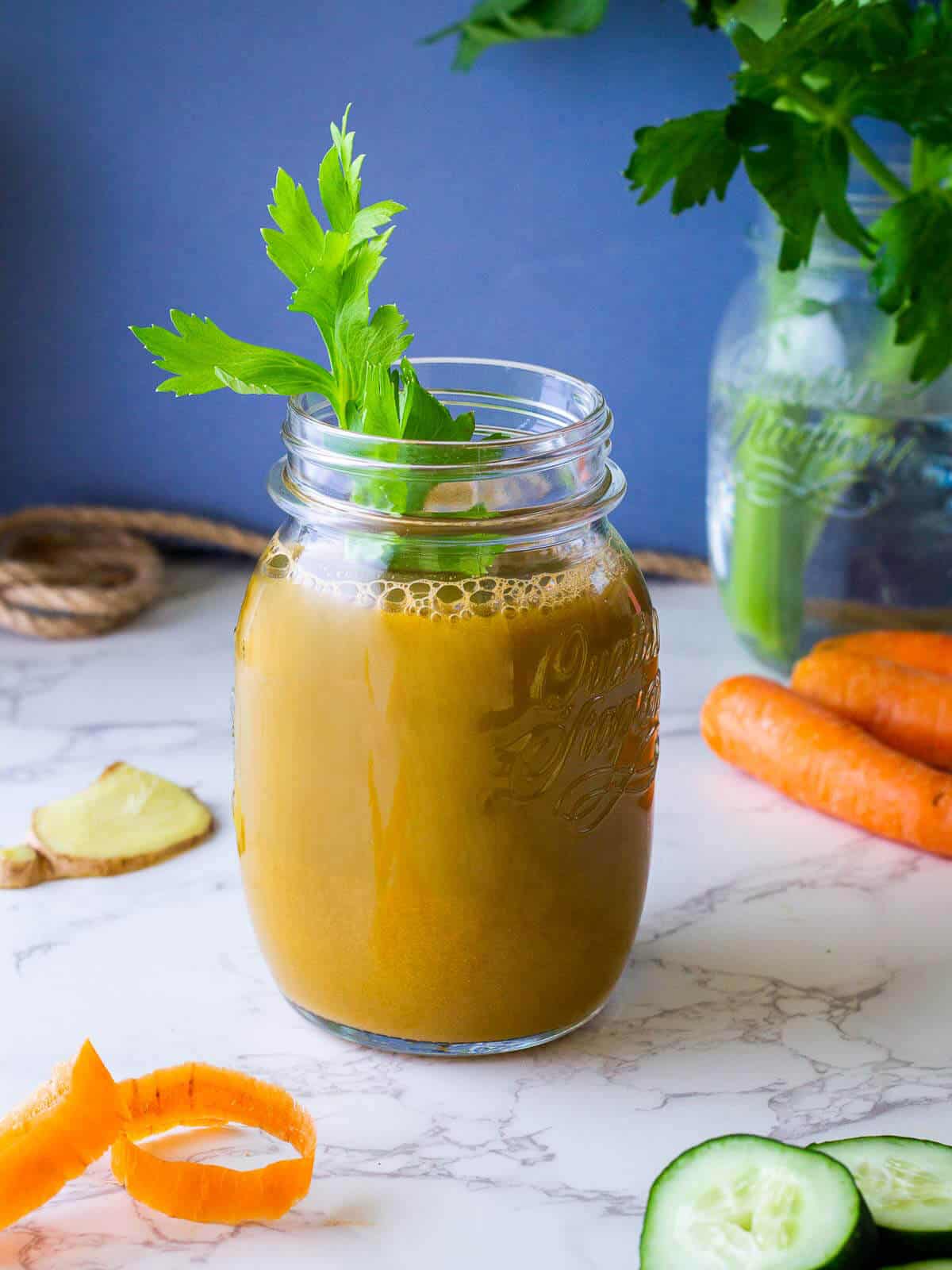 Instructions
The steps to get this hydrating juice right are easy to follow and won't disrupt your morning in any way.
Step 1: wash and rinse your produce
It is important to wash thoroughly your product is important to wash thoroughly your produce. Nonetheless, I generally don't peel carrots, as they also have great nutritional value and save some time. Just try using organic carrots.
Also, you can choose to juice the celery leaves, (I usually do). It is a good way to extract value from the celery leaves that I wouldn't use any other way.
The downside is that it will make the juice bitter, and the only sweet component from this juice is the carrots. Alternatively, you may choose to use the celery leaves on a sweeter juice such as this Kiwi, Tangerine, and Celery juice.
Step 2: cut the ingredients in dice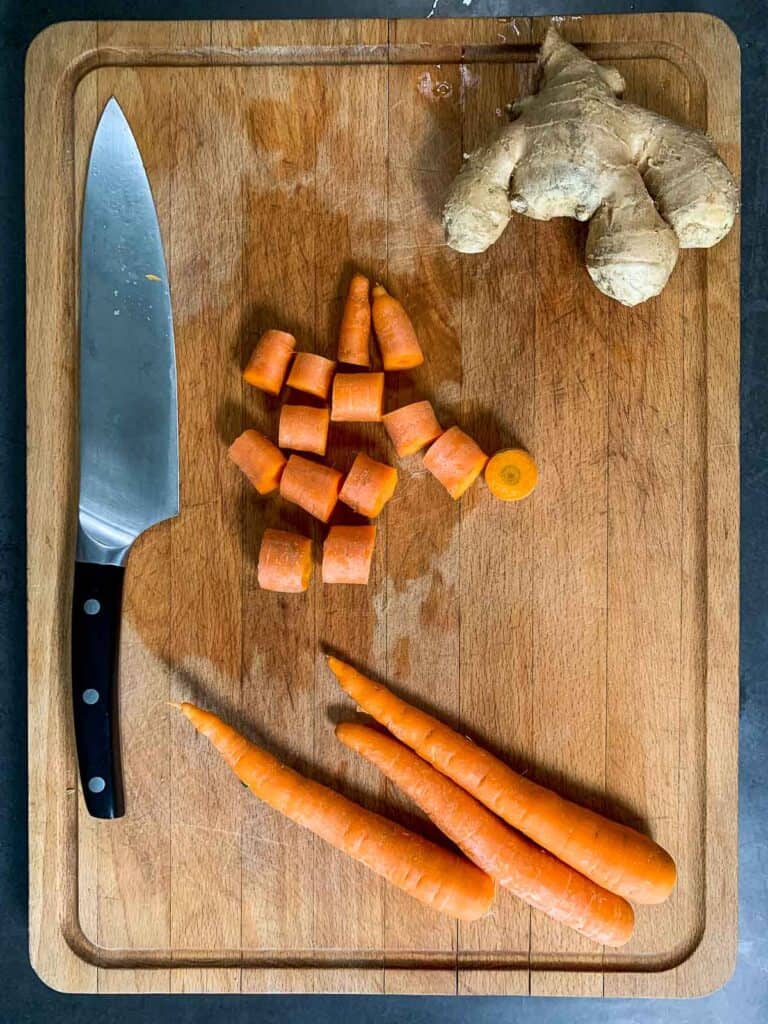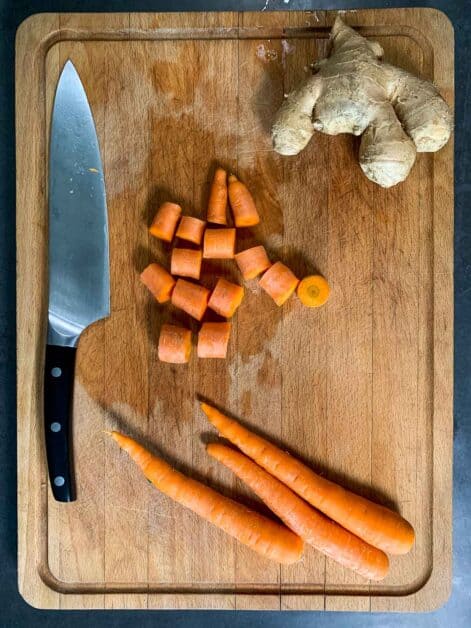 Depending on the juicer, you may need to dice the ingredients in smaller pieces, or just coarsely chop your vegetables.
Step 3: pass the ingredients through the juicer
Most juicers work the same way, where you insert the fruit or veggie into a chute, and the squeezed juice comes out. However, this may vary depending on your juicer.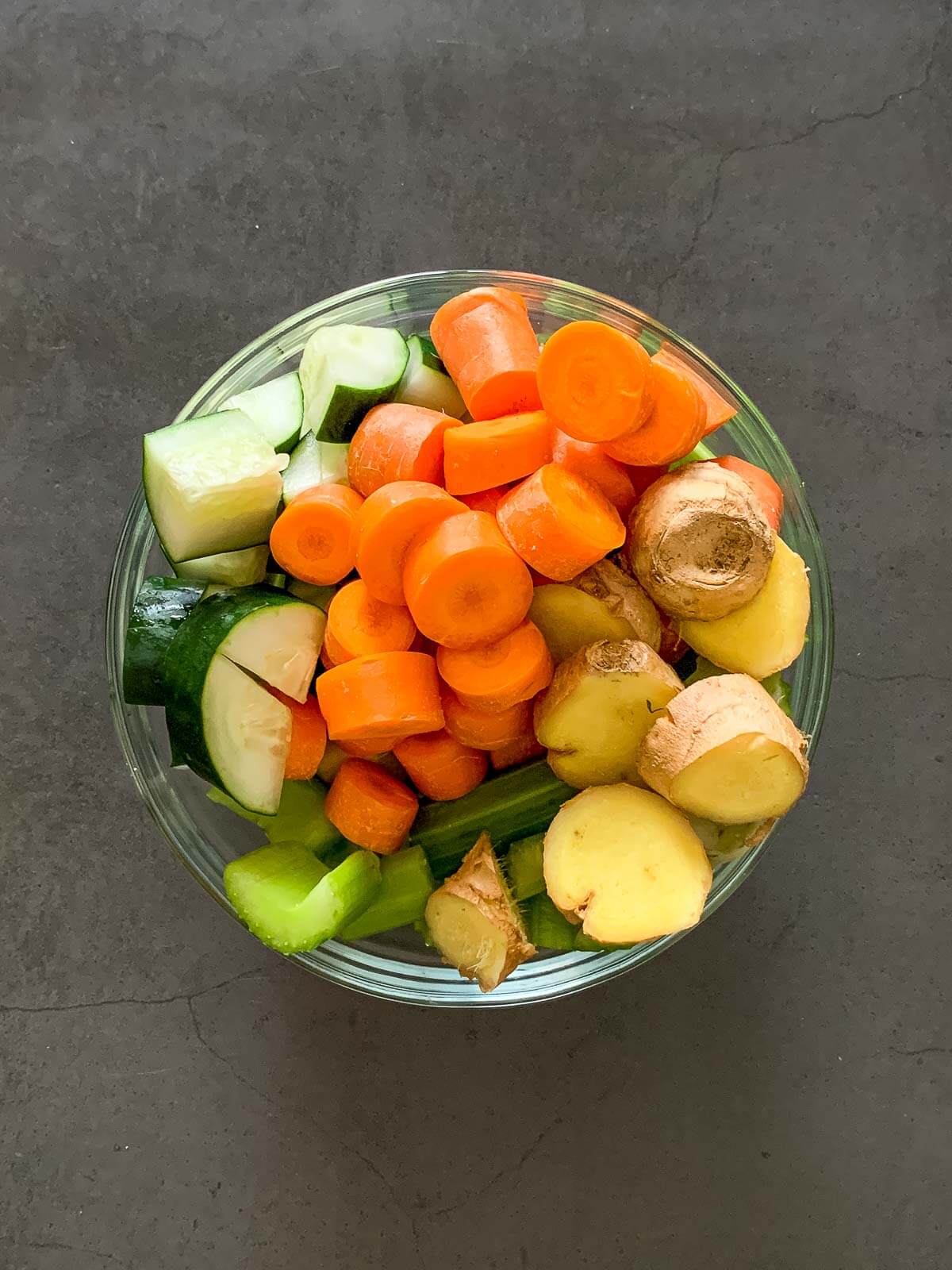 Start introducing all the ingredients, combining the leaves (if using) and vegetable chunks, to prevent the juicer from getting stuck.
Also, if you want to thin the carrot juice, you can choose to add a little water through the juicer aperture, so it drags some of the rest of the fruits and veggies.
Hint: don't introduce all the ingredients at once. Introduce handfuls, into the chute, press down with the tampers, pull it out, and keep introducing handfuls.
Substitutions
Vegetable drinks are less sweet in general, if you want a sweeter version of this refreshing drink, you can different fruits. Add apples, tangerine, orange, or pineapple chunks to the juice to add sweetness, without added sugar. To add tartness, add lemon juice.
Add ice if you want it cold.
Carrot celery cucumber juice benefits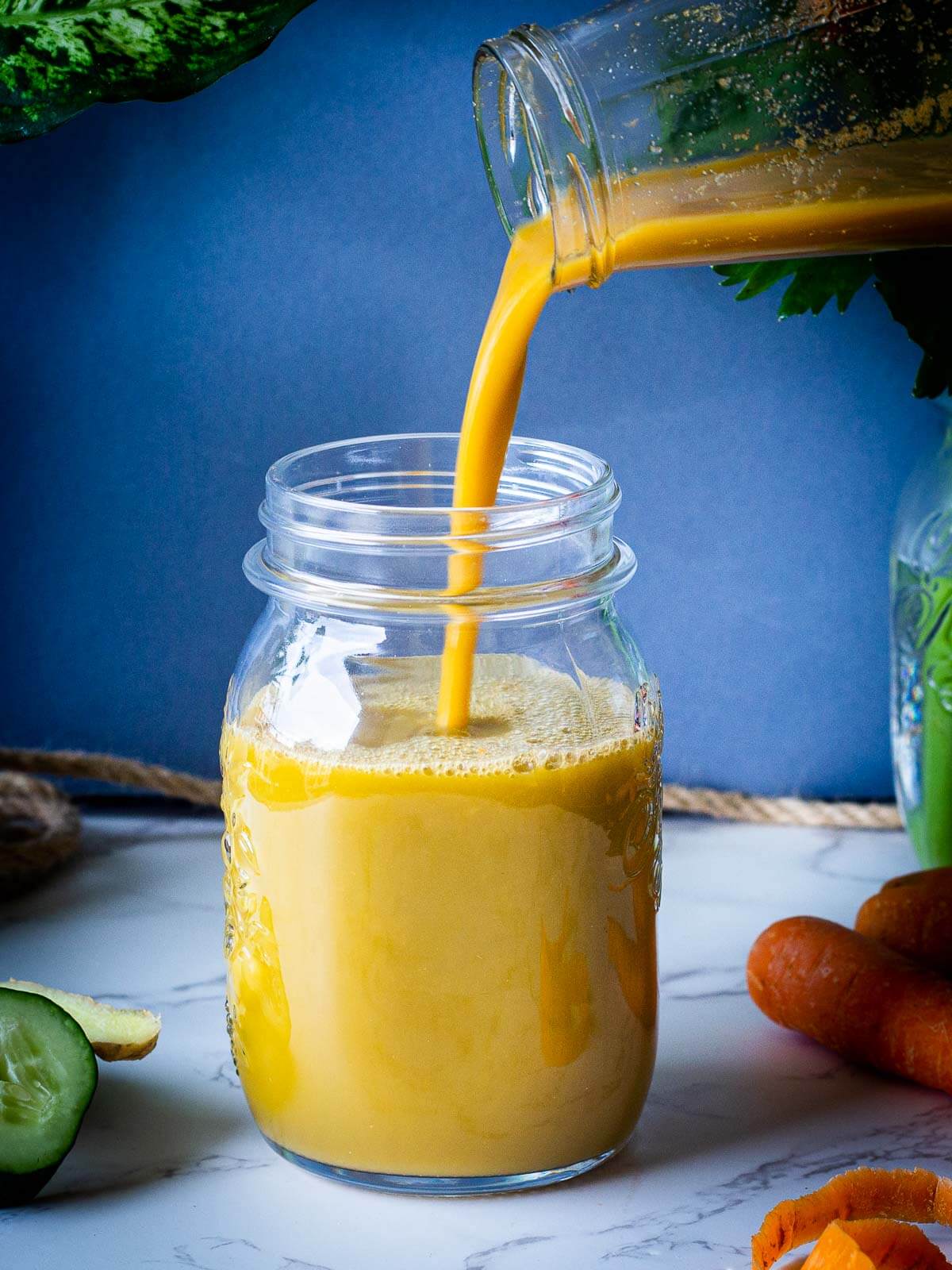 Let's talk about all the carrot, cucumber ginger juice health benefits in detail. It is extremely nutritious
Hydration- we all know we need a lot of water for our bodies to work well.Cucumber has some serious water content, 96% to be exact. When drinking flavorless water throughout the day, adding cucumber juice or water to your diet can help you achieve the daily recommended water intake.
Cucumber for Weight loss - replacing calories from sugary juices, sodas, and sports drinks, with low sugar content juices such as this one, can help you cut on calories. Staying hydrated is great for many reasons, but it also helps to feel full. I
Supports healthy skin - hydration is great for our skins. Think about the last time you spent time under the sun and didn't drink the extra water you should have. The skin starts cracking, and the solution may be simpler than using moisturizer creams. Hydrate! Drinking carrot juice and cucumber can help soothe your skin from the inside out.
Powerful Antioxidants - these good friends help prevent and delay cell damage from oxidative stress caused by free radicals. Oxidative stress can lead to verious chronic conditions like diabetes, heart disease, and eye degeneration.

Research shows, antioxidants may stop this damage and sometimes even reverse it. Aim for vegetables and fruits high in antioxidants, like berries and cucumbers.

Lower blood pressure - having too little potassium and too much salt in our bodies is one of the leading causes of high blood pressure and cardiovascular disease.

Potassium acts like an electrolyte that helps to regulate the sodium in our kidneys caused by the excess salt, which causes our bodies to retain fluids, thus raising our blood pressure.
Cucumbers are a great potassium source, potentially helping to lower our blood pressure.
As you can see, the carrot, cucumber ginger juice benefits are not only fantastic but come in handy for about anyone!
In case you are into the nutritional aspects of juices with carrots, you should check out this amazing and great recipe of Carrot Beet Pineapple Detox Juice, which we designed carefully for an Ayurvedic Detox Class of Yoga Practitioners, and contributes to optimal health.
Additional benefits
Along with cucumber, this juice has all the great benefits of carrots and is an anti-inflammatory juice as it contains celery juice, which's juice is mostly known for its detoxifying and anti-inflammatory properties.
The carrots have beta carotene which is great for skin health.
As a cherry on top, adding ginger to this hydrating and refreshing drink provides additional immune system-boosting benefits and heart health benefits.
Hydration Tips
If you drink a glass of water before any meal, you trick your stomach into feeling fuller, and you stop eating before you normally would. Also, sometimes our bodies confuse thirst with hunger. Always reach for the water first!
Also, staying hydrated helps our bodies flushing out toxins, that may make the skin look dull. Cucumbers are also high in vitamin B-5, also used to treat acne.
Hint: sometimes your headaches are just a lack of hydration, reach for a glass of water or high-water content fruits or vegetables before you reach for painkillers. When in need of hydrating veggies, think about celery and cucumbers.
Find more about the benefits of including cucumbers in your diet and add this refreshing drink to your morning routine.
Equipment
You need a juicer, a cutting board, and a knife.
Get an excellent Cold-Pressed juicer; it will be one of the best investments you have made in the year! Trust me! Make sure you check the juicer's instructions before starting, as many juicers have different working mechanisms.
Want to know more about the benefits of Juicing? Check our post:
Juicing for Health: The Truth about Juicing
If you don't have a juicer, you can also make juices, following these simple tips on juicing without a juicer plus three delicious recipes.
Storage
You can reserve the juice for of to 24 hours in a mason jar or a bottle with a lid to avoid oxidation.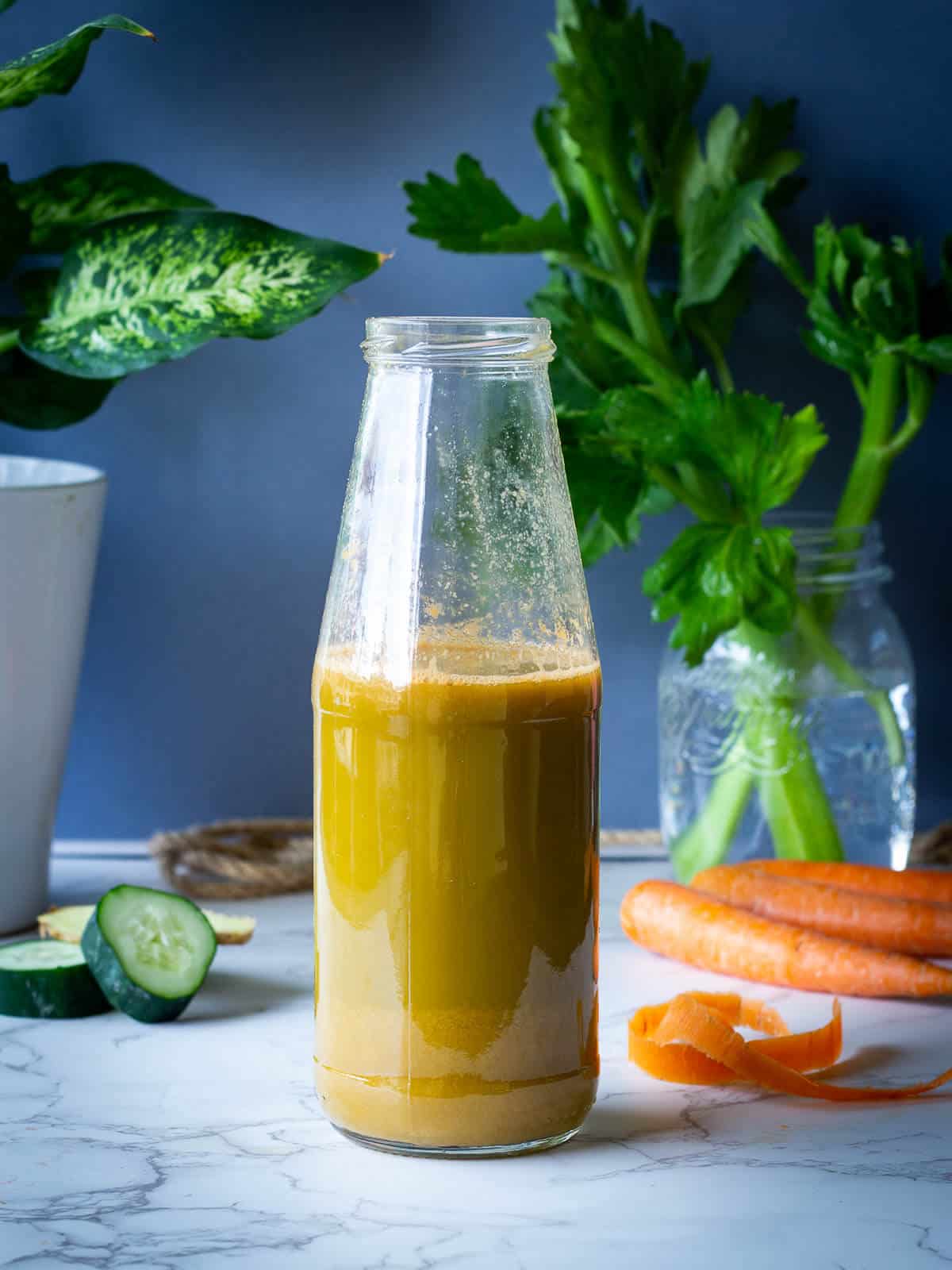 More juicing recipes
If you try this recipe, let us know! Leave a comment, rate it, and don't forget to tag a photo #ourplantbasedworld on Instagram. Cheers!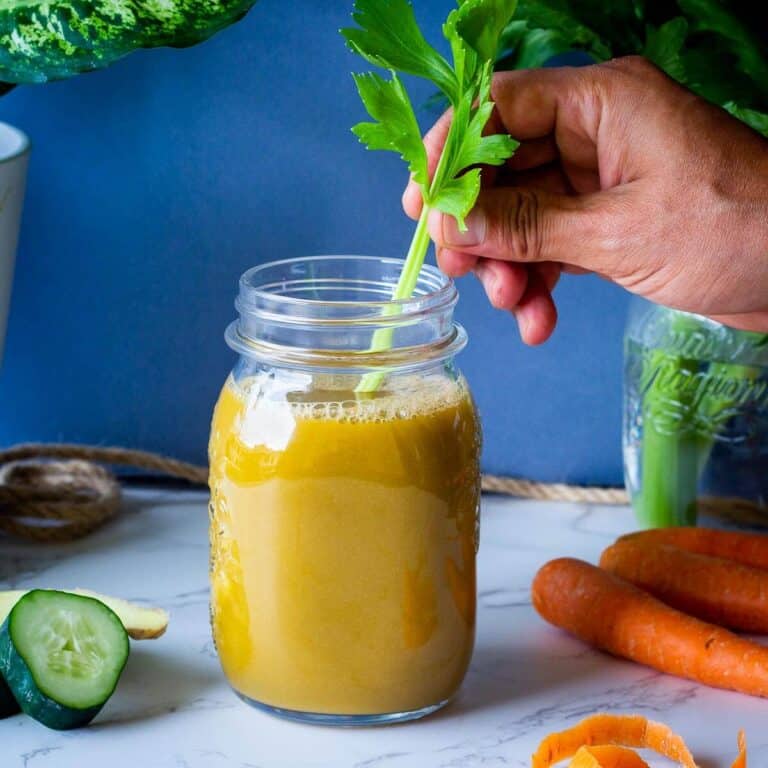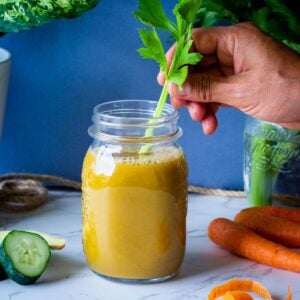 Recipe: Carrot, Cucumber, and Celery juice Benefits
The ingredients present in this Carrot and Cucumber juice are a health powerhouse and offer various benefits ranging from skin and weight management to immune system boosting.
Equipment
Ingredients
1

cucumber

big, in medium pieces

3

carrot

medium, in medium pieces

2

celery

stalks, leaves, and all

1

knob

ginger

fresh, about 1 inch
Directions
Chop the ingredients. Depending on the juicer you have, you may be able to throw everything in the Juicer without cutting it; or just roughly cutting your produce in big chunks.

Juice. Start introducing all the ingredients, combining the leaves and solids, to prevent the juicer from getting stuck.

Optionally thin up. If you want to thin the juice a little, you can add about half a cup of water in the juicer aperture so it drag some of the rest of the fruits and veggies.

Store. You can reserve the juice for of to 24 hours in a mason jar.
Notes
It is not necessary to peel the ginger; the Juicer will do it all.
You can also add both the carrots and celery stalks and leaves.
I use this

Juicer

. Works very well but I am planning to upgrade to a

Cold-Pressed

one (the benefits are outlined in the article).
Nutrition Facts
Calories:
62
kcal
Carbohydrates:
13
g
Protein:
2
g
Fat:
1
g
Saturated Fat:
1
g
Polyunsaturated Fat:
1
g
Monounsaturated Fat:
1
g
Sodium:
98
mg
Potassium:
603
mg
Fiber:
4
g
Sugar:
7
g
Vitamin A:
15574
IU
Vitamin C:
11
mg
Calcium:
67
mg
Iron:
1
mg
Nutrition Facts
Recipe: Carrot, Cucumber, and Celery juice Benefits
Amount per Serving
% Daily Value*
* Percent Daily Values are based on a 2000 calorie diet.
Pin it for later!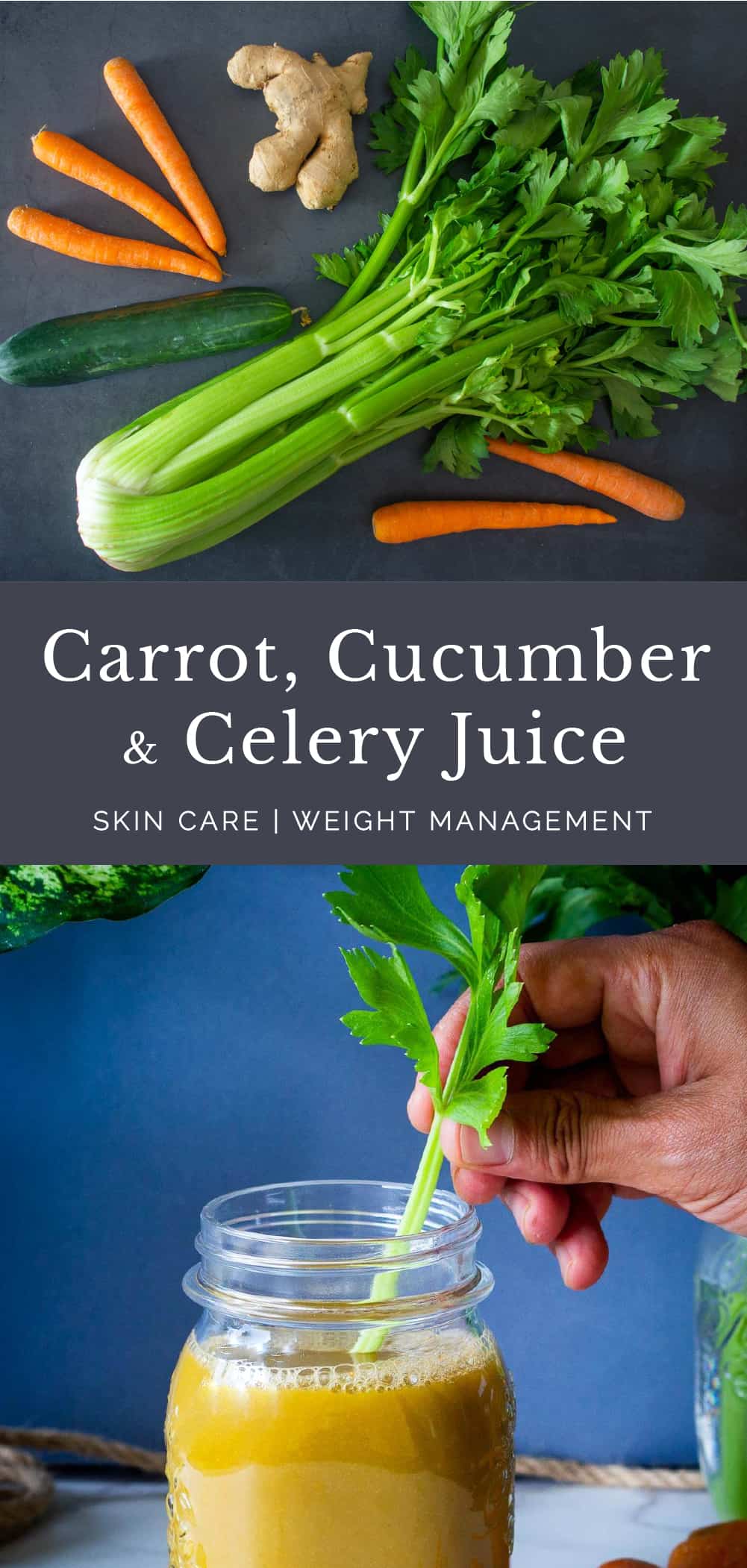 Food safety
We sometimes take for granted that we have years (or decades) of cooking experience, that the average visitor may not. Add to, or remove from, the list below with health and safety tips.
Cook to a minimum temperature of 165 °F (74 °C)
Do not use the same utensils on cooked food, that previously touched raw meat
Wash hands after touching raw meat
Don't leave food sitting out at room temperature for extended periods
Never leave cooking food unattended
Use oils with high smoking point to avoid harmful compounds
Always have good ventilation when using a gas stove