Move over, beef burger! There's a new vegan burger in town, and it's made with chickpeas. If you're looking for a delicious and satisfying alternative to the traditional burger, look no further than this recipe. This chickpea burger vegan recipe is easy to make, healthy, and filling - plus, they're perfect for any occasion. Whether you're hosting a backyard barbecue or simply looking for a quick and easy dinner option, these burgers will surely hit the spot. So give them a try today!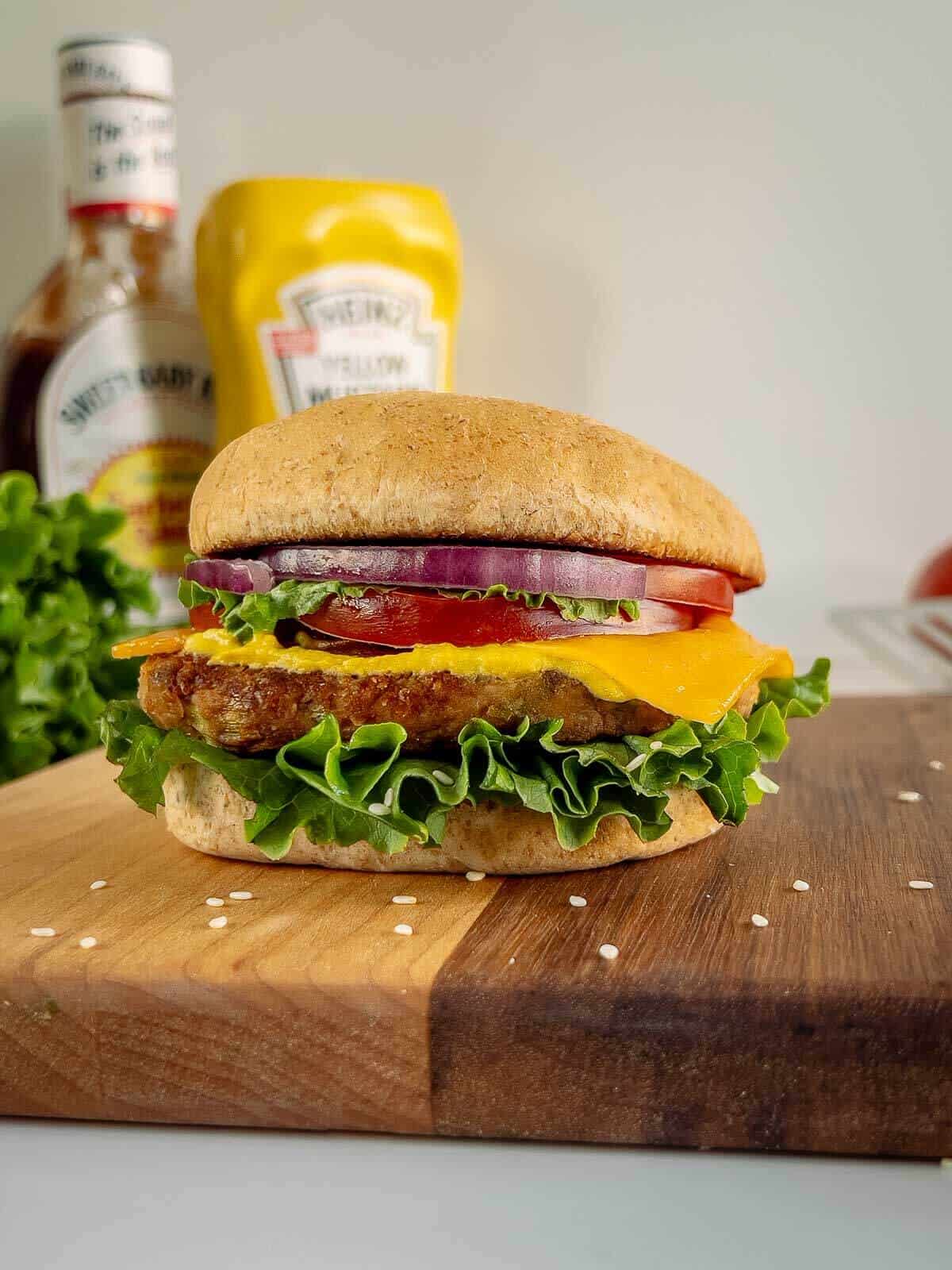 This is one of our favorite vegan Summer recipes, being grilling season, sometimes it can be hard to find grill-friendly vegan recipes other than grilled veggies or impossible burgers!
Homemade veggie burgers can be made with different grains like black beans and beets, but we love chickpea burgers above all. Best of all, chickpeas are a great source of plant-based protein.
They make a great main dish and go perfectly with a nice fresh salad.
These chickpea burgers were inspired by our vegan tuna salad sandwich also made with chickpeas and pair well with this fresh tabbouleh salad.
Jump to:
💚 Why you will love them
Bursting with Flavor
Protein-Packed Chickpeas
Easy, Quick Prep
Totally Vegan
Grill-Ready Goodness
🧾 Ingredients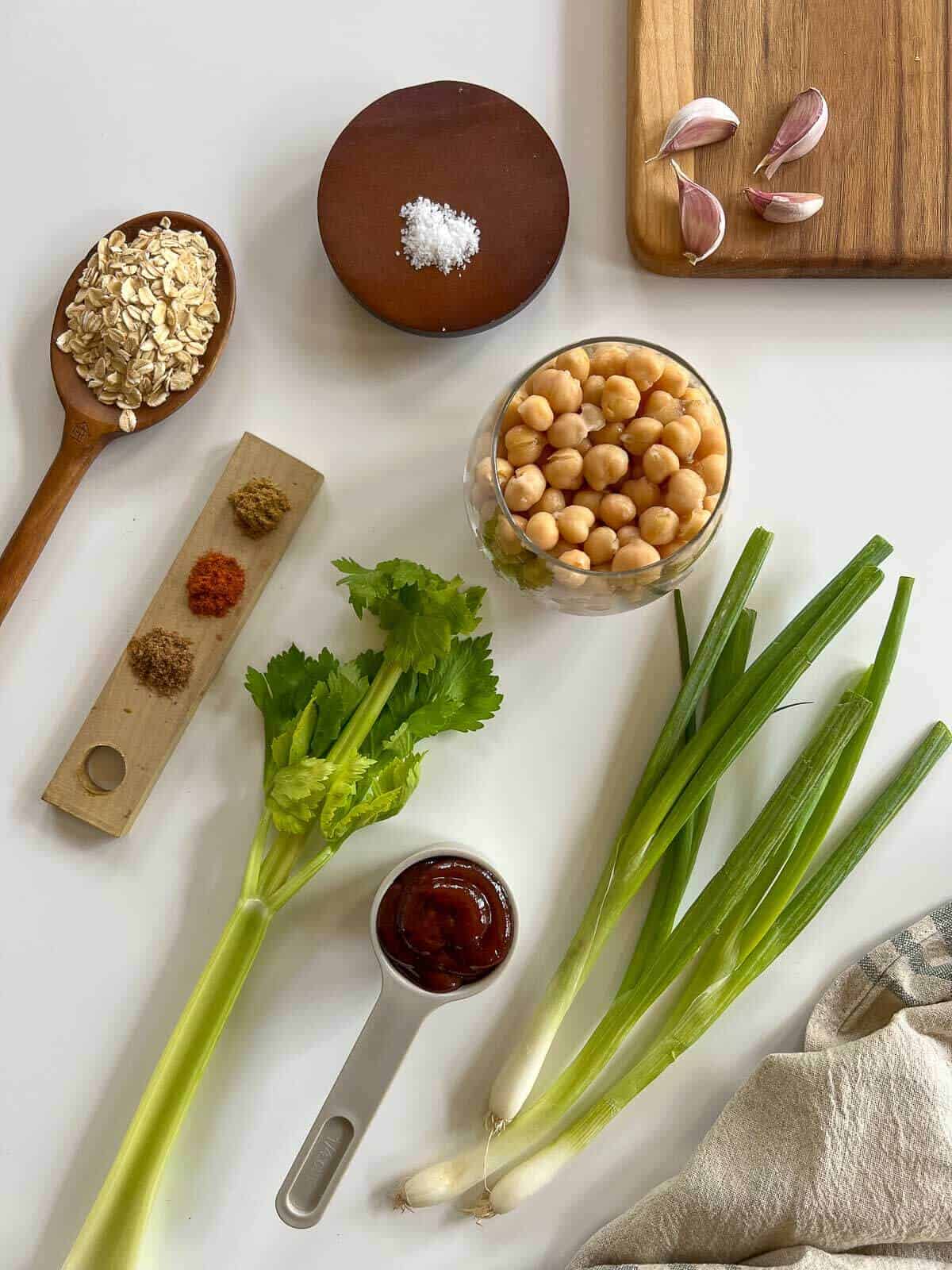 Cooked or canned chickpeas (garbanzo beans): Chickpeas are the main ingredient and provide a nutty, slightly sweet flavor and a meaty texture to the burger patty.
Ground cumin: Cumin adds a warm, earthy flavor to the burgers and enhances the other spices and ingredients.
Green onions: add a fresh, slightly sweet, and pungent flavor to the dish, and provide a mild crunch.
Fresh garlic: adds an intense, savory flavor to the dish and helps to enhance the other spices and ingredients.
BBQ sauce: adds a tangy, slightly sweet flavor to the dish and helps to bind the ingredients together.
Rolled oats: act as a binder in the burger patty and provide a slightly nutty flavor and chewy texture.
Celery: adds a fresh, slightly bitter flavor and a crunchy texture to the burger patty.
Coriander adds a bright, slightly citrusy flavor to the dish and complements the other spices.
Smoked paprika adds a smoky, slightly sweet flavor to the dish and enhances the other spices and ingredients.
Salt is used to season the dish and bring out the natural flavors of the other ingredients.
Substitutions
Green onion - You can use white onion, yellow onion, or red onion instead of green onions.
Celery - substitute for the same quantity of chopped fennel, radish, or jicama. Just don't skip it, as celery helps keep the burgers together and contributes to their texture.
Bun - use gluten-free buns instead of whole wheat bread buns to make this gluten-free.
BBQ sauce - we love to add Sweet Baby Ray's to our veggie burger recipes because it adds that smoky flavor that only a grill can add and makes them incredibly tasty... and it is vegan and gluten-free!; Instead, you can use buffalo sauce or even liquid smoke. You can also skip it and add it directly to your veggie burger.
Rolled oats - can be replaced with oats, such as quick oats, steel-cut oats, all-purpose flour, almond flour, or chickpea flour.
Gluten-free - this is already a gluten-free version. Just remember to use gluten-free oats and mind the choice of buns.
🍽 Equipment
You could use a food processor to make these delicious vegan chickpea patties, but I find the mix loses its texture. We prefer simply using a potato masher (affiliate link) or even a fork, leaving some texture in our veggie burgers.
🔪 Instructions
Making these vegan chickpea patties is a breeze. Start by draining the chickpea liquid from the can.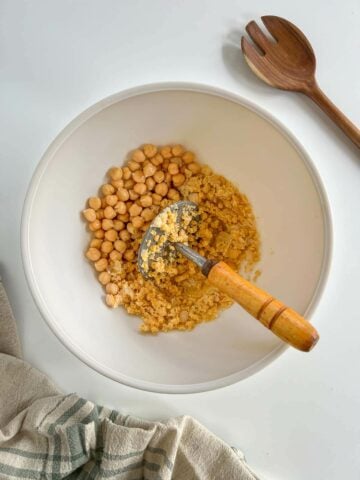 Step 1: Star by mashing the cooked chickpeas with a potato masher or a fork in a mixing bowl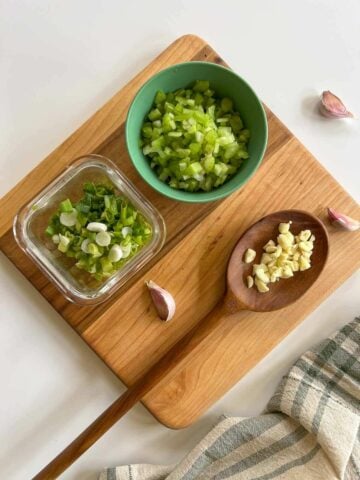 Step 2: Then mince the garlic and chop the green onions and celery.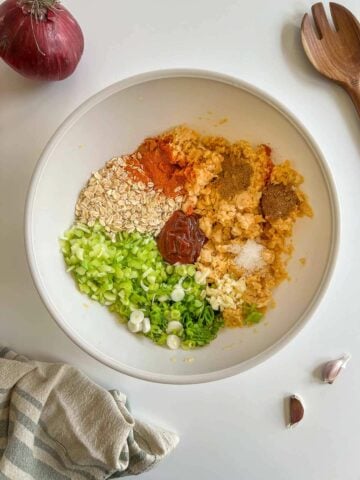 Step 3: Add all the chopped veggies, minced garlic, seasonings, and spices into the bowl with the chickpeas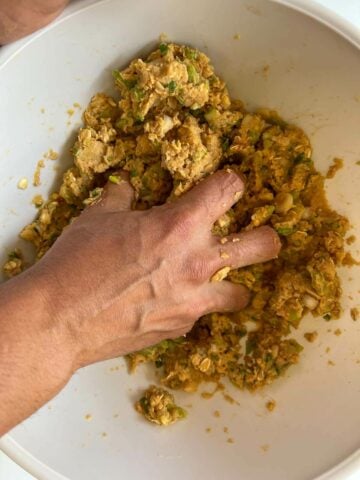 Step 4: Mix all the ingredients thoroughly with your hands or a food processor on a low speed.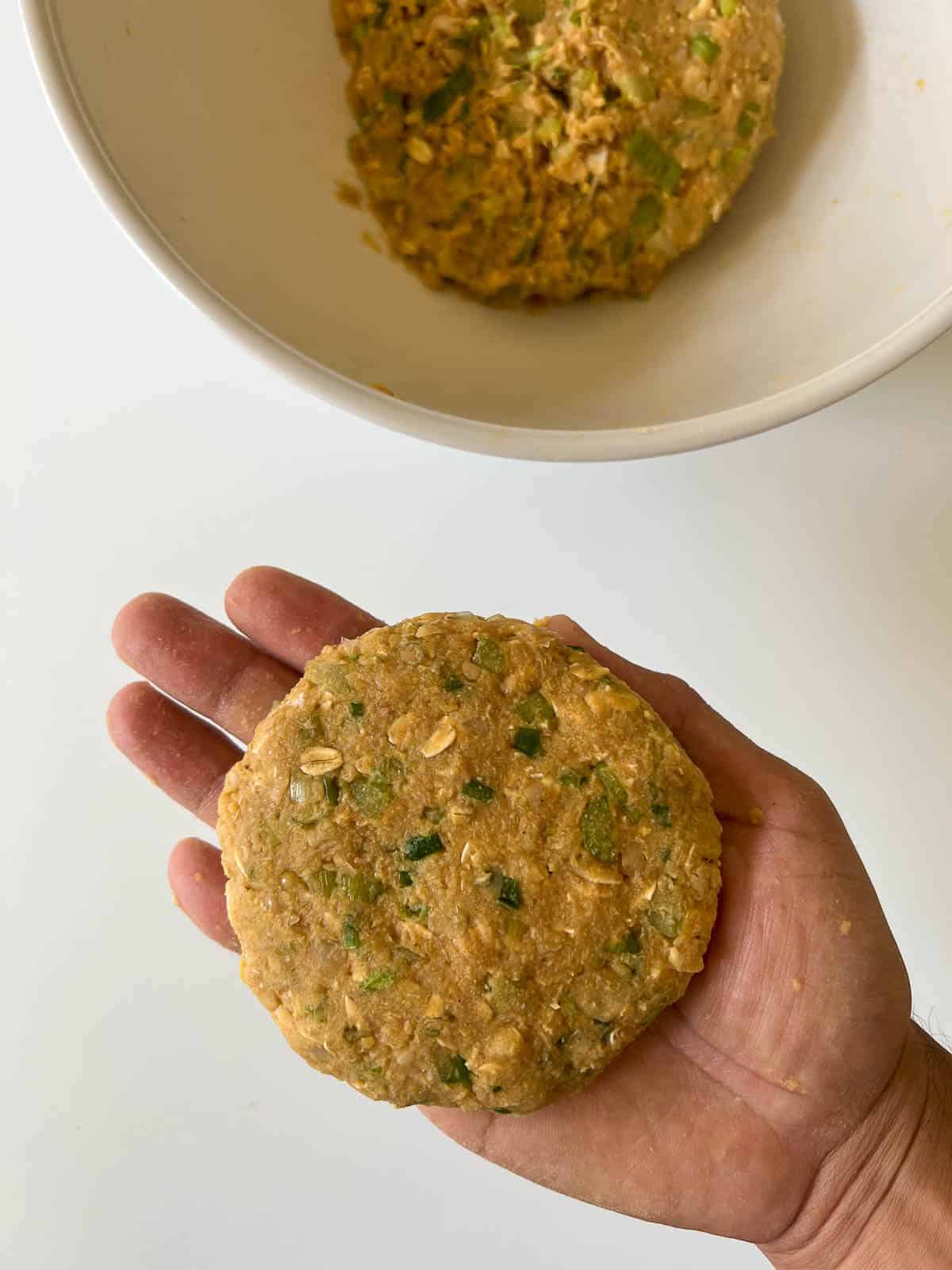 Step 5: Form small balls with your hands, of about 4 ounces each, and form patties on the tray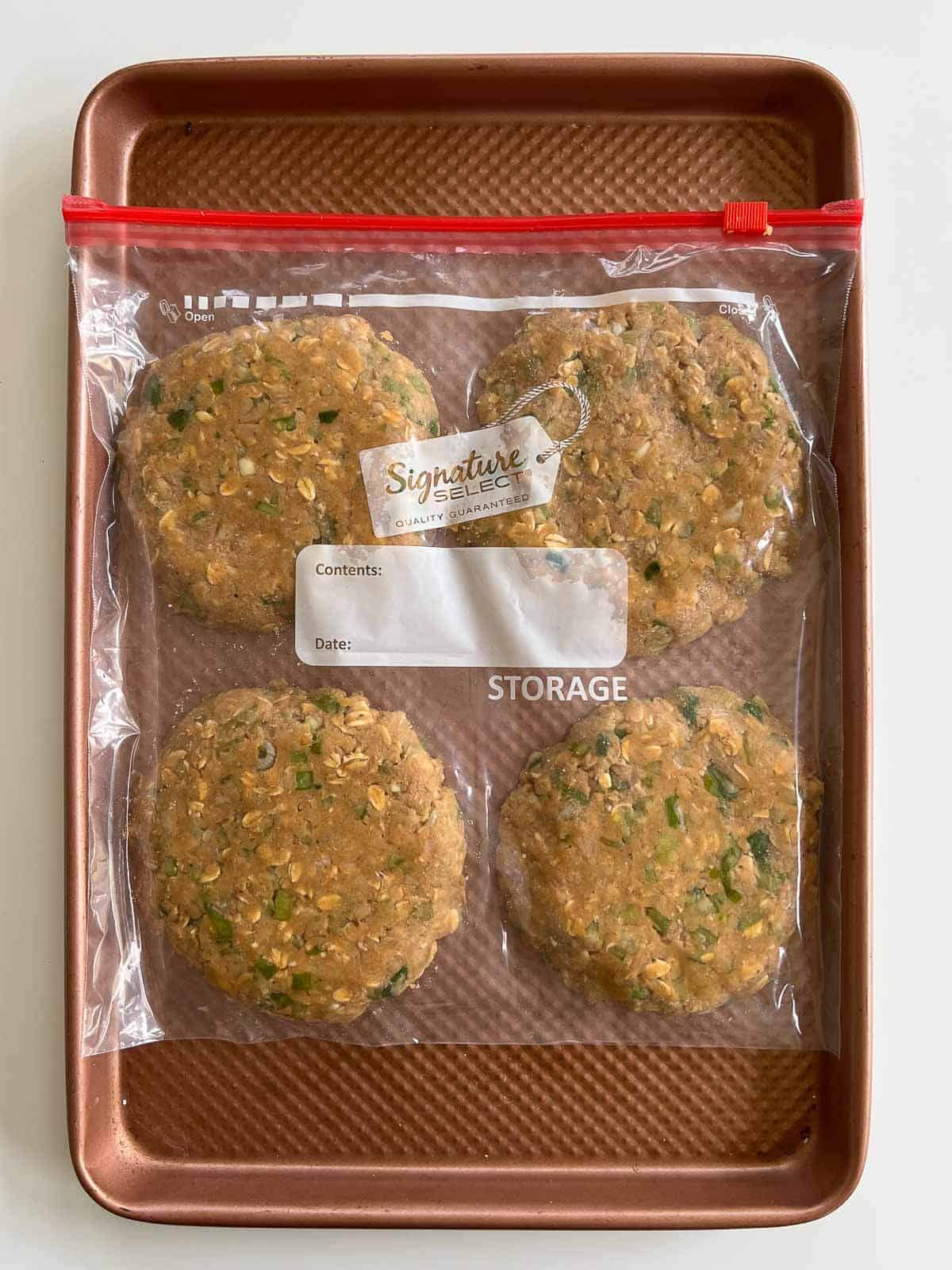 Step 6: Take the chickpea burgers to the freezer for a minimum of thirty minutes inside a freezer-safe plastic bag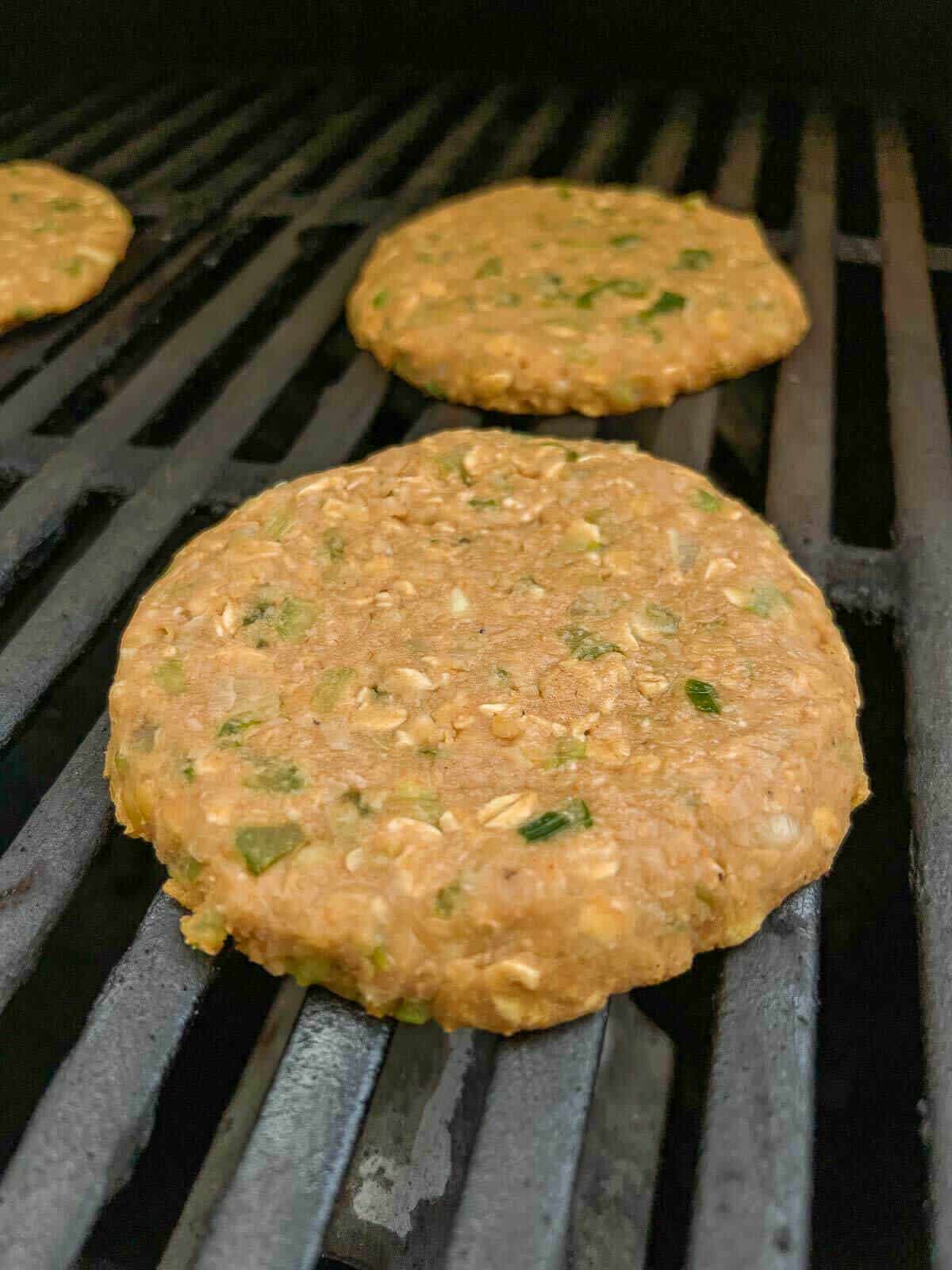 Step 7: Oil the rack to prevent the burgers from sticking and cook for 5 minutes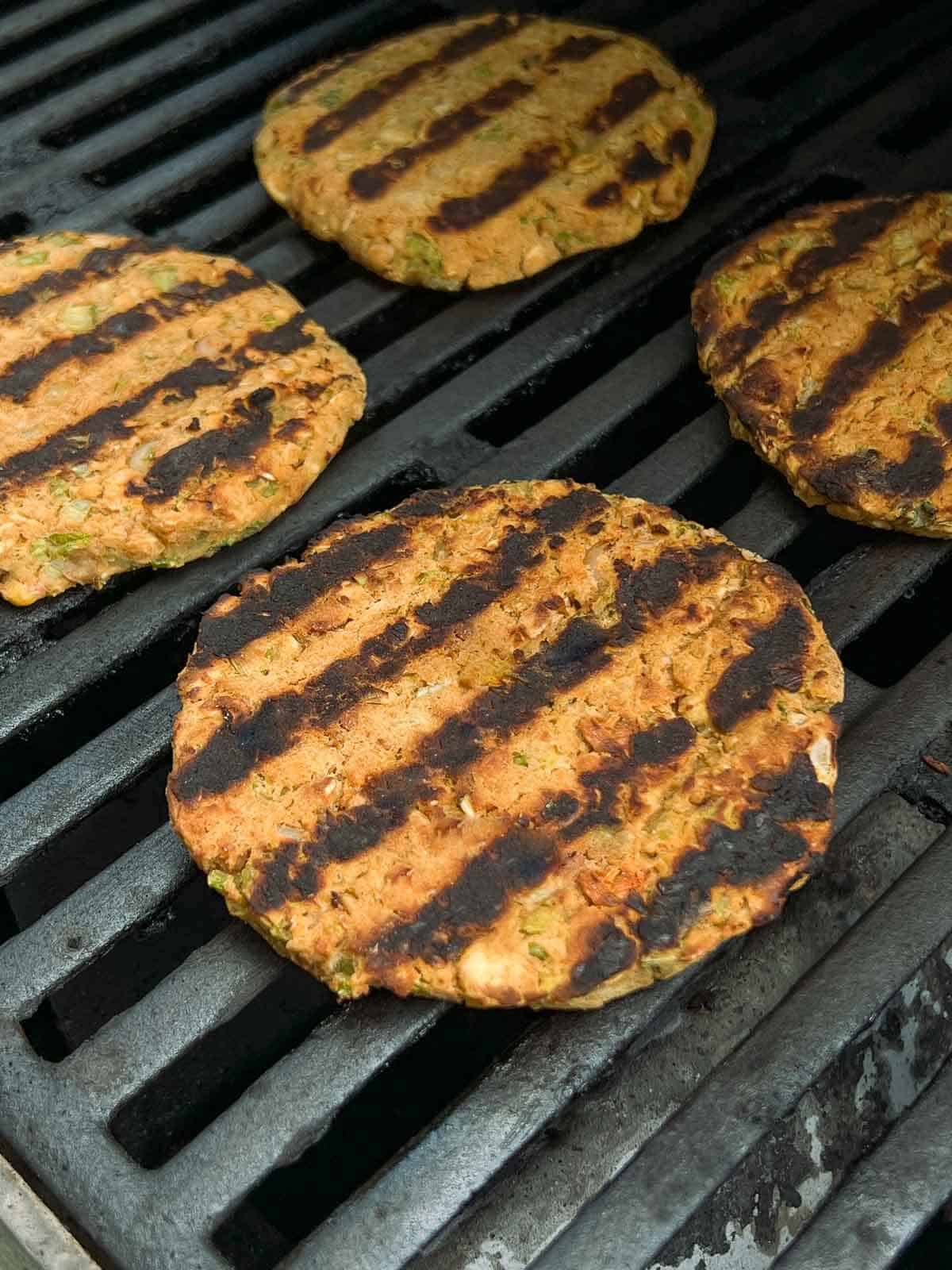 Step 8: Brush with a little olive oil, turn the patties, and cook for another 5 minutes
♨️ Cooking methods
Air-fryer - cook the chickpea patties for 7 minutes on each side at 400 º F (200 ºC)
Pan-frying - preheat the frying pan or skillet with a tiny bit of olive oil, and grill each veggie on medium heat for 5 minutes on each side, until golden brown.
Grill - the best option to make chickpea burgers tasty. Grill them in a preheated grill to 450 ºF. (230 ºC). Spray olive oil on each side before putting them on the grill, and cook each side for 5 minutes. If you do not have a grill with temperature control, simply set the grill on, and as soon as the temperature is moderately high, put the lightly oiled vegan chickpea burgers on the rack, turning them halfway after 5 minutes.
Oven-baked - similar to the grill, preheat the oven to 450 ºF. (230 ºC). Spray a rimmed baking dish with oil, or keep it oil-free by putting them on a parchment-lined baking sheet with parchment paper. Turn them halfway after 5 minutes.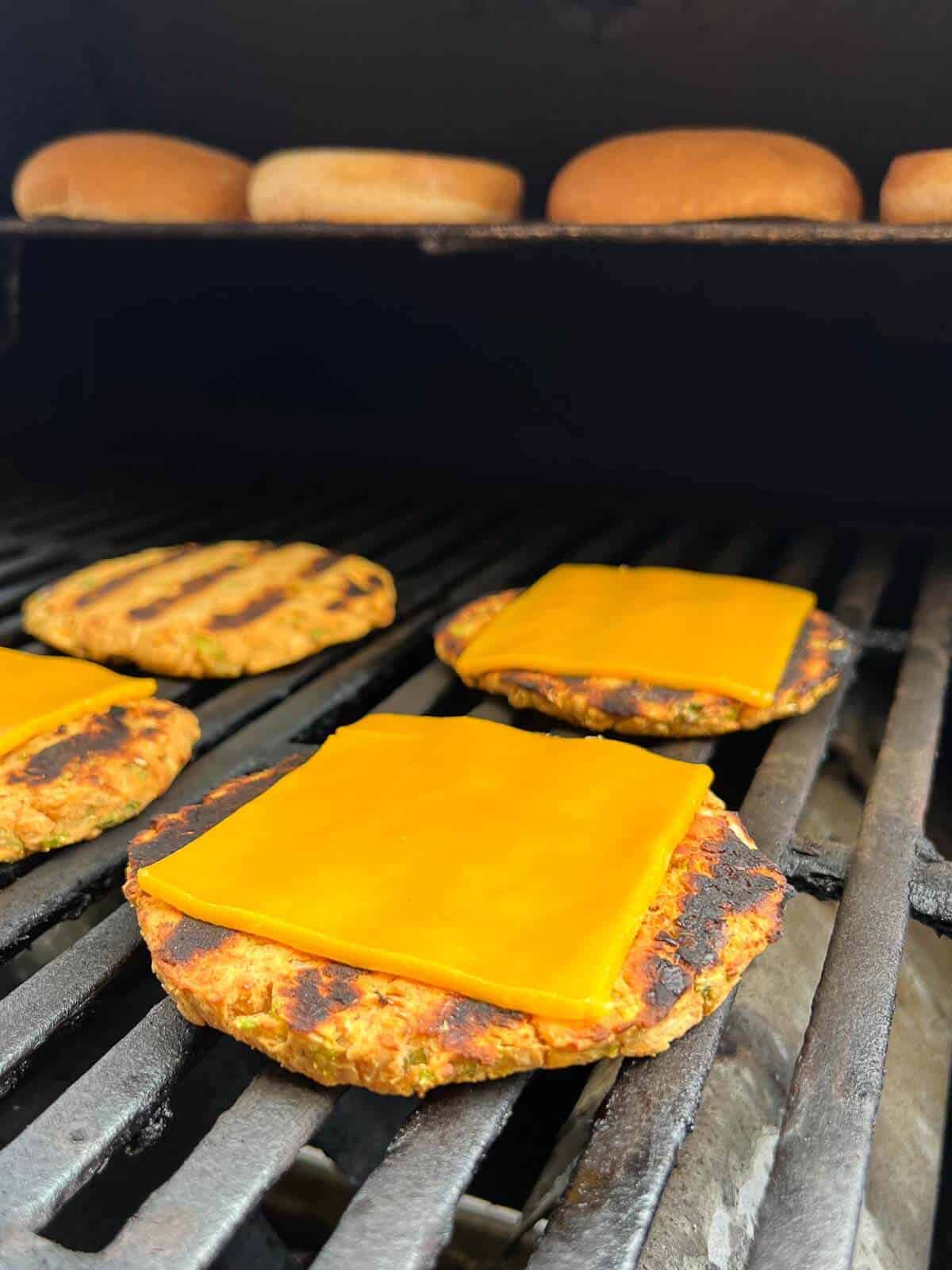 💡 Expert tip
Don't overcook the burgers; they will become crumbly! Remember that the chickpeas are already cooked, and the rest of the ingredients are safe-to-eat vegetables and seasonings, so there's no harm in undercooking the patties.
Just sear the outside for a couple of minutes, but they should still be soft inside for best results.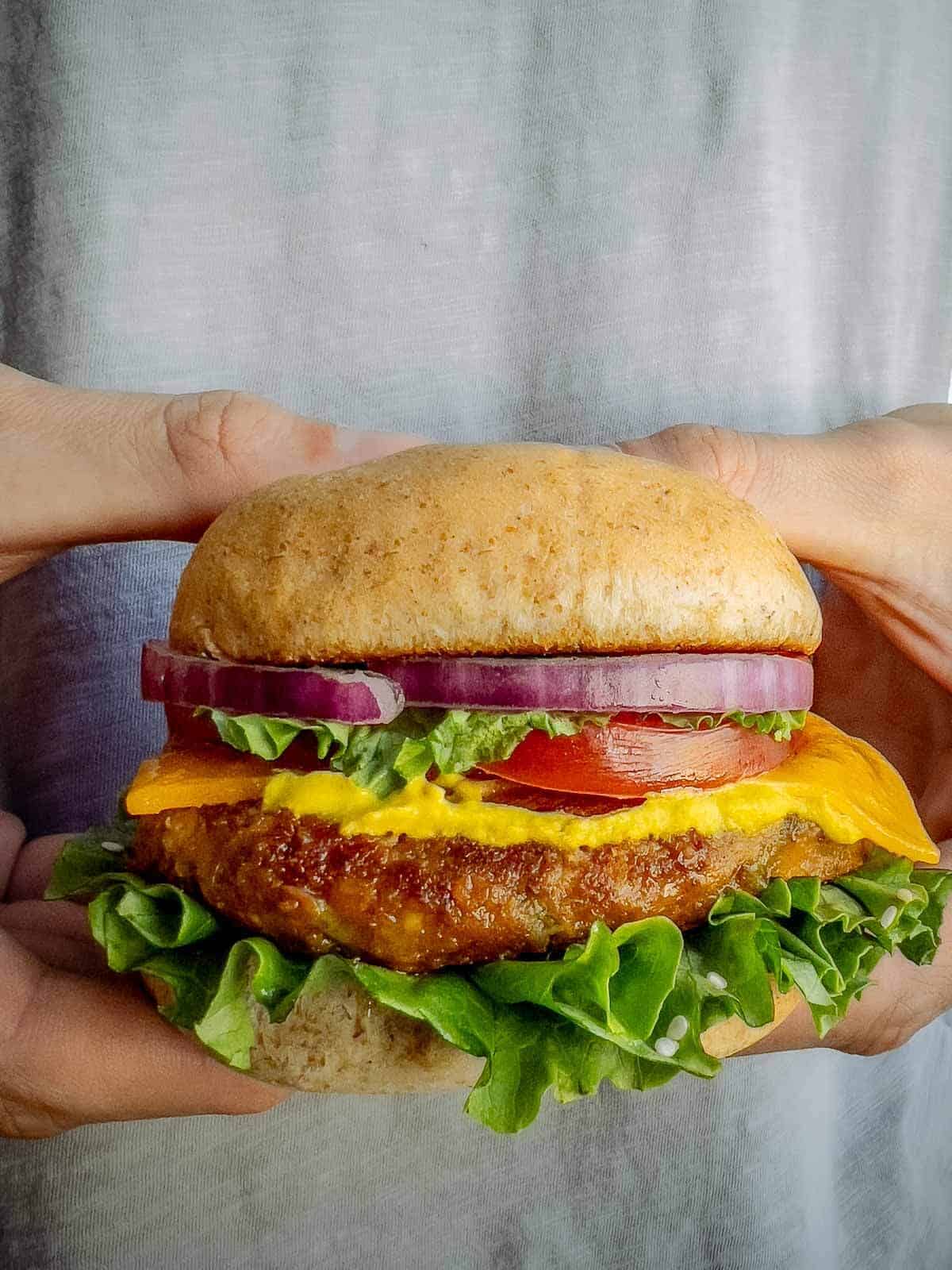 👨🏻‍🍳 Add-ins and favorite toppings
Pick your favorite toppings and assemble your veggie burgers.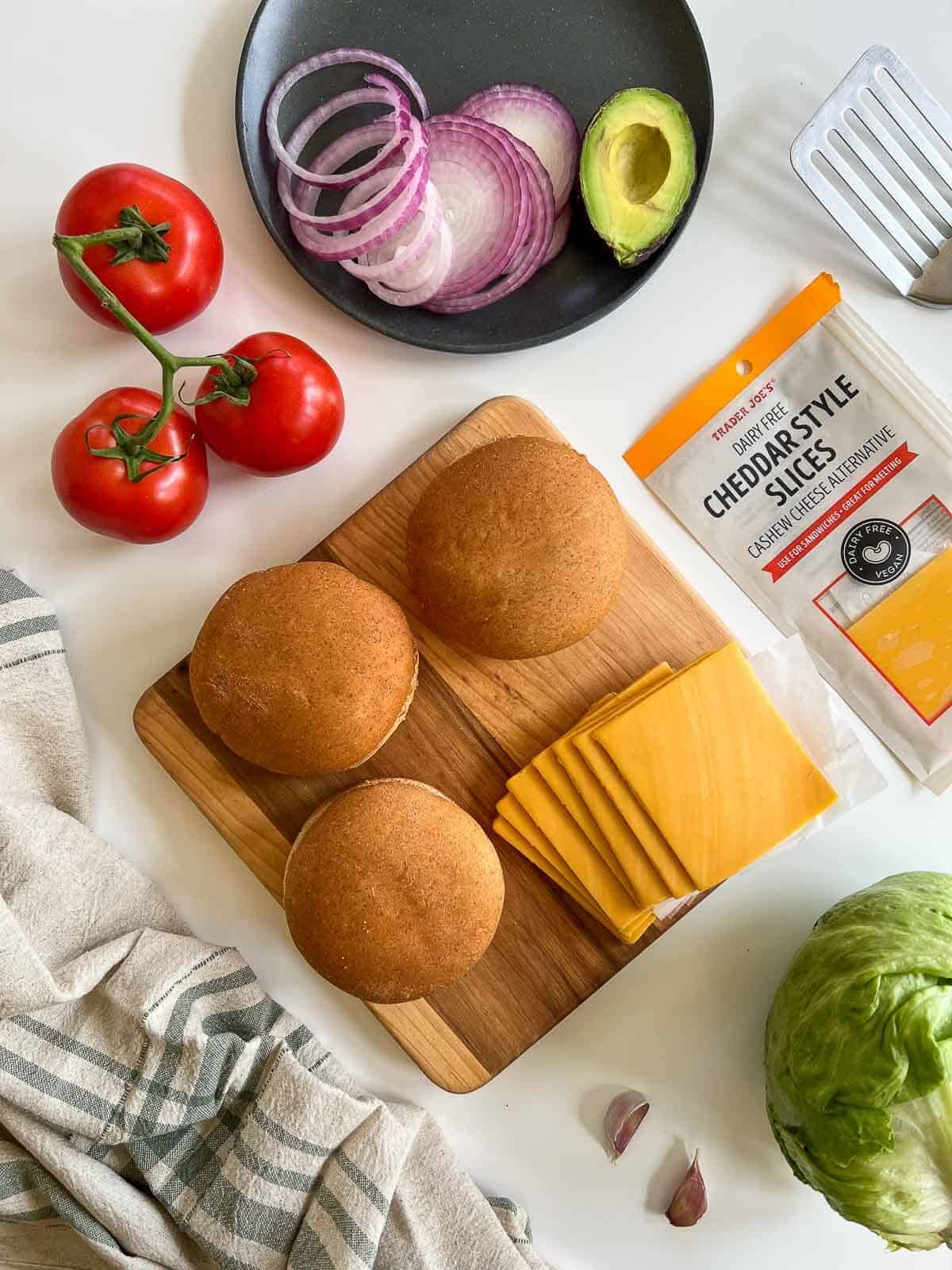 Organic Vegan mayo - like Vegenaise Follow your heart
Yellow Mustard - like Heinz
Organic ketchup - Portland's ketchup is great!
Vegan BBQ sauce - we like Sweet Baby Ray's
Organic sliced pickles - Woodstocks' pickles are great
Vegan cheddar cheese - we like Trader Joe's
Avocado slices
Sprouts
Lettuce
Red onion rings
Sliced tomato
📖 Variations
This chickpea burger recipe is very versatile, so you can easily adjust it to your liking; some suggestions follow:
Herby - add chopped fresh cilantro or fresh parsley into the vegan burgers mix. You can also make these chickpea fritters with Italian seasoning.
Deluxe - add guacamole, red peppers hummus, our green creamy vegan sauce for everything, or caramelized onions.
Spicy - add ½ teaspoon cayenne pepper into the patties' mix.
Kid-friendly - add crushed potato chips.
❓ FAQ
is BBQ sauce vegan?
Yes, there are many vegan BBQ sauces on the market. Look for brands that do not contain honey or other animal products. You can also make your own vegan BBQ sauce by combining ketchup, brown sugar, apple cider vinegar, garlic powder, and onion powder.
is vegan mayo healthy?
It can be. Vegan mayonnaise is typically made with healthy oils, like avocado oil or grapeseed oil, and it's low in sugar and salt. However, some vegan mayonnaises are made with processed ingredients, like soybean oil or canola oil, which are not as healthy as the other oils mentioned. So, when choosing a vegan mayo, read the ingredients list to ensure you're getting a healthy product.
Are these burgers gluten-free?
Yes, when using gluten-free buns.
Can I cook frozen burgers on a stovetop?
Absolutely, they're versatile! Here's how:
Thaw Slightly: If time permits, let the burgers thaw for about 10-15 minutes at room temperature. This helps them cook more evenly.
Preheat Pan: Heat a non-stick skillet or frying pan over medium heat. A splash of oil can be added to prevent sticking and add a bit of crispiness to the burgers.
Cook Burgers: Place the burgers in the pan. Cook for about 4-5 minutes on each side. If they were completely frozen, they might need a couple of extra minutes. You're aiming for a golden-brown crust on each side and a warm center.
Check for Doneness: The burgers should be heated through to the middle. If you have a cooking thermometer, the internal temperature should reach about 165°F (75°C).
🥡 Storage
This veggie burger recipe works wonders for meal prep; we always purposefully make twice the quantity to freeze the uncooked patties in a freezer bag or an air-tight container and have an easy weeknight meal. Store for up to 2 months.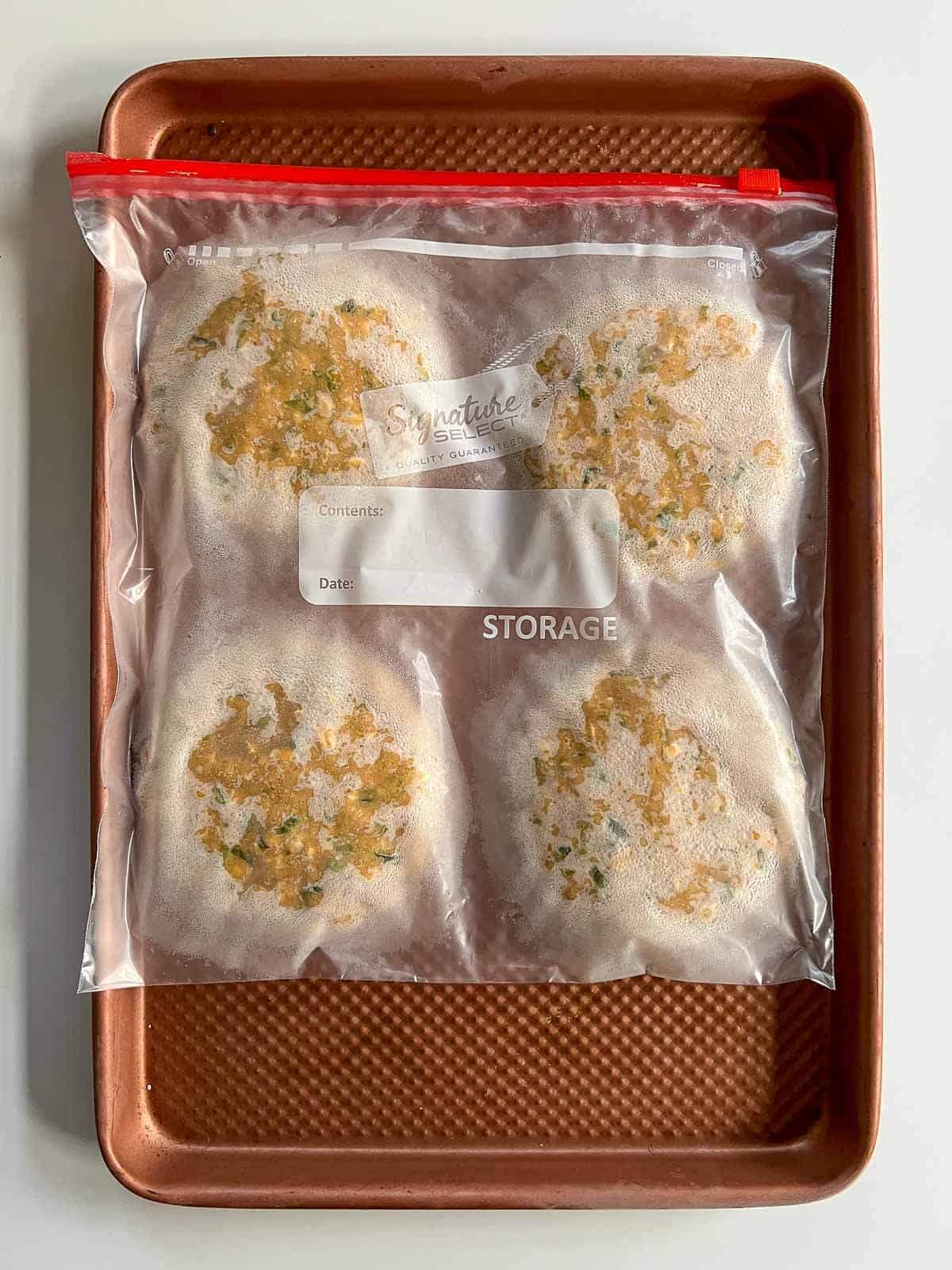 If you have leftover cooked patties, store them in the fridge and then have them pan-fried, adding a half tablespoon of water to rehydrate them.
🥪 More vegan sandwich recipes
Vegan Egg salad sandwich made with protein-rich tofu and cauliflower.
Vegan "Tuna" Sandwich is a delicious meal-prepping option for lunch boxes.
Treat your family to a delicious street food classic, a fantastic falafel wrap.
Another burger recipe that we love making when out of chickpeas is this chicken fried tofu burger, they are super crunchy and remind me of the time when we used to eat bread chicken fillet sandwiches.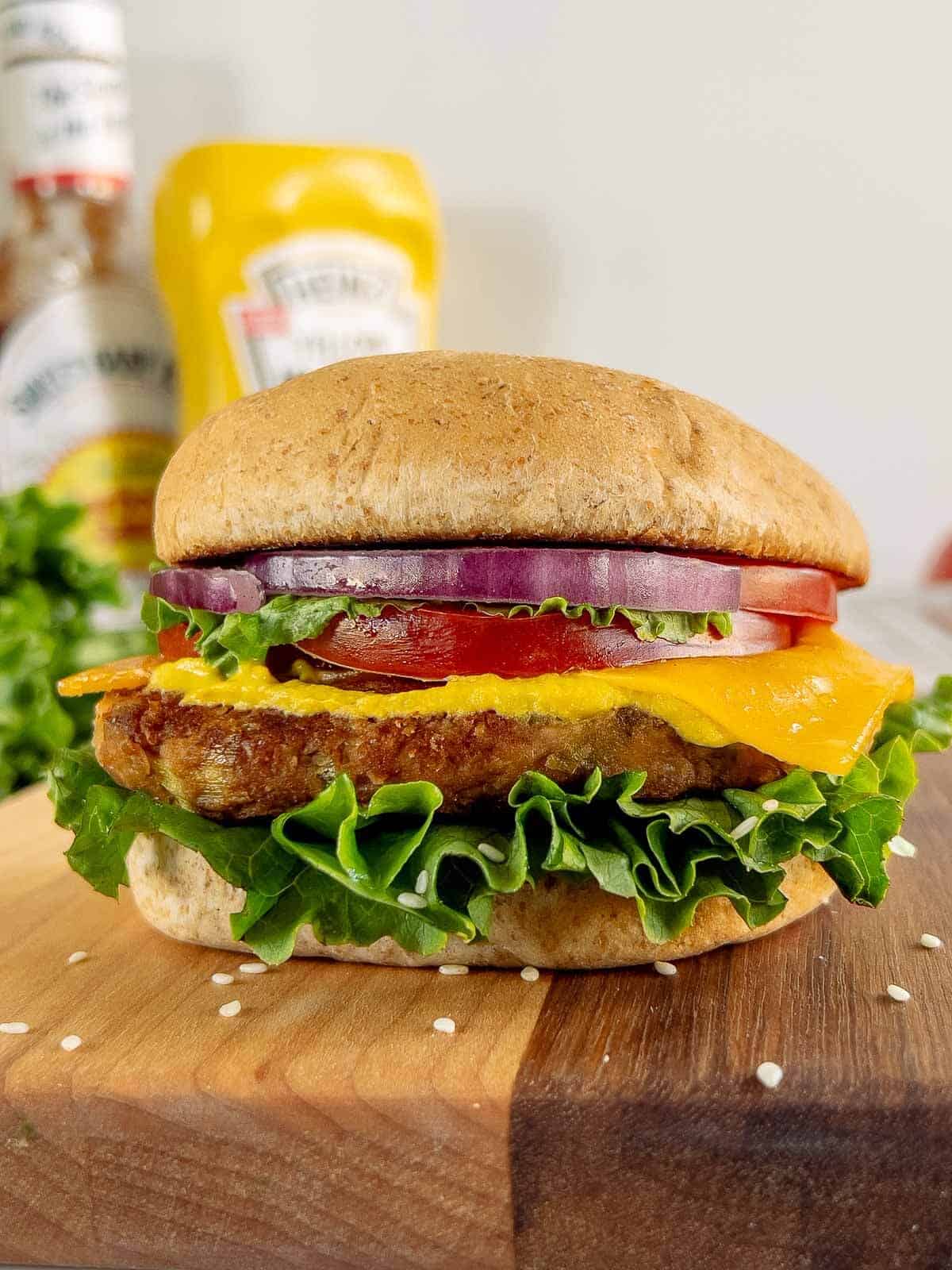 If you try our vegan chickpea burgers recipe, let us know! Leave a comment, rate it, and don't forget to tag a photo #ourplantbasedworld on Instagram. Cheers!
🎥 Video
📋 Recipe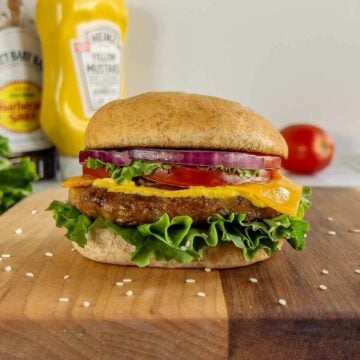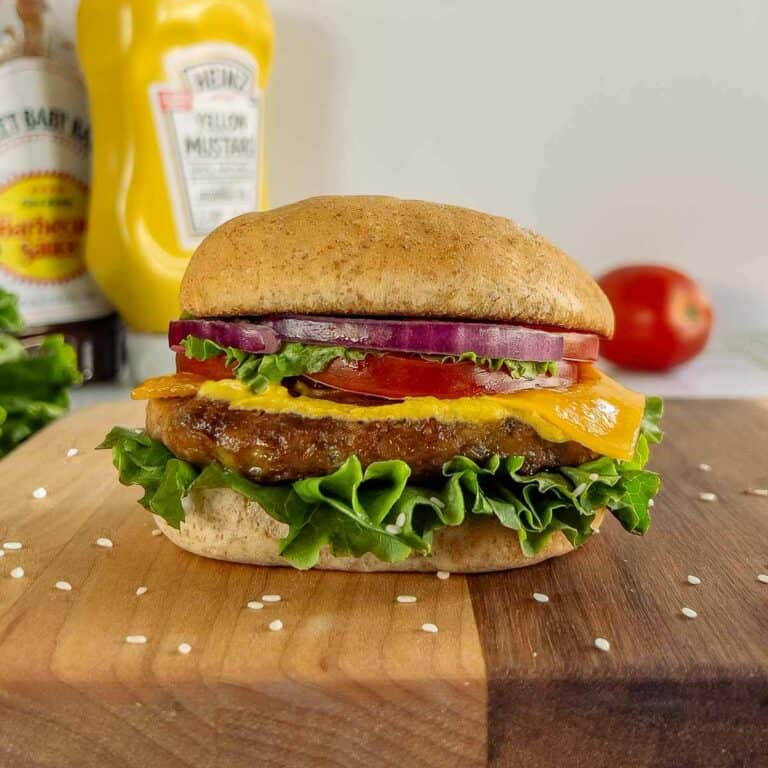 Chickpea Burger Vegan Recipe
A delicious vegan burger made from chickpeas! This recipe is simple to make and perfect for a summer BBQ or anytime of the year on the stovetop, oven, or air-fryer.
Equipment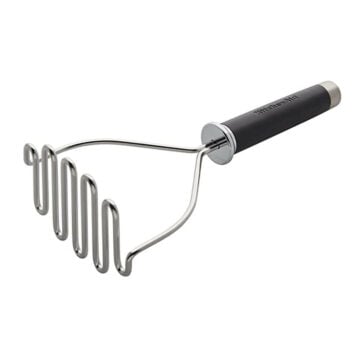 (affiliate link)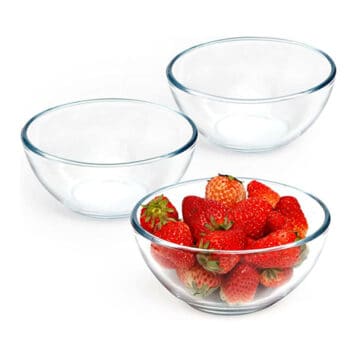 (affiliate link)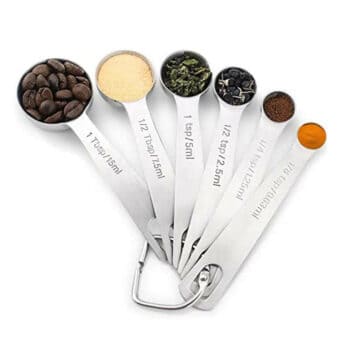 (affiliate link)
Ingredients
16

ounce

chickpeas

organic canned, drained (454 g). Lightly mashed, not pureed.

1

stalk

celery

finely chopped

3

pieces

green onions

small, finely chopped

4

cloves

garlic

finely chopped or minced

4

tablespoons

oats

gluten-free organic rolled, or regular oats, chickpea flour

½

teaspoon

coriander

powder

½

teaspoon

cumin

ground

½

teaspoon

paprika

smoked

½

teaspoon

kosher salt
Directions
Finely chop the green onions and celery, mince the garlic, add to a skillet, and stir-fry until just before they begin to brown, then remove from heat.

Drain the can of chickpeas and add them to a medium bowl and coarsely mash with a potato masher or a fork.

Add the cooked celery, green onions, and garlic. Then add the rolled oats, ground cumin, paprika, coriander powder, flour, and optional BBQ sauce; then fold it into a thick burger batter.

Divide the mixture onto a tray into 3 even balls (4 ounces each) and place them on a tray with lined parchment paper.

Adjust moisture. If the mixture is too sticky, add more rolled oats or chickpea flour so that it easily forms patties with your hands, then flatten them with the palm of your hands or use a piece of parchment paper, place on top of each patty, and press down to flatten it into a burger shape. Then even out the borders with your fingers.

Place the baking tray with the burgers into the freezer, so they firm up for 30 minutes. (You can skip this step if you feel your patties are firm enough or in a hurry).

Add some non-stick spray into the skillet and heat up until hot.

Add the burgers to the skillet and 5 minutes on each side until they look browned and crispy.
Alternative method:
Place the burgers on a parchment-lined baking tray and bake in the air fryer or the oven at 400 °F (200 °C) for 20 minutes.

Serve on your favorite hamburger buns with lettuce, tomato slices, vegan cheddar cheese, or sliced avocado. Add your choice of seasonings, such as ketchup, mustard, or vegan mayo.
Notes
See the recipes' substitutes recommendation section of the post for each ingredient, as every single one has a role in the final outcome. 
Nutrition Facts
Calories:
175
kcal
Carbohydrates:
28
g
Protein:
9
g
Fat:
4
g
Saturated Fat:
0.4
g
Polyunsaturated Fat:
2
g
Monounsaturated Fat:
1
g
Sodium:
821
mg
Potassium:
318
mg
Fiber:
8
g
Sugar:
0.4
g
Vitamin A:
261
IU
Vitamin C:
2
mg
Calcium:
77
mg
Iron:
3
mg
Nutritional Disclaimer
The information shown is an estimate provided by an online nutrition calculator. It should not be considered a substitute for a professional nutritionist's advice. See our full Nutritional Disclosure here.
Affiliate Disclaimer
Please note that some of the links here are affiliate links, and I will earn a commission if you purchase through those links. I recommend all of the products listed because they are companies I have found helpful and trustworthy.