This Recipe for Homemade guacamole is a must-have for any party or get-together! It's easy to make and always a hit with guests. Plus, it's packed with healthy nutrients, so you can feel good about serving it up. You have come to the right place if you're looking for a delicious and crowd-pleasing easy guacamole recipe and all the secrets to perfect it. Living in Mexico for 8 years allowed us to bring this recipe to perfection!
Authentic Guacamole recipes don't need any other ingredients than great Avocados (ideally Hass), onion, garlic, tomatoes, cilantro, lime juice, a jalapeno pepper, and salt. Peel, chop, and mix everything, and it is ready in minutes!
We made Mexican guacamole about two times per week for 8 years. Unlike in many parts of the world, like here in Italy in Mexico, avocados and limes are still sold by weight and not by unit, and both are incredibly cheap.
Making guac was just the right and easy thing to do whenever people came over, easily every other day, as it is the appetizer your know everyone will love, as long as it is made to perfection!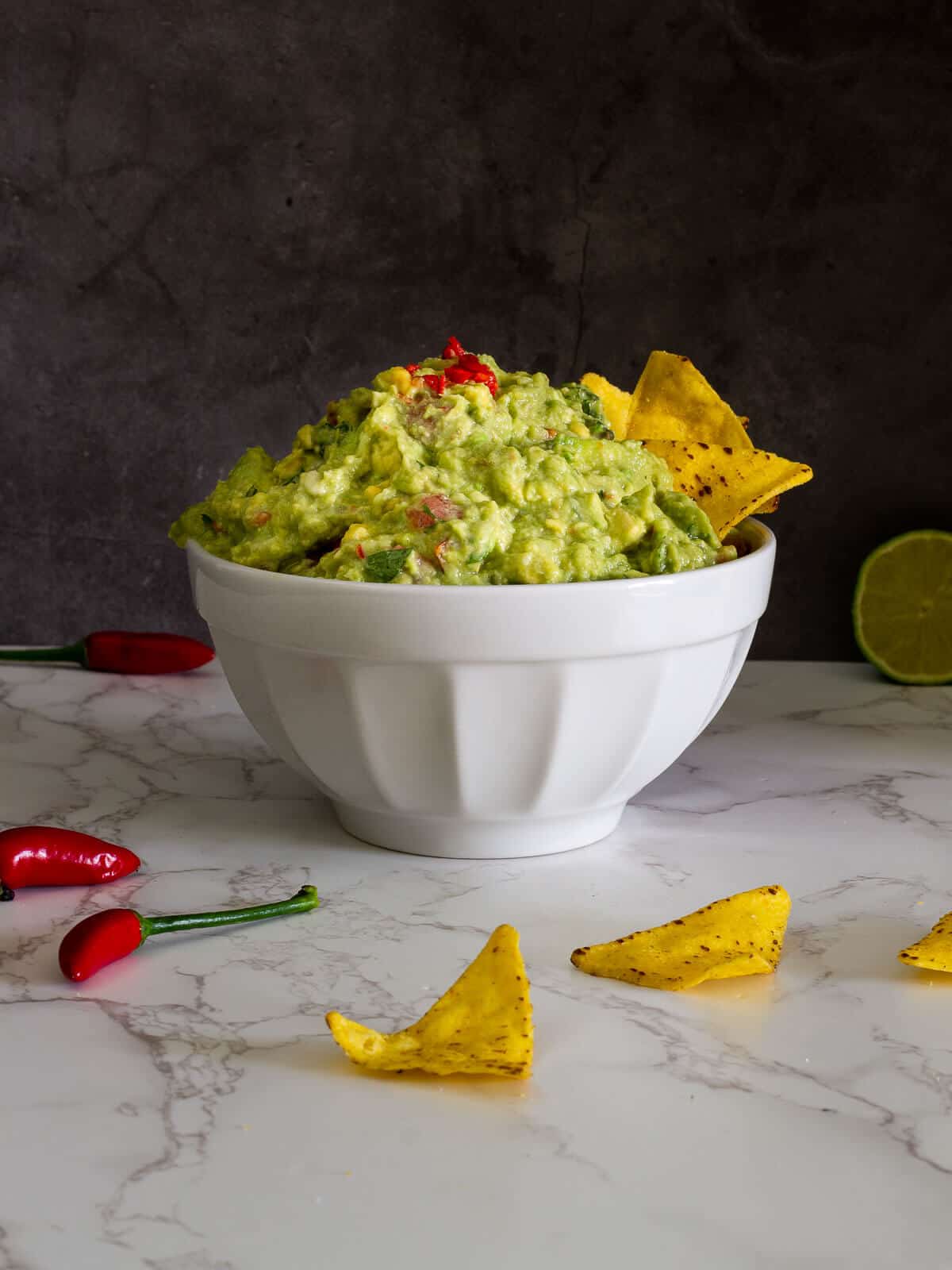 Jump to:
🥑 The traditional Mexican Guacamole Recipe
Nobody in Mexico will ever tell you that guacamole needs to have X ingredients or be made specifically; otherwise, it wouldn't be authentic.
The same goes for mole, tacos, or other Mexican delicacies. But, of course, whoever makes that claim might be just trying to look smart. The knowledge you need isn't different than knowing how to pick your ingredients and seasoning well.
Of course, you need some essential ingredients like Avocado, Tomatoes, and Limes outlined further in detail, but please don't hesitate to find your sweet spot, more acid or less spicy.
A Good Guacamole is supposed to be easy to make and rich in flavor. Plain and simple. It's a blend of a few high-quality ingredients with flavors transported by the tremendous healthy fat of avocadoes melding together beautifully and unctuously.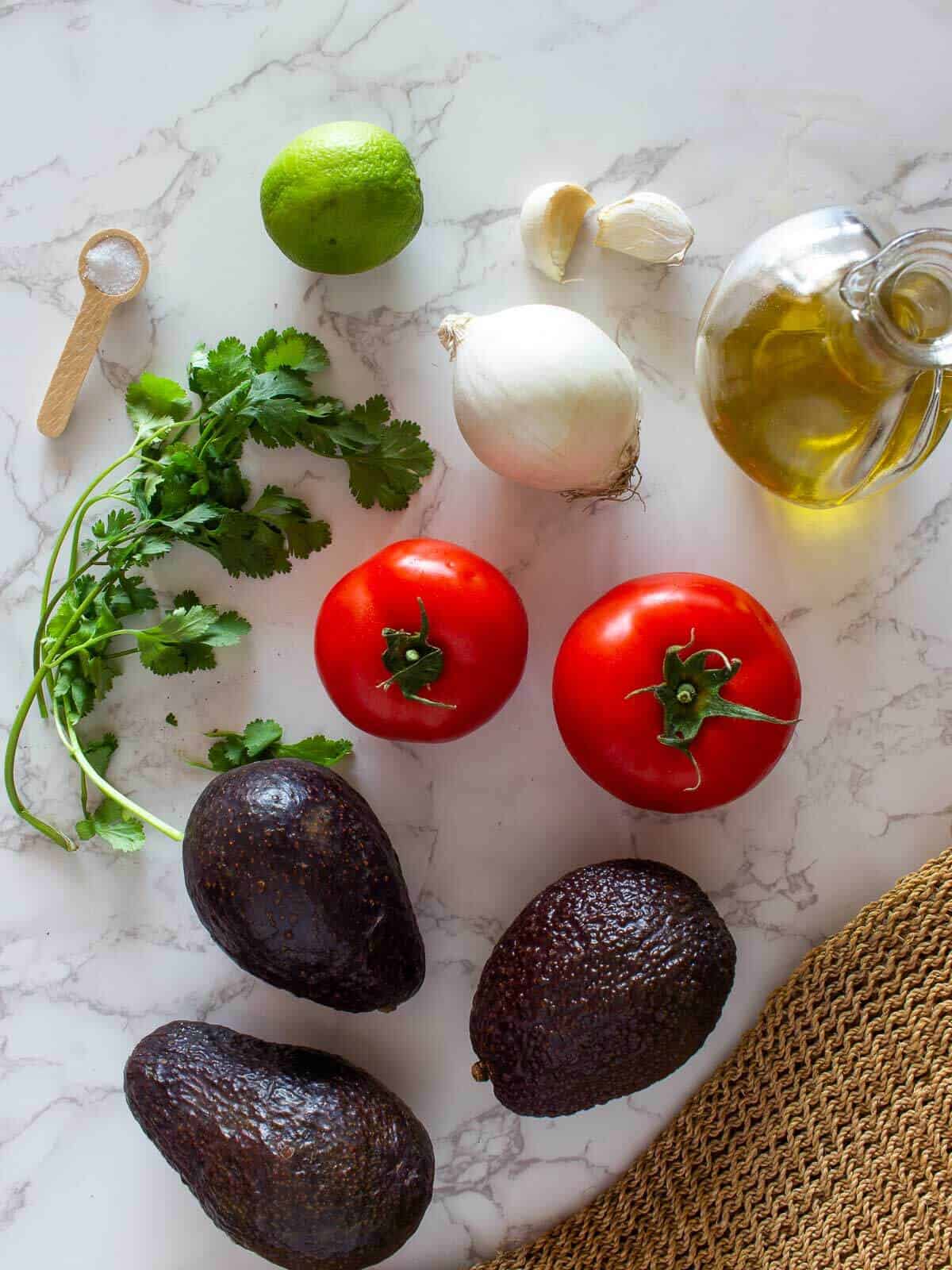 Mexican cuisine is about flavor, tons of flavor. It is about the people and the seasonings you have in the kitchen and experimenting.
🌱 Variety of produce
Mexico and Central America, where I am from (Panama), are home to tomatoes, lime, avocado, and corn, so I grew up and lived surrounded by many kinds of avocados, tomatoes, and tortillas of all colors in the palette.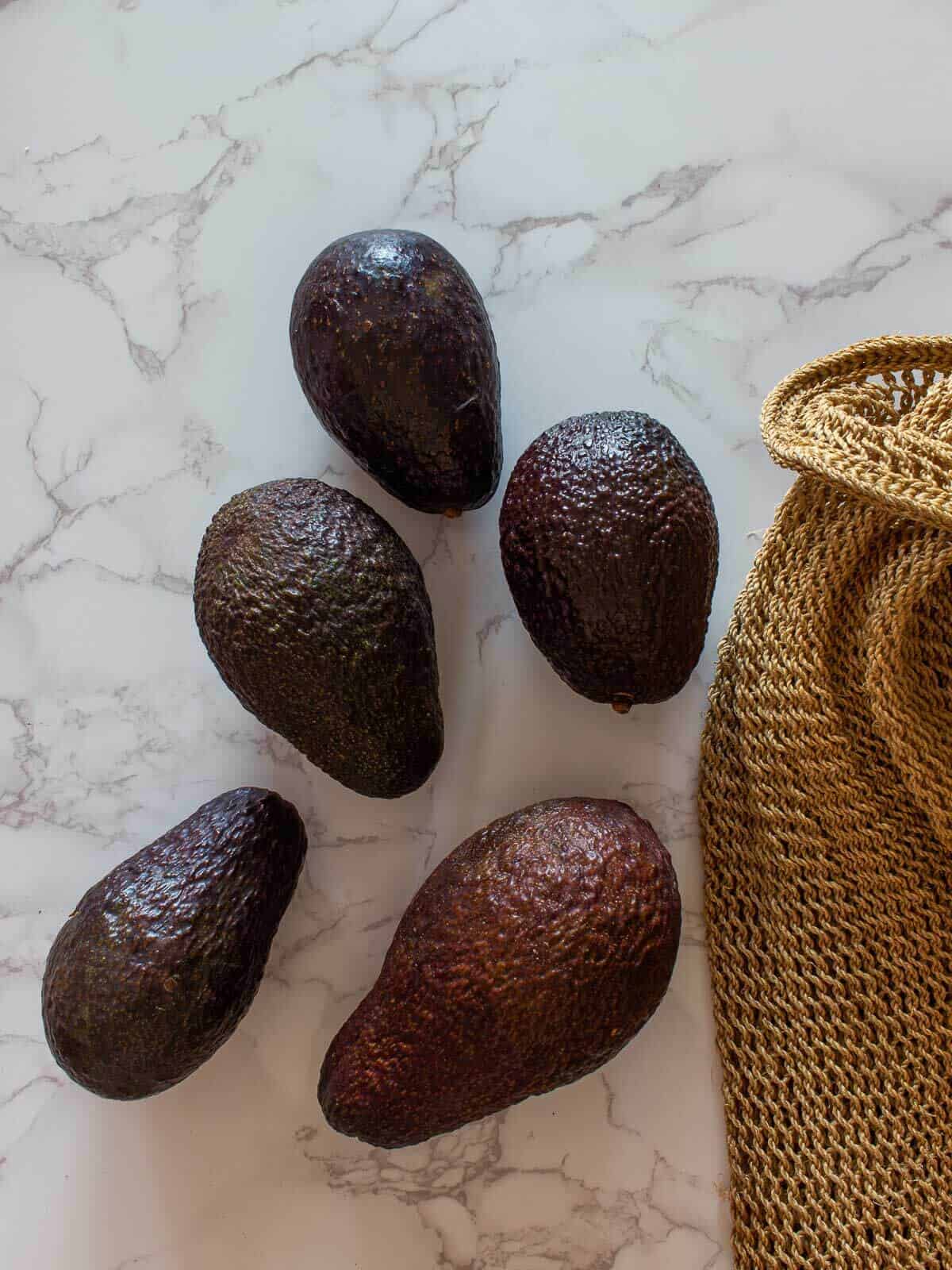 A Mexican household will make guac with the avocados and tomatoes they have available, which will undoubtedly be high quality, and decide whether to use white or red onion, garlic, or jalapeño.
🧾 Ingredients
With just 7 simple ingredients, you can make one of the most world widely known dip recipes, in my opinion, only comparable to the Magnificent Hummus, both naturally vegan and highly nutritious!
Ripe avocados
Tomato
Onion
Garlic
Limes
Jalapeño chili
Optional: Coriander leaves (cilantro)
Salt to taste.
Avocados: the best avocado for guacamole is the Hass kind; it is packed with healthy fats, fiber, potassium, and vitamin K; not only is it delicious on its own.
Pick them firm, soft enough to be creamy, and with the stem ON (otherwise, you will likely find black spots meaning it hasn't ripened well). If your avocados are not ripe enough, put them in a bag along with bananas, the gas released by bananas while ripening (ethylene) makes avocados ripen in one or two days.
Did you know that avocadoes are at their best around March? They are yummier, creamier, and packed full of flavor.
Now let's talk about the seasoning for guacamole.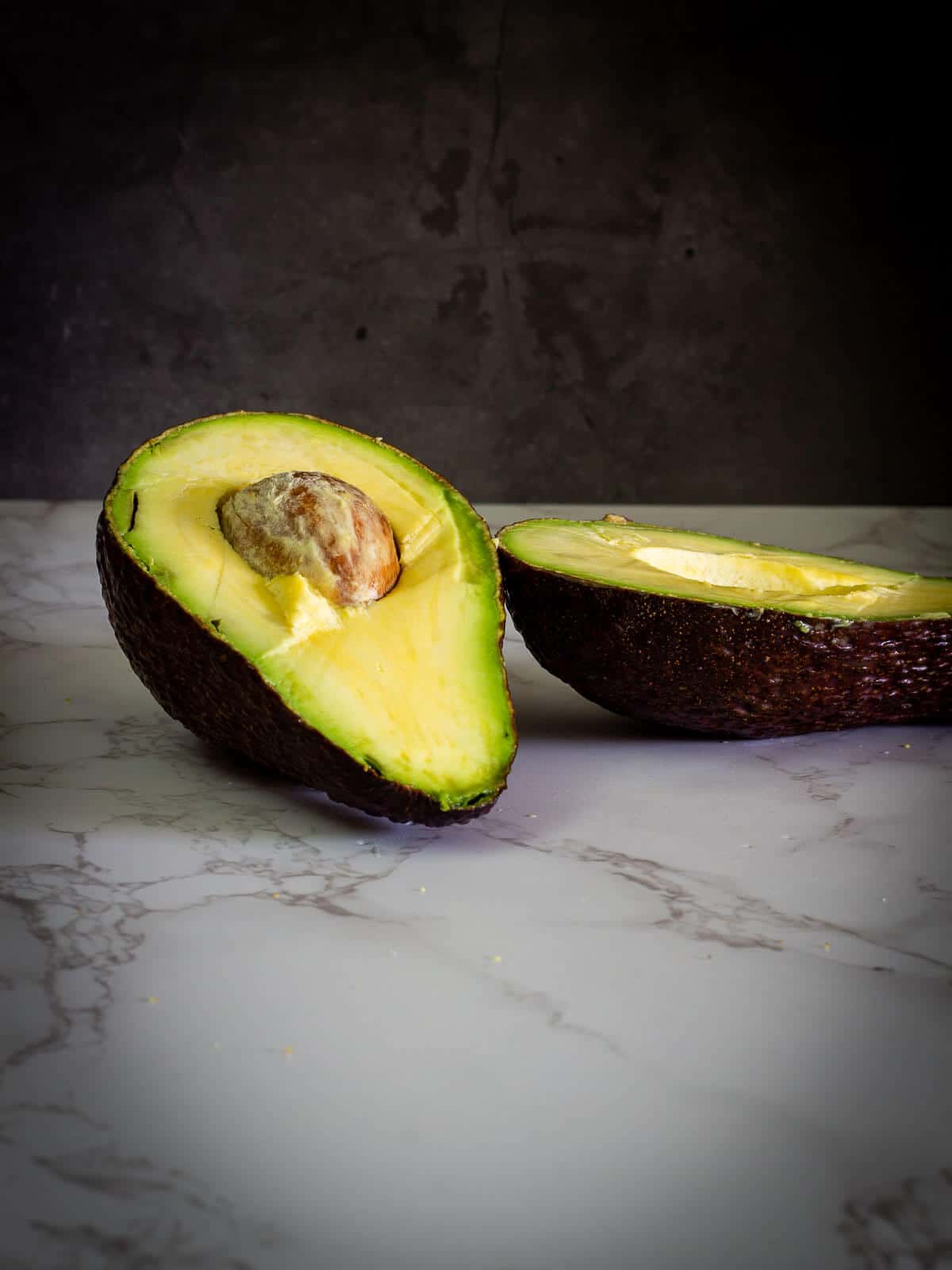 Onion: I use white onion, but sometimes red onion gives a little sweetening note that we love. Feel free to use either of them or even yellow onion; they all work. I wouldn't go for spring onions as they give a different flavor profile.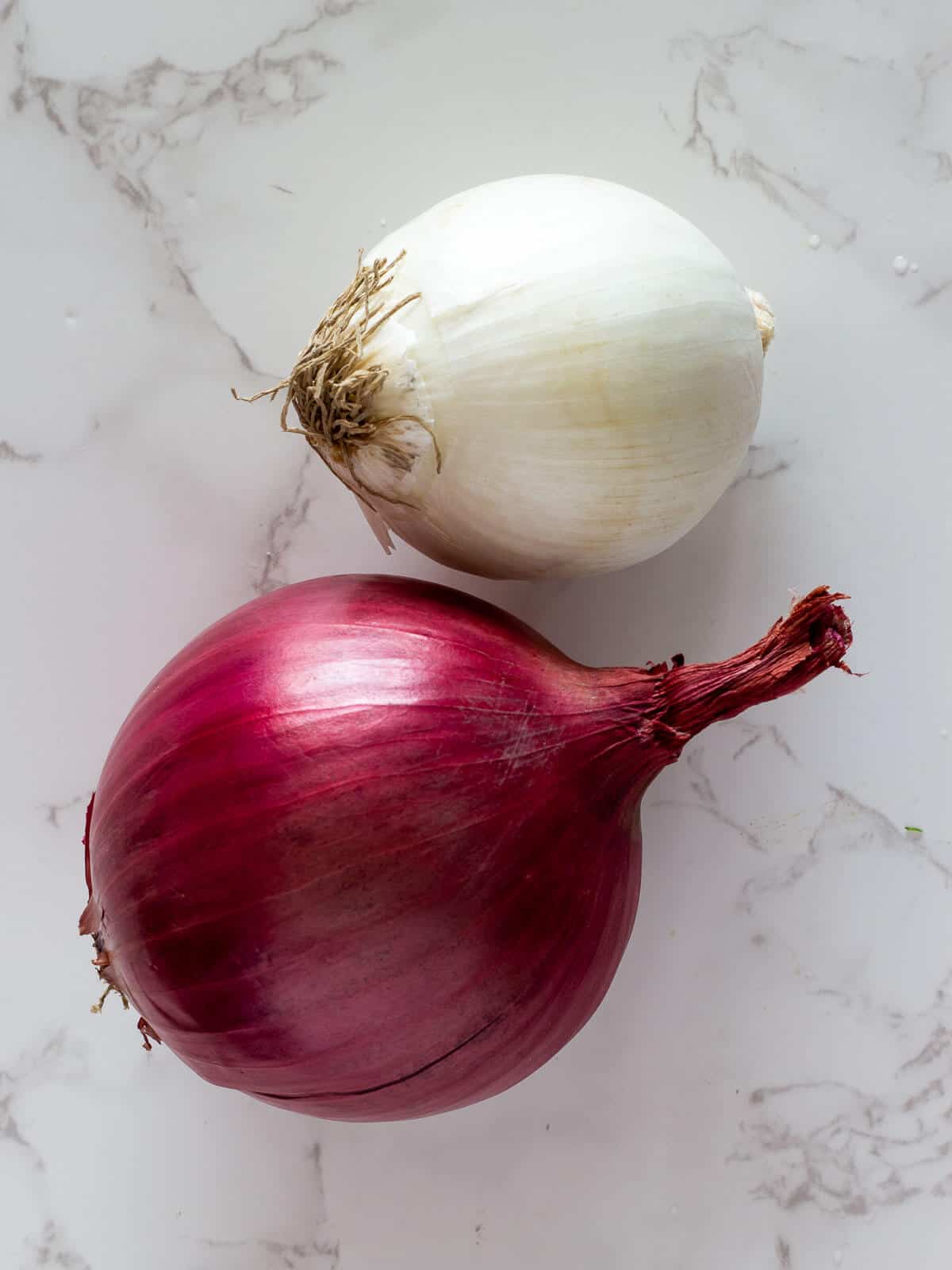 Tomatoes: the best tomatoes are either plum or Roma tomatoes. Just make sure they are firm and not too ripe and that they are too watery. Roma tomatoes tend to pack less juice, which we don't need.
If you want to make guacamole without tomatoes, that's perfectly fine; no need to adjust the seasoning for guacamole.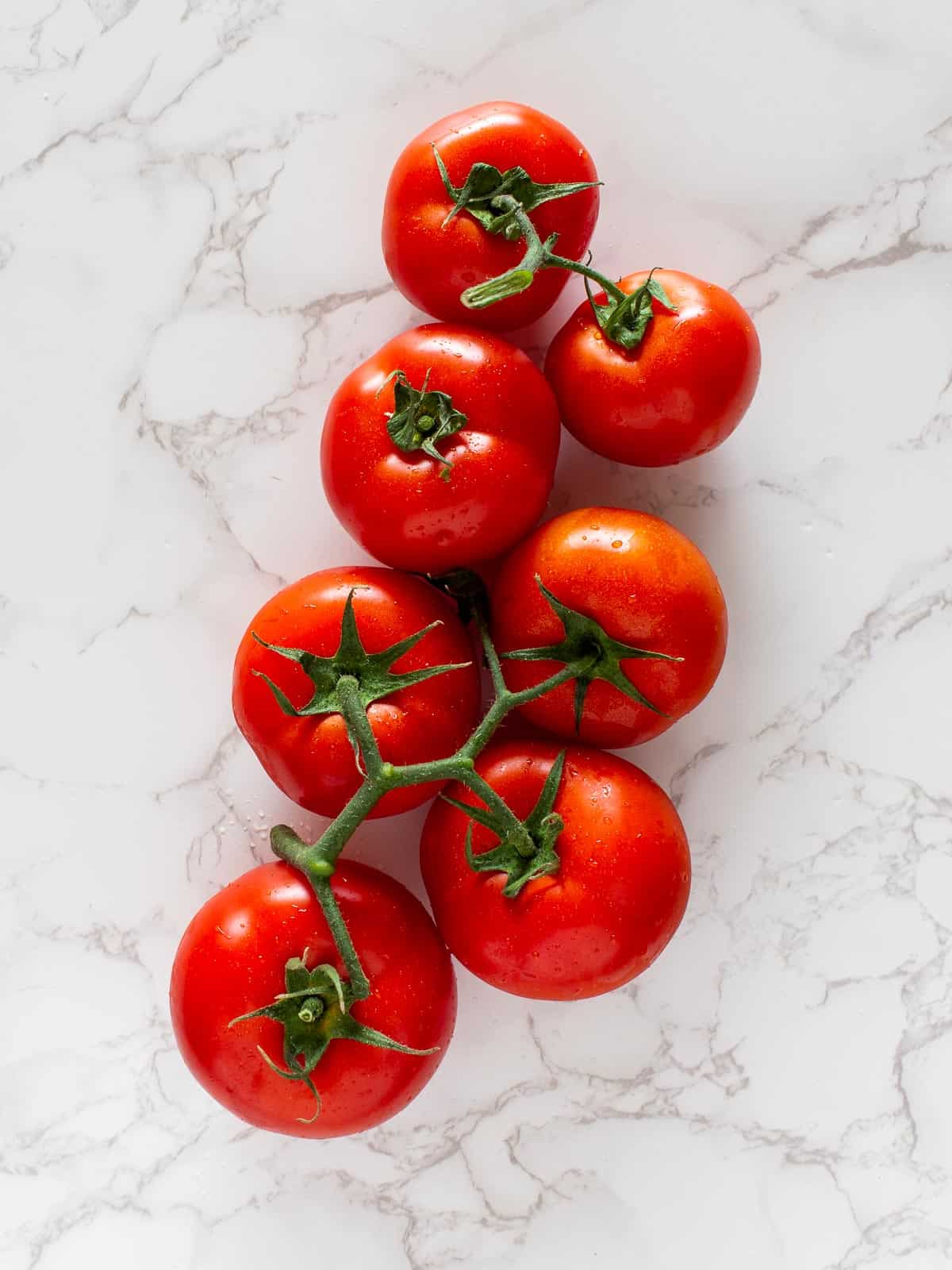 Cilantro (coriander): some people would tell you guacamole isn't guacamole without cilantro, but the truth is that many people hate cilantro, and in many places in Mexico, they either avoid using it or offer you a guac with or without cilantro. We say a big YES to cilantro!
Hint: make this guacamole recipe without cilantro if you prefer; it will be equally delicious!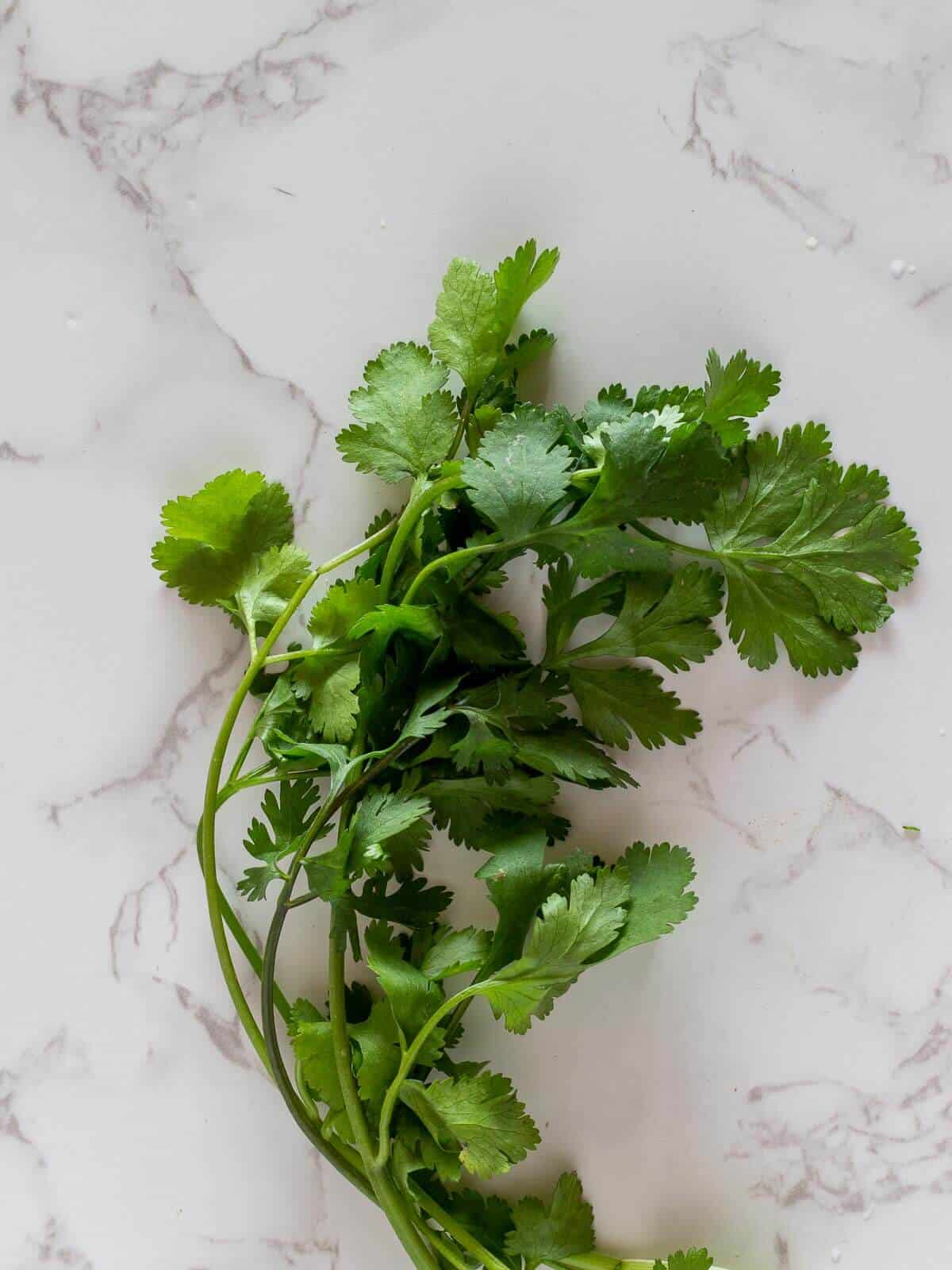 Jalapeno: the secret ingredient. You can also use serrano pepper or any other if you don't have them available. I am using Italian pepperoncino as we can find neither Jalapeno nor Serrano, but it works perfectly well.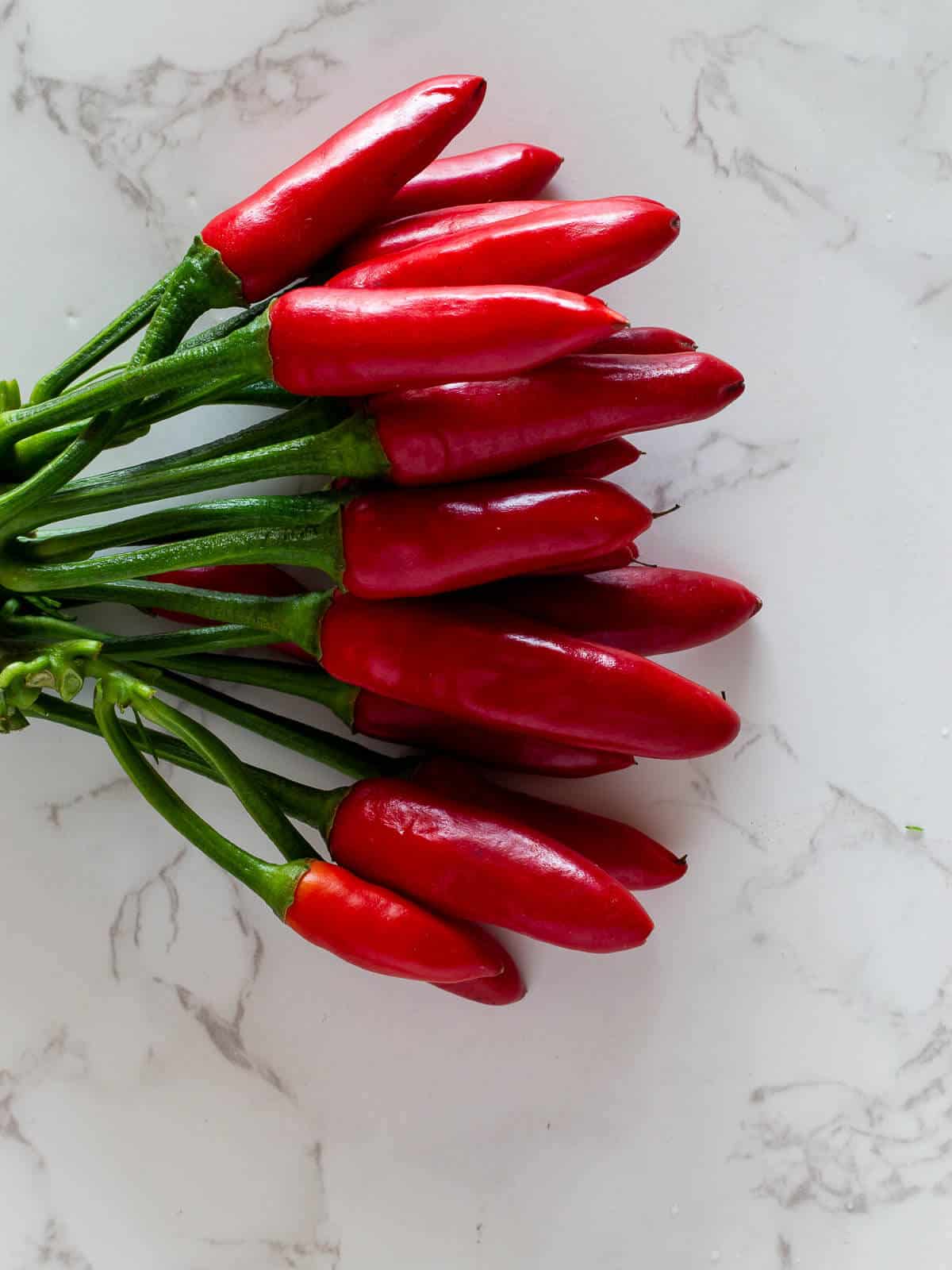 Garlic: Some people like their guac with garlic; others don't. We love garlic in everything, so it is another YES for us; just don't overdo it. You can even throw just a pinch of garlic powder.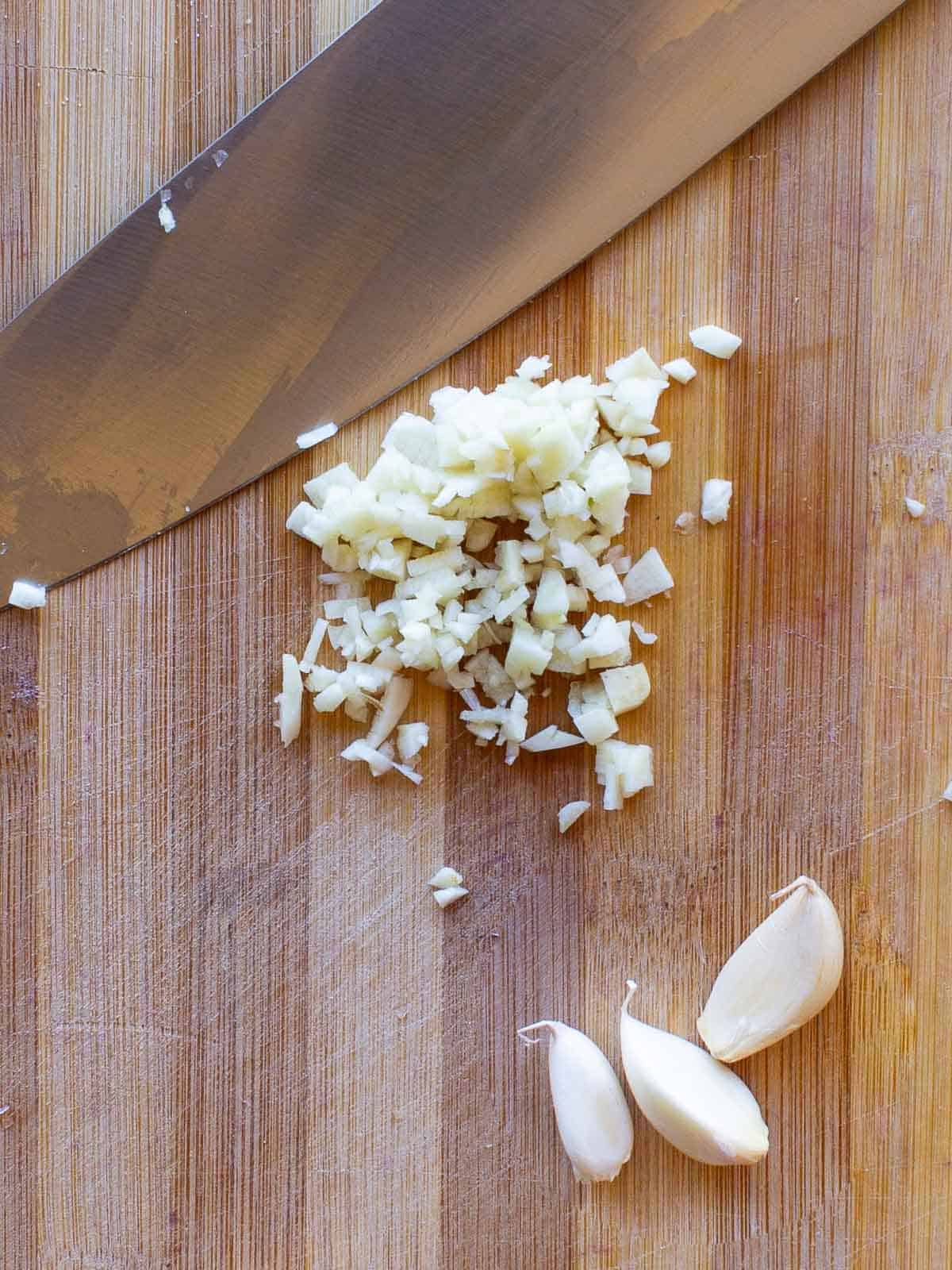 Lime: Freshly squeezed lime, please. Don't use a pre-juiced one. It will kill your guacamole.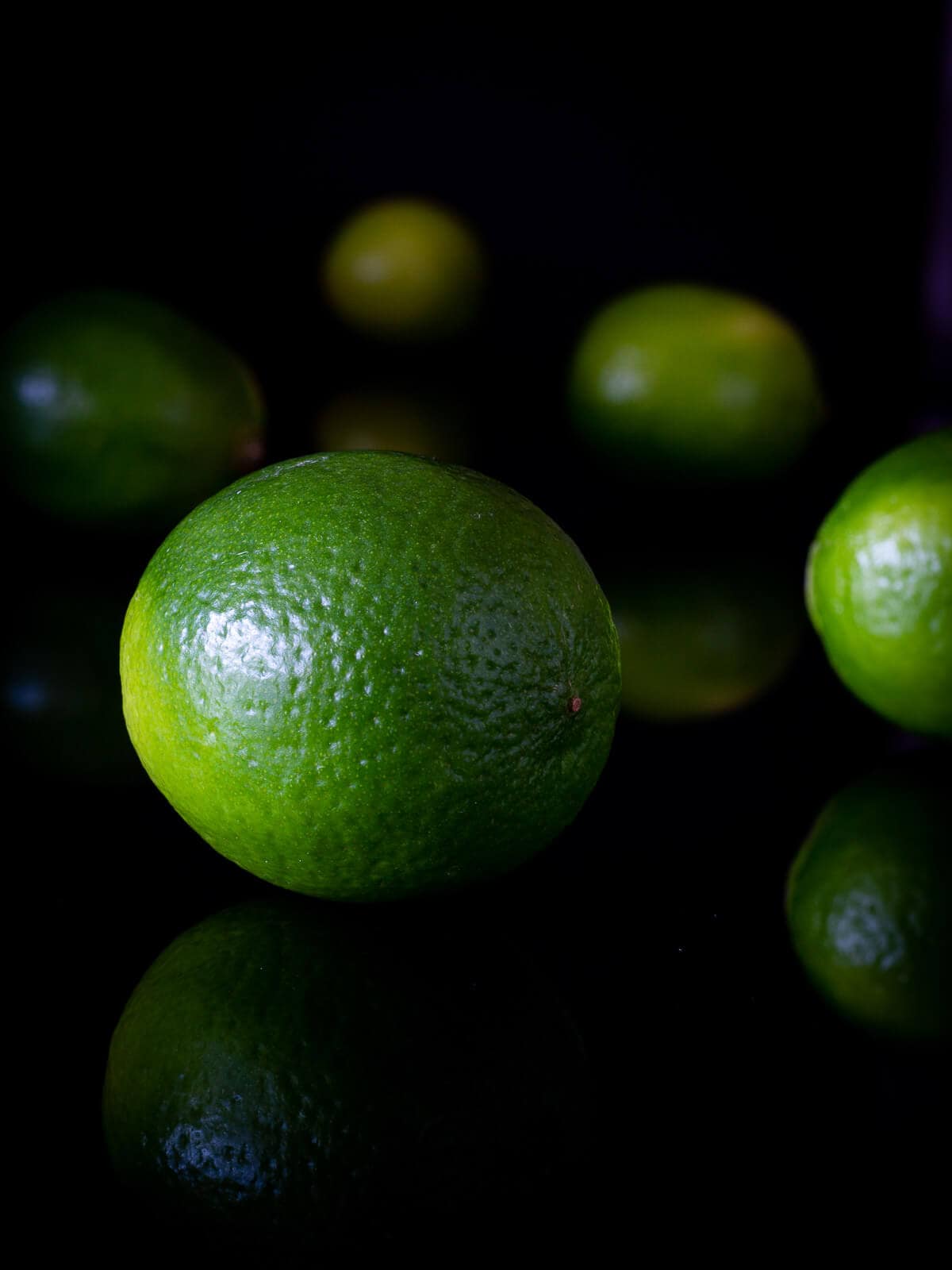 Optional Salt: This will consolidate all the flavors.
Optional: extra-virgin olive oil (obviously not traditionally Mexican, but I think it gives it an extra delicious touch, feel free to skip it).
Note: omit olive oil and salt if adhering to a Whole Foods Plant-Based Diet.
🔪 Instructions
Making the best guacamole recipe is easy.
Finely chop the tomatoes, onions, garlic, jalapeno, and cilantro leaves.
In a mixing bowl, mash the avocado flesh with a fork to keep their texture.
Stir in all the chopped ingredients, pour the fresh lime juice, and mix until well combined; season with salt and extra-virgin olive oil (optional).
📖 Variations
Add some mangoes, peaches, or pineapple dice if you want to experiment with different flavors.
🫙 Storage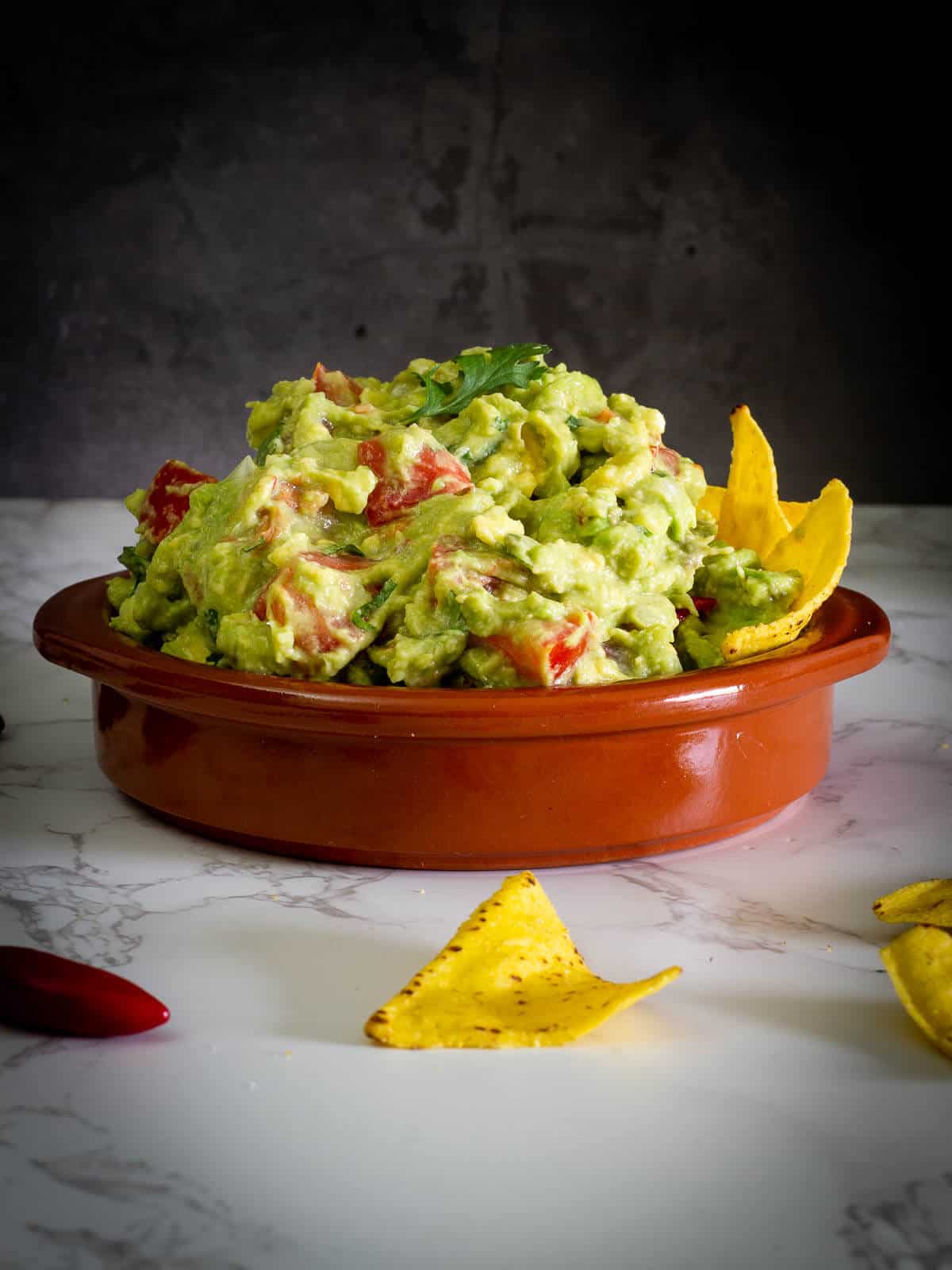 Guacamole oxidizes and turns brown pretty darn quick. The lime juice helps slow this process, but leftover guacamole will inevitably start to brown.
The most common preservation hack is to store the guacamole in an airtight container, placing plastic wrap directly on top of it, which may work for a day or two. However, we aim to consume as little plastic as possible, so we switched to another method.
The second method is to place your leftover guacamole in an air-tight container and pat it down firmly with a spoon so it's flat on top. Then, add about ½ inch (1 cm) of cold water on top.
Put back the container's lid on the store it in the fridge.
When ready to consume it, drain the water off the top, stir it, and be prepared to eat. It will keep fine for days.
There's a third hack for preserving avocadoes. Put the open avocado in an airtight container with an open onion or two. The sulfur compounds produced by the onion will help preserve the avocado's flavor and texture for several days. Bonus: You can use the onion later in your cooking! Give it a try- you won't be disappointed.

The fourth hack is to wrap avocadoes tightly with plastic wrap and store them in the fridge. This
🥢 How to serve
This naturally vegan guacamole dish goes perfectly with tortilla chips and salsa for the perfect appetizer!
You can also use homemade guacamole dip with vegan cheese for your sandwiches, vegan chickpea burgers, and enchiladas.
In Mexico, we serve this appetizer with our Vegan Ceviche, or hearts of palm ceviche, tabbouleh, and red pesto pasta; everyone goes crazy about it!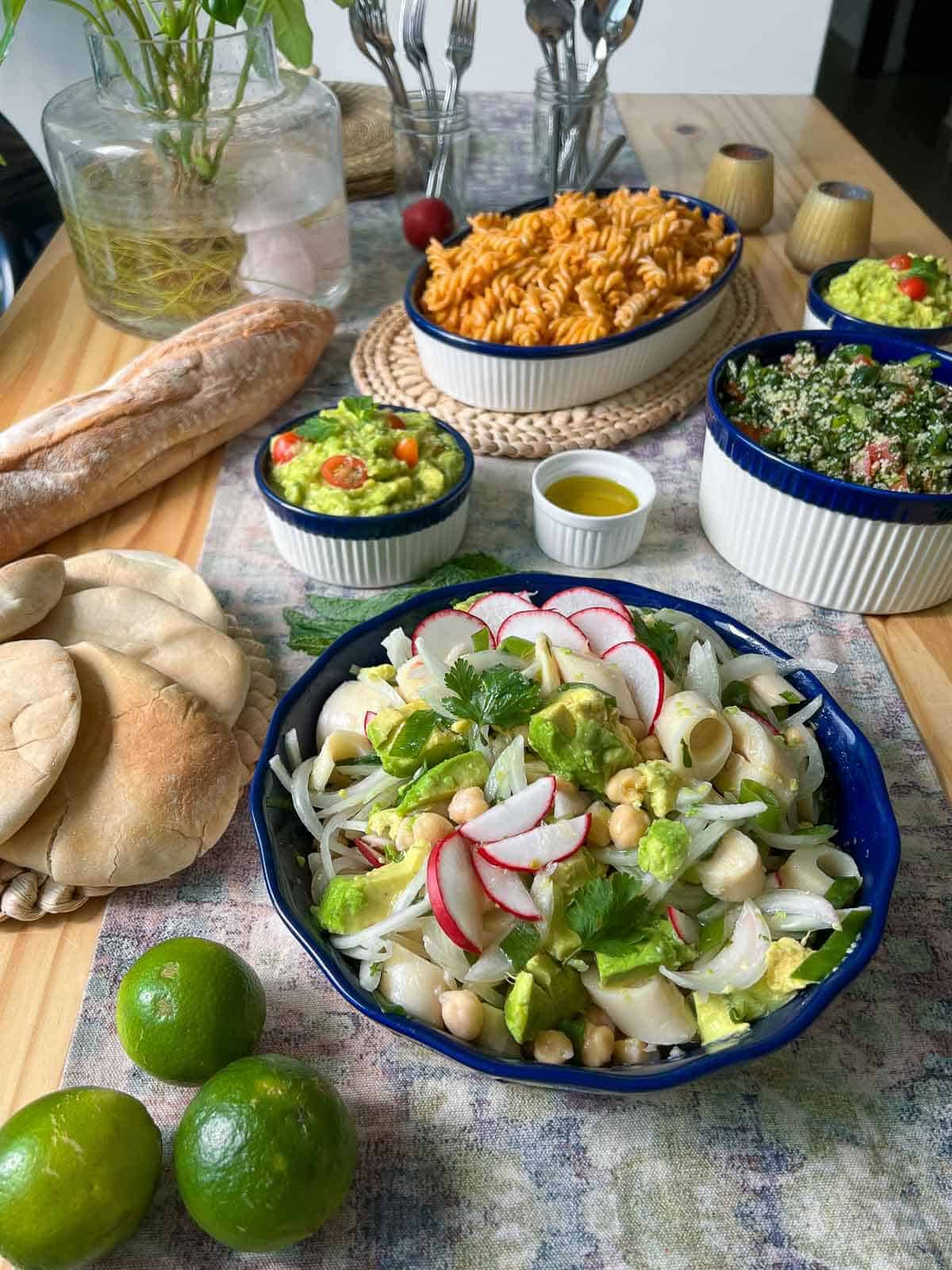 Try out also a great salad made with avocadoes and chickpeas, which is a hit for easy meals!
❓ FAQ
what does guacamole taste like?
Guacamole is a smooth, green dip or sauce made from avocados, lime juice, salt, and pepper. It has a rich, buttery texture and a mellow, slightly sweet flavor that pairs well with Mexican dishes. Guacamole can be served as a dip for chips or vegetables or used as a condiment for tacos, burritos, and other Mexican dishes.
📚 More Delicious Dips and Savory Snacks
We love our dips and spreads, don't forget to check all our vegan options, including an Avocado Hummus that you will surely love.
⭐ If you try this recipe, let us know! 💬 Leave a comment, rate it, and don't forget to tag us @ourplantbasedworld on Instagram. Cheers!
📋 Recipe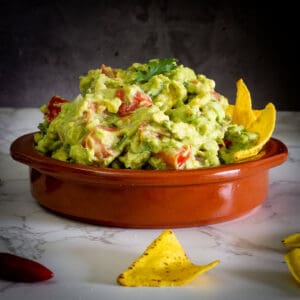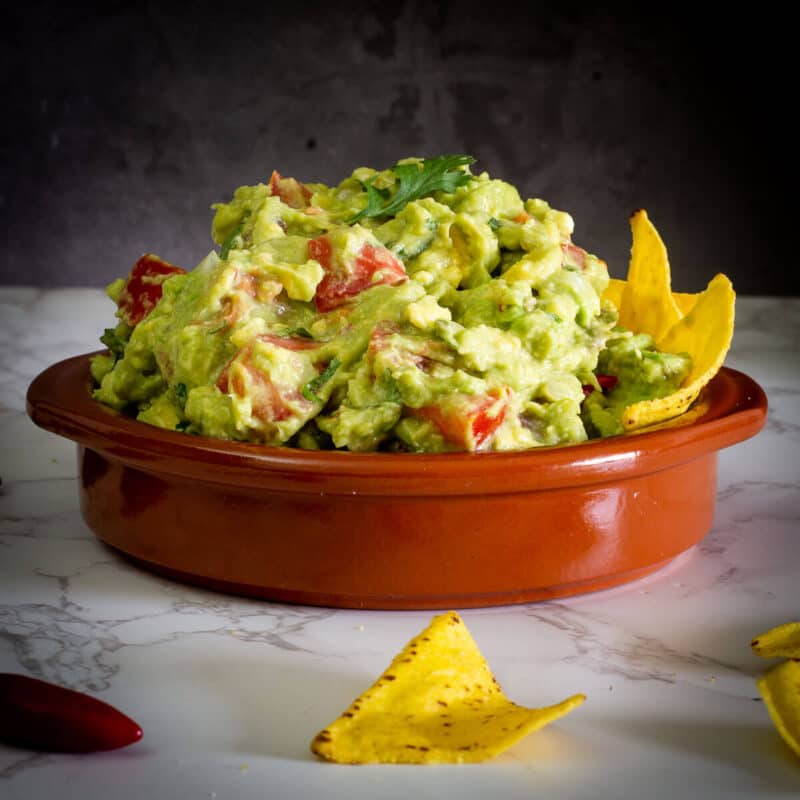 Best Authentic, Easy, and Simple Guacamole Recipe
The best homemade guacamole recipe is the one that uses fresh, high-quality ingredients. Living in Mexico for 8 years allowed me to bring this recipe to perfection!
Equipment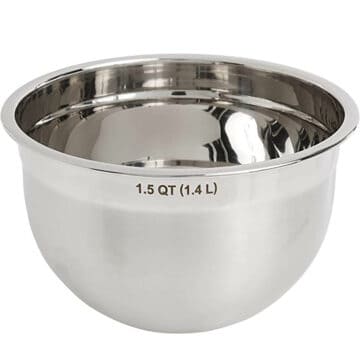 (affiliate link)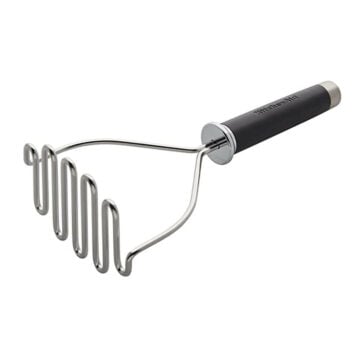 (affiliate link)
Ingredients
2

avocados

ripe, prefferably Hass

⅓

onion

small, finely diced, white or red

1

tomato

plum or Roma, de-seeded and diced

2

tablespoons

cilantro

fresh and finely chopped

½

jalapeno pepper

seeds removed and finely diced (or 1 small red chilies, or ½ serrano)

1

clove

garlic

small, minced

1

lime

juiced
Directions
Pit the avocadoes and roughly mash them in a mixing bowl using a fork or a potato masher, don't overdo it. It's nice to leave some chunks. When you add the rest of the ingredients, they will naturally become more of a cream.

Mix the chopped tomatoes, onion, garlic, cilantro, lemon juice, and jalapeno pepper into mashed avocado until well combined; season with salt and extra-virgin olive oil (optional).

Leave the avocado seed inside the guacamole to prevent it from darkening. Serve with totopos (nachos).
Notes
Olive oil is optional, avoid id adhering to a WFPB diet. Preservation: place your leftover guacamole in an air-tight container and patting it down firmly, so it's flat on top. Add about ½ inch of cold water on top.
Put back the container's lid on the store it in the fridge.
When you are ready to consume it, drain the water off the top, stir it, and be ready to eat. The guacamole will keep fine for 3 days.
Nutrition Facts
Calories:
207
kcal
Carbohydrates:
13
g
Protein:
3
g
Fat:
18
g
Saturated Fat:
3
g
Sodium:
300
mg
Potassium:
596
mg
Fiber:
8
g
Sugar:
2
g
Vitamin A:
444
IU
Vitamin C:
22
mg
Calcium:
23
mg
Iron:
1
mg
Nutrition Facts
Best Authentic, Easy, and Simple Guacamole Recipe
Amount per Serving
% Daily Value*
* Percent Daily Values are based on a 2000 calorie diet.
🌡️ Food safety
Cook to a minimum temperature of 165 °F (74 °C)
Do not use the same utensils on cooked food, that previously touched raw meat
Wash hands after touching raw meat
Don't leave food sitting out at room temperature for extended periods
Never leave cooking food unattended
Use oils with a high smoking point to avoid harmful compounds
Always have good ventilation when using a gas stove
See more guidelines at USDA.gov.
Nutritional Disclaimer
The information shown is an estimate provided by an online nutrition calculator. It should not be considered a substitute for a professional nutritionist's advice. See our full Nutritional Disclosure here.
Affiliate Disclaimer
Please note that some of the links here are affiliate links, and I will earn a commission if you purchase through those links. I recommend all of the products listed because they are companies I have found helpful and trustworthy.