Looking for a simple, fast, and low-carb dish? Try this Marinated Mushroom Salad. This recipe transforms basic mushrooms into a tangy, flavorful salad using a blend of spices and herbs. Ideal as a side or a standalone light meal, this salad offers a healthful yet delightful eating experience. Let's explore how you can whip up this delicious dish in your own kitchen!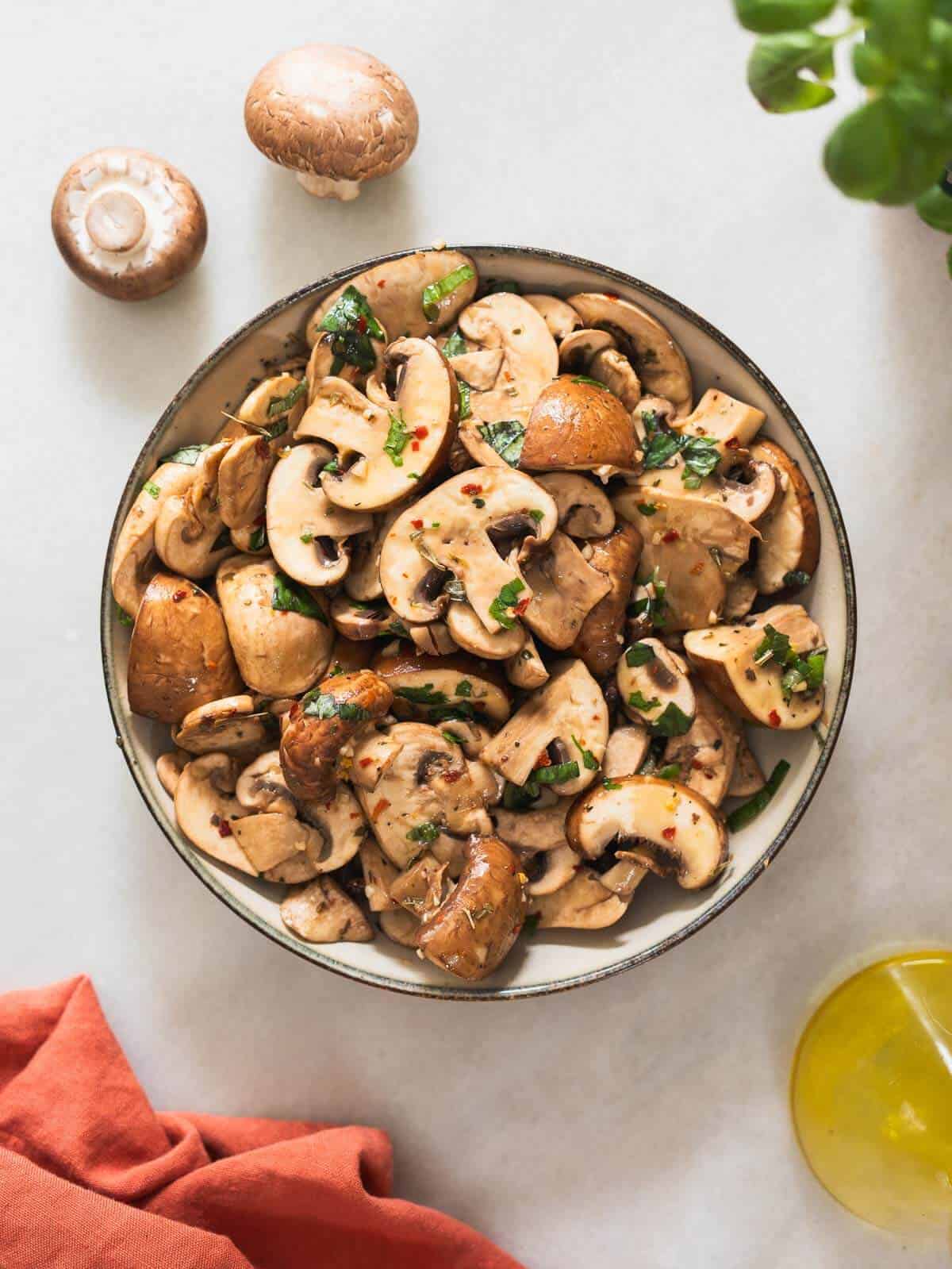 The beauty of this Fresh Mushroom Salad lies not just in its flavor and simplicity but also in the abundance of nutrients it offers. Cremini mushrooms, the star of our salad recipe, are a nutritional powerhouse packed with essential minerals and vitamins, including selenium, potassium, riboflavin, and niacin.
They're also low in calories and a great source of dietary fiber, making them an excellent choice for those watching their waistline. This cold mushroom salad combines these healthful benefits with a robust, earthy flavor and a satisfying texture that will leave you reaching for seconds.
What sets this Easy Mushroom Salad recipe apart is its perfect blend of simplicity and elegance. Even though it's a cinch to whip up, the resulting dish is impressive enough for dinner parties and gatherings. Just imagine the tangy marinated mushrooms combined with the fresh flavors of hand-picked herbs, offering a burst of deliciousness with every salad bite.
All it takes is a few ingredients, a bit of slicing and tossing, and some patience while the mushrooms soak up the delightful marinade. It's a salad recipe that truly delivers on both the taste and the easy-prep fronts. And remember, whether you're serving it as a side or as a light, refreshing meal, this fresh mushroom salad always hits the spot.
Jump to:
🧾 Ingredients
This raw mushroom salad is made with just a few delicious ingredients: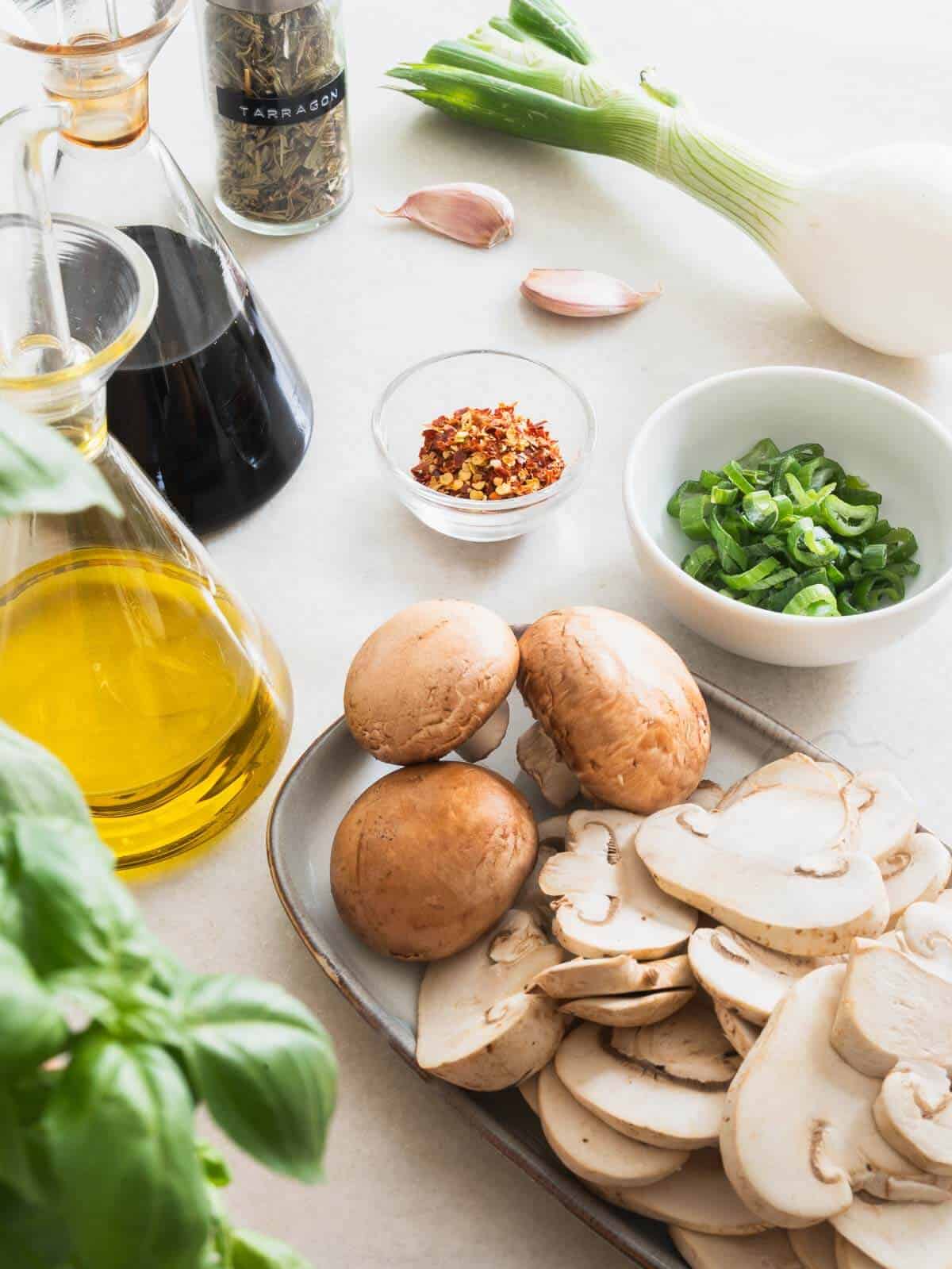 Cremini mushrooms: These offer a hearty, earthy flavor and a pleasing texture that stands up well in salads. They're also packed with vitamins and minerals, making them a nutritious choice.
Extra virgin olive oil: It's the base of the marinade, lending a smooth, rich depth to the salad. Its healthy fats aid in the absorption of nutrients.
Balsamic vinegar: This adds a sweet yet tangy punch, enhancing the overall flavor of the salad and helping to tenderize the mushrooms.
Fresh garlic: Its pungent, spicy flavor gives the salad a savory kick and can help boost the immune system.
Green onion tops: They contribute a mild, slightly sweet onion flavor and add a pop of color to the salad.
Fresh basil: This herb provides a fragrant, sweet aroma and flavor that complements the earthiness of the mushrooms.
Dried tarragon: It infuses the salad with a subtle hint of sweetness and a slightly peppery taste, adding complexity to the dish.
Red chili pepper flakes: These can be added for a hint of heat, creating a nice contrast to the tanginess of the marinade.
Optional ingredients
Fresh parsley: This can provide a refreshing, slightly peppery note, and its bright green color can enhance the salad's visual appeal.
Dried oregano or thyme: An optional ingredient, it can add a robust, slightly bitter, and pungent flavor that complements the mushrooms and marinade well.
See the recipe card for quantities.
🔪 Instructions
This mushroom salad recipe involves 3 simple steps.
Washing and preparing your ingredients.
Chopping in sizable chunks.
Blending.
To prep cremini mushrooms for a cold salad, begin by wiping off any dirt using a damp paper towel - this prevents them from becoming soggy. Twist off the stems and clean the caps with the same damp towel. Place mushrooms cap-side down and slice them, keeping the cuts thick for texture. This method ensures fresh, marination-ready mushrooms for your salad.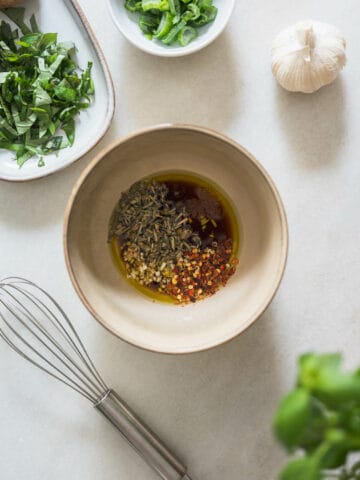 In a bowl, combine olive oil, balsamic vinegar, garlic, green onion tops, tarragon, chopped basil, salt, and red chili flakes.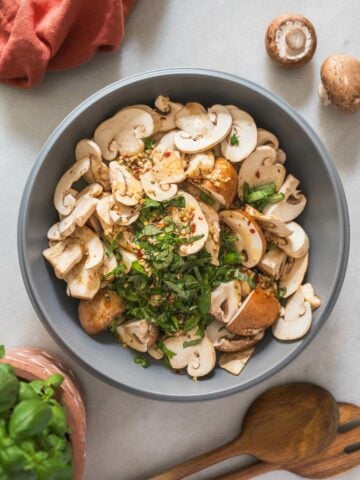 Add the sliced mushrooms to a bowl, followed by chopped green onion tops and basil, finalizing with the prepared marinade; tossing well to ensure all mushrooms are generously coated.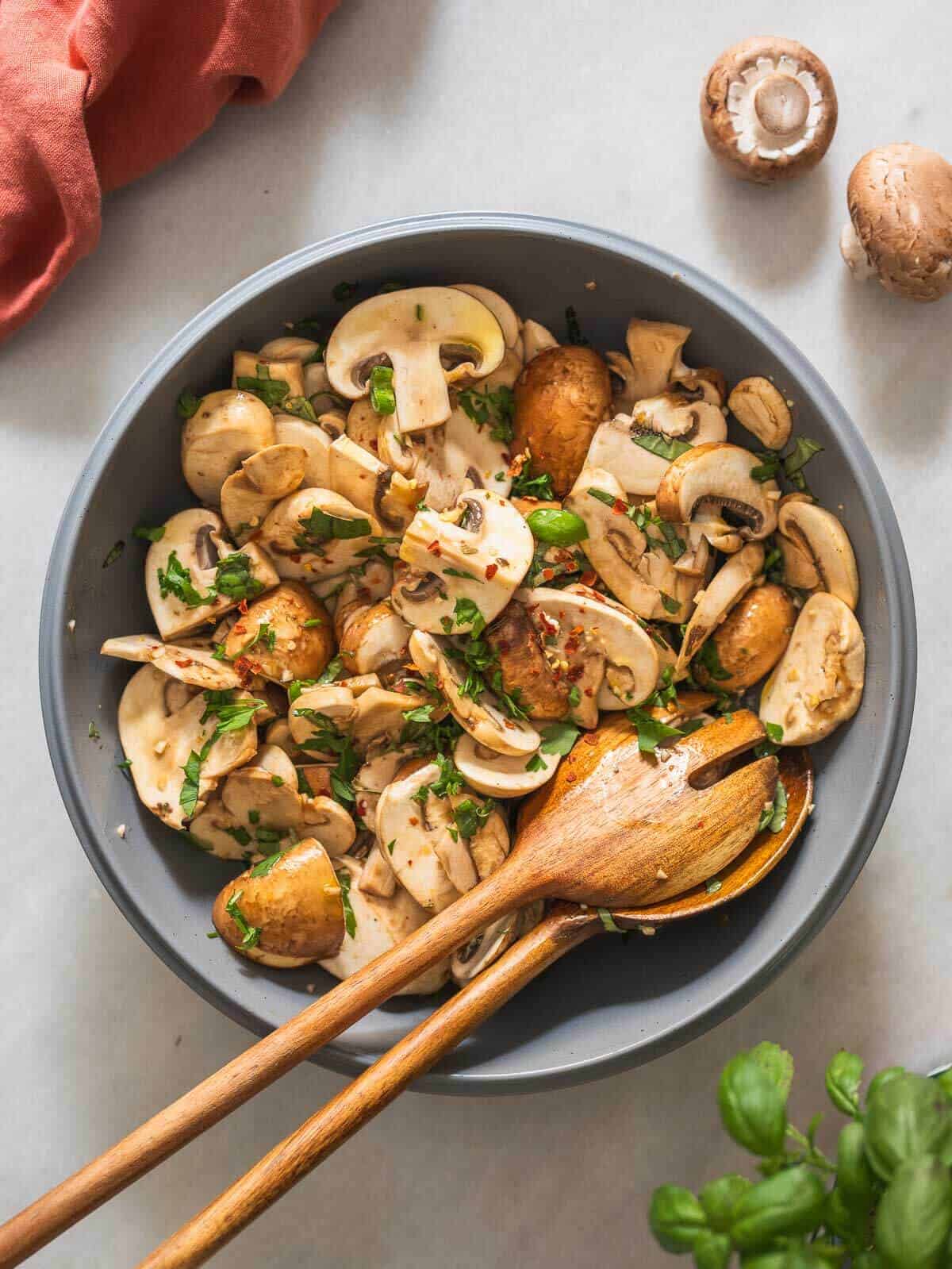 Introduce the sliced mushrooms to the prepared marinade, tossing well to ensure all mushrooms are evenly coated.
Let the mushrooms soak in the marinade for approximately 30 minutes, covered with a silicon lid or plastic wrap. This can be done either in the refrigerator or at room temperature.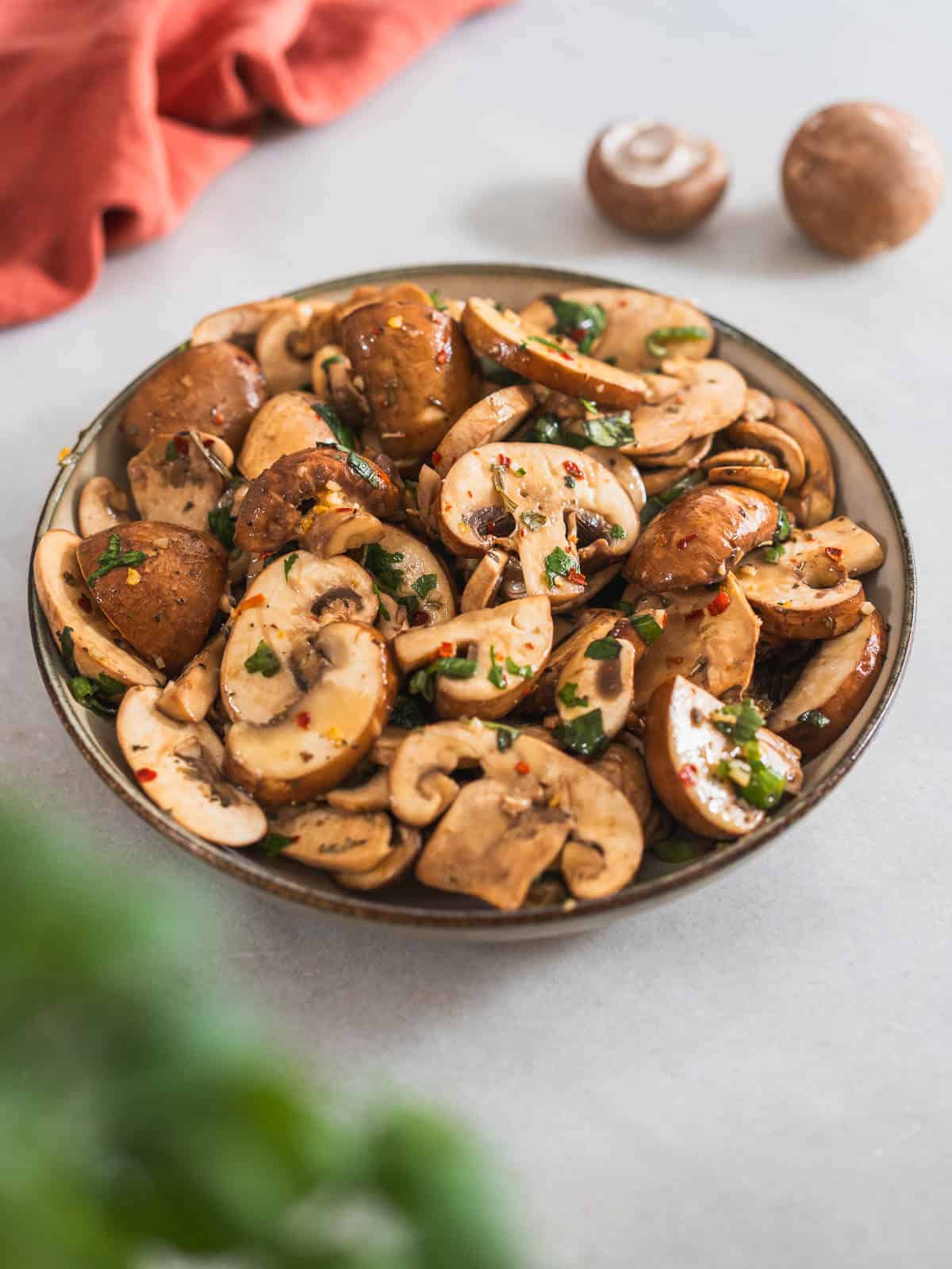 🥢 How to serve
There are plenty of versatile, vegan-friendly ways to serve this marinated mushroom salad.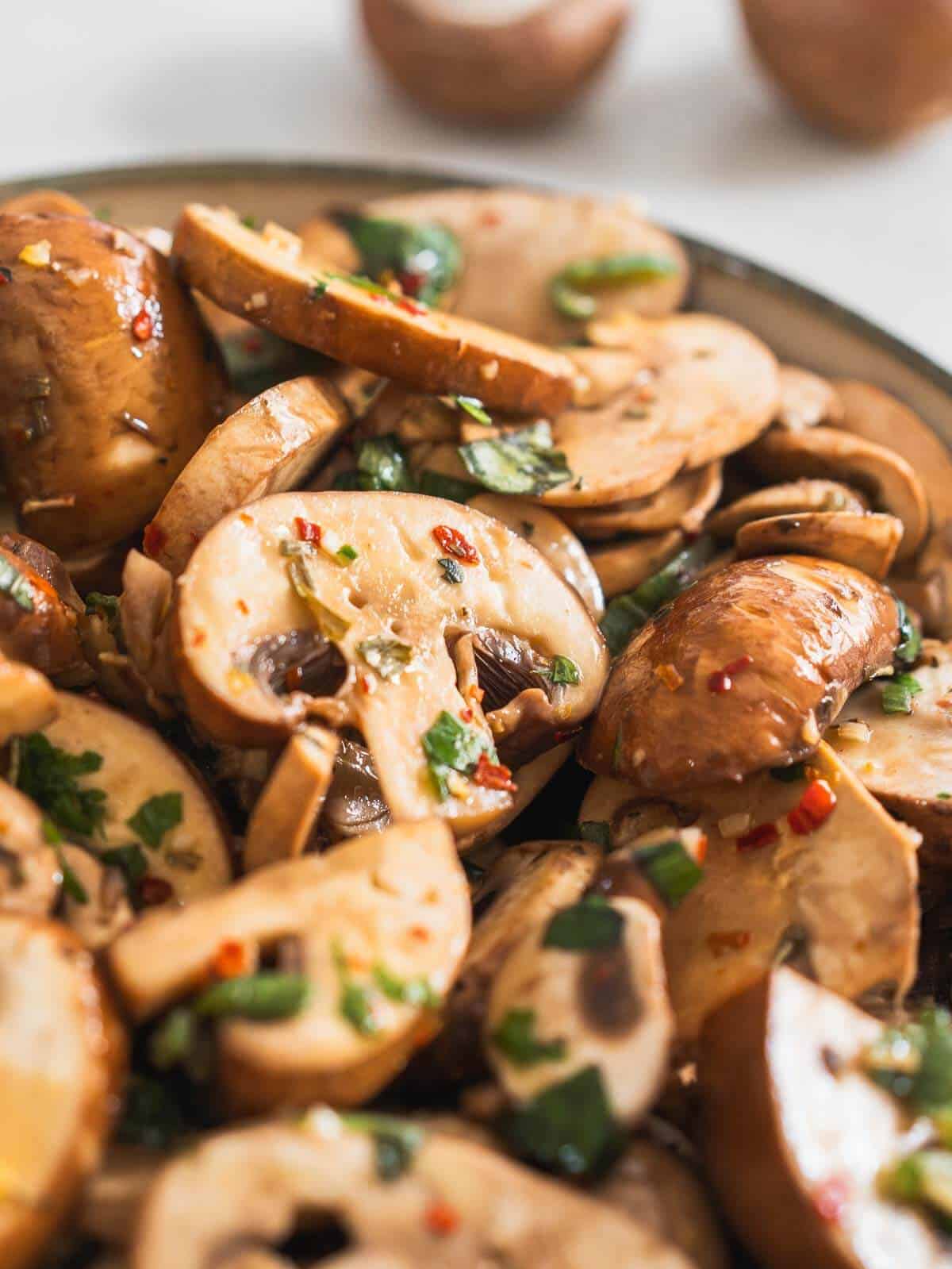 Crusty Bread: Serve the salad with warm, crusty bread. It's a perfect pairing, allowing you to savor any remaining flavorful marinade. We love using our Italian artisan bread.
Busy Weeknight Dinner: This salad can become a quick, nutritious weeknight dinner centerpiece. Try it over a bed of mixed greens, or pair it with a grain like quinoa or couscous for a complete meal.
Cooked Options: Although it's typically served cold, you can incorporate marinated mushrooms into hot dishes. Consider tossing them into a stir-fry, warming them up, and serving them over pasta or vegan risotto.
These are just a few ideas that cater to vegan diets, showcasing the flexibility of this cold mushroom salad.
🍶 Substitutions
Cremini mushrooms: You could substitute with white button mushrooms or portobellos. Remember that each variety has a slightly different flavor and texture, with portobellos being more robust and meaty.
Extra virgin olive oil: You can substitute with avocado oil. However, avocado oil has a lighter flavor compared to the robustness of extra virgin olive oil.
Balsamic vinegar: Red or white wine vinegar can be used as alternatives, but they will yield a less sweet flavor profile.
Fresh garlic: Garlic powder can be used, but fresh garlic provides a more vibrant, potent flavor.
Green onion tops: Chives or spring onions can be used as substitutes, offering a similar, slightly milder flavor.
Fresh basil: You can replace fresh basil with dried basil, though the fresh variant provides a more vibrant flavor.
Dried tarragon: Dried thyme or marjoram can be used instead, but they'll offer a different herbaceous flavor.
📖 Variations
For those seeking to mix up the original recipe, here are a few variations that could add a unique twist to your Marinated Mushroom Salad:
Lemon-Herb Variation: Replace the balsamic vinegar with fresh lemon juice for a more zesty, refreshing salad. You might also consider adding some lemon zest for an extra citrus kick. This version works wonderfully with fresh herbs such as dill or parsley.
Asian-Inspired Variation: Incorporate soy sauce into the marinade for a savory, umami-rich flavor. You might also consider adding a touch of sesame oil and some sesame seeds for an East-Asian twist.
Mediterranean Variation: Add chopped sun-dried tomatoes and olives to the salad and the base ingredients. A sprinkle of dried rosemary or oregano would enhance the Mediterranean vibe of this version.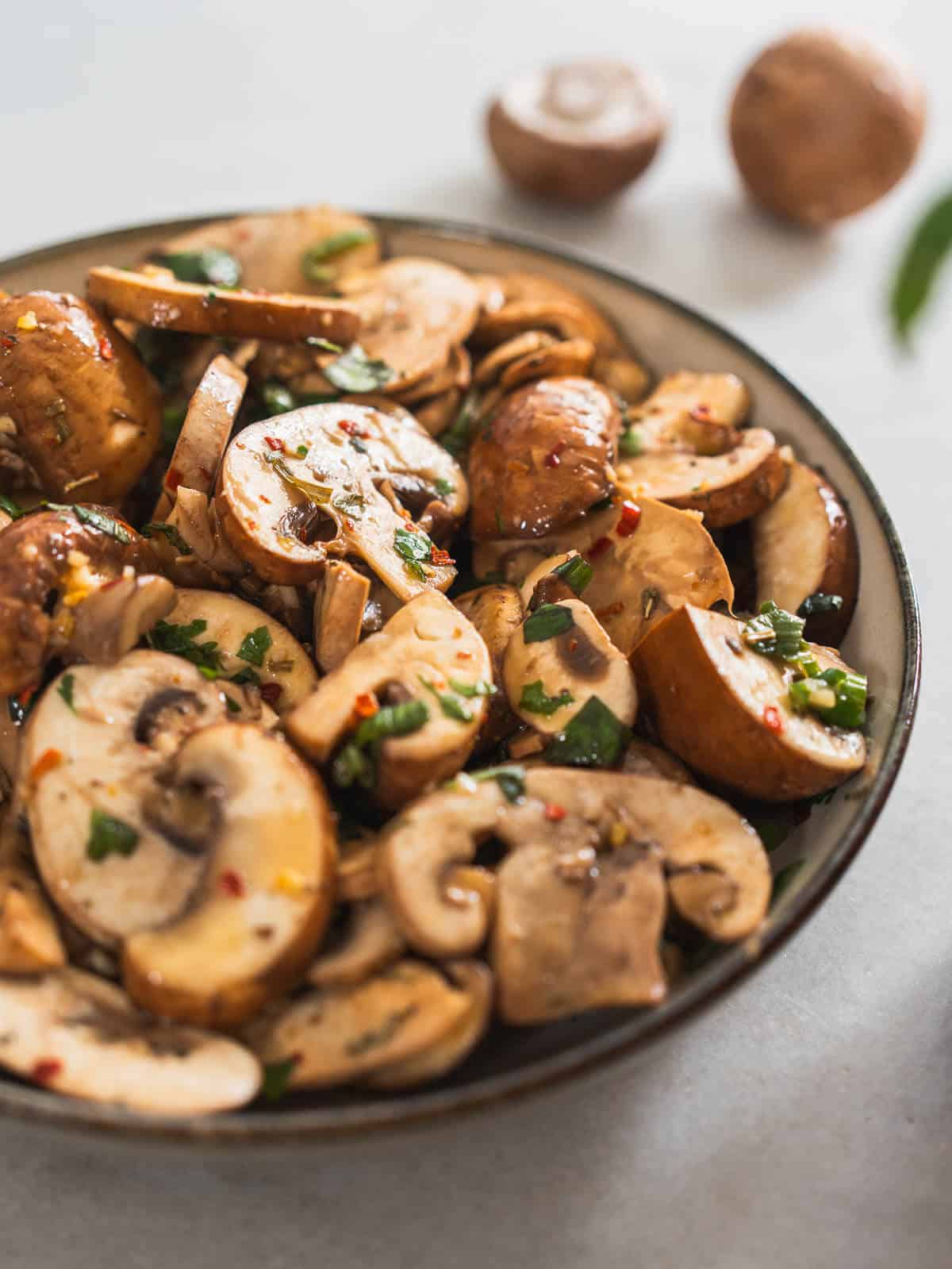 🍽 Equipment
For this recipe, certain pieces of kitchen equipment are recommended to ensure the best results:
Large Mixing Bowl: You'll need a large mixing bowl to combine all the ingredients and allow the mushrooms to marinate properly. The ample space ensures that the mushrooms can be evenly coated with the marinade.
Silicon Stretch Lids

(affiliate link)

: These are perfect for covering the bowl during the marinating process. They create a tight seal, helping keep the marinade fresh and preventing odors from escaping your fridge. Plus, they're reusable and eco-friendly, making them a great alternative to plastic wrap.
🥡 Storage
The marinated mushrooms can be stored in the refrigerator for up to 2 days, provided they are in a sealed container. Beyond this period, the mushrooms may lose their firmness. Before serving, allow the salad to reach room temperature, and if needed, a bit of olive oil can be added to revive the marinade's consistency.
💡 Top tips
While mushrooms may often be labeled as bland, the magic lies in the marinade. Dress them up in a delectable mix of garlic, olive oil, and soy, and they'll steal the show. Here are a few tips to enhance your marinated mushroom salad experience:
Instead of washing the mushrooms underwater, clean them by brushing off any residual dirt with a damp paper towel. This is because mushrooms tend to absorb water, which could lead to a less desirable, soggy salad.
If you prefer that your marinated mushrooms are not so sweet, swap the balsamic vinegar with white or red wine vinegar.
A few drops of soy sauce in the marinade can add a savory depth to the salad. Do a taste test first to ensure it appeals to everyone's palate.
These tips will help you prepare a marinated mushroom salad that's truly noteworthy.
❓ FAQ
Is it safe to eat raw mushrooms?
Yes, it is generally safe to eat raw mushrooms, widespread varieties like white buttons, cremini, or portobello. However, raw mushrooms are largely indigestible due to their tough cell walls composed mainly of chitin. Cooking mushrooms helps break down these cell walls, releasing their full nutritional benefits and making them easier to digest. Additionally, cooking can help to eliminate any potential bacteria or microbes that might be present on the mushrooms' surface.
🍄 More mushroom recipes
If you love mushrooms as much as we do, you may want to check out our
⭐ If you try this cold mushroom salad recipe, let us know! 💬 Leave a comment, rate it, and don't forget to tag us @ourplantbasedworld on Instagram. Cheers!
📋 Recipe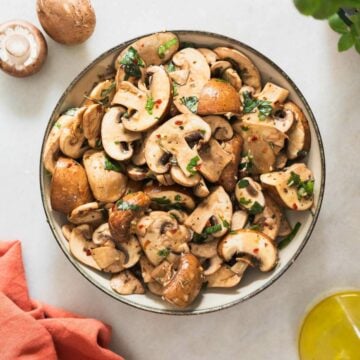 Marinated Mushroom Salad (Easy, Quick & Low-Carb)
Discover the easy, quick, and low-carb Marinated Mushroom Salad recipe. Transform basic mushrooms into a flavorful, tangy salad that's perfect as a side or light meal. Get ready to delight your taste buds while keeping it healthful!
Equipment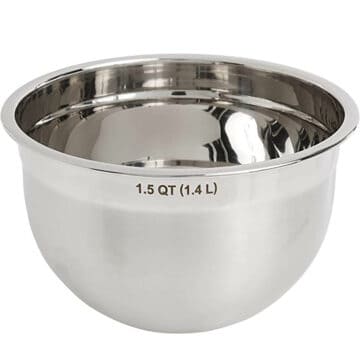 (affiliate link)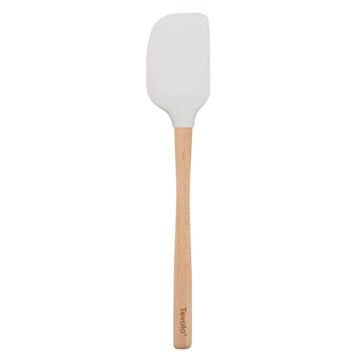 (affiliate link)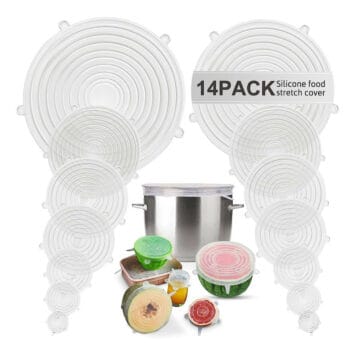 (affiliate link)
Ingredients
1

pound

mushrooms

sliced lengthwise (we used cremini)

3

tablespoons

olive oil

extra virgin

1 ½

tablespoon

balsamic vinegar

2

cloves

garlic

small, minced

1

tablespoon

green onion

tops only, chopped

2

tablespoons

basil

fresh, chopped

¼

teaspoon

tarragon

dried, or fresh

¼

teaspoon

salt
Optional
1

tablespoon

parsley

fresh, chopped

¼

teaspoon

red chili pepper flakes

optional
Directions
Combine olive oil, balsamic vinegar, garlic, tarragon, salt, and red chili flakes in a bowl.

Slice the mushrooms. They don't need to be overly thin, just enough to soak up the marinade.

Introduce the sliced mushrooms to the prepared marinade, followed by chopped green onion tops and basil; tossing well to ensure all mushrooms are generously coated.

Let the mushrooms soak in the marinade for approximately 30 minutes, covered with a silicon lid or plastic wrap. This can be done either in the refrigerator or at room temperature.

For an extra touch when serving, garnish the marinated mushroom salad with fresh parsley and a light drizzle of olive oil, if desired.
Notes
Parsley: traditional Lebanese tabouleh is made with curly parsley, but Italian parsley works well too.
Cucumber: to make it entirely traditional Lebanese, omit the cucumber.
Burghul: if you only find coarse burghul, you can use it, but you will need to add ¼ cup of boiling water to the olive oil and lemon juice mix so it softens enough. Allow extra 10 mins to soak. Test for hardness before mixing with the green and veggies.
Couscous: You can use couscous if you can't find burghul wheat, although it wouldn't be traditional. Just add two parts of boiling water for every part of the couscous and soak it for 15 minutes, along with the olive oil and lemon juice.
Mint: some people omit the mint, which is completely fine, but I think it is a true differentiator. In my opinion, that would take away a lot of this salad's freshness.
Lemons: in some countries is hard to find lemons, and limes are more common. Go for it! The taste will change, but the acidity we are looking for will be there.
Tomatoes: the parsley/tomato ratio should be noticeable, don't overdo the tomatoes and/or cucumber since the flavor profile may vary substantially. The parsley is the king here!
Nutrition Facts
Calories:
148
kcal
Carbohydrates:
27
g
Protein:
11
g
Fat:
1
g
Saturated Fat:
0.1
g
Polyunsaturated Fat:
0.3
g
Monounsaturated Fat:
0.2
g
Sodium:
462
mg
Potassium:
704
mg
Fiber:
10
g
Sugar:
4
g
Vitamin A:
2776
IU
Vitamin C:
58
mg
Calcium:
74
mg
Iron:
6
mg
Nutrition Facts
Marinated Mushroom Salad (Easy, Quick & Low-Carb)
Amount per Serving
% Daily Value*
* Percent Daily Values are based on a 2000 calorie diet.
🌡️ Food safety
Cook to a minimum temperature of 165 °F (74 °C)
Do not use the same utensils on cooked food, that previously touched raw meat
Wash hands after touching raw meat
Don't leave food sitting out at room temperature for extended periods
Never leave cooking food unattended
Use oils with a high smoking point to avoid harmful compounds
Always have good ventilation when using a gas stove
See more guidelines at USDA.gov.
Nutritional Disclaimer
The information shown is an estimate provided by an online nutrition calculator. It should not be considered a substitute for a professional nutritionist's advice. See our full Nutritional Disclosure here.
Affiliate Disclaimer
Please note that some of the links here are affiliate links, and I will earn a commission if you purchase through those links. I recommend all of the products listed because they are companies I have found helpful and trustworthy.