You want something tasty, filling, and healthy... something that doesn't easy to make and can last for a couple of healthy meals, so you don't need to think again about the delicious-but-super-healthy equation—been there, friends! Luckily, there's an easier option than making chaos in the kitchen. A Tofu Buddha Bowl with quinoa and both fresh and warm veggies are the best bets you can take!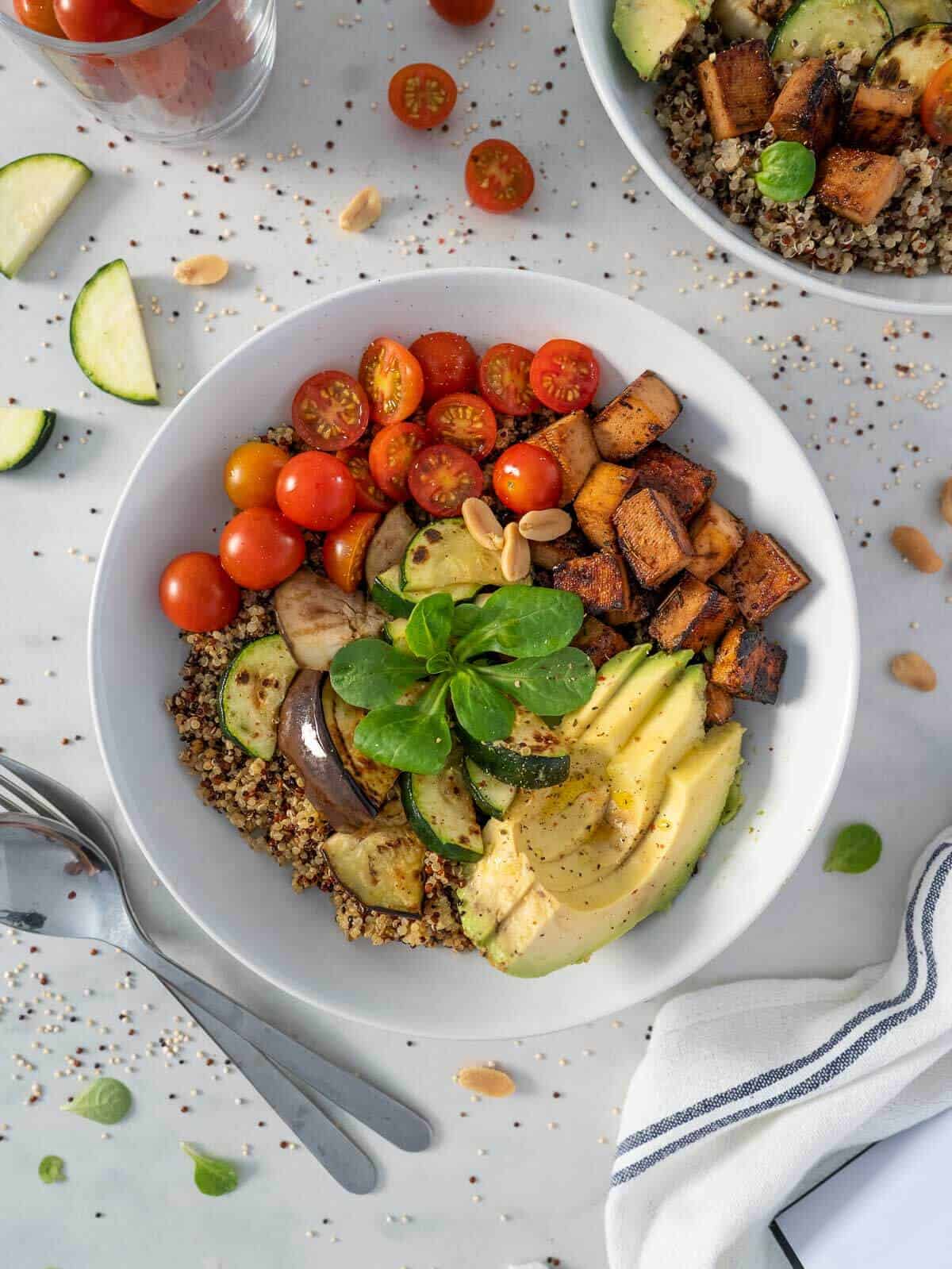 This quinoa tofu bowl is my horse of battle. I just pick a cup of quinoa, a block of tofu, and whatever veggies I have in the kitchen and make it happen.
We love to cook daily, but some days we just need to do tons of computer work, and we stop to have a healthy and light lunch to keep going while still knowing that we are getting our body all that it needs in minutes.
What works for us when making quinoa bowls with meal prep in mind is making a batch of cooked quinoa and a block of tofu marinating in the fridge that will be consumed during the week. Then, when we get hungry, we simply grab that tofu block and pan-fry it in 5-10 minutes while adding on top a couple of coarsely chopped veggies... whatever we have in the fridge.
This quinoa veggie bowl was inspired by vegan poke bowl recipe on this site, and pairs well with delicious no-calorie pineapple water, that you can store in the fridge and even take with you in your water bottle.
Jump to:
🧾 Ingredients
You don't need to be strict about the ingredients to make a tofu quinoa bowl; you just need to think about whatever veggies you can quickly stir fry, like peppers, broccoli, Brussels sprouts, onions, green beans, or asparagus, and then use them to assemble a bowl with nutritious quinoa, grilled tofu, and a handful of fresh ingredients like tomatoes, shredded carrots, and avocado.
Roasted veggies like sweet potatoes, pumpkin, and butternut squash are also great tofu quinoa bowl additions.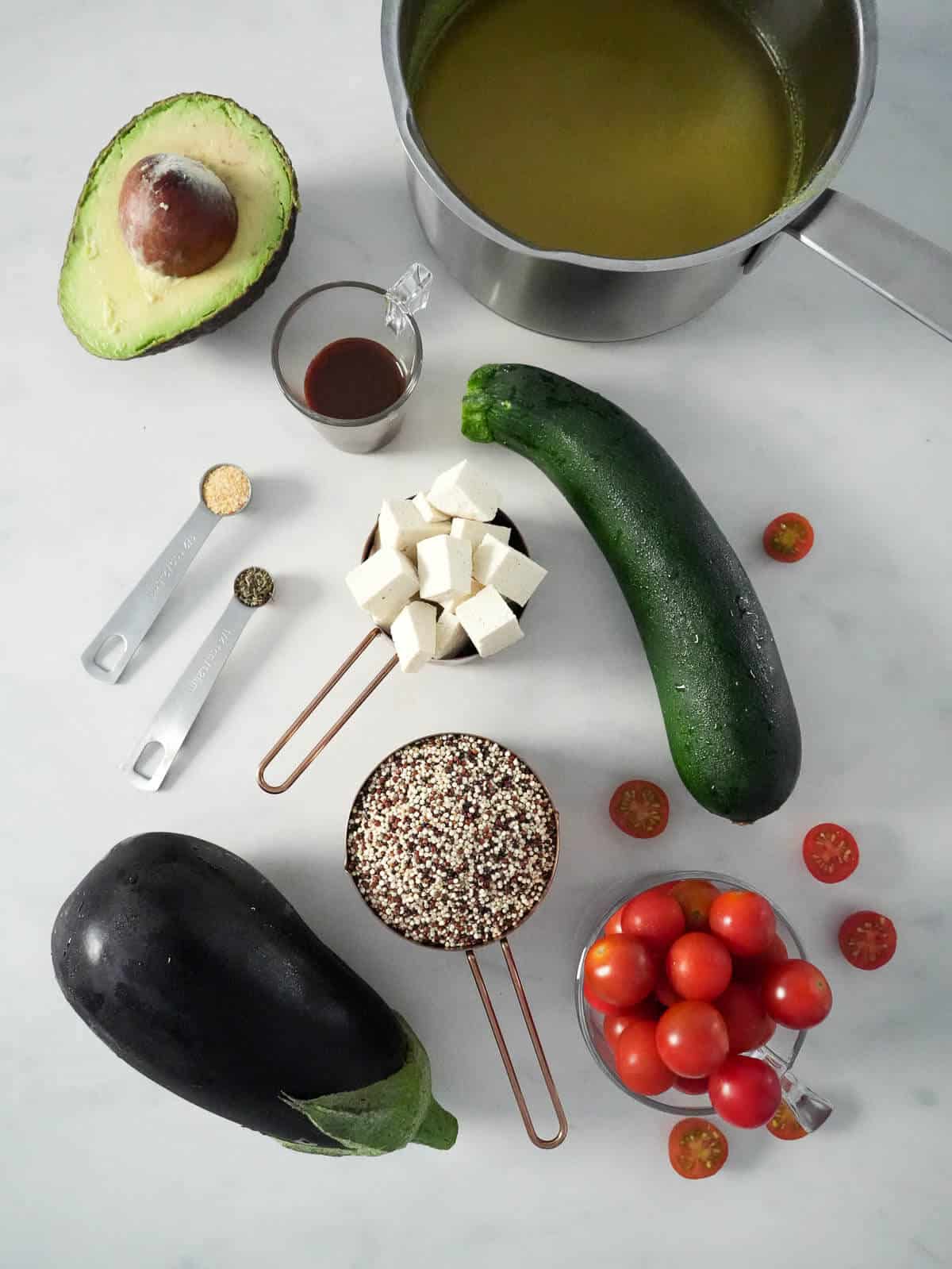 Quinoa - you can use any kind of quinoa; we like the tri-color kind: more colors = more nutrients.
Vegetable broth - we like to boil the quinoa in vegetable broth instead of water because it helps infuse flavor. That's what sometimes makes me simply add 2 tablespoons of quinoa as a side dish next to a salad or grilled tempeh or seitan chunk. It's already tasty, and it needs, at most, a drizzle of extra-virgin olive oil.
Extra-firm tofu - ideally, you marinate it for a couple of hours or overnight and simply and quickly grill it for a few minutes when you are ready to have lunch. If time is not an option, just pick a block, add soy sauce, garlic powder, and ginger, and let set for 5 minutes; then grill.
Soy sauce - helps to add depth and umami to your tofu.
Garlic powder - works magic with tofu. If you have the time, use a clove of minced fresh garlic.
Dried thyme - I love adding something extra to my tofu marinade; name it ginger or oregano; use what you have handy.
Eggplant - I love its chunkiness, and it adds lots of nutrients, a few calories, and lots of volume to the bowl.
Zucchini is another low-calorie friend that you can grill with zucchini or any other veggie you have forgotten in your fridge.
See the recipe card for quantities.
🔪 Instructions
Start by preparing the quinoa, marinating the tofu, and chopping eggplant and zucchini.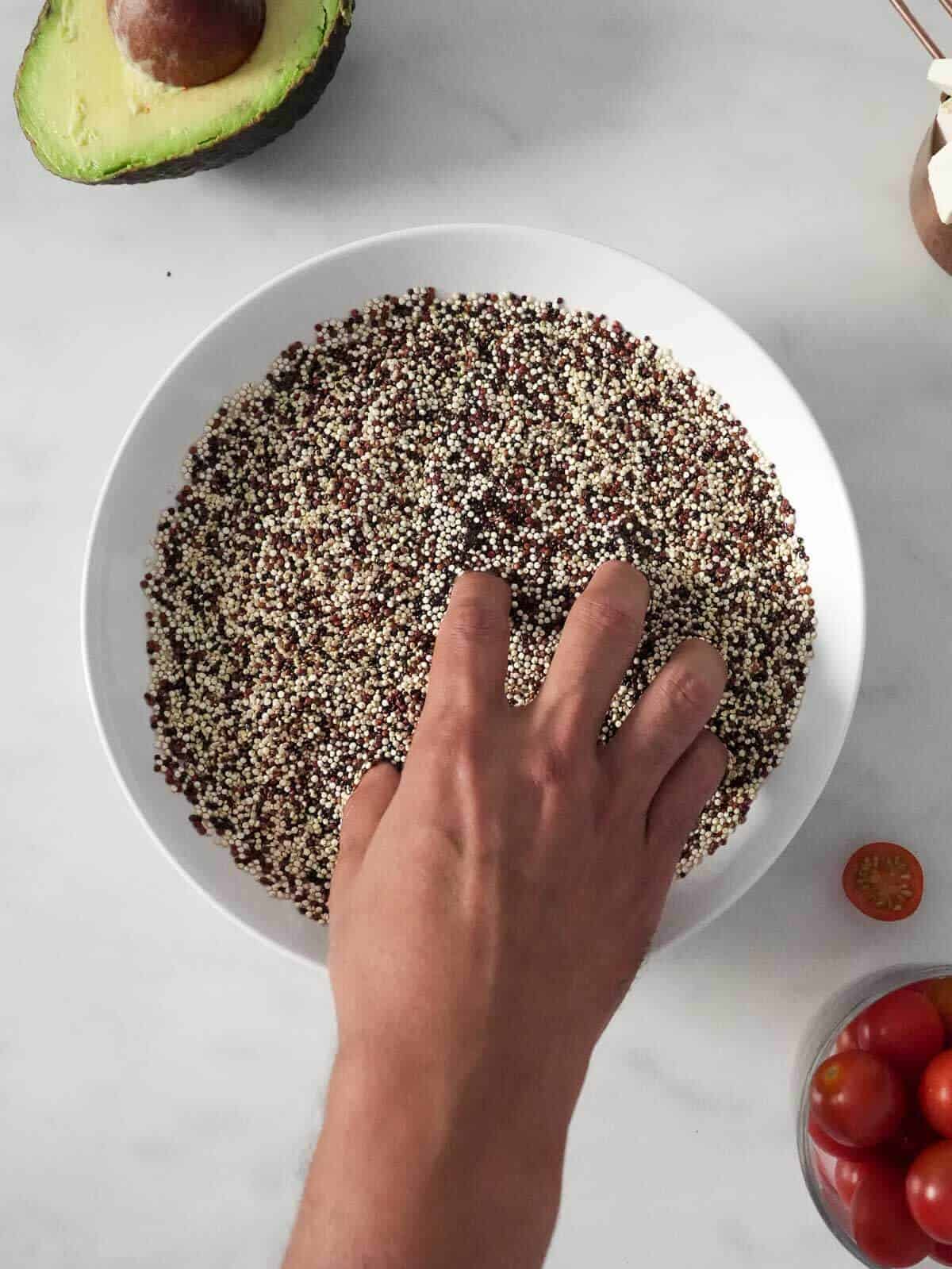 Place quinoa in a bowl and wash it. and cooking quinoa.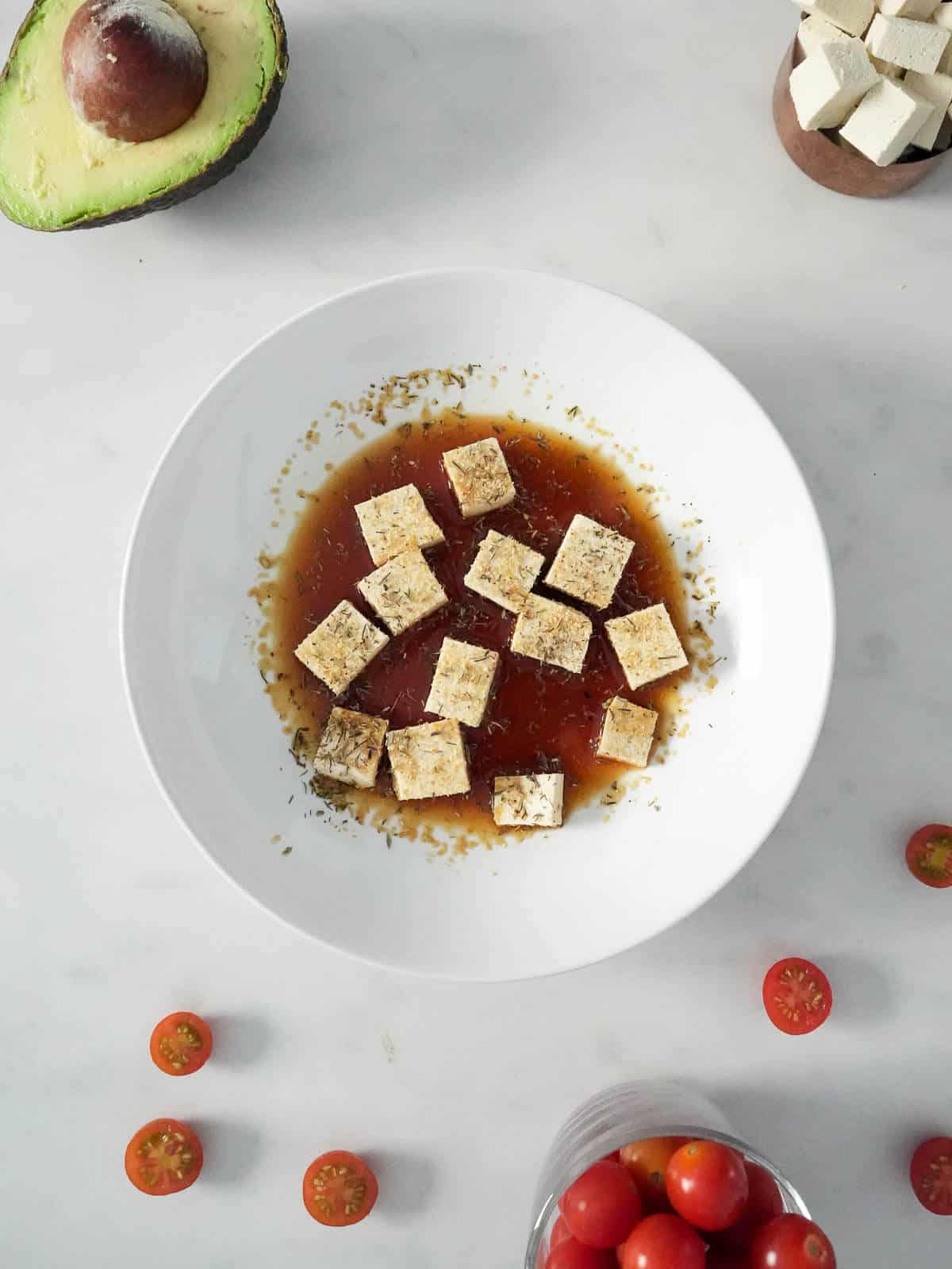 Marinate the bite-sized cubes with soy sauce, thyme, and garlic powder.
Hint: cook quinoa using a 2:1 proportion. Two cups of water for every cup of quinoa.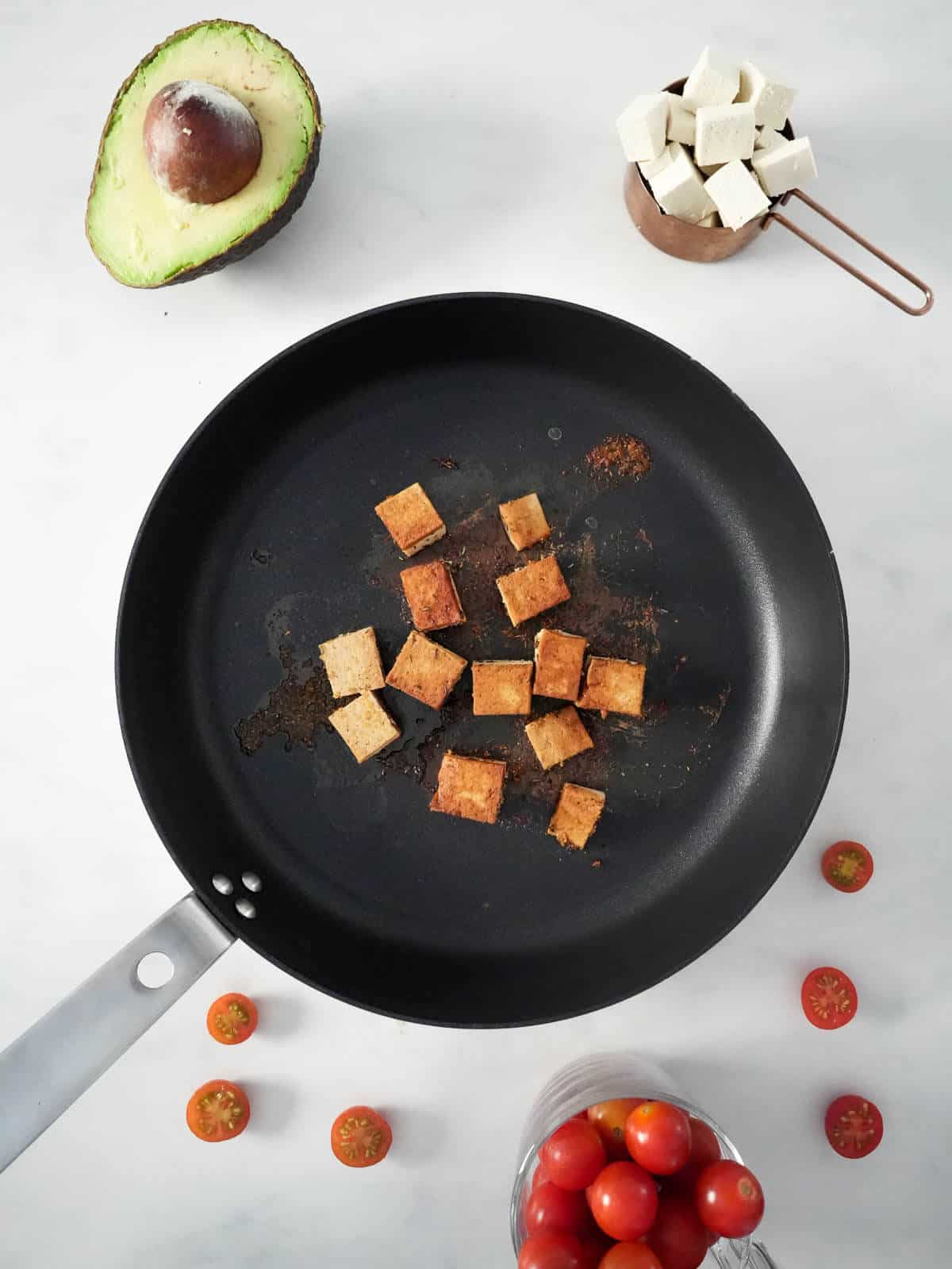 Sauté the tofu dice with its marinade.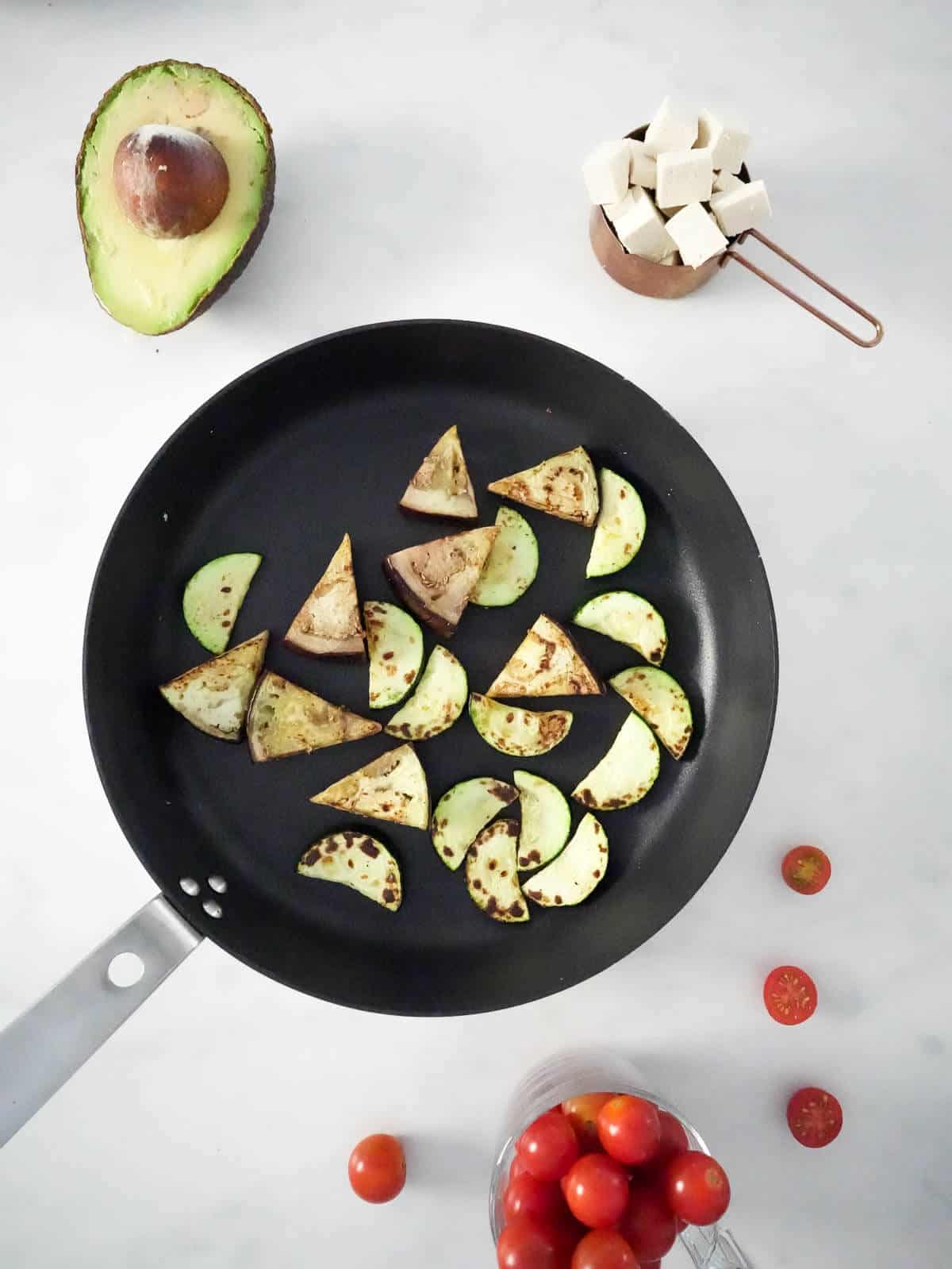 In the same pan, lightly grill the eggplant and zucchini.
While grilling the veggies, half the cherry tomatoes and slice the avocado lengthwise.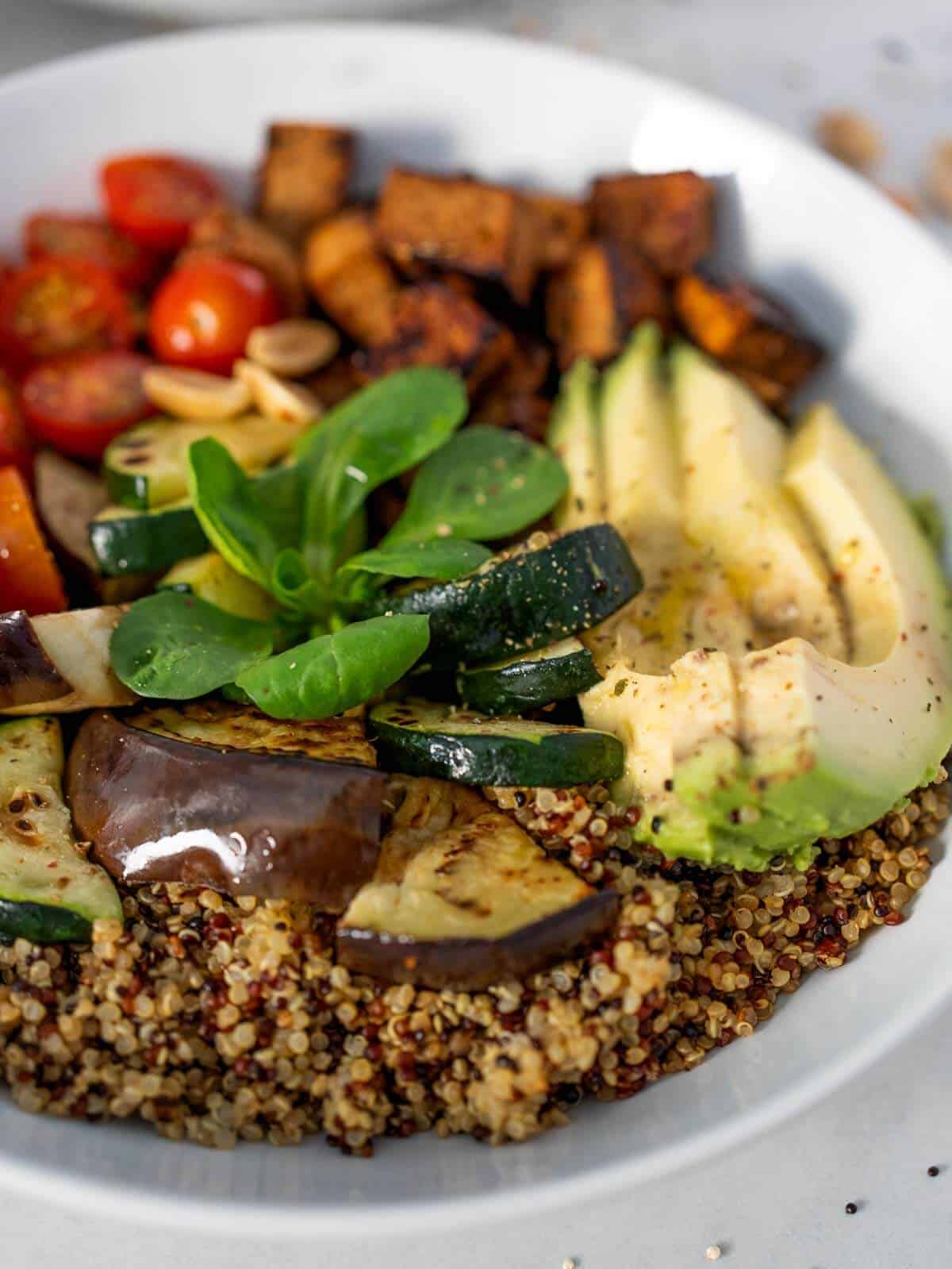 To assemble the quinoa bowl, start by adding the quinoa to the bowl and then arranging the rest of the cooked and fresh ingredients on top, clockwise.
🍶 Substitutions
Eggplant - instead, use roasted broccoli, steamed or roasted cauliflower florets, or roasted vegetables.
Zucchini - change if for sautéed red onion for extra depth.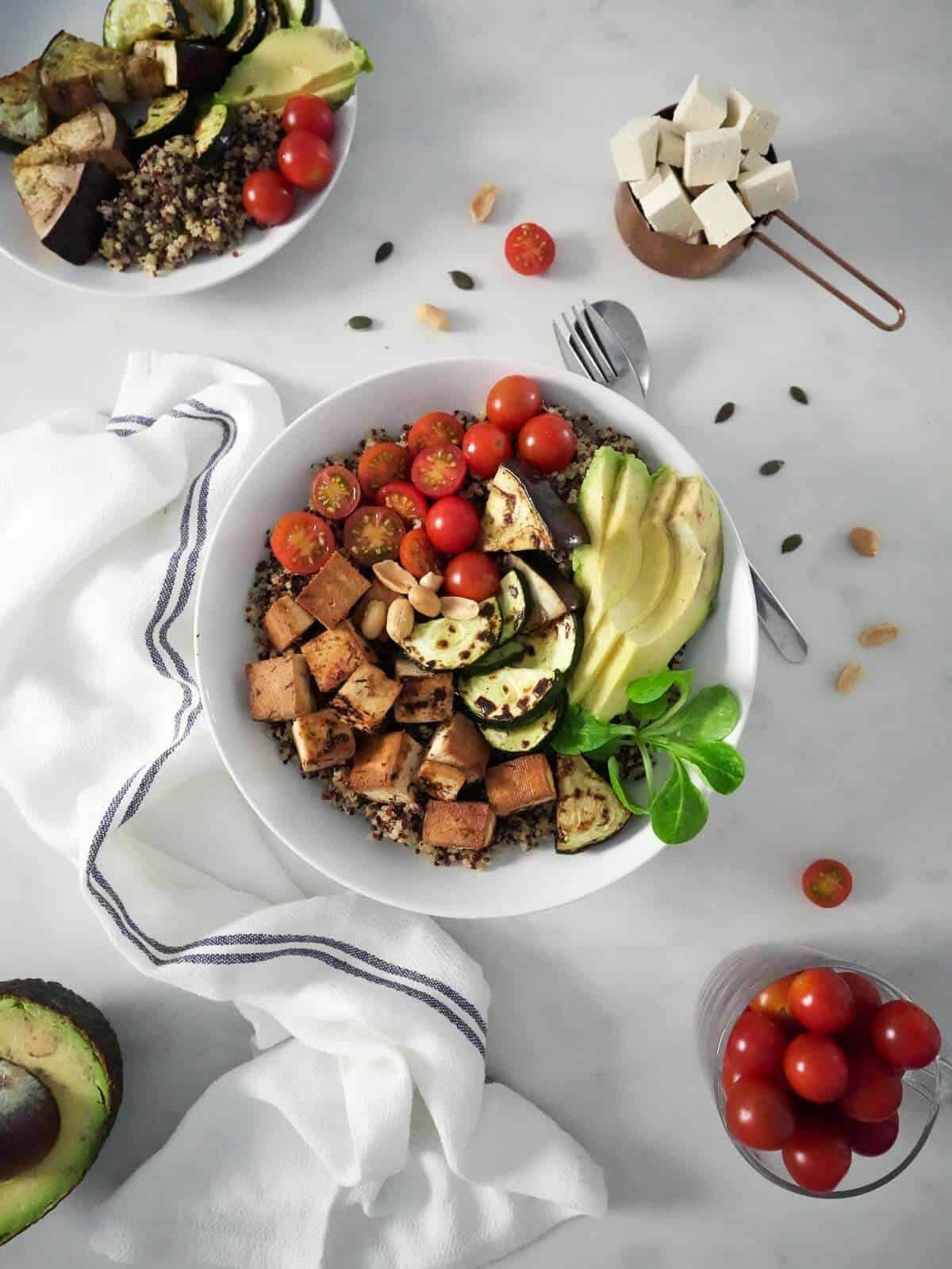 📖 Variations
Tofu - we intentionally leave any type of oil behind to make this recipe oil-free. You can choose to bake the tofu to make it crispy on a baking sheet lined with parchment paper and coat the dice with cornstarch, and then drizzle two tablespoons of olive or sesame oil. Then bake them until they are golden brown. Then add the baked tofu to the quinoa bowl with the rest of the ingredients.
Marinade - if you want to imbue the tofu with a sweet note, you can add a tablespoon of maple syrup to the marinade, a maple tahini dressing, or teriyaki sauce and marinade tofu puffs with it.
Sweet potato - not only is it perfect for quinoa meal prep, but this delicious root vegetable is super filling and adds a delicious note to your quinoa salad. You can also simply add any leftovers you have from a sweet potato hash.
Deluxe - add guacamole, hummus, or sautéed spiced onions.
Extra carbs - if you are using this meal as a pre or post-workout meal, you can add extra calories, adding cooked brown rice to keep it gluten-free. This is a high-protein meal packing 24 g per serving, so you don't have to worry about that.
No tofu - and extra herbal flavor. See the mint sauce version of this dish. You can also add a dollop of hummus or any other delicious sauce you have, like this oil-free vegan Goddess sauce, which we use for everything.
🥢 How to serve
Some of our favorite garnishing options include sesame seeds, black pepper, chopped fresh parsley, or green onions.
Add some lime juice or lemon juice for acidity or a tablespoon of your favorite homemade vinaigrette like a strawberry dressing to make it taste more like a quinoa salad.
🍽 Equipment
You don't need more than a small saucepan to make the quinoa and a grill (affiliate link) or skillet (affiliate link) to make the tofu and vegetables.
🥡 Storage
You can store your buddha bowl or its components safely in the fridge for up to 3 days in an airtight container.
Leave avocado whole, or add lime juice if already opened to prevent it from getting brown too soon.
❓ FAQ
How long does tofu take to saute?
To saute tofu, heat some oil in a frying pan over medium heat. Then, add the tofu and cook for about 5 minutes or until golden brown. Serve with your favorite dipping sauce or side dish.
Is it better to pan-fry or bake tofu?
There are pros and cons to both pan-frying and baking tofu. Pan-frying results in a slightly crispier texture, while baking produces a chewier texture. Regarding taste, some people prefer the flavor of pan-fried tofu, while others prefer the taste of baked tofu.
Overall, I would say that both methods are good options and it really depends on personal preference. If you're looking for a slightly crispy texture, then pan frying is the way to go. If you're looking for a chewier texture, then baking is the better option unless you coat it in cornstarch and add some oil before baking.
📚 More quinoa recipes
For the fall season, try out these stuffed acorn squash with quinoa. It is a fantastic dish that is also great for meal prep.
Our tofu-less quinoa bowl with mint sauce is another great option if you want a high-protein vegan meal.
⭐ If you try this vegan quinoa bowl recipe, let us know! 💬 Leave a comment, rate it, and don't forget to tag us @ourplantbasedworld on Instagram. Cheers!
📋 Recipe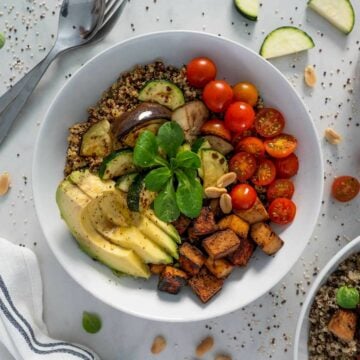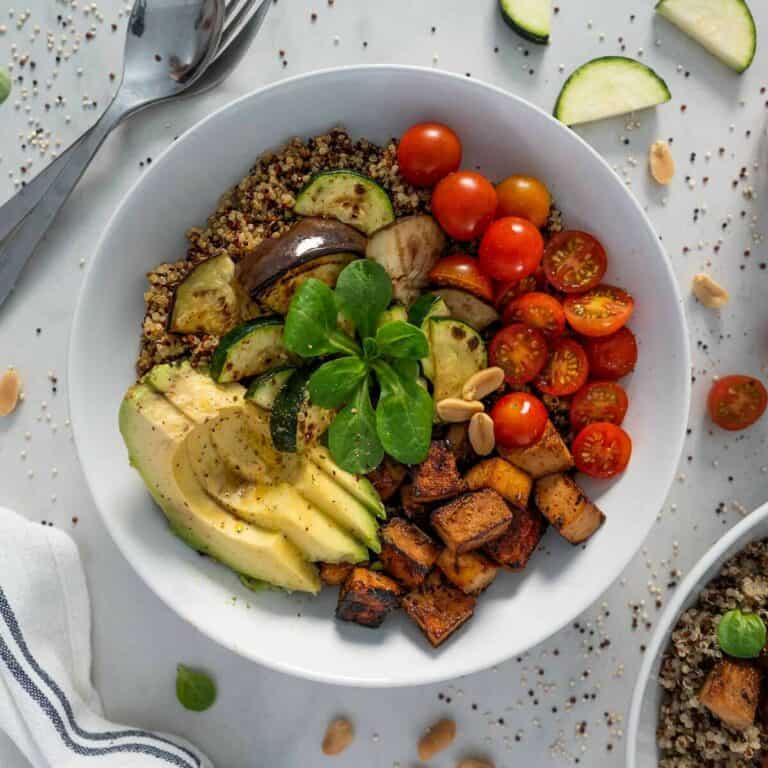 Sautéed Tofu Buddha Bowl with Quinoa (Vegan)
Buddha Bowl is rich in nutrients, great for meal prep, and fully customizable. You will love the components we have put together and the delicious mint sauce we top it with.
Equipment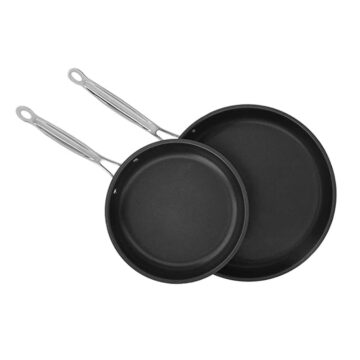 (affiliate link)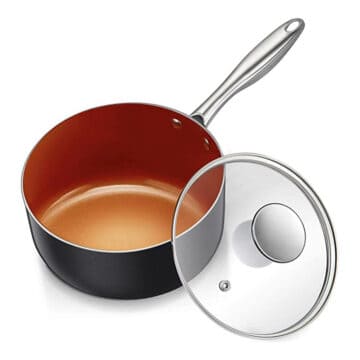 (affiliate link)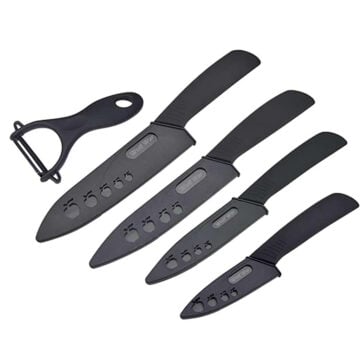 (affiliate link)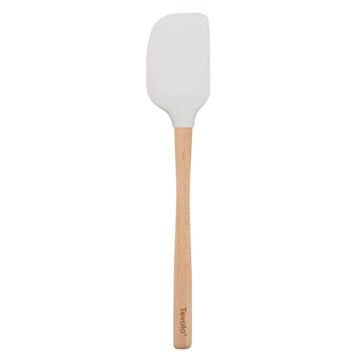 (affiliate link)
Directions
Cook the Quinoa.
Wash the quinoa to get rid of the bitter flavor. You can do this, either placing it in a colander under running water or soaking it in a bowl and then strain it.

Boil the quinoa at medium heat in a saucepan with a lid; add a volume of vegetable broth equal to three times the volume of the quinoa. Bring to boil, and then let simmer with the lid on medium-low heat until it is completely absorbed. Then let rest for 5 minutes, and fluff with a fork.
Prepare the tofu and vegetables.
Cut the cherry tomatoes in half and dice the avocado.

Slice the zucchini and make tofu slices. Stir fry in a non-stick skillet, and sprinkle thyme and garlic powder, turn and cook until golden brown, about 5 minutes.

Cook eggplant. In a separate saucepan, cook for 3-5 minutes the previously diced eggplant, adding the soy sauce, until tender. You can place the lid to accelerate the process. It will take just a couple of minutes.
Assemble the Poke Bowl.
Mix and serve. In a bowl, set a portion of quinoa as the base and stir in the rest of the ingredients, then toss gently. Serve immediately.

Store leftovers in an airtight container in the fridge for 2-3 days.
Notes
Substitutions
Quinoa: you can easily substitute the quinoa for brown rice, cooked millet or farro, orzo, brown or wild rice. Eggplant: yellow, green, or red bell peppers will work well.
Cherry tomatoes: any yellow, purple, or red tomatoes work well.
Avocado: you can substitute for a tablespoon of extra virgin olive oil or sesame oil to add healthy low or unsaturated fat to your vegetarian poke bowl.
Nutrition Facts
Calories:
502
kcal
Carbohydrates:
72
g
Protein:
24
g
Fat:
15
g
Saturated Fat:
2
g
Polyunsaturated Fat:
5
g
Monounsaturated Fat:
7
g
Sodium:
1885
mg
Potassium:
1420
mg
Fiber:
11
g
Sugar:
8
g
Vitamin A:
1293
IU
Vitamin C:
46
mg
Calcium:
109
mg
Iron:
7
mg
Nutrition Facts
Sautéed Tofu Buddha Bowl with Quinoa (Vegan)
Amount per Serving
% Daily Value*
* Percent Daily Values are based on a 2000 calorie diet.
🌡️ Food safety
Cook to a minimum temperature of 165 °F (74 °C)
Do not use the same utensils on cooked food, that previously touched raw meat
Wash hands after touching raw meat
Don't leave food sitting out at room temperature for extended periods
Never leave cooking food unattended
Use oils with a high smoking point to avoid harmful compounds
Always have good ventilation when using a gas stove
See more guidelines at USDA.gov.
Nutritional Disclaimer
The information shown is an estimate provided by an online nutrition calculator. It should not be considered a substitute for a professional nutritionist's advice. See our full Nutritional Disclosure here.
Affiliate Disclaimer
Please note that some of the links here are affiliate links, and I will earn a commission if you purchase through those links. I recommend all of the products listed because they are companies I have found helpful and trustworthy.