I like making this warm couscous salad, which works perfectly as a main dish; due to its ingredients' richness, it is hard to beat in the Nutrition Department, so make in batches, and you won't have to worry about being well nurtured for a couple of days.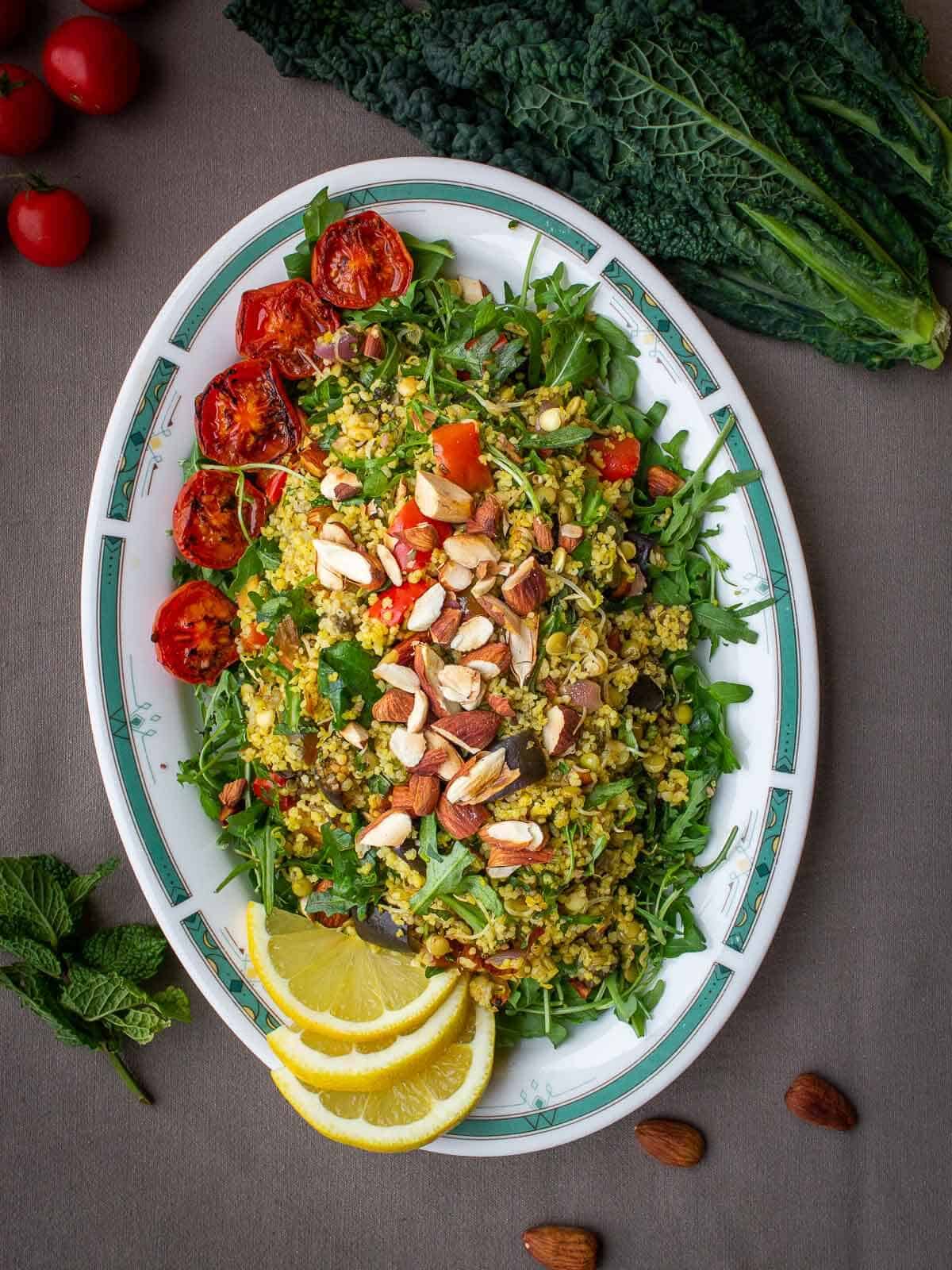 This recipe was inspired by the undisputable Lebanese Salad: Tabbouleh, also on this site. It is one of the World's renowned couscous recipes.
We usually make this recipe during the fall season, when you want to eat a salad, but you want it to be cozy, not as fresh as your regular salads; making it one of our favorite recipes from autumn.
Jump to:
🧾 Ingredients
Get some nice fresh vegetables like Eggplants, Bell Peppers, and Onions.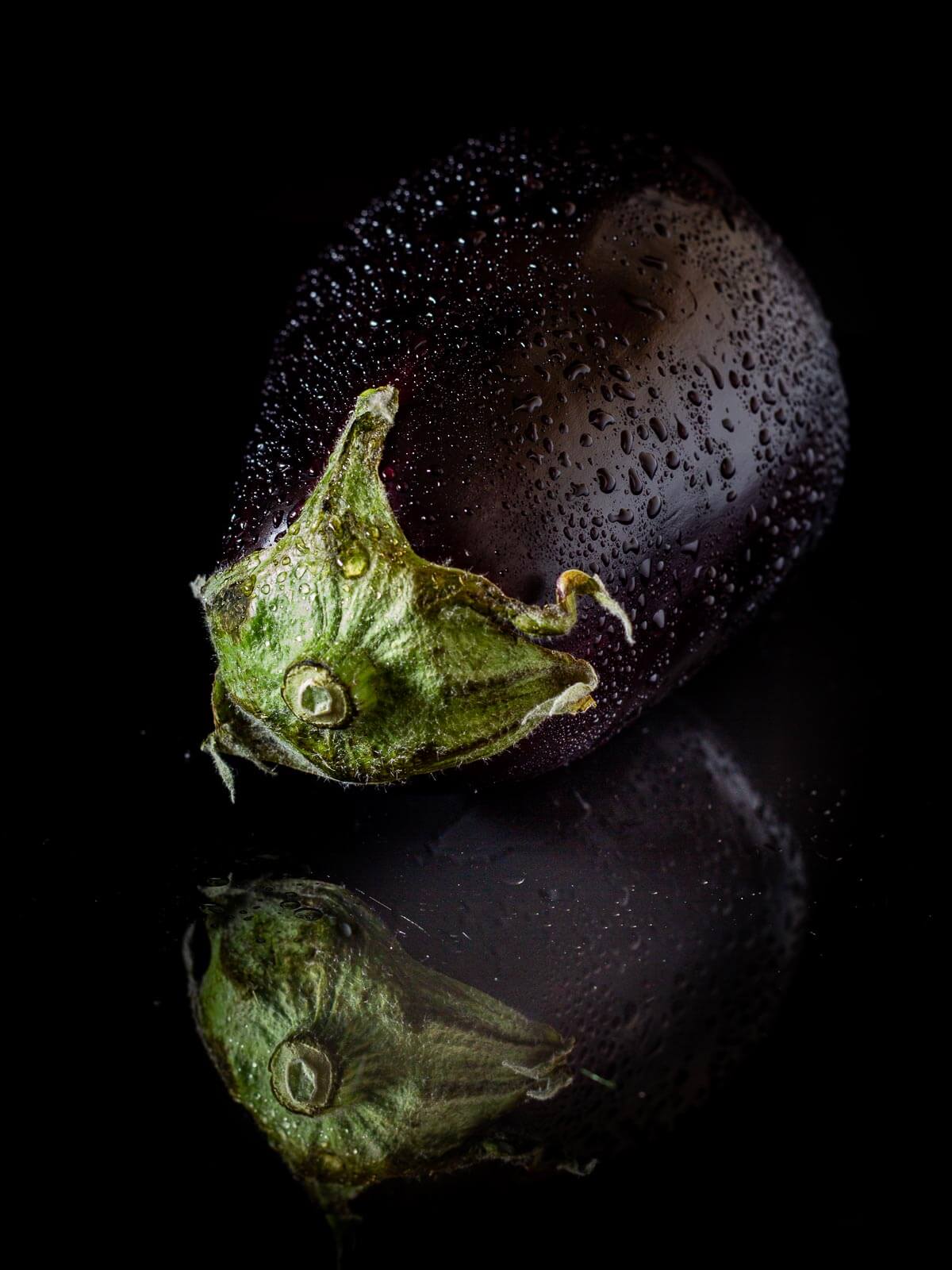 Couscous
Sprouted lentils (optional)
Arugula
3.5 ounces almonds raw
Cherry tomatoes
Mint (optional)
To roast:
Eggplant
Red bell pepper
Red onion
Garlic
🔪 Instructions
Dice the veggies and bake them with a splash of extra virgin olive oil. Or over a lined parchment paper to avoid sticking and omit the oil.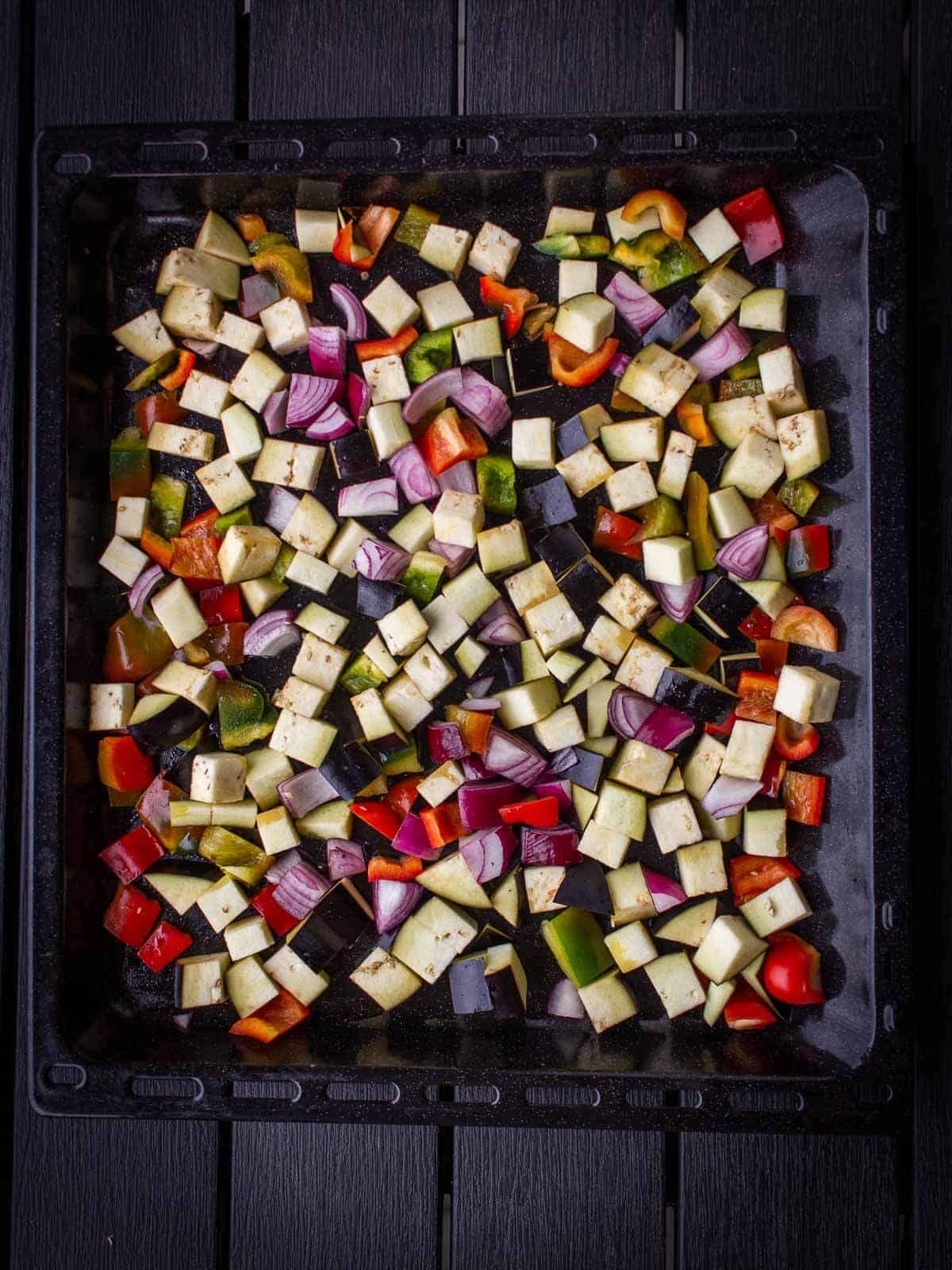 How to make couscous? Simply hydrate the couscous with the same volume of warm water for 5 minutes.
If you are using olive oil, you can choose to hydrate the couscous in a marinade of olive oil and lemon juice for five minutes and then stir in the mix in the salad. This is the same method used to make the traditional Tabbouleh Salad. The only difference is that Tabbouleh uses Burghul wheat, which takes a little longer to soften.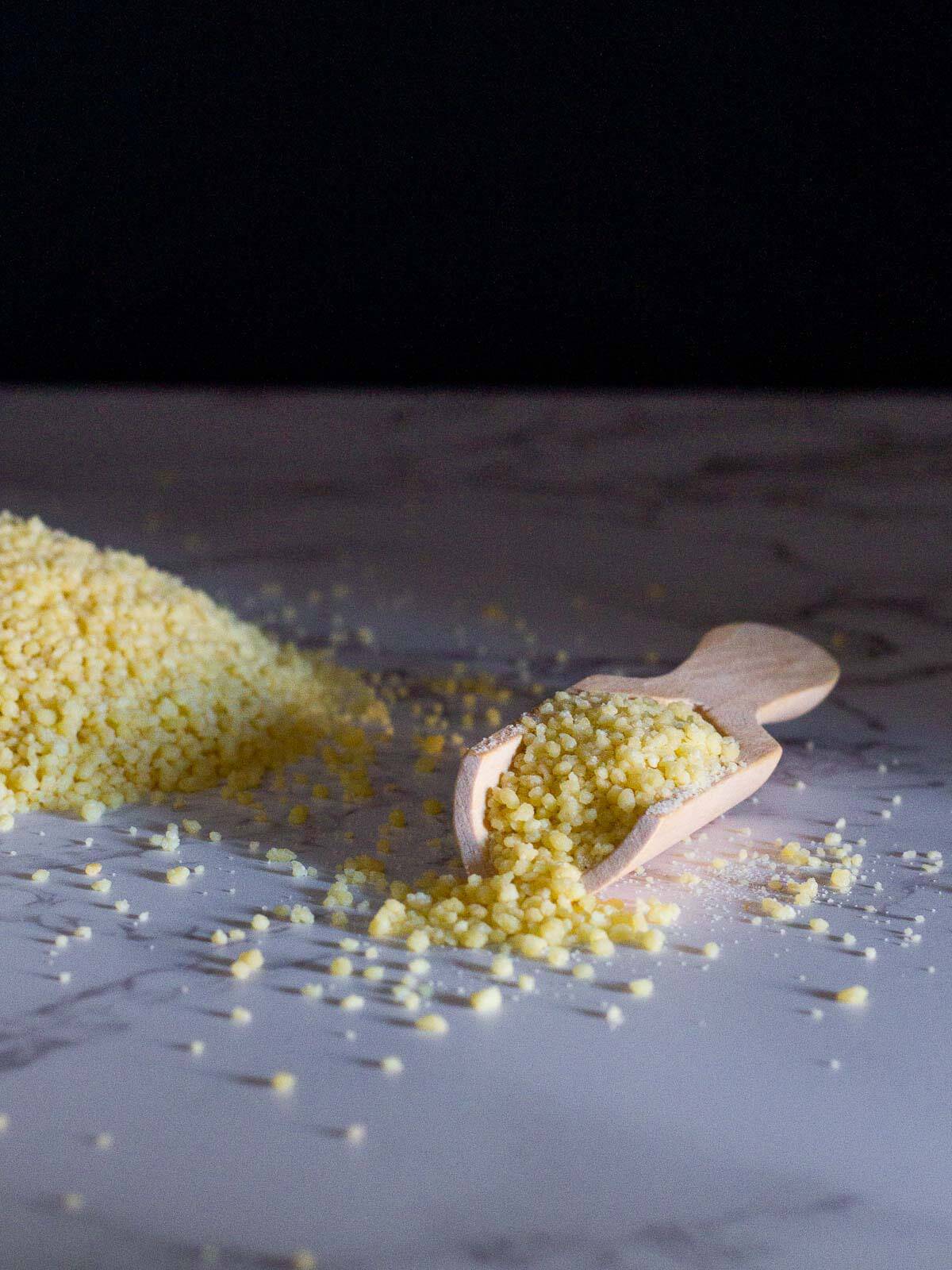 Cut the cherry tomatoes and pan-fry them face-down.
Roast your almonds if you have raw ones.
Chop your mint and arugula.
Then, take your veggies out of the oven and assemble them. Use a large bowl and mix with the rest of the ingredients, except for the grilled tomatoes. If you are using sprouted lentils, mix them in as well.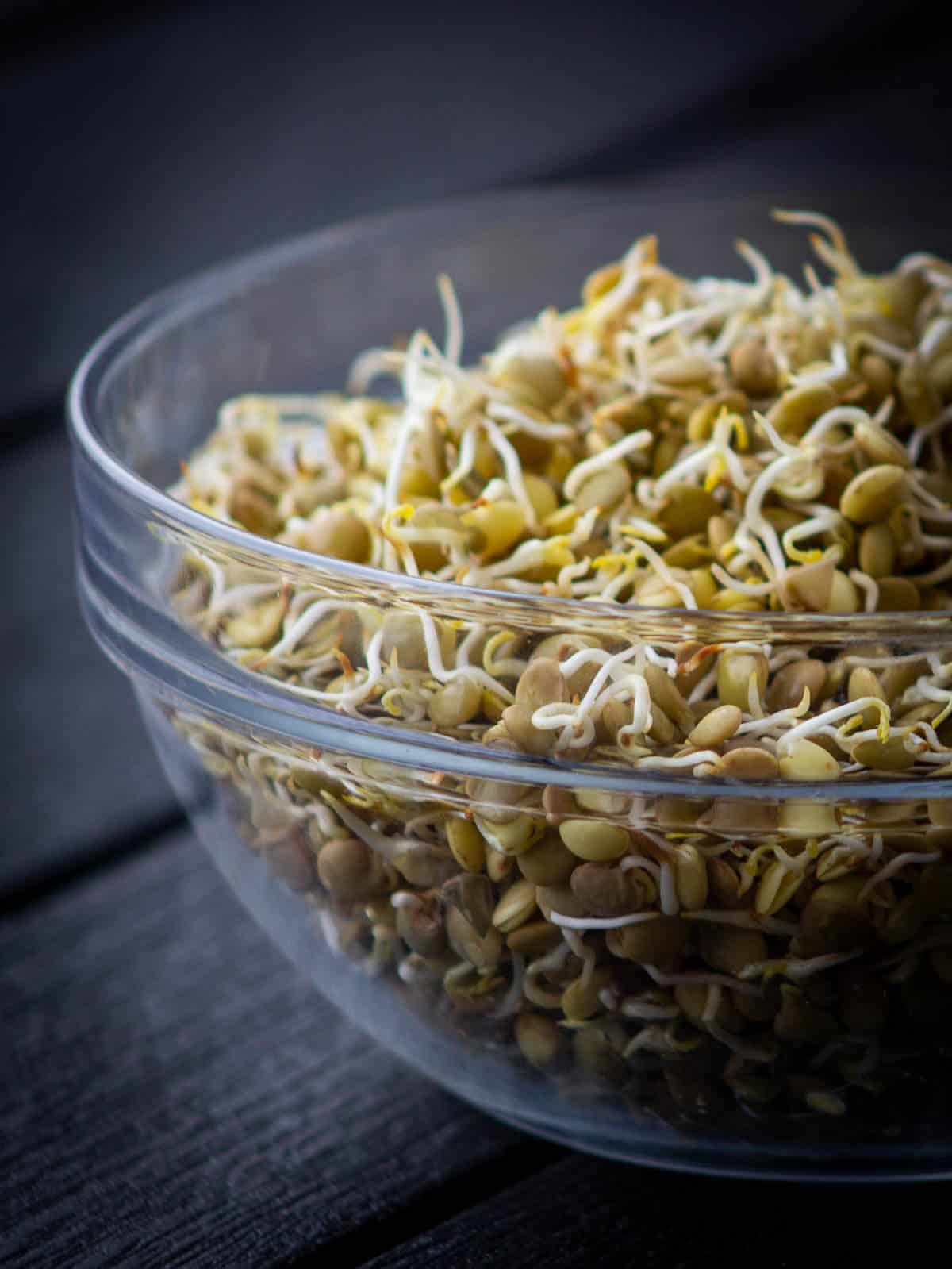 Serve with grilled tomatoes on top.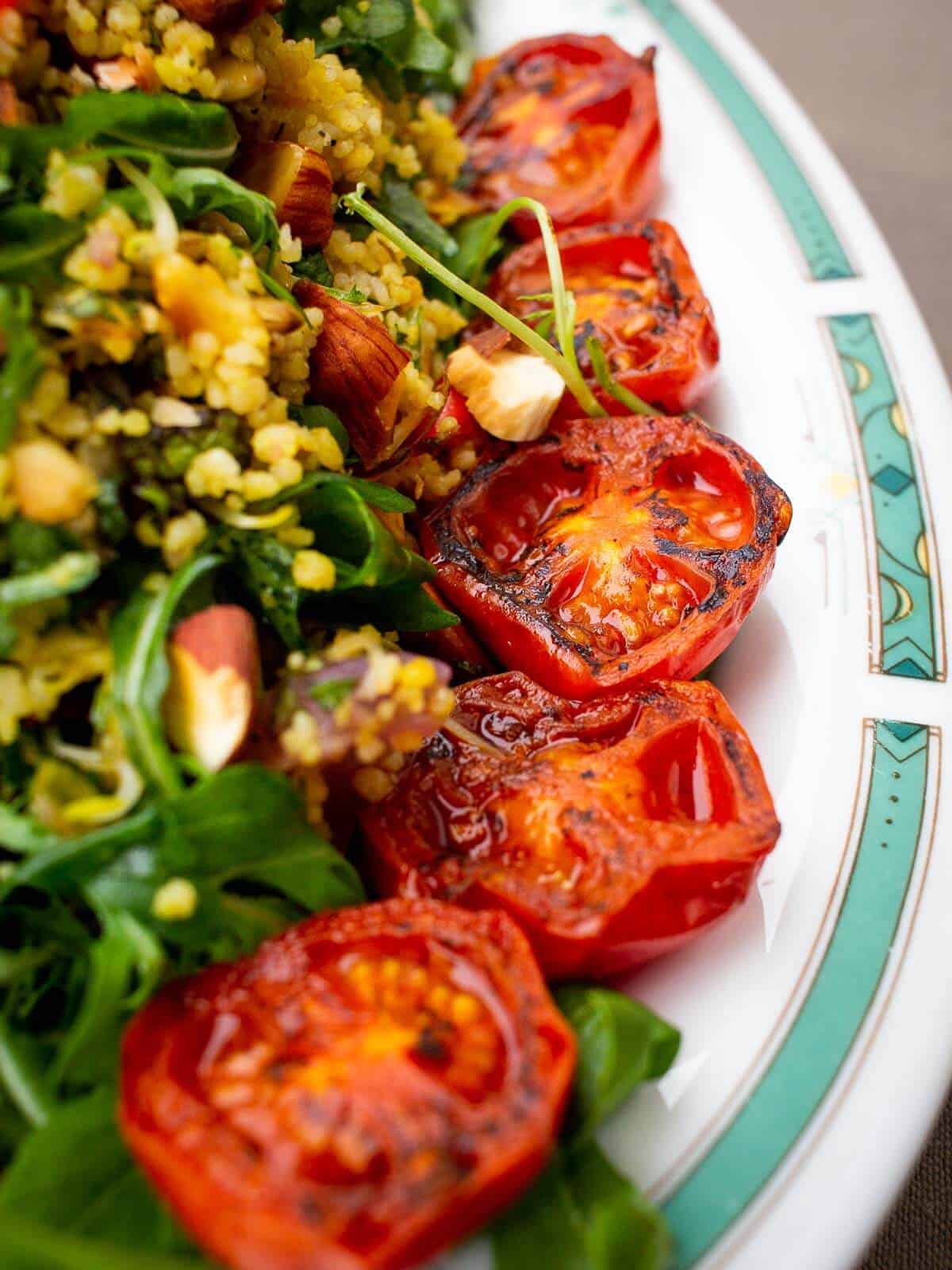 💡 Tips
To make this recipe outstanding, you need to balance the number of textures in it. I am a big fan of textures; they are such an essential part of the eating experience.
🧂 Flavor and Seasoning
I recently read one of the most exciting gastronomy books I have come across lately: Flavor: The Science of Our Most Neglected Sense.
I understood something that was a turning page for me: how the sense of touch affects our eating experience.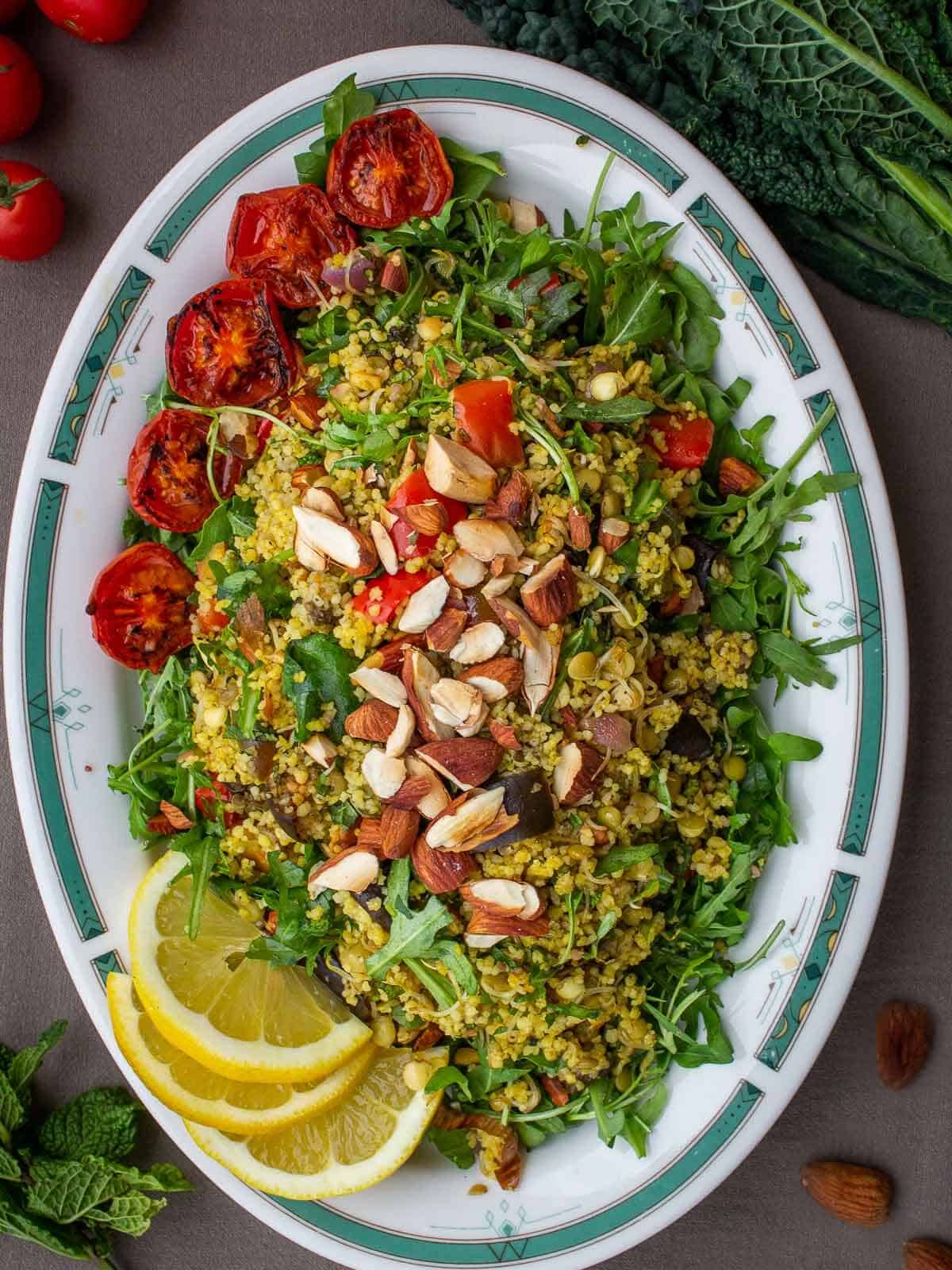 Our tongues perceive texture using the sense of touch, becoming part of what we call flavor.
Who doesn't use crunchy, silky, and hard words when describing their bites?
So, yes, we use a lot of textures here.
Crunchiness: Delivered by sprouted lentils, roasted almonds, and fresh leafy greens.
Softness: The grilled tomatoes and the oil coat all the ingredients, bringing silkiness to your bite.
Heat: yes! How hot and spicy your food is, is something you experience with your sense of touch.
Freshness: delivered by the mint, arugula, and also the water of the lentil's sprouts.
So, many sensory experiences are tickled: taste, touch, smell (brought by the combination of the spices), sight as a very colorful dish, and hearing, as you can hear your bites… all contributing to your final flavor takeaway.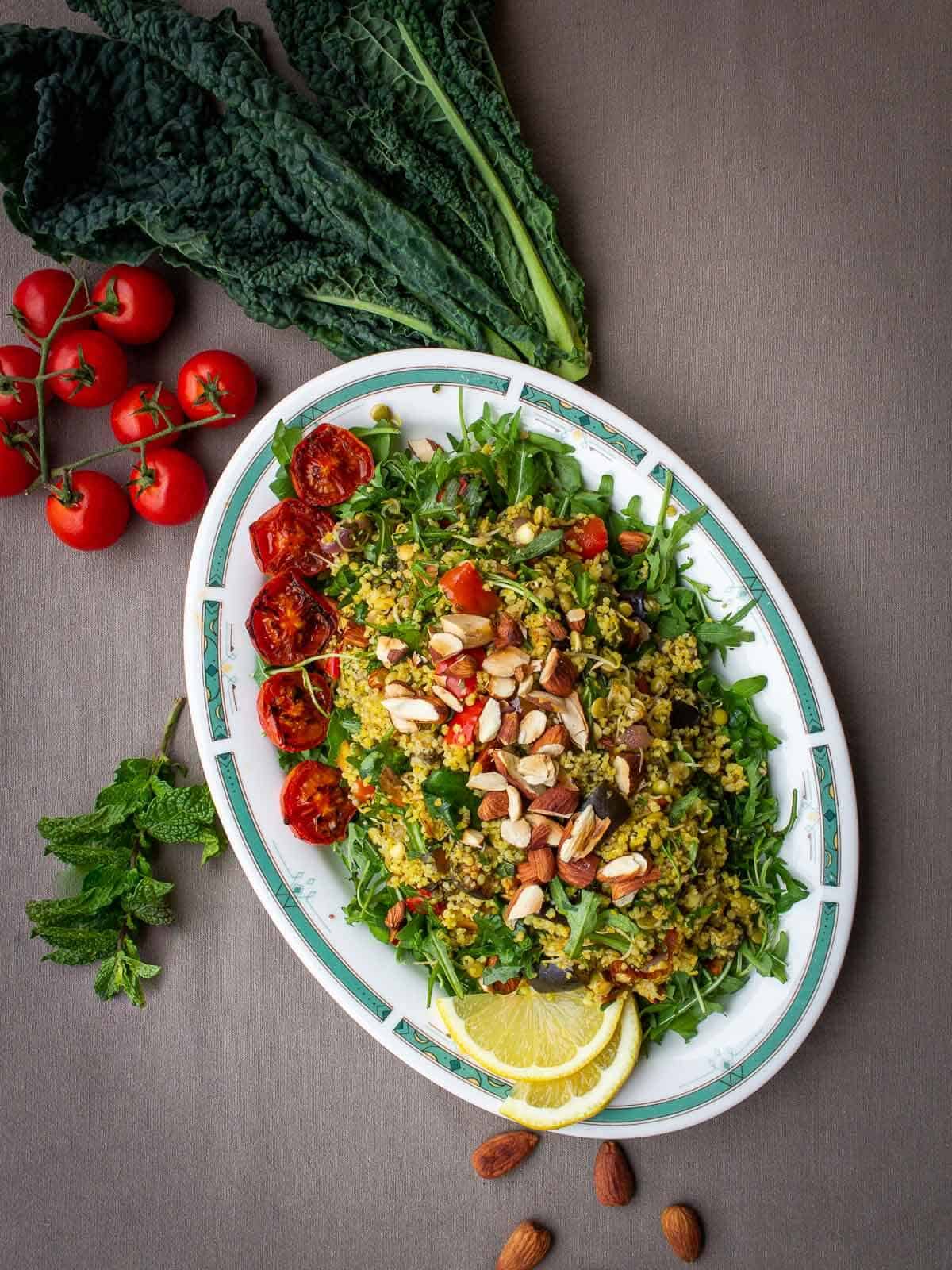 🍶 Substitutions
Couscous - replace for farro, orzo, pearl couscous, quinoa or burghul wheat.
Sprouted lentils - use any other sprouts, such as soy or broccoli sprouts.
Almonds - replace with your choice of nuts, such as walnuts and even sunflower seeds work perfectly.
Veggies - change the eggplant or red bell pepper for other easy roast vegetables, such as zucchini or sweet potatoes.
Read on: Tofu Buddha Bowl and Vegan Poke Bowl
🧐 Let's talk about protein
As you may know, lentils are one of the best protein sources in a plant-based diet.
If you are curious about vegan protein sources, I recommend reading this 6 mins great article on the matter. When you sprout lentils, studies have shown to enhance their amino acid profile, increase their protein concentration, and improve the quality and availability of their vitamins and minerals, amongst other great benefits.
Note: Please refer to our two-step Sprout Lentils guide before making this recipe.
So, we use them in different recipes, including salads, hamburgers, and soups (don't miss the Hearty and Spicy Sprouted Lentils Soup).
Sprouted lentils have an earthy taste and don't need cooking. In addition, they have a crunchy texture that goes well as an addition to several dishes.
Read on: Vegan Chickpea and Avocado Salad
❓ FAQ
Is couscous gluten-free?
No, couscous is not gluten-free.
Despite the rice-like and quinoa appearance, couscous is made from semolina, which is a durum wheat granule. Therefore, it is not gluten-free. Couscous is commonly mistaken for being gluten-free.
📚 More Heart-Warming Recipes
⭐ If you try this recipe, let us know! 💬 Leave a comment, rate it, and don't forget to tag us @ourplantbasedworld on Instagram. Cheers!
📋 Recipe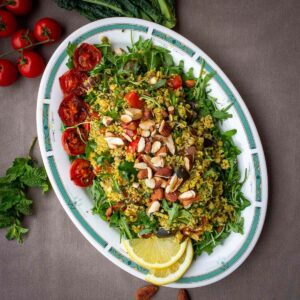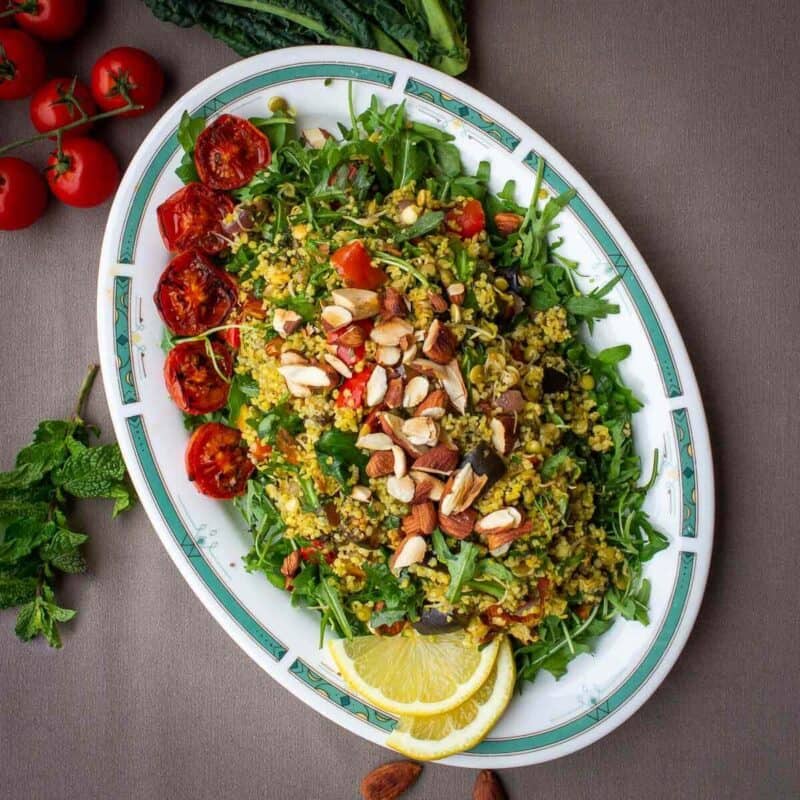 Couscous Warm Salad
A salad that works perfectly as a main dish; due to its ingredients' richness, it is hard to beat on the Nutrition Department, so make in batches, and you won't have to worry about being well nurtured for a couple of days.
Equipment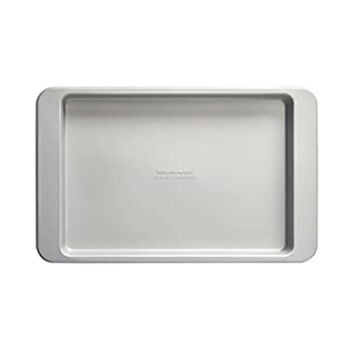 (affiliate link)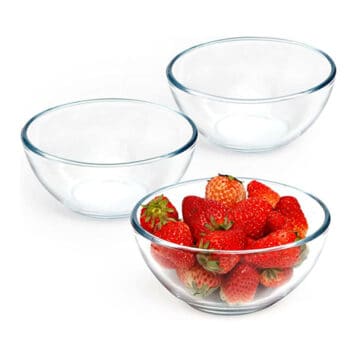 (affiliate link)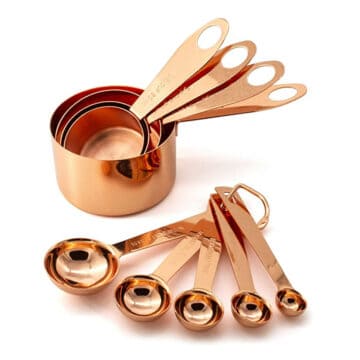 (affiliate link)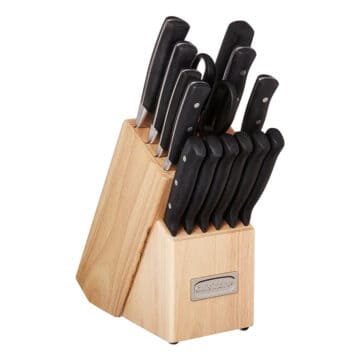 (affiliate link)
Directions
Chop. Start by chopping your onion, red bell pepper, and eggplant in dice, add the crushed garlic.

1 eggplant,

1 red bell pepper,

1 red onion,

1 clove garlic

Toss. Place the veggies in a bowl and toss the veggies with olive oil and thyme.

1 teaspoons sea salt,

½ teaspoon thyme,

2 tablespoons avocado oil

Grill on a tray for 25 mins at 400ºF (200ºC).

Hydrate the Couscous with triple the amount of warm water for 5 mins.

Cut the cherry tomatoes in halves and pan fry them, face down.

Roast your almonds if you have raw ones (which I highly recommend, given the beautiful aroma it adds to the dish).

Chop your mint and arugula.

3 tablespoons mint,

3.5 ounces arugula

Remove from the oven and assemble. Take your veggies from the oven and assemble in a large bowl with the rest of the ingredients (except for the tomatoes).

8 ounces lentils,

½ teaspoons paprika,

1 teaspoon turmeric,

1 teaspoon black pepper,

1 teaspoon sea salt,

2 tablespoons olive oil

Serve with the grilled tomatoes on top.
Notes
If you choose to use Sprouted Lentils, please refer to our two-step guide to Sprout Lentils before making this recipe at the Cooking Tips section of this page.
Nutrition Facts
Calories:
341
kcal
Carbohydrates:
38
g
Protein:
10
g
Fat:
18
g
Saturated Fat:
2
g
Trans Fat:
1
g
Sodium:
1179
mg
Potassium:
592
mg
Fiber:
8
g
Sugar:
7
g
Vitamin A:
1251
IU
Vitamin C:
41
mg
Calcium:
106
mg
Iron:
2
mg
Nutrition Facts
Couscous Warm Salad
Amount per Serving
% Daily Value*
* Percent Daily Values are based on a 2000 calorie diet.
Learn more about Sprouting Lentils and its benefits.
🌡️ Food safety
Cook to a minimum temperature of 165 °F (74 °C)
Do not use the same utensils on cooked food that previously touched raw meat
Wash hands after touching raw meat
Don't leave food sitting out at room temperature for extended periods
Never leave cooking food unattended
Use oils with high smoking points to avoid harmful compounds
Always have good ventilation when using a gas stove
See more guidelines at USDA.gov.
The information shown is an estimate provided by an online nutrition calculator. It should not be considered a substitute for a professional nutritionist's advice. See our full Nutritional Disclosure here.
Please note that some of the links here are affiliate links, and I will earn a commission if you purchase through those links. I recommend all of the products listed because they are companies I have found helpful and trustworthy.