Dive into the vibrant world of Korean cuisine with this refreshing Korean Cucumber Salad (Korean cucumber salad oi)! Perfect as a side dish or a light snack, this salad combines the crunch of English cucumbers with the zesty kick of gochujang paste. It's not just a burst of flavors; it's a nutritious choice that aligns with a conscious, plant-based lifestyle.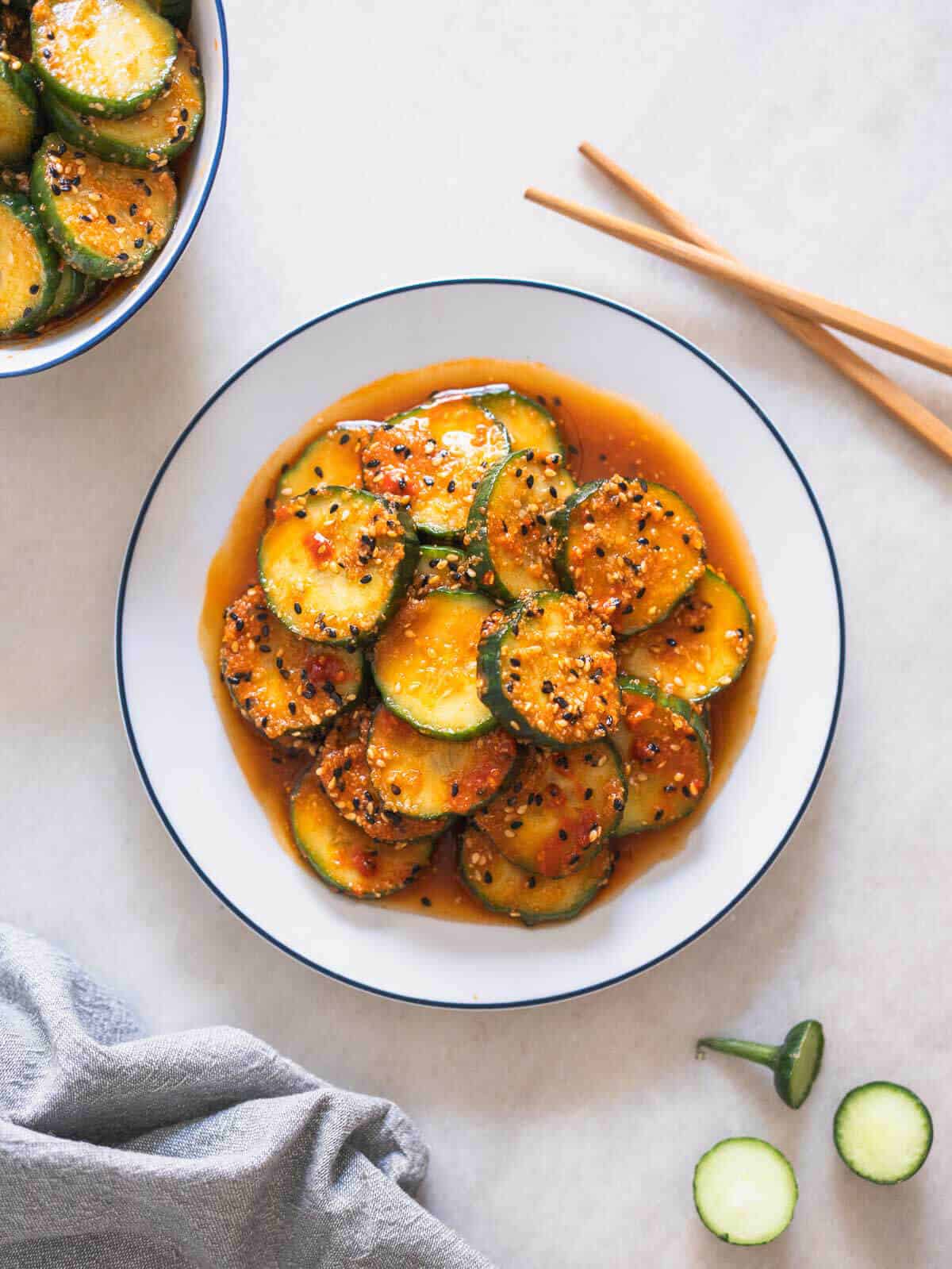 Visiting Korean restaurants is always an adventure for the taste buds, offering a chance to explore various flavors and textures central to this vibrant cuisine. One staple you'll often encounter is Korean red chili flakes, known as Gochugaru. These chili flakes are a key ingredient in many dishes, adding a smoky, spicy depth that is both invigorating and addictive.
They are especially prominent in recipes that involve pickling cucumbers, where the cucumbers' cool, crisp freshness beautifully balances the chili's heat. This combination results in a side dish that is tangy, spicy, and refreshingly crunchy – a perfect complement to any Korean meal.
This Korean Cucumber Salad is more than just a delicious side dish; it's a nutritional powerhouse. One of our favorite Korean side dishes, just like kimchi. English cucumbers are low in calories but high in essential vitamins and minerals, making this salad a guilt-free indulgence. The vibrant dressing, featuring a blend of rice wine vinegar and Korean red pepper paste, adds a dose of antioxidants and metabolism-boosting spice to your meal.
What's more, this salad is incredibly easy to whip up. Whether you're a kitchen novice or a seasoned chef, you'll find that the simple, wholesome ingredients come together in harmony with minimal effort. It's the perfect quick and healthy addition to any meal, proving that great nutrition can be both effortless and delicious. It reminds me of our spicy edamame recipe, which is excellent to serve next to this Korean salad.
Jump to:
🧾 Ingredients
This Korean side dish is made with just a few tasty ingredients: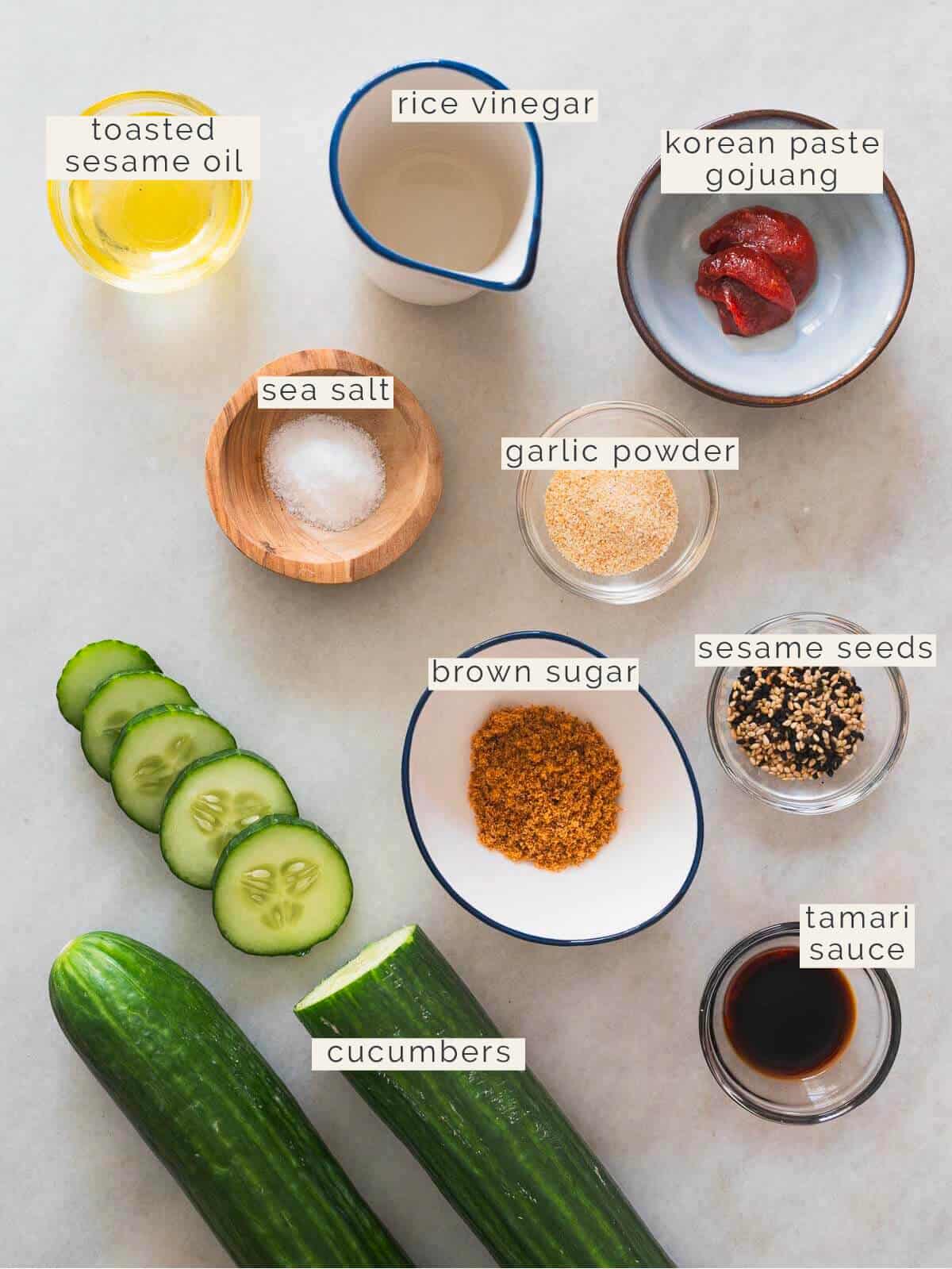 Korean Cucumbers or Persian/ English Cucumbers: Provide a refreshing and hydrating base. Low in calories, high in water content, and a good source of vitamin K.
Rice Vinegar: Adds a tangy brightness, balances flavors, and slightly pickles cucumbers. Contains antimicrobial properties and can help improve digestion.
Sea Salt: Draws water out of cucumbers for extra crunch and helps flavors meld. Contains essential minerals like potassium and magnesium.
Korean Paste Gojuang: Brings signature Korean heat and depth of flavor to the dressing. Rich in antioxidants due to red pepper content, it boosts metabolism.
Brown Sugar: Adds a touch of sweetness to balance heat and acidity. Provides small amounts of minerals such as calcium and potassium.
Garlic Powder: Infuses dressing with rich, aromatic depth. Known for potential health benefits, including lowering cholesterol levels and antimicrobial properties.
Sesame Seeds (Mixed White and Black, Toasted): Add delightful crunch and nutty flavor—an excellent calcium, iron, and magnesium source.
Tamari Sauce: Adds umami and depth to the dressing, making salad irresistibly savory—a gluten-free alternative to soy sauce, rich in amino acids and antioxidants.
Toasted Sesame Oil (Optional): Adds a rich, toasted flavor that rounds out the dressing (optional)—good source of antioxidants and anti-inflammatory compounds.
See the recipe card for quantities.
🔪 Instructions
This Korean spicy cucumber salad involves 3 simple steps.
Washing and preparing your ingredients.
Marinating the cucumber slices.
Preparing the spicy sauce and pouring it into the salad.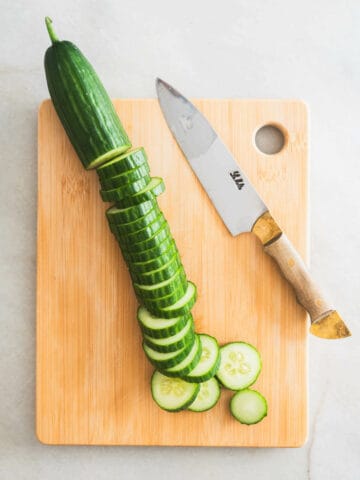 Give those cucumbers a good wash and slice them into ¼" rounds or thin slices (⅛").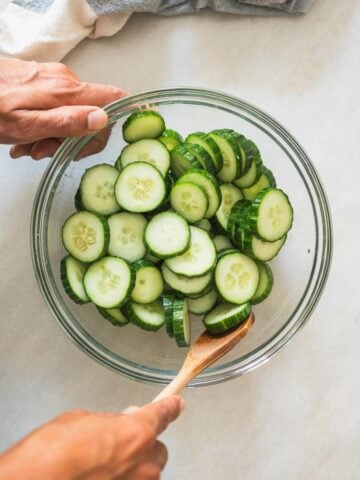 Place the rounds in a large bowl, sprinkle with sea salt, drizzle with rice wine vinegar, stir them, and let them sit to absorb the flavors for 20 minutes.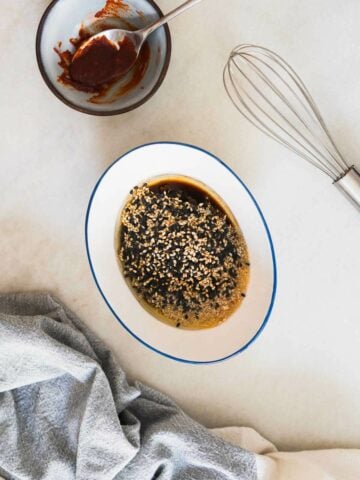 While the cucumbers are marinating, whisk together all the dressing ingredients in a smaller bowl.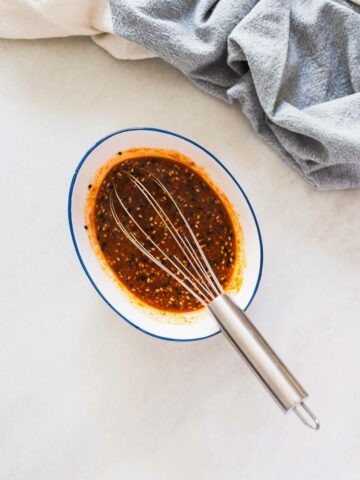 Combine well with a whisk. Save half of the sesame seeds for a final flourish and let that dressing sit; it's almost showtime!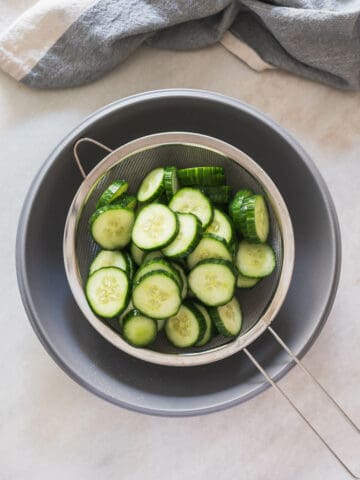 When the 20-minute timer dings, drain sliced cucumbers and any excess liquid from the cucumbers.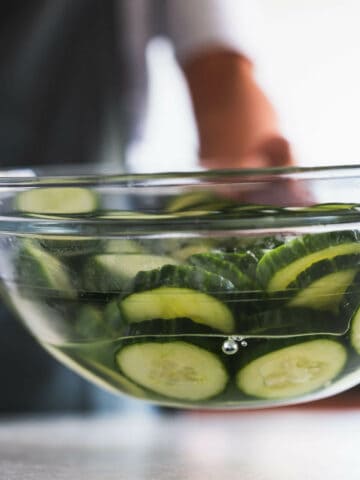 Sample a slice; if it's too salty, rinse them under cold water.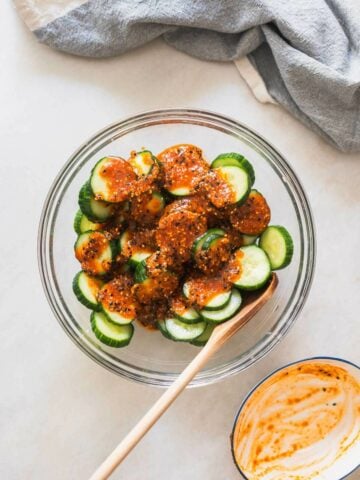 Drizzle the delightful dressing over your marinated cucumber slices.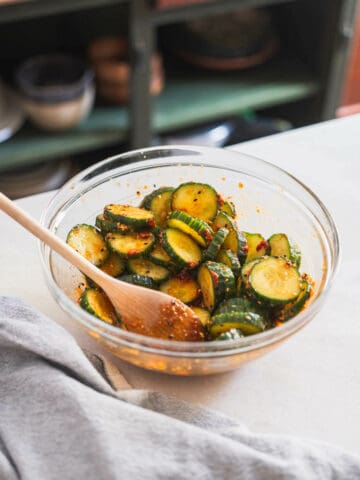 Sprinkle the reserved toasted sesame seeds on top as a beautiful garnish on top of the seasoned cucumber, and serve the marinated cucumbers immediately.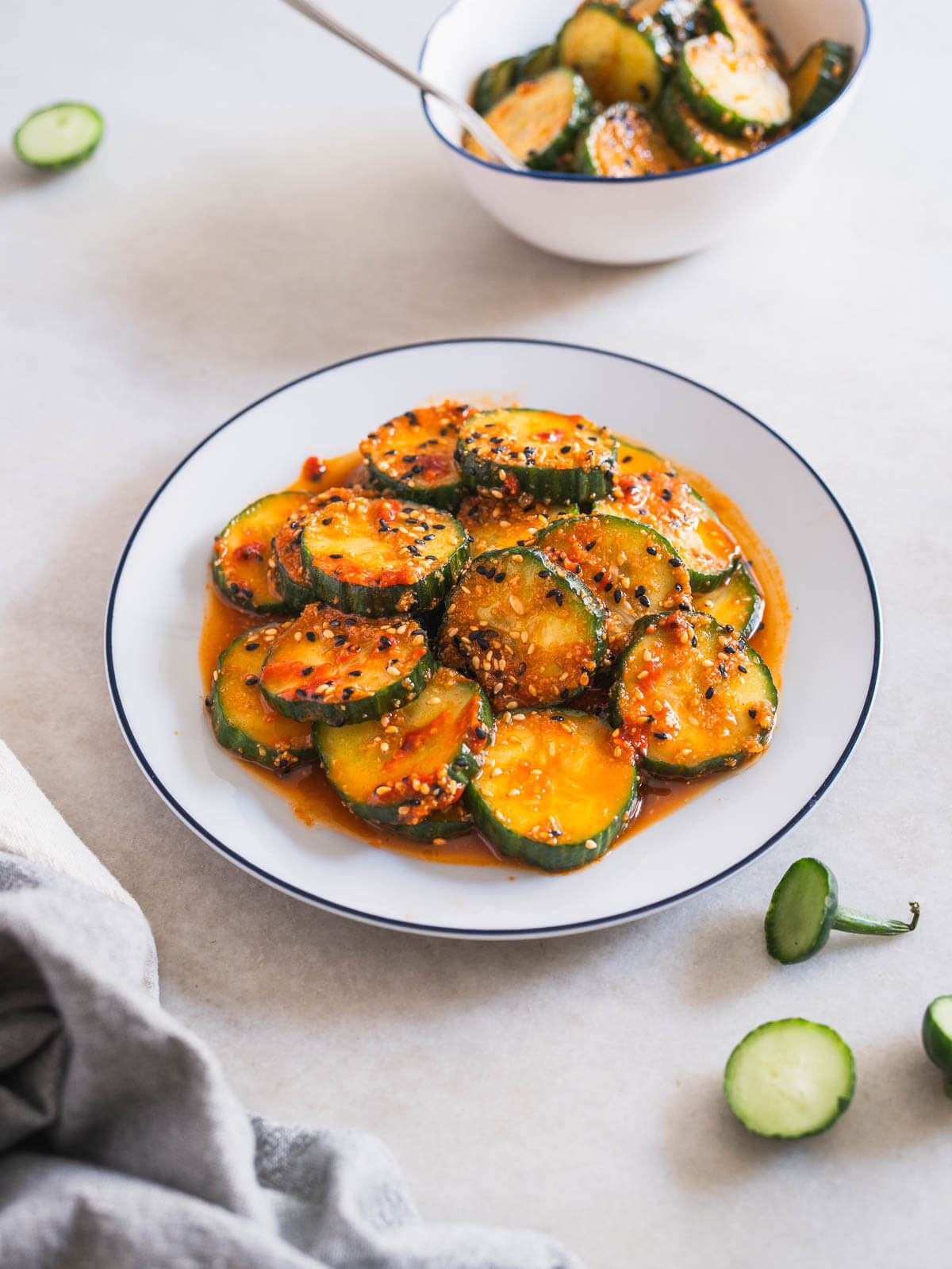 Hint: This recipe is perfect to bring to a potluck! The vibrant flavors and refreshing crunch of this Korean Cucumber Salad make it a standout dish that pairs wonderfully with a variety of mains. Plus, it's easy to transport and can be served chilled or at room temperature, making it a convenient and delightful option to share with friends and family at your next gathering. Enjoy the compliments! 😉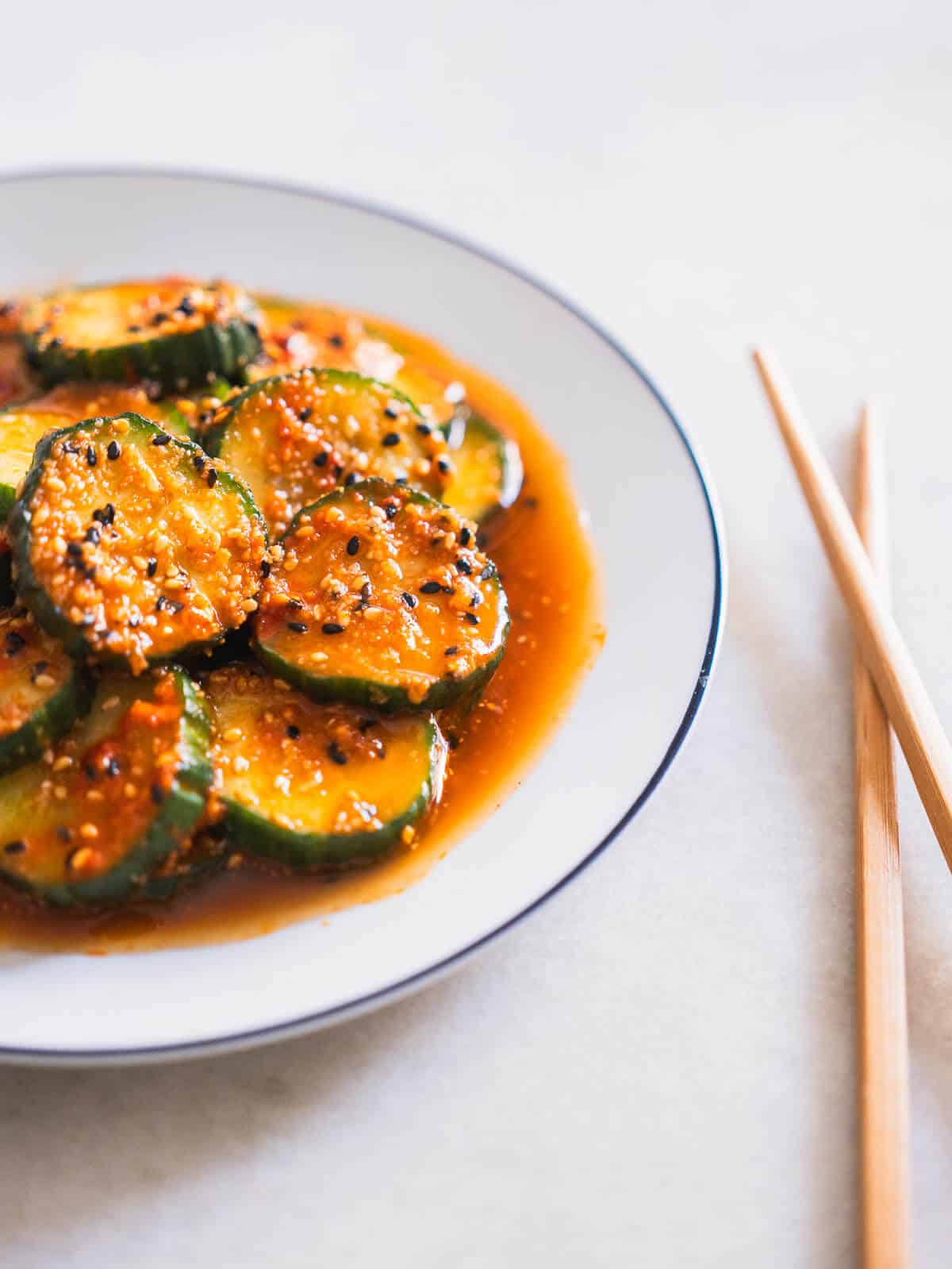 Read on: Spicy Garlic Edamame Recipe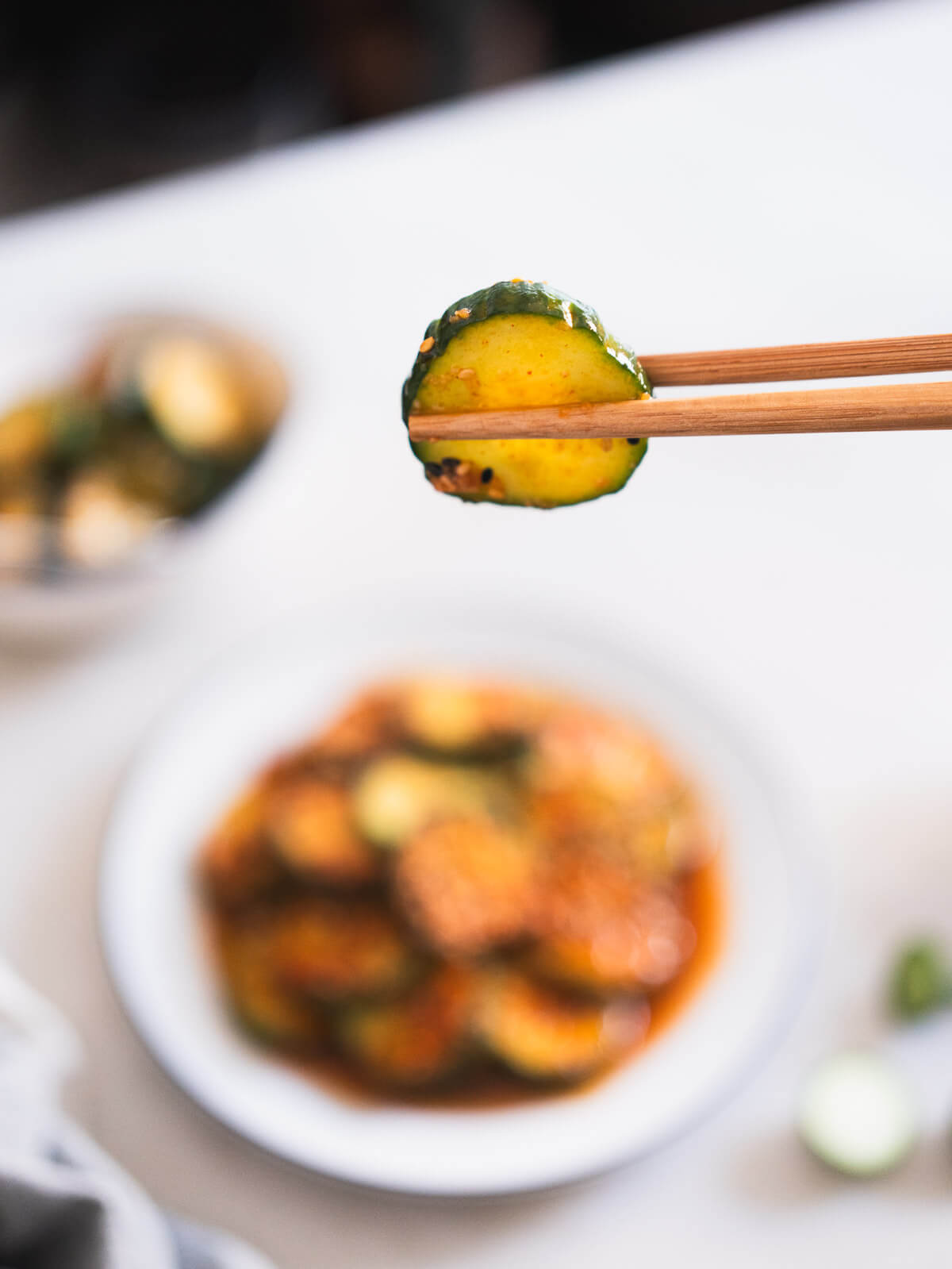 🥢 How to serve spicy cucumber salad
If you like, you can thinly choped green onion (Spring onion) and sprinkle them on top of this simple Korean cucumber salad as well as add some extra Korean red pepper flakes, if you have some.
Tofu Delight: Serve the salad alongside grilled or pan-seared tofu marinated in a blend of soy sauce, garlic, and ginger for a protein-packed meal.
Rice Bowl: make your next rice bowl a wholesome meal by serving the cucumber salad over a bed of steamed jasmine, basmati, or brown rice, topped with sliced green onions and a sprinkle of sesame seeds.
Vegan Sushi Night: Use the cucumber salad as a vibrant and spicy filling for vegan sushi rolls, along with avocado, pickled radish, and sushi rice.
Korean BBQ Wrap: Serve the salad in a lettuce wrap with vegan bulgogi (Korean BBQ) made from seitan or tempeh and a dollop of vegan mayo spiked with gochujang.
Noodle Bliss: Toss the Korean spicy cucumber with cold soba or rice noodles, and add some edamame beans for extra protein and a delightful texture contrast.
Stuffed Avocado: For a fun and nutritious twist, stuff halved avocados with the cucumber salad and top with a sprinkle of crushed nori (seaweed) sheets.
Summer Rolls: Incorporate the cucumber salad into fresh summer rolls, along with rice noodles, fresh herbs, and thinly sliced bell peppers, all wrapped in rice paper.
🍶 Substitutions
Rice Vinegar: Substitute with apple cider vinegar or white wine vinegar. These options will still add tanginess but may have a slightly different flavor profile.
Korean Paste Gojuang: Substitute with Sriracha sauce for a different kind of heat and a slightly more garlicky flavor, or with Korean chili flakes AKA Korean Red Pepper Flakes. (Gochugaru) for a smoky, spicy flavor without the sweetness of Gojuang; or with a mix of red pepper flakes and miso paste to maintain the spicy and umami flavors, but may be less intense than gochujang.
Brown Sugar: Substitute with maple syrup or agave nectar. These liquid sweeteners will blend easily into the dressing and offer a different kind of sweetness, with maple syrup adding a rich flavor and agave being more neutral.
Garlic Powder: Substitute with minced fresh garlic or garlic flakes. Fresh garlic will provide a more pungent and vibrant flavor, while garlic flakes are a bit milder.
Sesame Seeds (Mixed White and Black, Toasted): Substitute with hemp seeds or chia seeds for a nutty flavor and added nutrition, though they won't have the same toasty flavor as sesame seeds.
Tamari Sauce: Substitute with soy sauce or coconut aminos. Soy sauce is a bit saltier and not gluten-free, while coconut aminos are sweeter and less salty.
Sesame Oil (Optional): Substitute with light olive or avocado oil. These options will add richness but won't have the distinct toasted flavor of sesame oil.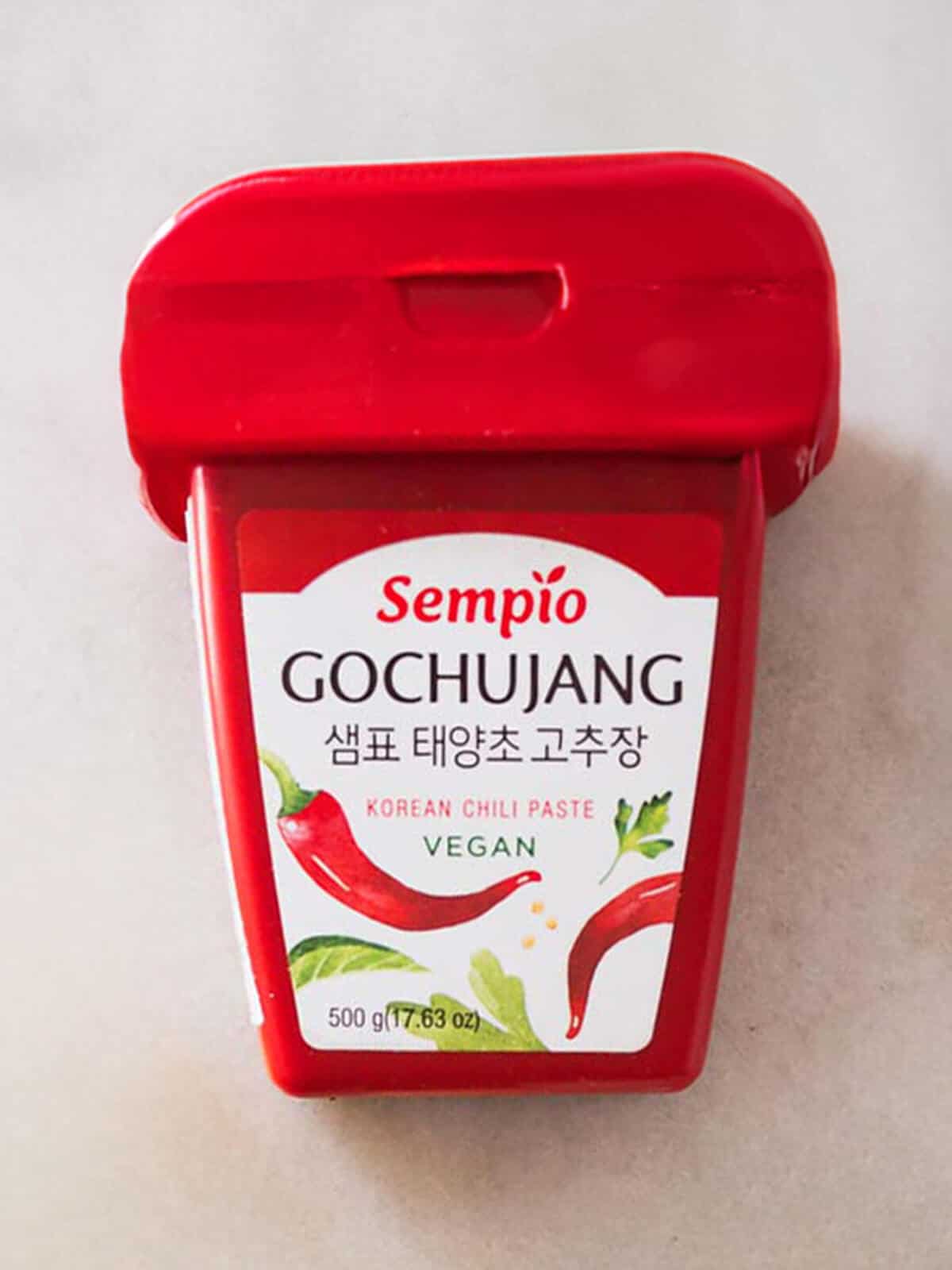 Please note that these substitutions aim to maintain the vegan-friendly nature of the recipe while allowing for flexibility based on available ingredients. The substitutions may lead to slight variations in flavor and texture, but the essence of the dish should remain delightful and vibrant.
📖 Variations
Ginger-Infused Variation: Add 1-2 tablespoons of freshly minced ginger to the dressing. The ginger will infuse the salad with a warm, spicy, and aromatic flavor that pairs wonderfully with the cool cucumbers and spicy Korean red chili flakes.
Sweet and Tangy Variation: Add a thinly sliced red onion and a handful of chopped fresh cilantro to the salad. Replace the brown sugar with pineapple juice for a natural sweetness and a tropical twist.
Protein-Packed Salad: Toss in some cubed crispy, firm tofu or grilled tofu has been marinated in soy sauce and sesame oil, then pan-seared until golden. This adds a hearty, protein-packed element to the salad, making it more of a main course.
Creamy Korean Cucumber Salad: Stir in a dollop of vegan yogurt or vegan mayo to the dressing, creating a creamier, richer texture. This variation will mellow out the heat and add a delightful creaminess to the dish.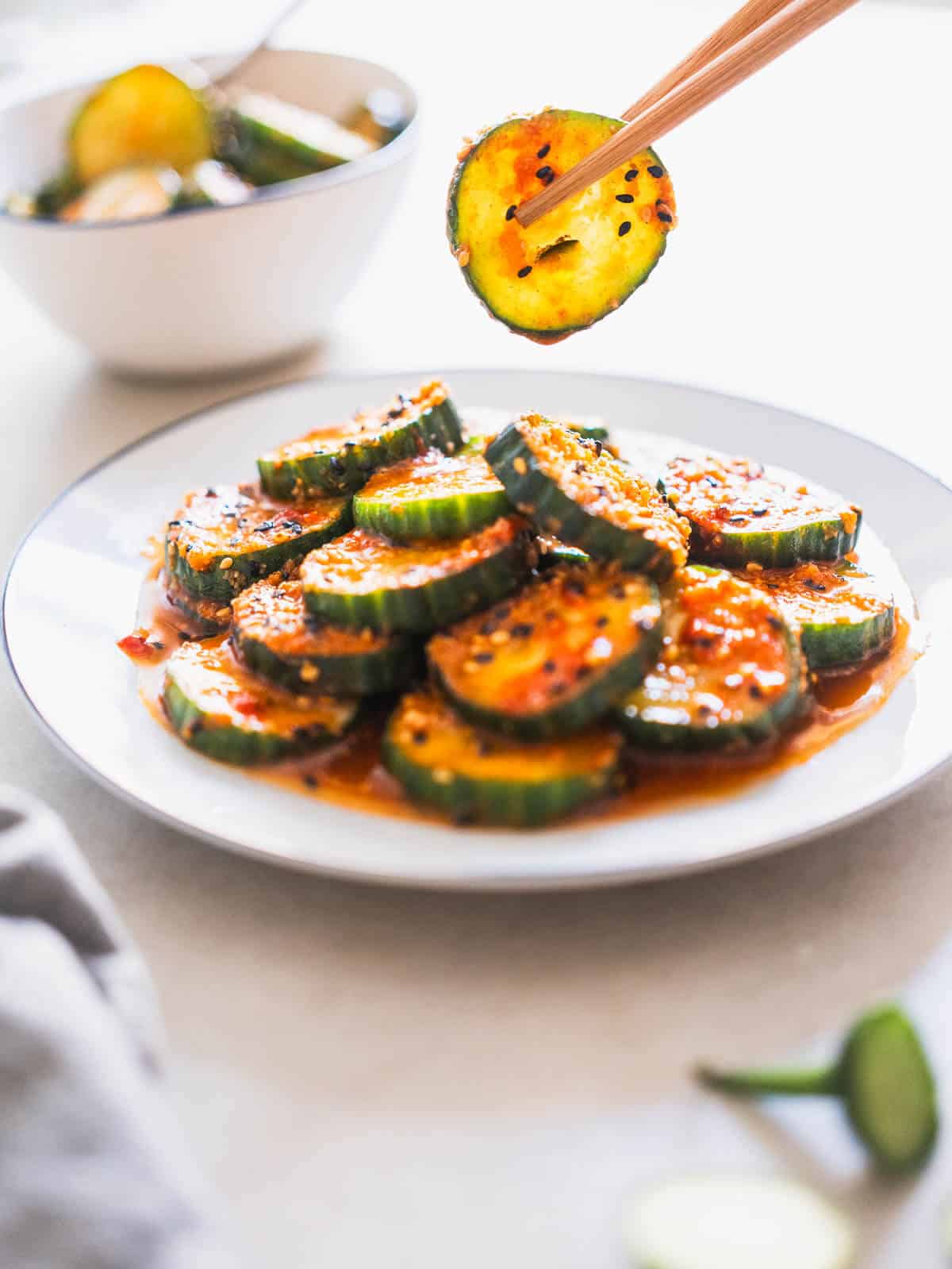 🍽 Equipment
The beauty of this Korean Cucumber Salad lies not just in its vibrant flavors, but also in its simplicity. You're fully equipped to create a delicious, refreshing, visually stunning dish with just a bowl, a chopping board, and a knife.
🥡 Storage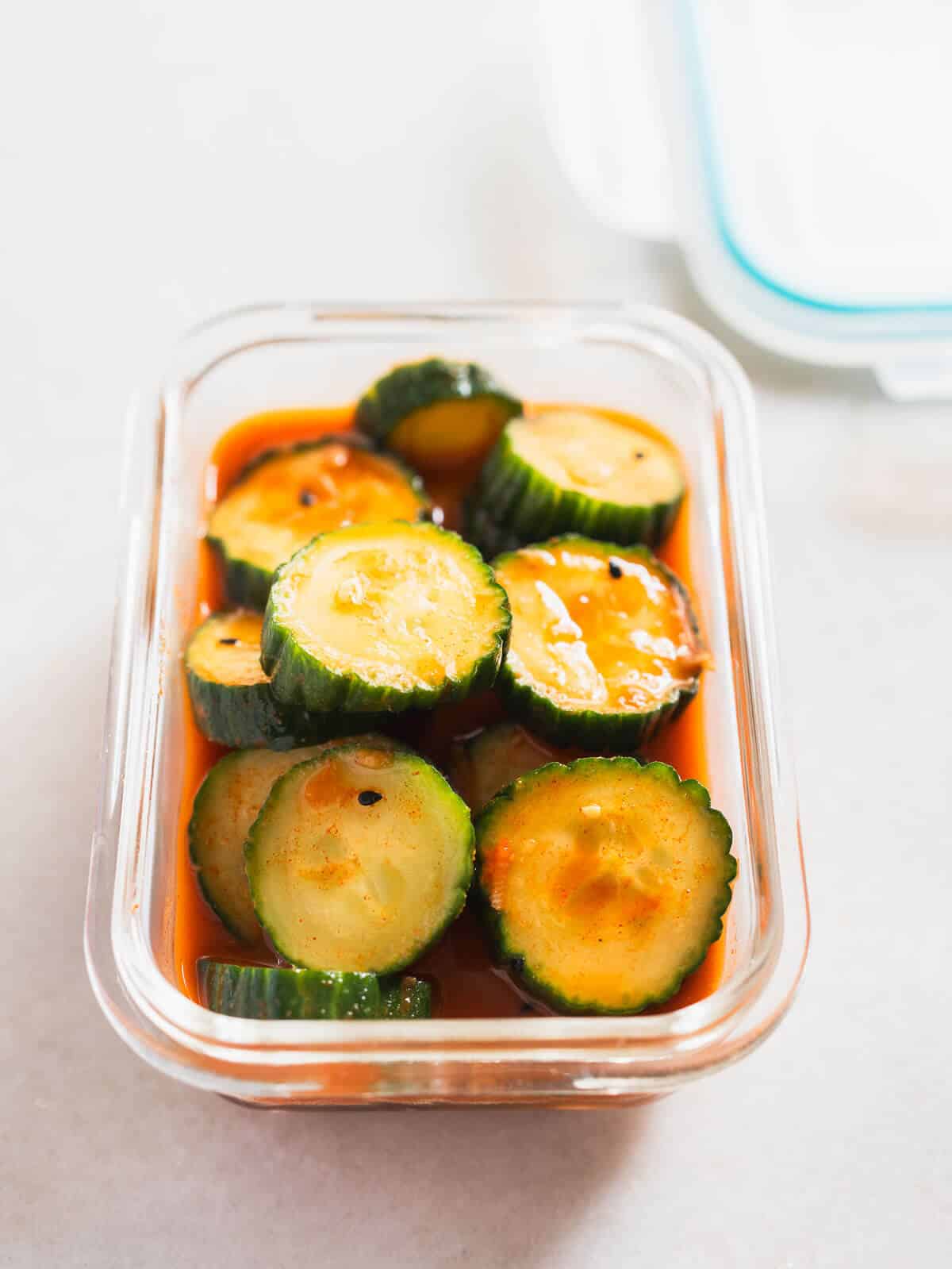 Storing in the Fridge
Place the Korean cucumber salad recipe in an airtight container to keep it fresh. This salad becomes super pickle-y in the fridge after 1-2 days, enhancing the flavors as the cucumbers marinate in the dressing.
Hint: This salad is best enjoyed cold or at room temperature. If it has been stored in the fridge, remove it and let it sit for a few minutes to remove the chill, if desired.
Freezing and thawing
It is not recommended to freeze this cucumber salad, as cucumbers can become mushy and lose their crisp texture when thawed. If you choose to freeze it, place it in an airtight container for up to 1 month. To thaw, allow it to thaw in the fridge and drain off any excess liquid. Note that the texture may be significantly softer after freezing and thawing.
Potluck / Meal Prep Option
Prepare the dressing and store it separately in an airtight container in the fridge. When you're ready to eat, thinly slice the cucumbers, toss them with the pre-made dressing and enjoy. This way, you can have a salad with a refreshing crunch at a moment's notice without the cucumbers becoming overly pickled.
Please note that the salad's texture will change as it sits, becoming more pickly and infused with flavor, which some people find even more delicious!
💡 Top tips
For the best results, make sure to drain the cucumbers well after they have been pickled in the salt and vinegar. This step is crucial as it removes excess moisture, ensuring your salad stays crisp and doesn't become waterlogged. Press the cucumbers gently with a clean kitchen towel or paper towel to remove any lingering moisture before adding the dressing. This simple step helps to achieve the perfect balance of flavors and the desired crunchy texture 100% of the time.
To achieve softer cucumbers rather than a super-crunchy texture, allow them to marinate for 25-30 minutes, instead of the minimum 15-20 minutes. Additionally, consider slicing the cucumbers into ⅛-inch thick slices, rather than the thicker ¼-inch slices.
Bonus Use for Leftover Marinade: We absolutely love using the leftover marinade from this recipe as a salad dressing for any green salad. It's flavorful and brings a delightful Korean twist to a simple bed of greens. Just give it a good shake or whisk before drizzling it over your salad, and enjoy the vibrant, tangy, and spicy notes it adds to fresh vegetables.
❓ FAQ
How is Korean cucumber different?
Korean cucumbers, known as "Oi" in Korea, are generally smaller, thinner, and crisper than the common garden cucumbers found in Western grocery stores. They have a very thin skin, which is often tender and not bitter, making it unnecessary to peel them. The seeds are also small and not as prominent, contributing to their crunchy texture. Korean cucumbers are known for their refreshing and slightly sweet flavor, which makes them a popular choice for salads and pickles in Korean cuisine.
In recipes, they can be substituted with English cucumbers or Persian cucumbers, which have similar characteristics, such as thin skin and low seed content.
📚 More cucumber recipes
If you love this Korean cucumber recipe, you will also love these great salads.
If you love picking, try our Italian Pickled Eggplants: my mother-in-law's recipe!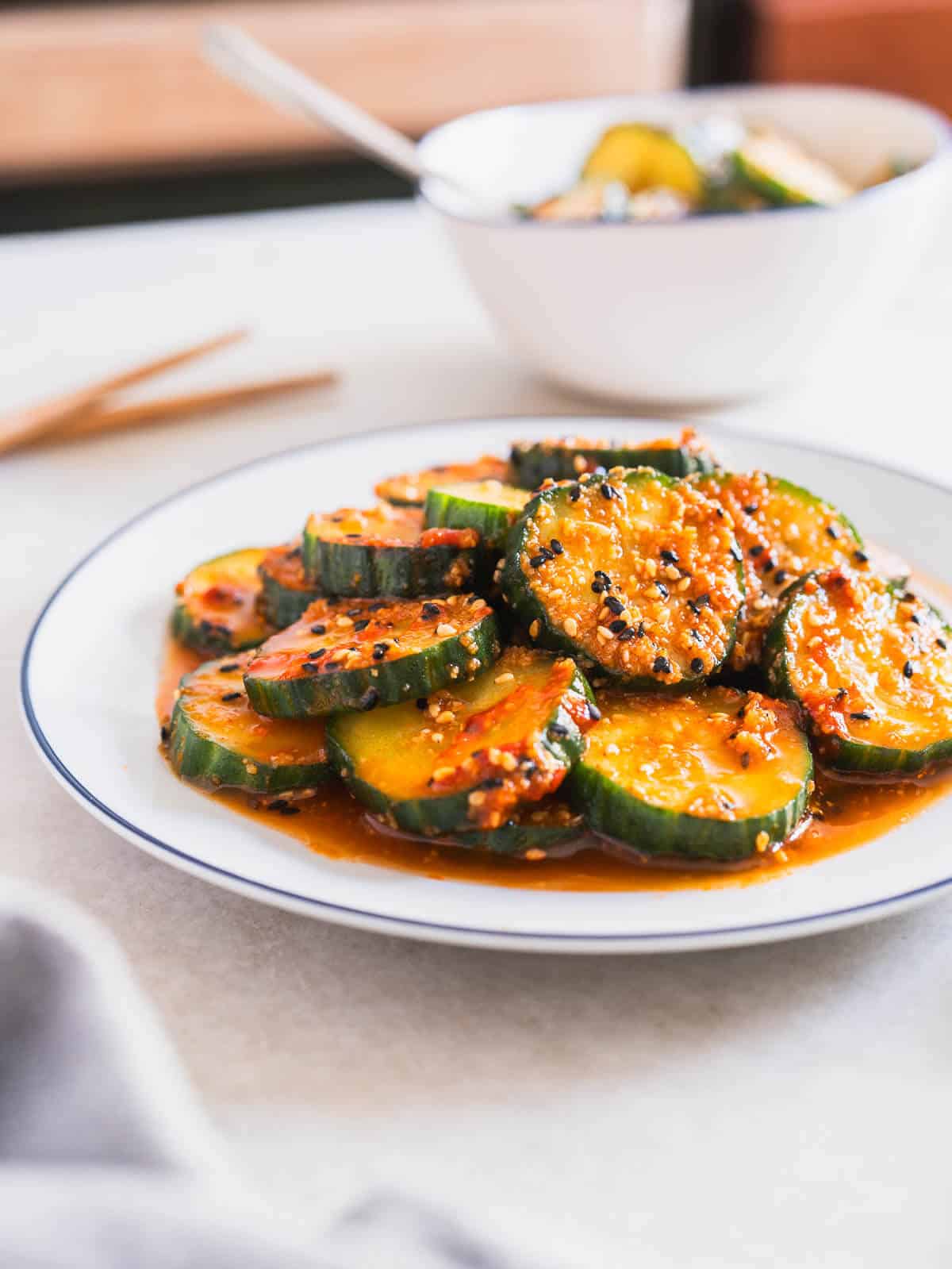 ⭐ If you try this Cucumber Salad Oi Muchim recipe, let us know! 💬 Leave a comment, rate it, and don't forget to tag us @ourplantbasedworld on Instagram. Cheers!
📋 Recipe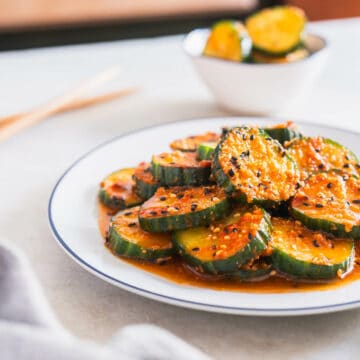 Spicy Korean Cucumber Salad Recipe
Discover the zesty flavors of Spicy Korean Cucumber Salad. Fresh cucumbers meet a tangy dressing with a kick. Perfect for a refreshing side dish.
Equipment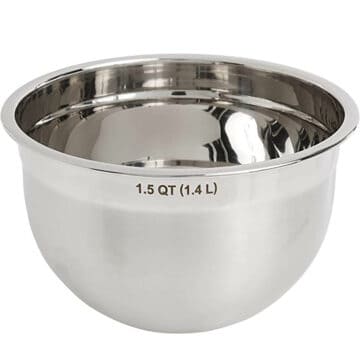 (affiliate link)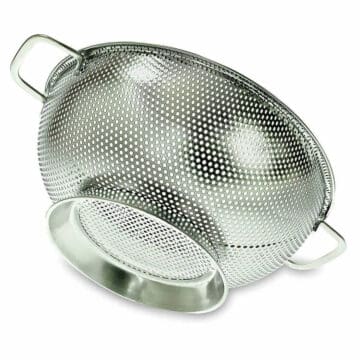 (affiliate link)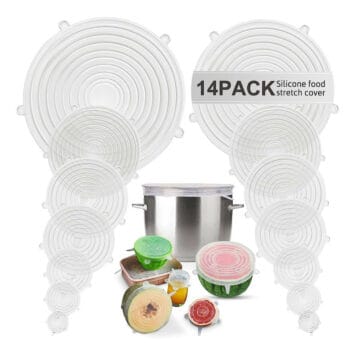 (affiliate link)
Ingredients
2

English Cucumbers – long ones

a little less than 4 cups, chopped into ¼-inch rounds

2

tablespoons

rice wine vinegar

1

teaspoons

sea salt
Directions
Cucumber Prep. First things first, give those cucumbers a good wash. Once they're clean, slice them into ¼" rounds or ⅛ for extra thin slices. Place these rounds in a large bowl, sprinkle with sea salt, and drizzle with 2 Tablespoons of rice wine vinegar. Stir them up and let them sit, absorbing those flavors for 20 minutes.

Dressing Time. While the cucumbers are soaking up the flavors, whisk together all the dressing ingredients in a smaller bowl, but remember to reserve half of the sesame seeds for a final garnish. Let the dressing sit, eagerly awaiting its moment.

Drain & Taste. After the 20-minute timer dings, drain the cucumbers of any excess liquid. Sample one - if it's a smidge too salty, feel free to rinse them under running cold water. If you like your cucumbers extra soft instead of super-crunchy, leave them for 25-30 mins.

Final Touch. Drizzle that delightful dressing over your pickled cucumbers, sprinkle the reserved sesame seeds on top for a lovely garnish, and serve immediately. Bon appétit!
Notes
Want a deeper flavor?
Let the salad marinate a bit longer to really let those spices shine. Plus, this recipe is your best friend for meal prep – whether you're heading out camping or contributing to a potluck, it's a surefire hit!
Spicy guide:
Use 2 tablespoons of Korean paste to make it mildly spicy.
Use 3 tablespoons of Korean paste to make it extra spicy. My preferred option: for spicy food lovers.
Use 4 tablespoons if you really love your Spicy Food and are ready to handle the heat.
Optional add-in:
1 tablespoon of freshly minced ginger or ground ginger.
Gojuang paste replacements:
Best:

Korean red pepper powder. 1 tablespoon Gojuan paste = 1 ⅓ teaspoon  Gojuan powder

Good:

1 tablespoon Gojuan paste = 1 tablespoon 

Sriracha sauce
Here is a great Guide for Gochujan substitutions
Nutrition Facts
Calories:
56
kcal
Carbohydrates:
12
g
Protein:
2
g
Fat:
1
g
Saturated Fat:
0.1
g
Polyunsaturated Fat:
0.3
g
Monounsaturated Fat:
0.2
g
Sodium:
672
mg
Potassium:
278
mg
Fiber:
1
g
Sugar:
6
g
Vitamin A:
163
IU
Vitamin C:
5
mg
Calcium:
41
mg
Iron:
1
mg
Nutrition Facts
Spicy Korean Cucumber Salad Recipe
Amount per Serving
% Daily Value*
* Percent Daily Values are based on a 2000 calorie diet.
🌡️ Food safety
Cook to a minimum temperature of 165 °F (74 °C)
Do not use the same utensils on cooked food, that previously touched raw meat
Wash hands after touching raw meat
Don't leave food sitting out at room temperature for extended periods
Never leave cooking food unattended
Use oils with a high smoking point to avoid harmful compounds
Always have good ventilation when using a gas stove
See more guidelines at USDA.gov.
Nutritional Disclaimer
The information shown is an estimate provided by an online nutrition calculator. It should not be considered a substitute for a professional nutritionist's advice. See our full Nutritional Disclosure here.
Affiliate Disclaimer
Please note that some of the links here are affiliate links, and I will earn a commission if you purchase through those links. I recommend all of the products listed because they are companies I have found helpful and trustworthy.