If you're looking for a festive, healthy snack to enjoy this holiday season, look no further than oven-roasted chestnuts! This easy recipe is perfect for beginner cooks and only requires 10 minutes of prep time. Plus, chestnuts are a good source of fiber and vitamin C. So go ahead and give this healthy snack a try!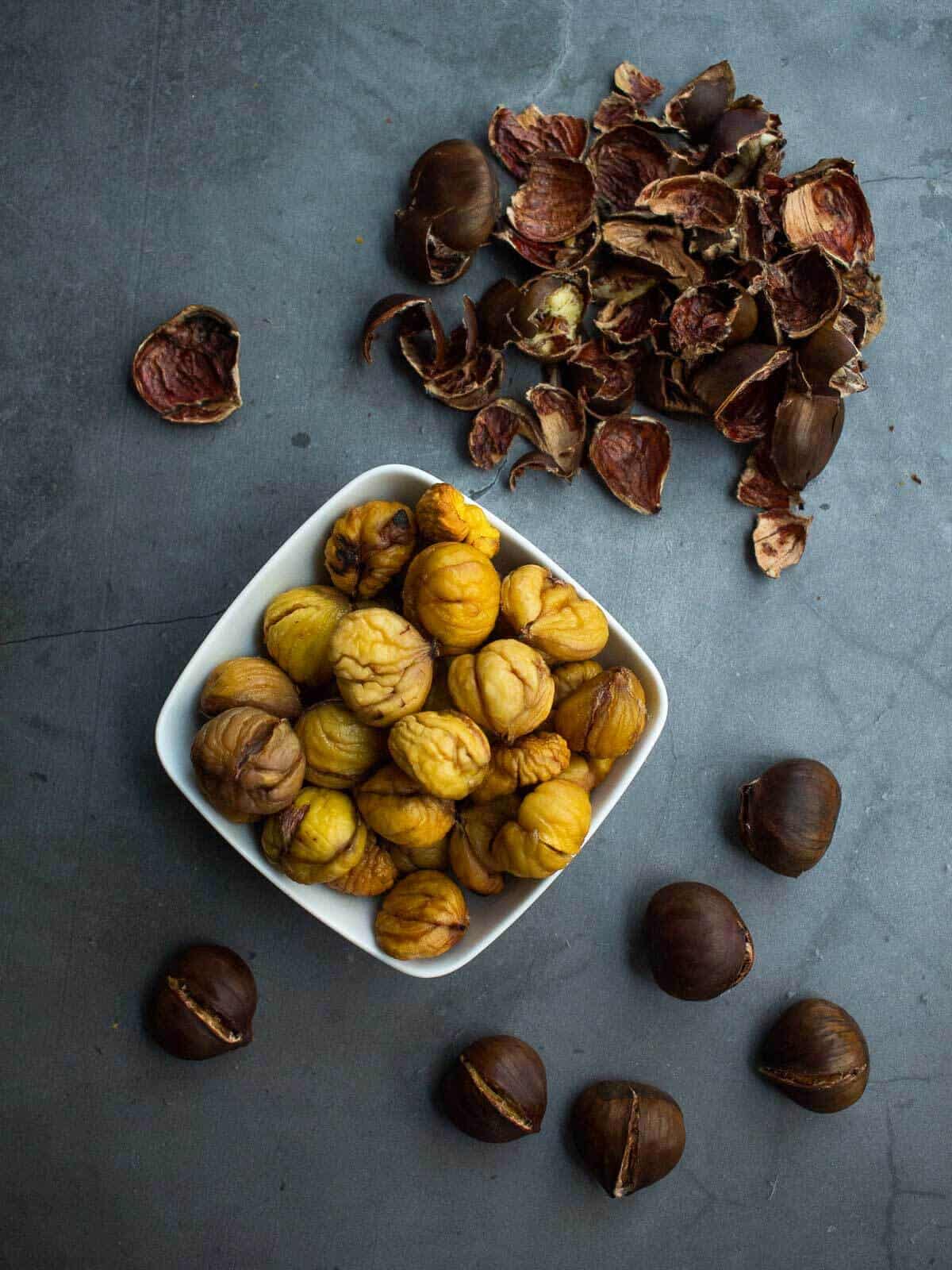 Chestnuts are considered autumn fruits. Still, you can get them in the wintertime here in Italy. They are the protagonists of many sweet recipes and regional gastronomic traditions such as castagnaccio.
Roasted chestnuts (Castagne Caldaroste), as they are called in Italy, are very common street foods during the fall season and wintertime. It is one of our favorite fall season recipes, as it is healthy, simple, and easy to make.
Oven-roasted chestnuts have no saturated fat, making them ideal for everyone's diet.
Preparing chestnuts is very simple. Here, I will explain the best way to cook chestnuts.
Chestnuts are also very popular to enjoy alone, cooked on the fire with a unique perforated pan like roasted chestnuts or in salt, or even baked as in this recipe!
There are more than one hundred varieties of chestnuts. Flour can also be produced from them, which is versatile for preparing cakes and homemade pasta. Before purchasing, it is good to ensure that the fruit is firm and the skin has a bright and uniform color.
Oven-roasted chestnuts are delicious and healthy. They have a slightly sweet flavor and are the perfect Fall season snack. Eat oven-roasted chestnuts as a mid-afternoon snack or simply while you wander the streets if you find street sellers where you live.
It is widespread to find them in the streets around Christmas Eve.
Chestnut roasting is an easy and fun activity to share with your family or friends while you break the chestnut shells.
Jump to:
🧾 Ingredients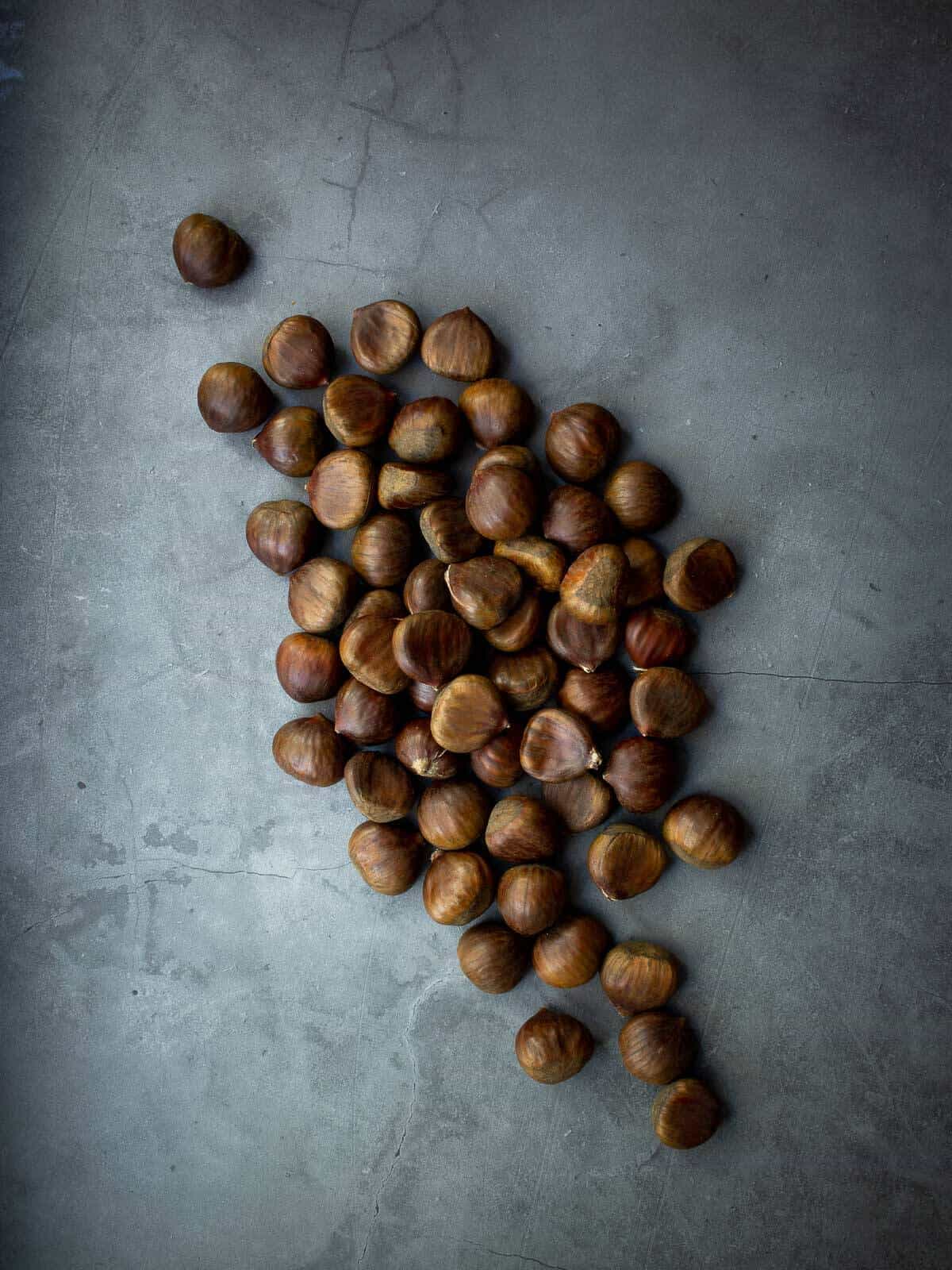 Choose chestnuts... yes, only well-chosen firm chestnuts!
It doesn't get easier than that.
See directions and quantities in the recipe card.
🔪 How to oven-roast chestnuts
Cooking chestnuts is easy, and they make a great snack for rainy days next to a fireplace either with a glass of red wine or excellent chocolate milk. I love having them with Vegan Golden Milk.
Prepare chestnuts
Let's get into cook mode!
Start by separating good chestnuts and bad chestnuts. The fluffy ones should be thrown away. Soak the fresh chestnuts in water.
Drain and dry them.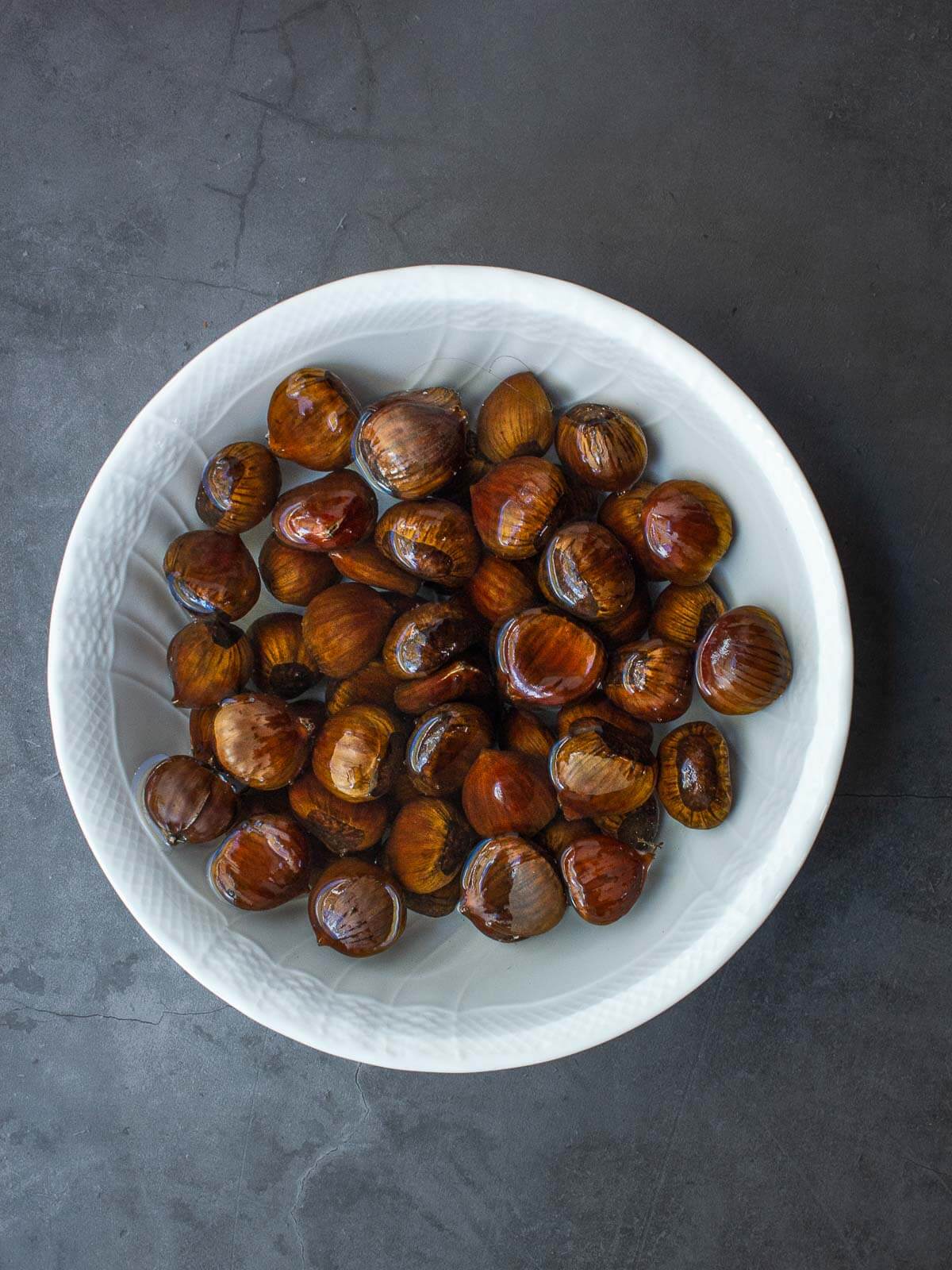 Set the chestnuts to soak in water.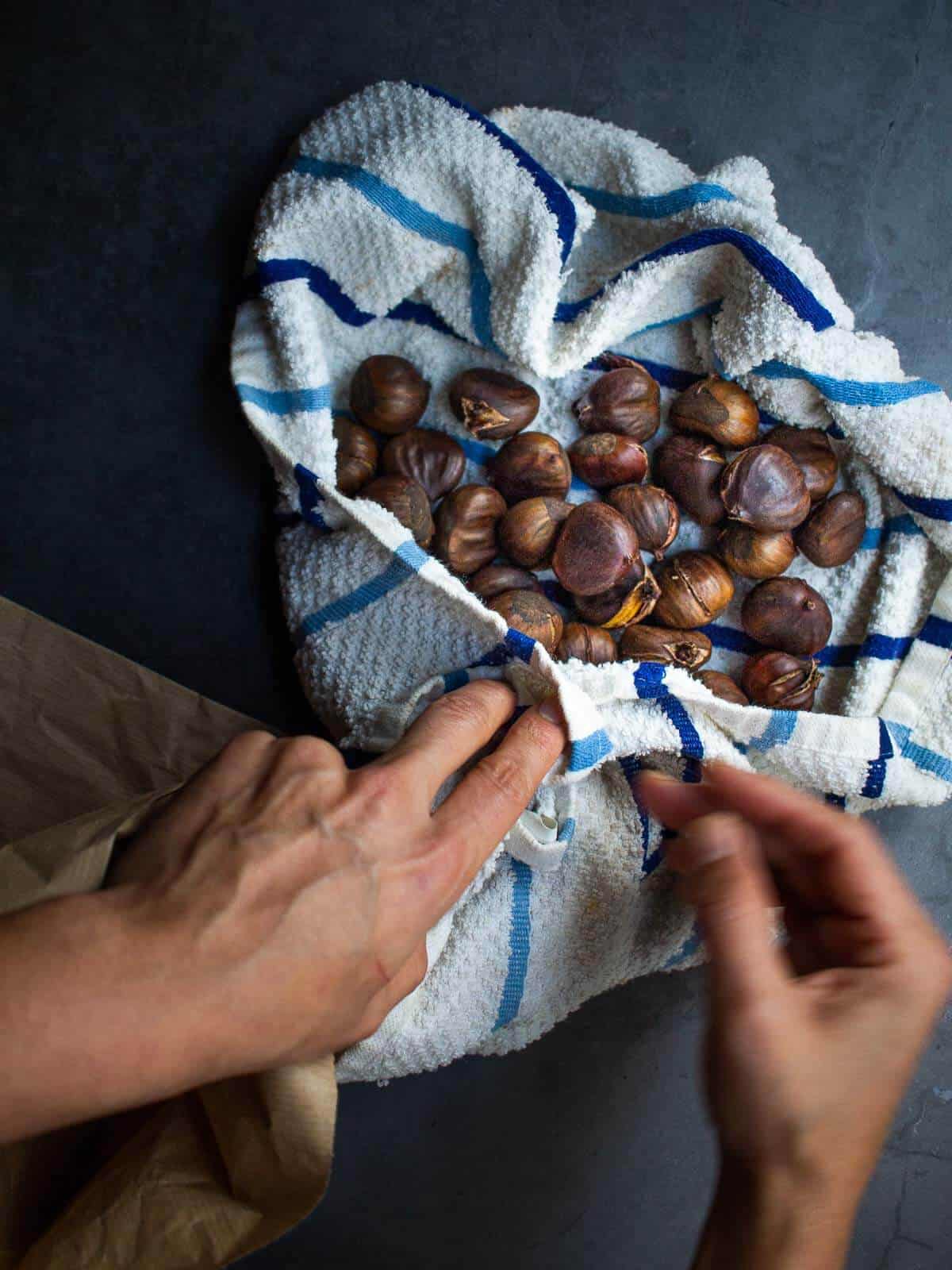 Dry the chestnuts with a tablecloth.
Insert the Knife.
Notch the chestnuts, making a horizontal cut of about 1 inch (2.5 cm).
Proceed to slice the soaked chestnuts one chestnut at a time.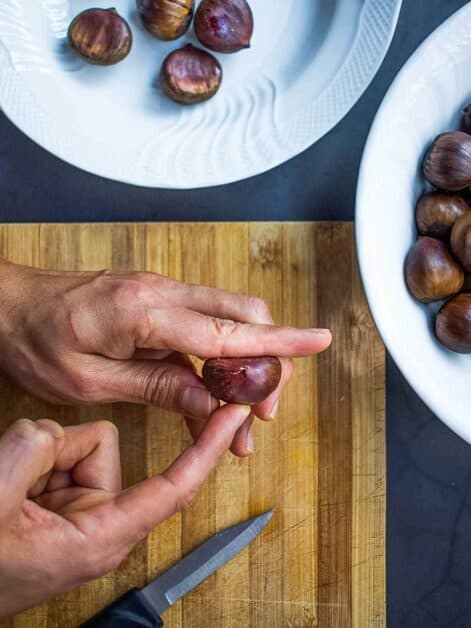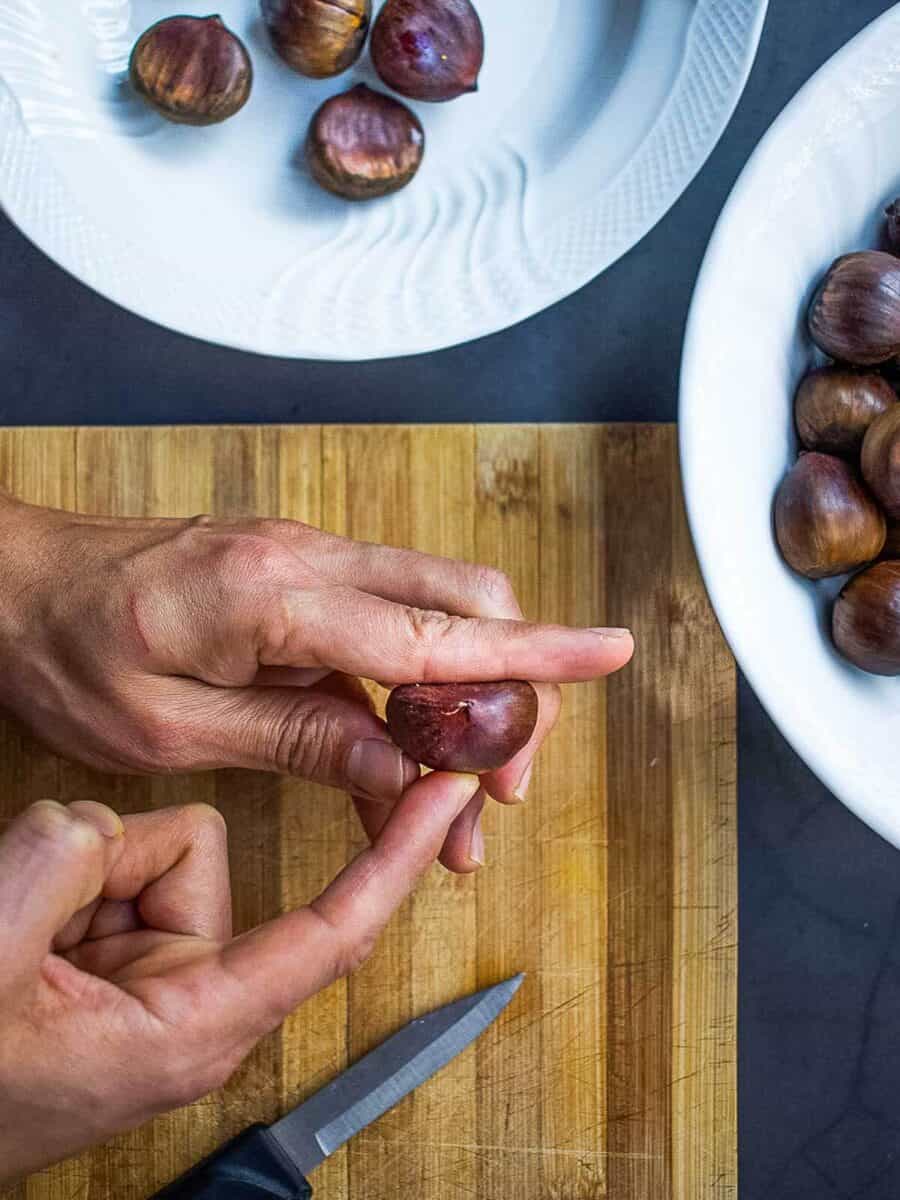 Roast chestnuts
Place scored chestnuts in the oven. Place chestnuts evenly on a single layer, on their flat side, round-side up, and place on a shallow baking pan lined with baking paper on the baking sheet. You could also use a cast iron pan.
Take them out of the oven and place the hot chestnuts in a basket or bowl, covering them with a dry cloth or kitchen towel. Let them rest for at least 15 minutes before tasting.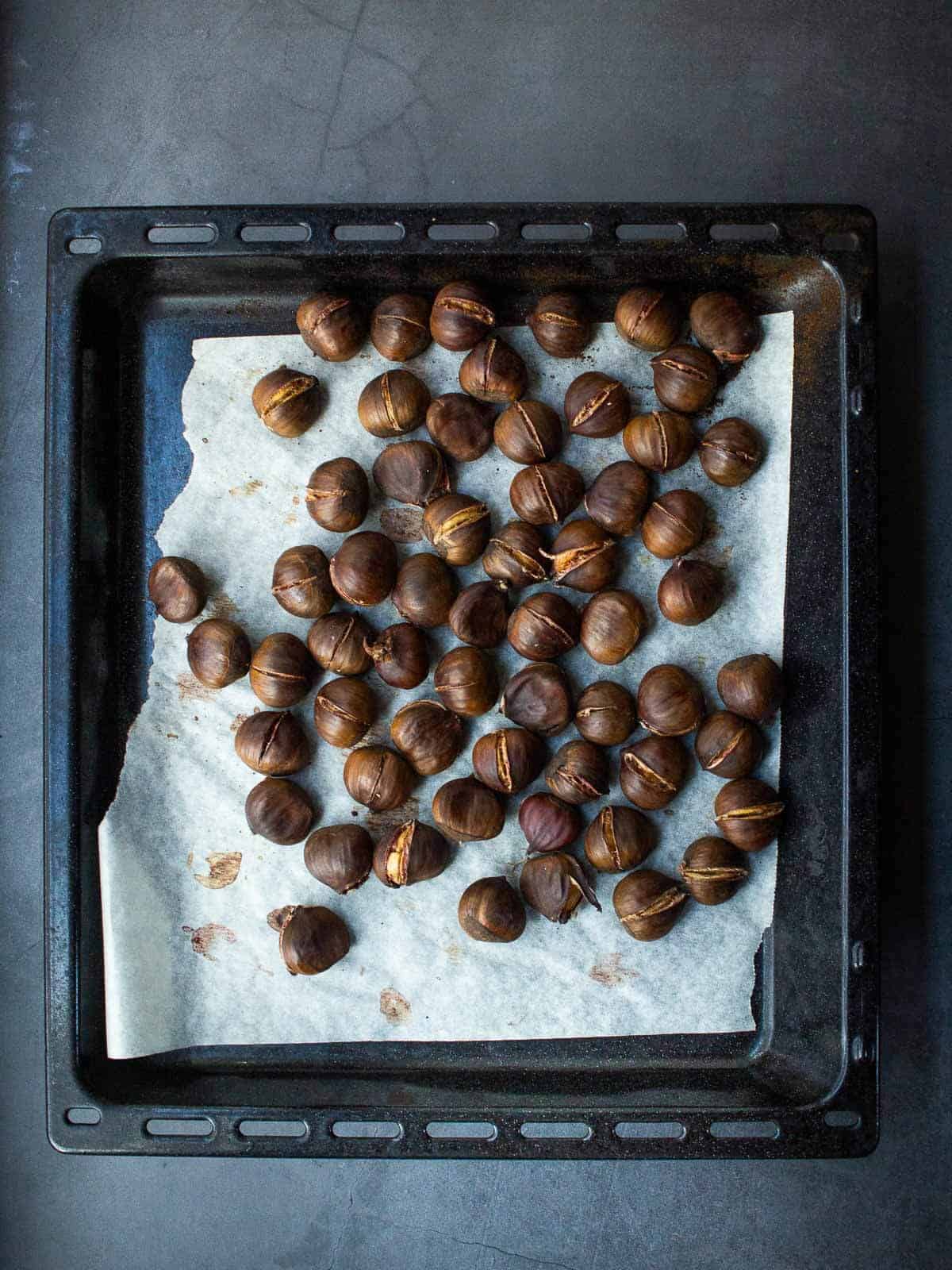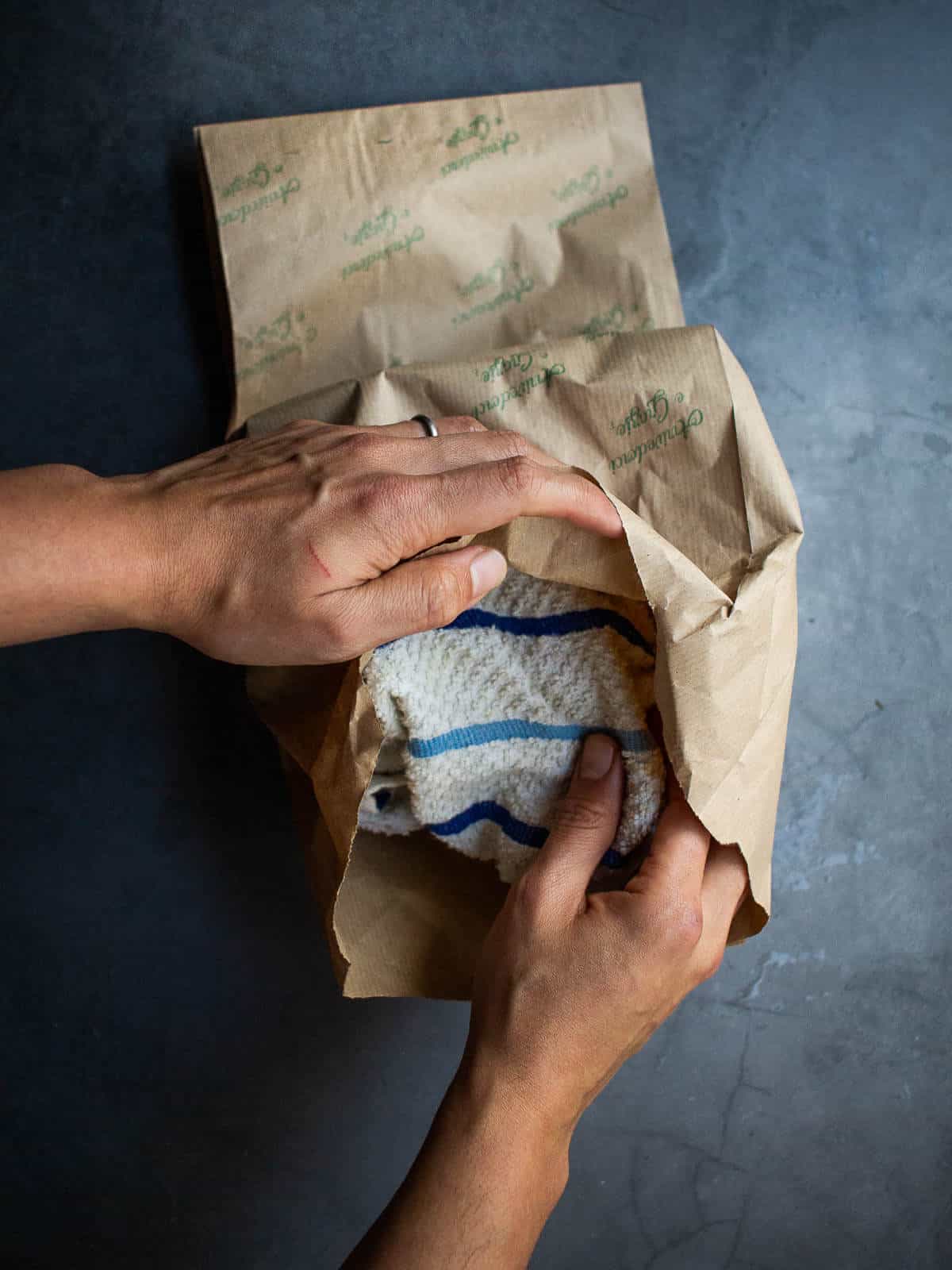 Peel chestnuts
Then let the steam escape, remove the chestnuts from the bag, place them in a cutting board, and when they are cool enough to handle, start opening them with a serrated knife or opening them with the tip of a knife, discarding the outer shell.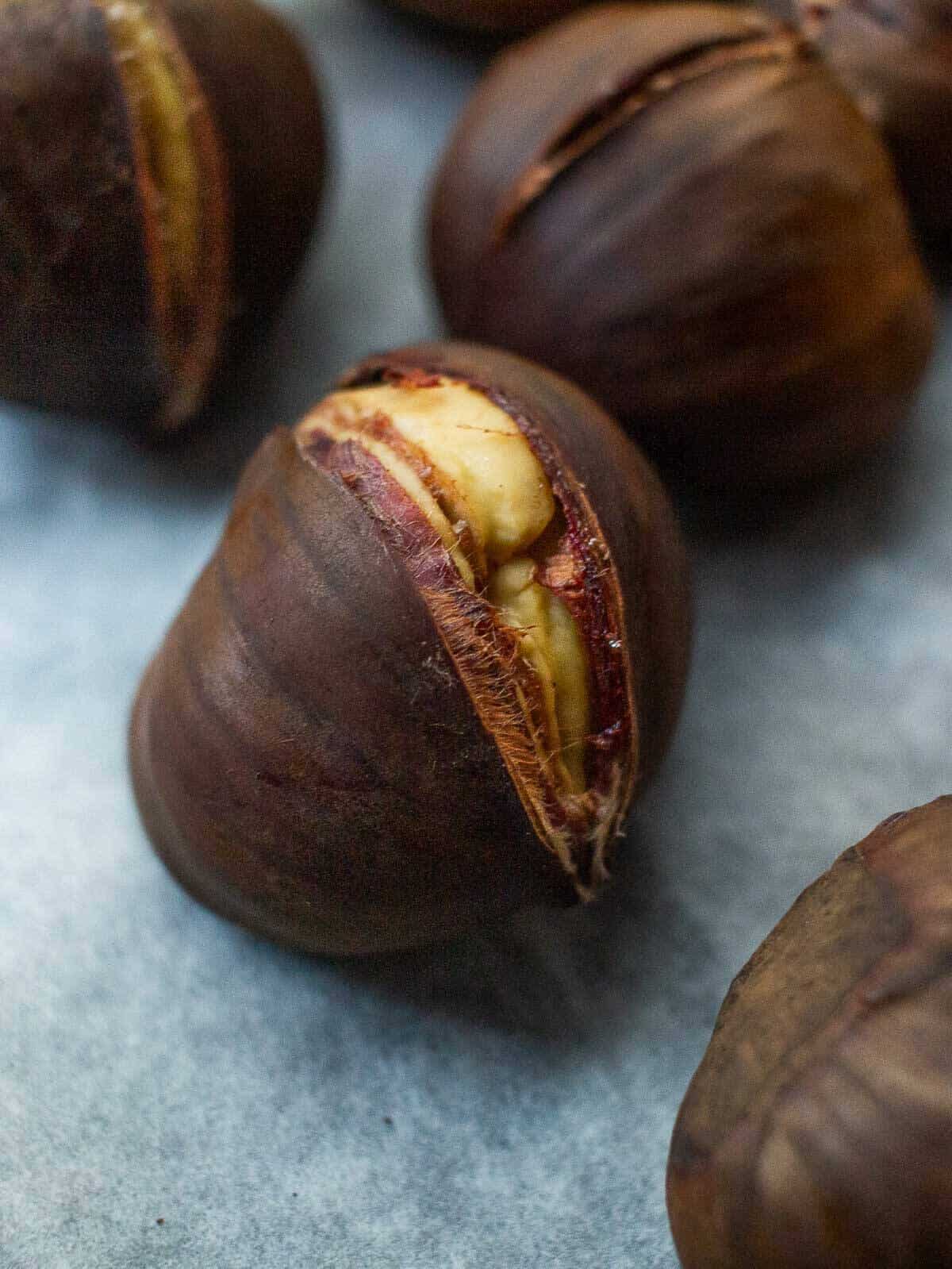 After baking chestnuts, they will leave a fantastic aroma in your kitchen! I think this is the best way to roast chestnuts. The best method is the one that can easily be made at home without too much equipment and ingredients, which in this recipe is only ONE!
Enjoy them with tea or coffee. We love having our roasted chestnuts around Christmas time with the whole family. It's definitely one of our favorite recipes for this season.
🍽 Equipment
Baking sheet (or cast iron pan)
Sharp knife (or serrated knife)
Clean towel
Bowl
Bag
❓FAQ
What do roasted chestnuts taste like?
Chestnuts have a sweet, nutty taste that goes great with winter spices like cinnamon and cloves. Chestnuts have a very sweet and earthy taste that is unique and often compared to the taste of sweet potatoes and yams. 
If you are into fall season recipes, take a look at our Creamy Vegan Mushroom Risotto, straight from our home in Milano!
📚 More healthy snack recipes
⭐ If you try this recipe, let us know! 💬 Leave a comment, rate it, and don't forget to tag us @ourplantbasedworld on Instagram. Cheers!
📋 Recipe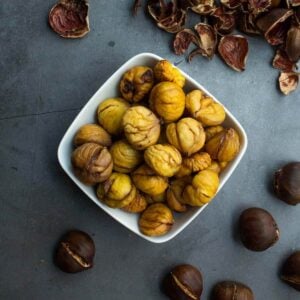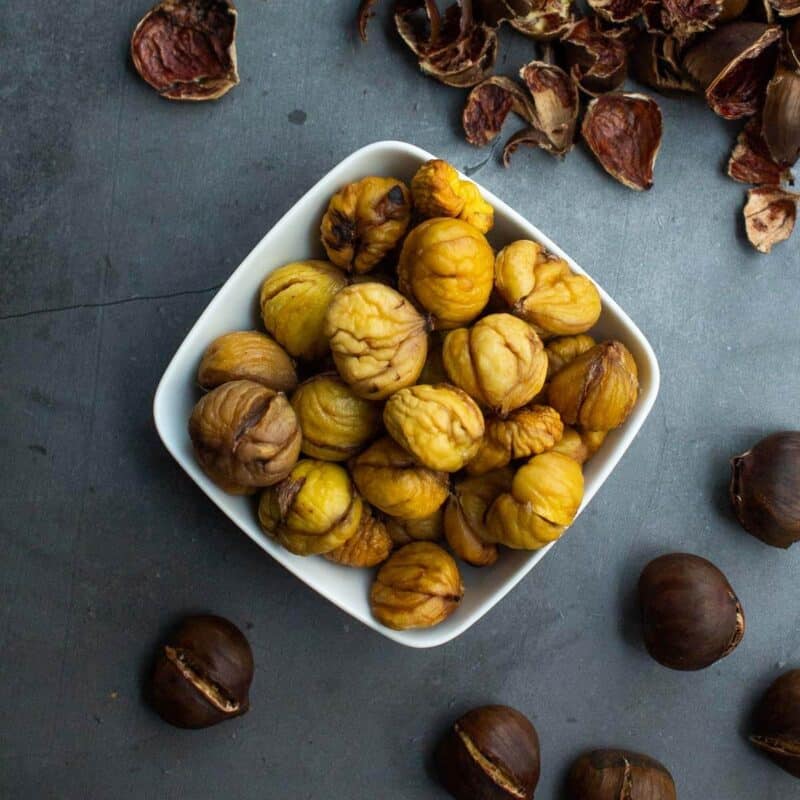 Oven Roasted Chestnuts
Roasted Chestnuts are amongst the easiest 1-ingredient thing to make on Earth. You will not regret learning how to make these beauties.
Equipment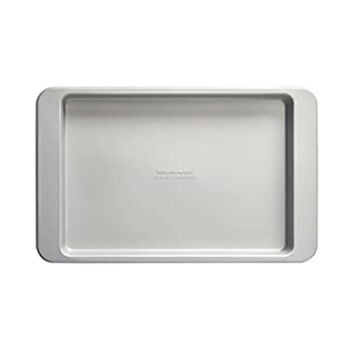 (affiliate link)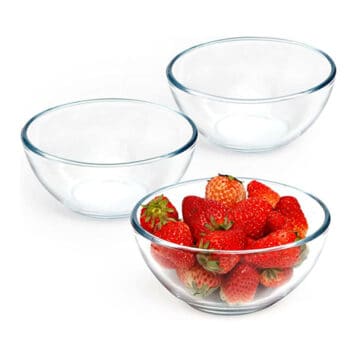 (affiliate link)
Directions
To prepare the chestnuts in the oven, start by choosing perfect chestnuts.

Soak the chestnuts for at least 2 hours. Thanks to this procedure, it will be easier to peel them once cooked.

Drain the chestnuts and, if you want, you can place them in a paper bag that will absorb the residual water or use a dry cloth to dry them well.

Notch the chestnuts. Make a horizontal cut of about 1 inch (2.5 cm).

Insert the tip of knife in the middle.

Bake your chestnuts distributing them evenly on the baking tray lined with baking paper, and bake in a preheated oven in static mode at 360 ºF (180 °Celcius) for about 25-30 minutes.

Once ready, take them out of the oven and place them in a basket or bowl, covering them with a dry cloth.

Let them rest for at least 15 minutes before tasting them: this will make it easier to remove the peel!

Peel the chestnuts with you hands.
Notes
The cooking time of baked chestnuts can vary according to the fruit's size and the oven; from time to time, move the chestnuts to achieve homogeneous cooking.
Nutrition Facts
Calories:
125
kcal
Carbohydrates:
28
g
Protein:
1
g
Fat:
1
g
Saturated Fat:
1
g
Sodium:
1
mg
Potassium:
309
mg
Vitamin A:
17
IU
Vitamin C:
26
mg
Calcium:
12
mg
Iron:
1
mg
Nutrition Facts
Oven Roasted Chestnuts
Amount per Serving
% Daily Value*
* Percent Daily Values are based on a 2000 calorie diet.
Nutritional Disclaimer
The information shown is an estimate provided by an online nutrition calculator. It should not be considered a substitute for a professional nutritionist's advice. See our full Nutritional Disclosure here.
Affiliate Disclaimer
Please note that some of the links here are affiliate links, and I will earn a commission if you purchase through those links. I recommend all of the products listed because they are companies I have found helpful and trustworthy.