Golden milk is a delicious, nourishing drink that many people enjoy. But what if you're vegan? never fear, because a vegan golden milk recipe is just as easy to make! This recipe is perfect for chilly winter nights when you need something warm and comforting. Plus, it's loaded with antioxidants and other beneficial nutrients. So why not give it a try?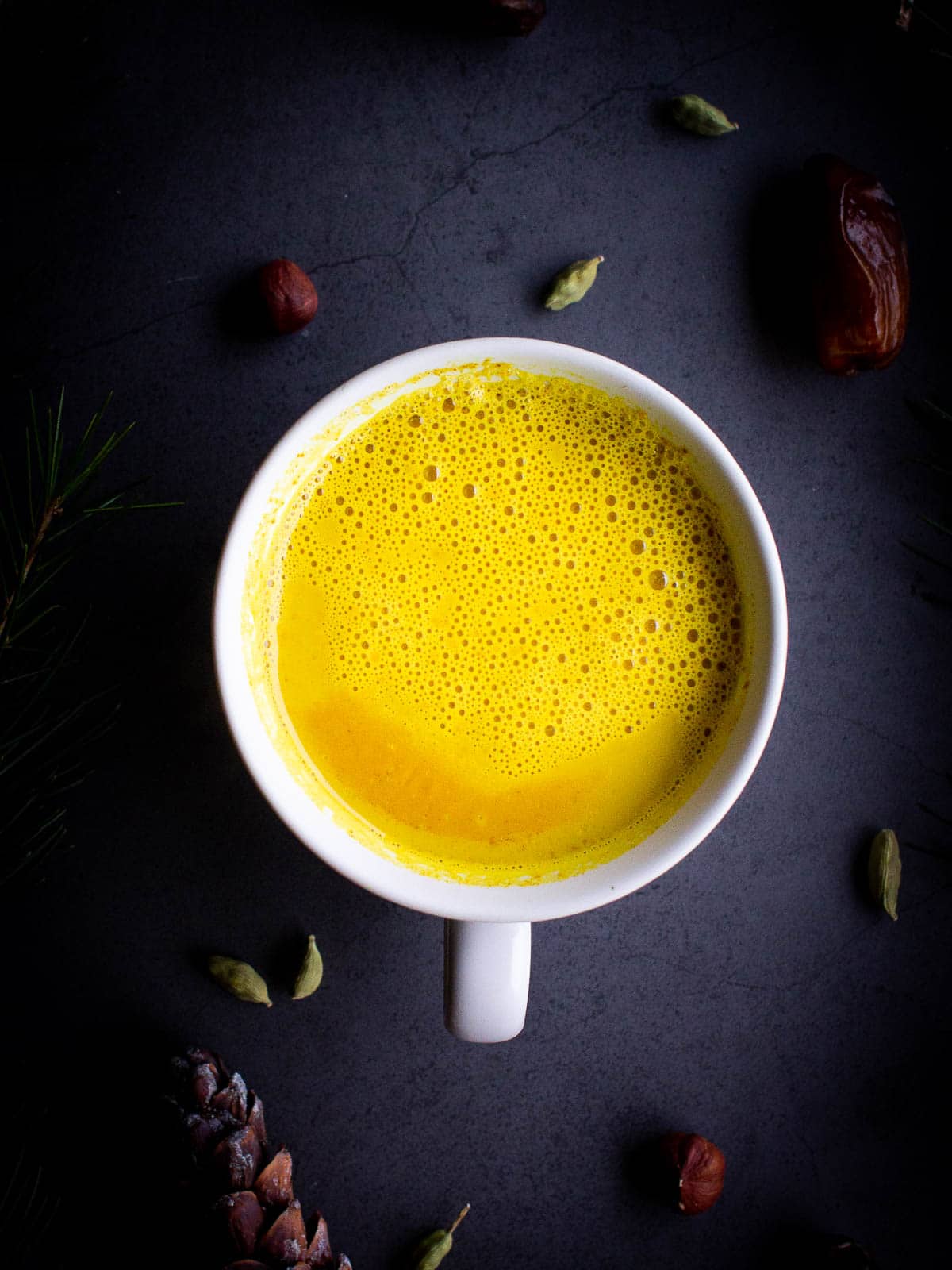 Golden milk, Latte Oro— also known as Turmeric Milk —is a traditional Ayurvedic Indian drink. It can be as simple as mixing milk and ground turmeric.
Making plant-based versions of our favorite foods is our goal. We are also fans of all the vegetable kinds of milk; we changed the traditional golden milk recipe's cow's milk for rice milk and added a few aromatic ingredients.
You can make this turmeric golden milk recipe with any plant milk, such as these homemade ones: soy milk (homemade soy milk recipe), unsweetened almond milk (see almond milk recipe), and oat milk (homemade oat milk recipe also on this site); coconut milk and cashew milk work beautifully as well.
Generally, we have golden milk a couple of times a week to replace our morning plant-based late coffee. And we love having it with a portion of gluten-free cornbread.
Jump to:
🥛 Health benefits of turmeric milk (aka turmeric latte)
The golden milk's health benefits vary from overall body healing to its anti-inflammatory properties, primarily thanks to the curcumin found in turmeric and the ginger we add in this version and the ginger.
Drink turmeric milk to reduce inflammation or as a way to maintain overall health. Make golden milk regularly if you suffer from joint pain or arthritis.
Add this carrot ginger turmeric juice to your anti-inflammation recipe rotation.
Turmeric has been used in Ayurvedic medicine for thousands of years to treat joint pain, fatigue, and digestive issues, amongst other conditions.
A good example is its use in the Vegan Kitchari Cleanse Ayurvedic recipe, a 1-pot hassle-free main dish that works perfectly when you want to give your gut and stomach some rest.
Modern research also suggests that turmeric is a potent antioxidant, heart disease-fighting, and has anti-cancer effects.
See how to make a lemon and ginger an anti-inflammatory morning infusion.
✨ Golden milk recipe - Ayurveda
Although the traditional golden milk recipe calls for dairy milk since cow's milk has been associated with different forms of cancer and an increasingly high percentage of the population has become lactose intolerant, why not try a non-dairy milk version using beverages such as nut milk?
The active ingredient and most benefits of this traditional Indian drink come from turmeric and the other spices included in this delicious and nurturing drink.
We like adding some extra health-promoting spices!
Spices like ginger, ground cinnamon, and cloves have anti-inflammatory and anti-cancer benefits.
Please have a look at our Hangover Juice recipe or this great detox juice recipe for more cleansing and health-promoting drinks.
🧾 Ingredients
You need very few ingredients and 5 minutes.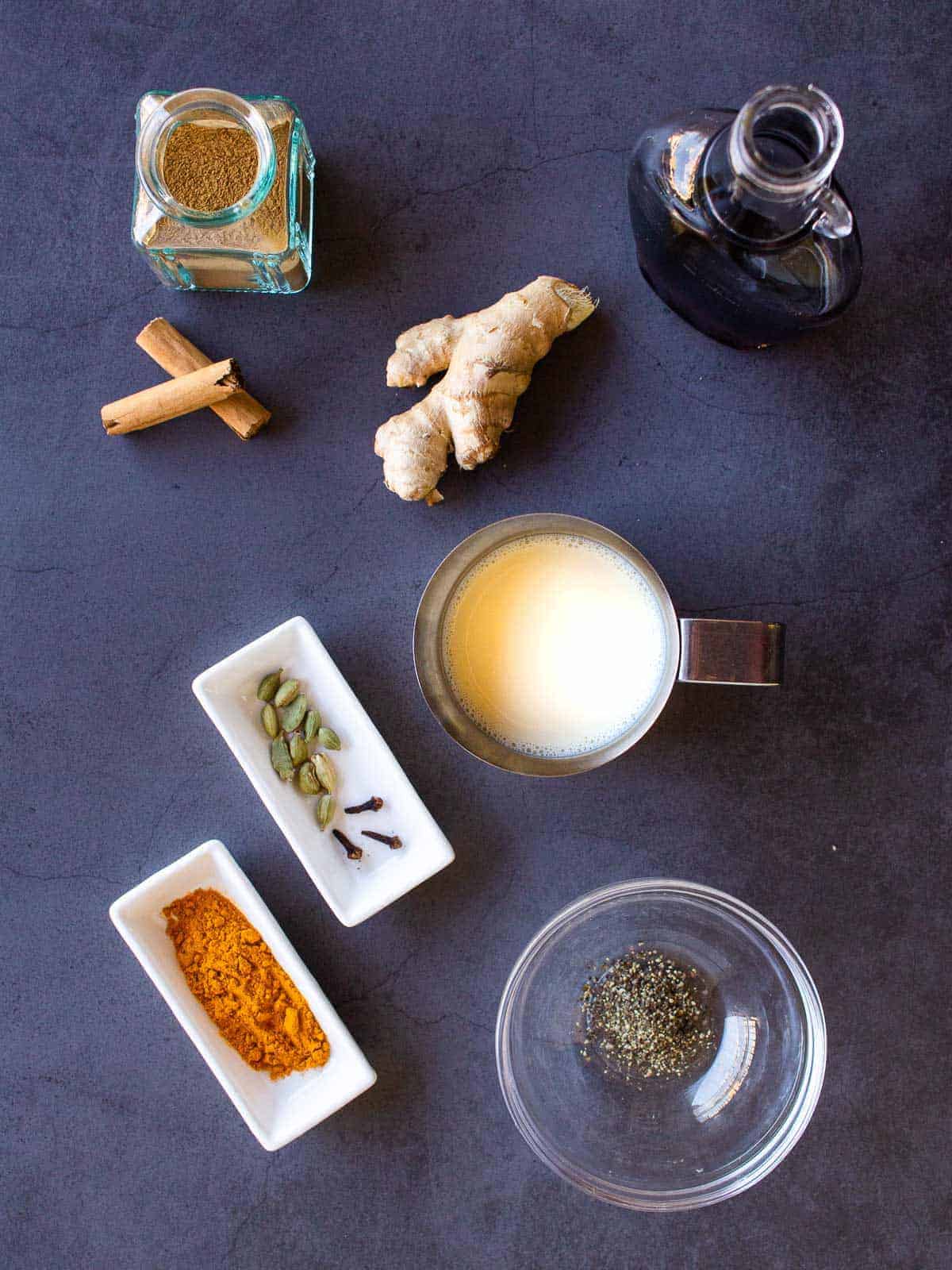 Ground Turmeric: The star of the show, ground turmeric, gives the golden milk its iconic yellow hue and is packed with anti-inflammatory properties. Plus, it's a mood booster—like sunshine in a cup!
Black Pepper: Don't skip this! Black pepper enhances the absorption of curcumin, the active ingredient in turmeric, by up to 2000%. It's the wingman turmeric never knew it needed.
Hot Milk: We opt for dairy-free plant-based milk options like rice, almond, or coconut milk to keep it vegan and creamy. Each milk alternative adds its own unique flavor twist, so choose your adventure!
Ground Cinnamon: A sprinkle of this aromatic spice not only adds warmth and depth but also has its own set of anti-inflammatory benefits. It's like a cozy blanket for your taste buds.
Fresh Ginger: This root adds a zesty kick and aids in digestion. Plus, it's another anti-inflammatory powerhouse—talk about a dynamic duo with turmeric!
Freshly Ground Black Pepper: Wait, again? Yes! Freshly ground offers a more potent flavor and additional health benefits, making your golden milk a wellness elixir.
Add your preferred "sweet" spices. We like using Cloves and cardamom pods.
Sweetener (homemade date paste, agave, or maple syrup). You can use coconut sugar or brown sugar, but sugar, in general, promotes inflammation.
It would be counterintuitive if you want to benefit from the benefits of this traditional Ayurvedic drink.
🔪 Instructions
Making this vegan golden milk recipe is easy and doesn't take more than a couple of minutes.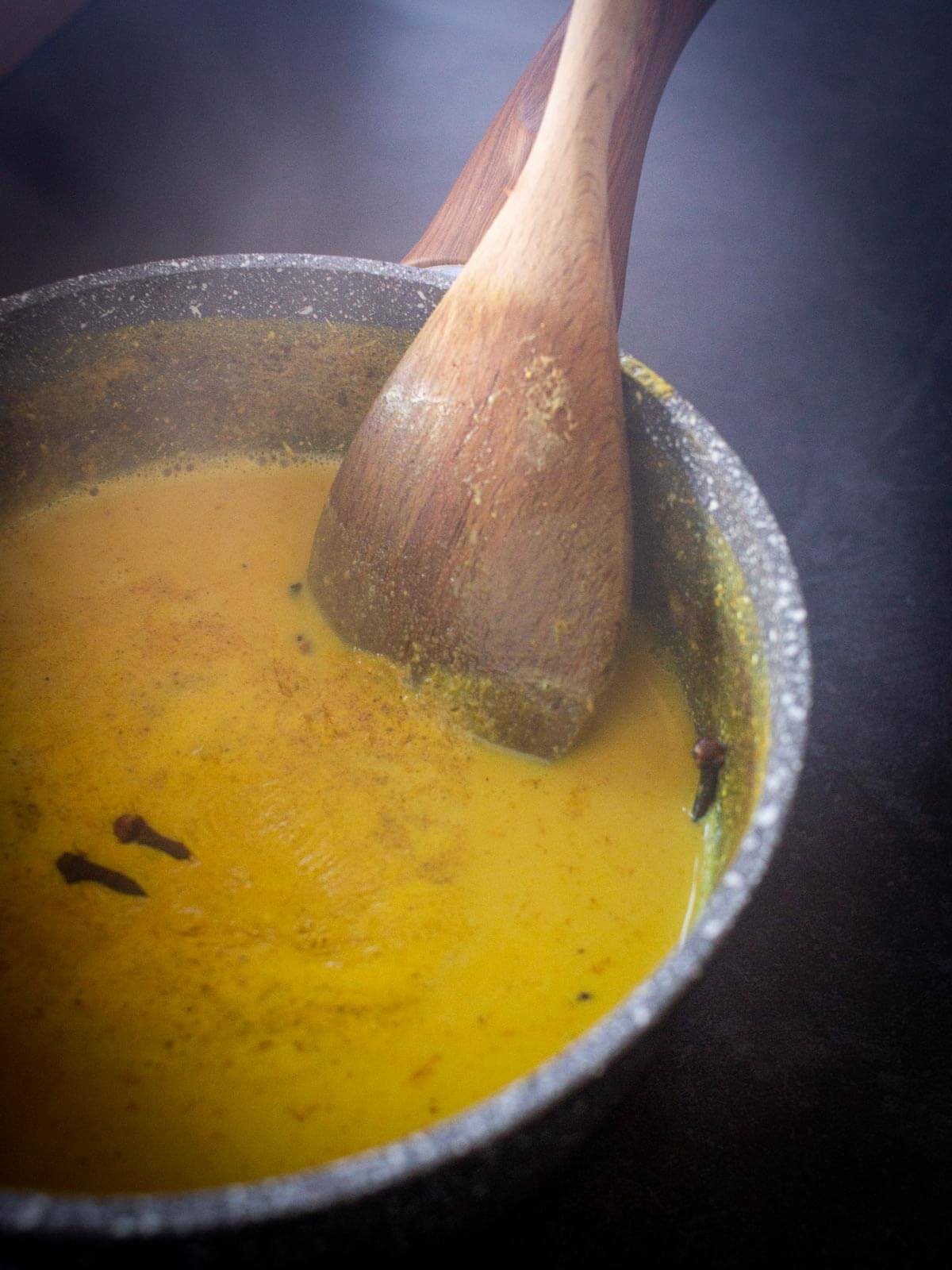 Heat It Up: Begin by gently warming your choice of plant milk in a small saucepan over medium-low heat.
Spice It Up: Next, whisk in the ground turmeric, a crack of black pepper, and the freshly grated ginger.
Whisk: Keep stirring continuously to meld the flavors together. Warm the mixture until it's hot to the touch but not boiling, which should take about 3-4 minutes.
Taste Test: Once off the heat, give it a taste. Feel free to get creative—add a little more sweetness or ginger, depending on your preference.
Strain (Optional): If you've gone for whole spices like cinnamon sticks or cardamom pods, strain your golden brew through a sieve to keep it smooth.
Enjoy: Serve it steaming hot right away, or if you're planning ahead, cool it down and savor it chilled. Either way, it's a treat. If there's a little cream on top, just skim it off before serving.
Hint: adding a frothy layer can elevate your golden milk experience to café-quality indulgence! After blending in a touch of maple syrup for sweetness, I grabbed my trusty milk frother and went to work. In seconds, I had a nice little foam on top that added a playful and luxurious texture.
🫙 Storing
This Ayurvedic medicine Golden milk feels more nurturing when fresh, but it can be stored covered in the fridge for 2-3 days. Reheat on the stovetop until hot.
📖 Variations
Pumpkin pie spice: Use it if you are out of time and have some store-bought or homemade pumpkin pie spice mix! It is an excellent option to make this fantastic drink faster. The recipe shares various essential ingredients. Thus, both the flavor and health benefits you can expect are similar. You will still need the turmeric and black pepper, though.
Pure vanilla extract: An additional flavor that pairs very well with this delicious drink. Just add a couple of drops.
Turmeric paste: You can use either a paste of fresh turmeric root instead of ground turmeric powder.
Cinnamon: You can use a whole cinnamon stick instead of ground cinnamon and add it to the simmering saucepan; remove it before serving.
Ginger root: Use powdered ginger if you don't have fresh ginger handy.
Coconut oil: Some people like adding a teaspoon of coconut oil to their turmeric milk. I wouldn't say I like it personally, as I like to keep my golden milk fat-free; I'd instead use coconut milk, but it is certainly an option if you'd like to add this flavor note. Keep in mind that coconut oil is saturated fat and is not heart-healthy.
Rice milk, Almond Milk, or Coconut Milk?
Any dairy-free milk works perfectly for this recipe. In my experience, soy milk, almond milk, and cashew milk are the creamier.
What about Oat milk?
Although it works, I have noted that when simmering it, it becomes very slimy, so although I love oat milk and use it extensively in my recipes, I don't recommend it for this recipe or any recipe that requires milk to be simmered or boiled.
What about coconut milk?
This is a great option as well, but it is not neutral and will add a distinctive flavor note to your golden milk. If you like coconut milk as we do, go for it!
If you decide to use coconut milk, don't use full-fat coconut milk; remember, it is packed with saturated fats that are not necessarily healthy.
🌙 4 Benefits of Turmeric Milk at Night
Accelerating recovery
Turmeric milk allows for the body's repair work to function optimally.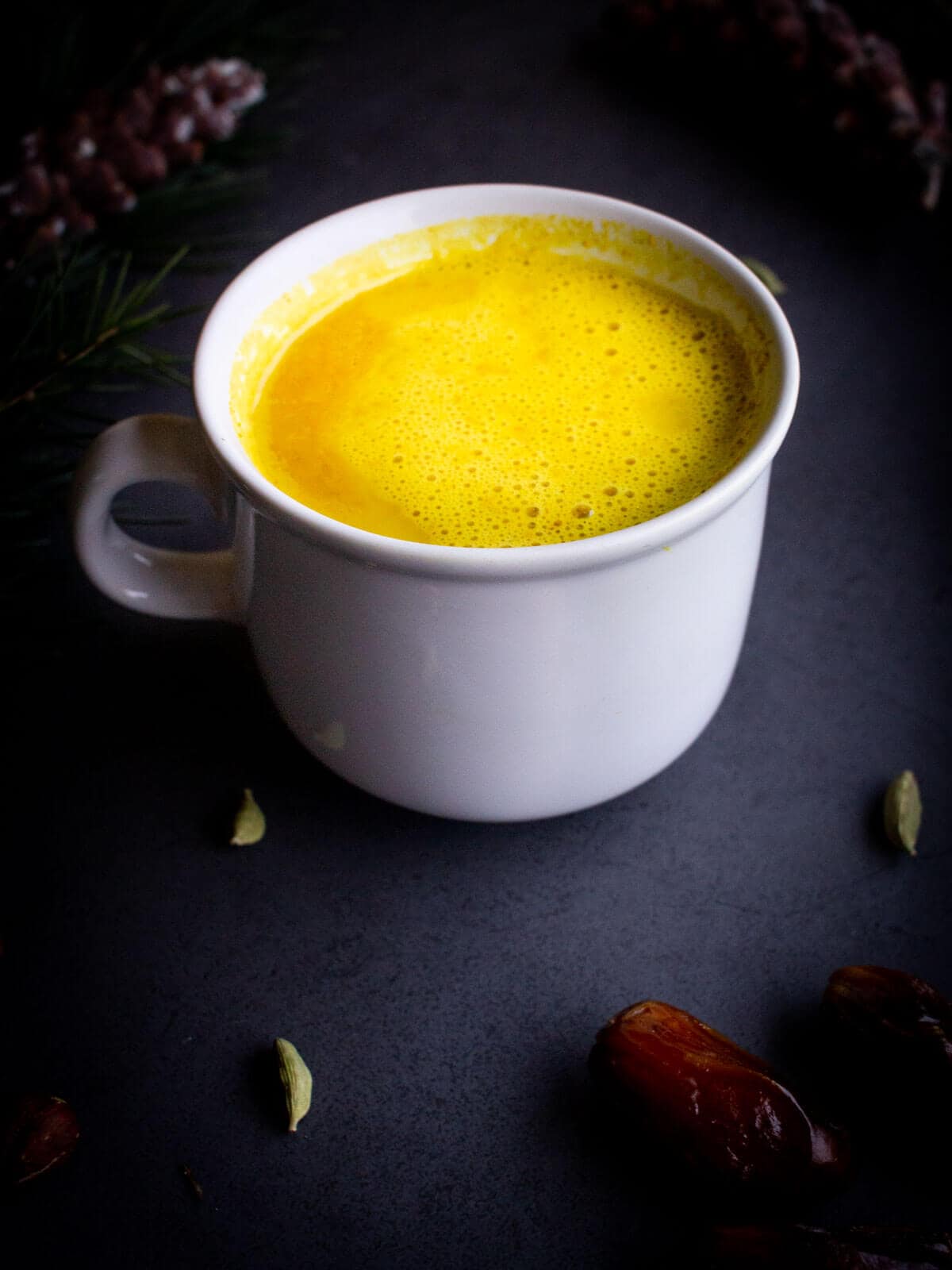 Hormonal balance
Drinking Latte d'Oro - as it is called in Italy - can improve hormonal balance. It can be helpful as a remedy for acne and unpredictable periods.
Insomnia
Drinking one cup of Turmeric milk at night can benefit people who get restless during sleep. Also, if your rest breaks multiple times to use the bathroom in the middle of the night, you can benefit from Golden Milk.
Immune system
Turmeric can boost immunity. Drinking golden milk during season changes can protect you and your family from cough, cold, and flu.
Read on: Drinks to boost the immune system »
🧖🏼‍♀️ Turmeric milk benefits for skin
Curcumin has antibacterial and anti-inflammatory properties, which help in combatting acne and clarifying the complexion.
Turmeric derives its bright yellow from a component called curcumin. Curcumin protects against skin-damaging chemicals and environmental pollutants.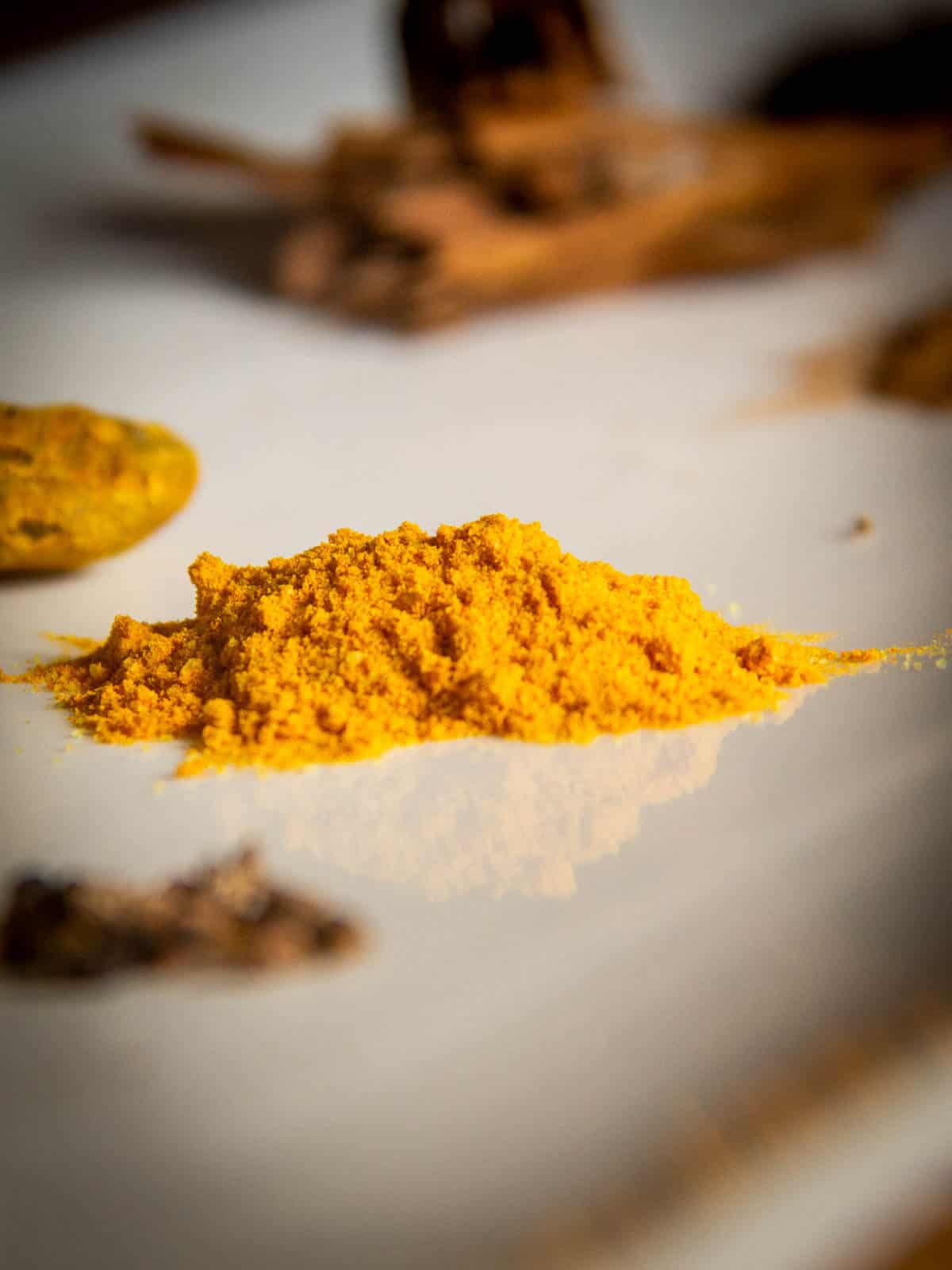 Remember that consuming Curcumin may help inhibit the immune pathways responsible for psoriasis, which means Golden Milk may help prevent oxidative stress in the epidermal skin cells responsible for producing melanin.
We know that the skin is more prone to blackheads and acne when its pores are blocked by oil, dead skin, and external pollutants; drinking turmeric milk for the skin can help prevent acne.
🫖 How to serve
Known as Leche de Cúrcuma or Leche Dorada in Latin America, this vibrant drink is not only delectable but brimming with health perks.
Imagine cozying up on a Christmas morning, a slice of Vegan Apple Cake in one hand and a mug of this soul-soothing Vegan Golden Milk in the other—pure bliss.
For those seeking a nightcap to usher in a peaceful slumber, sip on this golden elixir thirty minutes before bedtime to tap into its sleep-enhancing magic.
Picture a healthier alternative to hot chocolate, with a festive twist of extra spice to dance with the fragrant notes of plant-based granola.
In the chilly embrace of winter, when the sun shyly retreats, this golden milk is a favorite go-to for a dose of vitamin D.
Ready in a snap, about 10 minutes is all it takes to whisk up this delightful beverage. Just combine the ingredients in a small saucepan and let the magic happen.
📚 More health-promoting Elixirs
Morning Celery Green Juice: the Ultimate Anti-inflammatory Juice
Carrot, Apple, and Celery Juice
Beetroot and Celery Juice: the pre and post Workout Juice
⭐ If you try this turmeric latter recipe, let us know! 💬 Leave a comment, rate it, and don't forget to tag us @ourplantbasedworld on Instagram. Cheers!
📋 Recipe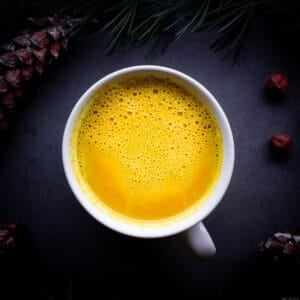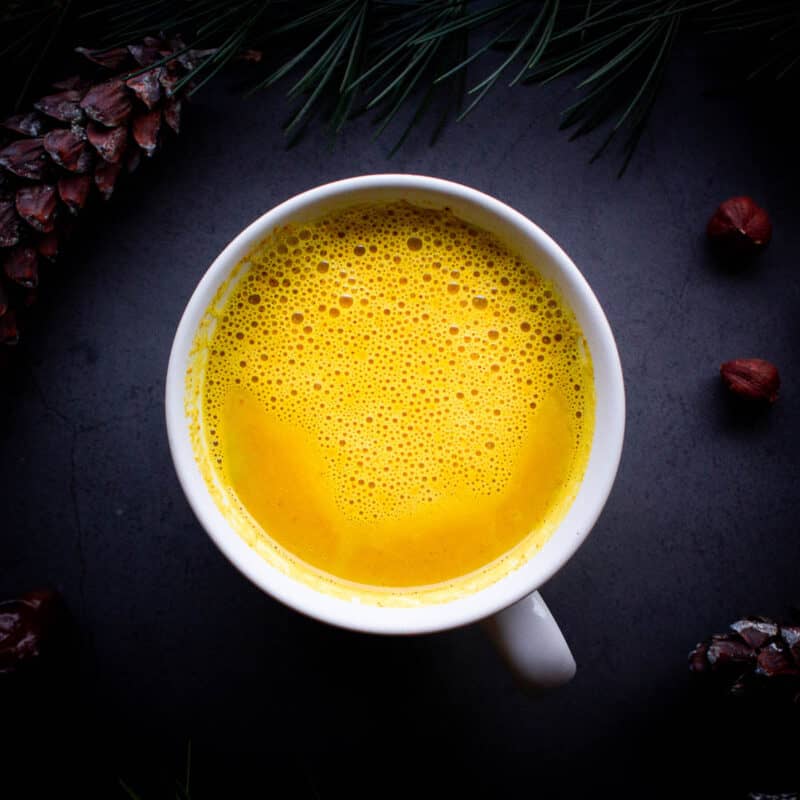 Vegan Golden Milk
This Vegan Golden milk is a delicious and easy-to-make ancient drink that can be made at home in minutes. All the tips to make this anti-inflammatory drink!
Equipment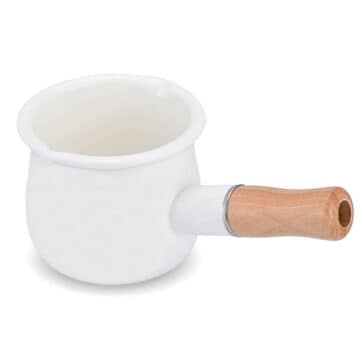 (affiliate link)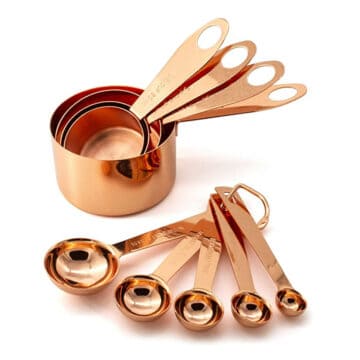 (affiliate link)
Directions
Add in. To a small saucepan, add rice milk and all the ingredients.

Whisk to combine and warm over medium heat. Heat until hot to the touch but not boiling – about 3-4 minutes – whisking frequently.

Turn off heat and taste to adjust flavor. Add more maple syrup or ginger for intense flavor.

Strain. Pass throw a colander.

Serve immediately.

Best when fresh, but it can be stored covered in the fridge for 2-3 days. Reheat on the stovetop until hot.
Nutrition Facts
Calories:
178
kcal
Carbohydrates:
39
g
Protein:
2
g
Fat:
3
g
Saturated Fat:
1
g
Sodium:
94
mg
Potassium:
102
mg
Fiber:
2
g
Sugar:
18
g
Vitamin A:
6
IU
Vitamin C:
1
mg
Calcium:
60
mg
Iron:
1
mg
Nutrition Facts
Vegan Golden Milk
Amount per Serving
% Daily Value*
* Percent Daily Values are based on a 2000 calorie diet.
Nutritional Disclaimer
The information shown is an estimate provided by an online nutrition calculator. It should not be considered a substitute for a professional nutritionist's advice. See our full Nutritional Disclosure here.
Affiliate Disclaimer
Please note that some of the links here are affiliate links, and I will earn a commission if you purchase through those links. I recommend all of the products listed because they are companies I have found helpful and trustworthy.