Get ready for a crunch like no other with our crunchy oyster mushroom recipe! These oyster mushrooms are not just crispy and golden; they're a plant-based revelation. Ideal for spicing up your dinners or as a stand-alone appetizer, this recipe is a true crowd-pleaser.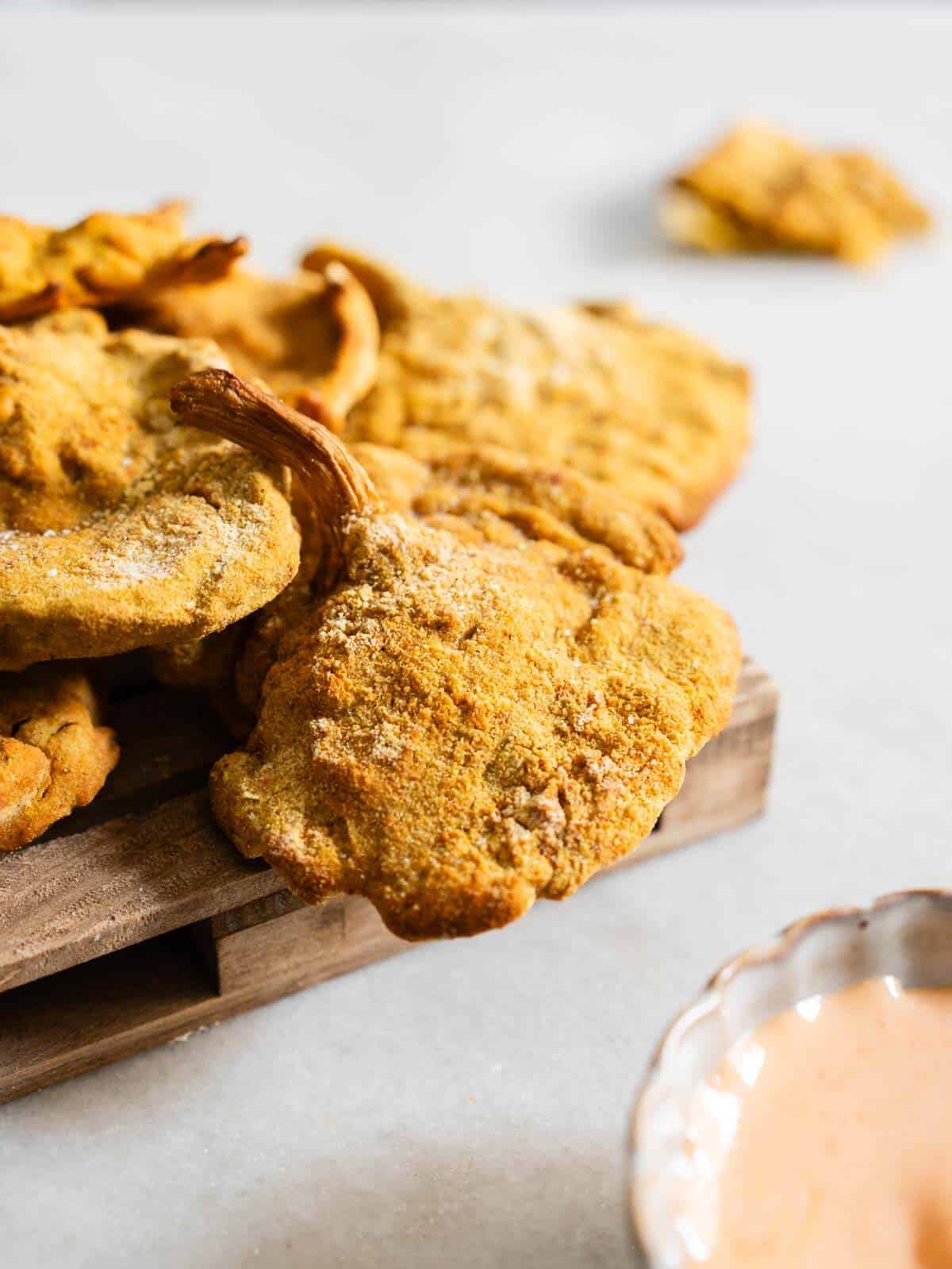 Oyster mushrooms are a favorite in our kitchen, cherished for their hearty texture and adaptability. While they shine in the fall, they're thankfully available all year.
Our recent air fryer oyster mushrooms recipe has become a staple at our gatherings, with friends often requesting the recipe.
This vegan appetizer recipe came to life as oyster mushrooms are a fantastic plant-based alternative to fried chicken. However, typical recipes are deep-fried, something we generally avoid. Our goal was to create a version that maintains the crunch of a batter but skips the deep frying, making an oil-free version. This way, you can use an air fryer or oven for a lower-calorie option without losing that crave-worthy crispy texture.
Jump to:
💚 Why you will love them
Irresistibly Crunchy: Every bite delivers a satisfying snap that's simply unmatched.
Flavor Explosion: Seasoned to perfection, these mushrooms pack a savory punch.
Versatile Delight: Perfect as a snack, side, or topping - they adapt to any meal.
Easy to Make: With straightforward steps, they're a breeze to whip up.
Health-Conscious Choice: Packed with nutrients, they're a guilt-free indulgence.
🧾 Ingredients
These are the ingredients that make these oyster mushrooms so yummy and crunchy.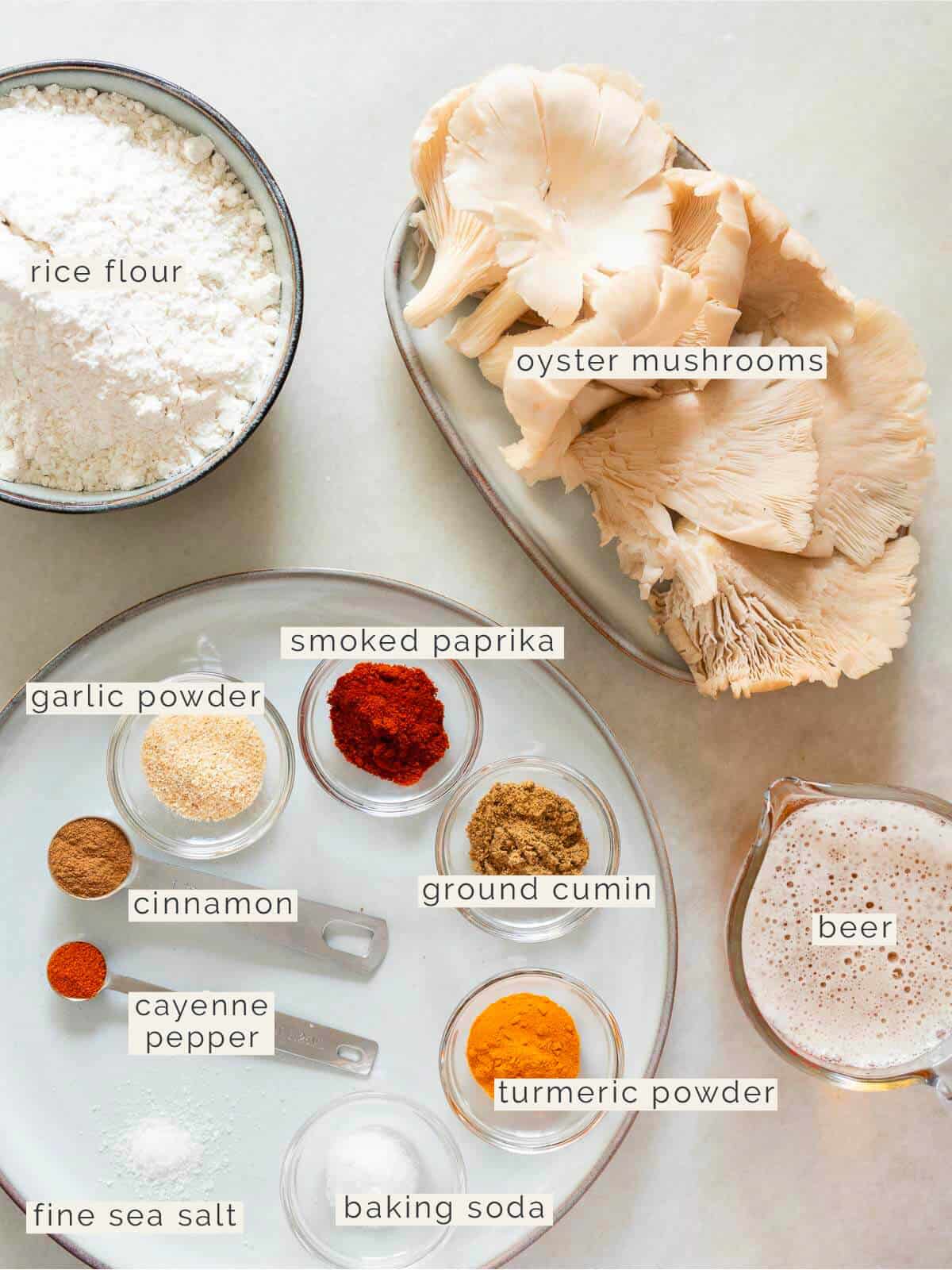 Oyster Mushrooms: These mushrooms are chosen for their meaty texture and mild flavor, which absorb the spices well and offer a satisfying crunch when fried.
Gluten-Free Beer: Used for the batter, it adds lightness and aeration, resulting in a crispy, golden coating.
Rice Flour: This flour is gluten-free and has a lighter, crisper texture than wheat flour, ideal for a crunchy batter.
Cinnamon: Adds a subtle, warm sweetness that contrasts nicely with the savory spices in the recipe.
Garlic: Provides a robust, aromatic flavor that enhances the overall taste profile of the dish.
Smoked Paprika: Offers a smoky depth to the dish, complementing the earthiness of the mushrooms.
Ground Cumin: Imparts a nutty, slightly spicy taste that adds complexity to the flavors.
Turmeric Powder: Used for its bright color and earthy flavor, turmeric also offers anti-inflammatory benefits.
Cayenne Pepper: Gives a spicy kick to the dish, balancing the savory and sweet flavors.
Substitutions
Beer: feel free to use any regular beer if you don't mind the gluten. Sparkling water, club soda, or plain carbonated water to maintain the batter's lightness and crispiness. Instead, you can also use vegan buttermilk made with lemon and dairy-free milk.
Rice Flour: This can be replaced with chickpea flour or an all-purpose gluten-free flour mix for a similar gluten-free, crunchy texture.
Cinnamon: Nutmeg or allspice can be used as alternatives, offering a warm, sweet flavor.
Garlic powder: onion powder can be used for a similar pungent, savory taste.
Smoked Paprika: a pinch of liquid smoke or chipotle powder can replicate the smoky flavor.
Ground Cumin: Ground coriander or caraway seeds are good substitutes, offering a slightly different but complementary earthy taste.
Turmeric Powder: For color, saffron or yellow mustard powder can be used, though they will slightly alter the flavor profile.
Cayenne Pepper: Red chili powder or hot paprika can replace cayenne for a similar heat level.
🍽 Equipment
You will need two large mixing bowls, a whisk or a fork, and a baking sheet.
🔪 Instructions
Preheat the oven to 450 ºF (225 ºC).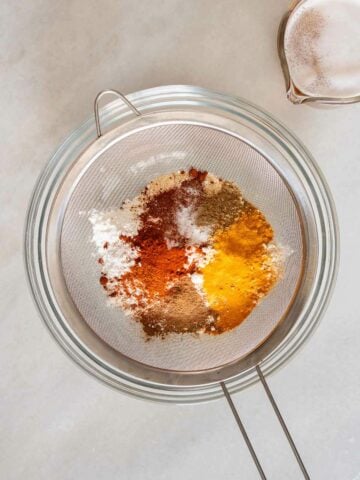 Step 1: Sift the dry ingredients using a wire colander.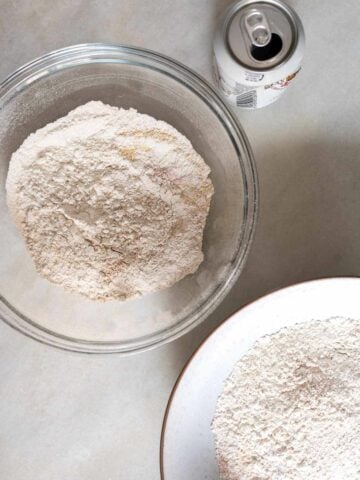 Step 2: Divide the dry ingredients mix into two bowls, with a can of beer to be added to one of the mixtures.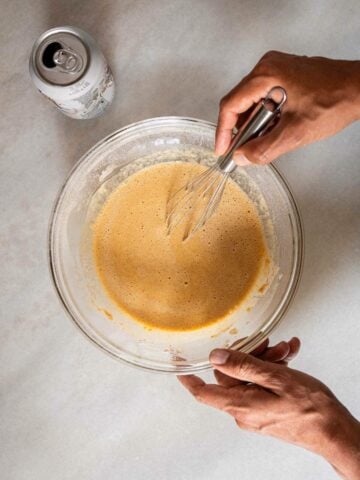 Step 3: Add beer to one of the dry mixtures to make a batter.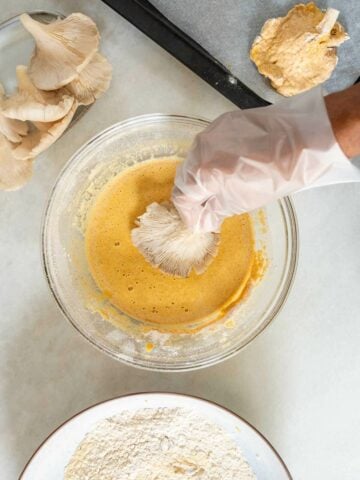 Step 4: Coat oyster mushrooms with batter using a kitchen glove.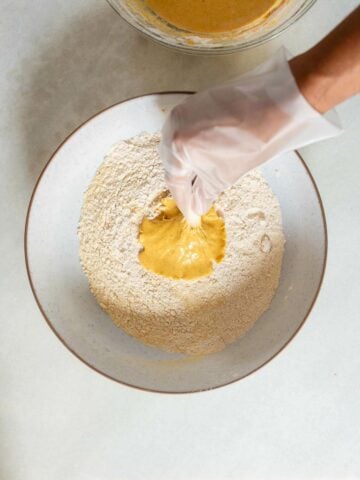 Step 5: Using a kitchen glove, coat an oyster mushroom with the dry mixture.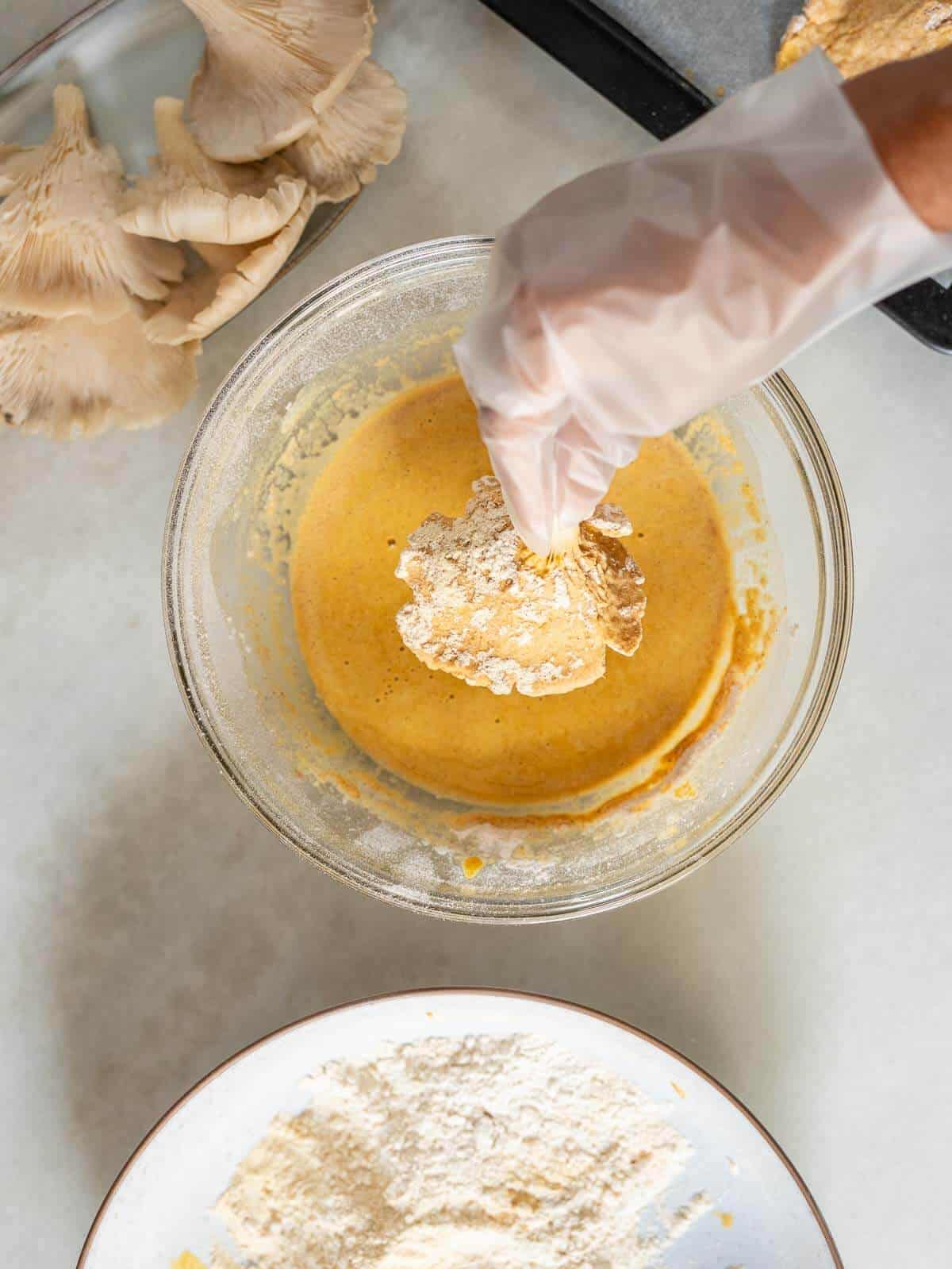 Step 6: Coat them with batter for a second time using a kitchen glove.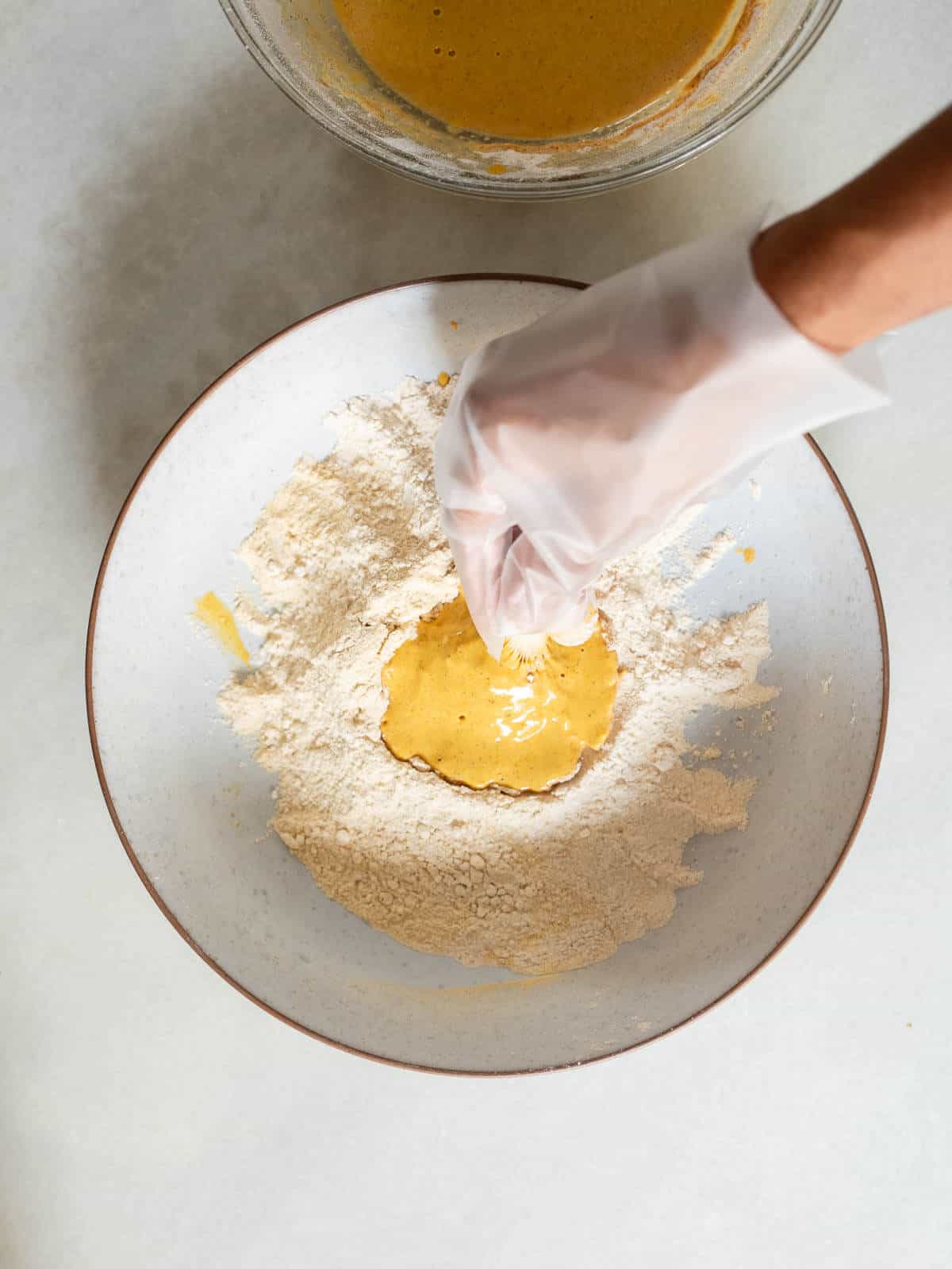 Step 7: Coat an oyster mushroom with the dry mixture for a second time using a kitchen glove.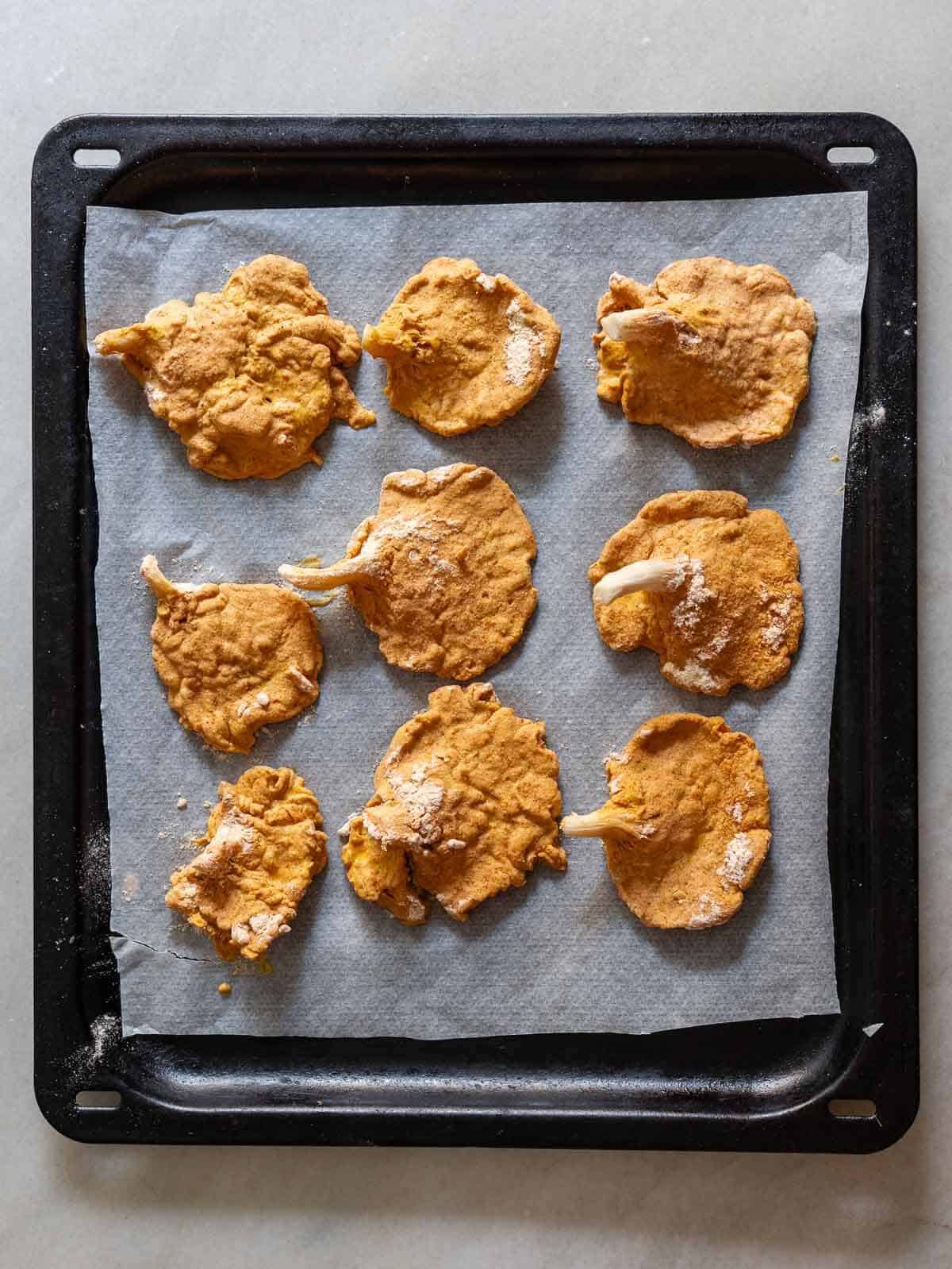 Step 8: arrange the double-coated oyster mushrooms on a baking sheet lined with parchment paper and take them to the oven.
Hint: While the mushrooms are baking, you have the option to whip up a sauce. Simply combine the optional dipping sauce ingredients - lemon, sriracha, vegan mayo, and garlic powder - in a bowl.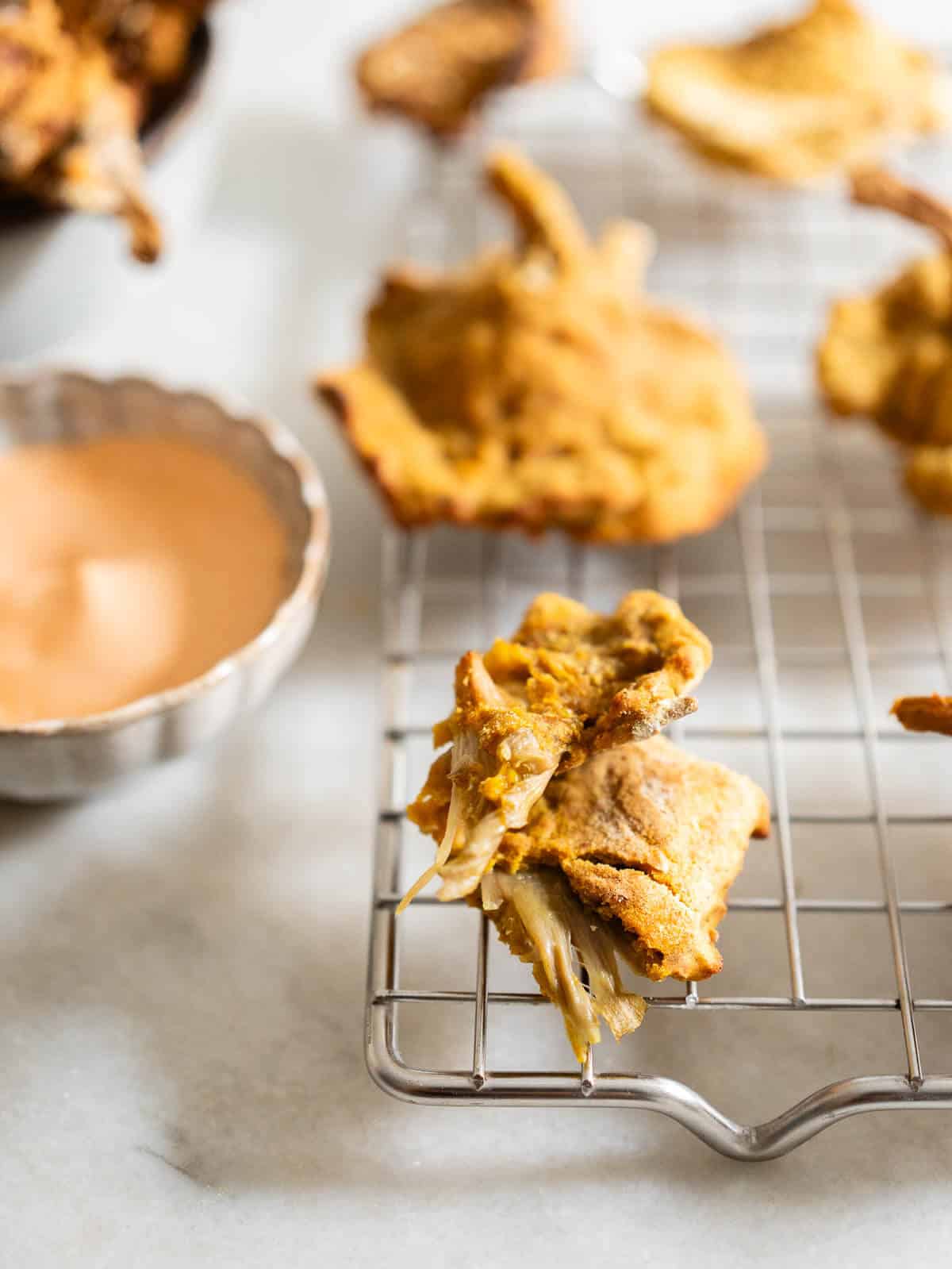 💡 Expert tips
For consistently crispy and crunchy oyster mushrooms, ensure all dry ingredients like rice flour and spices are sifted together before batter preparation. This prevents clumping and allows for an even coating on the mushrooms.
Additionally, lightly spray the coated mushrooms with kitchen spray oil before baking; this not only helps in achieving that golden color but also adds an extra layer of crunch.
Remember, even distribution of heat is key, so don't overcrowd the baking tray!
📖 Variations
Herb Fusion: Mix in finely chopped fresh herbs like parsley, thyme, or rosemary into the batter for a fragrant, herby flavor that complements the mushrooms beautifully.
Asian-Inspired: Incorporate a tablespoon of soy sauce and a teaspoon of ginger powder into the batter for an Asian flair, and serve with a sweet chili dipping sauce.
Dark Beer Delight: Swap the beer for a dark beer in the batter. This will add a rich, malty flavor, creating a more complex taste profile that pairs wonderfully with the mushrooms.
Try out our seared vegan oyster mushroom recipe, made with only five kitchen staples.
🥢 How to serve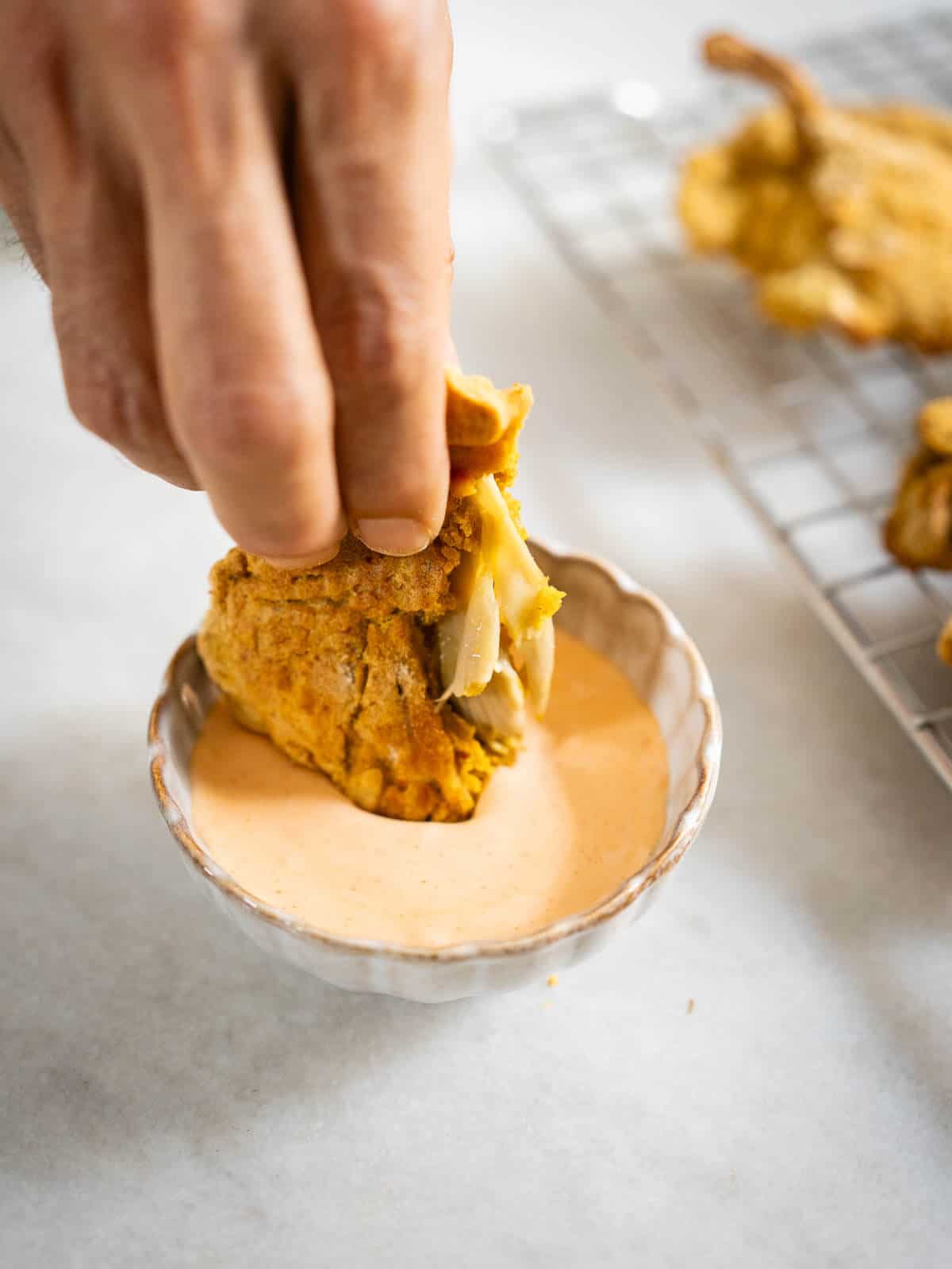 Dipping Delight: Pair them with a homemade dipping sauce made of vegan mayo and sriracha for a creamy, spicy kick that perfectly complements their crunch. See the recipe card for details.
Sandwich Filler: Stuff these crispy treats into a vegan bread bun with lettuce, tomato, and homemade guacamole or Lebanese hummus for a delicious and hearty mushroom sandwich.
Herby cream: we also like pairing these crunchy buddies with our green creamy vegan sauce, or sage and kale pesto, both super easy to make in less than 10 minutes.
❓ FAQ
Can you make this recipe in the air fryer?
Yes, you can. Reduce the cooking time to 15 minutes, keep the same temperature, and flip the oyster mushrooms halfway through the cooking time.
What is the flavor profile of oyster mushrooms?
Mild and Subtle Taste: Unlike some other mushroom varieties, oyster mushrooms have a gentle flavor that isn't overpowering, making them versatile in various dishes.
Slightly Sweet Undertones: There's a hint of sweetness in oyster mushrooms, which contrasts nicely with their earthy notes.
Earthy and Woody Notes: Like most mushrooms, they carry an earthy, woody essence that is reminiscent of their natural growing environment on trees.
Savory (Umami) Quality: Oyster mushrooms possess a savory umami characteristic, which enhances the flavor of dishes they are added to.
Meaty Texture: While not exactly a flavor, their meaty texture is worth noting as it contributes to the overall eating experience, making them a great substitute for meat in vegetarian and vegan dishes.
🥡 Storage and reheating
Refrigerator Storage
Storing: Place any leftover crunchy oyster mushrooms in an airtight container. They can be stored in the refrigerator for up to 3 days.
Reheating: For best results, reheat in the oven or air fryer at 350°F (175°C) for about 5-10 minutes or until they're heated through and crispy again. Avoid microwaving, as it can make them soggy.
Freezing and Reheating
Freezing: Allow the cooked mushrooms to cool completely. Then, spread them out on a baking sheet and freeze them for about an hour before transferring them to a freezer-safe bag or container. This prevents them from sticking together.
Reheating from Frozen: Reheat directly from frozen in the oven or air fryer at 350°F (175°C) for 10-15 minutes until they are hot and crispy.
🍱 Meal prep option
Preparation: Prepare the batter and coat the mushrooms as you would for immediate baking. Arrange them on a baking sheet lined with parchment paper, ensuring they don't touch each other.
Freezing: Place the baking sheet with the coated mushrooms in the freezer. Freeze them until they are firm, usually about 1-2 hours.
Storage: Once frozen, transfer the mushrooms to a freezer-safe bag or container. They can be stored in the freezer for up to a month.
Cooking from Frozen: When ready to cook, bake the mushrooms directly from frozen. Preheat your oven to 350°F (175°C) and bake for a slightly longer time than the original recipe, approximately 25 minutes, until they are crispy and golden. This method allows you to enjoy freshly baked crunchy oyster mushrooms with the convenience of pre-preparation.
📚 More vegan appetizers
If you like crunchy appetizers, don't forget to try our roasted squash seeds and our oven-roasted crispy fried chickpeas.
⭐ If you try this recipe, let us know! 💬 Leave a comment, rate it, and don't forget to tag us @ourplantbasedworld on Instagram. Cheers!
🎥 Video
📋 Recipe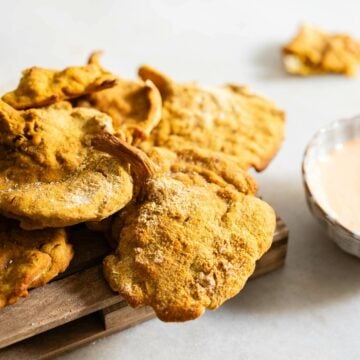 Crunchy Vegan Oyster Mushroom Recipe
Get ready to enjoy the ultimate Crunchy Oyster Mushroom Recipe! A vegan delight that's simple to prepare and bursting with flavor
Equipment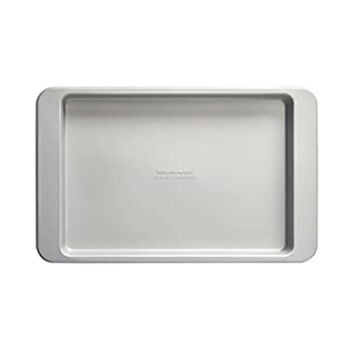 (affiliate link)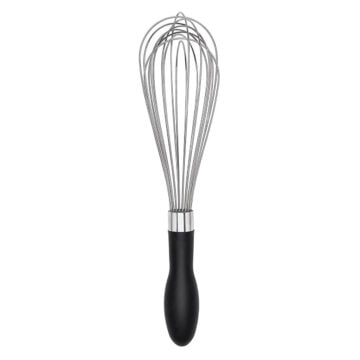 (affiliate link)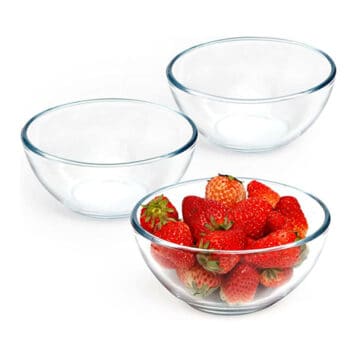 (affiliate link)
Ingredients
Optional
2

teaspoons

thyme

or oregano
Optional dipping sauce
4

tablespoons

vegan mayonese

2

tablespoons

sriracha sauce

1

tablespoon

lemon juice

¼

teaspoon

ground garlic
Directions
Preheat the oven to 450 ºF (225 ºC).

Sift the dry ingredients and reserve half of this dry mixture in a separate bowl.

Make the batter: In the other half of the dry mixture, gradually pour the beer while mixing it evenly with a whisk or balloon whisk.

Prepare a baking dish by lining it with parchment paper.

Set your table with your baking sheet, the batter, and the flour mix.

Put on gloves and dip each oyster mushroom into your prepared batter.

Coat mushrooms: Next, thoroughly cover each mushroom with the flour mixture. Immerse each mushroom back into the wet mixture and give it another coating of the seasoned flour. Repeat this process twice with both the dry and wet mixtures.

Place the breaded oyster mushrooms on a baking sheet prepared with parchment paper.

Bake the oyster mushrooms for 20 minutes.

Meanwhile, optionally, you can prepare a sauce by mixing the optional dipping sauce ingredients in a bowl.

Remove from the oven once the oyster mushrooms are golden and crunchy.

Serve the crispy breaded oyster mushrooms from the oven with the prepared sriracha and vegan mayonnaise sauce.
Notes
See recipe notes for instructions to bake in the air fryer.
Refrigerator Storage:
Storing: Place any leftover crunchy oyster mushrooms in an airtight container. They can be stored in the refrigerator for up to 3 days.
Reheating: For best results, reheat in the oven or air fryer at 350°F (175°C) for about 5-10 minutes or until they're heated through and crispy again. Avoid microwaving, as it can make them soggy.
Nutrition Facts
Calories:
325
kcal
Carbohydrates:
63
g
Protein:
8
g
Fat:
2
g
Saturated Fat:
0.4
g
Polyunsaturated Fat:
1
g
Monounsaturated Fat:
1
g
Sodium:
26
mg
Potassium:
566
mg
Fiber:
5
g
Sugar:
1
g
Vitamin A:
906
IU
Vitamin C:
1
mg
Calcium:
45
mg
Iron:
3
mg
Nutritional Disclaimer
The information shown is an estimate provided by an online nutrition calculator. It should not be considered a substitute for a professional nutritionist's advice. See our full Nutritional Disclosure here.
Affiliate Disclaimer
Please note that some of the links here are affiliate links, and I will earn a commission if you purchase through those links. I recommend all of the products listed because they are companies I have found helpful and trustworthy.