Vegan mushroom risotto is a dish that sounds intimidating to make, but it's actually such an easy recipe. It takes some hands-on time, so you'll need to be present.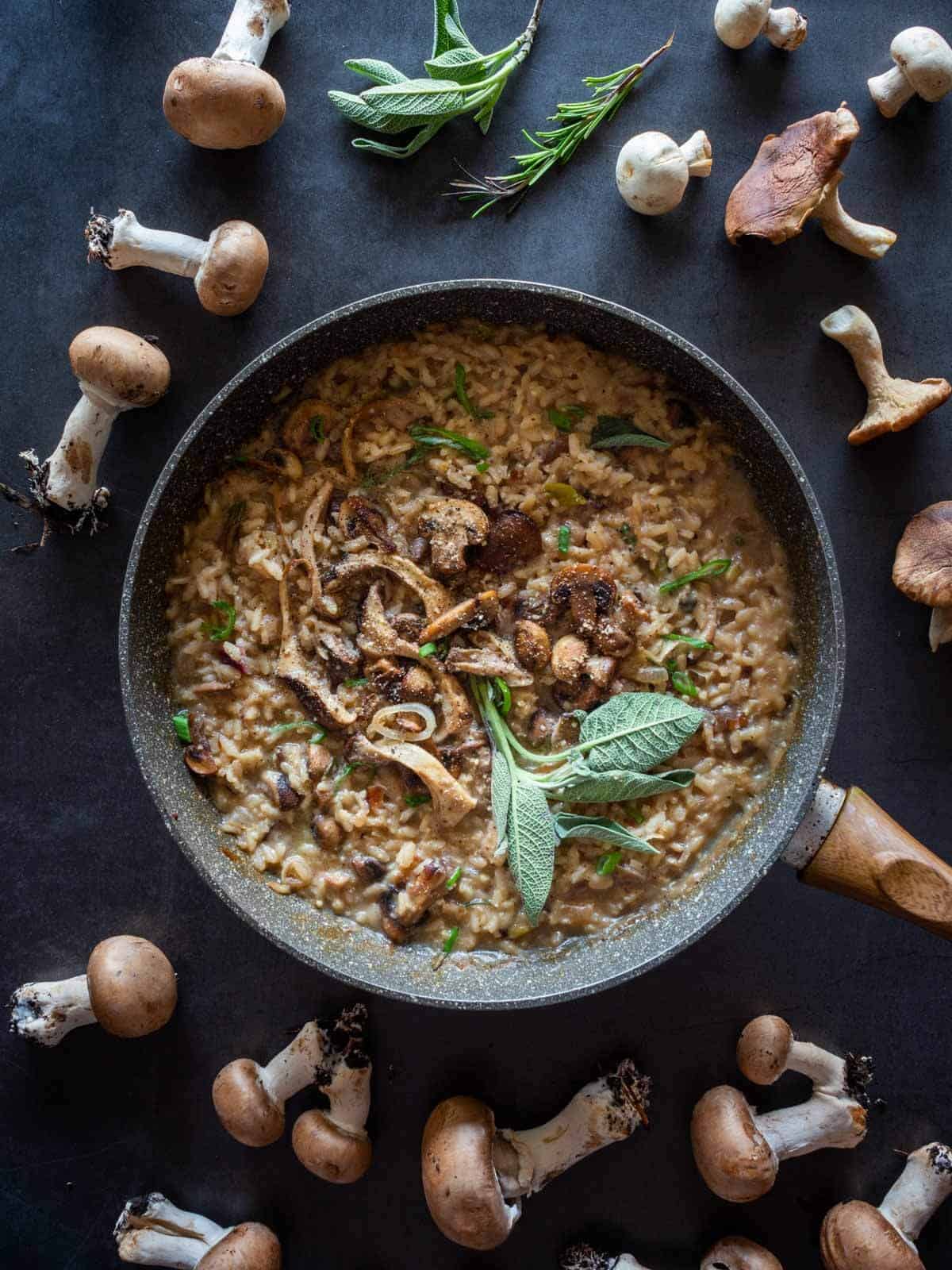 The good news is this creamy vegan risotto great recipe can be made in one pot with very few ingredients! This means fewer dishes for you to clean up afterward, which always makes cooking more enjoyable.
If you have read our blog before, you might have noticed that we are fans of risotto, and since we live in Milano, where risotto originated, it is a dish that we cook at least once a week and have perfectioned over time.
As we love cooking seasonal, and we are fully into the Fall season, when mushroom foraging is at its peak, it is only natural to share this delicious mushroom risotto with you.
We took the inspiration to make this dish during our travels in the Piedmont Region in Italy, where we tasted fantastic porcini mushroom risotto and stuffed plins (which look like a small local version of ravioli).
We make it frequently and enjoy this recipe as a main dish with different types of mushrooms. aside dish, like this air-fried oyster mushrooms. It is also during this time of the year that we make other recipes calling for porcini mushrooms such as the Holiday Nut Roast, Stuffed Onions, and herbs stuffed mushrooms.
Jump to:
🇮🇹 Origins of risotto
Although rice was introduced to southern Italy in the 14th century by the Arabs, as its cultivation spread to Northern Italy, the Mediterranean humid weather influenced its shape, giving birth to its short and glutinous versions.
The famous Risotto alla Milanese (also found in this blog) is simple but flavorful and's prominent flavor comes from saffron, a common spice also used in Spanish cuisine (think of Paella).
The first version has been called the Risotto alla Milanese and is traditionally composed of butter, parmesan cheese, onions, white wine, and saffron.
Our Plant-Based versions are not traditional but vegan and follow the conventional techniques. Check our Sun-dried Tomatoes Risotto recipe, for another great and easy-to-make version of this Italian favorite! They are equally delicious and perfect for us who follow a vegan diet!
Mushrooms also pair fantastically with lemon asparagus risotto, a great option for springtime and Easter dinners.
🧾 Ingredients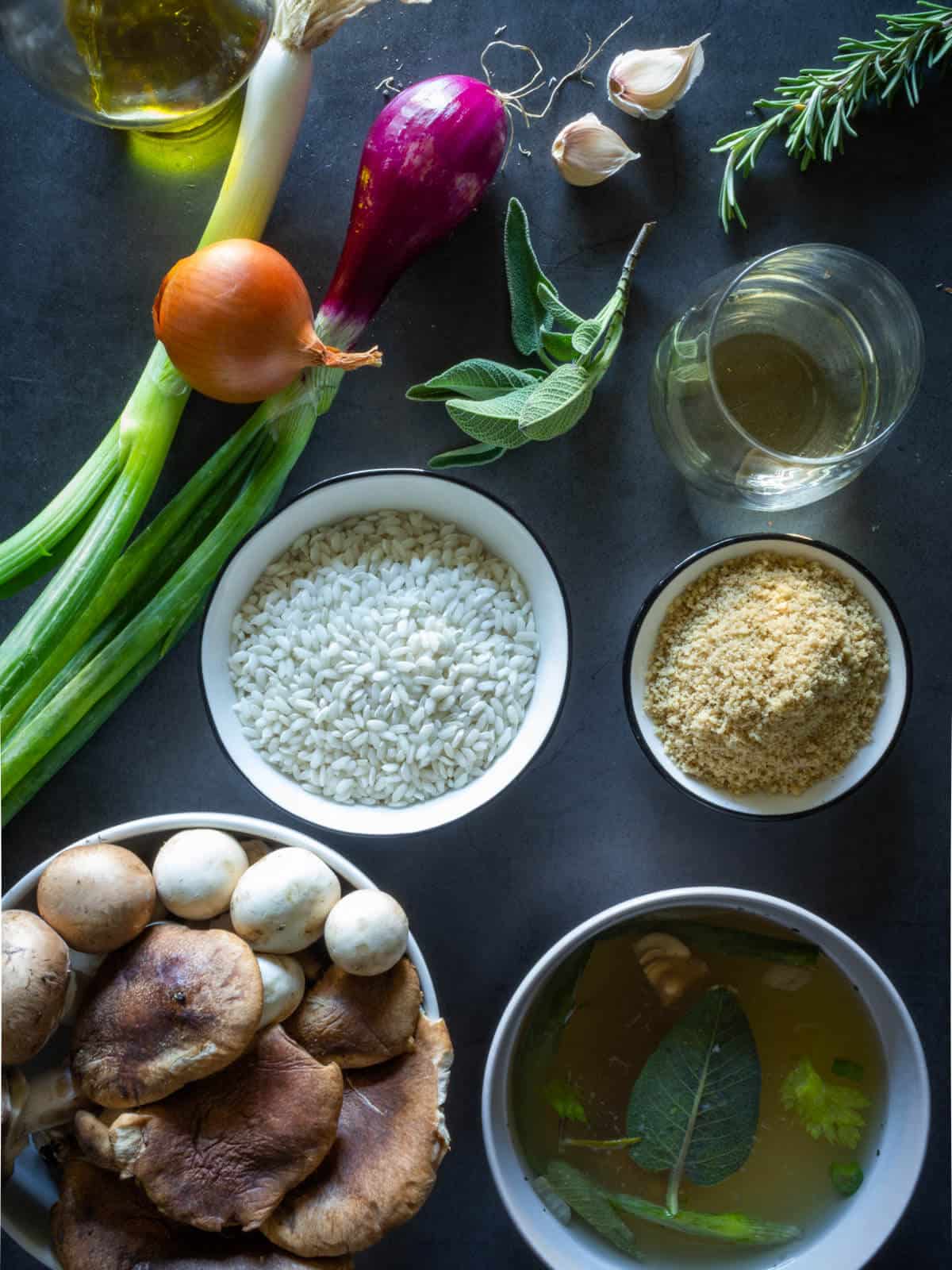 Mixed mushrooms (cremini, cardo, portobello, porcini)
Carnarolli rice (or arborio)
Warm vegetable broth
Dry white wine
Onions
Fresh garlic
Extra virgin olive oil
Herbs (rosemary, sage, or fresh thyme)
Plant-based parm cheese (or nutritional yeast)
Optional:
Vegan butter, Fresh chopped parsley to garnish.
🔪 Instructions
This is how to make creamy, dairy-free, perfect vegan risotto.
To make this easy mushroom risotto, you need only 10 ingredients and 30 minutes. This recipe has no cream because the liquid helps release the starch within the carnarolli or arborio rice.
When making this simple mushroom risotto, everything happens in one pot.
Step-by-step instructions
Step 1. Clean your mushrooms.
Depending on the type of mushroom you choose, they might come with more or less dirt, but you need to clean them up by brushing them or lightly washing them. Just don't submerge the mushrooms in water.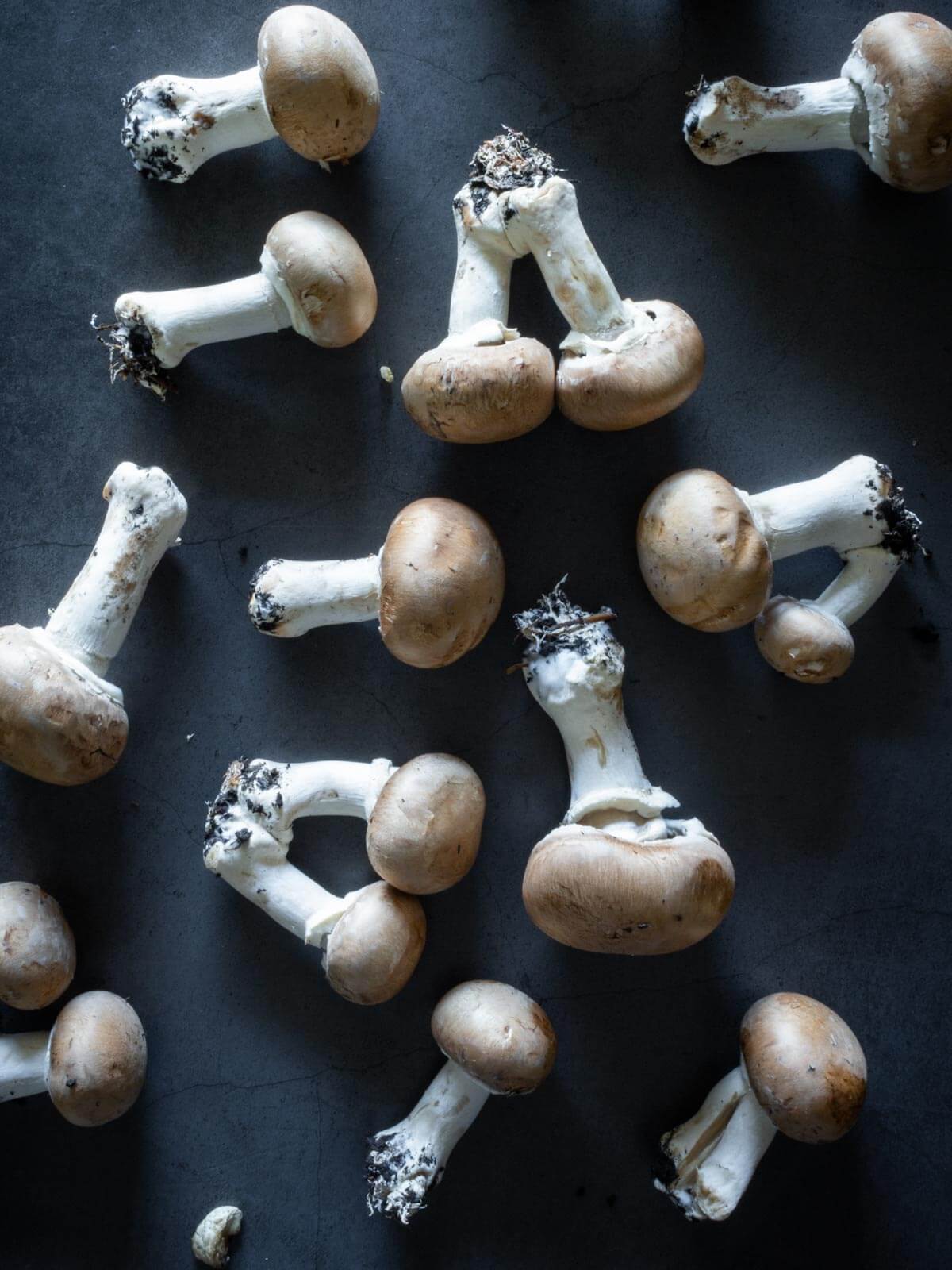 Mushrooms tend to absorb liquid like a sponge because they are porous. We don't want that to happen because it's hard to caramelize them and make them more flavorful once that happens—they just become too soggy.
Put your vegetable broth to simmer.
Step 2. Chop the veggies.
Towel path-dry the mushroom, and slice and cut your mushrooms into pieces. I like to have different textures, so you can slice some of them and chop others in quarters if using cremini mushrooms.
If you have cardoncelli or shiitake mushrooms, you can carefully rip them from top to bottom.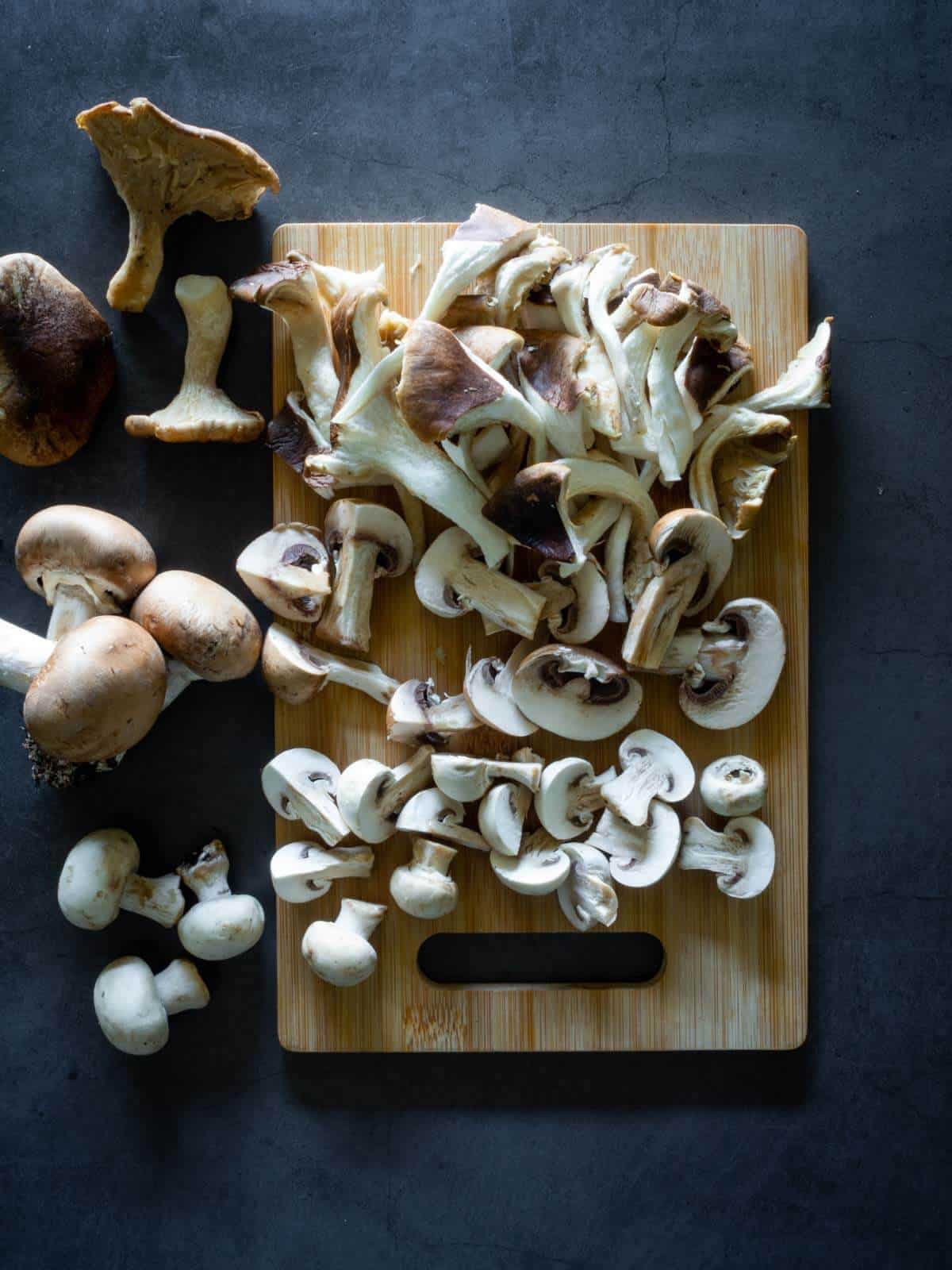 Peel and chop your onions. If you like textures, slice the onions lengthwise; if you don't, simply dice them finely.
Step 3. Stir fry the mushrooms.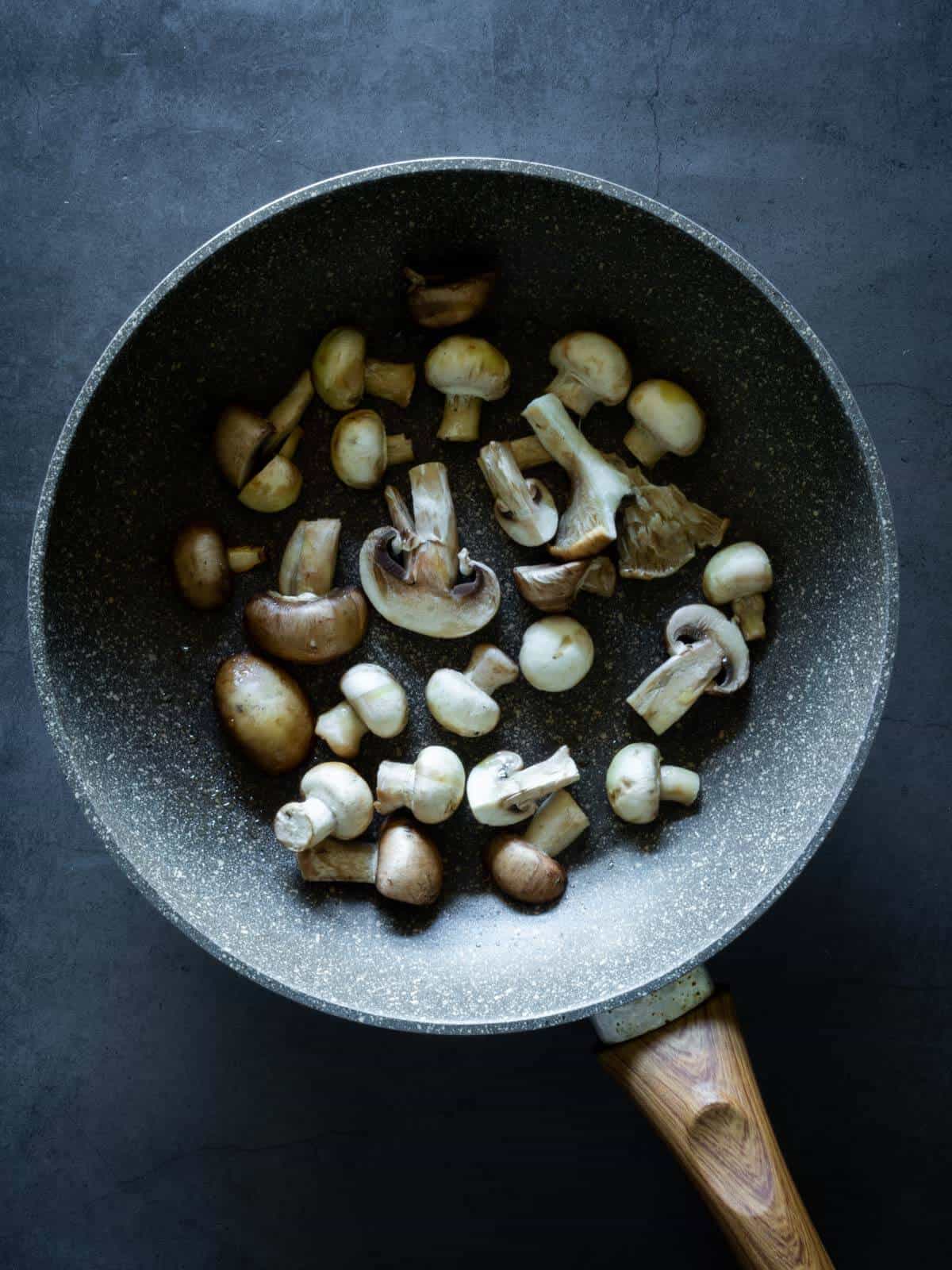 In a flat saucepan, briefly heat one tablespoon of olive oil for a couple of seconds and stir-fry your mushrooms face-down, stirring occasionally, so you get that beautiful caramel color out, which you wouldn't get if you add them directly into the flat saucepan.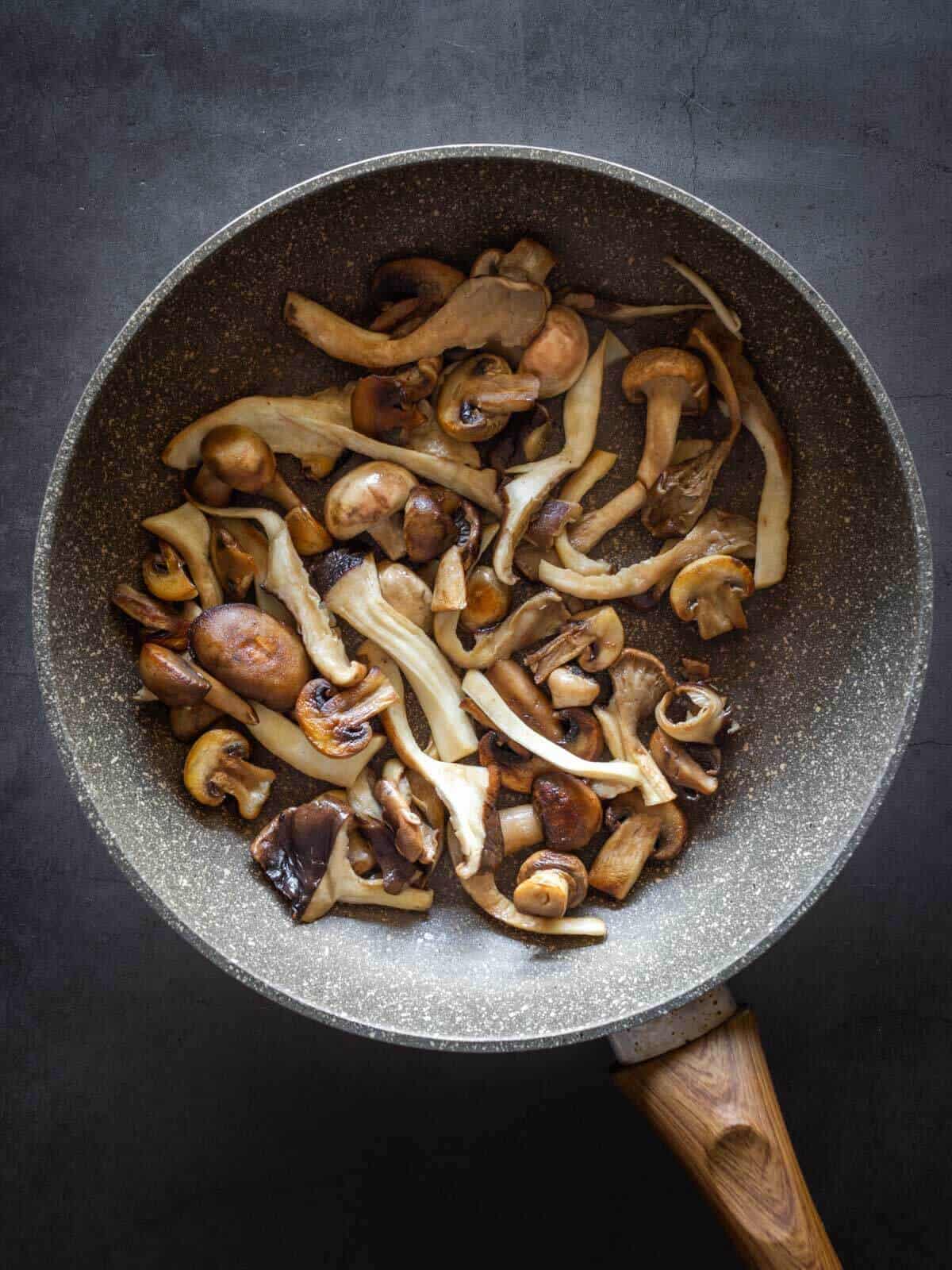 They would just look like canned mushrooms, dully and boringly greyish.
Once you get that beautiful golden color on some of them, it is time to remove them from the saucepan and reserve them.
We use the same technique on our red wine risotto to pan-sear the beets and plums.
Step 4. Stir-frying the rest of the ingredients
Now it is time to get everything in! On medium heat and using the same saucepan, add one tablespoon of olive oil, followed by your choice of herbs (I am using fresh rosemary and sage).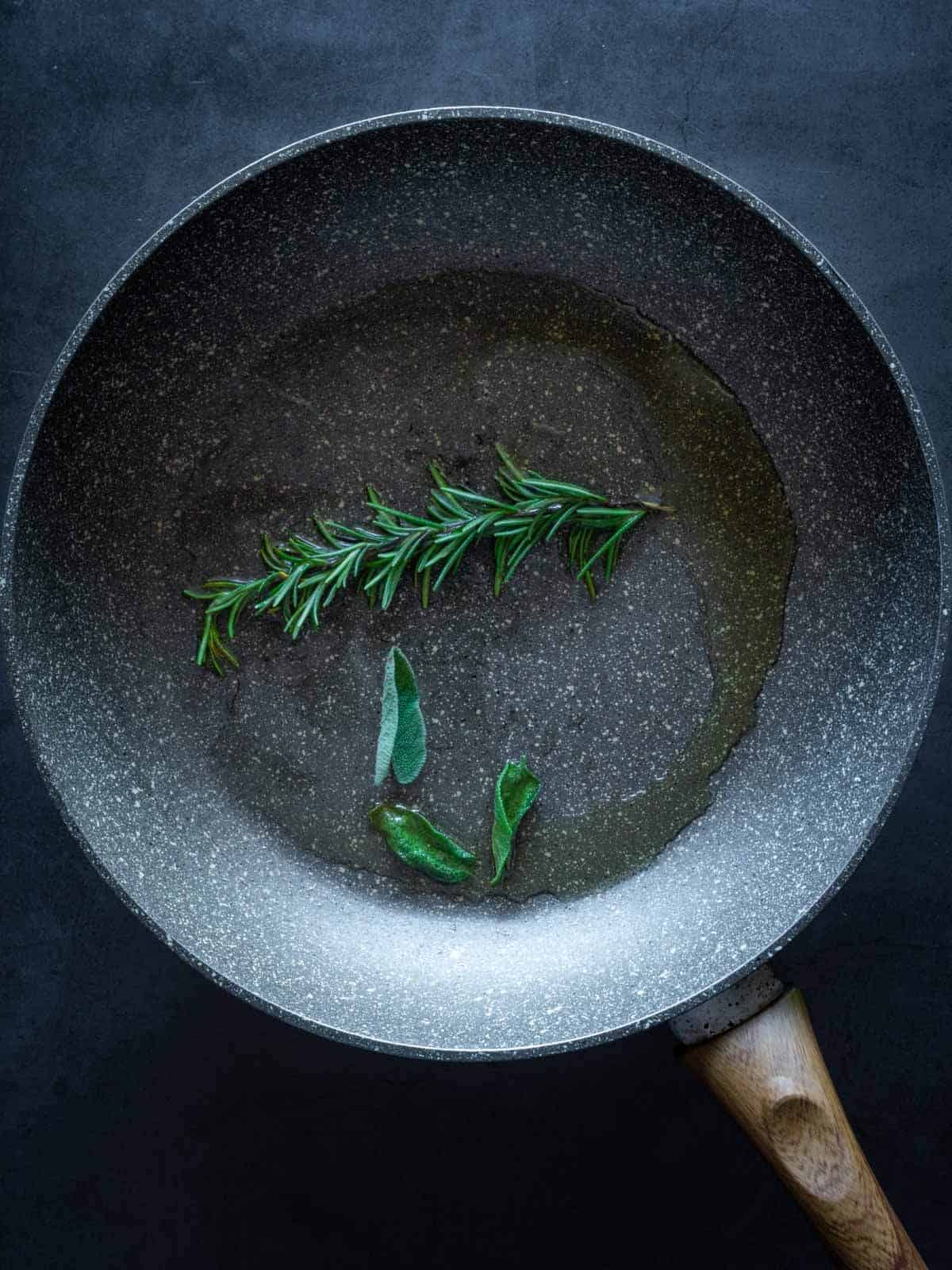 There is no need to rip the leaves off. Removing the herbs' leaves attached to the stem is better to remove them later.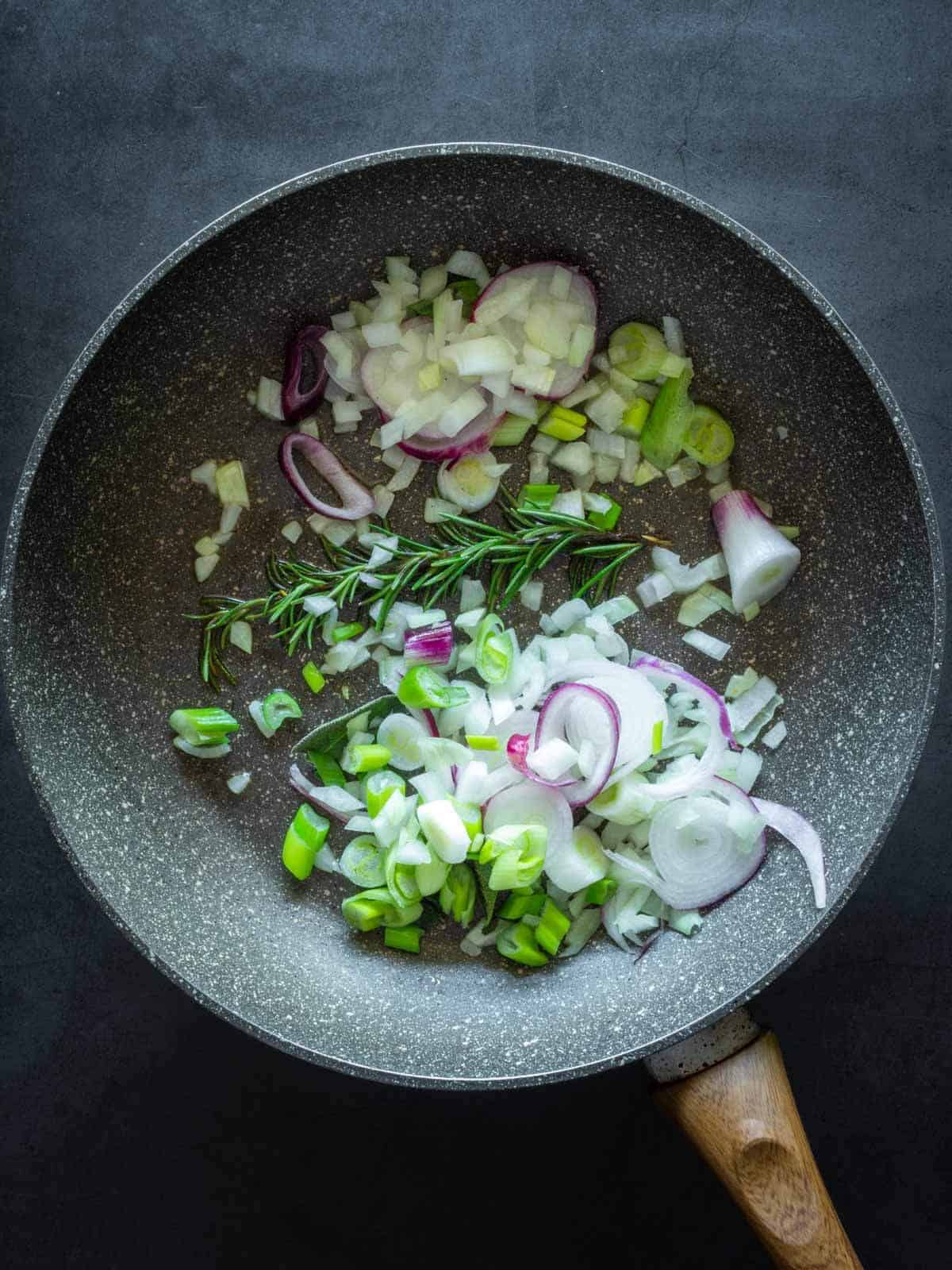 Allow the herbs to infuse briefly and stir in the chopped onions until slightly brown, then add the minced garlic.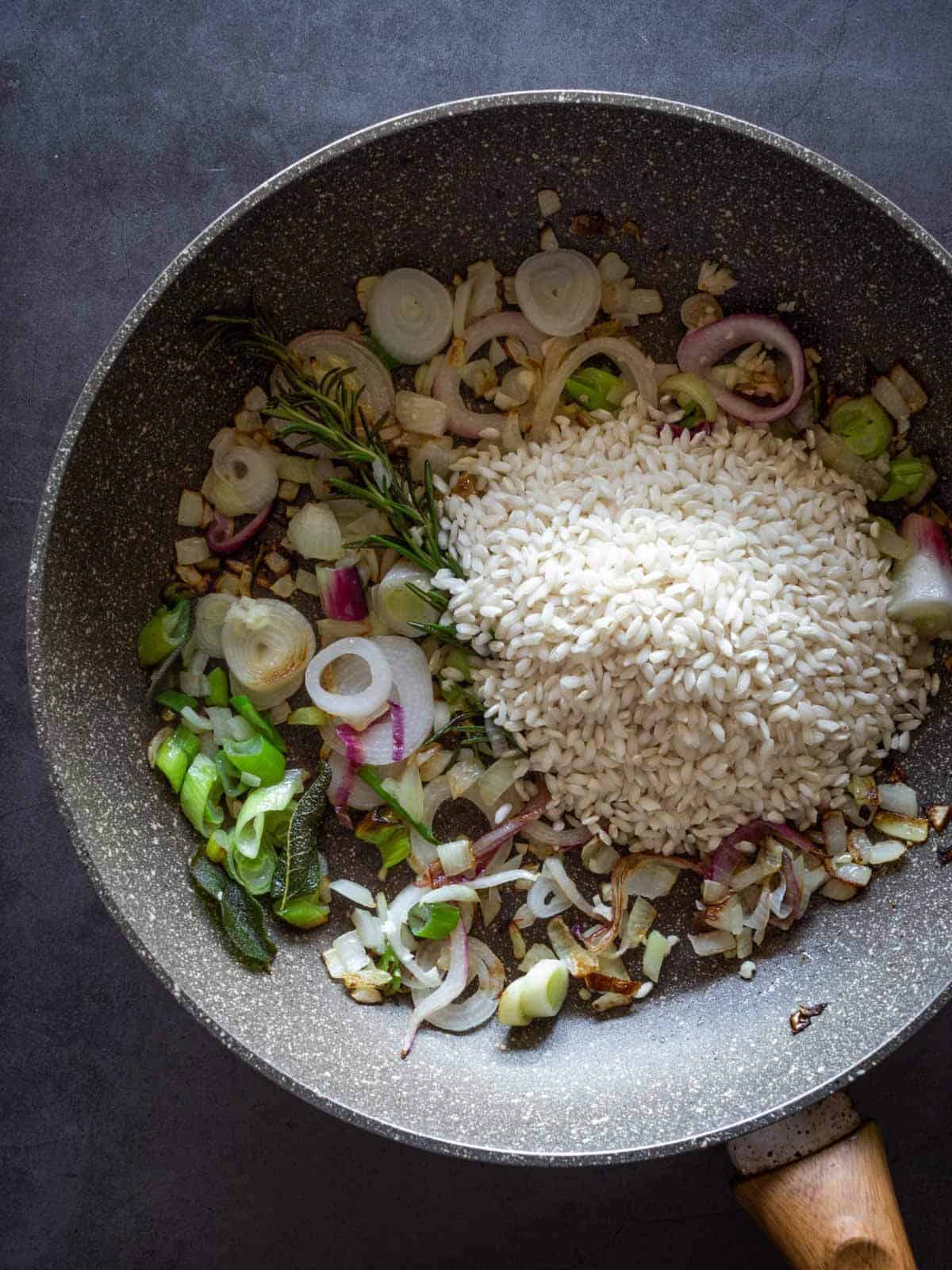 Add the carnarolli rice (no need to wash or soak it), and stir, until it looks slightly toasted (don't let the onions or garlic get too dark).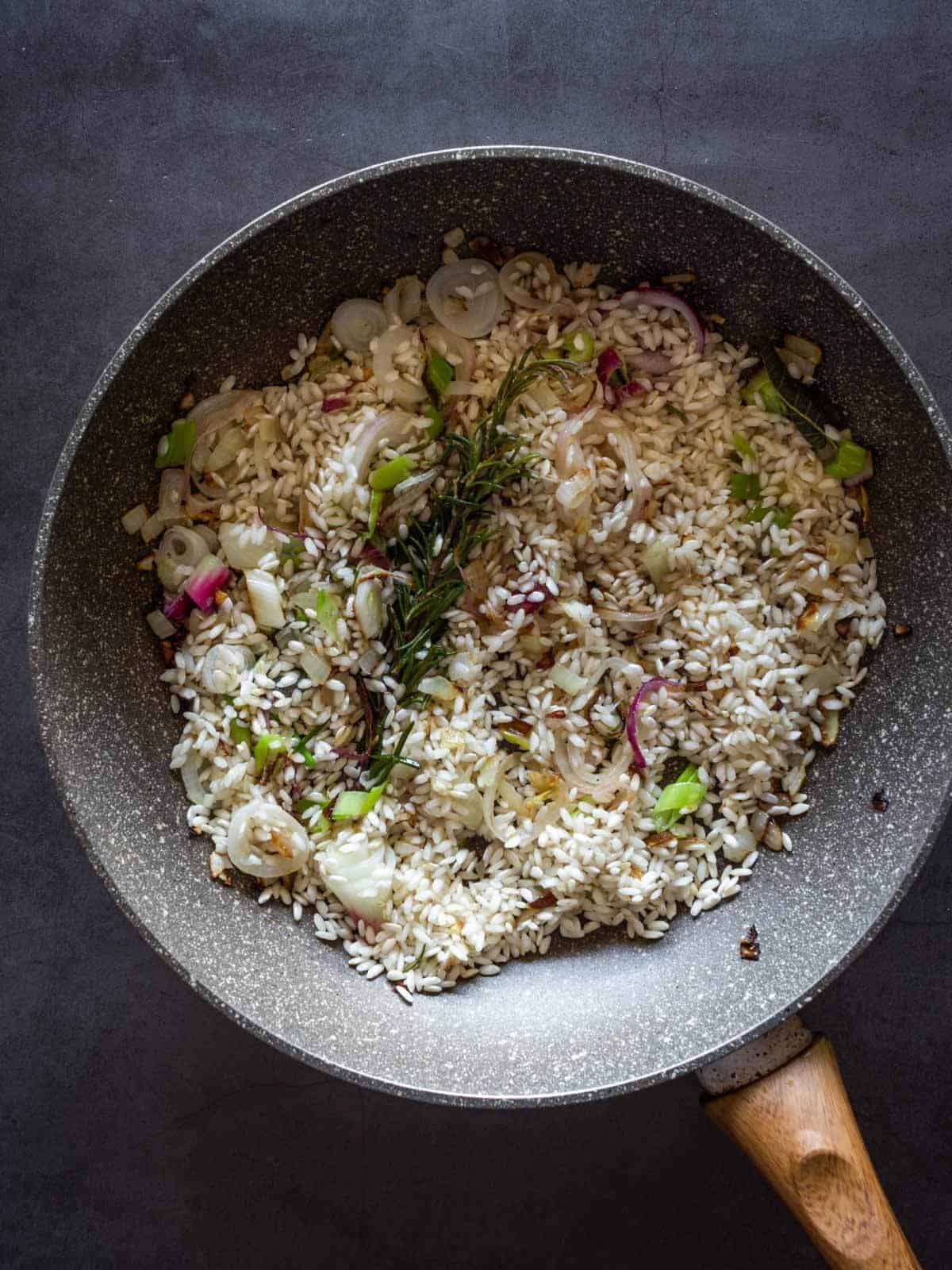 Now is when all the magic happens: add the wine, and stir until it is fully consumed. It will only take less than a minute.
Hint: What is happening here is that the wine is causing the rice to open up to absorb all the flavors coming from the liquids and herbs.
Stir in the reserved caramelized mushrooms.
Step 5. Add the hot veggie broth.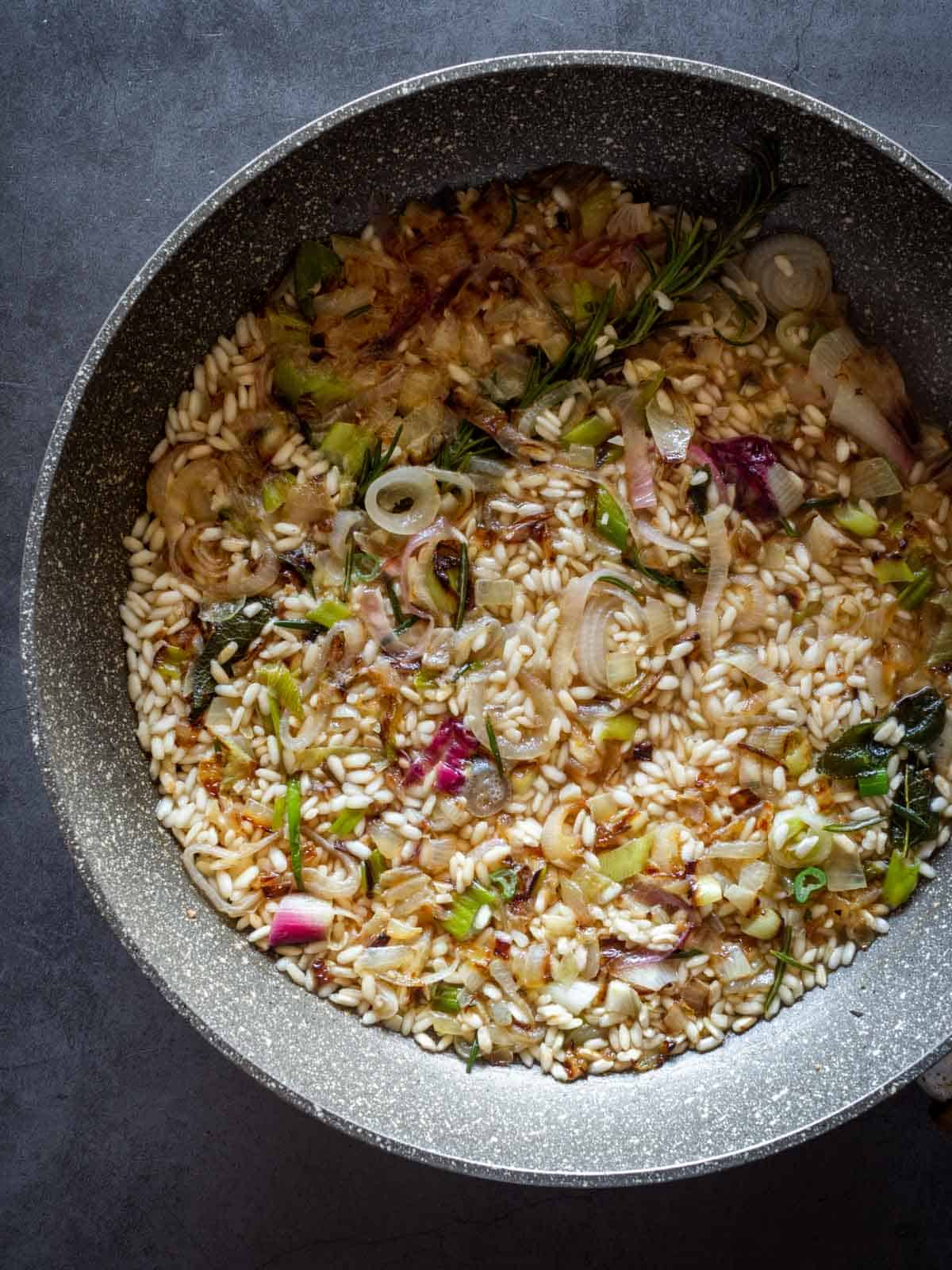 Stir in the stock, little by little, while stirring, adding more veggie broth until 'al dente.'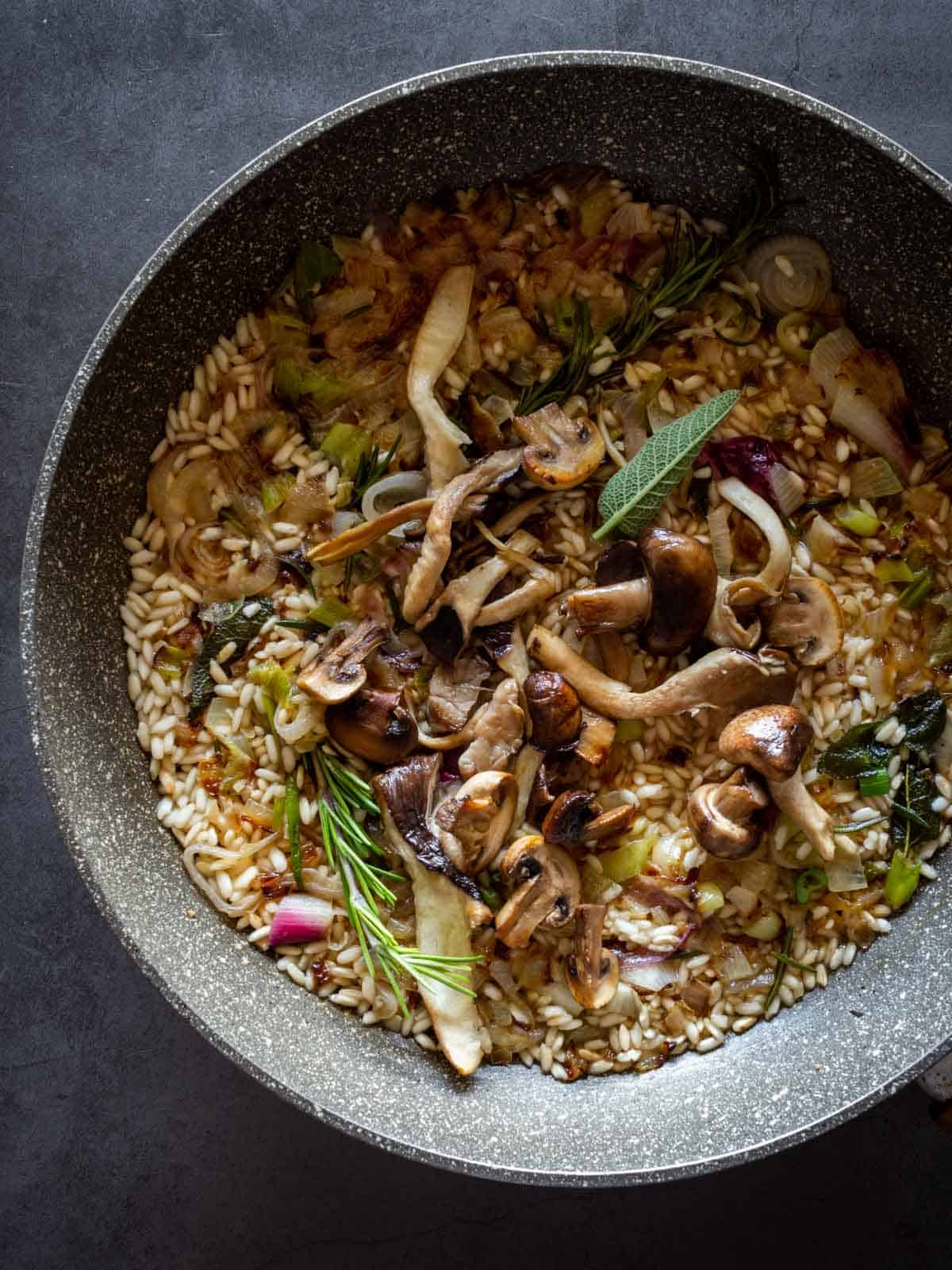 You may be wondering why you cannot add all the stock immediately if you will be using all of it anyway. Well, this is the magic of risotto.
Pro Tip: the carnarolli and arborio medium-grained rice kinds are very starchy, thus giving this vegan mushroom risotto its beloved creamy texture. But for them to unleash their starch, they need to be rubbed amongst them, so a minimal amount of liquid should be in the saucepan. Otherwise, you would be making rice soup.
On minute 10, add the homemade vegan parmesan or cheesy nutritional yeast (which replaces the traditional parm cheese).
This will take about 15 minutes, but you should be stirring and adding liquid as it dries out.
Step 6. "Mantecatura."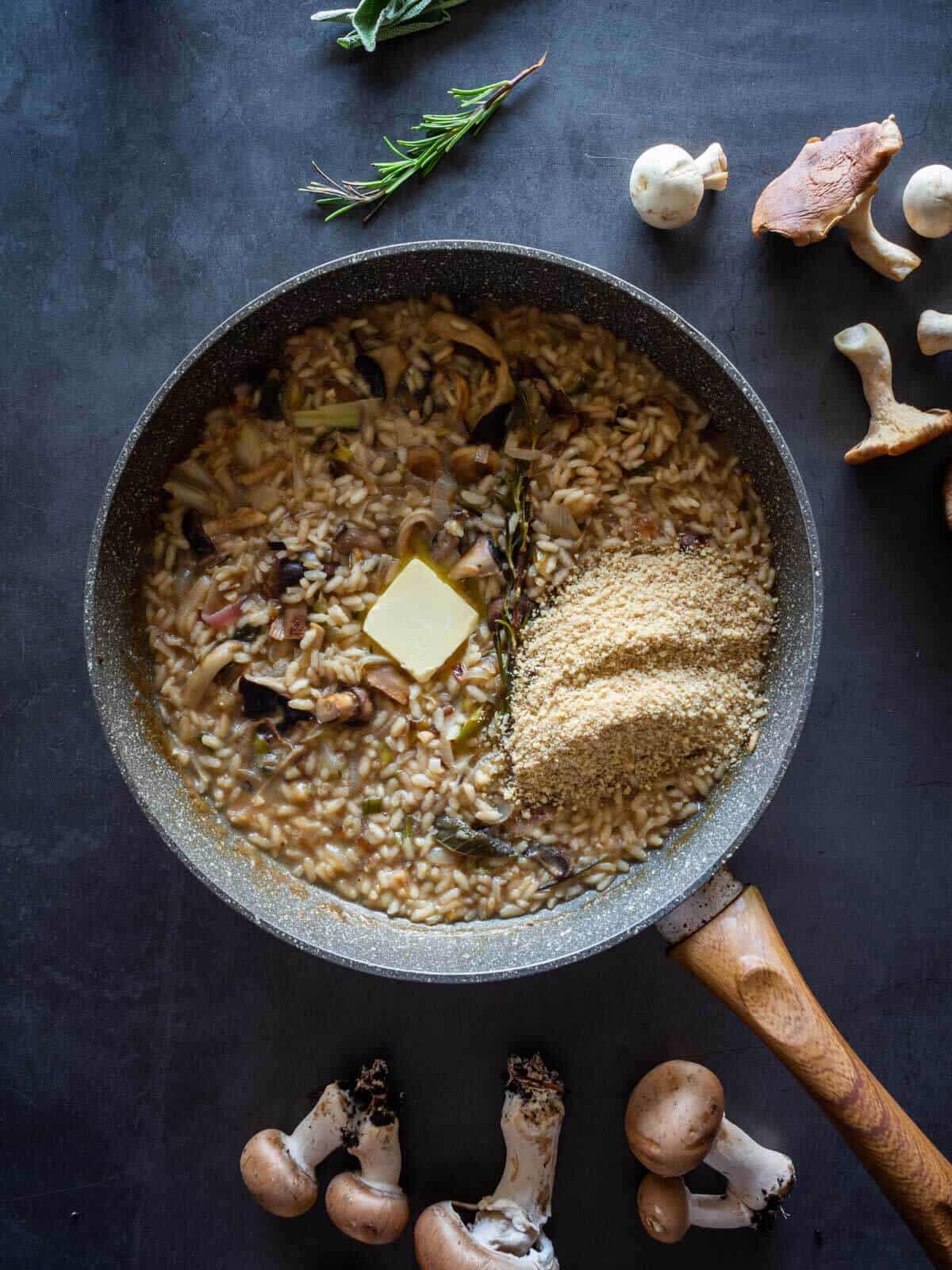 The final step is called Mantecatura in Italian, which means adding the final fatty component, which usually comes from butter.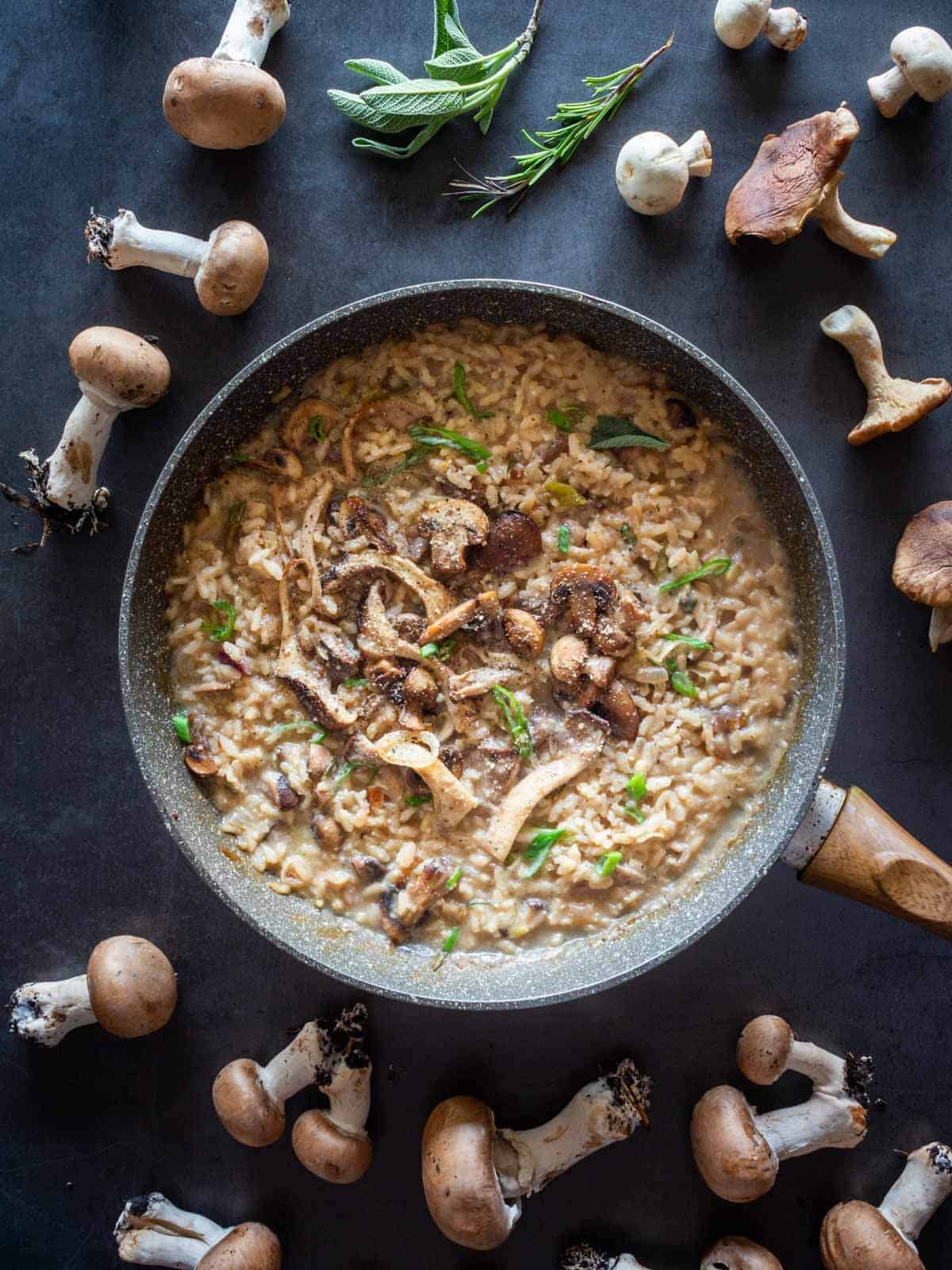 Here, you can use either a good quality extra-virgin oil (this is the Sicilian style) or a good quality Vegan butter, such as Earth Balance.
The point here is to add an extra layer of fat to make it extra creamy.
You may taste and adjust using salt and pepper to taste, although it is rarely needed. It entirely depends on how salty is your vegetable broth.
Step 7. Stir, garnish, and serve.
Remove from the heat, let it sit for 2-5 minutes, and serve. Garnish with chopped parsley and optionally add the Parmesan Vegan Cheese (made in only 5-minutes and can be made beforehand and stored for months).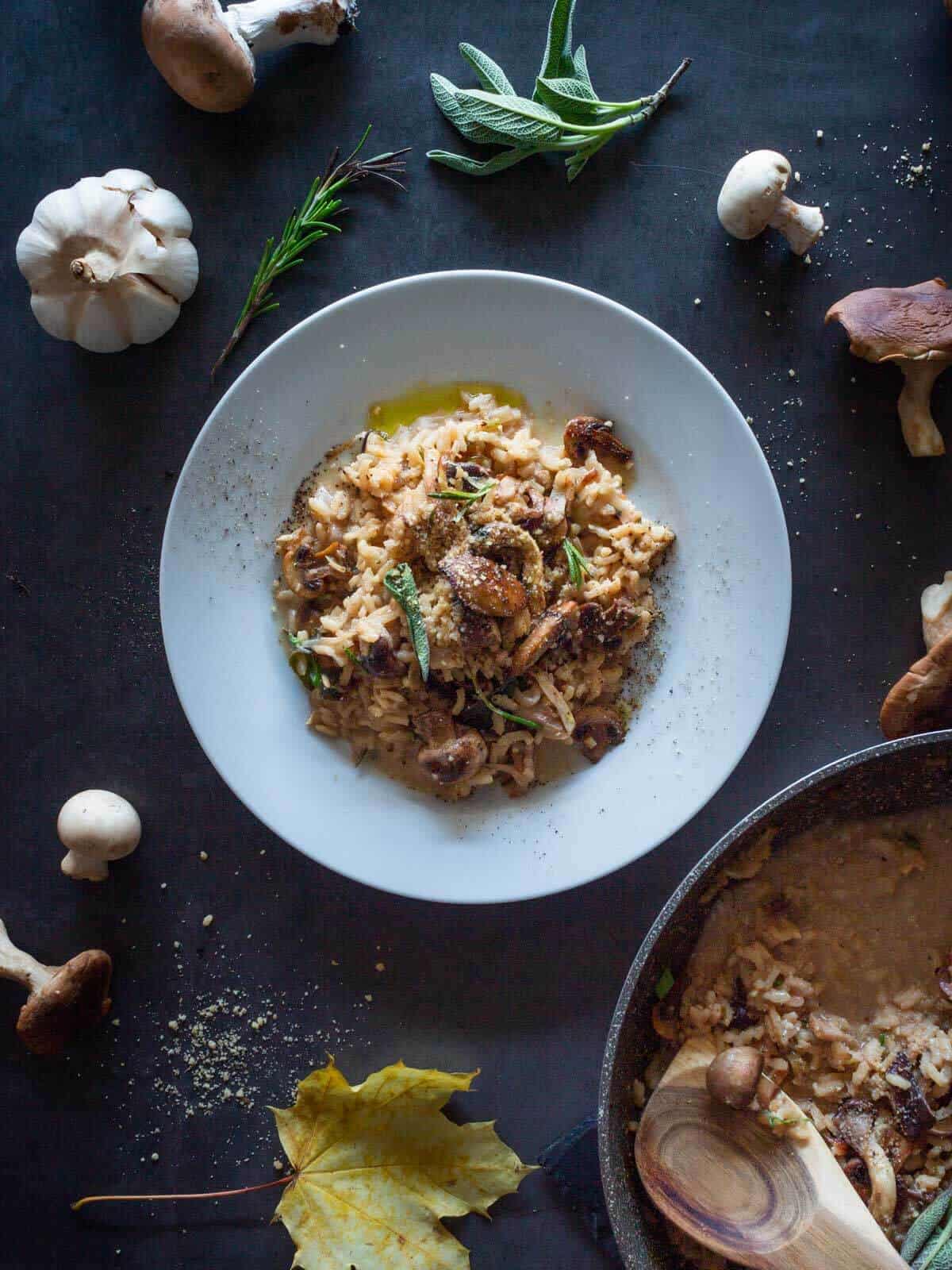 Optionally top with freshly ground black pepper and enjoy dinner tonight!
💡Top tips
Risotto rice - we use Carnarolli rice which is the indisputable Italian choice for risotto, here in Milano, the house of risotto. Still, it is also acceptable to use arborio rice as it shares the same shape, starchy, and characteristics.
Just don't use jasmine rice or any other rice. I am not being snobbish; you will just not get a creamy risotto. Other rice grains don't have the starch qualities we are looking for.
Brown rice - I have used whole bran carnarolli and arborio rice, but it takes forever to make, and I have not gotten the creaminess we expect from a delicious homemade risotto.
Vegetable stock - if you don't feel like making your own veggie stock, try using a quality one. Yes, you can use a "knorr cube," but you will not get the same results. Remember that this is the flavor you are soaking up your rice grains with; make the rice choice. You can use a granulated good, quality stock, and if you want even more mushroom flavor, you can add about 3 ounces (100 grams) of porcini mushrooms to your vegetable broth to make a mushroom broth, and then add it all to your rice. If you do this, reduce the number of fresh mushrooms; otherwise, you will not appreciate the rice. Don't flood your risotto with too many mushrooms.
Best wine for risotto - always use dry white wine such as Sauvignon Blanc or Pinot Grigio, Pinot Gris, and Pinot Blanc, which have high acidity and a low sweetness. Don't go for Chardonnay or any other fruity or sweet wines. They will drastically affect the result. Do not overdo the wine; it may make your risotto too acidic.
Mushrooms - all mushrooms work. You can use porcini, cremini, portobella, shiitake. We use a mix of Cardoncelli mushrooms and Cremini mushrooms (also nicknamed brown button mushroom, baby Bellas, or portobello mushrooms (which make great stuffed portobello's as a side dish).
Dairy - no, not using dairy is a vegan risotto, but I am making the point, so you know what we are using here to replace what? We use nutritional yeast and vegan parmesan cheese to replace traditional parmesan dairy cheese. And we use vegan butter and/or extra virgin oil to replace the butter. Do not use coconut milk or oil. It will drastically affect the flavor of the vegan mushroom risotto recipe.
Herbs - I don't let a lack of herbs stop me from making a risotto, but I always have some fresh or dried herbs in my kitchen. My favorites? Rosemary, thyme, and sage.
Onions - same as above. Use any onions you have handy or a mix of them. I personally like using white or yellow onions with an extra piece of spring white or purple spring onions. The green tops add that extra that I love. You can also substitute it all together with leaks, which work wonderfully.
Although I have successfully used red onion, keep in mind that it is a sweet onion, and it can slightly affect the result, given its higher sugar content.
📖 Variations
If you want to add more veggies, try to use veggies that won't affect the flavor, such as frozen peas or cooked vegetables like sweet potato. Add them during the last 5 minutes of cooking.
Instant pot - you can easily make this recipe on an instant pot. I would just advise you to stir-fry the mushrooms in a saucepan before adding them to the pot.
To make a larger batch, double the recipe, keeping all the proportions.
Cooking Times
The cooking times mentioned in this vegan recipe are only a guide only if you have a gas stove, the preparation will likely go faster. You should also watch when the stock is almost all gone before adding more, and if you are left without broth and the rice isn't al-dente yet, go ahead and add a little water; the flavor is already in!
🥢 How to serve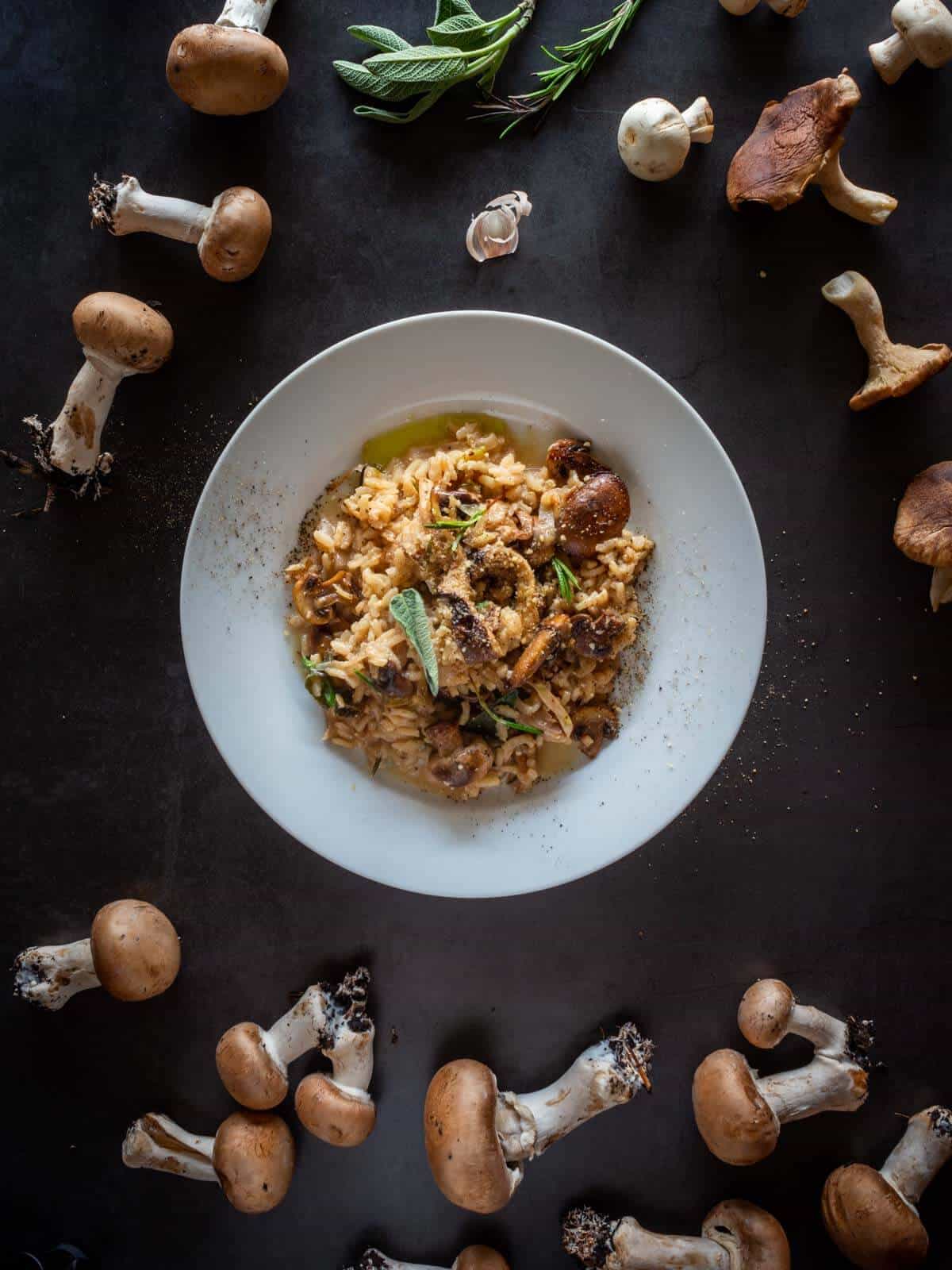 Vegan Parmesan and chopped parsley are our go-to choices, but risotto doesn't need anything else. For the looks, I have played with sliced toasted almonds for an extra crunch and freshly ground black pepper.
You can serve this amazing recipe with a side such as roasted asparagus with freshly squeezed lemon juice, homemade garlic bread, or Brussels sprouts. Both go very nicely together with risotto.
🥡 Storage and freezing
If you have leftovers from this delicious meal, you can safely store cooked risotto in an airtight container in the fridge, which can be consumed within three days.
If you decide to freeze it, thaw it overnight or in the microwave, and make sure to have some extra veggie stock to add to the vegan mushroom risotto and bring it back to life!
Thank you so much, and we hope you enjoy this creamy, dairy-free risotto as much as we do!
🍚 More risotto recipes
The Roasted Pumpkin risotto and butternut squash risotto are both really nice options. These classic veganized versions of parmesan garlic risotto and Risotto alla Milanese are also great choices to get into the spirit of understanding the roots of this absolutely delicious Italian dish.
You can also check out our Lemony Winter risotto, which is a great winter choice.
📚 More Vegan and delicious Italian recipes
⭐ If you try this recipe, let us know! 💬 Leave a comment, rate it, and don't forget to tag us @ourplantbasedworld on Instagram. Cheers!
📋 Recipe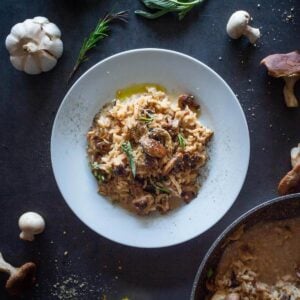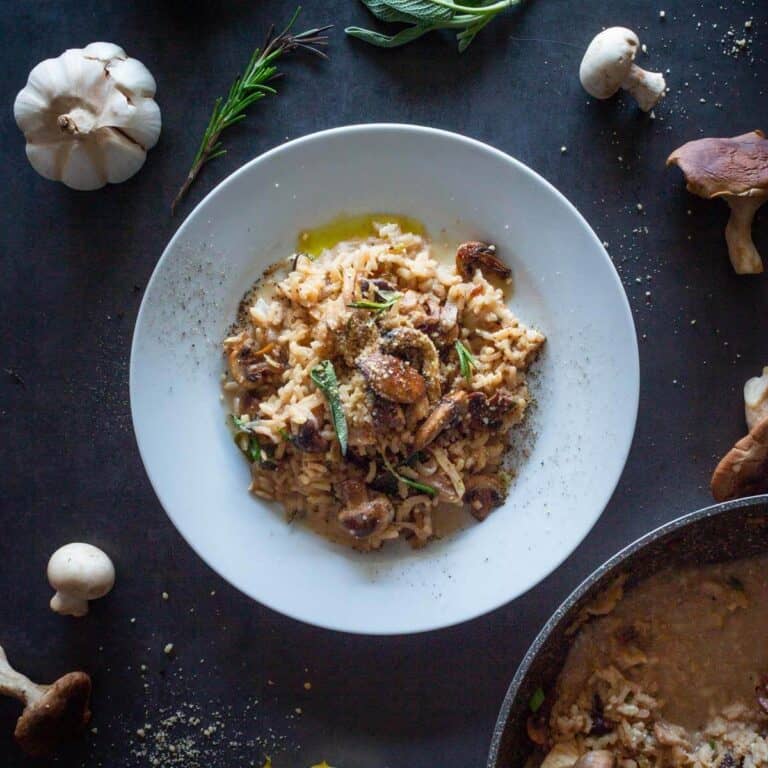 Creamy Vegan Mushrooms Risotto
We all know how important it is to eat healthy, butsometimes you need good comfort food. This creamy vegan mushroom risotto willmake your day! The best part? You only need 25 minutes to cook it.
Equipment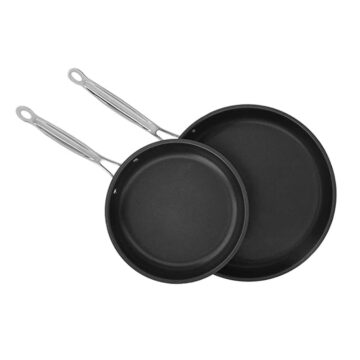 (affiliate link)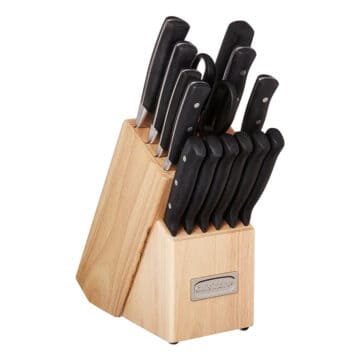 (affiliate link)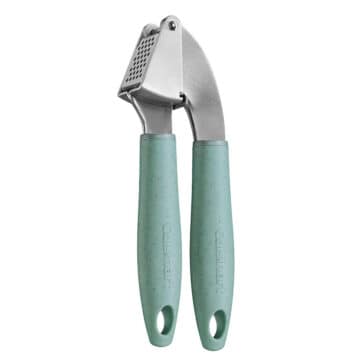 (affiliate link)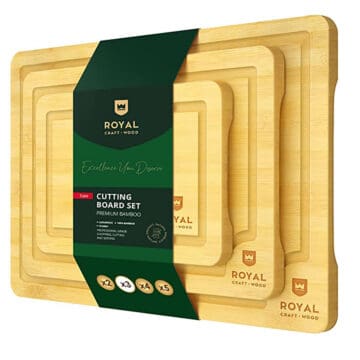 (affiliate link)
Ingredients
Optional:
⅓

cup

dry white wine

sauvignon blanc or pinot grigio

1

tablespoon

vegan butter

optional

Fresh chopped parsley

optional / to garnish

salt and black pepper to taste
Directions
Prepare your mushrooms
Clean them either by brushing or lightly washing them. Towel pad-dry the mushroom, and slice and cut your mushrooms into slices and quarters.

If you have cardoncelli or shiitake mushrooms, you can carefully rip them from top to bottom.

In a flat saucepan, briefly heat one tablespoon of oil for a couple of seconds and stir-fry your mushrooms, face-down, until golden brown.
Prepare the vegetable stock
Put your vegetable stock to simmer. If using granulated store-bought veggie stock, bring the water to boil and prepare according to packaging instructions. Optionally add the dry porcini mushrooms to the vegetable broth.
Prepare the onions and garlic
Peel and chop your onions. Slice the onions from top to bottom if you don't dice them finely. It is up to you. Mince the garlic.
Making the risotto (about 15 minutes)
On medium heat, using the same flat saucepan, add one tablespoon of olive oil, followed by your choice of herbs and stems.

Stir-fry the onions until golden brown. Add the minced garlic.

Add the risotto rice, stir until lightly toasted, add the dry white wine (or ⅓ cup vegetable broth), and stir until it evaporates.

Add the reserved mushrooms.

Stir in the stock, little by little, stirring frequently, until 'al dente.'

On minute ten, add the homemade vegan parmesan (or nutritional yeast).

Then add one last tablespoon of oil or vegan butter and stir.
Garnish and serve.
Remove from the heat, let it sit for 2-5 minutes, and serve. Garnish with chopped parsley, Vegan Parm Cheese, and freshly cracked black pepper.
Notes
Look at the tips on the post body for variations and substitutions.
Nutrition Facts
Calories:
337
kcal
Carbohydrates:
51
g
Protein:
7
g
Fat:
11
g
Saturated Fat:
3
g
Polyunsaturated Fat:
1
g
Monounsaturated Fat:
7
g
Trans Fat:
1
g
Cholesterol:
4
mg
Sodium:
1305
mg
Potassium:
280
mg
Fiber:
4
g
Sugar:
6
g
Vitamin A:
816
IU
Vitamin C:
3
mg
Calcium:
88
mg
Iron:
3
mg
Nutrition Facts
Creamy Vegan Mushrooms Risotto
Amount per Serving
% Daily Value*
* Percent Daily Values are based on a 2000 calorie diet.
Nutritional Disclaimer
The information shown is an estimate provided by an online nutrition calculator. It should not be considered a substitute for a professional nutritionist's advice. See our full Nutritional Disclosure here.
Affiliate Disclaimer
Please note that some of the links here are affiliate links, and I will earn a commission if you purchase through those links. I recommend all of the products listed because they are companies I have found helpful and trustworthy.