Looking for a delicious and nutritious tasty breakfast that can help you power through your day? This vegan banana oat milk smoothie is perfect for you! This oatmeal peanut butter smoothie is both nutritious and satisfying; adding oats to smoothies next to superfood seeds and iron and fiber-rich banana make the ideal breakfast shake to keep you full for hours.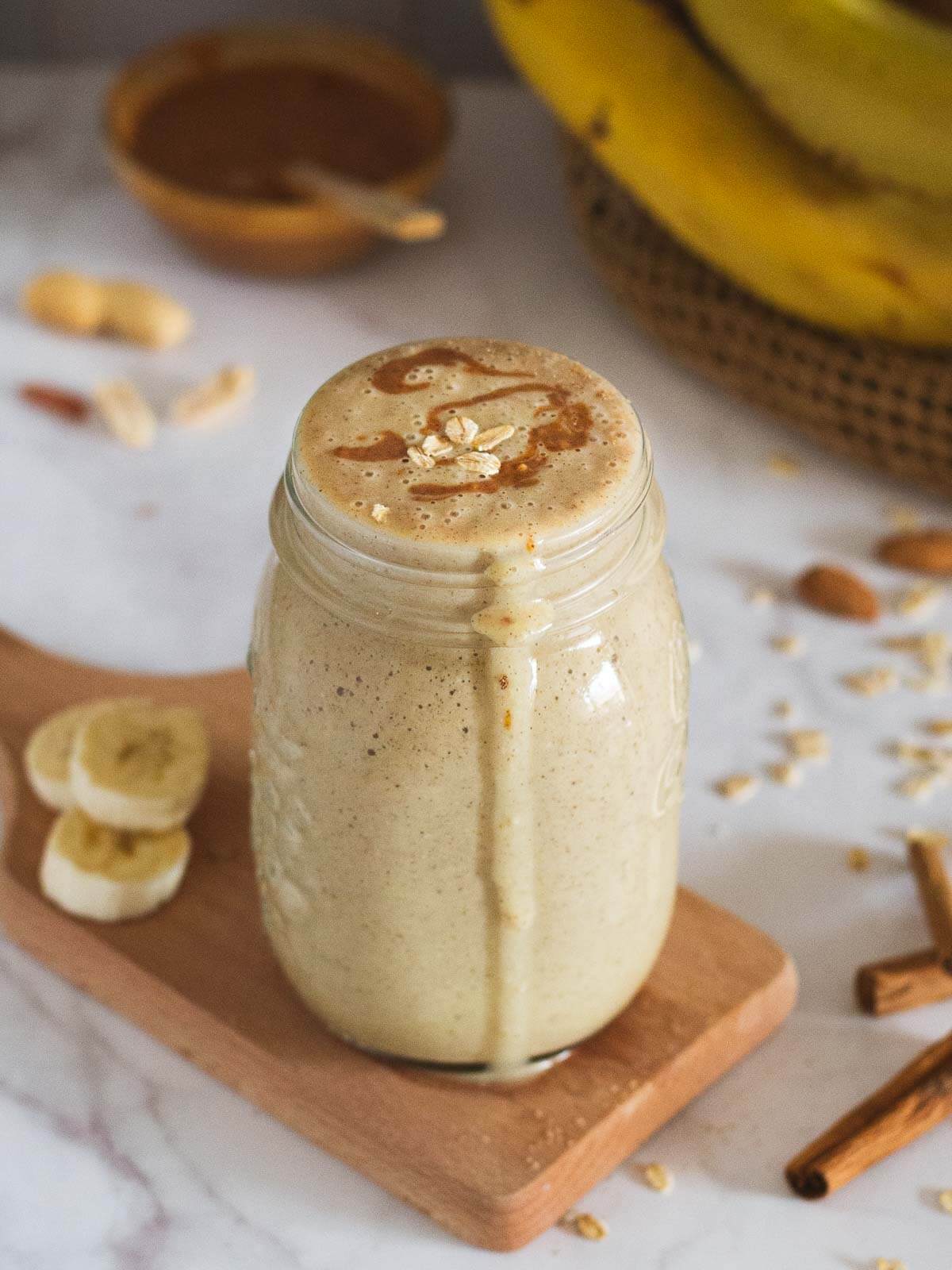 This easy breakfast smoothie is vegan and healthy and perfect for on-the-go mornings. Plus, it is also a great way to use any leftover oats in your pantry and will give you sustained energy throughout the day.
It is also a great way to add more fruits and healthy foods to your diet need a balanced smoothie for post-workout recovery or just want a delicious, filling way to nourish your body.
Also, you can try out beet juice before working out to increase your stamina and endurance.
We mostly make green smoothies (especially this Spinach Post-Workout Smoothie, hemp-powered blackberry banana smoothie, and this Swiss Chard Superfoods detox Smoothie, but we recognize that those who are newer to making smoothies and including vegetables in them might want to start with more familiar flavors (this Strawberry Pineapple Smoothie is another great place to start).
Jump to:
🧾 Ingredients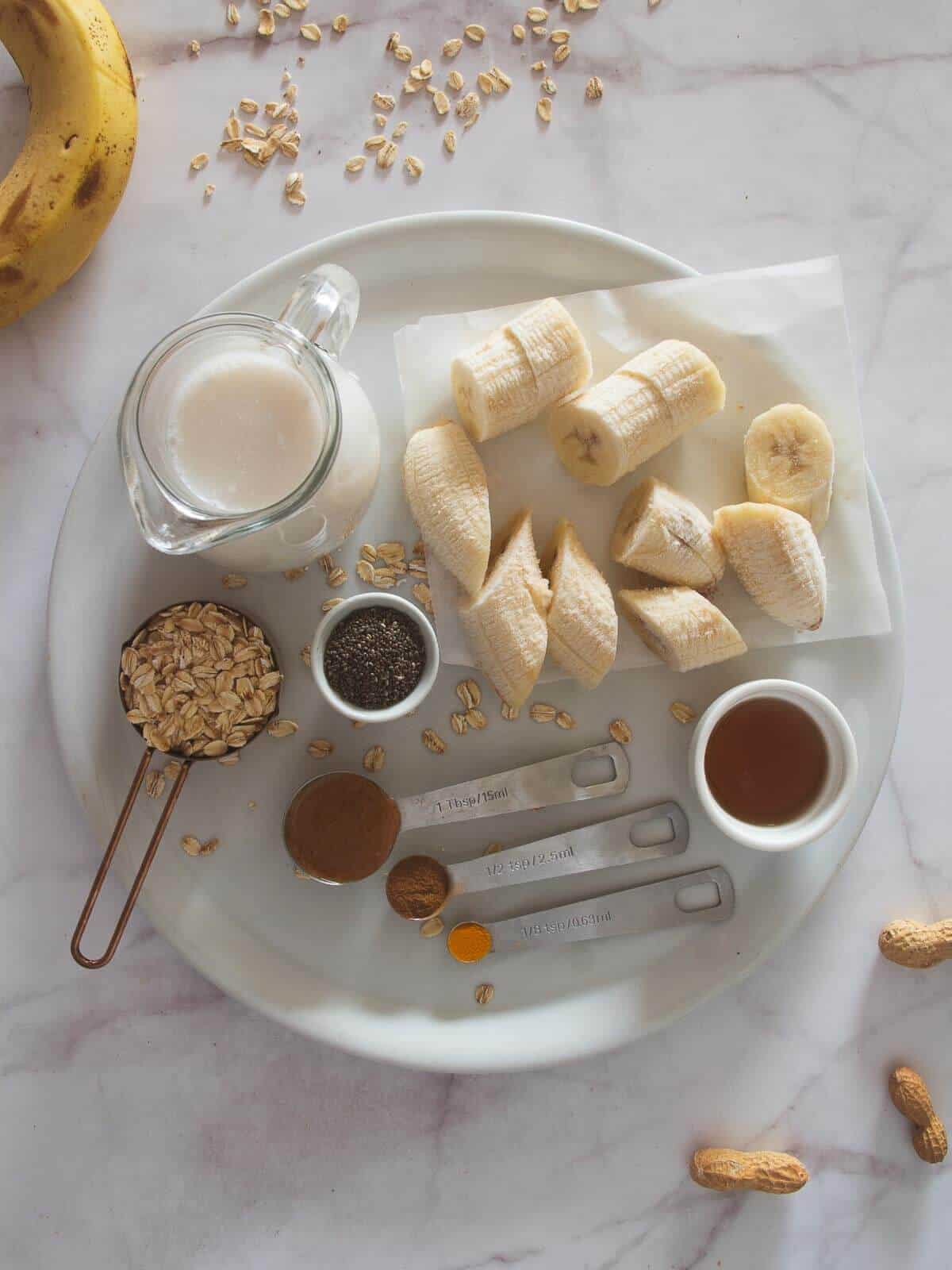 Rolled oats, steel-cut oats, or quick oats: These oats are the foundation of your smoothie, providing heart-healthy fiber and giving it a creamy texture. Plus, oats are a great source of vitamins, minerals, and antioxidants.
Frozen banana: This not only chills your smoothie but also adds natural sweetness and a silky texture. It's the Hulk of fruits, packing potassium and vitamin C while keeping sugar levels in check.
Creamy peanut butter: Adds a decadent, nutty flavor while delivering a punch of protein and healthy fats. Think of it as the smoothie's VIP, offering not just taste but also nutritional richness.
Ground cinnamon: A sprinkle of this spice ramps up the flavor profile and comes with antioxidant benefits. It's like your grandma's warm hug, but for your insides.
Chia or flax seeds: These little guys are the unsung heroes, offering Omega-3 fatty acids and additional fiber. They're basically the backup dancers that deserve a solo, supporting both heart health and digestion.
Oat milk: This dairy-free milk complements the oats, making your smoothie even creamier. Plus, it's environmentally friendly and adds calcium and vitamin D to the mix.
Optional: maple syrup, ground turmeric, and a pinch of pepper.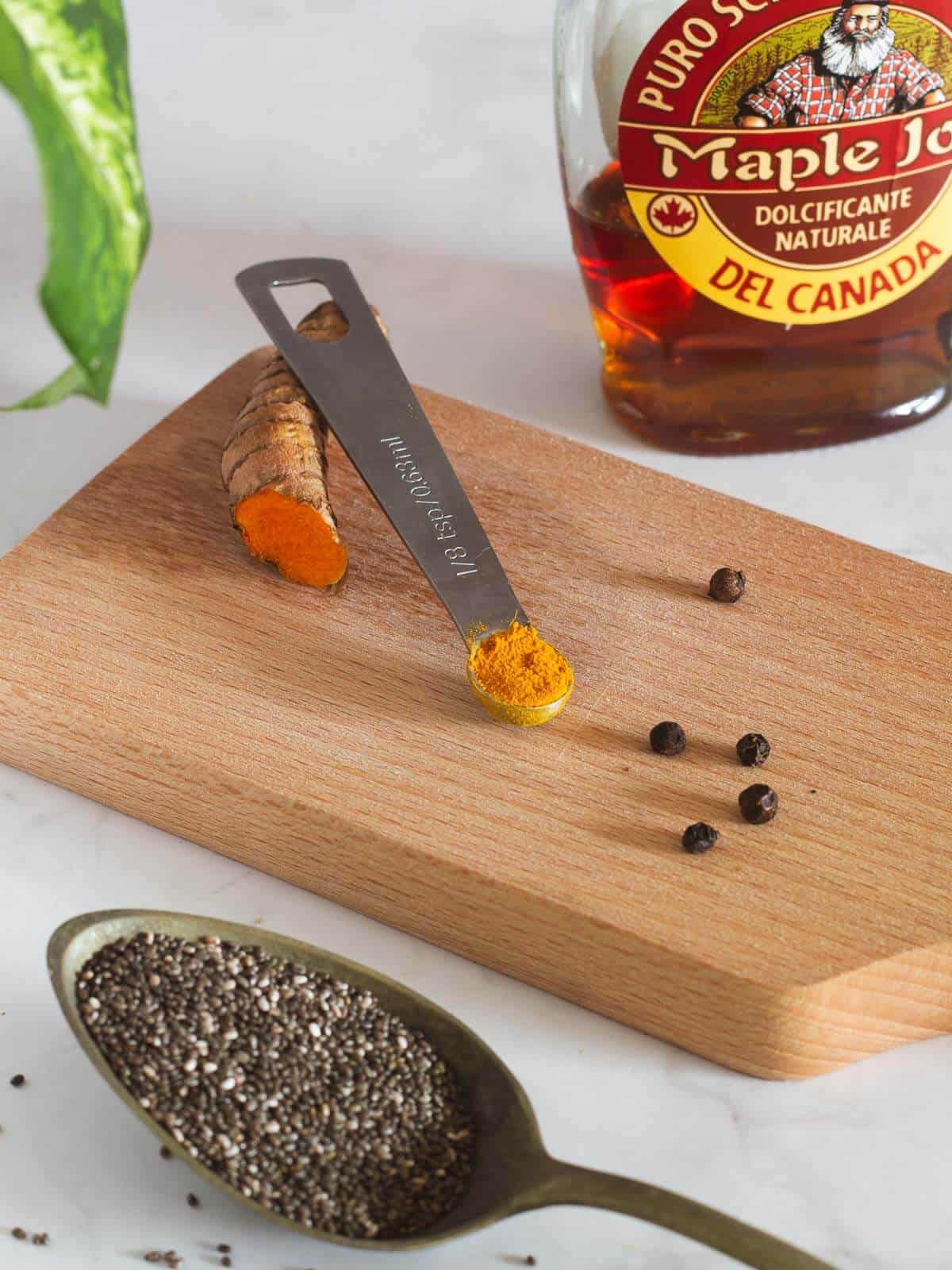 🔪 Instructions
This peanut butter oatmeal smoothie is packed with healthy ingredients like oats, almond milk, and bananas, which will give you sustained energy throughout the morning.
Plus, it's super easy to make - just blend all of the ingredients together and enjoy!
Freeze bananas overnight.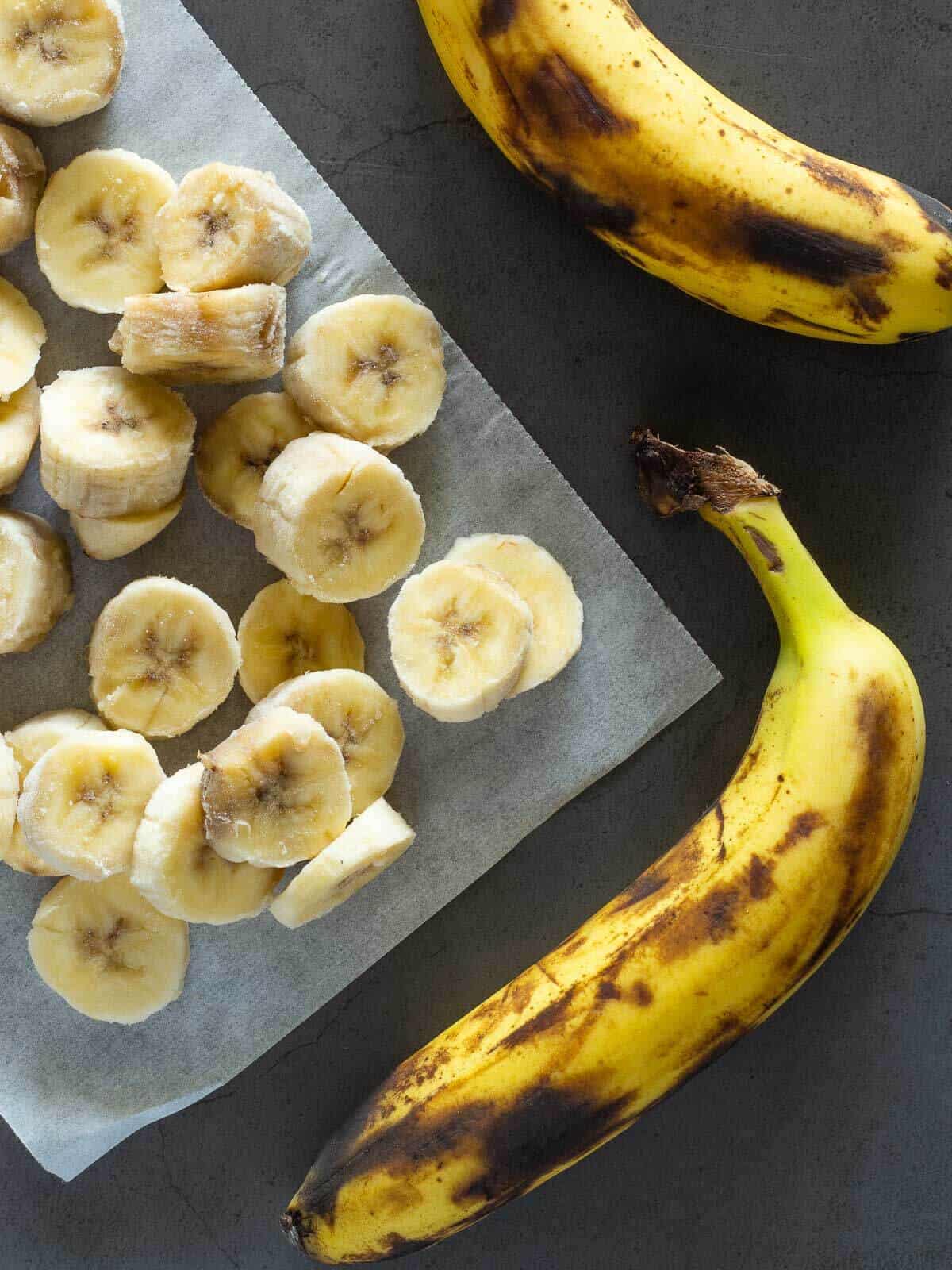 If you don't like grits in your breakfast smoothie, I recommend you use quick oats, or add your rolled oats to the blender and pulse them a couple of times to grind them while they are still dry.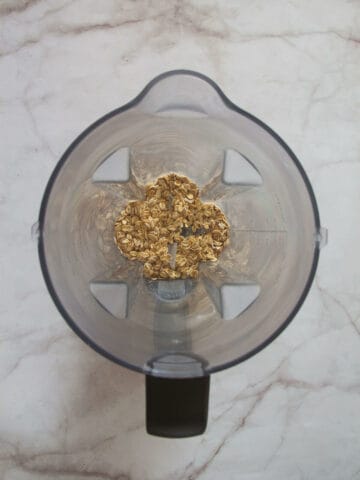 In general, when making a banana oat smoothie, if you use extra ripe frozen bananas you can skip the maple syrup, homemade date paste, or dates.
Measure your ingredients.
If you are using fresh bananas, you can stir in a few ice cubes or other frozen fruit like strawberries or blueberries to ensure the smoothie is chilled.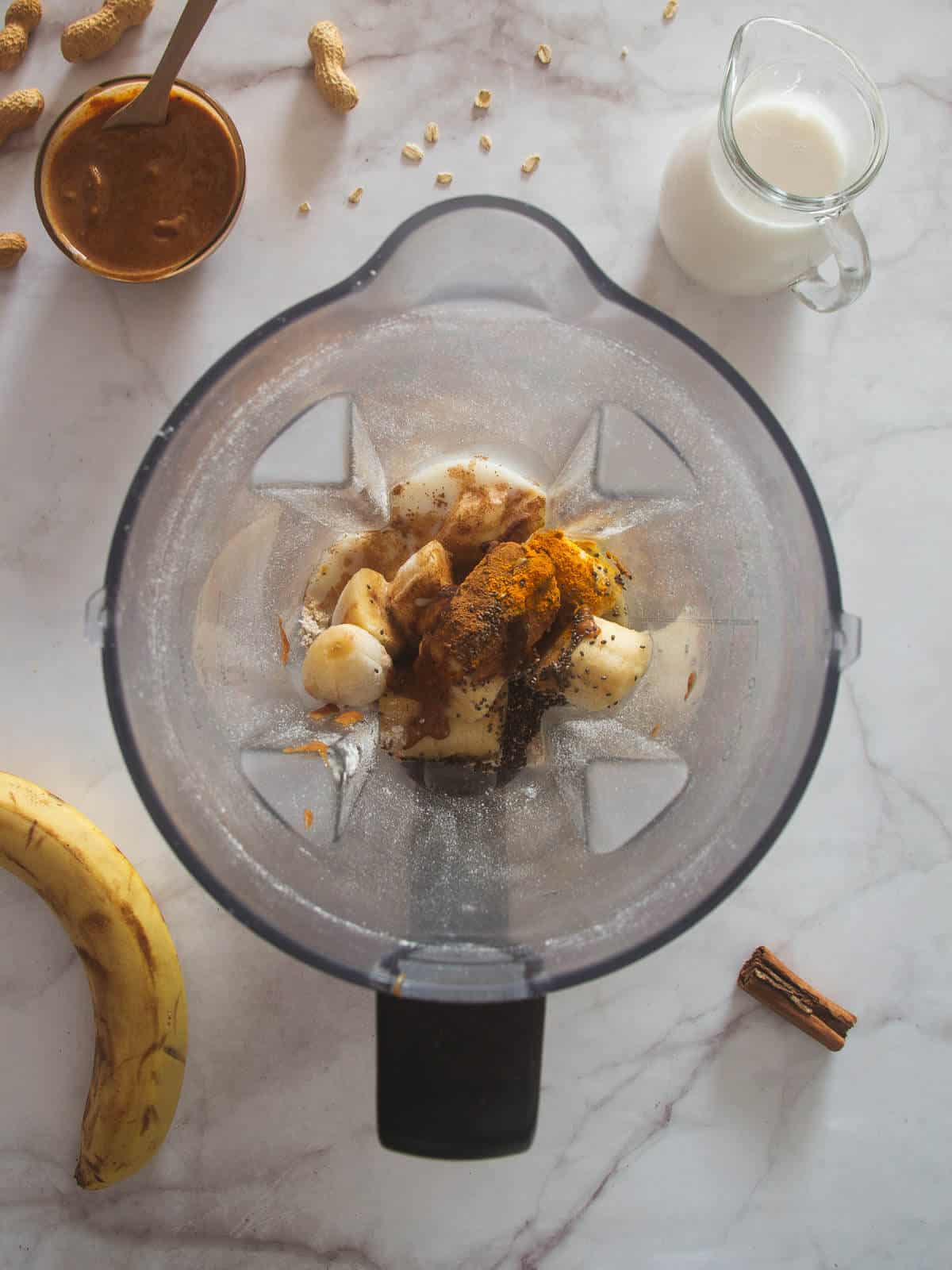 After blending the oats, add the rest of the ingredients.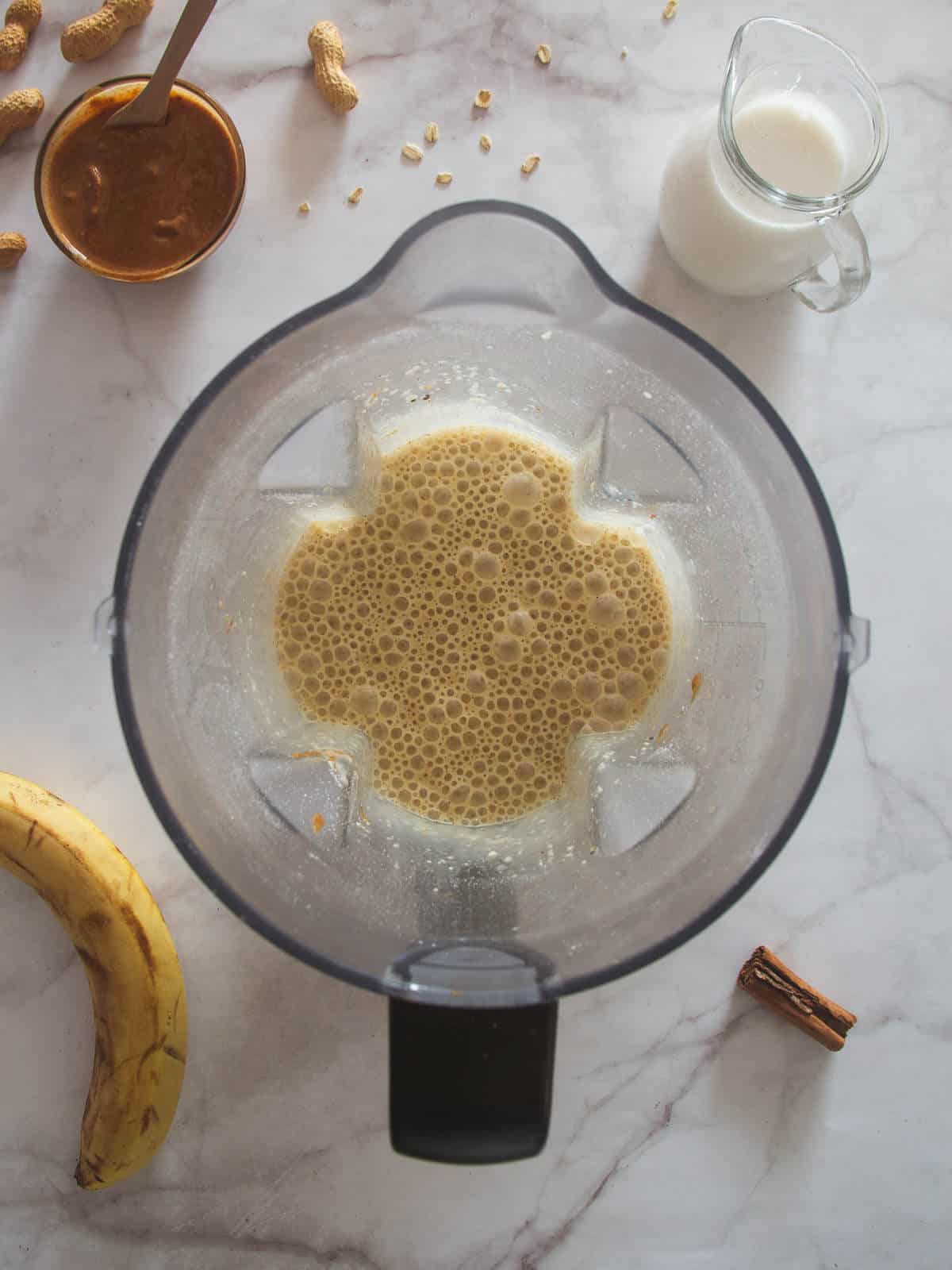 Blend all your ingredients, including the frozen bananas, rolled oats, peanut butter, seeds, spices, maple syrup, and oat milk, in a high-speed blender for 40 seconds or until you achieve the desired consistency.
Hint: reduce the almond milk quantity to half for a thicker smoothie. For a thinner smoothie, you can add more plant milk or water if you want to keep the calorie count equal.
That's it! Thick and creamy smoothie! Serve immediately.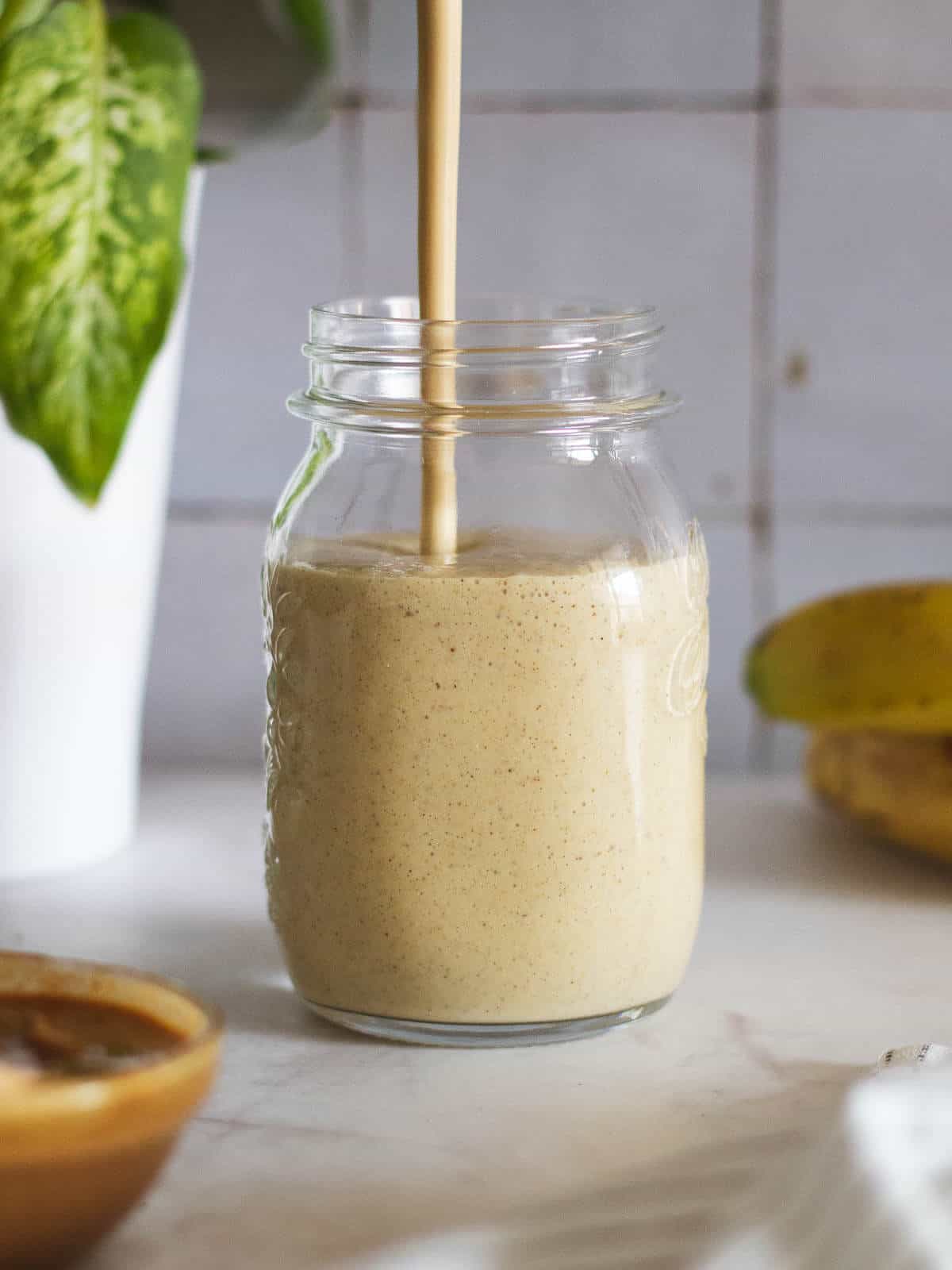 If you want to make, your oatmeal banana smoothie prettier, add some ground cinnamon, creamy peanut butter, or oats on top.
🫙 Storage
We always make a Banana Oatmeal Peanut butter Smoothie in Batches.
It just saves time, and it is an easy way to have something super nutritious just after our morning yoga routine, that is packed with protein and antioxidants, and keeps us full until lunchtime.
Store your leftover smoothie using an airtight container or a mason jar and reserve it in the refrigerator for up to 3 days.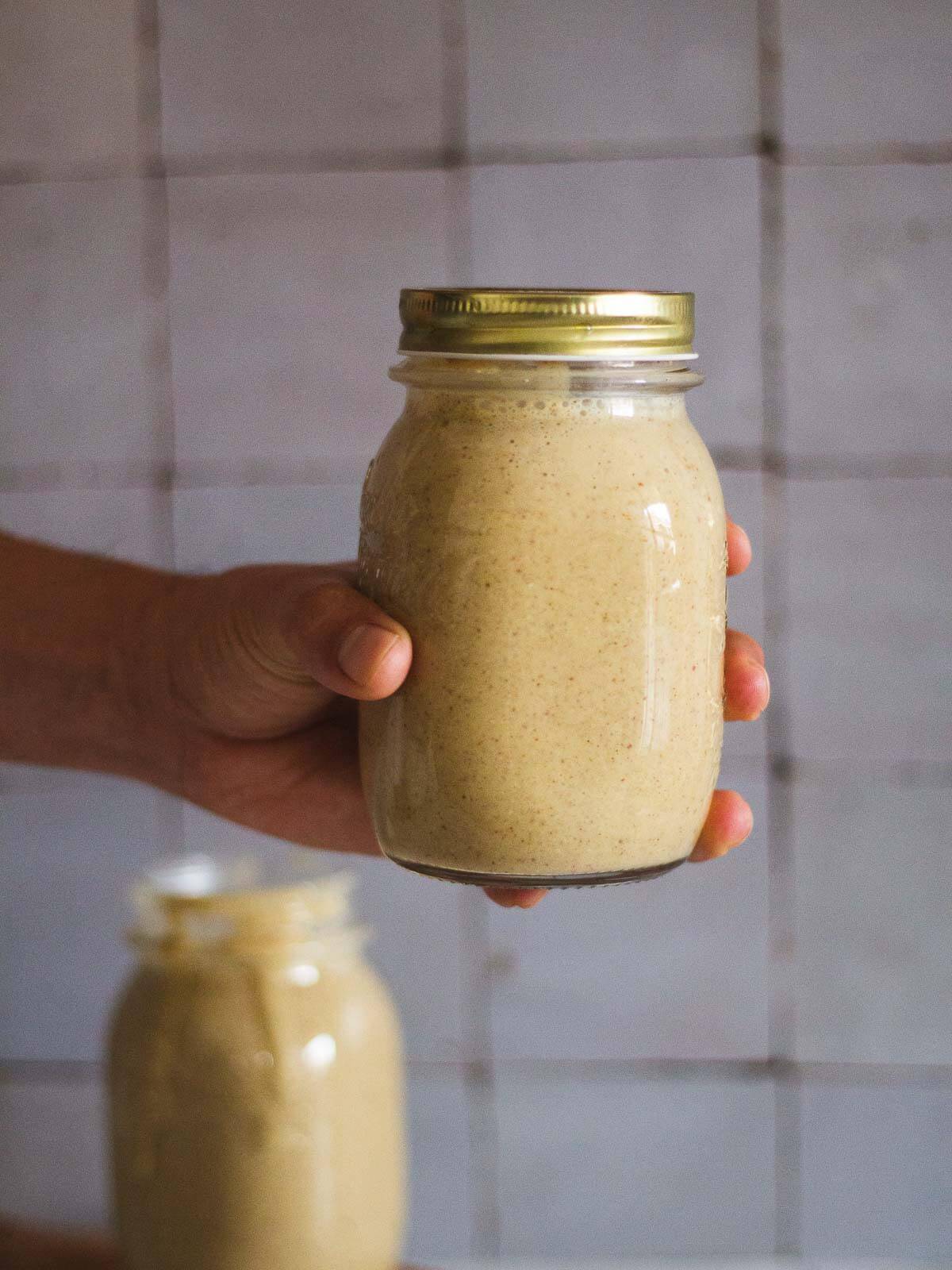 📖 Variations
This banana oatmeal smoothie can be made with oats, from old-fashioned rolled oats to steel-cut oats and quick oats.
If you follow a gluten-free diet, make sure to look for certified gluten-free oats (affiliate link), as oats do not contain gluten in their natural form.
If you suffer from celiac disease or experience gluten sensitivity, oats are regularly processed in facilities that handle products containing gluten.
Remember that oats are great additions to any healthy breakfast, as they keep you full and satiated; try them on your breakfast fruits bowls.
Oats smoothie for weight loss
You can easily make this oats smoothie recipe for weight loss, simply removing the peanut butter, using a no-calorie sweetener, and using half banana so you can still enjoy a naturally sweetened smoothie with a minimum calorie intake.
Still, the insoluble fiber from the oats will do its work to keep you fuller for longer, enjoying the weight loss promoter benefits of a smoothie with oat milk.
Adding Maca root powder to enjoy its greater energy (affiliate link) and stamina benefits is also a great idea because you will be able to endure more during your weight loss workouts.

Dairy-free milk
All types of plant milk work for this smoothie. We use them indistinctively. If we have oat milk or homemade almond milk handy, those are usually our go-to options, but even homemade soy milk, or coconut milk, are fine.
Coconut milk is the one where you will definitely feel a stronger different taste, but it is equally delicious.
We love making our own plant kinds of milk because they are hassle-free to make, cheaper, yummier, and more environmentally friendly.
They are both great for savory preparations like a vegan bechamel sauce and creamy vegan dips.
Nut butter
Adding any nut butter as part of a healthy breakfast smoothie, such as peanut butter, almond butter, cashew butter, or even hazelnut butter, is a great idea, as they contain healthy fats that will keep you fuller for longer without the saturated fat.
Having an oatmeal peanut butter smoothie is a great option if you want to use this oats smoothie for weight gain.
If you plan on lifting weights (affiliate link) to support your weight-gaining goals, using maca powder can also be a great addition to your smoothie.
Maple syrup
Bananas are naturally sweet, and I don't really love having too many sweets in the morning.
Ripe frozen bananas work for me on this recipe, but many people, including Joaquin, prefer sweeter smoothies.
If you are one of them, add the maple syrup, or use another natural sweetener like pitted dates or agave syrup.
Just don't use any added sugar that doesn't bring anything to your healthy game!
Keep in mind, that just as in a loaf of banana bread, using blackened or ripe bananas, can drastically change how sweet your banana oatmeal smoothie recipe is.
Chocolate oat smoothie version
This nutritious oatmeal smoothie, with its delicious banana flavor, warm oats and cinnamon, and the delectable taste of peanut butter, has a chocolate chip cookie-like flavor.
Although this banana oatmeal smoothie doesn't have chocolate chips, you could certainly add a tablespoon of dark chocolate powder or even add some vegan chocolate grits on top.
You can also add pure vanilla extract to the banana smoothie.
Seeds
Yes, everyone is crazy about chia seeds, but other seeds like flax seeds and pumpkin seeds are equally nutritious.
Seeds add fiber, protein, antioxidants, and healthy omega-3 acids to your meals. Feel free to add a flax meal, for a change.
If you want to make the best out of the nutrition of your seeds, leave them soaking in almond milk or water overnight, or 10 minutes before blending your banana oatmeal smoothie. This will further activate their properties.
Also, blending your chia seeds and flax seeds together is a good idea, using a regular food processor (affiliate link) or immersion blender (affiliate link).
Keep the seeds ground in an airtight container in the fridge, so you can simply add the powdered superfood into your smoothies and salads.
This makes the nutrients to be more readily available to your body, as the gastric juices in our stomach cannot easily break the seed's membranes.
We always add some sort of seeds into our banana oatmeal smoothie; it is just a very easy way to boost its nutritional value!
Spices
We love adding spices to our smoothies because they have no calories but are packed with benefits, minerals, and precious nutrients.
They are also packed with flavor, so you just need to add very small amounts.
One easy way to add a nice variety is by substituting the cinnamon powder for the same amount of pumpkin pie spice mix.
Or you can add your preferred spices such as cloves, nutmeg, allspice, and cardamom in small amounts (⅛ teaspoon).
I always add some turmeric because it is a superfood that is easily added to both sweet and savory dishes and packs lots of anti-inflammatory properties.
Always add a pinch of black pepper to activate even further its properties. It's natural chemistry!
Make it even creamier!
Many vegetarian smoothies include plain Greek yogurt, but we know now that dairy foods aren't the healthiest, and some people even suffer from lactose intolerance.
If you want to add extra creaminess or tartness, you can add two tablespoons of vegan vanilla-flavored, coconut-flavored, or plain yogurt.
Leave your chia seeds and oats soaking overnight together, and they will be even thicker and creamier when you add them to your smoothie, just as you would make lemon blueberry or pumpkin overnight oats.
More fiber and antioxidants
You can add even more fiber to your banana oat peanut butter smoothie; adding more frozen fruit like frozen strawberries or mixed frozen berries will make the smoothie even more nutritious.
You can even add ½ cup frozen spinach if you want to add some greens and level up your nutritional intake.
Another option is to double your oatmeal quantity.
You will end up with a thicker smoothie, and you may want to adjust with a ⅓ cup of water or almond milk.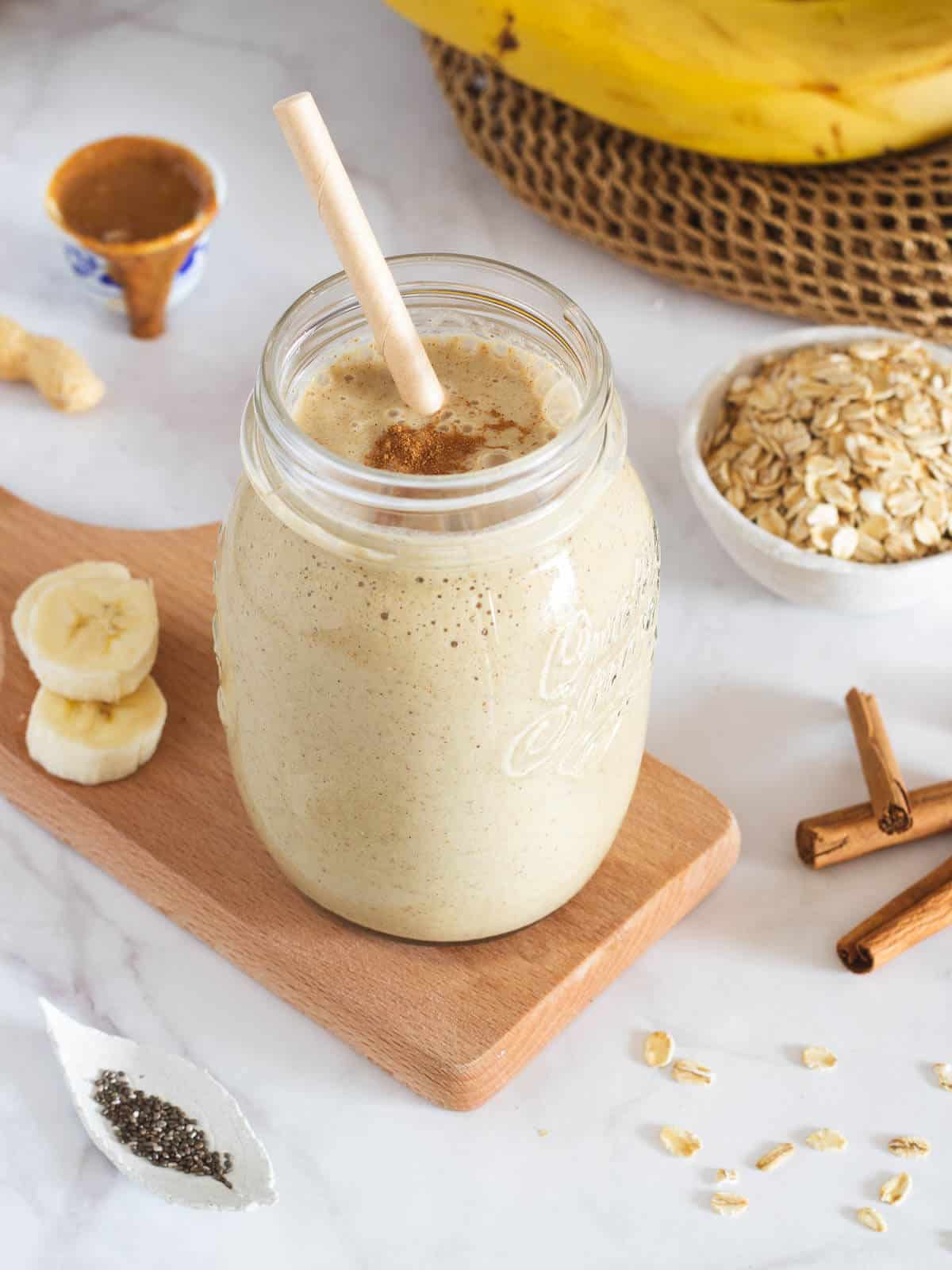 Protein shake with oats and peanut butter
We often have this banana oatmeal smoothie as our post-workout drink. It has everything you need to replenish your body after exercise; just make sure you use good quality protein powder.
If you are lifting weights, looking forward to using this smoothie with oat milk for weight gain, and need an extra protein intake, adding a clean plant-based protein powder is a great idea. We like complement organic protein (affiliate link).
We like using the compliment brand because they use only clean and natural ingredients on it, and you can add it to virtually any smoothie and even to sweet recipes like banana bread.
The smoothie tastes absolutely delicious.
🥤 More nutritious smoothies
Our favorite recipes are those that are not only delicious but very nutritious.
Banana and oatmeal smoothies are at the top of the list, along with post-workout smoothies, when we think about replenishing our energies after yoga or lifting weights.
When we think about refreshing summer smoothies, our minds immediately switch to mango smoothies, pineapple coconut smoothies, strawberry pineapple smoothies & strawberry-banana smoothies.
On the other hand, when we are on cleansing days, we tend to drink superfoods-based detox smoothies, frozen berries smoothies, or a simple grapefruit smoothie, to give our bodies a boost of antioxidant low-calorie goodness.
Lastly, if you love super-rich but still healthy desserts, don't forget to check our peanut banana ice cream version of this banana smoothie which we absolutely love, and it is put together only with a blender plus 5 minutes of your time.
Read on: how to make healthy chocolate peanut butter oatmeal bars and baked chocolate oatmeal.
⭐ If you try this recipe, let us know! 💬 Leave a comment, rate it, and don't forget to tag us @ourplantbasedworld on Instagram. Cheers!
📋 Recipe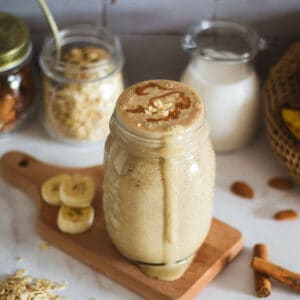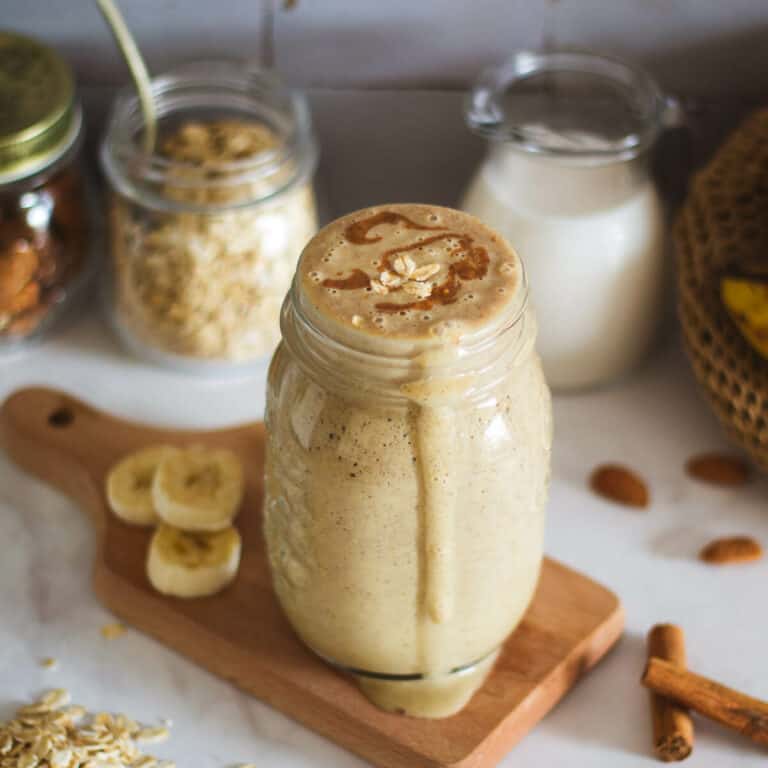 Oat Milk Smoothie
This easy-to-make, vegan smoothie will be a hit with your family. Make it a post-workout meal or breakfast meal, and they will be asking for seconds!
Equipment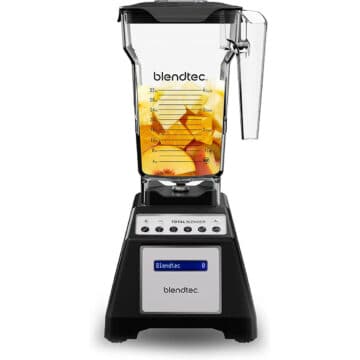 (affiliate link)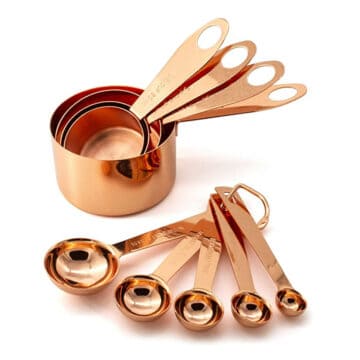 (affiliate link)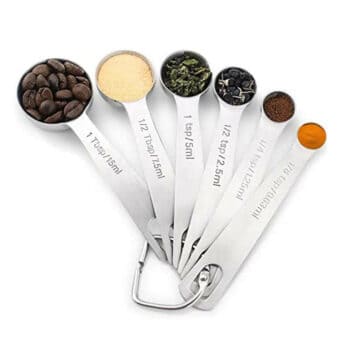 (affiliate link)
Ingredients
Optionals (good as is it is, but these are some recommended twists)
Directions
Freeze the banana overnight, or at least 30 minutes before cutting it into slices.

Grind rolled oats. If using old-fashioned rolled oats, optionally grind them in your blender, pulsing it for a few seconds, so you make an oatmeal flour. This will ensure you have an even creamier smoothie. If you like some grits in your smoothie, skip this step.

Blend. Add everything into a high-speed blender. If using rolled oats and prefer a creamier consistency, first pulse the oats in the blender, without any liquid, to make an "oats flour"; then add the rest of the ingredients, and blend for 40 seconds or over your blender's smoothie mode.

Serve Cold.

Smoothie leftovers will keep in a covered mason jar in the refrigerator for up to 2 days, though best when fresh.
Notes
Nutrition facts are calculated without the protein powder.
Adding the suggested protein powder adds 28 calories, 0 carbohydrates, and 5 grams of protein per serving.
Add agave or maple syrup for extra sweetness or extra dates. We like using dates because they have a ton of beneficial post-workout benefits.
Vegan Clean Protein: if using the clean protein powder

(affiliate link)

, add our 10% discount code OURPBWORLD10 at check-out to enjoy the benefit. (affiliate)
Nutrition Facts
Calories:
509
kcal
Carbohydrates:
85
g
Protein:
14
g
Fat:
16
g
Saturated Fat:
2
g
Polyunsaturated Fat:
5
g
Monounsaturated Fat:
5
g
Trans Fat:
0.02
g
Sodium:
187
mg
Potassium:
873
mg
Fiber:
14
g
Sugar:
45
g
Vitamin A:
599
IU
Vitamin C:
11
mg
Calcium:
465
mg
Iron:
5
mg
Nutrition Facts
Oat Milk Smoothie
Amount per Serving
% Daily Value*
* Percent Daily Values are based on a 2000 calorie diet.
Nutritional Disclaimer
The information shown is an estimate provided by an online nutrition calculator. It should not be considered a substitute for a professional nutritionist's advice. See our full Nutritional Disclosure here.
Affiliate Disclaimer
Please note that some of the links here are affiliate links, and I will earn a commission if you purchase through those links. I recommend all of the products listed because they are companies I have found helpful and trustworthy.