A Vegan Post Workout Smoothie should include several vitamins, minerals, protein, carbs, and healthy fats to aid your body's fast recovery. This vegan protein smoothie has it all. This spinach green smoothie is the perfect way to recover after a workout, and it's effortless to make. So, if you're looking for something healthy and delicious to drink after your next workout, then keep reading for the recipe.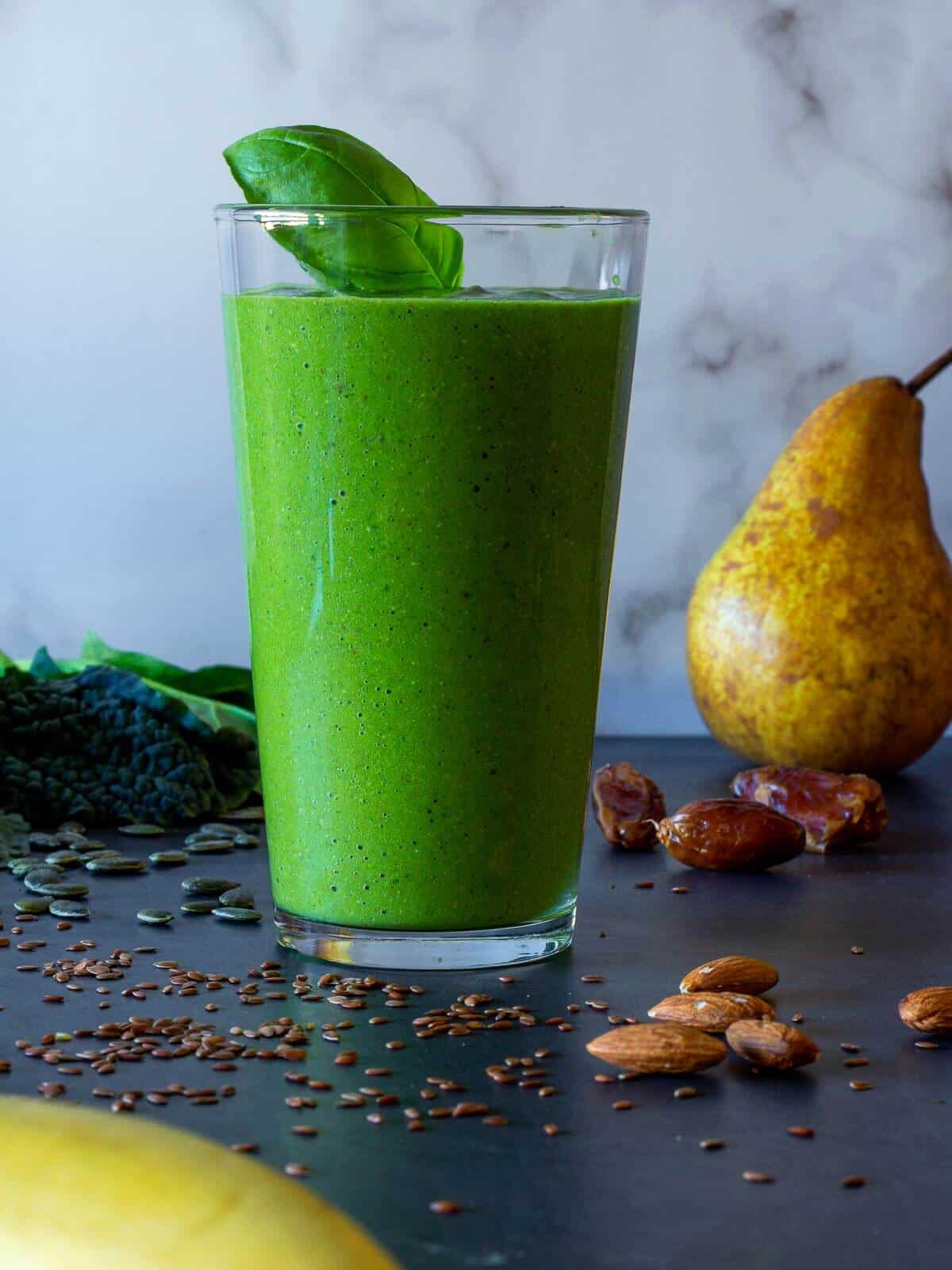 I hope you're all having a great Monday. Today, I thought I would share my favorite post-workout protein shake recipe with you.
If you are working out as part of a weight-loss regime, we recommend pairing this after-workout smoothie with one of these low-sugar juice or spinach ginger smoothies as soon as you wake up.
A post-workout smoothie? You need an after-workout shake to ensure your muscles have what they need to properly replenish and make the best out of your workout sessions.
Well, what if I told you that there's a healthier post-workout smoothie for you than drinking protein and better at building muscle than just having a glass of milk?
Yeah, it might sound too good to be true, but this post-workout smoothie really is better than drinking or eating anything else. This post-workout drink will make you feel full for longer and give your muscles the nutrients they need post-training.
Say hello to my post-workout smoothie and our perfectly creamy, protein-packed oatmeal banana smoothie, and hemp-powered blackberry banana smoothie! Check out our functional smoothies and juices collection! This delicious banana spinach smoothie also inspired our superfood green detox smoothie and spinach blueberry banana smoothie on this site.
If you are working out as part of a weight-loss plan, having a strawberry kiwi smoothie or a spinach and apple smoothie can be a great low-calorie breakfast to start your day on the right foot!
Jump to:
🧾 Ingredients
Below is the perfect formula for a post-workout muscle recovery shake.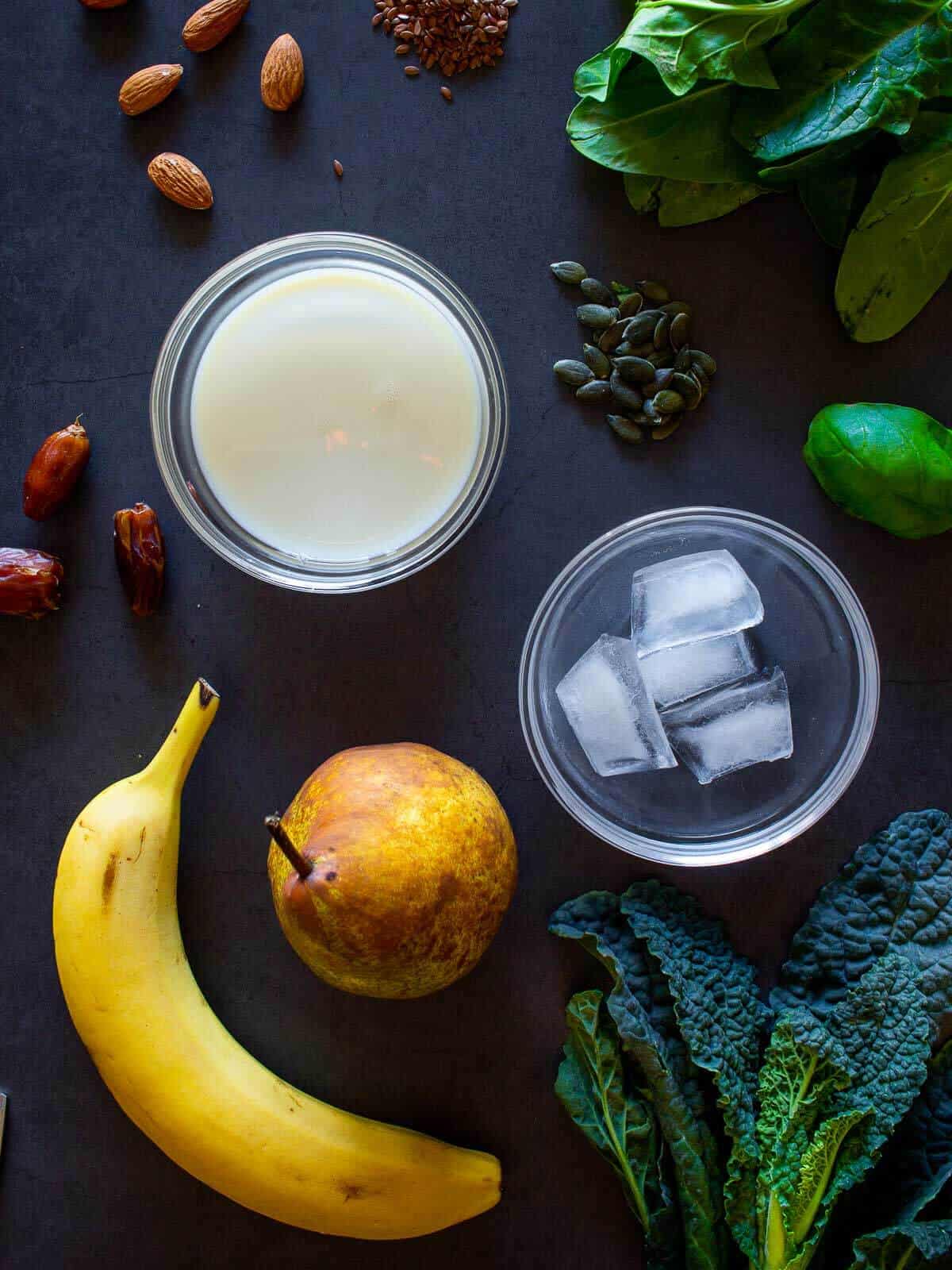 Fresh kale: This leafy green is packed with essential amino acids which are the building blocks for muscle tissues, and it's also high in vitamins and minerals, promoting overall wellness and muscle repair after intense workouts.
Raw almonds: Almonds are high in protein, contributing to your daily protein intake, and they also contain healthy fats which are crucial for repairing muscle tissues and promoting muscle growth.
Fresh spinach: Spinach is another excellent source of essential amino acids and is beneficial for muscle repair and muscle mass, as it also contains nitrates that can improve muscle efficiency.
Dates: These naturally sweet fruits provide immediate post-workout carbohydrates to replenish glycogen stores in muscles and aid in muscle repair.
Flax meal, chia seeds, and/or pumpkin seeds: These seeds are rich in fiber and omega-3 fatty acids, which are essential for muscle recovery and growth, and can also help soothe the stomach after a heavy workout session.
Soy milk: This plant-based milk provides an extra dose of protein, helping to meet daily protein intake, which is necessary for muscle growth and repair.
Ripe banana: Bananas are a great source of quick-digesting carbohydrates and potassium, an essential mineral that aids in muscle repair and maintains proper muscle function.
Pear: Pears are high in fiber, helping to regulate digestion and soothe the stomach post-workout, and they also provide necessary hydration and quick energy for muscle tissues.
Clean protein powder (optional): Adding a scoop of clean protein powder

(affiliate link)

is a convenient way to increase the protein content of the smoothie, directly supporting muscle repair, muscle mass growth, and helping meet your daily protein intake.
💡 Tips for making the ideal healthy post-workout smoothie
This is how it works: the ideal Vegan Protein Smoothie.
Nuts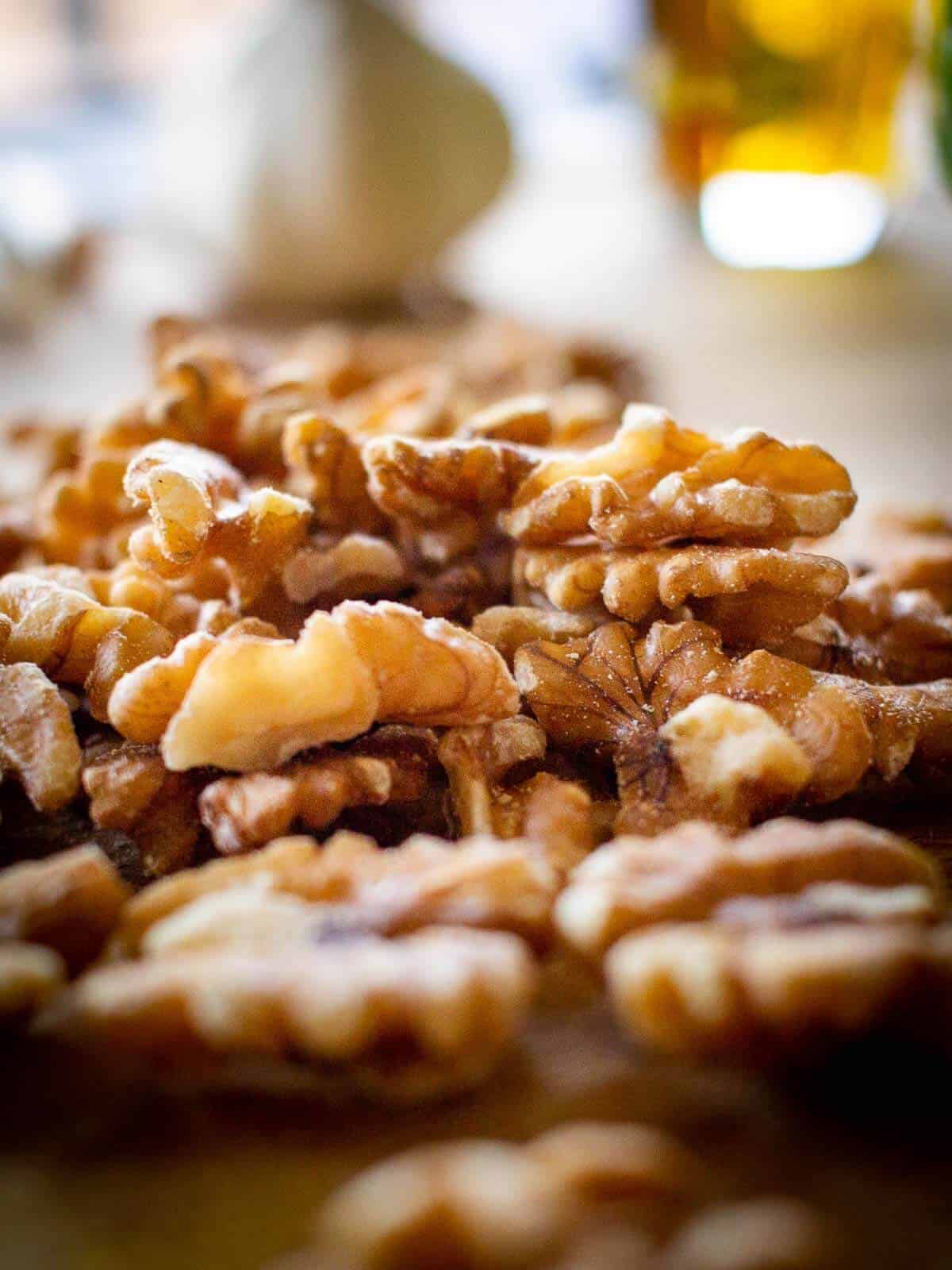 We used almonds, but you can substitute them for walnuts. You can also add nut butter; just be aware that they can add a lot of calories.
Soy or Nut milk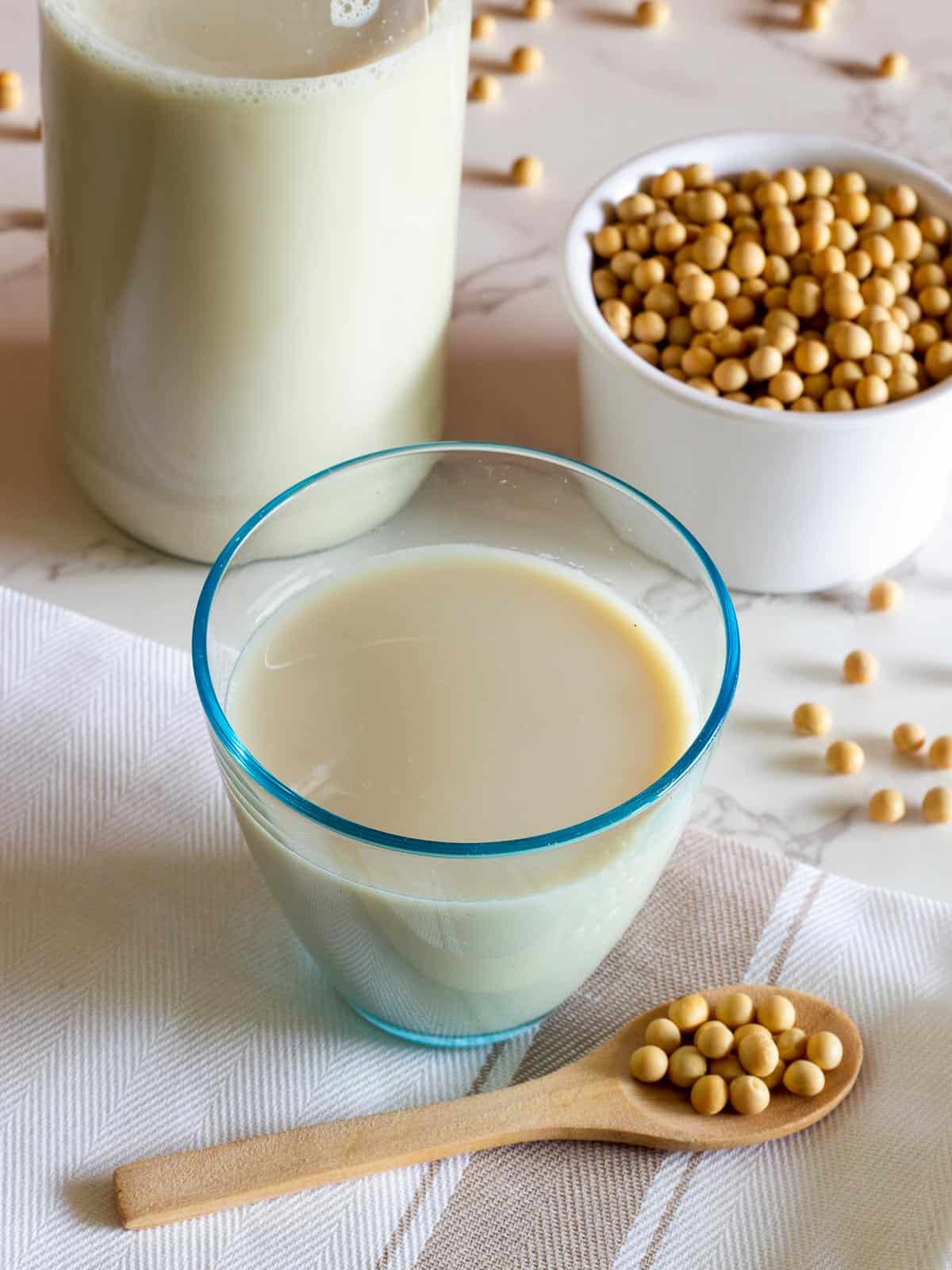 Use either almond milk or soy and oat milk, with higher protein content. Check our recipes to make your homemade oat milk, almond milk, or soy milk.
Dairy-free milks helo to enhance the creamy texture of your smoothie recipes.
Seeds
Make sure to add some seeds: such as flax, pumpkin, or chia seeds. Both nuts and seeds are excellent sources of omega-3 fatty acids and after-work-out foods that fight inflammation and improve bone and joint health; a great addition to a post-workout recovery smoothie.
In addition, they are a source of protein, essential for muscle recovery! Making it the best vegan recovery drink.
Dates
Add some healthy sweetness: Dates are naturally sweet, help prevent post-workout cramping, and aid muscle recovery after an intense workout.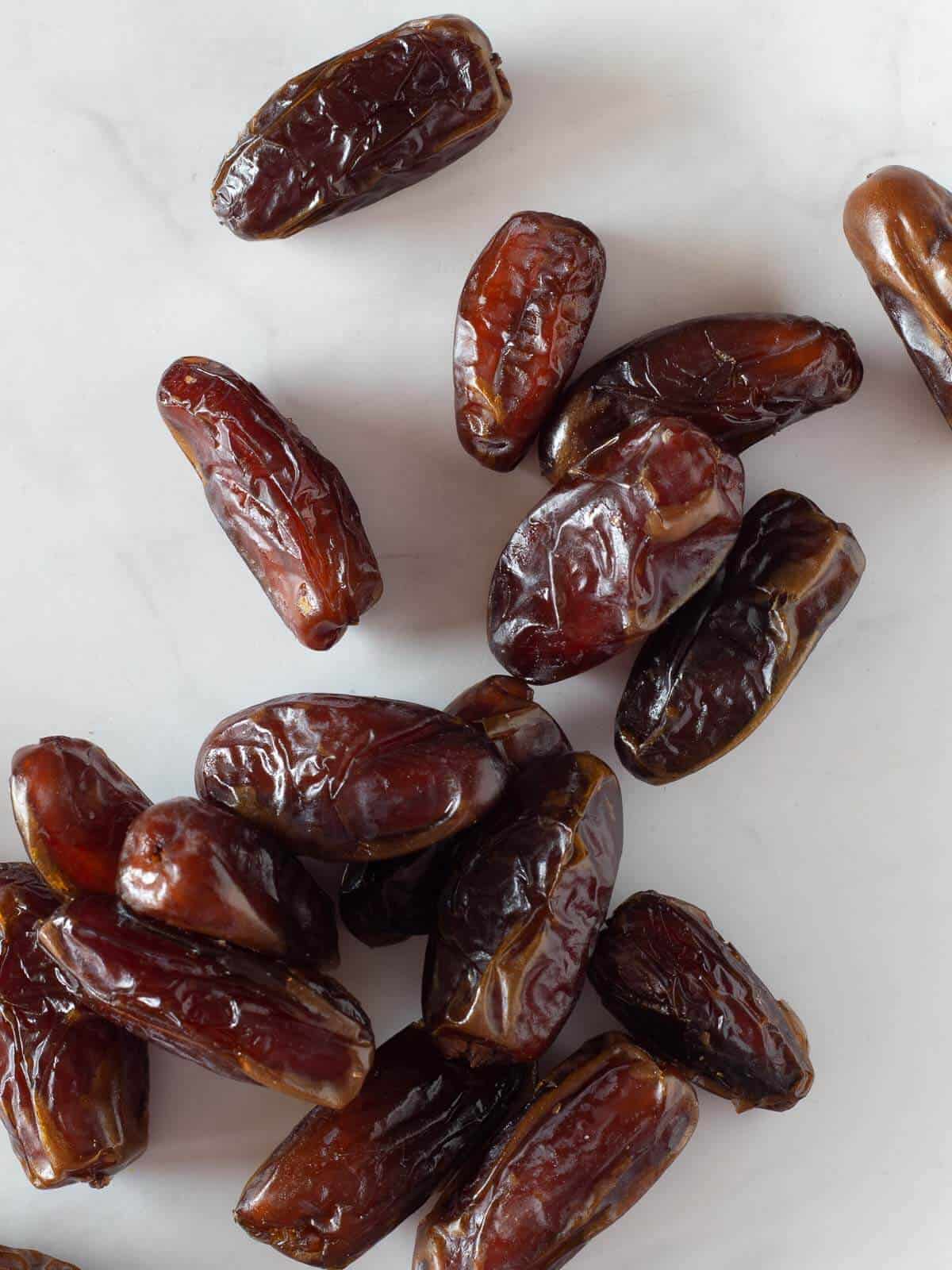 Leafy or collard greens
To make a post workout green smoothie, add some leafy greens (March is a great month to catch them in season): using kale and spinach here. Both superfoods! They are rich in antioxidants and are an essential post-workout food.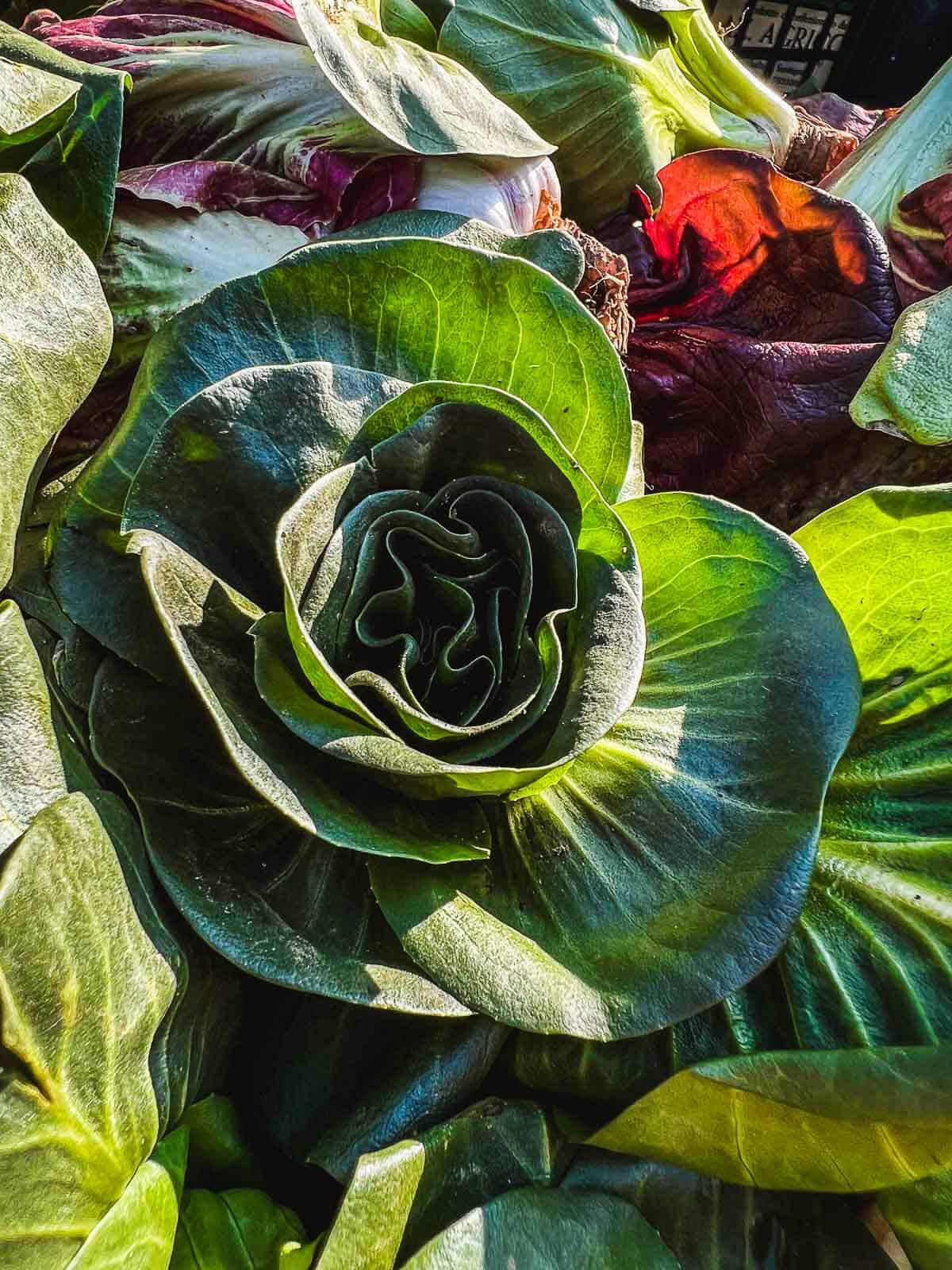 I like using baby spinach on green smoothies because it has a mild flavor and adds natural protein to your smoothies. Spinach is one of the most common choices because it is delicious, smooth, healthy, and rich in protein.
They are fantastic for their anti-inflammatory properties, adding dietary fiber, and helping your body recover after a hard workout.
Another option to easily get your daily dose of greens is adding a tablespoon of organic daily greens powder (affiliate link) directly into your after-workout smoothie.
If a green smoothie is not your thing, use berries, like on our healthy frozen berries smoothie, which also has plenty of antioxidants like vitamin c.
Add them to your blender, a frozen banana, seeds, and protein, and a healthy smoothie made with healthy blended spinach; great to add more greens to your diet.
Read on: High-Protein Vegan Meals » and this Protein-packed Spinach smoothie with Banana »
Fruits
Blend in some complex carbs like fresh fruit. We like the combination of a pear and banana smoothie, using a ripe frozen banana and pear (we always keep some bananas frozen). If you don't love bananas, opt for peaches, they make up for the banana's creamy texture.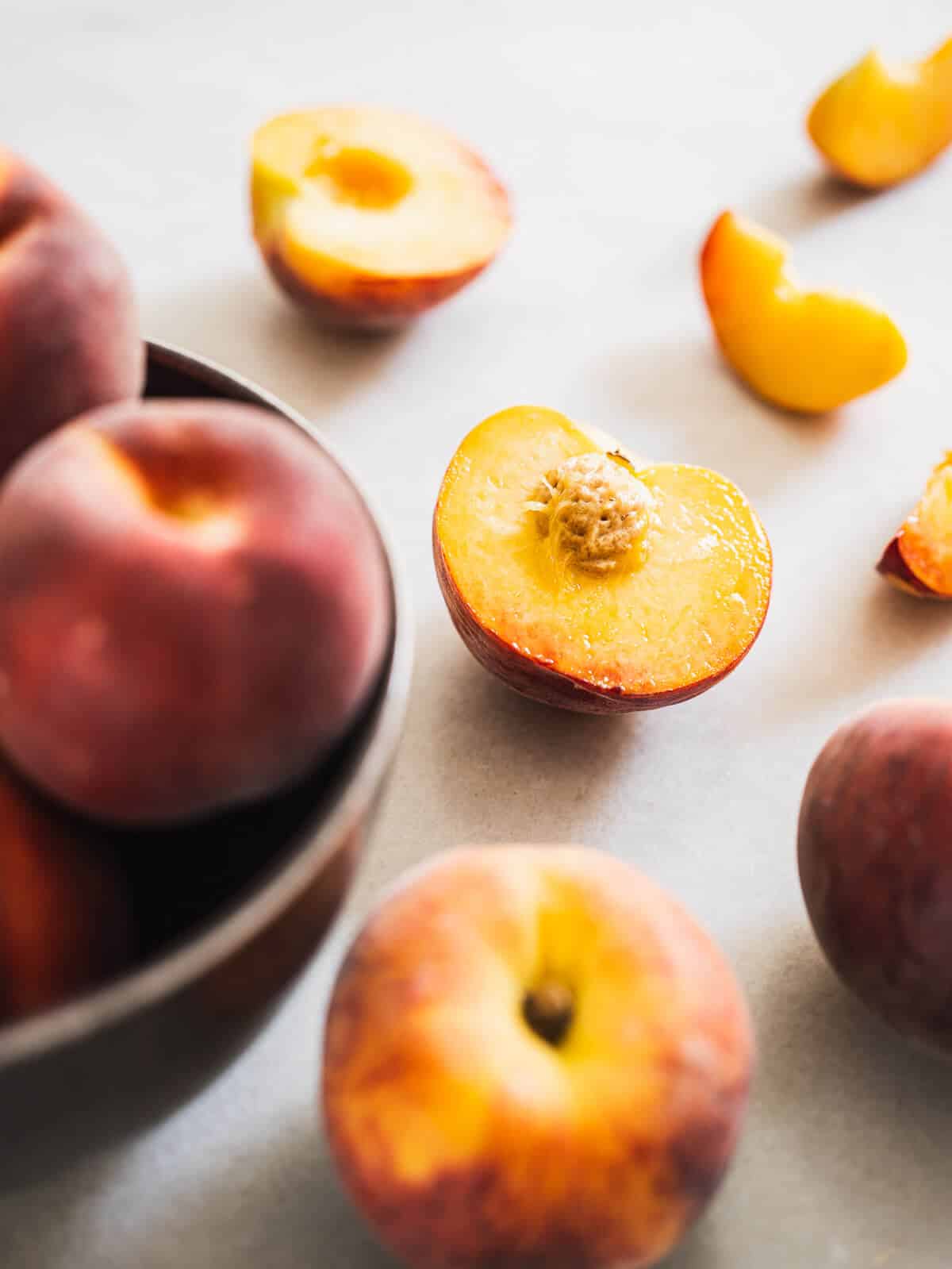 Making a smoothie with spinach and fruit is excellent to avoid added sugars in your drink and add plenty of vitamins, and pears are great to keep things moving.
You can always use natural sweeteners like date paste or a Medjool date if you want some extra sweetness.
Complex carbs provide sustained energy over periods and help replenish glycogen after training.
Banana is the most used fruit because it adds natural sweetness, contributes to dietary fiber intake, and adds a love texture to your smoothie.
Flavor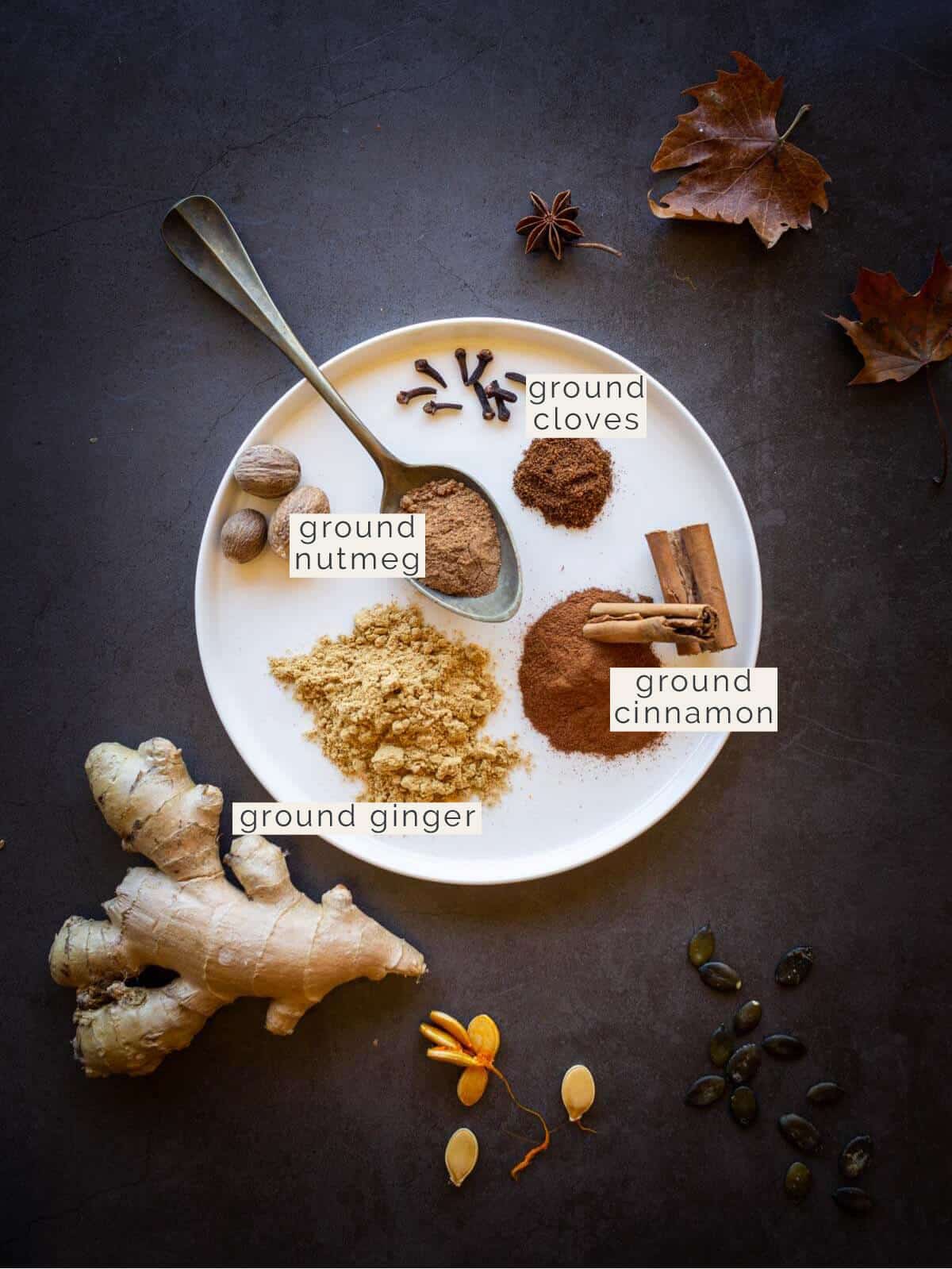 Feel free to add spices, which have no calories and add great benefits. My favorite spices to add to my smoothie are cinnamon, nutmeg, ground ginger, pumpkin pie spice mix, ground cloves, and vanilla extract.
Add ground turmeric plus a pinch of black pepper to fight post-workout cramps and inflammation.
Usually, add half a teaspoon of each, except for the cloves that are very strong.
Vegan Protein
Boost your protein intake with a plant-based, organic, and clean protein powder, as this Plant-based Protein Powder (affiliate link) is designed for No-Meat Athletes.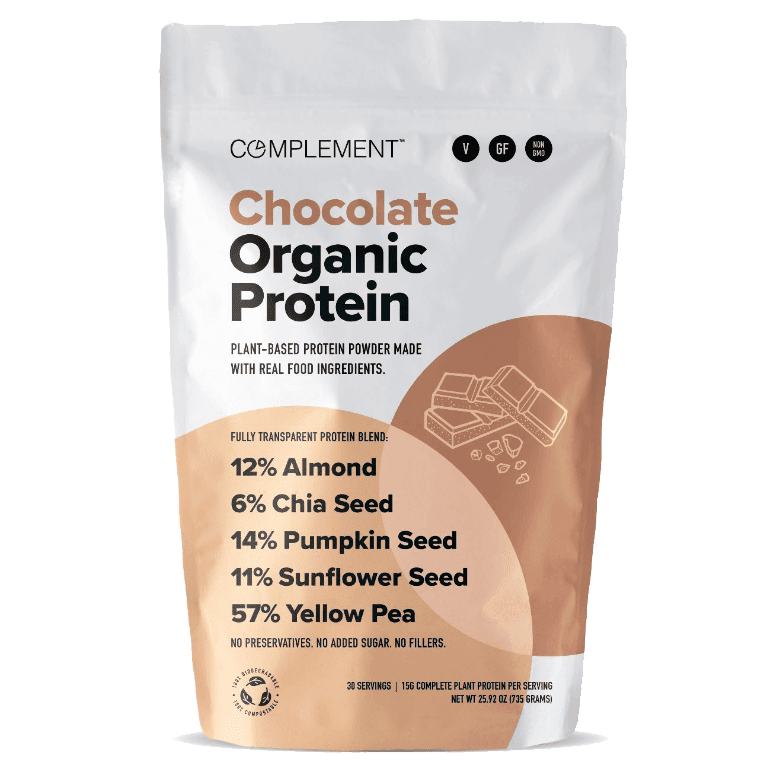 Essential to consume immediately after a workout to build muscle and maximize the body's ability to recover, especially if you want a post-workout smoothie for muscle gain.
Whatever your protein powder choice is, please pay close attention to its components and the distribution of macros. You want a good balance of protein and carbohydrates.
We think it is worth the time invested in choosing the suitable protein powder to ensure they have the proper nutrition calories for your goals, so your efforts pay off and will significantly impact the taste of your post-workout smoothies.
I recommend choosing one or two protein powder flavors to avoid getting tired, and I usually pick a flavorless one and either vanilla or berries. I never pick a banana-flavored one; I add bananas to my smoothies 90% of the time.
Pea protein is another excellent choice for a protein powder, particularly for those following a plant-based diet or with dietary restrictions. It's a high-quality source of protein and includes all nine essential amino acids, which are critical for muscle growth and repair.
Unlike non-vegan options like whey or casein protein, pea protein is hypoallergenic, making it a great option for those with allergies or intolerances to dairy. It's also easier on the stomach and has a lower environmental impact, making it a more sustainable choice.
Moreover, some studies suggest that pea protein may be just as effective as whey at supporting muscle growth, making it an excellent vegan alternative for post-workout recovery.
🔪 Instructions
Wash and chop. Begin washing your leafy greens and chopping the fruits into medium-sized chunks.
Measure. I don't usually go crazy about measurements, but when making a functional exercise smoothie.
Blend: add all your dried and fresh ingredients into a high-speed blender and mix for about 40 seconds with ice cubes until you have a smooth and creamy texture. Our blender has a smoothie recipe function that mixes for 40 seconds.
Top tip: I like to keep calories in line to ensure that energy levels and calories align with my plan. i.e., one large banana might have 50% more calories, carbs, and nutrition overall than a small one. Food can greatly vary in calories and macros when you consider its size.
Use a scale, measuring cups, or tablespoons to ensure only what is needed goes in!
📖 Variations
The best recovery smoothie recipe can have some extras.
Cocoa
Include some raw cocoa powder or maca-cocoa powder (affiliate link) for a different taste, enhanced energy, and extra antioxidants. It is also a great supplement for those trying to reduce caffeine intake.
Berries
Add some berries as an extra shot of antioxidants.
Spices
Include some turmeric and black pepper to aid post-workout inflammation.
Nut butter
If you aim to gain some weight, include cashew, peanut, or almond butter tablespoon. They provide energy and help replenish your body faster; if used with maca powder (affiliate link), they are even better. They also add more protein to your post-workout smoothies.
If you are planning on drinking this shake post workout smoothie for muscle gain, adding peanut butter or any nut butter to your shake should be part of your game plan.
On the contrary, if you are drinking this shake as post workout weight loss smoothie, then omit the nut butter, and add energy lifting maca powder, which is low in calories and high in benefits. See which maca powder is best for you.

If you plan on lifting weights to support your weight-gaining goals, using maca powder can also be a great addition to your smoothie. That would make the best workout smoothie since it has all the nutrients necessary for recovery and all the great benefits that this ancient root has to replenish greater energy, stamina, improved mood, and the ability to handle stress.
Sweetness
Finally, add agave or maple syrup for extra sweetness.
Extra antioxidants
Add spirulina powder for extra protein without adding many calories.
Add matcha powder as an extra natural metabolism enhancer and is packed with antioxidants.
You can add coconut water to your smoothie; not only does it tastes good, but it has healthy electrolytes that also help with recovery after exercise.
Coconut water has a lot of minerals that are essential for body recovery after an exercise session.
Read on: 3-ingredient pineapple coconut smoothie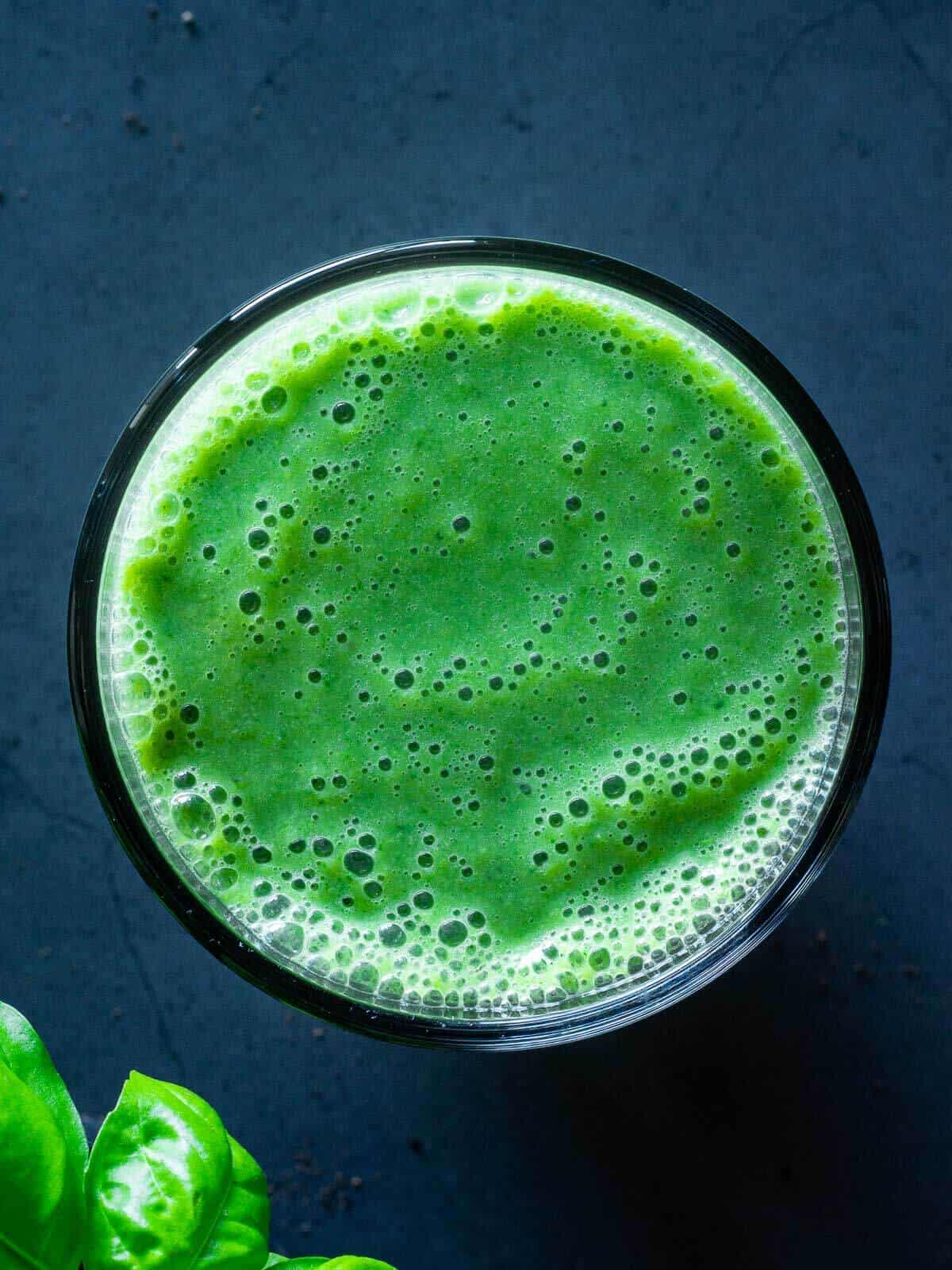 You may like another Great Post-Work Out Elixir that you should add to your diet if you are into Juicing:
Beetroot and Celery Juice: the Ultimate Pre and Post-workout drink
We also worked on a protein pre-workout smoothie to boost endurance and performance.
Energizing Banana Matcha Smoothie is a great way to start the day or have it as a snack before working out.
Make this smoothie after your next workout to see how your body will start replenishing much better, and your effort in the gym with be optimized!
💡 Top tips
Relief from muscle soreness: Consuming a scoop of protein as part of your after-workout shake is a practical solution, particularly when appetite is low, as it's easy on digestion.
Counteracting inflammation: Rigorous exercise may result in minuscule tears in muscle fibers, inducing a response from your body that escalates inflammation, often presenting as delayed-onset muscle soreness, as explained by the American College of Sports Medicine. However, the silver lining is that abundant protein intake can help lessen this muscle breakdown and temper the inflammatory reaction, as per various studies, thereby reducing soreness.
Meeting your daily protein requirements: Concentrating on your overall daily protein intake is more vital than the precise timing of consuming a protein shake. Hence, it's essential to comprehend your dietary needs.
🥤 More smoothie recipes
If you don't have a good blender, we think it is an excellent investment if you plan on continuing to make post-workout smoothie recipes, and they also work as a food processor replacement.
We use it at least twice a day; it's worth it. Try some of our favorite smoothies:
Check out these healthy recipes; they can all be turned into post-workout smoothies, simply adding protein powder, as most of the time, we use the same healthy lifestyle principles when designing our smoothies.
We designed another amazing green smoothie as a detox smoothie but it worked perfectly as a post-workout partner, simply adding a scoop of plant-based protein here!
It is fantastic; all the ingredients are super clean and vegan, perfect if you are looking for a post-workout smoothie for weight loss, just as a strawberry-banana smoothie.
If you like smoothies in all their forms, you might love having a thick smoothie bowl either to begin your day or after an extenuating workout.
Or, if you like some chewing involved, these oats and chia pudding with peanut butter can be just what you need, or maybe these 4-ingredient vegan protein cookies.
Check our weight loss juice if losing weight is part of your goals.
⭐ If you try this healthy post work out smoothie recipe, let us know! 💬 Leave a comment, rate it, and don't forget to tag us @ourplantbasedworld on Instagram. Cheers!
📋 Recipe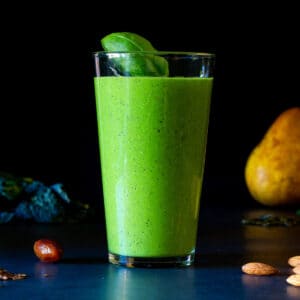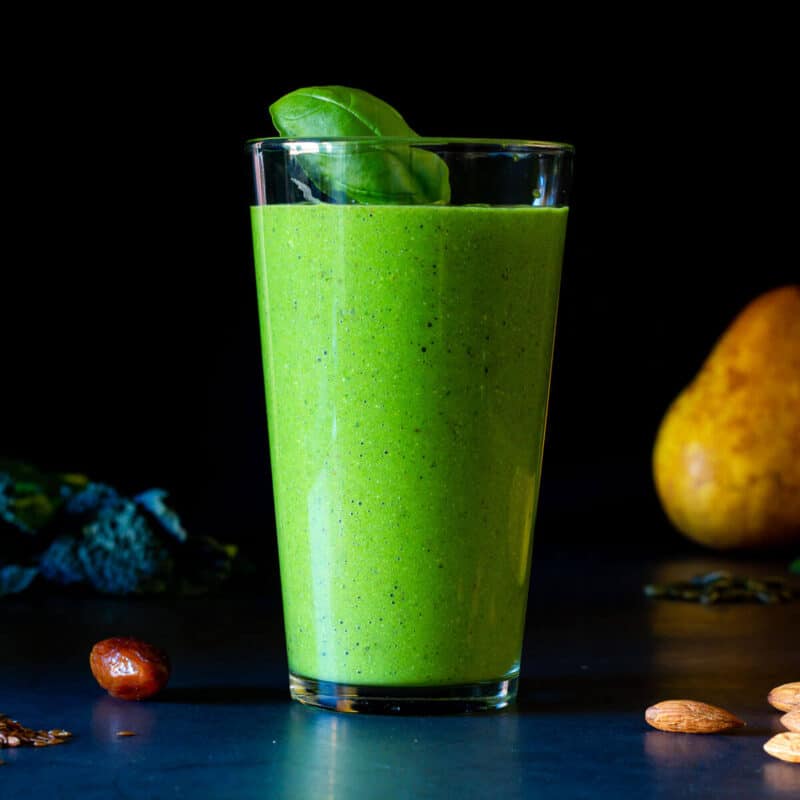 Post Work Out Smoothie
This Green Post Workout Smoothie has everything you need for a fast recovery. Vitamins, Minerals and healthy fats included.
Equipment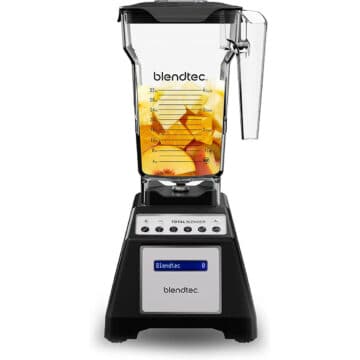 (affiliate link)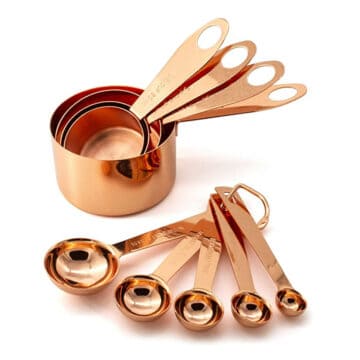 (affiliate link)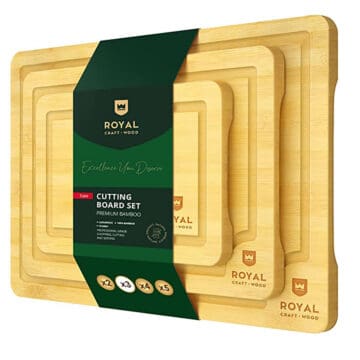 (affiliate link)
Ingredients
1

cup

kale

raw, optionally remove stems

1

cup

spinach

raw, / or swiss chard

3

almonds

raw / walnuts

2

dates

pitted, more if want to make it sweeter

2

tablespoon

flax seeds

or chia seeds / pumpkin seeds / or a mix

1

cup

soy milk

organic / or almond milk (has more protein)

1

banana

ripe, frozen

½

pear

ripe / or apple

3

tablespoons

Organic Protein Plant-Based Powder

plain or use vanilla-flavored / hemp seeds / hemp flour

1

cup

water

1

cup

ice

about 6 cubes
Directions
Wash all the fresh ingredients and pit the dates; then measure your ingredients with measuring spoons and/or cups.

Add everything into a high speed blender.

For a thicker smoothie, add more ripe pear or frozen banana. For a thinner smoothie, add more plant milk or water (it will affect sweetness). Taste and adjust flavor as needed, adding more dates or banana for sweetness and more plant milk or spinach for creaminess.For a thicker smoothie, add more ripe pear, frozen banana, or peach

Serve Cold.

Smoothie leftovers will keep in a covered mason jar in the refrigerator for up to 2 days, though best when fresh.
Notes
Add spirulina powder for extra protein without adding many calories. This might change the flavor of your smoothie drastically as the chlorophyll flavor is intense.
Nutrition facts are calculated, including the protein powder.
The protein powder accounts for 86 calories, 0 carbohydrates, and 15 grams of protein per serving.
Add agave or maple syrup for extra sweetness or extra dates. We like using dates because they have a ton of beneficial post-workout benefits.
Vegan Clean Protein: if using the clean protein powder

(affiliate link)

, add our 10% discount code OURPBWORLD10 at check-out to enjoy the benefit. (affiliate)
Nutrition Facts
Calories:
553
kcal
Carbohydrates:
75
g
Protein:
32
g
Fat:
17
g
Saturated Fat:
2
g
Polyunsaturated Fat:
9
g
Monounsaturated Fat:
4
g
Sodium:
254
mg
Potassium:
1635
mg
Fiber:
16
g
Sugar:
39
g
Vitamin A:
10536
IU
Vitamin C:
120
mg
Calcium:
603
mg
Iron:
9
mg
Nutrition Facts
Post Work Out Smoothie
Amount per Serving
% Daily Value*
* Percent Daily Values are based on a 2000 calorie diet.
🌡️ Food safety
Cook to a minimum temperature of 165 °F (74 °C)
Do not use the same utensils on cooked food, that previously touched raw meat
Wash hands after touching raw meat
Don't leave food sitting out at room temperature for extended periods
Never leave cooking food unattended
Use oils with a high smoking point to avoid harmful compounds
Always have good ventilation when using a gas stove
See more guidelines at USDA.gov.
Nutritional Disclaimer
The information shown is an estimate provided by an online nutrition calculator. It should not be considered a substitute for a professional nutritionist's advice. See our full Nutritional Disclosure here.
Affiliate Disclaimer
Please note that some of the links here are affiliate links, and I will earn a commission if you purchase through those links. I recommend all of the products listed because they are companies I have found helpful and trustworthy.