This Easy Vegan Banana Bread Recipe is made in one bowl. Yes, you read that right! One bowl of ingredients makes the batter for this moist, flavorful loaf of vegan banana bread. And if you are looking for a vegan dessert option that is quick and simple to assemble, then this easy-peasy dish is perfect for you!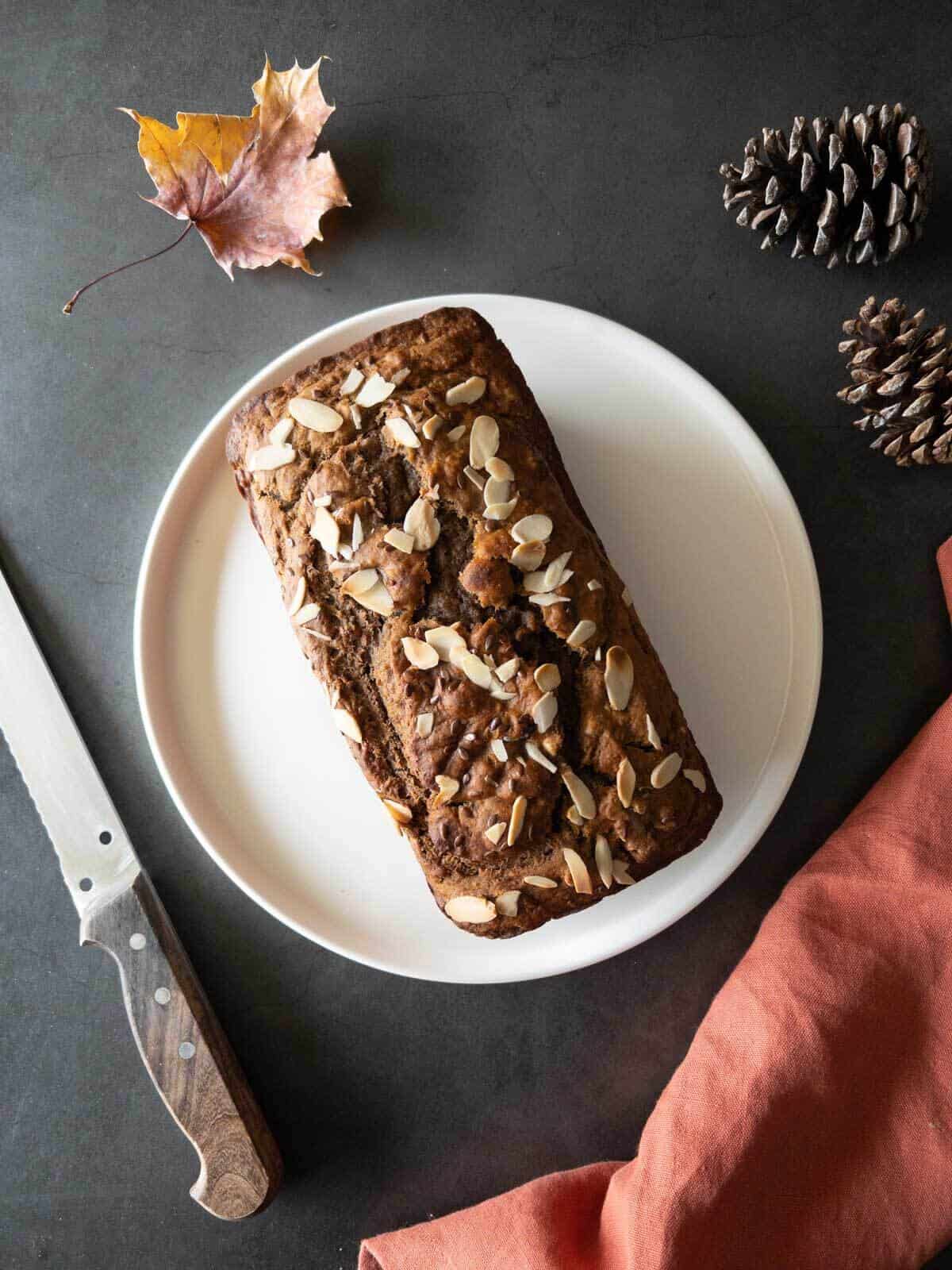 This easy vegan banana bread recipe is so simple to make; you'll want to try it out for breakfast every day of the week. It's perfect for overripe bananas on your counter because you only need to pour your one-bowl batter into your baking loaf without any further mess in the kitchen.
⭐ Why you'll love this recipe?
This fantastic banana bread needs only nine ingredients.
The ingredients and process are straightforward.
This quick banana bread recipe takes 10 minutes to prepare and 50 minutes in the oven.
One bowl and one baking loaf, minimum cleaning.
Works as a dessert, mid-morning snack, or breakfast.
Storable and freezable.
Easily customizable to make it gluten-free, nut-free, or add chocolate chips.
Delicious, tasty, and crowd-pleaser.
It is a loaf of basic banana bread, still it has all the must-have ingredients to make a banana bread recipe tasty and perfect.
If you love loaves, don't forget to try out our 1-bow vegan carrot loaf cake and our easy bread loaf, for a savory breakfast option.
The best banana bread ever!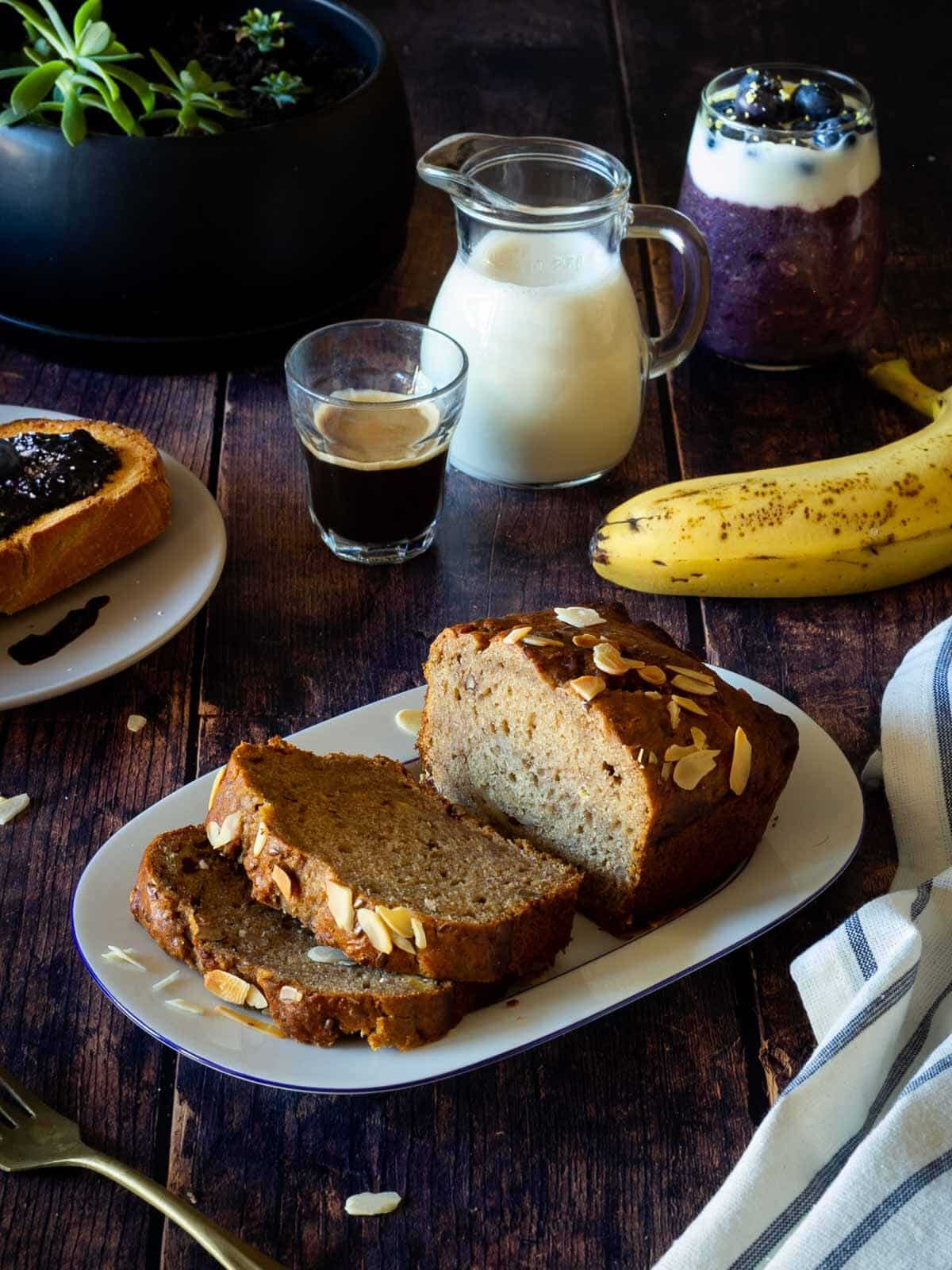 Jump to:
🧾 Ingredients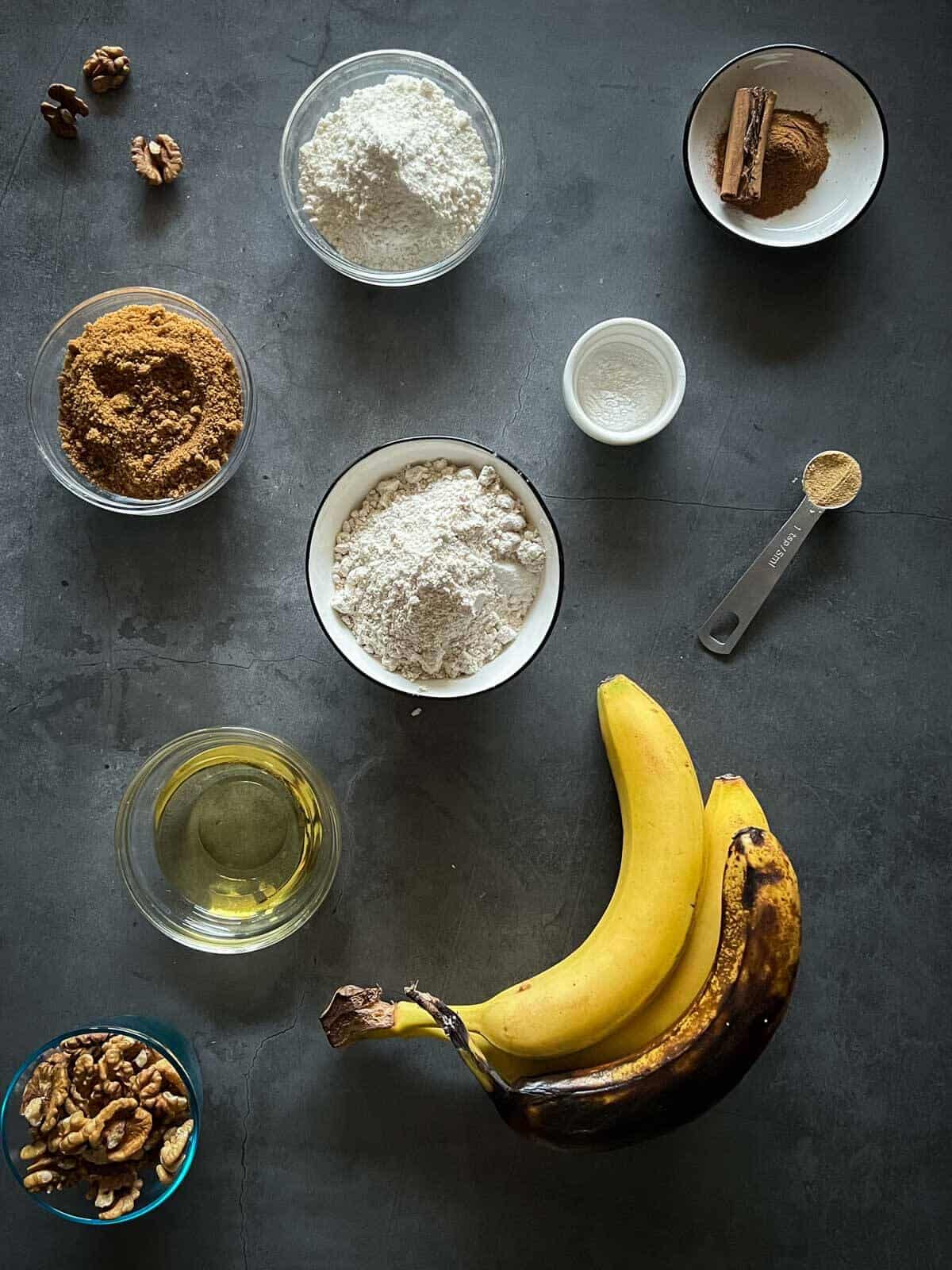 Blackened bananas (extra ripe bananas are best)
Oat flour
All-purpose wheat flour
Organic brown sugar (or coconut sugar)
Vegetable oil (or any other neutral oil)
Chopped walnuts
Ground cinnamon
Ground ginger
Baking powder
Optional: slivered almonds and flax seeds to top the loaf.
See the recipe card for quantities.
The best part about this easy vegan banana bread recipe is that it tastes like regular banana bread but without all the animal fats and dairy products.
🔪 How to make vegan banana bread?
Ready for the simplest yet best vegan banana bread recipe? To make the best recipe for banana nut bread, simply follow five simple steps.
Measure
Begin by measuring your ingredients to easily turn everything into a bowl. Getting the ingredients measured correctly is essential for any baking recipe.
Preheat the oven to 350 ºF (180 ºC) if using a fan oven. Set at 390 ºF (200 ºC) if using a gas oven.
Mash bananas and mix
In a large mixing bowl, mash the ripe bananas, then add the vegetable oil, and then the organic brown sugar so it is dissolved. It is OK to have some banana lumps.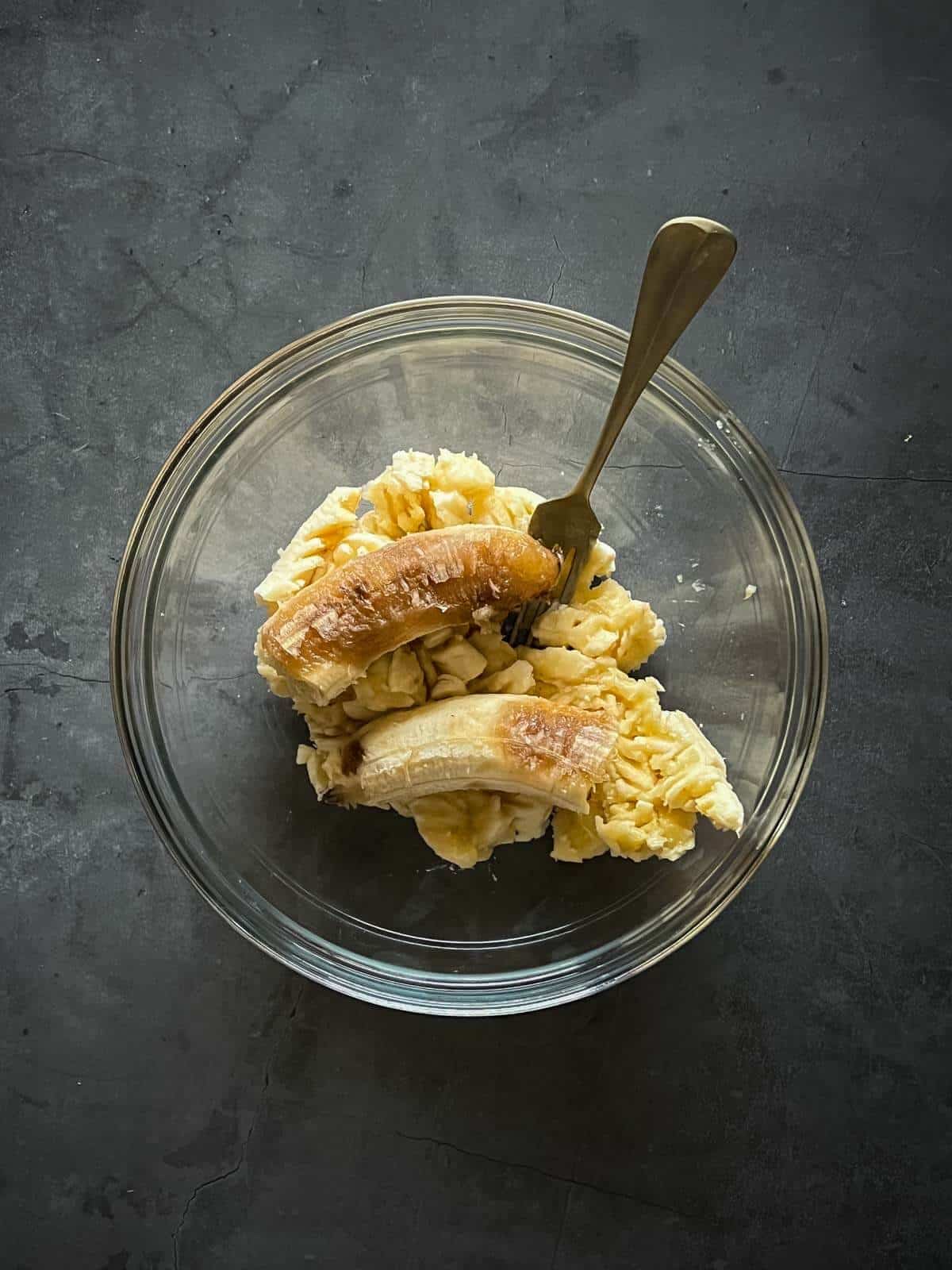 Add the vegetable oil and the brown sugar, and stir until the sugar is dissolved.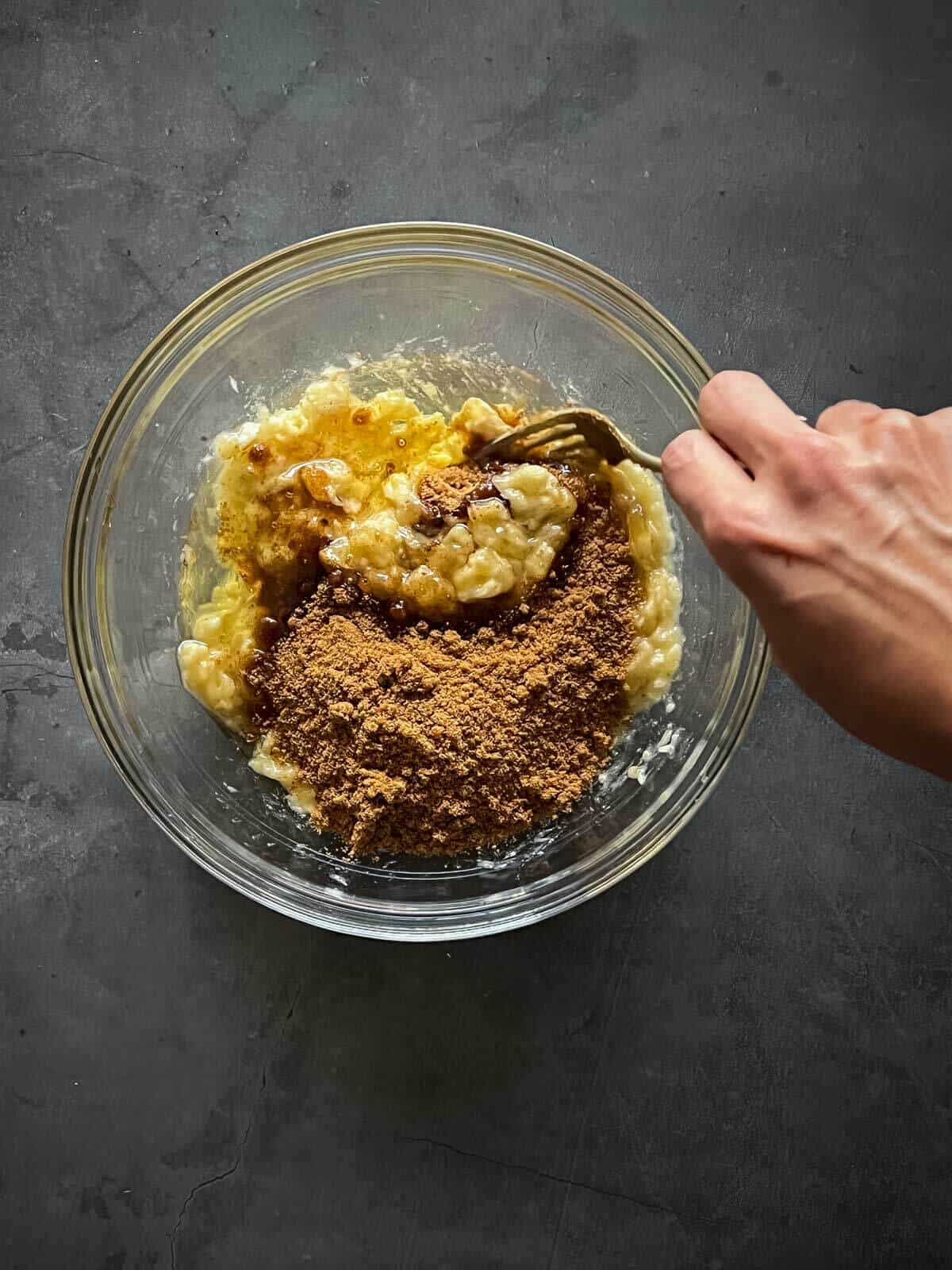 Roughly crush the walnuts with your hands or press them on a cutting board with a glass. I like having different walnut sizes on every bite.
Fold the chopped walnuts into the batter.
Add the rest of the ingredients and mix. You only need to fold in the ingredients without over-mixing.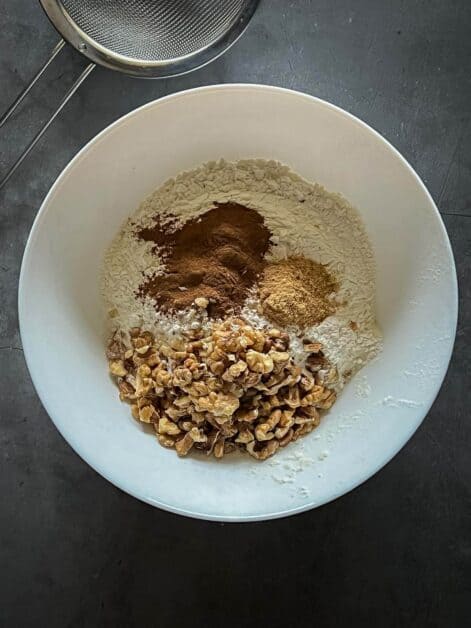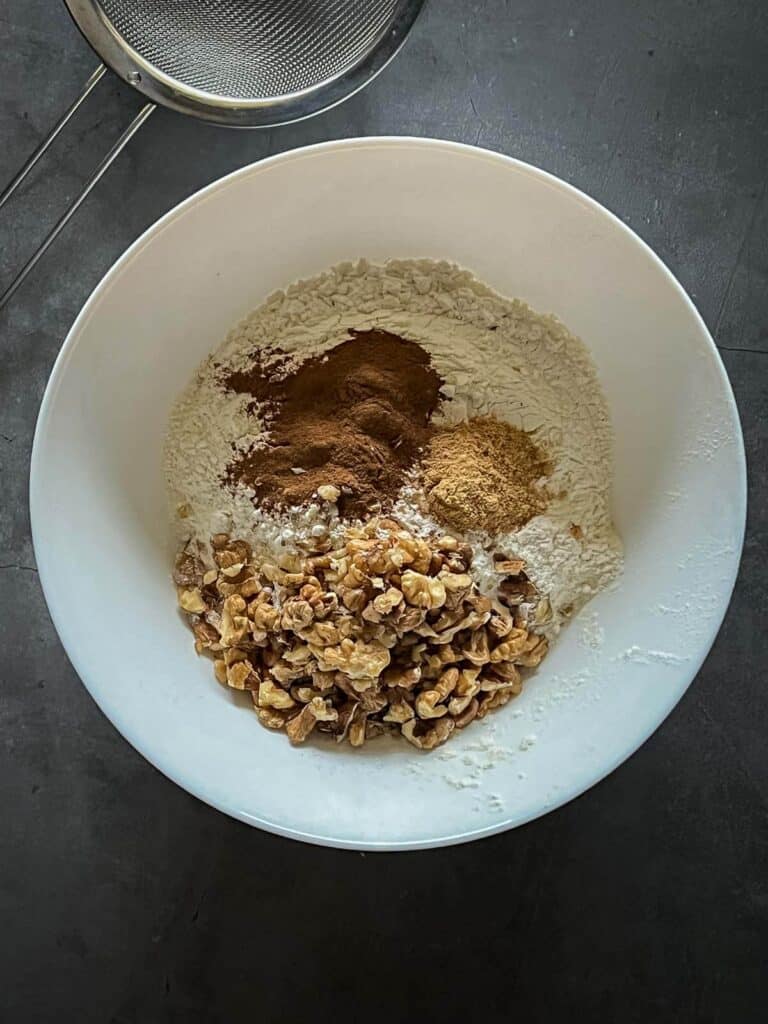 If you want to make any customization like adding vegan chocolate chips or seeds, this is the time to do it.
Prepare the loaf
Oil the baking loaf pan using vegetable oil or vegan butter, and pour the vegan banana bread batter into the prepared loaf pan.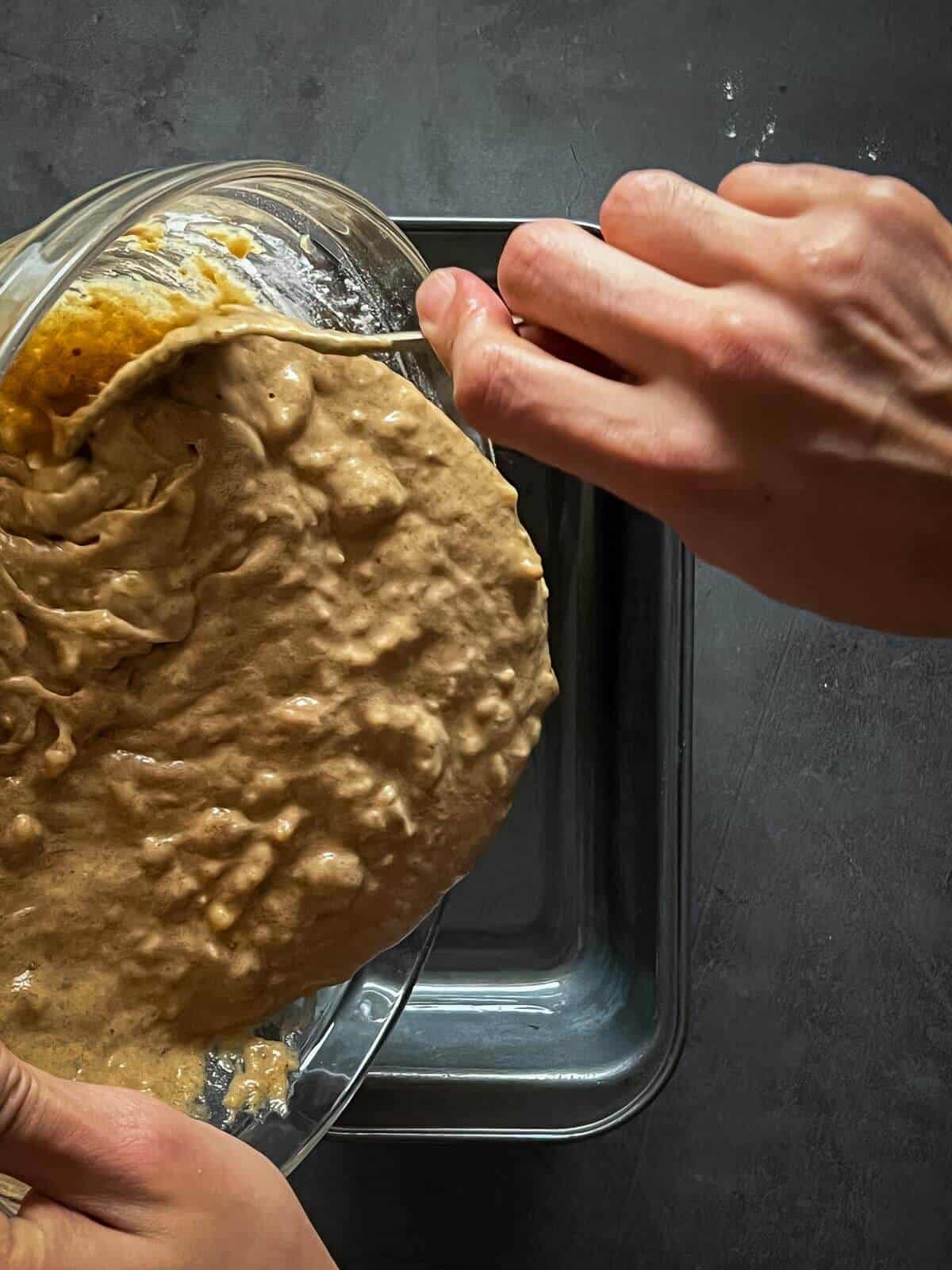 If you want you can add some slivered almonds and flax seeds on top.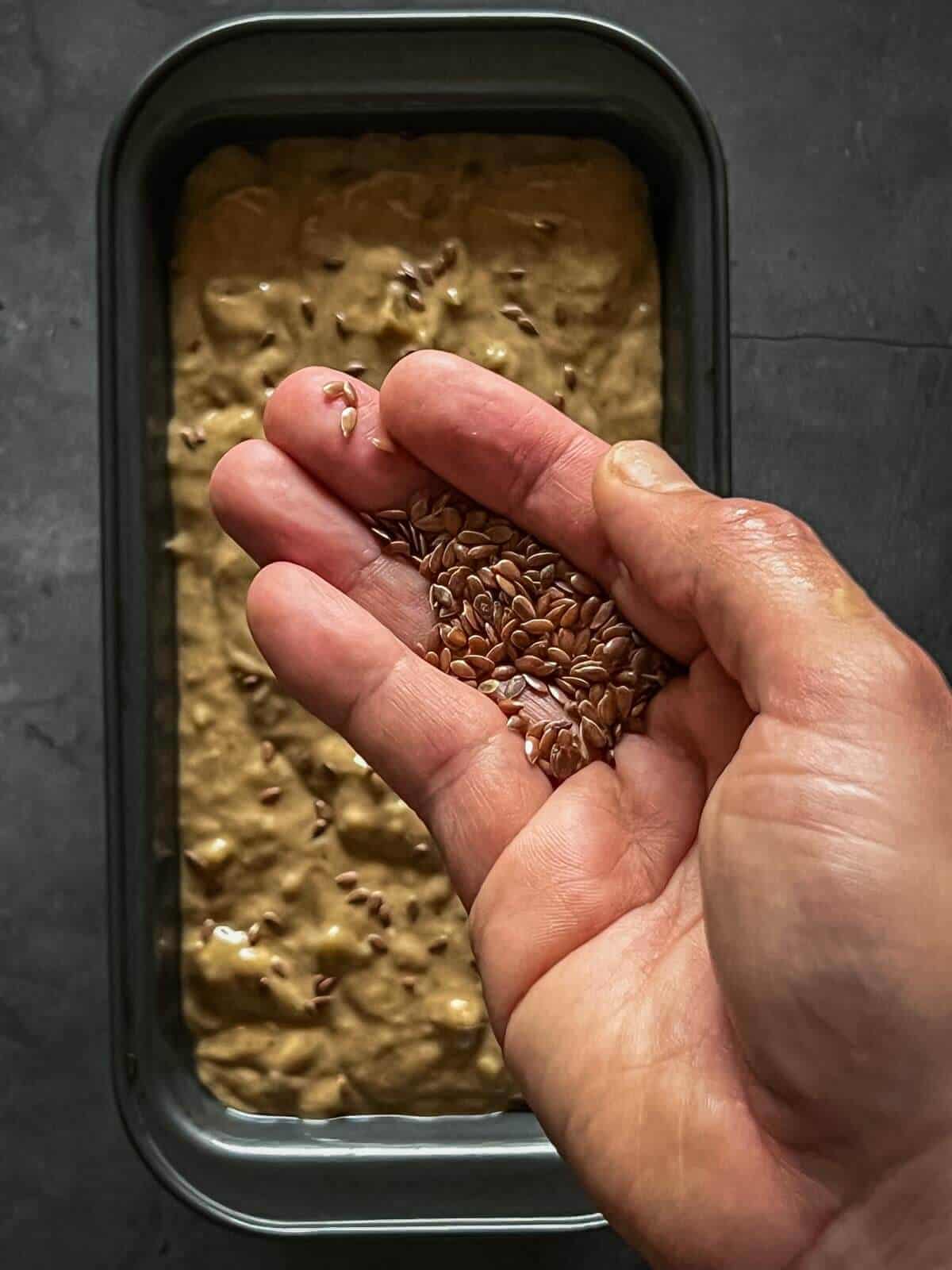 I add about one teaspoon of each because it adds beautiful toasted seeds look.
You can add just a few crumbs of coconut or brown sugar on top, giving it extra caramelized, dark color spots.
Note: if your loaf pan isn't a non-stick one or is a little old, I recommend after oiling the pan, sprinkle a little flour until it is fully covered and discard the flour that didn't stick.
Don't use too much flour, since white stains can remain in the loaf.
Alternatively, you can like parchment paper, lightly oil it, and pour the banana bread batter on top of the prepared pan, to easily remove it from the pan. This is not necessary if using a non-stick loaf pan.
Bake
Now bake for 20 minutes.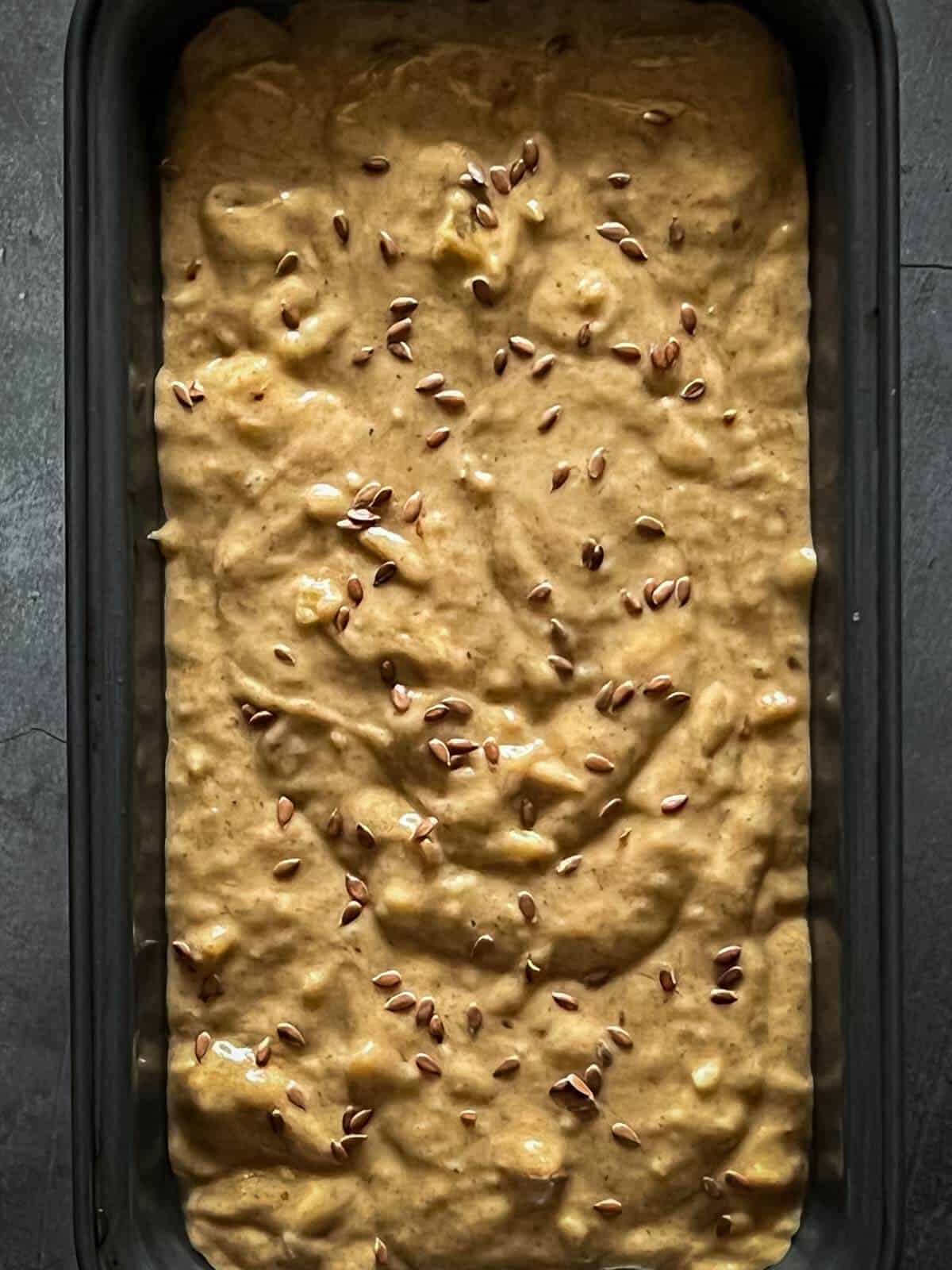 Then remove from the oven, cover the bread loaf with aluminum foil, and turn it back to the range for another 30 minutes.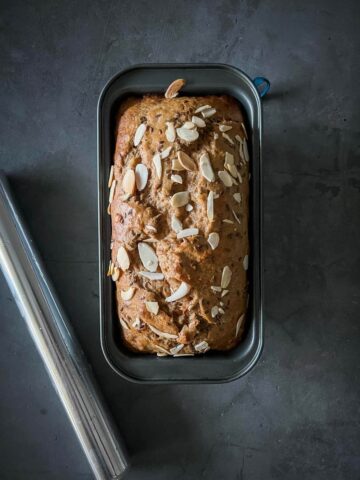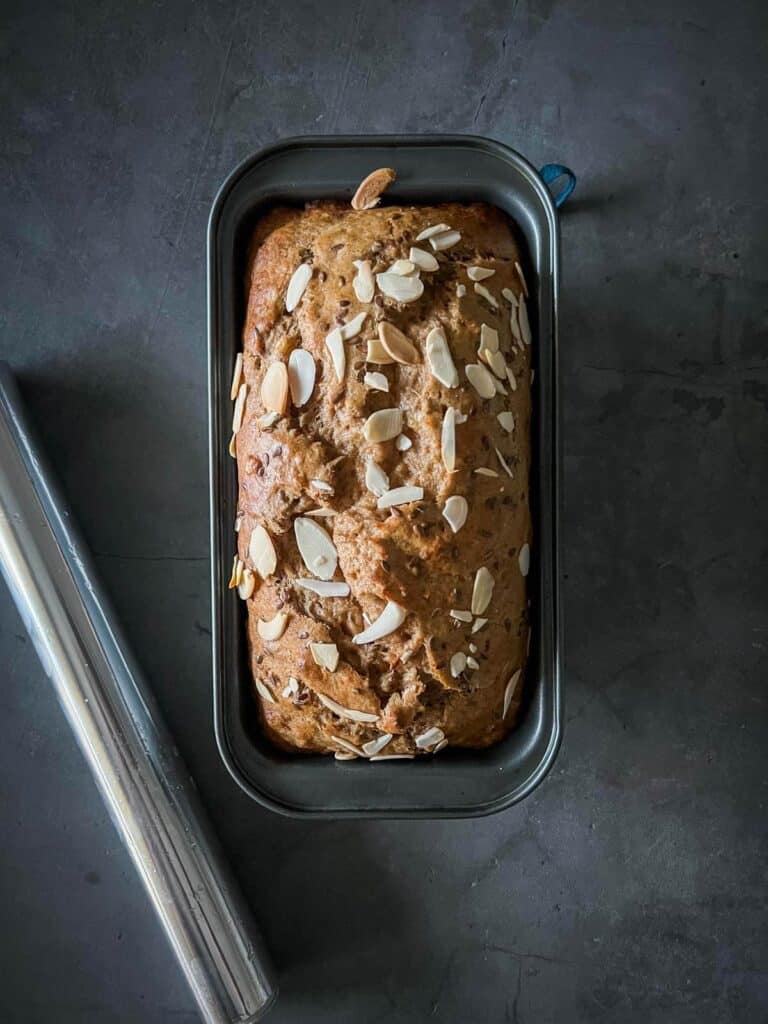 To ensure it is cooked, introduce a knife, which should come out clean.
Let the banana nut bread cool down on a cooling rack for at least 10 minutes before cutting it.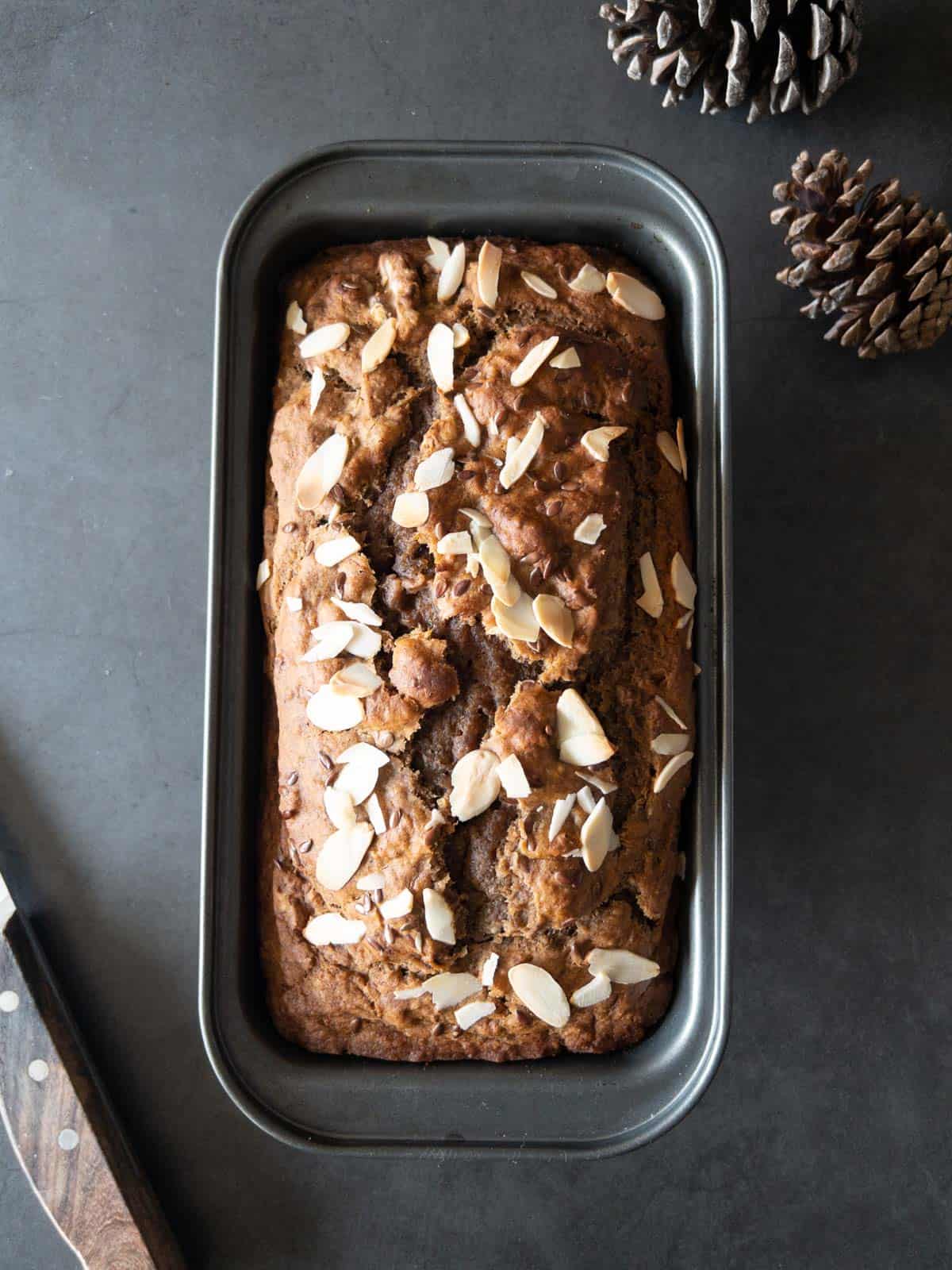 🍶 Variations and substitutions
I have used staple pantry ingredients to keep this banana bread vegan recipe easy and simple, which was my main goal with this recipe.
Avoiding fancy ingredients yet having a healthy spin, I used a mix of all-purpose flour and oat flour, brown sugar, and so on.
Here, you can find some substitutions that I have tried several times and succeeded in. Feel free to switch some of the ingredients to make your vegan banana bread even healthier or fancier.
The best banana bread is moist but not too much and has the right combination of sweetness and spices.
Frosting
If you feel like adding an extra touch, go for this easy vegan buttercream frosting with white chocolate, a healthy version with less than 100 kcals per serving!
Mini chocolate chips
Many banana bread recipes call for chocolate chips. I do not like adding chocolate to my banana bread because I like tasting the spices and bananas on the cake.
Adding vegan chocolate chips will make it equally delicious, but you may not feel the cinnamon and banana flavor characteristic of amazing banana bread. Up to you!
On the same note, you can choose to add a dollop or two of peanut butter.
Vanilla extract
It gives the banana bread a nice touch, but it is unnecessary. Use only one teaspoon if you decide to add it.
Cane Sugar
Coconut sugar, light brown sugar, homemade date paste, or maple syrup also work well. Keep in mind that if you use maple syrup, being a liquid, you may need to balance the rest of the wet ingredients so you don't end up with a mushy banana loaf.
Oil
I have used neutral sunflower vegetable oil to keep this banana bread vegan accessible, and simple, but you can use any other neutral oil like canola oil.
Melted vegan butter or melted coconut oil are options that you can use but can slightly change the flavor.
You can also use other lightly flavored oils like avocado oil. I have tried them both, and they work equally well.
Spices
I think it is essential to get the spices right for this vegan banana bread recipe. For example, nothing terrible will happen if you overdo the cinnamon, but it can overtake the cake's flavors and leave the banana behind.
Cinnamon in banana bread is essential, we all can relate to the importance of cinnamon on banana bread, but you need to get it right!
For this Banana bread, easy recipe, I started with three teaspoons of cinnamon, and I think it overpowered the rest of the flavors, so I went down to 2 teaspoons, plus ginger powder, but it wasn't there.
So the perfect point for us was 2 ½ teaspoons of ground cinnamon plus one teaspoon of ground ginger.
We also tried our homemade pumpkin spice mix, and it worked wonderfully. Use 3 ½ teaspoons of pumpkin spice mix as an alternative.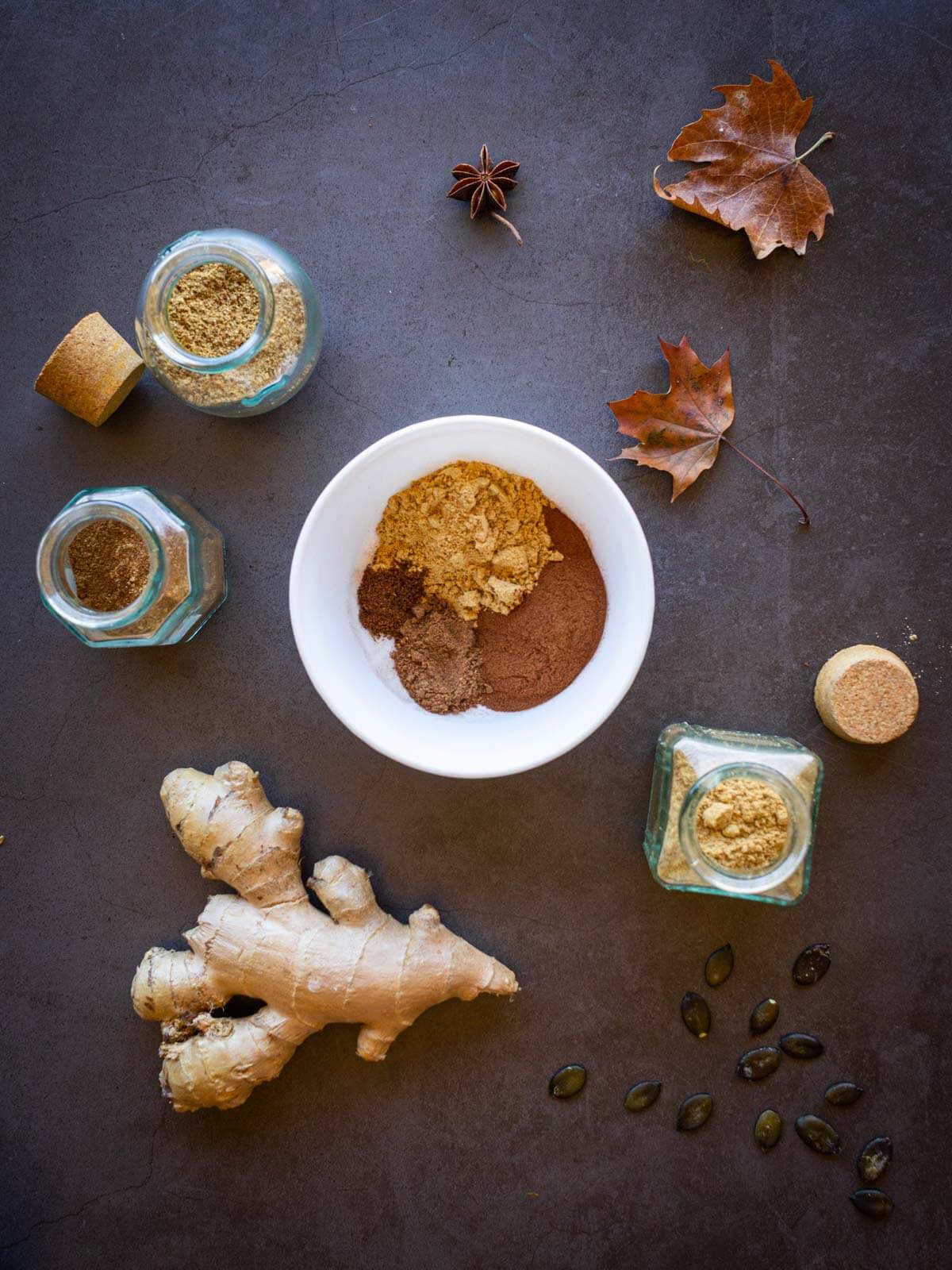 Bananas
Choosing ripe, blackened bananas is essential to make this easy banana loaf recipe. Essentially, they contribute to banana bread flavor and make it perfectly sweet.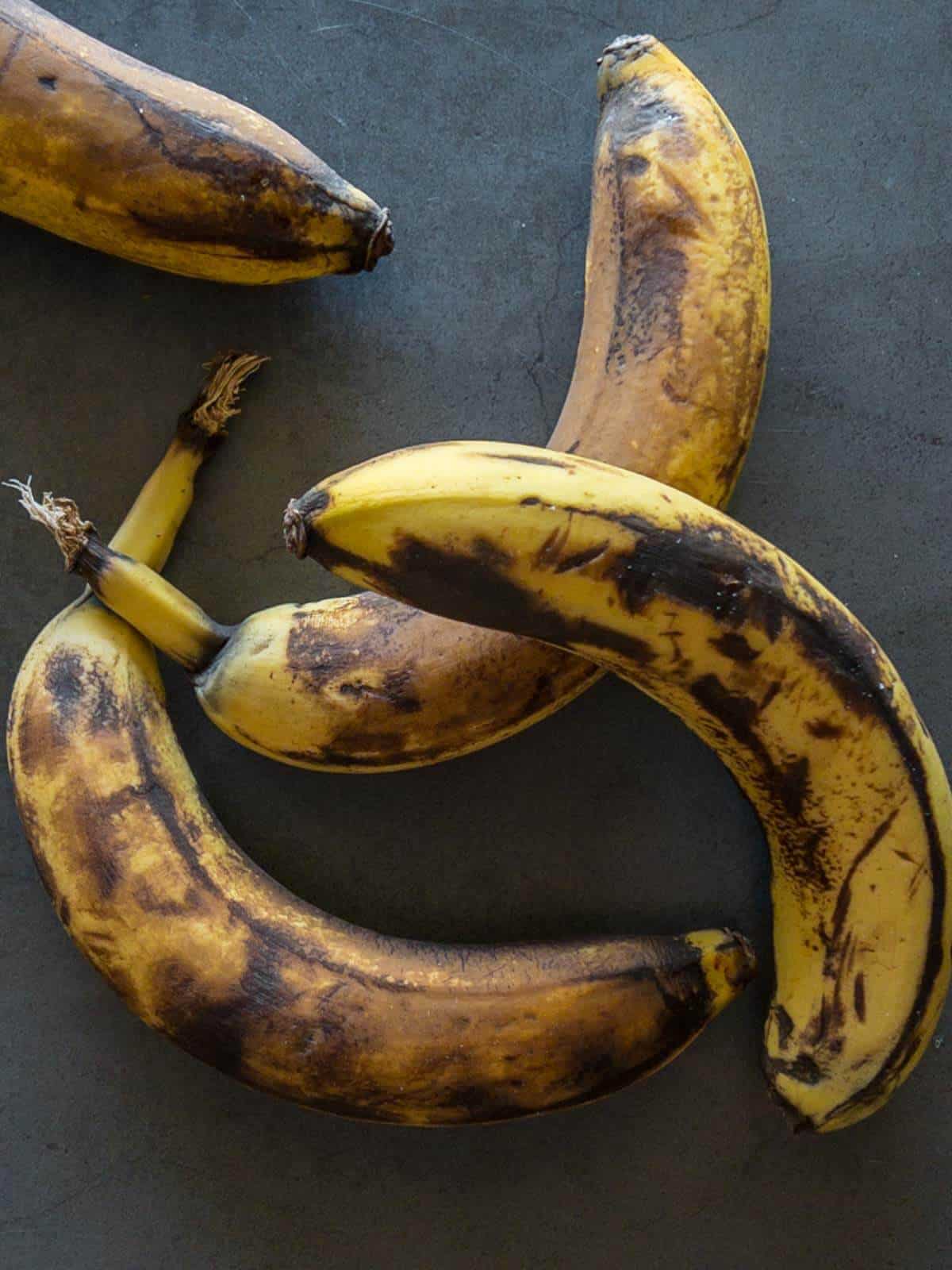 If your bananas are only spotty but not fully ripe, add 2-3 tablespoons of brown sugar to reach the same sweetness.
Easy banana bread recipe 2 bananas - you can make one with only 2 large bananas, as this recipe calls for three small to medium bananas. If your two bananas are medium, add two extra tablespoons of sugar to make up for the sweetness.
Walnuts
You can replace walnut with your nuts of choice, like almonds, pecans, or hazelnuts. No complications here. Pic walnuts or pecans over almonds as they are softer.
If you pick almonds, crush them a bit more than you would walnuts, or soak them in boiling water for 5 minutes and then strain.
Extra easy healthy banana bread
If you want to add extra nutrition, which will also help as a binder, you can add flax eggs (1 tablespoon of flax meal mixed with 3 tablespoons of warm water or almond milk in a glass).
Let it sit for 5 minutes, then add it to the vegan banana bread batter.
The same applies if you want to add chia or poppy seeds, with the difference that these two options can add an extra crunch bite.
If you don't mind having extra texture, go for it.
Flour
If you want to make your vegan banana bread gluten-free, you can use a gluten-free flour blend or whole wheat pastry flour.
I made this banana bread with all-purpose wheat flour for this recipe.
You can also use whole wheat flour to make a loaf of more healthy banana bread.
I have also used self-rising flour (wheat pastry flour); if you do so, reduce the suggested baking powder to 2 teaspoons instead of three.
Alternative flour
Instead of using oat flour, you can replace it with spelt flour, almond flour, coconut flour, or chestnut flour.
Baking soda substitute for banana bread: baking powder
I have used baking soda instead but find a funny aftertaste whenever I use it. Hence I limit its use. If you don't have baking powder, there are three options:
Make your own DIY baking powder
Simply mix
2 parts of baking soda
2 parts of cream of tartar
1 part of cornstarch (also known as Maizena)
Then scoop 3 teaspoons of the mixture to replace the 3 teaspoons of baking powder this recipe calls for.
Use self-rising flour
I know I have said above that if you use it, then keep the baking powder; only reduce the quantity.
The truth is that I skipped it altogether when using self-rising flour and noticed a minimal difference versus adding two teaspoons of baking powder. That's why I kept the baking powder, but that's because I am a perfectionist.
Use vegan buttermilk
Vegan buttermilk is widely used in vegan baking. It can be easily made with a mix of dairy-free milk (like soy milk or almond milk), plus apple cider vinegar or lemon juice. See our recipe for vegan buttermilk.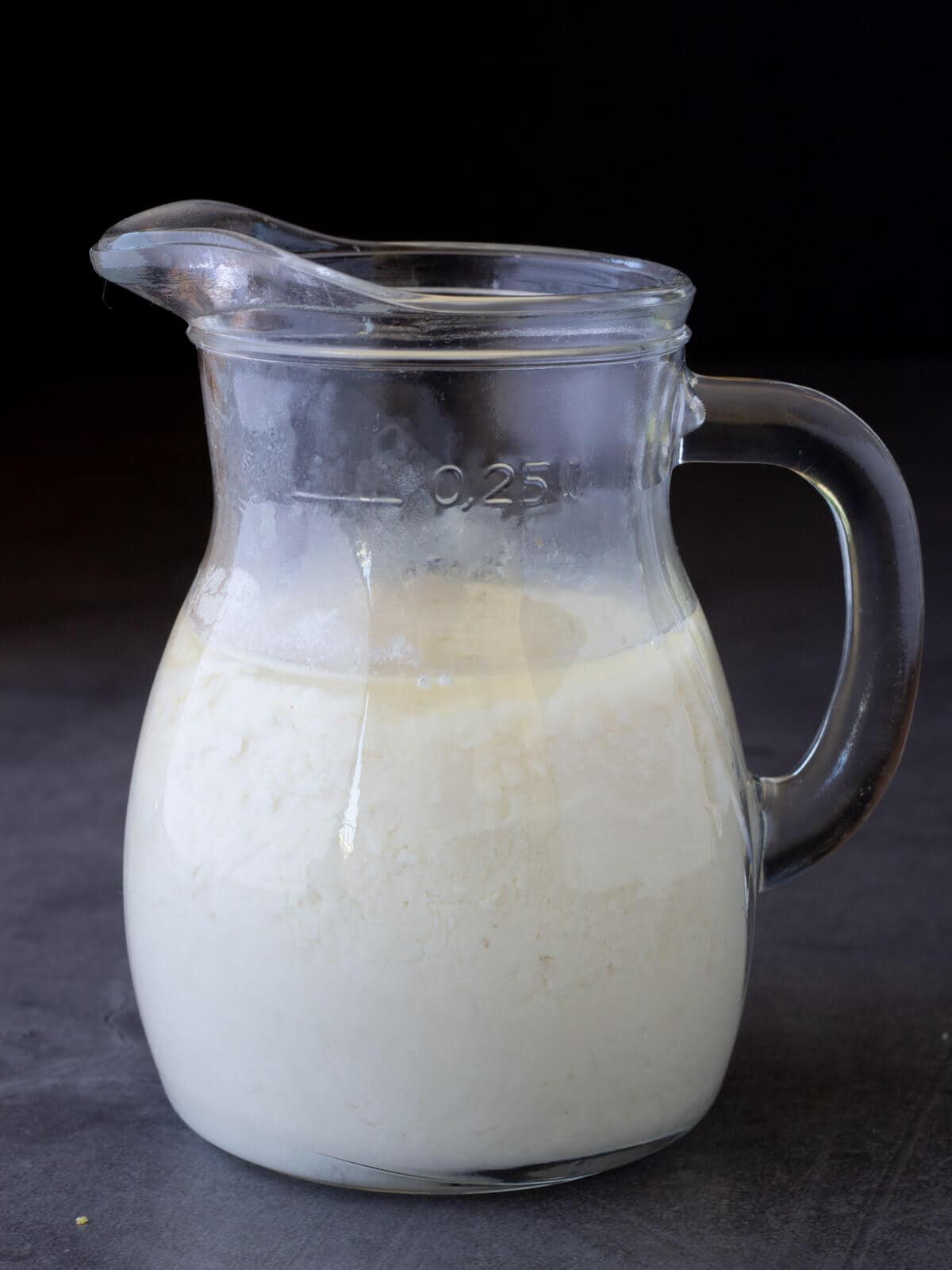 In fact, buttermilk is excellent for baking vegan recipes. Like in our Buttermilk cornbread, it adds a nice touch.
I have found that if you only use vegan buttermilk, the banana bread will be less fluffy; if you are OK with it, that's fine.
These are the 3 ways I have tried Buttermilk Banana Bread (to replace baking powder).
If using vegan buttermilk, use ⅓ cup to replace baking powder AND oil. Yes, no oil because it would be too much liquid to take, making this healthy vegan banana bread mushy.
For your convenience, I have added the main nutritional information for each. You can find the original recipe's full nutrition information on the recipe card.
This is a Nutritional Snapshot:
Calories: 179 kcal
Protein: 3 g
Fat: 6 g
Carbohydrates: 29 g
Fiber: 2 g
Buttermilk Banana Bread # 1
Rising agent: replace the baking powder with ⅓ cup vegan buttermilk.
All the other ingredient quantities remain the same.
Result: not very fluffy but delicious, and definitely super healthy. If you do have baking soda, I recommend adding 1 ½ teaspoons.
NUTRITION per serving
Calories: 161 kcal
Macros per portion:
Protein: 4 g
Fat: 4 g
Carbohydrates: 29 g
Fiber: 2g
Buttermilk + Combination of flours # 2
Rising agent: replace the baking powder with ⅓ cup vegan buttermilk.
Flour: I switched the flour's proportions. Used 4.4 oz (125 grams) self-rising wheat flour (instead of all-purpose flour) + 3.5 oz (100 grams) oat flour.
Result: fluffy and delicious, but not as much as the original version, but it is a little healthier.
NUTRITION per serving
Calories: 160 kcal
Protein: 3 g
Fat: 4g
Carbohydrates: 29 g
Fiber: 2 g
Buttermilk + 100% Self-rising wheat flour # 3
Rising agent: replace the baking powder with ⅓ cup vegan buttermilk.
Oil: don't use.
Flour: I used 100% self-rising flour (7.9 oz = 225 grams). Skipped the oat flour entirely.
Result: fluffy and spongy banana bread, just as the original recipe. Healthier than the original version.
NUTRITION per serving
Calories: 156 kcal
Protein: 3 g
Fat: 3 g
Carbohydrates: 30 g
CONCLUSION: If you want to get a fluffy result without baking powder, I recommend using self-rising wheat flour (affiliate link) instead of all-purpose flour and oat flour OR adding one 1 ½ teaspoon of baking soda to the mix.
🧐 Diet Variations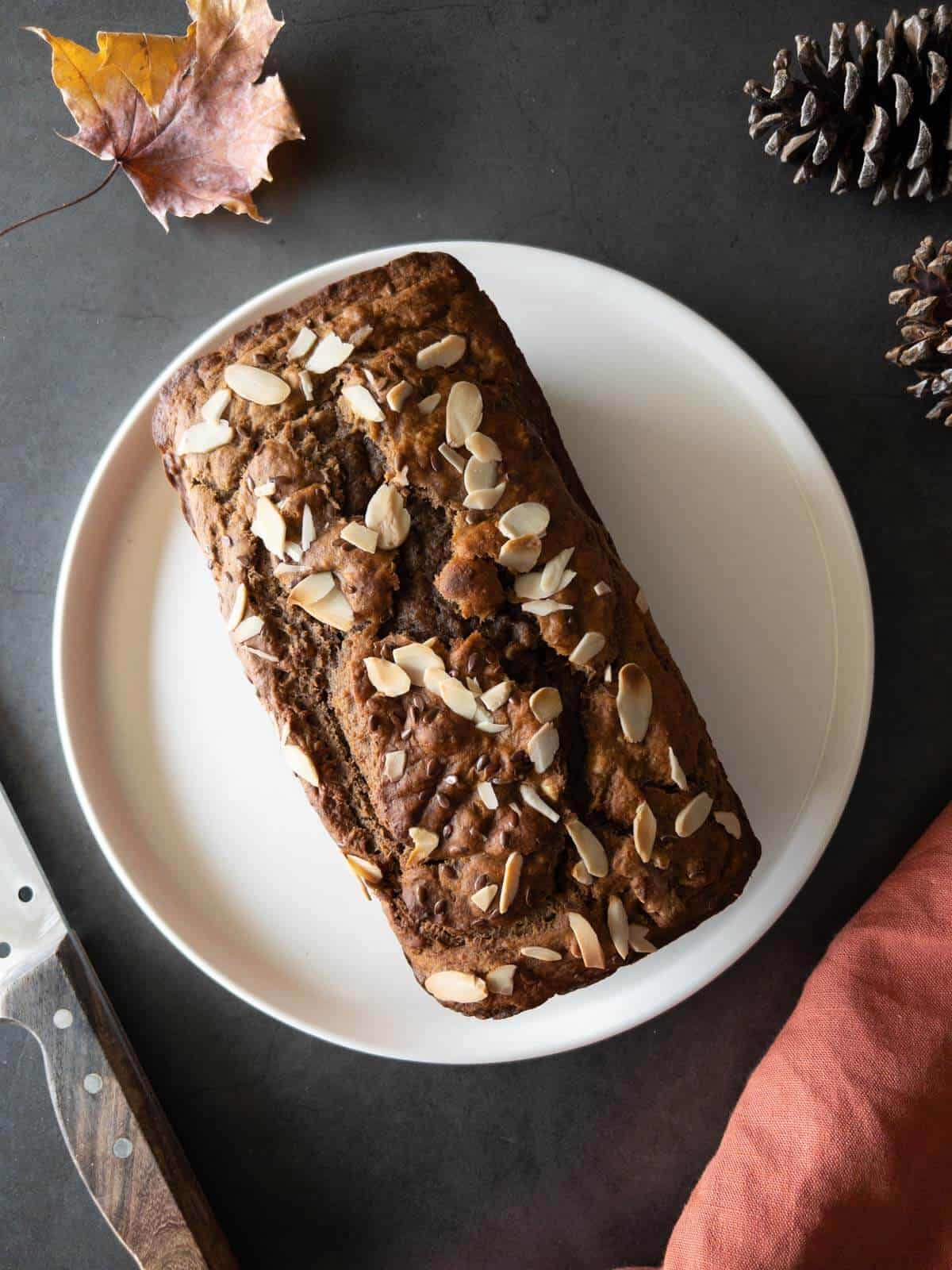 Gluten-free
In this Banana Bread Easy Recipe, you can use a gluten-free flour mix instead of wheat flour or increase the oat flour to make up for the all-purpose flour and add one teaspoon of baking powder.
If you like doing your own stuff, use or go-to gluten-free flour mix, that works perfectly for this banana bread loaf.
Our preferred store-bought gluten-free flour mix is Bob's Red Mill baking gluten-free flour (affiliate link) mix.
Oil-Free
Suppress the oil and use 2 flax eggs (made with 2 tablespoons of flax meal plus 6 tablespoons of almond milk or soy milk).
Add one small ripe banana to the recipe.
Check also three options I tried without using the oil above.
Nut-free
Omit the use of any nuts in the vegan banana bread recipe. It will be absolutely delicious anyway.
❓FAQ
How to make banana bread fluffier?
Adding leavening agents like baking soda and cream of tartar helps create air pockets in the dough which gives the texture a fluffier feel. If you're not sure about measurements, then stick to one teaspoon each for both; just remember that too much baking powder or soda can have the opposite effect by making your banana bread dryer instead of fluffier!
Be careful not to mix these ingredients too vigorously because that could eliminate some of their aerating power – just gently fold them into your batter until everything else has been combined well enough, so no lumps remain visible on its surface before putting it into an oven preheated at 350 degrees Fahrenheit (177 Celsius) for about 45 minutes until golden brown around edges & top looks set when lightly pressed down with fingertip (or toothpick inserted into the center comes out clean).
Remove from oven & let cool on a cooling rack before slicing & serving warm, slathered generously with butter! Enjoy 🙂
Can I use this vegan banana bread recipe to make banana bread muffins?
Yes! Simply follow all the steps and pour the banana bread batter into an on-stick muffin pan.
🥢 How to eat banana bread
Vegan banana bread recipes are versatile; this is how we serve them.
Breakfast - we like having a slice for breakfast with our coffee and or golden milk. Make it slightly warm either in a toaster, microwave, or skillet on low heat for one minute.
Mid-morning snack - when we have it as a snack, we have it at room temperature.
While banana bread is traditionally enjoyed sliced and sometimes accompanied by a spread of butter or cream cheese, there's an alternative, bite-sized variation that's just as delicious – mini banana bread muffins. These mini muffins are perfect for a variety of occasions, offering the same robust banana flavor in a compact, convenient form. You can even make vegan banana bread with chocolate chips.
Dessert - make it warm, and then add a ball of vegan peanut nicecream.
💡 Follow these tips to make the best vegan banana bread
With a few tips and tricks, you'll make incredible vegan banana bread every time:
Blackened bananas are best. The secret to excellent banana bread taste is using plenty of brown dots and ripe bananas. This is a beautiful alternative to refined white sugar. They're sweeter and add the right amount of sweetness to the bread!
Walnuts. Don't over-crush them. It is nice to have different-sized walnuts on this easy moist banana bread.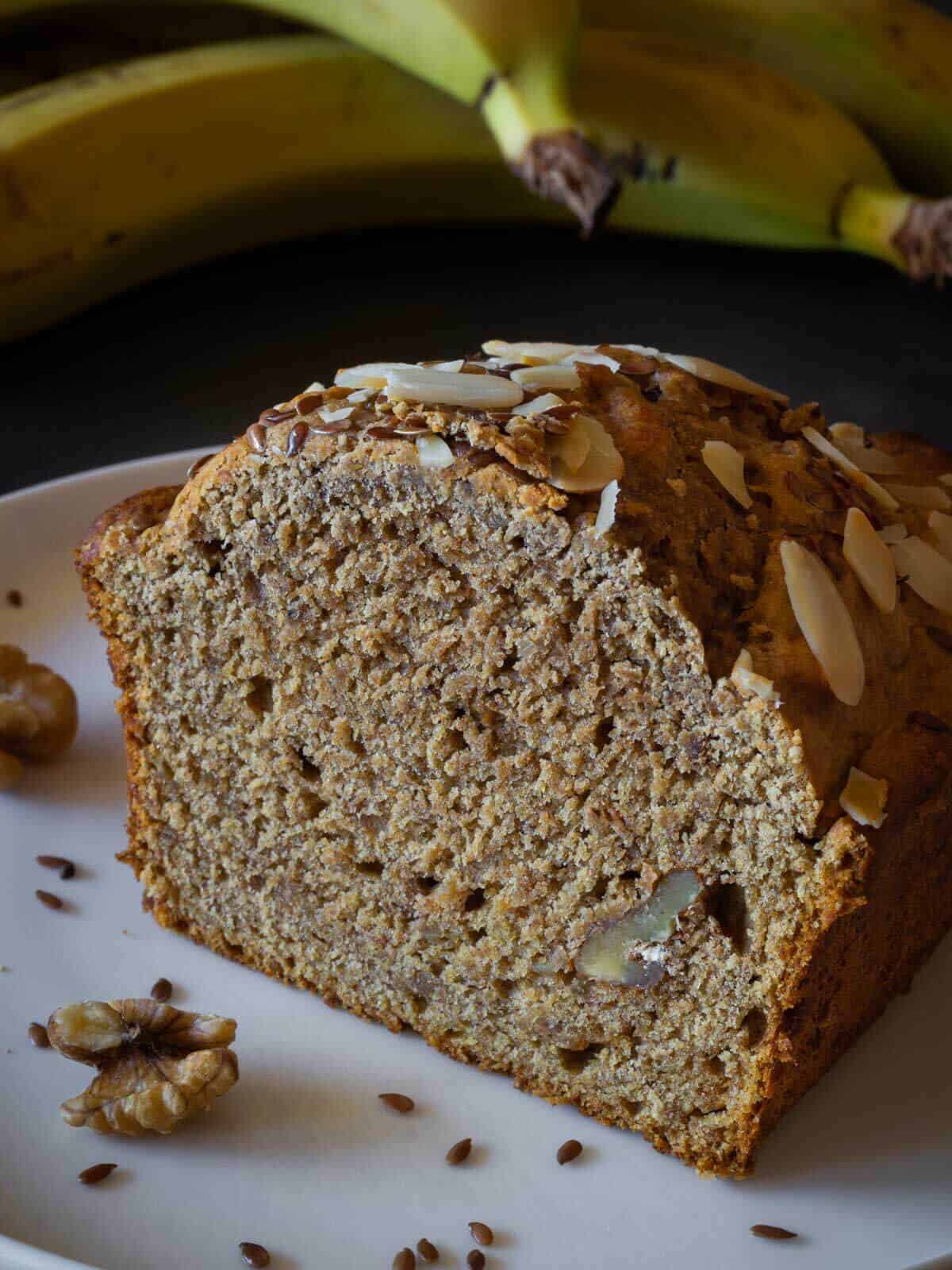 Do not overmix. Overmixed wheat flour causes it to be dense and chewy. Toss together the vegan banana bread batter briefly, and don't worry if there are banana lumps.
Suppose using baking soda instead of baking powder. Use fresh baking soda. If the baking soda is more than three months old, you may want to replace it.
Prep your pan correctly. I use a 9.5 x 5-inch bread loaf pan. I oil the bread loaf so that the banana bread comes out easily. Changing the pan size will alter the baking time, so be careful if you use a larger pan!
Using frozen bananas?
You can use frozen bananas to make this easy banana nut bread recipe! If you want to use frozen bananas, do the following:
At room temperature, thaw frozen bananas on a deep plate until they are totally defrosted.
Drain the remaining excess liquid.
Use the thawed bananas in the recipe as directed.
🥡 How to store vegan banana bread
Store banana bread following these simple recommendations.
At room temp: if you made this dairy-free banana bread yesterday, stay calm, this vegan banana bread can be left at room temp for a day. And you can make it a day or two ahead of time. It is even more delicious the next day.
After a day at room temperature or after baking it, let banana bread cool in the fridge. I'd recommend storing the bread sealed in the refrigerator for up to five days.
Can I freeze this banana bread?
Yes, you can freeze this egg-free banana bread! Here's how:
To freeze: freeze banana bread when it's at room temperature. Let the banana bread cool, place it in an airtight container or freezer-friendly bag, and freeze for up to three months.
To thaw: you can either thaw the whole banana bread loaf by letting it sit at room temperature for two to three hours. The same applies to individual frozen slices, which will the faster.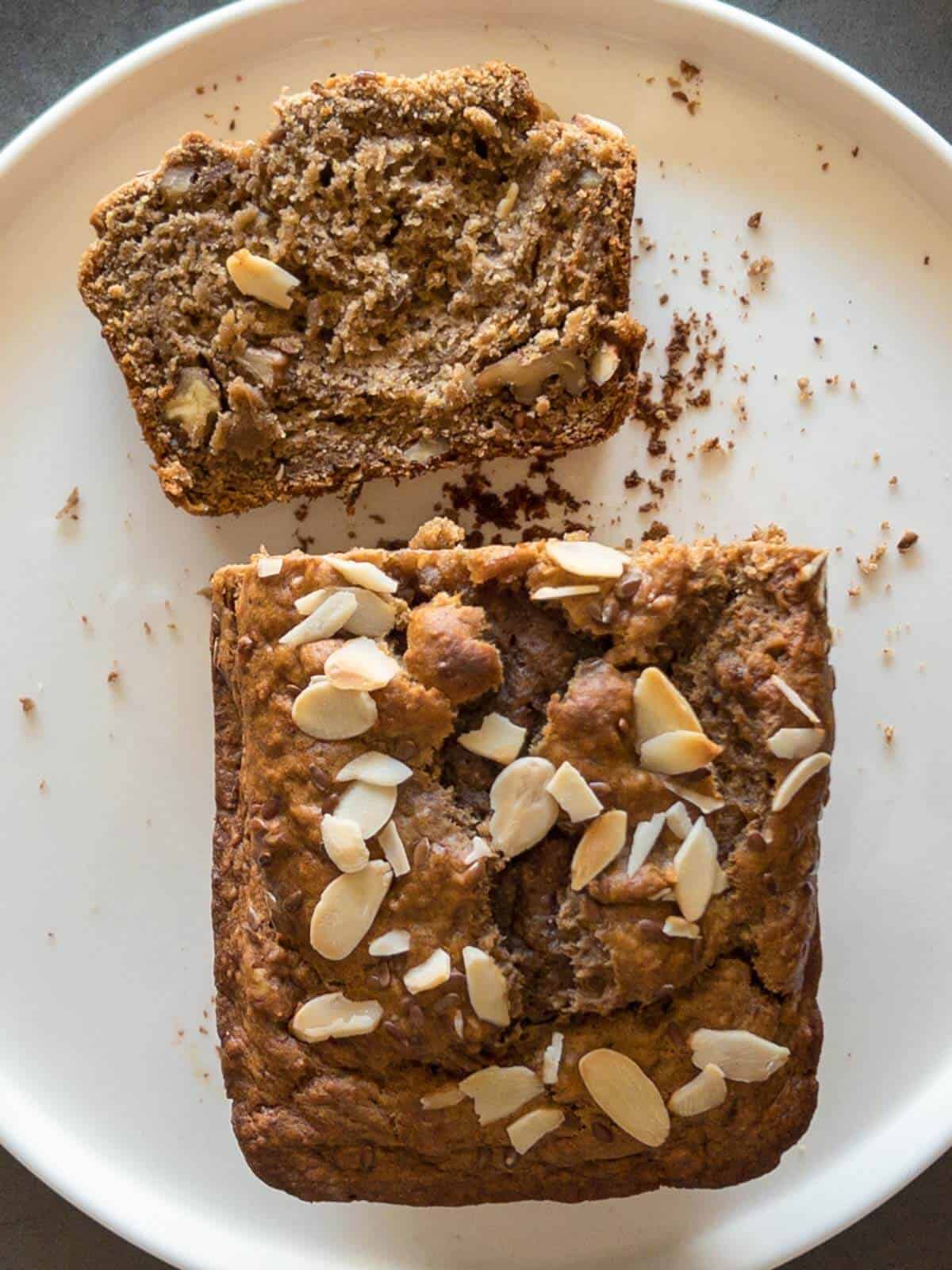 As you can see, this delicious banana bread has everything from flavor to convenience, occasions to the effortless process; it meets all the checkpoints!
Try also our sweet potato cake, which is super easy to make, light, and fluffy!
⭐ If you try this recipe, let us know! 💬 Leave a comment, rate it, and don't forget to tag us @ourplantbasedworld on Instagram. Cheers!
📋 Recipe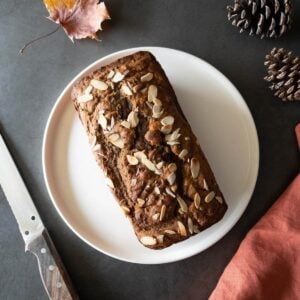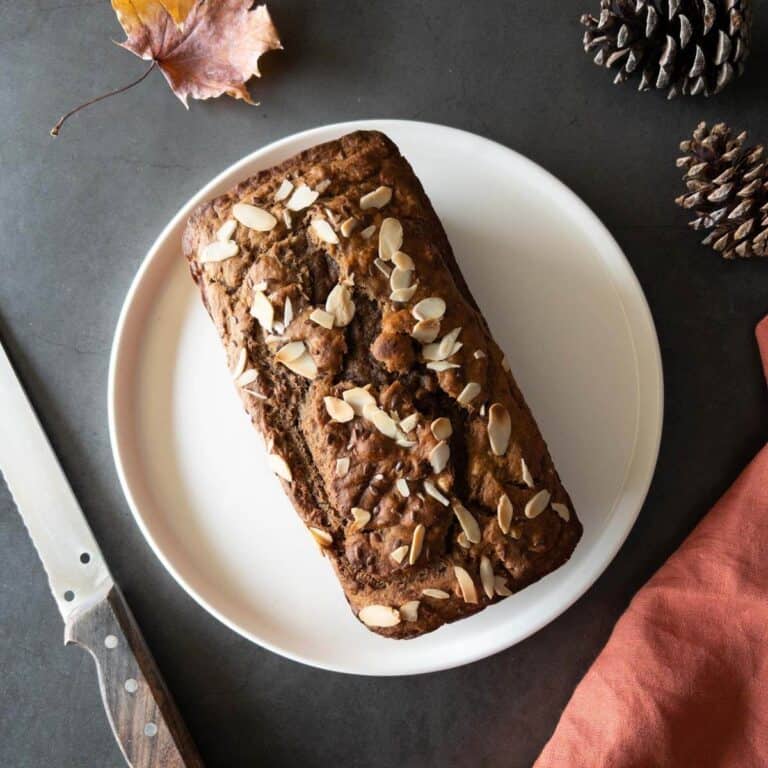 Easy Vegan Banana Bread Recipe
Banana bread is a classic recipe that everyone can enjoy, regardless of their dietary restrictions. This easy banana bread loaf recipe is perfect for those looking for a delicious and healthy snack. Made with only a few common ingredients, this bread is sure to become a staple in your kitchen!
Equipment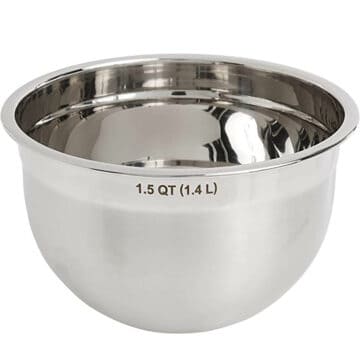 (affiliate link)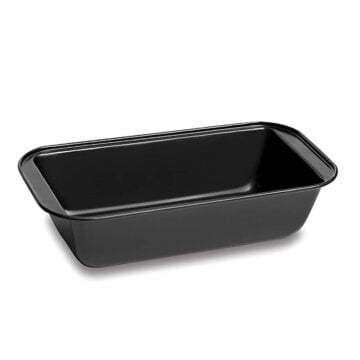 (affiliate link)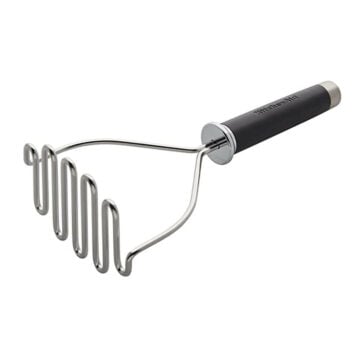 (affiliate link)
Directions
Pre-Heat oven to 355 ºF (180 ºC).

Prepare bananas. Mash three large ripe peeled bananas with a fork, then mix well with vegetable oil and brown sugar.

Mix. Add wheat and oat flour, baking powder, cinnamon, ginger (or pumpkin pie spice mix), and combine well. Add the coarsely crushed walnuts if used.

Bake in an oiled, lined 9.5 x 5-inch (24 x 13 cm) bread loaf pan for 20 minutes. Check and cover with aluminum foil if the cake is browning.

Continue baking for another 30 minutes, or until a knife comes out clean.

Cool down. Allow the banana loaf to cool before slicing.
Nutrition Facts
Calories:
179
kcal
Carbohydrates:
29
g
Protein:
3
g
Fat:
6
g
Saturated Fat:
1
g
Polyunsaturated Fat:
2
g
Monounsaturated Fat:
3
g
Sodium:
111
mg
Potassium:
186
mg
Fiber:
2
g
Sugar:
12
g
Vitamin A:
21
IU
Vitamin C:
3
mg
Calcium:
82
mg
Iron:
1
mg
Nutrition Facts
Easy Vegan Banana Bread Recipe
Amount per Serving
% Daily Value*
* Percent Daily Values are based on a 2000 calorie diet.
🌡️ Food safety
Cook to a minimum temperature of 165 °F (74 °C)
Do not use the same utensils on cooked food, that previously touched raw meat
Wash hands after touching raw meat
Don't leave food sitting out at room temperature for extended periods
Never leave cooking food unattended
Use oils with a high smoking point to avoid harmful compounds
Always have good ventilation when using a gas stove
See more guidelines at USDA.gov.
Nutritional Disclaimer
The information shown is an estimate provided by an online nutrition calculator. It should not be considered a substitute for a professional nutritionist's advice. See our full Nutritional Disclosure here.
Affiliate Disclaimer
Please note that some of the links here are affiliate links, and I will earn a commission if you purchase through those links. I recommend all of the products listed because they are companies I have found helpful and trustworthy.