Indulge in the sensational flavors of our Spanish Chickpea Stew, a vegan delight that is both creamy and quick to prepare. This mouthwatering dish showcases tender chickpeas bathed in a delectable blend of aromatic herbs and spices, creating a hearty and satisfying experience. With its luscious texture and authentic Spanish flair delivered by aromatic Saffron, this stew is a must-try for anyone seeking a scrumptious and plant-based meal. Get ready to savor the essence of Spain in every delectable spoonful.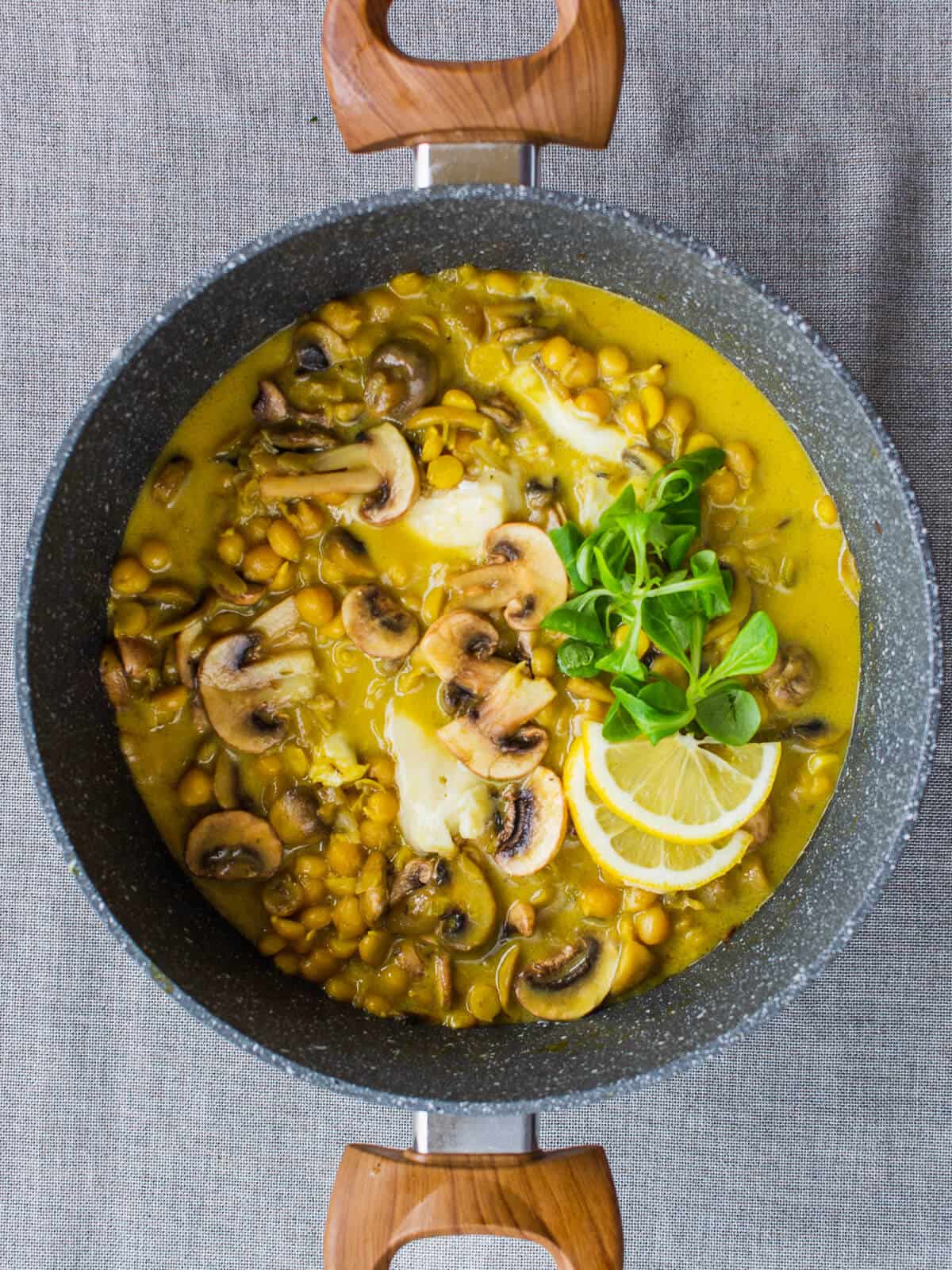 Introducing our winning Vegetable Stew recipe, a true gem in the realm of vegan stews! Packed with flavors influenced by our Spanish heritage, this hearty creation combines the best of both worlds. Picture tender chunks of seasonal vegetables mingling harmoniously with aromatic herbs and spices, resulting in a symphony of tastes that will transport your taste buds to distant lands. The star of this culinary masterpiece?
Chickpeas! (AKA Garbanzo Beans) These versatile legumes not only lend a delightful texture but also provide a nutritional punch, offering a great source of plant-based protein and fiber. As advocates of a healthy and sustainable lifestyle, we strive to showcase the benefits of consuming seasonal, plant-based produce, and this stew embodies just that.
One of the reasons this recipe stands out is its ease of preparation. We understand the importance of convenient yet wholesome meals, and this vegan stew hits the mark. With a few simple steps and readily available ingredients, you can have a steaming bowl of goodness in no time. No need to spend hours in the kitchen or hunt down exotic items—our recipe is designed to fit seamlessly into your busy lifestyle while still delivering flavor and nutrition. So whether you're a seasoned chef or a novice in the kitchen, rest assured that this vegetable stew will become your go-to comfort dish, impressing your taste buds and nourishing your body with every spoonful.
Jump to:
✅ 7 Reasons You Should Be Eating Spanish Chickpea Stew
Packed with protein for improved energy and muscle growth
Vegan-friendly dishes that can be cooked up in minutes
Creamy and flavorful for a unique twist on lunches
Quick and easy to make - a real time saver
A great way to mix up your mealtime routine
An affordable meal option
We have been making this dish for a while, with some variations, as it also makes a great and quick protein-packed meal. Another garbanzo beans option we love is our vegan "tuna" salad sandwich, made in minutes and packed with tangy flavors.
🧾 Ingredients
This hearty chickpea stew is made with just a few ingredients.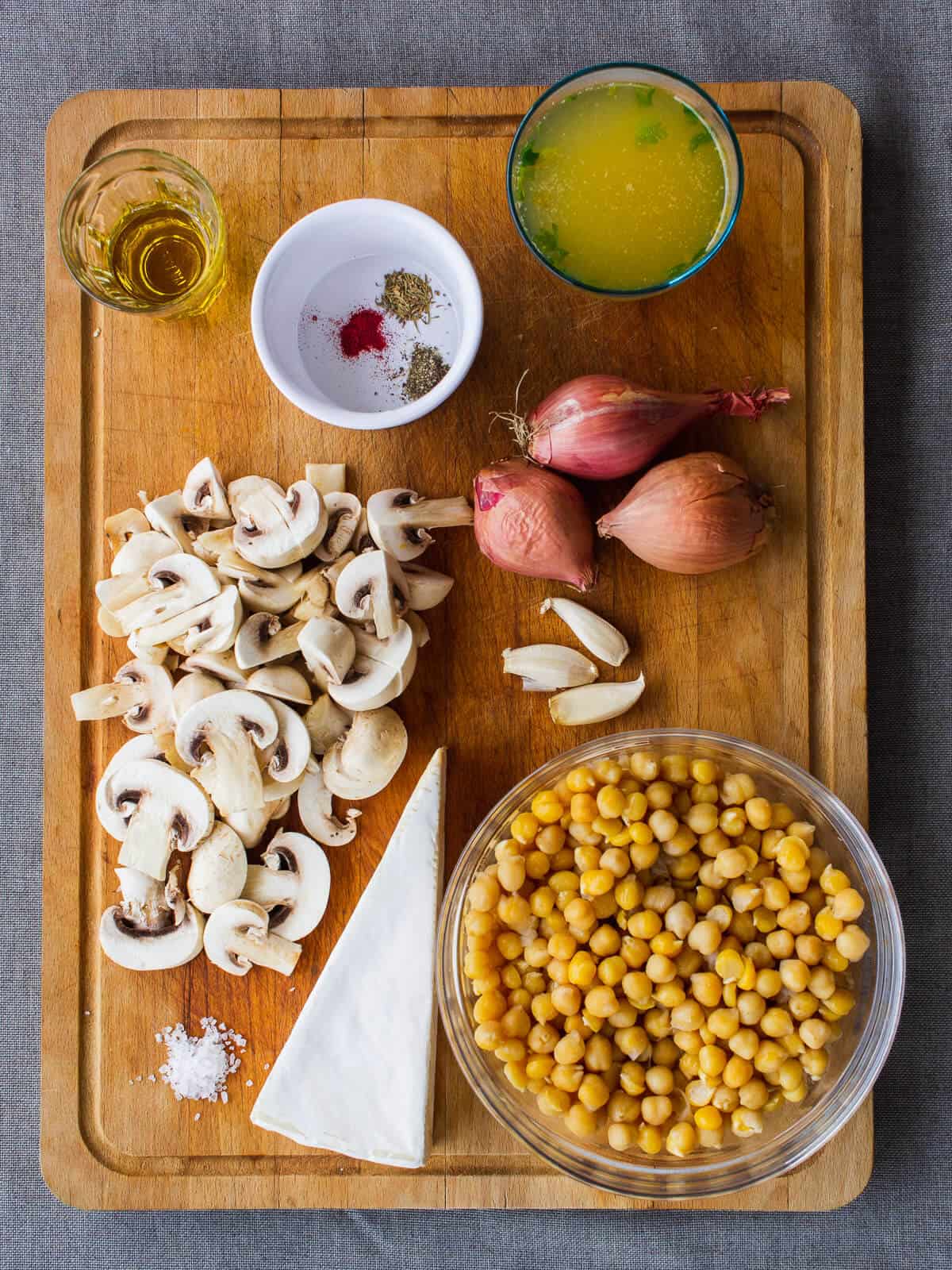 Cooked or Canned chickpeas: These protein-packed legumes add a hearty and satisfying texture to the stew, while also providing essential nutrients like fiber and iron.
Mushrooms: With their rich umami flavor, mushrooms elevate the taste profile of the stew and contribute valuable vitamins, minerals, and antioxidants.
Vegan mozzarella cheese or vegan brie: These creamy dairy-free alternatives melt beautifully, adding a luxurious and indulgent touch to the stew while keeping it entirely plant-based.
Shallots bring a subtle yet distinct sweetness and depth of flavor to the stew, enhancing the overall taste experience.
Garlic: A staple in countless recipes, garlic infuses the stew with its aromatic and savory notes while also providing potential health benefits like boosting the immune system.
Rosemary: This fragrant herb lends a delightful earthy aroma and savory taste to the stew, making it even more appetizing and satisfying.
Saffron: Known as the "golden spice," saffron imparts a vibrant color and a delicate, exotic flavor to the stew, transforming it into a truly special culinary experience.
Vegetable stock: The stew's base enhances the overall taste and provides a savory foundation while adding depth and complexity to the flavors.
Kosher salt: A pinch of kosher salt helps to season and balance the flavors of the stew, bringing out the natural tastes of the ingredients and creating a harmonious blend of flavors.
Optional extra virgin olive oil: Adding a drizzle of high-quality extra virgin olive oil to the stew at the end imparts a luxurious richness and enhances the overall flavor profile while providing heart-healthy monounsaturated fats.
See quantities and complete instructions in the recipe card.
🔪 Instructions
This chickpea stew recipe is part of our repertoire of How to Make a Protein-Packed Meal (if made with vegan mozzarella), which works perfectly. It is an instant pot recipe that is made in minutes.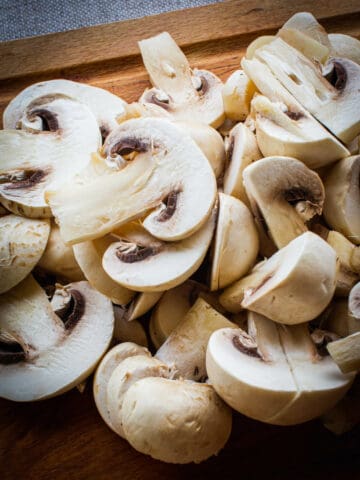 Slice mushrooms and chop shallots.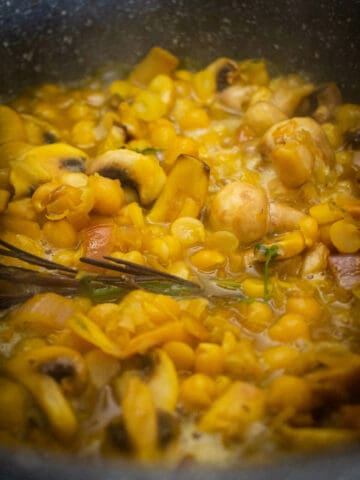 Cook the legumes, herbs, and seasonings in a single pot.
Begin by finely chopping your shallots (or red onion), half of the mushrooms, and garlic.
In a pan over medium heat, stir-fry the shallots with oil until they become translucent, then add the garlic. Remember to drain the can of garbanzo beans.
Next, add chickpeas, saffron, and herbs to the pan, stirring occasionally.
As the stew simmers, incorporate the remaining mushrooms and continue cooking over medium-high heat until the desired consistency is achieved.
Add the very end, for an added touch of creaminess, garnish each serving of the garbanzo beans stew with a dollop of dairy-free cheese or, alternatively, mix in some vegetable cream sauce like vegan bechamel sauce.
📖 Variations
Mushrooms
Use shitake mushrooms if you want to give this one-pot dish a more meaty and fleshy texture.
I like using a mix of cremini, portobello, and shitake mushrooms. Just adjust the quantities to have the same amount of mushrooms.
Saffron
You can replace seasoning it with smoked paprika or cumin, for an earthy flavor.
Cheese
We love melty vegan cheese, but we used to have this recipe with Brie cheese, which was lovely. If you are vegetarian, you can substitute the vegan cheese, and you will have the same results. What is important is to have a cheese that will melt quickly minutes before serving the dish.
You can also replace the vegan cheese with a half can of full-fat coconut milk and half a can of vegetable broth.
Herbs
Sometimes we use thyme instead of rosemary for a change. It works very well. You can also use a mix of dry Italian herbs.
More veggies
You can add a can of diced tomatoes and a tablespoon of tomato paste to make the stew even richer. You can also add chopped bell pepper or sweet potato.
Add some greens
As soon as the stew is ready, add a handful of fresh or frozen spinach, kale or
Swiss chard, stir and let it rest for a couple of minutes.
Spicy
Make a spiced chickpea stew by adding a teaspoon of red pepper flakes.
🥢 How to serve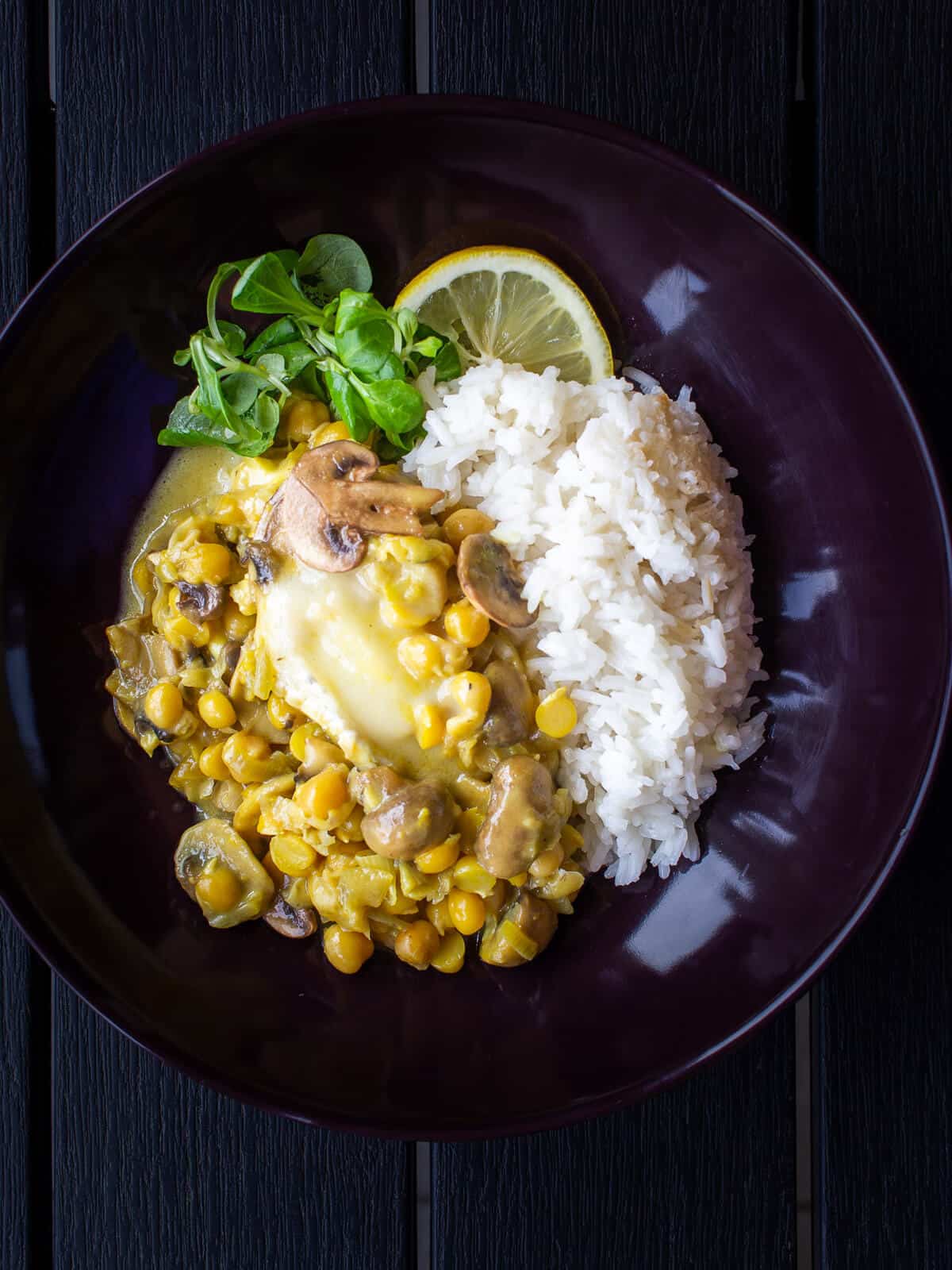 Serve the chickpea stew with brown rice, basmati rice, toasted pita, crusty bread, or naan bread. We also like pairing this stew with a salad of fresh tomatoes, chopped kale, and fresh spinach.
Another delicious pairing is fire-roasted tomatoes.
Optionally add some lemon juice or lime juice right before serving.
💡 Pro-tip
How to cook chickpeas. If you use raw garbanzo beans and want them to be soft and creamy fast, add a teaspoon of baking soda to the boiling water.
You will see that foam will come up immediately. Take it away al let it boil. They will take only from fifteen to twenty minutes.
However, leaving the dried chickpeas soaking overnight is also recommended to achieve better results.
Also, chickpeas are great for making all kinds of hummus and our favorite vegan veggie burgers.
❓ FAQ
Are garbanzo beans chickpeas?
Yes, they are the same thing. A garbanzo bean or a chickpea is both referred to as a legume with the scientific name Cicer arietinum. They are one of the most widely consumed legumes in the world.
📚 More Recipes using garbanzo beans
This fantastic legume is widely used in hummus recipes that I am sure you are familiar with. Try out our traditional hummus, roasted red pepper hummus, pumpkin hummus, and avocado hummus to see how you can turn these buddies into delicious dips and spreads, or even make a vegan "tuna" salad.
Want to know more about Chickpeas Benefits check HealthLine
If you try this recipe, let us know! Leave a comment, rate it, and don't forget to tag a photo #ourplantbasedworld on Instagram. Cheers!
📋 Recipe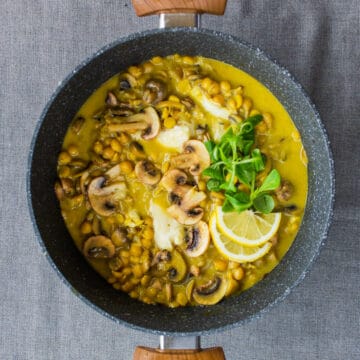 Spanish Chickpea Stew (Vegan, Creamy & Quick Protein-Packed Meal)
Indulge in the savory flavors of our Vegan Chickpea Stew. This hearty and creamy dish combines tender chickpeas, earthy mushrooms, and aromatic herbs for a truly satisfying experience. With its easy preparation and rich taste, this recipe is a must-have for anyone seeking a delicious and plant-based comfort meal.
Equipment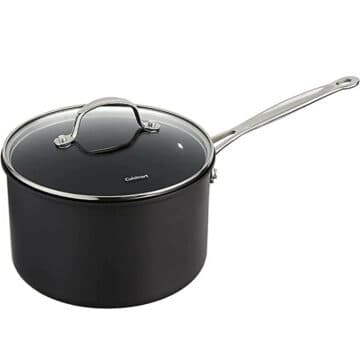 (affiliate link)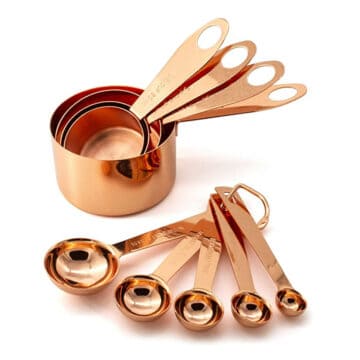 (affiliate link)
Ingredients
15

ounces

chickpeas

pre-boiled, or two drained only-water cans, no preservatives

14

ounces

mushrooms

your choice or a mix of portobello, cremini, oyster, white button, all work well

2

ounces

vegan mozzarella cheese

or vegan brie

4

shallots

or 2 small red onions coarsely chopped

3

cloves

garlic

chopped

1

teaspoon

rosemary

or dill

½

teaspoon

saffron

1

cup

vegetable stock

or garbanzo liquid from boiling or cans

1

teaspoon

black pepper
Directions
Stir fry. In a saucepan, stir fry the onions, half of the mushrooms, and garlic in oil on medium heat.

Add chickpeas and herbs. Add the saffron and herbs, immediately followed by the garbanzo beans.

Add the remaining mushrooms. Add the rest of the mushrooms cut in different shapes (this will contribute to better textures in every bite).

Add stock. Add the vegetable stock, salt, and pepper.

Add vegan cheese. When creamy, add the cheese, which will melt in about a minute.

Serve. Serve immediately.
Notes
Serve alone or with white rice; we used brown basmati or steamed Jasmine Rice.
Nutrition Facts
Calories:
289
kcal
Carbohydrates:
43
g
Protein:
14
g
Fat:
8
g
Saturated Fat:
2
g
Polyunsaturated Fat:
1
g
Monounsaturated Fat:
1
g
Sodium:
463
mg
Potassium:
718
mg
Fiber:
11
g
Sugar:
10
g
Vitamin A:
156
IU
Vitamin C:
6
mg
Calcium:
84
mg
Iron:
4
mg
Nutrition Facts
Spanish Chickpea Stew (Vegan, Creamy & Quick Protein-Packed Meal)
Amount per Serving
% Daily Value*
* Percent Daily Values are based on a 2000 calorie diet.
Nutritional Disclaimer
The information shown is an estimate provided by an online nutrition calculator. It should not be considered a substitute for a professional nutritionist's advice. See our full Nutritional Disclosure here.
Affiliate Disclaimer
Please note that some of the links here are affiliate links, and I will earn a commission if you purchase through those links. I recommend all of the products listed because they are companies I have found helpful and trustworthy.