Are you looking for a delicious, healthy dip to serve at your next party? Hummus meets guacamole in this recipe for Hummus Avocado dip. It is exceptionally easy to make and packed with flavor. Plus, it's loaded with healthy fats and protein from avocado and chickpeas. So go ahead and dig in!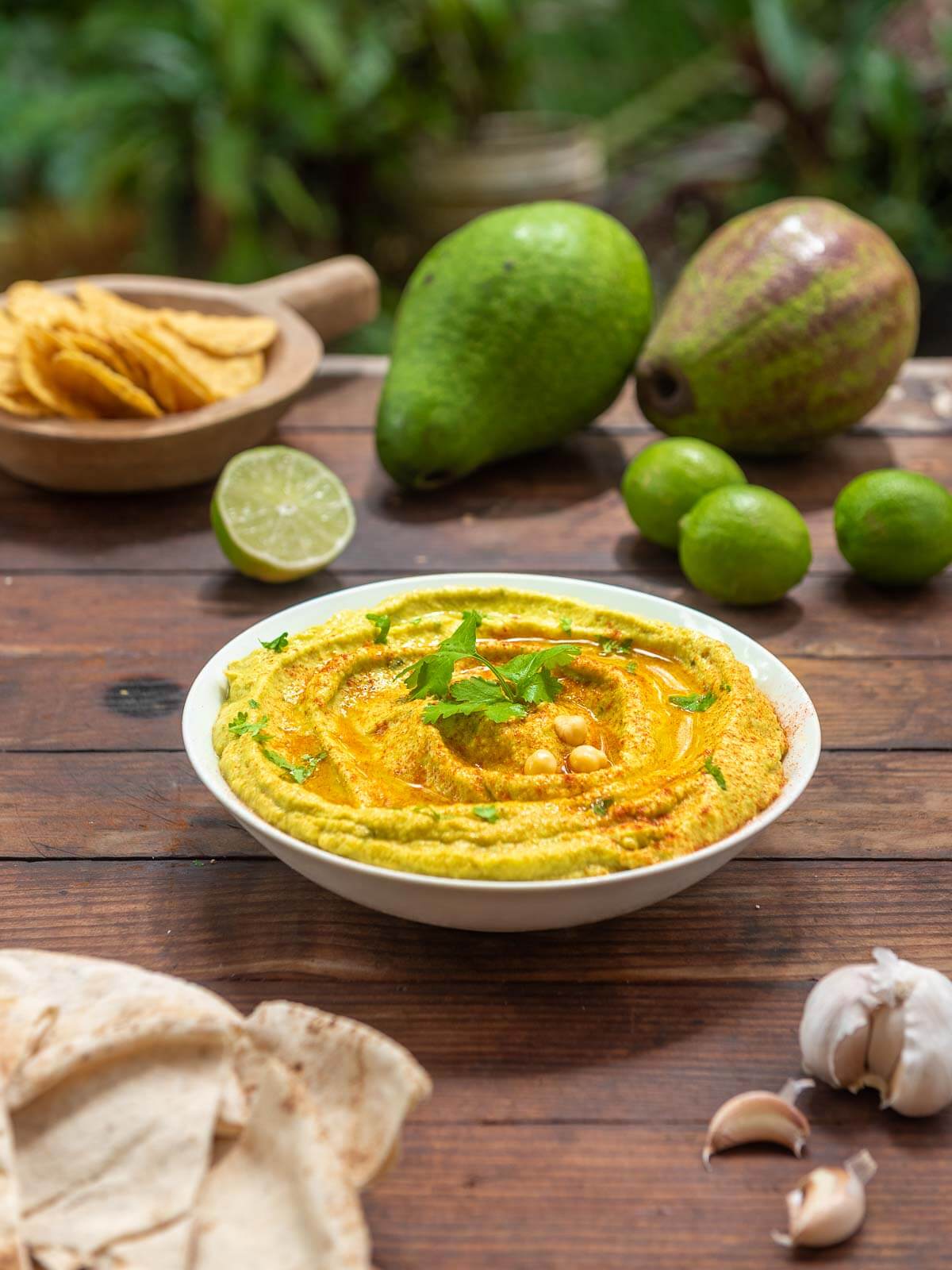 Nothing beats homemade hummus, and we are fans of this perfect dip; this snack is a crowd-pleaser that is always present in all our get-togethers.
We love hummus and enjoy making all types of flavored versions using our traditional hummus recipe as a base. Some of our favorite and very interesting pairings are the roasted red pepper hummus, pumpkin hummus, and our chickpea-less beet hummus and edamame hummus, made with white and green beans, respectively.
We also love avocado for its delicious flavor and versatility. You can simply make Mexican guacamole, or use it in your vegan ceviches, hearts of palm ceviche, and poke bowls, and even make a detox smoothie.
Bring on all the creamy and delicious creaminess!
Jump to:
🧾 Ingredients and substitutions
So what is avocado hummus made of?
To make this creamy avocado hummus, you need just a handful of ingredients and a food processor.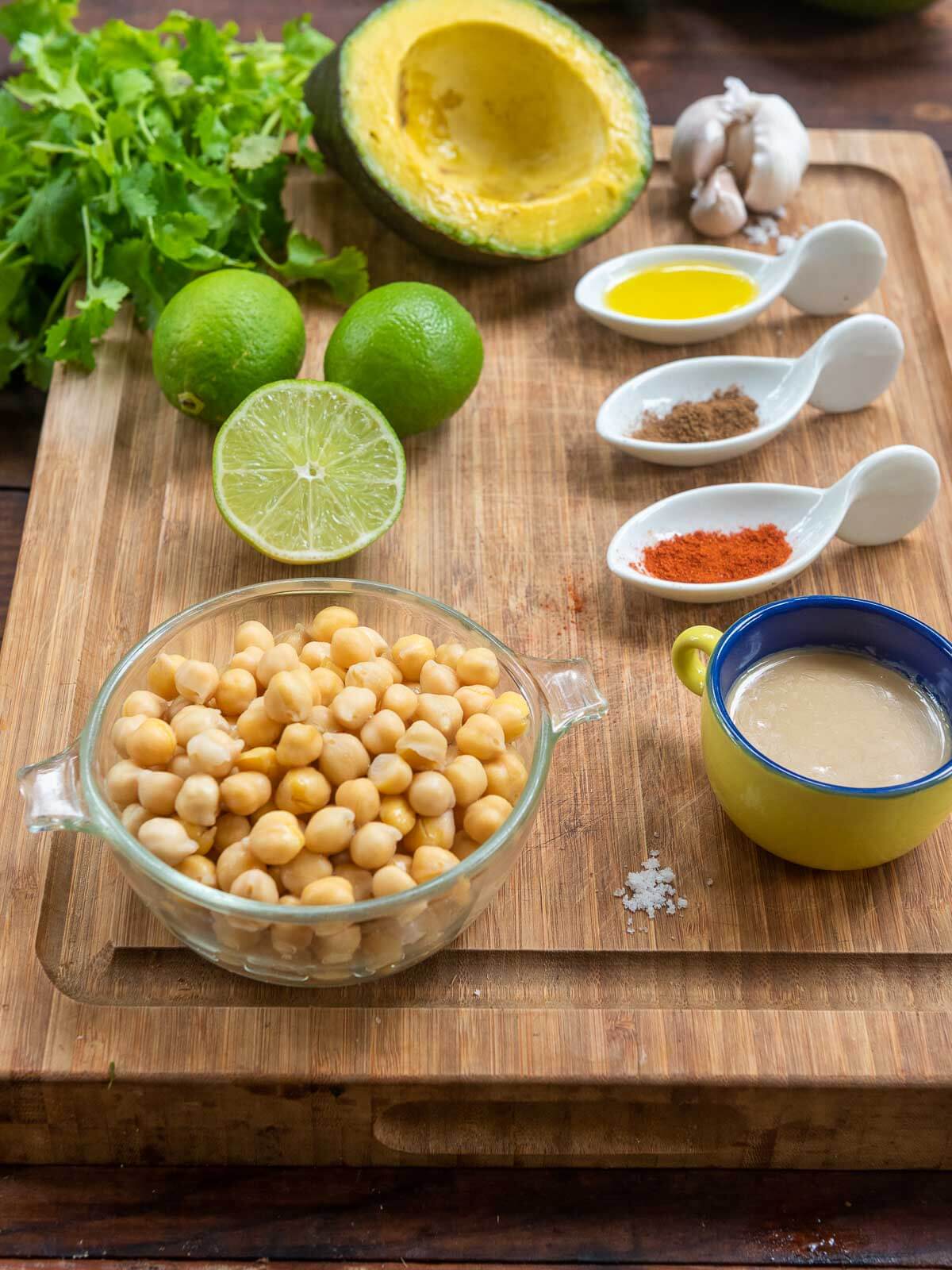 Avocados - make sure you use ripe avocados; they are richer and creamier. All kinds of avocados work, but Hass Avocados are best.
Chickpeas - use BPA-free canned chickpeas or chickpeas in water. Alternatively, if you have the luxury of time, you can use raw dried chickpeas and boil them in water for approximately 40 minutes. Add one teaspoon of baking soda to the boiling water to make the chickpeas creamier.
Extra virgin olive oil - try using high-quality olive oil. You can also suppress its use, as the avocadoes and tahini are both oily. We just like the extra olive flavor touch it adds.
Lime juice - traditional hummus recipes use lemon juice. We chose to use lime juice, as they are a fantastic pairing for avocados. Feel free to use lemon, though.
Fresh cilantro - we usually use fresh parsley to garnish our hummus. Still, for this guacamole hummus version, we really recommend adding this Mexican touch, using it both in the mix and for garnishing.
Tahini - it is very difficult to achieve hummus' distinctive flavor without this important component, but you could use peanut butter instead. You can also try making homemade tahini with sesame seeds.
Fresh garlic - to save time, you can use fresh garlic cloves and green germs removed. We like to lightly toast the garlic with their skins on, using a skillet with a drizzle of oil and a lid. This will take only three minutes before the garlic turns into a delicious and creamy paste that you can then to the food processor.
Optional hummus ingredients
Paprika - brings smokiness to your hummus. It also makes a strong visual difference when you use it for garnishing.
Ground cumin - is not 100% necessary but adds a delicious touch. Rich and earthy, with an edge of citrus, cumin is great for adding instant depth to your dishes.
Kosher salt - enhances the flavor of the hummus instead of making it taste salty. Use table salt to sub. Taste and adjust as required.
Optionally add red pepper flakes to make it spicy.
🔪 Instructions
Making your avocado hummus dip is super easy as putting all the ingredients in a high-speed blender (affiliate link), immersion blender, vitamin, nutribullet, or food processor, then blending until you have a creamy dip.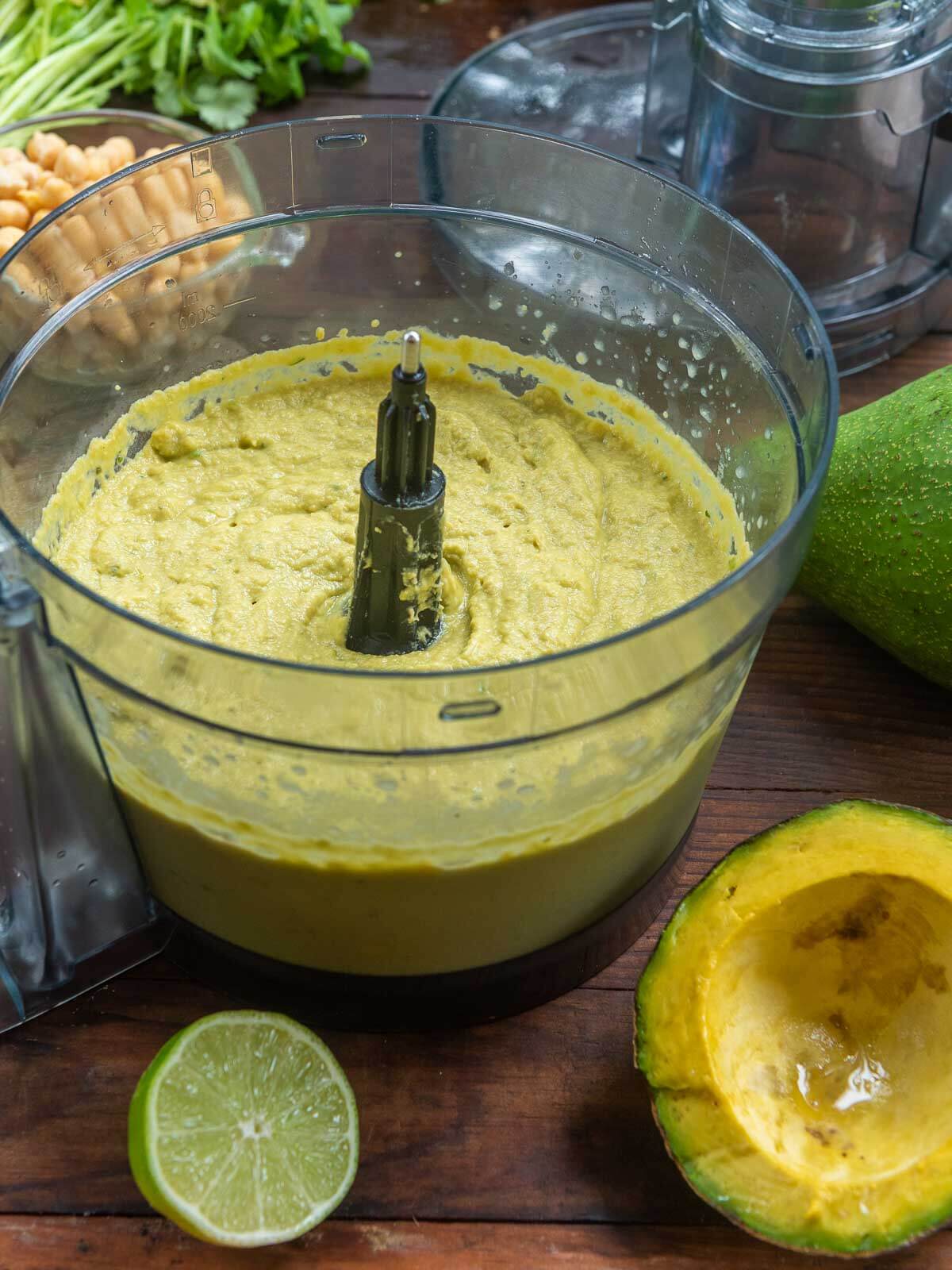 💡 Pro tip
The best hummus should be super creamy. To adjust the creaminess, use ice-cold water and garbanzo water (one tablespoon at a time), and pulse the mixture until you reach the desired consistency.
As a rule of thumb, to adjust any hummus recipe, use more olive oil, tahini, lemon juice, or more garlic to intensify the flavors.
Tip: did you know that March is a great month to consume avocadoes? They are in peak season and extra delicious!
🥢 How to serve avocado hummus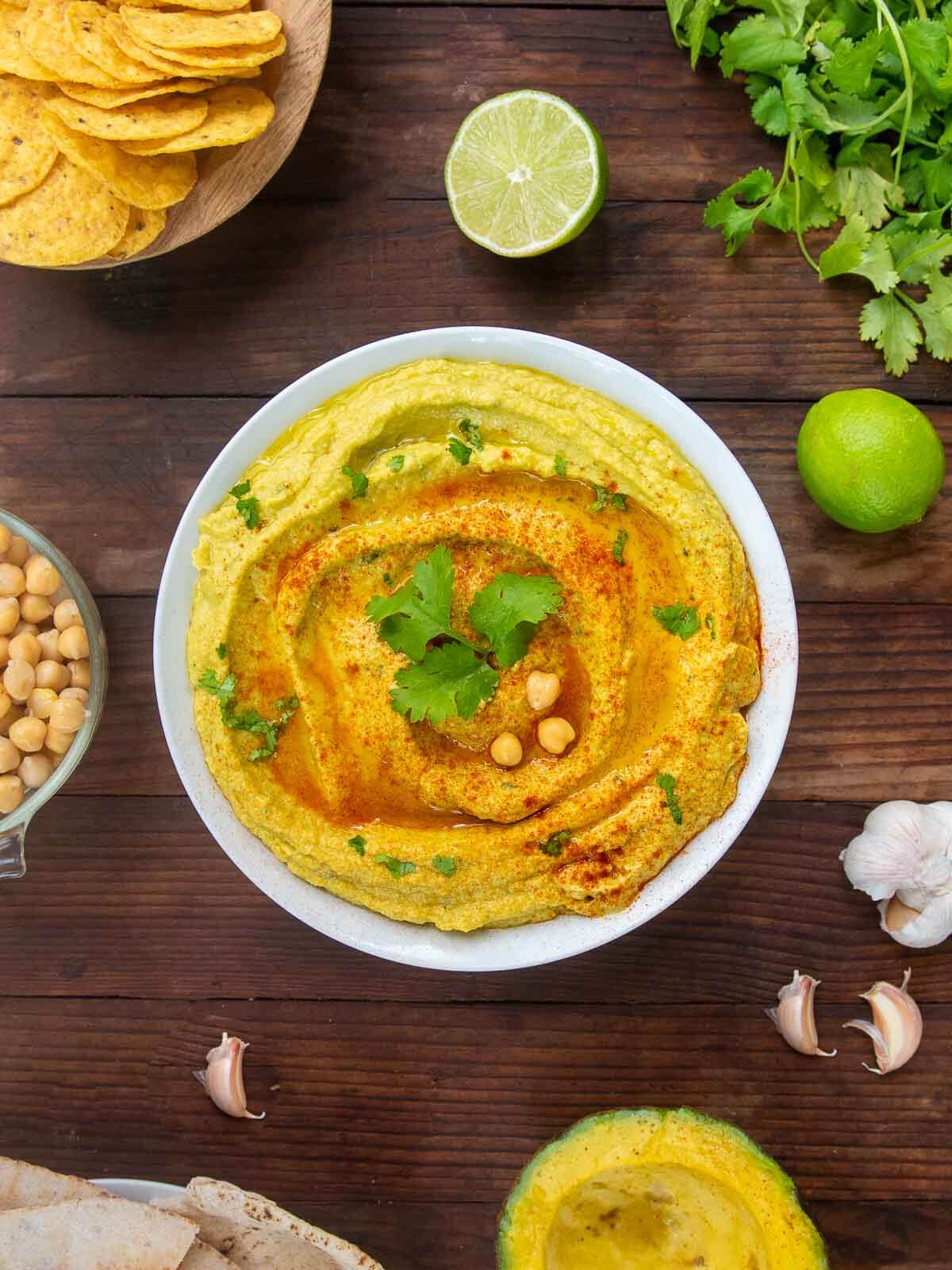 Garnish the hummus avocado dip with chopped cilantro, smoked paprika, and a drizzle of extra virgin olive oil.
Serve this avocado hummus recipe like you would serve a bean dip recipe with your favorite crunchy options, including:
Tortilla chips
Pita chips or pita bread
Raw veggies like celery sticks, carrot sticks, or sliced red peppers.
The family loves adding a dollop of this dip to salads to bring some protein and replace the regular salad's vinaigrette.
You can also use this avocado hummus dip as a sandwich spread or on your favorite vegan chickpea burgers.
We also love using this easy recipe to make an avocado hummus wrap, a hummus avocado sandwich, or hummus avocado toast.
Hummus Avocado toast
Toast the bread slices to your desired level of crispiness.
Top with the avocado hummus.
If desired, add additional toppings such as sliced tomatoes, cucumber, red pepper flakes, or microgreens for extra flavor and texture.
Serve immediately and enjoy your hummus avocado toast as a satisfying breakfast, brunch, or snack option.
Avocado hummus sandwich
To your sandwiches, add some roasted vegetables, like eggplant, fennel, roasted pumpkin, roasted butternut squash, or back-eyed peas hummus. Add shredded vegan mozzarella or cheddar cheese to the oven until the cheese melts, and enjoy!
Hummus Avocado Pita Wrap
Add a layer of hummus, followed by tomatoes, crumbled tortilla chips, jalapeño sauce, and black beans. Add some vegan cheddar cheese, then roll, lightly toast it on a skillet on both sides and enjoy.
If you love chickpeas and avocados coming together in a recipe, don't forget to check out our wholesome Vegan Chickpea Avocado Salad recipe.
Check our comprehensive guide on What to eat with hummus!
🥡 Storage
To avoid avocado hummus turning brown, you should store leftover avocado hummus in an airtight container with plastic wrap on top. Place in the fridge for up to two days.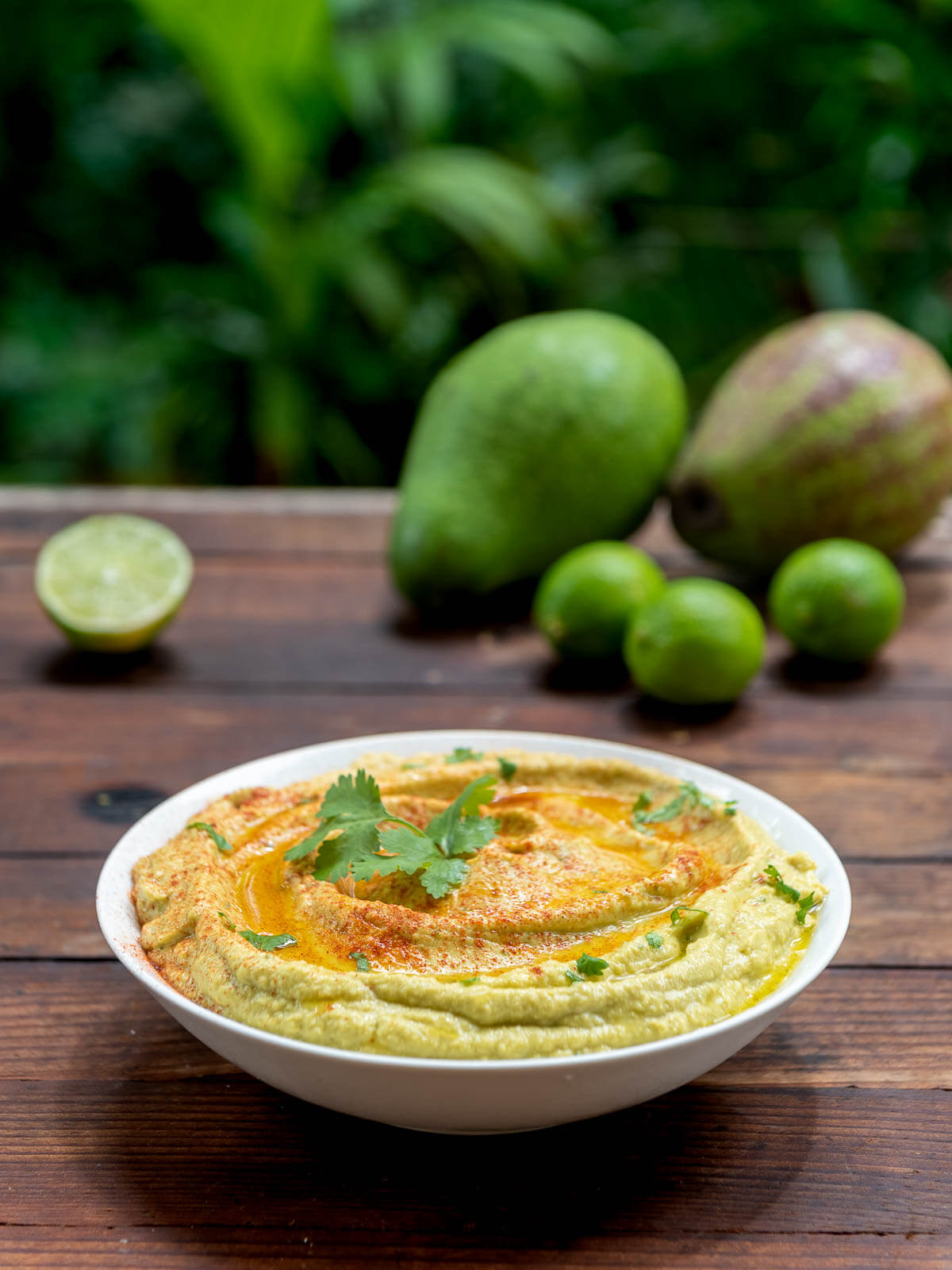 📚 More Middle-Eastern inspired recipes
Mezze platters are always a big hit in our family.
If you feel like having a full Middle-Eastern experience, you should make other dishes with many ingredients and common vegetables, like the Eggplant Babaganoush Spread, the fantastic mint and parsley Tabbouleh Salad, crispy falafel balls, and the Toasted walnut and roasted bell pepper Muhammara.
All delicious recipes!
If you feel adventurous and are in for a mindblowing idea, try our lentil hummus, and dessert hummus, made with dark chocolate and enjoyed with fresh fruit. Curious?
⭐ If you try this recipe, let us know! 💬 Leave a comment, rate it, and don't forget to tag us @ourplantbasedworld on Instagram. Cheers!
📋 Recipe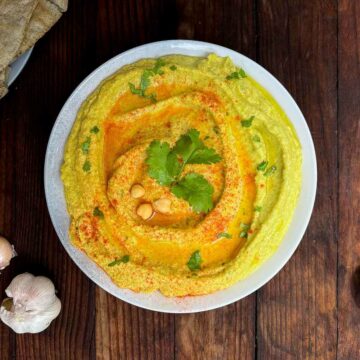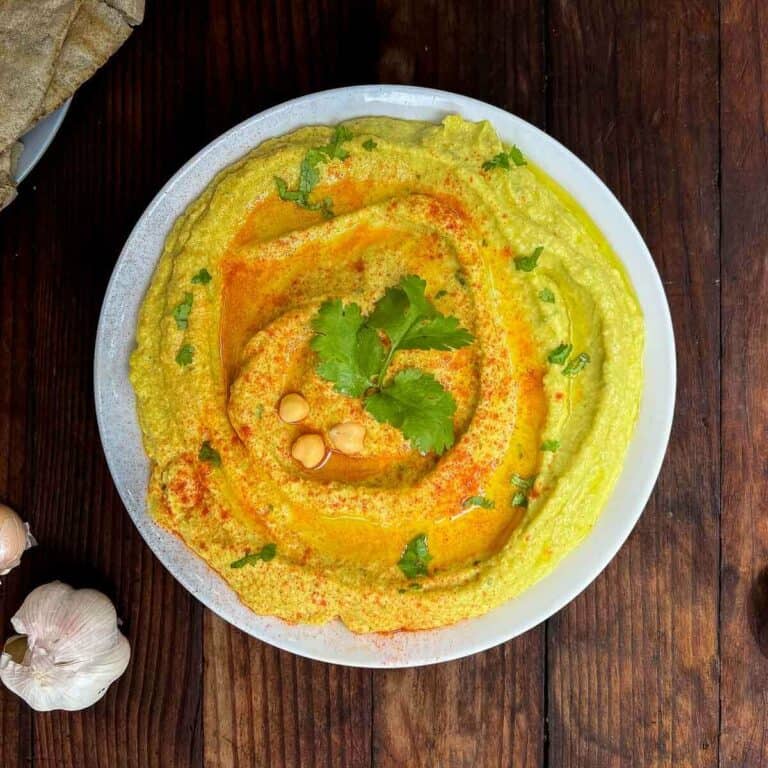 Hummus Avocado Dip Recipe
Experience the delightful fusion of avocado and hummus in our fantastic Guacamole-inspired dip. A twist on the beloved Traditional Hummus, this creamy creation adds a Mexican flair to your snacking. Delight in the smooth blend of chickpeas, ripe avocados, and zesty herbs, taking your taste buds to new heights.
Equipment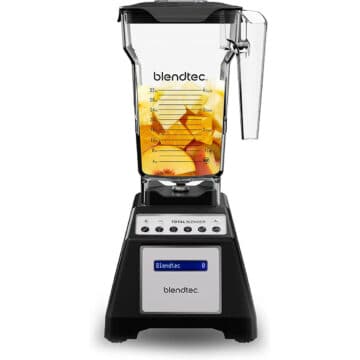 (affiliate link)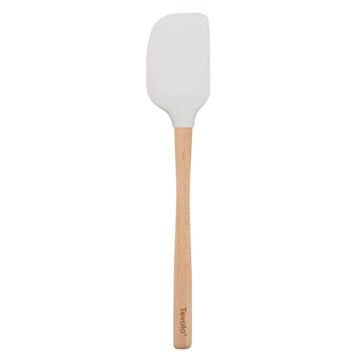 (affiliate link)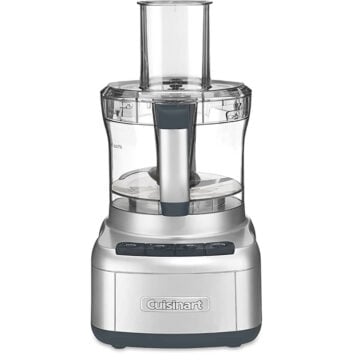 (affiliate link)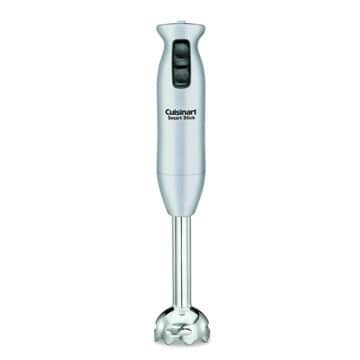 (affiliate link)
Ingredients
15

ounces

chickpeas

drained canned chickpeas

2

avocados

small, or 1 big avocado

2

garlic cloves

mashed medium size, 2-3 depending on how garlicky you want it

2

ounces

tahini

sesame seeds paste

2

limes

juiced

2

tablespoons

olive oil

extra-virgin, good, plus an optional splash to drizzle when serving

1

teaspoon

sea salt

fine

1

bunch

cilantro

fresh, leaves only

½

teaspoon

cumin

½

teaspoon

paprika
Optional:
1

teaspoon

baking soda

only if using dry chickpeas

1

pinch

paprika

sweet ground paprika to serve
To serve
tortilla chips

pita chips or pita bread

raw veggies sticks

celery, carrots, red peppers
Directions
Drain the chickpeas and reserve some of the water from the cans.

Put all ingredients in a food processor and mix until you have a smooth paste.

Taste the mix and adjust the flavors, using salt, your left garlic clove, and lime juice.

When you are satisfied, put it on a serving plate, make pockets with the back of a spoon, drizzle with some extra olive oil, dust with paprika powder and top it with fresh cilantro leaves.
Nutrition Facts
Calories:
247
kcal
Carbohydrates:
23
g
Protein:
7
g
Fat:
16
g
Saturated Fat:
2
g
Polyunsaturated Fat:
4
g
Monounsaturated Fat:
9
g
Sodium:
438
mg
Potassium:
459
mg
Fiber:
8
g
Sugar:
3
g
Vitamin A:
184
IU
Vitamin C:
12
mg
Calcium:
51
mg
Iron:
2
mg
Nutrition Facts
Hummus Avocado Dip Recipe
Amount per Serving
% Daily Value*
* Percent Daily Values are based on a 2000 calorie diet.
Nutritional Disclaimer
The information shown is an estimate provided by an online nutrition calculator. It should not be considered a substitute for a professional nutritionist's advice. See our full Nutritional Disclosure here.
Affiliate Disclaimer
Please note that some of the links here are affiliate links, and I will earn a commission if you purchase through those links. I recommend all of the products listed because they are companies I have found helpful and trustworthy.