Isn't it just wonderful when we find dishes that tick all the boxes? Healthful, refreshing, utterly delicious, and, bonus, ridiculously easy to whip up? You're in for such a treat today! In the spotlight today, we've got a colorful symphony of flavors and textures - a dazzling Chickpea Cucumber Salad with Tomato.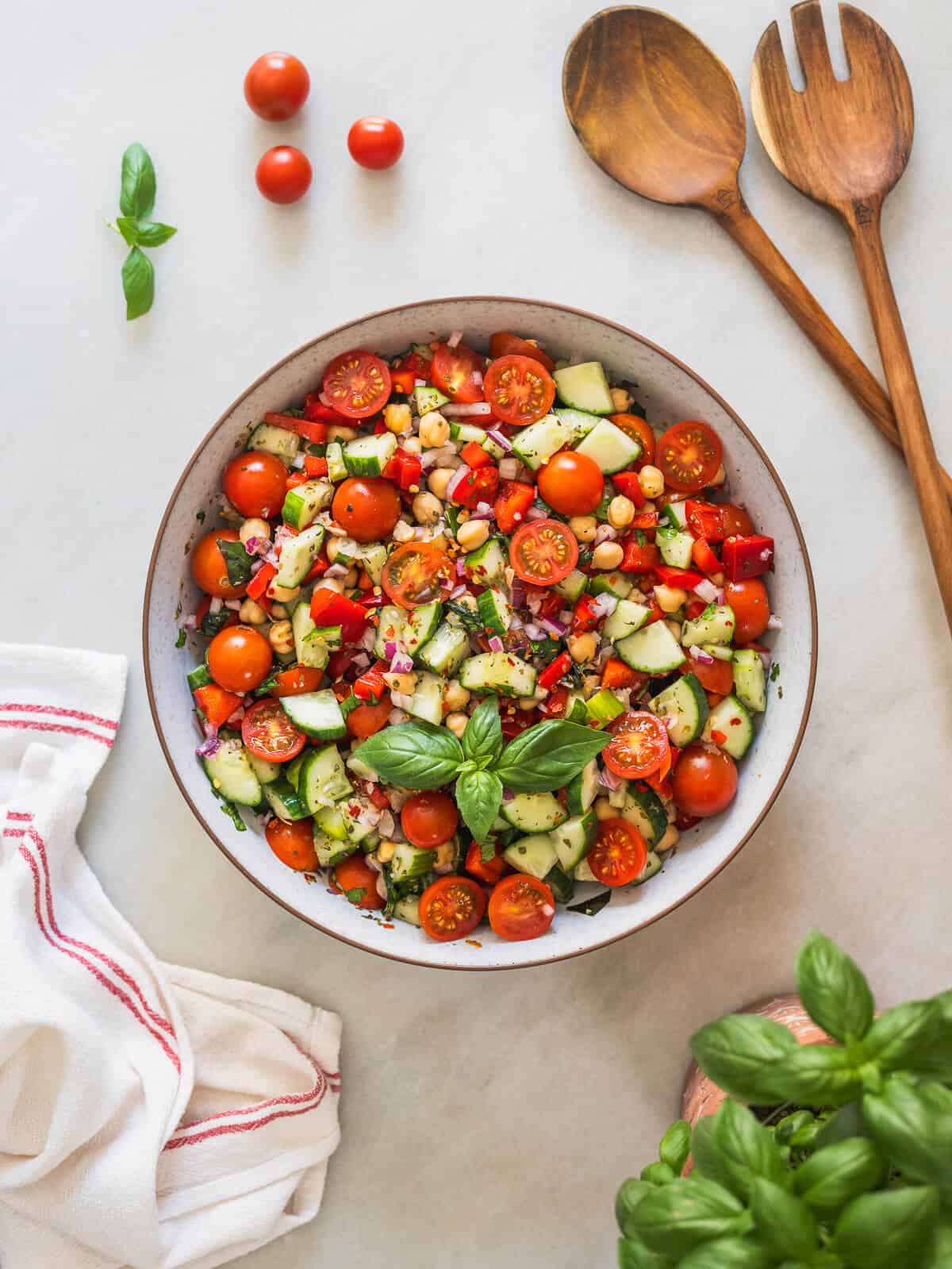 This isn't just a salad; it's a celebration of seasonal, plant-based goodness that's as nutritious as it is flavorful and works as a main dish, side dish, or even as an appetizer.
The winning combination of nourishment, taste, and simplicity sets this cucumber and chickpea salad with tomato apart.
Chickpeas, also known as garbanzo beans, are protein powerhouses, offering a significant protein source, which is especially beneficial for those following a plant-based diet.
Add to that fresh herbs and cucumbers, nature's hydration heroes, with their high water content and valuable vitamin K, and you've got a chickpea salad that's as good for you as it tastes.
Then there's the ease factor. This cucumber chickpea salad is a dream come true for busy bees. With just a handful of ingredients like canned chickpeas, and a few quick chops and tosses, you've got yourself a salad that looks like a gourmet treat from a swanky bistro, great for a light lunch, potlucks or to take on a picnic.
The magic lies in the symphony of flavors - the earthiness of chickpeas, the refreshing crunch of cucumbers, and the vibrant tang of fresh herbs.
Jump to:
🧾 Ingredients
This cucumber chickpea salad recipe is made with just a few delicious ingredients: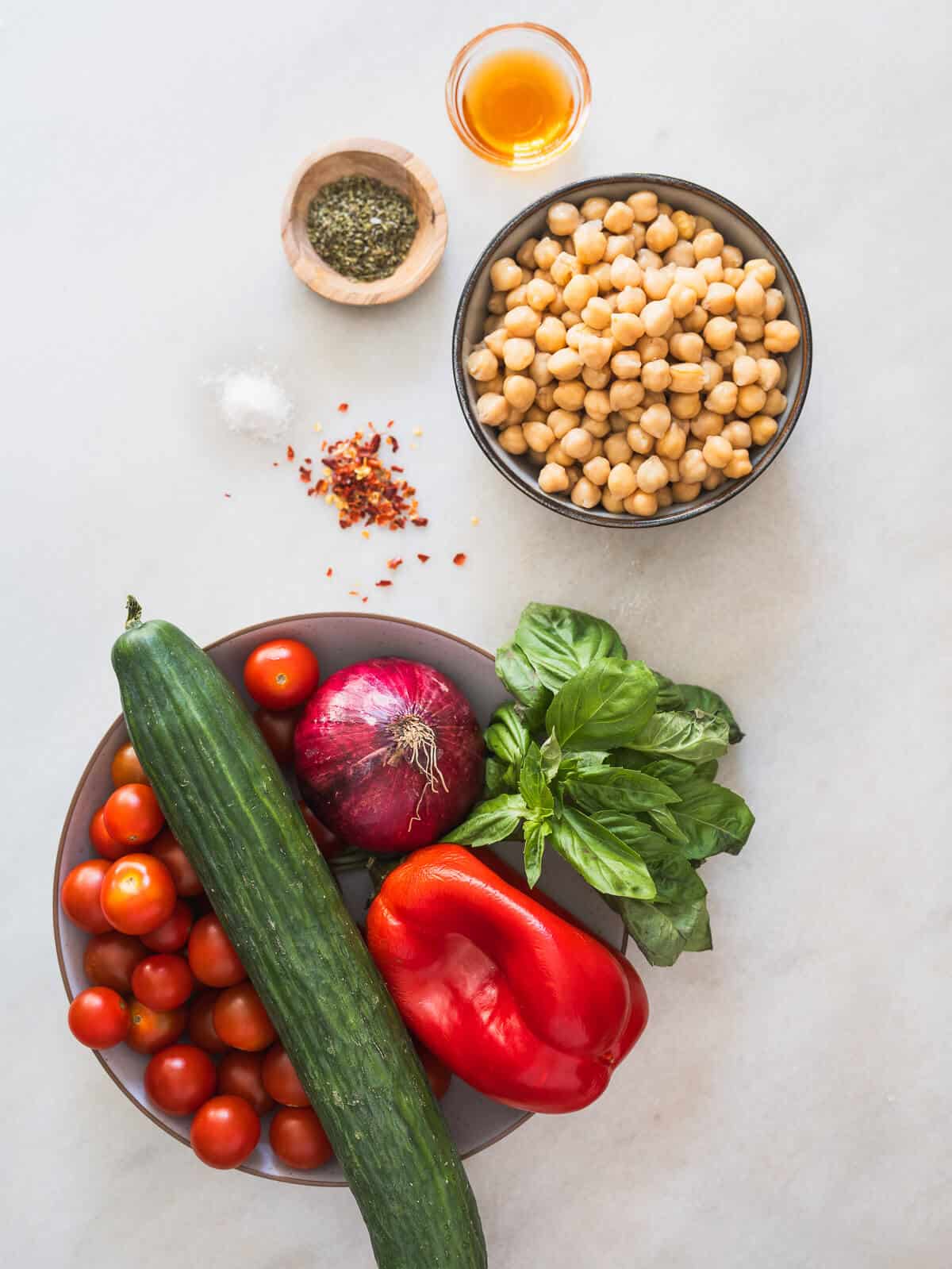 Chickpeas: These legumes are an excellent source of protein and fiber, making them a key component in plant-based diets, contributing to satiety and balanced nutrition.
Red bell pepper: It provides a pop of color and is packed with vitamin C and antioxidants that boost the immune system and promote skin health.
English cucumbers diced: Their high water content aids in hydration, while their crunchiness contrasts with the other ingredients, enhancing the salad's texture.
Cherry tomatoes: These sweet, tangy bites are full of lycopene, a potent antioxidant that has been linked to many health benefits, including reduced risk of heart disease and cancer.
Red onion: Adding a bit of sharpness and crunch, red onions also come with quercetin, a compound known for its potential anti-inflammatory and antihistamine effects.
Dried oregano: This aromatic herb infuses this great salad with Mediterranean vibes and contains antioxidants that can help protect your cells against damage.
Fresh basil lends a sweet, peppery essence to the salad and boasts anti-inflammatory and antibacterial properties.
Red wine vinegar: Its acidity combines all the flavors while also providing probiotics, which are great for gut health.
Red pepper flakes add a hint of heat to the salad, increasing the complexity of flavors while potentially boosting your metabolism.
Optional - extra virgin olive oil: Though optional, a drizzle of this heart-healthy oil can add a luxurious, silky touch and aid in the absorption of vitamins from the vegetables.
🔪 Instructions
This chickpea salad involves 3 simple steps.
Washing and preparing your ingredients.
Chopping in sizable chunks.
Combining all the ingredients.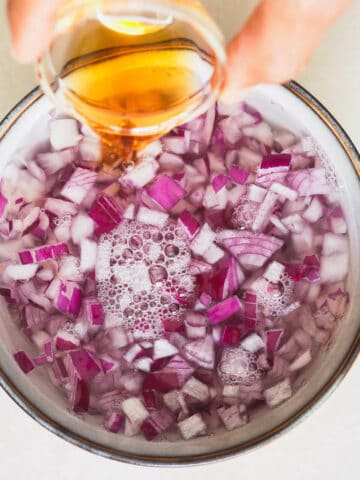 Dice the red onion finely, then let it mellow in water with a spoonful of red wine vinegar to soften its punch.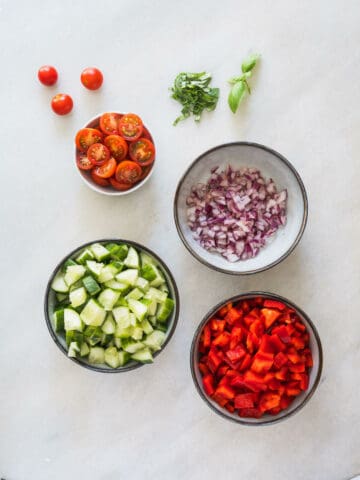 Finely dice most of the vegetables, leaving a portion medium-chopped for variety in texture.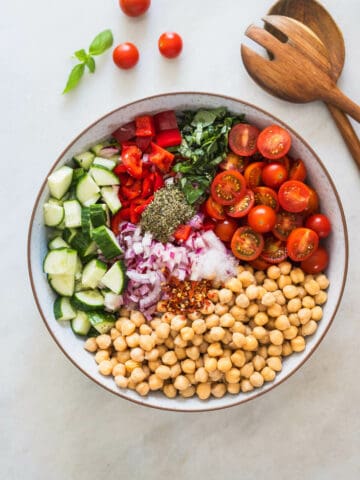 Add all the veggies, chickpeas, herbs, and spices to a bowl.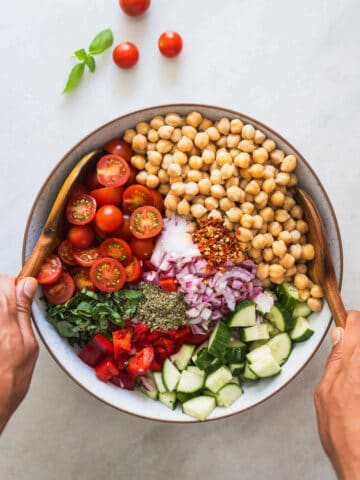 Mix all the ingredients in a sizable bowl.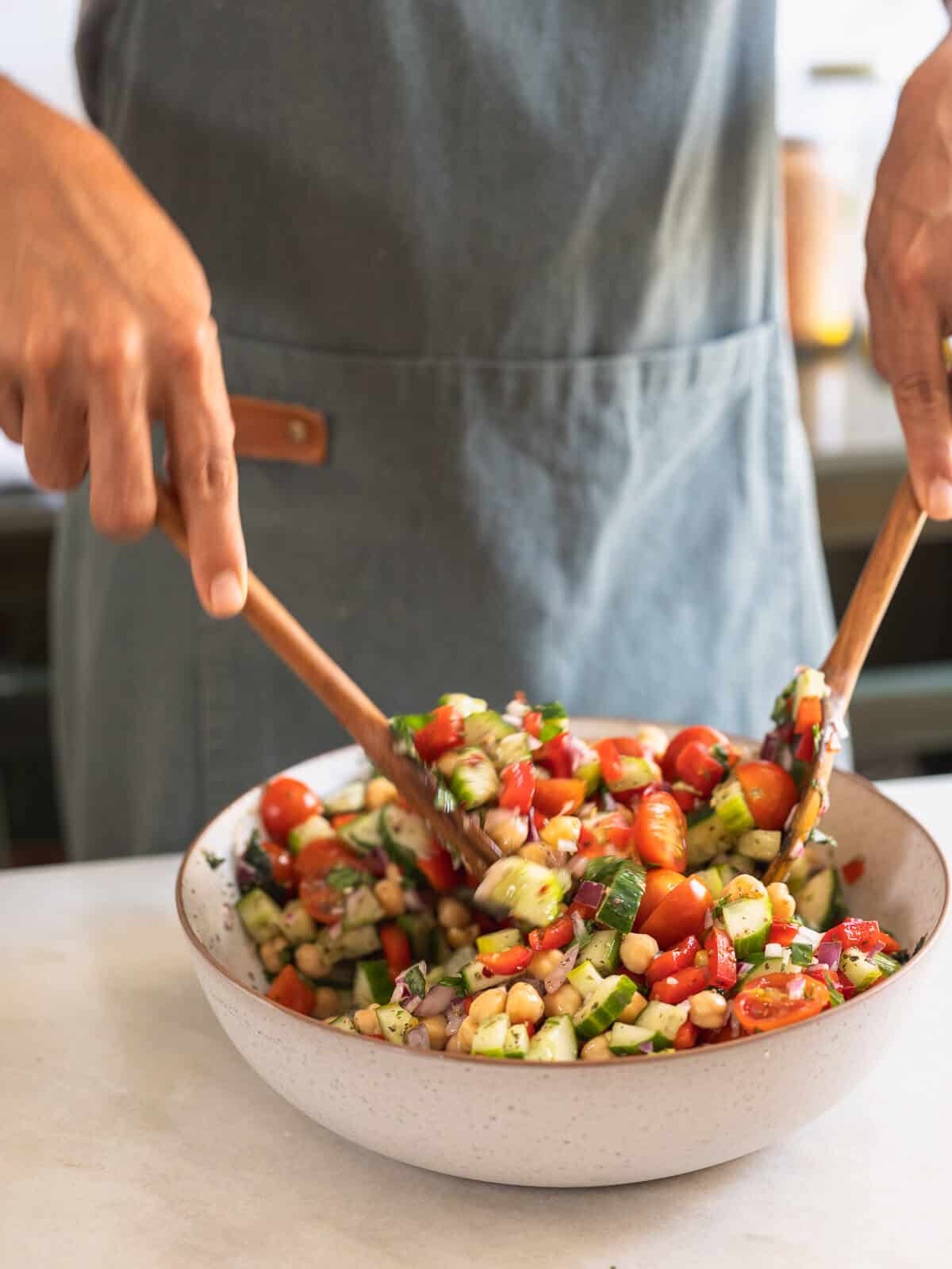 Hint: leave some cherry or grape tomatoes unhalved to experience different textures and pops in your mouth!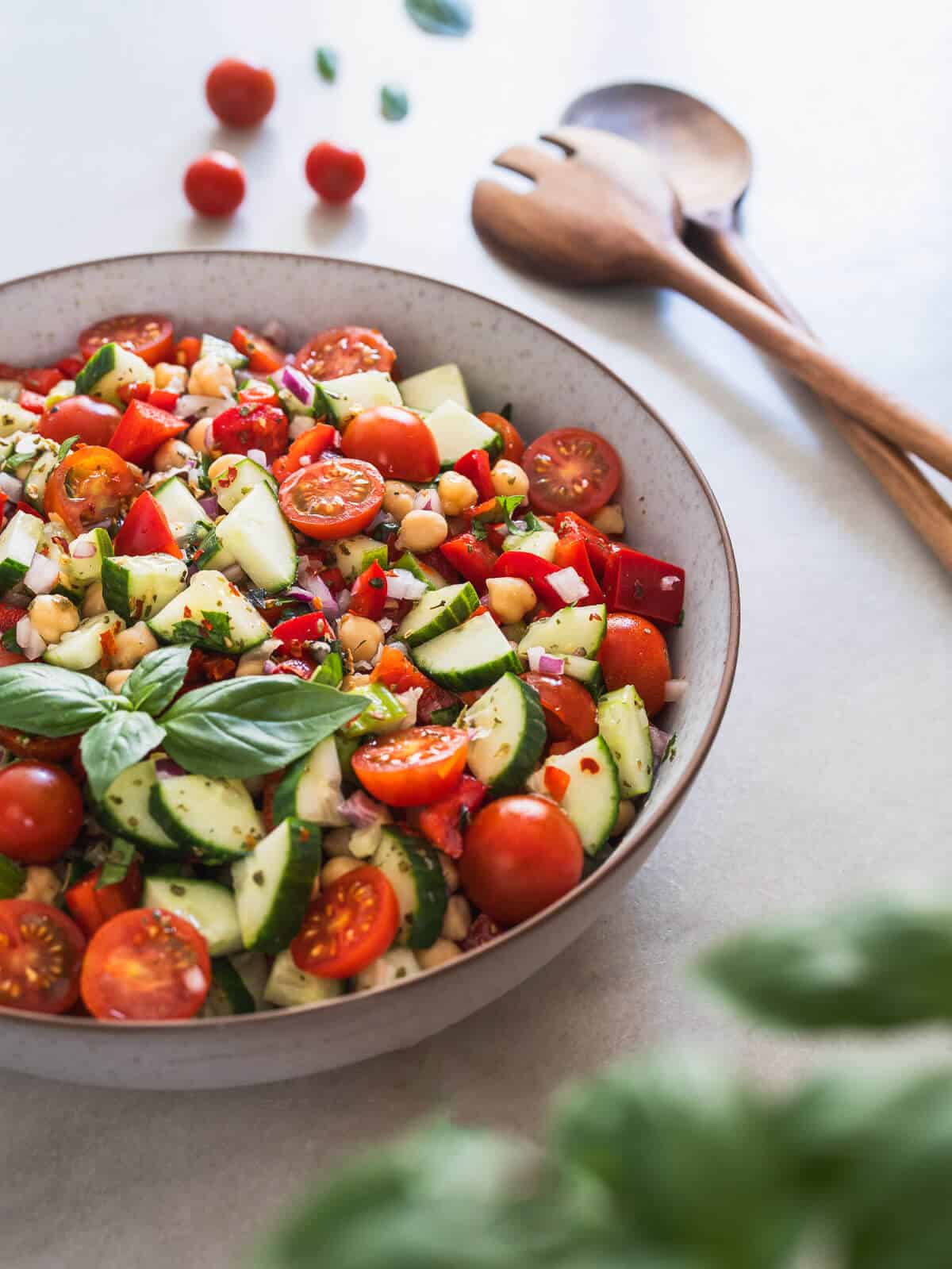 Serve and garnish with black pepper, fresh basil, or parsley leaves.
Read on: Green Mediterranean Diet for weight loss.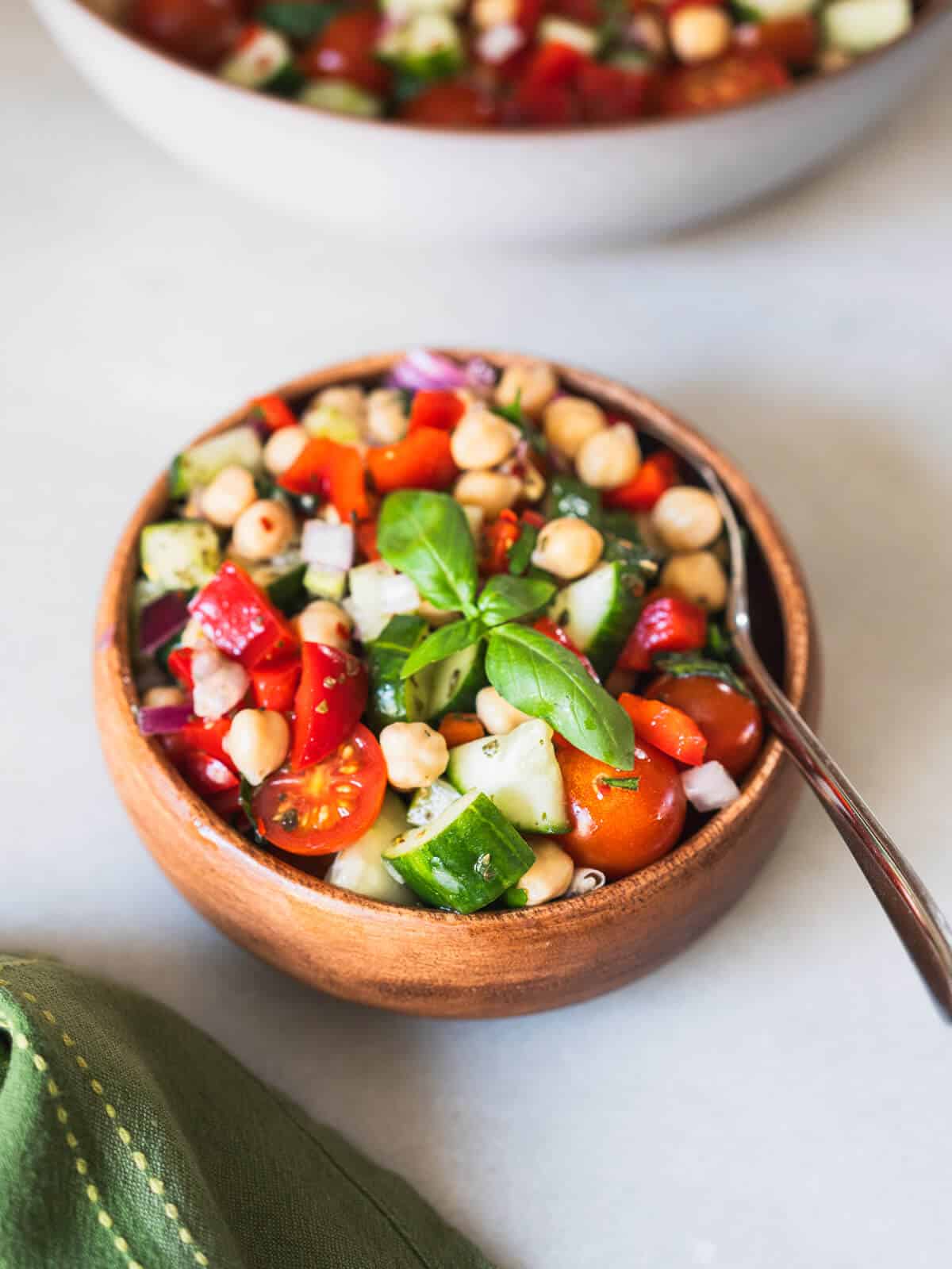 🥢 How to serve
Serving this salad is as flexible as preparing it.
Healthy side dish: Complement your main with a splash of color and freshness, pairing perfectly with a variety of mains, from grilled tofu to veggie burgers.
Stand-alone meal: Add a generous portion to a bowl and enjoy it on its own for a satisfying, nutrient-rich meal that's perfect for lunch or a light dinner.
Wraps and sandwiches: Make your sandwiches or wraps a bit more exciting by using this salad as a filling. It adds a burst of flavors and a nice crunchy texture.
Stuffed vegetables: For a fun, visually appealing meal, try stuffing bell peppers or hollowed-out tomatoes with this salad.
Picnic or party food: This salad travels well, making it an ideal choice for picnics, potlucks, or any gathering.
🍶 Substitutions
Chickpeas: Lentils or black beans can be used as alternatives. They'll provide a slightly different taste but still offer similar nutritional benefits.
Red bell pepper: Yellow or green bell peppers can be used instead or a mix for a vibrant, colorful salad.
English cucumber: Any type of cucumber works, Persian cucumbers are great as well. If you're using a variety with thicker skin, you might want to peel it first. Also, you may want to deseed watery cucumbers before adding them to the salad.
Cherry tomatoes: Any ripe tomatoes can be used. Diced larger tomatoes or sundried tomatoes can offer different textures and flavors.
Red onion: If you find red onion too sharp, you could use spring onions or shallots instead. For a milder flavor, use chives.
Dried oregano: Try dried basil, fresh dill, or thyme as a swap, considering that each will lend a different flavor profile.
Fresh basil: Fresh dill, parsley, or mint can give a refreshing twist.
Red wine vinegar: Apple cider vinegar or lemon juice can be used for a similar tangy effect.
Red pepper flakes: If you want less heat, reduce the quantity or leave it out. For more heat, try a dash of hot sauce.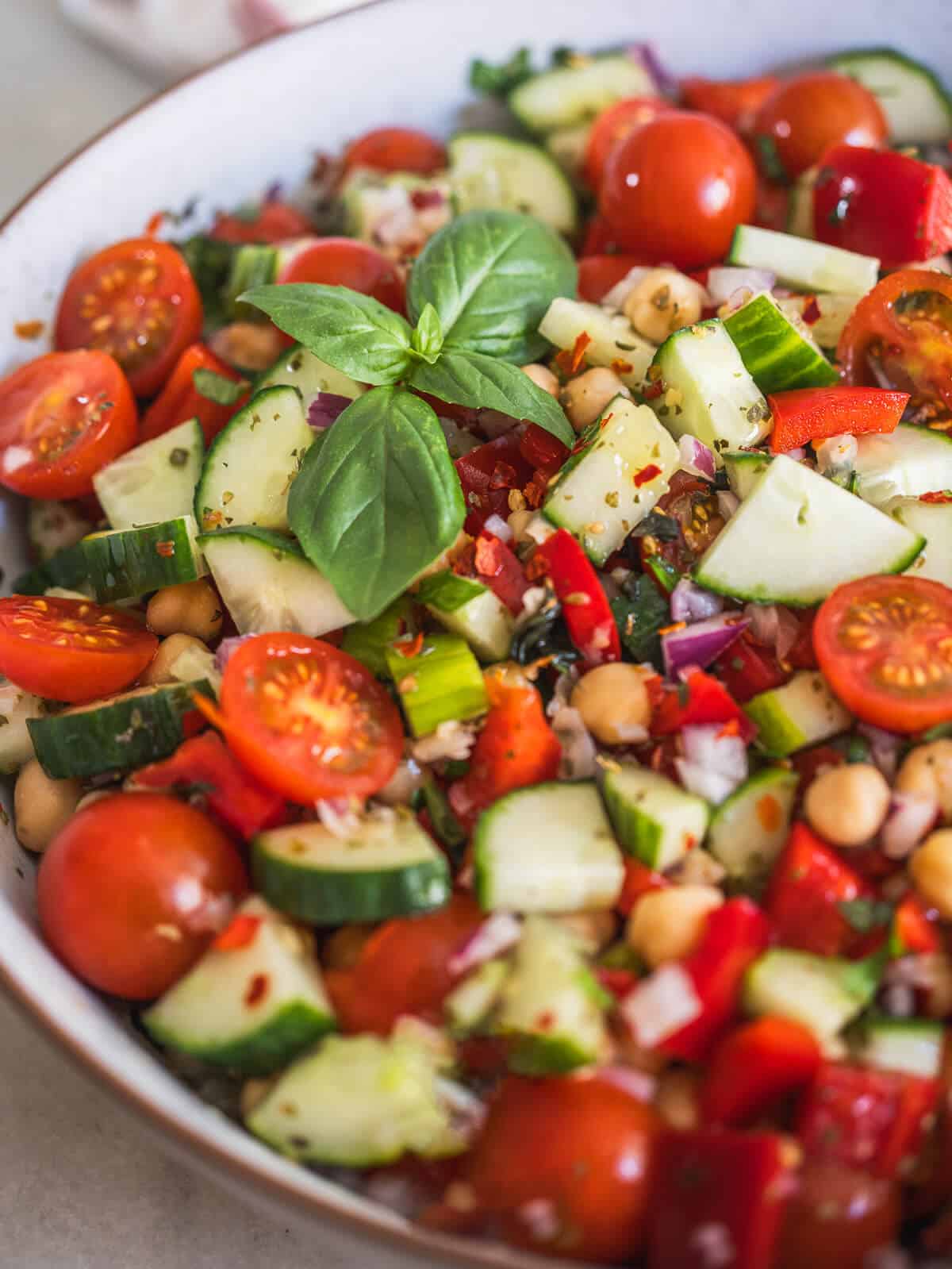 📖 Variations
Greek Style: Add a handful of pitted chopped Kalamata olives and crumbled vegan feta cheese.
Grilled Variation: Give your veggies a smoky upgrade. Lightly grill the bell peppers and cherry tomatoes before adding them to the salad.
Spicy kick: You can also add a tablespoon of Dijon mustard to add a sharp and slightly spicy kick to the salad dressing.
🍽 Equipment
Bowl: A good-sized bowl is essential for mixing all the ingredients together. It allows easy stirring without spilling over the sides, ensuring that all the salad components get evenly coated in the dressing. Plus, it's versatile enough to serve as both your mixing and serving vessel.
🥡 Storage
Proper storage not only extends the life of your salad but also helps maintain its flavor and freshness. Here's how you can store this chickpea salad:
Fridge: After preparation, you can store the salad in the fridge in an airtight container. It should stay fresh for about 3-4 days.
Meal Prep: This salad is an excellent option for meal prep. You can prepare a big batch and portion it out into individual containers for quick, ready-to-go meals throughout the week. You might want to store the seasonings separately and add them just before eating to keep them as fresh as possible.
💡 Top tip
Always taste and adjust. After you've mixed your refreshing salad, please take a moment to taste it. Depending on the ripeness of your tomatoes or the intensity of your onions, you might need to adjust the flavors. The key to a perfect salad is balancing the flavors to suit your taste.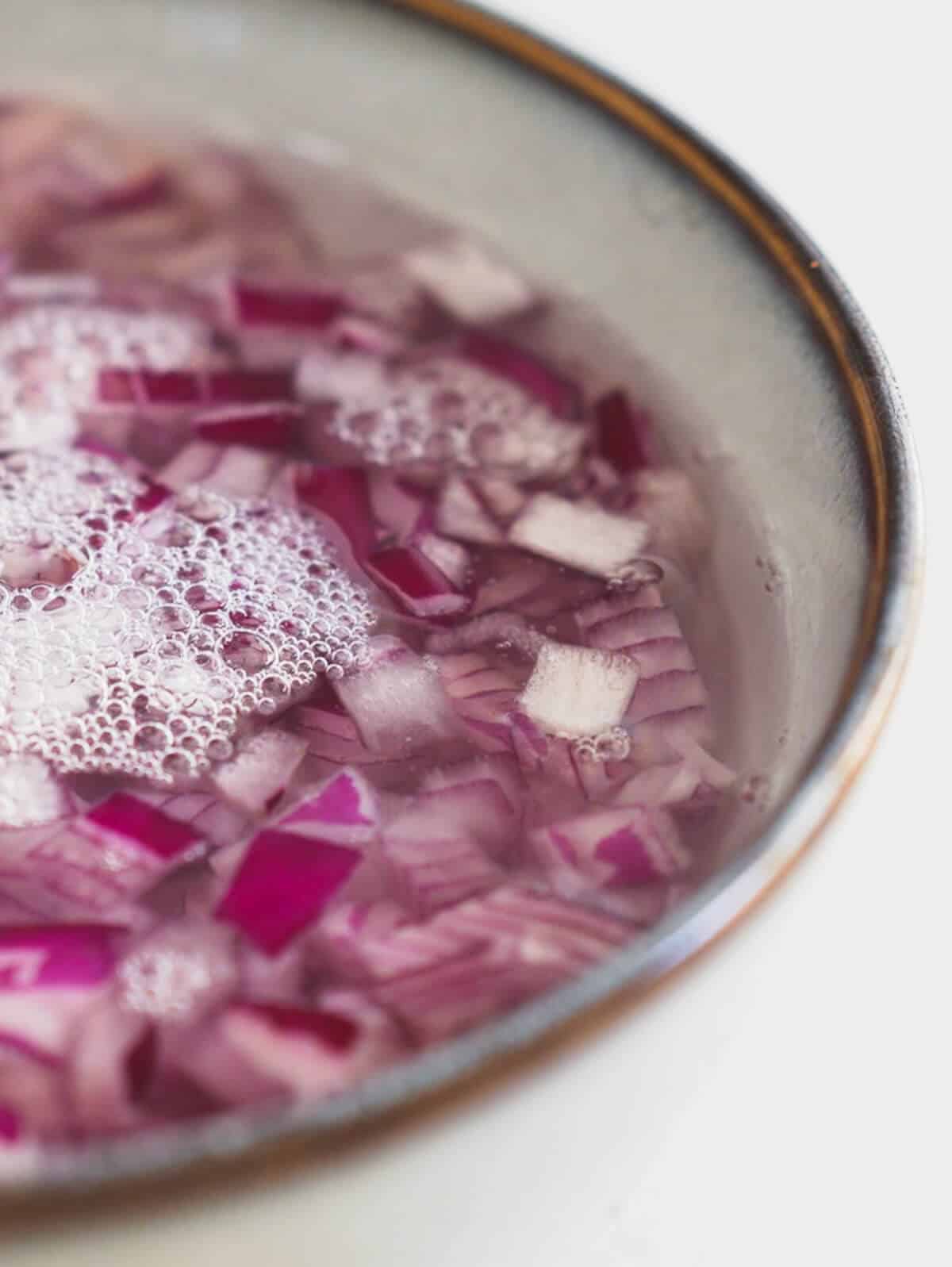 If you want a fresh breath, remember to soak red onions, shallots, and green onions in water with vinegar for a couple of minutes before adding them to salads.
❓ FAQ
Can you eat chickpeas straight from the can to a salad?
Yes, you can eat chickpeas straight from the can. However, it's highly recommended that you rinse them under running water first to remove the excess salt and any canning liquid. Draining and rinsing canned chickpeas can also help reduce their gas-producing properties.
📚 More Healthy Mediterranean Salad recipes
You may also like our fresh and raw veggies, try our Spicy Korean Cucumber Salad and our marinated mushroom salad, made in minutes!
Also try, our Mediterranean Vegan Honey Roasted Vegetables if you are craving warm veggies!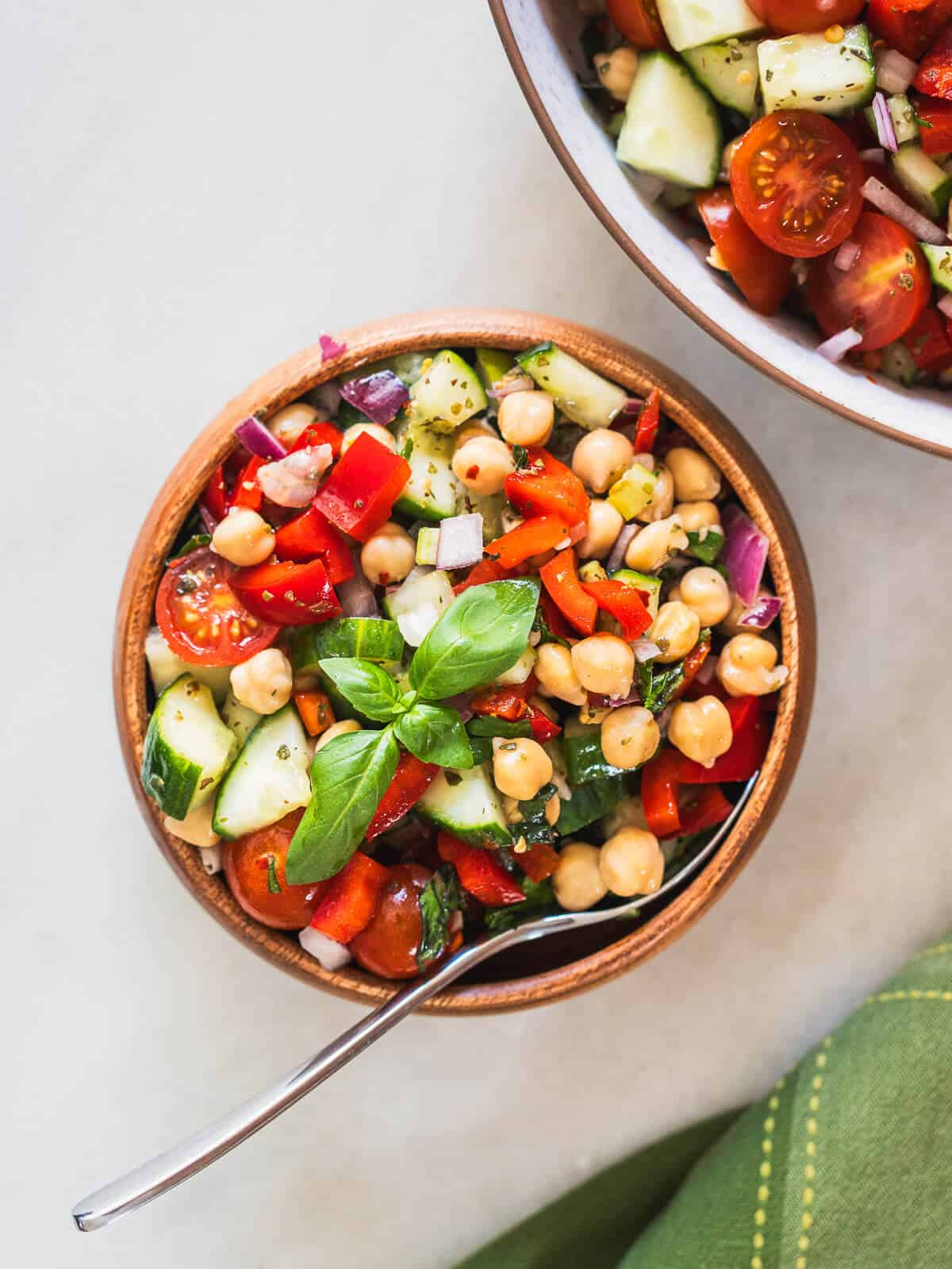 ⭐ If you try this cucumber and chickpea salad recipe, let us know! 💬 Leave a comment, rate it, and don't forget to tag us @ourplantbasedworld on Instagram. Cheers!
📋 Recipe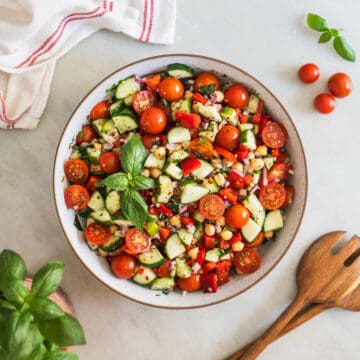 Mediterranean Chickpea Cucumber Salad with Tomato
Enjoy the freshness of the Mediterranean with our vibrant Mediterranean salad recipe, a perfect blend of nutritious chickpeas, crispy cucumbers, and juicy tomatoes. Experience a culinary journey into plant-based goodness with this easy, flavorful, and wholesome dish, ready to be your next go-to salad.
Equipment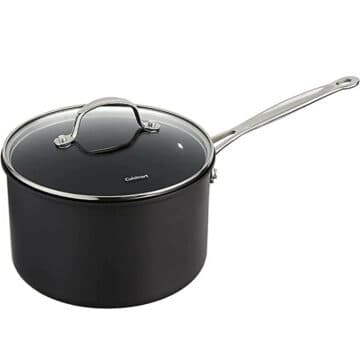 (affiliate link)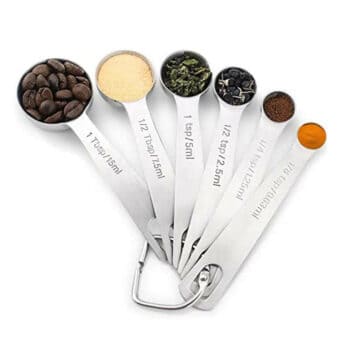 (affiliate link)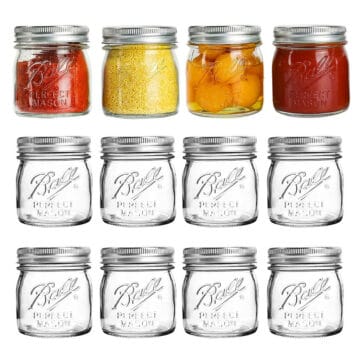 (affiliate link)
Directions
Chop and soak. Chop the red onion very finely and soak it in water with one tablespoon of red wine vinegar to make it less intense.

Dice the rest of the vegetables. Dice the finely, leaving some chopped in medium size.

Assemble the Salad: In a large bowl, combine the cooked chickpeas, cooked diced bell pepper, diced cucumber, soaked red onions, chopped basil, remaining red wine vinegar, red pepper flakes, and salt.

Serve: You can serve this salad immediately, or you can let it sit in the refrigerator for an hour or so to let the flavors meld together. It can be served cold or at room temperature.

Enjoy!
Notes
You can cook your own dried chickpeas or use one can of drained chickpeas.
The salad keeps weel for up to 3 days stored in an airtight BPA-free container.
Nutrition Facts
Calories:
180
kcal
Carbohydrates:
33
g
Protein:
9
g
Fat:
3
g
Saturated Fat:
0.3
g
Polyunsaturated Fat:
1
g
Monounsaturated Fat:
1
g
Sodium:
455
mg
Potassium:
631
mg
Fiber:
9
g
Sugar:
10
g
Vitamin A:
2816
IU
Vitamin C:
112
mg
Calcium:
82
mg
Iron:
4
mg
Nutrition Facts
Mediterranean Chickpea Cucumber Salad with Tomato
Amount per Serving
% Daily Value*
* Percent Daily Values are based on a 2000 calorie diet.
🌡️ Food safety
Cook to a minimum temperature of 165 °F (74 °C)
Do not use the same utensils on cooked food, that previously touched raw meat
Wash hands after touching raw meat
Don't leave food sitting out at room temperature for extended periods
Never leave cooking food unattended
Use oils with a high smoking point to avoid harmful compounds
Always have good ventilation when using a gas stove
See more guidelines at USDA.gov.
Nutritional Disclaimer
The information shown is an estimate provided by an online nutrition calculator. It should not be considered a substitute for a professional nutritionist's advice. See our full Nutritional Disclosure here.
Affiliate Disclaimer
Please note that some of the links here are affiliate links, and I will earn a commission if you purchase through those links. I recommend all of the products listed because they are companies I have found helpful and trustworthy.