Everyone loves vegan stew recipes, and this blog post is a compilation of the best vegan stew recipes from around the web. You'll find vegan vegetable stews, and vegan lentil stew recipes - you name it!
Hopefully, our list will help you find your new favorite recipe for vegan stew.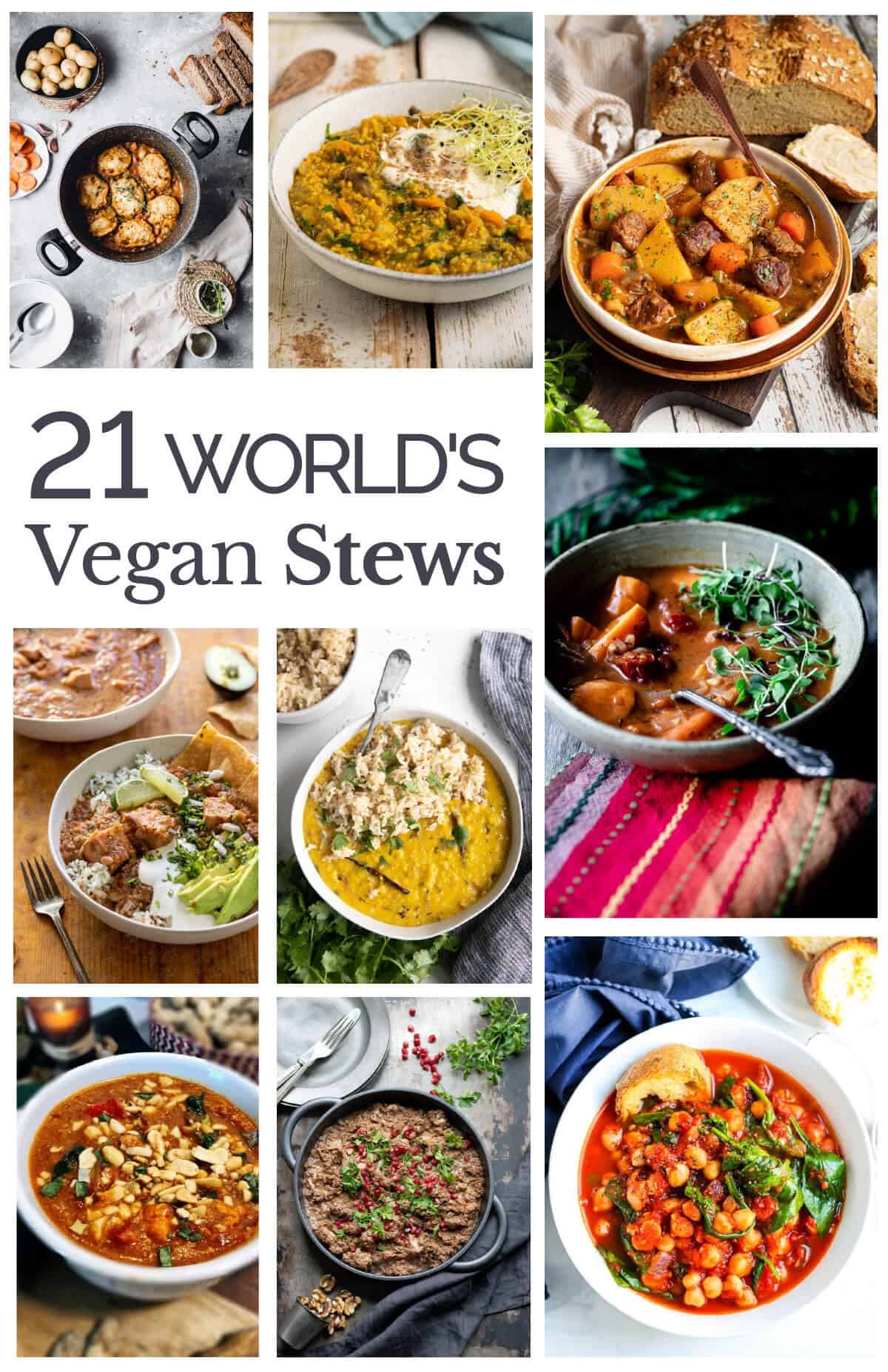 Vegan Stew – The Classic, Modern & Hearty!
Stews resemble your favorite old favorite stews originally without meat. The dishes are thick, hearty, and packed with flavor. Look for chunky vegetables, beans, pulses, and veggie "meat" options.
But first, let's sync up on some essentials about making vegetarian stews. How to cook them? How to achieve thickness, and so on.
👨🏻‍🍳 Tell me the best way to make vegetable stew from scratch?
The key to an excellent veggie stew is making some fresh vegetables, which is the hardest.
The key to an excellent veggie stew is making fresh vegetables, so the most challenging part is chopping them off. In the case of fresh-cut vegetables, cook a few aromatic vegetables or even a green onion or celery until soft.
Choose your vegetable stew ingredients
Fresh or frozen vegetables
We always pick a base of garlic, plus onions or leeks.
And add various fresh vegetables like carrots or eggplants to make your veg vegetable stew even healthier.
Thickening agent options
How to thicken Vegan Stew?
Protein-packed pulses (red lentils, green lentils, black lentils, kidney beans, and chickpeas make absolutely delicious vegan stew recipes and hearty meals). Use a pressure cooker for beans and chickpeas to save some time and have them cooked perfectly).
Starchy roots include potatoes, sweet potato, cassava, pumpkin, or butternut squash, or even almond meal, made with homemade almond milk leftovers. (See how to make the best of your meal leftovers).
Crusty bread (avoid if gluten-free).
Starches. Tapioca, potato, or cornstarch.
Liquid agent
Your liquid ingredient can be water, vegetable stock, coconut milk, tomato sauce (like marinara sauce), or a mix of any of them, depending on the recipe.
Seasoning
Decide if you want to go for:
Asian - think Thai Green curry paste, Thai yellow curry paste, Indian Curries (such as garam masala or Madras), ginger root, galanga (Thai ginger), and lemongrass. You can also use them to season soups, like carrot ginger soup or spiced lentil curry soup.
Mediterranean - fresh or dry herbs such as basil, rosemary, fresh parsley, tarragon, or Italian seasoning. We love simply adding one or two tablespoons of any vegan pesto (they only take 5 minutes to make with a blender). Or pesto favorites (also on this site) are basil, mint, kale and sage, sun-dried tomatoes, pistachio, and arugula.
African - Egyptian Baharat or Berbere.
Middles Eastern - Sumac, Za'atar, Harissa, or Lebanese seven spices.
Americas - chile, mole, adobo, etc.
Soft vegetables
Always finish with the softer veggies that require less cooking time, such as broccoli, cauliflower, frozen peas, baby Bella mushrooms, cremini mushrooms.
Instructions
These are high-level instructions to cook any hearty vegetable stew recipe.
Step 1
Start stir-frying your choice of Allium family veggies (chopped onion, garlic, etc.) in a large pot, using some oil as a base. If cooking a Mediterranean stew, go for olive oil or a neutral oil like avocado oil. If going for an Asian stew, use coconut oil, peanut oil, or sesame oil. If going for a french stew, use vegan butter.
If making a Mediterranean stew, you can deglaze it with some red wine. This will rescue the flavor sticking to the bottom of your saucepan.
Step 2
Add your hard-chopped veggies, such as carrots, eggplants, and potatoes.
Step 3
Add your previously soaked pulses, plus water or vegetable broth, bring to boil, at medium heat, and then simmer. We like using red lentils when making a quick stew because they require little soaking time. Go for kidney beans or cannellini white beans if you have more time.
Step 4
Season with spices and herbs.
What can I use instead of beef in stew?
You can choose to add veggie meats, crispy tofu, or TVP (textured vegetable protein) at this point so they absorb all the flavor. Tomato paste is a great way to make stews rich.
For extra depth, use vegan Worcestershire sauce, smoked paprika, or soy sauce.
Step 5
Add the soft veggies like frozen peas or broccoli when your stew is 90% there, meaning the pulses and veggies are almost cooked, occasionally stirring, adding more vegetable broth if you feel the vegetable stew is drying out.
Step 6
Adjust the flavor of red pepper flakes, salt, and pepper. Let your stew rest for a couple of minutes, and then serve with your choice of rice or bread. You can also have your stew on its own if you are avoiding carbs.
Enjoying your hearty vegetables as part of a vegan vegetable stew recipe is healthy and easy and cheap, and convenient!
❓ Frequently asked questions
What's the difference between soup and stew?
The soup is thin with liquid, while the stew is thicker and contains large ingredients. Stews are often made with tougher cuts that require a longer cooking time to become tender. On the other hand, Soups typically rely on more delicate ingredients like seafood or poultry. As a general rule, stews are heartier and richer than soups.
How to Serve Vegan Stew?
If your meal requires rice to start with, you might like a plate. The best Jasmine rice (check our quick recipe for Jasmine rice) has a rapid cooking time, just like fluffy basmati rice.
If you're hoping for a lighter, cauliflower rice is also good.
Also, fantastic served with vegan mashed potatoes, or a simple homemade Italian bread loaf, for soaking up these beautiful ingredients.
What can I use instead of beef in stew?
The vegan beef (from impossible burger) is one of the best vegan substitutes for a hearty vegan stew or any other vegetarian stew. The vegan meat has a very tender texture and absorbs flavors well, making it perfect for cooking any stew recipe.
You can also replace what you usually eat with tofu or seitan if you're looking for something meaty but not as chewy as tofu.
What vegetables are good in stew?
Vegetables that work well with vegan stews include sweet potatoes, pumpkins, eggplants, carrots, and parsnips. Two great vegan stew ingredients are cut tomatoes and zucchini since they're very soft and taste amazing when cooked for a long time.
For vegan winter or fall recipes, root vegetables like celery or turnip can be added sometimes.
How long can I keep vegetable stew in the fridge?
You can keep vegan stews in the fridge for up to three days. You should store your vegan stew in an airtight container and put it on a lower shelf of your refrigerator so that it's not exposed directly to the coldest regions of your fridge.
Leftover stew will taste best when eaten within 24 hours of preparing them. If you want to keep vegan stews for longer, they can also be frozen and stored for up to three months in the freezer.
What is good with vegan stew?
You can serve vegan stew on its own or eat it with bread or flatbread. For me, vegan stews taste great when eaten with vegan mashed potatoes or cooked rice.
🍲 Vegetable Stew Recipes
Asian vegan stews
Mediterranean vegan stews
African and Middle Eastern vegan stews
Americas and mixed vegan stews
Whether you're looking for a comforting dish to warm up with on cold winter days or are seeking new ways to diversify your weekly meal plan, this list of vegan stew recipes is sure to provide some inspiration.
All 21 recipes were tested and found delicious by the author! If you've never tried cooking any vegan stews before, these simple dishes will be perfect starting points - they all require very few ingredients and preparation time.
Make one of these today to keep in your recipe book for easy reference when planning future meals.