Are you looking for a simple yet delicious weeknight meal that's both vegan and loaded with flavor? Look no further than this tasty Coconut Chickpea Curry! Not only is it guaranteed to impress your family and friends, but using pre-prepared ingredients means minimal preparation, giving you more time to relax and enjoy the evening. This dish also has secret health benefits packed into its fragrant mix of spices. So get ready to tantalize those taste buds with this warm and comforting Thai Massaman Curry Dish- Vegan Coconut Chickpea Curry!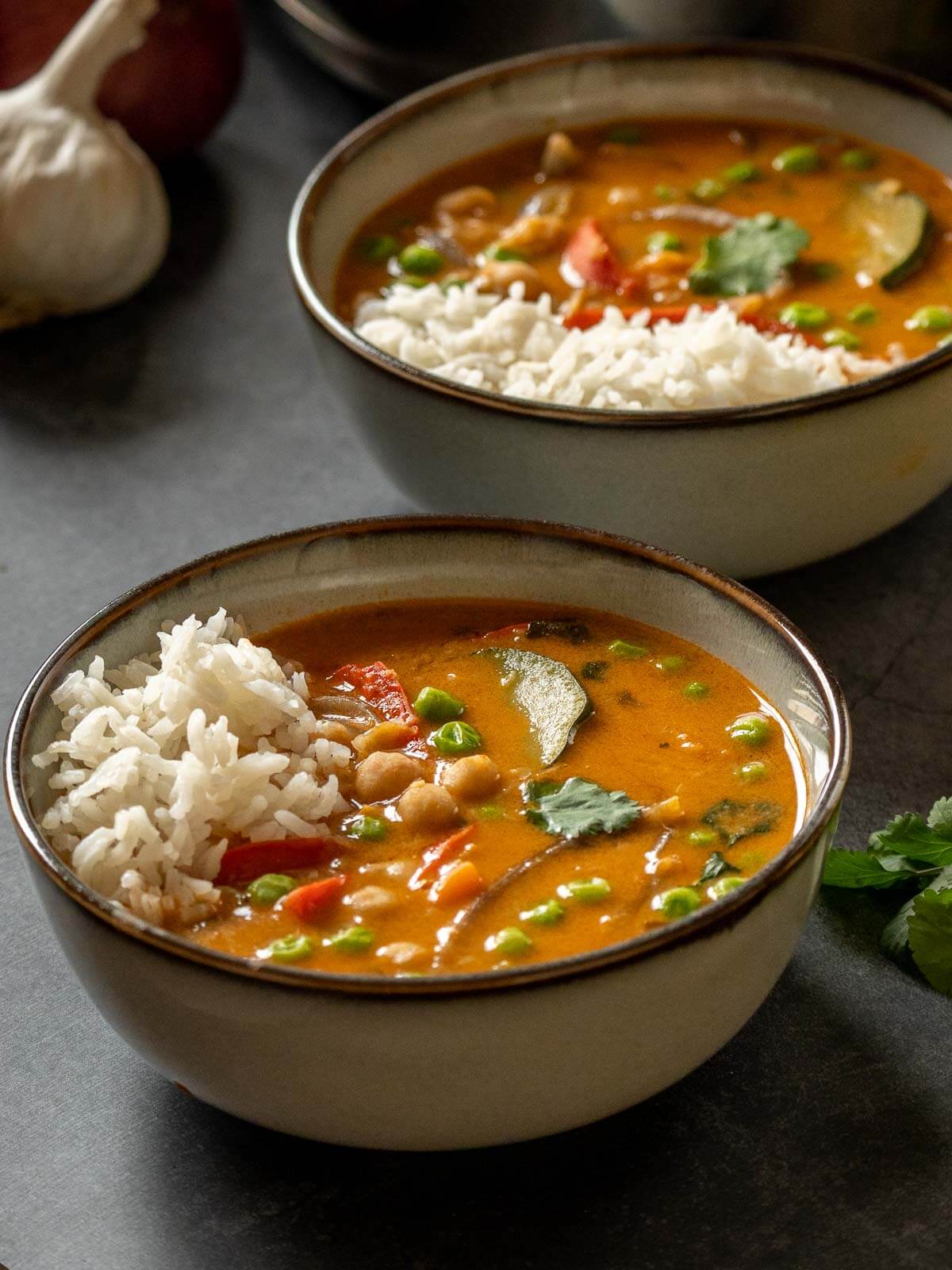 This fantastic vegan stew is packed with fragrances and flavors from Thai cuisine. Have it on the main course and pair it with steamed aromatic Jasmine rice for a Thai feast.
Although chickpeas are more commonly used in Indian food than Thai, Massaman curry is already a melting pot of cultures because it uses Indian and Persian spices along with Thai ones. A true mix of influences inherited from the silk road.
This was inspired by our Yellow Thai Curry and Fragrant Red Curry, also on this site, but we used Massaman Curry Paste and a different combination of vegetables.
Jump to:
🧾 Ingredients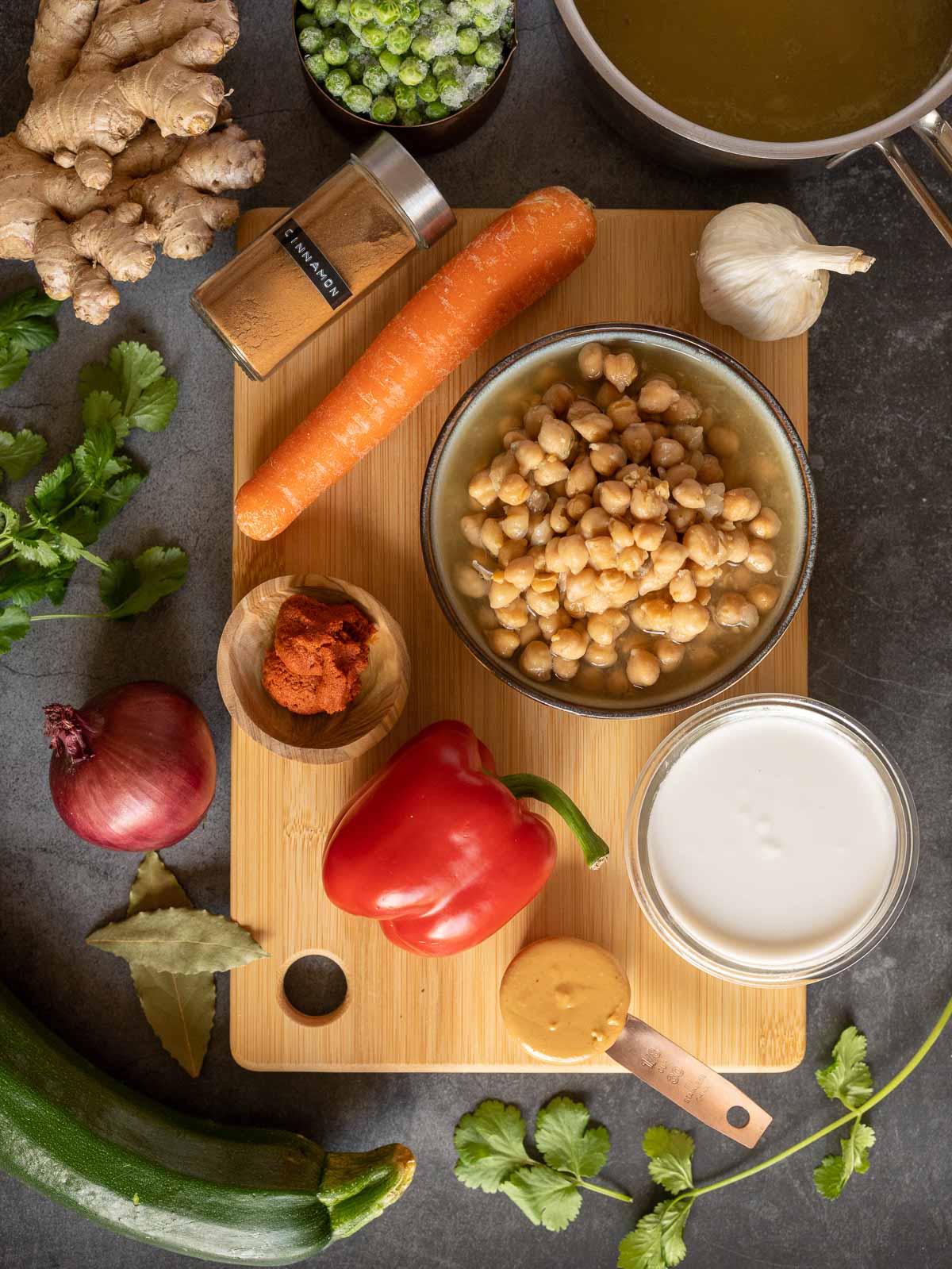 Make this Thai chickpea curry with just a handful of staple ingredients.
Chickpeas - are the primary protein source of this dish. We chose to use cooked chickpeas to make it fast. You can use canned garbanzo beans or raw and quickly cook them in an instant pot.
Coconut milk - what would be a Thai-inspired curry without delicious coconut milk? You can use light or full-fat coconut milk; the consistency will lightly change. If you go for lite coconut milk, you can let the curry cook for longer or even quickly blend some of the chickpeas in the pot to achieve the creamy texture we are looking for.
Massaman curry paste - this delicious Thai curry has a Persian influence, hence is usually cooked with some spices and ingredients you wouldn't usually use in Thai cuisines, such as cinnamon and peanuts. It has a slightly sweet flavor compared to red and yellow curries.
Peanut butter - this is optional, but it adds richness and a fantastic and unexpected layer of flavor.
Cinnamon - another special guest on this curry. Use the suggested ground amount, or replace with a large cinnamon stick and add it while the stew boils, then remove it.
Vegetable broth - you could use water instead and season as needed with garlic or onion powder. We like using organic veggie stock to reduce the ingredients list and have a flavor base to build on.
Red onion - you can use any type of onion, such as yellow onion; we chose red onion because it has a sweeter taste that contributes to the massaman curry sweet profile.
Garlic - there's no curry without garlic, not for us!
Fresh ginger - is a must! It adds a distinctive Thai curry flavor to the mix. We like adding lots of it!
Red pepper - same as for onions. Use any kind you have; we chose red for color and sweetness. Although red bell peppers are definitely not Thai, they perform very well on curries.
Carrot - adds fiber, sweetness, and texture. Don't overdo them.
Fresh cilantro (coriander) - another classic on Thai curries. If you don't love it, you can skip it, but if you chop them thinly and add them while cooking, you may not notice it, but it will still deliver lots of Thai flavor goodness!
Optional ingredients
Zucchini - completely optional, we just love adding tons of veggies to our curries, so they are extra nutritious while adding texture. Since zucchini cooks quickly, we add it towards the end of the curry making.
Frozen Green peas - we add them for flavor, popping texture, and characteristic sweetness.
Bay leaves are a typical guest used in massaman curries; you can skip them if you don't have them.
See the recipe card for quantities.
🔪 Instructions
This chickpea coconut curry recipe involves 5 simple steps.
Chopping your veggies.
Stir-frying garlic, onions, and ginger.
Adding main curry seasonings, such as curry paste, coconut milk, and peanut butter.
Cooking the stew.
Adjusting flavors and adding optional ingredients.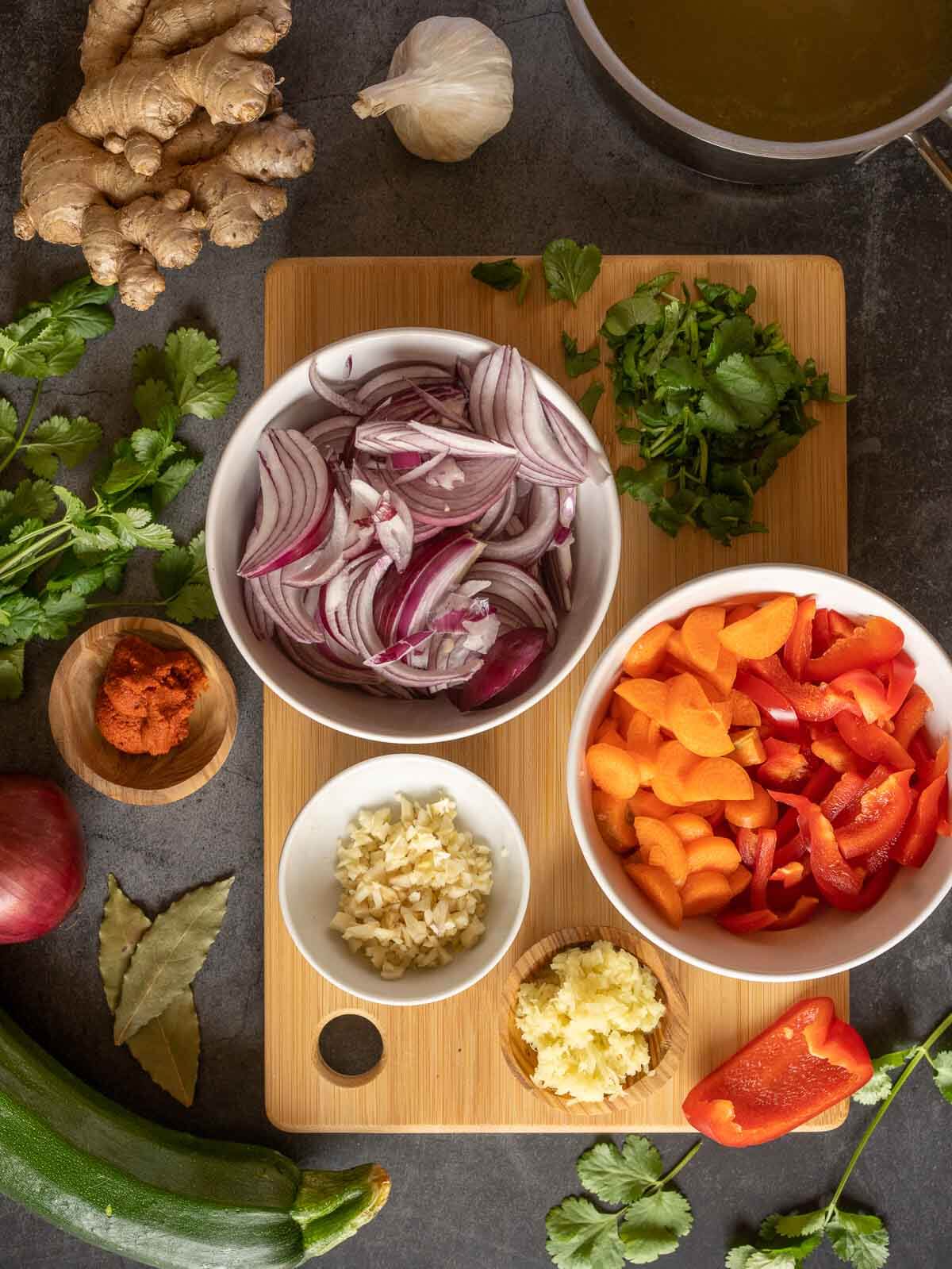 Chop all your ingredients before you get started with cooking.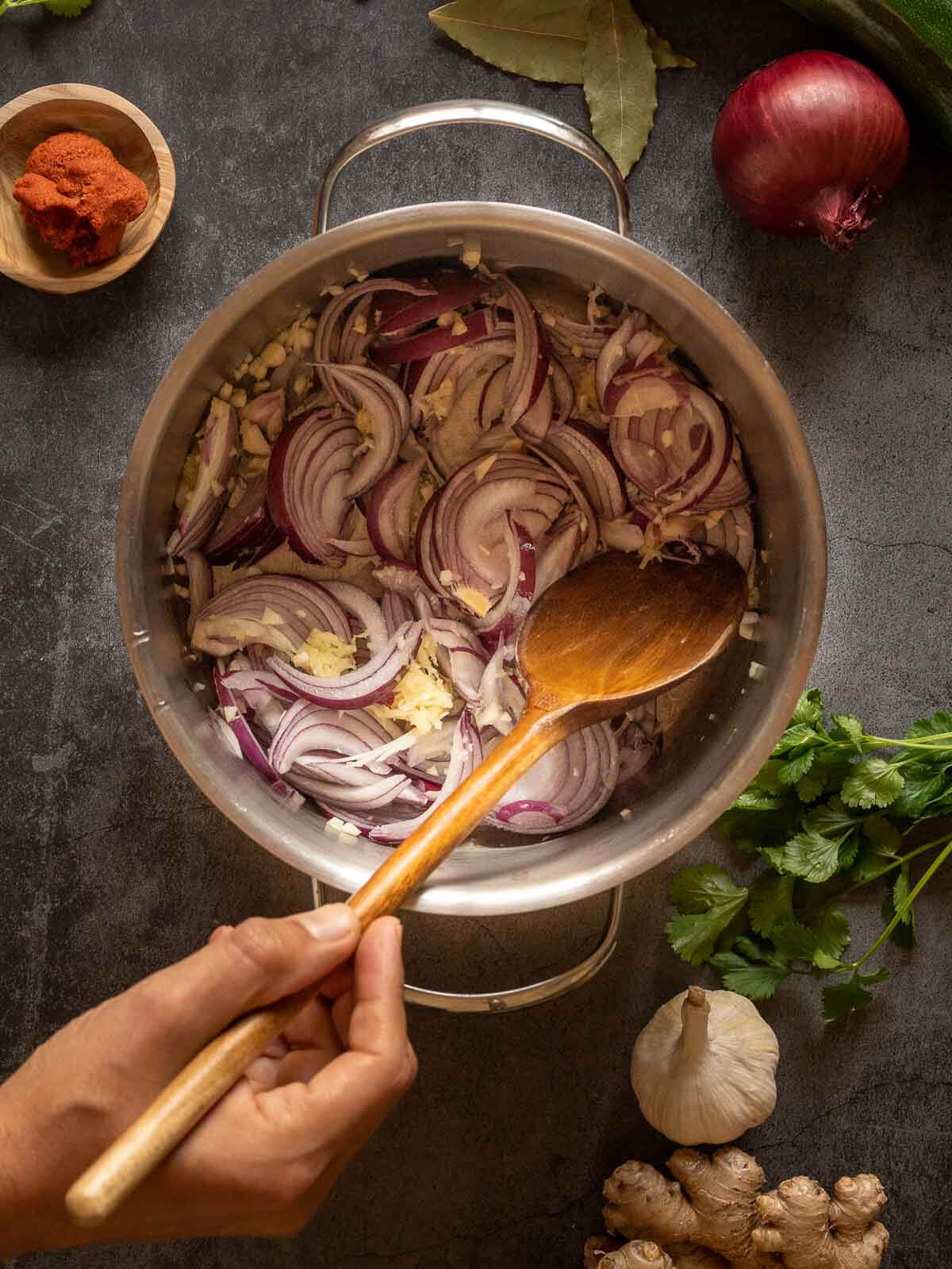 Stir fry onion, garlic, and ginger. We either use coconut oil or simply skip oil to make it oil-free.
Hint: don't let the garlic burn; as soon as it looks cooked, it is time to stir in the curry paste and hard vegetables.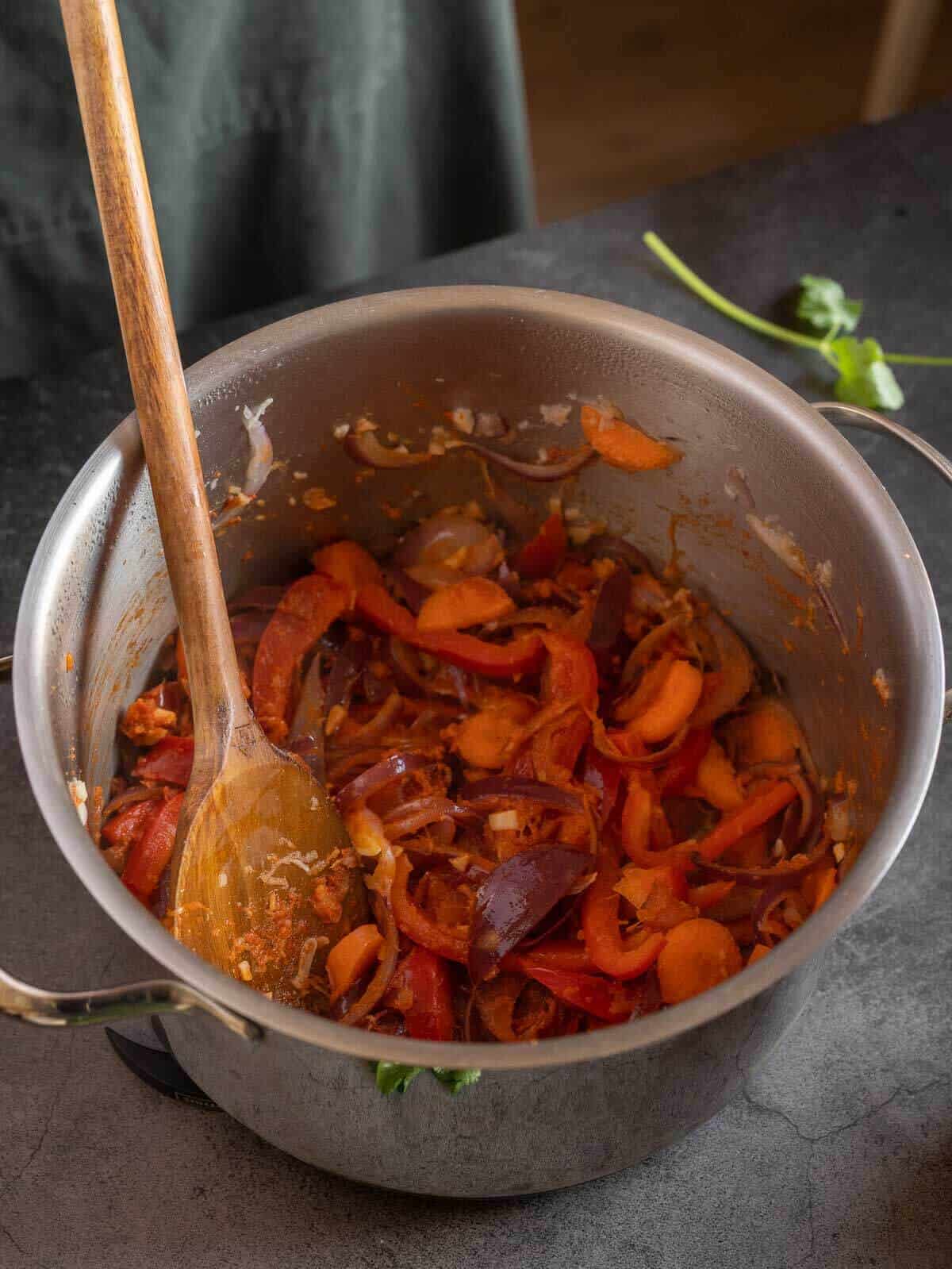 Stir in the carrots, red bell peppers, and curry paste.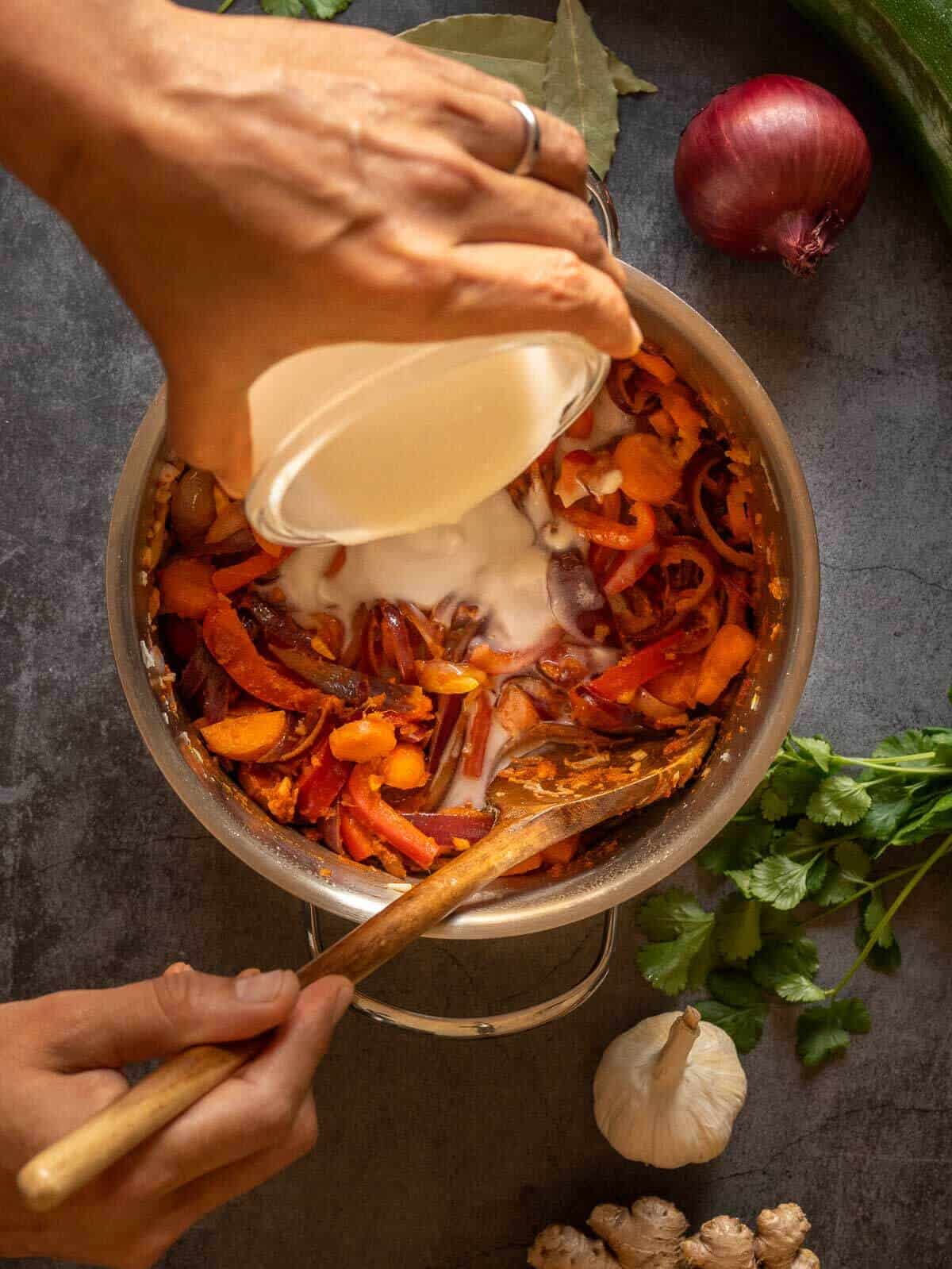 Add the coconut milk.
Hint: cut into big chunks and add softer vegetables that get cooked in minutes, like summer squash, broccoli, or cauliflower, during the final 5 minutes of cooking ~ when all vegetables are 90% soft to the final desired consistency.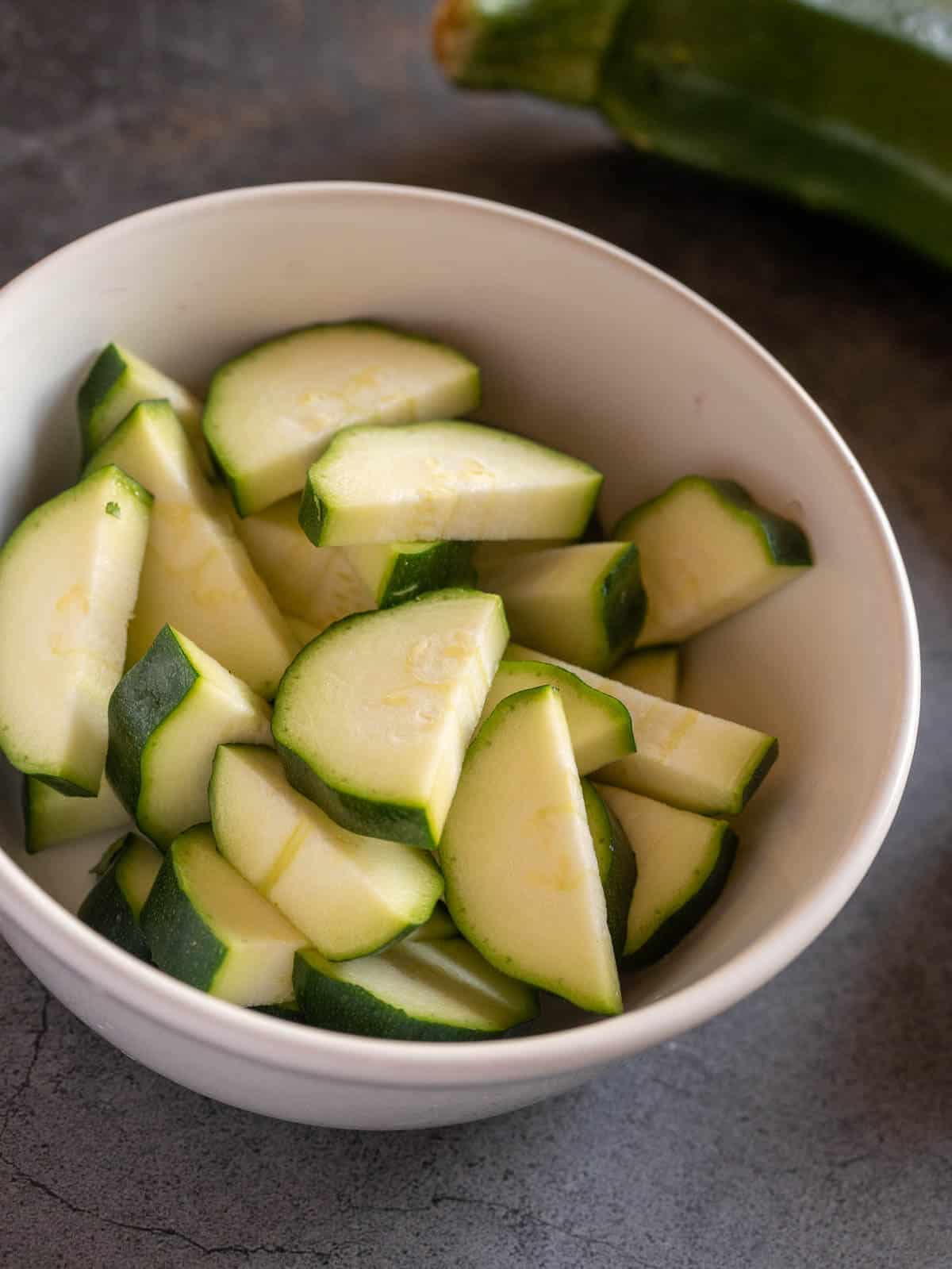 Continue with the fatty component and liquids.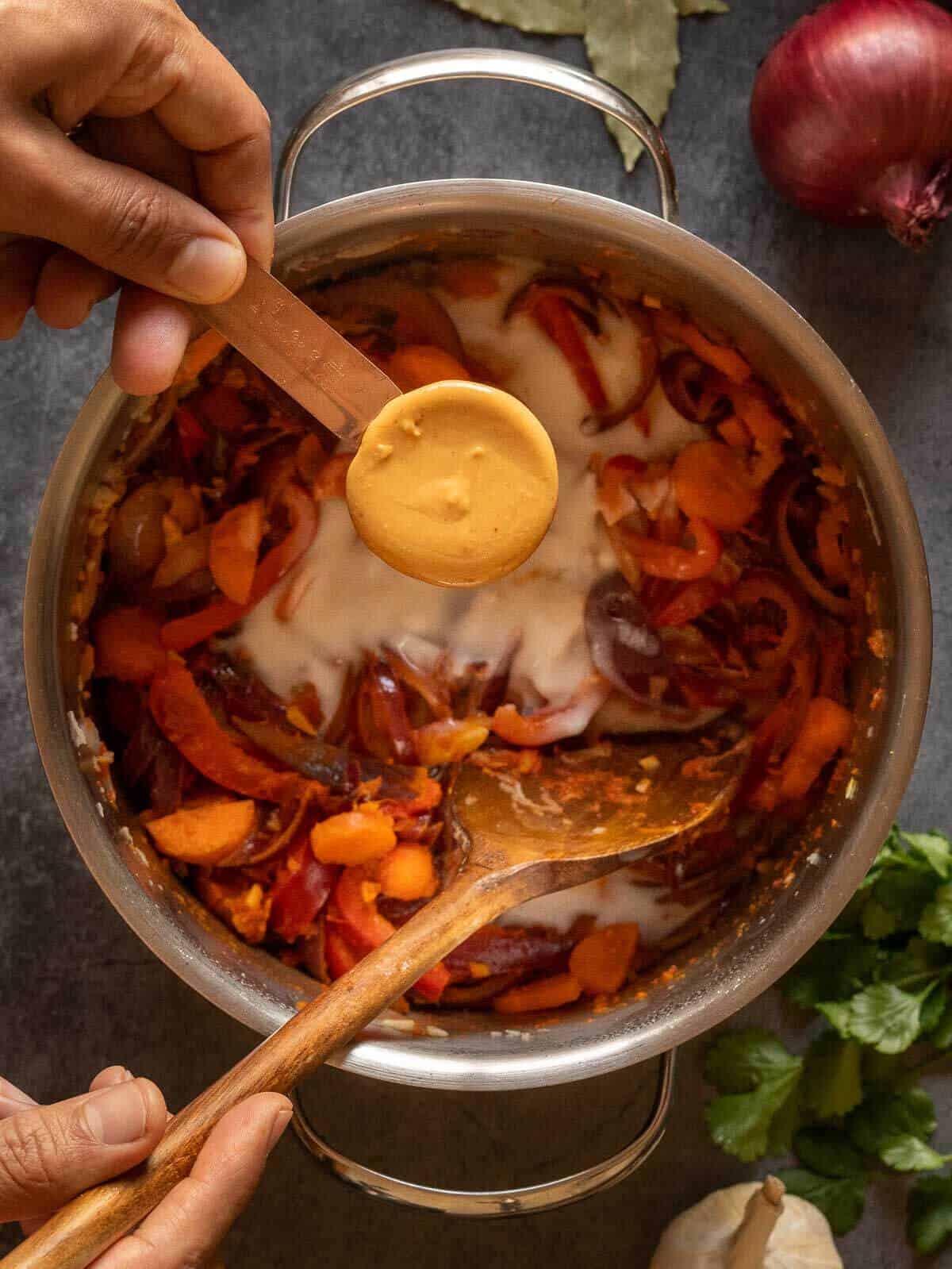 And the peanut butter, then give the curry a good stir and see how the pot liquids change color.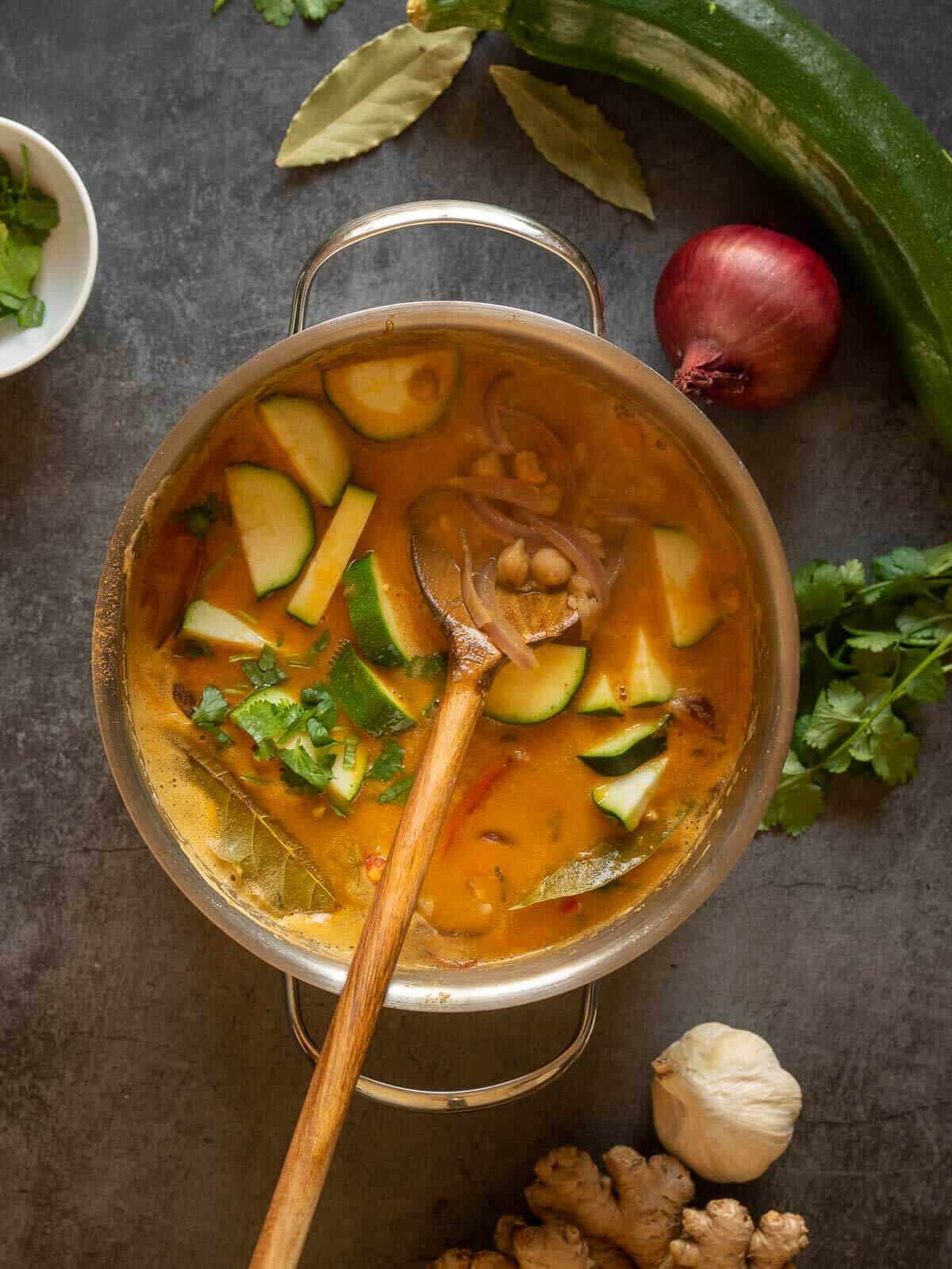 Add the vegetable broth, chopped coriander, cinnamon, and any additional veggies, such as zucchini. Cook on medium heat.
Hint: if you like spicy food, we suggest adding an extra tablespoon of red curry paste or a pinch of cayenne pepper.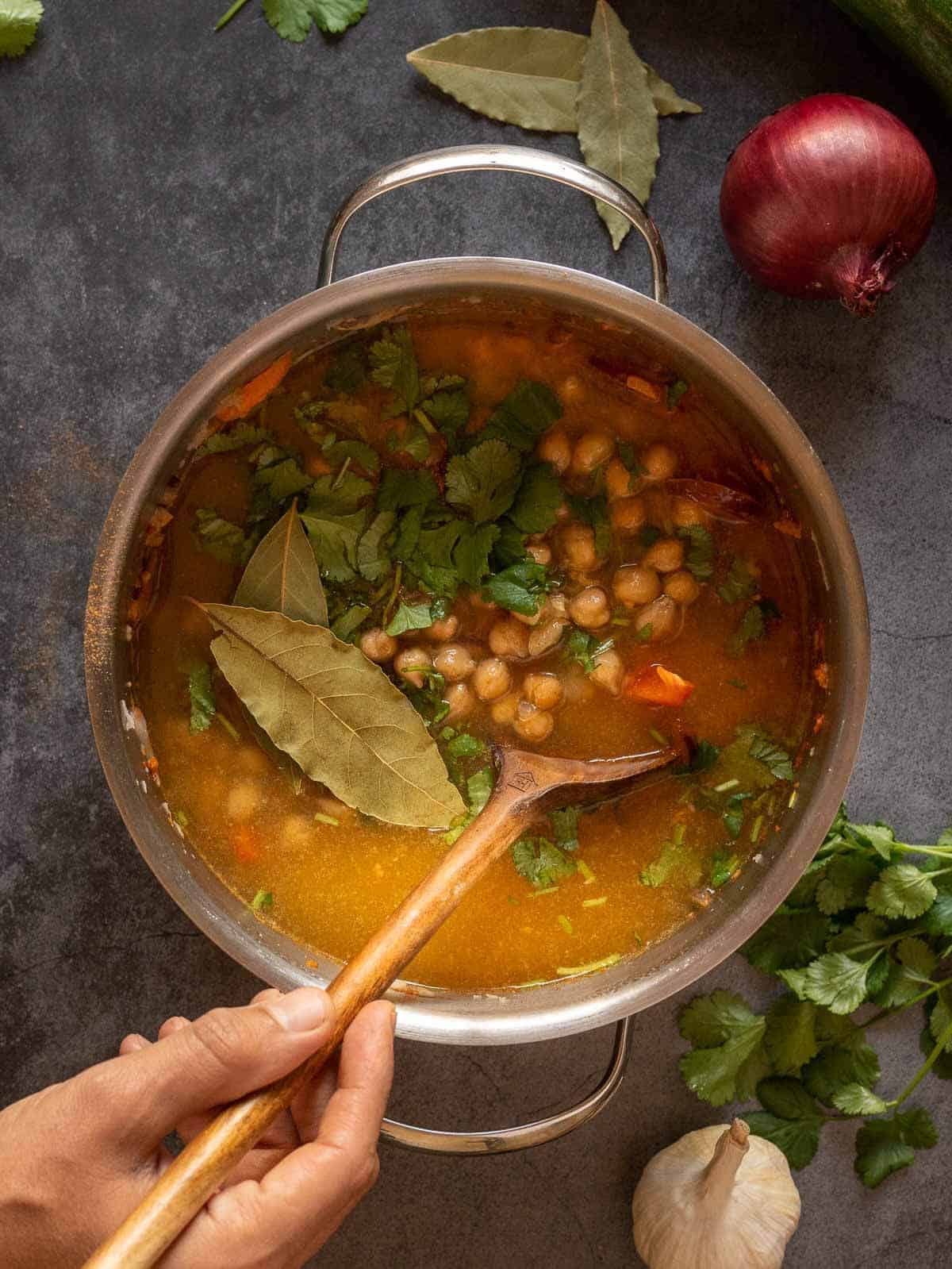 Add the remaining ingredients, such as an optional bay leaf and chopped cilantro, and cook on medium-low heat until the veggies are soft.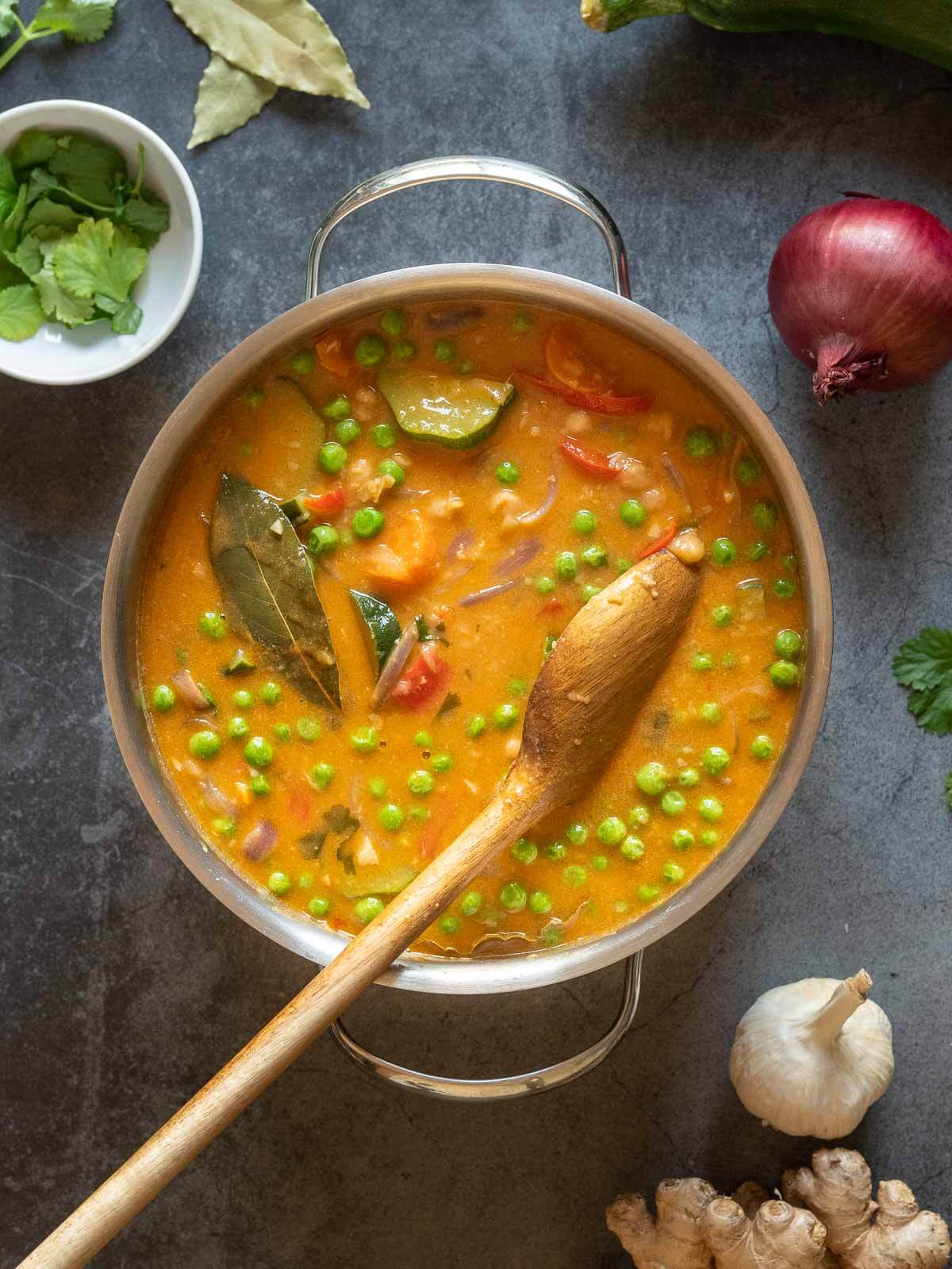 When the curry is ready, add the optional frozen peas, and adjust the seasonings, like salt and pepper.
Hint: Thai curries are way more liquid than Indian curries. They thicken with time, but they should look more like a soup, so you can spoon delicious steamed rice to pair it.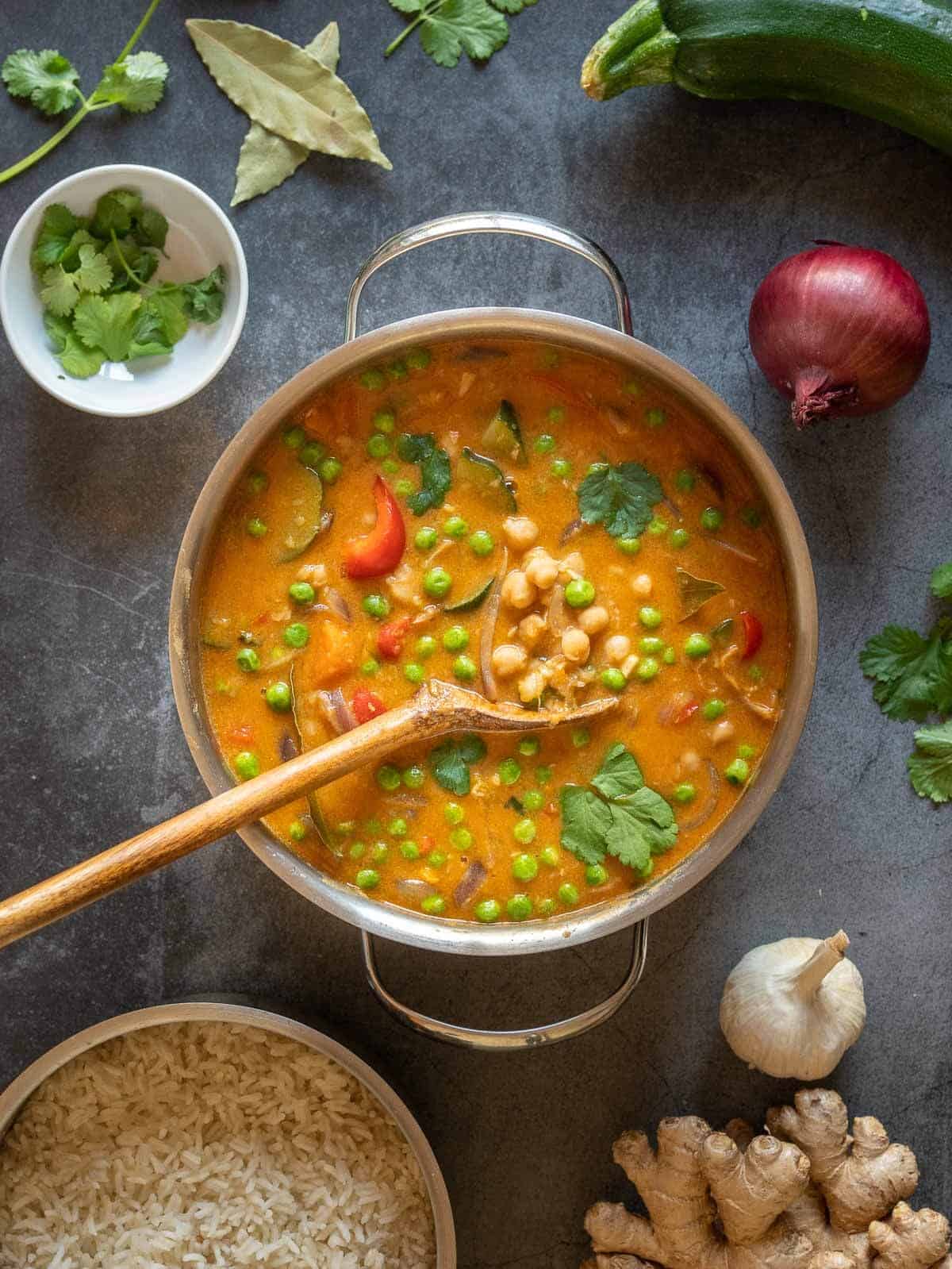 Serve hot and garnish with coriander leaves and/or toasted peanuts, and serve with freshly cooked rice.
🍶 Substitutions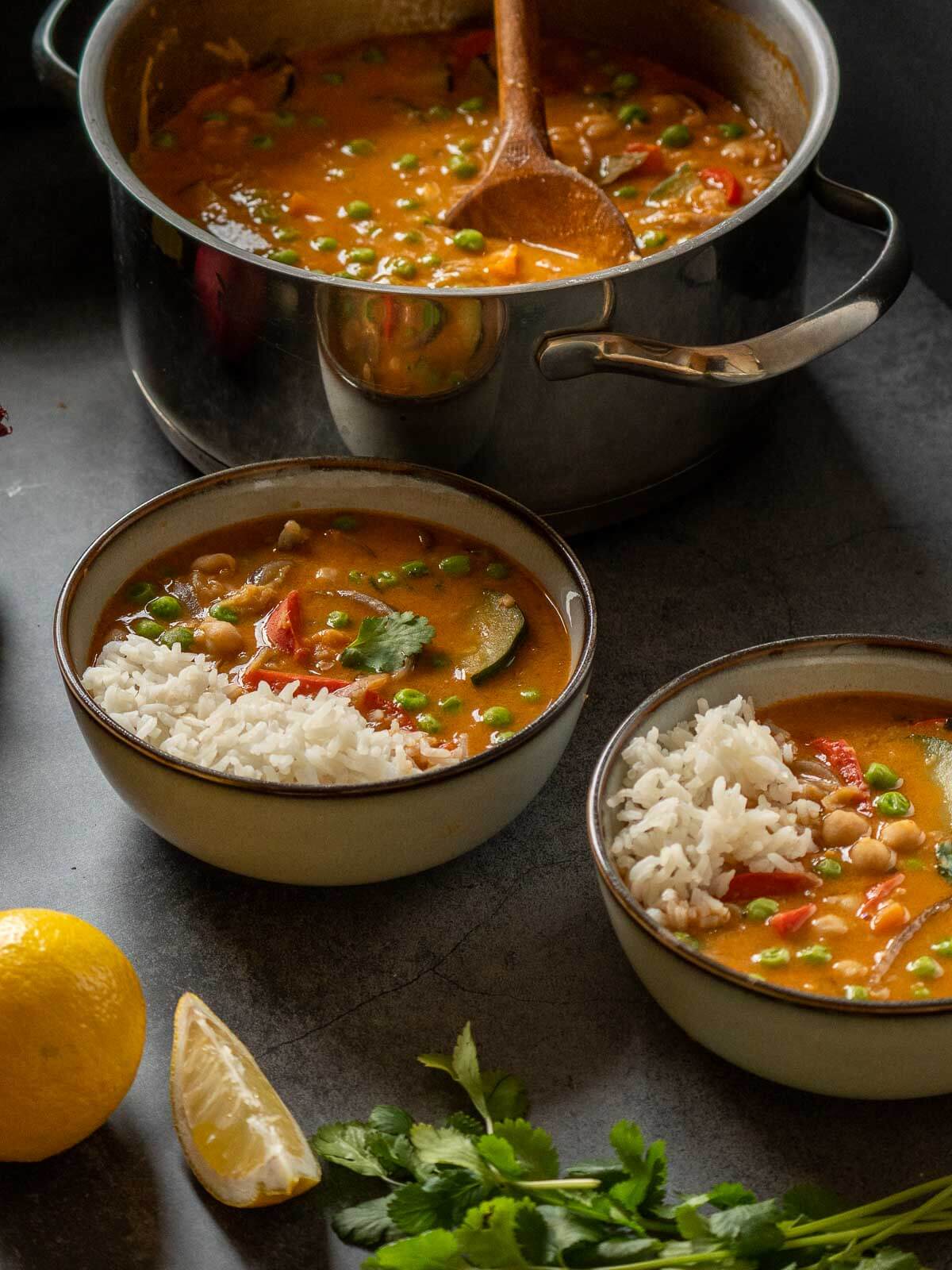 Curry paste - you can easily give this recipe an Indian twist using curry powder. We suggest garam masala, chopped tomatoes, or tomato paste.
Ginger - Thai curry recipes need ginger to taste authentic. If you find galanga (Thai ginger) in your local ethnic store, go for it. You could also use ginger powder, but fresh is ten thousand times better.
Carrots - you can sub for diced sweet potatoes. A small sweet potato should be enough. Butternut squash also works excellently.
Cinnamon powder - you can skip it or sub for smoked paprika.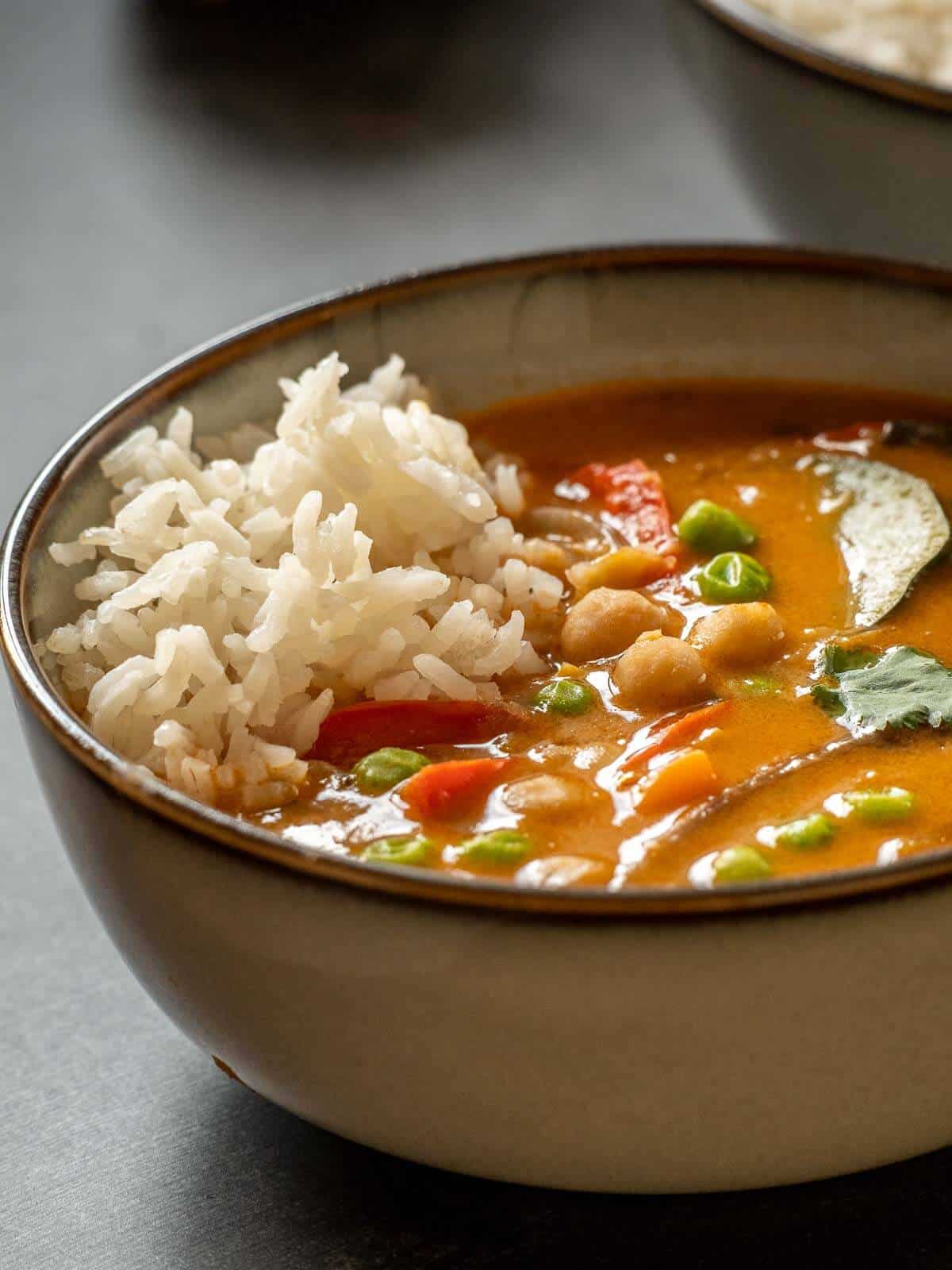 🥡 Storage
Store this salad in a BPA-free airtight container in the fridge for up to 3 days.
You can freeze your curry in an airtight container in portions, perfect for meal prepping!
You can then thaw it in a small saucepan or microwave.
💡 Top tip
Chickpeas are a great plant-based protein source and also a cheap one. Luckily cooked, canned chickpeas are readily available in most grocery stores. If you want to make them even more affordable, cook a whole batch of chickpeas in an instant pot or stovetop, portion, and freeze them.
So whenever you want to make a chickpea dish, you can easily add frozen cooked beans to your dishes and expedite the recipe timings.
🥢 How to serve
Serve this tasty weeknight dinner with aromatic Jasmine rice and a splash of fresh lime juice.
If you use Indian curry, such as garam malasa curry, we suggest you use steamed basmati rice, brown rice, or vegan naan bread.
If you use naan bread, you may want to cut the vegetable broth in half to have a thicker curry.
chickpeas contain plenty of plant-based protein, but you can add delicious texture and additional protein punch with crispy tofu.
❓ FAQ
Does Thai food have chickpeas?
Although it is hard to find Thai recipes that use chickpeas, some do, like a dish called "Gang Kua Gai." It is a chicken dish that can be served with peanut sauce and chickpeas.
Does chickpea curry have protein?
Yes, chickpea curry has protein. Chickpeas are a good source of plant-based protein, fiber, and minerals like magnesium and zinc. Protein is essential for muscle health, energy levels, and weight management.
What is the secret to Thai curry?
Make it watery and try using as many fresh and good quality staple Thai food ingredients such as coriander, Galanga (Thai ginger), palm sugar, lemon grass, Thai basil, kefir lime, full-fat coconut milk, and good quality curry paste.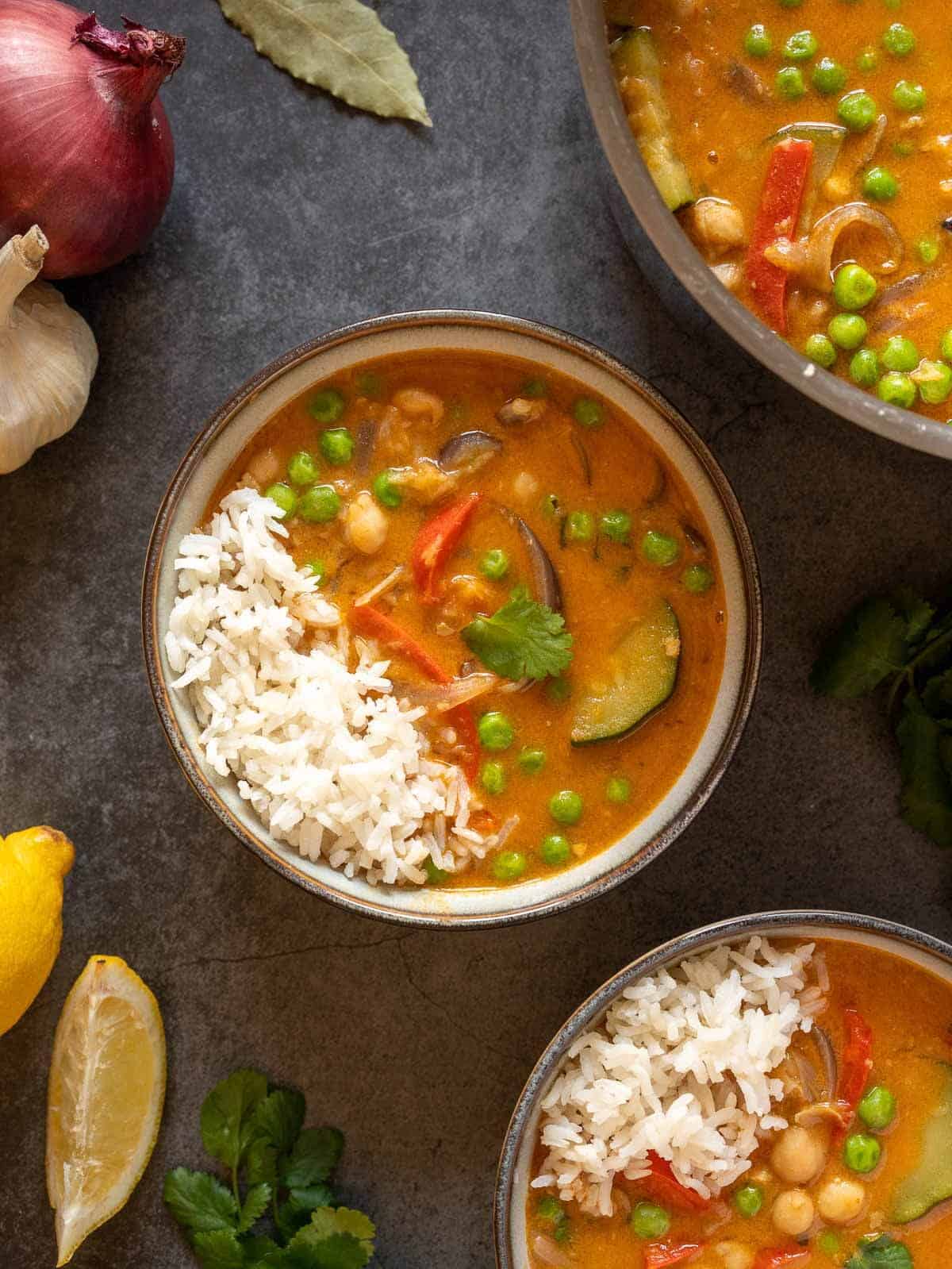 📚 More Thai curry recipes
If you like making everything from scratch, you may want to make your own yellow or green curry paste. They imbue absolutely delicious flavors to your stew recipes.
If you like simple dishes with chickpeas, try out this Traditional Spanish Chickpeas with spinach tapa.
⭐ If you try this Thai Chickpea Curry recipe, let us know! 💬 Leave a comment, rate it, and don't forget to tag us @ourplantbasedworld on Instagram. Cheers!
📋 Recipe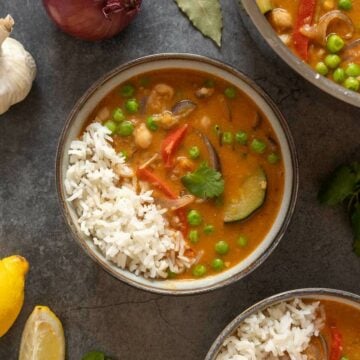 Coconut Chickpea Curry (Vegan)
Massaman Curry is a red curry with Persian influence, which combines creamy coconut milk, peanuts, and Thai and Indian spices. This version is vegan, made with chickpeas and a delicious vegetable selection.
Equipment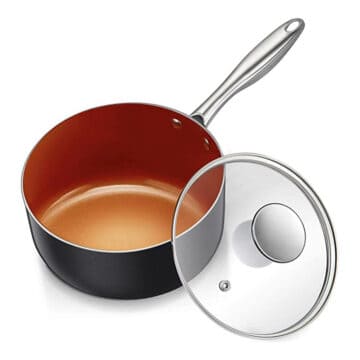 (affiliate link)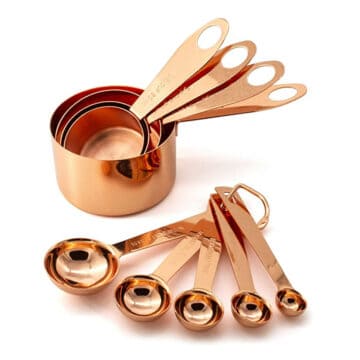 (affiliate link)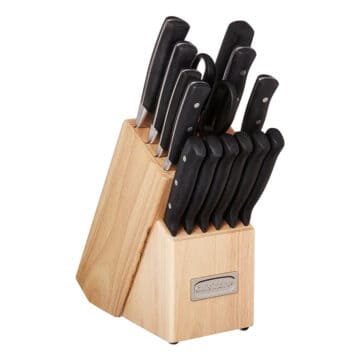 (affiliate link)
Ingredients
Optional:
½

teaspoon

sea salt

to taste, optional, omit if salty if enough for you.

½

zucchini

large, or 1 small. Sliced and halved into half moons.

1

cup

green peas

frozen

1

tablespoon

coconut oil

Or vegetable oil. Omit if oil-free

1

oz

peanuts

toasted,or cashews
Directions
Cut veggies. Dice the zucchini, pepper, and carrots into medium-sized cubes.

Chop red onions, garlic, and grate ginger.

Stir-fry. Heat the saucepan, add the coconut oil and add onions, garlic, and ginger.

Add carrots, peppers, and curry paste.

Stir in the coconut milk, peanut butter, half of the chopped coriander, and cinnamon.

Add the chickpeas, vegetable stock, and bay leaves.

Optionally add the zucchini and cook for 2-3 minutes.

Turn off the heat. Optionally top with the green peas and adjust salt. Let the curry settle for 5 minutes before serving. Remove bay leaves.

Garnish with toasted peanuts and fresh coriander.
Notes
You can add any other vegetables you like; just make sure to adjust the seasonings, so the flavor remains the same.
i.e. adding more curry paste, ~½ tablespoon curry for every cup of vegetables.
Nutrition Facts
Calories:
357
kcal
Carbohydrates:
54
g
Protein:
16
g
Fat:
10
g
Saturated Fat:
4
g
Polyunsaturated Fat:
2
g
Monounsaturated Fat:
2
g
Sodium:
709
mg
Potassium:
688
mg
Fiber:
14
g
Sugar:
15
g
Vitamin A:
3616
IU
Vitamin C:
44
mg
Calcium:
121
mg
Iron:
5
mg
Nutrition Facts
Coconut Chickpea Curry (Vegan)
Amount per Serving
% Daily Value*
* Percent Daily Values are based on a 2000 calorie diet.
🌡️ Food safety
Cook to a minimum temperature of 165 °F (74 °C)
Do not use the same utensils on cooked food, that previously touched raw meat
Wash hands after touching raw meat
Don't leave food sitting out at room temperature for extended periods
Never leave cooking food unattended
Use oils with a high smoking point to avoid harmful compounds
Always have good ventilation when using a gas stove
See more guidelines at USDA.gov.
Nutritional Disclaimer
The information shown is an estimate provided by an online nutrition calculator. It should not be considered a substitute for a professional nutritionist's advice. See our full Nutritional Disclosure here.
Affiliate Disclaimer
Please note that some of the links here are affiliate links, and I will earn a commission if you purchase through those links. I recommend all of the products listed because they are companies I have found helpful and trustworthy.