Do you love curries but need to make something that everyone in your family can enjoy? Are you looking for new and inventive ways to make a delicious vegan dinner without all the fuss? Look no further! This Thai Vegetable Massaman Curry with Tofu is just what you're looking for. Whether making it in an Instant Pot or on the stovetop, this flavorful curry will bring a smile to the faces of everyone at the table - plus, it's made using ingredients that most people keep on hand! So if you're short on time and want something yummy, give this recipe a try tonight. I promise: You won't regret it!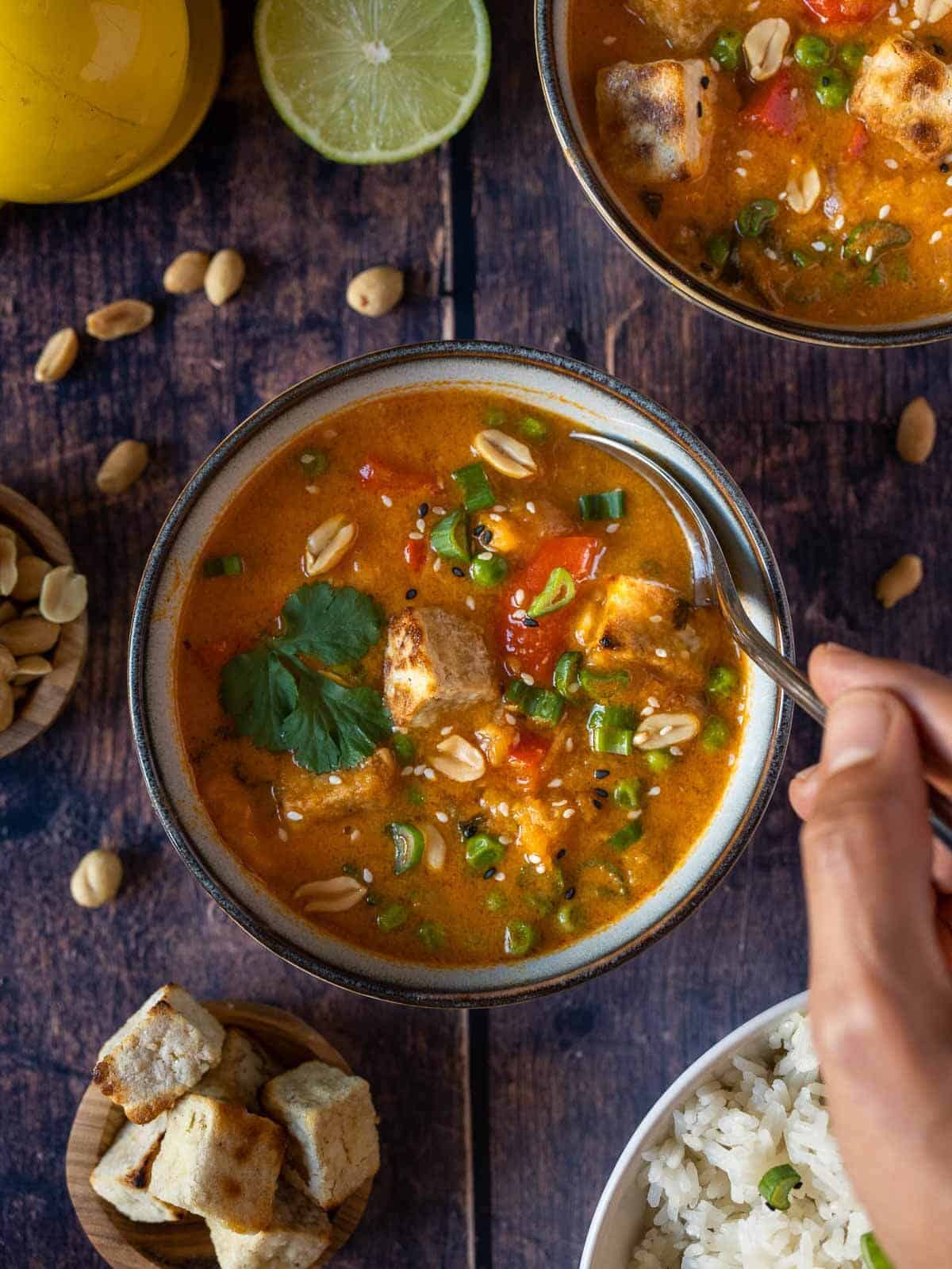 This massaman curry can be made both on an instant pot or the stovetop. Make it your main meal, and I suggest you make a big batch, as stews leftovers usually taste like heaven; this vegan massaman curry recipe is no exception.
We like pairing Thai Massaman curry with steamed Jasmine Rice.
This was inspired by our red Thai curry and the chickpeas coconut curry, which also uses Massaman curry paste.
Jump to:
🤔 What is Massaman Curry?
Massaman curry is a Thai dish usually made with beef or chicken. The sauce contains coconut milk, red curry paste, and peanuts.
The flavor of Massaman curry is unique because it integrates many flavors not regularly found in Thai food such as bay leaves, cinnamon, and peanuts. Why? Massaman is a deformation of the word mosalman, an ancient Persian word that means meaning "Muslim-like." Hence, many used to call it the "Mussulman curry."
🧾 Ingredients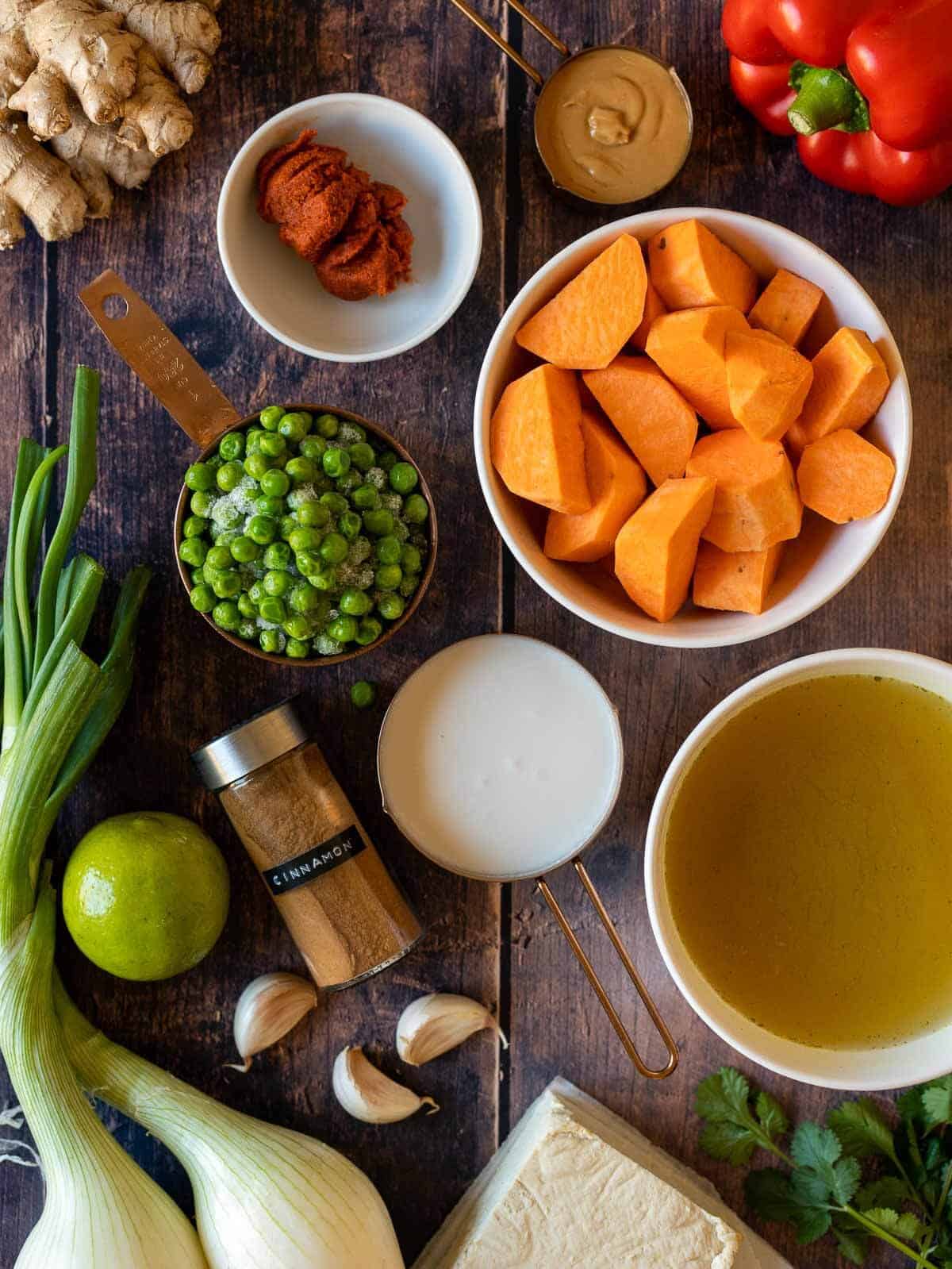 Sweet potatoes - to make the curry healthier, we decided to remove the palm sugar from the recipe and use naturally sweetened vegetables.
Red bell pepper - another vegetable with a sweet profile and fantastic texture that goes perfectly with the dish.
Green beans provide a fantastic texture and add a touch of sweetness to pop up in every bite.
Ground Cinnamon - is an essential ingredient that makes this dish different from other Thai curries. If you are not a fan, feel free to omit it. You can also use a cinnamon stick and let it imbue the curry with its flavor as it cooks.
Green onions - add flavor and tanginess, and adds umami.
Garlic - is a vital ingredient to make any curry flavor shine! Use fresh!
Fresh ginger - adds zing to the dish; aim for freshly minced ginger.
Coconut milk - always use full-fat coconut milk for a creamier curry and light coconut milk for a healthier and less caloric Thai curry.
Vegetable broth - provided the liquid for that stew to develop, the substances that help imbue all the flavors into the vegetables.
Massaman curry paste - we like using the vegan massaman paste, which does not contain fish sauce or shrimp paste—only all the spices' goodness.
Peanut butter - is another important element of this dish.
Extra firm tofu - we used it to make our crispy tofu recipe, which adds protein and texture.
Lime juice - some acidity to the dish, which help to round up all the flavors. I usually add it just right before serving the dish.
See the recipe card for quantities.
🔪 Instructions
This vegan massaman curry is made in only one pot, and the recipe involves three simple steps in a nutshell.
Chopping your ingredients
Stir frying the onions, followed by the ingredients.
Cooking the curry until the vegetables are cooked.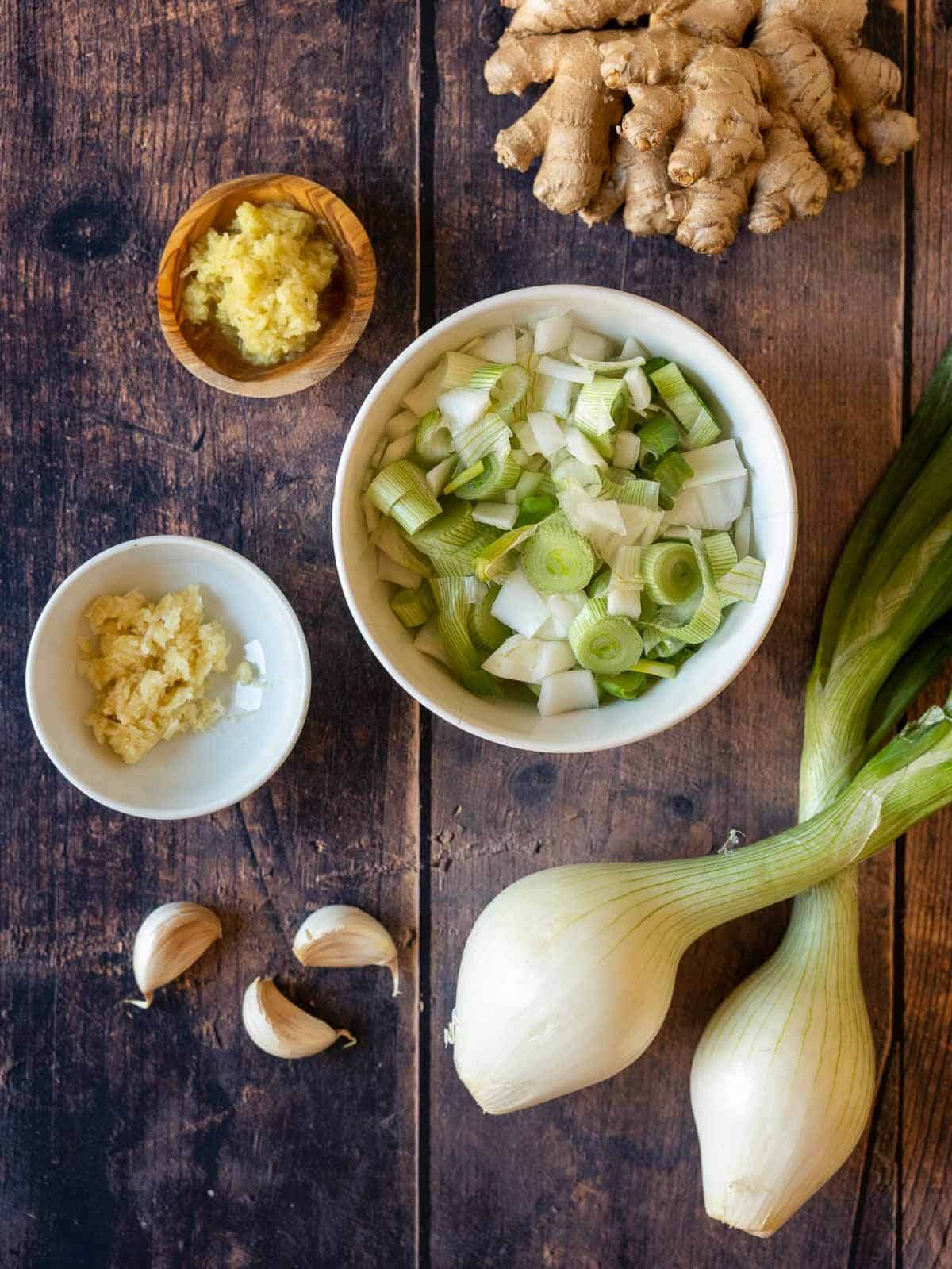 Chop the onion, mince garlic, and ginger.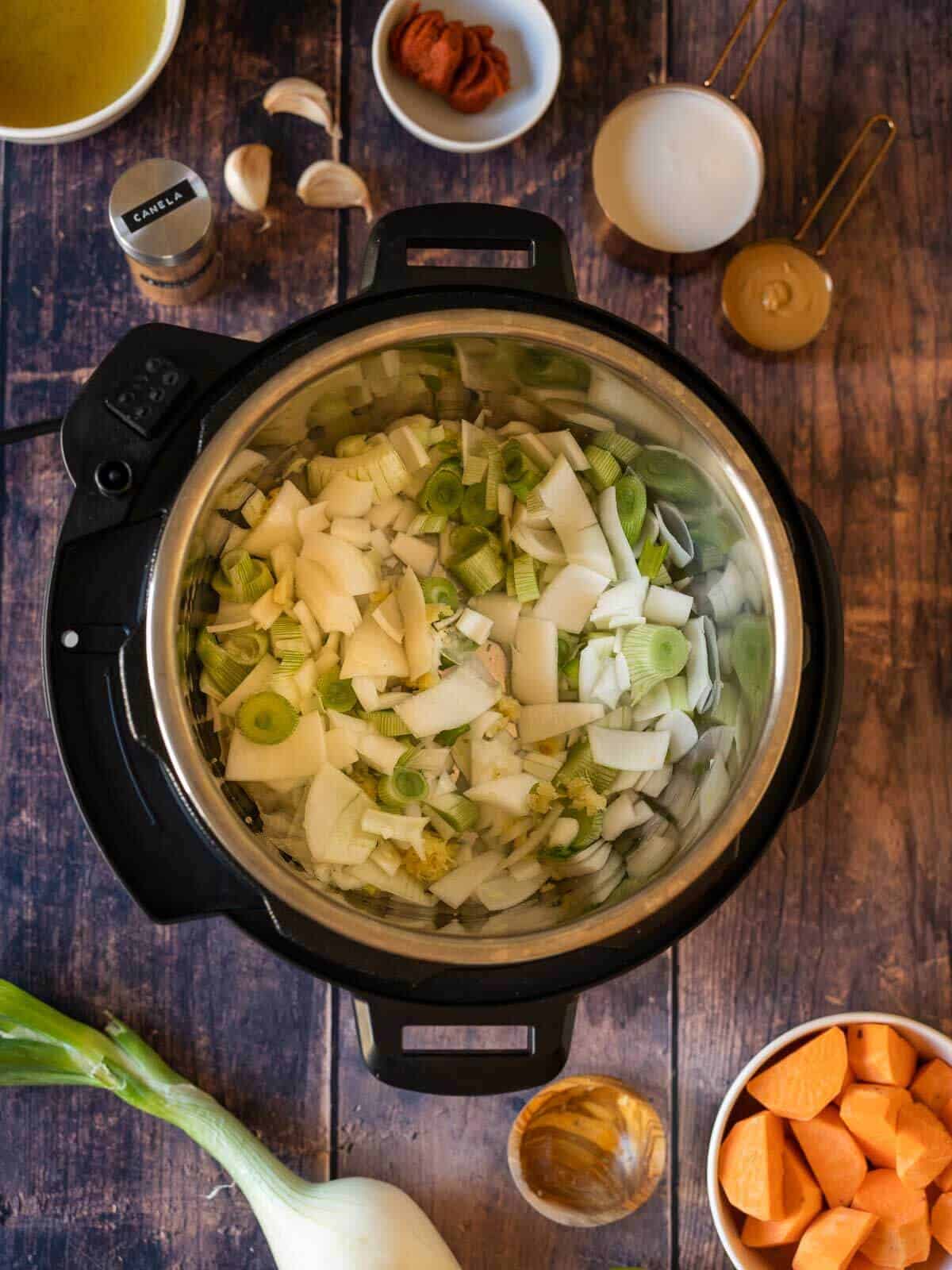 In a large saucepan, stir the onions, garlic, and ginger if used on the stovetop or the instant pot.
Hint: if you decide not to make the crispy tofu nuggets, you can simply stir fry the chopped nuggets for 5 minutes in a small saucepan, and if you don't mind their texture, simply add the dice firm tofu into the stew after adding the vegetable broth.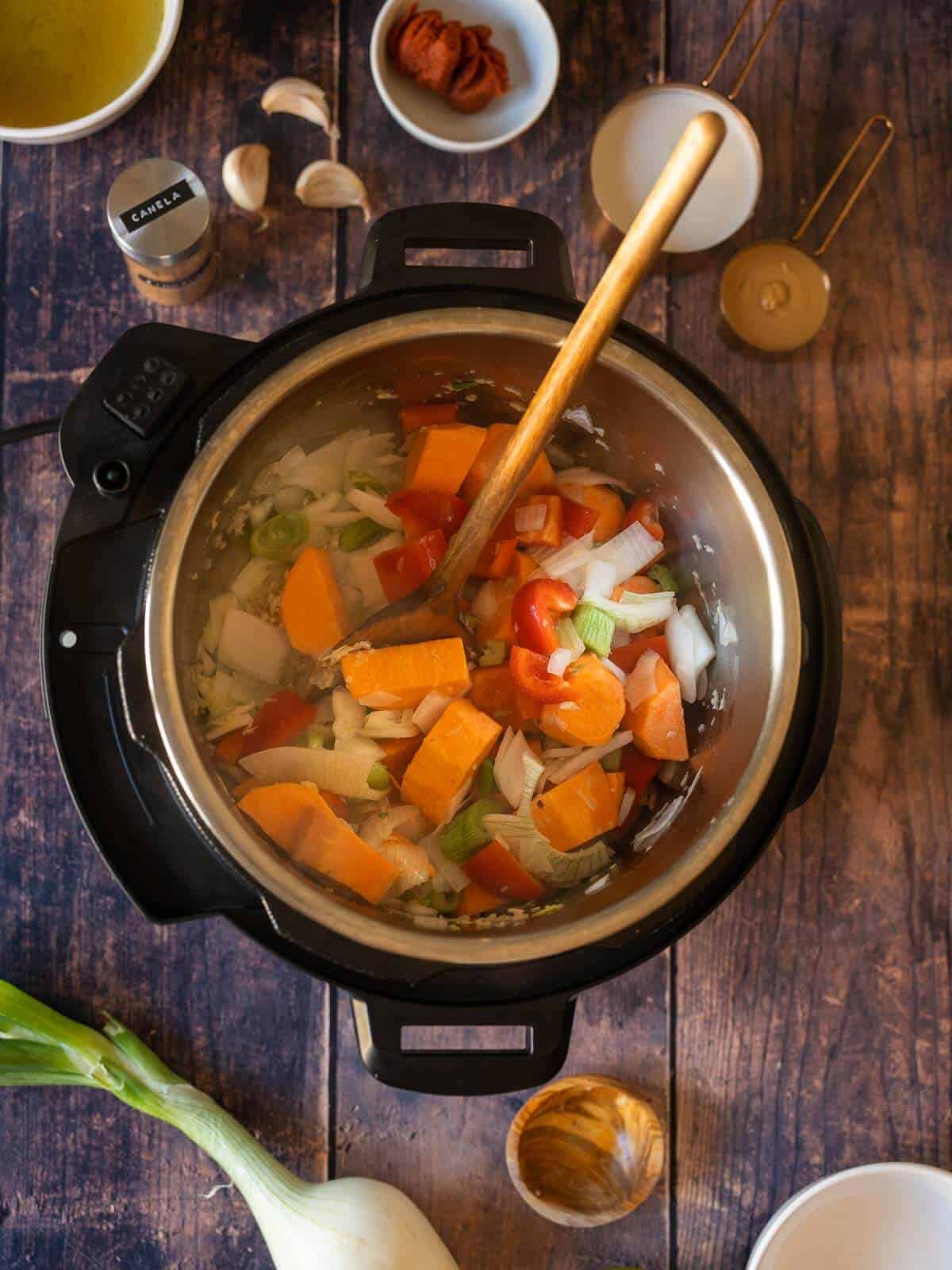 Add the chopped sweet potatoes and red bell peppers.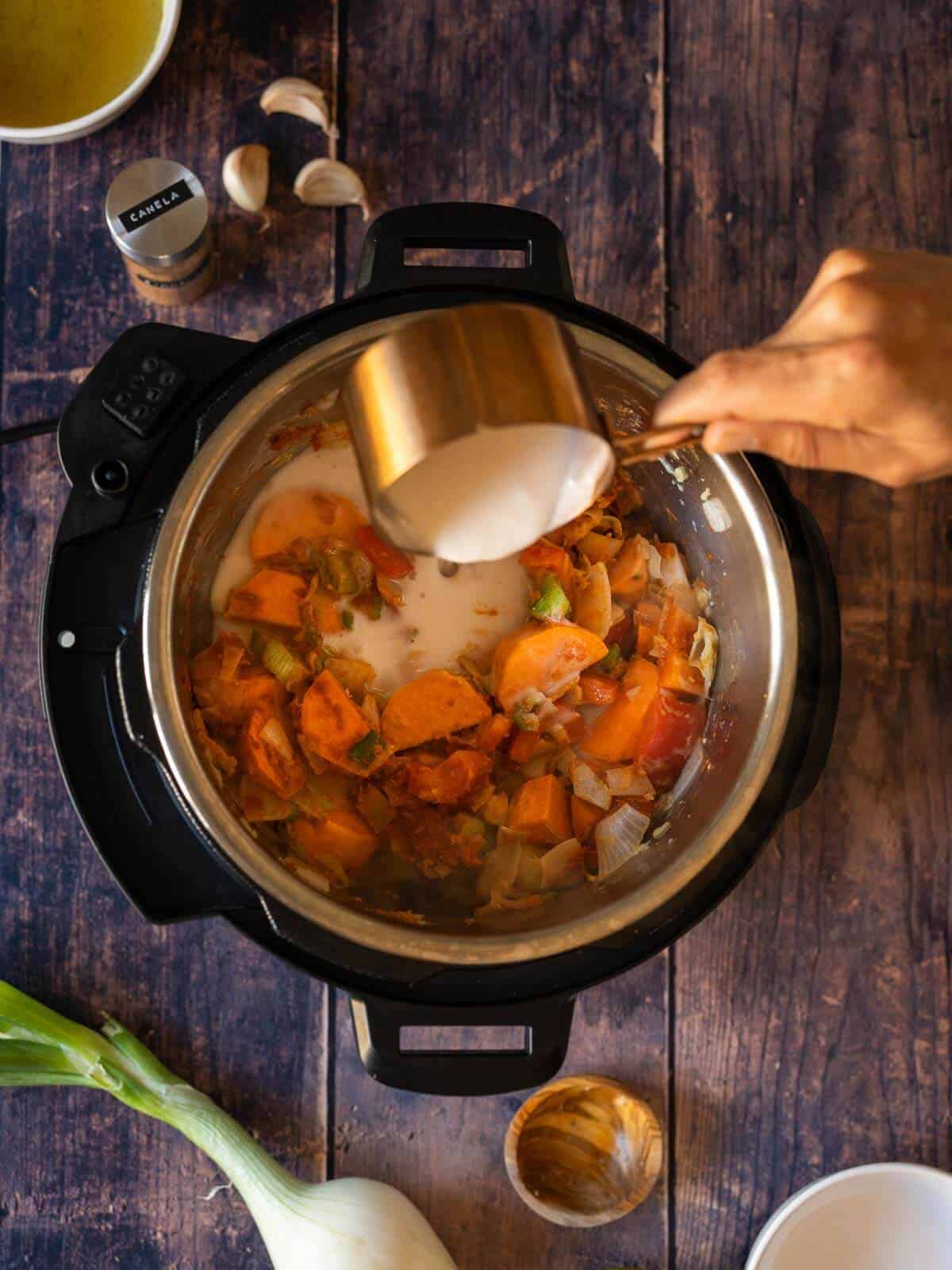 Stir in the curry paste and peanut butter and let the coat the vegetables- then add the full-fat coconut milk.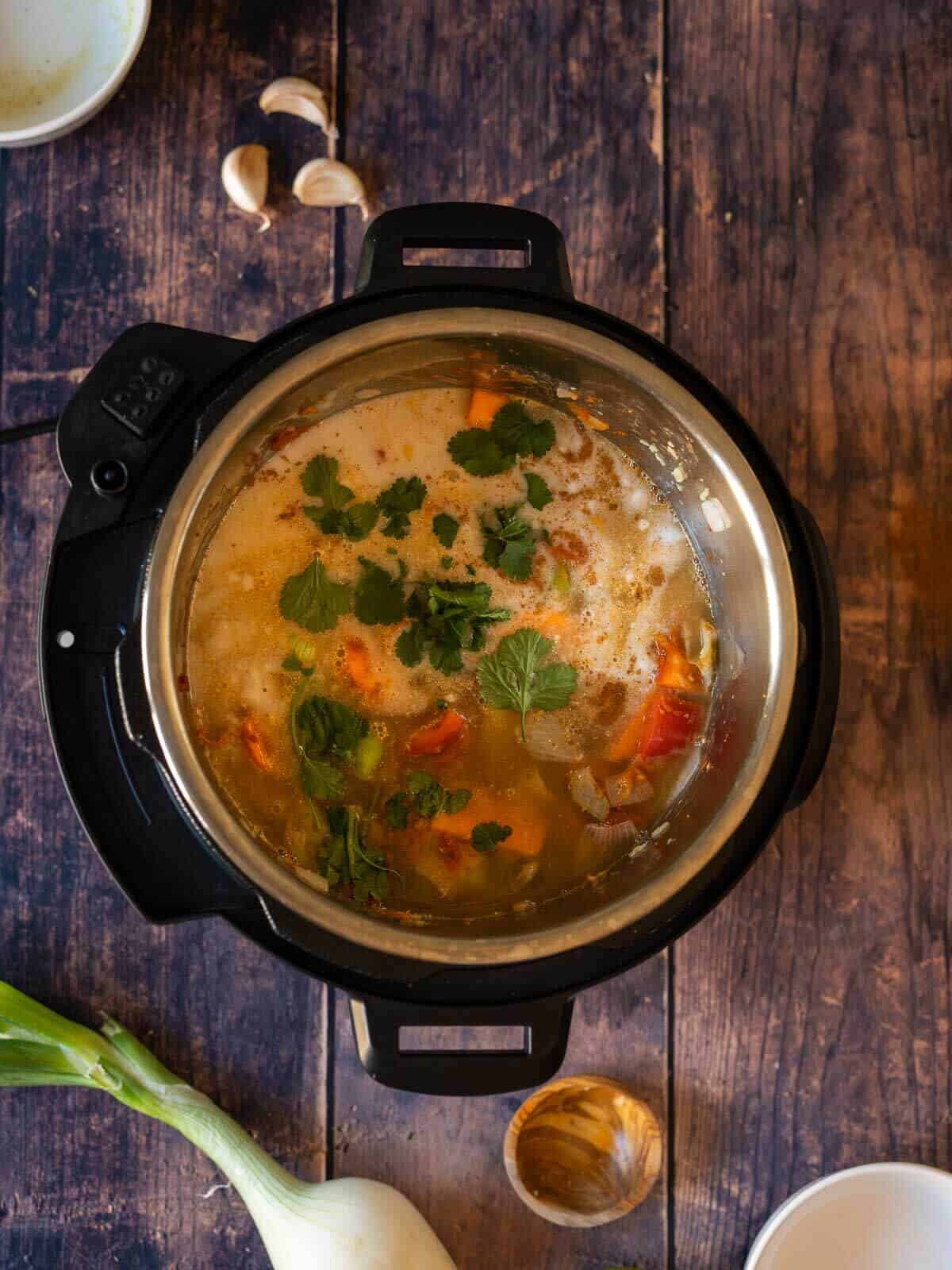 Add chopped coriander and vegetable stock.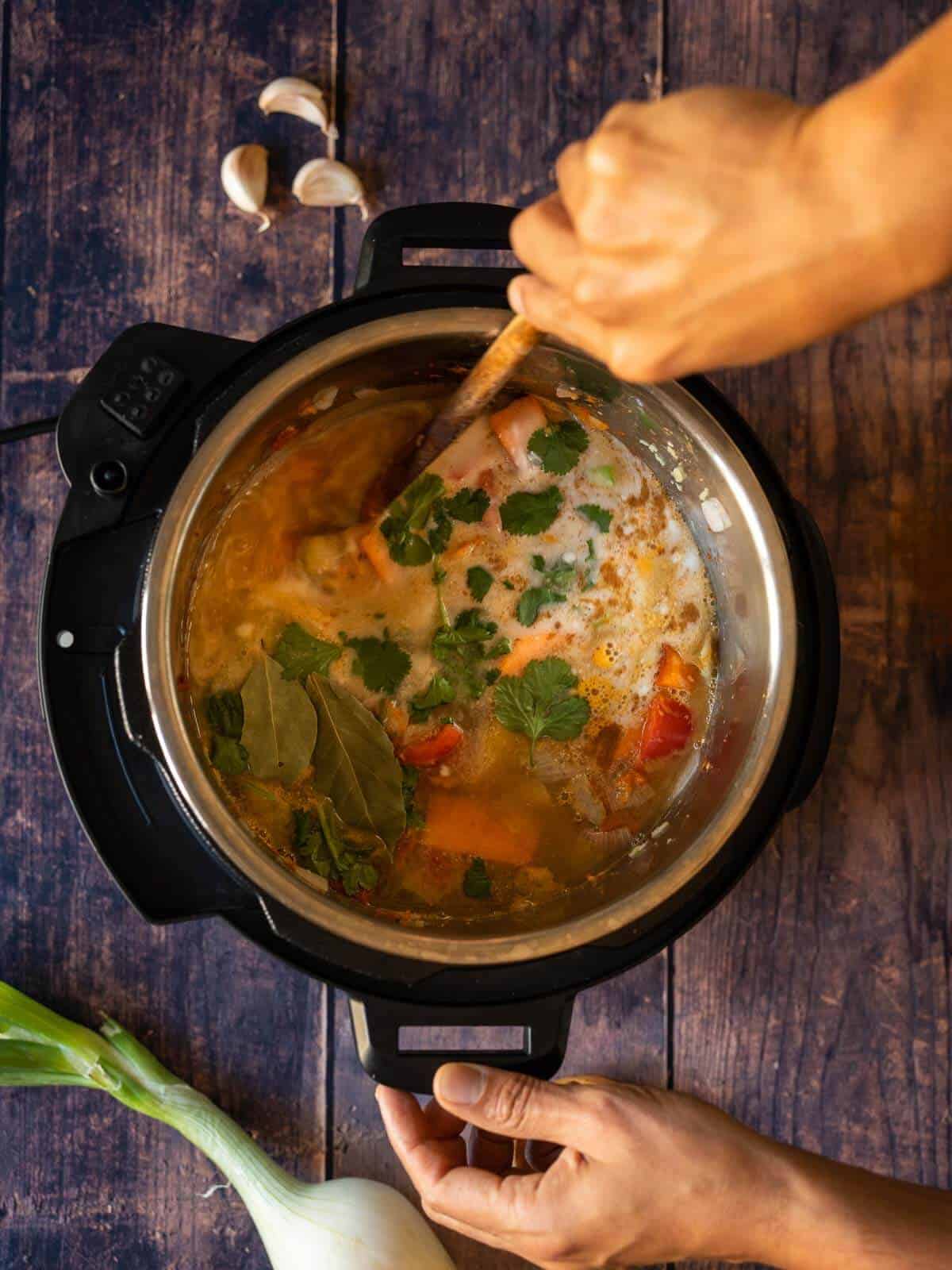 Optionally, add the bay leaves.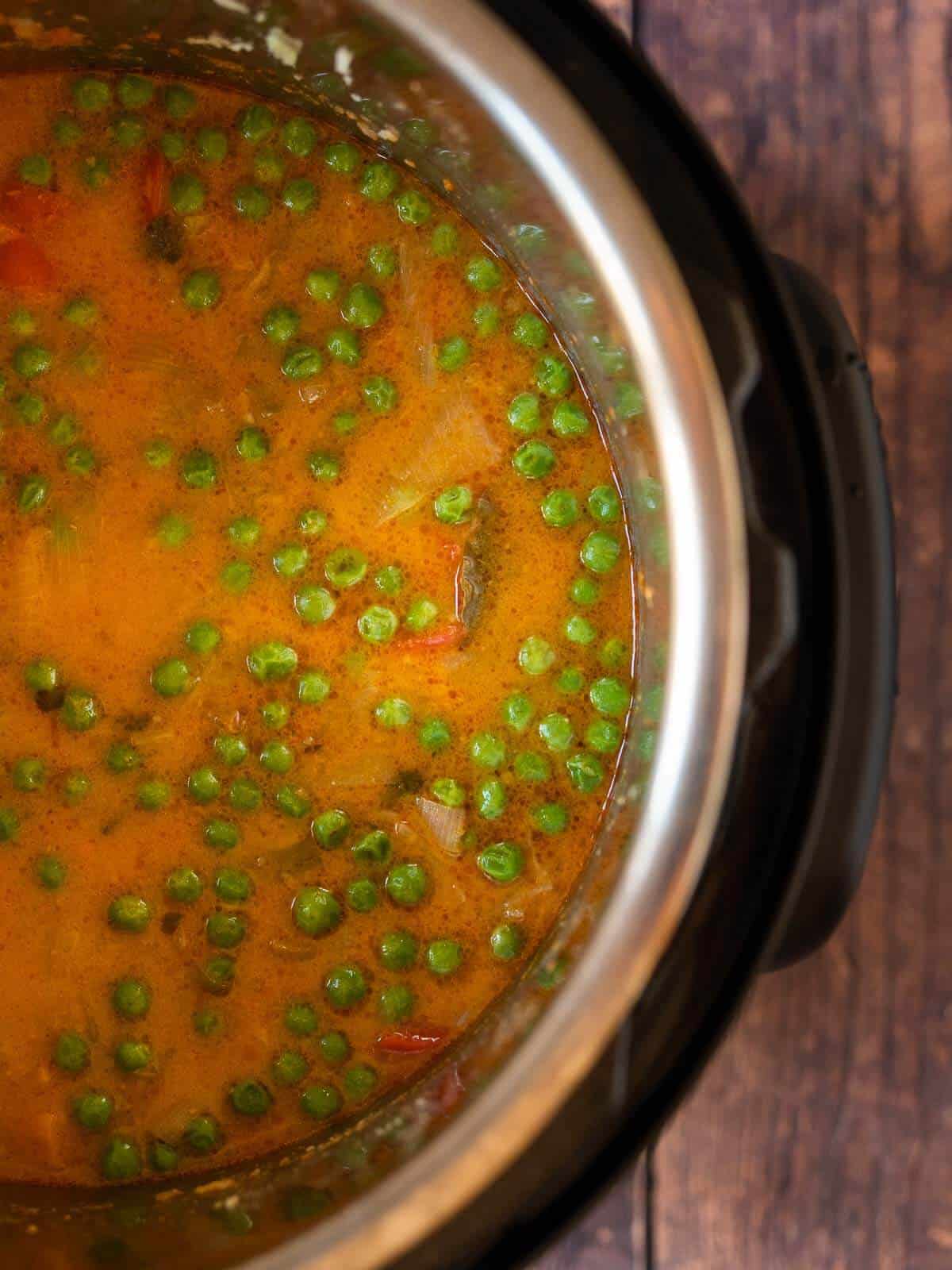 Add the frozen green peas.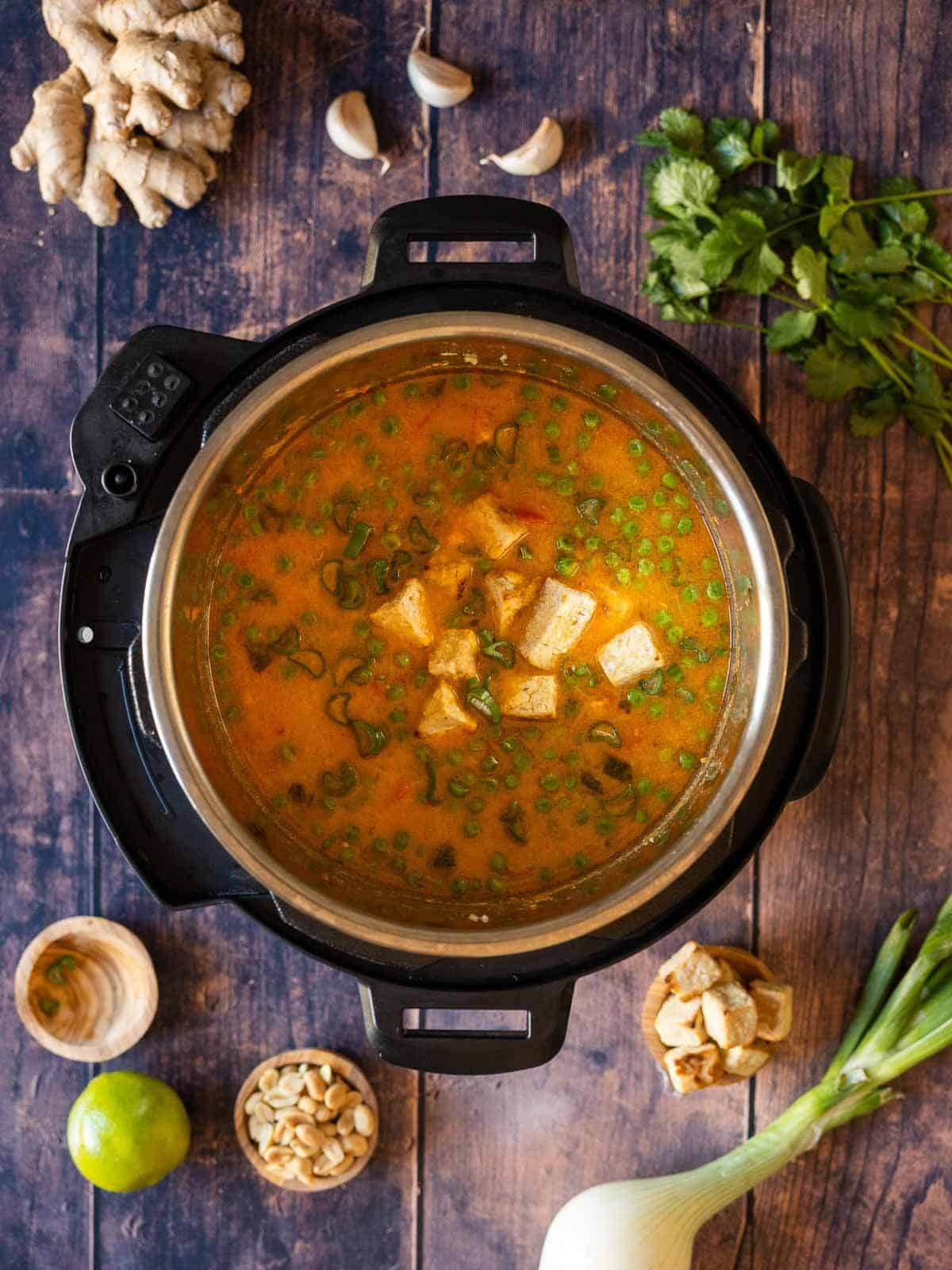 Remove from heat at add the crispy tofu nuggets.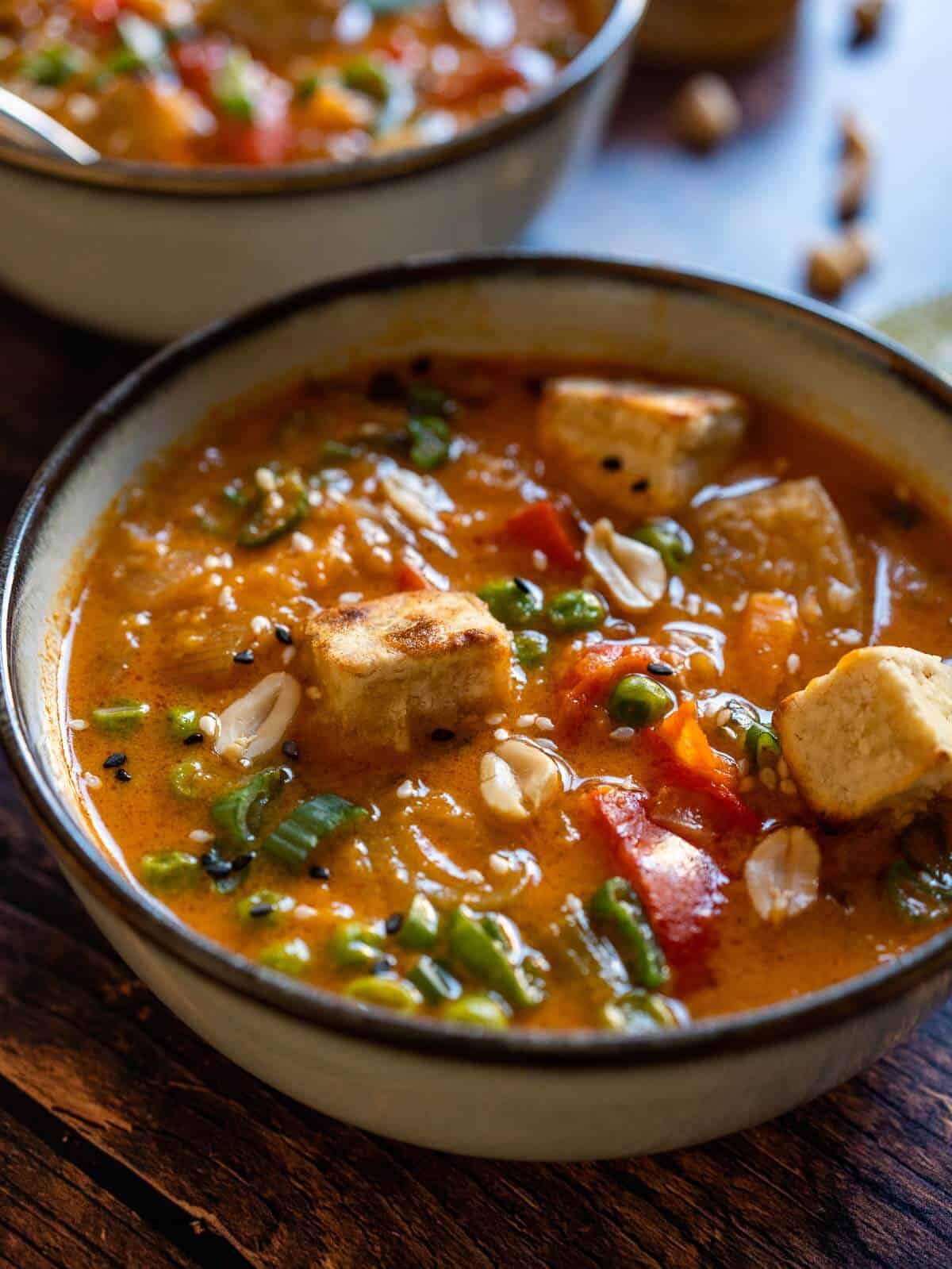 Serve with sprinkled crushed peanuts or toasted sesame seeds.
Hint: you can make the crispy tofu while you cook the curry; they will be ready as soon as the curry is. Just make sure you start from there and then start making the curry.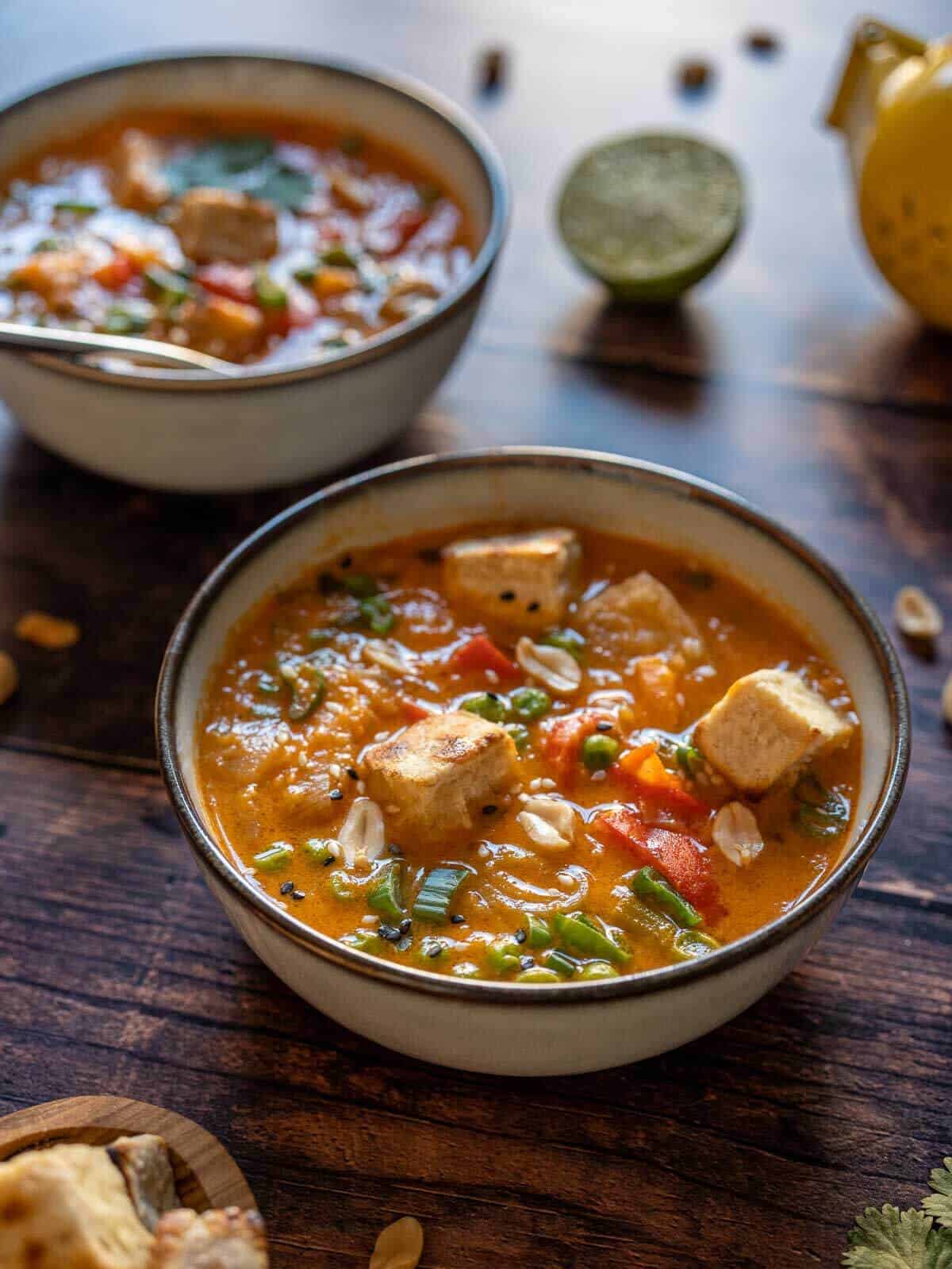 🍶 Substitutions
Sweet potatoes - substitute with chopped carrots or regular white potatoes.
Red bell peppers - use any other pepper color or zucchini.
Massaman curry paste - use any other curry pastes such as red, yellow, or green curry paste. Just make sure you add cinnamon and peanut butter so you get the unique vegan Thai massaman curry touch.
Peanut butter - use any other nut butter.
Fresh coriander - use crushed coriander seeds or Thai basil.
🥡 Variations
Spicy - the recipe is written as a mild curry, but you can make you massaman curry spicy, by adding an extra tablespoon of curry paste, chili paste, or chili flakes.
Healthier - skip the use of full-fat coconut milk.
More umami - if you want to add an extra layer of flavor, add two tablespoons of soy sauce.
🍽 Equipment
To make this delicious curry, you only need a large saucepan or an instant pot (affiliate link).
🥡 Storage
Store this salad in a BPA-free airtight container in the fridge for up to 3 days.
You can freeze this curry recipe using an airtight container, but it doesn't stand up well to freezing for more than 3 months.
🥢 How to serve
Serve with steamed Jasmine rice, quinoa, cauliflower rice, or brown rice.
❓ FAQ
What makes Massaman curry different?
Massaman curry is different because it contains a combination of spices that give it a unique flavor profile. The main spices used in Massaman curry are cinnamon, cumin, and sometimes cardamom and cloves. These spices are more often found in Indian curries. The spices and then combined with coconut milk, stock, and tamarind paste to create a flavorful and aromatic dish.
Is Massaman curry Thai or Indian??
There is some debate over the origins of Massaman curry, but it is generally accepted that it is a Thai dish. The most likely explanation for the dish's creation is that it was a fusion of Indian spices and Thai cuisine.
Is coconut milk OK in instant pot?
Yes, you can use coconut milk in your instant pot. Make sure to buy unsweetened coconut milk if you're looking for a lower-sugar option.
📚 More curry recipes
Try our Thai Eggplant Green Curry for a spicier curry, the Vegetarian Yellow Thai curry, red lentil curry, or the chickpea curry ,which also uses massaman curry paste.
If you like to make your own curry paste, don't forget to check out Yellow and Green Thai Curry paste recipes.
Want to discover Indian curries? Go for our cauliflower curry, eggplant and tomato curry made with garam masala, vegetable tikka masala, and our vegan lentil curry without coconut milk.
⭐ If you try this curry recipe, let us know! 💬 Leave a comment, rate it, and don't forget to tag us @ourplantbasedworld on Instagram. Cheers!
📋 Recipe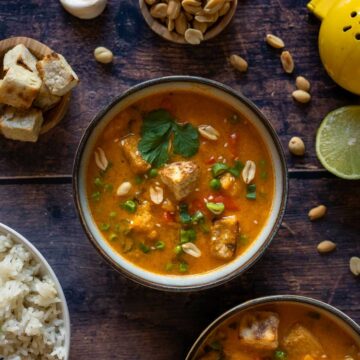 Thai Massaman Vegetable Curry with Tofu (optional)
Massaman Curry is a red curry with Persian influence, which combines creamy coconut milk, peanuts, and Thai and Indian spices. This version is vegan, made with sweet potatoes and bell peppers.
Equipment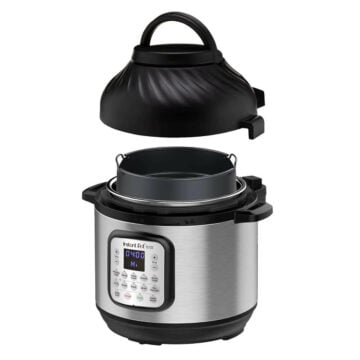 (affiliate link)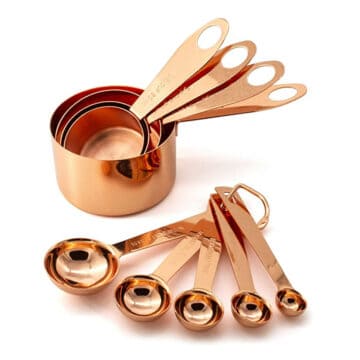 (affiliate link)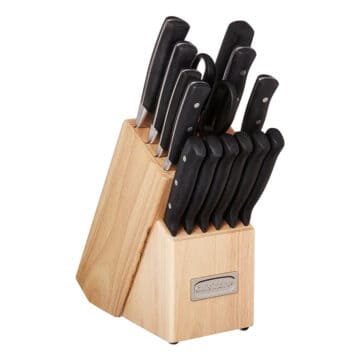 (affiliate link)
Directions
If making the crispy tofu, press it for 15 minutes according to the recipe.

Peel and dice veggies. Dice peppers and peeled sweet potatoes into medium-sized cubes.

Chop green onions, garlic, and grate ginger.

Stir-fry. Heat the saucepan or instant pot on stir-fry mode, add the coconut oil (if using) and add onions, garlic, and ginger.

Add the chopped sweet potatoes and red peppers.

Stir in the curry paste and peanut butter.

Pour the coconut milk, peanut butter, half of the chopped coriander, and cinnamon.

Add the vegetable stock, salt, and bay leaves. Cook for 20 minutes on the stovetop or for 10 minutes on the instant pot on LO-pressure cook mode.

Turn off the heat (or quick-release pressure from the instant pot).

Optionally top with the green peas and adjust salt. Let the curry settle for 5 minutes before serving. Remove bay leaves.

Garnish with toasted peanuts and fresh coriander.
Notes
You can add any other vegetables you like; just make sure to adjust the seasonings, so the flavor remains the same.
i.e. adding more curry paste, ~½ tablespoon curry for every cup of vegetables.
Nutrition Facts
Calories:
280
kcal
Carbohydrates:
39
g
Protein:
11
g
Fat:
10
g
Saturated Fat:
5
g
Polyunsaturated Fat:
2
g
Monounsaturated Fat:
2
g
Sodium:
795
mg
Potassium:
711
mg
Fiber:
8
g
Sugar:
12
g
Vitamin A:
18108
IU
Vitamin C:
52
mg
Calcium:
104
mg
Iron:
3
mg
Nutrition Facts
Thai Massaman Vegetable Curry with Tofu (optional)
Amount per Serving
% Daily Value*
* Percent Daily Values are based on a 2000 calorie diet.
🌡️ Food safety
Cook to a minimum temperature of 165 °F (74 °C)
Do not use the same utensils on cooked food, that previously touched raw meat
Wash hands after touching raw meat
Don't leave food sitting out at room temperature for extended periods
Never leave cooking food unattended
Use oils with a high smoking point to avoid harmful compounds
Always have good ventilation when using a gas stove
See more guidelines at USDA.gov.
Nutritional Disclaimer
The information shown is an estimate provided by an online nutrition calculator. It should not be considered a substitute for a professional nutritionist's advice. See our full Nutritional Disclosure here.
Affiliate Disclaimer
Please note that some of the links here are affiliate links, and I will earn a commission if you purchase through those links. I recommend all of the products listed because they are companies I have found helpful and trustworthy.