This fresh and hearty Vegan Red Thai Curry is a great way to make everyone happy while including all your vegetables. It has a lot of mouth-watering flavors, is light, and is made quickly.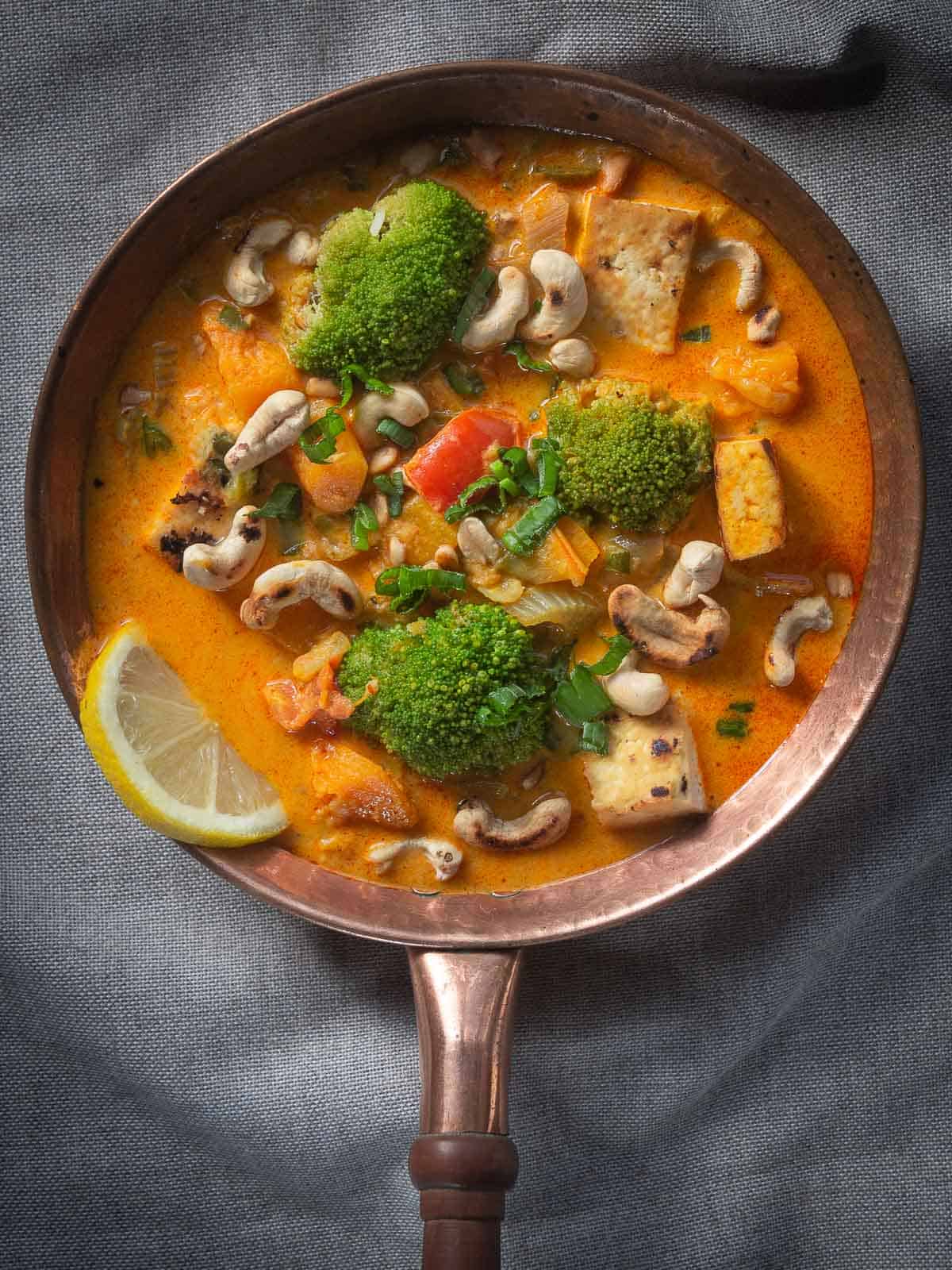 Think ginger, lemon, fresh herbs, and different textures of vegetables.
Dive into it! Stir in all the forgotten vegetables in your fridge, don't let the lack of a couple of spices stop you. Make a curry or a vegan stew. Curries make fantastic, easy, and flavorful dinner recipes.
Ingredients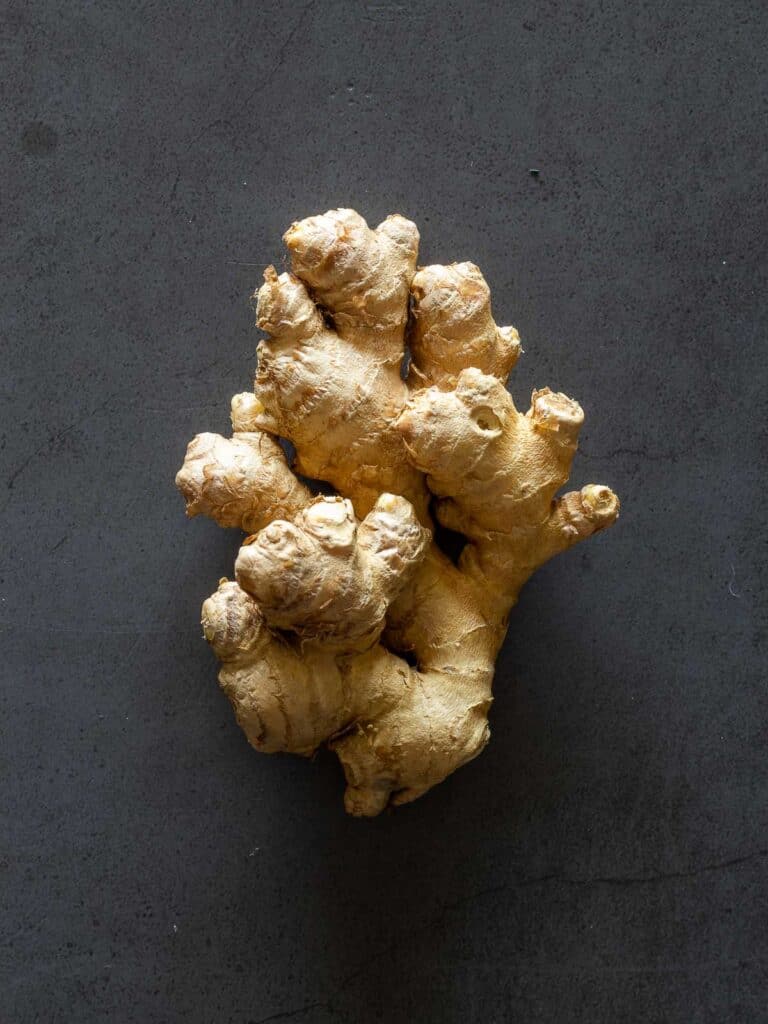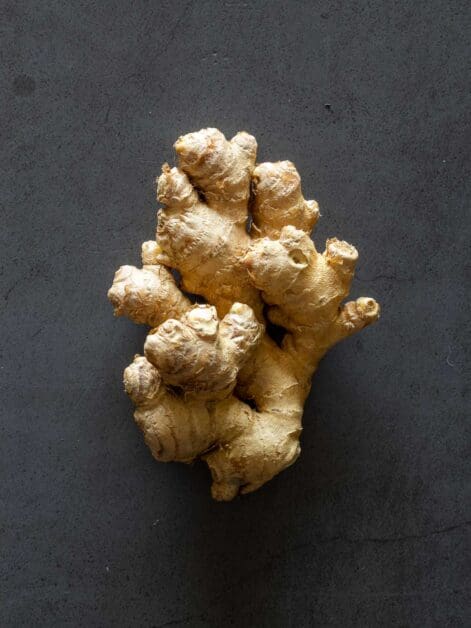 I suggest you get good Coconut Milk and Fresh Ginger, which make a great difference in the final result.
Onion
Garlic
Green onions or shallots
Ginger
Pumpkin
Red bell pepper
Vegan Red Curry paste
Coconut milk
Coconut oil
See quantities and full instructions in the recipe card.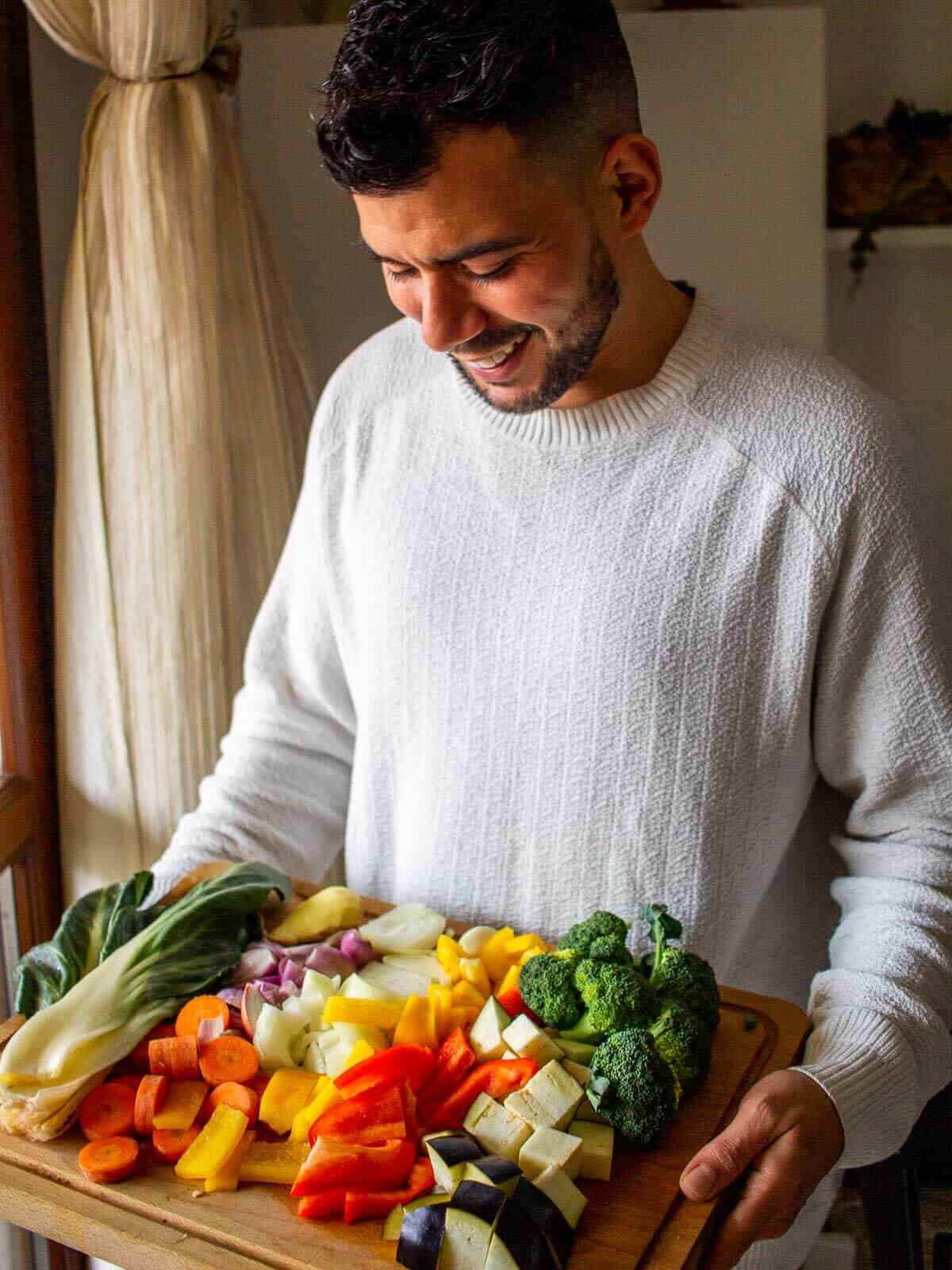 It is very important to use fragrant ingredients and coconut milk.
Ginger is a must! Of course, fresh ginger is the deal, but if you only have ginger powder and want to save a couple of minutes, go ahead! I have tried it, and it works perfectly.
If you are missing an ingredient, or simply want to add more textures, just go ahead. Eggplants work beautifully with carrots and broccoli as well.
Hint: If significantly adding volume, add some curry paste, shallots, ginger, and coconut milk as well
Instructions
Set a large pan over medium heat and add two tablespoons of coconut oil.
Add the onion, garlic, and shallots.
Stir in the ginger and curry paste, and enjoy your creations' aromas.
Stir in the bell peppers.
Stir in coconut milk and a cup of water or vegetable stock.
Boil. Let it boil for 2 minutes, and add the pumpkin.
Cook. Until the bell peppers and pumpkin dice

are fork-tender.

Adjust seasoning.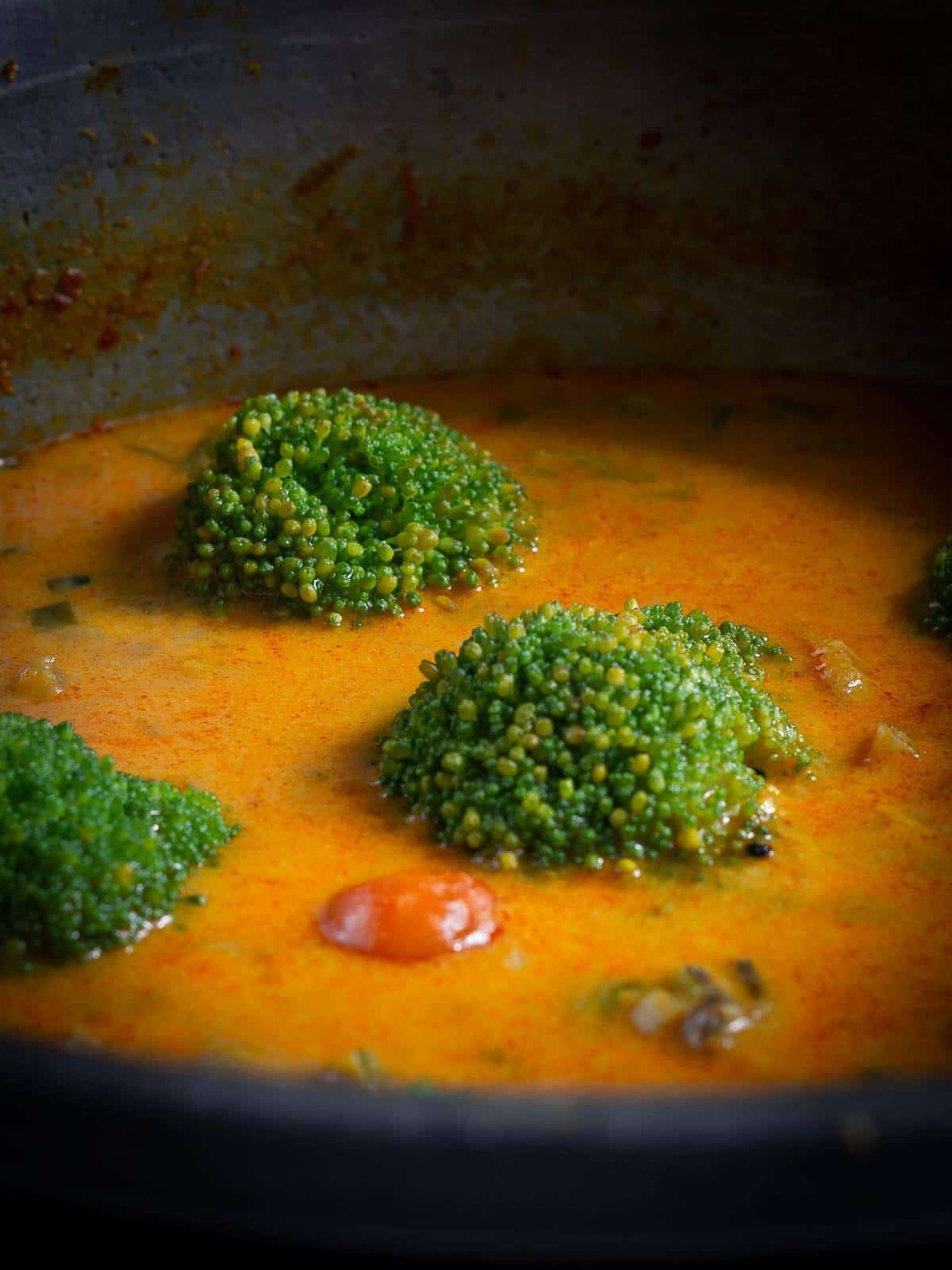 Tips
Garnish with your choice of green onions tops, coriander leaves, lemon or lime wedges, cashews, or peanuts.
Additions: add Crispy Tofu to pack more protein into the dish and serve with aromatic Jasmin rice, quickly done with one ingredient in 10-15 minutes.
If you like to add some extra textures and protein, I recommend using my Crispy Tofu Recipe, to make a high protein vegan meal.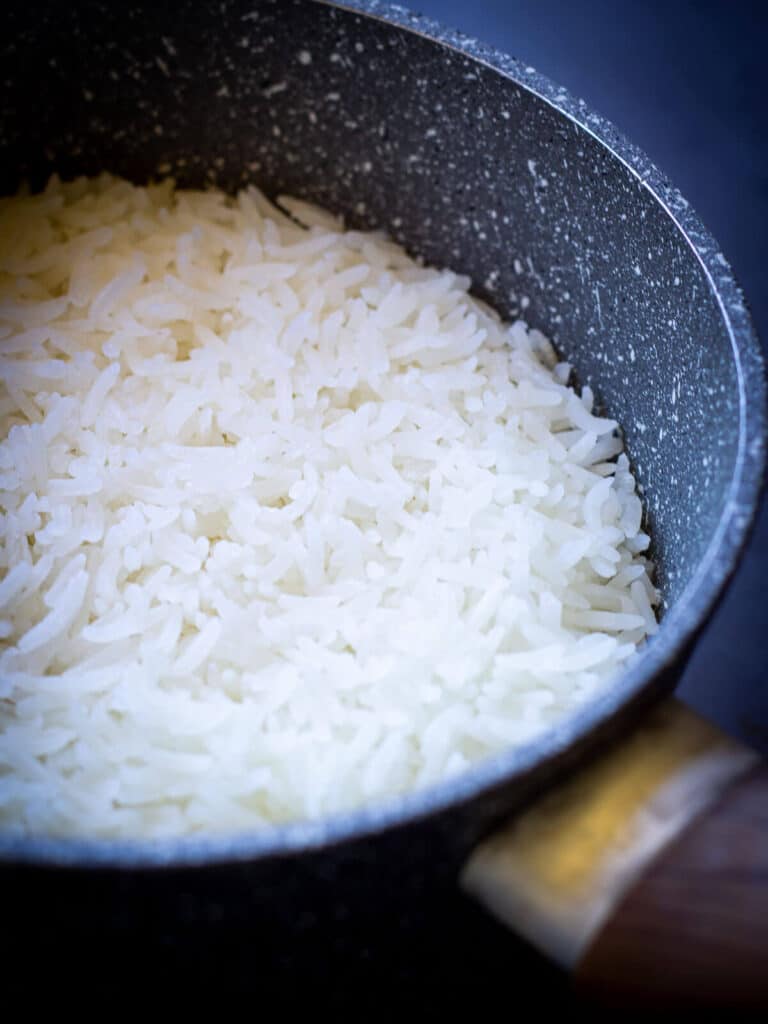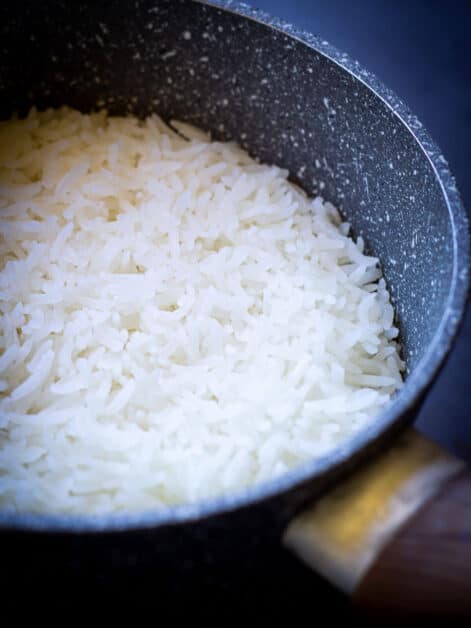 Bok Choy: Using Bok Choy, add the end of the cooking process while covering with a lid. It is mostly water so it will turn into nothing. It doesn't have much flavor, so it will not change it. It will only add texture. The same applies to broccoli.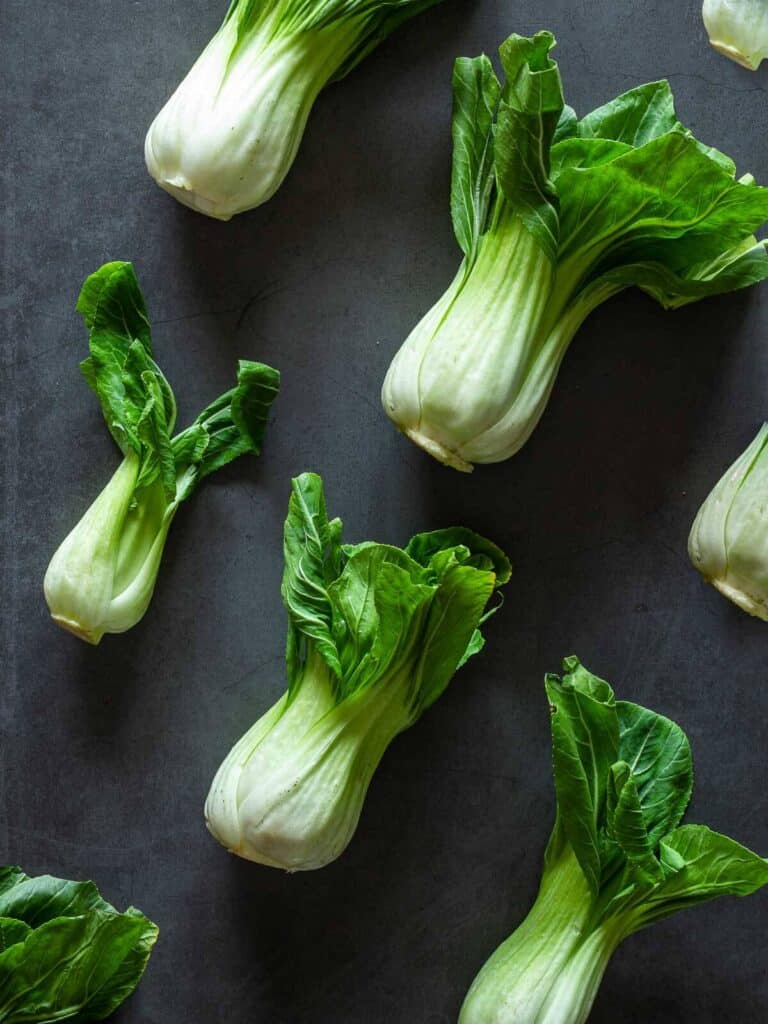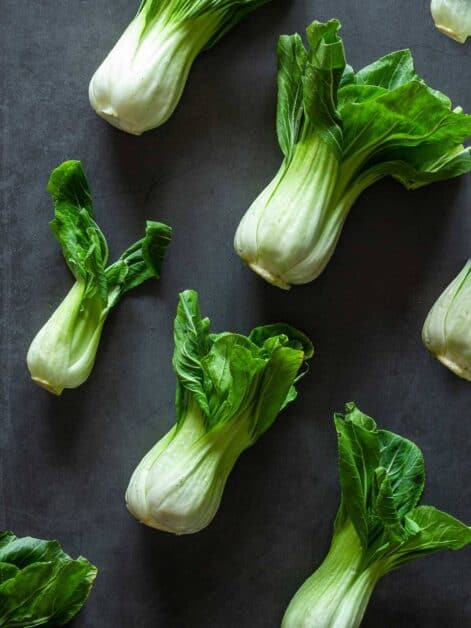 Flavor enhancers: you can add tamarind paste, lemongrass paste, palm sugar paste, and even ginger paste if you don't have fresh ginger. Directions on when to add in the recipe card.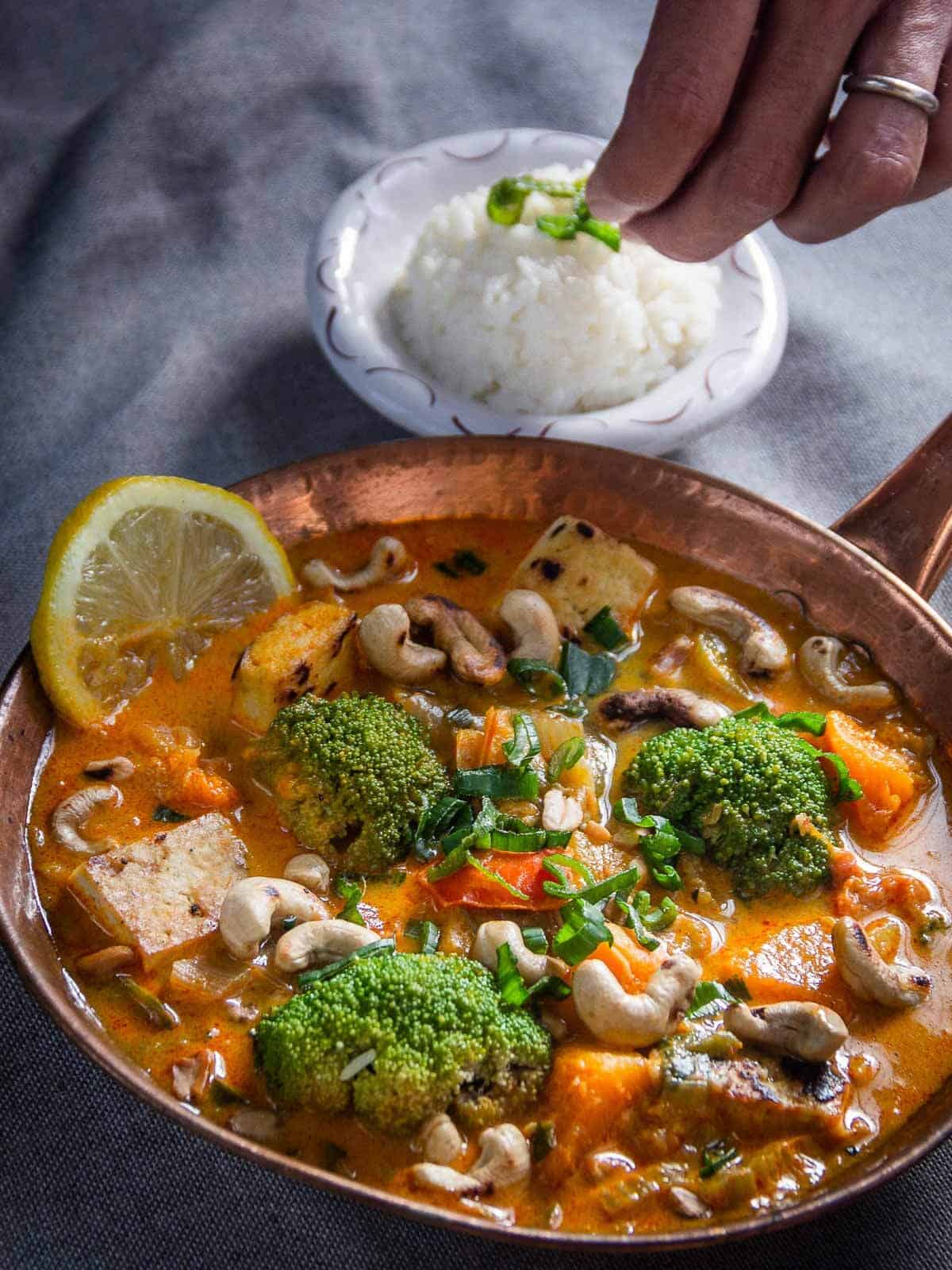 Benefits of ginger
Relieves Indigestion: if chronic indigestion is part of your life, ginger could bring some relief. Ginger before meals may make your system empty faster, leaving less time for food to sit and cause problems.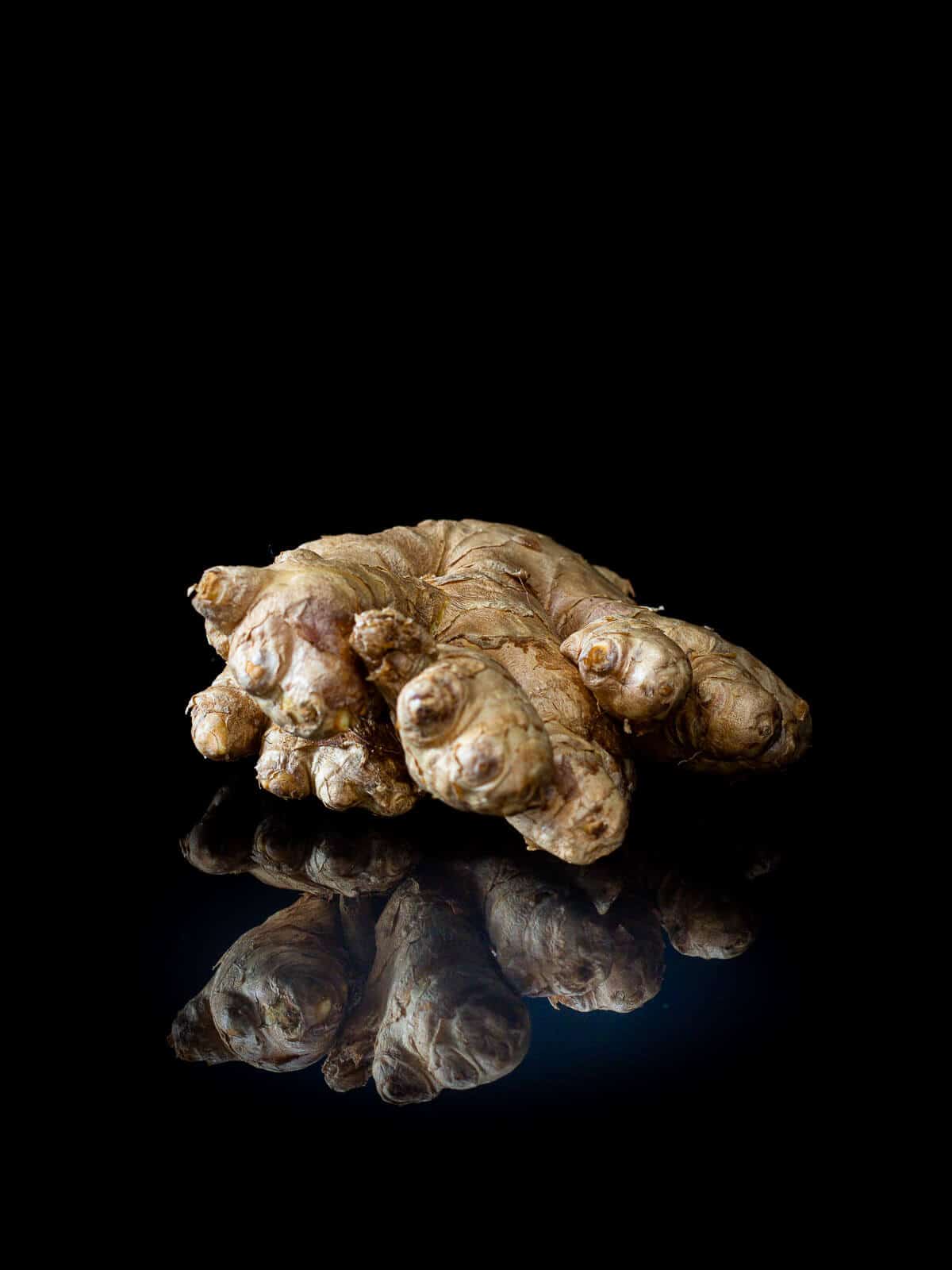 Fights Germs: helping your body ward off germs. They're especially good at halting the growth of bacteria like E.coli
Promotes Oral health: its antibacterial power may also brighten your smile. In addition, active compounds in ginger keep oral bacteria from growing and prevent gum infection.
Protects Against Disease: it helps your body fight diseases of the lungs plus promotes healthy aging.
So it is always a great idea to add it to your meals and beverages, such as smoothies and tea.
If you use traditional commercial Red Curry Paste, it likely has shrimp paste. So instead, I use the widely known Cock Brand from Thailand, which doesn't have animal ingredients.
Curious about reading more about Ginger Health's benefits?
Jump to Recipe
Wine Pairing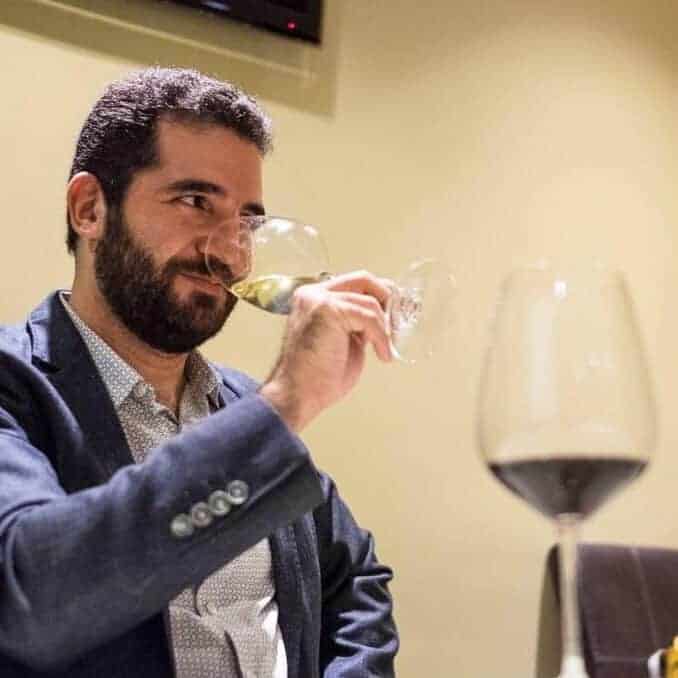 Ramón Barreiro
Wine Pairing by our Sommelier Ramón Barreiro @pejo_barreiro
It is in the Wine Culture where you will genuinely find quality wines and support sustainability. For this reason, in this blog, when we recommend wines, we do not want you to go to a supermarket shelf to buy wines for the usual varietals resulting from monoculture. Instead, we recommend wines taking you to the places where they come from. Thus, we advocate for living wines, with Culture, with Terroir.
The conviction remains that spicy food, especially Southeast Asian, does not go well with wine. This is a big mistake.
Wine since ancient times has been consumed with spice macerations - the preferred form of the Romans, who even mixed their fermented fish sauce, garum, with wine.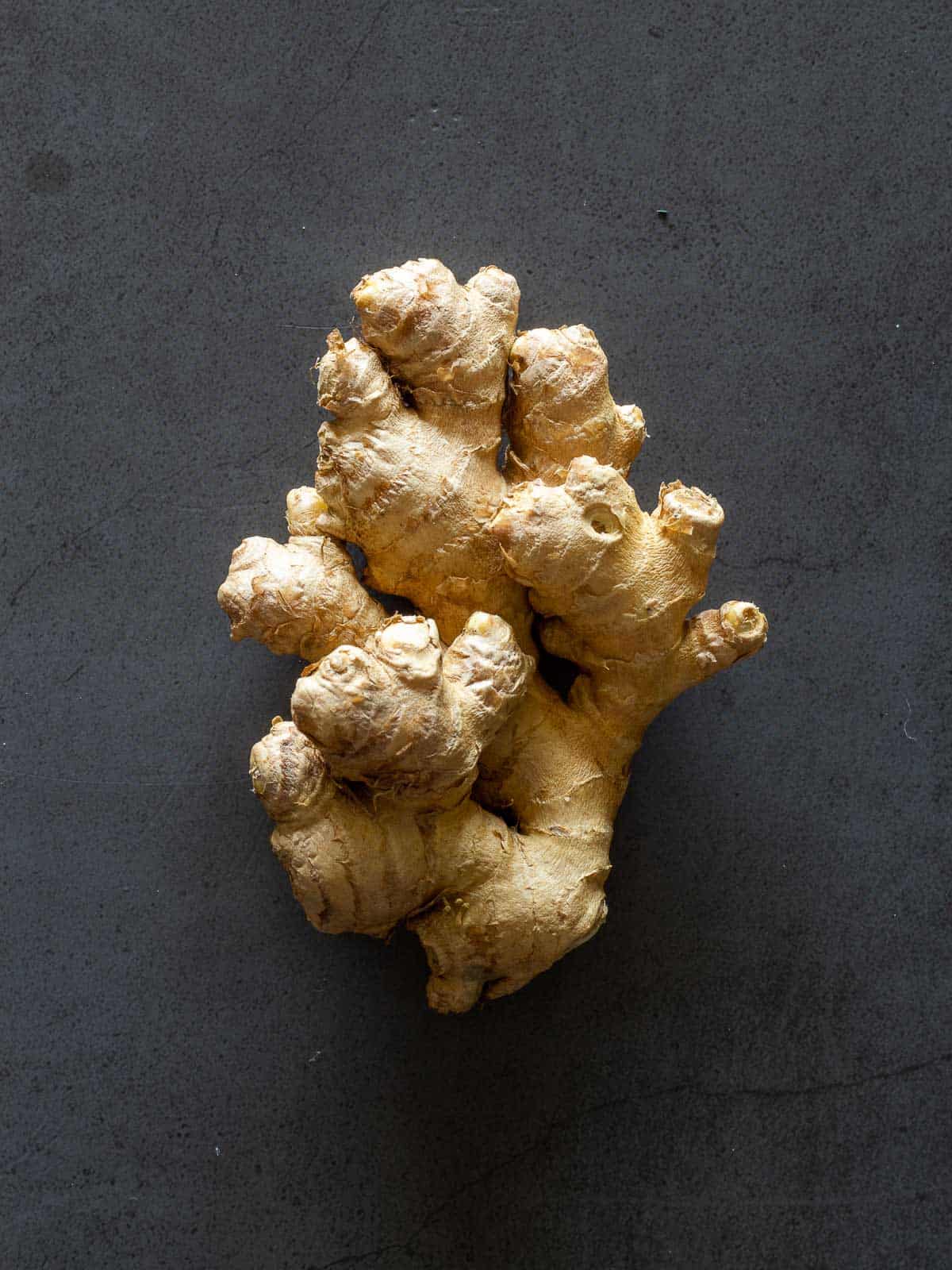 The primary objective of aging in oak barrels and other noble woods is to convey a spicy character.
Perhaps this prejudice of not accompanying wine with spicy foods is based on the fact that European national foods, accompanying wine in Western Culture, are not perceived as foods loaded with spices - which is also false!
The great diversity of grape varieties, especially aromatic ones, is also proof that wine and spices have enormous pairing potential, both to enhance the wine and the spicy foods themselves.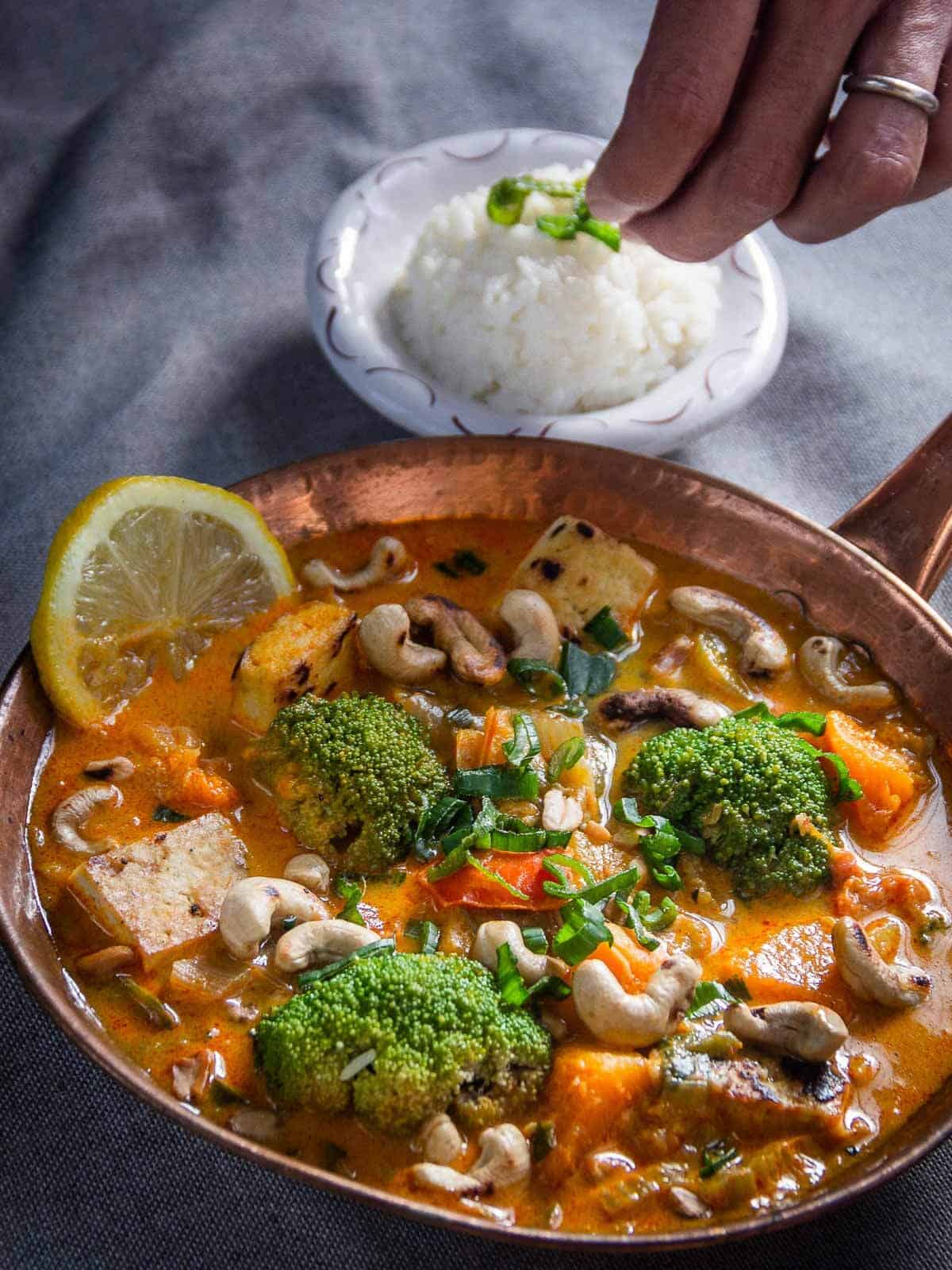 The important thing is to recognize which wines have the aromatic profile that matches the spices we are using.
And this may be an obstacle for the more conservative wine drinkers; however, if you are reading a pairing for a Thai red curry recipe, I am inclined to assume that you are not in that group.
Flavor anchors
Several ingredients define this dish's aromatic profile: curry, ginger, coconut, and lemongrass. In an excellent Thai curry, these are the aromas and flavors that will stand out on our noses and palate.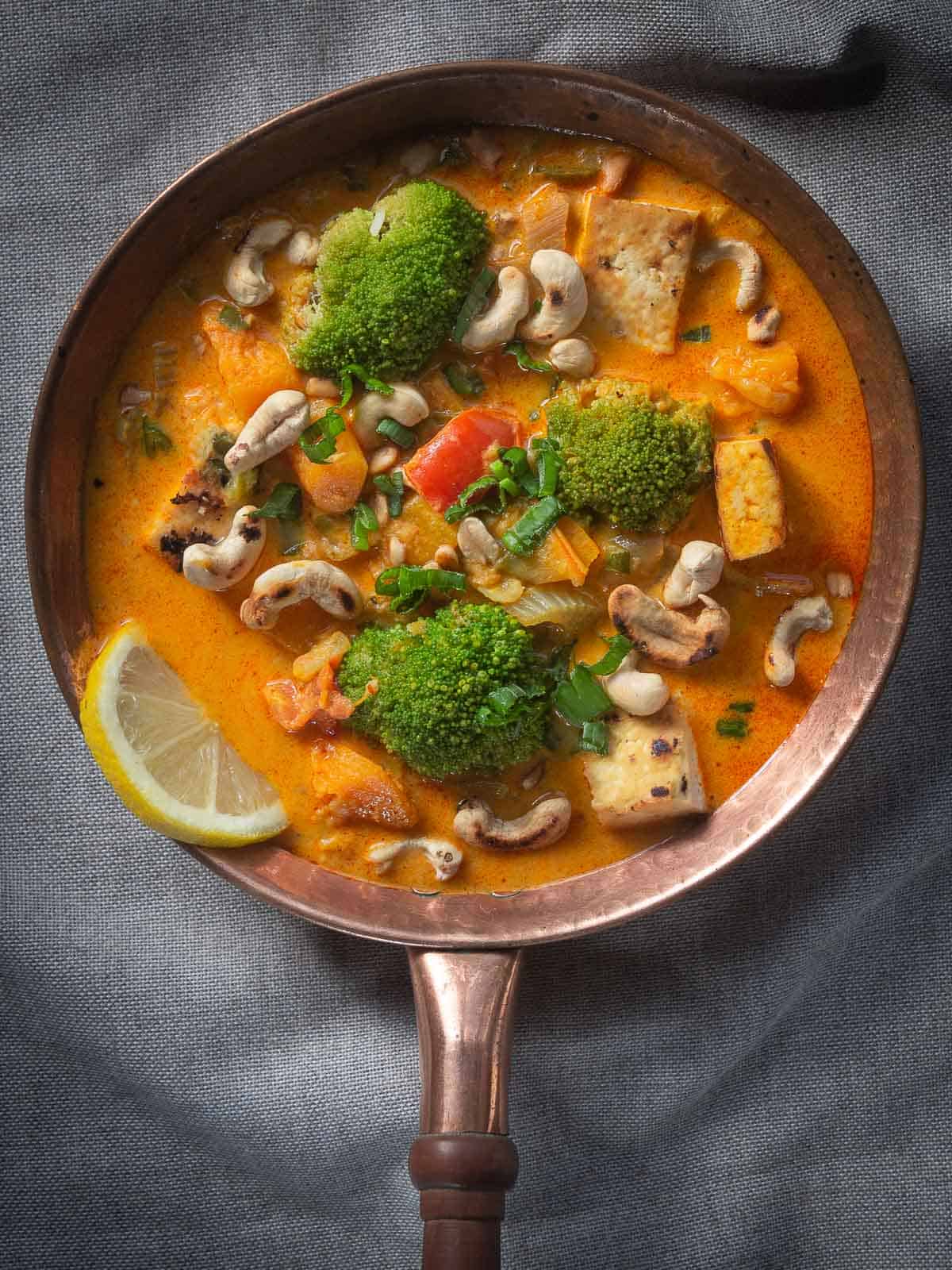 Now the pairing
When choosing wines, if you live in a producing area, always choose local, find out about your producers, the history of your location, and the winemaking practices, and explore all the styles available in your area.
If you do not live in a producing area (or close to one of them), support the specialized stores near you, just as you would support your local farmers' market. Talk to the specialists, and ask them about their wine's selection, the wine's origins, their production practices, and the reasons that led to their inclusion in their selection.
With wine, as with any food on our table, it is always good to think about the path it went through before reaching us. It is also essential to consider the kilometers and the means of transportation used. Be aware of the carbon footprint of the food and wine you consume, and you will make your small contribution to sustainability.
My first recommendation consists of a harmony of contrast: one of the most floral wines in its aromatic profile, the Torrontés riojana - from Argentina.
It is a white wine in which geranium and jasmine stand out, and that in the mouth gives tropical flavors of lychee and pineapple. Tropical fruits accompany curry spices very well, making a delightful contrast with their spiciness and bitterness.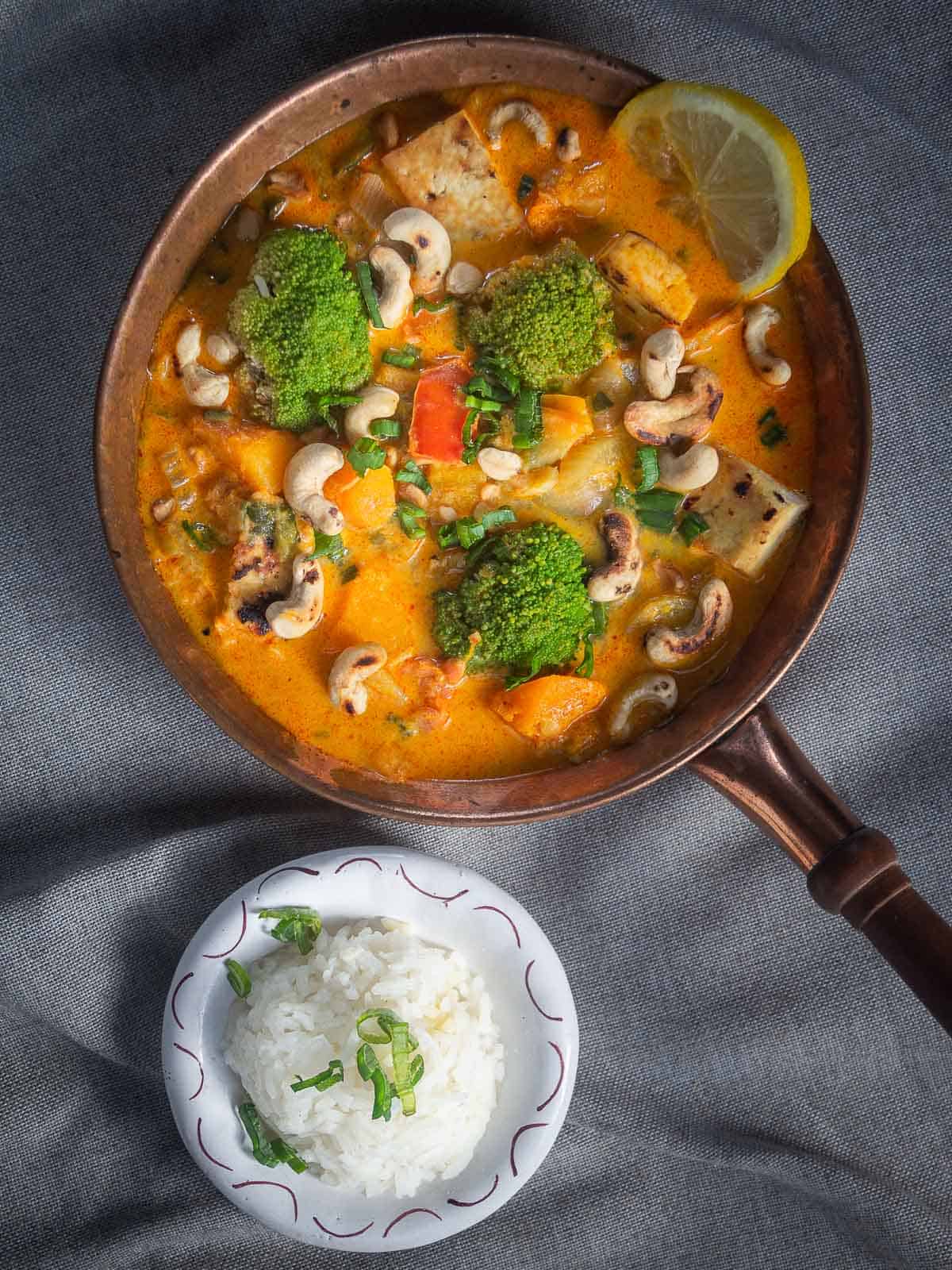 It is also a fresh wine, which will enhance the lemongrass. And if jasmine rice accompanies Thai food so well, why not also drink a jasmine-scented wine with these dishes. Torrontés is made in all the most recognized wine areas in Argentina, but I recommend that you choose one from the province of Salta.
The second pairing recommendation is the one that probably perfectly accompanies our dish: a white made with Gewurztraminer. This aromatic grape is unmistakable, with its floral and exotic fruit aroma and its spicy and slightly citrus flavor, which marks its wines regardless of their origin.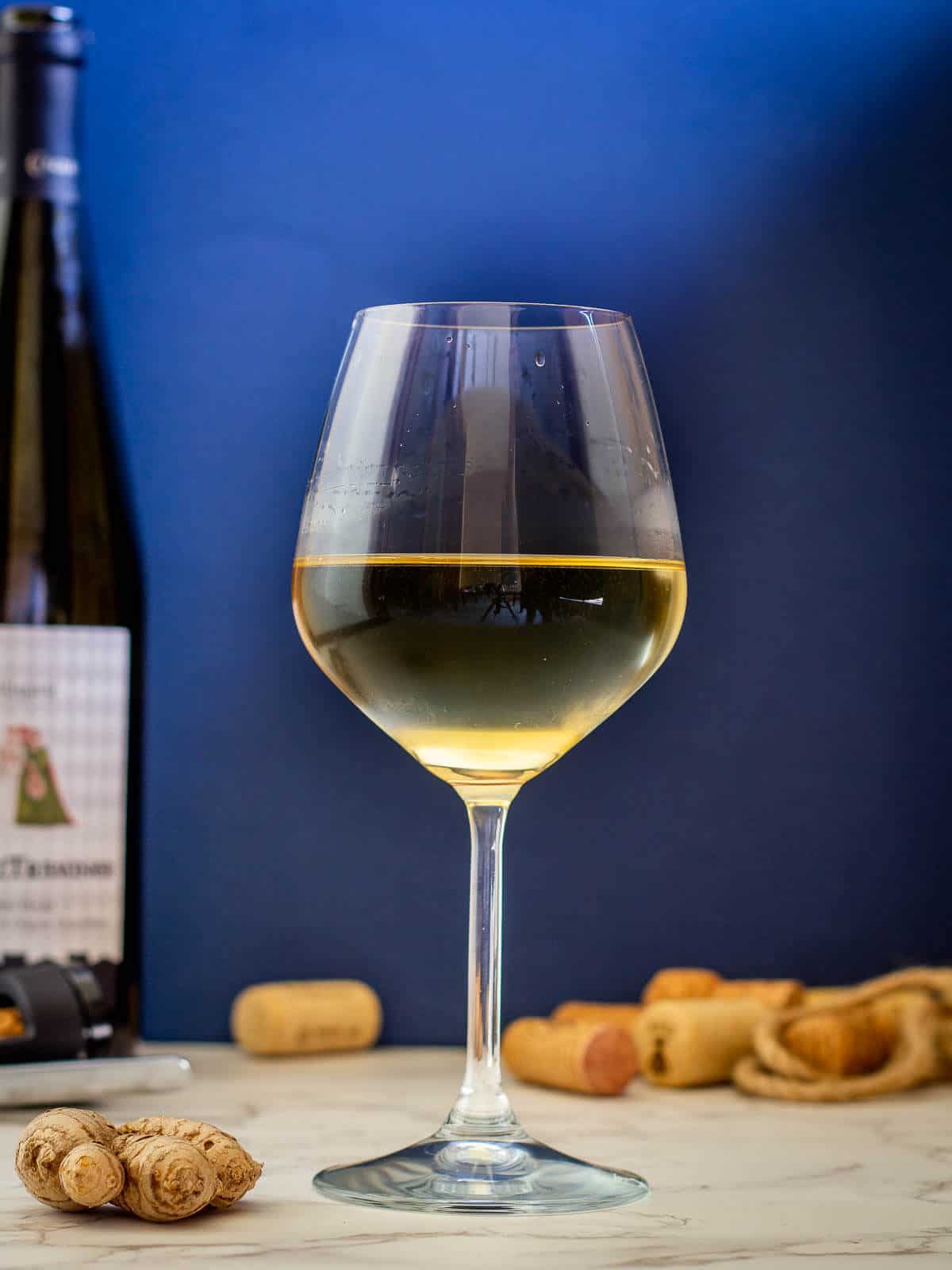 However, if you can choose the origin of the Gewurztraminer for this pairing, opt for one from Alsace; both the dry and the sweet (the "Vendages Tardives" and the "Sélection de Grains Nobles") will go very well. This pairing will enhance the ginger and lemongrass and perfectly accompany the coconut and curry. With these recommendations, I guarantee that you will not stop looking for wines for the rest of your spicy meals.
Thai Curry Wine Pairings Recap:
Argentina - Dry - Torrontés (Salta)
France - Dry or Sweet - Gewurztraminer (Alsace)
How to Serve
Use freshly made steamed Jasmin rice, see how.
If you want to make the perfect curry night appetizer, choose something easy and flavorful, like this unshelled, 10-minutes spicy garlic edamame recipe.
More hearty and instant-pot style dishes
If you try this recipe, let us know! Leave a comment, rate it, and don't forget to tag a photo #ourplantbasedworld on Instagram. Cheers!
Recipe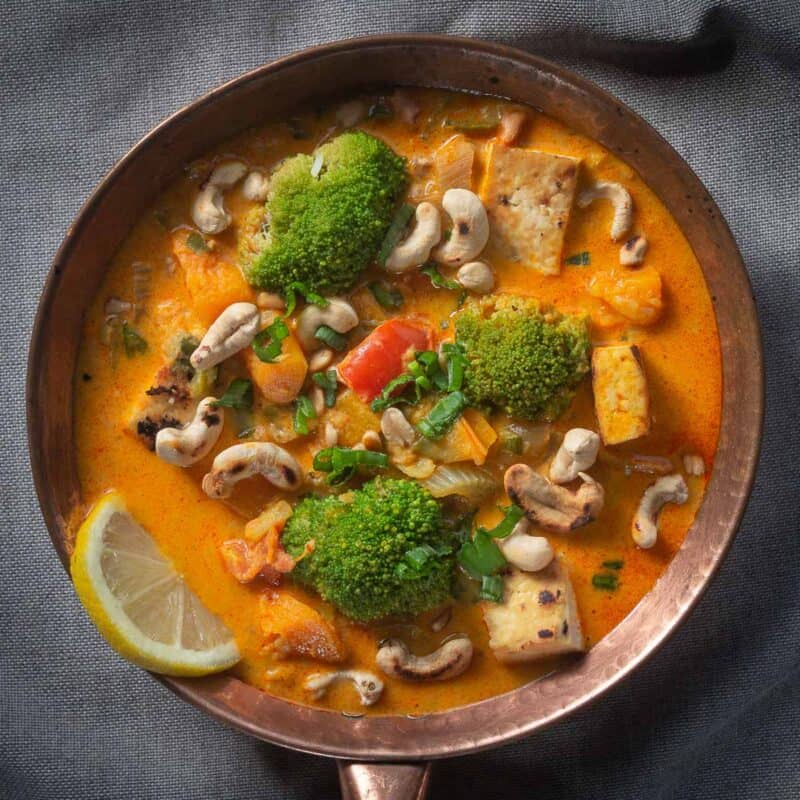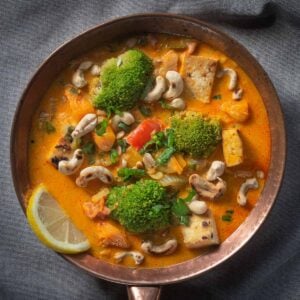 Thai Fresh Vegan Red Curry
This fresh and hearty Vegan Thai Curry is a great way to make everyone happy while including all your vegetables. It has a lot of mouth-watering flavor, is light, and made quickly.
Equipment
Ingredients
1

onion large

diced

2

garlic cloves

crushed

2

green onions

or shallots, sliced

2

tablespoons

ginger

fresh (about 2 inches)

8

ounces

pumpkin

cubed

2

tablespoons

Vegan Red Curry paste

1

medium red bell pepper

large dices

1

cup

coconut milk

organic good quality

1

tablespoon

coconut oil

1

cup

water

or vegetable stock
Optionals:
1

teaspoon

lemongrass

shredded, or lemongrass paste

1

tablespoons

palm sugar

1

broccoli

head (cut in florets)

1

hand-full coriander fresh

half-chopped, rest whole leaves

1

tablespoons

tamarind paste

1

teaspoon

sea salt

1

Hand-full

toasted cashews

or peanuts

1

bunch

bok choy
Directions
Set a large pan over medium heat and add two tablespoons of coconut oil.

Add the onion, garlic, and shallots while stirring until the onion is translucent.

Stir in the ginger, curry paste, end enjoy the smells of your creation. If using optional lemongrass, palm sugar, and tamarind paste, add them at this point.

Stir in the bell peppers, after a minute.

Stir in the coconut milk and a cup of water or vegetable stock, stir.

Boil. Let it boil for 2 minutes, and add the pumpkin.

Cook. Until the bell peppers and pumpkin dices are fork-tender, stirring occasionally. Add half the coriander leaves (optional).

Season with salt and put a lid, add the optional broccoli and bok choy on top and let it sit for 10 mins. The steam will cook the broccoli and bok choy with the remaining heat, they don't need much cooking,
Garnishing:
Stir-fry the tofu with the remaining coconut oil.

Boil the Jasmin rice with some salt and serve with the Thai Curry topped with peanuts, a squeeze of a lemon, and the coriander's remainder.
Notes
If using Bok Choy, add during the last 3 minutes of heat. It is mostly water, so that it will turn into nothing. It doesn't have much flavor, so it will not change it; it will only add texture.
Start making the Jasmin Rice along with the curry; it will take only 15 minutes,
Top with some Crispy Tofu to add more chunks of Texture and Protein.
Wine Pairing by our Sommelier Ramón Barreiro @pejo_barreiro
Argentina - Dry - Torrontés (Salta)
France - Dry or Sweet - Gewurztraminer (Alsace)
Nutrition Facts
Calories:
128
kcal
Carbohydrates:
8
g
Protein:
2
g
Fat:
11
g
Saturated Fat:
9
g
Polyunsaturated Fat:
1
g
Monounsaturated Fat:
1
g
Sodium:
10
mg
Potassium:
306
mg
Fiber:
1
g
Sugar:
3
g
Vitamin A:
4667
IU
Vitamin C:
32
mg
Calcium:
34
mg
Iron:
2
mg
Nutrition Facts
Thai Fresh Vegan Red Curry
Amount per Serving
% Daily Value*
* Percent Daily Values are based on a 2000 calorie diet.
Food safety
We sometimes take for granted that we have years (or decades) of cooking experience that the average visitor may not. Add to, or remove from, the list below with health and safety tips.
Cook to a minimum temperature of 165 °F (74 °C)
Do not use the same utensils on cooked food that previously touched raw meat
Wash hands after touching raw meat
Don't leave food sitting out at room temperature for extended periods
Never leave cooking food unattended
Use oils with high smoking points to avoid harmful compounds
Always have good ventilation when using a gas stove
See more guidelines at USDA.gov.
The information shown is an estimate provided by an online nutrition calculator. It should not be considered a substitute for a professional nutritionist's advice. See our full Nutritional Disclosure here.
Disclaimer: Please note that some of the links here are affiliate links and I will earn a commission if you purchase through those links. I use all of the products listed and recommend them because they are companies that I have found helpful and trustworthy.