Making your own Thai Yellow Curry Paste is always ten times better than using store-bought. It lasts in your fridge, and you can add it to many one-pot dishes apart from curries and stews, ensuring you have a flavorful meal.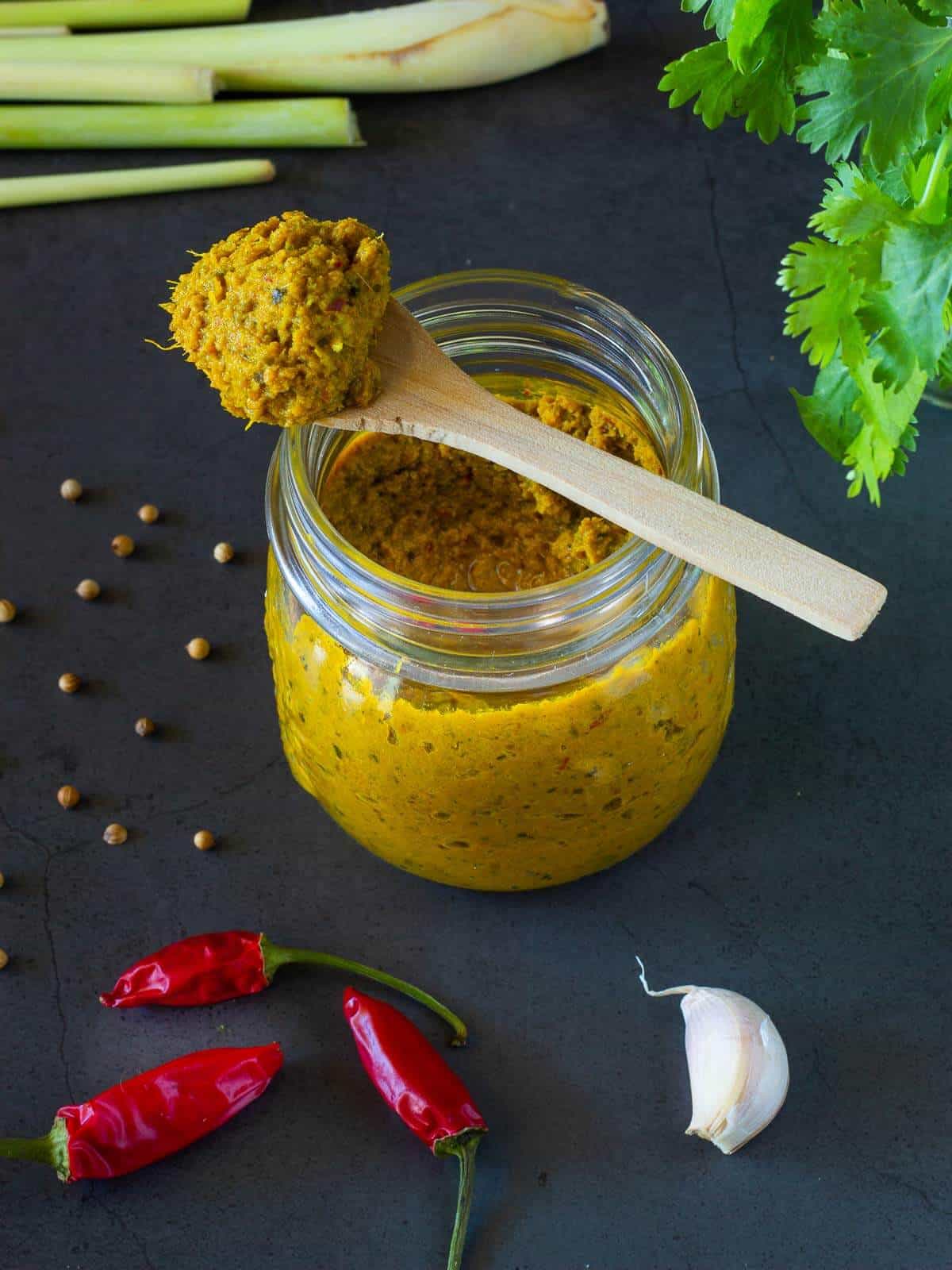 If you have ever tried making a curry at home and are like I was a couple of years ago, you most likely have been using store-bought paste. Making it from scratch is the next f-level!
We love making our sauces and preparations from scratch, as they deliver way more flavor, and you can keep them for months in the fridge.
Jump to:
🧾 Ingredients
Various ingredients are needed to make a Thai Yellow Curry Paste, but they are easily found in ethnic shops. Some of them are dry, and some are fresh.
Fresh Galangal root (Thai ginger/alternatively regular ginger): Galangal root contributes a distinct, slightly citrusy and peppery flavor that is essential for authentic Thai cuisine. It also helps in digestion and adds a warming sensation to the dish.
Lemongrass: Lemongrass imparts a tangy, fresh, and lemony flavor, a key taste component in many Southeast Asian dishes. It is also known for its invigorating aroma that can enhance the overall dining experience.
Red shallots: Red shallots bring a slight sweetness and sharpness that is milder than regular onions, enriching the dish's flavor profile. They also give the dish a bit of texture and color.
Garlic: Garlic is used for its strong and pungent flavor that becomes mellower and sweeter when cooked. It's also a common base for many dishes because it combines well with other ingredients and enhances their flavors.
Fresh Coriander: Coriander provides a fresh and slightly citrusy flavor that balances out the heat from the spices. The herb also garners and enhances the dish's visual appeal.
Chilies: Chilies add heat and depth of flavor to the dish, making it more savory and exciting. The spice level can be adjusted according to preference, thus catering to different palates.
Lime: Lime is used for its tangy and sour flavor, which helps cut through the richness of other ingredients, making the dish feel more balanced and refreshing. Lime zest can also contribute to an aromatic component.
Coconut palm sugar: Coconut palm sugar lends a mild caramel sweetness to the dish, balancing the spicy and tangy flavors. Its unrefined natural nature also imparts some minerals and nutrients.
Miso paste (or powder): Miso paste enhances the dish's overall taste by adding umami, a savory flavor that brings depth and complexity. Its fermentative nature also contributes to better digestion.
Cumin seeds: Cumin seeds contribute a warm and earthy flavor, enhancing the savory notes in the dish. They also provide a slight crunch when used whole, adding texture to the dish.
Coriander seeds: Coriander seeds impart a warm, nutty, and spicy flavor with a hint of citrus, complementing the other spices in the dish. They also aid in digestion.
Fresh Turmeric or Turmeric powder: Turmeric powder adds a vibrant yellow color to the dish, enhancing its visual appeal. Its mildly bitter and earthy flavor blends well with other spices and has well-known health benefits such as anti-inflammatory properties.
Cloves: Cloves bring a sweet yet spicy flavor, providing warmth to the dish. They also have an aromatic quality that complements the other ingredients.
Cinnamon: Cinnamon adds a touch of sweet, warm, and slightly spicy flavor that complements the savory ingredients. It's also used for its inviting aroma that enhances the overall sensory experience of the dish.
The Galangal root, also called Thai Ginger, is probably the most difficult to find. I thought getting it was hard until I asked for it in China Town.
If you can't find Galangal, go for ginger root, don't let that stop you!
🔪 How to make yellow curry paste
So, how to make yellow curry paste? The answer is easy, most of the effort happens in the supermarket, amazon, or ethnic store, buying the ingredients, and the rest happens in only two steps.
Start grinding the dry spices in a coffee grinder or immersion blender. You can also use a mortar and pestle.
Secondly and lastly, add the rest of the ingredients and blend until you have a thick but smooth paste.
Hint: If you are using a jug blender, you may need to help adding some liquid. If you use the curry paste immediately, you can add some coconut milk to this recipe.
🫙 Storing
If you want to make a big batch, it does freeze well. Use a food processor, which will save you plenty of time.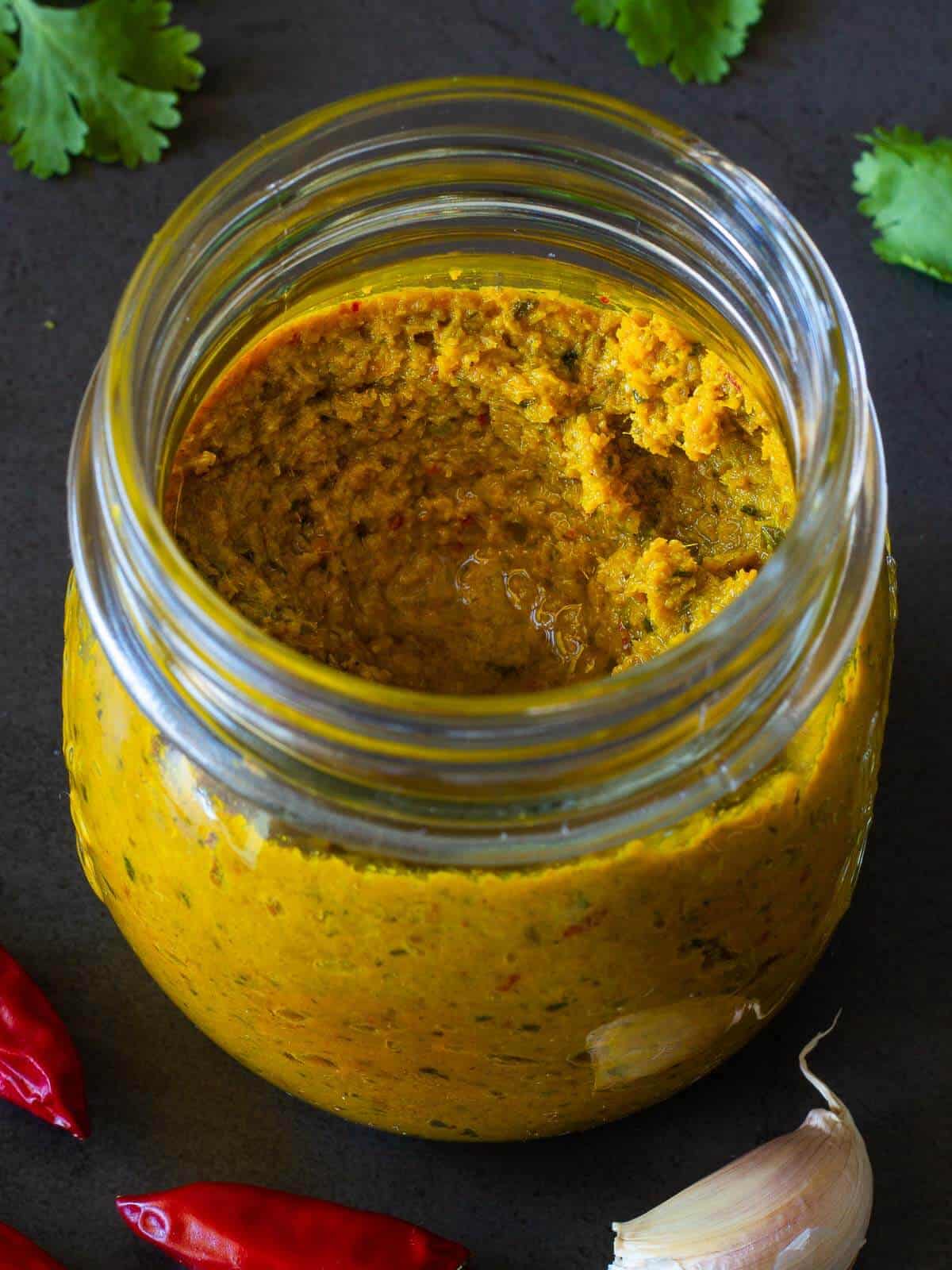 👨🏻‍🍳 Using your Curry
You should be super proud now that you have made your Homemade Curry! You are ready to use it in a magnificent dish! See below how to use it in any Thai Curry recipe: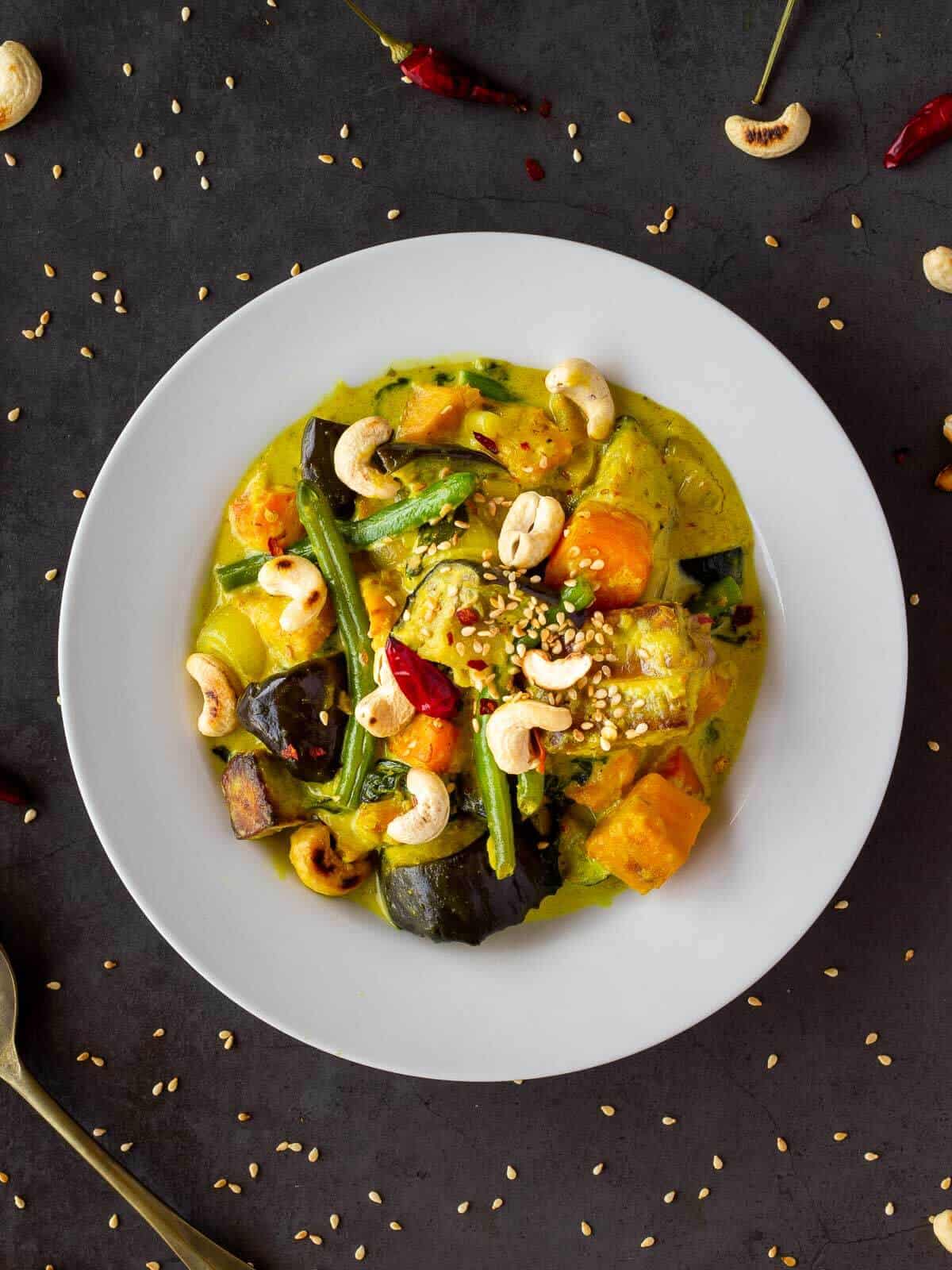 The perfect Veggie Yellow Thai Curry, and of course, don't forget to pair it with aromatic Jasmine Rice. If you like to add some extra textures and protein, I recommend using my Crispy Tofu Recipe, to make a high-protein vegan meal.
Check out both our Eggplant Green Thai Curry and the Massaman curry.
If you love curries, as we do, don't forget to try also our Indian curries, including a meltingly soft Eggplant Curry and a flavorful and light curried cauliflower, both made using curry masala.
We also love dhal, the red lentil Indian famous dish, made in minutes, delivering big flavor.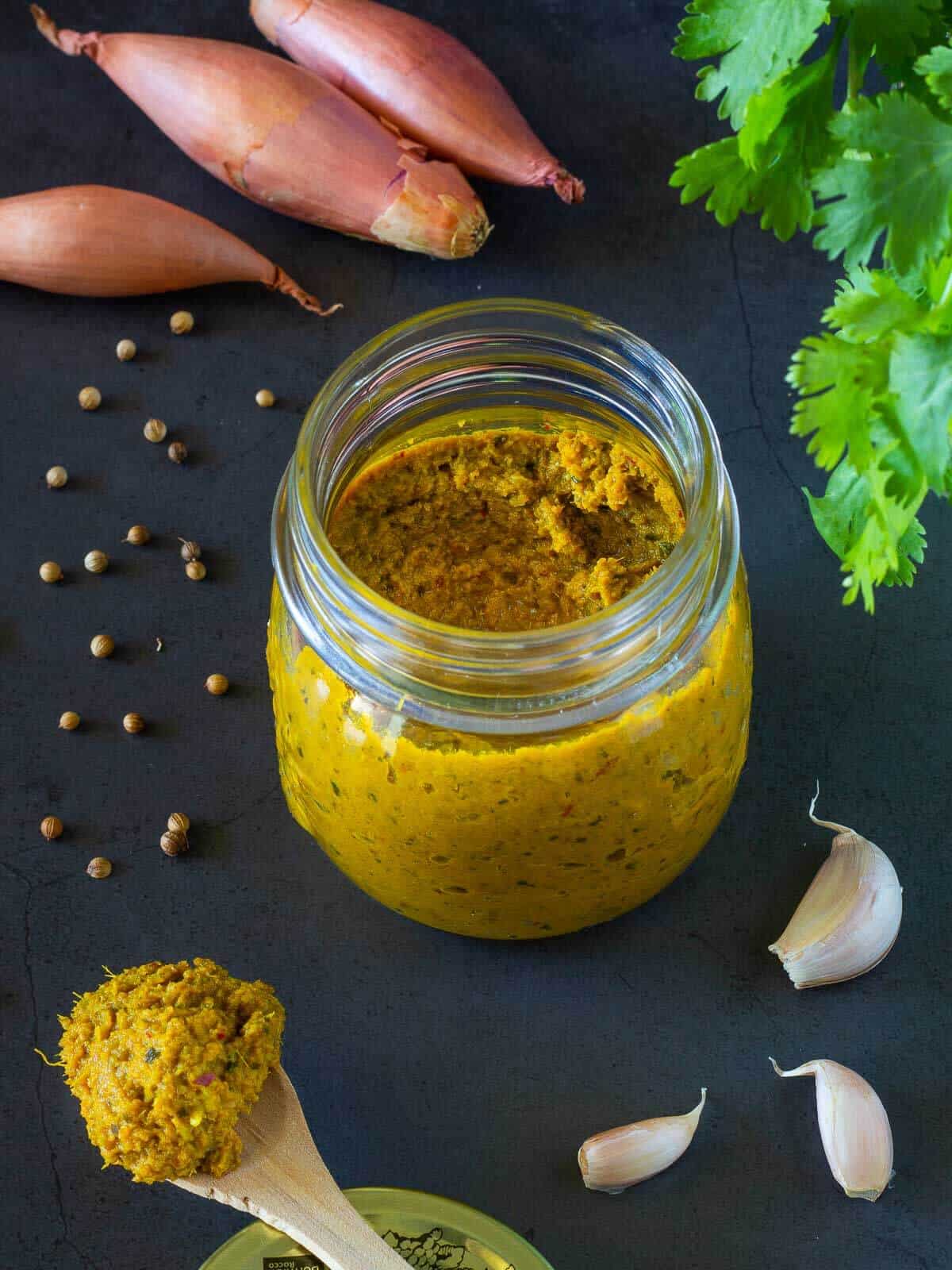 ❓ FAQ
How can I adjust the spiciness of the curry paste?
The heat level of this paste largely depends on the amount and type of chilies used. As provided, the recipe calls for a moderate level of spiciness, which might be considered medium by general standards. However, the heat can be adjusted according to personal preference.
3-5 chili peppers = Very mild; a gentle tickle of spice
10 chili peppers = Medium; a lively salsa dance on the tongue
15 chili peppers = Medium hot; a cheeky flamenco with the taste buds
20 chili peppers = Hot; a fiery tango in the mouth
25 chili peppers = Super hot, a full-on; five-alarm spice festival!
What are some alternatives to coconut palm sugar?
If you can't find coconut palm sugar or simply prefer to use something else, here are some suitable alternatives:
Brown Sugar: It has a similar color and slightly molasses flavor that can closely mimic the caramel-like taste of coconut palm sugar.
Maple Syrup: It is a natural sweetener that can provide a unique flavor to the dish, although, like honey, it is a liquid and could affect the dish's consistency.
Date Sugar: Made from dried dates, this sugar has a rich, slightly fruity flavor that can work well as an alternative. You can also use date paste.
Agave Nectar: A liquid sweetener that's sweeter than sugar, so use less than the recipe calls for.
Remember, when substituting, you might need to adjust the quantity to achieve your desired level of sweetness, and the consistency and flavor of your dish might slightly change.
⭐ If you try this Thai curry paste recipe, let us know! 💬 Leave a comment, rate it, and don't forget to tag us @ourplantbasedworld on Instagram. Cheers!
📋 Recipe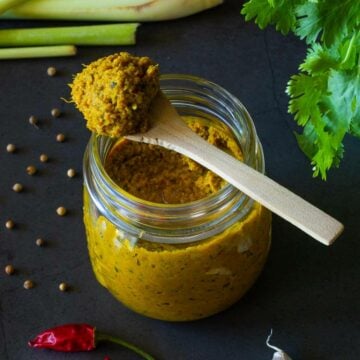 Easy Authentic Thai Yellow Curry Paste
Making your own Thai Yellow Curry Paste is always ten times better than using store-bought. It lasts in your fridge, and you can add it to many one-pot dishes apart from curries, ensuring you have a flavorful meal.
Equipment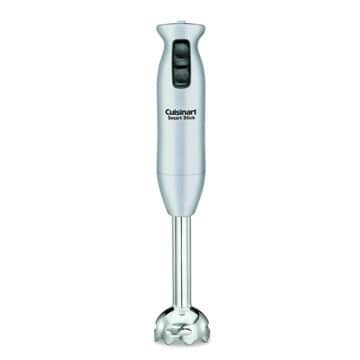 (affiliate link)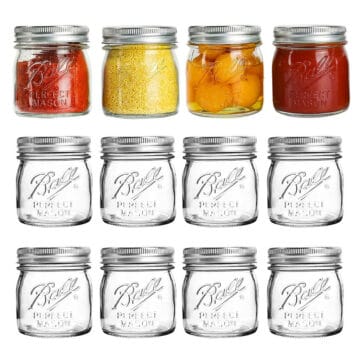 (affiliate link)
Ingredients
2

Tablespoons

galangal

cleaned and sliced, or ginger root

2

Tablespoons

lemon grass

bottom 4 inches (10 cm), sliced

2

Tablespoons

shallots

red, Thinly sliced

3

Tablespoons

garlic

Thinly sliced

1

Tablespoon

coriander

stem, cleaned well, cut into small pieces

3

Thai chilies

long, or use yellow or orange chilies

1

lime

zest and juice

¼

teaspoon

Thai hot chili

dried, ground

2

teaspoons

coconut sugar

2

teaspoons

miso

paste or powder

1

tablespoon

cumin

seeds, ground

1

teaspoon

coriander

seeds, ground

1

teaspoon

turmeric

ground

½

teaspoon

cloves

ground

½

teaspoon

cinnamon

ground

1-3

tablespoons

water
Optional:
Directions
Grind the dry spices separately in a coffee grinder, immersion blender, or mortar and pestle to ensure they are fine. Include miso if using powder; if using miso paste, mix during the next step.

Then add the rest of the ingredients and blend until you have a thick and smooth paste.

If using a jug blender, you will need to add a little liquid to get it to blend, so if you're making green curry, if you are using the curry paste right away, you can add some of the coconut milk from the recipe.
Notes
A good, powerful food processor will work well if you are making a big batch to freeze. Also, I recommend using a powerful immersion blender which does a good job even for smaller amounts.
Nutrition Facts
Calories:
31
kcal
Carbohydrates:
7
g
Protein:
1
g
Fat:
1
g
Saturated Fat:
1
g
Polyunsaturated Fat:
1
g
Monounsaturated Fat:
1
g
Sodium:
82
mg
Potassium:
94
mg
Fiber:
1
g
Sugar:
2
g
Vitamin A:
68
IU
Vitamin C:
9
mg
Calcium:
29
mg
Iron:
1
mg
Nutrition Facts
Easy Authentic Thai Yellow Curry Paste
Amount per Serving
% Daily Value*
* Percent Daily Values are based on a 2000 calorie diet.
🌡️ Food safety
Cook to a minimum temperature of 165 °F (74 °C)
Do not use the same utensils on cooked food, that previously touched raw meat
Wash hands after touching raw meat
Don't leave food sitting out at room temperature for extended periods
Never leave cooking food unattended
Use oils with a high smoking point to avoid harmful compounds
Always have good ventilation when using a gas stove
See more guidelines at USDA.gov.
Nutritional Disclaimer
The information shown is an estimate provided by an online nutrition calculator. It should not be considered a substitute for a professional nutritionist's advice. See our full Nutritional Disclosure here.
Affiliate Disclaimer
Please note that some of the links here are affiliate links, and I will earn a commission if you purchase through those links. I recommend all of the products listed because they are companies I have found helpful and trustworthy.