Are you tired of feeling guilty about snacking on unhealthy chips? Look no further! Introducing Guilt-Free Crispy Kale Chips, the ultimate solution for all health-conscious snack lovers. Packed with nutrients and bursting with flavor, these homemade kale chips will satisfy your cravings without compromising your well-being. Say goodbye to greasy and calorie-laden snacks, and join us on a journey to discover a deliciously wholesome alternative. In this guide, we'll show you how to create these addictive crispy kale chips right in the comfort of your own kitchen. Get ready to embark on a guilt-free snacking adventure that will leave you craving more!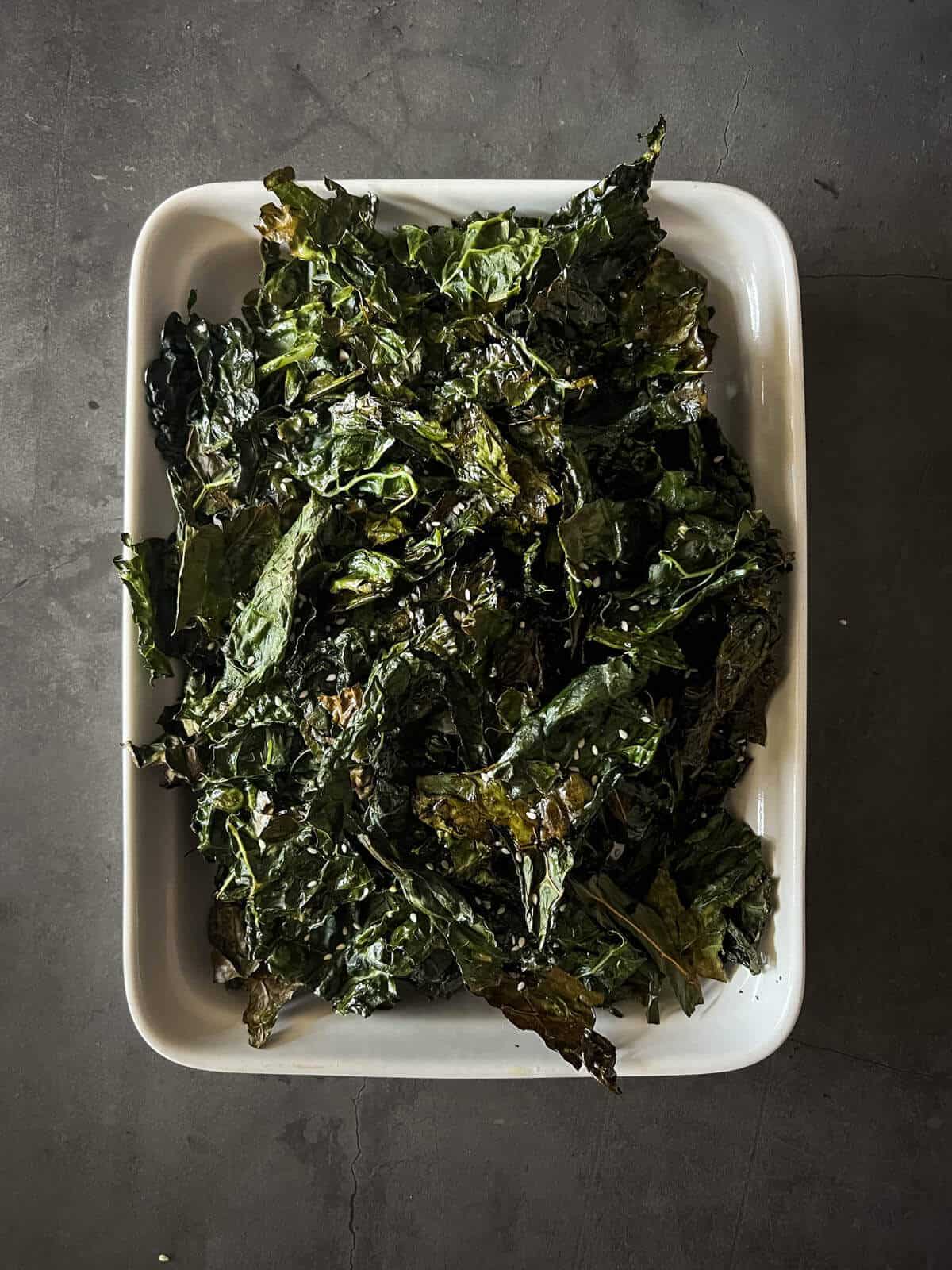 I love this baked kale recipe because it's just so easy to make, guilt-free, and nutritious. Making baked kale chips is super easy, and it is perfect when you just need something savory, without all the carbohydrates and the packaging.
This homemade kale chips recipe is also very versatile as you just need to mix the two ingredients it has, and you can take it elsewhere. You are just changing the seasonings for your new guilt-free snacks.
If you are looking for a simple sweet snack, look at our no-bake fig bars and delicious power balls.
We also love kale in many ways, as we do on this sage and kale pesto topping for roasted veggies like cauliflower steaks or a simple vegan kale salad with balsamic dressing.
Jump to:
🧾 Ingredients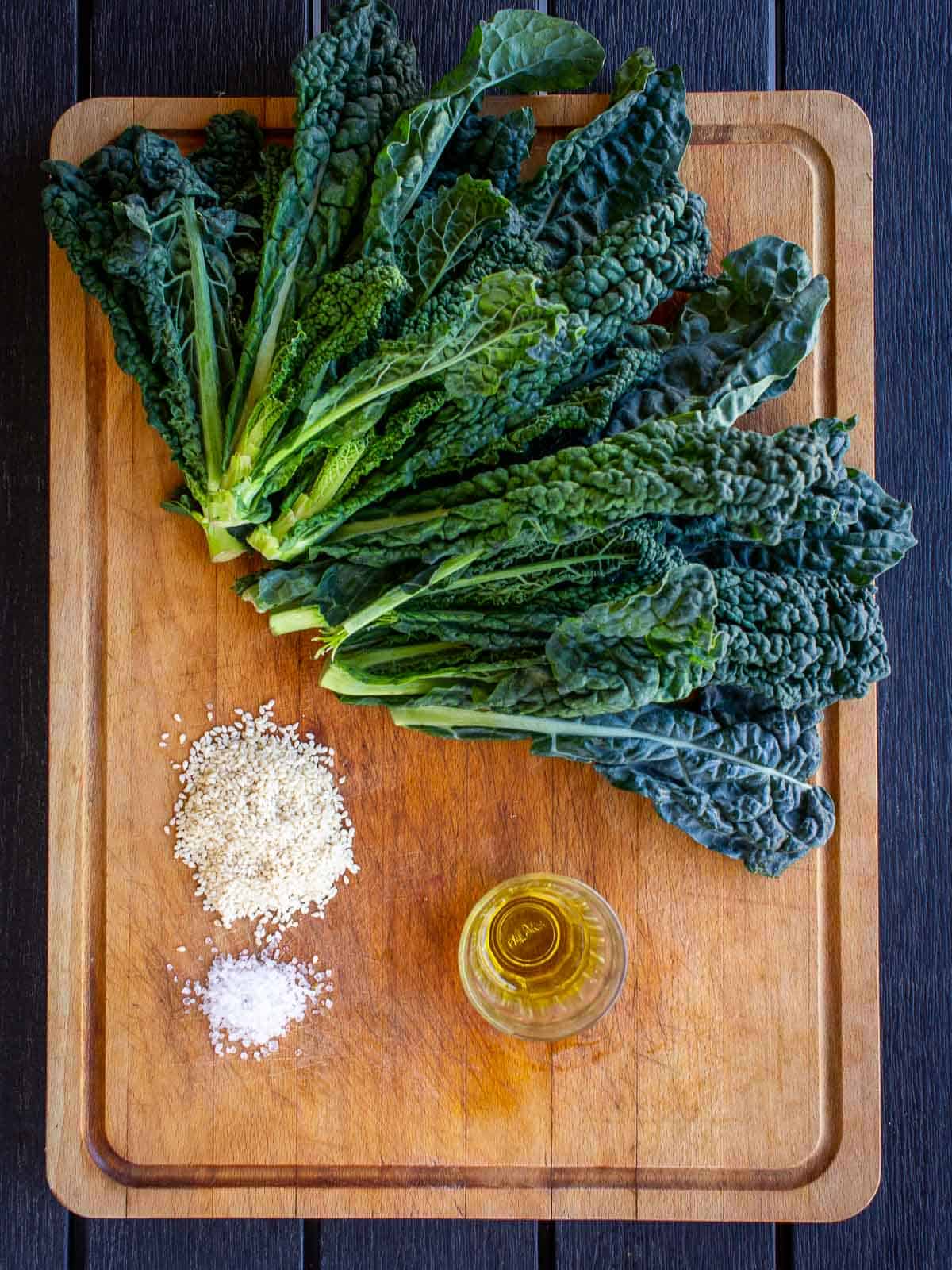 Kale: Kale is the star of this recipe, providing a sturdy and nutrient-rich base for the chips. It adds a delightful crunch and is packed with vitamins, minerals, and antioxidants.
Avocado oil: Avocado oil is the perfect choice for achieving a crispy texture and a subtle buttery flavor. It also contains healthy monounsaturated fats that are beneficial for heart health.
Sesame seeds: These tiny seeds add a delightful nuttiness to the kale chips, enhancing their flavor and providing a satisfying crunch. They are also a good source of calcium, iron, and healthy fats.
Salt: Salt is a key ingredient for enhancing the overall taste of the chips, balancing the flavors, and bringing out the natural savory notes of the kale.
Optional garlic powder; Adding garlic powder brings a delicious savory kick to the kale chips, elevating their flavor profile and adding a hint of aromatic complexity.
See quantities and complete instructions in the recipe card.
🔪 Instructions
Let's get started on making these amazing crispy kale chips! Here's what you need to do:
Preheat your oven to 400ºF (200°C) and get it nice and toasty.
Take those beautiful kale leaves and gently rip them from their stems. Place them in a bowl, ready for some delicious transformation.
Now, here's where the magic happens! Give the kale leaves a gentle massage with your hands for a few seconds. It's like giving them a little spa treatment. Then, add all the other ingredients to the bowl.
Time to spread the kale mixture evenly on a large baking tray. Make sure it's spread out nicely, giving each piece enough room to crisp up to perfection.
Pop that tray into the preheated oven and let the kale roast for about 5-7 minutes. Keep an eye on them - you want them to turn golden and crispy, but not burnt!
Once the initial roasting time is up, take the tray out and give the kale a good toss. This ensures that each chip gets evenly cooked. Put the tray back in the oven for another 7 minutes.
And voilà! Your guilt-free crispy kale chips are ready to be devoured. Let them cool for a moment, and then dig in. Enjoy the crispy goodness!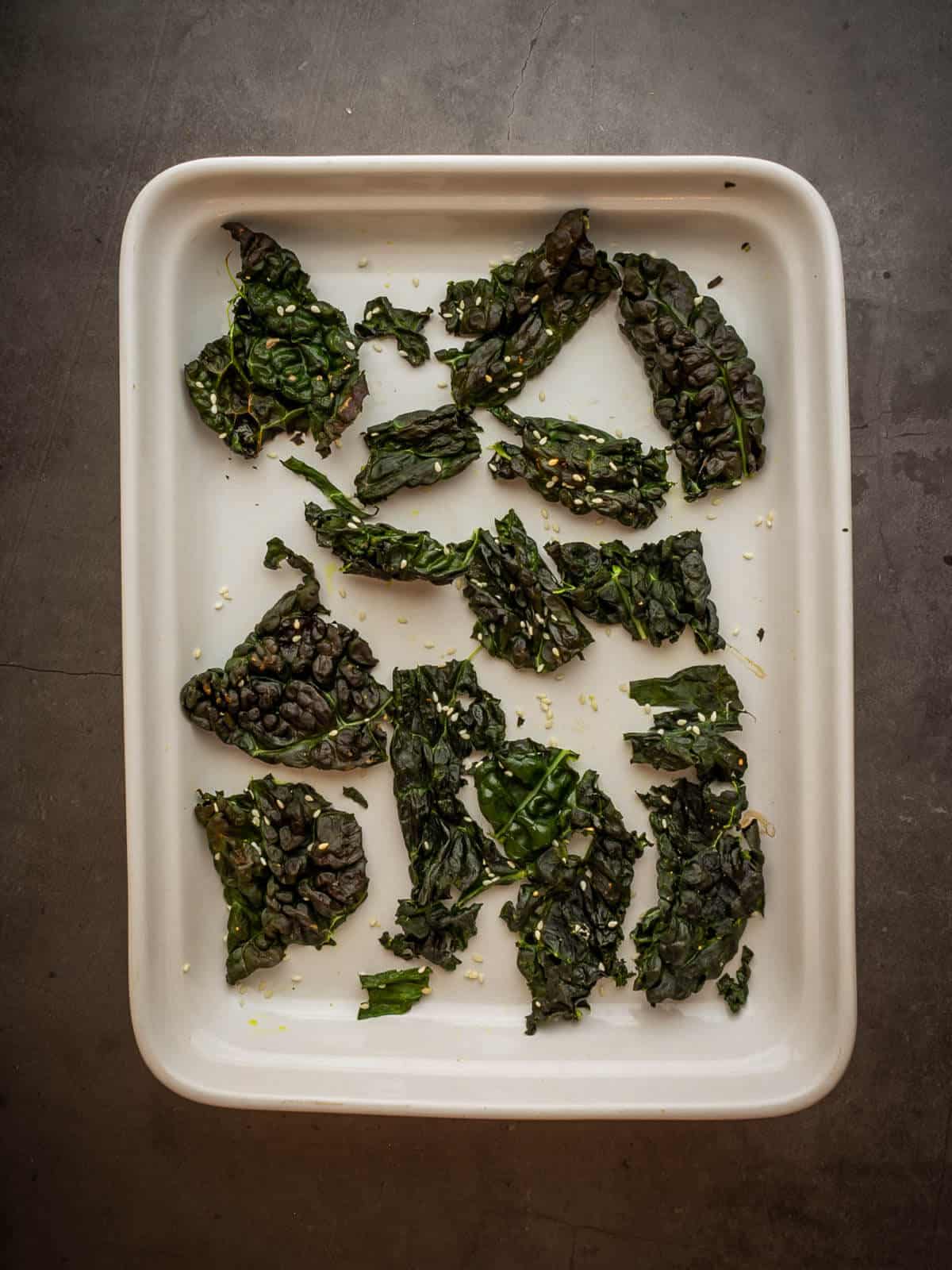 📖 Variations
Here are some delicious vegan variations to try with your crispy kale chips:
Cheesy Vegan Parmesan: Instead of using traditional Parmesan cheese sprinkle this homemade vegan Parmesan over the kale chips before roasting, and enjoy the cheesy goodness!
Spicy Chili Lime: Add a sprinkle of chili powder or cayenne pepper to the kale mixture for a spicy kick. Squeeze fresh lime juice over the chips to give them a tangy and refreshing flavor. These vegan-friendly spices will elevate the taste without compromising on your dietary preferences.
Smoky Paprika: Enhance the smoky flavors by adding a dash of smoked paprika to the kale mixture. Smoked paprika provides a rich and smoky taste that will give your chips a satisfying depth of flavor.
Tangy Balsamic Glaze: After roasting the kale chips, drizzle them with a small amount of balsamic vinegar. Balsamic vinegar's tangy and slightly sweet flavor will provide a delightful contrast to the crispy kale chips, adding a delicious tanginess.
Sweet and Savory Maple Glaze: Create a sweet and savory combination by drizzling the roasted kale chips with a maple balsamic vinaigrette. Toss gently to coat and return to the oven for a few more minutes to caramelize the glaze. The result is a mouthwatering blend of flavors that will satisfy your cravings.
Feel free to explore these vegan variations or get creative with your own combinations of herbs, spices, and seasonings. The world of vegan kale chips is full of endless possibilities!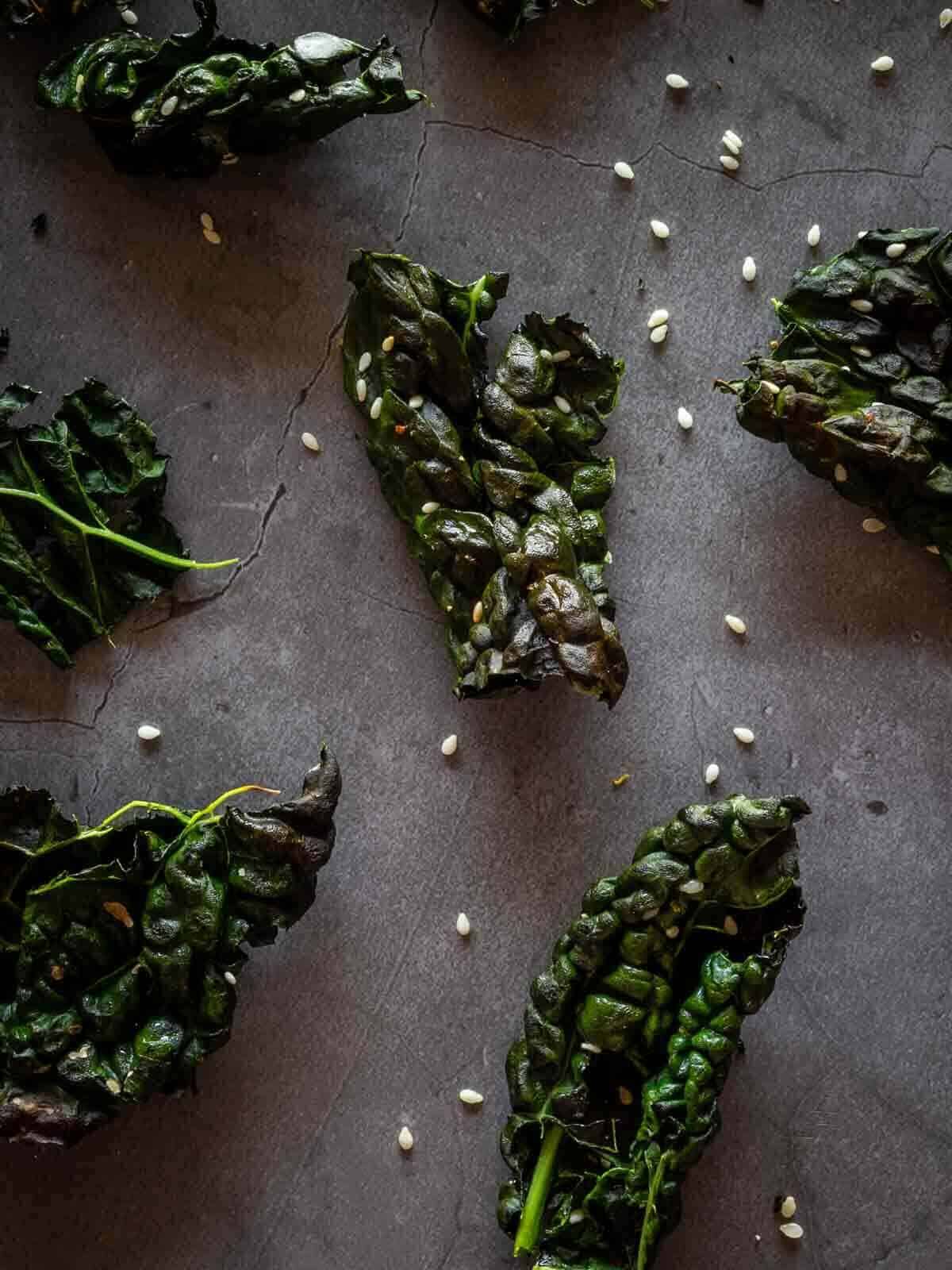 🧐 Why is it guilt-free?
Why should you consider these kale chips guilt-free? Well, kale is truly a superstar in nutrition, and its popularity is skyrocketing for a reason!
Let's break it down: Kale is packed with an abundance of essential nutrients, making it one of the most nutrient-dense foods you can find on our beautiful planet.
But what exactly does "nutrient-dense" mean? Simply put, it means that kale offers a powerhouse of vitamins, minerals, complex carbohydrates, lean protein, and healthy fats while keeping the calorie count relatively low. So, you can indulge in these crispy kale chips, knowing that you're treating your taste buds to a wholesome and nourishing snack.
So, grab a handful of guilt-free goodness and enjoy the fantastic flavors of these crispy kale chips while providing your body with abundant nutrients.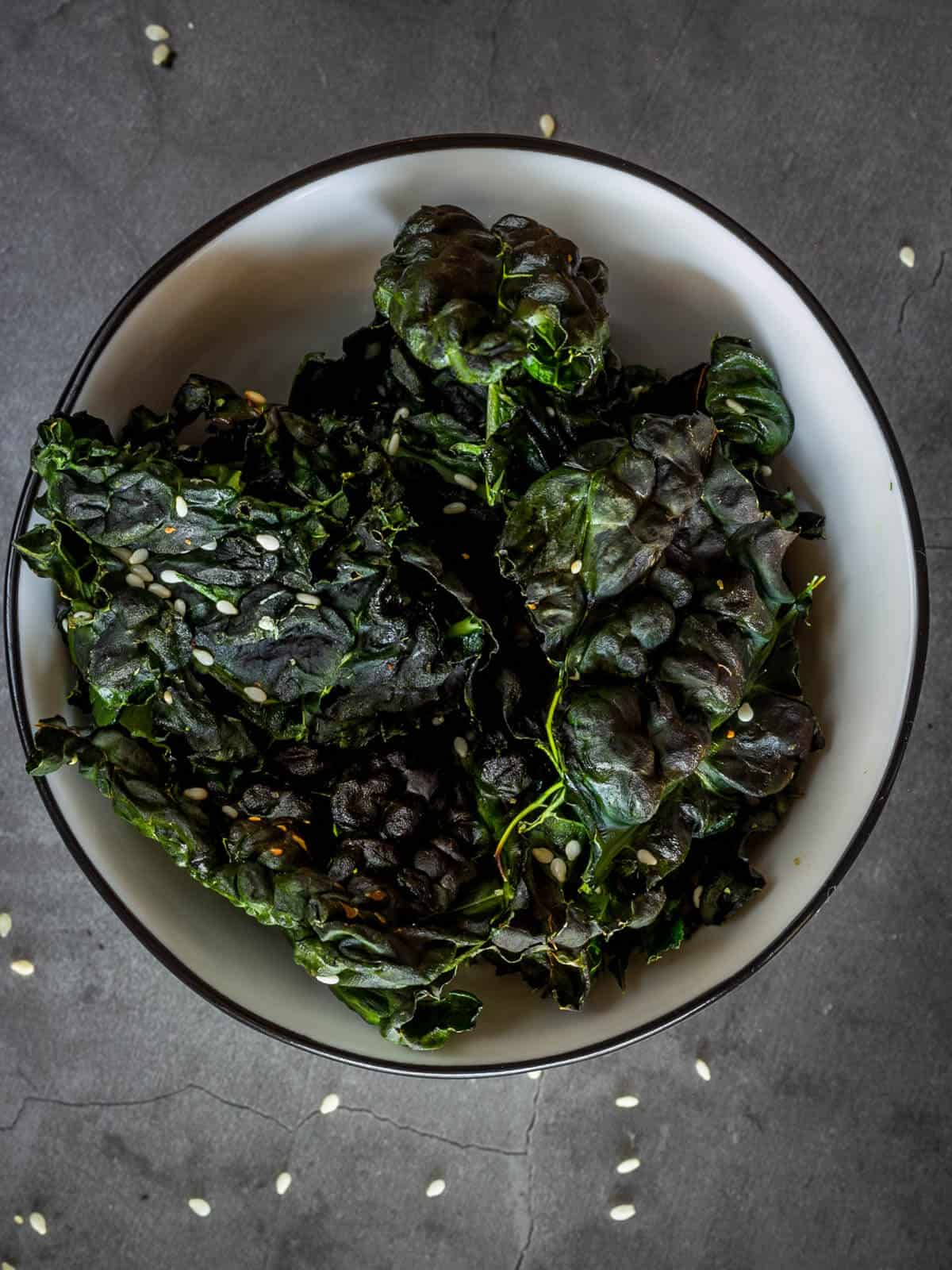 Curious about all the health benefits of Kale?
🥬 Important note on kale
You may already be aware that non-organic vegetables often carry pesticide residues, which can be detrimental to our health. Each year, various countries release a list known as the "Dirty Dozen," highlighting the fruits and vegetables with the highest levels of pesticide residues.
Interestingly, kale consistently secures a spot in the Top 5 of the Dirty Dozen ranking in the US, competing head-to-head with strawberries and spinach.
Considering this information, I highly recommend checking your country's Dirty Dozen list and opting for organic versions of the vegetables on that list. Alternatively, if organic options are not available, it's crucial to wash these vegetables with extra care to minimize pesticide exposure. Prioritizing your health is key when it comes to enjoying your favorite greens like kale.
❓ FAQ
How long does cooked kale last?
Cooked kale can last up to around 3-4 days if stored correctly. To make cooked kale last longer, storing it with as much air out of the container as possible is important. If you are storing your cooked kale in a plastic or glass container, release excess air by sealing only part of the lid and leaving some space between the lid and the food.
You should also keep your cooked kale refrigerated and eat within 3-4 days to stay fresh and not spoil quickly. It's also helpful to store portions rather than a large dish of cooked kale so that you can easily grab individual portions instead of having one big bowl in the fridge for too long. By following these tips, you can ensure that your cooked kale lasts up to 3-4 days after being prepared!
📚 More Nutritious Savory Snacks
Dive into the world of savory spreads with Hummus 3-Ways - discover three delicious and versatile variations of this classic chickpea-based dip that will take your snacking game to new heights!
Experience the smoky and rich flavors of Eggplant Babaganoush, a velvety Middle Eastern dip that perfectly balances earthy eggplant, tangy lemon, and fragrant spices. Get ready to indulge in a true culinary delight!
Indulge in the irresistible combination of Crispy Tofu with 5-minute Vegan Pesto - enjoy the crispy exterior and tender interior of the tofu paired with a vibrant and zesty pesto sauce that will leave your taste buds craving more. Elevate your plant-based cooking with this simple yet mouthwatering recipe!
If you want an easy-to-make and sweet snack, try out our candied walnuts, they are perfect when you are on the go or even as a small present.
⭐ If you try this recipe, let us know! 💬 Leave a comment, rate it, and don't forget to tag us @ourplantbasedworld on Instagram. Cheers!
📋 Recipe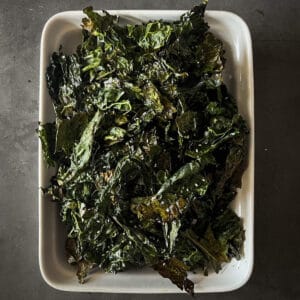 Crispy Kale Guilt-Free Snack
Discover the ultimate guilt-free snack with our Crispy Kale Chips recipe. Learn how to create irresistibly crunchy chips packed with nutrients and bursting with flavor. Satisfy your cravings the healthy way and embark on a deliciously wholesome snacking adventure.
Equipment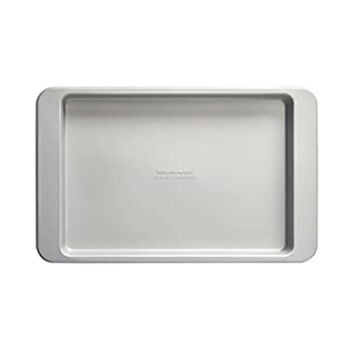 (affiliate link)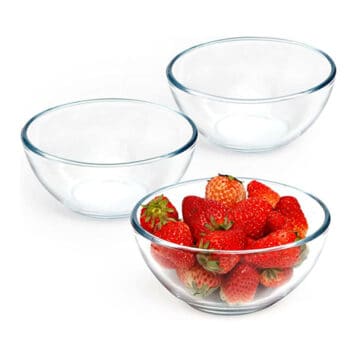 (affiliate link)
Ingredients
14

ounces

kale

fresh

1

teaspoon

avocado oil

or sesame or peanut oil
Directions
Preheat the oven to 400ºF (200°C).

Rip the kale leaves from their stems and put them in a bowl.

Massage it with your hands for a couple of seconds and add all the ingredients.

Spread the mix on a large baking tray.

Roast it for 5-7 mins.

Toss it and roast for another 7 mins.
Notes
Eat fresh otherwise it may loose the crispiness.
Nutrition Facts
Calories:
64
kcal
Carbohydrates:
9
g
Protein:
4
g
Fat:
2
g
Saturated Fat:
1
g
Polyunsaturated Fat:
1
g
Monounsaturated Fat:
1
g
Sodium:
38
mg
Potassium:
498
mg
Fiber:
1
g
Sugar:
1
g
Vitamin A:
9912
IU
Vitamin C:
119
mg
Calcium:
154
mg
Iron:
2
mg
Nutrition Facts
Crispy Kale Guilt-Free Snack
Amount per Serving
% Daily Value*
* Percent Daily Values are based on a 2000 calorie diet.
Nutritional Disclaimer
The information shown is an estimate provided by an online nutrition calculator. It should not be considered a substitute for a professional nutritionist's advice. See our full Nutritional Disclosure here.
Affiliate Disclaimer
Please note that some of the links here are affiliate links, and I will earn a commission if you purchase through those links. I recommend all of the products listed because they are companies I have found helpful and trustworthy.