Eggplant Baba Ganoush Spread is a Middle Eastern favorite that makes everyone happy and makes a great snack. Babaganoush is a Mediterranean Roasted Eggplant Dip with tahini paste and lemon juice that is completely crowd-satisfier.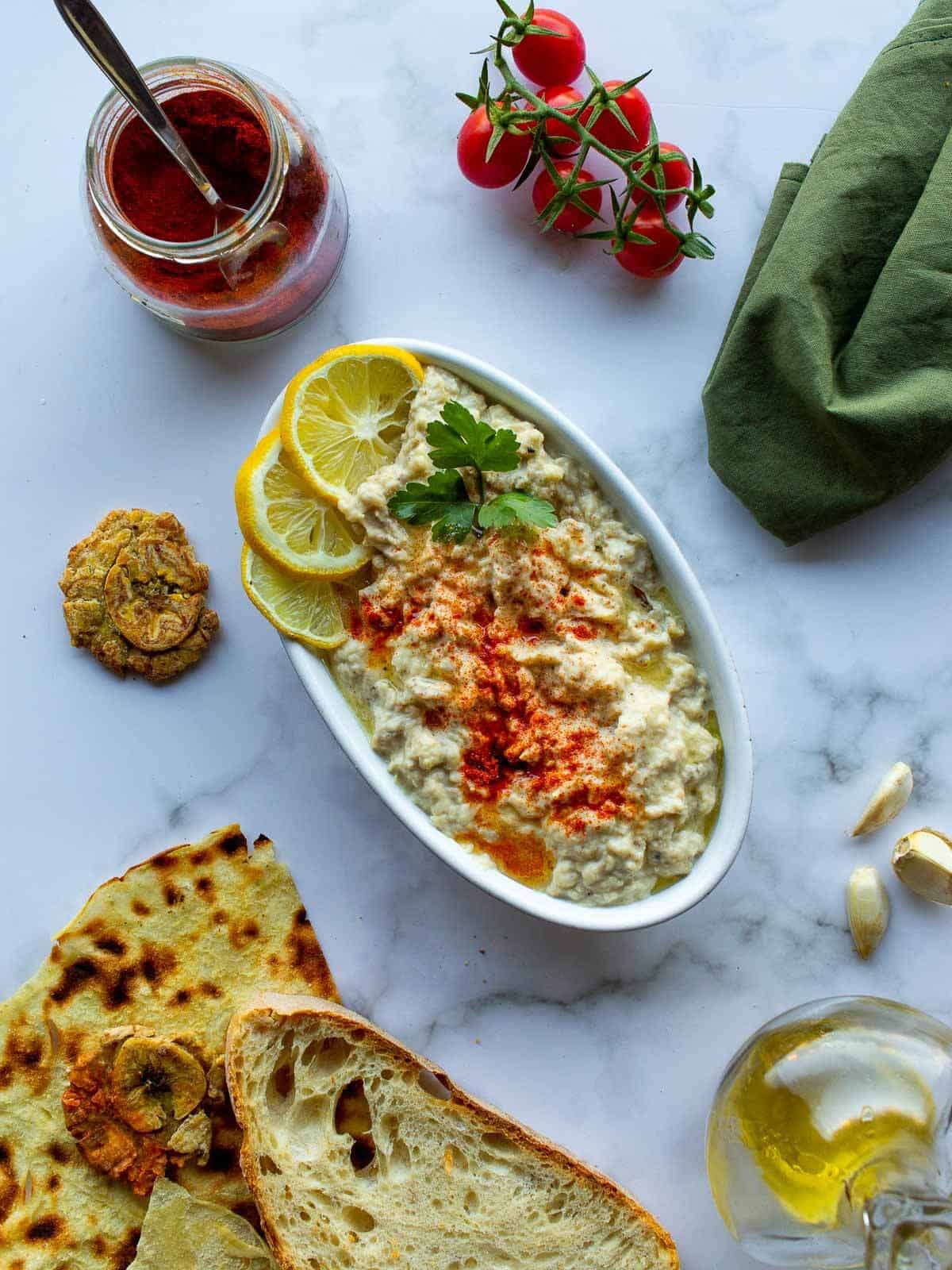 Learning to make this easy Eggplant Baba ganoush opened a new window for me because the process of roasting the eggplants and then adding some spices was something I kept to make other things such as pasta fillings for Ravioli.
Enjoy it with a deliciously fresh Tabbouleh Salad or next to any of our delicious flavored hummus recipes: roasted pumpkin hummus and pink beet hummus.
Don't forget to check out our simple Lebanese Seven Spices mix to make any stew taste like an authentic Lebanese dish!
Jump to:
🧾 Ingredients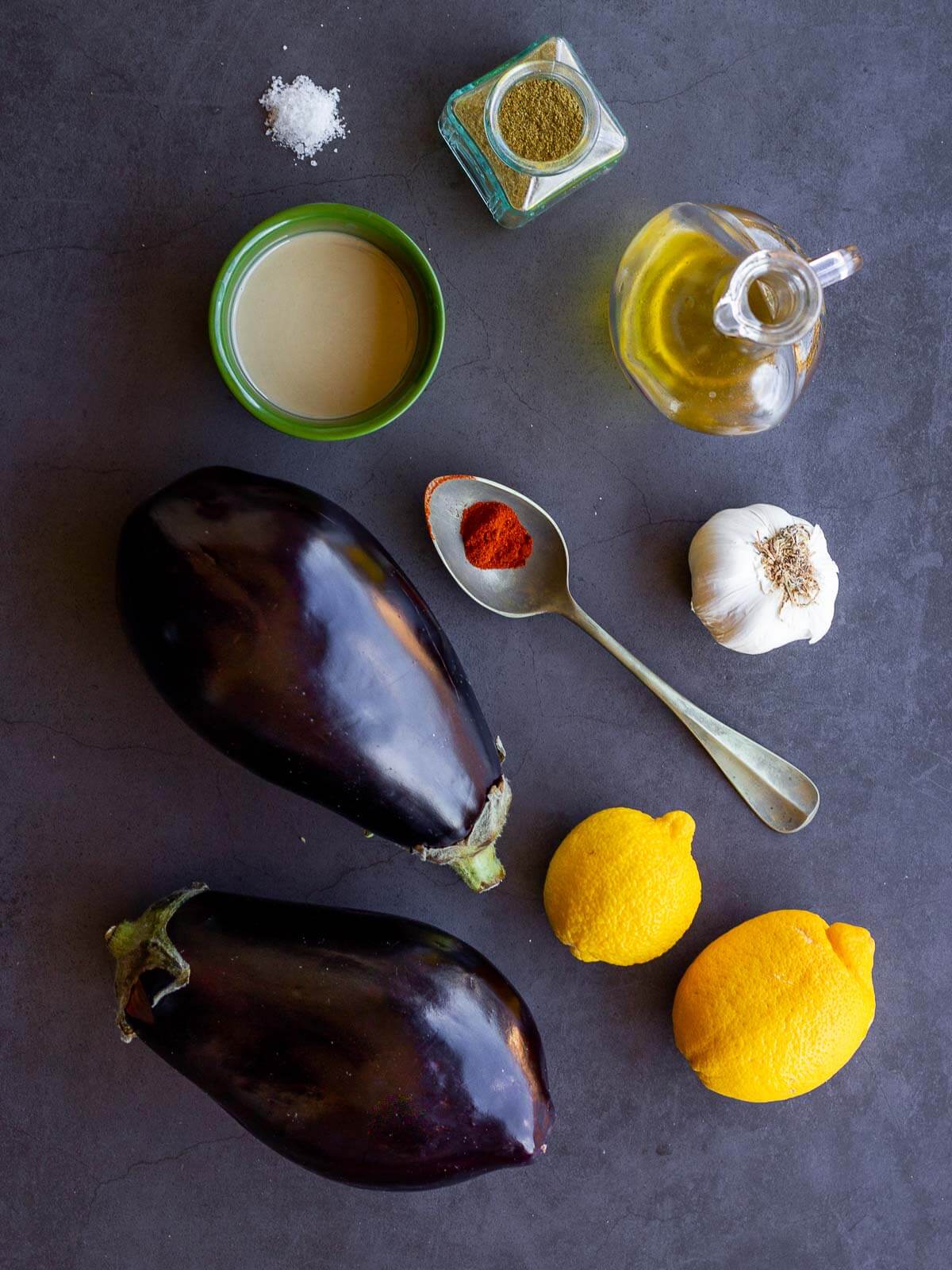 Eggplants (Italian or American black eggplants) are the main ingredient in the recipe, providing a creamy texture and a mild, earthy flavor.
Lemon juice adds a tangy and refreshing element to the dish, enhancing the overall taste and balancing the richness of other ingredients.
Garlic cloves: They bring a pungent and aromatic quality to the recipe, enhancing the savory flavors and adding depth to the dish.
Smoked Paprika (to add a smoky flavor): It infuses a distinct smokiness into the recipe, elevating the taste profile and adding a unique depth of flavor.
Ground cumin contributes warm and earthy notes to the dish, enhancing the flavor profile and complementing other spices.
Extra virgin olive oil: It serves as a cooking medium and adds richness to the dish, while also imparting its characteristic fruity and peppery flavor.
Tahini (sesame paste): It provides a creamy and nutty texture to the recipe, adding richness and depth of flavor, as well as contributing to the overall smoothness of the dish (essential to use good quality Tahni paste- Aim for a Lebanese brand).
If you love tahini, don't forget to check out our maple tahini dressing for salads.
Baba ganoush is similar to hummus because they are both spreads, but it calls for roasted eggplant instead of chickpeas, and the preparation method is different. Both dips are Middle-Eastern foods and are often served together with pita bread and raw vegetables.
The traditional method is for the eggplant to be broiled over an open flame before peeling so that the pulp is soft and has a smoky taste, which is exactly how I like to make it. It is a typical starter (meze) of the regional Levant cuisine.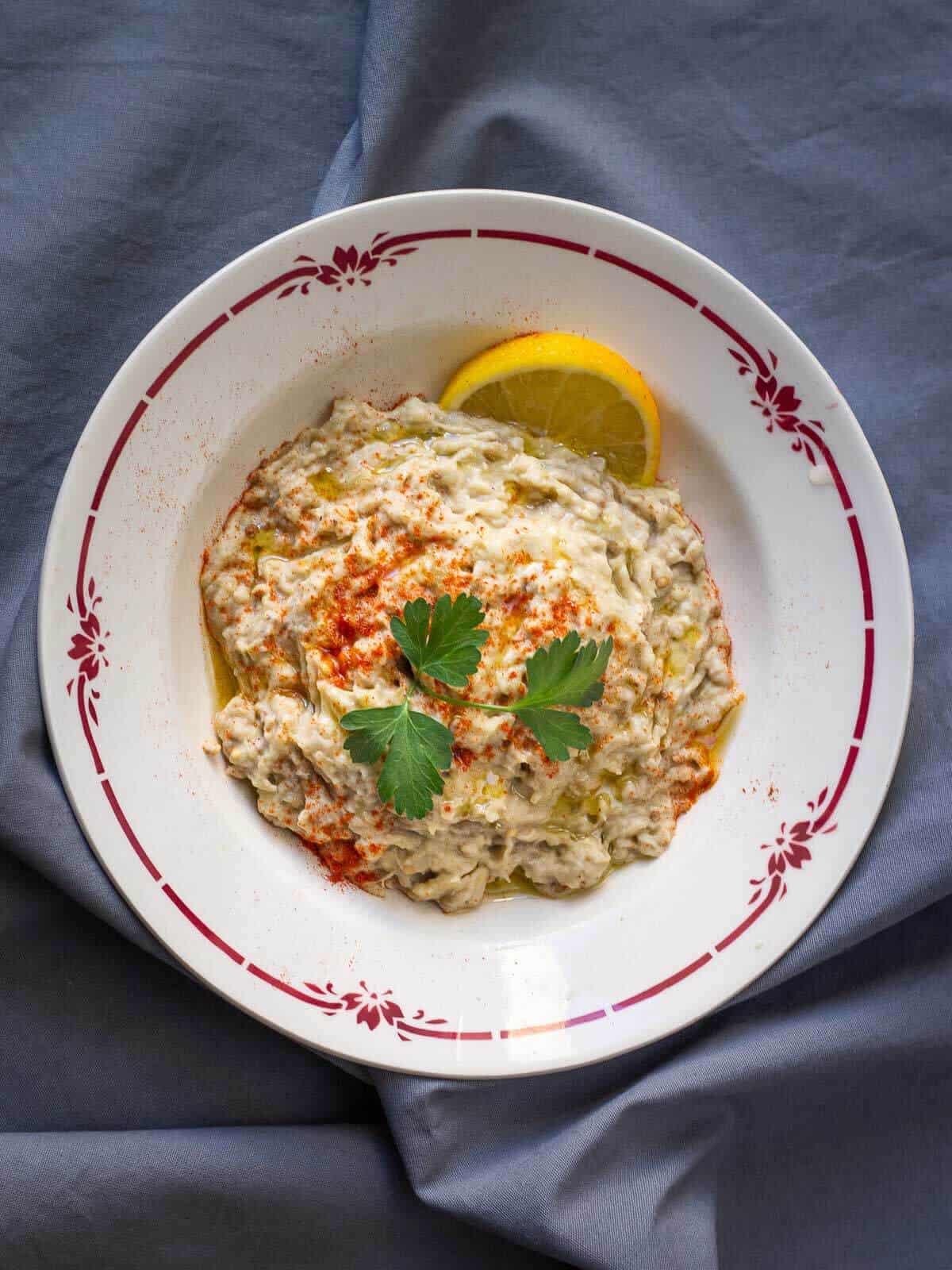 🔪 Instructions
Making baba ganoush is very simple.
First, the eggplants. Burn the Eggplants on an open flame.
I roast the eggplant on top of an open flame. This adds to the smokiness. You can pinch it with the fork to avoid the entire eggplant exploding. Using smoked good quality sweet paprika as a garnish adds some extra smokiness.
Roasting the eggplants with this method concentrates their flavor and ensures that your spread turns out silky.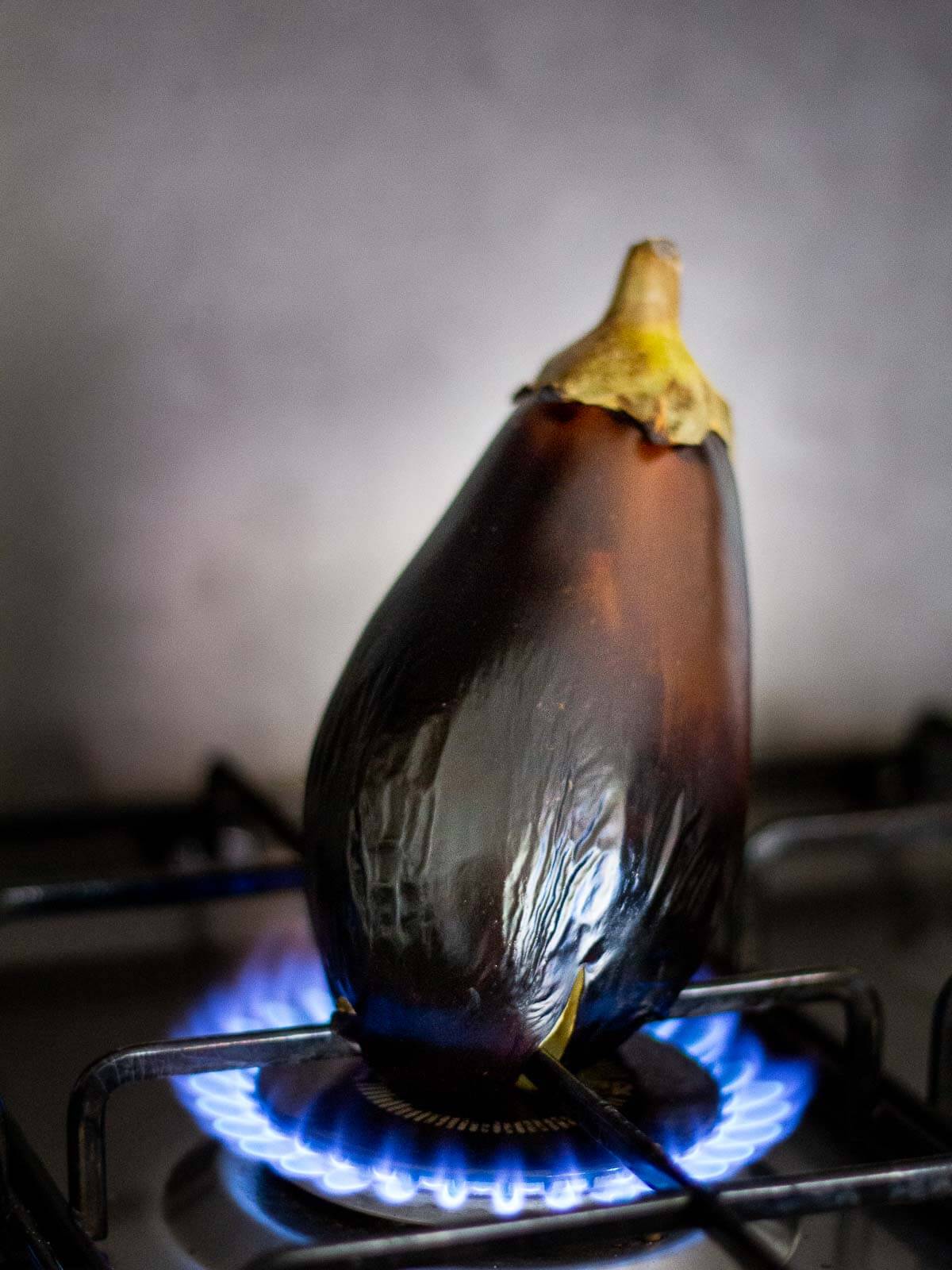 Roast eggplant on an open fire.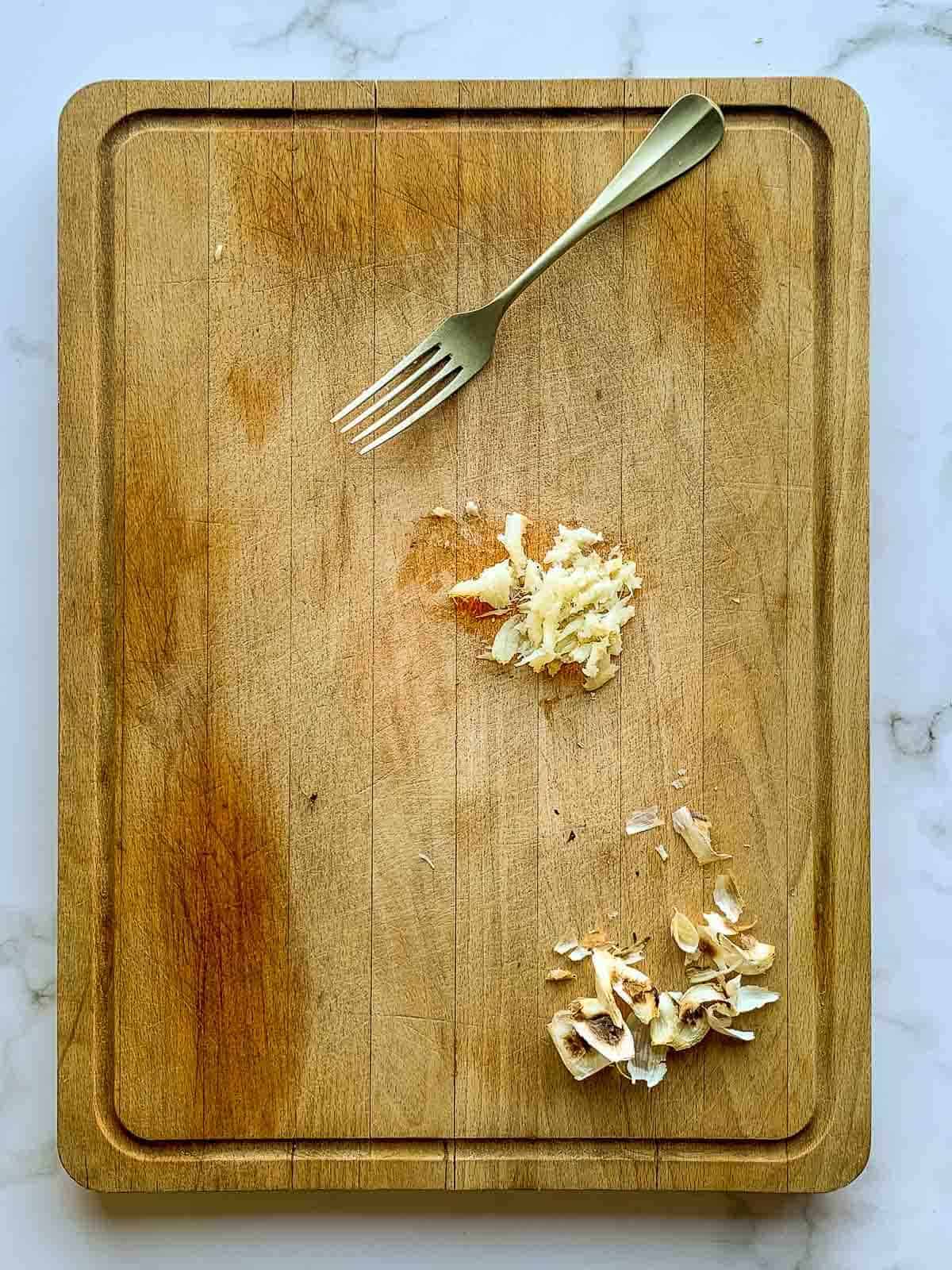 Roast garlic in a skillet with a lid and mash it with a fork.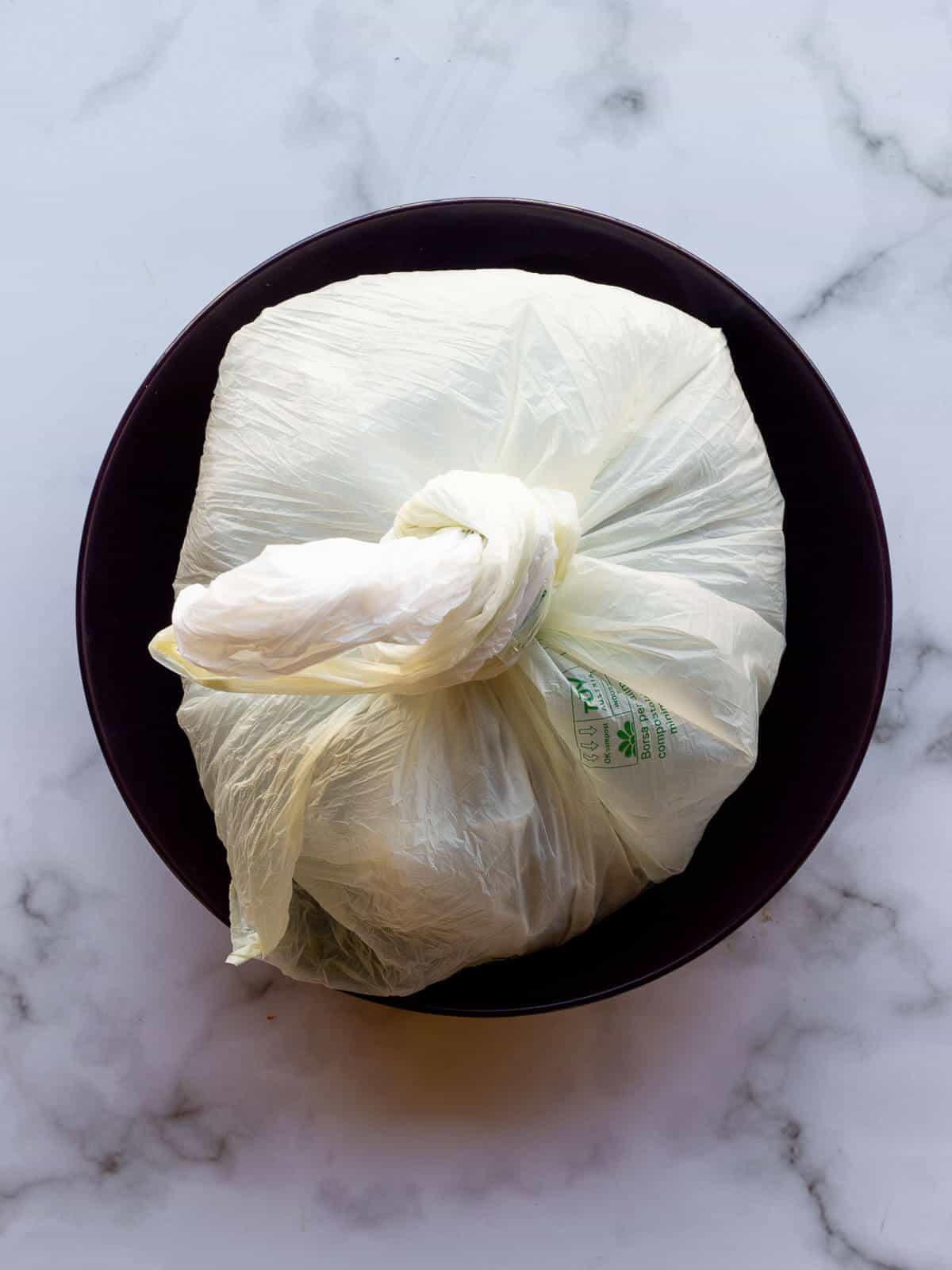 Remove the Eggplants from the heat at letting them rest for 5 minutes in a plastic bag.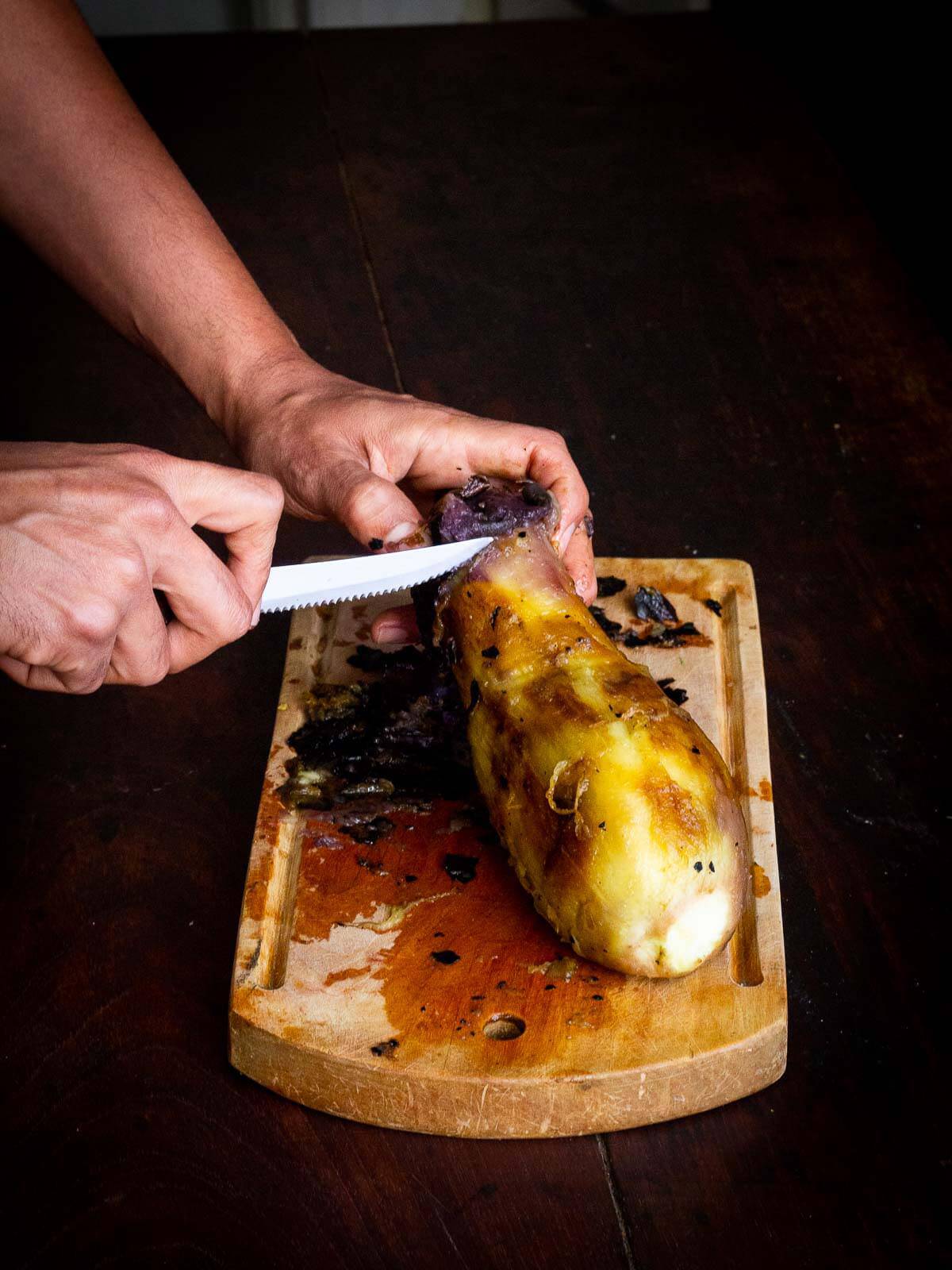 Peel the Eggplants with a saw blade knife.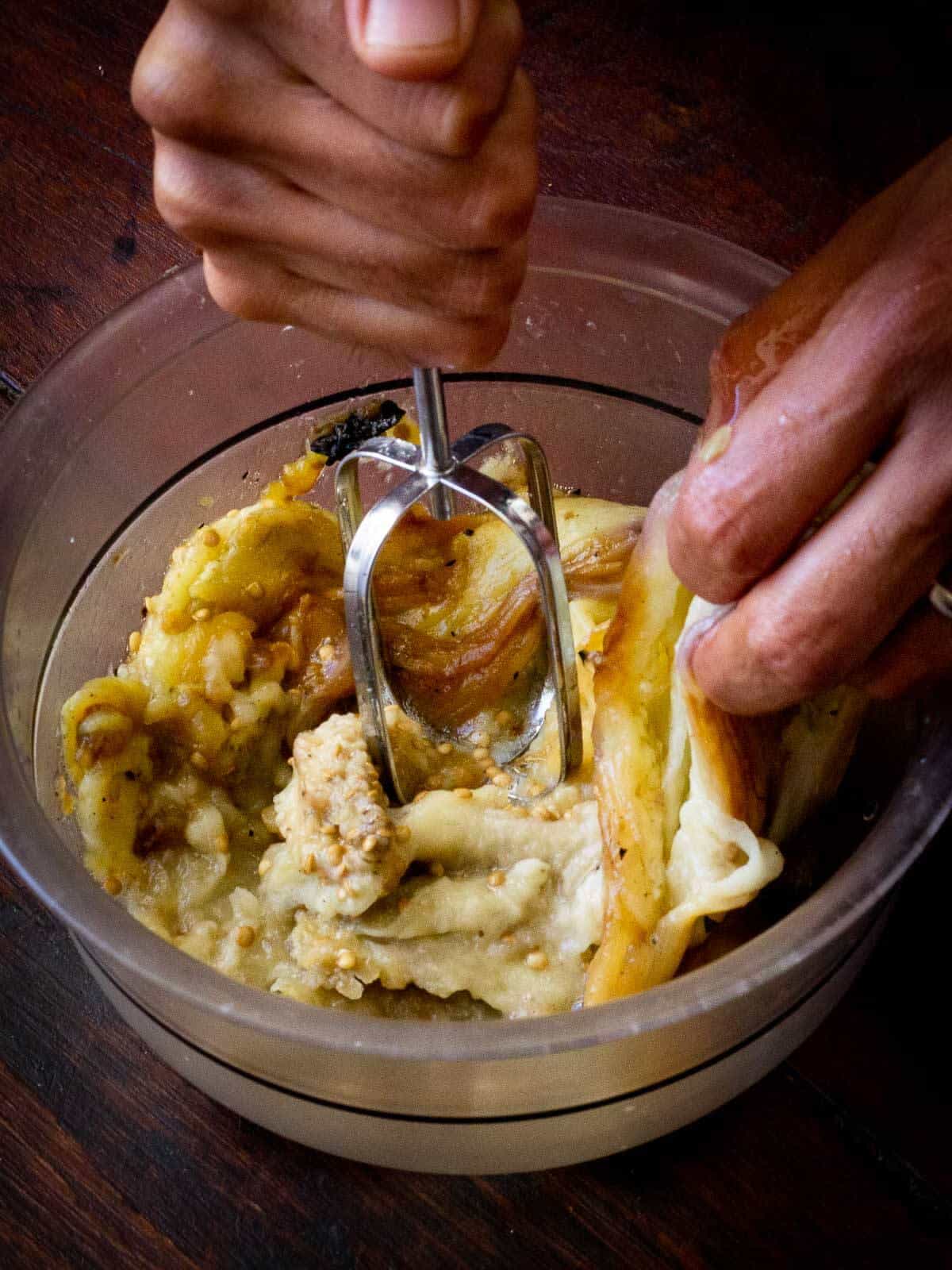 Mash the eggplants and make a puree. Do not use a food processor. The texture here is Key!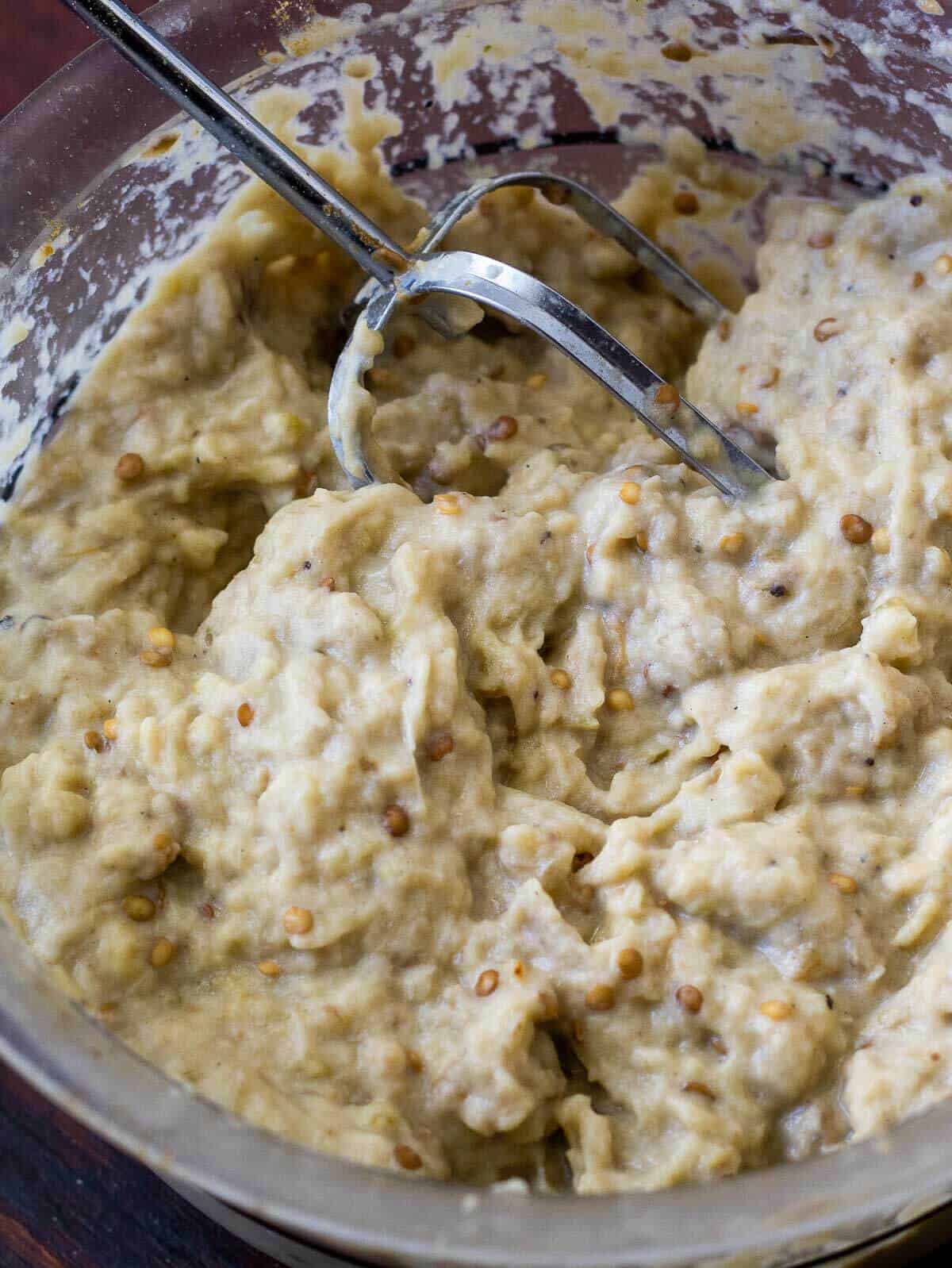 Add the lemon juice, tahini sauce, extra virgin olive oil, mashed garlic cloves, ground cumin, smoked paprika, and sea salt.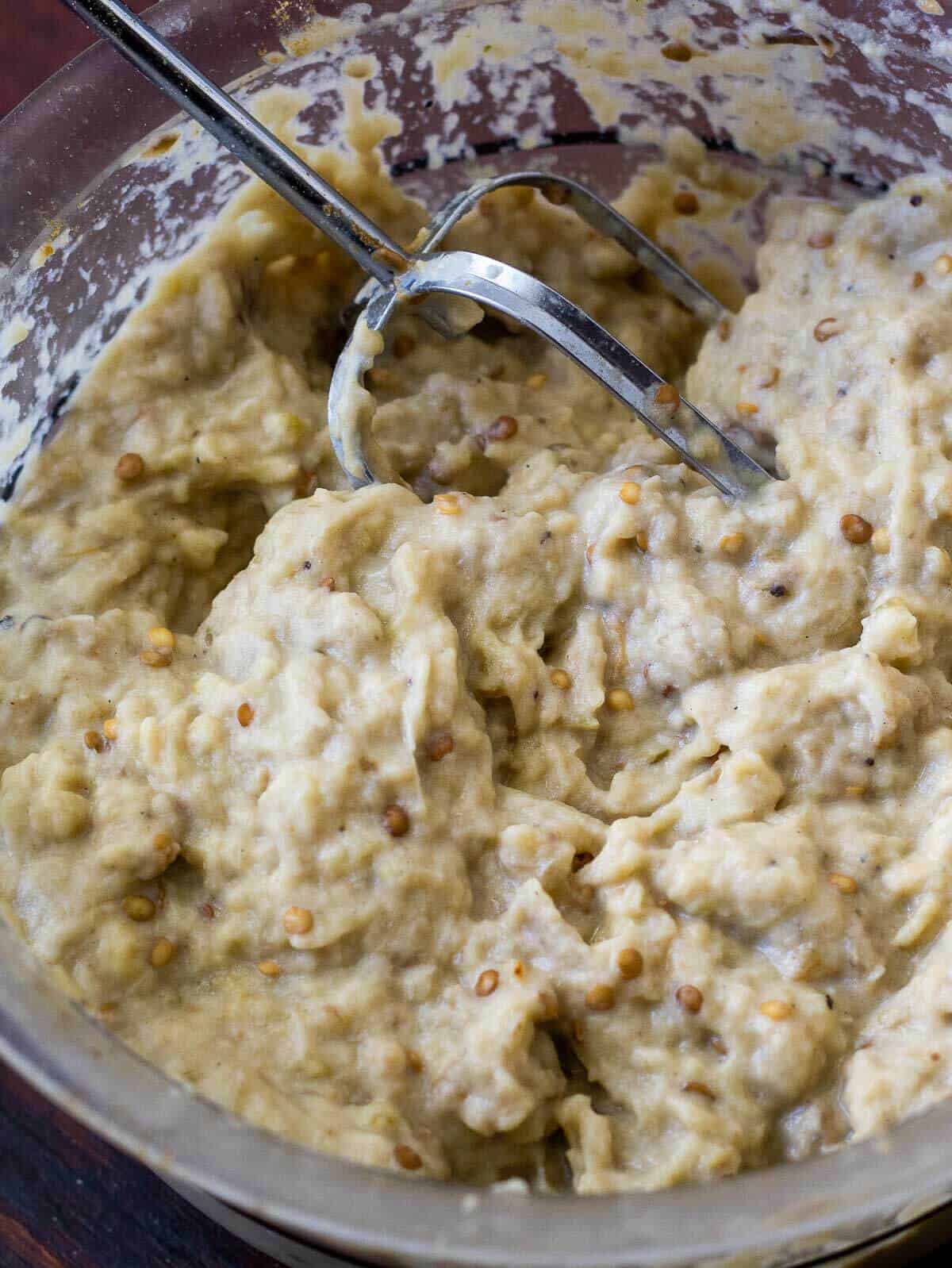 Finally, taste and adjust for salt and lemon. Add a pinch of smoked paprika on top and a splash of good olive oil. You can also top it with fresh pomegranate.
Hint: you can make this baba ganoush recipe without tahini without a problem; simply replace it with the same amount of extra-virgin olive oil.
🪧 Substitutions
Garlic cloves: Use garlic powder or granulated garlic as a substitute. While the flavor will be similar, the dish may lack the fresh pungency that fresh garlic provides.
Smoked Paprika (to add a smoky flavor): Substitute with liquid smoke or chipotle powder to achieve a smoky taste. However, the depth and intensity of the smoky flavor may vary.
Ground cumin: Replace with ground coriander or a blend of other spices such as chili powder or curry powder. This will alter the flavor profile, but still provide a warm and earthy element.
Extra virgin olive oil: Swap with a neutral vegetable oil like canola or grapeseed oil. The richness and fruity flavor of olive oil will be missed, but it won't significantly impact the overall outcome.
Baba ganoush without tahini: Replace with any other nut butter like almond butter or cashew butter. The texture and flavor will differ, but it will still contribute to the creaminess and nuttiness of the dish. You can replace the tahini with cashew, peanut, or almond butter.
🥡 Storage
Store babaganoush in an airtight container in the refrigerator for up to 24 hours.
Can you freeze baba ganoush?
You can freeze baba ganoush – be aware that the consistency may change slightly. While freezing, this dip may slightly separate, but the flavor remains the same.
🥢 How to serve
I use this Eggplant Baba ganoush recipe as a dip and a spread for sandwiches to make them richer. As an eggplant lover, this is probably one of the easiest recipes I go to when I need to cater to a big crowd.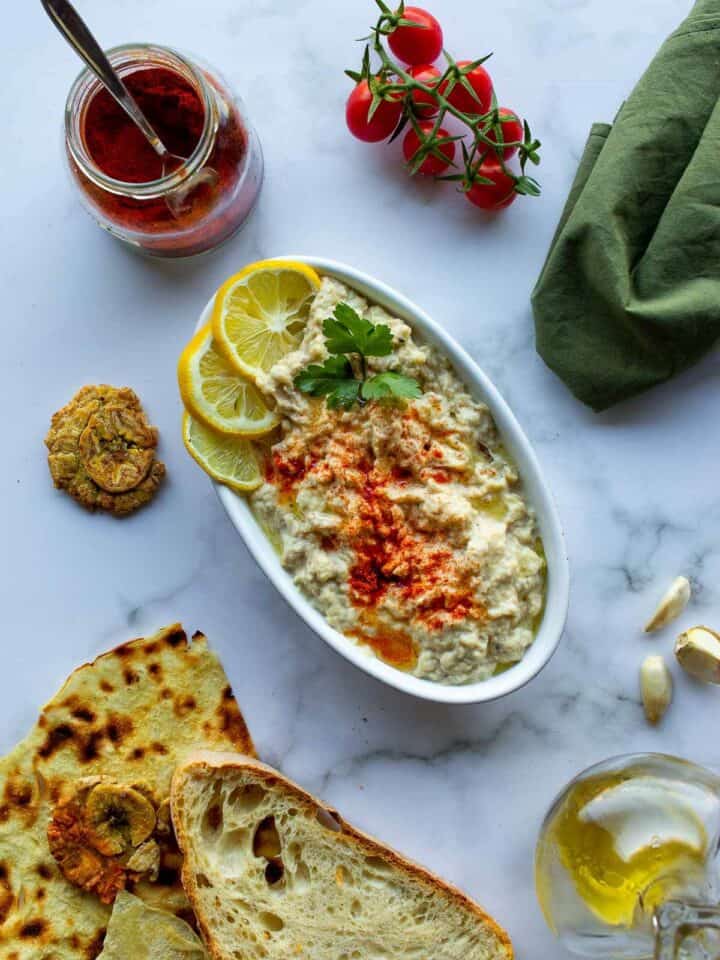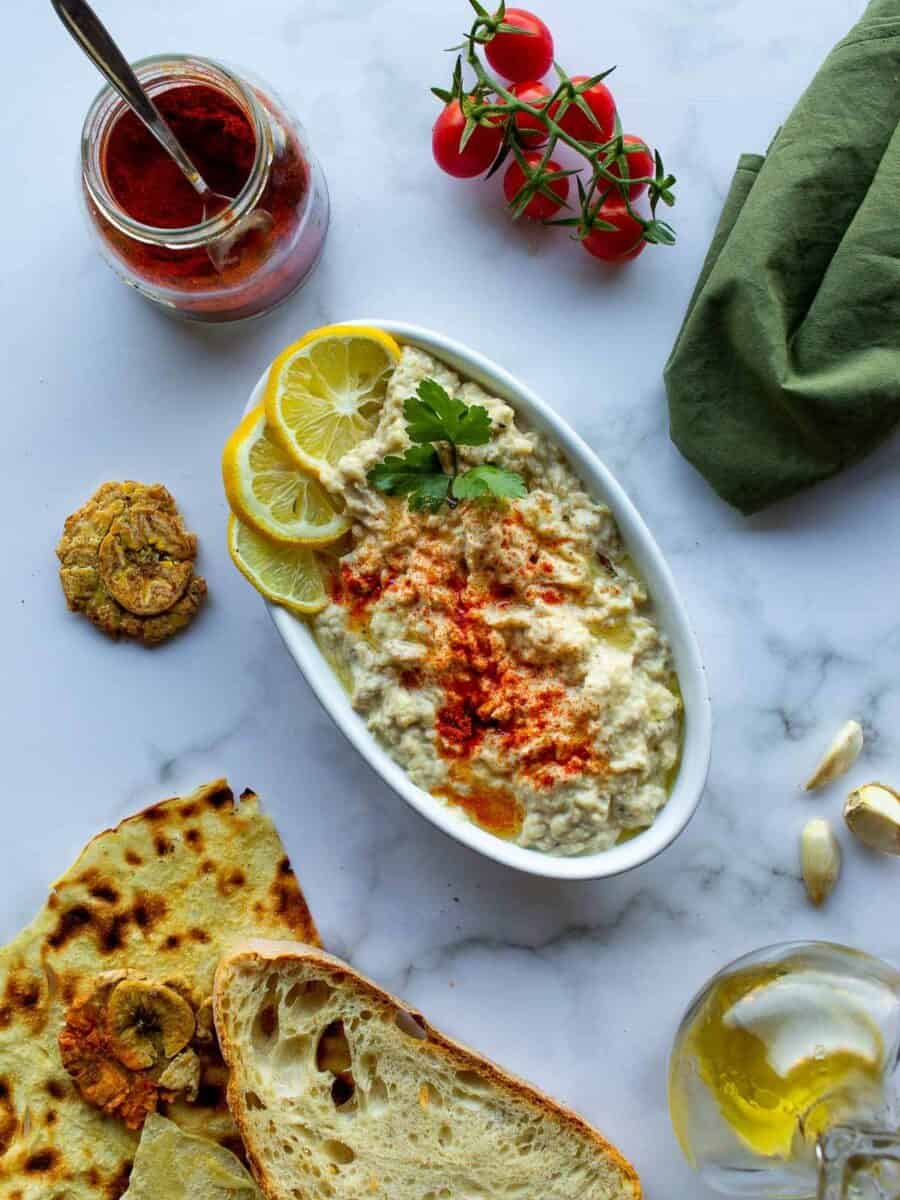 A Middle-Eastern Meze, many small dishes served that everyone grabs, without having to serve a single plate, usually includes this Babaganoush, Hummus, Tabbouleh salad, Roasted Bell Pepper Dip (Muhammara), red pepper hummus, and Crispy Falafel. Find all these delicious recipes on this site.
It has a very intense, delicious, and particular flavor that is hard to find in other eggplant-based recipes. The intensity is given by both the Tahini and the burnt eggplant; you can tune it up with the juice of the fresh lemon.
Here The cooking method is the key! I like to use the puree as a base for other recipes and even stuffing for ravioli.
Curious about Eggplant's benefits?
Learn about the surprising health benefits of eggplant.
❓ FAQ
When is the eggplant season?
The answer to this question is not so straightforward. Eggplant is harvested in the summer but could be grown year-round, depending on location.
Generally, eggplants are planted between March and May in cold climates and between June and July in warm climates. There may also be some variances at different locations inside a state.
🍆 More Eggplant favorites
⭐ If you try this recipe, let us know! 💬 Leave a comment, rate it, and don't forget to tag us @ourplantbasedworld on Instagram. Cheers!
📋 Recipe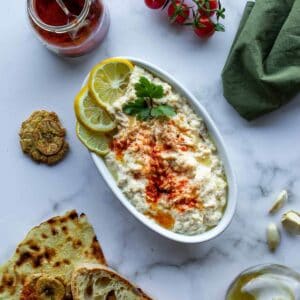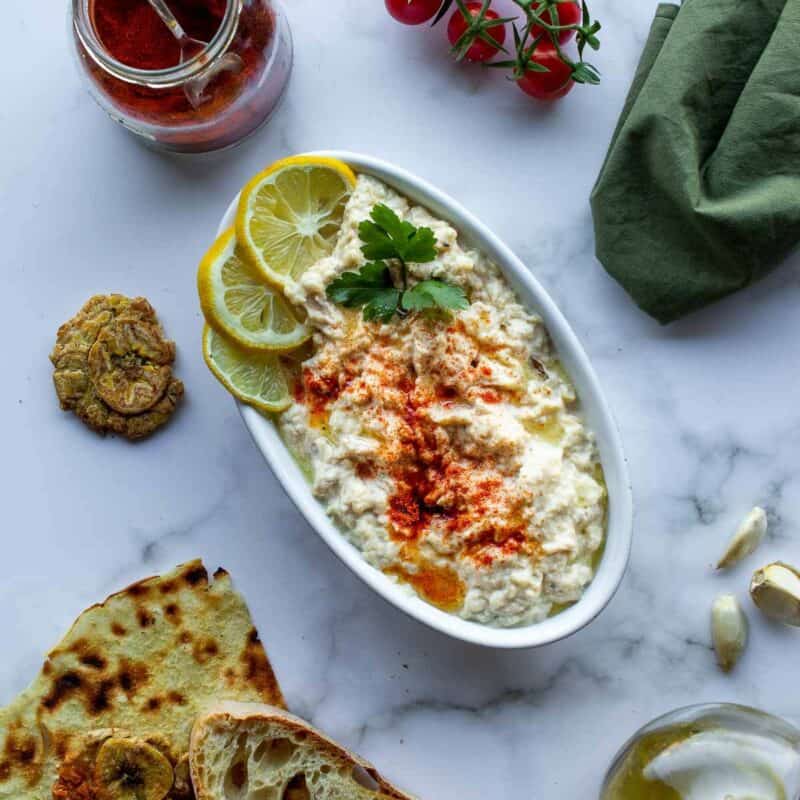 Vegan Baba ganoush Spread
A middle-eastern favorite that makes everyone happy and makes a great snack. See notes to make baba ganoush without tahini.
Equipment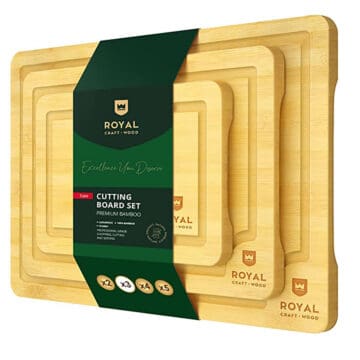 (affiliate link)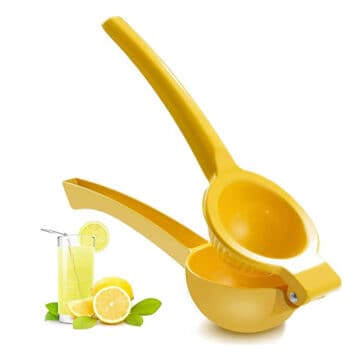 (affiliate link)
Ingredients
To Serve:
1

tablespoon

olive oil

extra-virgin

¼

teaspoon

smoked paprika

preferably smoked

½

pomegranate

red seeds, fresh

parsley

chopped, to garnish
Directions
Pierce the eggplants with a fork and roast them on an open flame (or in the oven if you don't have a gas stove).

Allow eggplant to roast over the flame for 20-25 minutes, moving them every 5 minutes. The larger the eggplant, the longer it will take to burn.

When finished, remove them from the flame and put them in a plastic bag, let them rest for 5 mins, save the steamed liquid and proceed to peel it with a sawed knife. Discard the skin.

Let the eggplant return to room temperature and peel the skin with a saw blade knife.

Mash the eggplant pulp with a fork or a masher.

Mix all the ingredients plus some eggplant liquid, about 2-3 tablespoons.

Ensure all the ingredients are well mixed until you have a uniform paste.

Drizzle with olive oil and paprika and garnish with fresh parsley and/or pomegranate seeds.
Notes
I don't recommend using a food processor here. The texture is much better when using a fork.
Variation: to make baba ganoush without tahini, simply replace the same amount of tahini with extra-virgin olive oil.
Alternatively, you can replace the tahini with cashew butter, peanut butter, or almond butter.
Nutrition Facts
Calories:
256
kcal
Carbohydrates:
30
g
Protein:
7
g
Fat:
15
g
Saturated Fat:
2
g
Sodium:
305
mg
Potassium:
788
mg
Fiber:
11
g
Sugar:
14
g
Vitamin A:
91
IU
Vitamin C:
39
mg
Calcium:
73
mg
Iron:
2
mg
Nutrition Facts
Vegan Baba ganoush Spread
Amount per Serving
% Daily Value*
* Percent Daily Values are based on a 2000 calorie diet.
🌡️ Food safety
Cook to a minimum temperature of 165 °F (74 °C)
Do not use the same utensils on cooked food that previously touched raw meat
Wash hands after touching raw meat
Don't leave food sitting out at room temperature for extended periods
Never leave cooking food unattended
Use oils with high smoking points to avoid harmful compounds
Always have good ventilation when using a gas stove
See more guidelines at USDA.gov.
The information shown is an estimate provided by an online nutrition calculator. It should not be considered a substitute for a professional nutritionist's advice. See our full Nutritional Disclosure here.
Please note that some of the links here are affiliate links, and I will earn a commission if you purchase through those links. I recommend all of the products listed because they are companies I have found helpful and trustworthy.