This vegan kale pesto is one of the easiest and most delicious pestos you'll ever make. It takes only a few minutes to whip up this vegan dish that can be used as a pasta or topping for your favorite vegetables.
The kale provides plenty of nutrients, while the sage adds flavor and aroma to this simple dish! That's why we regularly consume it on kale and spinach salads and smoothies.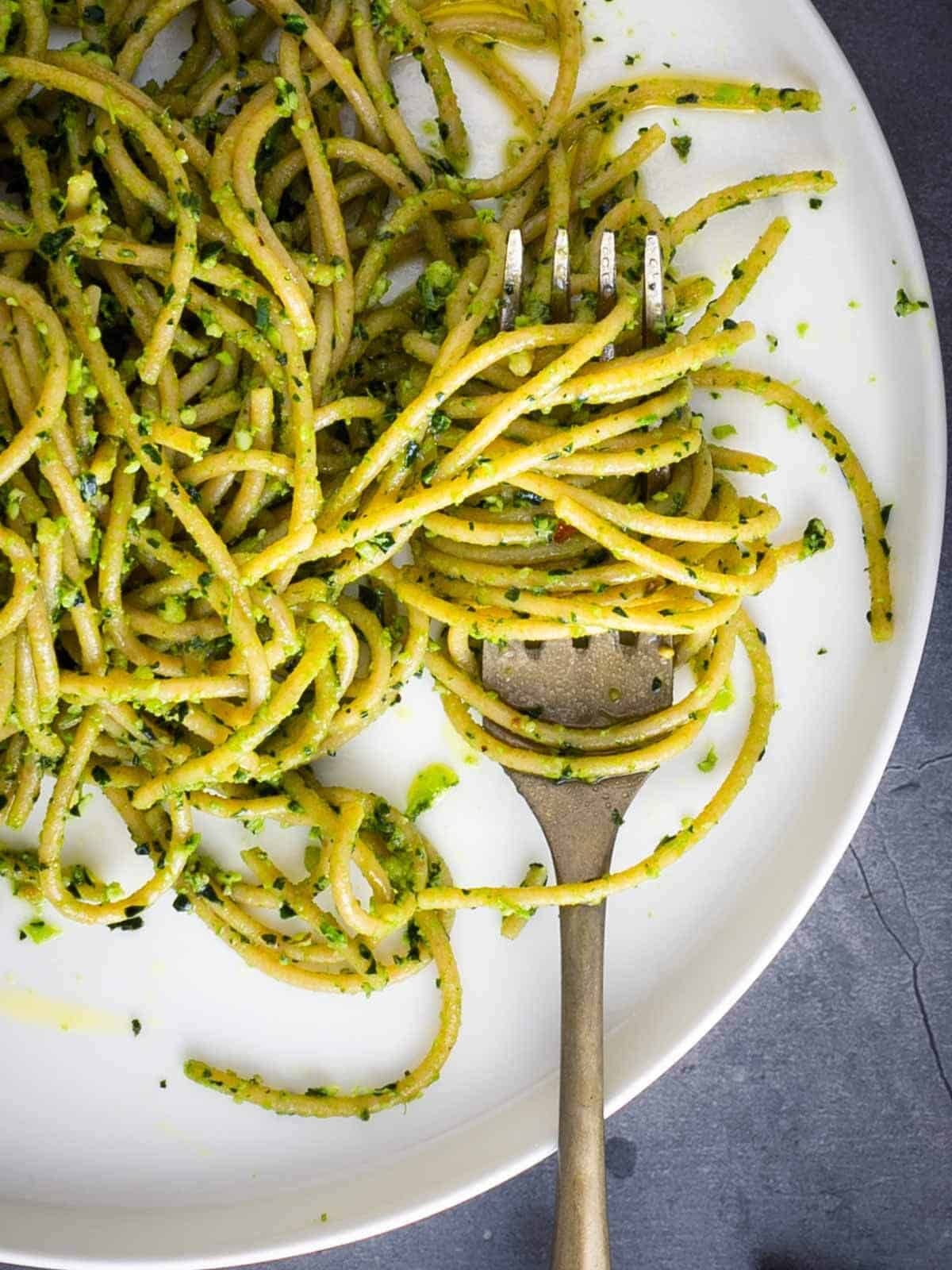 If you want to make vegan kale pesto, this great recipe is the one for you. It's made with kale, sage, garlic, olive oil, and almonds. This kale pesto can be used as either a pasta sauce or topping on your cauliflower steak.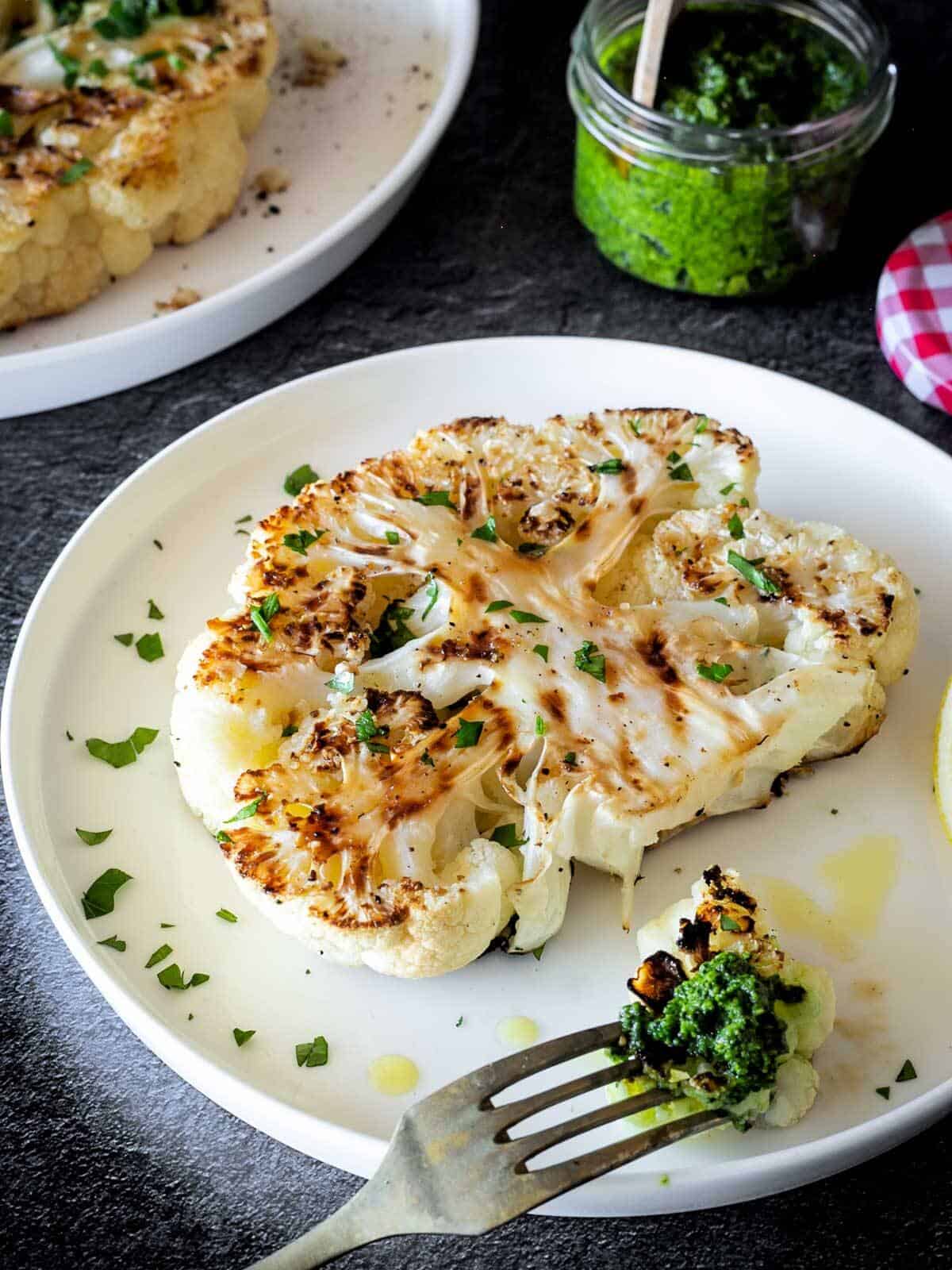 We love our pesto here in Italy. It is the more straightforward solution for a lazy dinner because we add it to whatever pasta we find. Even though you can buy store-bought pesto for a couple of euros, nothing beats homemade pesto, which is super convenient.
You can make it in 5 minutes. Please make sure you check our Basil pesto, Mint pesto, Arugula Pesto, and our sun-dried tomato pesto, equally easy to make.
Since we use carrots quite often for juicing, and we love zero-waste cooking, we use carrot tops to make carrot greens pesto, which goes perfectly with vegan tuna salads and cold pasta salads.
Pesto has the power to elevate bland vegetarian recipes and make them super flavorful when you have no clue how to make a fantastic recipe out of thin air.
One of the reasons we love this recipe is because not only you can top your favorite pasta with kale pesto, but use it on top of your roasted veggies like cauliflower steaks or add a scoop of leftover pesto to your tofu scramble to give it an extra kick of flavor and nutritional value.
Jump to:
🗓️ Eat seasonally
Although you can find kale year-round, kale is a winter-season green. So this is when kale tastes better, is more fragrant, and delivers the best flavor. It is why it is the best moment to enjoy oven-baked crispy kale and the Tuscan soup ribollita.
Make sure you choose bright green kale.
🧾 Kale Pesto Ingredients
This is a very flexible recipe, but these are our favorite ingredients. You can take them as a direction and adjust to your liking.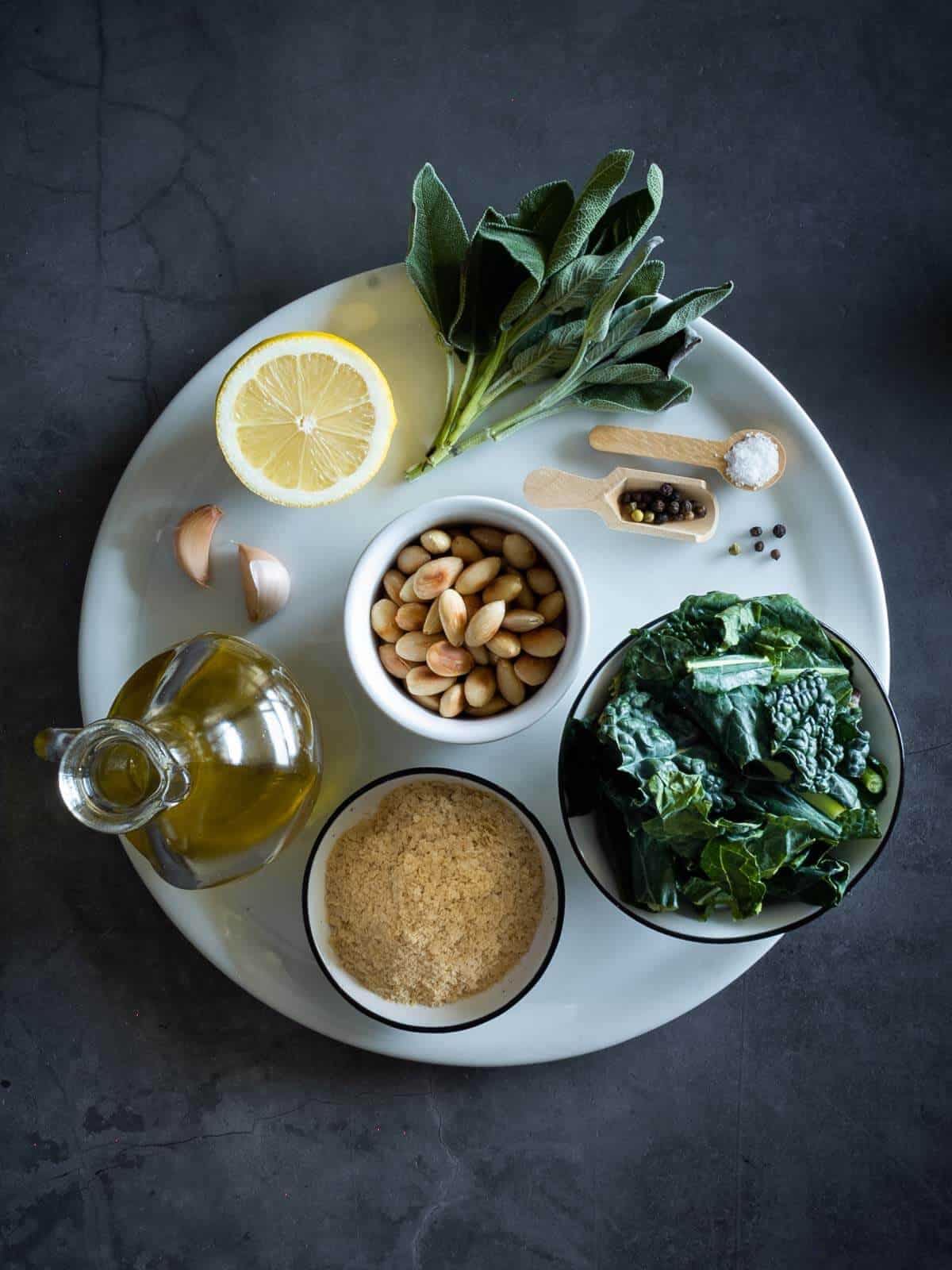 Fresh kale
Toasted almonds (or walnuts, pine nuts, or hemp seeds)
Garlic
Fresh sage (or basil)
Fresh lemon juice
Extra-virgin olive oil
Ground black pepper
Nutritional yeast (the cheesy flavor kind)
Sea salt
Optional: extra red chili flakes and lemon zest.
Note: you could use only kale but adding an extra herb like fresh basil or sage help to counteract kale's bitter flavor.
See quantities and complete instructions in the recipe card.
🤔 How to Make Vegan Kale Pesto?
In a nutshell, you need to wash your raw kale and then:
Step 1. Lightly toast the almonds.
Step 2. Add kale and nutritional yeast to the food processor and blend with the rest of the ingredients.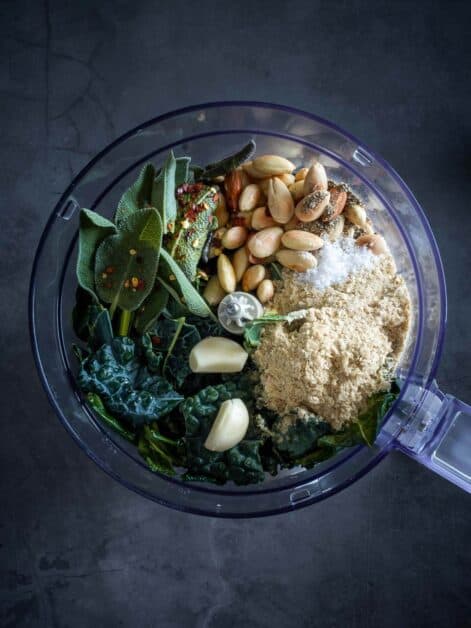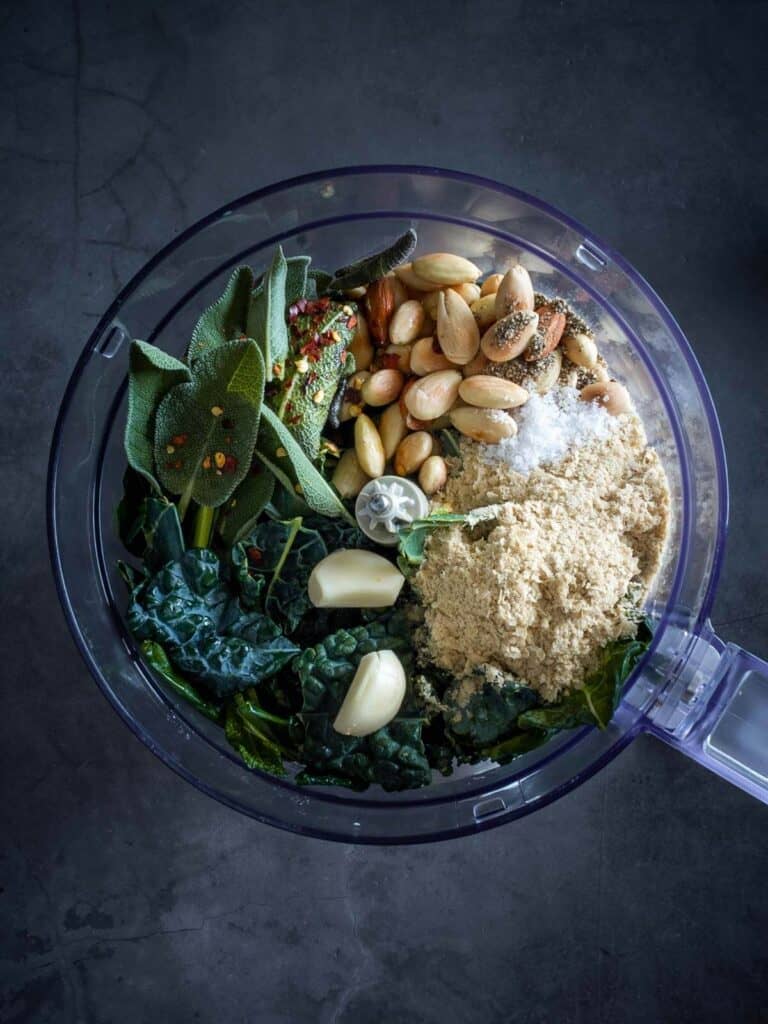 Step 3. Adjust the seasoning. Lemon juice for more acidity, nutritional yeast for extra cheesy flavor, and one extra garlic clove for a bolder flavor.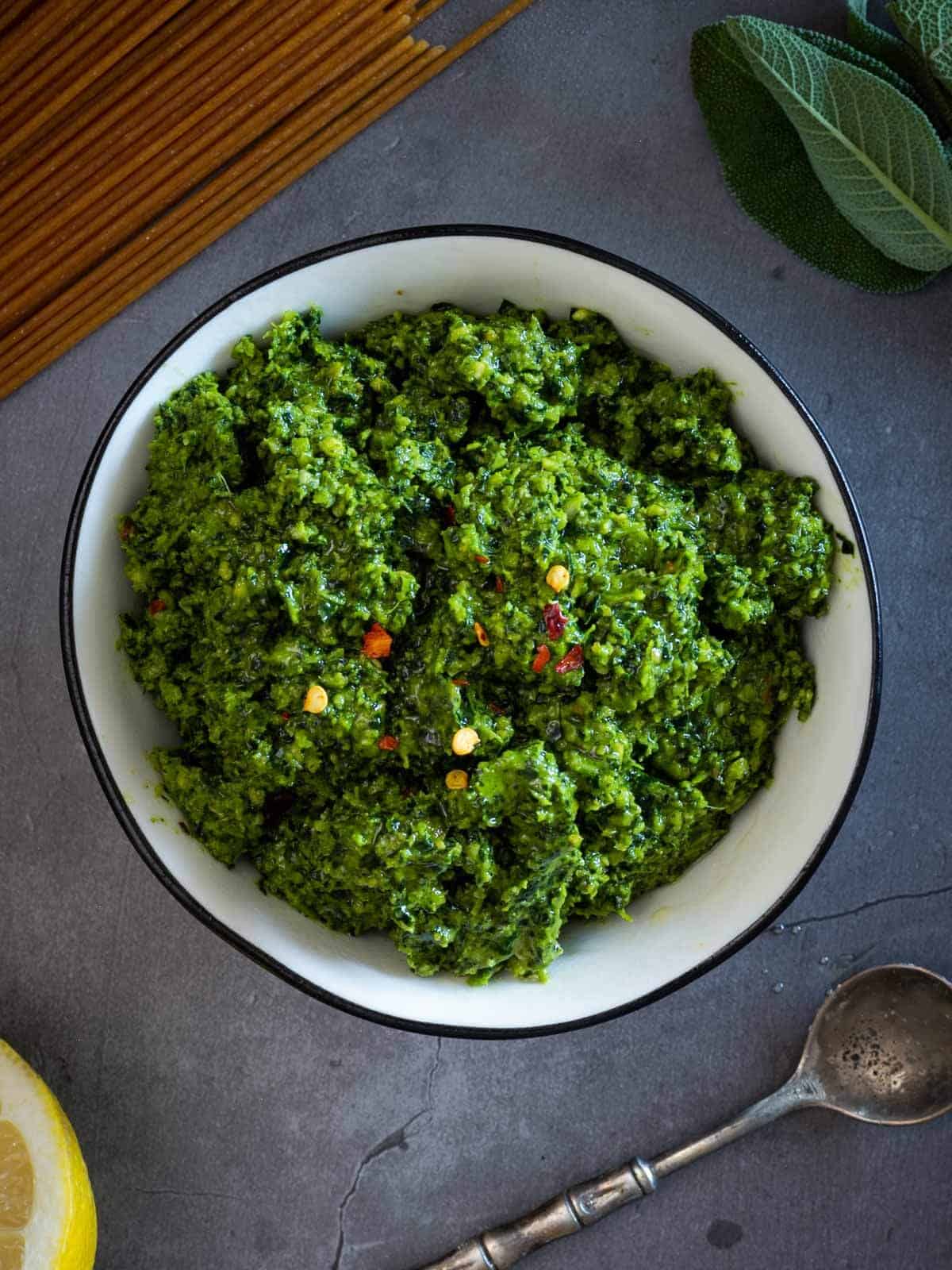 💡 Serving ideas for kale walnut pesto
Kale nut pesto is more than just another pesto. It's also versatile and delectable. You can add it to your regular pasta; this recipe is perfectly suitable for most recipes and makes an excellent topping for roasted vegetables and grilled veggies. We love kale pesto so much that it has become our go-to pesto recipe for our grilled cauliflower steaks.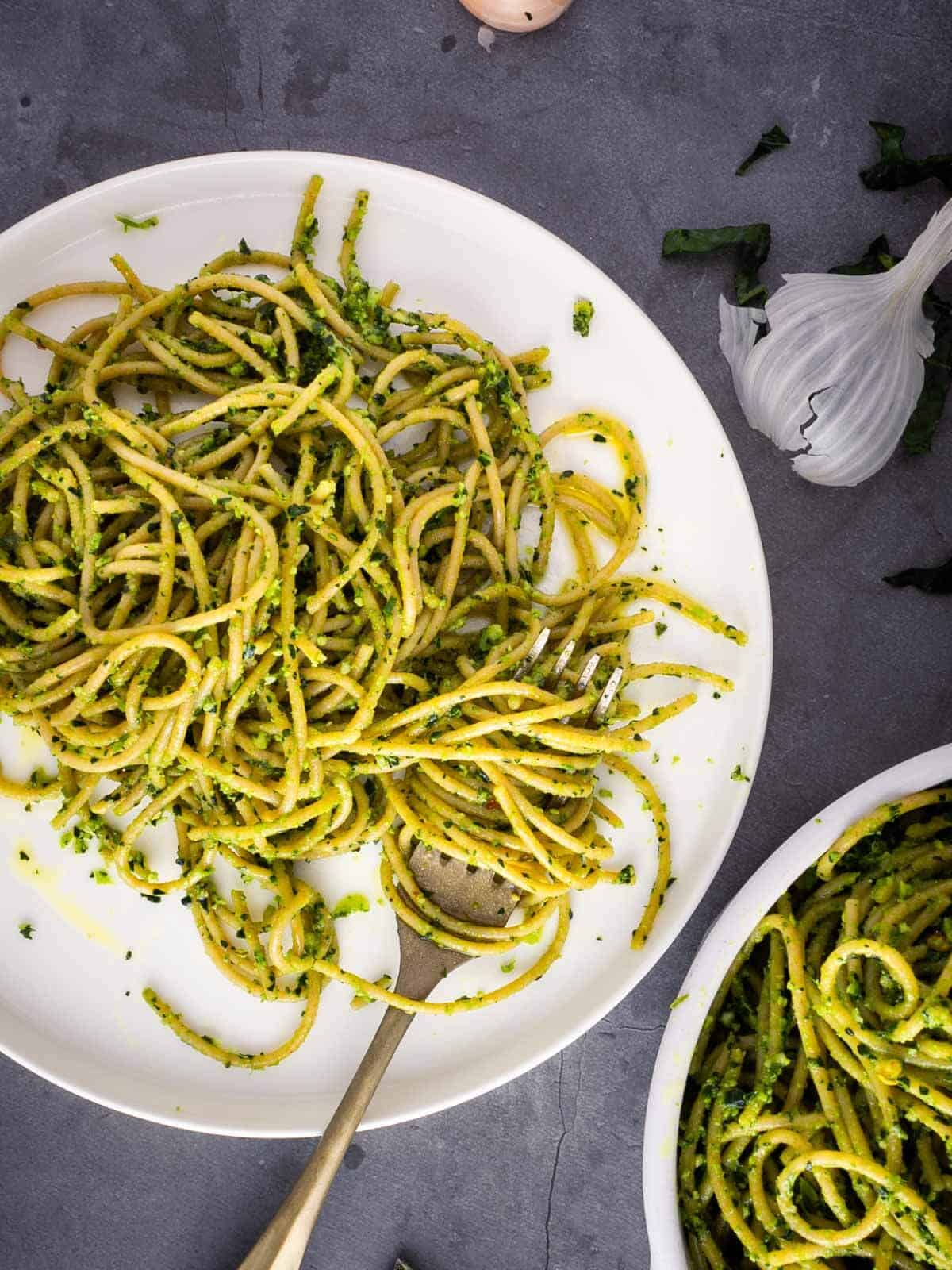 If you are eating your vegan kale pesto with pasta, make sure the pasta is cooked al dente, not more, because, as you stir in the strained pasta, along with some extra pasta water, inevitably, the pasta will cook a little more with the heat.
We also use this pesto to place dollops on top of our zucchini vegan and gluten-free lasagna.
🍽 Equipment
To make this kale pesto recipe, you only need a flat saucepan to toast the almonds and a food processor (affiliate link) (or immersion blender (affiliate link)) to blend all the kale pesto recipe ingredients.
🫙 Storage
How long does homemade pesto last?
If you store it in an airtight container and keep it refrigerated, this kale pesto recipe will last for a week. If too much olive oil coats the kale leaves, you can expect them to go rancid before anything else.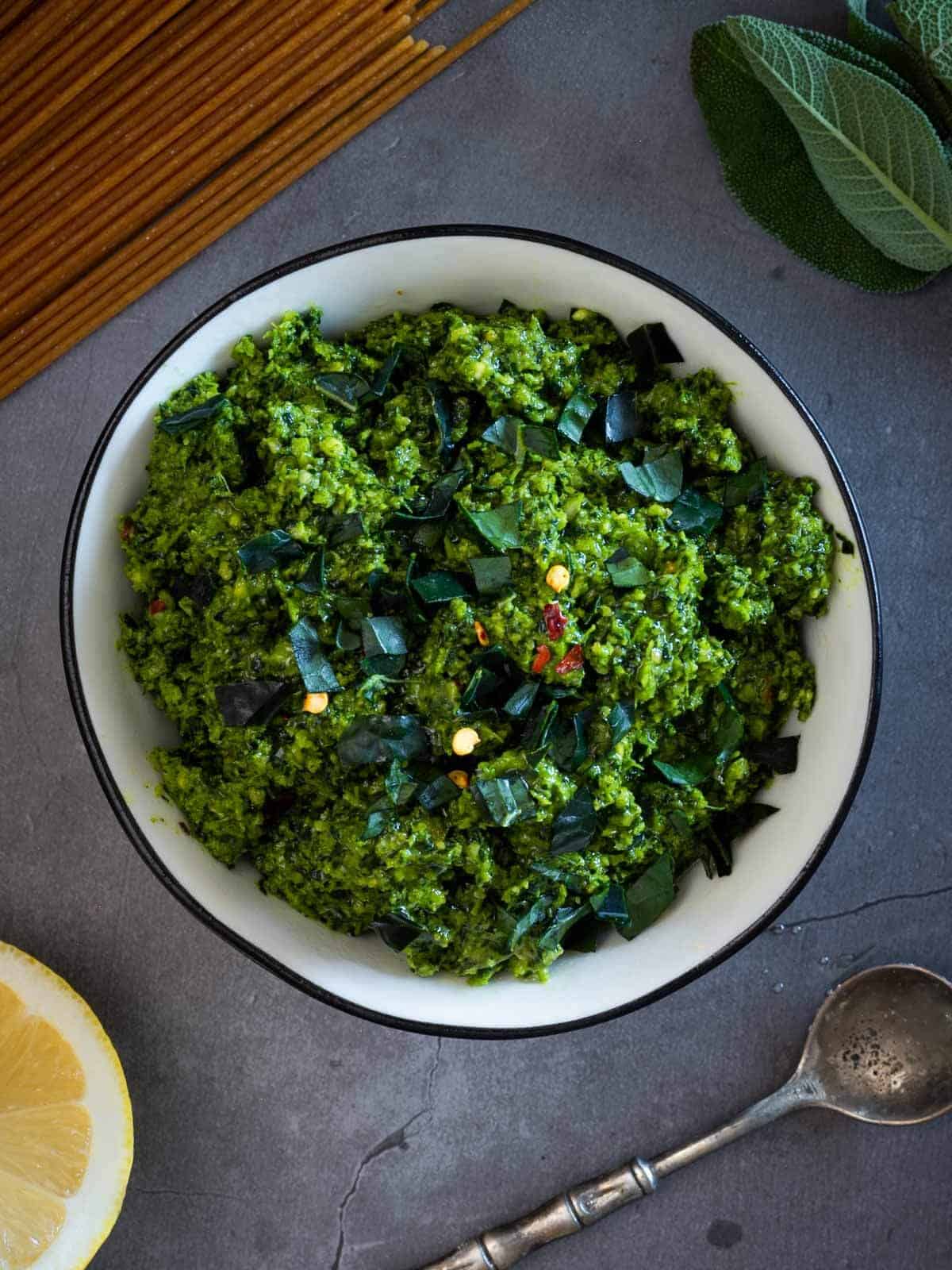 ❓ Frequently asked questions
🥬 what does kale taste like?
Kale tastes like a slightly tougher version of spinach. It has a slightly bitter, peppery taste that some people love, and others hate.
One great way to enjoy kale is to massage it with a little olive oil and salt before eating. This helps to soften the leaves and brings out the flavor. Kale can also be enjoyed in smoothies, soups, or salads.
Which kind of kale should you use?
All kale types work. Curly kale and deep green kale are my favorite types for this delicious kale pesto recipe.
Can you substitute kale for basil in pesto?
Yes, but you need to consider that kale is a savory green and basil is sweet; thus, to round up the flavor, it is good to add a more aromatic herb such as basil or sage-like we suggest in this recipe. Traditional pesto does not have kale in it, but even here in Italy, you can find pestos made out of several different ingredients, depending on the region.
Can walnuts and almonds replace pine nuts in pesto?
Yes, you can use walnuts or almonds in place of pine nuts. Even though you can use them raw as they are, we suggest lightly toasting them to get a richer flavor out of them.
Can kale pesto go bad?
As with all fresh homemade sauces and condiments, the best before date is around five days, but it depends on how well your kale was washed or if you used pre-washed kale. Also, if you suspect that you will leave it in the fridge for long, it would be better to add more olive oil to prevent the air from oxidating the greens component.
What is kale pesto made of?
The essential Traditional Genovese basil pesto recipe ingredients are fresh basil, grated parmesan cheese, garlic, lemon juice, and pine nuts. However, you can use different greens in pesto or omit the greens altogether and make a walnut or pistachio pesto. The possibilities are endless!
This dairy-free vegan kale pesto is made with kale, sage, garlic, and lemon, and then we use toasted almonds to replace the pine nuts and nutritional yeast to replace the parmesan cheese.
If you are not vegan but vegetarian, you can use grated parmesan cheese instead of nutritional yeast in equal quantities.
We recommend using good quality Italian extra virgin olive oil and fresh lemon juice to ensure your kale pesto recipe is outstanding.
How do you fix bitter kale pesto?
This recipe calls for fresh sage to fulfilling that role. Alternatively, you can add basil, a sweeter herb, or add sage to the kale walnut pesto. This will fix it.
Also, you can use raw hazelnuts instead of almonds to add a sweet flavor that, along with salt and the healthy fats present in olive oil and nuts, help neutralize the bitterness of the kale. Is chemistry! Have you ever wondered why they give you potato chips and peanuts with your beer?
Is green pesto unhealthy?
No, kale pesto is a great way to add some greens into your diet, and it is packed with healthy nutrients. Almonds are a good source of omega fatty acids, and nutritional yeast is an excellent source of B vitamins. Kale is high in vitamin A and C, as well as calcium. Pesto contains no saturated fats.
Kale is considered a superfood because it is high in antioxidants and anti-inflammatory properties. Garlic has long been known for its health benefits, such as boosting the immune system and fighting bacteria. So, not only does kale pesto taste great, but it's also good for you!
The key here is to avoid adding too much olive oil to the pesto to ensure the pesto portion you eat does not contain excessive calories from fat.
What nuts are best for pesto?
Pine nuts, walnuts, and raw almonds are my favorite options, but you can also use pecans, hazelnuts, and even sunflower seeds or hemp seeds. Hemps seeds are a great option because they provide excellent nutrition and a lovely nutty flavor and make a nut-free pesto option.
Do walnuts or almonds make pesto bitter?
They don't, but it is better to toast them before using them to make the pesto taste even better.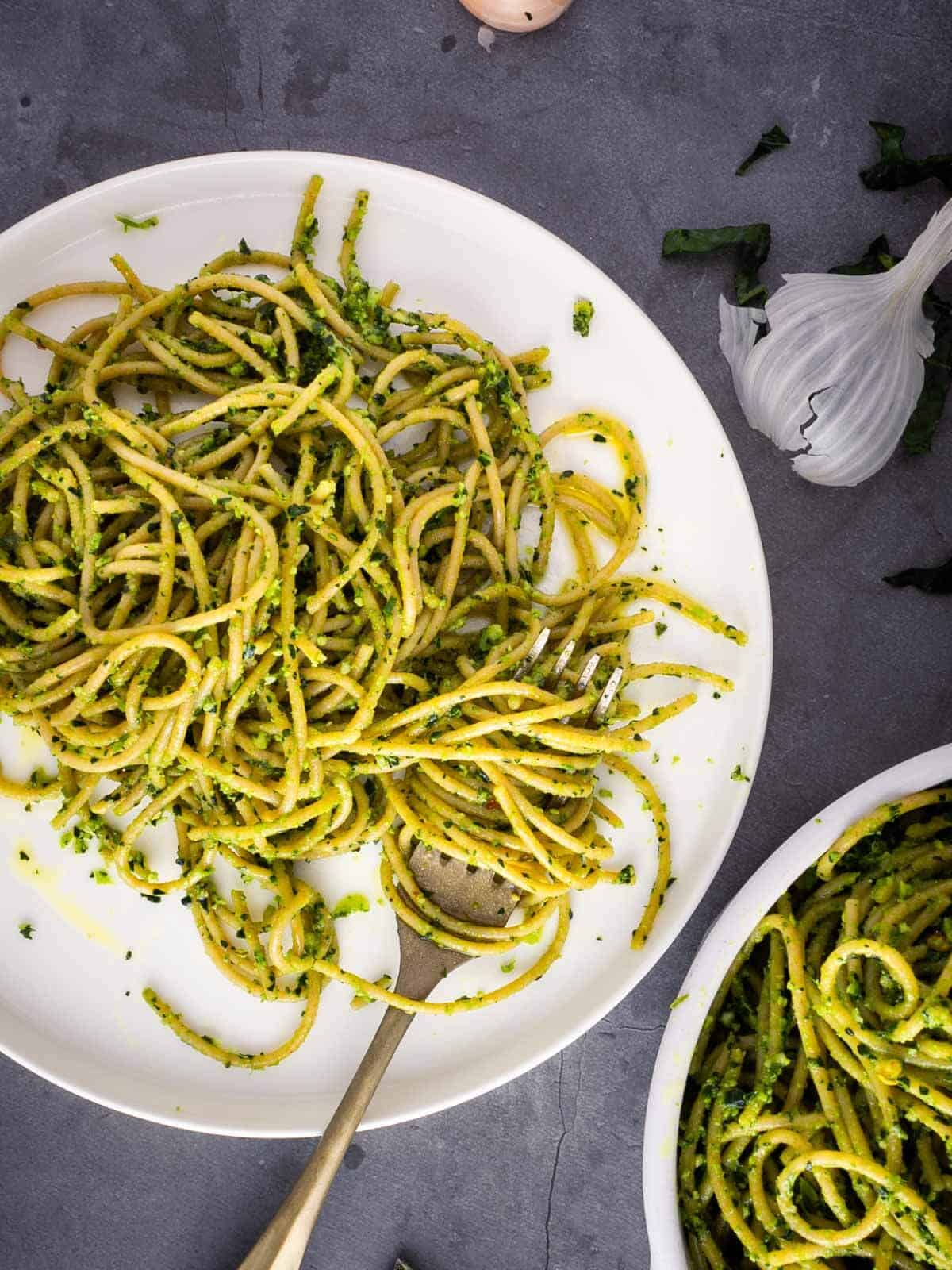 Read on: how to make your own fresh vegan pasta dough and homemade noodles!
📚 More pesto recipes
Learn how to use kale and sage in this delicious authentic Tuscan soup, made with healthy staple ingredients that make up for a full meal.
⭐ If you try this recipe, let us know! 💬 Leave a comment, rate it, and don't forget to tag us @ourplantbasedworld on Instagram. Cheers!
📋 Recipe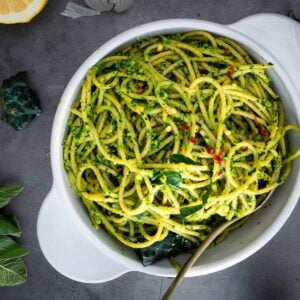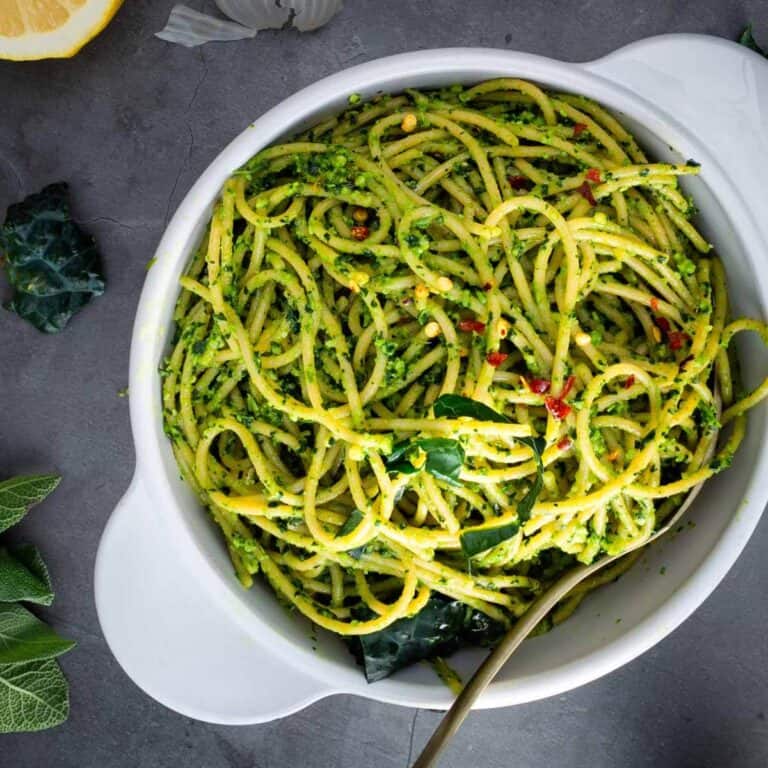 Vegan Sage and Kale Pesto
Learn how to make a delicious vegan kale pesto using sage and almonds. This is perfect for cold and hot pasta, sandwiches, or cauliflower steaks.
Equipment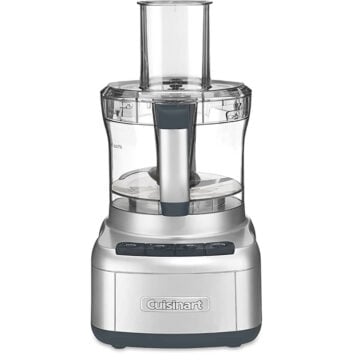 (affiliate link)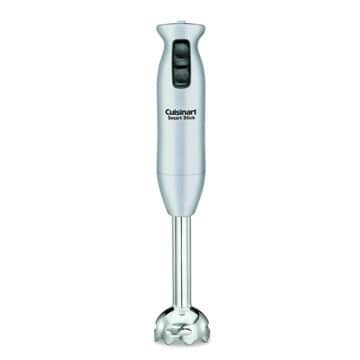 (affiliate link)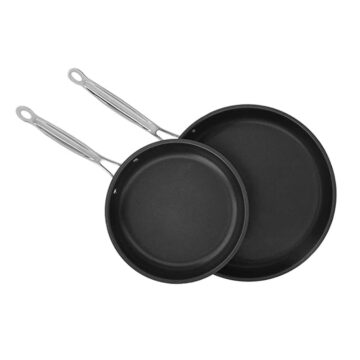 (affiliate link)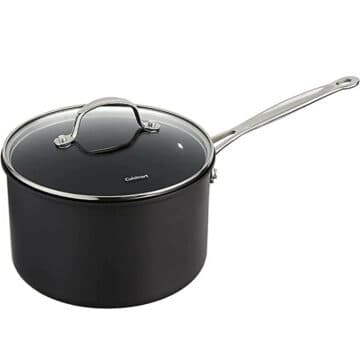 (affiliate link)
Directions
Wash your kale and remove the leaves from the branches. Also, remove the sage leaves from the branches.

Lightly toast the almonds. On medium heat, toast the almonds in a saucepan, stirring constantly and not burning them. It should take about 3 minutes.

Juice the lemon.

Blend all the ingredients in a food processor until the pesto reaches the desired consistency. You might have to stop and scrape down the sides with a spatula.

Adjust the seasoning. If you want it to be more garlicky, add an extra garlic clove. Add more olive oil for a more liquid pesto.
If making pasta
You can start boiling water before making your pesto because it is made fast!

Boil the pasta as per package directions, with salt. Before straining the pasta on a colander, save some of the pasta water, which will be starchy, so when you add the pesto into your strained pasta, you can add some water little by little to achieve the creamiest texture.
Nutrition Facts
Calories:
289
kcal
Carbohydrates:
7
g
Protein:
6
g
Fat:
28
g
Saturated Fat:
3
g
Polyunsaturated Fat:
12
g
Monounsaturated Fat:
12
g
Sodium:
443
mg
Potassium:
263
mg
Fiber:
2
g
Sugar:
1
g
Vitamin A:
1579
IU
Vitamin C:
23
mg
Calcium:
50
mg
Iron:
1
mg
Nutrition Facts
Vegan Sage and Kale Pesto
Amount per Serving
% Daily Value*
* Percent Daily Values are based on a 2000 calorie diet.
🌡️ Food safety
Cook to a minimum temperature of 165 °F (74 °C)
Do not use the same utensils on cooked food that previously touched raw meat
Wash hands after touching raw meat
Don't leave food sitting out at room temperature for extended periods
Never leave cooking food unattended
Use oils with high smoking points to avoid harmful compounds
Always have good ventilation when using a gas stove
See more guidelines at USDA.gov.
The information shown is an estimate provided by an online nutrition calculator. It should not be considered a substitute for a professional nutritionist's advice. See our full Nutritional Disclosure here.
Please note that some of the links here are affiliate links, and I will earn a commission if you purchase through those links. I recommend all of the products listed because they are companies I have found helpful and trustworthy.