Fall is the perfect time to enjoy leafy green salads packed with seasonal vegetables. This vegan kale salad is one of my favorites – it's easy to make, flavorful, and healthy. The recipe calls for crunchy apples, cranberries, and toasted pecans, making it a delicious and nutritious way to fuel your autumn adventures. Give it a try!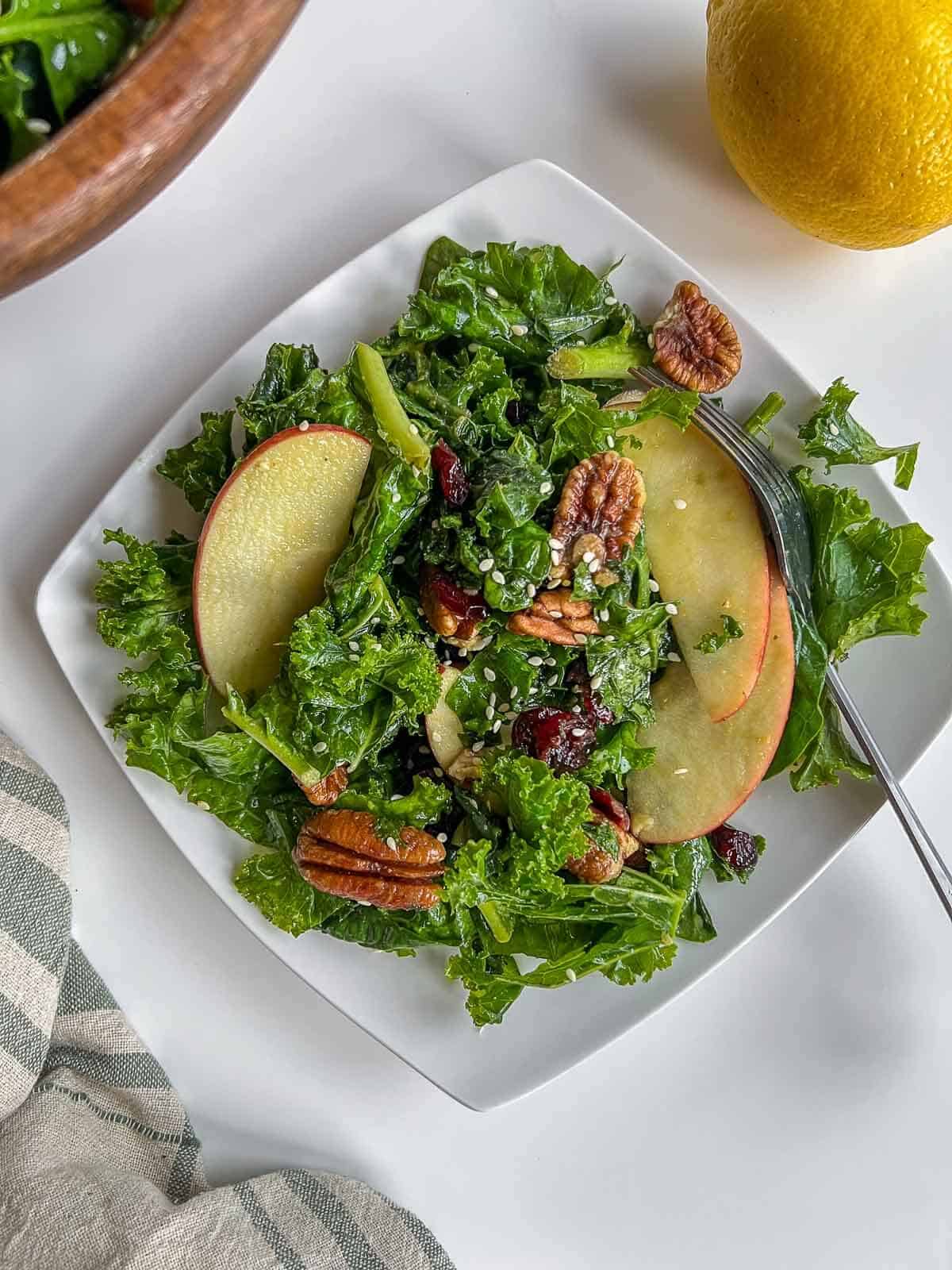 This fall kale salad is the perfect addition to your holiday nut roast, and pairs very well with heavier main dishes like a sweet potato apple crunch, a vegetable casserole, and gluten-free cornbread, and cornbread stuffing.
We always make big salads, and keep them dressing-free, so we can keep any leftovers in the refrigerator and add more fresh veggies when we are ready to eat them. Then we simply add this homemade salad dressing like our herby balsamic vinaigrette directly to the serving plates.
Jump to:
🧾 Ingredients
This kale spinach salad calls for staple ingredients that you probably already have in your pantry.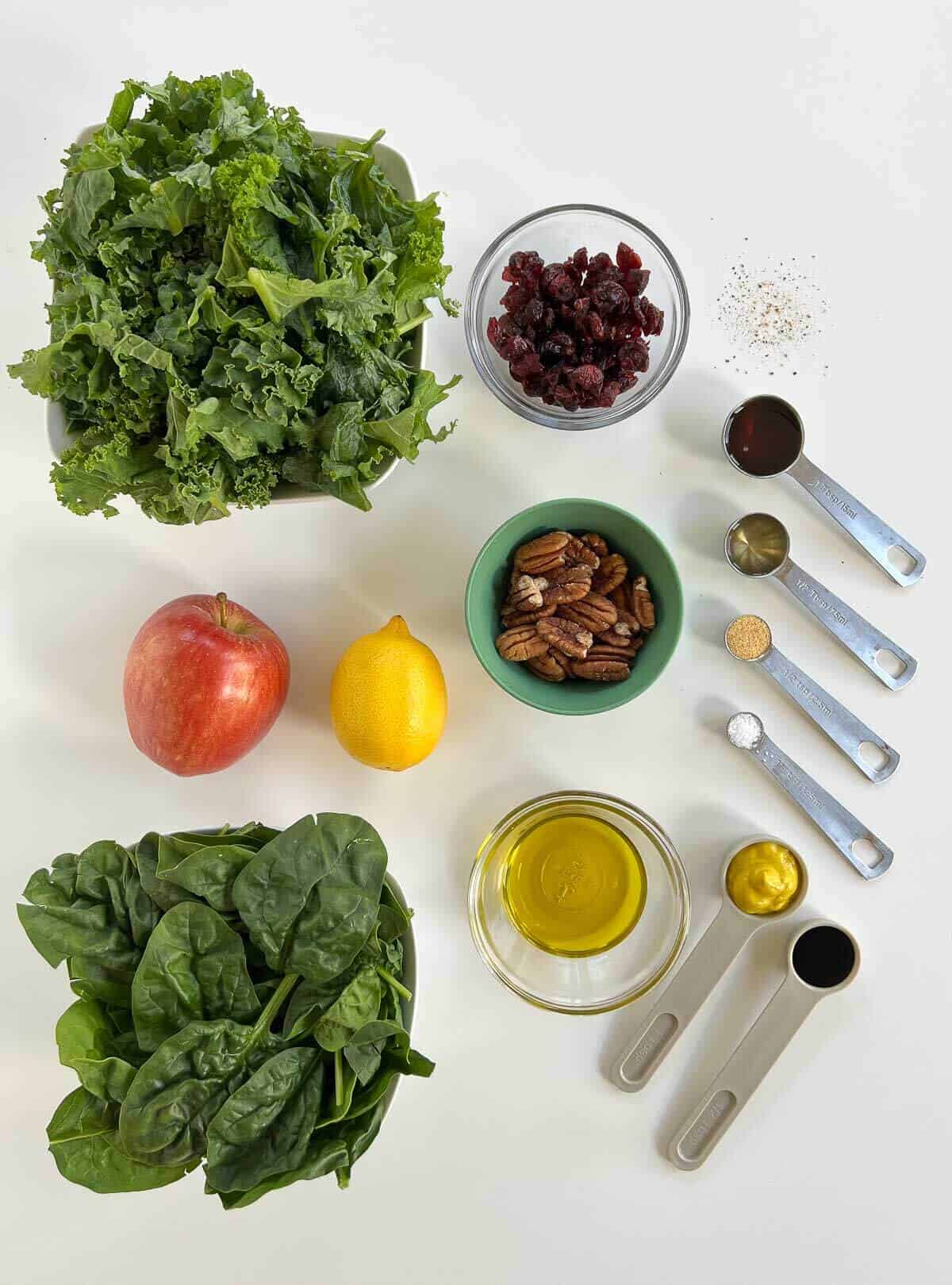 For the Maple Balsamic vinaigrette: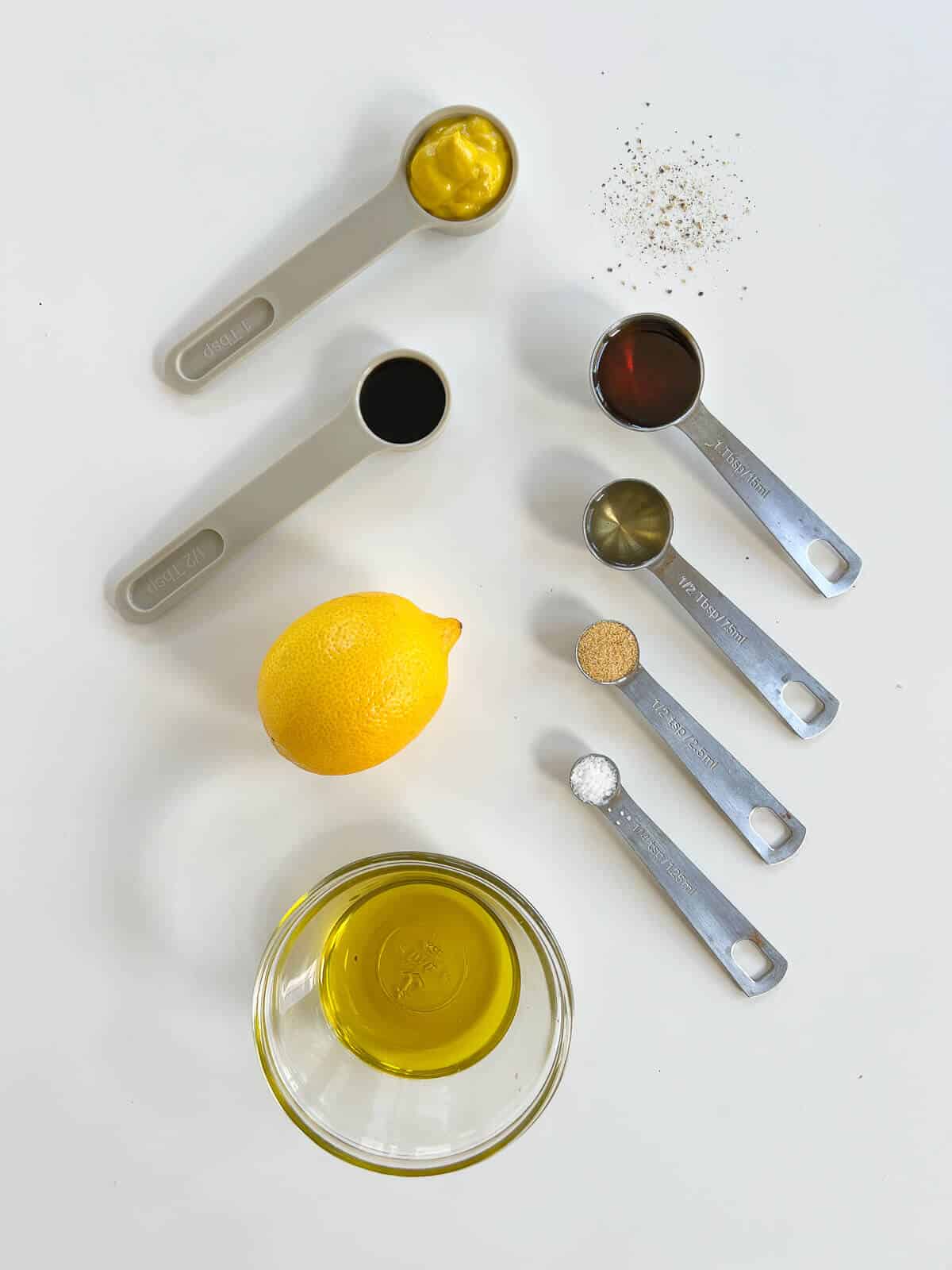 Extra Virgin Olive Oil: A staple in Mediterranean cuisine, it adds a rich, fruity flavor to the salad and is packed with heart-healthy monounsaturated fats and antioxidants.
Freshly Squeezed Lemon Juice: A splash of this brightens up the salad, giving it a fresh and zesty kick, and it's a natural source of vitamin C to boost the immune system.
Pure Maple Syrup: This natural sweetener balances the tanginess of the vinegars and lemon juice, and is a mineral-rich alternative to refined sugars.
Dijon Mustard: Adds a smooth and sophisticated depth to the dressing, with a hint of spice, and helps emulsify the dressing for perfect blending.
Apple Cider Vinegar: With its tangy flavor, it's a salad's best friend and is celebrated for its potential to improve digestion and lower blood sugar levels.
Balsamic Vinegar: Adds a sweet and tart richness to the dressing, aged to perfection, and known for its antioxidants and potential heart health benefits.
Garlic Powder: A pinch of this brings a warm, savory depth to the salad, is easier to distribute than fresh garlic, and has been linked to various health benefits.
For the Kale Spinach Salad: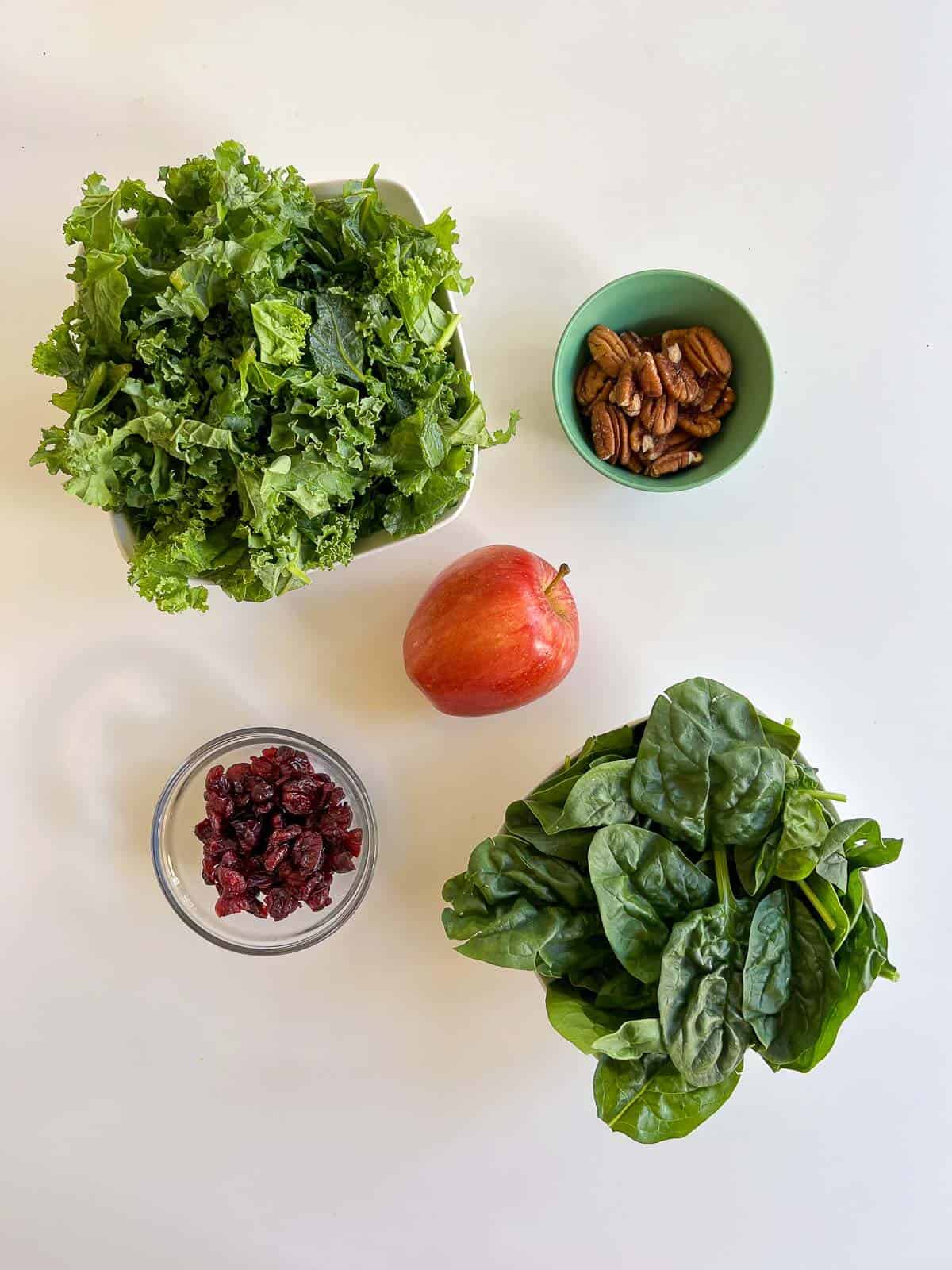 Raw Kale, Stripped of Any Thick Stems: This supergreen is nutrient-dense, adds a hearty, chewy texture to the salad, and is loaded with vitamins A, K, and C, and is a fantastic source of fiber.
Baby Spinach: Tender and mild, it adds volume and a soft texture to the salad, and is also a powerhouse of iron, calcium, and antioxidants.
Red Apple: Adds a sweet and crisp contrast to the leafy greens, high in fiber and vitamin C, and they say an apple a day keeps the doctor away!
Raw Pecans: These add a delightful crunch and are a fantastic source of healthy fats and protein, and are also rich in antioxidants, which help fight inflammation.
Dried Cranberries: These sweet and tart morsels add a pop of color and a chewy texture, and are a great source of fiber and antioxidants.
Optional: extra-firm tofu to make a complete meal instead of a side dish. You can also have it with a grilled tofu marinade or crispy tofu cubes.
🔪 Instructions
To make this kale crunch salad recipe, start by toasting the measuring your ingredients.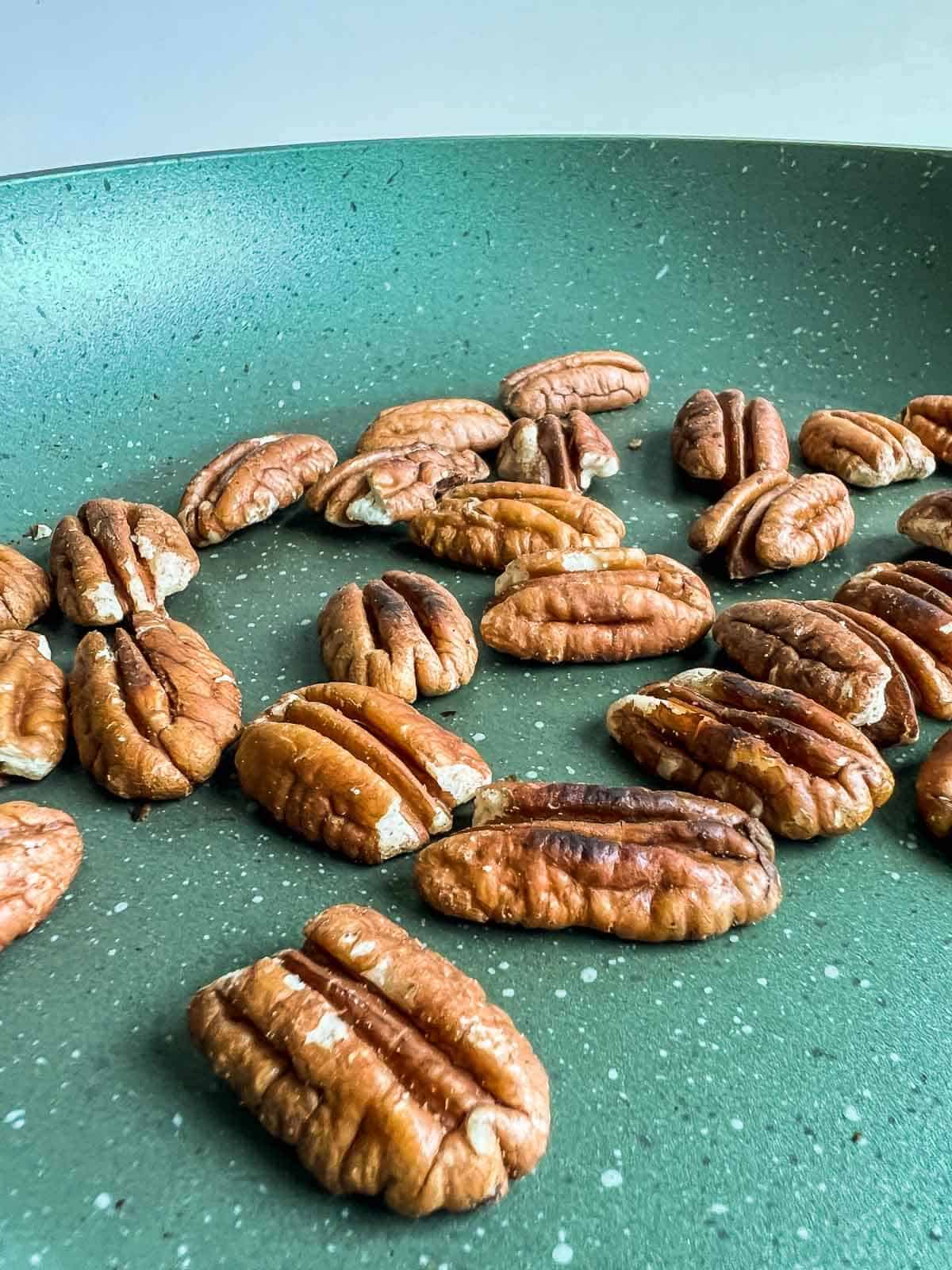 Set the raw pecan in a skillet until lightly toasted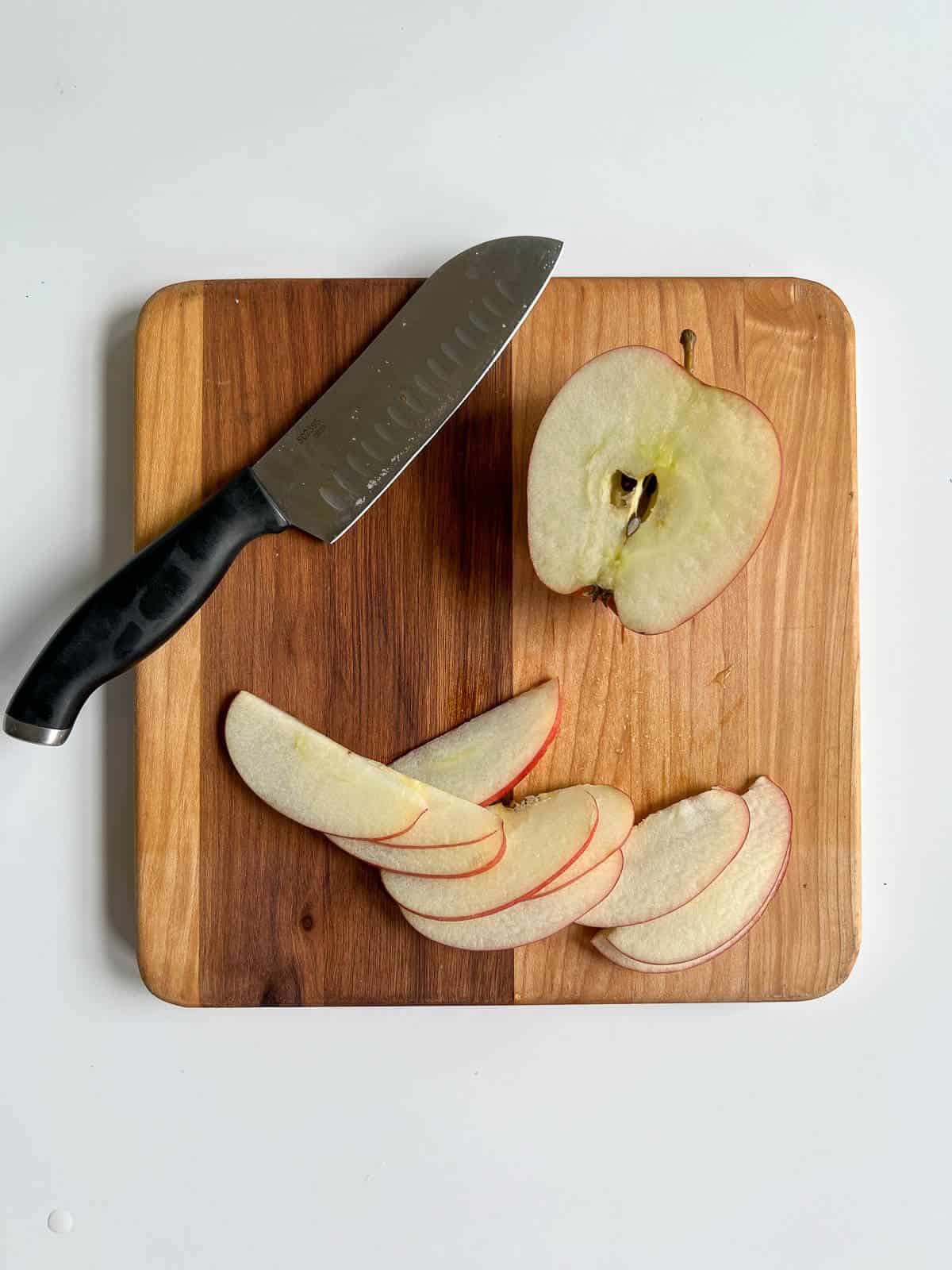 Finely slice the red apple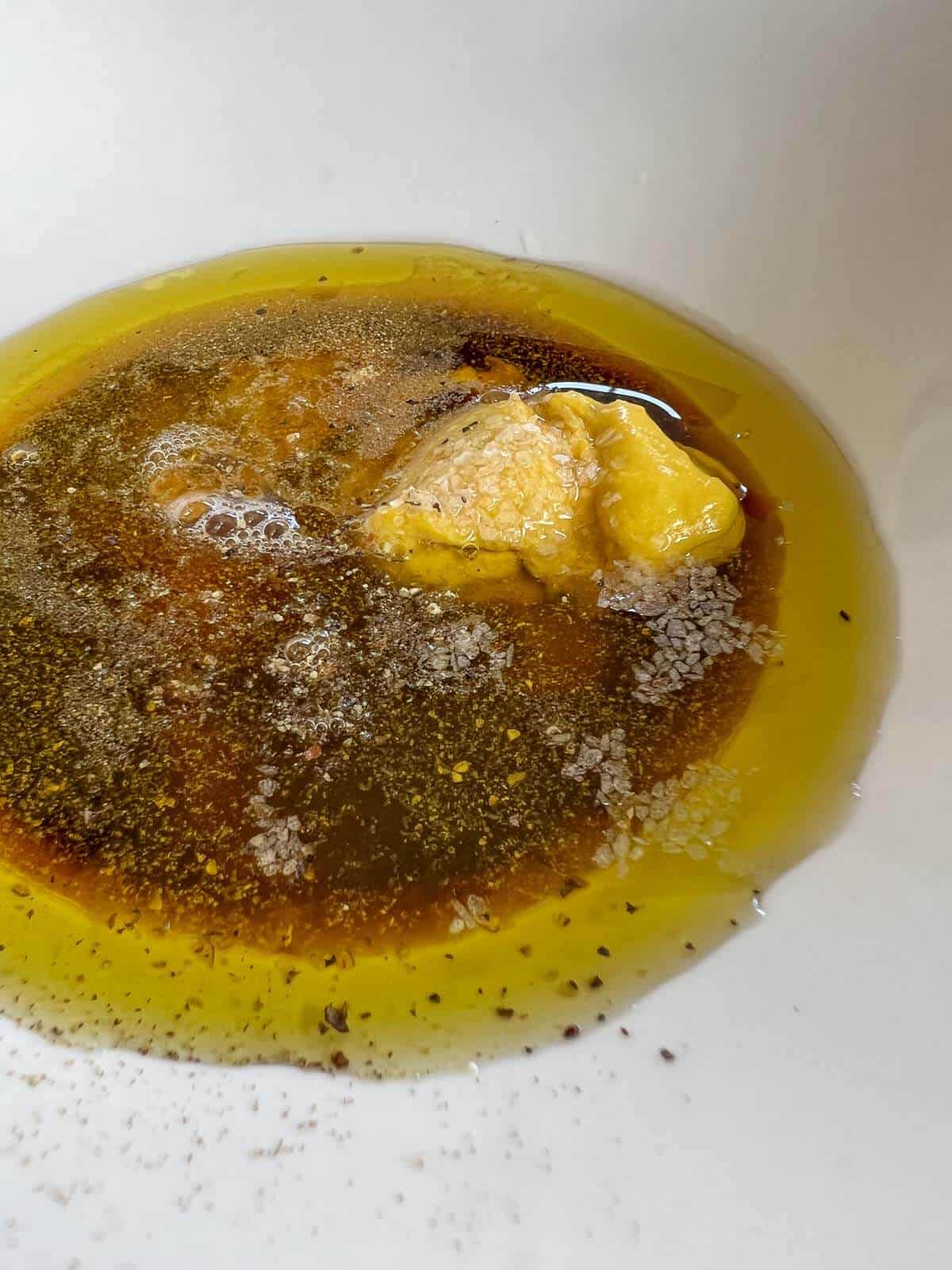 Make the apple cider vinaigrette by mixing all the dressing ingredients in a small bowl or a mason jar.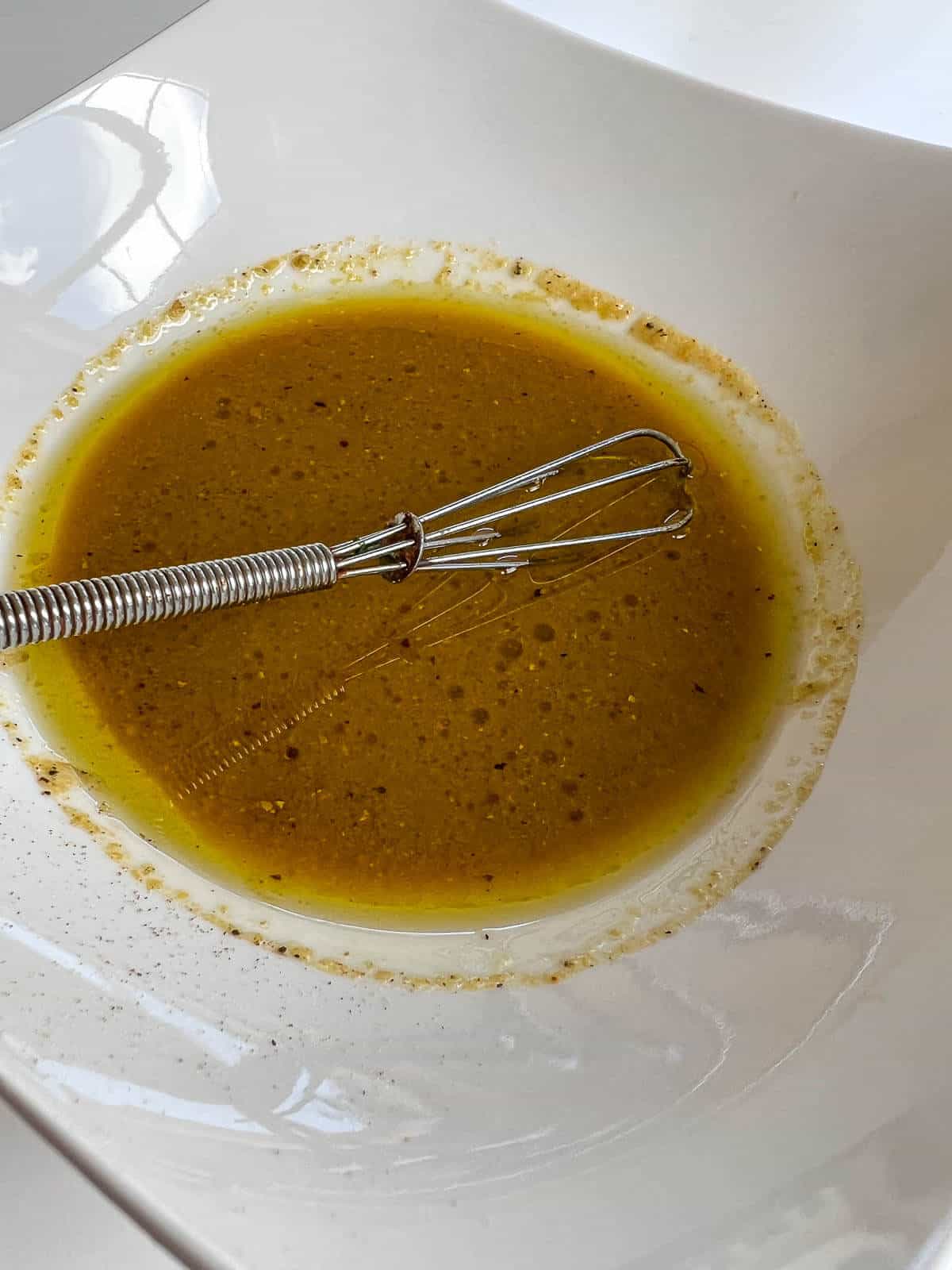 Give the citrus-balsamic vinaigrette a good stir.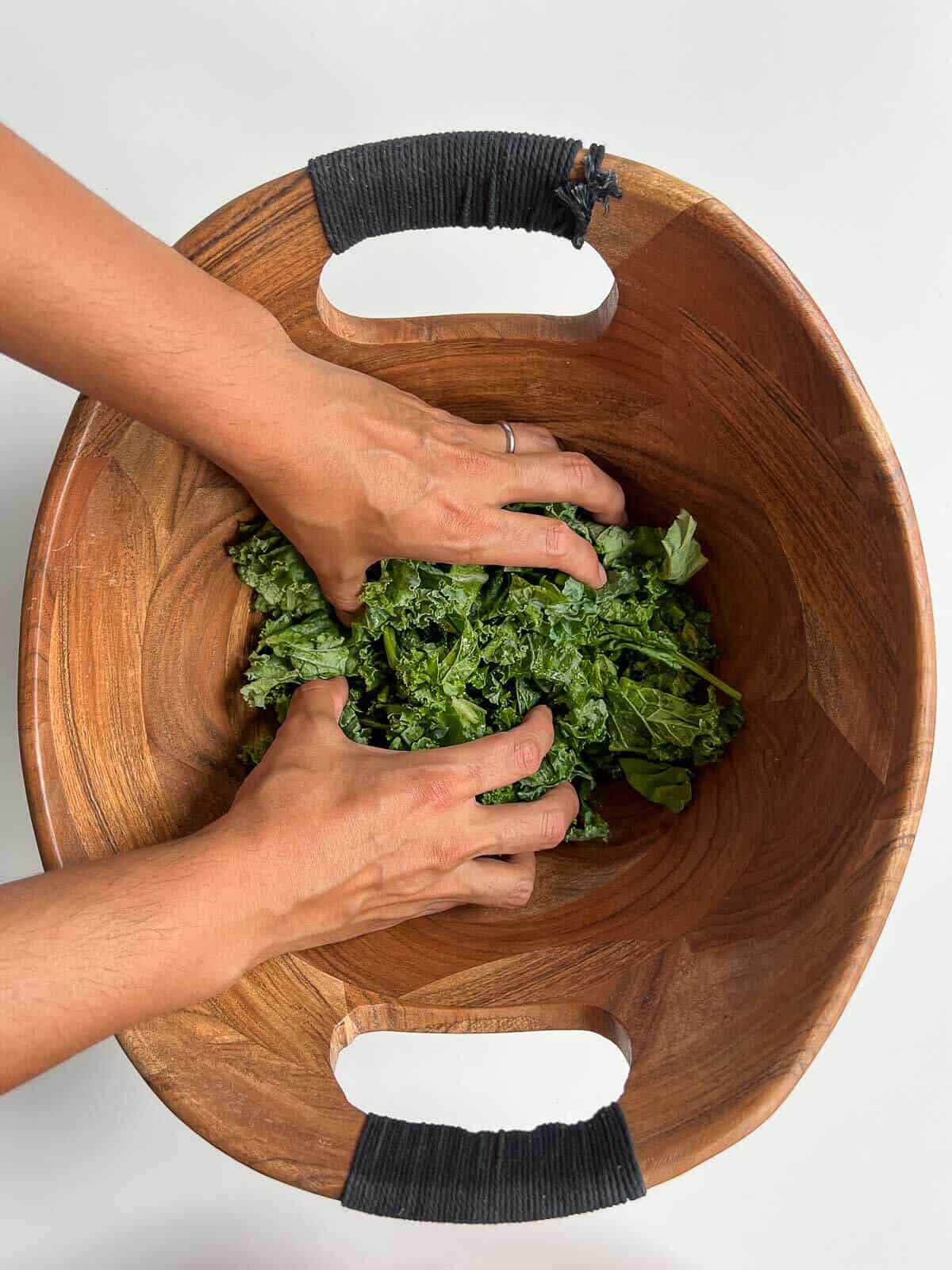 Massage kale leaves in a large mixing bowl; Then add half of the dressing for it to absorb the flavors.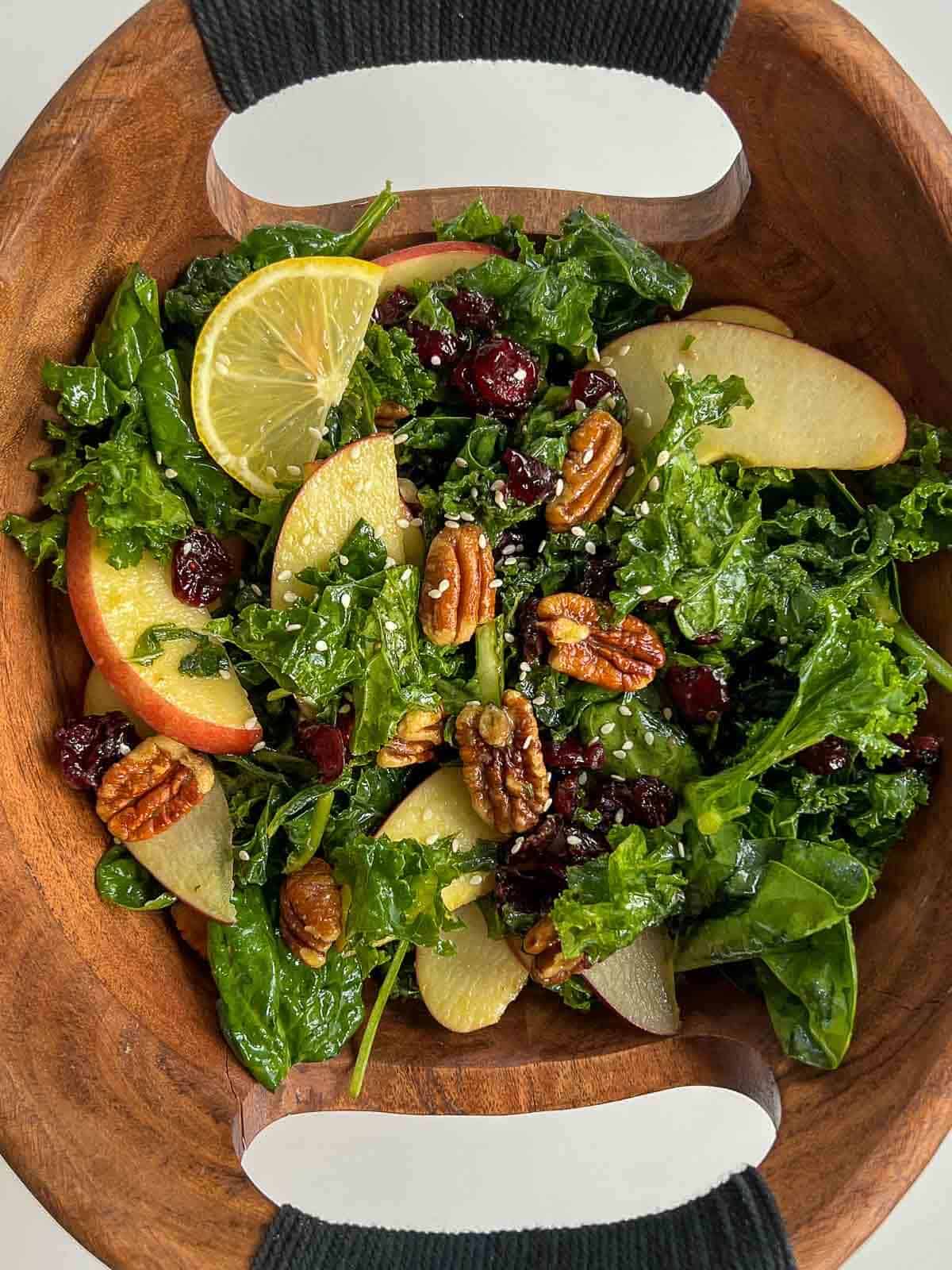 Add the spinach, sliced apples, dried cranberries, and the rest of the dressing. Toss the toasted pecans on top and any other toppings.
Season with kosher salt and pepper to taste, although not necessary.
Hint: save two tablespoons of the dressing if you plan to grill the extra firm tofu for your meal. Add it to the skillet on medium-high heat and stir-fry for two minutes on each side until lightly brown.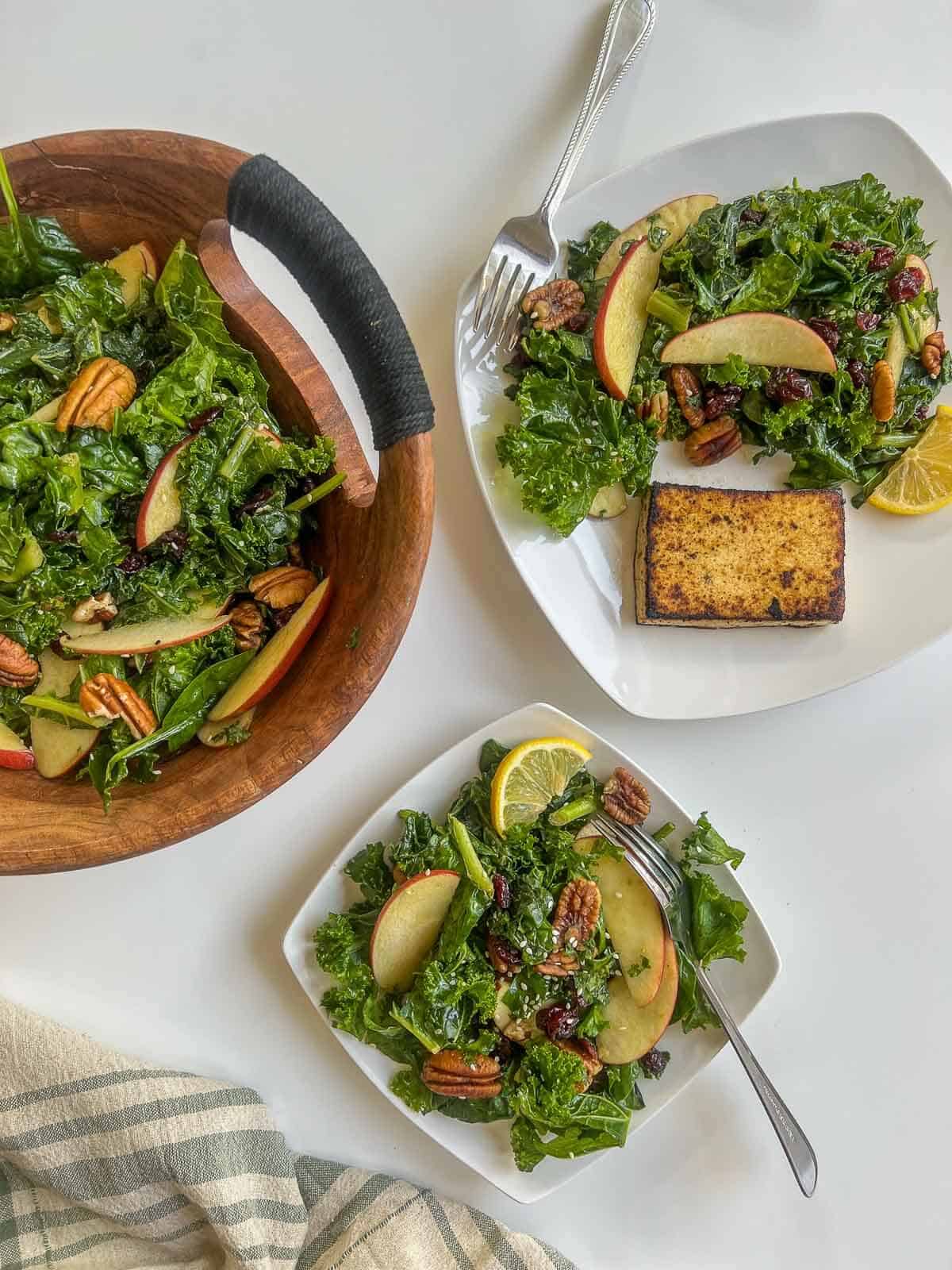 🧐 How to Massage Kale
Prep the Kale: Start by washing your kale leaves thoroughly. Then, strip the leaves from the thick stems. You can do this by holding the stem with one hand and sliding your other hand down the stem to remove the leaves. Give the leaves a rough chop if you like smaller pieces.
Add Some Oil or Dressing: Place the kale leaves in a large bowl. Drizzle a small amount of extra virgin olive oil (or your preferred dressing) over the kale. You don't need much—just enough to lightly coat the leaves.
Get Hands-On: Now, roll up your sleeves and get in there with your hands! Gently but firmly massage the kale, rubbing the leaves between your fingers. Think of it like you're giving the kale a good, relaxing massage.
Massage Until Tender: Continue massaging for about 2 to 5 minutes until the kale becomes softer and deeper green. It should decrease in volume by about half and will feel more tender to the touch.
Taste and Adjust: Give it a taste. If the kale is still too bitter for your liking, you can continue to massage it a bit more. You can also add a tiny sprinkle of salt or a squeeze of lemon juice to help further break down the fibers and add flavor.
Final Touches: Once the kale is nicely massaged and tender, it can be used in your salad or dish. You can now add other salad ingredients and toss it all together.
And voila! You now have perfectly massaged kale that's tender, easier to chew, and ready to soak up all the delicious flavors of your dressing. Enjoy your upgraded, super-satisfying kale salad! 🥗✨
How to Serve Your Massaged Kale Salad 🥗✨
Stuffed Pita Pockets: Take your kale salad on the go by stuffing it into whole-grain pita pockets. Add a generous dollop of hummus and some sliced avocado for extra creaminess. It's a perfect, portable, satisfying, and super nutritious lunch!
Buddha Bowl Base: Use your massaged kale salad as the vibrant base of a Buddha Bowl—pile on roasted sweet potatoes, quinoa, chickpeas, and a colorful array of veggies. Drizzle with a tahini dressing and sprinkle with sesame seeds for a nourishing and visually stunning meal.
Wrap It Up: Lay out a large, soft tortilla or a sheet of nori (seaweed), and place a generous serving of your kale salad down the middle. Add marinated tofu or tempeh, pickled veggies, and a sriracha or vegan mayo drizzle. Roll it up tight for a crunchy, flavorful, handheld delight—a perfect twist for a quick, healthy lunch or dinner.
🍶 Substitutions
One of the beauties of this salad is its versatility; here are some proven and tried substitutions.
Curly kale - instead of chopped kale, use lacinato kale (dinosaur kale) or other leafy greens such as chopped Swiss Chard, shredded green cabbage, red cabbage, or even shredded Brussels sprouts.
Pecans - use walnuts, pumpkin seeds (pepitas), slivered almonds, or toasted almonds. You can also use brown sugar candied nuts.
Dried cranberries - instead, you can use dried cherries, raisins, or sultanas.
Red apple - use any kind of apples, strawberries, pears, or fresh peaches.
Mustard - replace for dijon mustard to make an apple dijon dressing.
Garlic powder - use one minced fresh garlic instead.
Lemon juice - feel free to replace it with lime juice to make this citrus balsamic vinaigrette.
Maple syrup - instead, you can use agave syrup, homemade date paste, or vegan honey

(affiliate link)

.
📖 Variations
Spicy - add cayenne pepper to the dressing to imbue heat into the vinaigrette, red chili flakes, or more freshly ground pepper.
Extra flavor - add a slice of finely chopped red onion or shallot to the dressing, just like we do on our go-to homemade vinaigrette.
Deluxe - add avocado slices, gluten-free croutons, or crispy onions.
More antioxidants - add freshly shredded avocado, flax, sesame, or sunflower seeds.
Orange balsamic dressing - use the juice of half an orange instead of lemon.
Basil balsamic vinaigrette - add a teaspoon of dried basil or vegan basil pesto.
Creamy Tahini Dressing: Swap out the olive oil for tahini to give your salad a creamy, nutty twist. Just blend tahini with lemon juice, a touch of maple syrup, and a splash of water until you reach your desired consistency, and you'll have a rich and flavorful dressing that pairs beautifully with the vibrant greens in this salad. Check out our tahini dressing recipe for the details.
To make this crunch kale salad nut-free, avoid adding pecan nuts or any other nuts to your salad bowl.
🍽 Equipment
For this balsamic maple dressing, we find it super helpful to use a lemon press (affiliate link) whenever we use lemon or lime juice in a recipe.
If you have this kale crunch salad with tofu, make sure you use a non-stick skillet for the best results.
🥡 Storage
This fall kale salad is best consumed fresh since the kale and spinach will wilt after coming in contact with the maple mustard dressing.
Also, the toasted pecans will become mushy after a couple of hours.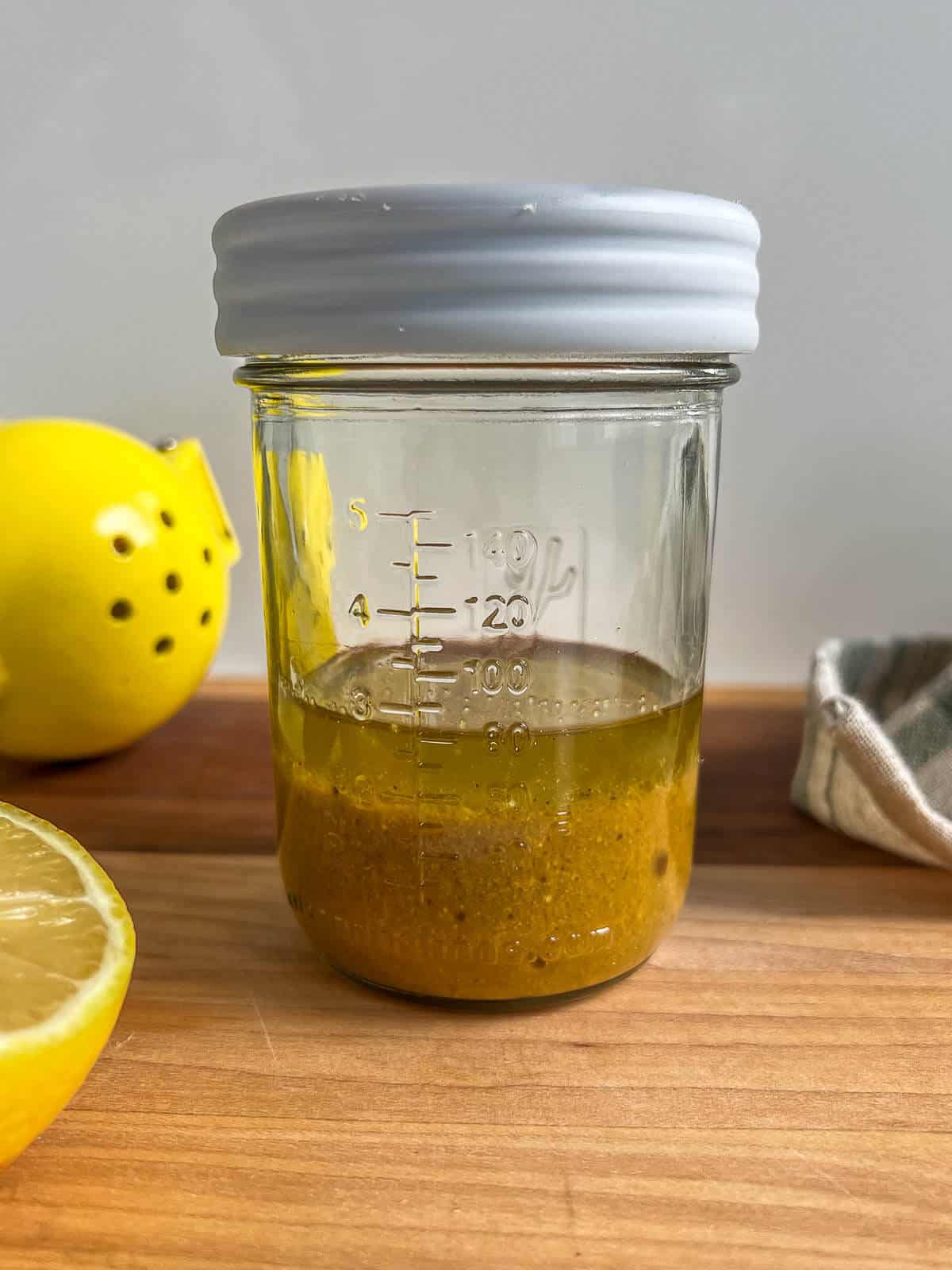 Store this maple balsamic vinaigrette recipe leftovers in an airtight container in the refrigerator for no more than two days.
The maple vinaigrette ingredients and salad recipes generally don't stand up well to freezing.
🕒 Make It in Advance
Prepping for a busy week or entertaining guests? You can make this kale salad in advance! Cover the salad and let it chill in the fridge after massaging the kale and mixing it with the other ingredients (not the vinaigrette).
This allows the flavors to meld beautifully, and the kale will continue to tenderize slightly as it rests. Before you're ready to serve, toss the dressing and those crunchy pecan nuts. This ensures they stay crisp and add that perfect textural contrast to your tender, flavorful salad. It's a fantastic way to enjoy a stress-free, delicious, and nutritious meal!
This salad is great to prep ahead for your Fall Holidays, Thanksgiving, or Christmas Holidays.
💡Top tip
The key to balance in a salad dressing is to keep the oil-vinegar proportions 3 to 1. If you don't have one of the suggested kinds of vinegar, you can double the quantity of the one you have.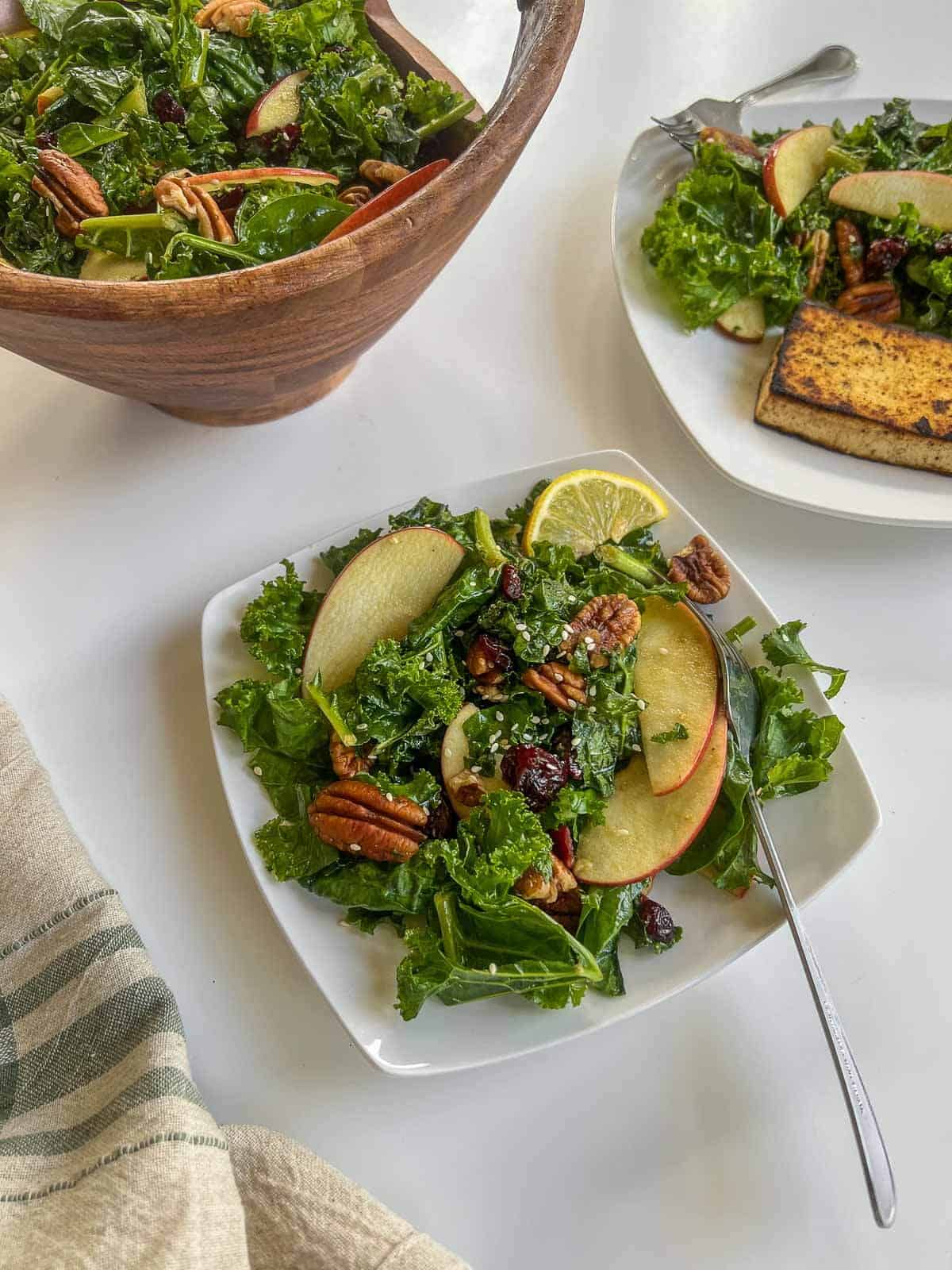 🥬 More kale recipes
Kale is a big deal; it is considered a superfood, given its vast benefits, so we try to use this friend in as many recipes as possible, such as our simple green juice, post-workout smoothie, and making crispy kale as a healthy snack.
We even make kale pesto or a strawberry dressing to toss into our pasta, vegan poke bowls, or tofu scramble.
If you try this kale apple cranberry salad, let us know! Leave a comment, rate it, and don't forget to tag a photo #ourplantbasedworld on Instagram. Cheers!
📋 Recipe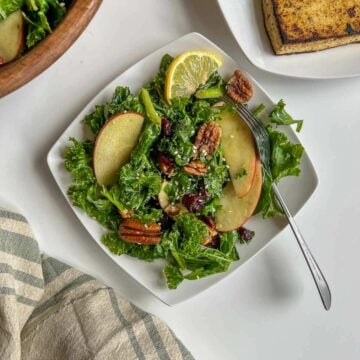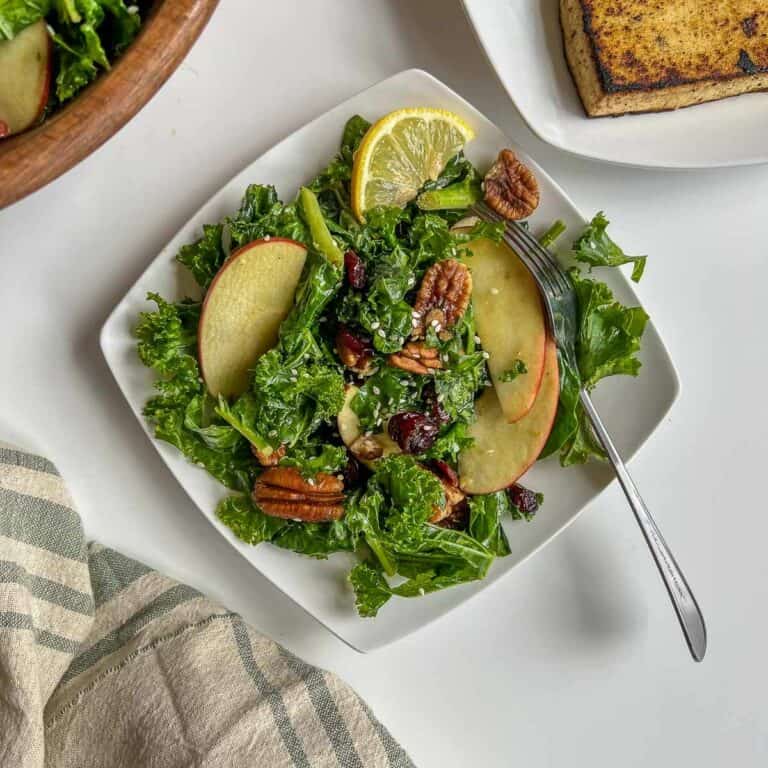 Vegan Kale Salad (The Best Fall Kale Crunch Salad)
Fall is the perfect time to enjoy leafy green salads packed with seasonal vegetables. This kale crunch salad recipe is one of my favorites – it's easy to make, flavorful, and healthy. The recipe calls for crunchy apples, dried cranberries, and toasted pecans.
Equipment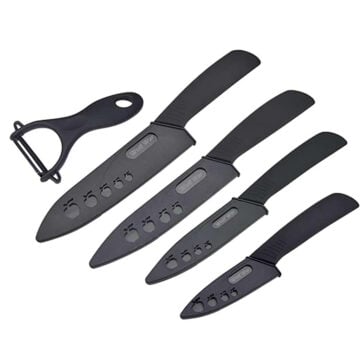 (affiliate link)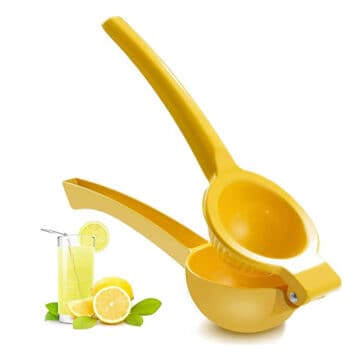 (affiliate link)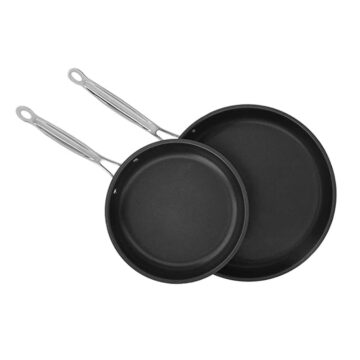 (affiliate link)
Ingredients
For the Apple Mustard Dressing yields ½ cup
For the Kale Salad
4

cups

kale

roughly chopped , stripped thick stems

2

cups

baby spinach

1

red apple

cored and sliced

½

cup

pecans

toasted, or almonds, walnuts

½

cup

cranberries

dried, cherries, or other chopped dried fruit
Directions
Toast the pecans: in medium heat for a couple of minutes until fragrant; remove from heat.

Make the salad dressing: in a small bowl, combine the olive oil, apple cider vinegar, balsamic vinegar, lime juice, maple syrup, Dijon mustard, garlic powder, salt, and freshly ground pepper to taste.

Place the kale in a serving bowl and massage the kale to make it tender, then add the spinach and pour over the dressing. Let the salad sit for a few minutes, then toss in the toasted pecans and cranberries and any other add ins you like. Serve.

Optional stir-fry tofu: if adding tofu to your salad. Cut your firm tofu into large slices, then add one tablespoon of dressing into a skillet on medium-high heat for each tofu slice. Stir fry on each side for 2 ½ minutes, a total time 5 of minutes.
Notes
The Apple Mustard Dressing yields ½ cup.
Tofu is included in Nutritional Card values.
If you don't include the Tofu, the Nutrition Calculations change as follows:
Total calories (per serving):
295 calories
29 grams carbohydrates 
4 grams protein
If following a raw diet, just skip toasting the pecan nuts.
Nutrition Facts
Calories:
342
kcal
Carbohydrates:
30
g
Protein:
10
g
Fat:
22
g
Saturated Fat:
3
g
Polyunsaturated Fat:
5
g
Monounsaturated Fat:
13
g
Sodium:
290
mg
Potassium:
581
mg
Fiber:
6
g
Sugar:
21
g
Vitamin A:
8136
IU
Vitamin C:
70
mg
Calcium:
233
mg
Iron:
3
mg
Nutrition Facts
Vegan Kale Salad (The Best Fall Kale Crunch Salad)
Amount per Serving
% Daily Value*
* Percent Daily Values are based on a 2000 calorie diet.
Nutritional Disclaimer
The information shown is an estimate provided by an online nutrition calculator. It should not be considered a substitute for a professional nutritionist's advice. See our full Nutritional Disclosure here.
Affiliate Disclaimer
Please note that some of the links here are affiliate links, and I will earn a commission if you purchase through those links. I recommend all of the products listed because they are companies I have found helpful and trustworthy.